25 Best Chrissy Metz Hairstyles - 2023
Olivia
Updated At 10 Jan 23
The very famous Christine Michelle Metz, known as Chrissy Metz is an American actress and singer. We all loved her in her popular series "This Is Us" and always find her a charming person. Recently, Chrissy was known for her amazing weight loss journey and she looks fabulous with her astonishing hair looks. Find out everything about Chrissy Metz story here. Today let us have a look at her different hairstyles and hair look from her casual attire to her event looks.
25 Best Chrissy Metz Hairstyles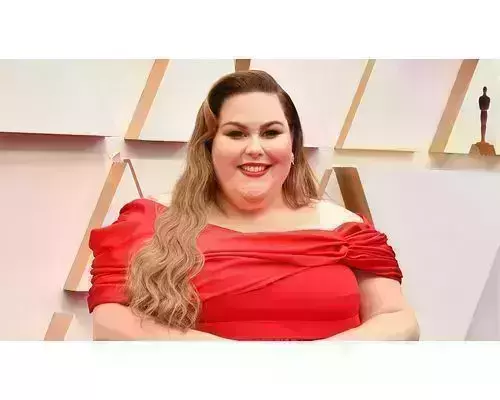 1. Soft Waves Looks
The 42-year-old Chrissy Metz looks stunning with her soft waves hairstyle. Her ash blonde hair is a perfect hair look shade complimenting her red attire for an award function. Chrissy Metz's long hairstyle looks ravishing and is one of her most impressive looks. If you are looking for Chrissy Metz looks which are popular, then this one would be amongst the top in the list.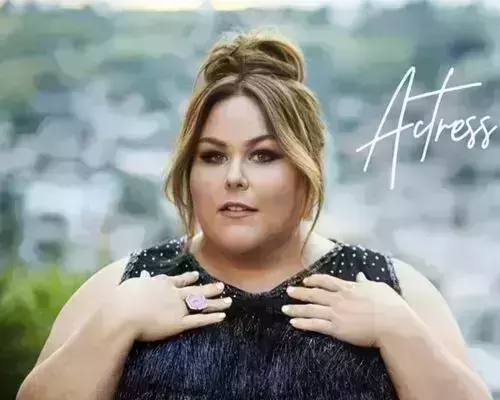 2. Messy Hair Updo
Singer, Chrissy Metz tried this messy hair updo look for one of her songs in the latest album. Chrissy loves open hair and has maintained short and long hair looks. But this time for her song, she tried this updo hair and side bangs, which gives a perfect face cover. The wavy side bangs are looking stunning.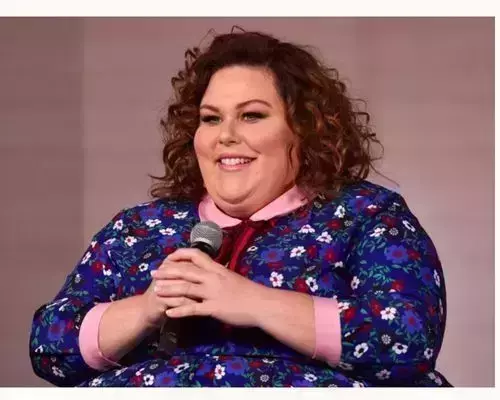 3. Short Hair Curls
The curly hairstyles, look beautiful on Chrissy Metz with short-length hair. Chrissy's hair has natural curls, which are impressive. The unique curl pattern, density and texture of her hair is making her hairstyle look beautiful.
Do check out our guide to find Chrissy Metz photos across all the years. From her childhood photos to Chrissy metz young photos, we have captured photos across the entire timeline.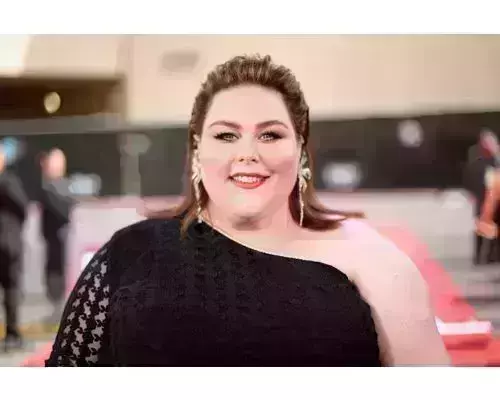 4. Chrissy's Half-Tied Hairstyles
The singer and actress had set the red carpet on fire at a Billboard Music Awards in a black dress and half-tied punky hairstyle, that blew everyone away. Chrissy Metz's hairstyle included straight hair, which was half-tied giving a stunning look to her complete attire. The long earring made her appear perfect!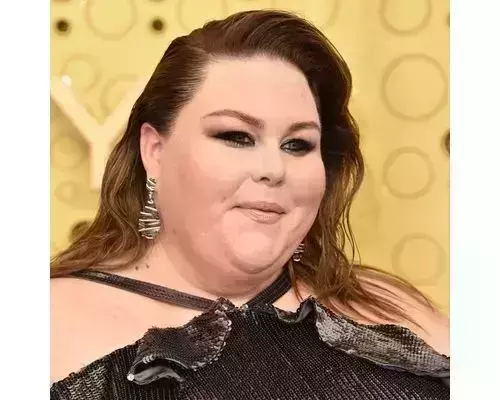 5. Wet-Hair Look
Wet-hair look by Chrissy Metz is for an award night, wear she boldly focused on her wet-hair look using the serum. Her one side-parted hair and the other fixed with a gel or serum made her face appear prominently. Chrissy Metz's hair colour is suiting her skin tone.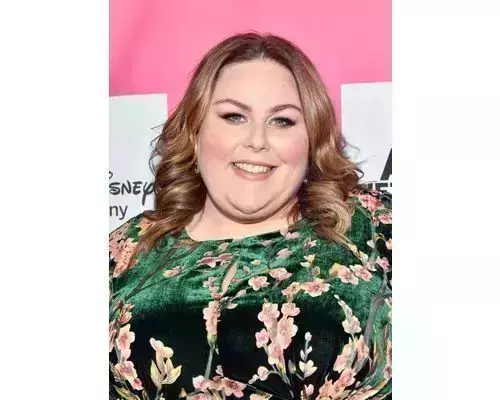 6. Defined Waves Hairstyle
One of the favourite Chrissy Metz hairstyles is this shoulder or a medium-length defined wave that is nicely carried with middle hair parting. Chrissy Metz's hair colour is giving an ideal glossy look. The hairstyle is nicely curled creating a defined wave look.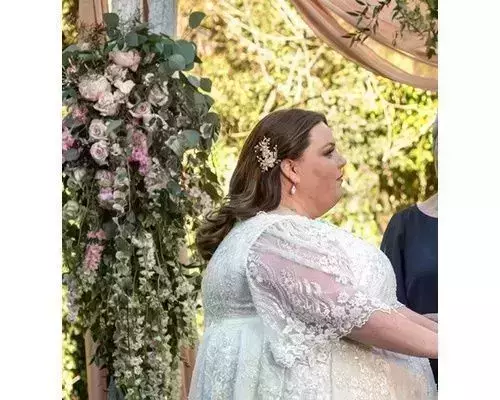 7. Chrissy Metz's Wedding Hairstyle
Chrissy Metz tried this wedding hairstyle look for her television series, wherein this look was created for the wedding scene. Her light waves hairstyle with a beautiful decorative piece on one side is so mesmerising. Chrissy Metz's wedding hairstyle goes perfectly with her customised white pearl dress for the "This Is Us" season finale.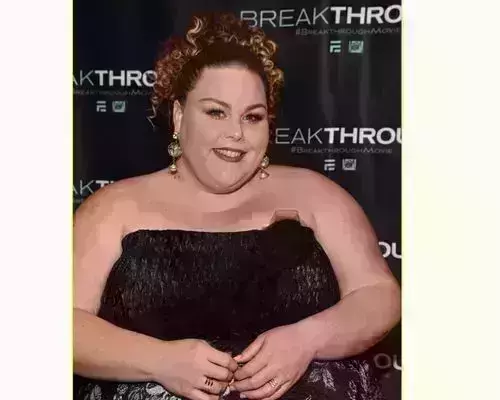 8. African Curls Updo
Chrissy's other unique hair look is this African curls updo hairstyle, which she has carried joyfully. We are sure, that her hair artist tried creating this special hair look with a hair updo, wherein Chrissy Metz's hair colour was visible, making it a two-shaded colour hairstyle.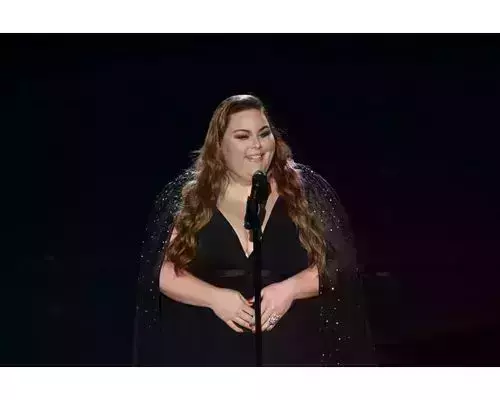 9. Long Beach Waves
Chrissy Metz's long hairstyle features beach waves, which look so fascinating on her coloured hair. Chrissy Metz's hair colour makes the beach waves look stylish and elegant. Chrissy appeared with this look for her astonishing performance night.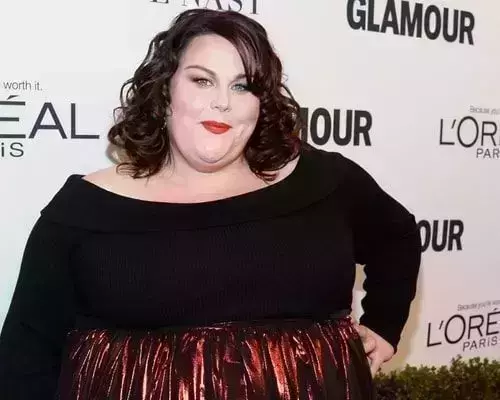 10. Shoulder Curls Hairstyle
Chrissy Metz's short hair looks astonishing in curl style. This hairstyle with a dark colour shade goes well with her party attire.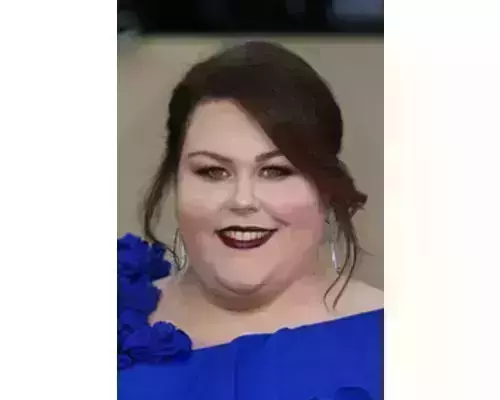 11. Bun Hairstyle With Side Bangs
Chrissy's hair looks like a tied hair bun and left hair bangs are a classy event look. She has always loved open hair, hence you would not much often see her tied hair look. Chrissy's hair artist did this hair work effortlessly, as Chrissy looks charming in this look with a dark lip shade.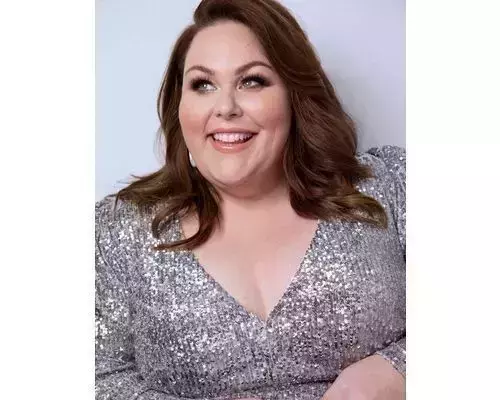 12. Shoulder Length Waves
Chrissy Metz looked sweet and cute with this shoulder-length wave hairstyle, which perfectly suited her for the party night. The dazzling dress completed her hair and makeup perfectly.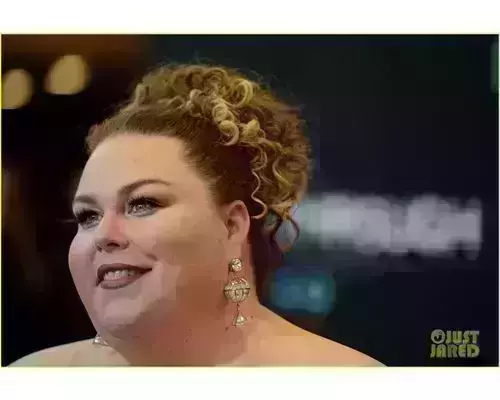 13. The Upside Ringlet
The sensational singer's upside ringlet is a fascinating hairstyle created to perfection! The super curled ringlet are neatly tied up for an event, giving a better facial appearance. Chrissy looks charming in this look with dark lipstick and flowing earrings.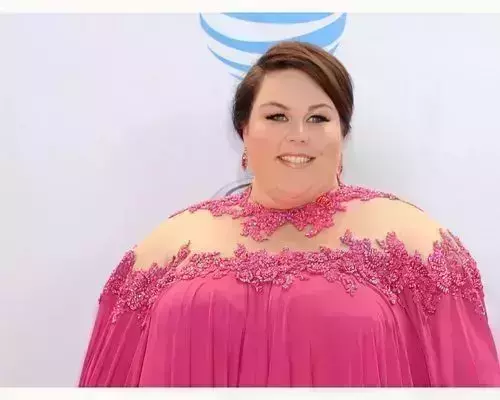 14. Simple Side Parted Hairstyle
Chrissy choose an uncomplicated and straightforward hairstyle with side parting on her pink evening gown. She tied her hair down and appeared with this simple but classy look.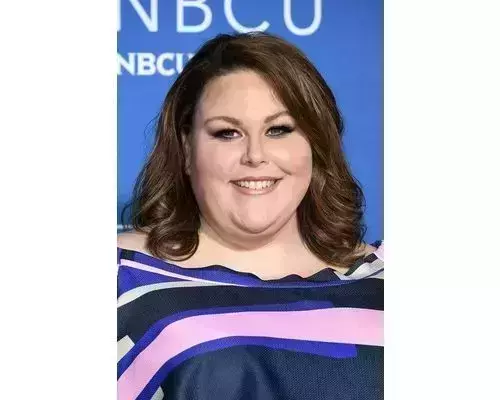 15. Feathered Wave Hairstyle
Chrissy Metz styled her hair with this feathered wave hairstyle which looked super stylish and trendy. She got this look for one of her appearances at an event. Chrissy has subtle makeup with gave her a casual look.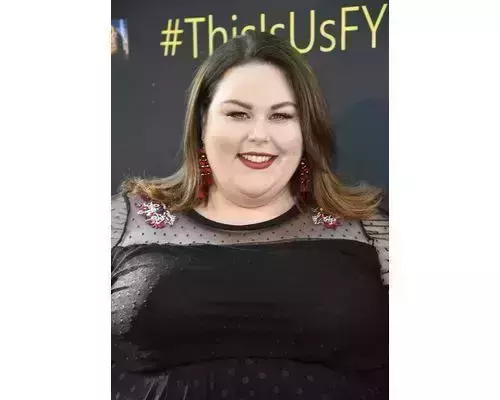 16. Chrissy Metz Flippy Hairstyle
Chrissy got appeared with this short hairstyle, with straight hair and a flippy pattern at the bottom. Chrissy Metz's short hair suited this flippy look and she was looking super attractive.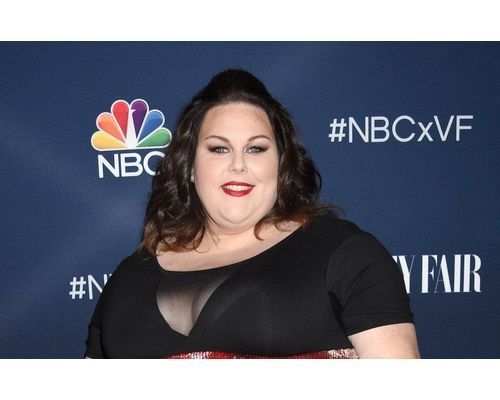 17. Front Puffy Hairstyles
Chrissy got this puffy hairstyle on her short messy waves, keeping half her hair down till the shoulder and tieing the front hair in a puffy manner. The hair colour looked dark at the bottom and the entire fashion look was making her look fabulous.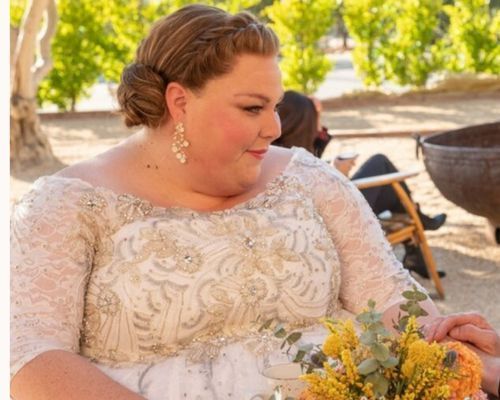 18. Front French Braid
Chrissy Metz's wedding hairstyle picture got trending on social media. The hairstyle and complete attire were for her finale episode for "This Is Us" Season 5, shooting for a wedding scene. This look was very much loved by the audience and her fans. The hairstyle with a french front braid and a bun looked so graceful.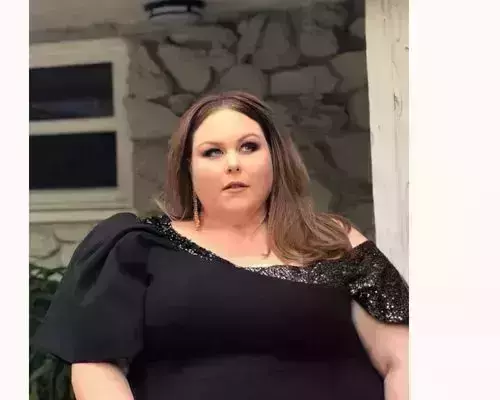 19. Sleek Hairstyle
I am sure, we all loved Chrissy Metz's straight and sleek hairstyle. She looked super gorgeous with this open straight hair and minimal party make-up, which was well-complimented.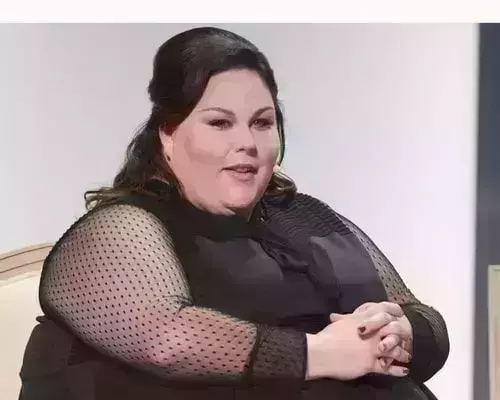 20. Side Bun Hairstyle
Going for a simple look, or say a casual look, Chrissy tried this simple side bun hairstyle with back open hair. She looked sweet in this hair look and carried it with subtle make-up and skin tone lip shade.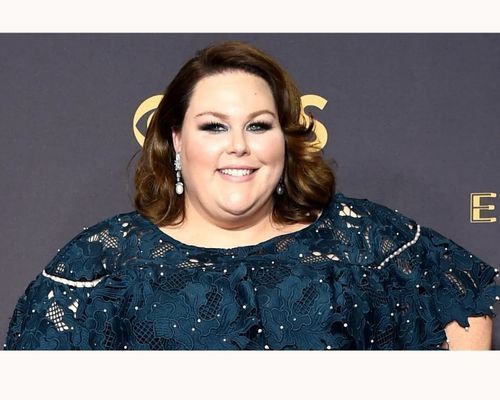 21. Chrissy Metz' Bob Haircut
How cool does this Fauz Bob haircut look on Chrissy? For an event, Chrissy stepped out with this amazing teal green dress and a faux bob hairstyle which looked ravishing. Her fans fell in love with her look.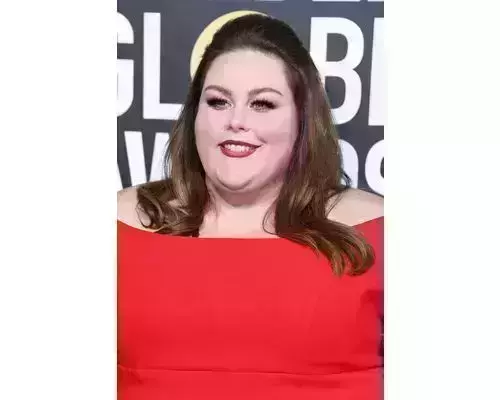 22. Classic And Chic Look
Chrissy has been a sweetheart by her nature. She has always been so gracious in her public appearance, which makes her collect love from everyone. She flaunted this red chich dress and a classic straight hairstyle for one of her appearances and nevertheless, she was phenomenal.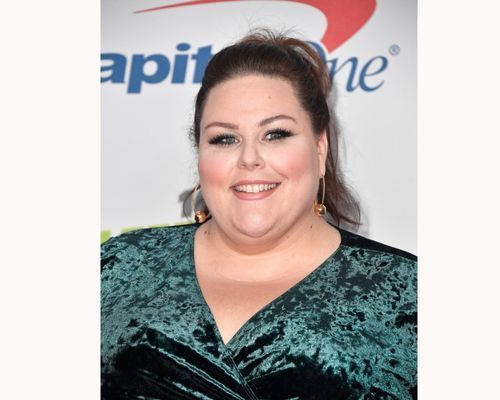 23. Ponytail Hairstyle
Chrissy stood up with this casual ponytail hairstyle with complete hair tied up above. The hair look was very well going with long dangler earrings. Ponytails are a good choice for medium hair and suit all haircut types.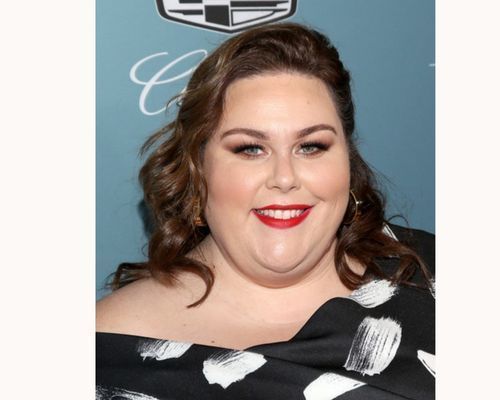 24. Sided Curly Hairstyle
Chrissy stepped out with this short hairstyle which was styled in the one-sided partition. The hair was flipped on one side with curls and the other side was clipped which had bottom stands floating on the shoulder.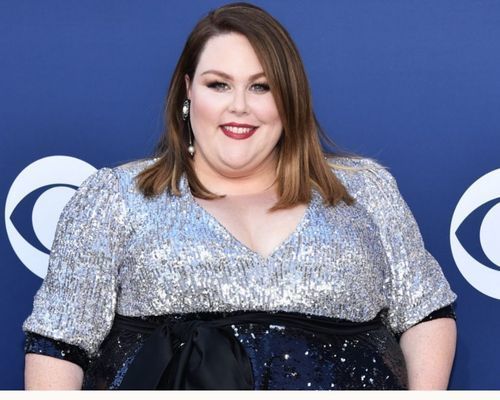 25. Shoulder Lenght Bob
Chrissy was seen with this oh-so-chic look and was shining like a star. Chrissy Metz Bob haircut with shoulder length and straight hair was fascinating. She took her hairstyle on one side and the other side backflipped by her ear.