55+ Easy Mehndi Designs For Beginners - 2023 (With Images)
Shalu Bhati
Updated At 25 Sep 23
Mehndi adorned palms add to the beauty and spirit of any occasion. It has been a tradition for ages as the application of mehndi is considered auspicious. And dare we say that over years mehndi designs have gotten more creative, intricate, beautiful, and sometimes, even complex. But don't let this intimidate you.
If you are a mehndi newbie looking for some easy mehndi design to get started, then we have just the right designs for you. Get inspired with our list of 55+ easy mehndi designs for beginners to put your best hands (and feet) forward. 
Let's begin!
55+ Easy Mehndi Designs For Beginners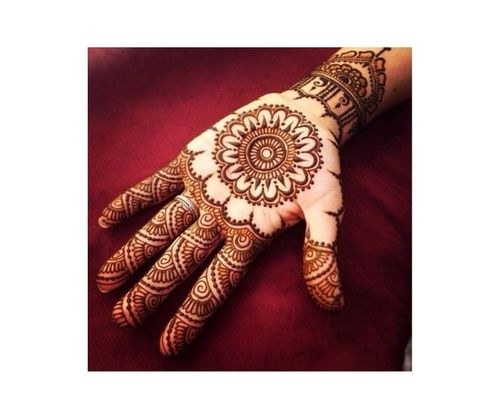 1. Easy Mehndi Design
This is an easy mehndi design with a traditional component. A mandala represents the circle of life and holds a significant value in many religions including Hinduism and Jainism. It is a simple yet impactful design that starts with a circle at the center of the palm and develops from there.
One of the best Mehndi Designs For Hands, this symmetrical floral pattern on the fingers and the lovely cuff design add to the beauty quotient here.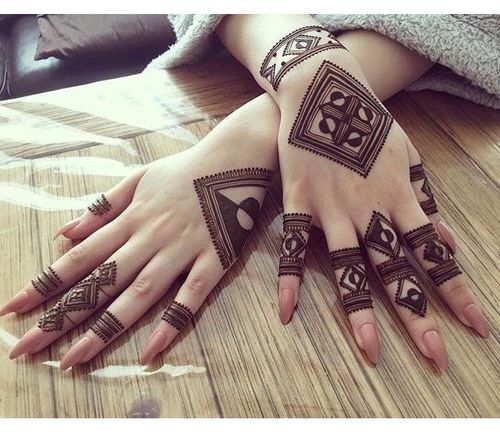 2. Geometric Design Of Mehndi
This mehndi design uses various geometric shapes to form a new and unique design. It has wonderful symmetry which is extremely aesthetical. Add to this the power of shading and you will get yourself a stunning mehndi design like this.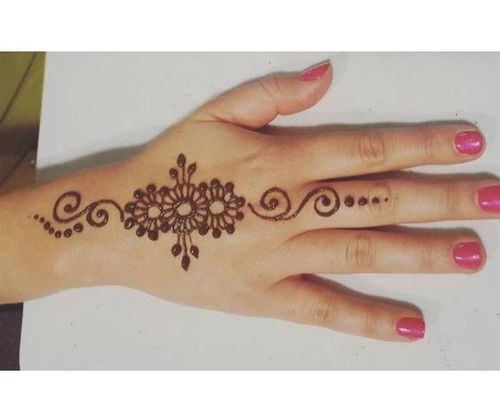 3. Easy Mehndi Design For Beginners
If you are looking for arabic mehndi design which also borders on minimalistic chic, this is the design of Mehndi for you. This design is an easier take on the jewelry mehndi design trend. Like a hathphool, this design too comprises of flowers but does not imitate it entirely. It only takes inspiration from the jewelry mehndi design. A pair of flowers with a few swirls and dots, that's all you need.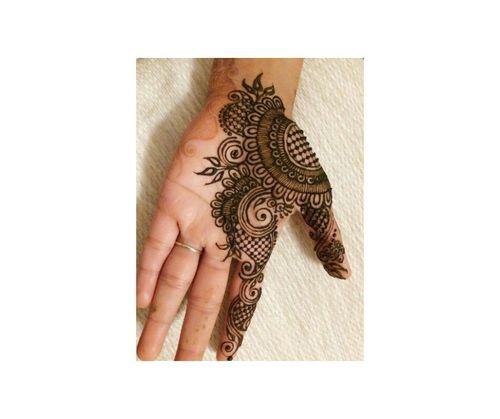 4. Traditional Design Of Mehndi
This is an amazing mehndi design for beginners who want a more traditional design. It was not the paisleys or the floral pattern that caught our attention. But, it is the use of shading to fill in the blank spaces that wowed us. One of the best floral mehndi designs, this one is gorgeous and we adore it.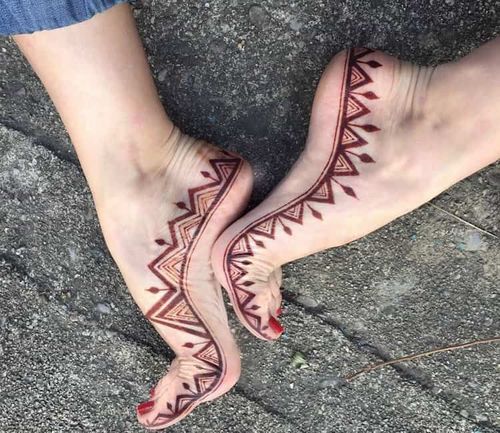 5. Easy Geometric Mehndi Design For Foot
Looking for a mehndi design for your feet? Here is our top pick. This geometric design is easy on the eyes and easy for the beginners to make. Simple lines with a play of light and dark are screaming out minimal chic.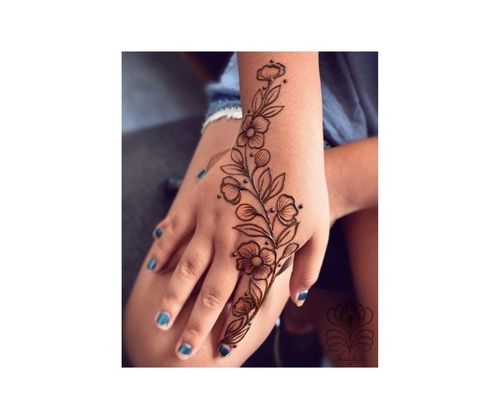 6. Beginner Friendly Mehndi Design
Love flowers? Then you will love this easy floral mehndi design too.  This mehndi design can be made easily and quickly by anyone irrespective of their skill set. All you have to do is draw some flowers, add a few leaves and some swirled up vines. It is a very basic design with a very beautiful outcome.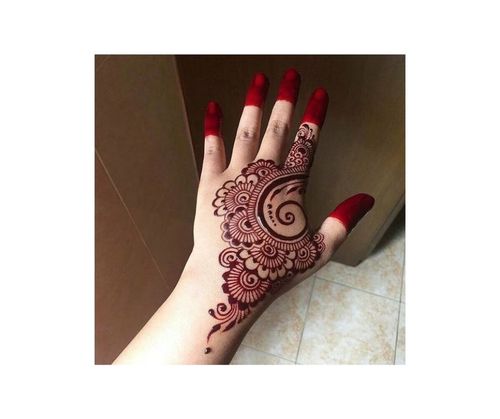 7. Henna Design For Beginners
This is an easy henna design perfect for beginners. It not only can be drawn with ease but looks gorgeous. This design begins from a swirl and expands using floral patterns. The completely painted fingertips add to the beauty of this design and take it up a notch.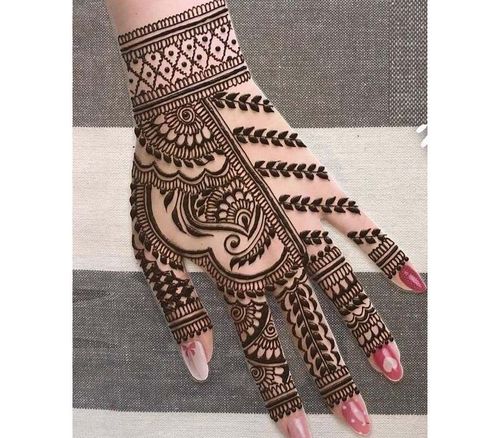 8. Stunning Easy Mehndi Design
This is a stunning example of the Khafif mehndi design. Now, this design might look complicated but it is beginner-friendly and easy to draw. It comprises of tiny non-complex elements like leafy vines, paisleys, floral motifs, and patterns and brings them all together to form an intricate design. This design uses small and simple motifs to fill the space and gives an illusion of complexity. And we think it works.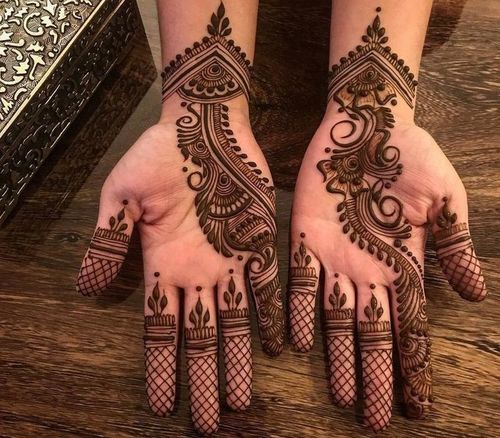 9. Khafif Mehndi Easy Designs
Khafif mehndi designs have a beauty and aesthetic of their own. But they need not be extremely intricate or difficult to draw. Look at this gorgeous and easy mehndi design for beginners. Isn't it simply gorgeous?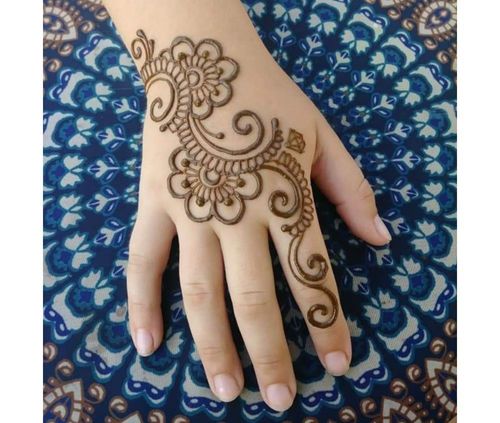 10. Backhand Mehndi
Let's take it down a notch. This is another example of an easy design of Mehndi for backhands. Draw a swirl and add a flower on top of it. This one is a simple stunner and we like it.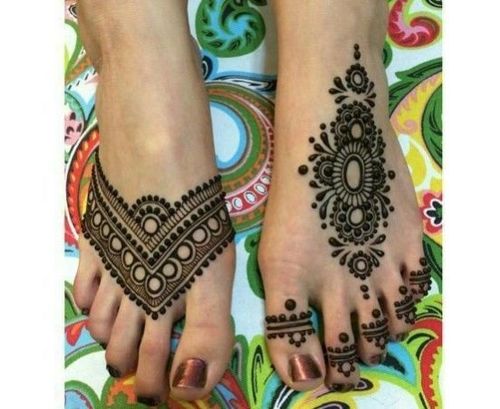 11. Minimalistic Mehndi Design For Foot
Here is another example of a minimalistic chic mehndi design for your feet. If you are not into the complete space-filling intricate mehndi designs, this is the one for you. Painted toes with a border design will look best when you flaunt them in a pair of open-toe sandals.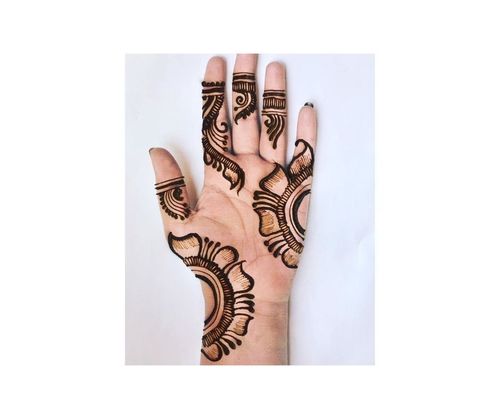 12. Easy Arabic Mehndi Design
Swirls and floral patterns never go old. This easy Arabic mehndi design is proof of that. It has big and bold floral patterns and uses space as a major element.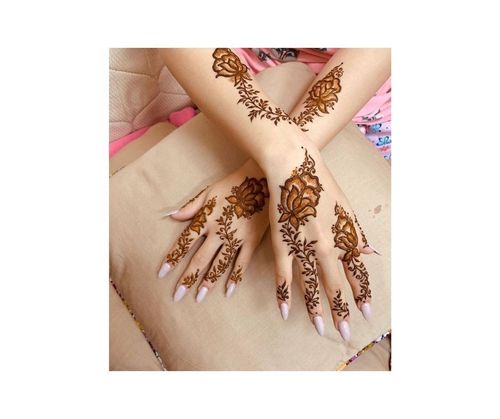 13. Easy Mehndi Design For Brides
Even bridal mehndi designs can be easy. Take this bridal design of Mehndi for instance. It uses a floral pattern, one which is not commonly used. Leafy vines combined with lotus flowers leave a lasting impact. This is a very unique and easy mehndi design for beginners to try.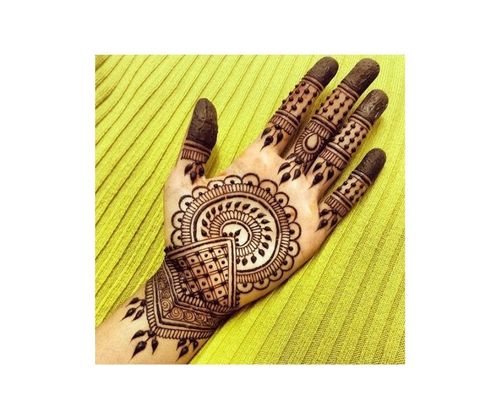 14. Attractive Design Of Mehndi
Mix up lines and circles and you will find yourself with a design as stunning as this one. And also something different as well as unique. This can be a good choice for a bridal mehndi design if you are looking for something which is easy and aesthetic.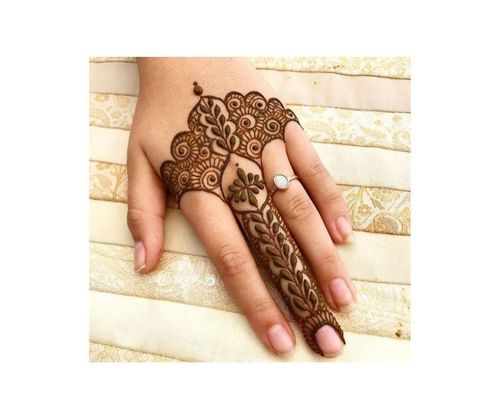 15. Chic And Easy Mehndi Design
We dig this mehndi design. It uses floral and leaf motifs and is focused on one finger and spreads from there. What we love about this design is how the floral pattern just sits the way a ring would.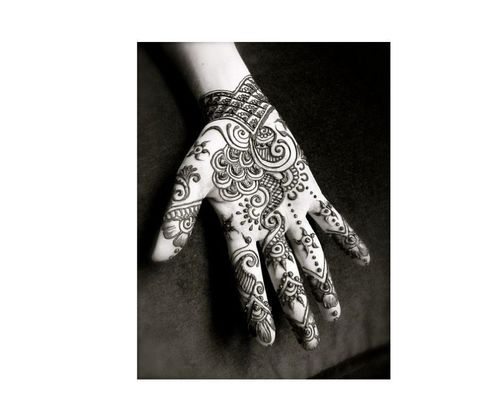 16. Stunning Mehndi Designs For Beginners
Use some concentric circles and some paisley. Add some dot and leaf motifs to make a sun or some flowers. Just let your creativity flow. Combine a variety of motifs and patterns to create an easy yet aesthetically pleasing design of Mehndi like this one.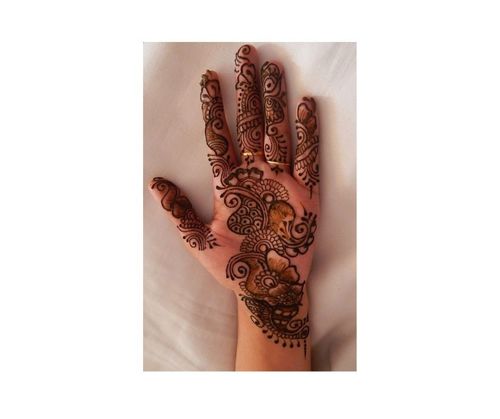 17. Pretty Paisley Mehndi Designs
This is the most basic and easy mehndi design for beginners. You can never go wrong with paisleys and floral patterns. You can add some difference to this basic design by changing up the motifs normally used to fill in spaces and voila you would have the perfect front hand mehndi design.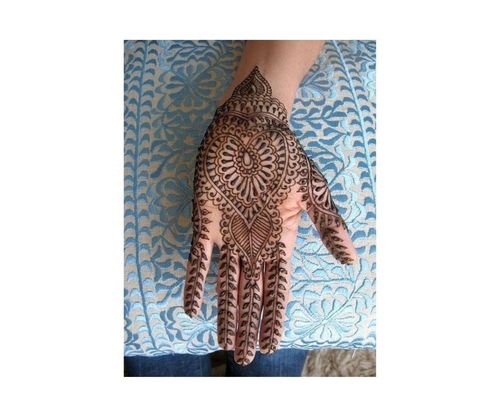 18. New And Easy Mehndi Design
This is a very attractive new age Arabic mehndi design. It is not simply a swirl but it also takes the shape of the petals of flowers. It is just so clean, symmetrical, and leaves a lasting impact.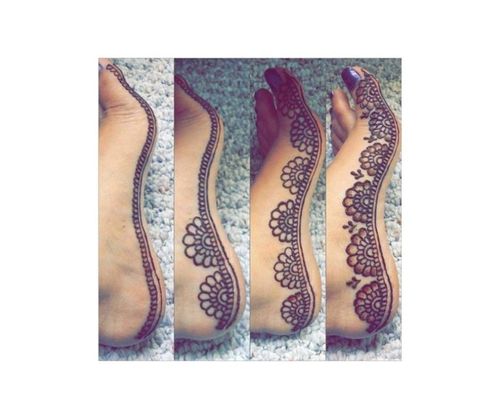 19. Step By Step Design Of Mehndi For Feet
Let us make it easier for you with this step by step design of mehndi for beginners. This is an easy mehndi design for feet. Start with a simple line as a border. Throw in a couple of flowers and some small circular motifs to achieve an eye-pleasing design like this one.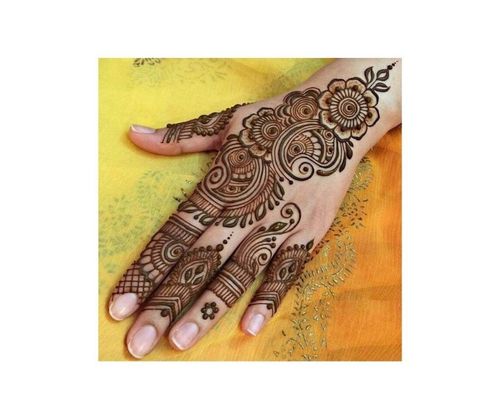 20. Beautiful Floral Mehndi Easy Designs
Take the basic mehndi design up a notch without giving up on the ease of drawing it. The key is to fake it until you make it. You don't have to draw complex designs to make it look fuller, intricate, and beautiful. Combine bigger patterns with smaller motifs to create an illusion of intricacy. Play with the sizes and you will be drawing a different looking pretty design like this one.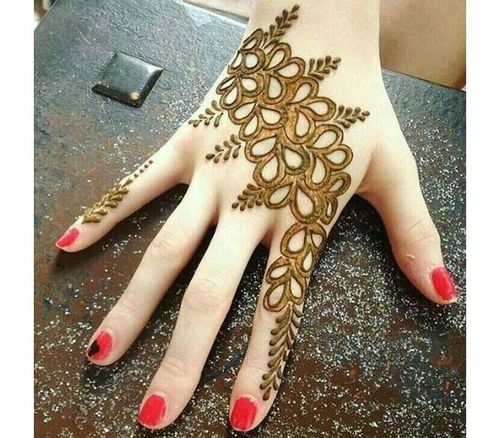 21. Tear Drops On Hands
This is an easy Mehndi design which comprises of the teardrop motifs. We love the way how each drop is outlined and the space between both the outlines is lightly shaded. The use of leafy motifs to finish off complements the design very well.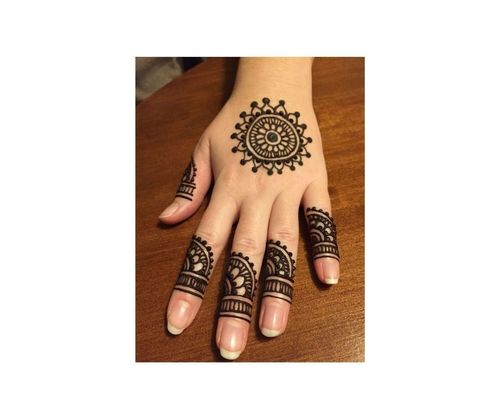 22. Easy Mehndi Design With Mandala
You can never get enough of the mandala design. It is not only auspicious but also easy to make, looks stunning, and can be drawn in a million different ways. This is why we completely adore this minimal mandala design.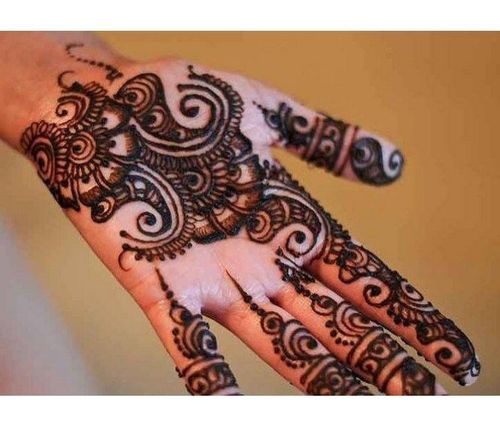 23. Amazing Easy Mehndi Design With Paisleys
Paisley motifs never get old and neither do the floral patterns. This is one such easy mehndi design which proves the point. Instead of the usual round petals, this design uses flowers with slightly squared petals. Even the paisleys are thinner than usual. And that has made all the difference.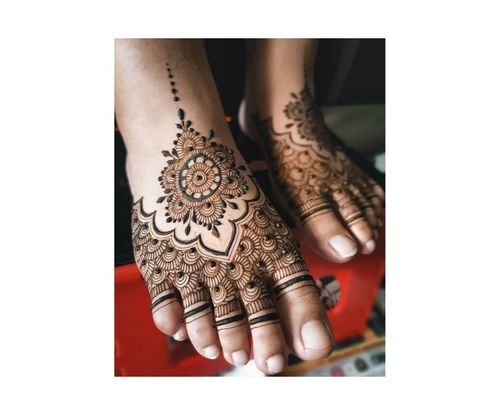 24. Easy Mehndi Design For Feet
Painted toes and floral pattern to the side of the feet, what is there not to like? It is an easy mehndi design for beginners and also happens to be very attractive.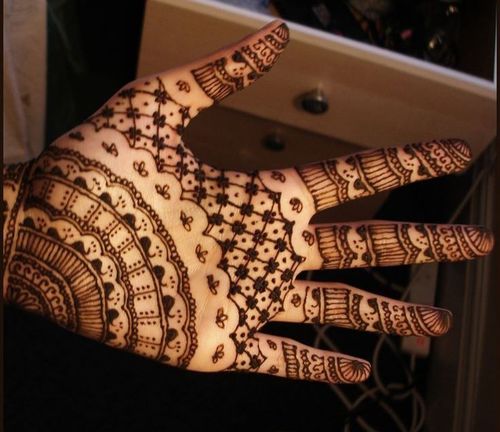 25. Lace Pattern For Hands
You have only seen the lace pattern on the backhand design of mehndi till now. So let us introduce you to an easy mehndi design for hand which uses lace pattern on the palms.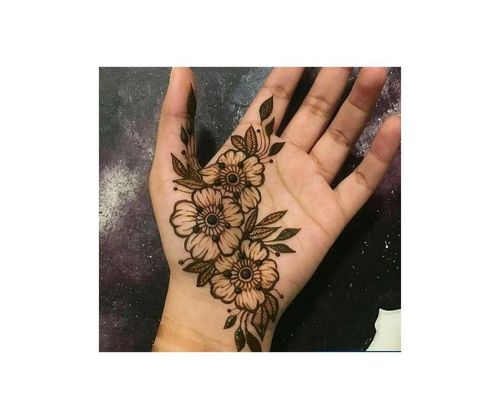 26. Floral Easy Mehndi Design
This is another example of an easy mehndi design that you be inspired by. It is a floral mehndi design but not just any floral design. It has fuller flowers along with well-defined leaves that make this design very exquisite.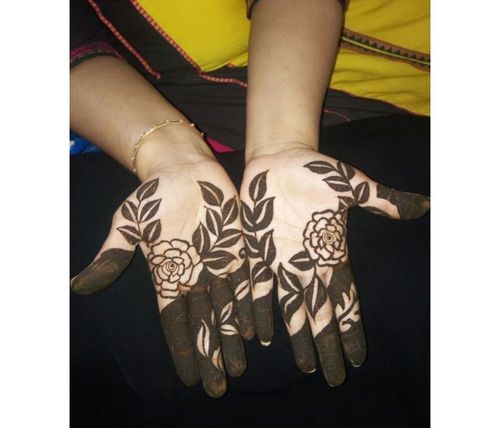 27. Aesthetic Mehndi Designs
Bored of the regular floral and leafy patterns? Then we found the perfect design for you. This is a completely different take on the floral-leafy motifs. This mehndi design uses heavy shading on the fingers with similarly shaded leaves on palms. The pairing of the leaves with a single rose, add an aesthetic touch to the whole design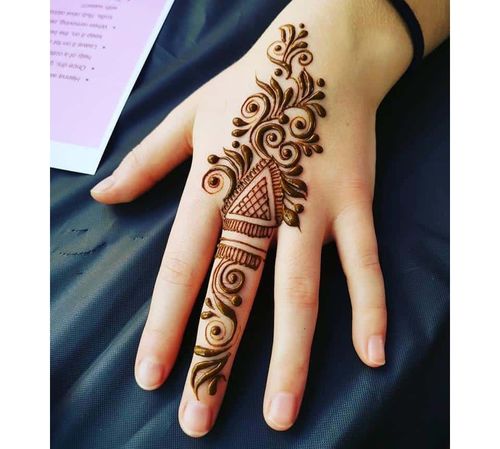 28. Mehndi Design For Back Hands
This is the latest easy mehndi design for beginners that combines both geometric and leafy swirls to create a unique and beautiful design that will stand out from the crowd.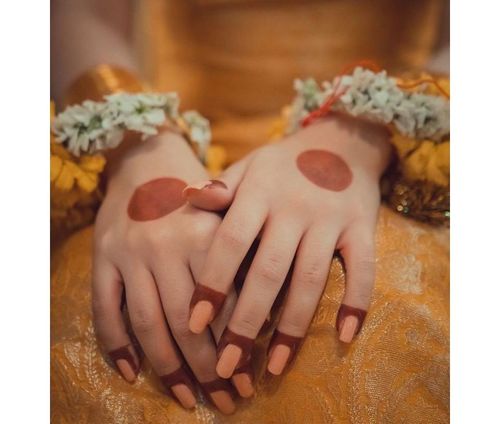 29. Minimal Mehndi Design
Minimalism is on the rise and itis here to stay. This simple mandala design is very easy to make and boasts of a dreamy elegance and beauty.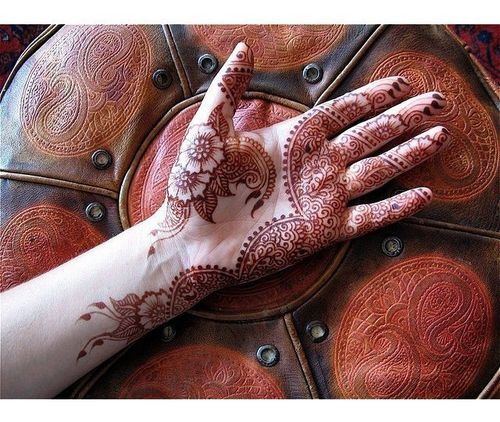 30. Beautiful Bridal Mehndi
Bridal Mehndi of this year is nit about full hand intricacy. Minimalism has influenced these designs a lot. This design pictured here is a great example of this trend. It uses both bold and intricate designs while also using space as an element.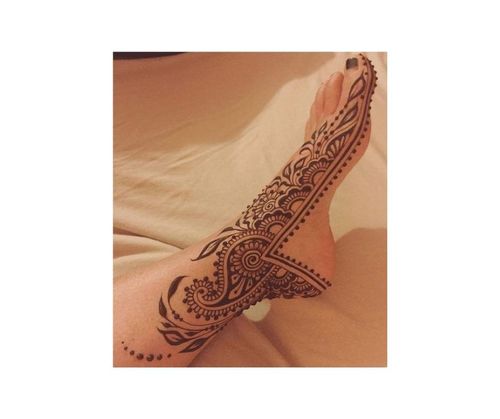 31. Beautiful And Easy Mehndi Design For Feet
This design of mehndi is easy, simple, and stunning. It uses all kinds of traditional motifs which are expressed with a hint of modernity. The paisleys, leaf, and floral patterns adorn the geometric triangular outline.  
Also Read: 51 Best Cone Designs For Hands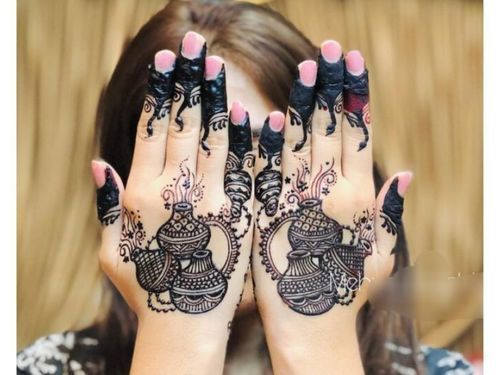 32. The Pot Mehndi Design
Generally, this easy mehndi design is done with black henna, the main mantra of this henna design is to stand out among all. This henna design is based on the gothic concept and shouts modernism. These pots generally suggest independence and freedom. Although looks complex, this mehndi design is very easy to make. Just draw some pots on the backhand and combine them with deep shading. Voila! The easy mehndi design is ready.
Also Read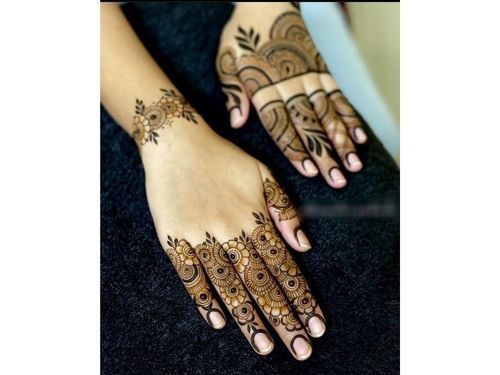 33. Easy Mehndi Design For Fingers
This is a simple mehndi design for fingers. Floral designs are combined with small sunflower patterns to achieve this mehndi design. The tip should be darkly shaded to make the design look vibrant. This is a type of modern and aesthetic design that will make the hands look uniquely out of the box.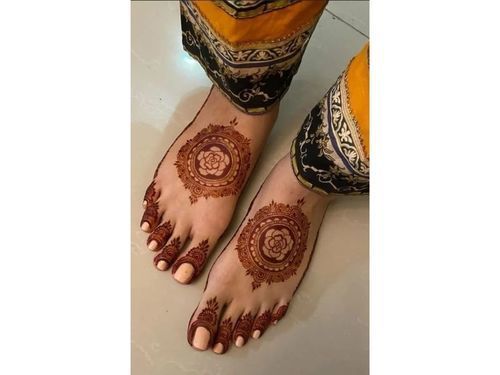 34. Easy Mehndi Design For Foot
Attractive yet easy? If this is what people are searching for then this easy mehndi design for the foot should be their prime choice. Mandala design along with floral patterns right at the end of the tips will leave the observers in awe. It is a great mehndi design for beginners to start.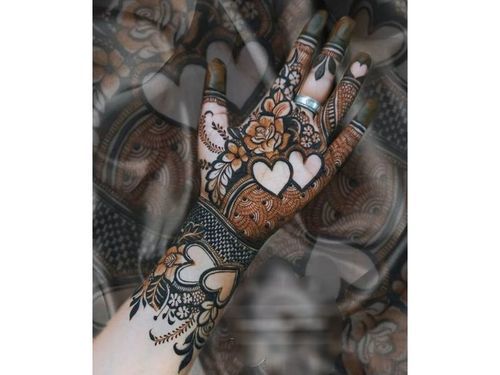 35. Easy Mehndi Design For Couples
Couples love making the "love symbol" mehndi design. Be it a guy or a girl couple mehndi are quite common during their special occasions (anniversary day or birthday) or wedding ceremonies. This is an extremely easy mehndi design where one just needs to draw a heart at the palm or the centre part of their hand and then combine it with asymmetrical designs including flowers. The tip of the fingers is dark-shaded to make the mehndi look vibrant.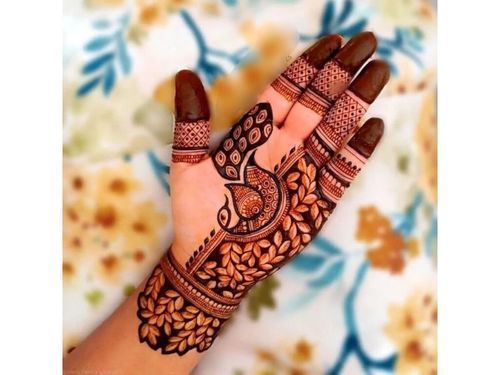 36. The Khafif Mehndi Design
The Khafif mehndi design is a combination of modern and authentic mehndi design. The design might seem complicated but it is a very easy-to-make mehndi design. It looks stunning and complex at the same time, but most importantly it requires minimum effort. Floral patterns are the base of this design and the designs are connected by drawing vines alongside. Creating a centric design of a peacock will further enhance the design and make it look artistic.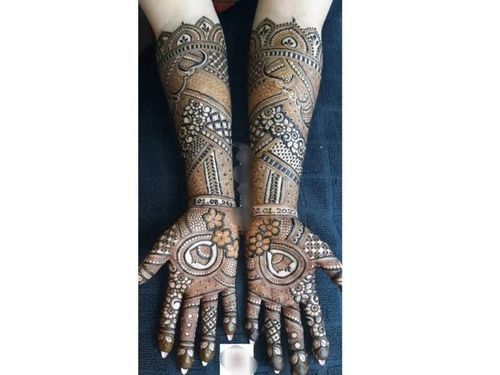 37. Very Easy Mehndi Design
Although seems like a full-hand tattoo, this is one of the easiest mehndi designs. This design takes time but the finished product seems extremely beautiful. The combination of floral structures, leafy vines, alphanumerics, and paisleys creates an illusion sort of a design altogether. Entire hand mehndi designs are very common during wedding ceremonies in India and will continue to be very popular.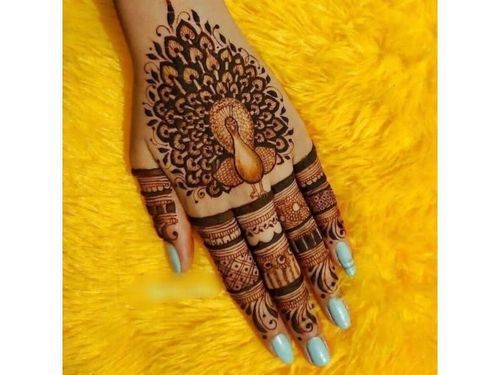 38. Peacock Mehndi Design
The peacock mehndi design is a prime example of easy mehndi designs for beginners. Be it on the palms of the hands this mehndi design is unique. A peacock generally denotes eternal life and pride. This mehndi design portrays elegance and pride. Combining the design of a peacock with blunt shades near the fingers will help you achieve this design. Detailing is necessary when it comes to drawing the feathers of the peacock.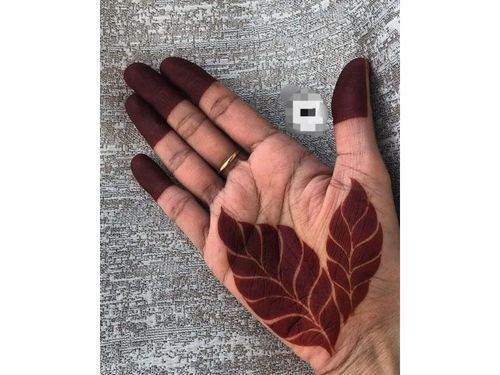 39. Easy Floral Mehndi Design
Floral mehndi designs are considered to be the easiest ones for beginners. If you are looking for a floral but easy mehndi design you should start with this one. This mehndi design denotes the purity of nature. A leaf structure on the palm paired up with deep mehndi on the fingers makes this mehndi design stand out among all. It is a very clean yet beautiful design.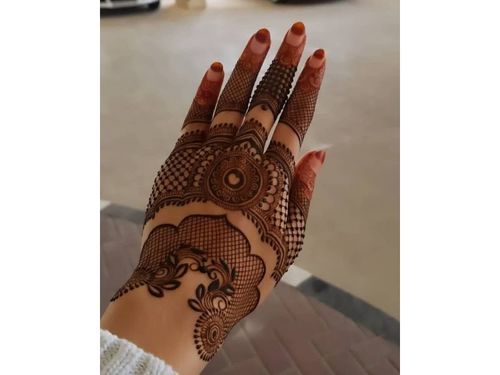 40. Easy Mehndi Design For Backhands
This is a very easy mehndi design for back hands which includes swirls and symmetrical floral patterns. The design is divided into three parts. The upper part generally includes blunt shading, the middle part includes floral swirls and motifs whereas the lower part includes a traditional themed pattern. Combing all three of them leads to such a wonder of a design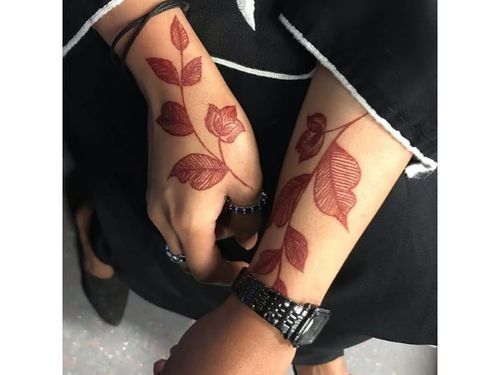 41. Leafy Mehndi Design
Another modern yet easy mehndi design is the leafy mehndi design. Just draw leaves and connect them with vines to form a chain-like design on your hands. Paired up with a watch this design looks extremely unique and classy. Most importantly, it requires minimal effort to do this design.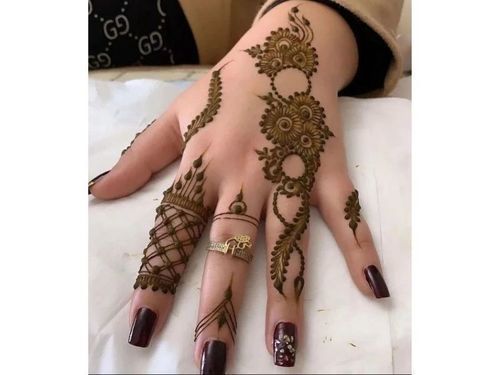 42. Minimalist Floral Mehndi Design
This is a minimalistic floral mehndi design. The main concept of this mehndi design is combining bigger floral patterns with small floral patterns. One just needs to manipulate the sizes of the circle to make it look interesting. This is a very easy mehndi design but looks amazing when done completely.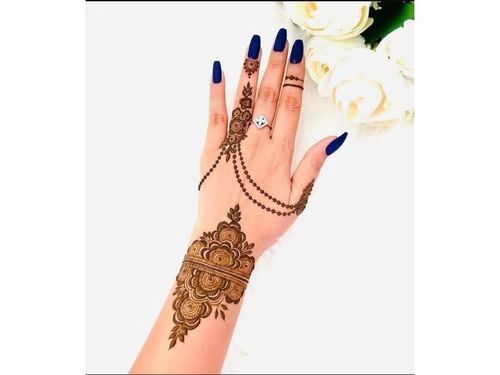 43. The Mughal Mehndi Design
This mehndi design is inspired by the Mughals and concentrates more on thicker patterns in the design. Minute designing is not necessary as the design mostly relies on bigger and clean designs. Combining big floral patterns with detailed bright shading is the prime concept of this henna design. This design makes you look like a Mughal queen if done properly and precisely.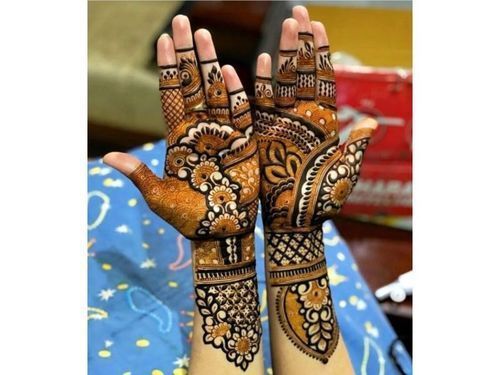 44. Paisley's Mehndi Design
Paisleys mehndi designs or motifs never go out of the trend. Even though recently they have lost the hype but in coming years the value will never be lost. A perfect combination of floral patterns, swirls and vines make this design look unique. The paisleys are made thinner in size compared to the previous designs. Best suited for hands this design looks complex but is very simple to do.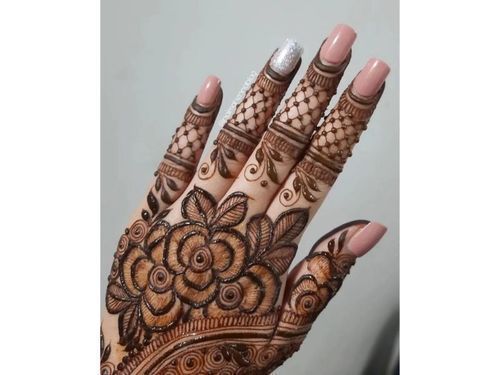 45. Flower Based Easy Mehndi
This is one of the best henna designs for beginners over. Just start the mehndi designing with floral patterns and swirls. Floral patterns have always been a base for mehndi designs. Moreover, it excellently blends with structures, blends and dark shades. Add nail paints to enhance the look. This easy-to-do mehndi design is best suited for hands.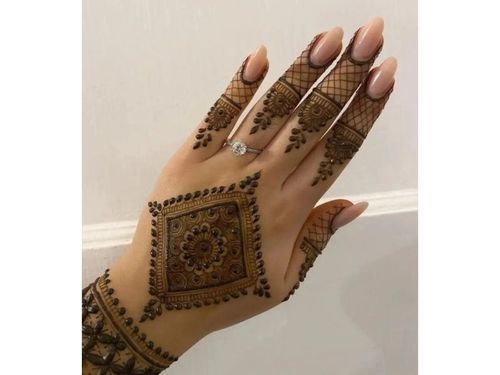 46. Triangular Mehndi Design
This is a very simple and easy mehndi design that is made up of geometric patterns. A triangle on the upper hand side or the palm side along with floral patterns on the fingers will make the hands look beautiful. Pair this design with a ring and it is good to go.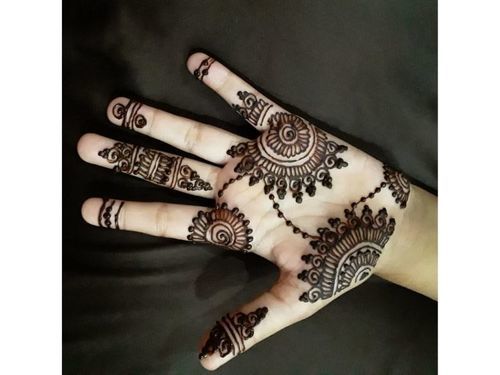 47. Asymmetric Mehndi Design
Perfectly symmetric Mehndi is too mainstream! Here we have a pattern which brings together Indian motifs with Western design. The result is a gorgeous Mehndi design that will set you apart from the crowd.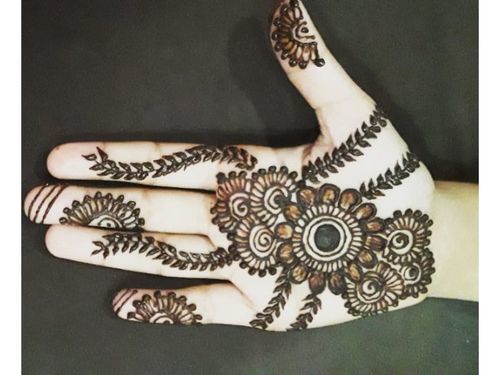 48. Leaf Motif Design
After floral patterns, leaf patterns in Mehndi are the easiest to recreate. The design in the above image covers the palm entirely but can be made within minutes. This can be a great option if you are in a rush.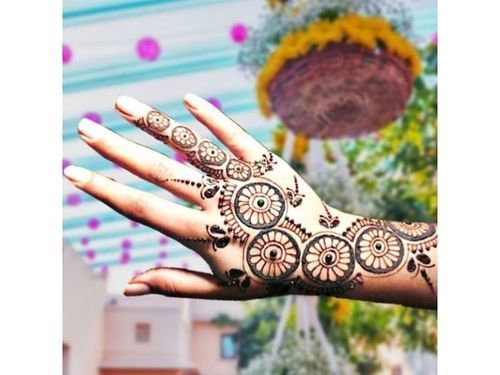 49. The Wheels
This pattern will be a fresh change from the conventional floral or ethnic Mehndi designs. The wheel motif also makes it easy to make. One can also experiment with the size and details in this design to customize it to one's taste.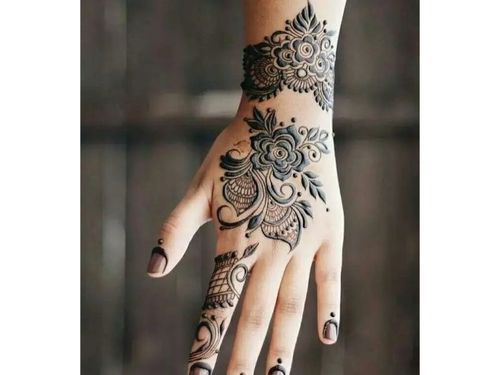 50. Backhand Mehndi Design
For backhand Mehndi, even the minimalistic patterns can look alluring. Most backhand Mehndi designs tend to be simple and easy to make.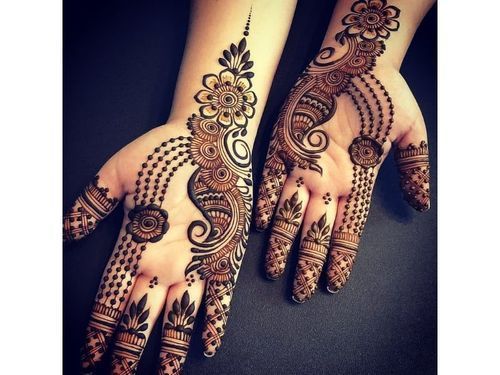 51. Fusion Of Modern And Tradition
Whether one wants a floral, geometric or jewellery style pattern in their Mehndi, one can blindly pick this design as it has a bit of everything.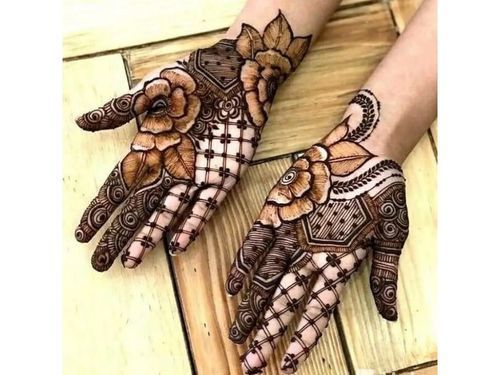 52. Netted And Mandala Mehndi Design
Who said one needs to have the same design on both of their hands? One can go with two completely different styles for each hand. In this pattern, the right hand has a Mandala style pattern while a simple netted pattern has been made on the left hand. These patterns will look great on the front hand as well.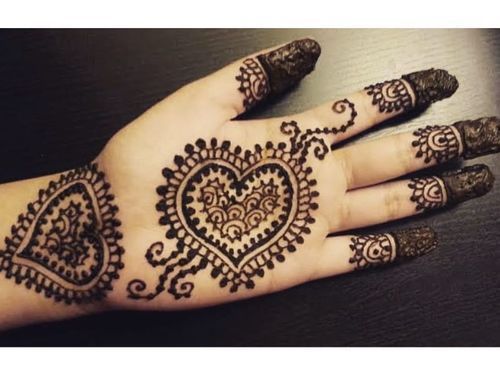 53. Rajasthani Style!
While the Rajasthani Mehndi design might look intimidating to newbies, look closer and could notice that the pattern is not as elaborate as it looks. The lines are thicker compared to most intricate patterns and the motifs are basic. The finger pattern might need some precision and a stable hand.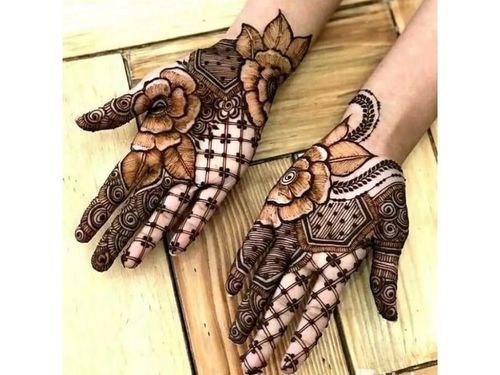 54. Netted Floral Design
Yet another floral pattern and our favourite on this list, this easy Mehndi design will be a cakewalk. Most of the design consists of straight fine lines and the flower motif is the highlight of the pattern. One can fill in the flower motif to make it even more prominent.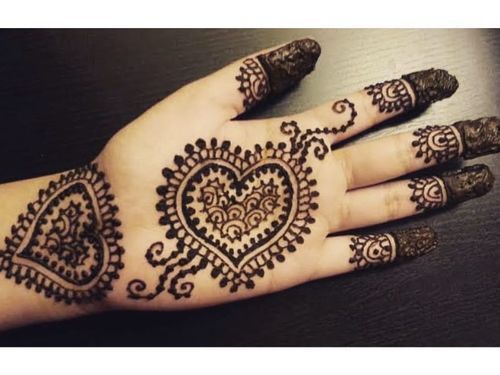 55. Heart Motif Design
The easiest shape to draw, the heart has now found its way into Mehndi designs. This pattern would be perfect for Valentine's day or anniversaries. It doesn't take a lot of time and looks charming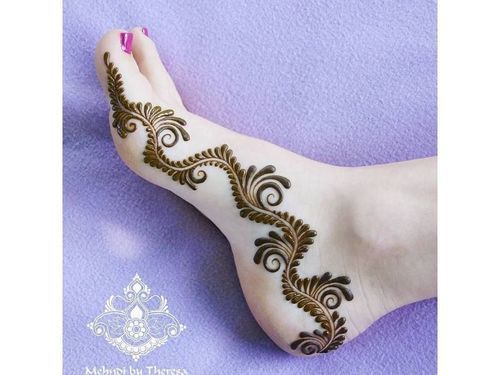 56. Leafy Design For Feet
This design looks quite simple and easy. It doesn't consume time and also it will maintain its attractiveness. People in hurry can try this design. Just decorate the curves with leaves. So easy for beginners!