25 Stunning Looks Of Chrissy Metz - 2023
Olivia
Updated At 02 Jan 23
Chrissy Metz is the star of the award-winning NBC drama "This Is Us," which won the 2018 and 2019 SAG Award for Outstanding Performance by an Ensemble in a Drama Series andPeople's Choice Award for "Favorite New TV Drama." Metz is a finalist for an Emmy and two Golden Globes. In the popular faith-based movie BREAKTHROUGH from 20th Century Fox, Chrissy recently played Joyce Smith. Additionally, she sings the song "I'm Standing With You," which was penned by 10-time Academy Award nominee Diane Warren, on the Breakthrough soundtrack. Lets check out the top 25 looks of Chrissy Metz. Similar to her fashion looks, Chrissy Metz weight loss story has been inspirational to many.
25 Best Looks Of Chrissy Metz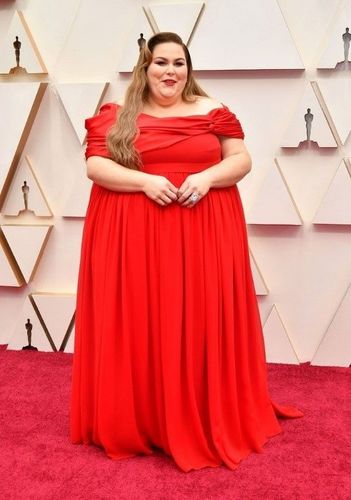 1. Red Gown at Academy Awards
In a custom red off-the-shoulder gown by Christian Siriano, the actress dazzled at the 2020 Oscars.
If I ever end up on the worst-dressed list, it's not going to make me fall apart. I want to look great and feel good and be comfortable, but at the same time, none of this really matters. This is the fun stuff. [My stylist Jordan Grossman] knows what works on me. She's given me permission to try different things. I want to wear something because I love it, not because it follows the rules.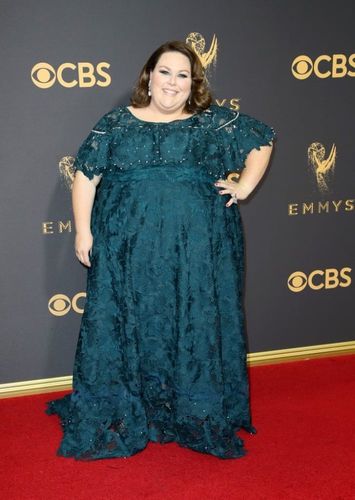 2. Gorgeous Lela Rose Creation
We are stunned by this gorgeous look of Chrissy in this long gown perfect for an evening look.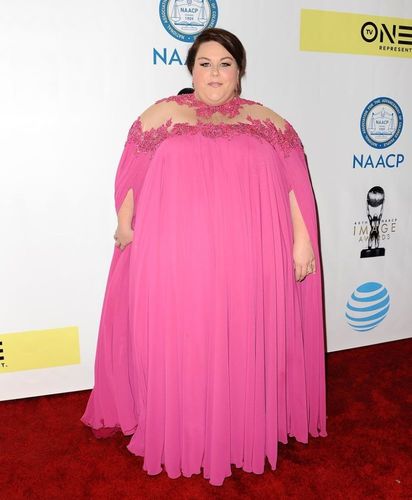 3. Pink Michael Costello Gown
How beautiful does Chrissy look in this pink gown. Her makeup complements her look perfectly as well.
Chrissy Metz photos across the years showcase that she has always struggled with weight issues but she has been mentally very strong and has overcome various obstacles to grow as an actor.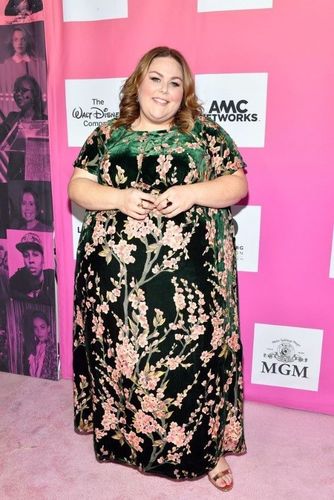 4. Florals at the Women's Summit
At TheWrap's Power Women Summit, the actress stunned in a floral maxi dress that had us all swooning. Chrissy mentioned the following regarding her team and floral dress.
The [This Is Us wardrobe team] is so wonderful. They think outside of the box, and it's not 'plus-size girls can wear this kind of jacket or these jeans.' I love that they're always wanting to make Kate look put together and chic. They do such a great job reaching out to all different designers, making it work for a plus-size body, and making me feel good. So many women have asked about the wardrobe, so it's been great to connect to fans in that way as well.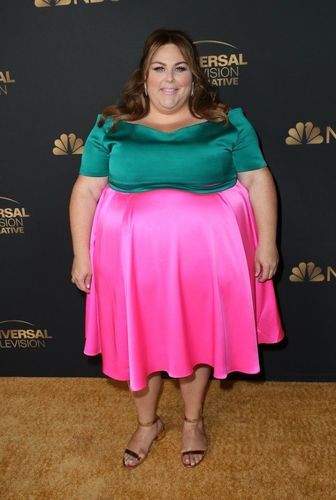 5. Emmy Nominations
For the NBC and Universal Emmy nominee celebration, Chrissy wore an astonishing off-the-shoulder dress by Anthony Thomas Galante in vibrant green and fuchsia.
"I don't necessarily feel pressure [to represent plus-size women] because I know that if I stay present and authentic in my work then that will speak for itself. What I hope to bring to it is courage and the idea that our weight does not define us. So, I don't necessarily feel pressure — I feel grateful that I have a platform to reach people."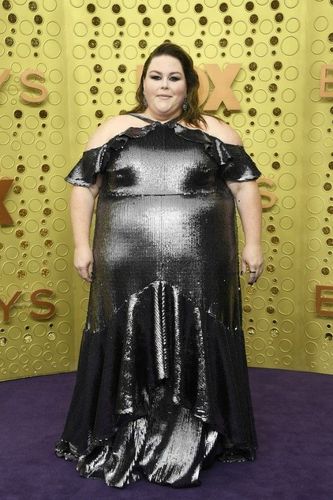 6. Emmy Awards
At the 2019 Emmy Awards, the actress stood out in a Christian Siriano cold-shoulder gown with gunmetal sequins.
"I feel like everything that we as individuals must contend with is a little gift that we're given to be able to relate to others, to educate others and to show people empathy and sympathy. And I know that there are body positive wondering why Kate's weight has to be such an issue, but in this particular story it is, and I'm happy we are educating people about the internal struggle and not just the external struggle."
Chrissy Metz story clearly showcases her struggles throughout her life and how she has overcome the same. She has been a true inspiration to many people.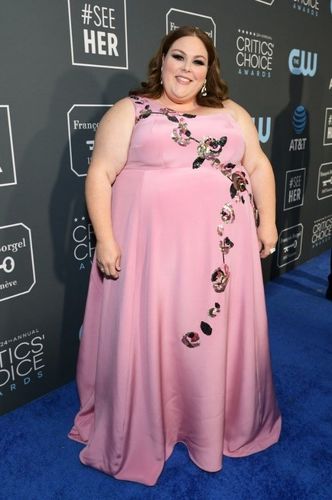 7. Critics Choice Awards
At the Critics' Choice Awards, the actress stunned in a pink floral one-shoulder gown by Kate Spade. Chrissy had mentioned the following about her role in This is Us.
I think [my character on This Is Us] gravitates towards Toby's confidence, and he's loving her until she can love herself. But it also scares her, because she's like, 'Well, why don't I feel that way?' Beauty and feeling truly happy is an inside job, so I think eventually is going to figure out why she put on this weight and why her story is what it is.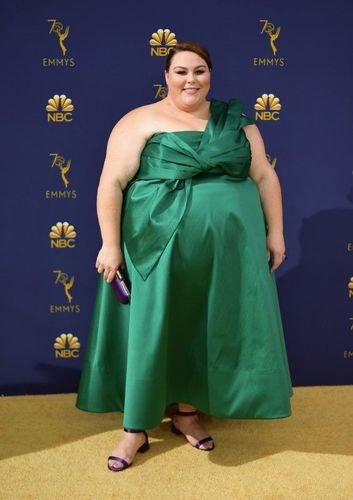 8. Emerald Dress
At the 2018 Emmy Awards, the actress stole the show in this glitzy one-shoulder emerald dress by John Paul Ataker. Chrissy mentioned the following about her size and role in "This Is Us".
"You don't realize that somebody who's average or even very fit could relate to someone who's overweight. But it's not about our size — it's how we look at ourselves and how we feel about ourselves. You have to use what you have, and I wouldn't have this role if I had already lost weight. Now it's about telling a story of a woman struggling with her weight, just as I have and still am."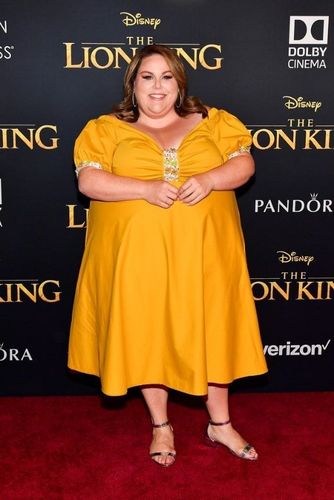 9. Lion King Premiere
Chrissy is the perfect person to brighten up the red carpet with some happy colour! The star's mustard off-the-shoulder dress brightened the Lion King premiere. She said the following about her dress preferences.
Most of my stuff comes from Eloquii, Torrid, Lane Bryant — even Target! If I find a cute skirt, I'm not fixated on a brand. But there are such slim pickings for bigger girls to dress cute, although that's starting to change — when I was growing up, it was torture. When I'm not shooting, I'm a leggings and boots girl. I like cute and casual — for me it's all about feeling good and being comfortable.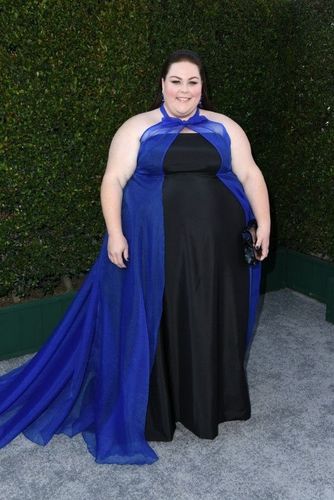 10. SAG Awards
At the 2019 SAG Awards, the actress made a statement wearing a two-tone halter gown by John Paul Ataker.
"The red carpet transformed how I dressed. I never wore form-fitting dresses before. There are a lot of people who make you feel uncomfortable if you show a chubby stomach, arm or leg. I was being educated, while becoming part of the conversation on size inclusivity. When I started promoting This Is Us, I was worried about how things would photograph, but I slowly gained confidence."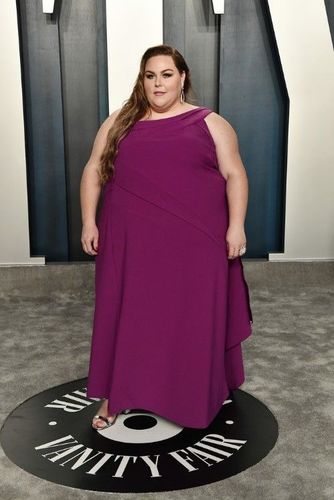 11. Vanity Fair Oscar Party
Metz looked stunning at the 2020 Vanity Fair Oscar celebration in a purple one-shoulder gown.
"Just like with any character, we all have backstories and things we're dealing with — hers happens to be weight and I happen to be a plus-size woman. I think it's great that there's a platform to educate people about plus-size people and show that we're not just sitting in a corner miserable and mad at the world. There's just so much more going on when it comes to our feelings and why we do what we do."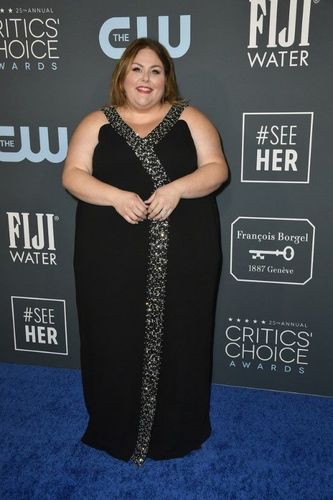 12. Critics' Choice Awards
The stylish star's red-carpet ensemble at the 2020 Critics' Choice Awards was a stunning black 11 Honore gown with silver detailing.
"If you can't love who you are now, you can't get to the place you want to be. It's a daily lesson for all of us. I am paving the way for other women and men who know they're destined for greatness but they don't believe it yet. There's more room for all of us now — no matter our sexuality, race, body size, gender or whatever else."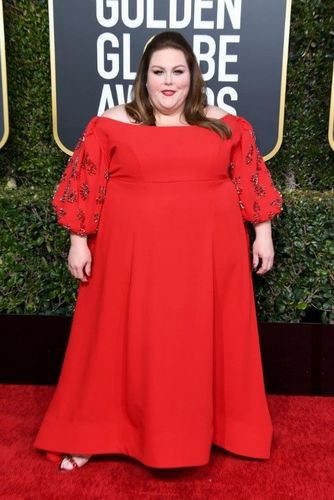 13. Chrissy Metz Red Dress
When Metz wore this majestic off-the-shoulder gown with embroidered sleeves to the 2019 Golden Globes, she gave the red carpet a run for her money.
"You know, it's tricky to find things to wear and not always get the same cut of something. I think there's this misconception that plus-size women can't wear long dresses or more fabric because it might make them feel larger. The fact that I'm even having a conversation about a conversation about a dress is so crazy — this is what you dream of!"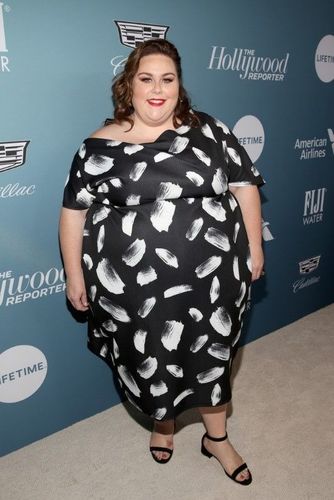 14. Power 100 Women Event
Chrissy gave us a lesson in fashion when she attended the Hollywood Reporter's Power 100 Women event wearing this stylish dress with a paint streak motif. Chrissy has the following opinion about her fashion preferences.
I love bold colors and prints now. Being a big girl, you want to hide sometimes, but with that dress, it was like 'Boom! I'm here, in all my embroidered glory.' I want to encourage women to enjoy what they're wearing, as opposed to just finding a boring black dress that fits. We need to be specific about how clothing fits different body shapes. I want to show personality, and make something that I want to wear. If I don't want to wear it, I would not want to sell it.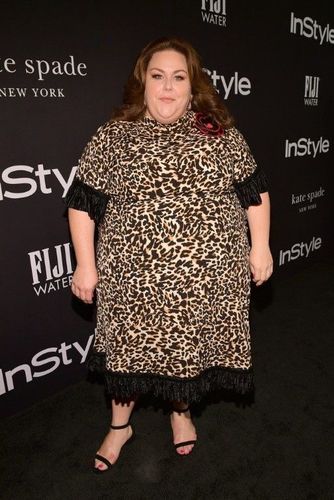 15. InStyle Awards
Refer to the star's daring outfit from the 2018 InStyle Awards for inspiration on how to wear leopard print.
"I want to have a fit, healthy body and not have to be put in a box. I don't want to be limited by anything. It's one of those things that of course I can relate to because I have those voids with validation from other people or with food or whatever I think is going to make me feel better."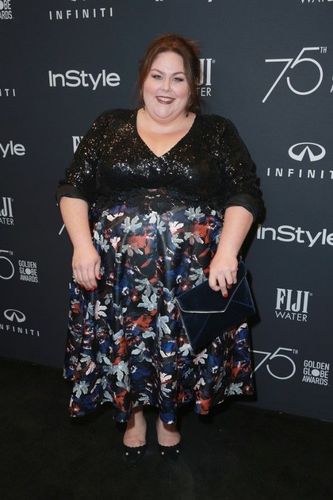 16. InStyle Golden Globe Party
For the Golden Globes 75th anniversary event, Chrissy opted for a fun cocktail dress with a floral skirt and a glittery bodice.
"Everybody, to some degree, fills a void with something, whether it's social media, alcohol, drugs, overspending, overeating. We're either chasing a feeling or trying to get rid of a feeling. But in the long run it never does. It's just a Bandaid on a really big wound that you have to get to the bottom of, because we don't like to be uncomfortable as humans. It feels awful, and that's sort of what [my character on This Is Us] is doing with her overeating."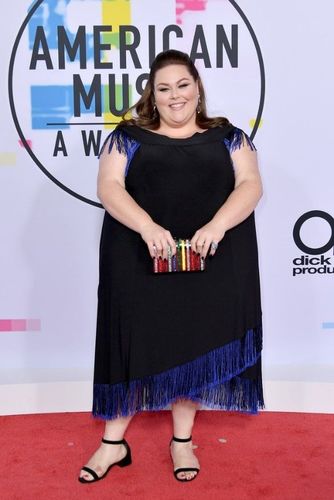 17. American Music Awards
The celebrity opted for a black Kiyonna midi-dress with blue fringed shoulders and shoulders for the 2017 American Music Awards, and she looked party-ready.
"I think that [my character on This Is Us] doesn't do things perfectly, but she keeps going, and that to me is the biggest hurdle and the biggest thing that she's done, as she continues to do because it's not easy. That's what we're all trying to do. She might go through it in a very emotional way and uncertain way, but she definitely keeps moving, and that's, I think, the biggest in her evolution. Instead of being stagnant and feeling sorry for herself, she's like, 'Okay, I'm going to feel this pain. I'm going to go through it, make the next best decision, and keep going.'"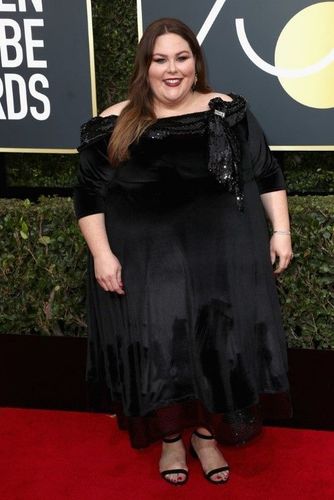 18. Golden Globes
The actress looked sophisticated while attending the 2018 Golden Globes in a black off-the-shoulder gown by Sachin & Babi.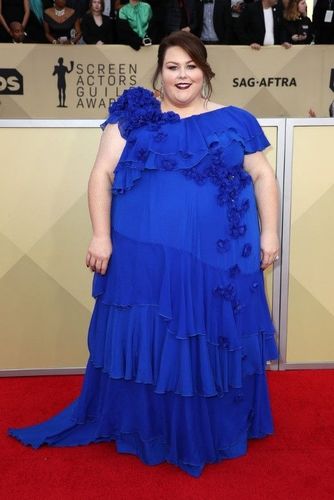 19. SAG Awards
Chrissy was a sight for sore eyes when she attended the 2018 SAG Awards wearing a frilly Kate Spade gown in a dazzling electric-blue hue.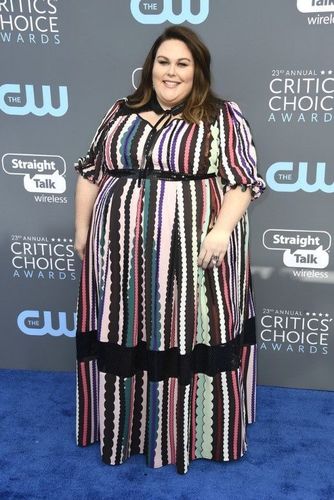 20. Critics' Choice Awards
At the 2018 Critics' Choice Awards, the This Is Us actress showed how to wear stripes perfectly.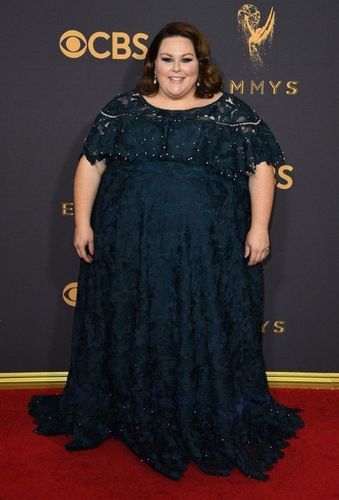 21. Chrissy Metz Emmy Awards Look
In this lace appliqué dress with vintage ruffle sleeves, Metz exudes dramatic romance to the fullest. She appears to belong in an old Southern mansion as she rushes down a marble staircase to greet her sweetheart.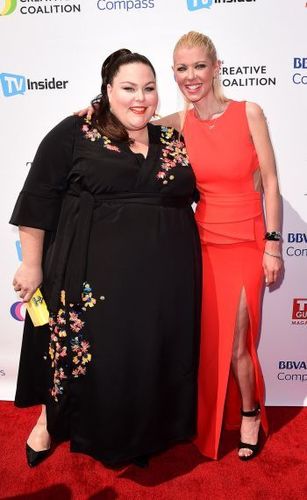 22. Television Industry Advocacy Awards
Trading in her dramatic lace for a simple wrap dress, Metz looks fresh and playful in this floral and high ponytail look. And love the clever pop of yellow from her small clutch purse!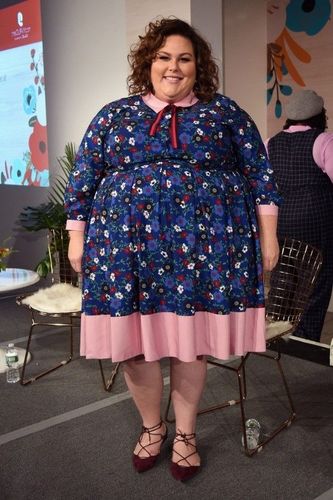 23. CURVYcon
Metz had to bring it in terms of fashion as a speaker at theCURVYcon, a convention for curvaceous and plus size women. And she didn't let us down. She appeared in the prettiest baby doll outfit, complete with a ribbon threaded through her peter pan collar and tie-up ballet flats, appealing to a feminine aesthetic.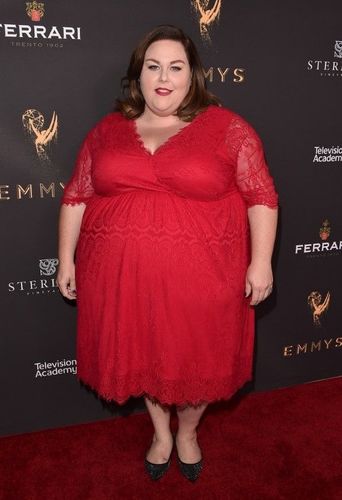 24. The Television Academy's Performers Peer Group Celebration
That is exactly what this scorching dress accomplishes—it demands your attention just like the Lady in Red always does. When worn with sheer lace, it transforms the wearer into a seductive vixen who appears capable of breaking at least a few hearts and loves doing it.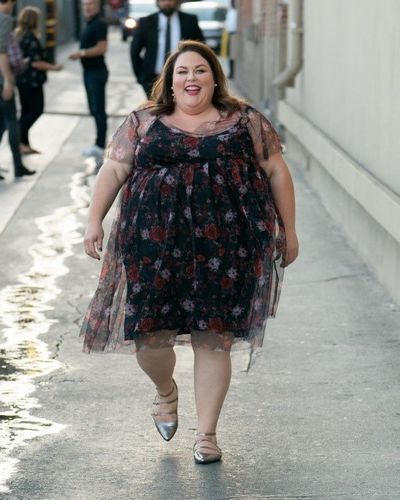 25. Jimmy Kimmel Live
With its spaghetti straps and patterned translucent overlay, this dress is a total standout. With pointed, silver ballet flats, Metz completed the playful ensemble, aiming for an unique and sassy image.