Get Upclose With Anushka Sharma And Virat Kohli's Grand Reception Looks
Kritika Mishra
Updated At 28 Dec 17
Virushka's reception just happened and the world is going crazy as the power couple kept a dual reception in two major cities! Oh yes,two receptions which means two glamourous event looks to dig in! Get upclose with Anushka Sharma and Virat Kohli's grand reception looks.
Virat Kohli and Anushka Sharma celebrated their wedlock in a beautiful way by conducting two grand receptions at Delhi and Mumbai!
The Delhi reception was held at the Taj Hotel 21st December whereas the Mumbai reception took place on 26th December at St.Regis!.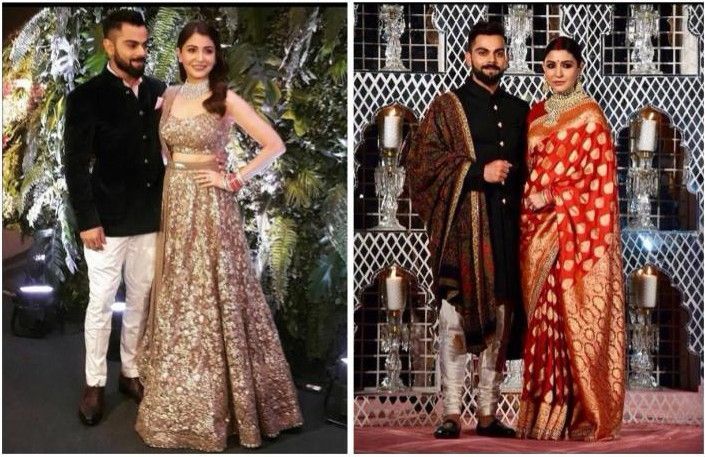 SABYASACHIOFFICIAL / INSTAGRAM SABYASACHIOFFICIAL / INSTAGRAM
The first reception was kept specially for close family and friends in Delhi.
Whereas the Mumbai one was kept for a public extravaganza!
Let's get up close to both the events!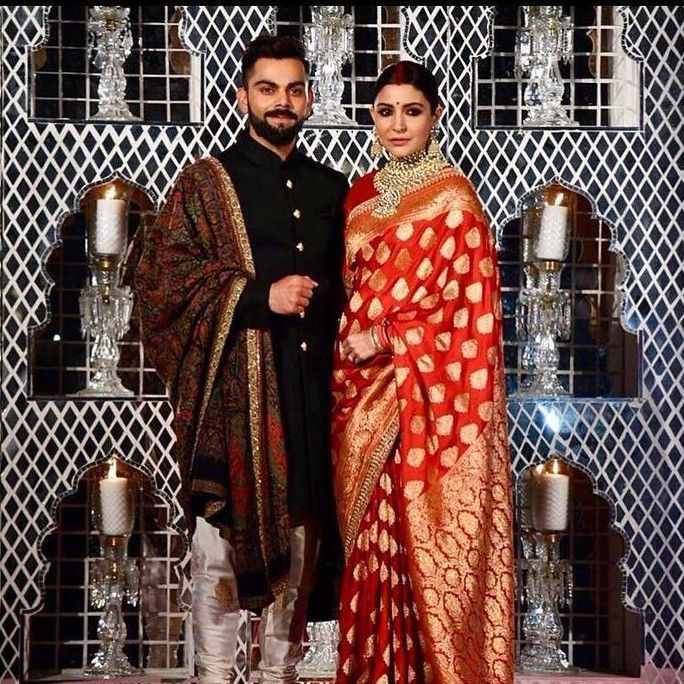 SABYASACHIOFFICIAL / INSTAGRAM
The Delhi Reception At The Taj
Meant for some close family and friends, Virushka hosted their first reception in Delhi at Taj Hotel where the couple looked strikingly gorgeous!
Anushka was once again draped in Sabyasachi and looked marvelous!
She chose to wear a red Banarasi saree! The saree was selected from the by-lanes of Peeli Kothi in Banaras! Inspired by the Bengali women and their rich tradition, Anushka looked breathtaking with golden makeup, red bindi, sindoor, and mogras in her hair!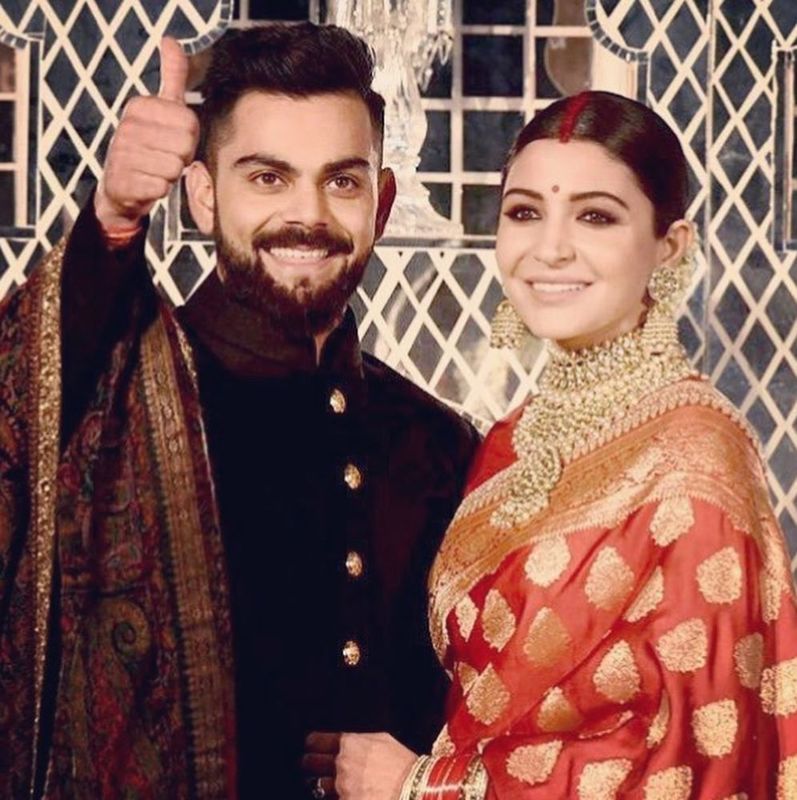 Her neckpiece was a diamond uncut choker and jhumkas designed by Sabyasachi jewels!
The groom didn't fall back either as he wore a black textured silk signature bandhgala with house buttons, silk kurta, and churidaar! As elegant and subtle he can get!
The couple looked royal in every manner!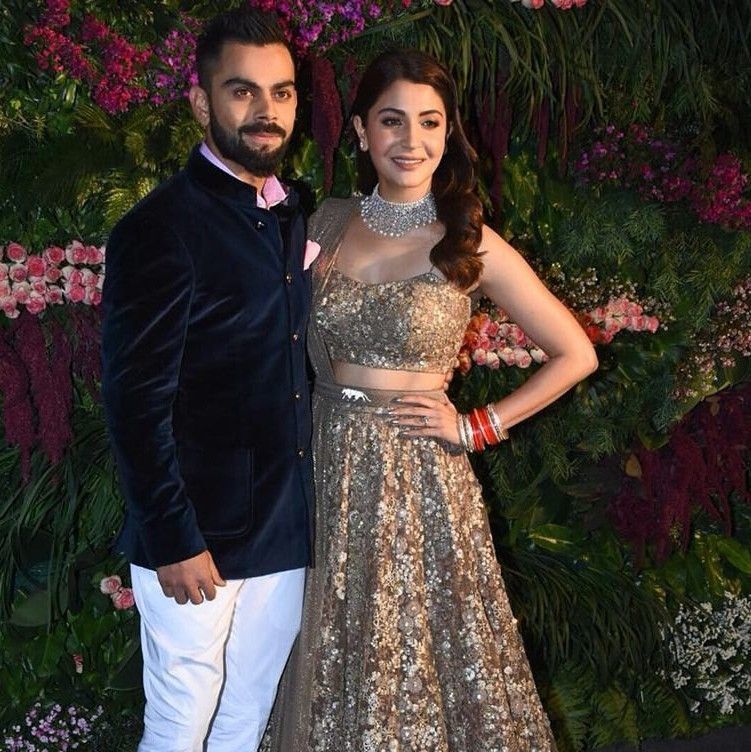 The Mumbai Reception At St.Regis
For the Mumbai reception meant to be a public gala, the entire Bollywood industry added glory with their presence!
The look of the stunning couple was ethereal!
Anushka went retro with glamour! The look added a jazz element in gray Lehenga! Her attire was textured and sequined with solitaires accessorizing her necklace and earrings! Her makeup was kept subtle yet very dewy and glowy, playing majorly with golden and highlighter and her hair was kept in pin curls!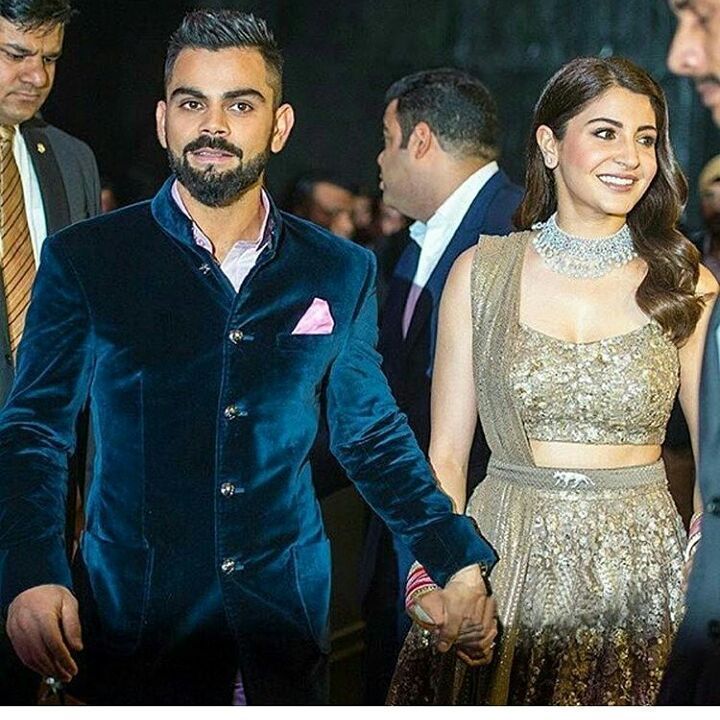 VIRAT_KOHLI_C_L_U_B_ / INSTAGRAM
Virat Kohli looked absolutely awesome in the label Raghavendra wearing a black bandhgala!
The coupled absolutely slayed the night with their amazing presence!
Attended by big shots in the industries of film and cricket, the reception of Virushka definitely became the event of the year 2017!
Ending the year on a beautiful note, Virat Kohli and Anushka Sharma managed to add smiles across the globe by declaring their love in a wedlock!
Which look of Virushka's reception is your personal favorite?
Let us know down below!
Related Articles: