15 Kylie Cosmetics Best Sellers - 2023
Jiya Giri
Updated At 14 Mar 23
Kylie Jenner is a household name when it comes to beauty cosmetics. Her makeup line has been the talk of the town since it was launched. She has successfully created a brand that appeals to people of all ages and genders, making her one of the most successful beauty entrepreneurs in the world. Kylie Cosmetics is known for its high quality and affordability. They are also very easy to use, making them perfect for both beginners and experienced makeup users alike. Her beauty cosmetics are highly sought after by makeup lovers everywhere.
Kylie's cosmetics are known for their high-quality ingredients, long-lasting wear, and beautiful colors. From lipsticks to eyeshadows to foundations, Kylie's products have something for every beauty enthusiast. With her ever-expanding line of cosmetics, there is no doubt that Kylie Jenner will continue to be an important influence in the beauty industry for years to come. Whether you're looking for a subtle everyday look or something more dramatic, Kylie's range has you covered!
15 Bestselling Kylie Cosmetics Products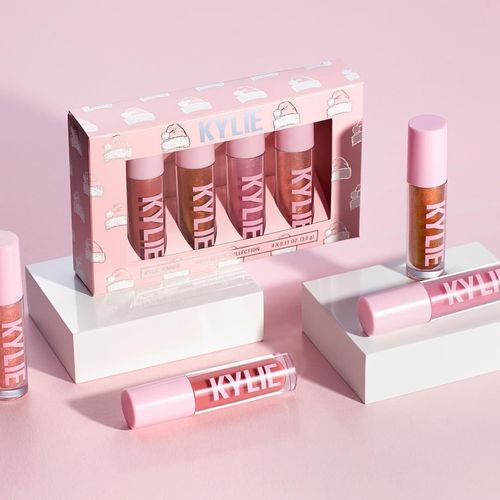 1) Kylie Lip Gloss – Oh You Fancy High Gloss
The lip gloss range of Kylie Cosmetics is known as High Gloss. The high gloss is available in a variety of shades and textures. The formula of this lip gloss is so smooth and shiny on the lips. It also has a sparkly texture that provides you with a rich glittery touch. It is highly hydrating and can be used on lips directly or over lipsticks too. It has a light crème, sweet scent, a light vanilla aroma, and a creamy texture.
People really like Kylie Lip Gloss for the variety of shades and textures it provides. Some more popular shades of these high gloss are Snatched high gloss, Klear high gloss, Candy K high gloss, You are the Sun high gloss, Literally high gloss Gloss, and, Lost Angel high gloss.
Pros:
1) Smooth
2) Shiny and Glittery
3) Sweet Aroma
4) Not Sticky
Cons
1) Cheap Packaging
2) Considered Expensive
3) Dries Faster
4) Non-Durable
Also check out the list of sephora best sellers as we include 21 most popular products at Sephora across makeup, skincare categories. These best sellers include popular products like NARS Radiant Creamy Concealer, Too Faced Chocolate Soleil Matte Bronzer, Smashbox Camera Ready BB Cream SPF 35 and many more. We include our detailed review for each one of them along with the pros and cons.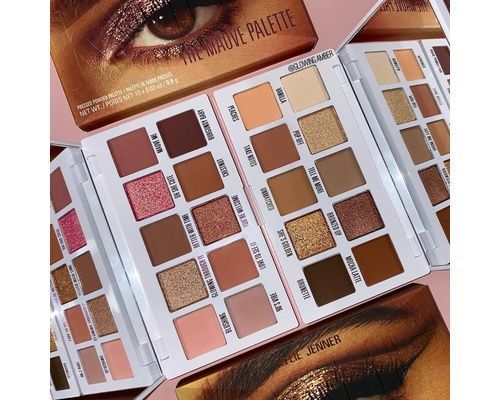 2) Kylie Eyeshadow Palette – Mauve Pressed Powder Palette
If you are looking for subtle and elegant eyeshadow shades, Kylie Cosmetics' Mauve Pressed Powder Palette would be an amazing option. The Mauve Pressed Powder Palette comprises 10 different shades that are highly pigmented and look wonderful. This Kylie Eyeshadow Palette showcases two finishes: matte and metallic. The formula is easy to blend and boasts its one-swipe easy application. The pigmentation makes your eyes look lively and charismatic.
This Kylie Eyeshadow Palette features a perfect mix of warm, cool, and rosy neutrals and can be used for both day and night makeup looks. The other Kylie Palettes like Kylie Wizard of Oz Eyes and Face Pressed Powder Palette, Stassie X Kylie Pressed Powder Palette, and Holiday Collection Pressed Powder Palette is also extremely popular.
Pros:
1) Highly Pigmented
2) Velvety Smooth
3) Multidimensional Pops
4) Cute Packaging
Cons:
1) Glitter Shades are of bad quality
2) Chalked Colors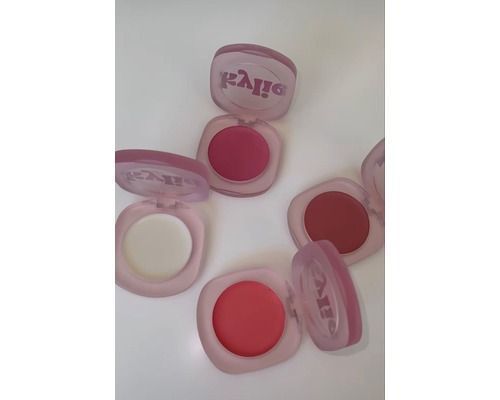 3) Kylie Cosmetics Blush – Doin The Most Lip & Cheek Glow Balm
Kylies Cosmetic Blush range has this balmy, textured tint that is very popular in the beauty world. It provides a natural flush to your cheeks and has a weightless and, silky formula. This works wonders for a no-makeup makeup look and, gives a second-skin glow to the face. This Kylie Tint can also be used on the lips for a hint of sheer coral shade. It has a radiant and satin finish and is loved by many makeup lovers.
Pros:
1) Duo Use – Lips and Cheeks
2) Smooth on skin
3) Natural Pink Flush
Cons:
1) Pigmentation Issues
2) Not very long-lasting
Also check out Ulta best sellers as we list the 17 top rated makeup, skincare and haircare products along with pros, cons and our detailed analysis.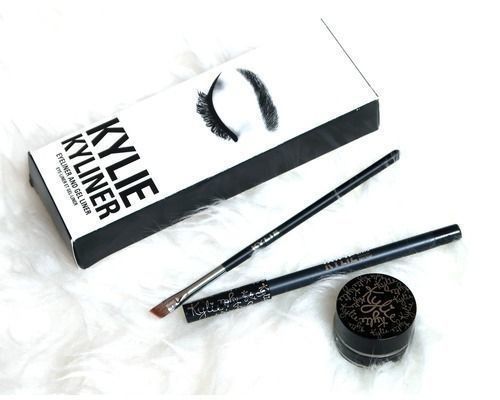 4) Kylie Cosmetics Eyeliner – Matte Dark Brown Gel Eyeliner Pencil
Looking for an eyeliner that really pops up your makeup look? Kylie Cosmetics offers a variety of eyeliners in different shades and textures. It is known for its extra creamy texture and, vibrant shades of colour that it comes in. The Matte Dark Brown Gel Eyeliner Pencil is the best-selling eyeliner in the Kylie Beauty Products Range. The eyeliner has extreme intensity, long-lasting and, smudge-proof wear.
The other shades of Kylie eyeliner range are good too, she also provides glittery and shimmery eyeliner in different colors like golden, purple, green, blue, and grey.
Pros:
1) Smudge-proof
2) Long-lasting
3) Variety of colors
Cons:
1) Complicated Applicator
2) Expensive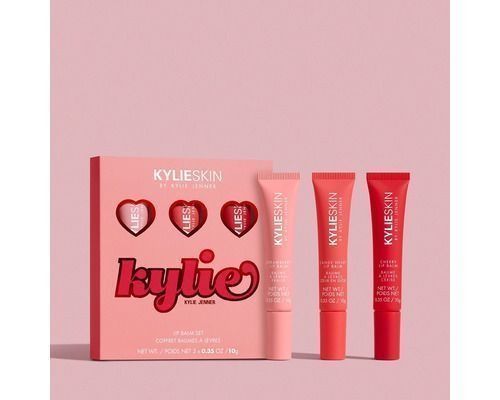 5) Valentine's Collection Lip Gloss Set
With Valentine's Day around the corner, Kylie launched her Valentine's special Kylie Lip Gloss Set which is highly liked by the ladies. The set has 3 Kylie Lip Gloss that comes in cute Valentine's day special packaging. This is a limited-edition product just for Valentine's. As you know, Valentine's day is all about love and romance, using this beautiful trio to gloss your lips is a great choice.
This Kylie set has three shades called Miss Jenner (peachy nude), In the Clouds (mauve), and February Bae (hot pink). All these shades are lovely for your Valentine's date and can even be a good gifting option.
Pros:
1) Cute Packaging
2) Lightweight
3) Gives fresh Valentine's Pout
4) Non-sticky
Cons:
1) Pre-packed Shades, no option to choose
2) Less Long-Lasting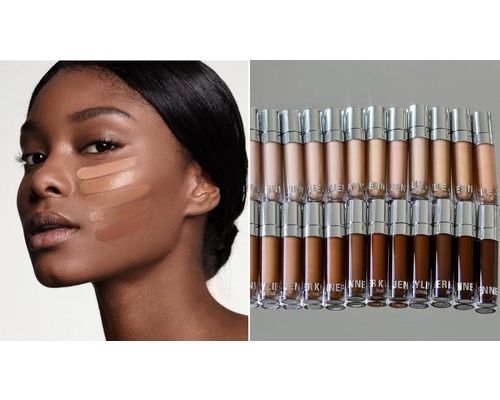 6) Kylie Concealer
If you are looking for concealers that are smooth on the skin and don't give that patchy look. Kylie Concealer can be a great choice. The Kylie concealer Range was so much in the news because it was something revolutionary, because it comes in 30 different shades, it's likely that it is useful for every skin tone, be it the fairest or the darkest. Celebrity cosmetics line are always frowned upon as being expensive, but people have come to love this Kylie Concealer's formula and state that it is worth the price.
Pros:
1) Blends Seamlessly
2) Variety of Shades
3) Hydrating
4) Brightens
5) Full Coverage
Cons:
1) Unpleasant Smell
2) Settles in the Creases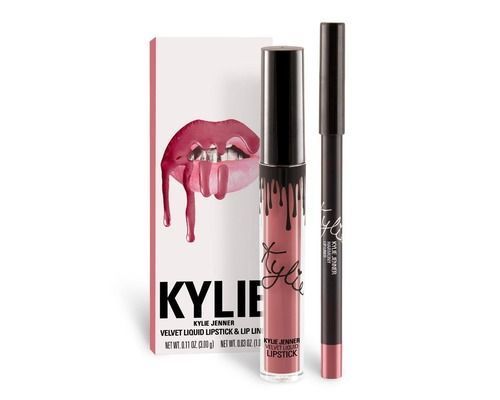 7) Kylie Matte and Velvet Lip Kit
Kylie Lip Kit has a diverse line of liquid lip shades in different textures like velvet and matte. The colours are enchanting and lovely. The formula is made to suit a ready-to-go lip routine. They are highly pigmented and gives a rich matte finish. The longevity of the product is the best factor, as it lasts a long and is also non-transferrable and kiss-proof.
The top shades of Kylie Lip Kit are Charm Velvet Lip Kit, Posie K Velvet Lip Kit, Red Velvet Velvet Lip Kit, Sister Sister Lip Blush Kit, and Booked and Busy Lip Blush Kit. The lip shades are surely as interesting as their names are.
Pros:
1) Transfer Proof
2) Smooth Velvety Texture
3) Wide Nude and Colorful Color Range
4) Non-Drying
Cons:
1) Expensive
2) Less in Quantity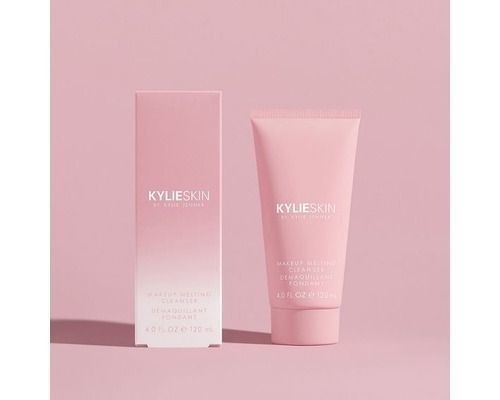 8) Kylie Skin Glow Powder Cleanser and Mask
Kylie has a different range called Kylie Skin for her skin care products, and this Skin Glow Powder Cleanser and Mask is a refreshing product that makes the skin smooth, radiant, and bright-looking. It diminishes the dullness on the face and empowers it with a pure glow by exfoliating and cleansing.
The cleanser has a powder texture while the mask is creamy and works wonders when used following the cleansing.
Pros:
1) Gentle
2) For Every Skin Type
Cons:
1) Dryness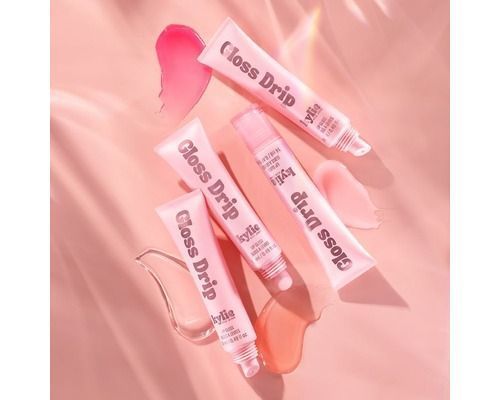 9) Kylie Gloss Drip & Glow Balm
This Kylie product is a top seller and is loved by many people. After the high gloss range, this product has been liked by everyone. It's a balm-cum-gloss that gives a juicy and plump look to the lips. It's highly hydrating and carries a fruity and sweet aroma. Kylie Gloss Drip & Glow Balm leaves the lips feeling soft and also provides a wet and shiny look. It comes in tube-like packaging.
It has different shades like 'Match My Energy', 'Stop Staring Gloss Drip', 'Underestimated Gloss Drip', etc. that matches a variety of pinkish and peachy tones.
Pros:
1) Highly Hydrating
2) Mirror Shine
Cons:
1) Expensive as a lip balm
10) Kylie Cosmetics Bronzer
Kylie Cosmetics also offers bronzer for contouring the shape of your face. It has a velvety and matte finish. The formula is lightweight and comes in pressed packaging. It can be easily applied with a beauty blender or a contouring brush. It looks super natural on the face and provides a gorgeous, defined sun-kissed looks just like Kylie's.
The shades are Toasty Pressed Bronzing Powder, Tequila Tan, Khakhi, Almond, Tawny Mami, and many more shades of brown.
Pros:
1) Pressed and Neat Product
2) Lightweight
Cons:
1) Less-Pigmented
2) Less diverse shades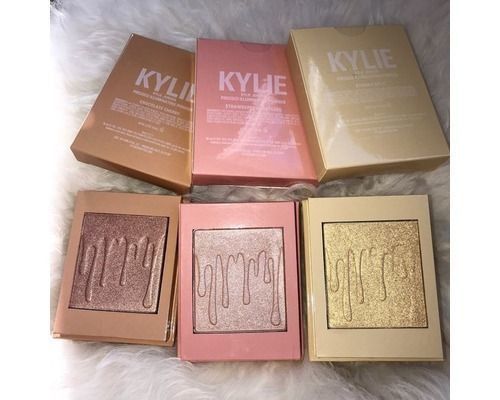 11) Kylie Cosmetics Highlighter
A Kylie Jenner fan would know how awesome Kylie's makeup looks and that the highlighting part is what that makes her face so glowy and beautiful. Kylie Cosmetics Highlighter comes in both textures like powder pressed and creamy liquid. It has a soft and easy-to-blend formula. The Holiday Collection Liquid Highlighter can be used on both the face and body.
The highlighter gives a natural-looking, multidimensional glow to the makeup and is loved by Kylie fans.
Pros:
1) Illuminating Glow
2) Smooth
3) Color Options
Cons:
1) May build-up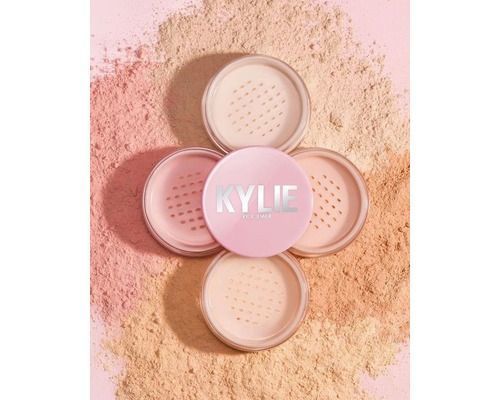 12) Kylie Cosmetics Setting Powder
Setting powders are really important to make your makeup long-lasting, carefully set, and matte-looking. So, to rescue her premium makeup lovers, Kylie offers loose banana powders in different shades for fair and dark-skinned lovelies. The formula is soft and mattifying. It also gives an airbrush effect to your makeup by locking it and making it smudge-proof and long-lasting. The shades are named Soft Pink Setting Powder, Dark Setting Powder, Translucent, Beige, and many more like these.
Pros:
1) Mattifying Consistency
2) Skin-Breathable Formula
3) Weightless
Cons:
1) Less Quantity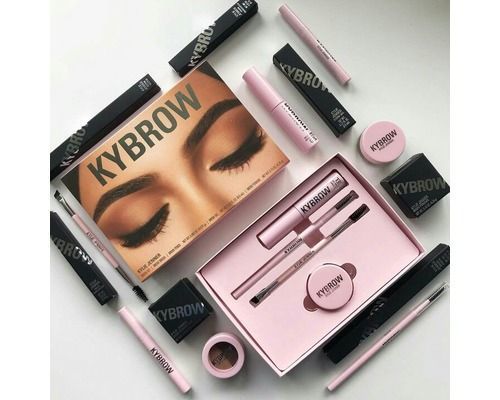 13) Kylie Brow Kit
Kylie Brow Kit is a go-to brow kit that consists of KYBrow Pencil and KYBrow Gel. The brow pencil is to line and fill your brows. Whereas, the brow gel is used for setting your brows and locking in the color. The brow pencil formula is nicely pigmented and looks good on every set of brows. The color range is also different for black, brown, and blonde lovelies, so you can choose it according to your brow color.
Pros:
1) Waterproof
2) Smudge Resistant
Cons:
1) Stiff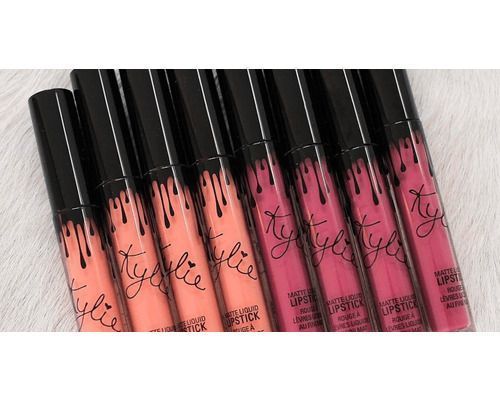 14) Kylie Cosmetics Liquid Lipsticks
Kylie Cosmetics Liquid Lipstick range wonderfully consists of both matte and glossy lipsticks in more than 20 different shades. The formula glides on effortlessly and offers 8-hour wear without drying lips. Kylie keeps on refreshing her liquid lipstick inventory with new and beautiful shades every now and then. People love these the most, and that's why it's one of the top Kylie Cosmetics products.
Pros:
1) Long Lasting
2) Variety of shades
3) True to color
Cons:
1) Overly Pigmentated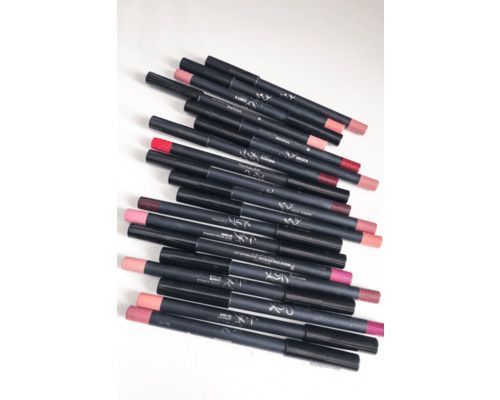 15) Kylie Cosmetics Lip Liner
For achieving a defined and precise lip look, a lip liner is extremely beneficial, and Kylie Cosmetics' Lip Liner is perfect to achieve your preferred lip style. It has an ultra-creamy formula that delivers comfortable application and a smudge-proof lip contour for up to 24 hours.
The different shades' names are Give Me A Kiss Lip Liner, Coconut, Forever And Always, etc.
Pros:
1) Ultra-creamy
2) Long-Wearing Color
Cons:
1) Costly