What Is Nanoplasty? Full Guide With All Details
Smriti Ahuja
Updated At 27 Apr 23
Want to know more about Nanoplasty treatment along with its pros and cons? What are the side effects of Nanoplasty? How is the procedure done and how much would it cost? Stay tuned as out full guide covers all your answers.
Every girl desires shiny, well-groomed hair. And nothing is impossible because there are numerous procedures that allow the dream to be realised. Hair Nanoplasty is an effective procedure that improves the shine and silkiness of the curls.
We bring to you everything about this procedure which includes Nanoplasty treatment pros and cons, side effects, costs and all of the most popular FAQs which would resolve all your questions.
Specifically, you will know everything about Nanoplasty hair treatment which would include -
What Is Nanoplasty
Nanoplasty Pros And Cons
Nanoplasty Vs Keratin?
Things reuiqred for Nanoplasty procedure
Nanoplasty review
Nanoplasty Treatment Costs
FAQs on Nanoplasty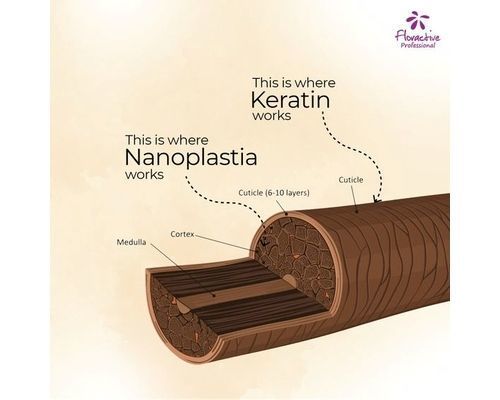 What Is Hair Nanoplasty?
This is a new hair treatment that uses a revolutionary technology to straighten your hair for a long time (upto 8 months).
This hair treatment uses nanotechnology to penetrate the hair cuticle and deliver protein, nutrients to the hair shaft, helping to smooth and straighten the hair. Proponents of nanoplasty treatment claim that it is a safer and more natural alternative to traditional keratin treatment, which may contain formaldehyde or other harsh chemicals.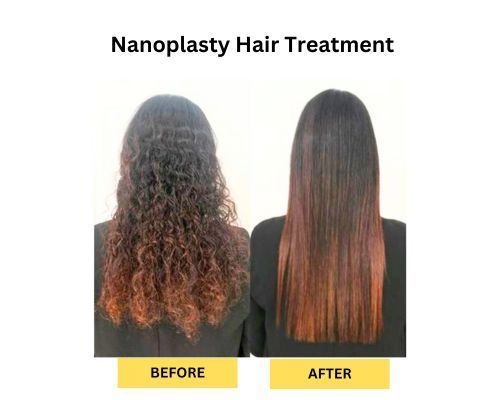 Nanoplasty Pros And Cons
Hair nanoplasty, like any other procedure, has advantages and disadvantages.
Nanoplasty Pros
Straightened hair for long time (for upto 8 months)
Attractive and glossy hair
Safe procedure (does not use formaldehyde and other chemicals)
Ideal for dry, rough and unruly hair
Long-term results are maintained; much less time is spent on daily laying
Nanoplasty Cons
Expensive procedure
Time consuming procedure (can usually take 3-4 hours)
Hair can become 1-2 tones lighter
Nanoplasty Vs Keratin Treatment
There are several differences between nanoplastia and keratin treatment as captured below.
1) The main distinction between the two services is in the drug composition. Keratin straightening involves the use of formaldehyde-containing solutions. This ingredient is toxic and can build up in the body. This drug is strictly prohibited in the European Union, whereas in the United States, the customer must be informed of an existing hazard.
In this regard, nanoplastic clearly wins because the compositions contain no harmful components. It is a healing procedure distinguished by the effect of straightening hair. Keratin straightening is intended to smooth curled curls. It is the new hair smoothening and straightening method which is gaining popularity continuously.
2) Keratin treatment works on the hair surface whereas Nanoplastia works from the inside. The nutrients percolate atleast 8-10 layers inside the hair surface to nourish the hair.
3) More care is required after keratin treatment whereas Nanoplasty does not need extensive care plost procedure.
4) Keratin hair treatment last for approx 3 months whereas nanoplastia can last for upto 8 months.
Do note that nanoplastia is also different from cysteine hair treatment which is another hair smoothening and straightening method.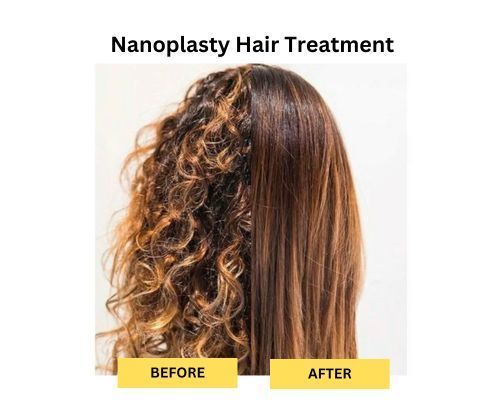 Nanoplasty Reviews
Almost all of the reviews are positive, if not extremely passionate. Often distinguished by a stunning appearance of hair, as well as a healthy lustre and structure. This is clearly visible in the before and after photos. All of the girls are relieved that they no longer have to spend time aligning their long hair with an iron that mercilessly destroys the curls.
Some women argue that frequent shampooing is necessary, but this is a known flaw in the procedure. In a few cases, the effect of nanoplasty was not completely effective, which was cause for concern but these instances are less.
Nanoplasty FAQs
Q. Can anyone get Nanoplasty done?
As harsh chemicals such as formaldehyde or carbocysteine are not used in Nanoplastia treatment, it is safe for pregnant women and children over the age of seven. If you can't bear the stench or burning caused by chemical procedures, nanoplastia is for you because it has neither.
Q. What is the cost of Nanoplastia hair treatment?
In USA, the normal cost of nanoplastia hair treatment ranges from $250 to $800.
Q. Which products can be used post Nanoplastia treatment?
It is recommended that one waits for atleast 12 hours after the treatment before going for a hairwash. Make sure to use a sulfate free, silicon free and salt free shampoo. Additionally, if one needs to color the hair, then an ideal waiting time of 14 days is sugested.
Q) How long does Nanoplasty treatment last?
The effect of Nanoplastia can last upto 8 months. However, the time varies for individuals and it is dependent on factors like hair structure, quality of drugs used during treatment and hair car post procedure.
Q) Is Nanoplastia good for hair?
Natural ingredients in the Nanoplastia treatment restore damaged hair strands, smoothing them and eliminating curls, leaving them smooth and shiny for 7-8 months. It is an alternative to Keratin Smoothing Treatment, which typically contains carcinogenic formaldehyde. Due to its various advantages, it is definitely a better option if one is looking for a hair treatment.
Q) Is Nanoplastia better than Keratin?
Yes, Nanoplastia is definitely better than keratin as it does not use any harmful chemicals, lasts long (for upto 8 months) and works on providing nutrients to the hair from inside. It is regarded as one of the safest options. If you are looking for fuzz free, straight and silky hair, then Nanoplastia is a better option then Keratin.
Q) How long does the Nanoplastia treatment last?
Nanoplasty lasts 6-8 months on the hair, depending on the shampoo and conditioner used.
Q) Which is better- Hair Botox or Nanoplastia?
Nanoplastia, unlike hair botox, straightens 80-90% of hair and produces results that last upto 8 months. Hair botox on the other hand straightens hair permanently.