55 Stunning Curtain Bangs Trending In 2023
Smriti Ahuja
Updated At 01 Nov 23
Looking out for the latest curtain bangs which are trending this year?
Curtain bangs are excellent since they are so adaptable and can be made to match your face shape, hair texture, and length. They can be light and airy or voluminous and have a retro vibe, and they look appealing on women of all ages. Curtain bangs look well with a traditional bob or a layer cut as well. Let's have a look at 55 stunning curtain bangs styles that will trend in 2023.
55 Most Popular Curtain Bangs 
1. Long Curtain Bangs
One of the most beautiful and adaptable hairstyles to try out are long curtain bangs. You can experiment with the length as well as adapt them to different hair textures. Long curtain bangs are the style to go for if you want face-framing bangs that highlight your cheekbones. The fringe can be quite attractive and will fall gently across your face. Having your bangs longer also makes styling them simpler; if you want a change, you may pin them back. Consider your face shape and whether or not the bangs will accentuate or complement your features when choosing the length that suits you best.
2. Curly hair and curtain bangs
Curtain bangs with curly hair look fantastic. It is among the greatest solutions because your bangs will seem bouncy and healthy thanks to the texture's volume and movement. They can also give your hair a more natural look of blending into the rest of it. Curtain bangs can be tailored to your face shape and are very adjustable. Also, these bangs look fantastic on all hair lengths; however, for a feminine look, consider a medium-length cut and add a curl-defining product to draw attention to your hair's natural curl pattern.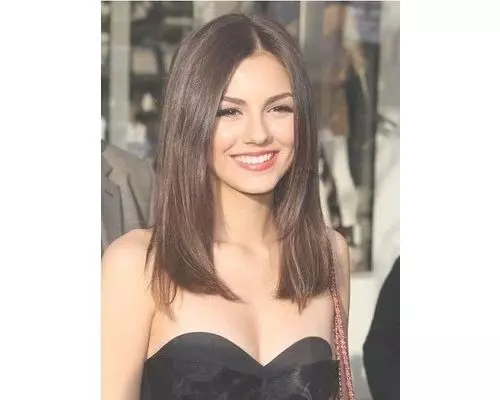 3. Straight hair with curtain bangs
Curtain bangs are adorable, what's not to love? They may be modified to fit your hair type, length, and facial shape and look excellent on practically everyone. Furthermore low-maintenance, they frame your face and draw attention to your features because they are separated in the middle. Also, they give you a younger appearance. These bangs look great on women with straight hair, and depending on how you style them, they can be understated or bold. They are versatile enough to be worn both with and without hair up.
4. Short Hair with Curtain Bangs
Short hair with curtain bangs appear fashionable. This fringe style is amazing since it looks well on hair of all types and lengths and is adaptable. This style will add a feminine touch to a very short haircut like a pixie and can frame your face to make you look more youthful. You may style the bangs with a mullet or a shag cut for a classic look, but a bob with curtain bangs is a terrific alternative for a timeless look. With little effort, transform your appearance.
5. 70s style Curtain Bangs
Many of the greatest fashionistas and style icons of the 1970s favoured the curtain bangs as a haircut. It is one of the most attractive and flattering haircuts for women, which is why it is experiencing a revival in favour. The term "curtain bangs" refers to the manner the curtains are opened, with a central parting that is swept to the side. Women of all ages and with a variety of hair lengths and textures can wear it, and it can be modified to fit the majority of facial shapes. Comb it back or style it huge and voluminous. Or, be original and choose a shag haircut from the 1970s for a more relaxed but equally excellent look.
6. Soft Curtain Bangs
You need delicate curtain bangs if you want a dreamy appearance with wispy bangs. They are designed to be more feathery near the ends, which is a great method to give hair dimension. This may compliment the longer faces of females. This is also the best choice if you want a fringe that frames your face and draws attention to your best features while still being simple to style and require little upkeep.
7. Round Face Curtain Bangs
Curtain bangs may be worn by women with most face shapes, especially round faces, and are incredibly adaptable. One of the better shapes for this cut is this one. Curtain bangs are softer and often wonderfully appealing, in contrast to some fringes, such as straight full bangs or harsh bangs, which may draw attention to the roundness of the face. Moreover, they can provide the appearance of a longer face, which slims the face. With the help of your hairstylist, you may determine the length that complements your face and hair texture the best. Use a messy styling for it to create a carefree and relaxed vibe that can be dreamy and stylish.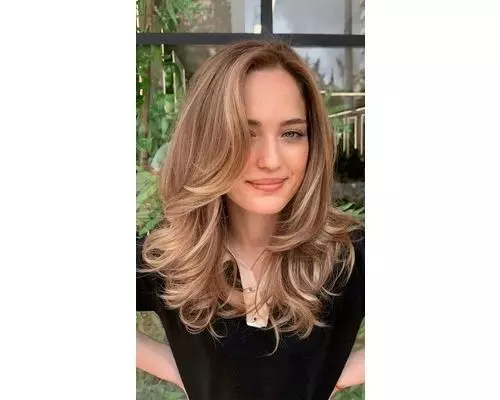 8. Curtain Bangs with Layers
A great approach to give your hair volume and movement is curtain bangs with layers. They can accentuate your best features by framing your face. Curtain bangs can lessen some of the weight in thick hair while giving the appearance of fuller, thicker hair to thin hair. Layered hair has numerous benefits, and curtain bangs are adaptable enough to be cut with layers for a more natural appearance.
9. Wispy Curtain Bangs
For individuals who do not want to commit to a full fringe, wispy curtain bangs may become your new favourite style. These softer, lighter bangs may frame your face and are simple to manage. They can also be made to look quite natural. It is a fantastic choice for ladies with fine hair. This understated method of wearing bangs requires much less self-assurance and has a very sophisticated but laid-back vibe. It looks stunning when worn in an updo, a loose braid, or with hair that has some texture to contribute to the soft appearance.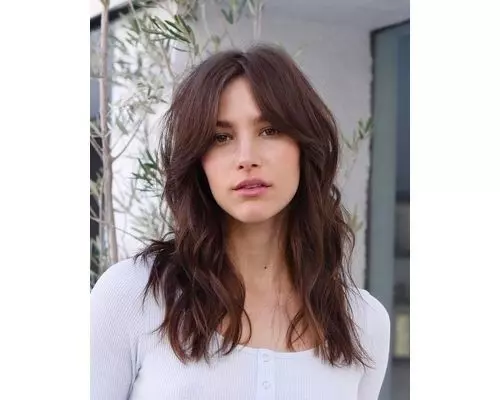 10. Wavy Hair Curtain Bangs
The fact that curtain bangs require no maintenance is just one of their numerous advantages. These bangs are wonderful and may simply grow out, unlike shorter bangs which can be challenging to maintain and require frequent trips to the salon for trims. They also work with hair of different textures and lengths. Curtain braids can provide structure to your appearance and create a fashionable, face-framing look if you have naturally curly hair. You might also choose soft, airy braids, which are easily cool and go beautifully with updos. If you want a lovely, dishevelled look, let your hair down.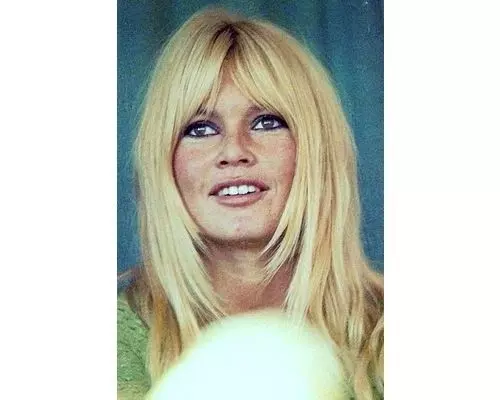 11. Brigitte Bardot Inspired Curtain Bangs 
Several of us would adore to imitate Brigitte Bardot's well-known hairdo. Create a voluminous hairstyle with loose, dishevelled curls to get her characteristic appearance. Ensure that your curtain bangs are also gently waved!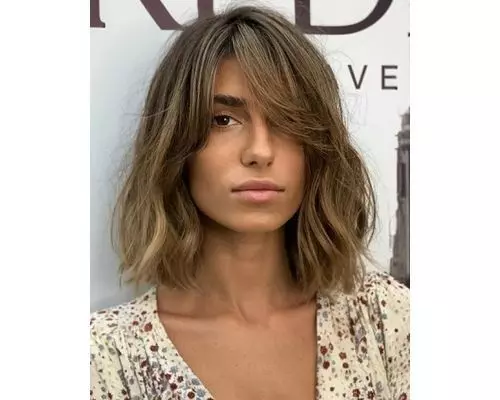 12. Side Parting Curtain Bangs
Curtain bangs frequently have a central part, which enables them to frame the face in a lovely and natural way. The appearance is really versatile, which is why it is so well-liked. To make your hair more concentrated on one side of the face, consider curtain bangs with a side part. This is a more contemporary take on the style that can produce a universally attractive result by lengthening and slimming your face. Because it has a young appearance and can conceal small lines or wrinkles on the upper forehead, this is also a fantastic option for an older woman.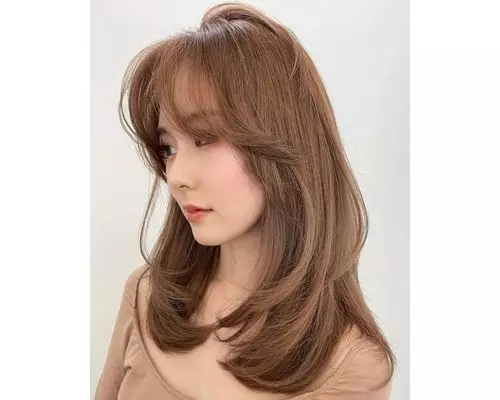 13. Asian Curtain Bangs
Asian women typically have straight, dark-brown or black hair. It is stunning and has several styling options. Curtain bangs may highlight your eyes and work with hair of different types and lengths. The finest feature of this fringe is that it can be customised, giving you the opportunity to choose an option that best matches your fashion sense and hair type. Having saying that, you do have some excellent options. Try long curtain bangs for a subtle appearance that complements the rest of your hair. Or, consider wispy bangs for a soft and attractive option.
14. Curtain Bangs Medium Length Hair
Curtain bangs can be worn with hair of many textures and lengths, but choosing medium length hair is a great compromise. It is not too long that it is difficult to manage, but it is long enough that you may arrange your hair in loose braids or updos. This length can be attractive for a variety of face shapes and tends to seem healthy. It is also fantastic for women of all ages and won't make you look older. The adaptable style balances your features with an effortlessly stylish appeal when worn with bangs.
15. Curtain Bangs Bob Hair
What better way to update your appearance than by giving your bob haircut curtain bangs? The bob is classic because it is easy to style and flattering on a variety of hair textures. Women of all ages can wear it, and curtain bangs look great with it, providing volume and a more youthful appearance. This gives a traditional cut a contemporary twist. If you add layers to the bob, it will help give the appearance of volume and is great for people with fine hair.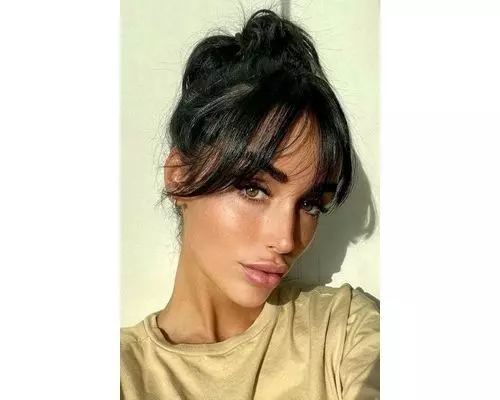 16. Fringe Curtain Bangs
Curtain bangs are quickly taking over as the most popular fringed style because they are attractive, adaptable, and incredibly simple to wear. Curtain bangs can be customised to fit your preferred style and hair type, unlike certain bangs that are exclusively suitable for certain facial shapes and hair textures. Consider your face shape when choosing the length of your bangs because longer bangs can shrink your face while shorter ones can bring attention to the part of your face where they fall.
17. Shaggy Curtain Bangs
Rock stars and fashion icons favoured the shag hairdo in the 1970s, and it has recently had a return in popularity. It is unexpectedly attractive and distinguished by its choppy layers and bangs. Many face shapes can benefit from the shag, and it is flexible enough to be cropped to accommodate your preferred bangs. They might be curtain bangs, wispy bangs, or baby bangs. Another style from the 1970s that is easy to customise is curtain bangs. This enables you to identify a strategy that complements the length and texture of your shag haircut the finest. Curtain bangs have a really casually stylish vibe, much like the shag.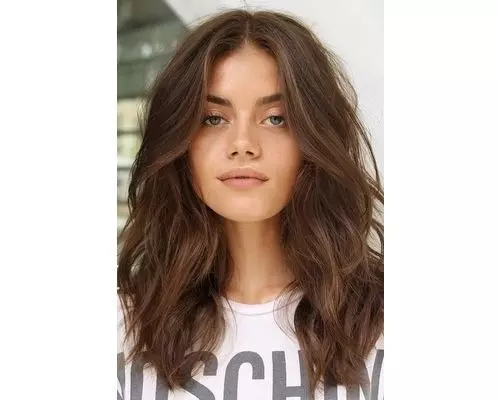 18. Subtle Curtain Bangs
Some bangs are subtle and simple to wear while some are designed to stand out. With light, wispy bangs or layered bangs that complement the rest of your hair, you can customise your curtain bangs to your taste. They complement many facial shapes, hair lengths, and kinds and require very little upkeep. The addition of bangs is a great method to update your look and give it a polished look without trying too hard. Also, it can frame your face, emphasise your features, and give you a much younger appearance.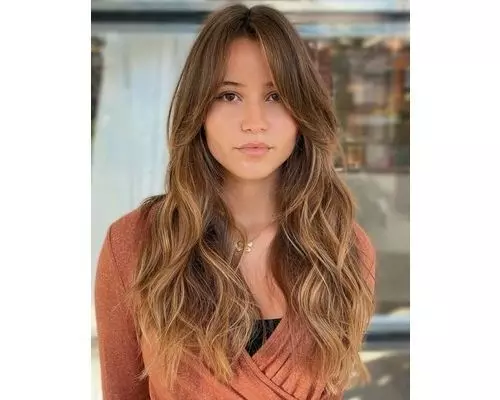 19. Balayage Curtain Bangs
Use curtain bangs with your balayage hairdo for a stunning and organic appearance. The fringe is adaptable, easygoing, and fashionable and can be worn with any colour of hair. In spite of this, balayage is one of the most often used colouring methods since it allows you to gradually elevate your hair. Your hair will look shinier and healthier as a result, and the colour will mix more seamlessly. Balayage can be beneficial for your hair because it utilises less colour and is less harmful or drying because of this.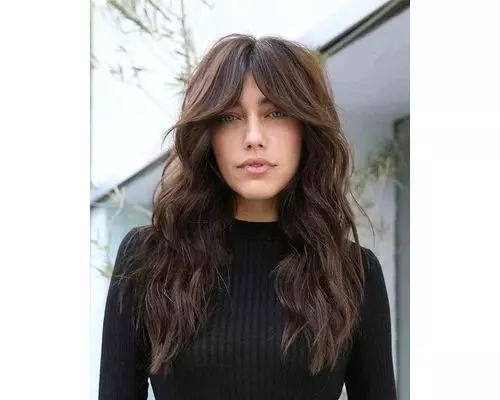 20. Middle Part Curtain Bangs
With the bangs falling on either side of the face, curtain bangs are frequently identified by their central parting. This is not only a pretty and useful alternative because it keeps the hair out of your face, but it's also a great way to frame your face and draw attention to your greatest features. Curtain bangs with a middle part are stylish and effortlessly cool. This is a lovely method to experiment with the centre parting. Keep in mind the length of your bangs to make sure this appearance will complement your facial shape. The face will be lengthened and slimmed more effectively the longer they are. Shorter haircuts, however, can bring out your cheekbones.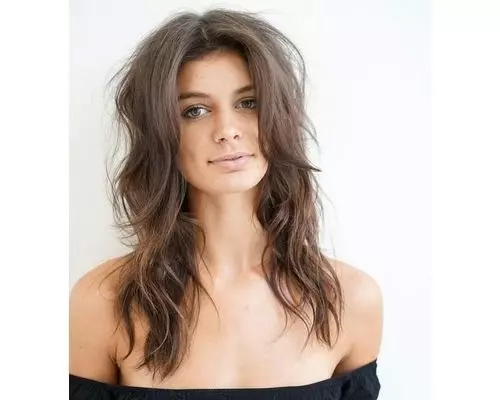 21. Messy Curtain Bangs
Curtain bangs are among the easiest bangs to achieve and don't require any maintenance. Its attraction is also increased by the fact that they frequently look to be quite natural. Think about how you want your bangs to look while choosing the style that will complement your face shape and hair texture. While some women choose a more structured style, others favour a modest appearance, such as the unstyled curtain bangs. The untidy appearance can be stylish and seductive and works well with a variety of haircuts. Also, this method of achieving curtain bangs enables you to dress your hair in a feminine updo for more formal events or wear it down.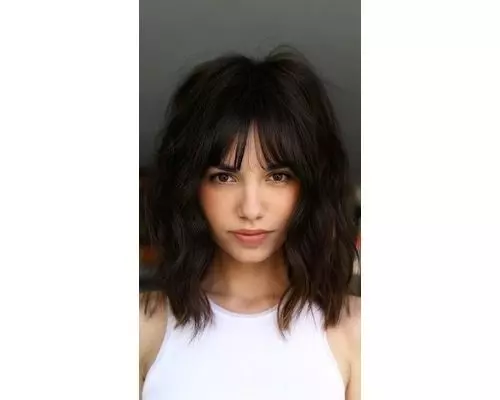 22. Curtain Bangs with Dark Hair
You can wear curtain bangs regardless of your hair's colour, length, or texture. Dark hair is wonderful because it can hide damage and dryness better than lighter colours, making it appear healthier. Curtain bangs with dark hair would look stunning if you want to alter your hairdo. Your bangs may make you look younger and give any haircut, whether long, layered hair or a traditional bob, a contemporary touch.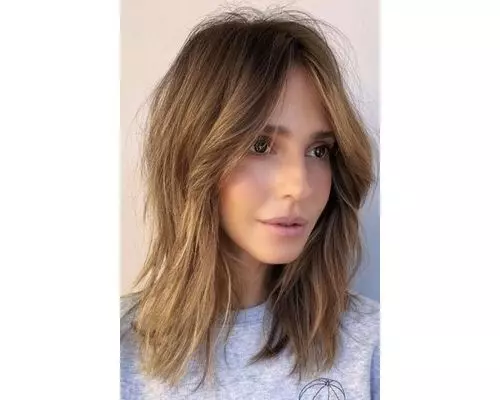 23. Curtain Bangs with Fine Hair
Curtain bangs look good on fine hair because they give the appearance of fuller hair by adding volume and dimension. Because curtain bangs may be worn softly and wispily, they are a great alternative to hefty bangs for women with fine hair. Moreover, it has a centre section that frames the face. With a fringe, wearing your hair longer can look amazing, and adding some structure and layers will make it appear bigger.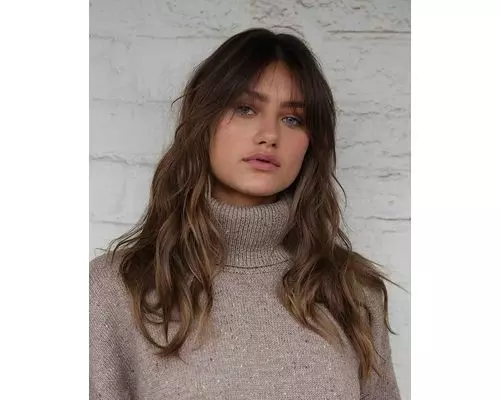 24. Curtain Bangs with Oval Face
The curtain bangs hairstyle has the appeal of being universally flattering. It flatters all face shapes and lengths, looks wonderful on curly and wavy hair, and is equally attractive on straight hair. Oval faces are flattering to most fringe cuts, so if you have one, you're in luck. Understanding this allows you to arrange your curtain bangs whatever you like, from a sloppy shag to stunning waves.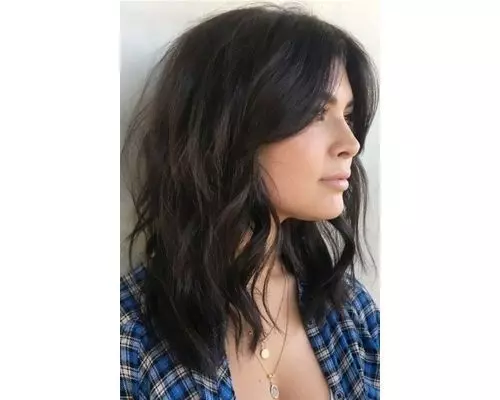 25. Curtain Bangs with Thick Hair
The lightness and versatility of curtain bangs make them ideal for thick hair. If your hair is really thick, heavier bangs may overwhelm your face. Yet, because these bangs can be worn long, it is often a pleasing way to achieve a fringed effect. You can either accept the middle parting or push your bangs to the side. Long layers are another fantastic method to style your hair and lighten it up.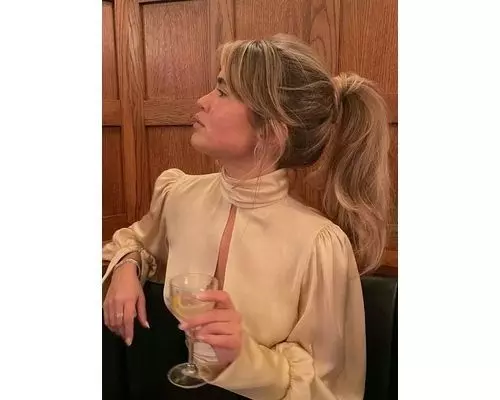 26. Curtain Bangs with Ponytail
You may wear your curtain bangs up or down; that's part of the appeal of the style. Curtain bangs and a ponytail are wonderful for an effortlessly stylish look. Choose a fringe that frames your face and is airy and wispy. Also, it is a beautiful option for warmer locations and may keep your hair off your neck, so you won't have to worry about the heat that would come with having a thick fringe. The combination also provides for a great evening outfit. You can experiment with adding texture to your hair to create an undone hairdo for a straightforward yet feminine updo.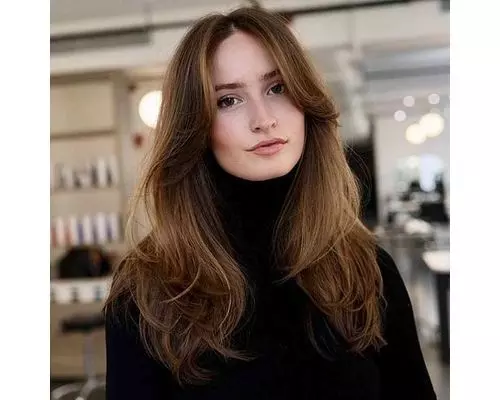 27. Square Face Curtain Bangs
The ideal hairstyle for someone with a square face is curtain bangs. The face-framing bangs are the greatest technique to accentuate the powerful cheekbones and jawlines that are characteristic of women with this facial type. But, getting the ideal length is crucial; you do not want bangs that are too short. Although the middle part is attractive and will look excellent, you can also choose a side part to accentuate your best features. Alternately, you might choose to soften their look by wearing your hair in wispy bangs.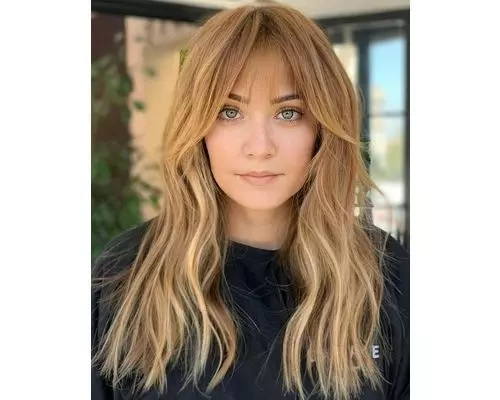 28. Wispy Curtain Bangs for Long Hair
If you desire a simple cut, thick and wispy curtain bangs for long hair are a great alternative. Curtain bangs are excellent since they are adaptable and can be made in different lengths and thicknesses to suit your face shape and hair texture. The wispy approach is feathered at the ends and has a softness. They are more low-maintenance and natural-looking than defined bangs. You can use them to delicately highlight your cheekbones and eyes.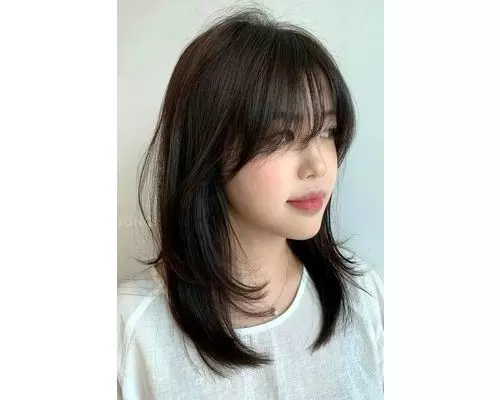 29. Korean Curtain Bangs
Many trends have been influenced by Korean style and beauty, and there is also a curtain bangs variation that is highly fashionable. While they still frame the face on either side, these bangs are wispy, longer, and typically extend past the brow. They also feature an angled side part and less of a centre part. The bangs are appealing and highlight the features, but they are also softer and more natural-looking, making them wearable. Along with lengthening and shrinking the face, Korean curtain bangs also enhance it.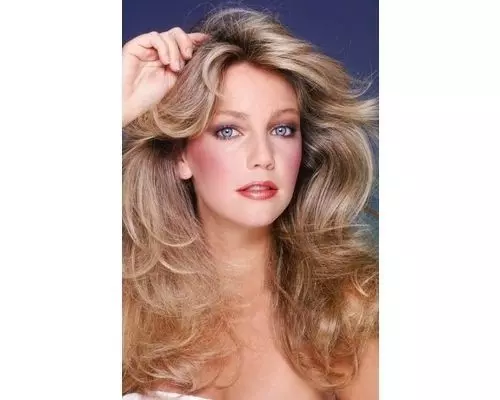 30. 80's Style Curtain Bangs
Big hair and volume were popular in the 1980s. Consider the 80s style of curtain bangs if you like the notion of having noticeable bangs. These locks are fuller and heavier than the wispy ones. Moreover, big bangs can be more enjoyable, give you more freedom to express yourself, and can be modified to fit your hair texture. Consider curtains framing a window as an analogy for how they are also more defined, cut short on the inside, and styled on either end of the face. By heat styling your bangs and using a lot of hairspray to keep them in place, you may also get more fluffy bangs. As a result, your appearance becomes more focused on your bangs.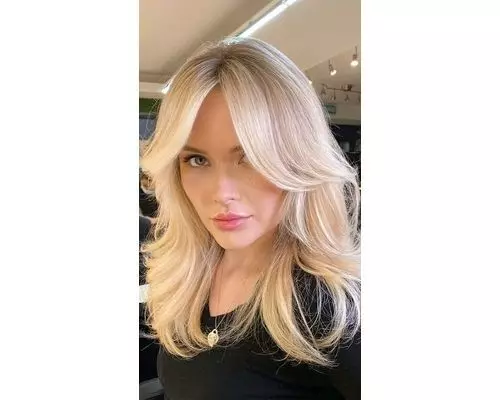 31. Blonde Curtain Bangs
Blonde hair is a great colour for bringing light and brightness to your features. You can pick from a variety of hues to find your ideal match, whether it be chilly and cool or warm and golden. Blonde hair also has the advantage of letting your cut and hair texture stand out more, making your bangs more noticeable. Because they can frame the face and enhance your features, curtain bangs are great.
32. Curtain Bangs for Thin Hair
With thin hair, curtain bangs look amazing because they add volume and give the impression that your hair is thicker and fuller. There are numerous styling options and methods to wear these bangs, but choosing flipped ends or blow-drying them can also give them a voluminous effect. The ideal bangs for ladies with thin, fine hair are frequently wispy, giving you a smooth, feathery shape.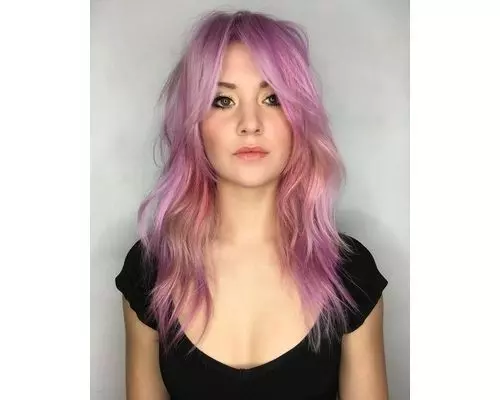 33. Colourful Ends Curtain Bangs
There are many different ways to style curtain bangs to make them more unique, so you are not required to choose natural-looking curtain bangs. This includes experimenting with the dip dye method, which colours the hair only at the ends. You may create it with any colour, but vibrant, daring hues like neons will have the biggest impact.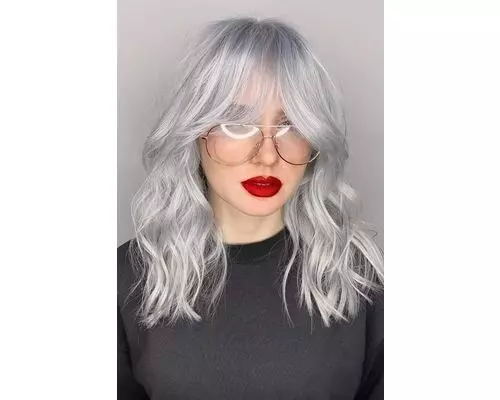 34. Grey Hair Curtain Bangs
For individuals who want to either appreciate their natural hue or accomplish it with dye, grey is the perfect colour. Although it is still edgy and trendy, the cool tone makes it flattering on the majority of skin tones and more subtle than brighter and bolder colours.
35. Lob Curtain Bangs
One of the most classic and adaptable styles for ladies of all ages is the lob haircut. While the length falls between the chin and clavicle, it is easily personalised and may be worn in a variety of ways, including slightly longer lengths. Consider adding curtain bangs to this traditional cut if you want to refresh it with a contemporary look.
36. Wolf Cut Curtain Bangs
The rough look can be balanced off by wearing curtain bangs with a wolf cut, which is wonderful for softening the face. The wolf cut has a choppy, densely layered appearance and is a cross between a mullet and a shag. Women adore curtain bangs because they are so low-maintenance, incredibly flattering, and can be made to fit any face shape.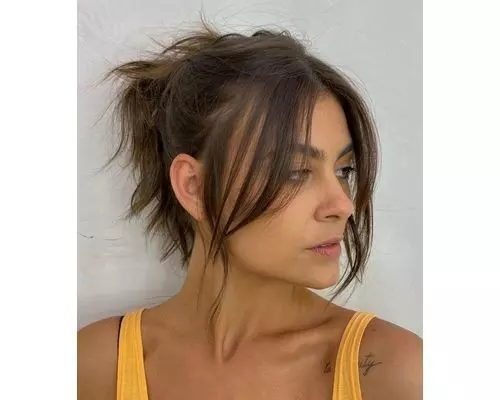 37. Curtain Bangs Updo
A curtain bangs updo is excellent if you want to get a gentle and beautiful image. You can wear your hair down or up. A stunning, young appearance is achieved by pulling your hair up in a purposely unkempt updo while allowing your bangs free to frame your face.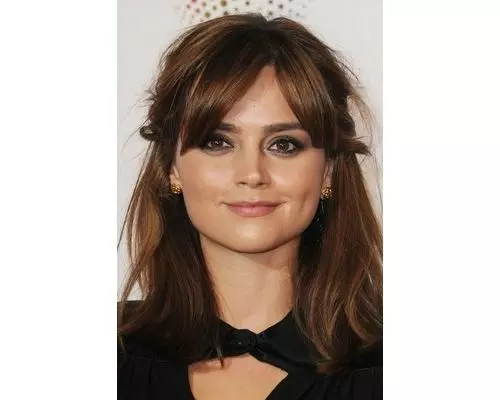 38. Clip in Curtain Bangs
Clip-in bangs are appealing because you can get bangs without really cutting your hair or growing it out to a specific length. Every hair kind and texture is catered to by goods, and you can select a colour that is as near as feasible to your own.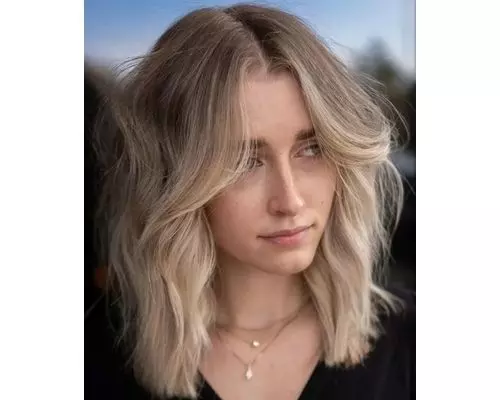 39. Textured Curtain Bangs
The best way to draw attention to your features and frame your face is with curtain bangs. Choose textured bangs if you want a style that is airy and feels unfinished. You don't need as much hair to pull this off; it works with bangs of all lengths and thicknesses, and it's a great touch to any hairdo.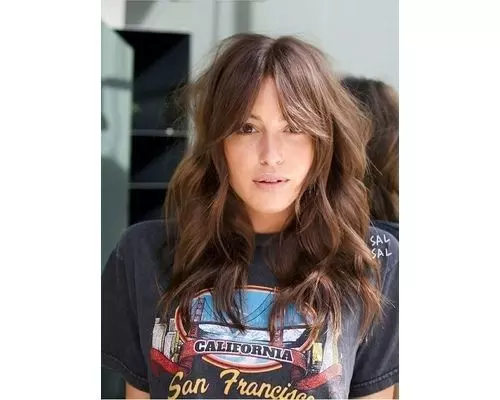 40. Loose Curtain Bangs
For those who prefer a carefree look, loose bangs are ideal. These bangs feel more relaxed and go nicely with curtain bangs because of the style. Although you can experiment with different lengths, longer cuts make it simpler to achieve.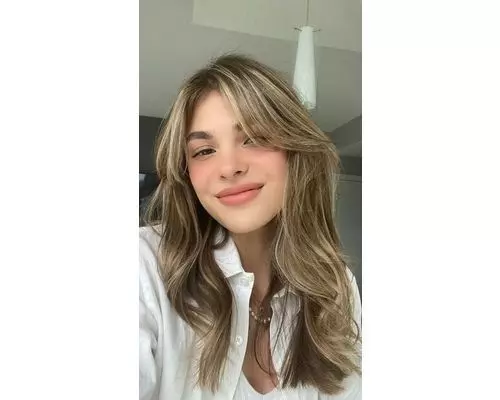 41. Curtain Bangs with Highlights
On either side of the face, place thick strips of your preferred hue as statement highlights. This could be neon-colored hair or blonde on black hair. Although it requires a lot of confidence to pull off, there are numerous lots of choices this appearance, which can also be a great way to draw attention to your cut and texture.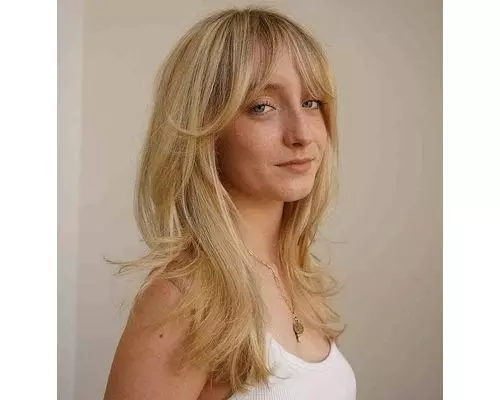 42. Whale Spout Curtain Bangs
With the addition of curtain bangs, the timeless whale spout hairdo receives a contemporary upgrade. Since it resembles the stream of water that whales generate when they surface, the style has been given that name.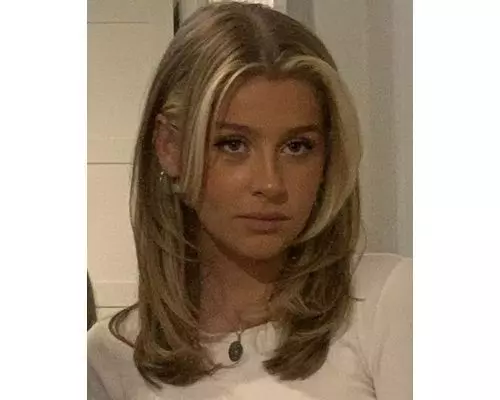 43. 90's Curtain Bangs
These bangs often fall on each side of the face and are lengthy, framing the face and emphasising your features. With bangs that have been blown out or made to look fluffy, the 90s style can have greater volume.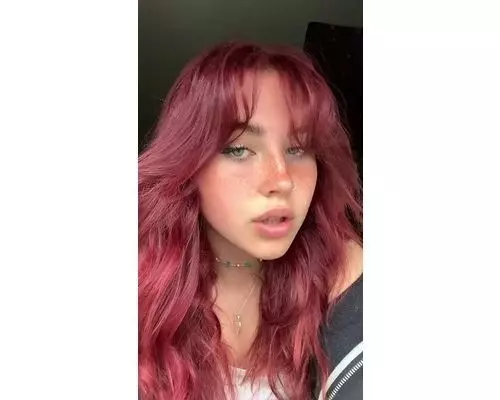 44. Curtain Bangs on Red Hair
Red colour complements hair of all lengths and textures, although it looks best on ladies with light skin and eyes. Curtain bangs are attractive because they look good on the majority of women, complement all face shapes, and highlight your features while framing your face.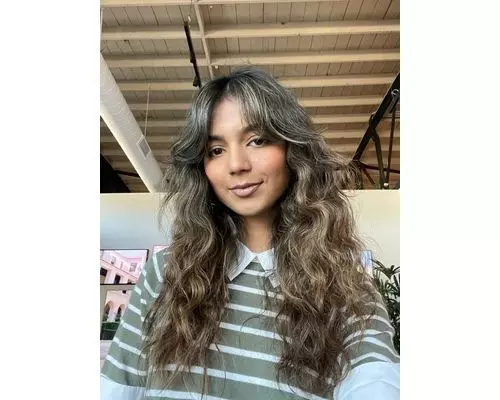 45. Crimped Hair with Curtain Bangs
The appearance of crimped curtain bangs is more contemporary now, with styles frequently appearing less defined and more natural, making them simple to wear. Almost everyone will look good with curtain bangs, which also curve the face and enhance your features. They are also quite simple to style and keep clean.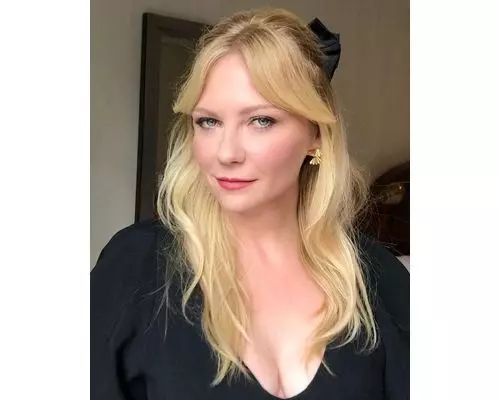 46. Half up- half down Curtain Bangs
One of the most adaptable and enjoyable hairstyles is the half up, half down. This style gives you the best of both worlds since, as the name implies, it contains part of the hair pulled up and the other half left down.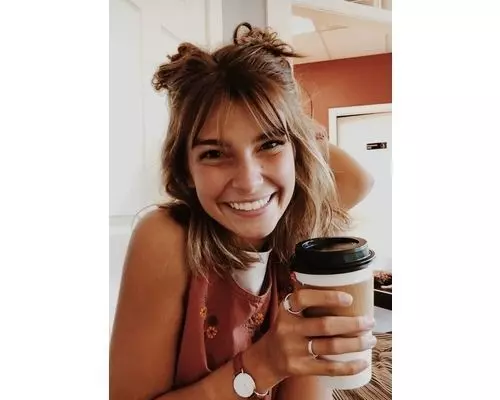 47. Space Buns Curtain Bangs
Two buns are worn on either side of the head in this cute style, which can also be worn half up and half down. Space buns are simple to make, involve little work or skill, and will make you look young.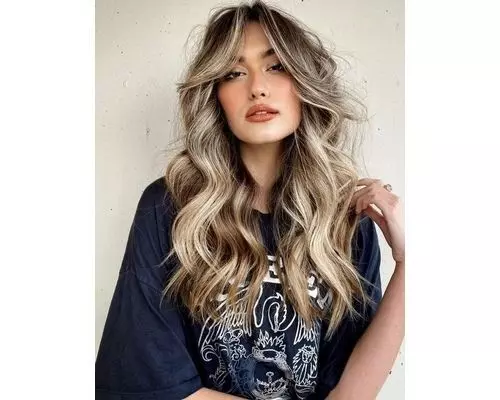 48. Ombre Curtain Bangs
A excellent way to give hair depth and texture is using the ombre hair colouring procedure. Also, you can express yourself, have fun with bright colours, and let the world see how playful you can be. Ombre curtain bangs can raise your hair while also framing and enhancing your face.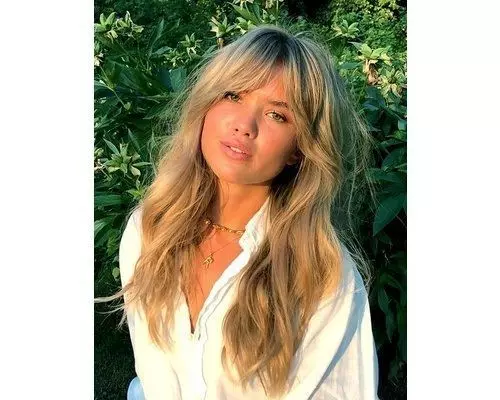 49.  Voluminous Curtain Bangs
Heat styling, such as using rollers or blow-drying the hair to look huge or fluffy, can result in voluminous curtain bangs. These bangs will frame your face and enhance your features, which is fantastic.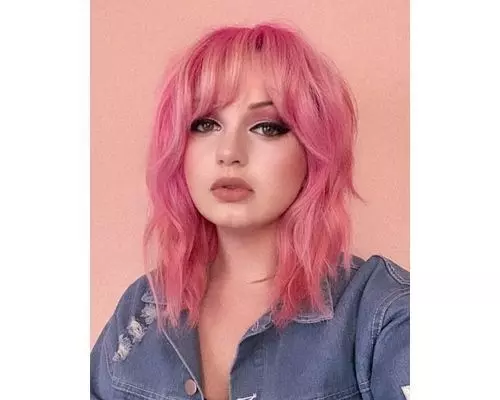 50. Pink Hair with Curtain Bangs
Pastel pink hair is adorable, what's not to love? Also, it will look quite appealing when worn with curtain bangs. You can also play with the colour's incorporation.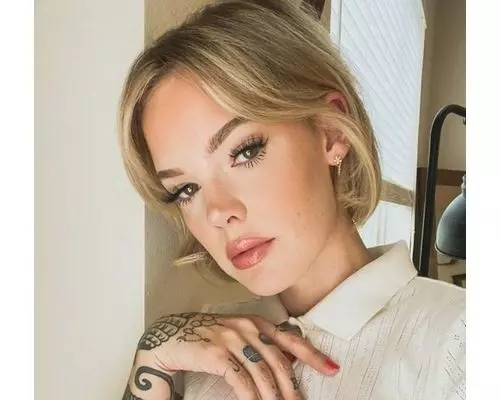 51. Pixie Cut with Curtain Bangs
The pixie cut is one of the most well-liked short hairstyles for women. Also, you can alter the length and add bangs to suit the texture of your hair. Put curtain bangs on your pixie cut for a more contemporary look.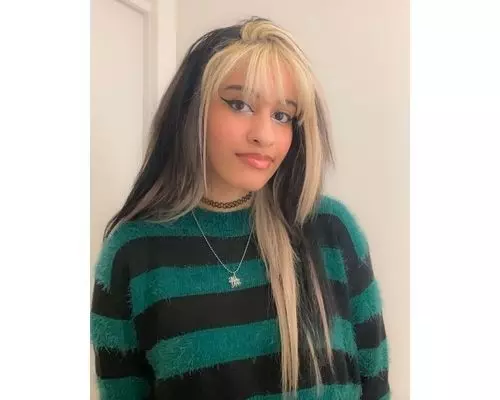 52. Split Dye Curtain Bangs
The expressive split-dye hairstyle allows you to customise your hair to best show your personality. As the name implies, the colour is divided on each side of the head. You can do this by using two artificial colours, or you can leave one side of your hair natural. A curtain bang might make this look more prominent.
53. Natural Hair Curtain Bangs
Curtain bangs look stunning with natural hair. Although these bangs are adaptable and can be made in a variety of lengths, the appeal of having curly hair is that they are more wearable and subdued.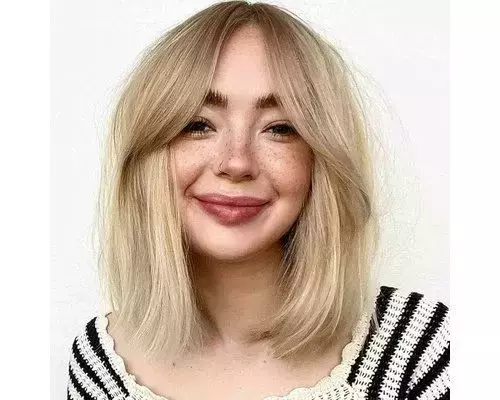 54. Bleached Blonde Curtain Bangs
Your cut and hair texture will be highlighted by bleached hair. No matter what your natural hair colour is—even dark hair can be bleached—it is a fantastic approach to get a really light tint. With this style, curtain bangs typically look fantastic.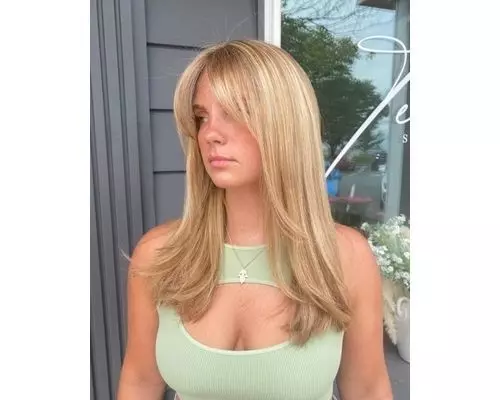 55. Curtain Bangs with Flipped Ends
Flipped-end curtain bangs are a terrific way to channel the ole times. This decade saw the first widespread adoption of the fashion, which is characterised by an upturned aspect. They look wonderful on all hair lengths, but for a more dramatic finish, they work best on medium and long hair.