51 Best Haircuts And Hairstyles For Rectangular Face
Vanessa Pereira
Updated At 20 Jan 23
The focus while selecting a haircut for a rectangular face should be to soften the appearance as this face shape has sharp features or angles.

One must also ensure that the opted hairstyle for a rectangular face should not lengthen the face any further visually. So be mindful of the following factors that contribute to increasing the length of the face.
• Hair length
• Volume
• Haircut
Explore the different types of hair for a rectangular face as we bring you a list of top hairstyles and haircuts for this face type.

51 Best Hairstyles For Rectangular Face

• Layered haircuts

One of the best haircuts for a rectangular face is a layered haircut, as adding a lot of layers to the hair helps to open up the face and reduce the sharp features simultaneously.
Layers can be used to either thin out thick hair or add dimension and depth to one's look.
Find what type of layered hairstyle is suitable for your hair length and hair type.
Do check our guide to know about all the types of face shapes and their respective characteristics including how to identify your own face shape.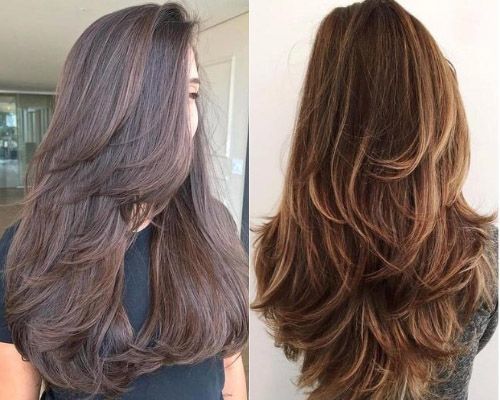 1. Long layered hair
Generally, one should steer clear of long hairstyles for a rectangular face as it lengthens the face visually.
However, if you would still like a long-length hairstyle, then ensure to add lots of layers to your haircut for that added depth to your face.
You can also accentuate your look by adding some feathering around the face length as this would make your face look wider than it is. Layered hair got perfectly well with oval face shape hairstyles as well.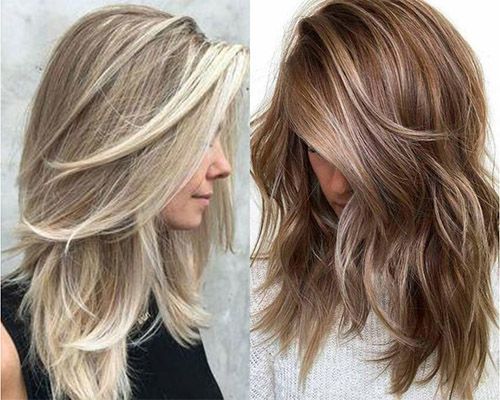 2. Mid-length layered hair
The layers will depend on the thickness of your hair.
If you have thicker hair, then minimum layering will be required, whereas if you have thinner hair, then more layers should be added as it will help accentuate your face and give your hair a voluminous look.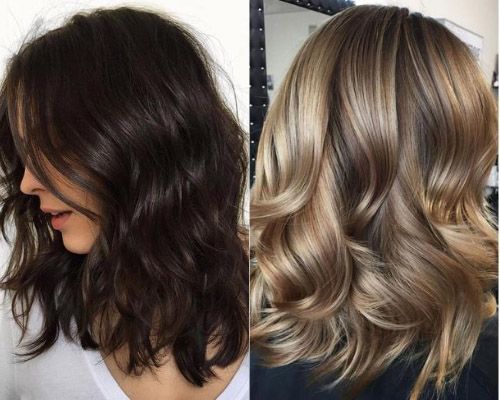 3. Shoulder length layered hair
Begin layering from the jawline and proceed with subtle layers depending on the volume of your hair. This haircut will help in reducing the sharpness of your jawline. Shoulder length layered hair are amongst the popular round face shape hairstyles as well.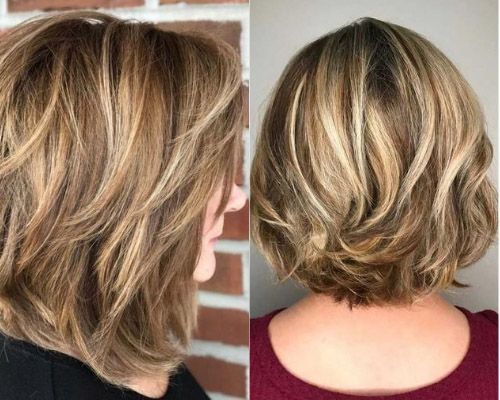 4. Short length layered hair
Layering this hair length can be tricky but not impossible. If you like fringe or bangs, then this is the style for you. Begin the layering from the fringe line, then proceed with minimum layering throughout the length of the hair.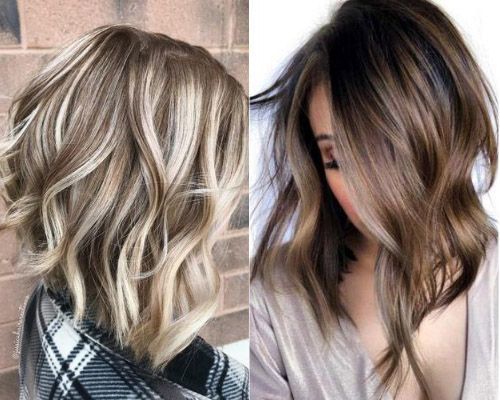 5. Asymmetrical haircuts
An asymmetrical haircut is longer is front or on the sides while shorter behind, it basically is an uneven haircut that works well as a face-framing solution.
It is one of the best haircuts for a rectangular face.
• Bangs or fringes
Bangs work well with any hair length or hairstyle. It is one amongst the best haircuts for a rectangular face and are amongst the popular triangle face shape hairstyles as well.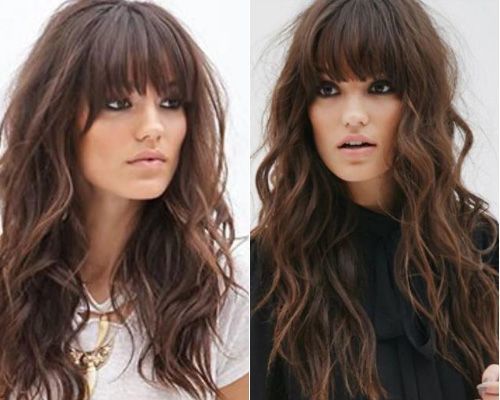 6. Curtain bangs
The bangs are shorter at the forehead section and are longer on the sides of the face. This face-framing bang is the best way to create the illusion of a smaller and skinner face.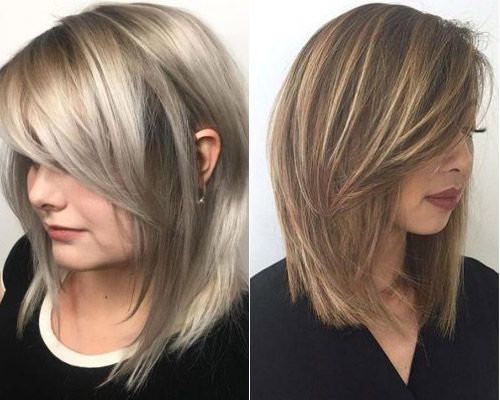 7. Side bangs
Side-swept bangs look great on every face type as they may not affect the visual appearance of the face shape, but it does soften the look.
• Blowout
Select your style from one of the many blowout options suitable for a rectangular face.
Whatever the choice of hairstyle, ensure to avoid creating volume at the crown of the head as it contributes to the length of the face, and the focus should be on adding volume horizontally than vertically.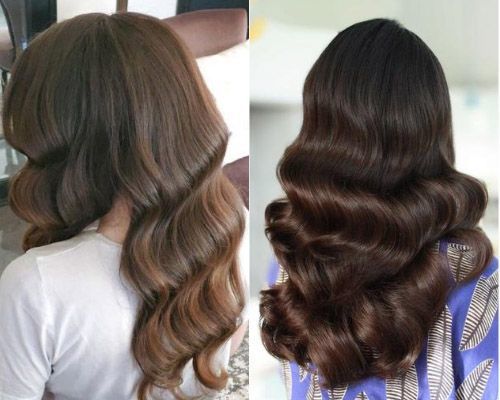 8. Hollywood glam waves
A classic look suitable for any occasion and can be perfectly styled on short to long length hair.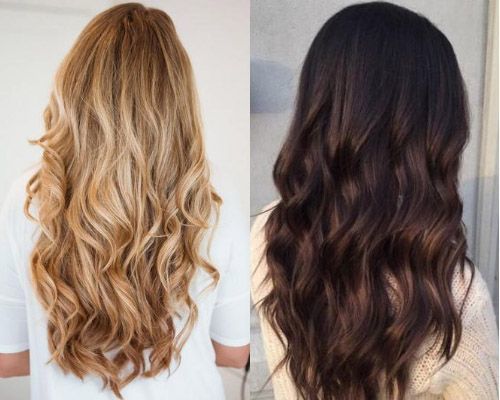 9. Loose curls
A natural way to get that luscious look without the use of extensions. Enjoy your stunning look as you flaunt that voluminous and bouncy hair, ideal for every event.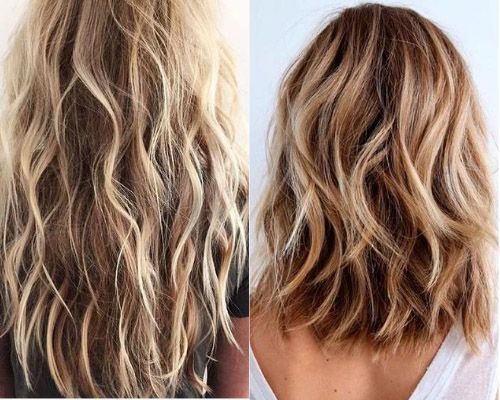 10. Messy beach waves
Easily create this hairstyle without the use of any heat. It is ideal for a casual day look and a red-carpet event and works well for short to long length hair.
• Ponytails
Want a simple yet stunning look, opt for an easily created hairdo like a ponytail. Upgrade this classic hairstyle with hair accessories, braids, waves, or curls.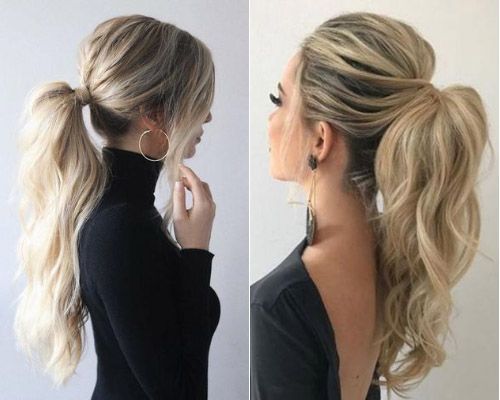 11. Messy ponytail
Create this hairstyle with waves or curls for a voluminous look and leave some front strands loose to soften the facial features. Wear this style for a casual look.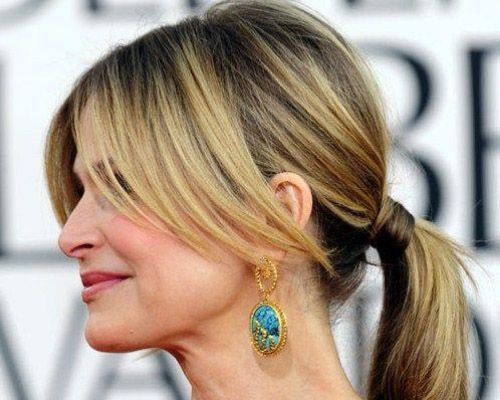 12. Ponytail with a fringe or side bangs
Avoid high ponytails as it lengthens the face visually but use your fringe or side bangs to reduce the length of the face.
• Half-up, half-down hairstyles
A versatile hairstyle that can help create a voluminous look while giving the face dimension without the extended height.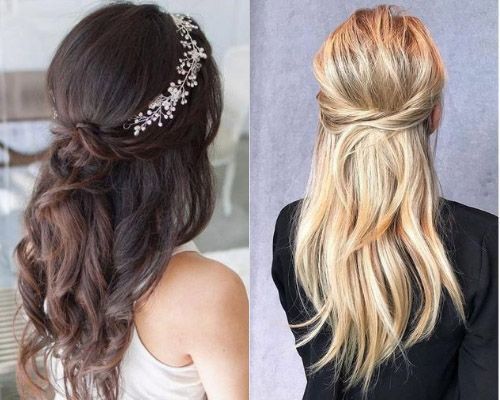 13. Swept-back style
It is a simple yet classic style that works as an everyday hairdo or for a special event when combined with proper hair accessories.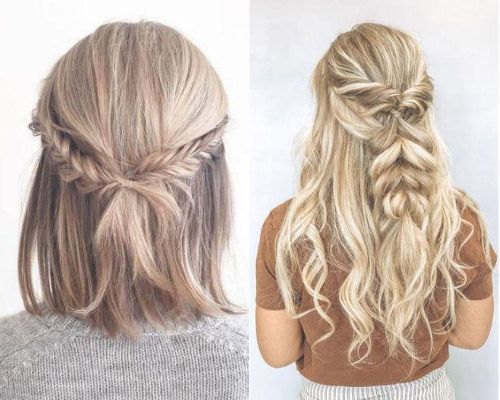 14. Braided styles
There are a variety of braided designs one can combine with a classic half-up, half-down hairstyle. Add waves or curls to the remaining loose hair for added dimension and volume.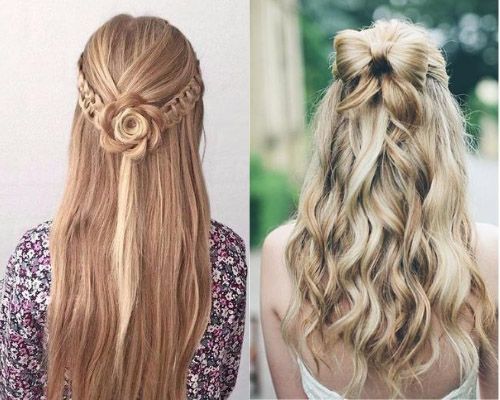 15. Flowers or bow styles
Create a hair flower or bow with the tied-up portion of hair for a sweet and romantic look.
• Chignon hairstyles
Opt for romantic chignons over high buns that tend to add length to the face visually. Amp up this hairstyle with braids, twists, and fancy hair accessories.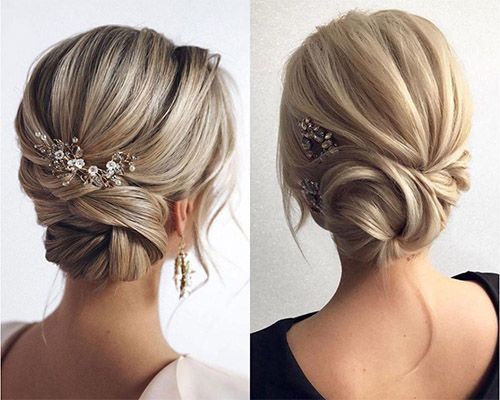 16. Side Chignon
A side chignon is a knot bun created on one side of your head right below the ear with a few strands of hair or bangs left out.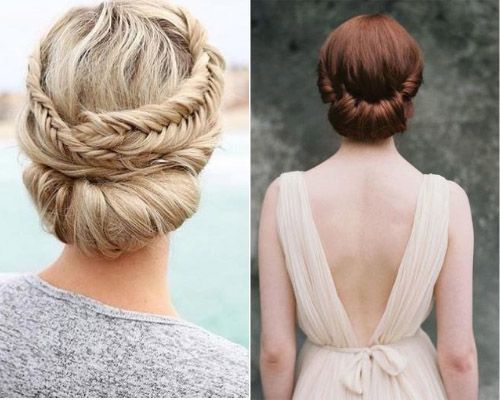 17. Rolled chignon
Simply twist and tuck strands over the back of the band to create this hairstyle. Accessorize this look with a simple or a sparkly headband depending on the occasion.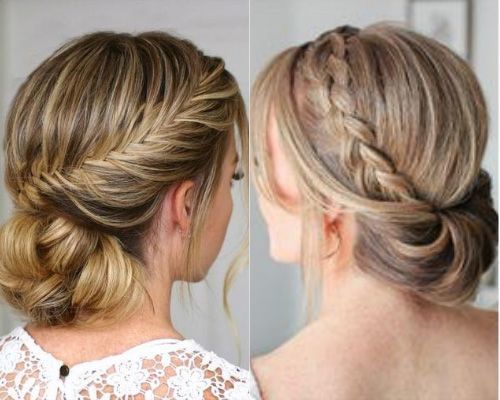 18. Braided chignon
A braided chignon is a perfect hairstyle for a red-carpet event or even a wedding. It is a romantic hairstyle that is sure to amp up your overall look.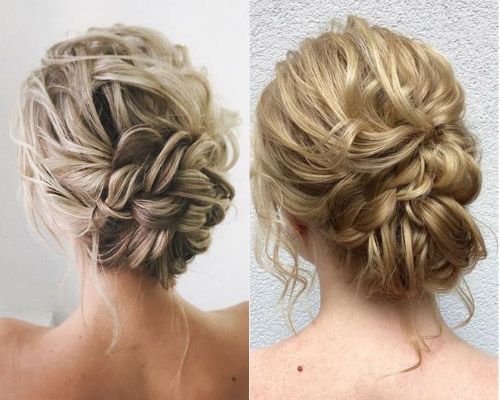 19. Wavy chignon
This hairstyle is well suited for a red-carpet event, date night or even a night at the club. The fun, romantic look works well with naturally wavy hair, but it can be created for other hair textures as well.
• Hair colour
Explore the different colours and hair colour technique available to transform your look by selecting the right one for your face type.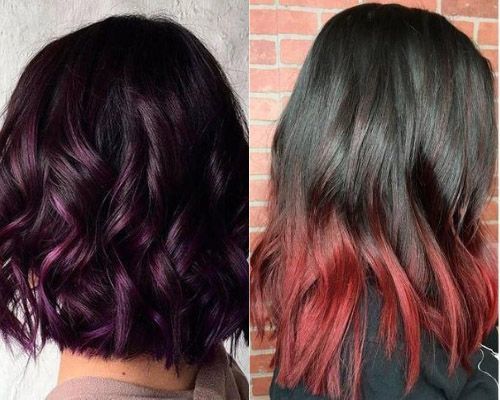 20. Dip dye
Dip dyeing, hair colour technique helps to create the illusion where the face appears to be shorter and less narrow than it is.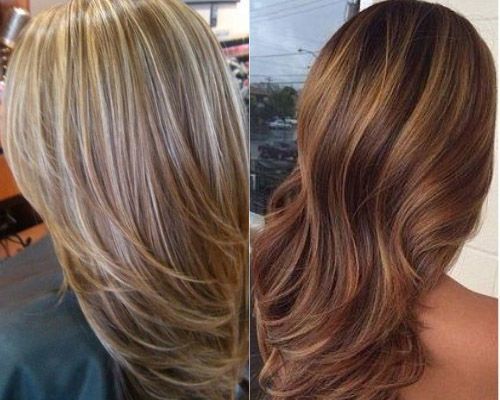 21. High and lowlights
This hair colour technique helps to add dimension to the hairstyle, which is what a rectangular face requires as it appears to look visually wider than it is.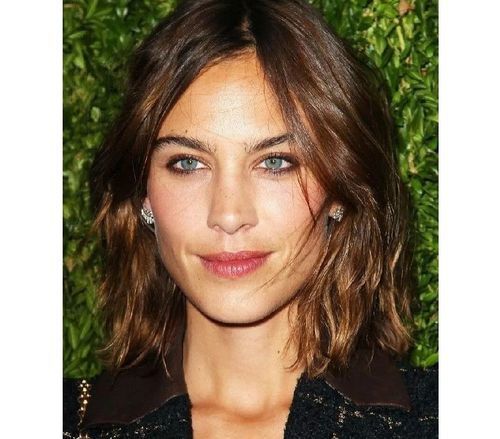 22. The Trailblazer Bob
Few hairstyles lead the way. They are the trendsetters. They are the trailblazers. And that's exactly what almost every Alexa Chung hairstyle has been. But, her wavy bob with layers has been immensely popular. It is one of the best options when it comes to rectangle face shape hairstyles. Moreover, it is French girl approved.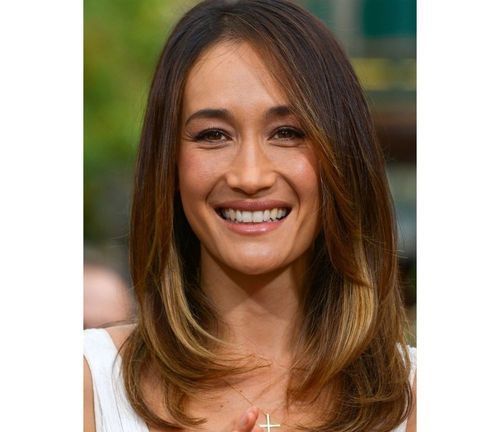 23. Layers At The Bottom
Rectangle face shape hairstyles are usually short to medium-length and come with layers. And here is a prime example of what will best suit a rectangle face shape. The layers move inward to create a feathering effect. It has a soft and balancing appeal.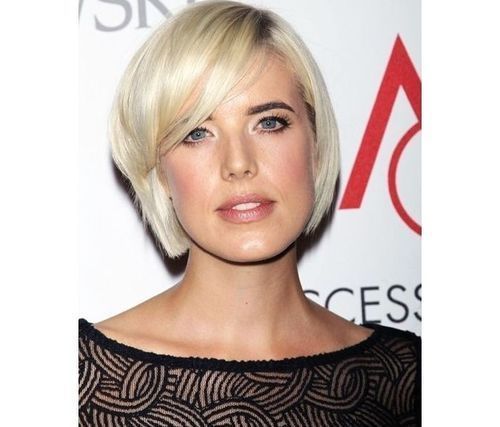 24. Cute Bob With Side Bangs
This is a cute jaw-length bob that will be perfect for those who like to wear their hair short. The side bangs add softness to its otherwise choppy ends. It is a fuss-free and easy-to-style haircut.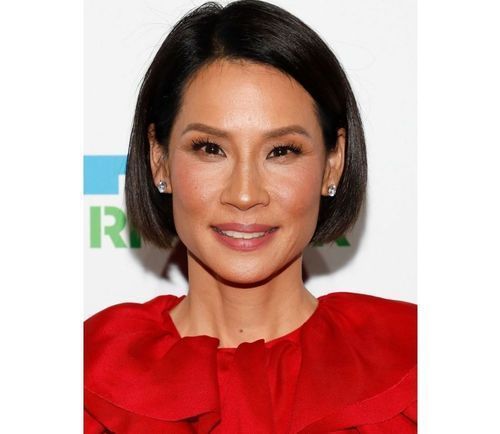 25. Chic Bob With Side Parting
Lucy Liu has forever been our inspiration when it comes to rectangle face shape hairstyles. So, we were quite amazed as well as excited to see her flaunt a French bob. It was quite a dramatic shift from her long flowing tresses.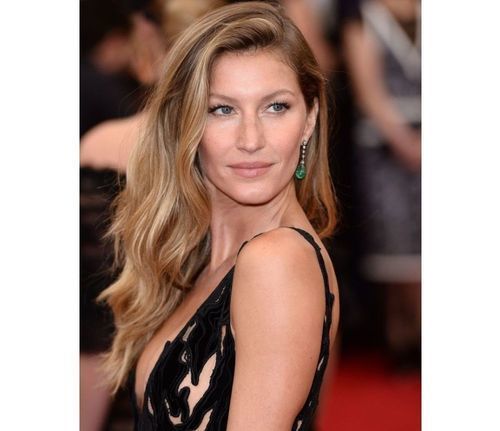 26. Long, Layered, And Wavy
Another celebrity who has been on the top of our list for hair inspiration when it comes to rectangle face shape hairstyles is Gisele Bündchen. Her signature long, layered, and wavy hairstyle is something that will never go out of style. Wear it side-parted or center-parted, or make it a side-swept look as modeled by Gisele here.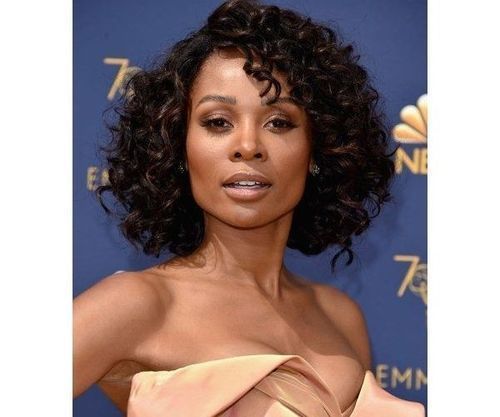 27. A Curly Affair
When it comes to rectangle face shape, layers are your best friend. So, whether you have straight hair, wavy hair, or curly hair, go with layers and you will never be wrong. A layered curly bob creates great volume and dimension to soften the angular appearance of a rectangle face.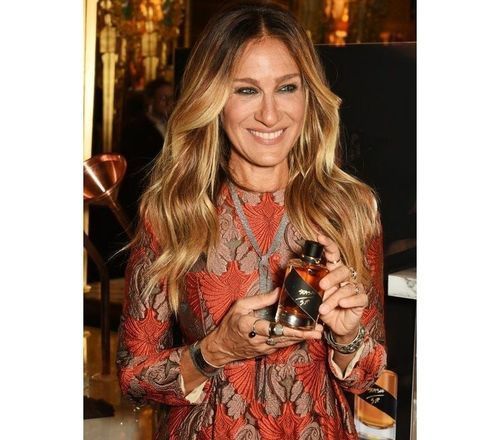 28. Layered Hairstyles For Rectangle Face Shape
Sarah Jessica Parker looks like a vision in her signature Carrie Bradshaw curls. But, she also looks quite amazing in her other signature layered hairstyle. Longer layers in the back and face-framing shorter layers in the front form one of the perfect options for rectangle face shape hairstyles. The subtle waves add a new dimension too.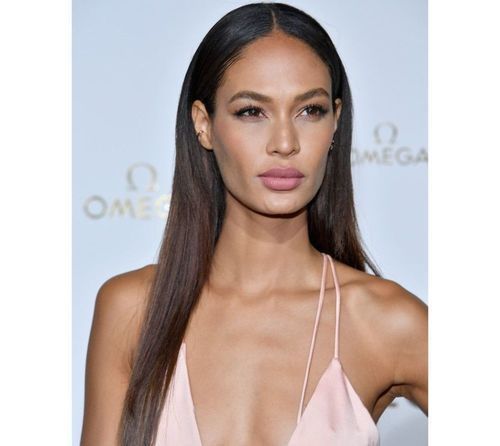 29. Sleek And Straight With Layers
It is often recommended to not opt for unnecessarily long hairstyles. Blunt haircuts are also a no-go. But this sleek and straight long hairstyle as modeled by Joan Smalls says otherwise. Why? Because layers make it okay. Also, a center-parting and tucking hair behind the ears create a favorable visual effect.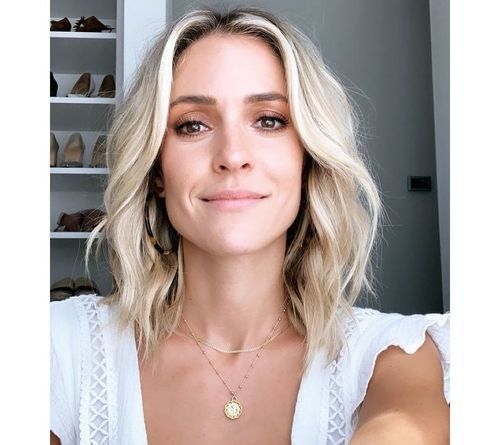 30. Wavy Bob
This is one of the best rectangle face shape hairstyles. It is a classic. If you can't make up your mind, then go with this wavy layered bob. It has some choppy face-framing layers. Moreover, the wavy texture balances the long and angular face shape.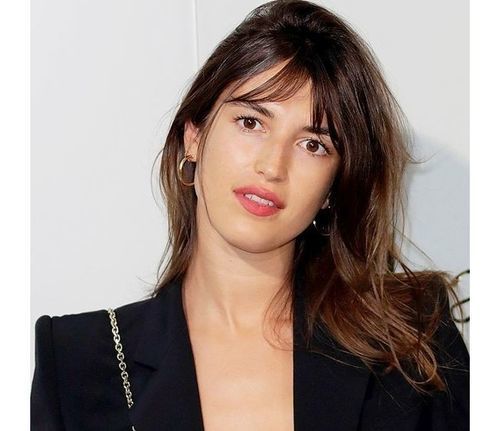 31. French Bangs
No one can show you how to rock rectangle face hairstyles with bangs better than Jeanne Damas. She has some of the best wispy bangs of all time. This is how the French do it. They are subtle, soft, and do their job. After layers, soft and wispy bangs are your savior.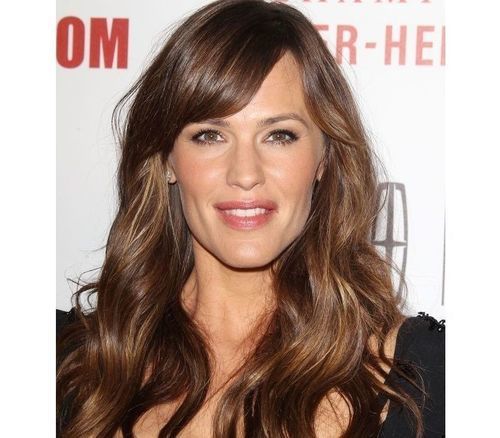 32. Side Bangs With Layered Hairstyles
Here is yet another one of the best rectangle face shape hairstyles. Yes, it is a classic hairstyle too—the layered and wavy one with some side bangs. And if it is good enough for Jennifer Garner, then it should be good enough for you. It is the best of the best.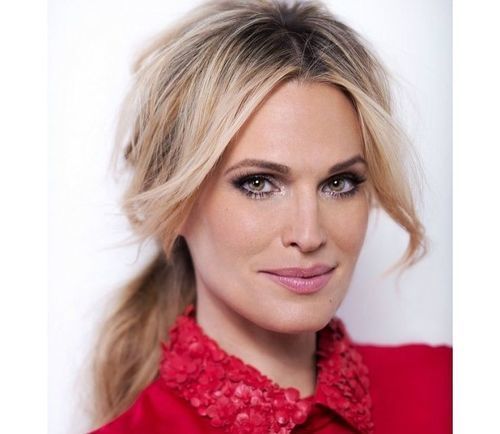 33. Textured Ponytail
You have a face shape like no other. Then, of course, your ponytail is going to be like no other. the secret to a perfect ponytail hairstyle for rectangle face shape is texture. Use your curling rod to add some waves. Tease the crown a bit to add volume while leaving some hair in the front. Tie the rest into a ponytail and you are good to go.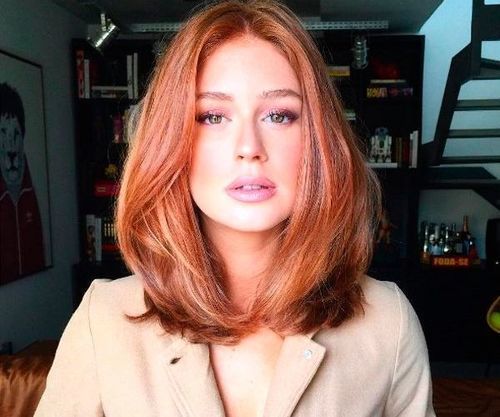 34. Classic Long Bob
Chic bobs are favorable and so are the long bobs. Here is a classic style that we love. It is one of the prettiest rectangle face shape hairstyles. The face-framing layers along with the longer layers that move inwards look so gorgeous.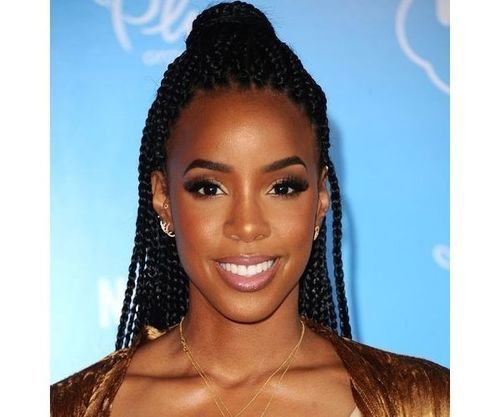 35. Braids For The Win
Black women have a different hair texture. They usually wear their hair in protective hair braids. Don't let your rectangle face shape stop you from doing the same. If braids get your heart racing, then go, embrace your curls and your culture while looking your gorgeous best.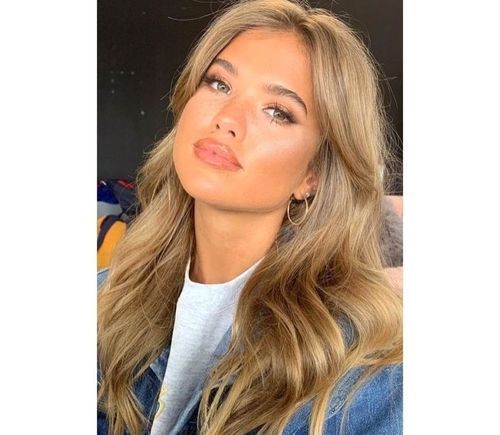 36. Curtain Bangs
Rectangle face shape hairstyles with bangs are very popular. Amongst the various style of bangs, curtain bangs gained immense popularity during the pandemic and they still are a hot hair trend. They are also a good option for rectangle face shapes.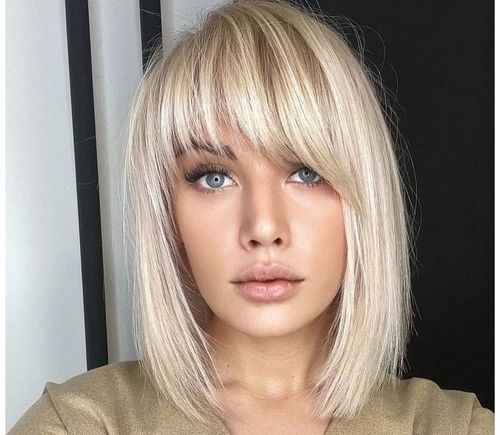 37. Layered Bob With Bangs
Layers can also be subtle and this bob with eyebrow grazing bangs shows just that. The layers might be subtle but they do their job and create volume. This is a perfect choice for those who have thin hair.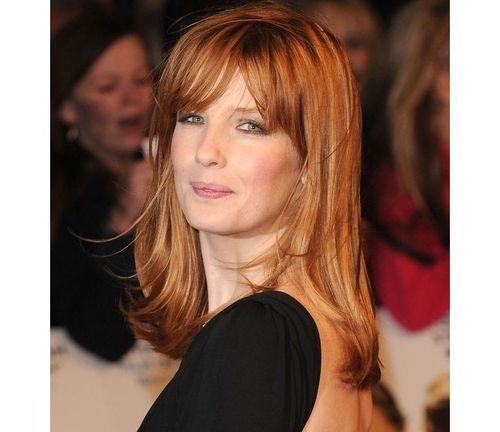 38. Parted Bangs With Shoulder Length Hair
This shoulder-length haircut is perfect as one of the best rectangle face shape hairstyles. The rounded layers create a fuller look while the parted bangs work well by framing the face.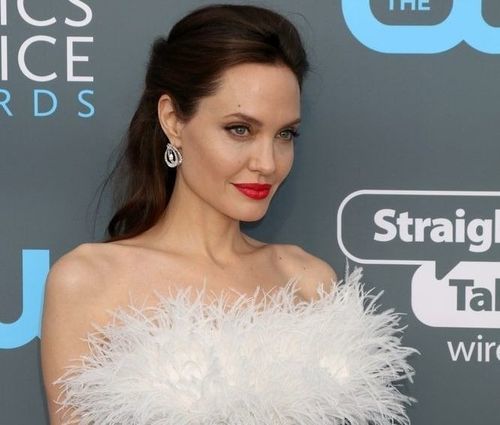 39. Half Up And Half Down
This half-half down hairstyle is a classic that lets Angelina Jolie show off her beautiful facial features. Of course, the hair has some good texture that brings volume along the sides. So, go for a style like this when you are in a mood to show off those envy-inducing cheekbones and killer jawline.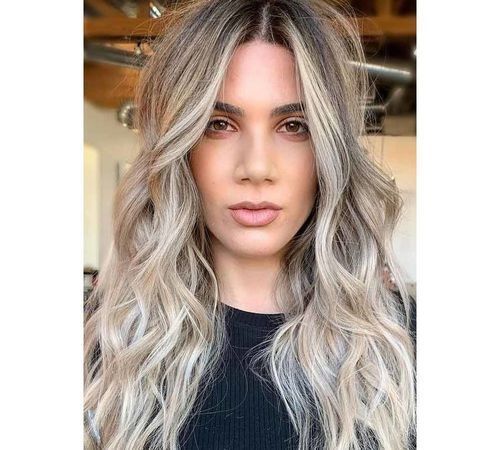 40. Long, Layered, And Curly
This is a great hairstyle for those who want a style that is chic and effortless. It is long, comes with curls and trendy hair color. The center part creates a perfect look. This is one of the universally faltering rectangle face shape hairstyles.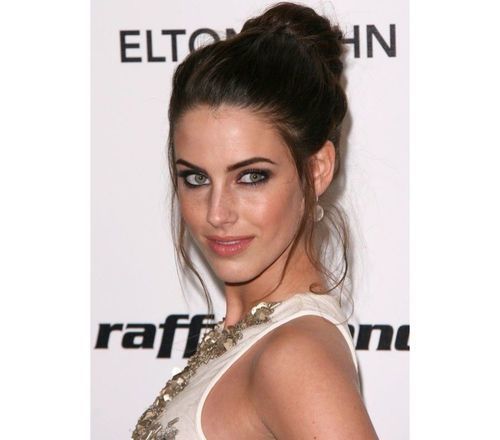 41. Chic Updo
Learn the trick to doing updos from the best. Jessica Lowndes here looks gorgeous with an elegant updo with some wispy strands left out in the front to frame the face.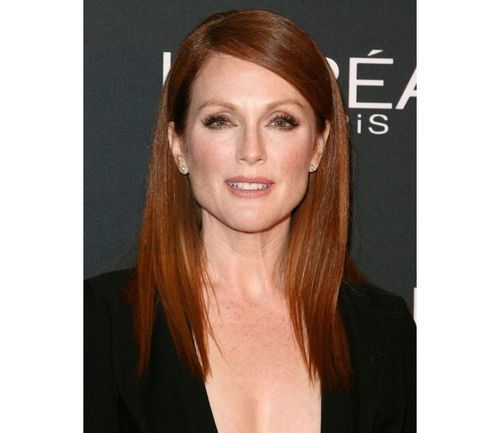 42. Subtle Side-Parted Layers
This is a very polished and sophisticated hairstyle that also screams effortless chic. The tucking of the hair behind the ears to create the illusion of long side bangs plays so well with sleek and straight layers which give movement to the whole hairstyle.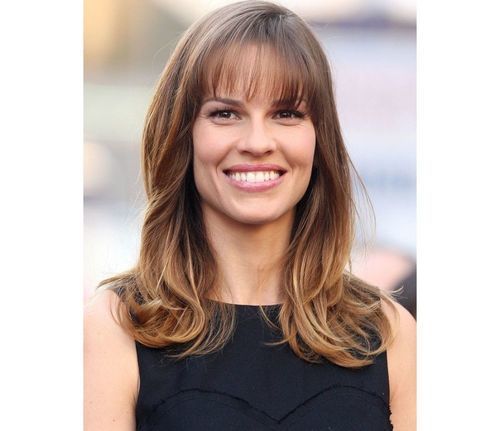 43. Bangs: Front And Center
Layered haircuts are the most favorable when it comes to rectangle face shape hairstyles. And this is proved by this hairstyle as modeled by Hilary Swank. It is one of the best haircuts for rectangle faces as they benefit a great deal from both the wispy front bangs and the layers.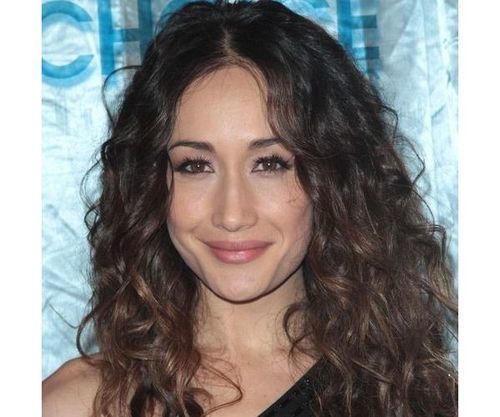 44. Curly Rectangle Face Shape Hairstyles
Here is a soft and curly shag that forms a very apt hairstyle for people with rectangle face shapes. It frames the face and shortens the length of the face. It also boasts of versatility that you can achieve by styling it in many different ways.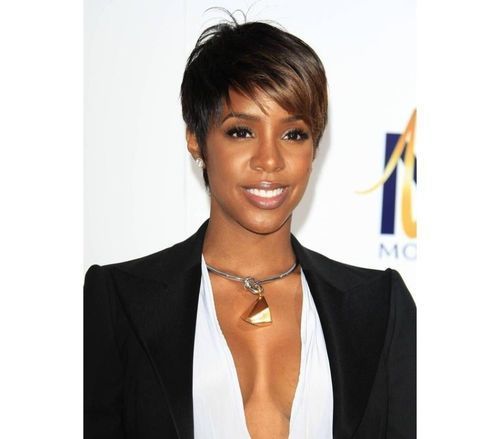 45. Polished Pixie
A pixie looks great on rectangle face shapes especially when it comes with bangs. So, here we have one fine example as modeled by Kelly Rowland who looks gorgeous in a polished pixie haircut with bangs. The texture gives this hairstyle more life.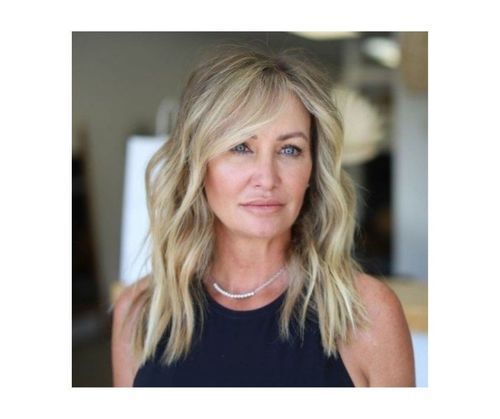 46. Rectangle Face Shape Hairstyles With Layers
This is a modern take on the shag haircut of the 70s. The shorter layers on the front create a textured and shaggy look without looking over the top and connect well to the longer layers in the back.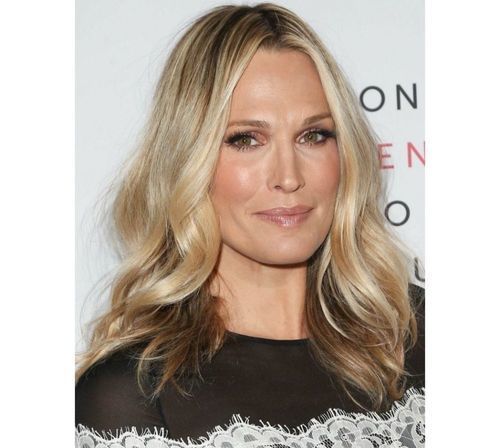 47. Beautiful Wavy Hairstyles For Rectangle Face Shape
Here is yet another one of the beautiful rectangle face shape hairstyles. It comes with some effortless texture that works perfectly with the tons of layers cut into this hairstyle. It is best suited for those with thick hair.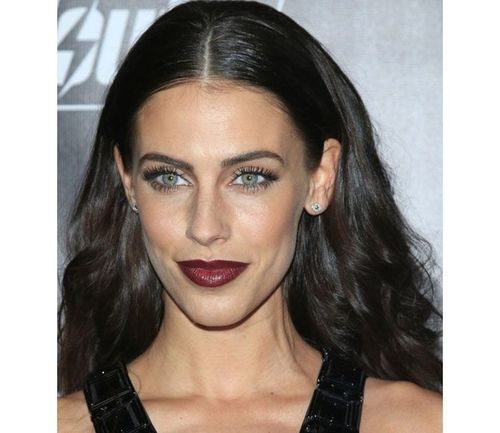 48. Tucked Waves
The best kind of rectangle face shape hairstyles are those that have layers and texture. The glossy waves as modeled by Jessica Lowndes here have our hearts. They soften the face while adding movement to the hair. The tucked-in part just makes this hairstyle look effortless chic.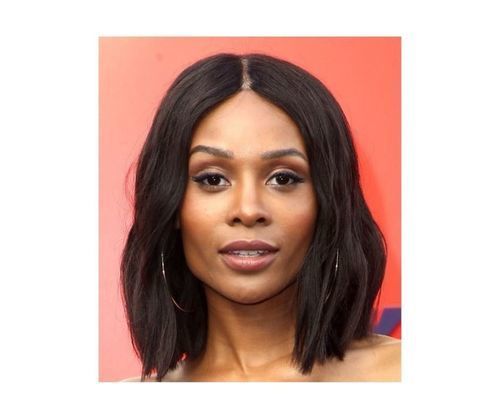 49. Subtle Waves
Textured blunt bobs are popular rectangle face shape hairstyles. This one as modeled by Joan Smalls has interior layers which are then mixed with some wavy texture to create a voluminous look.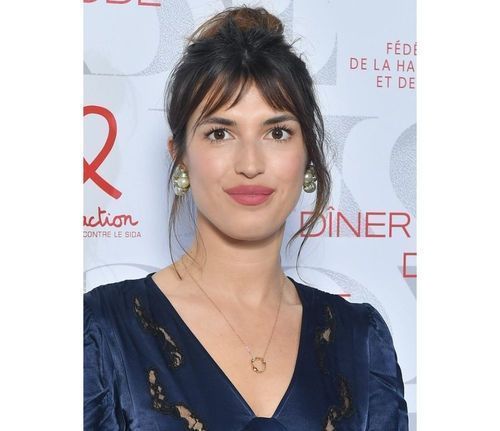 50. Wispy Updo
Yes, we brought French girl Jeanne Damas once again to show you how to do updos when you have a rectangle face shape. When it comes to updos, remember all that you have learned about rectangle face shape hairstyles. You need a hairstyle that adds a softness to your face and makes it appear less long than it is by adding a new dimension. And all of this is added through layers, waves, and bangs among other things. So, when it comes to an updo, leave some wispy ends to frame your face. And get those French bangs.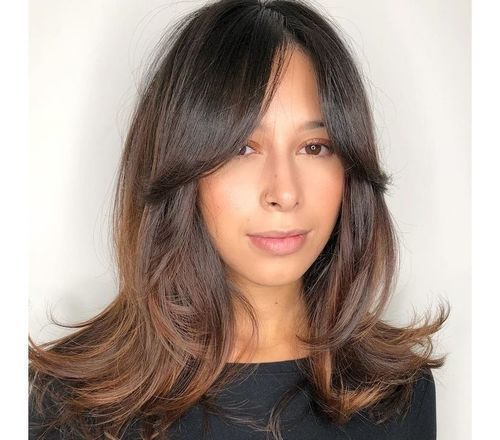 51. Latest Rectangle Face Shape Hairstyles
There is no doubt that the French know exactly what they are doing. So, when they showed the rest of the world how to do this new type of bangs, everyone readily accepted. And now, it is a global fashion trend. Due to their versatile nature, curtain bangs form a part of many rectangle face shape hairstyles, with the latest being the wolf cut.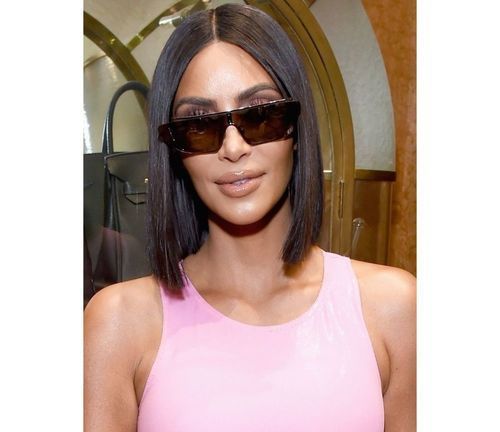 52. Asymmetrical Bob
An asymmetrical bob is such a fun hairstyle for rectangle face shapes. It not only frames the face nicely but also gives tons of movement and definition. The blunt style also gives an illusion of thicker hair. So, this is a win-win!
For more inspiration on haircuts for rectangle-shaped faces, do check out the below list of celebrities with the same face type as you.
Lucy Liu
Gisele Bundchen
Rosario Dawson
Keira Knightley
Meryl Streep
Joan Smalls
Sarah Jessica Parker
Jessica Simpson