31 Most Popular Heidi Klum Hairstyles And Haircuts
Shalu Bhati
Updated At 08 Mar 23
Are you looking for some hair inspiration? Why not get inspired by a Heidi Klum haircut? Here we have some of the most gorgeous and sought-after Heidi Klum hairstyles. Keep scrolling!
Heidi Klum is a famous German-American supermodel, TV personality as well as a successful businesswoman. Currently, she is seen as a host on Amazon Prime's new series, Making The Cut, and as a judge on America's Got Talent. But, Heidi started her career as a model for Victoria's Secret. She was one of the original Angels! She has also been on the cover of many coveted magazines including the famous Sports Illustrated Annual Swimsuit Issue of 1998. She went on to become one of the highest-paid models of the world and then ventured into the world of television and movies with Germany's Next Top Model, Project Runway, and The Life And Death Of Peter Sellers among others. Her Halloween costumes are some of the most interesting costumes that you will ever see. Her haircuts are one of the most popular celebrity hairstyles searched every year.
At 49, Heidi Klum is one of the most beautiful women with a successful career as a model, TV personality, and businesswoman. Her style and beauty looks over the years have inspired many. So, it was obvious for us to go and search for a good old Heidi Klum haircut for some #hairinspo.
Here we have the 31 most popular Heidi Klum hairstyles. Let's go!
31 Best Heidi Klum Hairstyles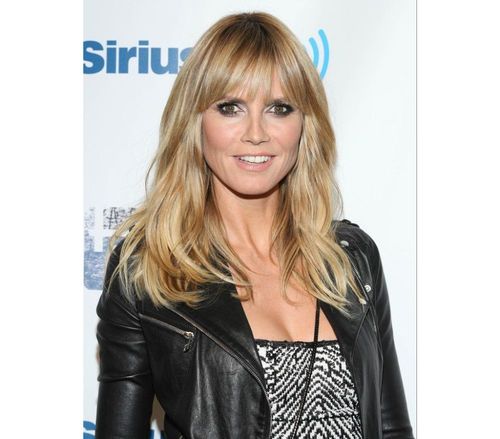 1. Classic Heidi Klum Hairstyle
Heidi Klum has been a style chameleon over the years meaning she has been constantly changing her looks. but there is one Heidi Klum haircut that she almost always comes back to. The woman loves her bangs. Her hair length could change, even the cut but, bangs have been her constant companion. If you are looking for Heidi Klum hairstyles with bangs, then this is an amazing option.
Also check out the stunning Beyonce hairstyles as we cover her most popular 25 hairstyles.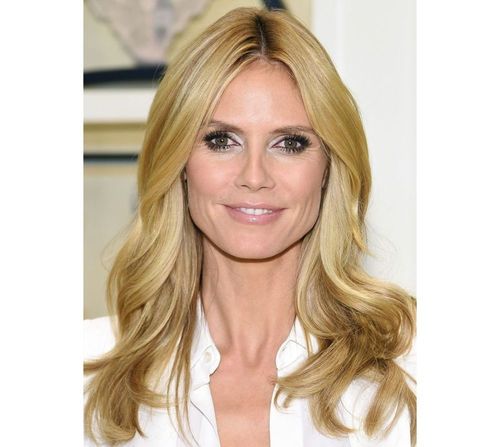 2. Beautiful Waves
Here is another beautiful Heidi Klum haircut that we instantly fell in love with. This is a blonde bombshell hairstyle that means business. These smooth waves look super glam as well as sophisticated.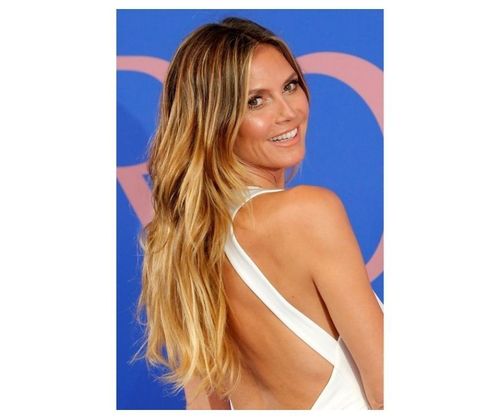 3. Long And Layered
Heidi Klum never fails to wow us with her style choices. This Heidi Klum hairstyle is no different. It is long and layered with a wavy texture that adds more dimension to the whole look. Check out the stunning Bella Hadid hairstyles as she provides us inspiration for a lot of trending hairstyles like bob, bangs, messy bun, straight hair, layered hair and many more.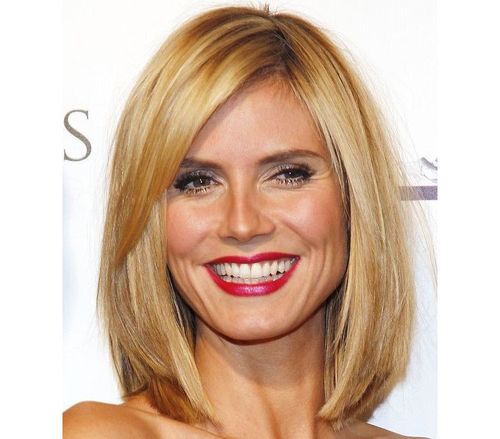 4. Blunt Bob
This blunt bob is a popular Heidi Klum haircut. She has sported it with much elegance and oomph at many red carpet events. A side-parted bob with blunt edges and a very subtle side bang is how you serve looks Heidi Klum-style. If you are looking for Heidi Klum short hairstyle for inspiration, then this is an amazing option.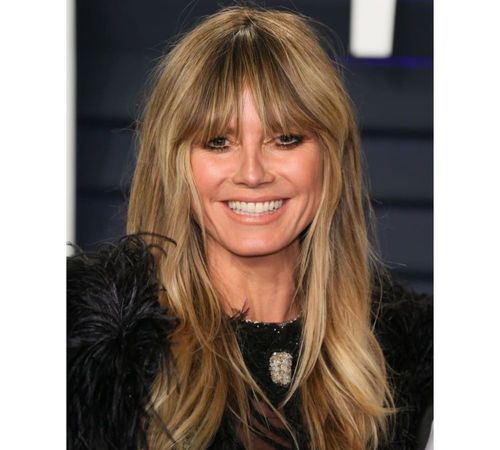 5. Peek-a-boo Bangs
Here we have Heidi Klum in her rock-chic glory. This Heidi Klum haircut takes things to the next level once styled with some texture. We love how the subtle texture is balanced with the slightly parted bangs.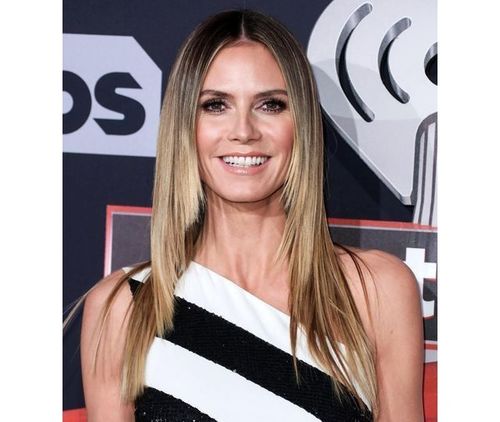 6. Blunt And Straight
This is a very straight and very blunt Heidi Klum haircut. The blunt layers parted in the middle have been in style for several years and there are here to stay. So, why not make this Heidi Klum haircut your inspiration for the next salon visit?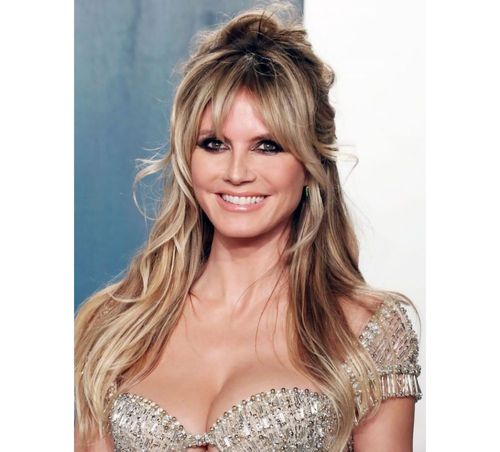 7. Half Up Half Down Heidi Klum Haircut
This is one of the most popular Heidi Klum hairstyles and let us tell you how lovely she looked with her shiny gown and a romantic, messy yet elegant half up half down hairstyle. The teased-up crown adds an edge while the little bits and pieces of curled hairpieces bring romanticism to the hairstyle.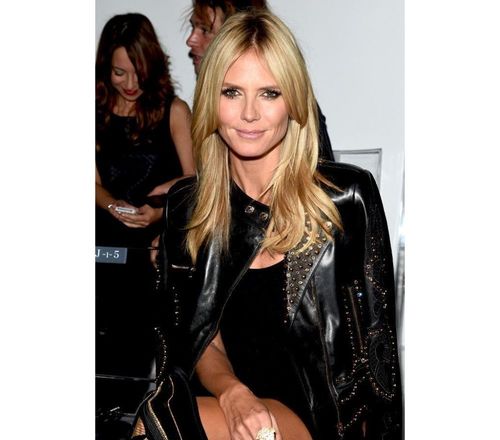 8. Curtain Bangs With Subtle Waves
Curtain bangs look amazing with waves. We all know that. But, this Heidi Klum haircut will give you another version of this famous hairstyle. She pairs her curtain bangs with subtly curled ends in a sleek style.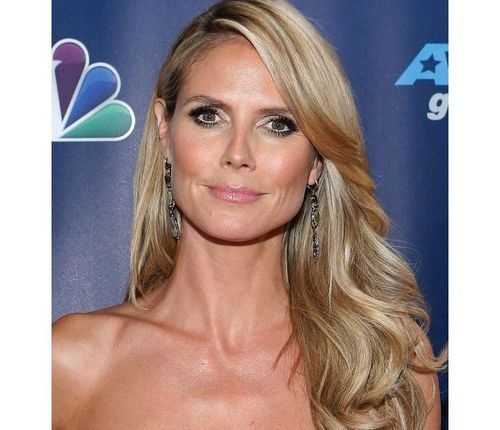 9. Gorgeous Side-Swept Heidi Klum Haircut
There is some innate beauty about side-swept hairstyles that cannot be ignored. And when Heidi Klum decides to go for this hairstyle, she makes sure it is a memorable look. So, here we have yet another one of the most popular Heidi Klum hairstyles. The curls at just the right places have our hearts. This Heidi Klum long hairstyle gves ample space to your face and dress to get highlighted.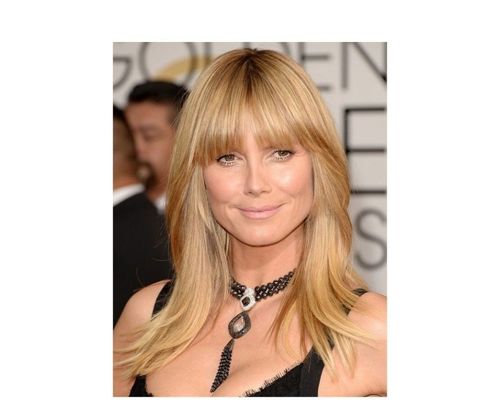 10. Brow-Grazing Bangs And A Feathered Cut
Here is another version of the classic Heidi Klum haircut. Her bangs are longer and slightly thicker, not something through which you can see her forehead. This is a feathered haircut combine with layers. The overall caramel blonde color adds to the beauty of this look.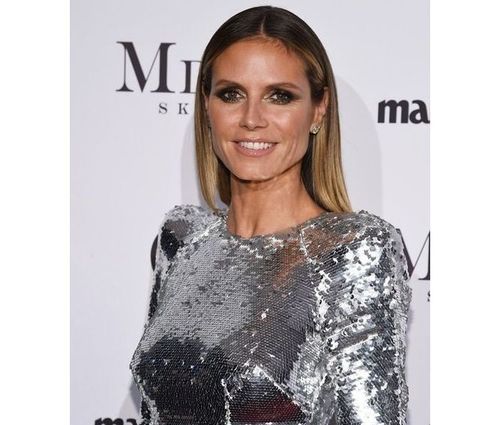 11. Sleek And Straight
The queen is back at giving us hairstyle inspiration with yet another Heidi Klum haircut and style. This one has long layers which makes it easy for her to style them into a middle-parted sleek and poker-straight look. The classic tuck behind ears look can never go wrong.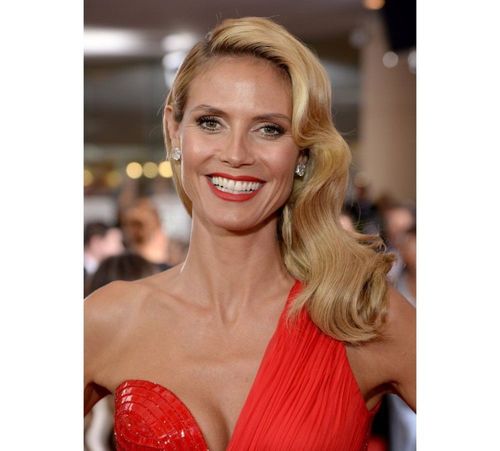 12. Old Hollywood Glam
When we say Heidi has been the style chameleon, we mean exactly this. Look how she has switched from her bangs and wavy hairstyles to some old Hollywood charm. The classic loose S-shaped curls in a side sweep scream old-world glamour. We are the heart eye emoji for this gorgeous look.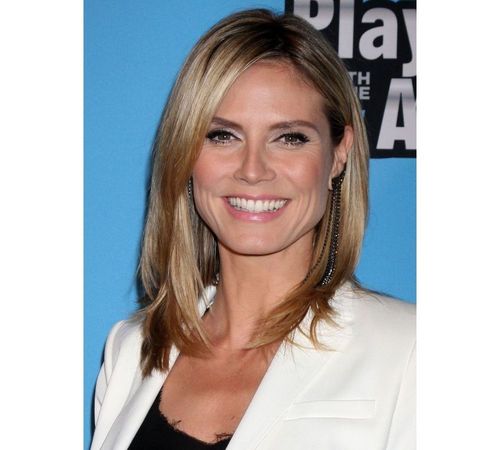 13. Beautiful Bob Heidi Klum Haircut
As much as we love some Heidi Klum bangs, we also love it when she switches things up when it comes to her hair length. Here is another blunt and beautiful Heidi Klum haircut that also has layers.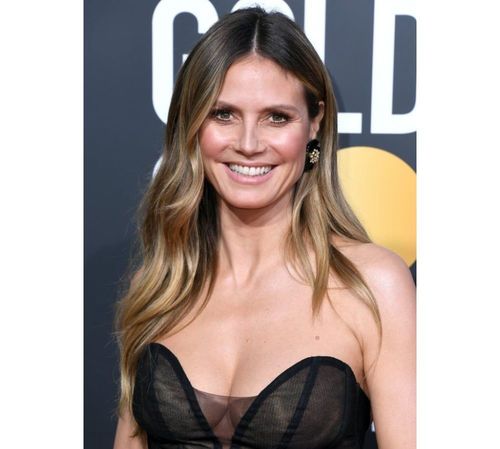 14. Center Parted Wavy Hair
Playing with texture is another thing that you can learn from the beautiful Heidi Klum. She knows just when to add some texture and when to smoothen things out. Here she has styled her hair into smooth waves for a polished and elegant look. The middle parting goes perfectly with this Heidi Klum haircut.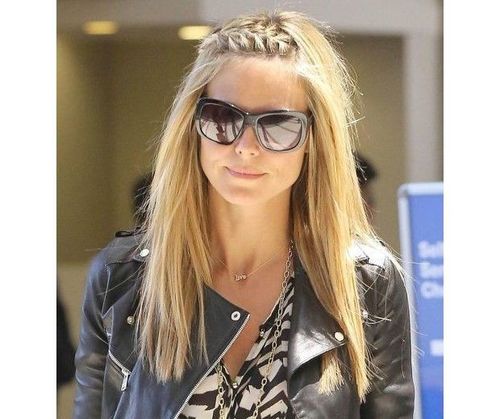 15. Braided Bangs
If Heidi Klum is the queen of bangs, she is also the queen of how to manage them. Here she is showing us how to get bangs out of the face in a stylish manner. Simply, braid 'em up. Start at one end, pin at the other and you are good to go. Now, we can go and get the classic Heidi Klum haircut with ease.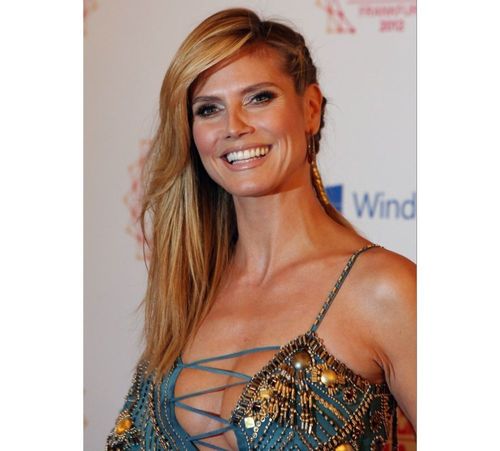 16. Side Swept With Braids
We don't know what we love more about this Heidi Klum hairstyle—the golden blonde hue or the edgy vibes she brings with the braided side-swept look. This hairstyle begins with a deep side part and braiding the hair on the one side with less hair. Heidi complemented her look by finishing off the braid with golden ascents. The remaining hair goes over to the shoulder clearly showing off the blunt ends of the Heidi Klum haircut.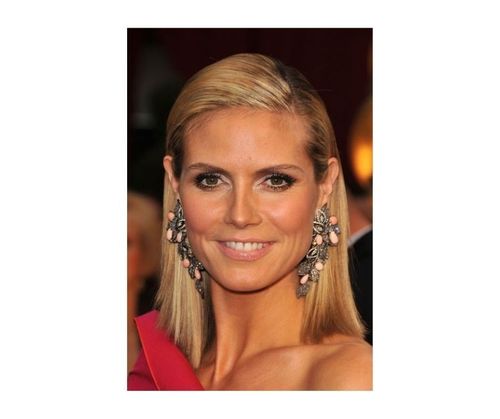 17. Blunt Layered Bob
Here we are with yet another stylish Heidi Klum haircut. It is a cute and short blunt bob with layers. This is an especially flattering haircut if you are as blessed as Heidi Klum in terms of bone structure. This is a perfect haircut for flaunting those high cheekbones and gorgeous smile.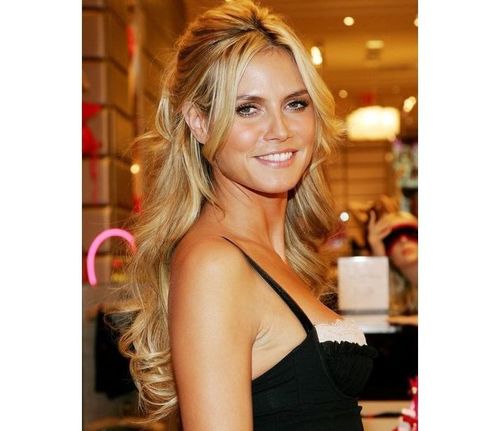 18. Beautiful Half Up Half Down Hairstyle
This is a dreamy Heidi Klum hairstyle that we immediately fell in love with. And we fell hard. Because why not? if you have long hair, then this happens to be a very gorgeous way of wearing your long tresses. Feel like a princess with the curly hair ends and the face-framing hairpieces along with the overall wavy texture.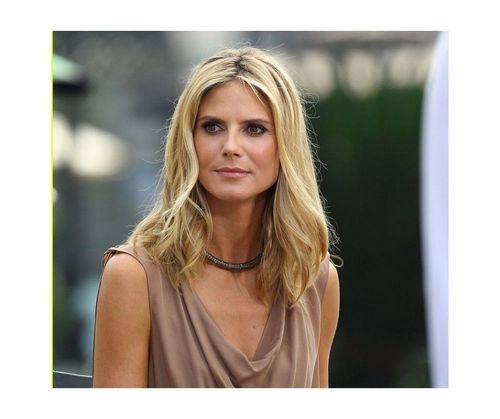 19. Stylish Shoulder-Length Heidi Klum Haircut
This is one of the most popular Heidi Klum hairstyles. It is stylish and sophisticated. The shoulder length is easy to manage and gives us the modern businesswoman vibes. We will readily take tips and inspiration from Heidi on how to look stylish in business because she is a businesswoman herself.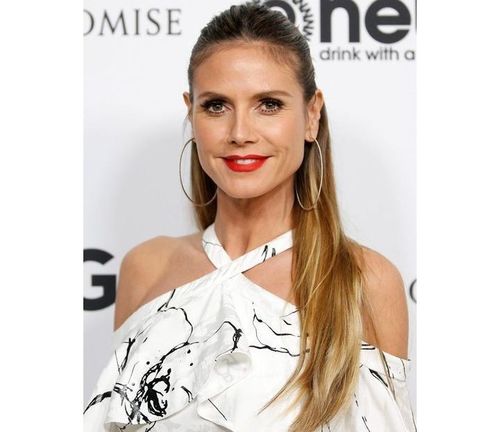 20. Half The Tying
When in doubt, simply pin all your front hair in the back to get a sleek look just like this one. Heidi surely knows how to make it look effortless and super glam at the same time.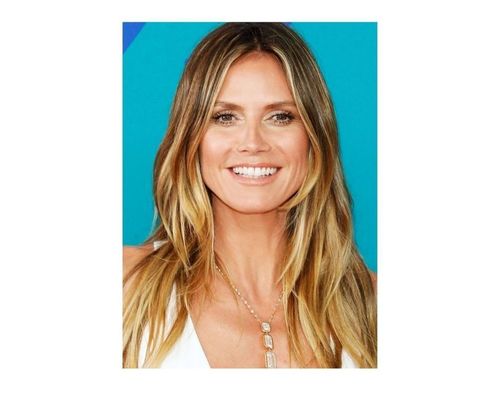 21. Wavy Beauty
We cannot choose just one hairstyle as our favorite but if we have to, then, it would be this Heidi Klum haircut with layers styled into a wavy texture.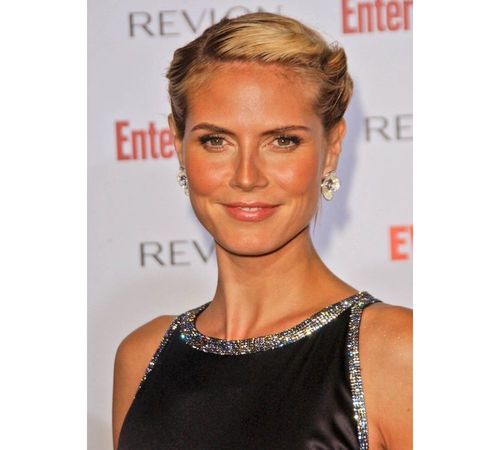 22. Twisted Updo
Here we have a blast from the past for you. We got this Heidi Klum hairstyle from the good old days. You can see how young she looks in this photograph. Here we have a simple yet glamorous updo that can be easily created with twists and turns. It brings the focus to Heidi's amazing facial structure and high cheekbones.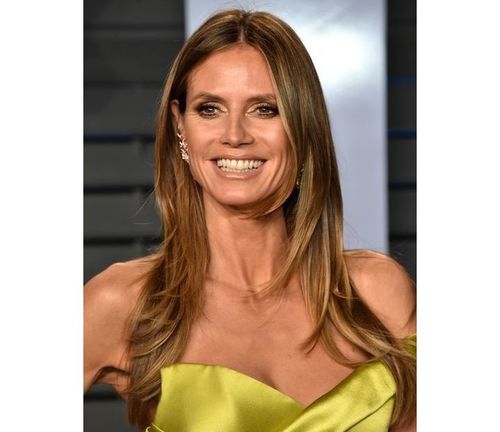 23. Layered Heidi Klum Haircut
Other than bangs if there has been a constant Heidi Klum hairstyle, then it has to be the layered Heidi Klum haircut. The supermodel has flaunted it on several occasions and she looks every bit of her gorgeous self.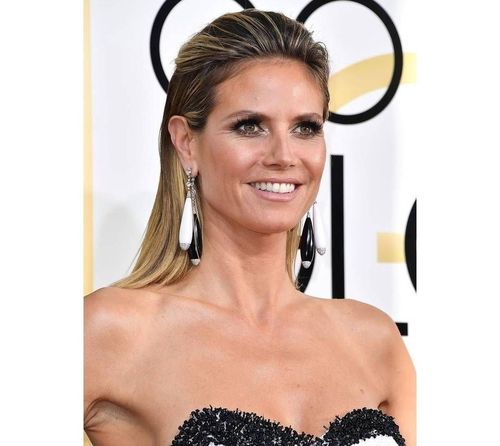 24. Slicked Back
This slicked-back Heidi Klum hairstyle was love at first sight for us. It goes well with her off-shoulder sequined gown and brings focus to her shapely shoulders and beautiful face.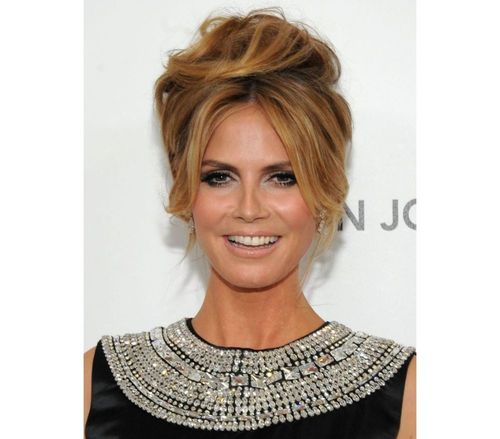 25. Stylish Updo
Here is one of the most popular Heidi Klum hairstyles from red carpet events. This updo with a teased-up crown and curtain bangs was surely ahead of its time and super stylish.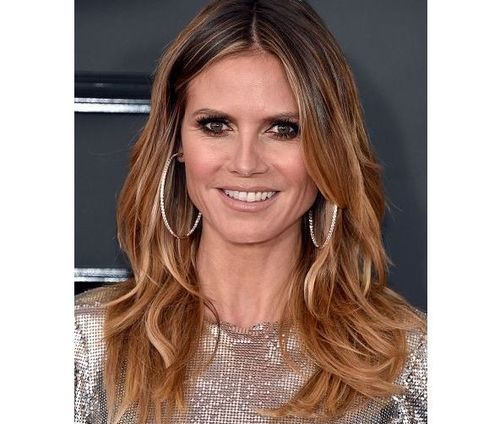 26. Wavy With Layers
Apart from various haircuts, Heidi Klum has also experimented with different hair colors. In this look, you can see how she has gone for a dark and warm tone of brown that is surely darker than her usual blonde. These brown hues perfectly bring out the shape of the Heidi Klum haircut with layers.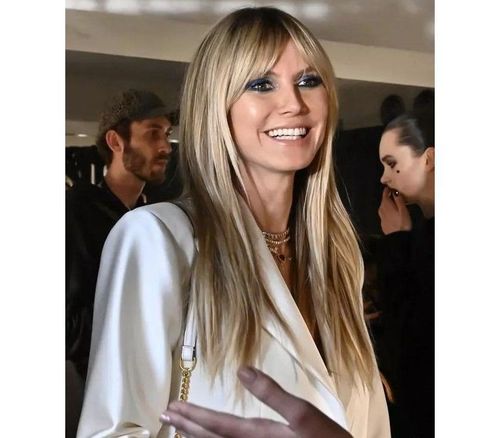 27. Curtain Bangs
Heidi was doing curtain bangs even before it became a trend during the lockdown. We love how she has paired her curtain bangs with sleek and straight hair that have been cut into layers. The blonde balayage adds a new dimension to her hairstyle.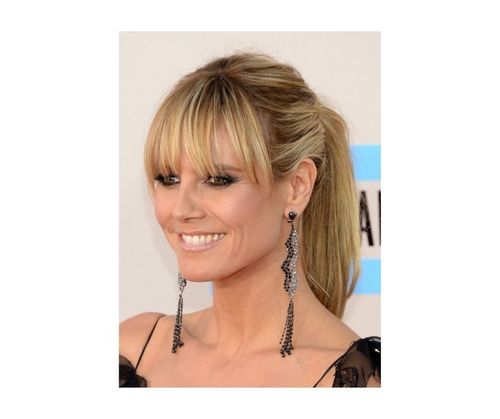 28. Straight Ponytail With Bangs
We have told you about the constant relationship between Heidi and her bangs. So, this gorgeous and stylish Heidi Klum haircut was bound to happen. A straight and sleek ponytail with eyebrow grazing bangs gives an effortlessly chic and sexy look to the supermodel and we are here for it.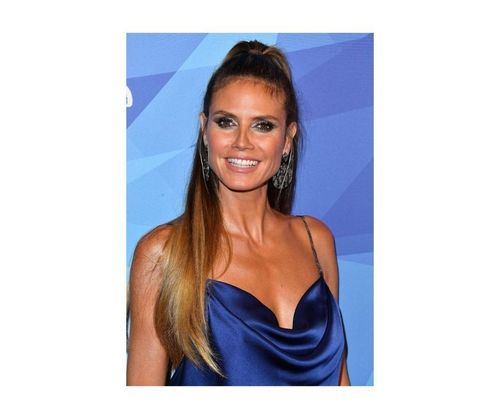 29. Half A Ponytail
You have already seen how amazing Heidi Klum looks in a ponytail. Here is a twist on that hairstyle. With super long tresses, this Heidi Klum hairstyle is a half-up half-down style where she has gathered the hair from the top half of her head and formed a nice sleek high ponytail. This is a hairstyle that has seen many variations and is a favorite amongst celebrities especially those with long hair.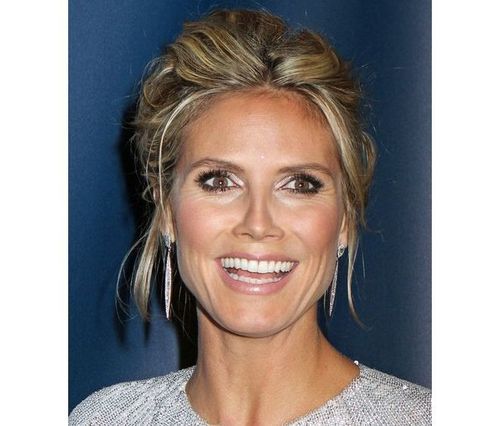 30. Pulled Back Updo
As much as Heidi loves to flaunt her long and beautiful tresses, she also knows how to rock an updo now and then. For this one, she has teased the hair at the crown leaving some chunky pieces up in the front. This is how she got this casually sexy updo.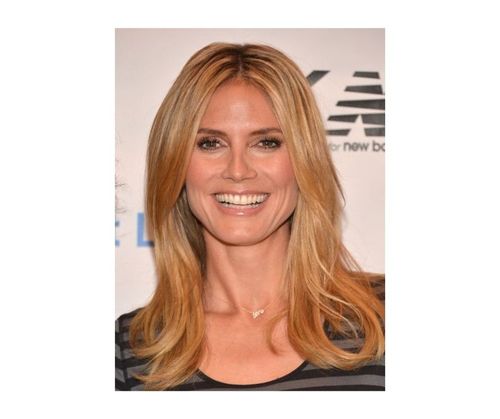 31. Gorgeous And Glossy
Ending this list of most popular Heidi Klum hairstyles with this gorgeous and glossy look with highlights. Here, we love how Heidi has played with the wavy texture of her hair and styled them into this smooth look which goes perfectly with a center parting. It is a simple yet stylish Heidi Klum haircut that would never go out of style!