25 Most Popular Beyonce Hairstyles - 2023
Shalu Bhati
Updated At 09 Jan 23
Are you mesmerized by the beautiful Beyonce lemonade braids or perhaps the sleek Beyonce ponytail? Would you like to see the evolution of the classic Beyonce hairstyle? Would you like to see some of the most stunning Beyonce hairstyles that have gained iconic status over the years? Then, what are you waiting for? Dive right in!
Beyonce Knowles, the goddess in human form, continues to mesmerise the world with her superb voice and amazing looks. Everything from her music to her clothes to her hairstyles exudes confidence and fearlessness. She has singlehandedly done so much to ensure the proper representation of the Black culture in the music industry. Her feminist mantras are enough to inspire every woman and man who hears her talk. And today we will just focus on all the gorgeous celebrity hairstyles she has flaunted over the years. You can even call Beyonce a "hair chameleon" owing to the different styles she has embraced. Here we are with every Beyonce hairstyle that left a mark on the fashion world. Be prepared!
Here is our list of the 25 most stunning Beyonce hairstyles from Beyonce short hair to Beyonce curly hair and Beyonce ponytail to Beyonce cornrows. Also check out
Let's get started!
25 Most Beautiful Beyonce Hairstyles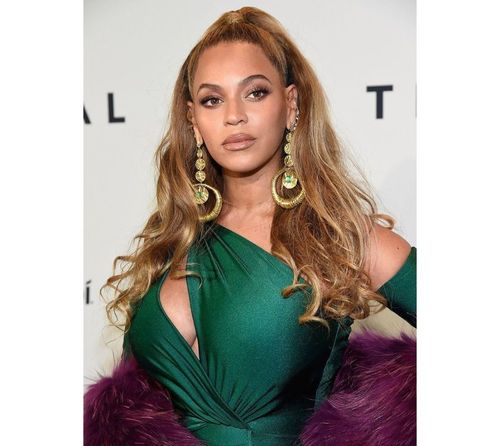 1. Beautiful Beyonce Ponytail: High And Heavy
A high and voluminous ponytail has become a favourite of the Crazy in Love singer and she can pull it off with ease. This particular Beyonce hairstyle was seen on her at a Tidal event in New York. She looked like a gorgeous golden goddess with her magnificent gold earrings and cascading honey toned curls.
Also check out the stunning Heidi Klum hairstyles as we cover her most popular 31 hairstyles.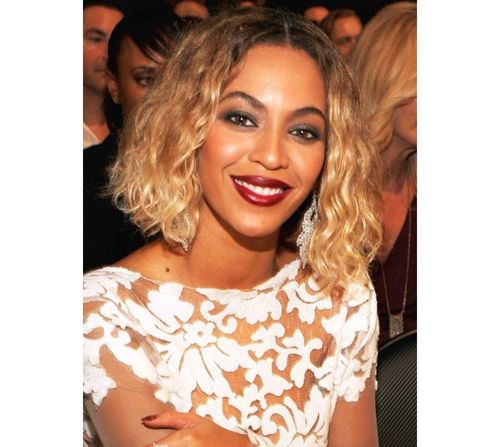 2. Iconic Blunt Bob With Curls
Beyonce doesn't shy away from hair experiments and has more than once chopped off her lengthy mane. Here is one such occasion for you when Beyonce surprised everyone with her beautiful and blunt curly bob. This two toned blunt bob showed off the natural texture of the beautiful Beyonce hair. This Beyonce hairstyle definitely made the 56th Grammy Awards more iconic.
Check out our guide to find the best Jennifer Garner hairstyles which include her signature hairstyle, straight hair and many more.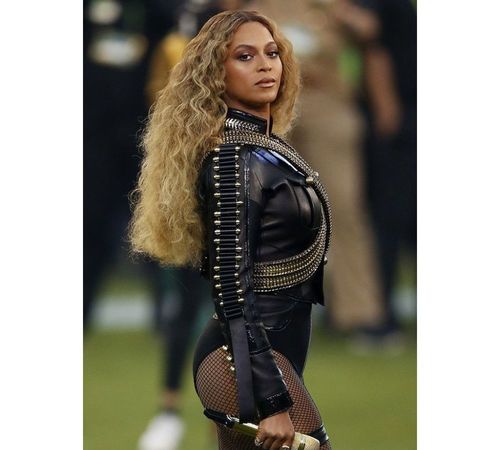 3. Classic Beyonce Hairstyle
This is the classic Beyonce hairstyle that has been a constant throughout her career. This could be a Beyonce hair wig or could be Beyonce real hair. It all depends on Queen Bey's preferences. All we can say for sure is that the Single Ladies singer likes to whip her hair during her performances and this is definitely the most whipped style ever. These particular big beautiful blonde curls were seen on her during the 2018 Super Bowl performance.
If you are looking for signature hairstyles, do check out Jennifer aniston haircut as her short bob hairstyle with multiple layers became extremely popular.
4. Beyonce Ponytail: The Braided Beauty
Beyonce likes to push boundaries and change the scenery when it comes to her music and also shows a similar attitude towards her hairstyles. She mesmerized everyone with her fashion choices as she attended just another Tidal concert in Brooklyn. This Rapunzel-esque Beyonce ponytail was straight out of a fairy tale. This super high and super sleek Beyonce hairstyle most definitely created waves and left a long-lasting impression on everyone.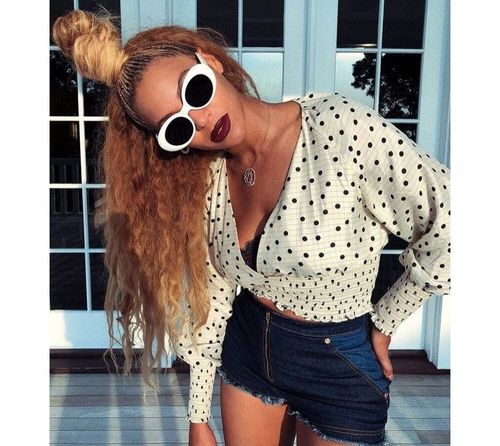 5. Top Knot
Most of the time her fans are left guessing whether it's a Beyonce hair wig or the singer's real hair. It is difficult to be very sure but that doesn't matter. Because whichever Beyonce hairstyle we come across, it is always awe-inspiring! We totally love this mix bag of a hairstyle with cornrows going into a voluminous top knot and cascading curls. This is a Beyonce hairstyle that gives us carefree vacation vibes.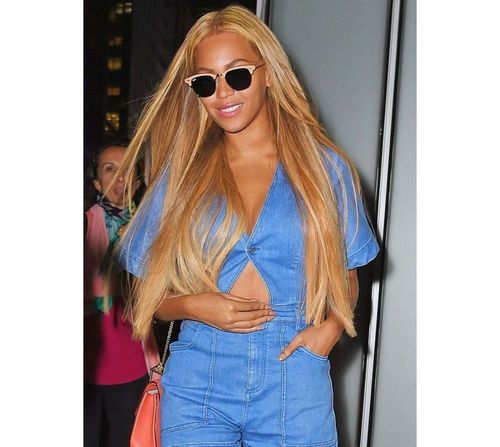 6. Beyonce Blonde Hair: Long And Straight
This is yet another iconic Beyonce hairstyle that we cannot get enough of. This extra-long and extra-straight blonde hairstyle looks magical and we totally adore it. Don't you?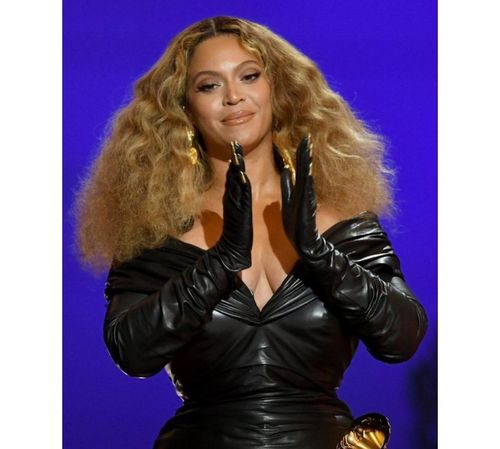 7. Classic Wavy Beyonce Hairstyle
This is a recent Beyonce hairstyle where the singer flaunted her gorgeous, messy, and shoulder touching curls. Who knew the combination of defined curls with frizzy ends could look this good?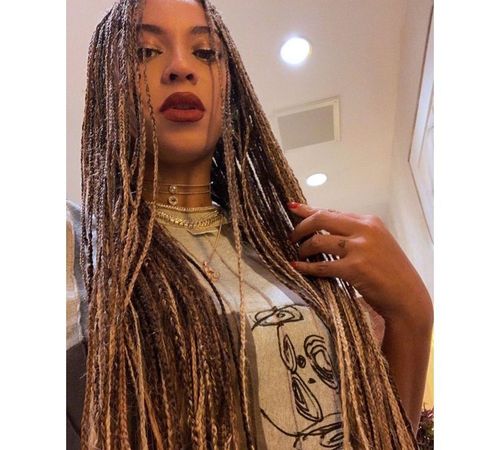 8. Beyonce Lemonade Braids
With the release of Beyonce's sixth solo studio album, Lemonade came the new trend of Beyonce lemonade braids. Beyonce braids have always been popular but the Beyonce lemonade braids reached a new high. Here you can see Queen Bey flaunting the hairstyle herself.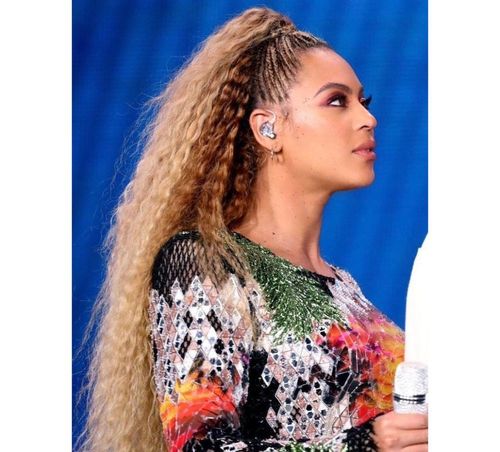 9. Half-Up And Half-Down Beyonce Hairstyle
We love to see all the new and stylish hairstyles that Beyonce makes her own. This one in particular caught our eye for its trendy and unique appeal. Half-up and half-down hairstyles are surely in vogue but no one does it like she does. Here we have cornrows that go into a super high ponytail made only with half the hair while the remaining half are left open and combine with the ponytail to give the whole hairstyle more volume and bounce. This is a Beyonce curly hair trend that you can easily take inspiration from.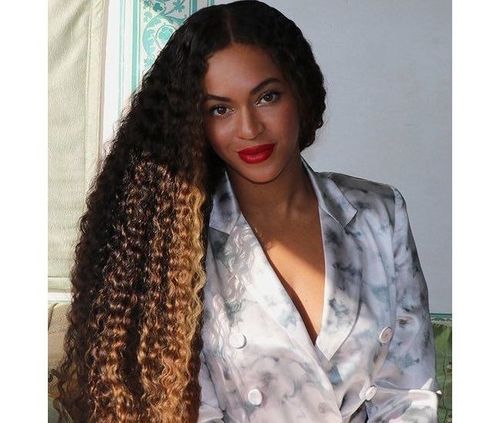 10. Beyonce Hair With Bouncy Curls
How do you know if this is Beyonce without wig? The answer is, does it really matter? Because, look at this gorgeous Beyonce hairstyle where the Formation singer can be seen with bouncy curls that cascade like a waterfall. Also, we are very much here for the Beyonce black hair supremacy.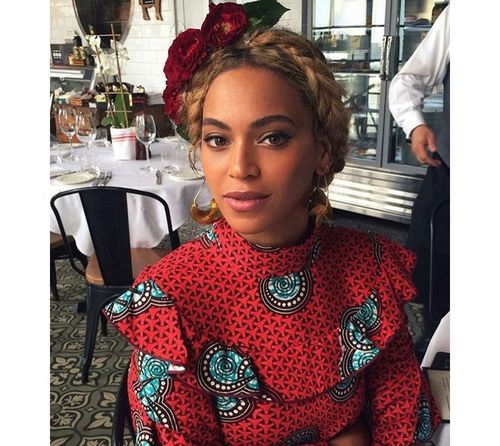 11. Braided Bun
Have you ever seen Beyonce real hair? Her hairstylist as well as her mother have on many occasions shared pictures of Beyonce's real hair. And she has gorgeous healthy hair. Seen here in a braided bun finished off with magnificent red roses, Beyonce looks pretty as a picture.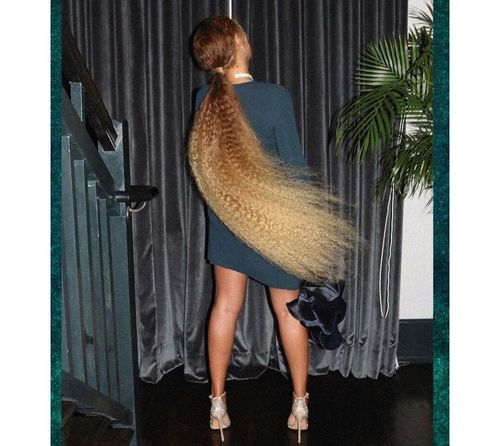 12. Latest Beyonce Hairstyle
This is one of the most impressive Beyonce hairstyles that the singer has flaunted recently. The length, the volume, and the texture—everything is super crazy! Who can carry such a hairstyle with so much ease other than Beyonce?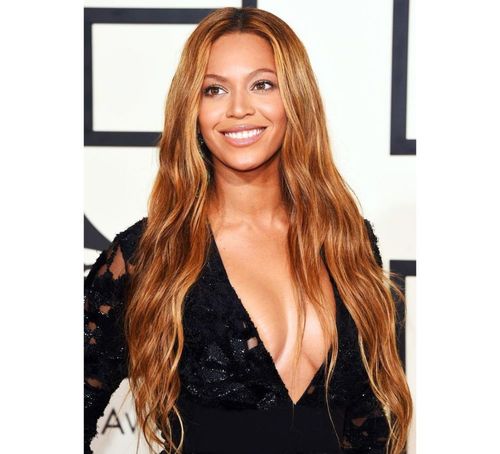 13. Super Long, Super Glossy
The red carpet at the Grammys sees a lot of fabulous hairstyles but there is no one who does it like Beyonce. For the 2015 Grammy awards, Beyonce decided to go for some very natural looking extensions that gave her mermaid-esque waves. This is one of our favourite Beyonce hairstyle. Just look how super long, super glossy, and super stylish is this!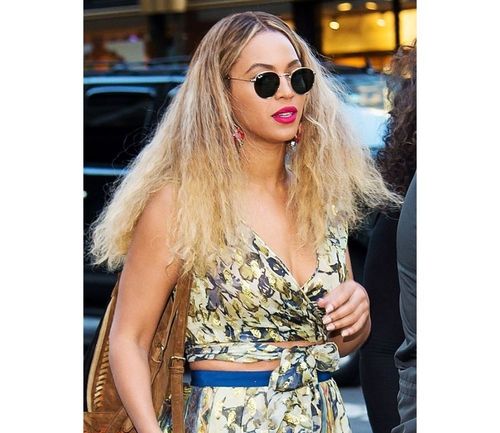 14. Blonde And Untamed
Here is another Beyonce blonde hair look that the singer wore out while going to a dinner in New York City back in 2016. The undefined curls and the messy texture speaks volumes and we are here for it.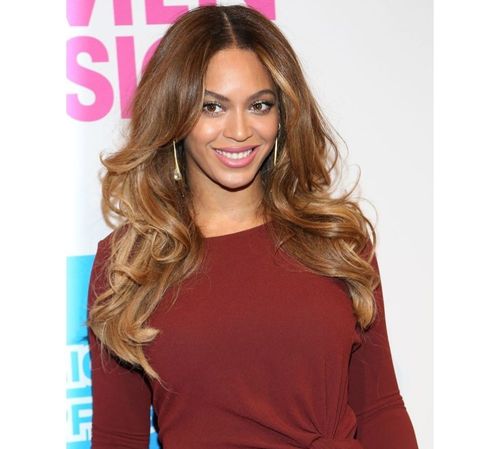 15. Gorgeous Curls
This is yet another classic Beyonce hairstyle. It has in fact came to be known as one of her signature looks. The Halo singer looked glamorous in cascading voluminous waves in ombre. This is a hairstyle that left her fans googling for a Beyonce wig. Can we even blame them? This is just such a gorgeous style!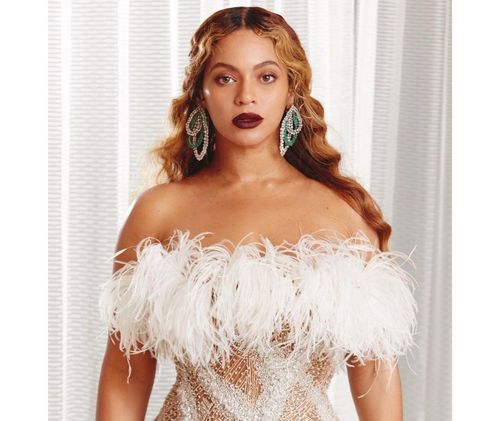 16. Latest Beyonce Curly Hairstyles
Beyonce did it again. She wowed everyone with her feathery custom Roberto Cavalli gown and soft crimped waves. She oozed retro glam through the whole look.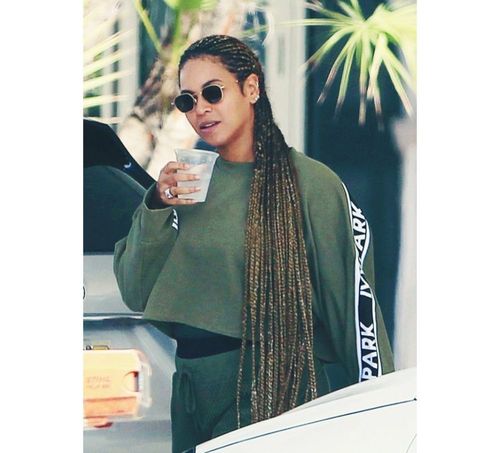 17. Beyonce Braids: Classic And Long
Who hasn't been a fan of the classic Beyonce braids? Beyonce never fails to surprise us and give some of the best ever glam hair looks. Here is one such Beyonce hairstyle that started an all new trend. She can be seen here with super long braids that reach to her knees and she carried them with such an ease that leaves us wanting to get floor touching super long braids as well.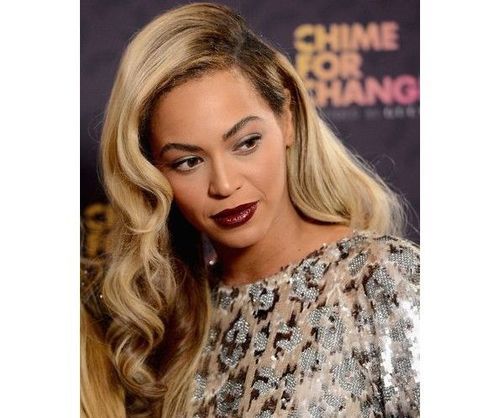 18. Old Hollywood Glam
When it comes to flaunting retro styles, nobody does it like Beyonce. And we have the proof for it. Here is a Beyonce blonde hair style with the classic Hollywood charm. The side swept blonde curls with dark roots look oh so sexy and stylish.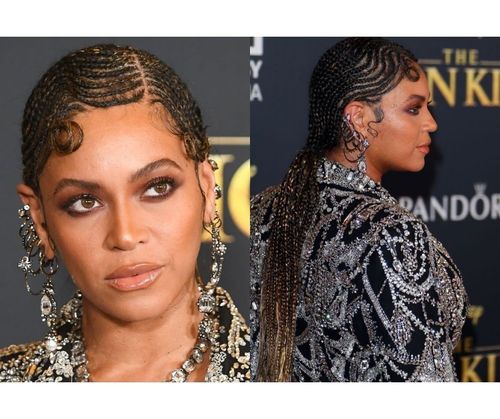 19. Beyonce Cornrows
The one Beyonce hairstyle that really left everyone talking was the one she flaunted at the Los Angeles premier of The Lion King. It was a time when she gave us multiple iconic looks and this is just one that fell on our radar. These Beyonce cornrows deserve a whole article of their own. That's the power they exude.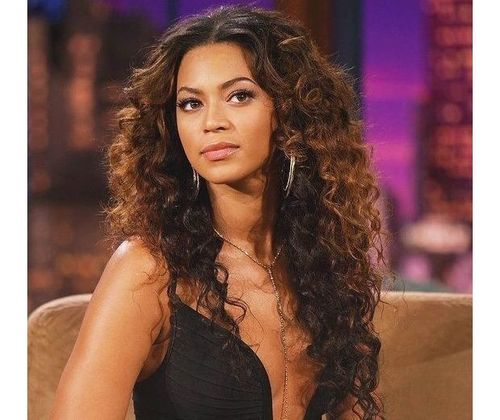 20. Mystical Long Curls
We are a big fan of the Beyonce curly hair so here we are with this old and classic gem. Beyonce black hair styles look as glam as her blonde and brown hairstyles. Here she is showing off her long curls in a middle part. We just love how the two toned spiral curls cascade down so beautifully.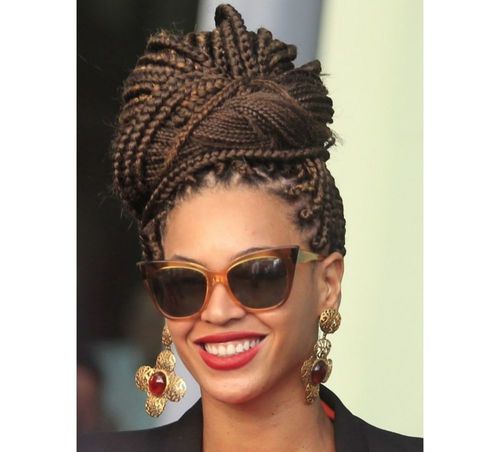 21. Beyonce Cornrows Braided Bun
This is a Beyonce hairstyle that brought back he singer's love for braids. This is a gorgeous hairstyle that definitely makes a statement. The braided beehive bun is something that Beyonce has flaunted quite a few times and it surely looks fun. It also shows how she is not afraid of embracing her roots and culture.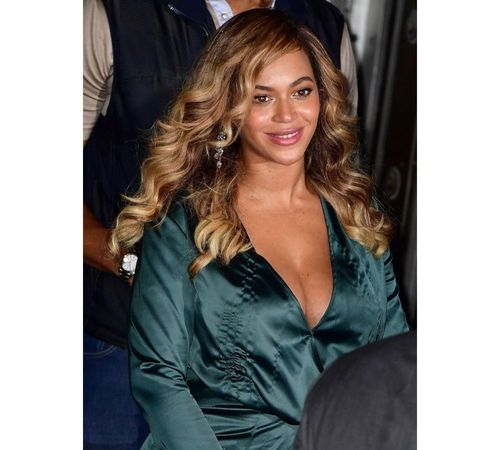 22. Beautiful Beyonce Curly Hair
Beyonce decided to opt for a side parted hairstyle with curls for Rihanna's Annual Diamond Ball in New York City and she looked every bit glamorous.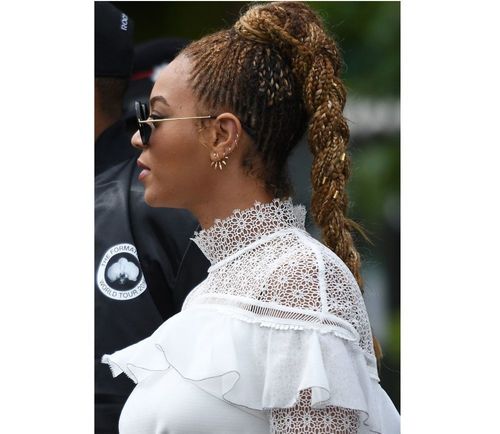 23. Queen Of The Braids
This is one of the most magical and mystical Beyonce hairstyles that we came across. It surely is a head turner. Just look at it. Tiny Beyonce cornrows being combined to make a jumbo high ponytail braid is something that we don't see every day. Beyonce chose this twisted ponytail hairstyle with extra-long braids for the women's singles final at the Wimbledon Tennis Championship.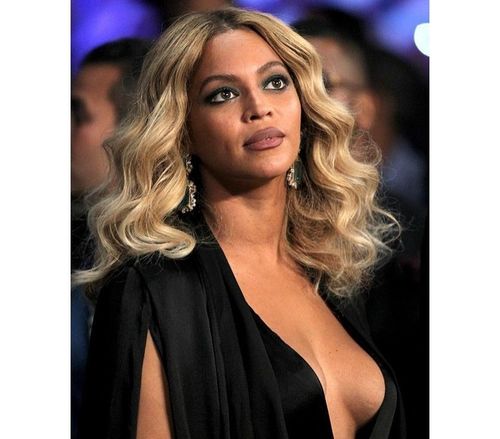 24. Classic Beyonce Hair In Waves
Here is yet another iconic Beyonce hairstyle that left everyone mesmerized. Beyonce chose to wear her longer than shoulder-length hair in a center parting with wavy texture. This was a hairstyle that she flaunted at a boxing match between Miguel Cotto and Saul Alvarez in Las Vegas. We absolute love this Beyonce blonde hair style.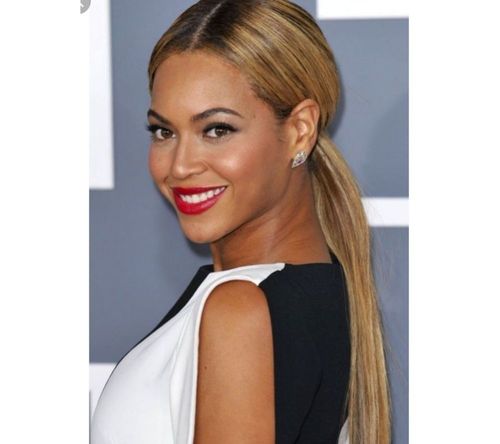 25. Sleek Beyonce Ponytail
There's one Beyonce hairstyle that you can never go wrong with. And that is the sleek ponytail as picturised hair. This is a versatile hairstyle that continues to be amongst the top iconic hair moments of Beyonce's hair evolution.
With this beautiful entry, we have come to the end of our list of the 25 stunning Beyonce hairstyles. We hope you enjoyed this list and found the inspiration to embrace your own culture and individuality.