25 Stunning Bella Hadid Hairstyles And Haircuts
Olivia
Updated At 06 Sep 23
Bella Hadid is an American model, fashion designer and television personality. She is the daughter of supermodel Yolanda Foster. Today, she's not only one of the most popular models in the industry but one of the most followed faces on Instagram as well. She's known to switch up her look regularly, so here are some of Bella's amazing hairstyles you would love. Let's explore 25 Stunning Bella Hadid Hairstyles. 
25 Best Bella Hadid Hairstyles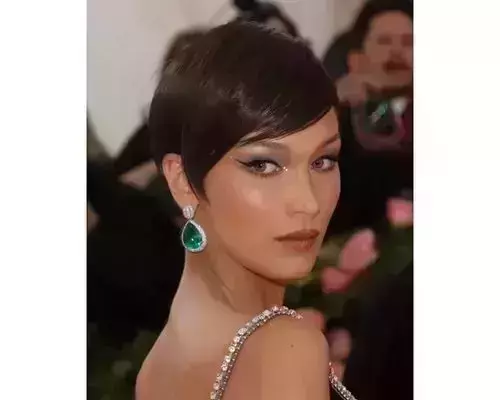 1. Retro Pixie
Bella Hadid's short, pixie hairdo with a throwback flair astounded everyone. The hairstyle worn by Bella Hadid is modern and contemporary. This pixie haircut is a wig from Mane Beauty hairstylist Jen Atkin. Bella Hadid looks stunning and really impressive in this hairdo. One of the best celebrity haircuts, this retro cut looks stunning.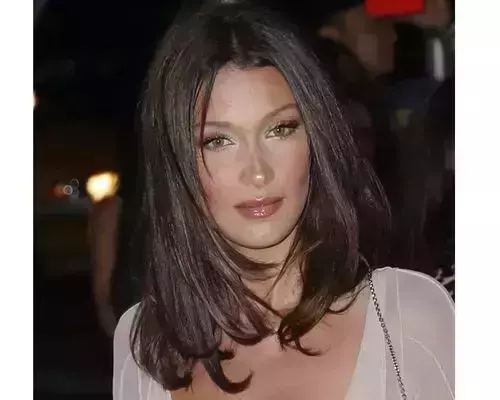 2. Bouncy Blowout Hairstyle 
Bella Hadid is frequently regarded as one of the most stylish women in the world, and this includes the way she wears her hair. Hadid has gorgeous dark, shiny hair that is bouncy and full of volume. Her straight hair, which has a bouncy aspect at the bottom, gives her a lovely image. If you are looking for more inspiration, do check out the signature Jennifer aniston haircut as it has been extremely popular.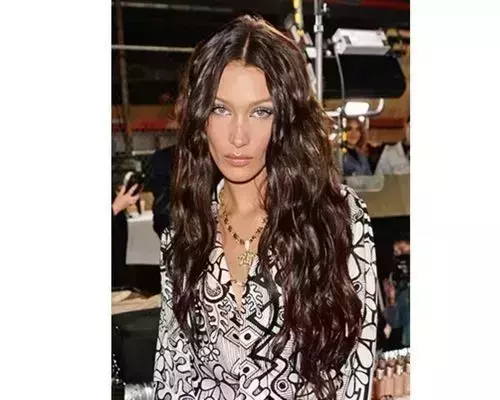 3. Mermaid Waves Hairstyle  
One of the hottest Victorias Secret models, Bella Hadid once again looks gorgeous. Hadid decided on long, thickly curled hair with mermaid waves. The volume throughout the hair strands of this Bella Hadid haircut is stunning.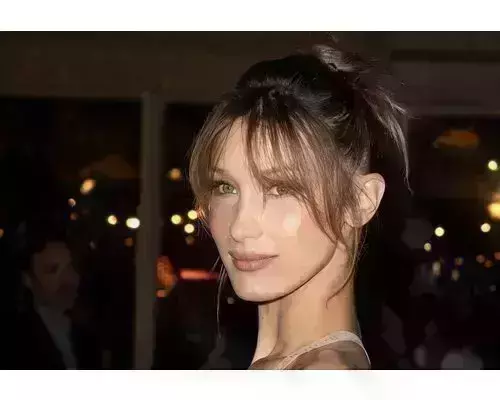 4. Bella Hadid Hairstyle With Bangs
An elegant hairdo would be excellent with these Curtain bangs and an updo. The bangs are perfectly separated into long bangs that cover the sides of the face and flow from both sides. It looks wonderful to have your hair pulled back into a simple bun.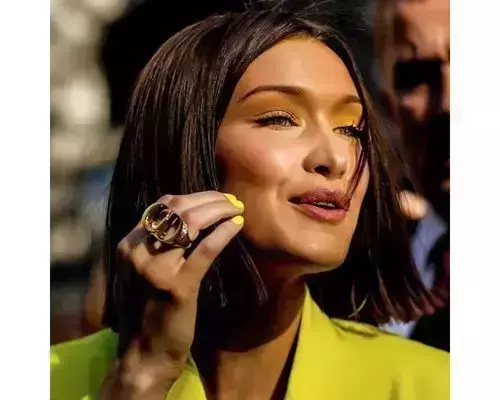 5. Short And Sleek Bella Hadid Hairstyle
Bella Hadid hairstyle is jaw-dropping and has a stunning appearance. The shoulder-length hairstyle with a short, smooth cut and straight, shining hair is gorgeous. Hadid's middle-part open haircut also serves to frame her features. Do check out Angelina jolie hairstyles as she provides ample inspiration for all the popular haircuts like layered haircuts, straight hair, bob, bangs and many more.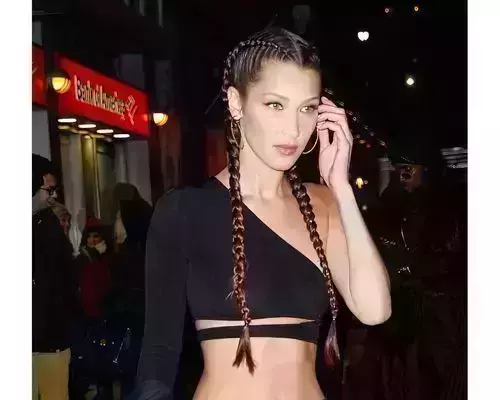 6. Two Side Braids 
This two-sided braided hairdo is also known as a pigtail or twin-tail. Split braids give Bell Hadid's appearance a laid-back vibe. Her coloured hair appears gorgeous in the full haircut, which also makes her face appear more defined and noticeable.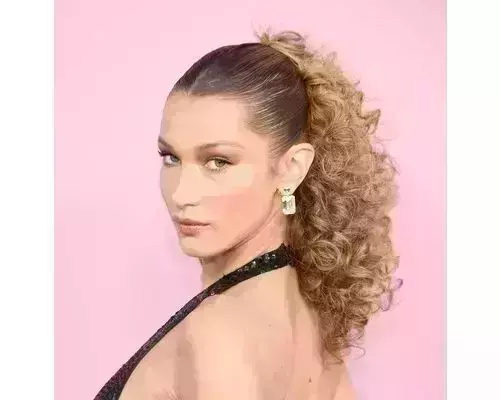 7. Bella Hadid Curly Hairstyle
The blonde curls that are neatly styled with a smooth appearance are extremely elegant. Bella Hadid's curly hairstyle is gorgeous, and we are swooning about it.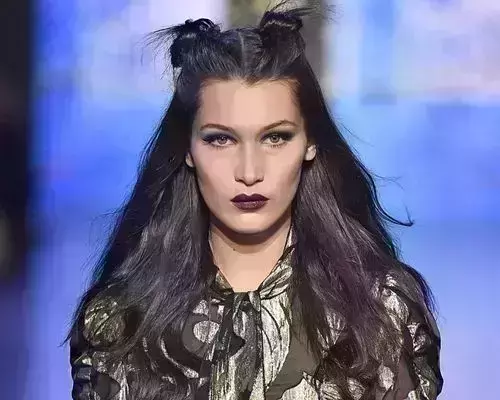 8. Bella Hadid Long Wavy Hairstyle
Bella Hadid switched her hairstyle up and she is rocking the brown long wavy hair which she appeared on the Milan Fashion Week runway. The hair is nicely poped up into two slit casual bun.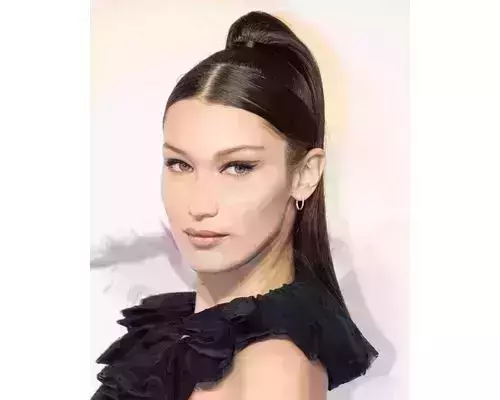 9. Bella Hadid Ponytail Hairstyle
With her neatly tied-up, top-knotted ponytail and glossy, gel-smoothed hair in the front, Hadid achieves this rocking appearance. Flat in the front creates a nice-looking hairstyle and gives a cool stylish look for this fashion icon.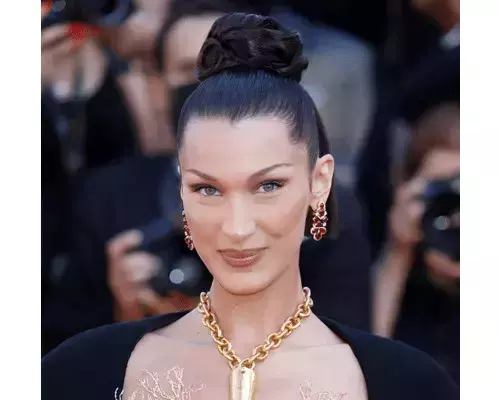 10. Bubble Braid Hairstyle
Bella Hadid looks ravishing with this sporty and spicy-inspired bubble braid look. She appeared with this flawless hair look, with a high braid tied up. Check out the stunning JLo hairstyles as we list all her popular hairstyle like the straight hair, curls, side parted hair, long hairstyles and many more.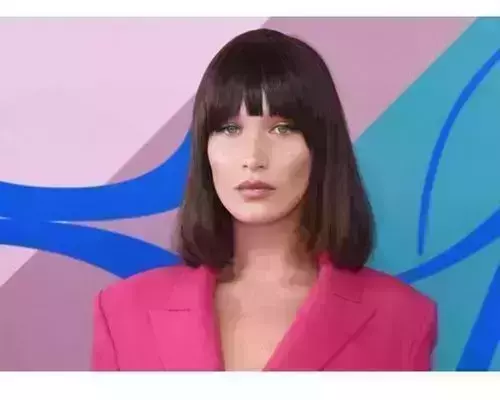 11. Long Bob With Fringes 
The Long Bob hairstyle is one of the best Bella Hadid hairstyles, and we are loving it! She made a great option in adding the French bangs and a harsh Bob cut to her appearance. The french fringes have a softening effect on the cheekbones and an arched eyebrow effect. With the rest of the haircut, the edges are blended in.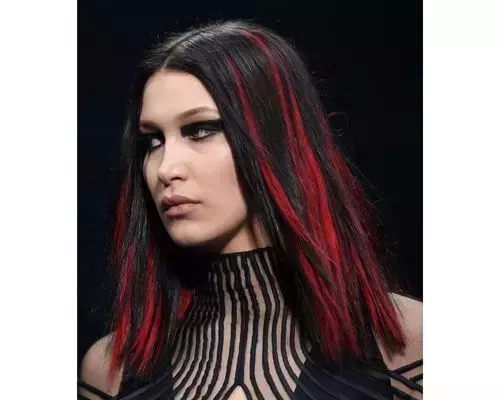 12. Bella Hadid Coloured Hairstyle
Bella Hadid's hair colour is sensuous and gorgeous. Her straight black hair has gorgeous cherry red highlights that are not only seductive but also give off a sporty vibe. The red hair colour is quite blowing up and complements the black hair. The locks are flown open in the centre.
13. Bella Hadid Messed Bun 
The subtle chocolate hair colour with a layered hairstyle combined with a messy bun is flawless and is a game of hair updo. The bun created with a curvy layered bun is superb.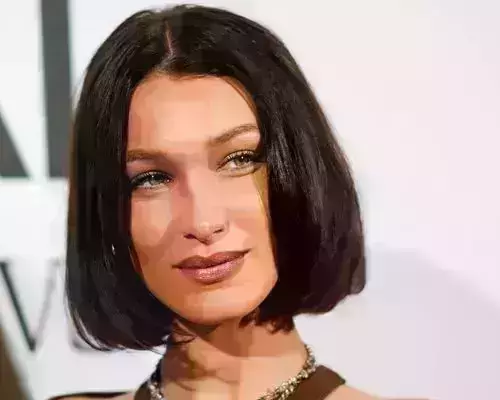 14. Short Bob Cut
You may consider this as Bella Hadid's short hairstyle, which is a short bob. This traditional cut makes finer hair textures appear denser and utilises the hair's natural fall to give the design movement and shape.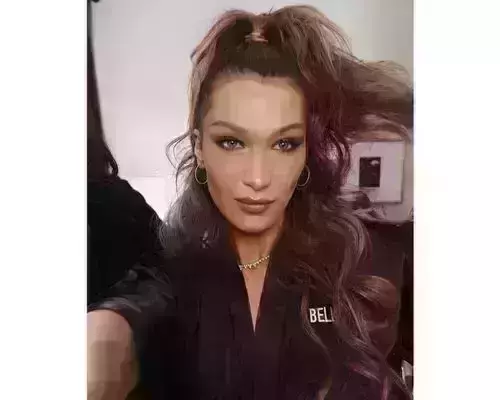 15. Bella Hadid Bouncy Ponytail 
This is a combination of wavy textured hair with a high-raise ponytail which gives a very cool and casual look. Bella Hadid's hair colour makes this hairstyle a classic one.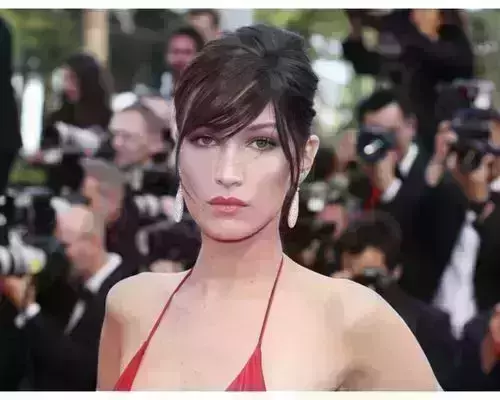 16. Bella Hadid Fringes Hairstyle
Bella Hadid for one of her appearances chose the side swept fringes, a type of bang that has a side portion. This Side-swept bangs, which are a little bit lengthier than straight-across bangs, can conceal wrinkles and fine lines around your eyes. The long fringes on both side are nicely shaping the face.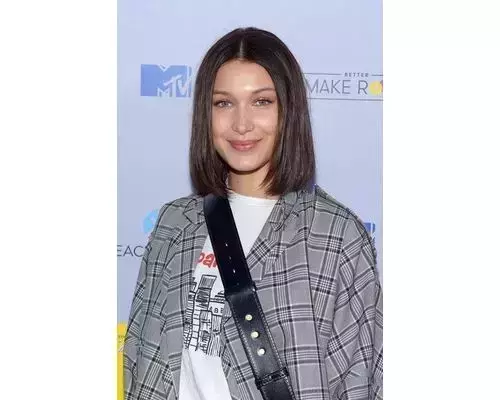 17. Mid Lenght Bob Hairstyle
One of Bella Hadid's new haircuts that she tried, was amazing. This mid-length bob haircut suits perfectly on Bella Hadid's. Bobs have proven themselves to be transcending time with its endless variations. Bella Hadid looks perfectly flawless in this look.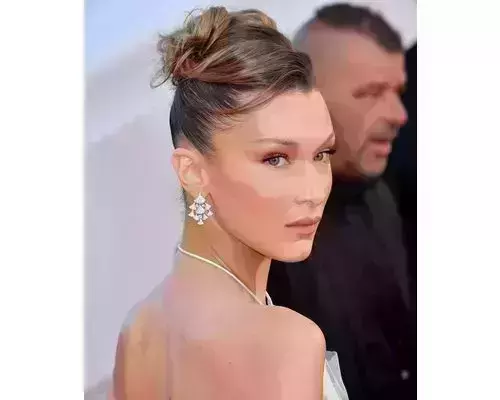 18. Bella Hadid's Layered Bun 
Bella Hadid tried this layered bun on one of the occasions, she had to attend and this bun which is also a bit of messy looks ravishing on her. The bun is layered from front till the back with a twist of messy hair tied up. This hairstyle is also making her hair colour look much vibrant and shinny.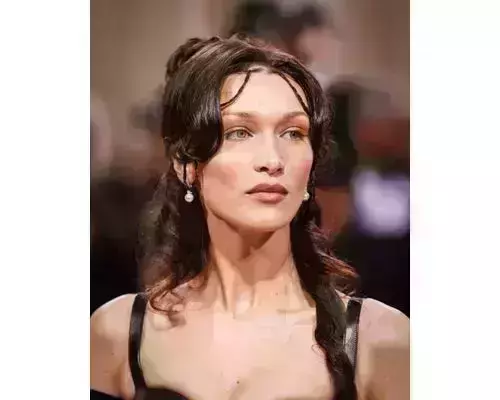 19. Retro Hairstyle With Curtain Bangs
This is Bella Hadid's Met Gala hairstyle with the inspiration of a retro look hairstyle. The hair is nicely curled and tucked at back with half hair curl open. The front side of the hairstyle has a wavy effect wth curtain bangs and two sided minute braid.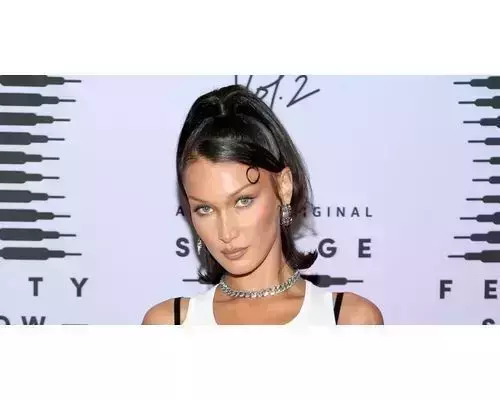 20. Bella Hadid Side Bangs 
Bella Hadid made the conscious choice to update her appearance with this hairdo, which features a ponytail, side bangs, and a circular design around her forehead made from her hair with the use of setting gel.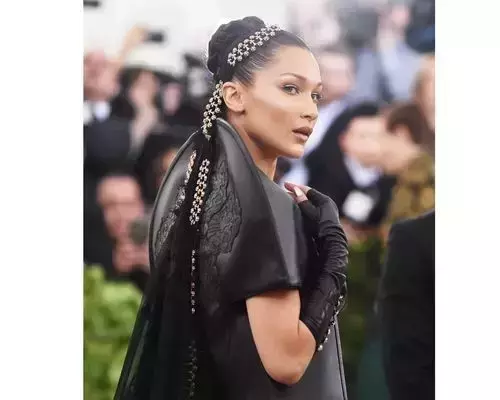 21. Bella Hadid Braid Bun
This is one of the interesting Bella Hadid bun hairstyles, which is a stunning hairstyle with braids rounded up in a bun raising high and a the ends of the braids are kept  floating at the back with some shimmer studded hair acessory. Must say, this Bella Hadid hairstyle, is actually a sporty experiment and the results are ravishing.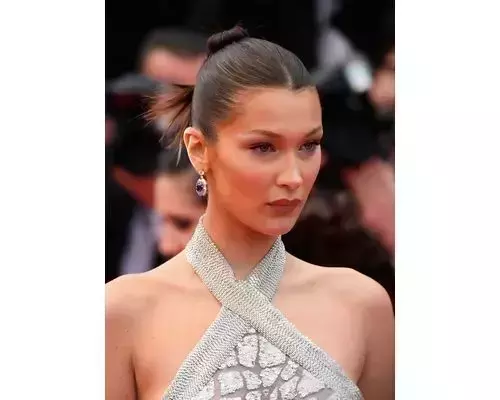 22. Bella Hadid's Snatched Bun
Call it a pasted back bun or a summer hairstyle, this Bella Hadid hairstyle is a summer-to-go hairstyle with no heat for her styling routine. These slicked back buns are trending on social media with snatched bun hashtag. The entire hairstyle is making Bella Hadid's face look much clear and brighter.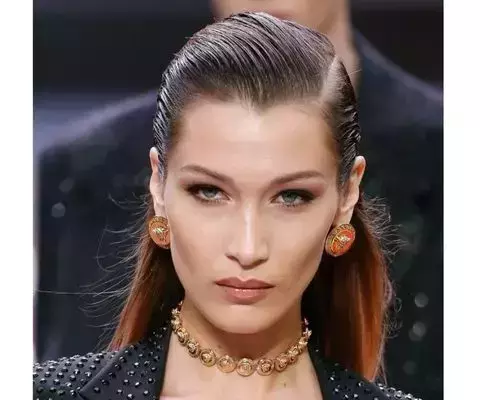 23. Half Open Blonde Hairstyle
Bella Hadid got her hair half open with this Blonde hair at the runway. The hair at the start are nicely pasted with gel with left-side parting line.The blonde hair colour looks stunning on her.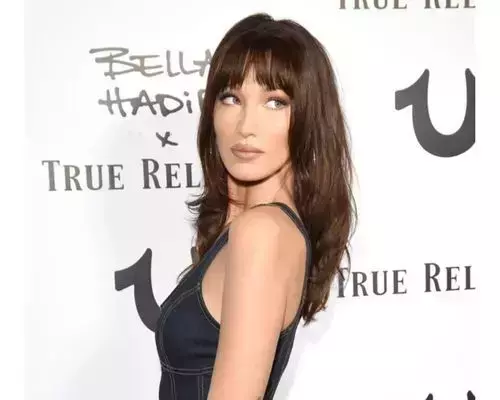 24. Layered Haircut With Bangs
This laid-back ensemble was flawless and inspirational thanks to Bella Hadid. This multi-layered hairdo with textured bangs is great for framing the face. The side layers and bangs are brilliantly enhancing the face's form while keeping a close eye on it.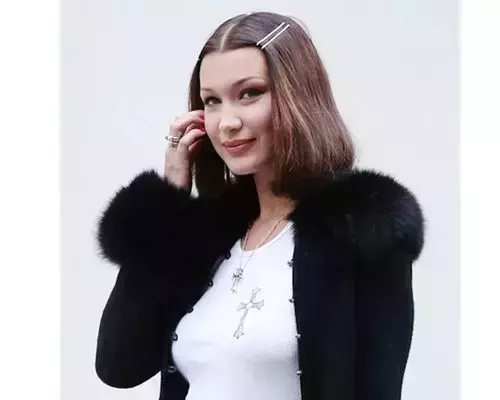 25. Bella Hadid 90's Inspired Hairstyle
Bella Hadid was snapped with this 90's fashion hairstyle, with a deep middle hair partition accessorised with two white long hairpins. This is an adorable and super easy look to recreate. The straight look at the top and the bumpy curl at the ends are fascinating.