25 Best Kendall Jenner Hairstyles - 2023
Olivia
Updated At 14 Sep 23
An American Supermodel, Kendall Jenner rose to fame with the reality show Keeping up with the Kardashians. She has been always papped with her stunning and elegant looks. She is a well know celebrity and a socialite. Kendall has walked for many prominent fashion designers during the New York, Milan and Paris fashion week. She has been the favourite of all. Though it may be her make-up, hair or dressing styles, she tops the chart!
Today, we explore the 25 best Kendall Jenner hairstyles, which have been amongst the extremely popular celebrity hairstyles!
25 Best Kendall Jenner Hairstyles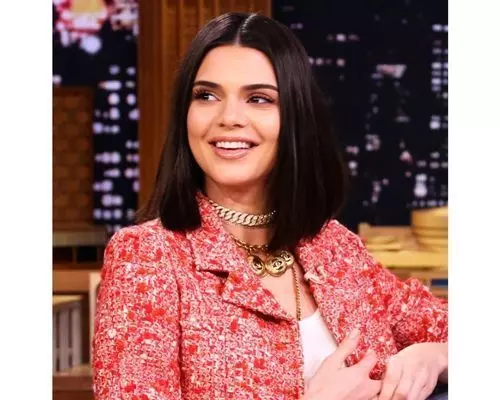 1. Cropped Blunt Bob
Kendall Jenner's cropped blunt bob hairstyle has become the best hair trend of this season. The cropped blunt bob with sleek straight hair till the chin makes it a perfect happy look for her. This hairstyle is short and cuts into a straight line at the end. The blunt bob looks flattering on a triangle face shape. 
Check out our guide to find the best Lisa Rinna haircut along with all her popular ones as we list 33 of her all time great hairstyles. From feathered hairstyles to pixie cut, we have covered all of them.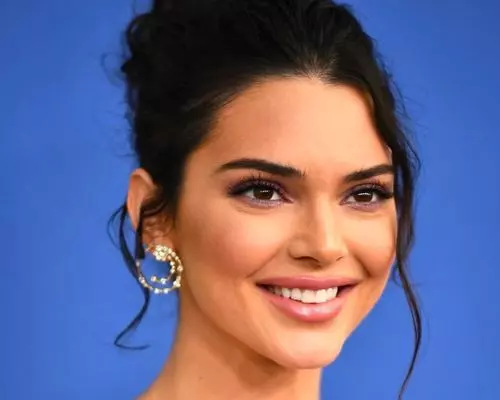 2. Black Hair
One of the stunning and most popular hairstyles of Kendall has been her signature black hairstyle. She matches her haircut perfectly with her makeup and accessories.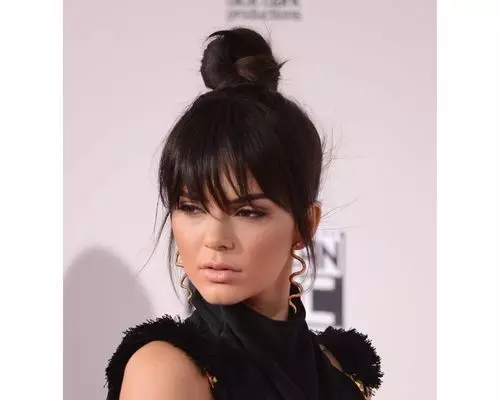 3. Top Knot with Bangs
This hairstyle with a top knot and cutting bangs is simple and easy to go. Kendall Jenner looks amazing with this hairstyle. A top Knot bun is a simple and stylish hairstyle which is created by winding the hair in the form of a bun at top of the head. Also the textured and side bangs over the forehead is creating versatile and well-created on sleek hair.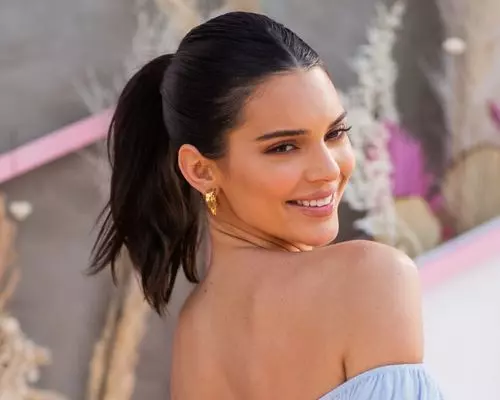 4. Short Ponytail
Kendall Jenner always loves to create different hairstyles with short hair. She loves short hair and flaunts it extraordinarily. The ponytail look on this sleek and straight hair is the best choice for this type of hair, which makes the face more clear and neat.
Check out the best Jennifer Lopez hairstyles as we list all her stylish haircuts which include long hairstyles, curly hair, side parted hairstyle and many more.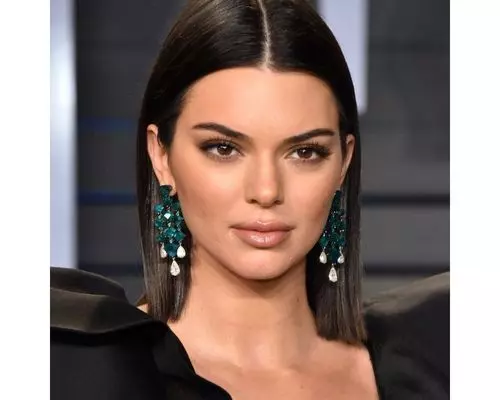 5. Middle Partying Hairstyle 
The stunning middle-parted hairstyle with flowing earrings and a short bob is creating wonders! Kendall Jenner so perfectly places and holds the hair back of the ear making the face look more clear. This sassy look is easy to create.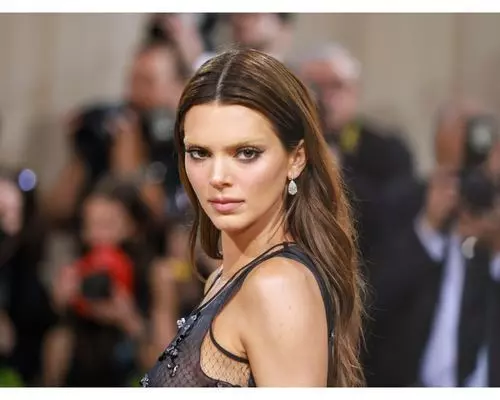 6. Soft Wave Hairstyle
Kendall Jenner's soft wave hairstyle look at the Met Gala 2023 was very well coordinated with her attire and bleached eyebrows. She looked different but beautiful. Kendall had arrived for the red carpet at the Met Gala 2023 with her sisters.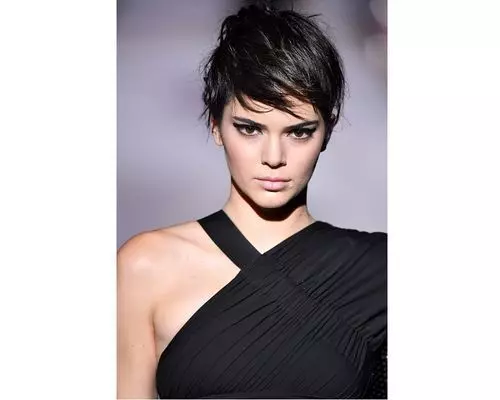 7. Pixie Hairstyle
The pixie haircut is one of the trendy haircuts of the season. Kendall Jenner looks stunning with this pixie hairstyle showing volume hair at the crown and perfect ends. Kendall had taken the bold pixie look and astonished everyone with her look. We just loved it!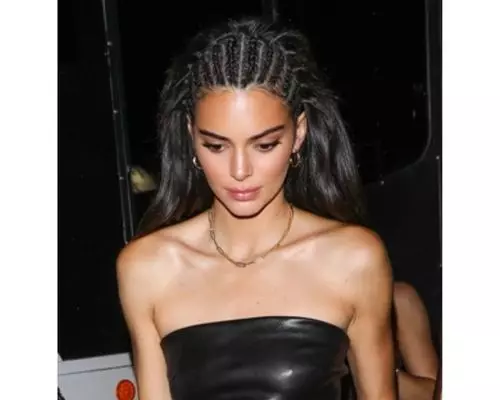 8. Cornrow Braids
Kendall Jenner was spotted with cornrow braids, and we must say that was a daring move! These cornrow braids are perfectly laid section wise which is braided usually flat to the scalp and flowing sleek hair below the shoulders.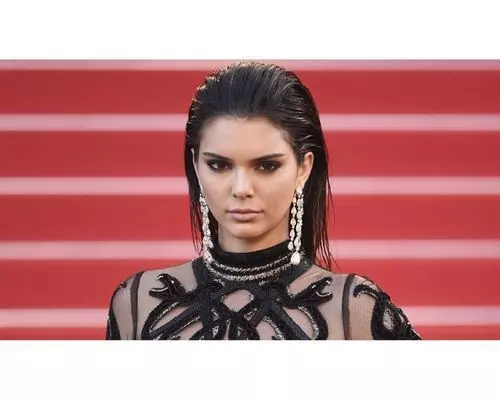 9. Wet Look Hairstyle
Can't miss the wet look hairstyle which is well-recognized by all celebrities and is a hairstyle for all occasions and seasons. Kendall Jenner flaunts the wet look with so much elegance and shine.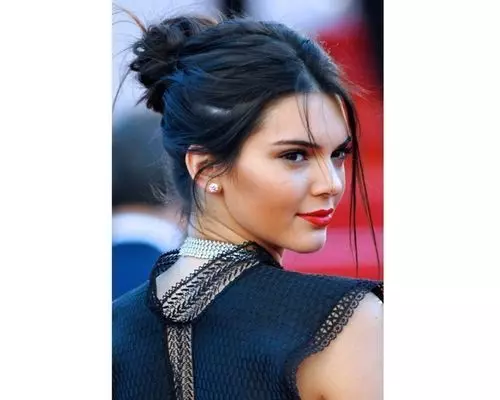 10. Hair Updo 
Kendall Jenner walks the red carpet with the updo hairstyle which is tied up in a circle form with a messy design structure. This hairstyle went well along her high-raised neck dress.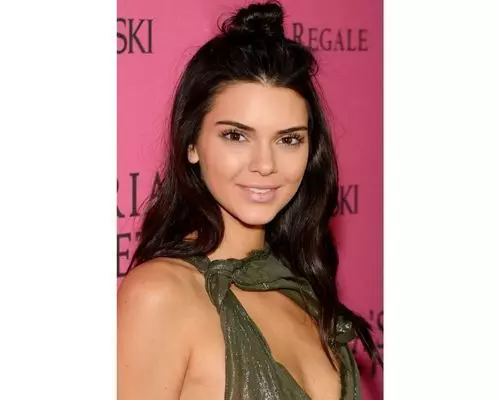 11. Half Bun Hairstyle 
Kendall Jenner's half bun hairstyle with loosing off the waves looks amazing. She proves that the half-bun style is a perfect cocktail party look.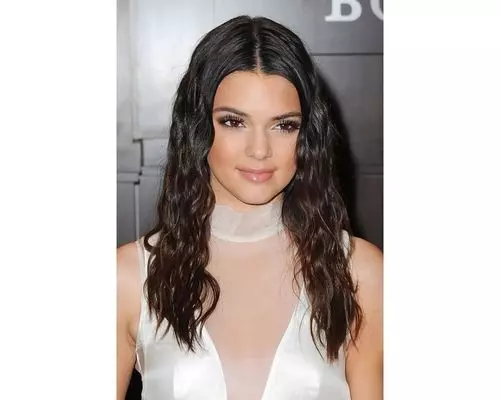 12. Curly Hairstyle
Kendall Jenner has always been seen in straight-look hairstyles or short haircuts. This curly hairstyle is a rare style she gets in, but must say  "Kendall Jenner, you look fabulous in this look."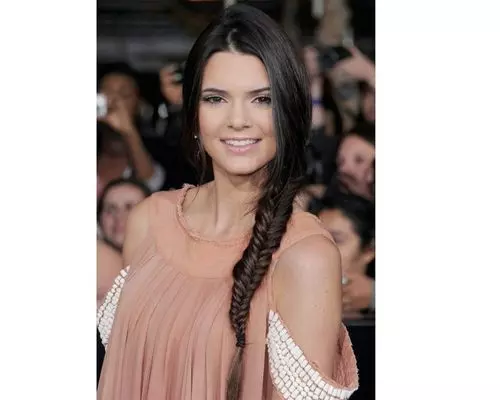 13. One-Sided French Braid
This plait style, or call it a one-sided French braid gives a subtle look to Kendall Jenner as she very elegantly wears this hairstyle and poses for the paps and her fans. This classic hairstyle makes her look more gorgeous!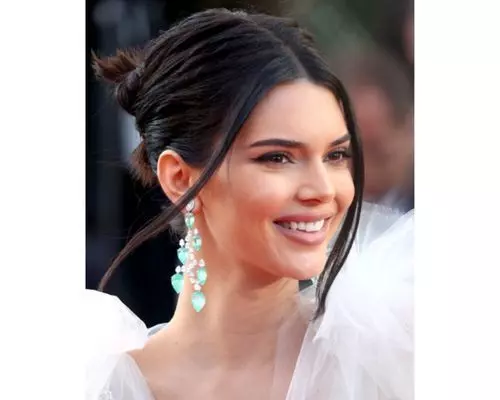 14. Twisted Bun 
This classic and prominent twisted bun hairstyle is love. Kendall Jenner perfectly carried this twisted bun hairstyle on one of the occasions. This look is also called a retro or prom night hairstyle.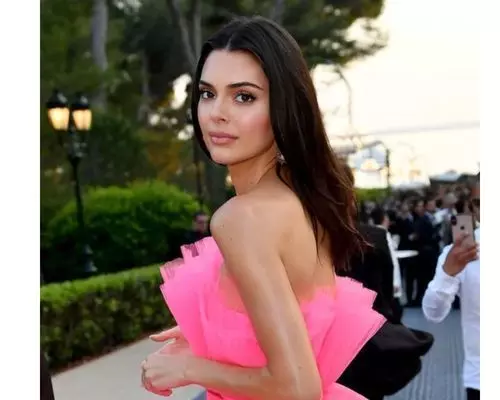 15. Glossy Waves
The supermodel and awarded as a fashion icon has always been known for making new trends in fashion. Kendall Jenner has gracefully met these glossy waves with a sleek and straight look from the crown to soft waves at the end.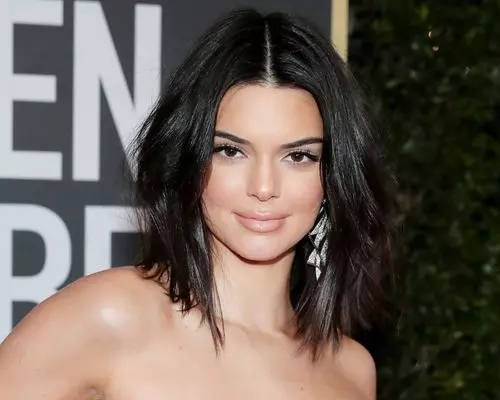 16. Textured And Tousled 
Kendall Jenner makes a statement with the texture-infused bends at the end. This textured and tousled hairstyle is a shoulder short cut with a little windblown and has a beachy touch.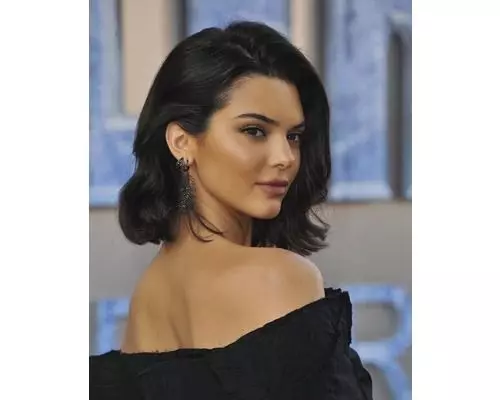 17. Short Layered Hairstyle
This black short layered hairstyle looks stunning on Kendall Jenner. The short bouncy layers above the shoulder length with the side swept are the perfect look for her.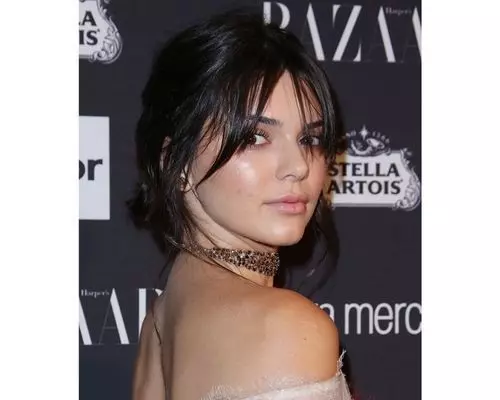 18. Curtain Bangs Hairstyle
This low-key curtain bang hairstyle looks superb on Kendall Jenner. The sleek bangs in the curtained structure are made for her and her face shape. She is a fashion icon people around admire and follows for her different looks.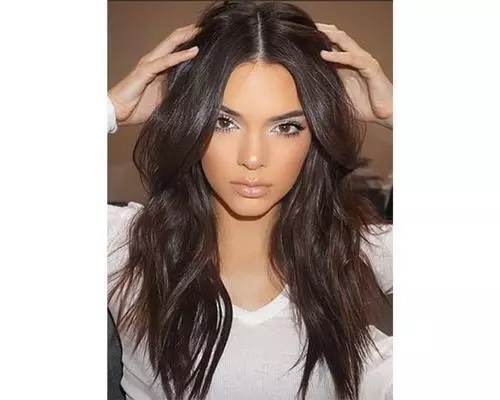 19. Beach Waves Hairstyle
For a medium-length hair trend, the beach waves hairstyle is remarkable. Kendall Jenner carries the relaxed curls on a textured base. This is one of the best hairstyles of Kendall Jenner with highlights. This is a volumised hairstyle.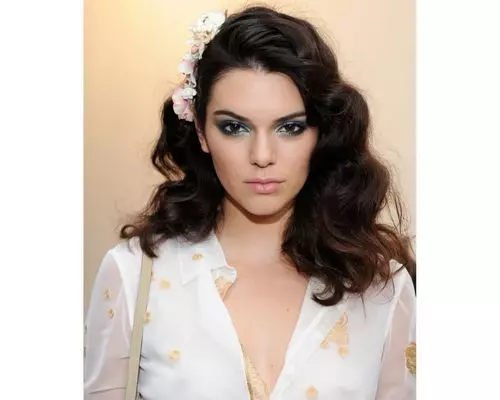 20. Side-Swept Wave With Decorative Flowers 
This casual side-swept wave hairstyle by Kendall Jenner is gorgeous. The waves style is creating volume in the hairstyle and is very well decorated with flowers on another side, which has played the look game!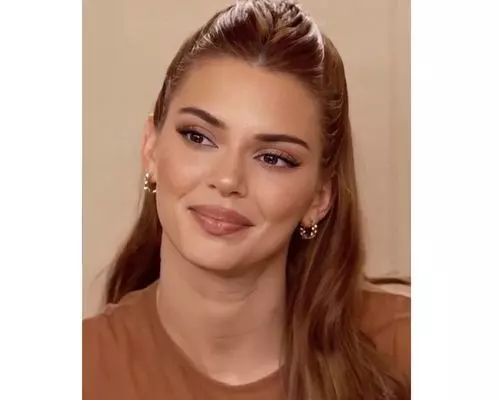 21. Pinned Back Hairstyle
Kendall Jenner is known for her fashion and even a simple pinned-back hairstyle makes her look charming. The painted ginger-coloured hair with a small puff is meticulous.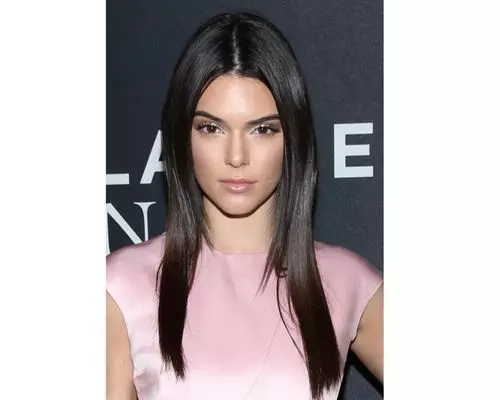 22. Flat-Ironed Hairstyle
The fashion diva flaunts her every look very effortlessly. The flat-ironed hairstyle proves to be glossy and sleek. Kendall Jenner was seen creating this simple look for an event and looked great.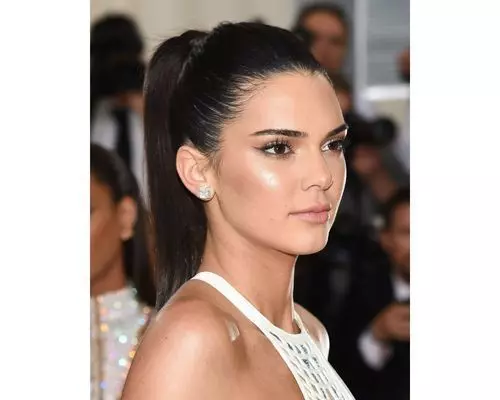 23. High-Raised Ponytail 
Kendall Jenner steps out with a high-raised ponytail hairstyle. The fashion icon keeps on creating various looks with her sleek hair. This hairstyle gives a clear facial view and enhances the facial features. A simple hairstyle for a get-set-go look!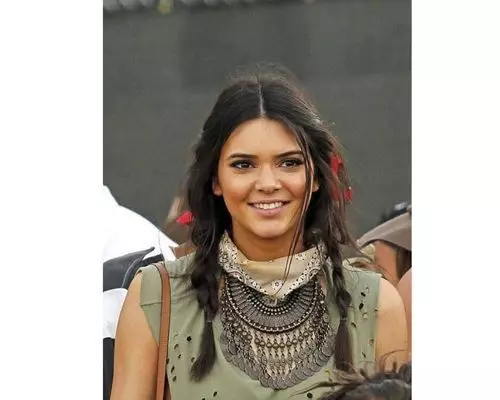 24. Boho Braids
The two pigtails braid is nothing but a boho. The middle-parted hairstyle is simple and creates a casual look. Kindall Jenner was spotted with this hairstyle with a smiling face.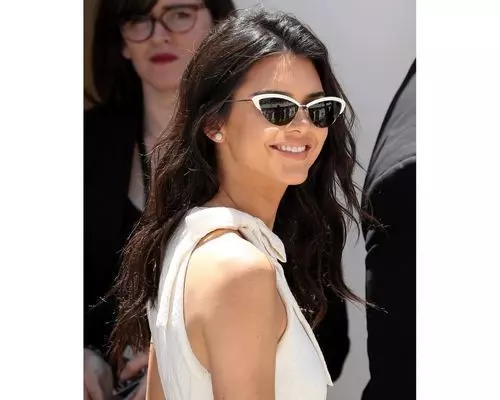 25. Long Layered Hairstyle
Kendall Jenner is looking as fabulous as ever in this casual long layered hairstyle! The layers on the long hair and the cat-eye sunglasses are a perfect match to this stunning look. Long layers are cut around the side creating a textured look.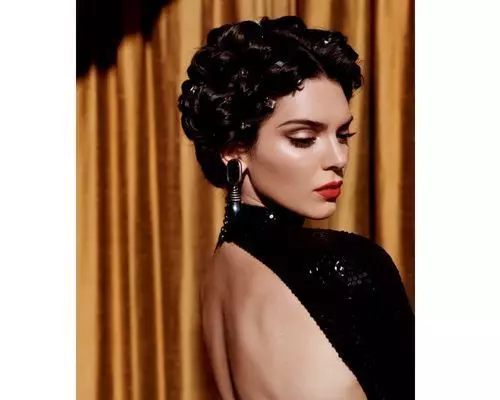 26. Retro Hairstyle 
This classic retro hairstyle was created for Kendall Jenner during a magazine photoshoot. She is perfectly dazzling in this overall look combining her hair, makeup and attire. She is the queen of million hearts!