25 Gorgeous Jennifer Lopez's Hairstyles For Inspiration
Shalu Bhati
Updated At 21 Feb 23
Here for some major hair inspo? Let's talk about the ever-changing hairstyles of the beautiful Jennifer Lopez. So keep scrolling and allow us to bring out the most beautiful Jennifer Lopez hairstyles that she has flaunted over the years.
Singer, songwriter, actor, dancer, designer—she has done it all and she has done it so well. Jennifer Lopez is a multi-hyphenated super talented pop star. Ever since she has been in the limelight, she has inspired millions across the world. It is not just her beauty but also her fashion choices and gorgeous hairstyles that have caught everyone's attention.
Jennifer Lopez likes to experiment with her look. She has donned a variety of hairstyles over the years and all of them oh so beautiful and perfect. Her gorgeous mane is a thing of envy. There is no woman who doesn't crave hair as shiny and voluminous as hers. This is why when it comes to hair inspiration and celebrity hairstyles, we undoubtedly will talk about Jennifer Lopez hairstyles. In this article we have covered the 25 gorgeous Jennifer Lopez hairstyles from the JLo bangs to the Jennifer Lopez bun to the Jennifer Lopez bob haircut.
Come on, let's take a look at the pop star's most popular hair looks over the years.
25 Gorgeous Jennifer Lopez Hairstyles For Inspiration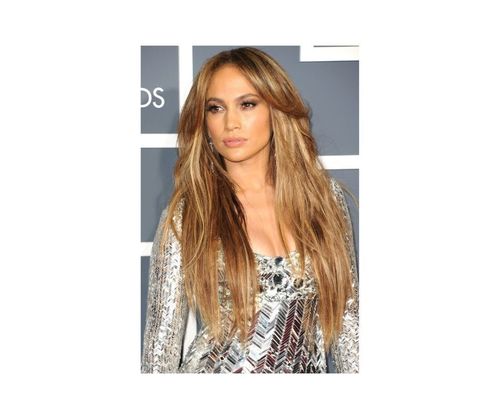 1. Strong And Long JLo Hairstyles
Let's start this list of Jennifer Lopez hairstyles with a signature look. Jennifer likes to experiment when it comes to her hair texture as well as length. She has been hitting it off with extensions as far as we can remember. She walked down the red carpet at the 53rd Grammy Awards in 2011 with waist-length extensions. This was a length that comes to our mid whenever we think of Jennifer Lopez and her super glam hair. Her hairstyle was longer and super straight with a middle parting.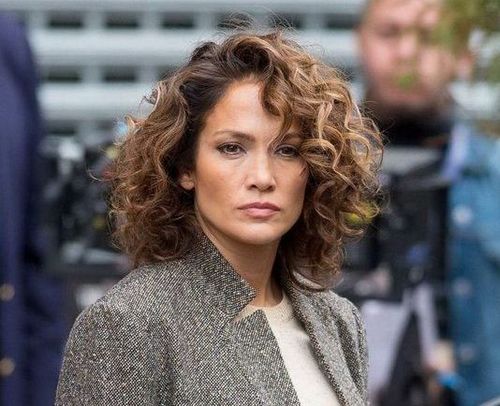 2. Jennifer Lopez Curly Hair
A few years ago, she was shooting for her show, Shades of Blue and it was then that we saw the Jennifer Lopez curly hair. This was just so different from the usual JLo hairstyles. From the texture to the color, everything about this hairstyle was something we had never seen before. Jennifer gave up the length and texture for these shoulder-skimming curls and added more brown when it came to hair color rather than her usual blonde. Do check Jennifer Lawrence haircut as she sports the curly hairstyle for medium hair and it looks stunning on her.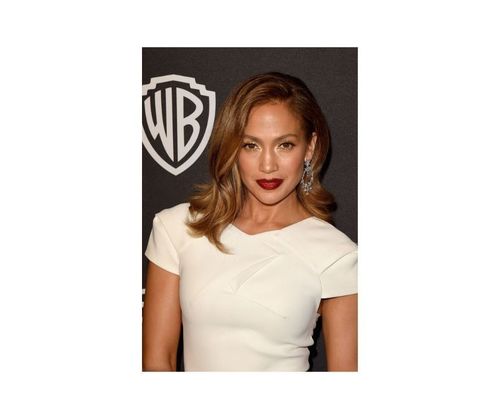 3. Wavy Hair, Don't Care
2016 was a new year so it was time for a Jennifer Lopez new haircut. She chose a layered shoulder-skimming haircut with loose and glossy waves. The honey-brown tone of this Jennifer Lopez haircut perfectly matched her glowing sun-kissed skin. It is one of the best Jennifer Lopez hairstyles in the history of her hairstyles.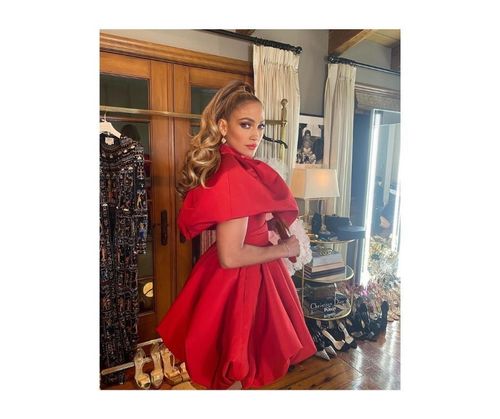 4. The Wavy Ponytail
2022 was the year when the world was still stuck inside due to the global pandemic. But that didn't prevent JLo from flaunting different hairstyles. She came out with this beautiful wavy ponytail for the People's Choice Awards. She wore her long, luscious and voluminous mane in a high ponytail. Though this ponytail was different than the rest. The loose yet defined waves add more glam to her look.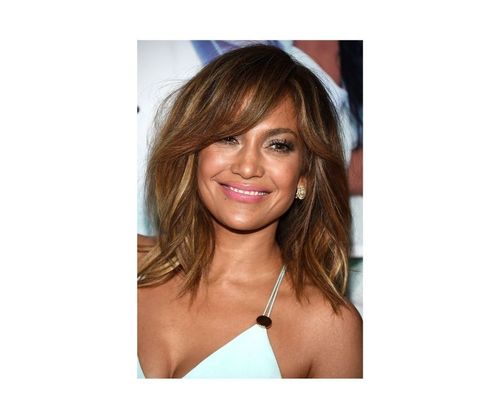 5. Layered Lob With Side Bangs
Jennifer Lopez hairstyles never fail to impress and she did it again with this gorgeous JLo haircut. The singer opted for a layered long bob with side bangs. It is a perfect hairstyle for those who want to try out bangs. Side bangs are safe to experiment with. What we love about these JLo bangs is how they add to the already existing fun and flirty vibes. This haircut is still big amongst women across the world.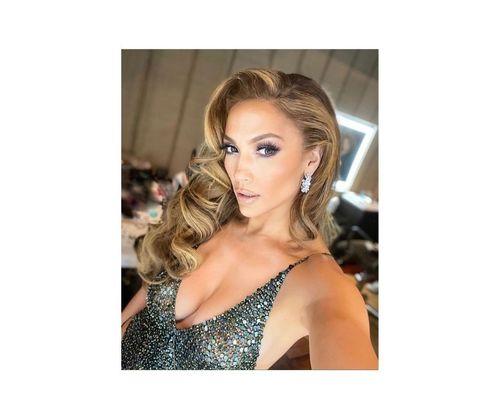 6. The Old Hollywood Curl Charm
Here is a tribute to all the gorgeous Jennifer Lopez hairstyles that the year 2022 gave us. Lopez channeled the old Hollywood glam with this one. She went light brown with blonde highlights that blended seamlessly giving more definition to her haircut. The voluminous barrel curls gave us all the glam and the drama.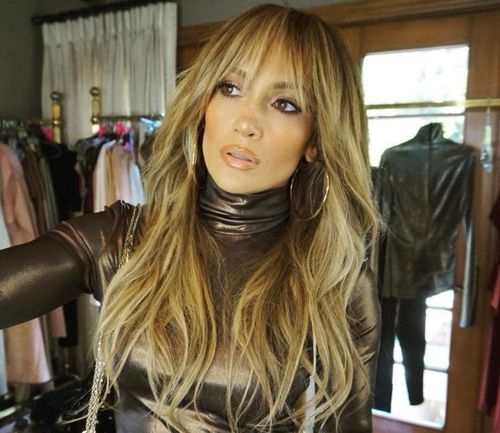 7. Jennifer Lopez Bangs
Thanks to her hairstylist Chris Appleton, we got to see yet another JLo bangs hairstyle. 2022 was pretty hot and heavy with this new style of bangs and Lopez once again didn't disappoint when she decided to go for this trend. The Jennifer Lopez new haircut was long and slightly wavy. The honey brown color looked perfect. The bangs as per the trend were light and wispy. Parted in the middle to give a curtain effect, these bangs came with tapered sides that easily blended with the rest of her hair. It is safe to say that this was one of the best Jennifer Lopez hairstyles that we got served.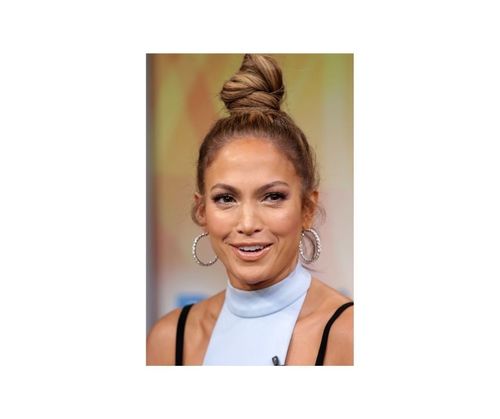 8. Top Knot
We can't get over this JLo hairstyle and apparently so can she. Lopez has been sporting a topknot ever since the 90s. from formal events to a casual day out a chic topknot has been her go-to. It is the best option for times when you are running late and want a polished look. It is simple, easy, and looks stylish at the same time.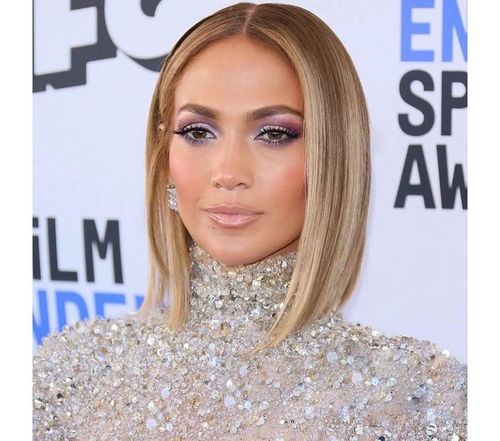 9. The Classic Bob
Any list of the Jennifer Lopez hairstyles is incomplete without mentioning this classic bob. This Jennifer Lopez bob haircut is everything. It is a classic and chic hairstyle that refuses to go out of trend. It is perfect with longer pieces in the front and shorter ones at the back. JLo shows us how to do it by tucking one side behind her ear.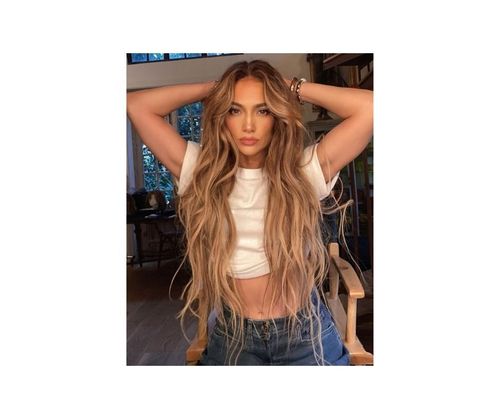 10. Extensions For The Length
Here is yet another one of the most gorgeous JLo hairstyles. We just cannot get enough of this hairstyle. With extensions that long, color that glossy, and texture so beautifully wavy, Jennifer is giving us major hair goals.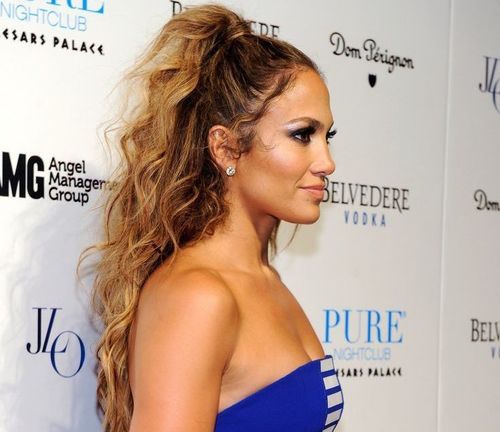 11. Ponytail With A Twist
We have a special love for all the super long Jennifer Lopez hairstyles. She made a major style statement with this half-up hairstyle in 2012 at the Caesars Palace event. Both the length and the texture of her hair left us in awe. The high pony at the crown sat perfectly while the tousled waves added more glam to the whole look. Even her baby hair were styled to match the wave pattern of the rest of her hair.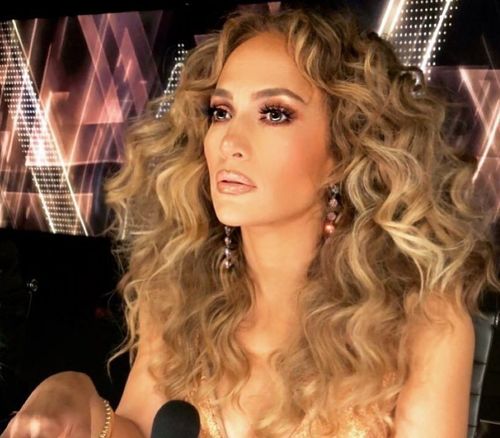 12. It's A Curl Kinda Day
Jennifer Lopez curly hair made another appearance. But this time they came with a retro vibe. These 70s inspired curls were textured yet polished. They were also voluminous and looked super glam. This look was all about the drama and Jennifer served it well.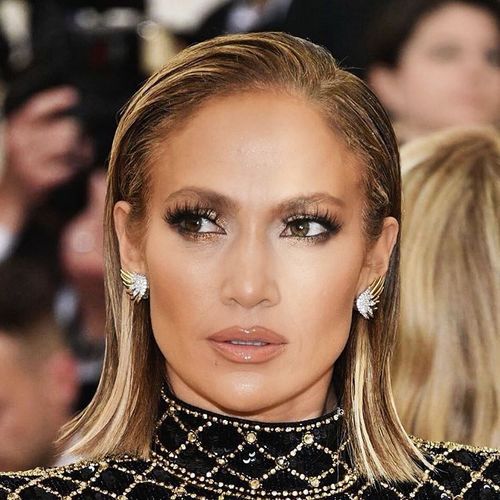 13. Jennifer Lopez Bob Haircut
Jennifer Lopez and her hairstylist Chris Appleton are a team and keep on experimenting when it comes to the singer's hair. This gorgeous JLo haircut happened just an hour before Lopez made an appearance at the 2018 Met Gala. This sleek shoulder-skimming bob haircut is what dreams are made of. It was styled to look straight and wet throughout the night and it most definitely left a strong impression. This is one of our favorite Jennifer Lopez hairstyles. Is it your favorite too?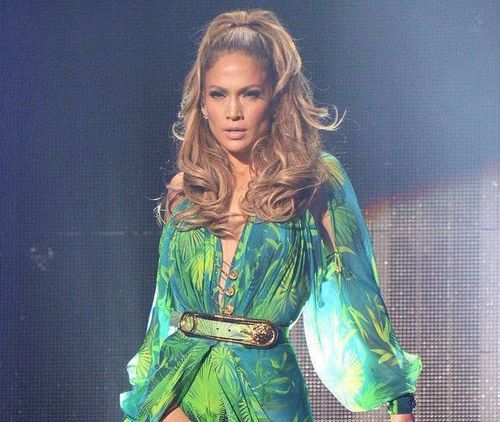 14. An Ode To The Past
This is one of the most iconic Jennifer Lopez hairstyles. This was when the singer paid tribute to one of her iconic looks. She wore an updated version of the famous Versace dress that she had worn at the Grammy Awards in the year 2000. She also wore her hair in a similar manner. The half-up style that was a hit back then is still a hit now.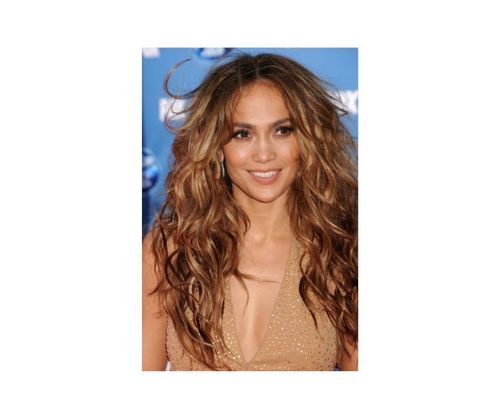 15. Long With Loose Curls
We can't think of Jennifer Lopez without thinking of the long and luscious Jennifer Lopez hairstyles. The singer gave us major hair inspiration with her look at the American Idol finale. Everything about this hairstyle was mesmerizing from the glossy loose curls to the honey brown color.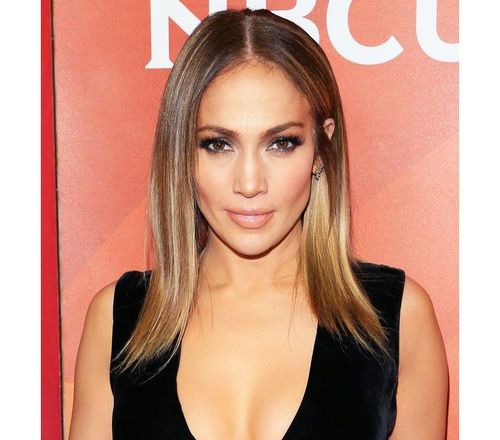 16. Straight, Sleek Long Bob
Here is yet another Jennifer Lopez bob haircut. This is a straight and sleek long bob. Jennifer decided to begin the new season with a new haircut. She gave us this gorgeous Jennifer Lopez new haircut on the first day of spring 2017. This was what was in trend then. It was a dramatic departure from her long wavy hair.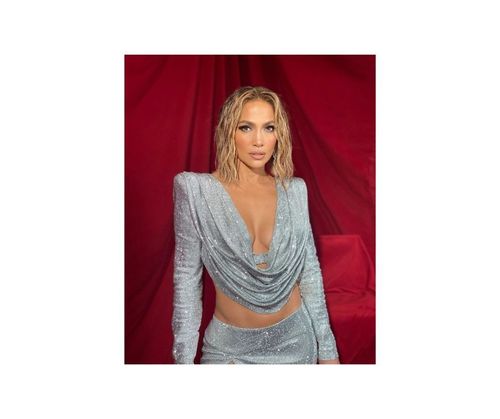 17. The Wet Hair Look
2022 was the year when the world not one or two but many Jennifer Lopez hairstyles. From super-long extensions, Jennifer went drastically short for her AMA 2022 red carpet look. The singer looked stunning in her beautiful custom Balmain dress and maintained the drama with a wet hair look. This was when we once again saw the Jennifer Lopez curly hair in a new hair color that included more blonde and less brown.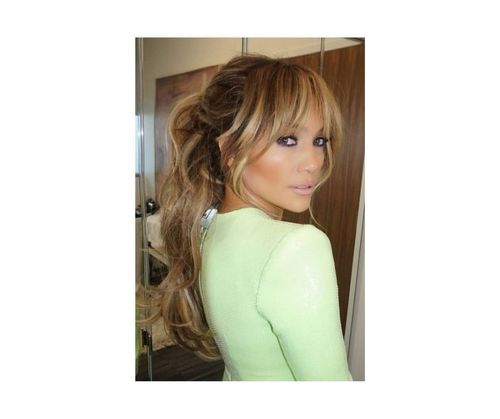 18. Tousled Ponytail With Bangs
JLo bangs hairstyle has a beauty of its own. Lopez has been flaunting a different set of bangs over the years as per the trends. And she carries each look oh so well. She looks absolutely stunning in this tousled ponytail that is paired with eyebrow skimming bangs. Parted in the middle, these JLo bangs give a major curtain effect.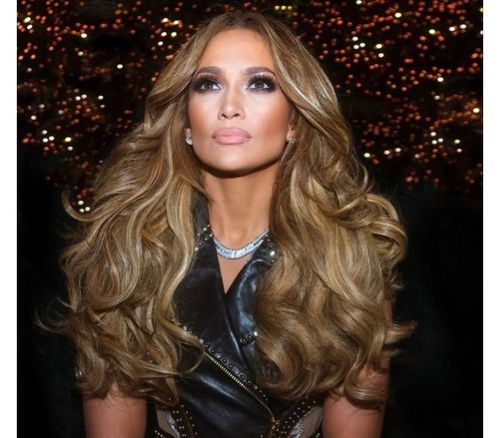 19. The Classic Jennifer Lopez Hairstyle
Jennifer Lopez decided it was time to bring back the big mane and so she did. She went back to the signature Jennifer Lopez hairstyle. She wore her hair long, voluminous, and wavy for her Super Bowl performance. This is one of the most beautiful Jennifer Lopez hairstyles. From the color to the hair length to the defined waves, everything is perfect and mesmerizing.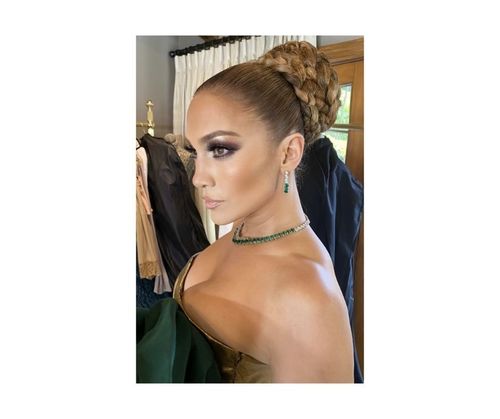 20. JLo Braids In A Bun
January 2022 saw the coming back of the Jennifer Lopez bun. The singer often wears her hair in a bun for red carpet events when she wants a super polished and elegant look. This slicked back bun also incorporates JLo braids. It is a perfect hairstyle when you want to go for a glam but soft look.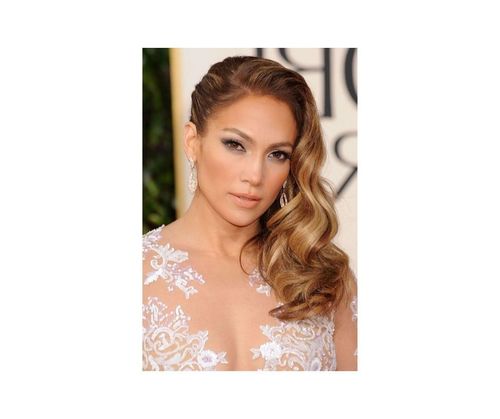 21. Side-Swept Hairstyle
This is one of the many gorgeous Jennifer Lopez hairstyles. She shows off her glossy locks in a side-swept style. The long curls bring out the beautiful color to the front. Overall it is a very charming hairstyle that looks elegant as well as sexy.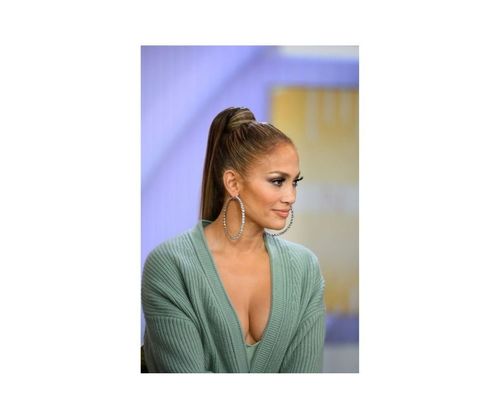 22. The High Ponytail
Nothing beats a simple high ponytail. And if you thought only Ariana Grande does it, think again. Jennifer Lopez more than often goes for a high ponytail. This slicked back, simple yet chic look is major style goals. It is one of those JLo hairstyles that refuse to go out of trend.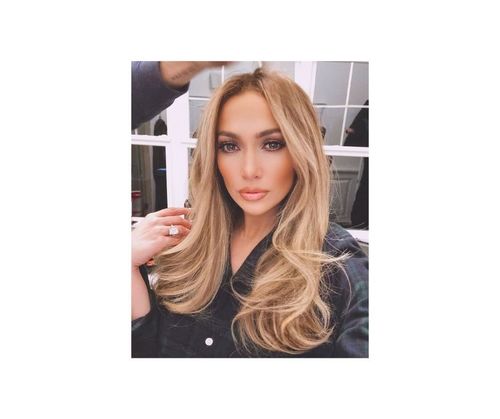 23. Jennifer Lopez New Haircut 2022
As we have said earlier, 2022 was a year that gave us many new and gorgeous Jennifer Lopez hairstyles. This one in particular was the very first of that year. This Jennifer Lopez haircut had medium length and platinum blonde highlights. The light brown at the roots and as lowlights created more dimension.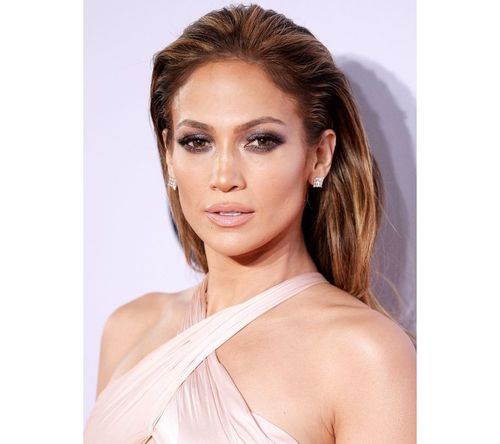 24. Slicked Back
Just as much fun as slicked back hair can be, Jennifer Lopez gave us this pushed back hairstyle when she walked the 2014 AMA red carpet. This hairstyle was the perfect companion to her bandage dress.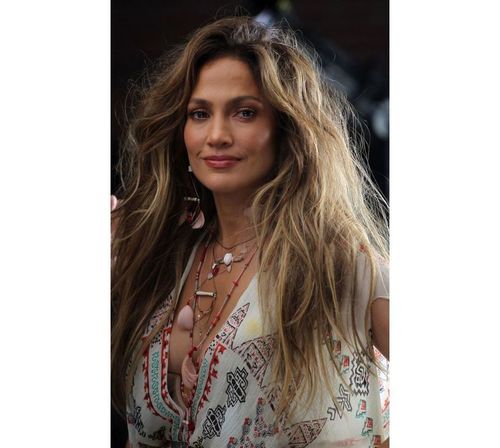 25. Throwback To The 90s
Jennifer Lopez has been in the limelight ever since the 90s. So when everyone is going back to those trends, JLo did too. She decided to bring back this 90s hairstyle while shooting for a music video for her duet with the Spanish singer Alvaro Soler. This textured and wavy hairstyle is giving us major nostalgia.
This marks the end of our list of the 25 most gorgeous Jennifer Lopez hairstyles over the years. Hope you enjoyed it.