33 Most Popular Lisa Rinna Hairstyles And Hair Colors
Arunima Saha
Updated At 09 Jan 23
Looking out for the best Lisa Rinna hairstyles?
As Lisa Rinna has looked glamorous and irresistible all the time with her various hairstyles, it is usual for women to want to imitate her. There is brimming curiosity to know how she dolls up and dresses up, Interestingly, we have covered all these along with the famous Lisa Rinna hairstyles.
33 Most Popular Lisa Rinna Hairstyles
Lisa Rinna is, undoubtedly, an inspiration for all women out there, because of the extremely well liked Lisa Rinna pixie haircut and the other Lisa Rinna short hairstyles.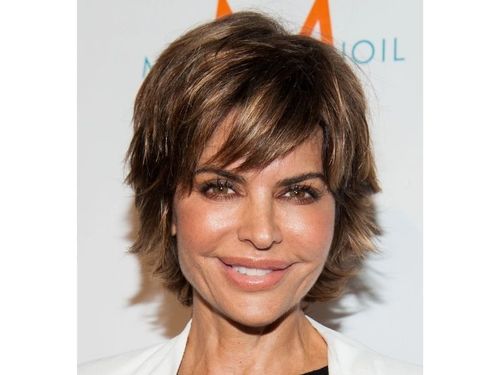 1. Lisa Rinna Pixie Haircut
One of the signature hairstyles of Lisa Rinna has been the pixie haircut. Amongst the best celebrity hairstyles, this one transforms the look completely. Apt for both formal and casual attire, this hairstyle puts the focus on facial features as well.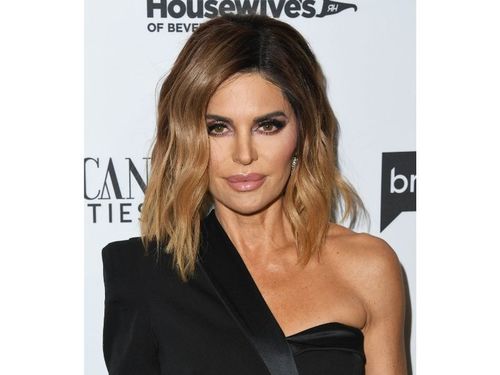 2. Blonde Hairstyle
If you are looking for inspiration for small to medium hair, then one must check out Lisa Rinna blonde haircut. A classic hairstyle, this one goes well with small and medium hair perfectly. Pair it with the right makeup like Lisa Rinna smokey eyes and you are all set to dazzle.
If you are looking for more inspiration for blonde hairstyles, do check out our guide on Kristin Cavallari hairstyles as we list her 31+ stunning hairstyles which have been trending this year. From her signature hairstyles to straight hair, we have covered all.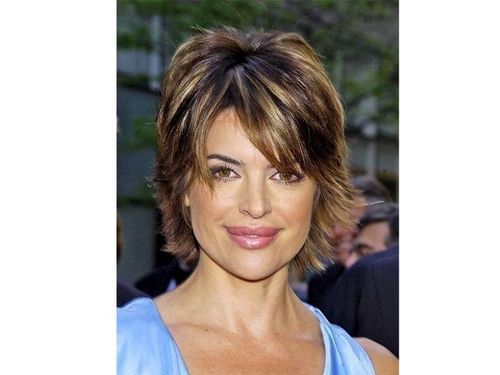 3. Feathered Hairstyle
Looking for a hairstyle with a texture that will take your breath away? No need to search anymore because this Lisa Rinna haircut will do it without being time consuming. The ends of the hair are chipped which adds to the overall silky feathered hairstyle. If you are looking for inspiration for feathered hairstyles, then do make sure to check out Farrah Fawcett haircut as it is one of the most popular ones.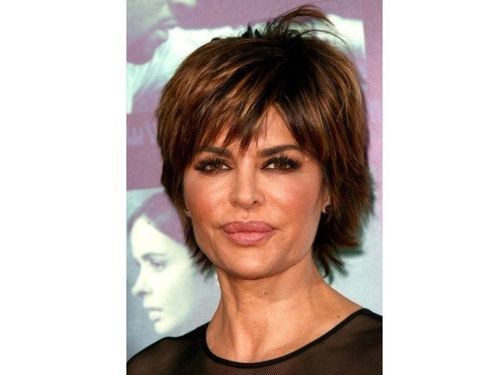 4. Bold And Choppy Lisa Rinna Haircut
Are you worried about maintaining your hair every time you step out of your home? We are here to lessen that worry by presenting this choppy, messy, bold, and sharp boy cut donned by Lisa Rinna. It hardly takes ten minutes to style this. The x factor of this hairdo is how classy it seems all the while being messy.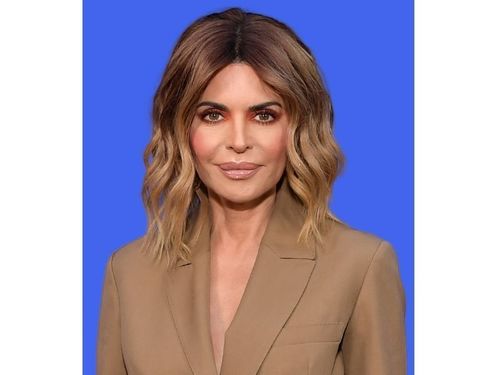 5. Hair Color Highlights
When Lisa Rinna completed dying her hair during the pandemic, we got to see the trending Lisa Rinna hair color highlight photo. However, no matter how well received this new style was, Lisa Rinna admitted how bad she did the job. We love the honest take of The Real Housewives of Beverly Hills' star on tackling the task of highlighting your hair as you get bored in self quarantine.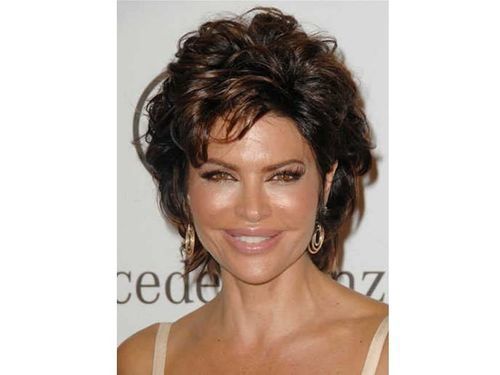 6. Feminine Short Waves Hairdo
It is no 'hush hush' secret that Lisa Rinna has cat like eyes. This feminine haircut with short waves throughout flatters those cat like eyes. The roots of this hairstyle are dark and are highlighted as well. No wonder this popular Lisa Rinna hairstyle has found a spot in this list of spectacular Lisa Rinna hairstyles.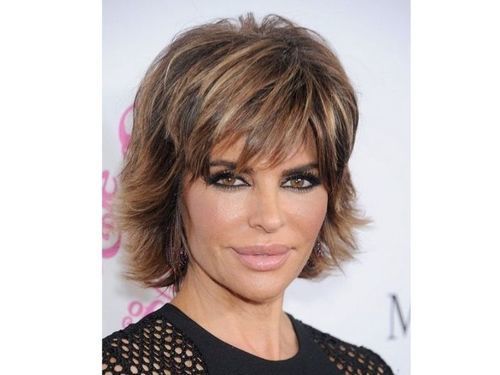 7. Dark Brown Highlighted Hair
If the color of your eyes is similar to Lisa Rinna's, you can't get a better hairstyle than this to flaunt and complement the eye color. This hairstyle has two tones or two highlights that blend well with the natural hair texture. Those two tones are caramel and blonde.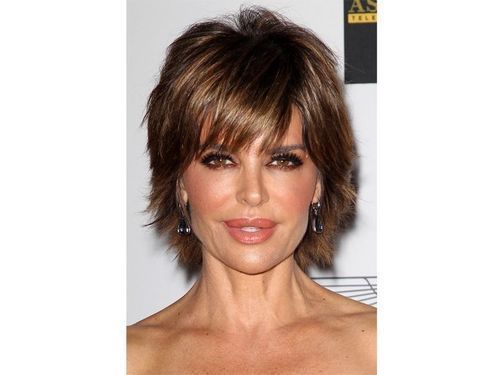 8. Hairstyle With Brown And Golden Tones
Is your skin texture similar to Lisa's? If yes, then go for this hairstyle where you can play with contrasting colors. Here, the two contrasting colors are hazel brown and golden. You will look like a miracle standing on the face of the earth.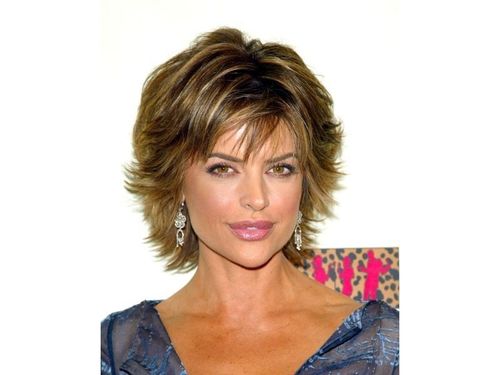 9. Sassy Pixie Haircut
This photo showcases the Lisa Rinna pixie haircut that is in vogue. It is perfect for short and straight hair. Take a dose of inspiration from this superstar and get this masterpiece done on you but only if you love to experiment. Also, one of the most noticeable advantages of this hairstyle is that is as effortless as it looks.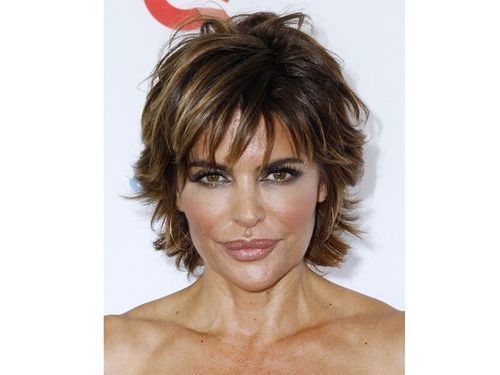 10. Hairstyle For Tanned Skin
Is your skin tone naturally tanned? If yes, then you wouldn't find a hairstyle apart from this one that would complement the tanned skin in the most flattering manner. Considering this is one of her sassiest looks, we can say that nothing will work better than having dark chocolate highlighted flicks on top of a brown colored hair base.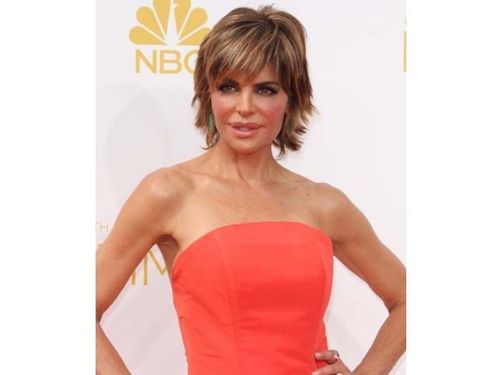 11. Edgy And Blonde Bob Cut Hairstyle
This haircut has the presence of layers in it. These layers make Lisa Rinna's voluminous and well textured. If you want a combination of elegance, and sophistication in your hairstyle and bid hello to a haircut that looks like it has been glazed with honey, there can be nothing better than this one.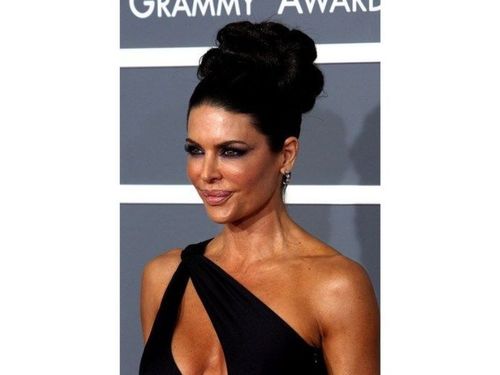 12. Formal Long And Straight Hair Updo
Did you know that this hair updo is suitable for four different types of face shapes? Those face shapes are round, oval, triangular, and heart. Although it takes more than half an hour to get this style done, it has many benefits including the appearance of a short and narrow forehead. If you have dark, brunette colored long and straight hair, go for this huge bun at the top of your head.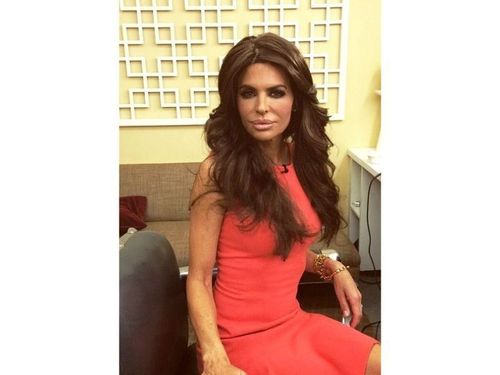 13. Lisa Rinna Haircut For Long Hair
If you thought that the Lisa Rinna hairstyles won't impress and flatter you always, you were highly wrong. She was born to impress her fans with the various Lisa Rinna haircuts. The curls fall on her face and frame the face impeccably. Use a lip liner to draw on your naturally big lips like Lisa Rinna and wear false, big eyelashes, and you are all settled for a night out.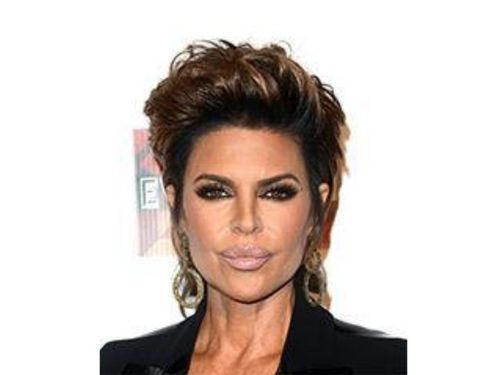 14. High Volume Hairstyle
We have gone through plenty of hairstyles chosen by Lisa Rinna. Having researched a lot, we have realized that she prefers creating a voluminous hairstyle on most occasions. The front portion of her hair is backcombed but in a blow waved manner. This Lisa Rinna haircut will touch the nape of your neck. So, it makes this hairdo the most favorable one for summers!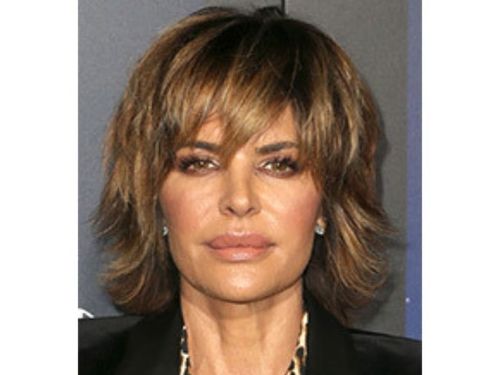 15. Brunette Shag And Layered Bangs
Lisa Rinna has thick hair, right? No wonder she got this hairdo because it flows well with the inborn volume in her crown area. It is very sassy. Her fringes have a golden touch in them. Overall, this haircut draws attention to her face.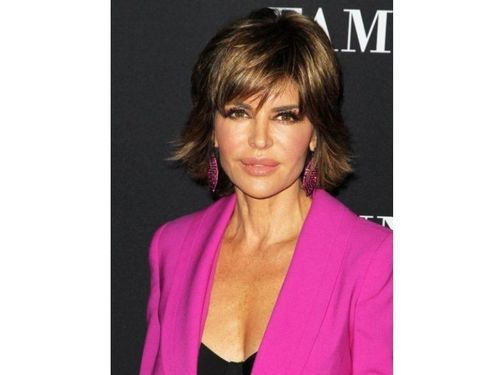 16. A Line Silhouette Hairstyle
Lisa Rinna wore this hairstyle when she went to the Pink Party's 10th anniversary. If you look closely at this haircut, you will notice that it is wide at the ends. Resembles an A line silhouette, right? It has a shiny finish that amplifies Lisa Rinna's boldness.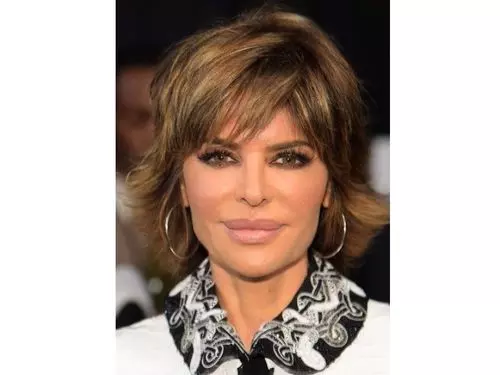 17. Mercedez Benz Special Hairdo
If you have been following the special Lisa Rinna hairstyles photos, you must have gotten mind boggled at some point because she styles the same haircut in multiple ways in multiple functions. Here, in the Mercedez Benz event, she gave a touch of sun kissed color highlight to her haircut.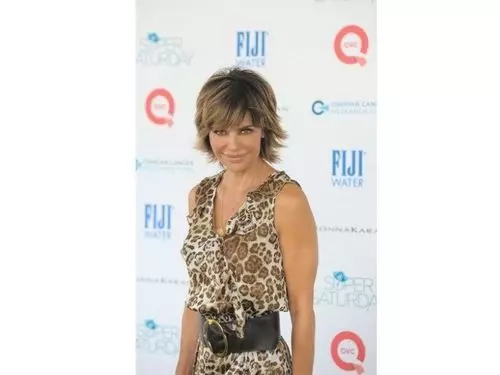 18. Sexy And Edgy Hairstyle
The Lisa Rinna hairstyles are famous for being sexy. Once you look at the full picture displayed in this photo, you will realize how she has raised the 'oomph' factor by wearing a leopard print dress and a lucrative smile paired with an edgy hairstyle.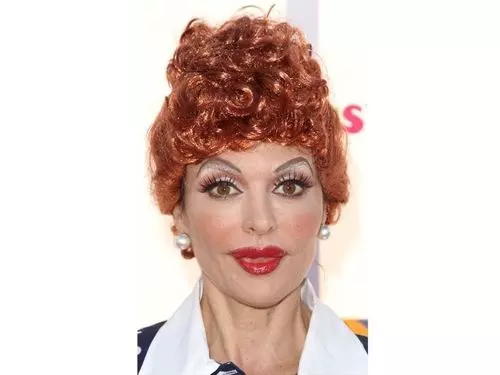 19. Formal And Classic Hair Updo
If you have gotten tired of seeing the same bob cut hair styled in different ways by Lisa Rinna, we have something refreshing for you. Just look at this retro, classic look done with the help of rollers and you will fall in love with her once again.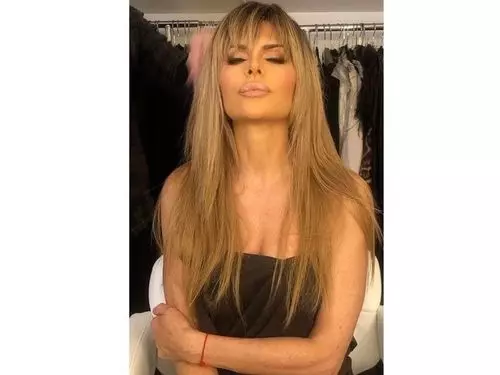 20. Chest Length Lisa Rinna Straight Hair
This is one of those Lisa Rinna hairstyles that transmits sensual vibes. She looks confident in this photo. She has worn her desirability in the finest way possible by opting for straight, long, light colored hair that touches her chest.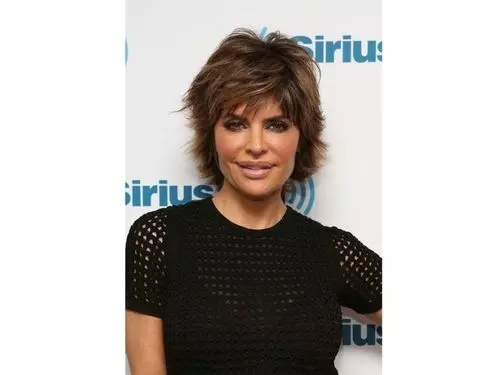 21. Edgy And Shaggy Haircut
If you want to try out one of the best Lisa Rinna short hairstyles, please try this one out. The edges in this haircut are nothing but razor sharp. It also has some soft tones of highlight in it. Chicness in the most laudable way, ain't so?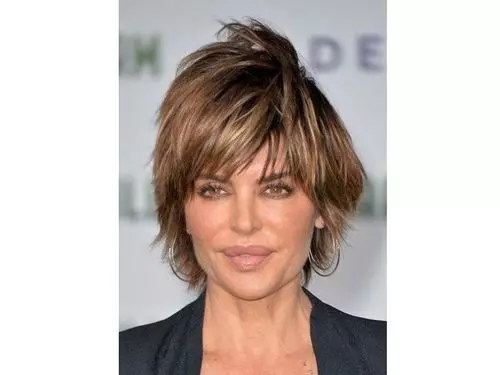 22. Signature Hairstyle With A Twist
Hasn't your hair not been dealing well with the wind as it blows? Don't worry because we have the perfect hairstyle inspired by all of the signature Lisa Rinna hairstyles that will look agreeable with the wind. We are talking about the highlighted bangs or the thick tresses.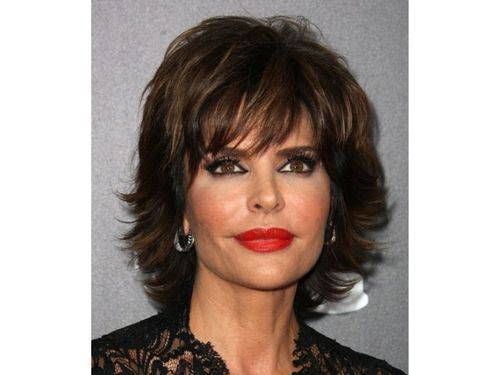 23. Lisa Rinna Short Hairstyle
In case this Lisa Rinna hairstyle doesn't scream 'I am alluring and captivating to look at', then we don't know which other hairstyle will. The hairstyle has a wavy feel to it. In case the long, and straight hair isn't for you, you can try out this short length one.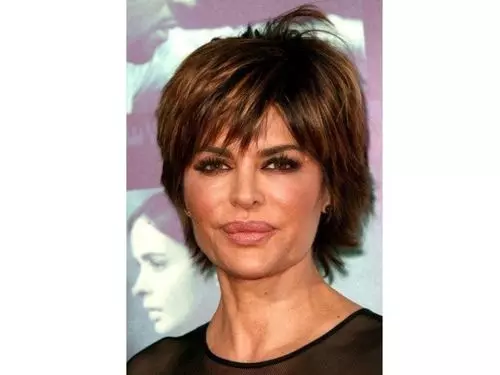 24. New Touch To Same Old Haircut
Lisa Rinna sported this fantastic look at the premiere of Veronica Mars that took place in LA. She gave her same old haircut a new feel by adding two contrasting highlights. The colors were rich chocolate and shiny caramel.
25. Face Framing Bob Cut Hairstyle
If there is someone who can flaunt a bare cleavage along with bob cut hair, it is Lisa Rinna. In this look, her tresses were perfectly trimmed and edged. The hair looked voluminous. Overall, we would give her a twelve out of ten for pulling off this attire and hairdo.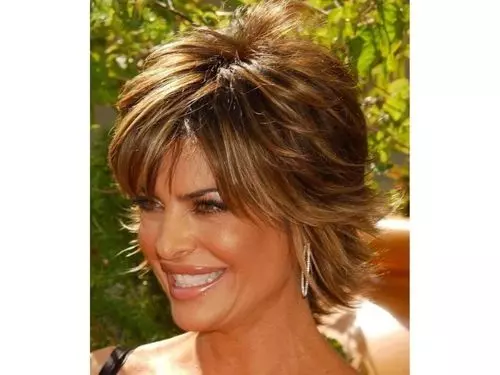 26. Center Parted Hair With Asymmetric Bangs
Although the hair is center parted, the messiness and shagginess of the hair make it difficult for people to notice it. Once you add a highlight on the asymmetric bangs that are swept on both sides equally, you will look like you have just stepped down from heaven.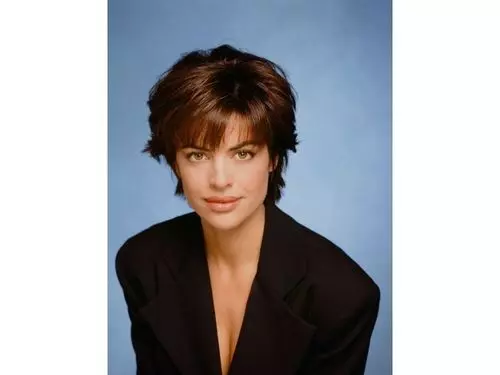 27. Stylish Short Hair
Are you ready to apply local highlights? If yes, then no haircut will be better than this to show off that highlight. Also, if you are comfortable with the shortest haircut possible that has lifted edges and flicks outwards around the ears, then why not implement this famous Lisa Rinna short hairstyle.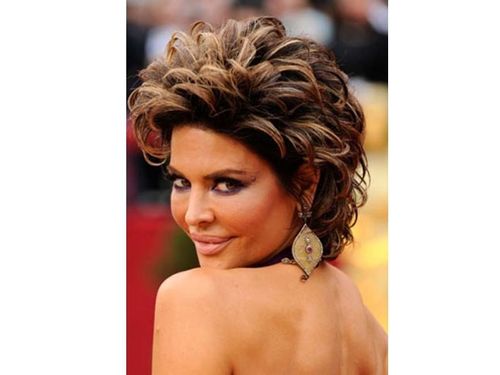 28. Loopy Hairstyle
This hairstyle applies to those who want to capture the audience's attention to their facial attributes. Since this fancy loopy hairdo is backcombed to a certain extent, you can be free of your hair falling on your eyes and face all the time. One last tip would be to pair the look with chunky earrings.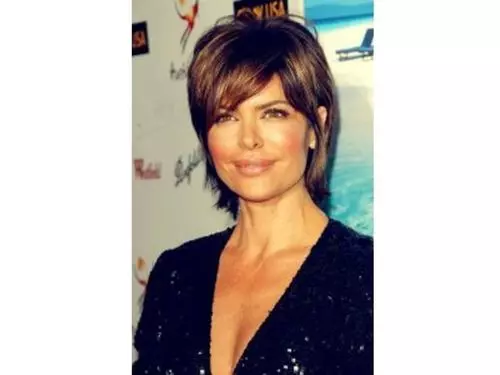 29. Sleek Bob Cut Hairdo
The roots of this hairstyle have a dark shade. This darkened root helps in providing a sufficient height to the hair of Lisa Rinna. It is a layered haircut. Also, the golden highlights make this look even more desirable.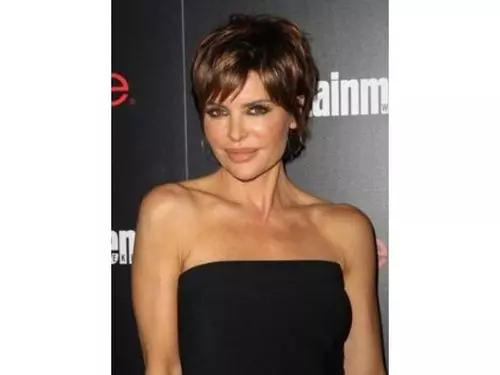 30. Softened Locks Haircut
Lisa Rinna's face isn't oval in shape. Her jawline doesn't look good with long locks, so, it is a careful decision on her part to sport soft, small locks along with a tapered silhouette.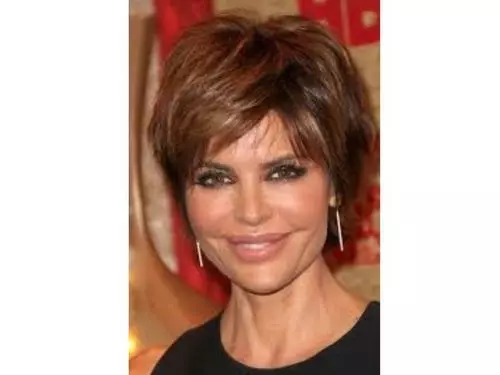 31. Cheeky Twist To The Standard Hairstyle
Once Lisa Rinna added reddish highlights to the crown of her hair, she immediately started looking playful. Also, this is one of those Lisa Rinna short hairstyles that is the sneakiest and the most fun.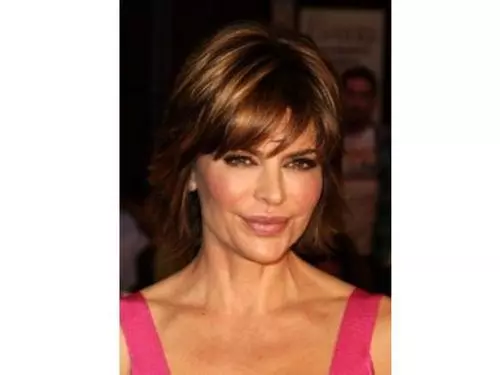 32. Lisa Rinna Casual Hairstyle
This beautiful hairstyle manages to touch the tip of Lisa Rinna's shoulders. The haircut is called a layered haircut. Both the layering and the highlighting begin where the cheekbones are present. It is ideal for a casual evening or a late afternoon day out.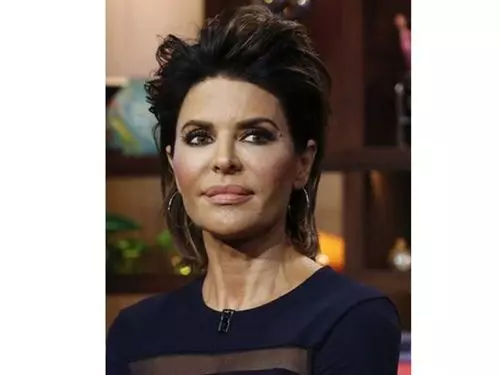 33. Elongated Pixie Haircut
Once you think of a Lisa Rinna hairstyle that is a perfect combination of sassiness and cuteness, you spontaneously think of this one. In case you don't want to hide your ears and your fancy earrings, go for this one as it is one of the most famous Lisa Rinna haircuts.