25 Stunning Mother Of The Groom Hairstyles For Long Hair - 2023
Olivia
Updated At 15 Jul 23
Weddings are the most auspicious and memorable day for every mother. For the groom's mother, it's the time when her little boy turns into a big man who will now take another woman's responsibility. Every mother deserves the best on this big day.
There is an overwhelming amount of choices you can make when it comes to hairstyles that can suit the mother of the groom. For your convenience, we have compiled a list of 25 stunning mother of the groom hairstyles for long hair to look elegant and classic. So here's the style guide for the mother of the groom to look dazzling on her son's happy day. Keep on reading!
25 Best Mother Of The Groom Hairstyles For Long Hair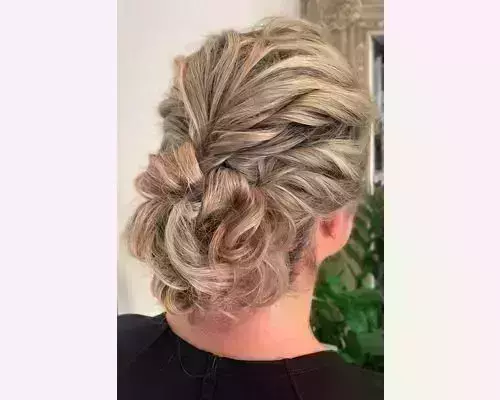 1. Textured Low Updo
For the mother of the groom, a low-textured updo is a quick and effortless yet elegant hairstyle. In this hairstyle, the hair is divided into three parts- front, lower and upper. The lower part is twisted and secured into a lower updo. Then, the upper part is curled up with a curling iron, twisted section-wise and tucked in the lower updo.
Also check out our guide on mother of the bride hairstyles as we list 55 stunning hair ideas to make your day even more special.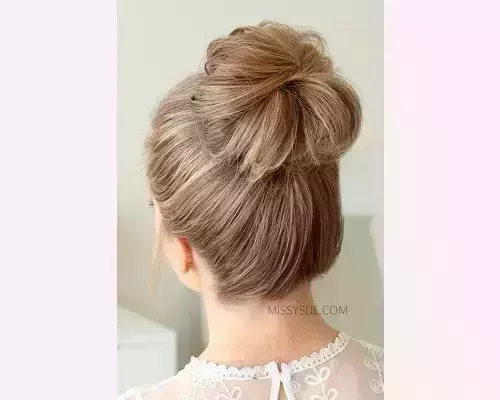 2. Simple Bun
A high bun looks very classy on special occasions and is a great hairstyle choice for the mother of a groom. This classic hairstyle can be achieved by making a messy bun on the top of the crown and adding some curls and texture to the hair. You can leave some loose curls in the front to frame your face gracefully.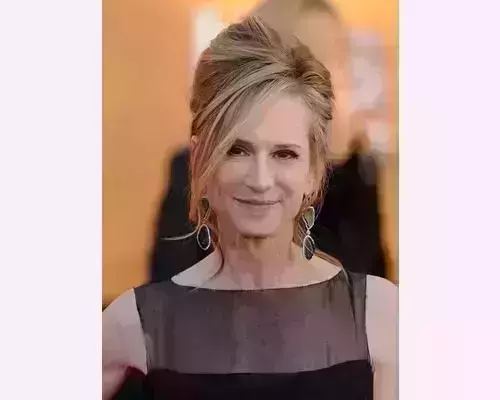 3. Bouffant Bun
An upgrade to a regular bun, a bouffant bun is a chic style, well suited for the mother of the groom with long hair. Even though it looks fancy and carefully put together, a bouffant bun is easy enough to pull off in just a few minutes. For this hairstyle, first, make a simple bun. Then, tease hair from the bun to give height to your crown. You can leave side bangs loose with a side part for added flair. One of the top hairstyles for mother of the groom over 60, bouffant bun looks elegant and stylish.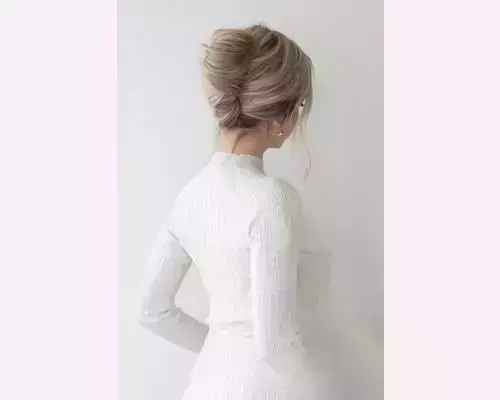 4. French Twist
The French twist is the most elegant and standard updo. It is versatile, as it can match any outfit or face cut. You can add embellishments, such as a metallic claw clip or pearl accessories for extra sparkle. It is created by rolling all hair on one side of your head and securing it using pin combs or barrettes. One of the easy hairstyles for mother of the groom, this can be an excellent option for the special day.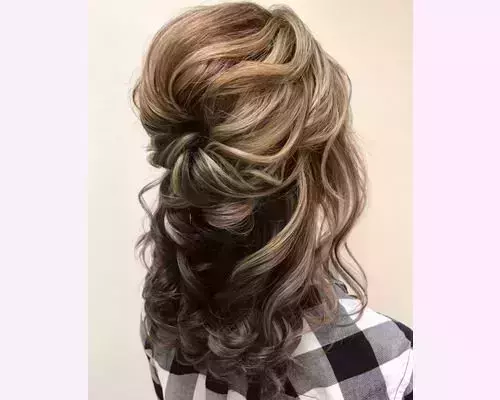 5. Curly Half Bouffant Updo
This mother-of-the-groom hairstyle for long hair creates a dramatic and glamorous look on your son's special day. It is an excellent option for the mother of the groom who has long hair. As the name suggests, a bouffant bun is created in the upper half of the hair, and the lower half is left by adding curls and waves. This attractive and voluminous hairstyle gives breathtaking results.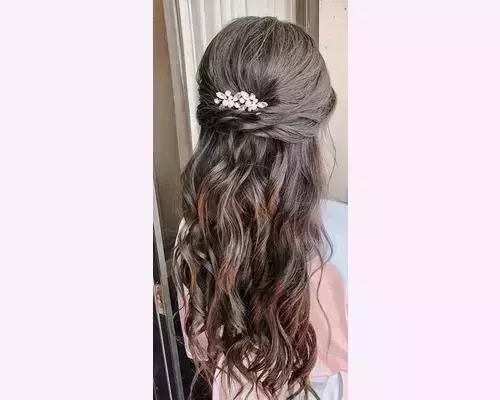 6. Half-Up Hairstyle With Highlights
Suppose you don't want to go for a hair updo or bun. In that case, this hairstyle is the one for you. Divide your tresses into two parts by twisting the side locks. Create waves with the help of hair rollers or a heating iron in the lower half of your hair. The waves will give volume to your hair. Complete with a neat front part for a regal look. You can jazz up the hairstyle further with any statement accessories like hairpins.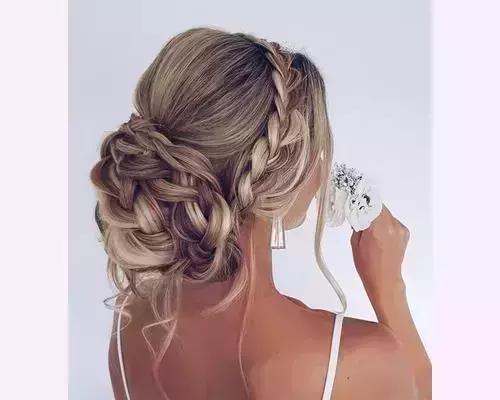 7. Braided Updo
A perfect choice for the mother of the groom for a beach wedding, this hairstyle includes braiding your hair loosely and swooping it up in a bun. You can use tools such as a hair bump or a hair doughnut to add volume to your bun. You can also consider wearing hair extensions to make extra braids for your crown.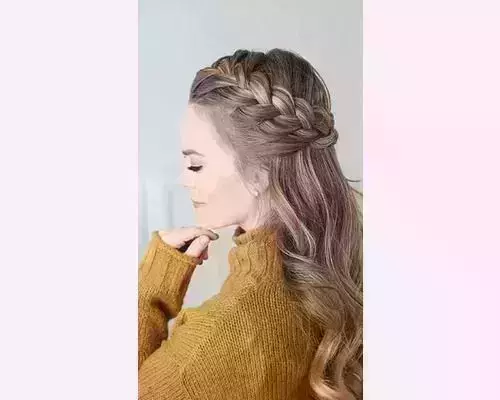 8. Half Up Half Down With Side French Braid
An exquisite mother-of-the-groom hairstyle for long hair, this elegant hairdo includes leaving your hair open in loose waves. However, the crown is neatly tied into a french braid. Taking the front section of your hair, start tying it loosely along the side of your head into a french braid. Style the loose waves with a heating iron or large rollers.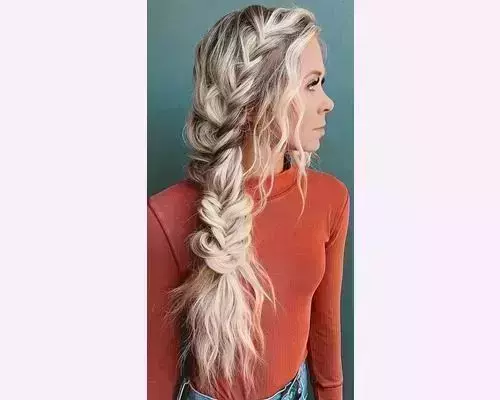 9. Upper French With Side Fishtail
A graceful mother-of-the-groom hairstyle for long hair– this is perfect for those looking for a comfortable yet fancy style. Part your hair to the side, then start braiding your way down into a fishtail. Tease and fluff your hair to add volume, and leave some loose strands in the front to add drama.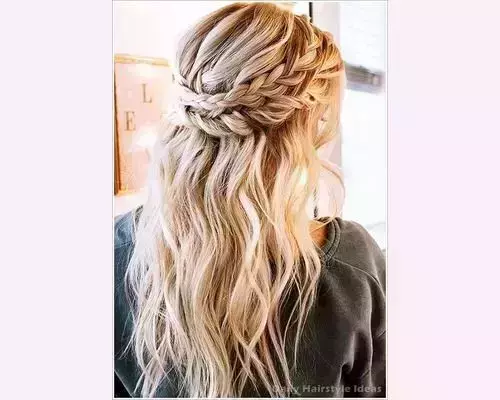 10. Double Braided Crown
Every Queen deserves a crown, so why not make your own? Simply create two braids and wrap them around the crown of your head. Style the rest of your hair by creating slight waves.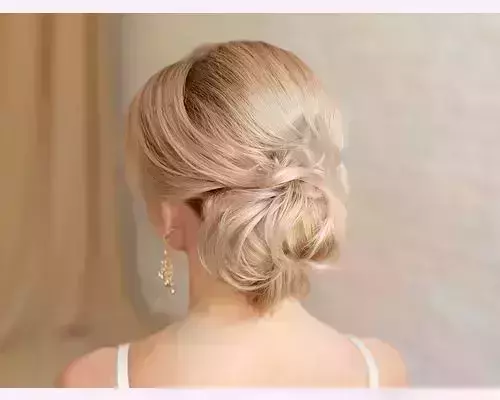 11. Chignon Bun
A timeless classic for any special event, the chignon is a bun that is gathered low near the neck. First, you tie your hair in a loose ponytail, and then the ponytail is divided into sections and twisted to form this elegant bun. Regardless of your outfit, a chignon bun is a versatile mother-of-the-groom hairstyle for long hair and suits you well.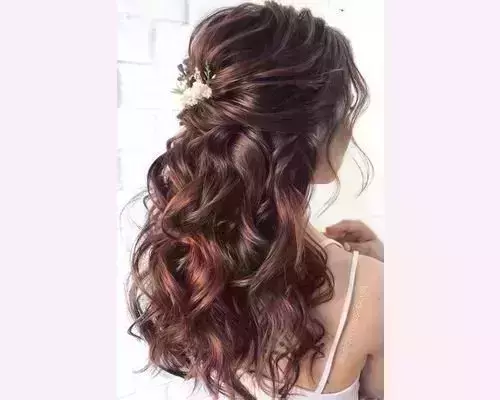 12. Half Up Half Down Curly Hairstyle
Make your regular half-up half-down hairstyle fancier by curling your hair. Use a curling iron or small hair rollers to curl your hair into tight curls. Next, tie up the upper section of your hair using a pin. You can use a pearl or floral hairpin to fit the wedding mood.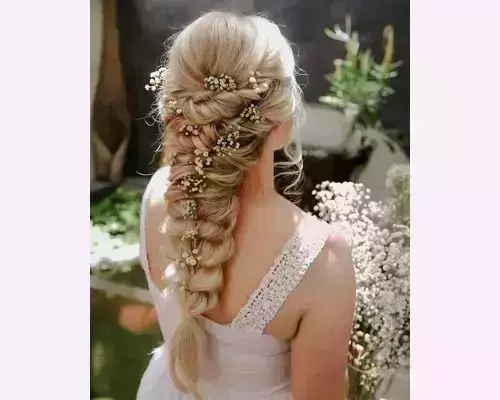 13. Whimsical Braid
This dreamy hairstyle is a perfect fit for a fairytale-themed wedding or a garden wedding. The mother of the groom can put her hair in a loose braid, which is teased to appear puffy. Adding floral embellishments can turn up the charm.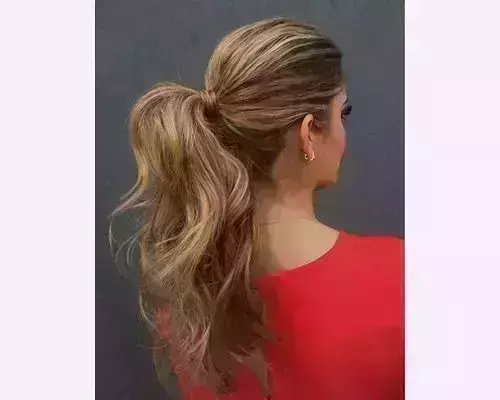 14. Voluminous Ponytail
A regular ponytail may not seem like a special hairstyle, but a voluminous ponytail is not your everyday style. You can use volumizing spray and bobby pins to prop up your ponytail. Twist a strand of hair around your hair elastic to make it prettier.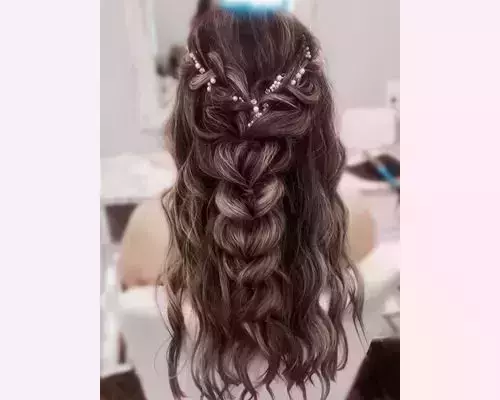 15. Fish Tail With Open Hair
This captivating hairstyle is perfect for a special day. Begin with two loose french braids from either side of your head, and then connect them into a single large braid at the back. Fluff up the braid by teasing your hair. The rest of your hair can be styled into loose waves with the right heating tools and a setting spray. Want to look more dazzling? Finish it off with crystal embellishments to accentuate your braid.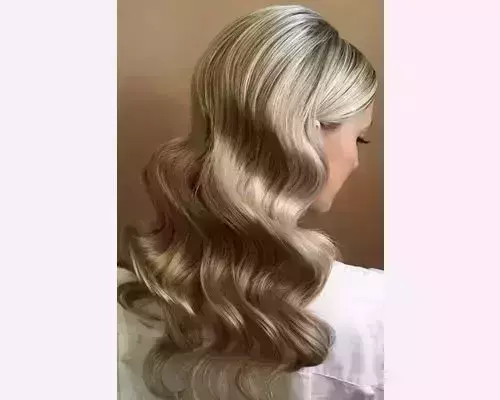 16. Vintage Waves
Look like an Old Hollywood movie star with these 1950s-style vintage waves. All you need is a heated tong to curl your hair. Clip in each curl carefully and let your hair cool off. Backcomb the front part to create volume and use long clips to create soft waves in the rest of the hair. Do not forget to use hairspray to set these glamorous waves in place.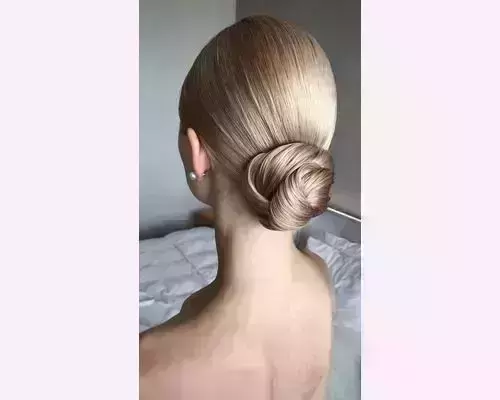 17. Sleek Bun Hairstyle
An elegant and timeless bun hairdo — this easy-to-achieve hairstyle is perfect for a regal mother of the groom. All you need to do is tie your hair in a twisted low bun. Comb in any flyaways and unruly hair strands with hair gel to achieve a sleek look.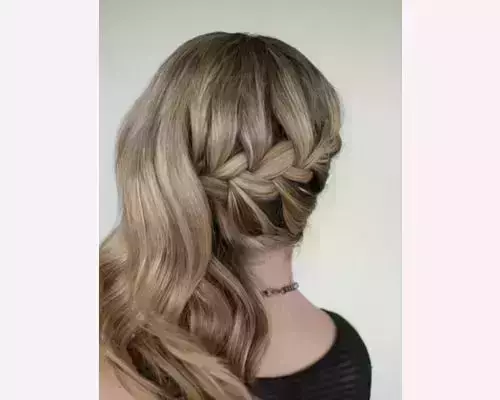 18. Side Swept Hairdo
This intricate hairstyle is perfect for the mother of the groom with long hair. Start braiding from the side and make your way to the other side, Let the other half of the hair loosen into cascading waves.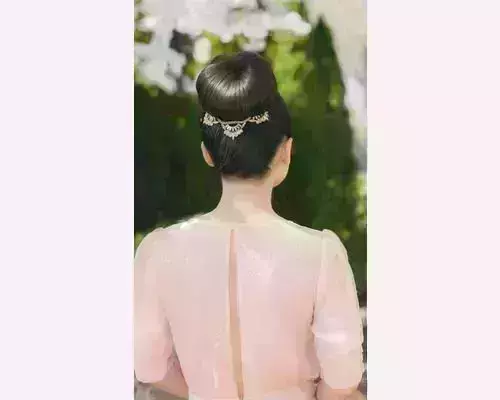 19. Oversized Top Knot
This luxurious hairstyle is simple to follow. Tie your hair using a hair doughnut to achieve an oversized bun, and secure it with fancy accessories like embellished hair ties and clips for a glint of sparkle.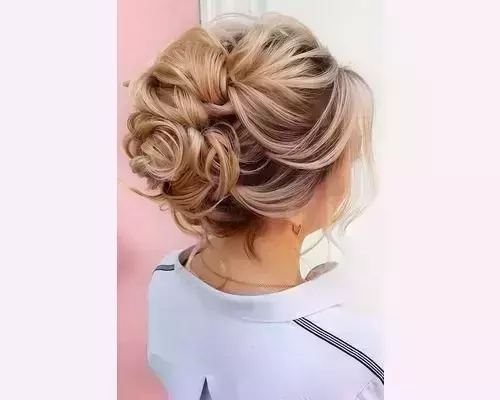 20. Messy Bun
This style is not your simple messy bun. It includes an intricate overlap of several sections of hair to form a glorious bun, with some strands hanging loose to frame your face.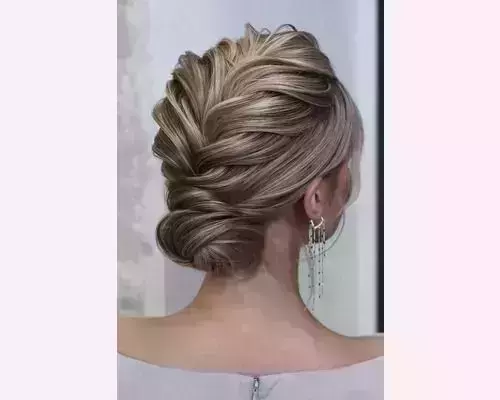 21. French Crown With Sleek Bun
This majestic hairstyle is an upgrade to the sleek bun look. Instead of combing down your hair neatly, it begins with a loose french braid which is then secured into a loose low bun. The hair is teased into a voluminous puff at the crown. The French Crown can make you look like a Queen at your son's wedding.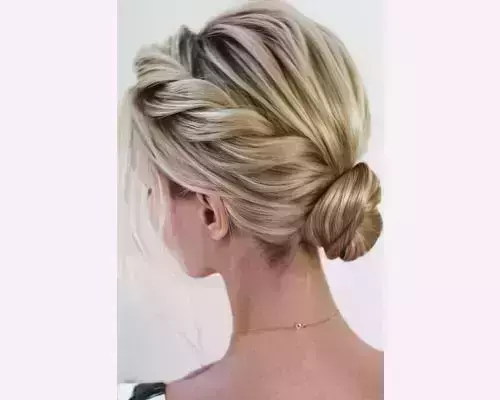 22. Side Twist Braid With Sleek Bun
Another magnificent look, this hairdo features a loose side braid tied into a sleek low bun. The crown can be made to appear voluminous by using a fine-toothed comb to tease your roots. Leave some loose strands in the front to add character.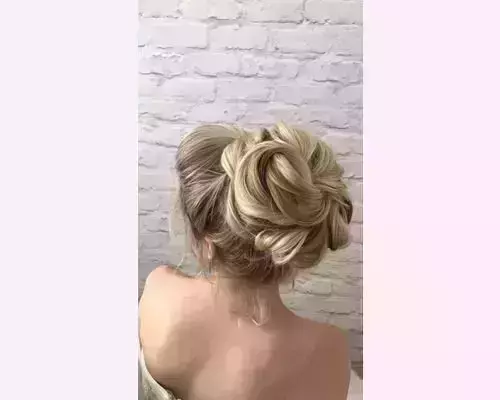 23. Crisscross High Updo
A lively hairstyle for a happy occasion! As its name suggests, the crisscross high updo includes small sections of hair crisscrossed to form a striking structure. Even the bun is made by overlapping hair rather than simply tying it up like in other buns.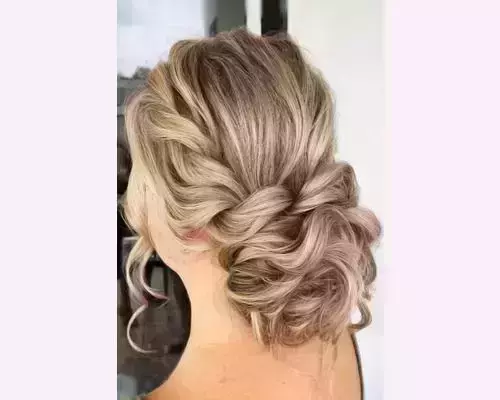 24. Side Twist With Textured Low Bun
This marvellous hairstyle requires some skill and patience to achieve, but the results are worth the effort. Start by twisting three sections of your hair from the sides into a loose braid-like structure and then join them in a fashionable low bun.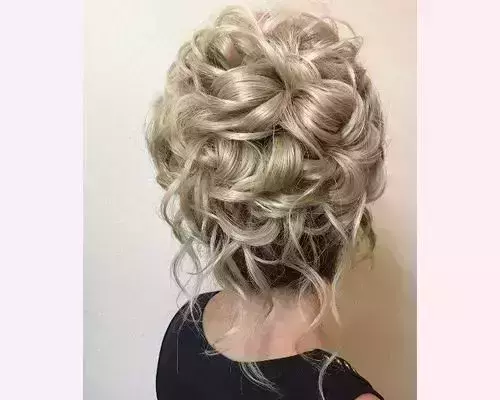 25. Dramatic Curly Updo
Last on the list, but not least – this hairstyle is as dramatic as it can get. With lots of curls arranged in an intricate, almost floral pattern in this bun, you will surely get a lot of compliments from the wedding guests.