Partial Balayage - Detailed Guide With Pros, Cons, Cost, FAQs
Sweta
Updated At 10 Jan 23
If you are looking for a hair makeover then you should definitely consider a partial balayage. This not only amplifies your look but also makes looks add dimension to your hair.
If you are looking to find out everything about partial balayage including its process, pros, cons, cost details, FAQs and comparison with Full balayage, then we have you covered.
We cover the following in detail:-
- What Is Partial Balayage?
- Partial Balayage Vs full Balayage
- Partial Balayage Vs full Highlights
- How Is It done?
- Pros and Cons Of Partial Balayage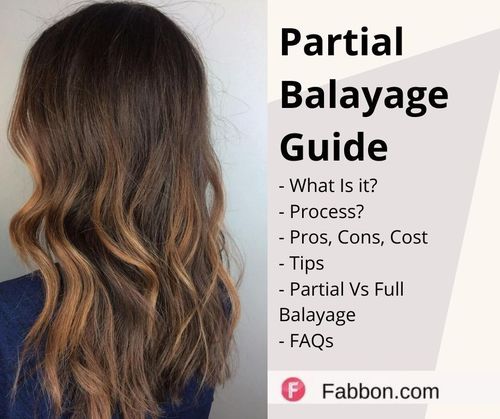 What Is Partial Balayage?
Partial balayage is a subtle hair colouring technique that covers just a part of the hair with pigment. This technique adds dimension and depth to your natural colour or a new hue, without going fully blonde or fully brunette.
Rather than colouring your hair throughout, a partial Balayage is a hair colouring technique in which highlights are added to one area of your hair like the hair close to the face or the hair ends.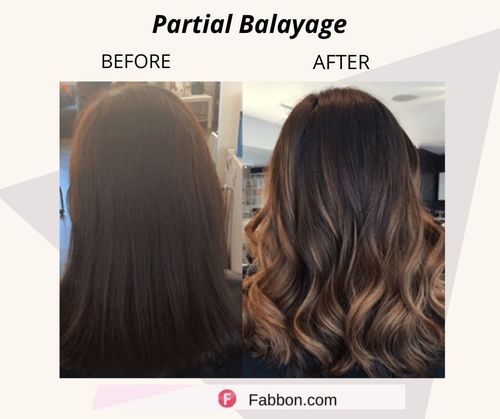 Partial balayage is perfect for women who want to add some edge to their look without going too drastic. You can also think of it as an alternative to ombre hair – partially but not fully transformed from one colour to another.
We know you've probably heard that word 'balayage' more than once before. Maybe you're still wondering what exactly this trendy highlighting technique is? And why do we keep seeing different variations of the phrase pop up everywhere? Well, in case you need an explanation, let us break it down for you: Balayage means "flash" in French — which makes sense because that's where this high-impact hair colouring technique originated.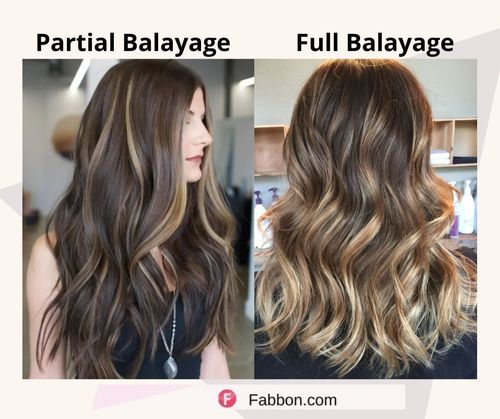 Partial Balayage Vs Full Balayage
Although the two terms are used interchangeably, a partial balayage is just a variation of the balayage highlighting technique. When done on shorter hair, balayage highlights are usually applied from root to tip. But when it comes to long tresses, this technique is applied from ear to ear.
Both partial balayage and full balayage highlight your hair at the lower portion of your mane, however, the former involves applying the colour almost to the ends, while the latter ends right below the ears.
Balayage highlights long hair by painting the colour on the surface of the hair. Partial balayage highlights are applied to just a portion of the hair, creating an ombre effect. This technique blends a darker shade with your natural hair colour to give your hair a deep, rich tone.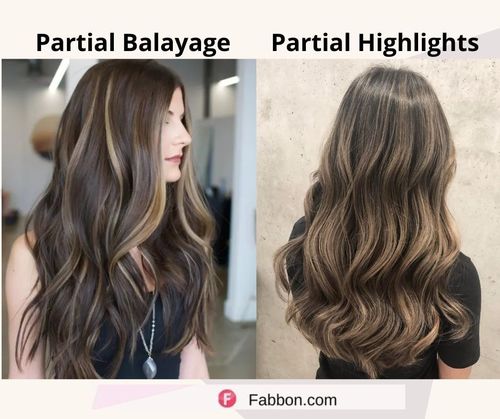 Partial Balayage vs Partial Highlights
Your clients will receive a more personalised finish with balayage, as it is painted in a painterly manner and follows a root-to-tip pattern. Partial balayage, on the other hand, is your go-to for softer regrowth and a sun-kissed look. It gives a beautiful, delicate touch of brightness. The other difference is in the technique.
Partial highlights are painted on the hair surface, whereas partial balayage is applied by dipping the hair in a colour bath.

Benefits Of Partial Balayage
There are several benefits to partial balayage, including:
- It's a cost-effective way to boost your look. Partial balayage is a less costly option than going fully blonde, which can be expensive.
- It's a low-maintenance style. Unlike platinum and other hair colouring techniques, partial balayage grows out quickly. So, if you decide that you want to switch things up, you can simply go to the salon for a touch-up.
- It can be applied to all hair types and textures. Partial balayage is suitable for all hair types, from curly hair to fine hair. It's also a great option for women who are growing out their hair after a colour correction.
- It's a natural-looking hair colouring technique. Partial balayage is less obvious than going fully blonde as it blends two different shades together.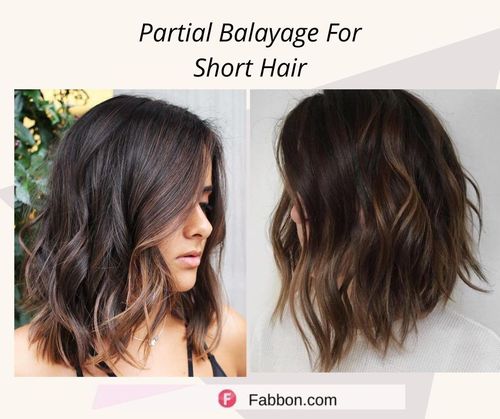 Partial Balayage Hair Colour Ideas
The next step in choosing the perfect Partial Balayage hair colour is thinking about what you want from the look. There are so many different shades of balayage hair colour ideas and variations that you might find yourself struggling to decide which one is right for you. The good news is that balayage hair colour ideas are extremely diverse and there is something for everyone. Some of the most popular Partial Balayage hair colour ideas include: -
Highlights: This is the most natural and subtle form of hair colour and is ideally suited to a Partial Balayage. Highlights are applied to the top layers of hair and blend in with your natural hair colour.
Ombre: This is a slightly bolder balayage hair colour idea that looks amazing when done right. An ombre is applied to the top layers of hair and gradually fades into a darker colour towards the ends of the hair.
Thick Balayage: This Partial Balayage hair colour idea requires a lot of hair and is therefore only suitable for people with long or super-thick hair. A thick balayage involves dying the entire head of hair with a single colour and then using manicure scissors to create different effects.
Blended Balayage: This balayage hair colour idea is a mix of several of the above. A blended balayage combines the best aspects of each of these balayage hair colour ideas and creates a look that is unique and dynamic.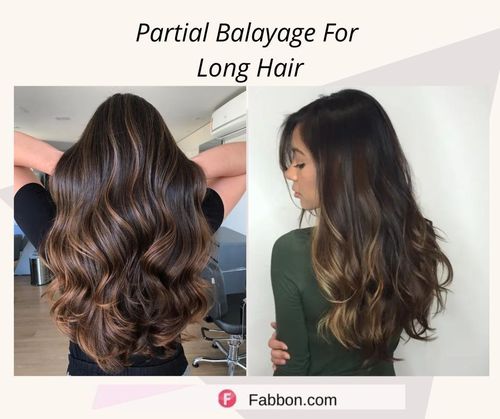 Partial Balayage Pros
It only requires you to bleach or colour a few sections of your hair, leaving you with much less hair damage than someone who opts for the full balayage.
Depending on how you style your hair, you may not be able to see your highlights.
Anyone can try partial balayage, given how affordable it is.
Partial Balayage Cons
Once you get your partial balayage service, you may find that the result is not as vibrant as you hoped.
Cost: If you are low on funds or don't want to spend hundreds of dollars at once on your hair, partial balayage is the better option for you.
Hair condition: If your hair is not in the best shape (pre-bleached, relaxed, permed, excessively dry), you should opt for partial balayage since it only requires you to process a few sections of your hair. But if your hair is healthy, moisturised, and minimally processed, feel free to go for full balayage.
Partial Balayage Cost
The average cost of balayage highlights starts at $70 for partial coverage on short hair and $150 to $200 for a full head long hair in different tones.
How Is Partial Balayage Done?
The first and most important thing to know about partial balayage is that it's not a one-time application. This hair colouring technique requires multiple sessions to gradually deposit the colour.
1. Check the roots
Before starting a balayage service, verify whether your client desires any roots coloured. Normally, you may accomplish this at the same time as a balayage, but if they want complete grey root coverage, you may want to do a double procedure. You would first apply and rinse the roots smudge, then rough dry the hair and begin brushing on the balayage portion.
2. Blend the formula
Partial balayage on dark hair or shimmery blonde highlights Opens in a new tab require some pre-lightening. Blondor Free lights is a simple-to-apply balayage system that stays exactly where you apply it and is easy to blend. Furthermore, you can also blend it with Magma by Blondor for freehand lift and tone in one step using Free lights Developer.
3. Use a higher volume developer
When you want the brightening effect of balayage without the use of foils, use a volumizing hair developer to boost the open-air lighting.
4. Plan out the placement
It's crucial to establish the desired effect prior to beginning balayage e on a client. Do they want to brighten up the face-framing layers or create depth and dimension? Balayage is a great way to add dimension and depth to a look. The pre-lightener will stay on these strands for the longest, so begin applying on the section with the highest lift.
5. Keep sweeping lightener on
Take sections off as you continue to stroke through the desired hair area. Here is where your creativity comes into play; you may play with dimension and personalize your client's colour.
6. Tweak with toner
Once your client's balayage is finished, it should glow. However, a toner may be required after washing out the lightener (if it's still necessary) to tweak their 'lights. For the lightener and toner to work together, they should both be at the same level. For example, if you've lightened to the level 8 base pigment, you should use toners that also start with 8.
7. Wash and go
You've finished your client's balayage and are now ready to wash out the product so they can blow dry and style their hair. Colour Motion+ Colour Protection Shampoo, which neutralizes the pH level of just-coloured hair, should be used followed by Blondor Seal + Care.
Frequently Answered Questions

Q- What is a partial Balayage vs full Balayage?
A partial Balayage is when the lighter colours are concentrated on the top half or uppermost layers of the hair. A full Balayage is when the lighter colours are distributed throughout the entire head of hair.
Q- How long does a partial Balayage last?
A partial Balayage typically lasts for 3-4 weeks before the color starts to fade.
Q- Is a Balayage considered a partial highlight?
Yes, a Balayage can be considered a partial highlight.
Q- How much does a partial Balayage cost?
The cost of a partial Balayage will depend on the length and thickness of the hair, as well as the location of the salon. However, on average, a partial Balayage will cost between $80 and $150.
Q- Which is better for hair balayage or highlights?
Both balayage and highlights can be beneficial for the hair, depending on the desired look. Balayage tends to be more natural-looking, while highlights can provide more of a dramatic effect.
Q- Is a balayage more expensive than highlights?
Yes, balayage is typically more expensive than highlights because it is a more labour-intensive process.
Q- What is considered a full balayage?
A full balayage is a hair colouring technique in which dye is applied to the hair in such a way that it creates a natural, sun-kissed look.
Q- How often do you get partial balayage?
Partial balayage is a hair colouring technique in which dye is applied to only a section of the hair, usually around the face. This technique is perfect for those who want to add a bit of colour to their hair without going for an all-over colour.
Q- How to do a partial balayage?
To do a partial balayage, start by sectioning off the hair that you want to colour. Then, using a brush or your fingers, apply the dye to the hair in small, sweeping motions. Be sure to work the dye into the hair so that it is evenly distributed. Once you are finished, rinse the dye out of your hair and style as usual.
Final Words

Partial balayage is one of the most versatile hair colouring techniques available in the hair industry. It's a great way to add subtle highlights to your hair without going fully blonde or brunette. This technique can be used on all hair types and textures, and it's great for women who don't want to fully commit to going blonde in one session.