31 Simple Haircuts For Men Trending In 2023
Pooja Angurasu
Updated At 09 Oct 23
The variety of simple haircuts for men tends to be infinite. Everyone may select a hairstyle that suits their taste and preferences because they are available in such a wide variety of forms, lengths, and styles. One might, however, feel a little paralyzed by the options. In order to prevent it, we have created this handy guide to the 31 simple hairstyles for men trendy in 2023, which covers all hair types and lengths and includes haircuts for long hair,low-maintenance haircuts,crew cuts, buzz cuts, and many more. Of course, choosing the ideal men's haircut requires more than simply looking at a lot of pictures. Before getting into the barber's chair, for instance, you should think about your body type, personality, favored attire, environment, and face shape. To make your hairstyle more appropriate, here are 31 simple haircuts for men trending in 2023.
31 Simple Haircuts For Men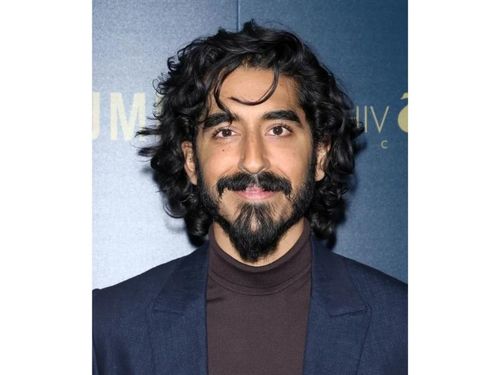 1. Low-Maintanence Hairstyle For Men
A shag is a cool, low-maintenance hairstyle for men who love longer hair, whether your hair is straight or wavy. In order to provide movement and create a shaggy appearance around the perimeter, the hair is razor-cut in lengthy layers.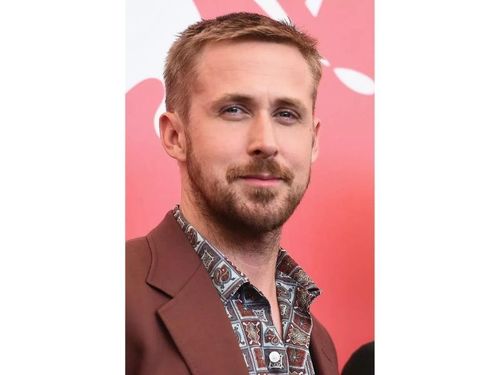 2. Crew Cut
The crew cut is timeless and adaptable. This is a very simple style that looks particularly attractive on faces with an oval shape. It is relatively short on the sides and back and cut finger length on top. Use some styling paste to keep the top appearing polished. All of it will seem effortless with a short beard. One of the best haircuts for balding men, this provides ample options for styling.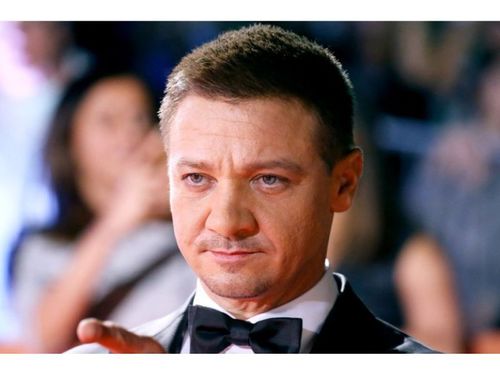 3. Buzz Cut
An excellent buzz cut has developed a new dimension in recent years while still being simple to maintain and consequently endlessly appealing to guys. Avoid the military buzz cut and opt for an outgrown buzz cut if your hair is healthy and growing.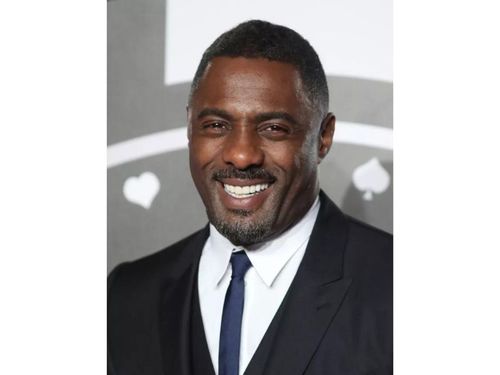 4. Fade Cut
Just choose a tapered fade cut for the simple yet fashionable hairdo. Any hairstyle that includes longer hair on top and tapered sides and back will require less maintenance because the fade haircut for men will fill in naturally. One can try low fade or high fade as both will look equally good.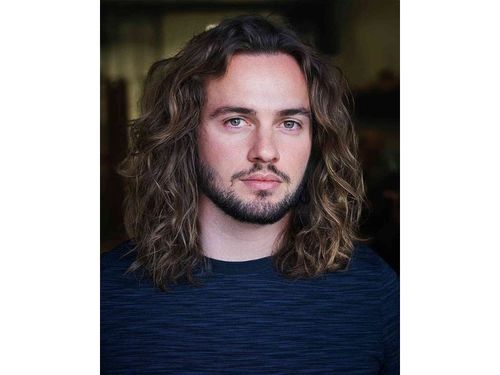 5. Simple Long Hairstyle For Men
One could describe this curly and simple long hairstyle for men as timeless and classic. This is long hair, like a modern rocker. It is advised to maintain long hair for men who are considering doing so.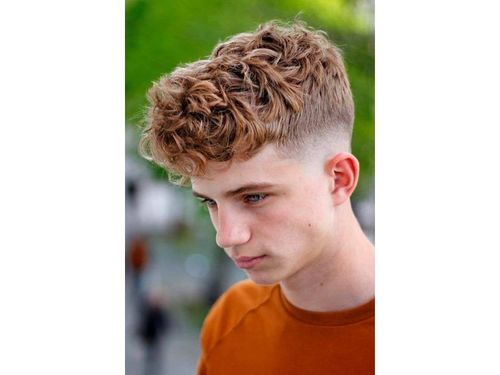 6. Faux Hawk For Boys
Since this faux hawk is considered the best and most simple hairstyle for boys and has a slight version of the punky mohawk, One can maintain individuality and modernity. Such boy's hairstyles are incredibly fashionable and low-maintenance.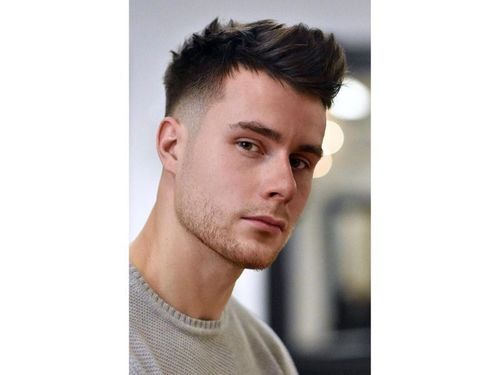 7. Medium-Length Hairstyle
Longer hairstyles for men can also be low-maintenance. This sloppy or combed-in look is both acceptable with this medium-length brush-up cut for men. Such an appealing and simple haircut for men.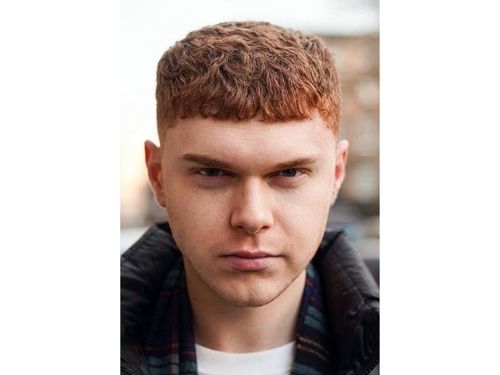 8. Crop-Cut
This hairstyle can be perfect for someone whose hair likes to lay flat on their head. This simple haircut for men celebrates the hair's natural activity rather than trying to control it.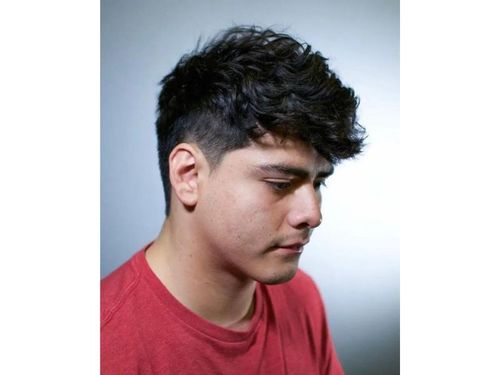 9. Tapered Long Layers
Not in the mood to use the pomade today? No issue. Your natural layers are used in this simple haircut for men to add texture and volume. For ease of upkeep, the sides are kept short, which heightens the contrast with the top.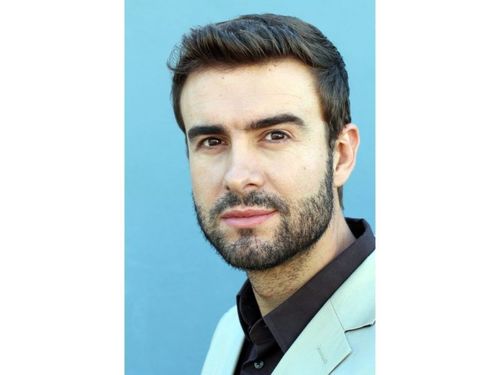 10. Slick Hairstyle
This simple haircut for men is a cool and stylish hairdo. In order to brush the hair to the sides, the key is to taper the sides and reduce the volume. The ideal quiff has a tiny front curl.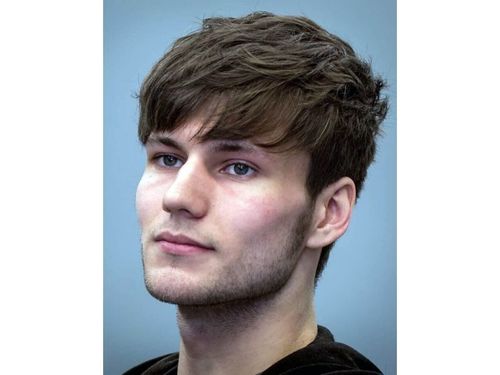 11. Long-Top With Undercut
Although it appears to be one of the lowest-maintenance hairstyles for men, that style is extremely comparable. To let it fall on one's forehead, all one needs is a long top. Finally, one needs a side undercut taper to make it appear less dense.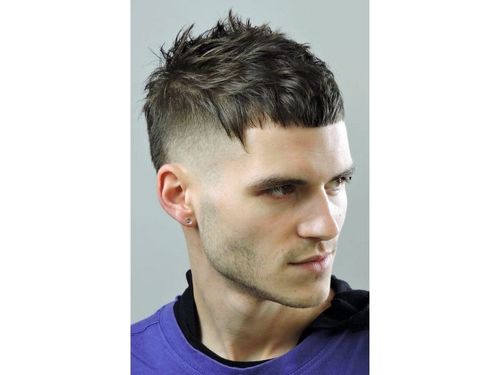 12. Irregular Fringes
This simple haircut for men is an asymmetrical punk style that is full of attitude and character. Layering the hair gives it a sense of motion that is dynamic and bold in terms of fashion.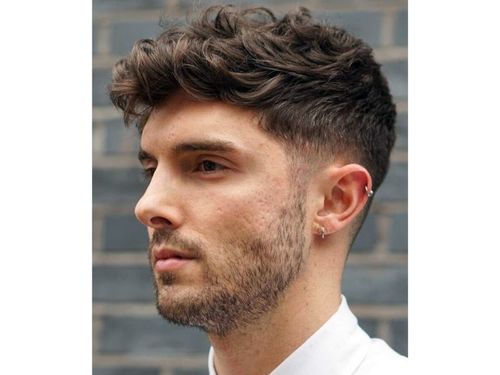 13. Faded Wavy Curls
This medium haircut for men appears professional. All one needs is a low fade with temple taper, like when one is ready to get up and go. Maintain a moderate midfade and a dense top. Next, just a side brush and a few light curls are required.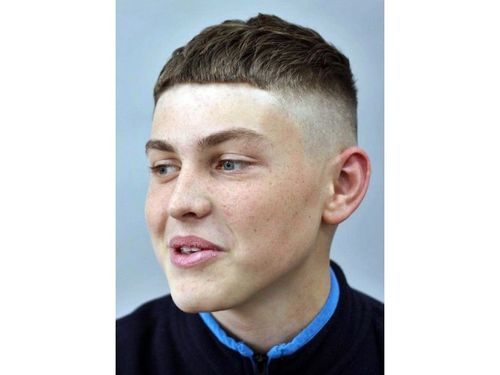 14. Tapered French Crop
Laying your hair straight ensures that it won't need conditioner. The recipe is a side fade and a crisp taper. The straight taper is not the typical taper, but it is the best and most simple hairstyle for men with thin hair.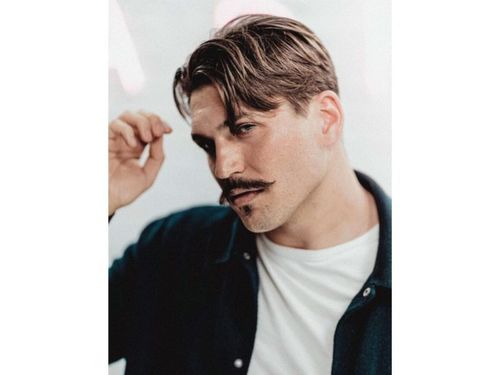 15. Modern Retro Cut
With the top being middle-parted and the sides being layered, this simple haircut for men gives off a retro vibe as the top falls freely on the sides. The mustache is the feature that gives it a more vintage than current appearance.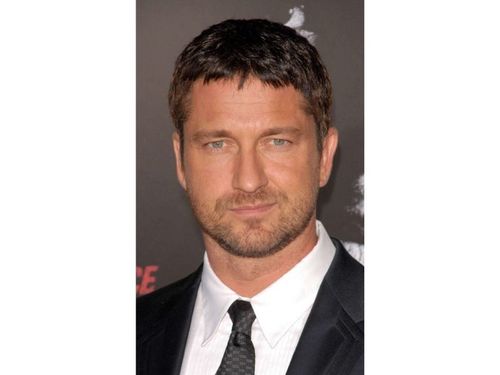 16. Caesar Haircut
It's a simple haircut for men that takes relatively little maintenance. The Caesar can be a nice alternative for someone who prefers extremely short hair. The length of the hair is uniform throughout the Caesar cut.
17. Simple Haircut For Men With Short Hair
Despite being short, this close-cropped cut has a ton of texture. This is an excellent illustration of how to make the most of a messy appearance. Such a wonderful, simple haircut for men with short hair.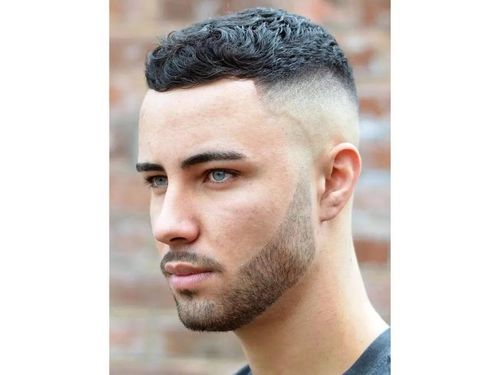 18. Classic  Haircut
A timeless and simple haircut for men, the high and tight has never gone out of style. Because all eyes are on the hair on top of the head, it's a fantastic choice to highlight texture.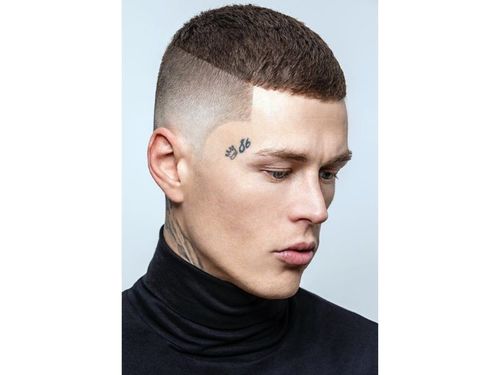 19. Deep Fade Cut
This simple haircut for men has a great deal going for it. The hair is left at two extreme lengths, giving it an odd two-tone appearance. Even the deep fade cut has an eye-catching look.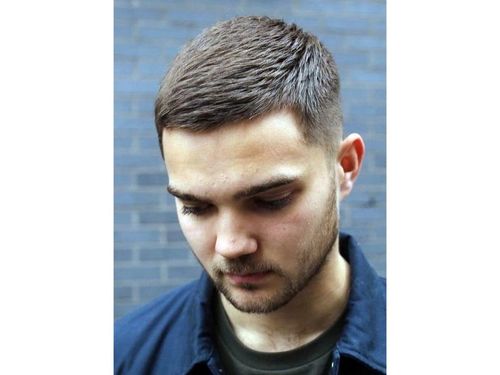 20. Classic Crop
When done correctly, side brushes are enjoyable to see. For that simple haircut for men, the sides are just perfectly tapered. Neither too much nor too little. The secret is to just sway the part to the side without having a firm part.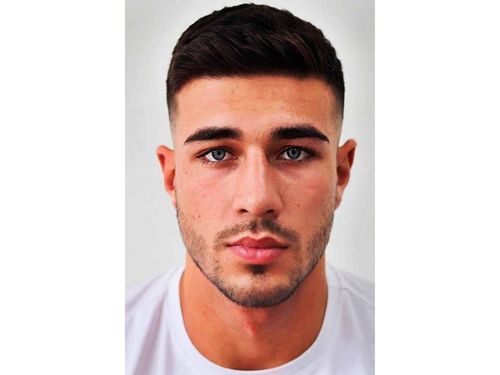 21. Ivy League Haircut
Not for nothing has the Ivy League hairstyle been popular for more than a century. Do you still have a crew cut? That is an alternative to the traditional and simple haircut for men. This time, the top hair is left much longer so that sleek and side-parted styles are possible.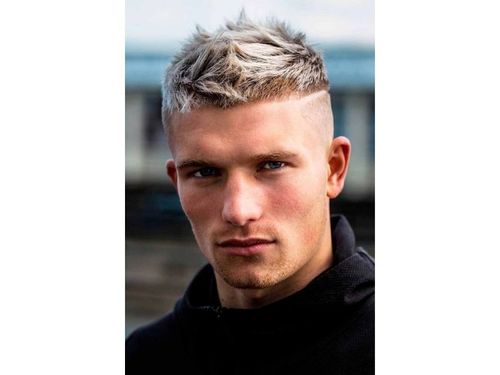 22. Spiky Haircut
Really cool and simple haircut for men! Those that can be altered to fit any environment are best if one has thin hair. As a result, one can sweep back their long hair to achieve the ideal military hairstyle.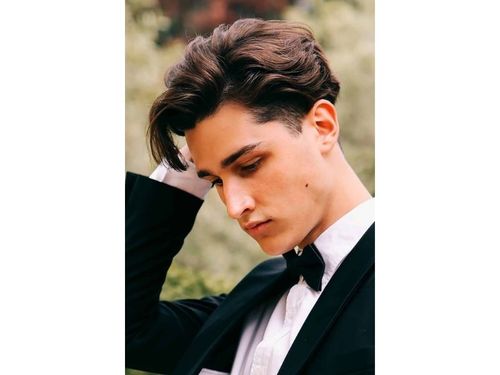 23. Brushed-Up Back Waves
With such a classy and simple haircut for men as the brushed back, wavy locks may be effortlessly handled. Nonetheless, one does not want them to appear flat or without volume. Thus, one should only brush their hair back after brushing it up to amp it up.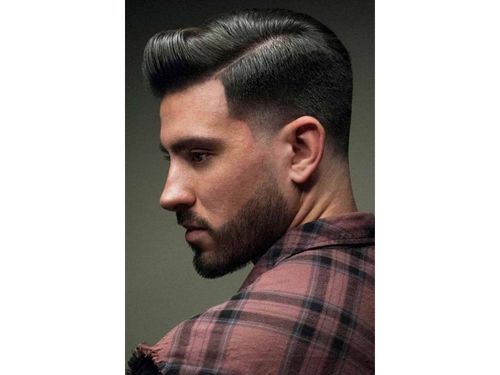 24. Side-Swept Quiff
Do you feel like a trendy guy? So why not attempt to pull off many current and simple haircuts for men in one ensemble? Make sure your sides taper and fade to provide a lot of contrast with your thick quiff. Sweep the quiff to the side to add some style.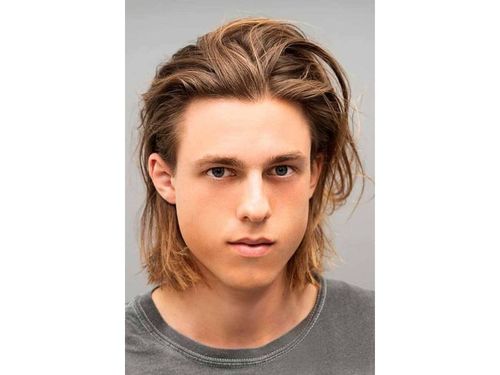 25. Brushed Back Long Hairstyle
Want to appear camera-ready? Why don't you choose this men's brushed-back style, then? But you must be careful to let your hair grow out very long for this hairstyle because you want to add a lot of volume to it. This long hairstyle for men will add attractiveness to your appearance, even if a few strands protrude.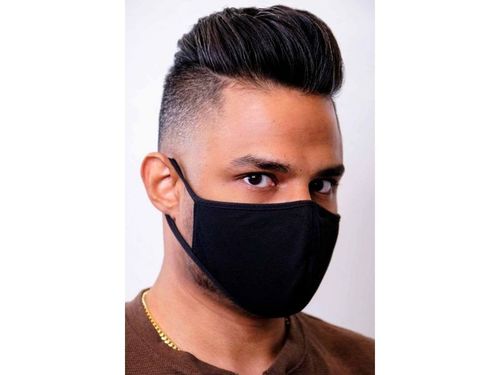 26. Disconnected Undercut
A disconnected undercut is a timeless, stylish, and simple haircut for men. See a professional stylist who specializes in this men's haircutting trend if you're new to the disconnected style.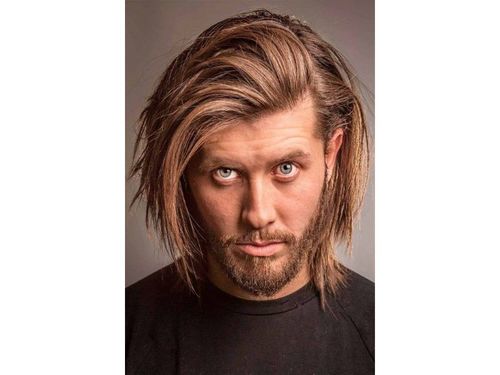 27. Messy Long Hairstyle For Men
Messy and simple long hairstyles for men will arguably never lose their relevance. They are quite simple to achieve—all you have to do is slightly dishevel your top locks with a hair styling product. However, their influence should not be undervalued.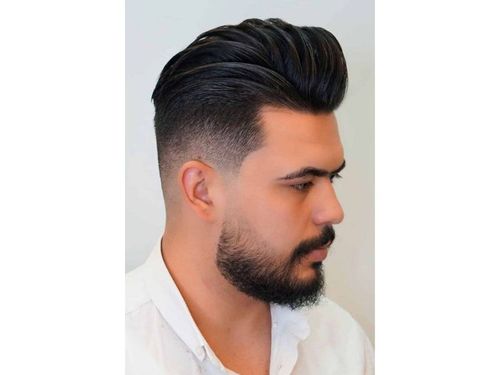 28. Quiff With Asymmetrical Layers
Both men with thin hair and those with thick hair can greatly benefit from cutting their hair into various levels of uneven layers. For guys with thin hair, it gives the appearance of a bigger, more voluminous mane; nevertheless, this simple haircut for men will appear lighter on people with thick hair.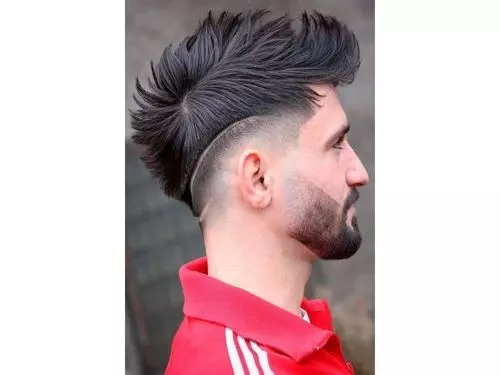 29. Mohawk Fade
It is difficult to think of another simple haircut for men to go with a mohawk fade. It not only instantly draws attention to the hair on top, but it also allows you a variety of hairstyle possibilities.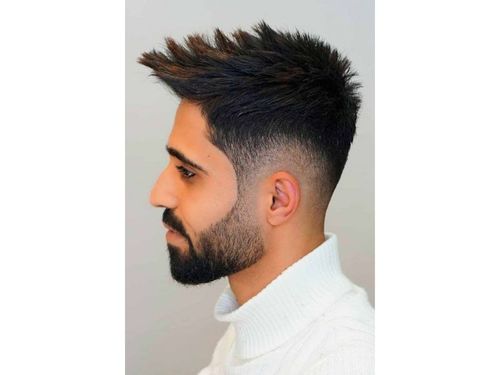 30. Faux Hawk With Drop Fade
A simple haircut for men with attitude is the Faux Hawk Drop Fade. It has an attention-grabbing, edgy appearance that leaves a lasting impression. The hair is done in a faux hawk starting at the top, with the central section standing tall and proud.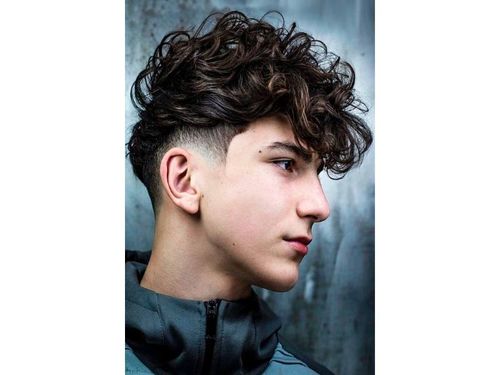 31. Curly Angular Fringe
Making your hair angular is one of the best ways to pull off a curly men's hairdo. When trimmed in this style, little to no styling is necessary. This is one of the best and simplest hairstyles for boys because we need to simply wash our hair, add a dollop of hairstyling product, and let it air dry.