25 Best Haircuts For Balding Men - 2023
Shrimanti Das
Updated At 30 Oct 23
Concerned about hair loss and seeking a haircut that can give your hair more volume? Look no further. We have compiled a reliable guide on haircuts for balding men. These haircuts for balding men are the top choices for those with a balding hairline or thinning hair, suitable for all occasions.
25 Best Hairstyles For Balding Men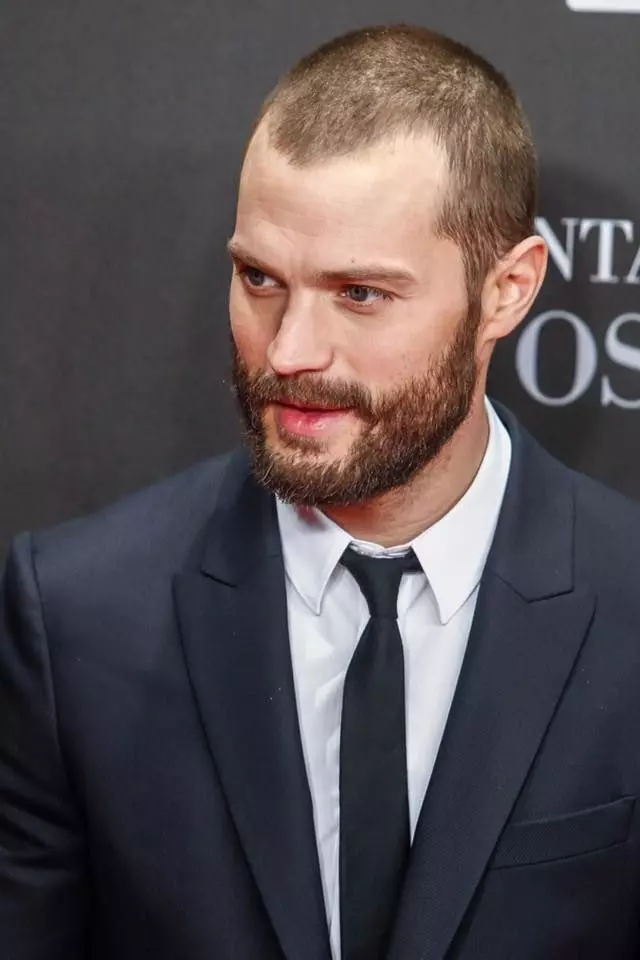 1. Short Haircut For Balding Men
A short haircut is often a smart choice for balding men. This receding hairline haircut keeps the hair closely cropped, minimizing the contrast between thinning areas and thicker hair. Short haircuts for balding men can create a clean, neat appearance and are easy to maintain. Some men even opt for a buzz cut or a close shave to embrace their baldness confidently. These styles can help balding men feel more comfortable and confident while maintaining a stylish and timeless look.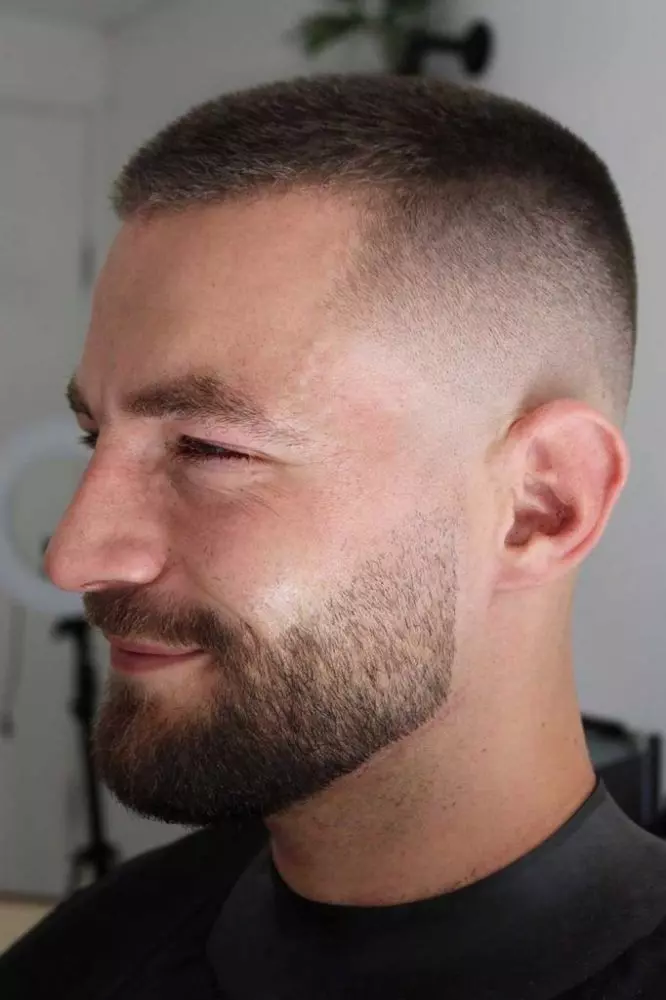 2. Gradient Clean Haircut
This haircut for balding men typically involve a shorter cut on the thinning areas, gradually fading into slightly longer hair towards the top. It creates a seamless transition that minimizes the appearance of thinning hair and bald spots. The gradient clean haircut offers a clean and polished look while discreetly addressing hair loss, allowing men to maintain a stylish and confident appearance. A gradient haircut or a military hairstyle can be very good option if you are looking for haircut for balding on top.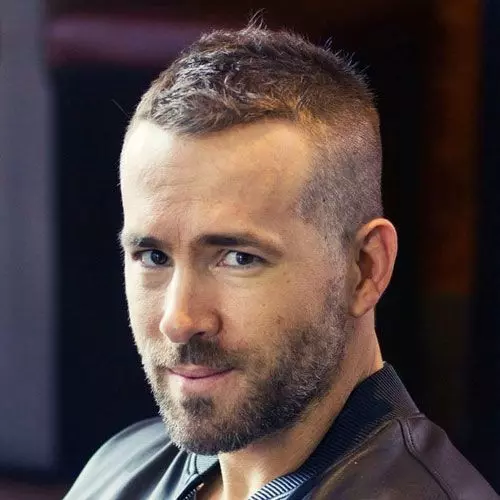 3. Haircut for Balding Crown
The skin fade paired with short hair is an elegant style that complements thinning hair effectively. This combination is particularly advantageous if you're in the initial phases of hair loss, as the shaved sides divert attention from your receding hairline. The popular soccer haircut from David Beckham can also be a very good option if you are looking for haircuts for balding men.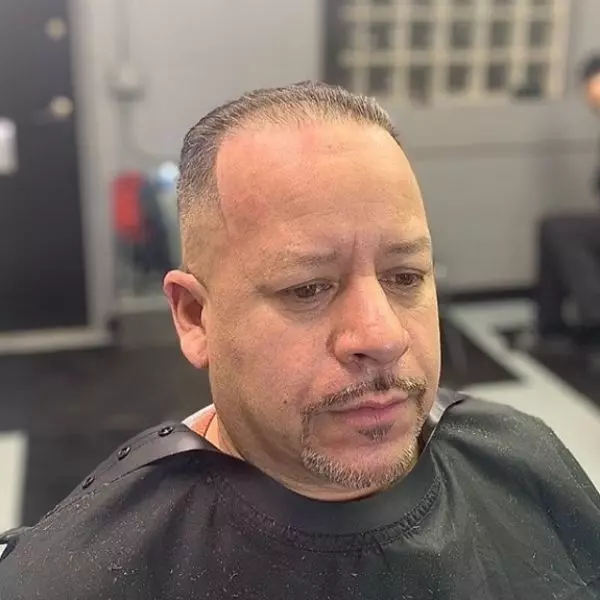 4. Balding Temple Cut
A temple cut is a thoughtful choice for men dealing with balding at the temples. This haircut involves trimming the hair very short or shaving the temples, creating a clean and defined look. It's a stylish way to embrace and address receding hairlines, offering a modern and bold appearance. These haircuts for balding temples allow men to confidently embrace their changing hairline while maintaining a sleek and well-groomed image.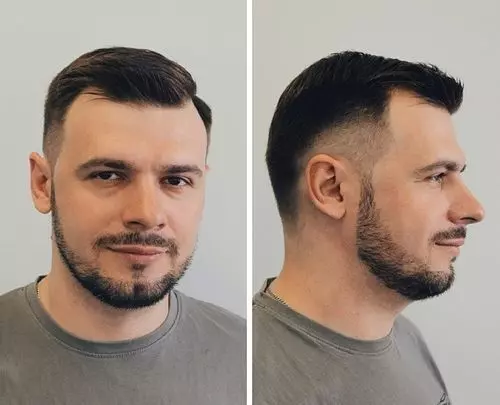 5. Formal Cut 
Among hairstyles for men experiencing baldness, the comb-over stands out as the simplest to create. These are hairstyles for thinning hair on top male. Moreover, it offers versatility in terms of styles and lengths. To demonstrate a shorter variation, envision faded sides and a trimmed top section for a neat appearance, followed by sweeping it to one side. This technique helps mask a receding hairline, and the presence of facial hair complements the overall appearance by harmonizing with the haircut. If you are looking for a heart face shape hairstyle for men, then this can be an amazing option.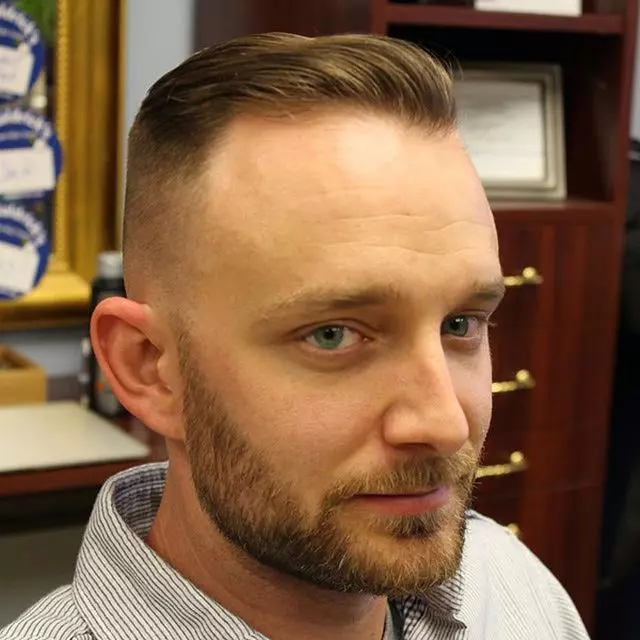 6. Comb Back Cut
These are haircuts for balding temples. The comb-back haircut for men is a classic and timeless choice. It involves leaving the hair longer on top and using a comb to sweep it backwards, creating a polished and neat look. This style exudes sophistication and versatility, suitable for both formal and casual occasions. The comb-back haircut allows for various variations, from slicked-back styles to more relaxed versions, making it a popular choice for those seeking a refined and adaptable appearance.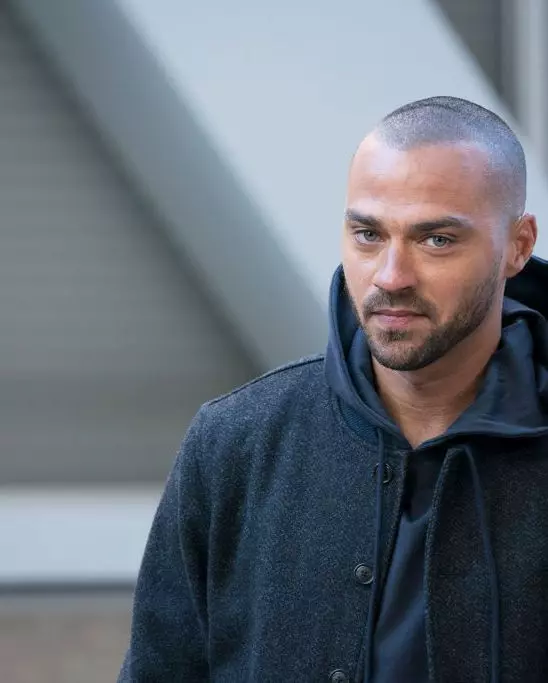 7. Clean Trim
This type of haircut for balding black man involves a clean trim over the head. It gives a clean and sophisticated look that goes with every outfit.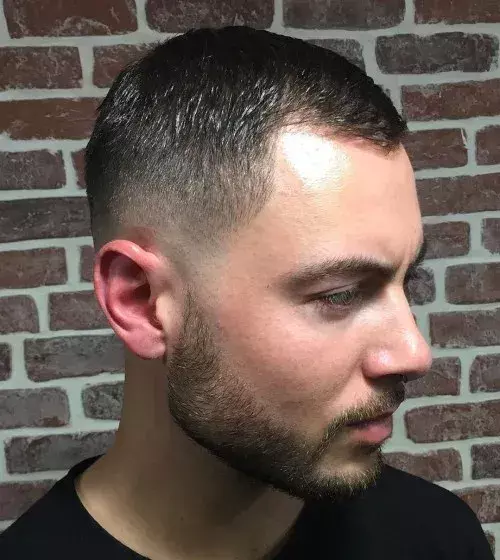 8. Faded Temple Cut
The skin fade paired with short hair is an elegant style that complements thinning hair effectively. This combination is particularly advantageous if you're in the initial phases of hair loss, as the shaved sides divert attention from your receding hairline. One can also go for a taper fade as it looks stunning on guys with receding hairline.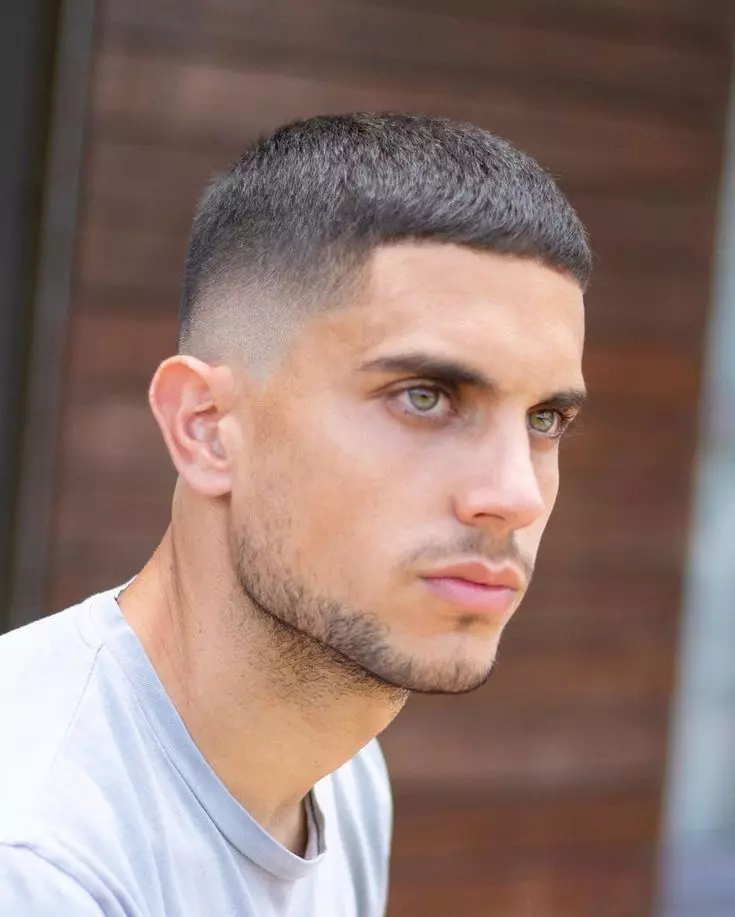 9. Gradient Buzz Cut
The gradient buzz cut is a strategic and stylish option for balding men. This haircut maintains shorter hair on the thinning areas, gradually blending into slightly longer hair toward the top. It creates a smooth transition, minimizing the visibility of thinning or receding hairlines while maintaining a clean and polished appearance. The gradient buzz cut offers a discreet yet modern solution for addressing hair loss while allowing men to sport a confident and fashionable look. You can also go for a crew cut and it will look equally good.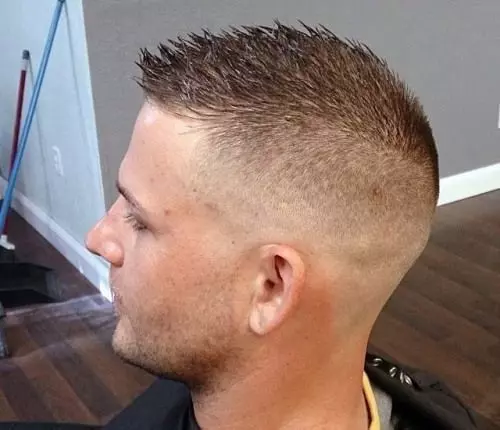 10. Spikes Haircut
The spiky buzz cut is a bold and edgy choice for balding men. This haircut involves trimming the hair very short and styling it into spikes using hair gel or product. It adds a youthful and dynamic dimension to the classic buzz cut, drawing attention away from thinning areas by creating texture and volume on top. The spiky buzz cut exudes confidence and a contemporary edge, making it an excellent option for those seeking a fresh and bold look. These are also haircuts for balding on top because the spiky hair can cover the bald portion.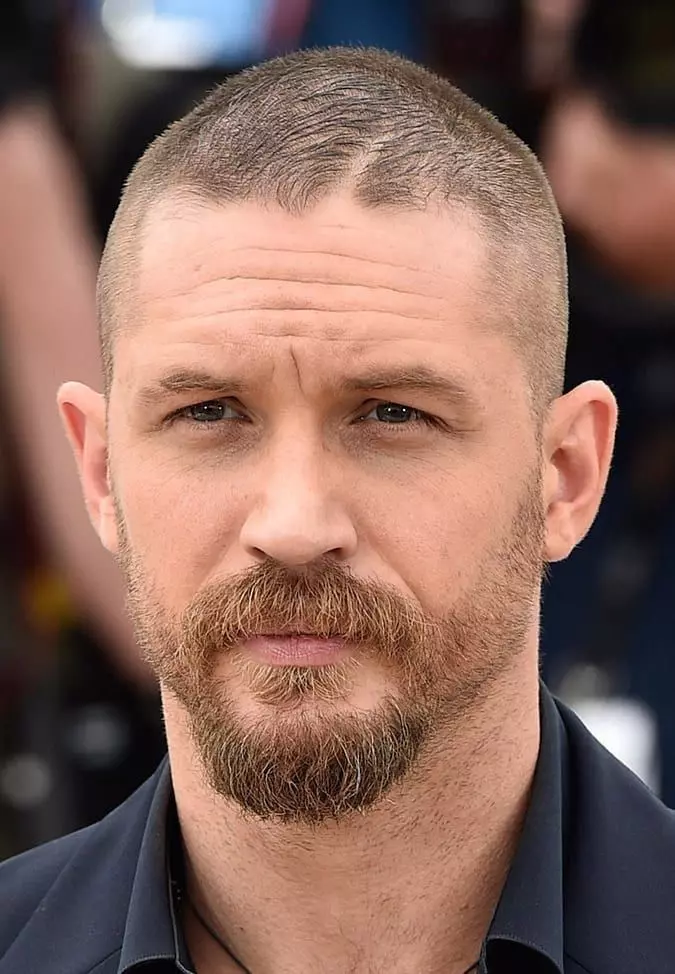 11. Buzz Cut with Clean Line
This haircut for balding men maintains the hair at a very short, uniform length all over the head, creating a sleek and clean appearance. The clean lines add definition and precision to the cut, enhancing the overall look. It's a stylish and minimalistic option that not only embraces balding but also exudes a confident and well-groomed image, making it a popular choice among men. One of the best short haircuts for men, buzz cut continues to remain popular.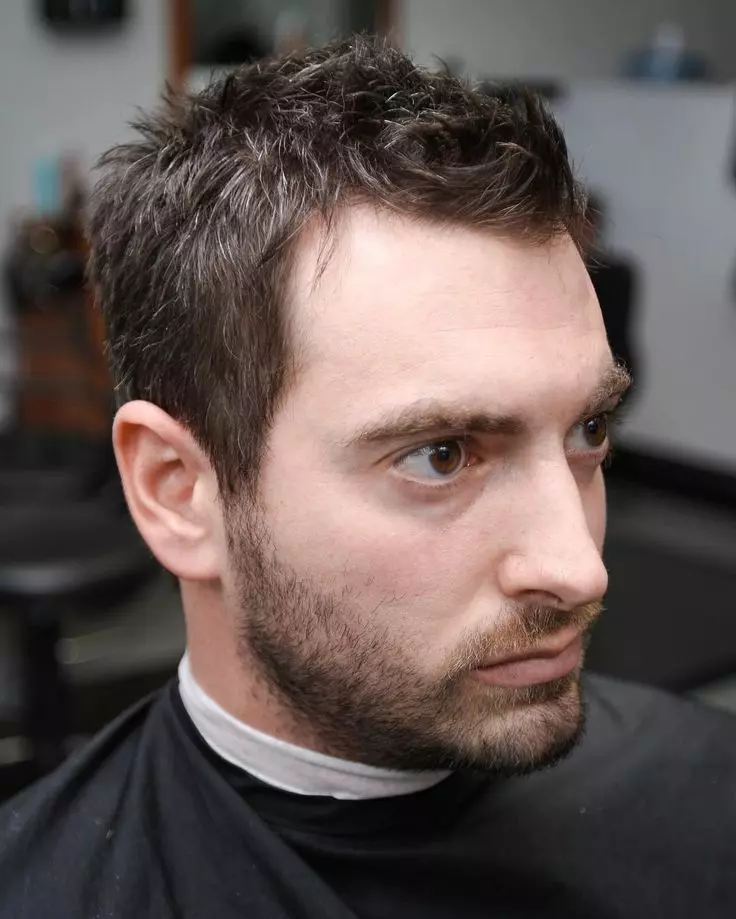 12. Wavy Buzz Cut
If you're not quite prepared for a shaved head or a very short buzz cut, this style could be a suitable option. It maintains a consistent length throughout and effectively conceals your balding areas. You can also use hairstyling products to create a slightly tousled appearance, which helps in camouflaging the scalp.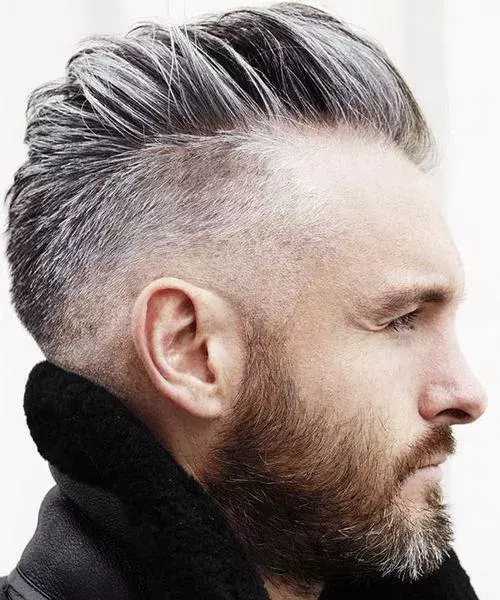 13. Mid Fade Cut
A mid-fade haircut offers a clever strategy to divert attention from any signs of baldness or hair thinning. This particular style is best entrusted to a professional barber or hairstylist since it may be challenging to achieve on your own at home. One can also go for a low fade or high fade as it will look equally good.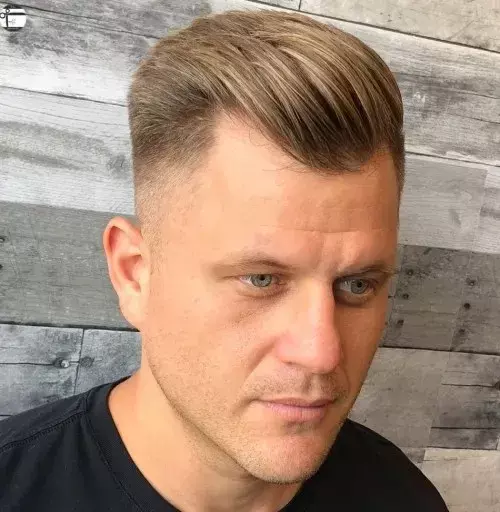 14. Slicked Back Cut
The trend of the sleek, slicked-back haircut has caught on with men, appealing to those with receding hairlines and others. It offers an effective way to draw attention away from thinning hair. To achieve this style, ensure your hair has the appropriate length, and then use a comb for styling.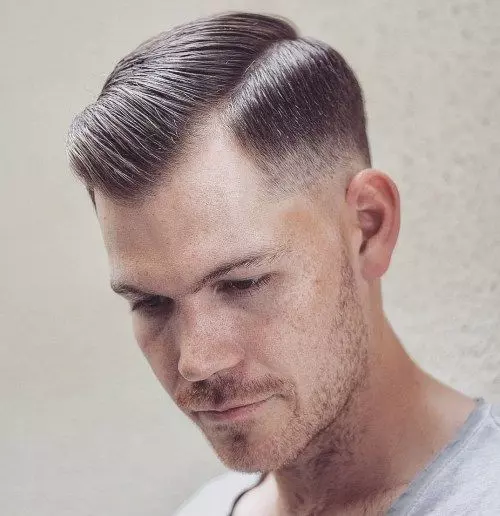 15. Side Combed Hair Cut
Transform a receding hairline by creating a stylish and bold hairstyle with a deep part. Enhance its modern charm with a sharp fade around the ears. Contrary to stereotypes, comb-overs can exude a youthful and trendy vibe.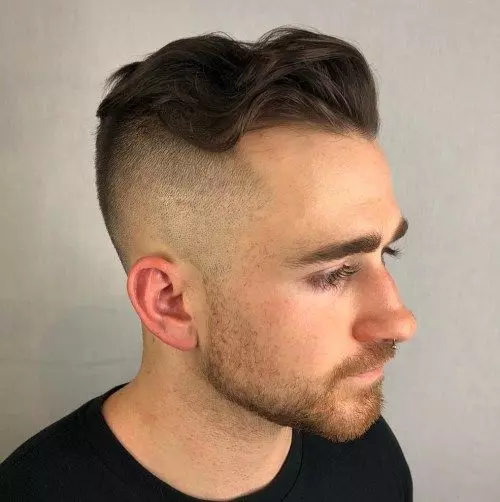 16. Textured Cut
Adding texture is the most effective method to give the illusion of thicker hair. Utilize the existing length to showcase some waves, and consider incorporating a fade to seamlessly blend the longer section, concealing any signs of a receding hairline.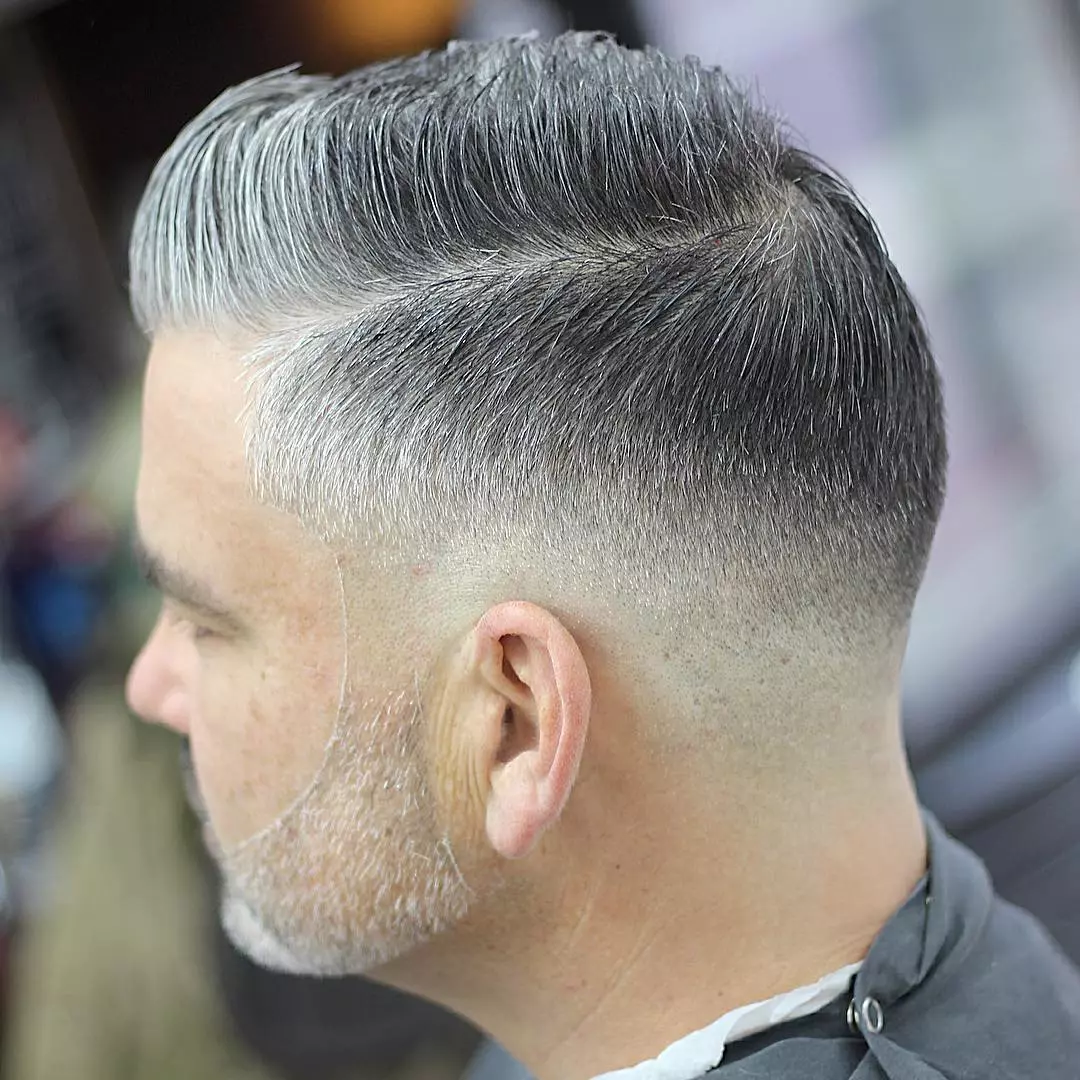 17. Hair style with beard
Embracing your grey hair is a great choice; there's no need to feel obligated to dye it. Instead, consider the opposite approach: maintain the grey, but opt for a style where it's shaved around the back and left longer on top. This creates a natural gradient effect that many people would envy. Additionally, the lighter colour can help conceal any thinning areas.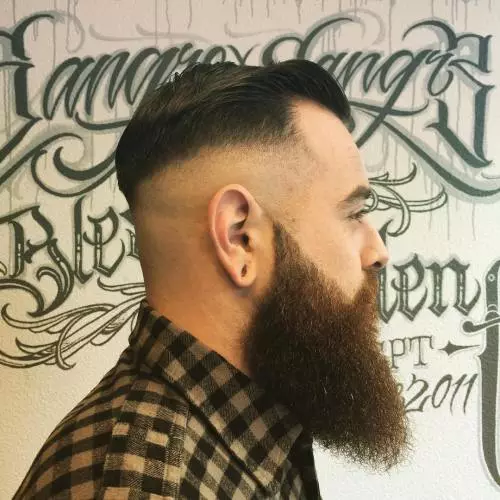 18. Combed Down Cut
These haircuts for balding men Encourage the growth of a thick and lengthy beard if you lack hair on your head. Additionally, a meticulously groomed beard can make a more remarkable impression than having a full head of hair. When it comes to hairstyles for men experiencing balding, options aren't restricted. Consider a bald fade haircut to create a striking contrast with your abundant beard, resulting in a handsome appearance.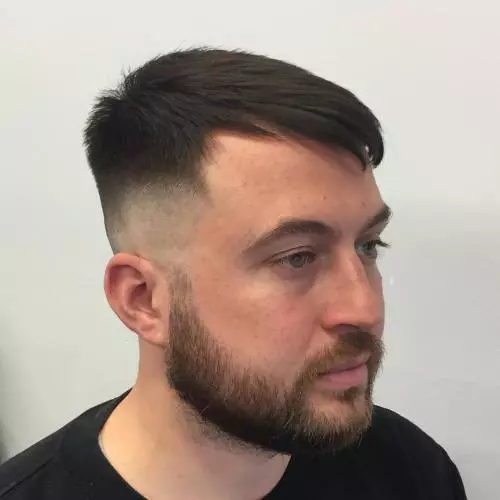 19. Messy Cut
If you have a receding hairline at the crown of your head, allow the top of your hair to grow slightly and style it forward to create a messy hairstyle for short hair. This approach adds a touch of sophistication. The absence of excessive volume can actually enhance your overall appearance, as too much hair could detract from the sleek and refined vibes you're aiming for.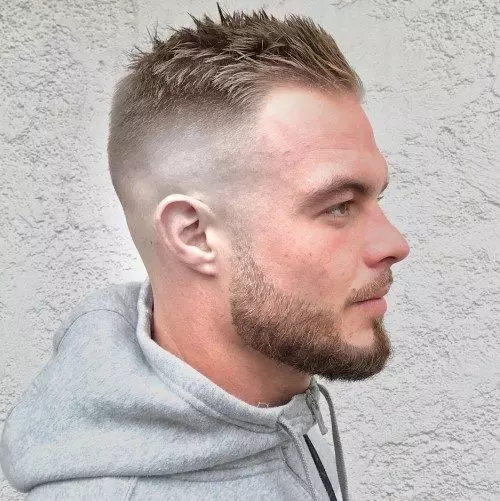 20. Spiky Gradient Cut
Add some texture to your haircuts for balding men by incorporating stylish spikes on the top. This modern twist complements the clean skin fade and well-defined beard. The combination of a slightly tousled look with a polished finish creates a refreshing contrast that effortlessly exudes a sense of style.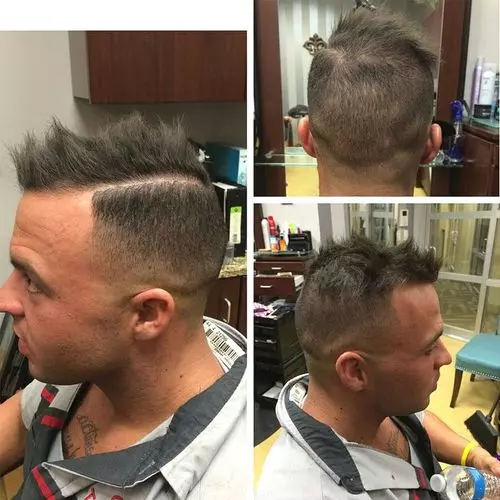 21. Spiky Cut
Here's a guide for you to attain this appearance, effectively diverting attention from your thinning hair. Opt for a short, faded haircut on the sides, ensuring the area around your ears is cleanly shaved. For the central top section, go for a slightly uneven trim, as it will appear fantastic when you style it upwards.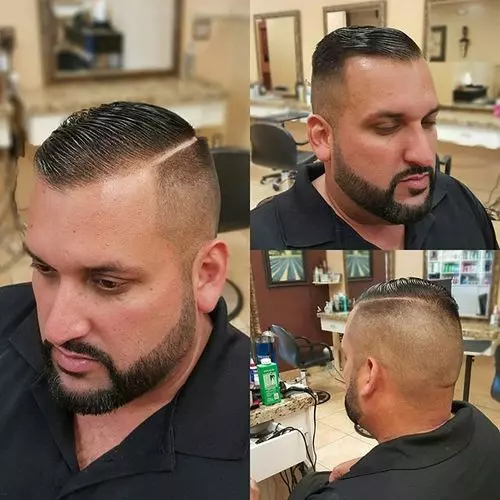 22. Regulation Cut
This hairstyle is ideal for men with thinning hair and a long face. It's intricate, so you'll require a skilled stylist and barber. The hair is expertly trimmed and fades smoothly on the sides and back, seamlessly connecting with the facial hair through the sideburns. The top section, featuring a noticeable side part, is sleek to the side using a generous amount of styling product.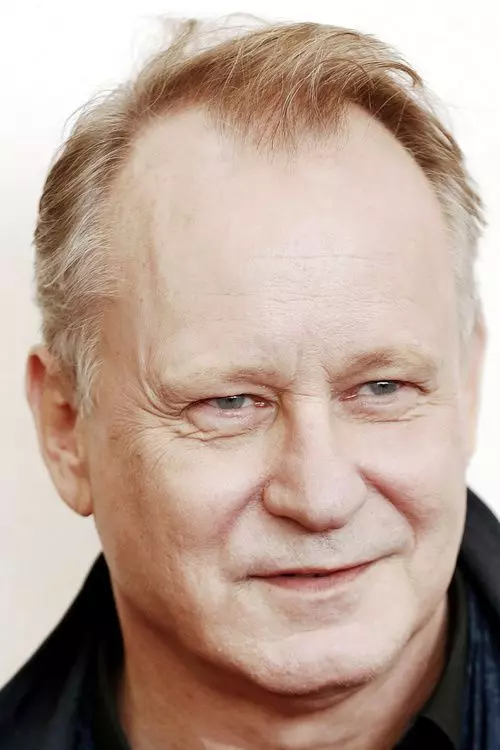 23. Temple Cut for Blonde Hair
Opting for a natural lighter hair shade like blonde, gray, or white can help conceal the appearance of hair loss. This technique works well for mature men who aren't prepared to embrace full natural grayness or wish to manage their thinning hair more effectively. Additionally, backcombing the hair can provide an added boost of volume.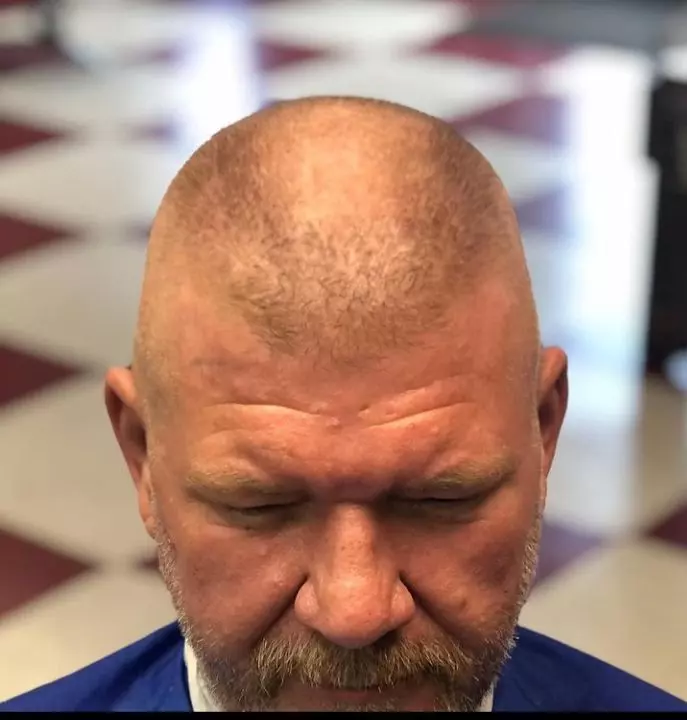 24. Haircut for Bald Spot on Top
A haircut for bald spot on top often involves keeping the hair very short or shaving it completely. This minimalist approach reduces contrast between the bald spot and surrounding hair, creating a seamless and tidy look. It's a practical and low-maintenance choice that helps individuals with bald spots feel more comfortable and confident. While addressing the specific issue, this haircut allows them to maintain a clean and stylish appearance.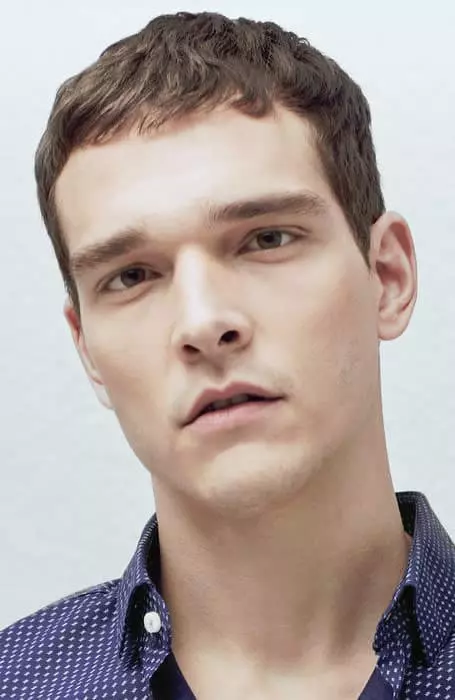 25. Caesar Cut
 The Caesar haircut stands as a classic and adaptable choice for men. It involves maintaining a fairly consistent length on the top, back, and sides, with its distinguishing element being the short fringe. This haircut can effectively camouflage thinning hair when styled appropriately, as the fringe draws attention away from the crown and towards your facial features. If you still possess some hair length and volume, particularly if the hair loss is more of a receding hairline issue, the Caesar cut offers flexibility in styling. It's a practical and easy-to-maintain option suitable for men of all age groups, and it can be tailored to your hair's texture and preferred length. These are one of the best haircuts for balding crown.