27 Best Palm Tree Tattoo Designs With Meanings
Rajlakshmi
Updated At 09 Sep 23
Palm tree tattoos are one of the most-sought tattoos. And the reason behind this is simple. Palm tree tattoo designs are known to represent qualities like regeneration, victory, isolation, and independence. Not only do palm tree tattoo designs are meaningful but these tattoos also extend a beachy vibe away from the hustle-bustle of daily life. 
If you are planning to get a palm tree tattoo too then here are 27 unique, meaningful, and pleasing designs for you.
27 Best Palm Tree Tattoo Designs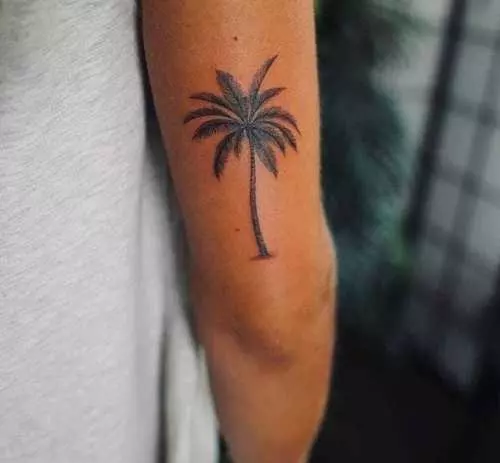 1. Classic Palm Tree Tattoo 
Classic palm tree tattoo has been everyone's favorite irrespective of gender. These tattoos look cool and never go out of trend. Not only that it looks stylish but it also represents meaning. Palm tree tattoos are known for being symbols of growth and regeneration. If you do not want to dwell into too many designs and a conventional tattoo then the classic palm tree tattoo is the right fit for you. 
Looking for more inspiration? Do check out our guide on finger tattoos as we list 50+ stunning options which have been trending this year.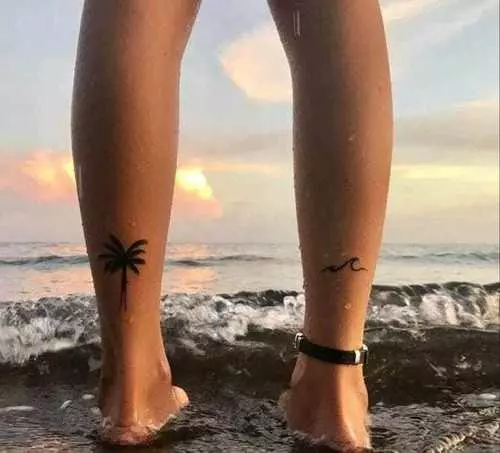 2. Waves And Palm 
Palm tree tattoos with meaning are easy to replicate. Palm tree and waves surely takes you back to the last sea vacation memory and if you want to keep that memory close to you then this tattoo design is best for you. It looks stylish as well as it reflects a meaning.
3. The Night Sky
This one is a simple palm tree tattoo that is aesthetic at the same time. A starry night near the sea sitting under palm trees is a dream come true. This tattoo is a depiction of such a night. Having a body art representing the same can be a present to your imagination. One of the best hand tattoos for women, this looks amazing and stylish.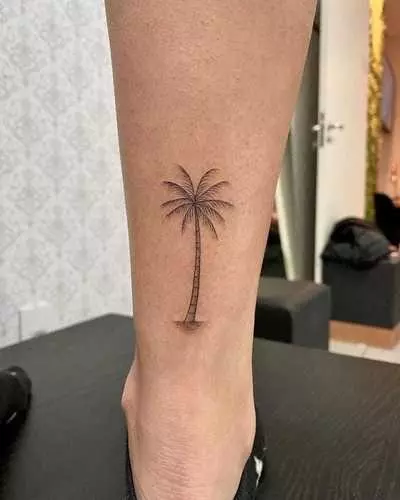 4. Simple Palm Tree
When you cannot decide between different and complicated designs, then going for a simple palm tree tattoo can be a good idea for you. It is symbolic as well as it has meaning as well. It represents nature and no one can say no to the beauty of nature.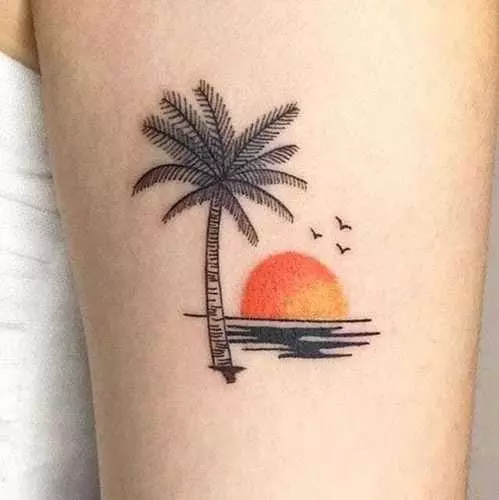 5. Sunset And Palm Tree
A palm tree tattoo with a sunset is the most creative tattoo one can get with a palm tree. If you want to go for a palm tree tattoo on hand then this is one of the best designs for you. This tattoo will always remind you of a beachy vacation and the sunset you enjoyed then. That is the meaning it holds. You can get this as a shoulder tattoo and it will look stunning.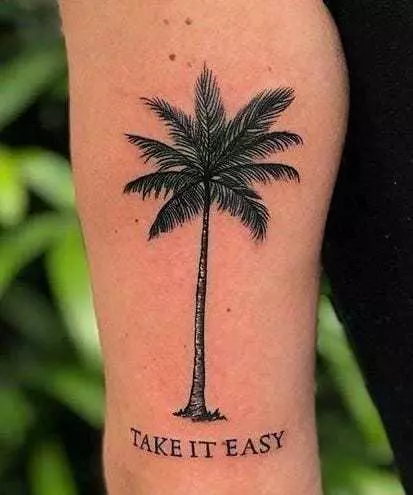 6. Take It Easy
This tattoo is a palm tree tattoo with meaning. Palm trees are known as symbols of victory. This tattoo will always remind you to view every situation in an optimistic way to be victorious in every situation.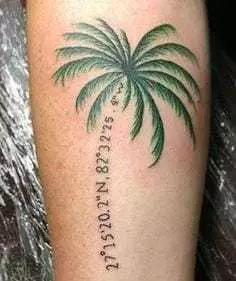 7. Co-ordinates 
This one is a very unique idea for a palm tree tattoo on hand. You can mark the coordinates of your favorite holiday location.This will always help you stand out from the crowd.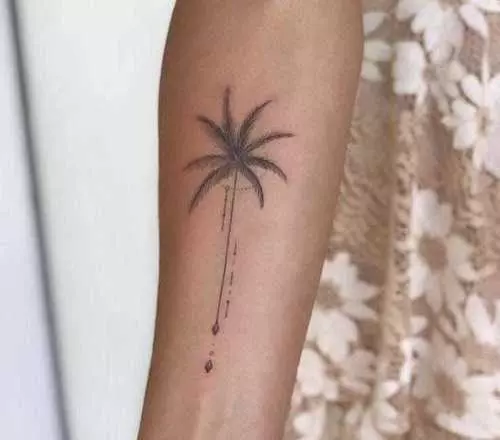 8. Arrow
Arrow tattoos have been trending for quite a time now. And pairing it up with palm leaves will give your tattoo a unique and alluring look. This is a coconut palm tree tattoo disguised as an arrow tattoo. An arrow tattoo stands for power and strength.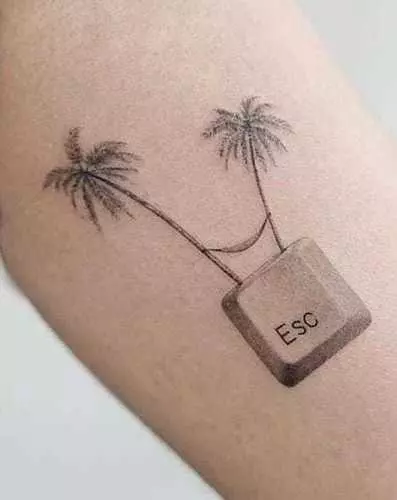 9. Escape
For many of us, escape is a coping mechanism. And to escape, we generally tend to travel. This can be a meaningful tattoo for wandering souls. And undoubtedly this is an eye-catching tattoo.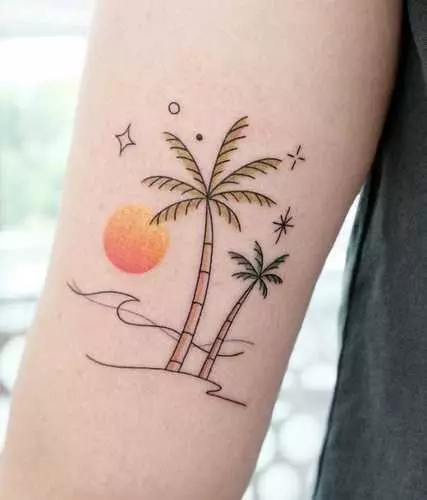 10. Beach Palm Tree tattoo
Beach palm tree tattoos can be exciting for many. If you are someone with a beach soul, then this tattoo will catch your vibe even when you are not on the beach.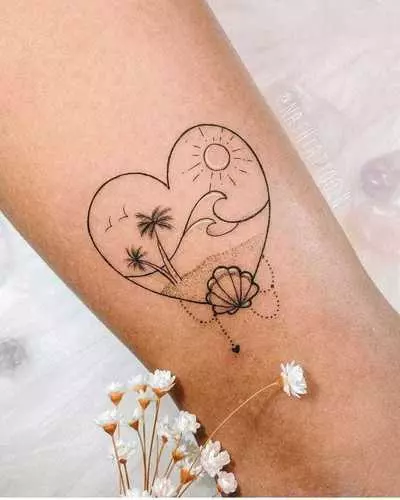 11. Heart 
This one is a beautiful scenic tattoo that basically has a beach palm tree tattoo inside the heart tattoo. If you want to go for a feminine tattoo look then this one is the right fit for you. This represents the meaning of a beachy summer day.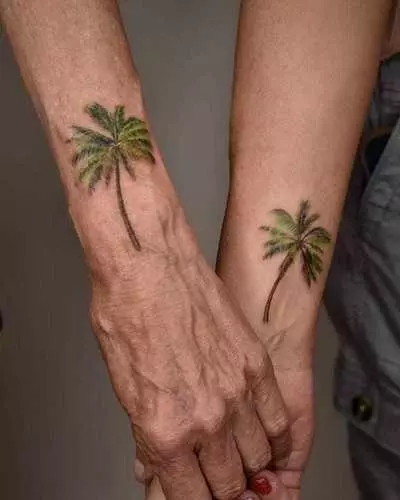 12. Couple tattoo
A minimalist palm tree tattoo is an excellent idea for identical couple tattoos. This one is an easy-to-make traditional palm tree tattoo. And colors added will make it look eye-catching as well. Getting inked together represents the meaning and emotions of courage and assurance.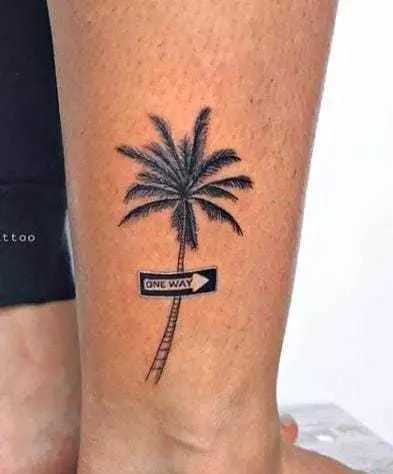 13. One way
For all those people, who can die for a beach vacation, this tattoo is for you. This idea is best for a leg palm tree tattoo. When nothing works out, a holiday at the beach is there to calm your mind, this tattoo will remind you of this feeling.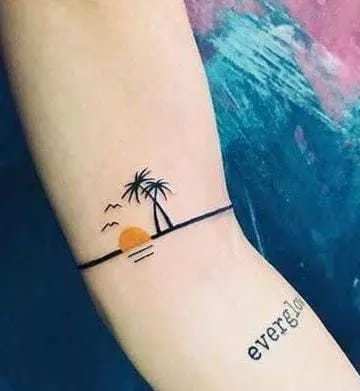 14. Minimalist Palm tree tattoo 
This one is a forearm palm tree tattoo, best for anyone who has a simple yet engaging tattoo.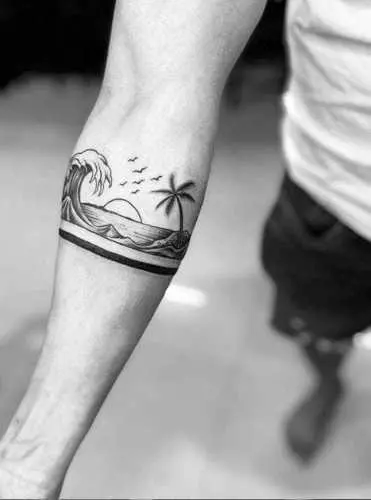 15. Waves And Palm Tree Tattoo
When we talk about coconut palm tree tattoos, waves automatically become a part of our imagination. Putting that imagination out in body art can be a fabulous idea for you.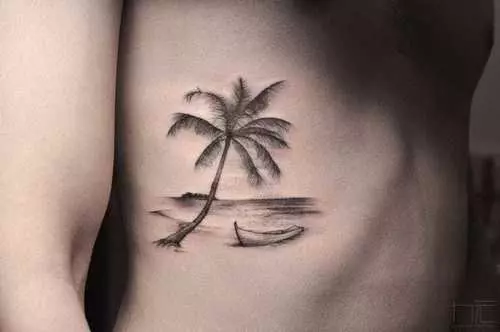 16. Boat And Palm Tree
Do you remember the last time you went for a boat ride? It was a refreshing feeling, wasn't it? To replicate that emotion, this tattoo design is fit. Another beautiful fact about this tattoo is the region of the tattoo.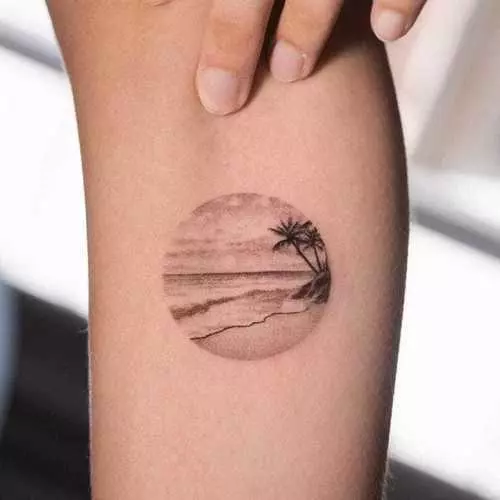 17. Circle
Tattooing inside a circle is always an engaging and visionary idea for tattoos. This one is a brilliant idea for a forearm palm tree tattoo. The fact that this design looks like a geometric design makes it more unique.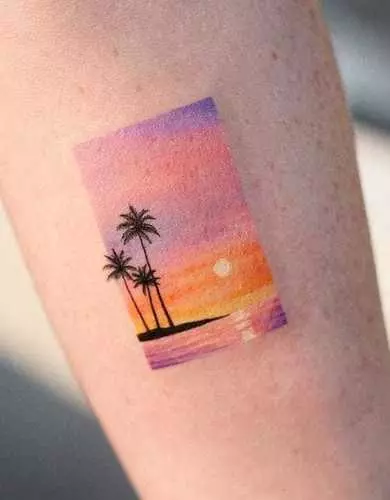 18. Colors
A colorful sunset looks magical when we are near the sea. Replicating that magic in body art can be an irresistible idea for you. All these colors will make your fine-line palm tree tattoo look more appealing.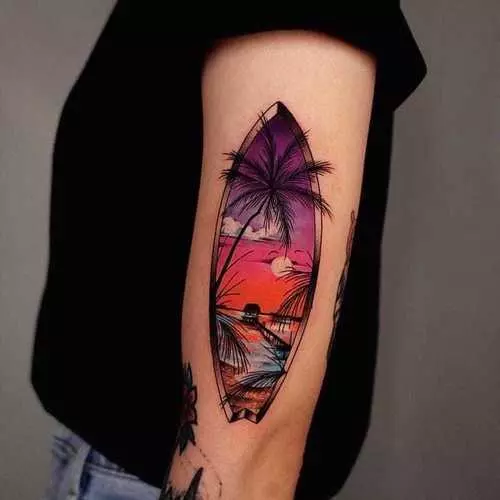 19. Inside The Boat 
Everything about this tattoo is beautiful and unique- be it the colors or the design. This tattoo replicates a colorful and mesmerizing sunset that is taking place inside a boat. Hence, this tattoo replicates every element of the beach in an imaginative and magical way.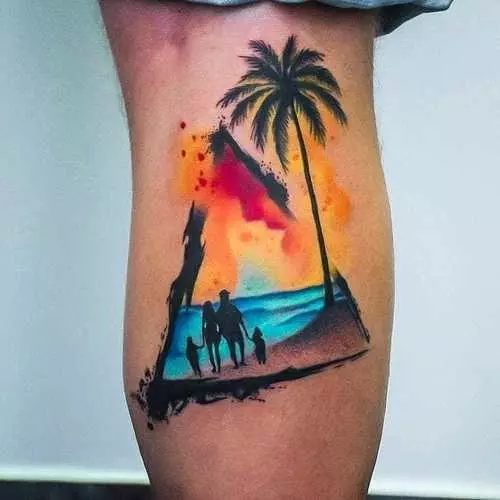 20. The Family
A vacation's warmest memories are the moments spent with family. If you are someone who likes to spend time with the family then this tattoo is the right fit for you. This one is best for leg palm tree tattoos.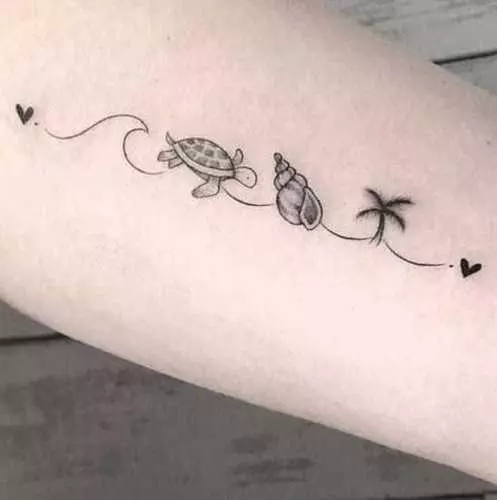 21. Simple palm Tree Tattoo
If you want to go for a palm tree tattoo that is simple, soft, and minimalist then this one is a unique fit for you. This looks simple yet adorable and covers every element of the beach.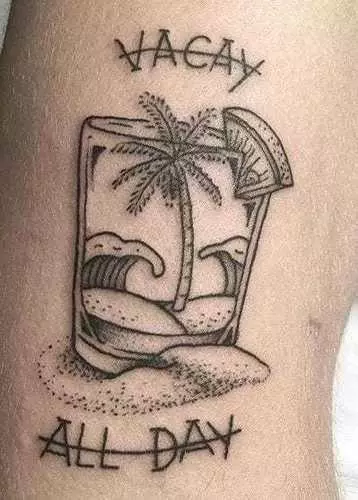 22. The Vacay Palm Tree 
A tattoo with vacation vibes can be pleasing to your wandering heart. This tattoo design is for you to quench your wandering thirst.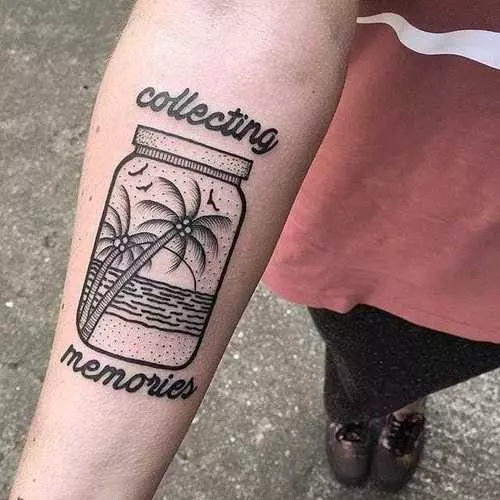 23. Inside The Jar
As children, we had a habit of collecting pebbles and shells from every trip and keeping them safe in a jar. This tattoo correctly replicates that childhood.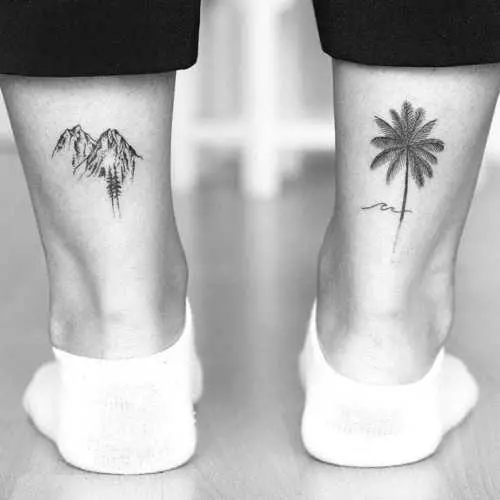 24. Mountains And Beaches
Many of us are both mountain and beach people. To catch that imagination this amazing leg palm tree tattoo design is here for you.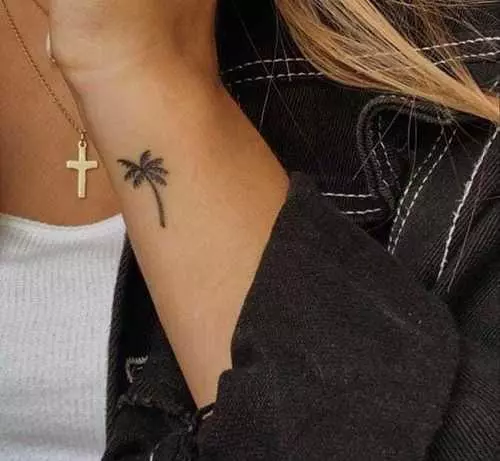 25. Fine Line Palm Tree Tattoo
This one is a traditional palm tree tattoo. Best for anyone who wants to go for a small and simple tattoo.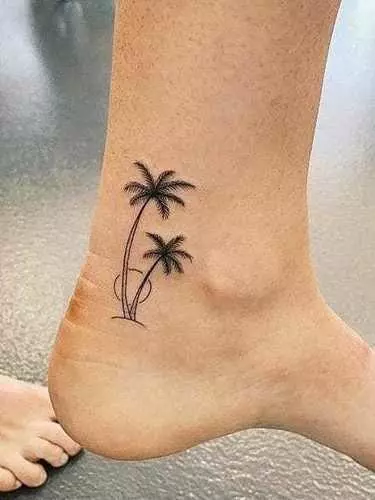 26. Palm Tree Tattoo On Ankle
This palm tree tattoo design is fit for ankle tattoos. You can hide it anytime you want to and flaunt it on a beach vacation.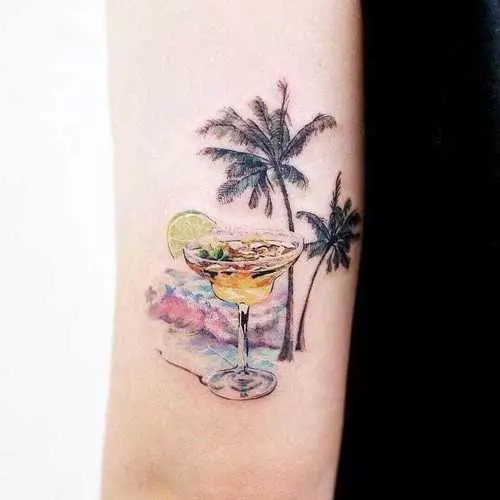 27. Pinacolada
Many of our beach memories are filled with mesmerizing taste of cocktails. If you want to keep the memory of taste with you forever, then this palm tree tattoo design is for you.