55 Beautiful Hand Tattoos For Women (With Photos)
Rajlakshmi
Updated At 18 Sep 23
Hand tattoos have always been attractive. These kinds of tattoos are always visible and you can always flaunt your personality with them but finding tattoo designs for the same gets difficult at times. However, you do not have to worry now as we have got you covered. Here is a list of unique, beautiful and latest tattoos with meaning.
55 Best Hand Tattoos For Women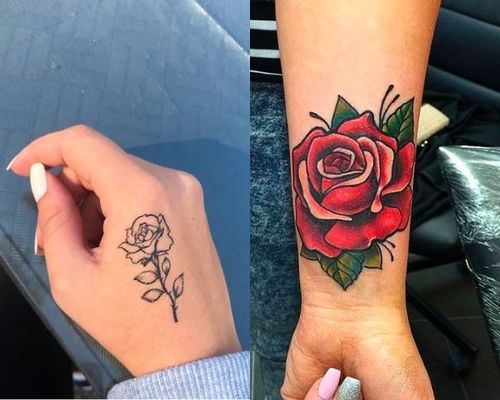 1. Rose Tattoo
If you are looking for cute yet pretty hand tattoos for women then this design would amaze you. Roses tattoos throughout the years have been known as the symbol of passion. If that resembles your personality then this tattoo can be your next tattoo. Flowery tattoos anyway add a feminine touch to any body art. 
Looking for more inspiration? Do check out cute small tattoos as we feature 25+ best tattoo designs for women.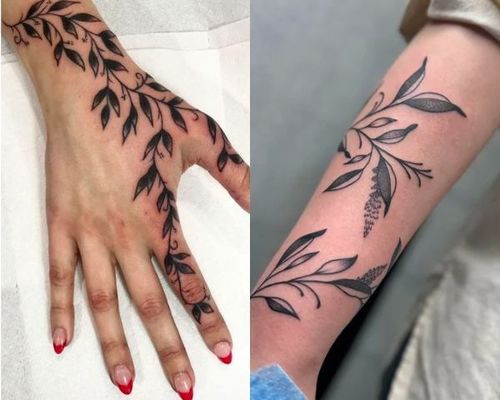 2. Vine tattoos
Vine tattoos are known for having more feminine line work. Hence, it has been one of the favorite hand tattoos for women throughout time. A vine symbolizes femininity, strength, and courage. This one is one of the most beautiful side hand tattoo designs for women. You can also have this as a breast tattoo as you will have ample opportunities for customization.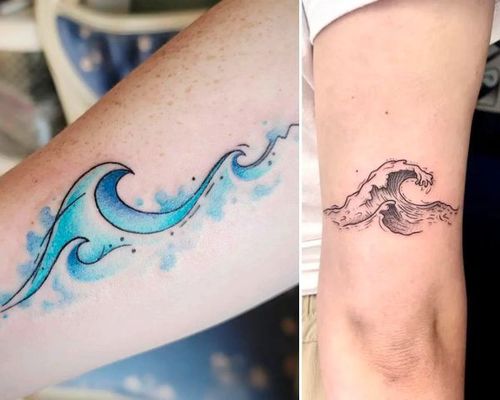 3. Wave Tattoo
If you are looking for women's hand tattoos with meaning then this one's for you. This one is pretty yet meaningful. And yet this tattoo is minimalist and simple. Meaningful tattoos which are simple always look eye-catching. Wave tattoo symbolizes growth, nature, and transformation.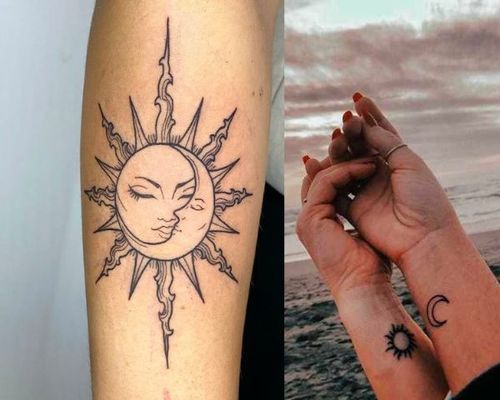 4. Sun And The Moon
Match a tattoo with your best friend today. This design is for all who have found their soulmates in their best friends. Sun and Moon symbolize two different emotions, that is - eternal life and renewal respectively yet both of these are incomplete without each other.
One of the best small tattoos for women, the sun and moon combination looks amazing.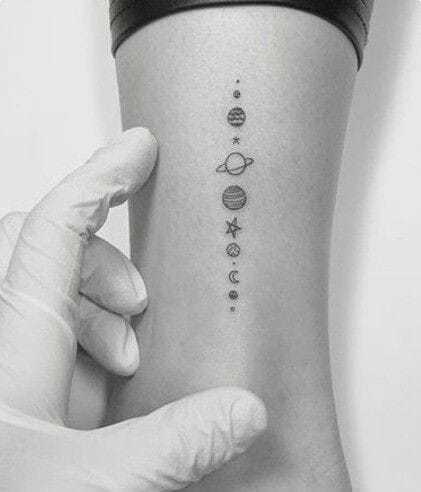 5. An asymmetric solar system with a mandala sun 
This is one of the most interesting and striking tattoo designs to decorate your skin with a planetary alignment. This has to be your favorite design if you are someone into astronomy. The most elegant part of the design is the Sun which has been represented with mandala art which makes the tattoo creative while being empirical at the same time.
If you check out Ariana Grande tattoos, you would see multiple sun, moon and solar system based tattoos.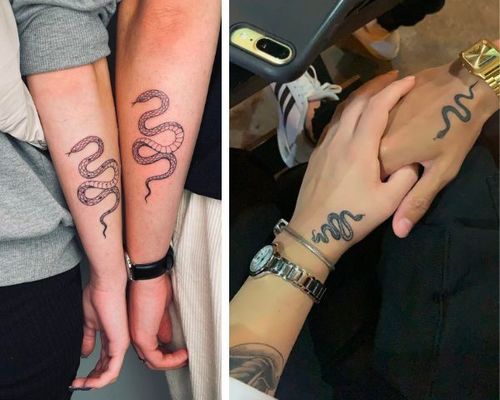 6. Couple Hand tattoos
Unisexual hand tattoos for women as well as men can get you a new plan for a couple of tattoo sessions together. This design is dedicated to your wishlist. In many traditions, snake tattoos are considered to be lucky as well. So if you want to keep your love story happy and safe then this tattoo is your calling.
Do check out our guide to find the best thigh tattoos for women. We capture 50+ stunning tattoos which have been trending this year.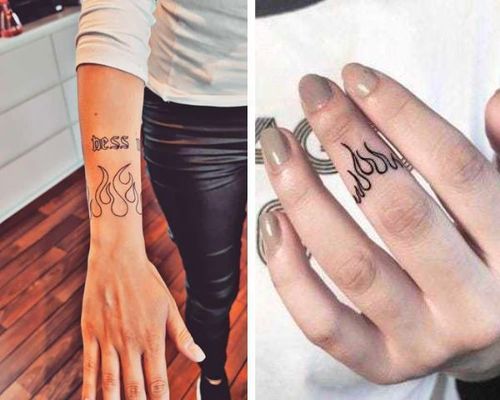 7. Fire Tattoo
Hand and finger tattoos for ladies have been on trend for quite a time now. Finger tattoos are minimalist yet extend a gorgeous and eye-catching look. Fire tattoo is one of the examples of finger tattoos. Fire tattoo symbolizes heat and light.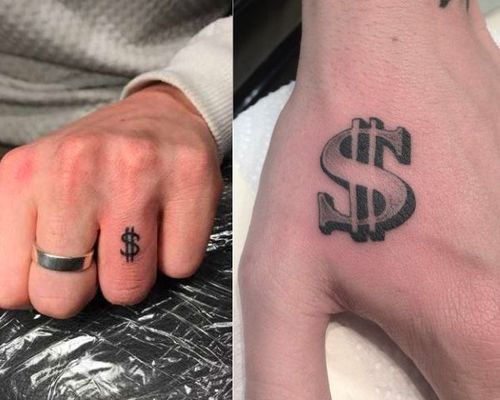 8. Dollar Sign
Another from the hand and finger tattoos for ladies list. This one is a cute yet funky finger tattoo. This is a powerful symbol of wealth and success. Manifest your future with this tattoo.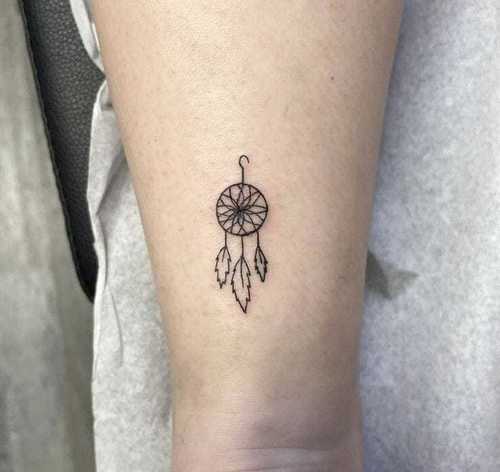 9. Dreamcatcher
As Dreamcatcher is shaped like a circle, It represents the circle of life which can resonate with nature's way of taking and giving back life to Earth. Dreamcatcher also represents religious implications and is considered as a good luck tattoo design.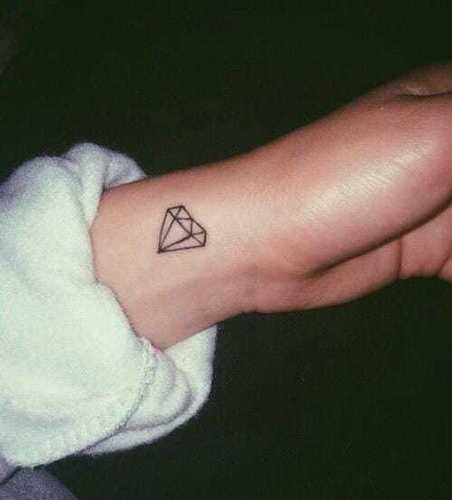 10. Diamond tattoo 
Diamond tattoos are the prettiest side hand tattoo designs for women. The diamond represents preciousness. But not only this is a meaningful tattoo. Many people also believe that a diamond tattoo saves you from the evil gaze.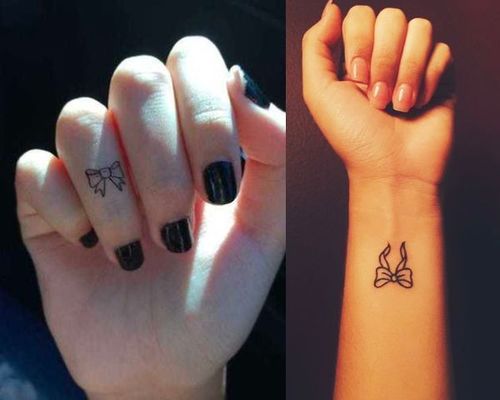 11. Bow Tattoos For Women
We have collections for dainty hand tattoos as well. This design is one of them. A bow is an exclusive tattoo design for women. It symbolizes women's liberation. Bow tattoos have also been associated with affection, love, and marriage. But above all, it is an adorable hand tattoo for women.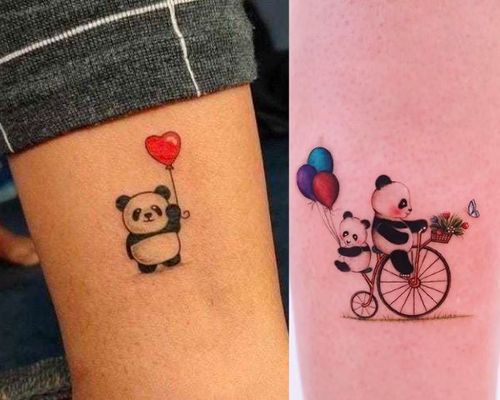 12. Pandas On Hand
If you are looking for a cute yet meaningful hand tattoo for women then this one is perfect for you. Women's hand tattoos with meaning have been trending. The panda tattoo secretly yet adorably represents the yin and yang tattoo which is the representation of balance in life. The black and white color defines the balance of good and bad times in life.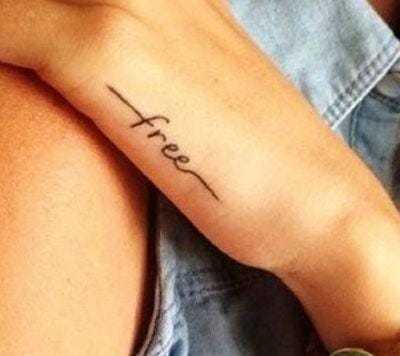 13. Free Tattoo Design
Another from the collection of dainty hand tattoos. This one is a simple tattoo representing freedom. Yet the font of the handwriting makes it look stylish. You can customize it as well.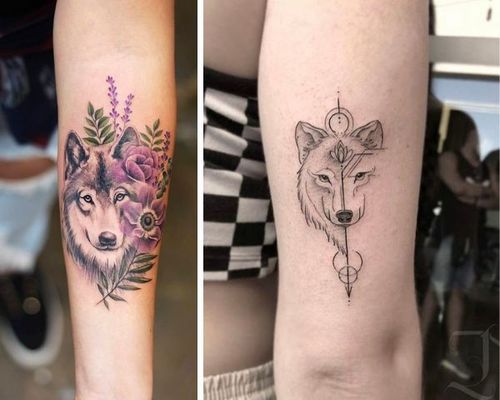 14. Wolf Design
The notable fact about this design is that it looks breathtakingly beautiful but it is simply made with sharp lines making triangles. If you are someone who wants a simple but noticeable design then this is your one-stop solution. It also signifies strength and loyalty.
Looking for more designs for inspioration? Do check out our guide on wolf tattoos as we list 55+ stunning tattoo options which have been trending this year.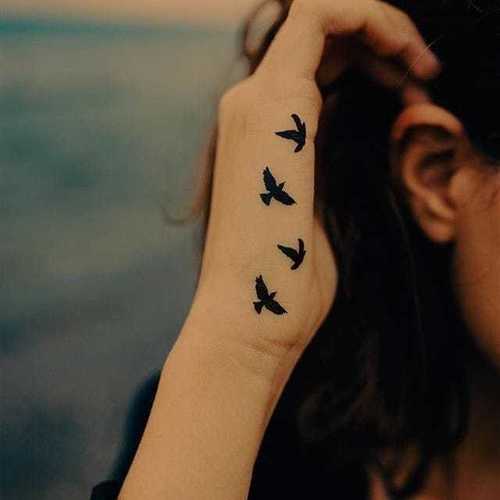 15. Flying birds
This tattoo symbolizes freedom, optimism, and success. If you are going through a setback in life then this one is for you. This tattoo will always remind you that no matter what, you will always have a sky to fly high.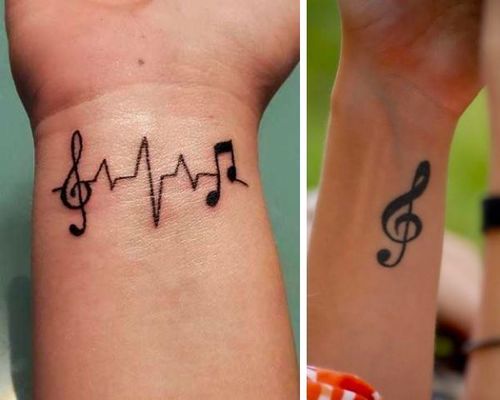 16. Music Tattoo Design
If you are someone who is in the business of music then this tattoo is for you. And even if you are not, you can still get it as music is something pleasing to all of us. This hand tattoo can represent your enthusiasm for the field of music.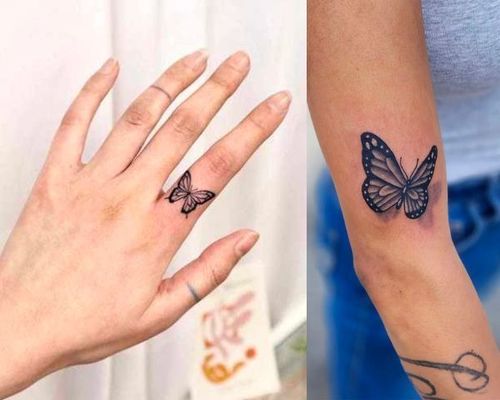 17. Butterfly tattoo
Butterfly tattoo represents freedom as they can use their wings to fly wherever they want to. It is one of the prettiest and most feminine tattoos one can get. You can customize this as well and add your favorite colors to it as well.
Looking for more designs? Do check out our guide on butterfly tattoos as we list 25+ trending tattoo designs of this year.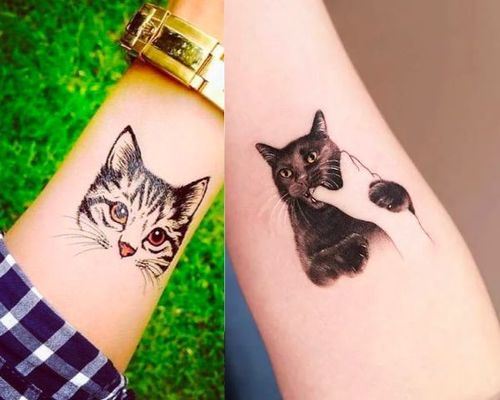 18. Cat tattoo
One of the most adorable hand tattoos for women. This female hand tattoo image is a shoutout to all the cat persons to get this tattoo done today. Cat tattoo represents resilience. Hence this tattoo is cute yet meaningful.
Looking for more animal tattoo designs? You can also opt for rabbit tattoos as these look elegant and stylish.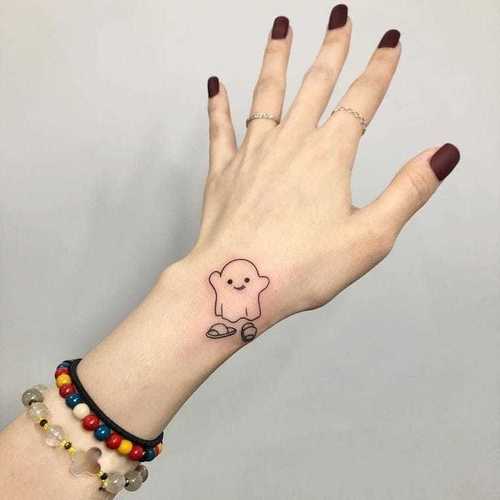 19. Ghost tattoo
This one is a unique tattoo to get yet it looks stunning and amusing. Although it might look silly to get a ghost tattoo, the meaning here is deeper than that. A ghost tattoo represents a spiritual healer who is there to protect you.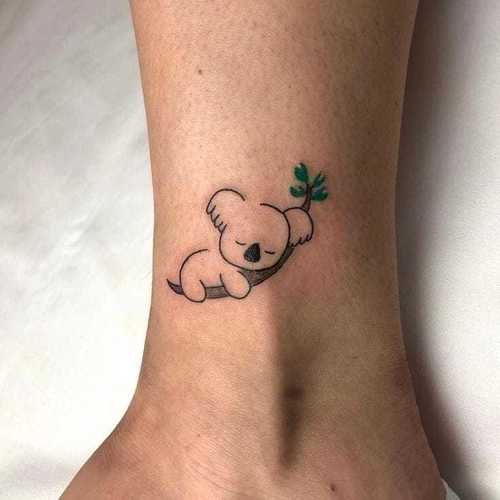 20. Sleeping Koala
A sleeping koala is another amusing tattoo design for you. A sleeping koala is generally seen as a representation of relaxation. However, many do not know that koalas are the symbols of loyalty. If you are a lazy bum who is loyal then get this tattoo now.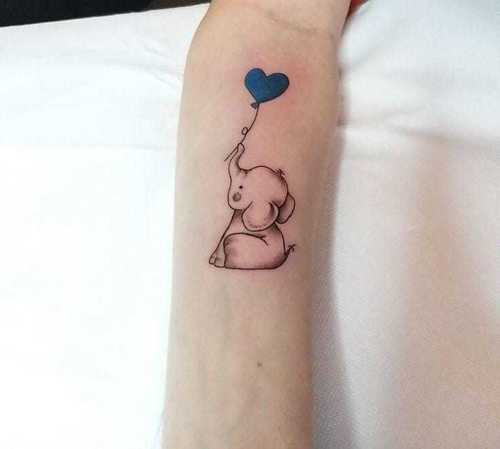 21. Elephant 
Getting an elephant tattoo is never a bad idea. Elephants are the universal symbols of strength, loyalty, and good luck. What is unique about this design is the loveliness of the tattoo.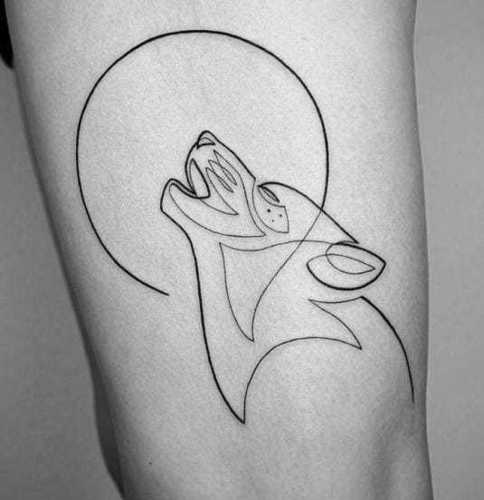 22. Geometric Wolf 
The notable fact about this design is that it looks breathtakingly beautiful but it is simply made with sharp lines making triangles. If you are someone who wants a simple but noticeable design then this is your one-stop solution. It also signifies strength and loyalty.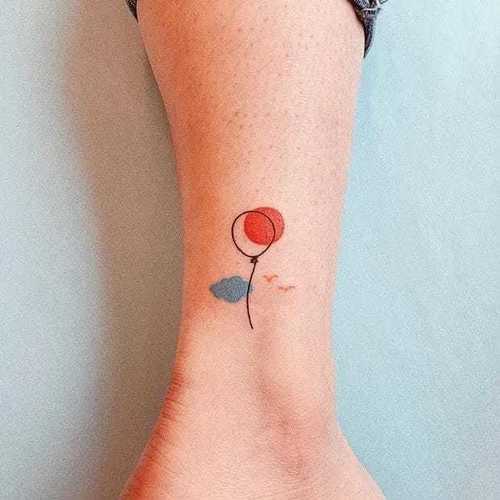 23. Balloon
Balloons are favorite for many women and so, getting a tattoo related to that won't be a bad idea either. It represents freedom and lightness. It can be romantic as well as funny.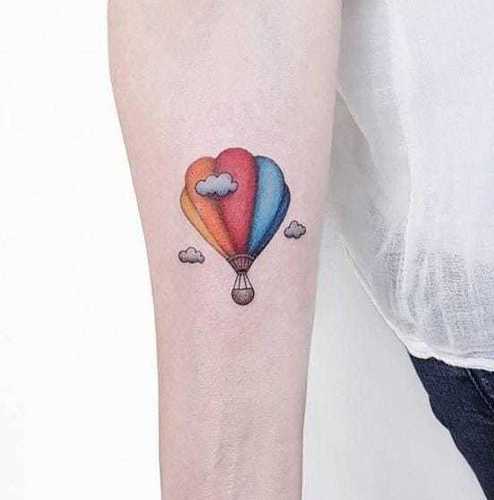 24. Hot Air Balloon
If you don't want to get a balloon tattoo then get a hot air balloon tattoo done.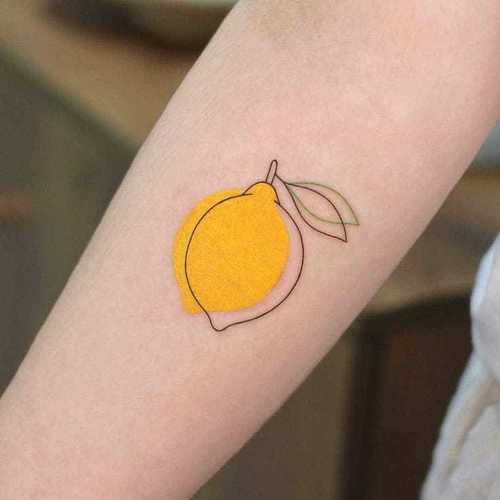 25. Lemon
When life gives you a lemon, go for a lemon tattoo. Nothing can be better than getting a lemon tattoo done this summer.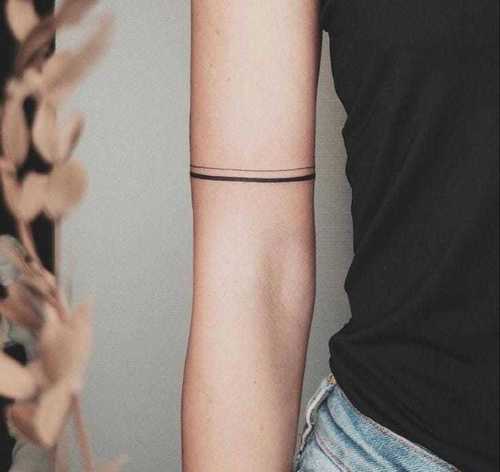 26. armband tattoo
This is one of the most trending tattoos of the year. It is simple yet attractive and decorative. It goes well and looks like a hand accessory that will always make your outfit look good.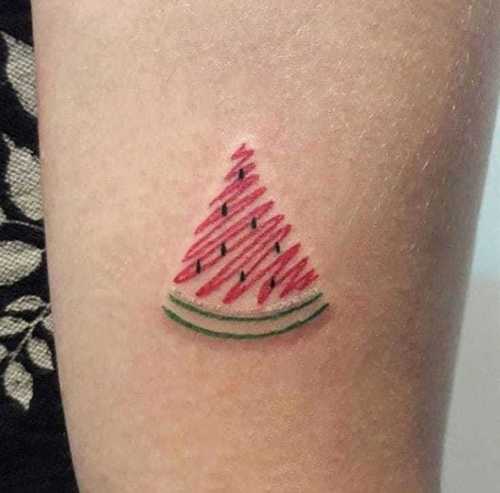 27. Watermelon
If the lemon tattoo is not your summer calling then watermelon might be. Getting a tattoo dedicated to summer can get you the best memories of the year.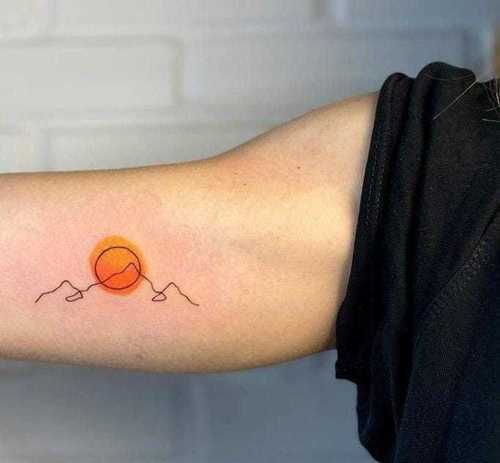 28. Sun And The Mountains
If you are a mountain person and still have not got a mountain tattoo then this female hand tattoo image is your calling to get one.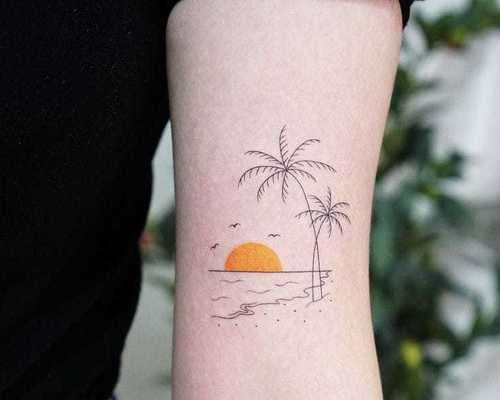 29. Palm Trees
Palm tree tattoos have been trending for quite some time. The simple reason behind it is the meaning the palm tree tattoo holds. Palm trees are the symbols of immortality, regeneration, and nature. Getting a hand palm tree tattoo won't be a bad idea for you.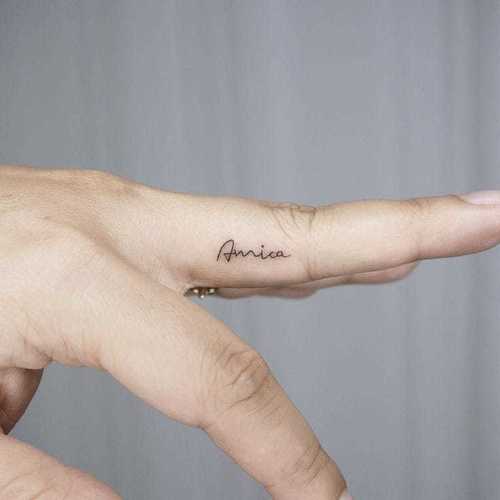 30. Simple Name
A tattoo on hand with a girl's name fulfills the true idea of a tattoo. People mostly get tattoos to preserve a memory or keep something precious to them close. Hence, you can always get your loved ones' name tattoo for the same thought.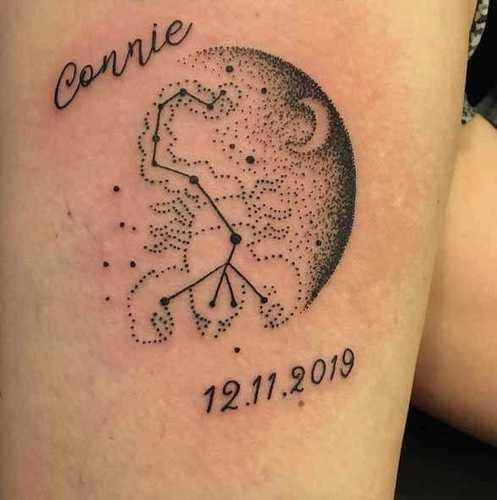 31. Scorpio Engulfed In Circle
This tattoo is a combination of fine dots work and geometric work. Scorpios themselves represent solitary, protection, and isolation. It can go up with one's reserved personality.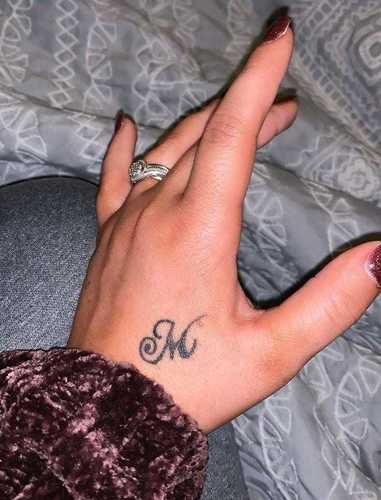 32. Just A Letter
If you do not want to get the whole name tattooed then you can just go for the initials for the same reasons.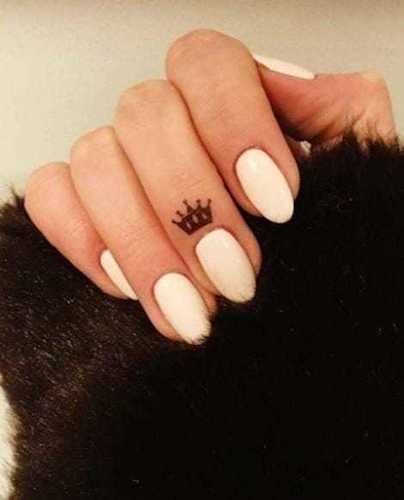 33. Crown tattoo
Crown tattoos represent power, legitimacy, victory, and glory. Getting a crown tattoo done will go with your passion for success. The special thing about this tattoo is its simplicity and minimalistic.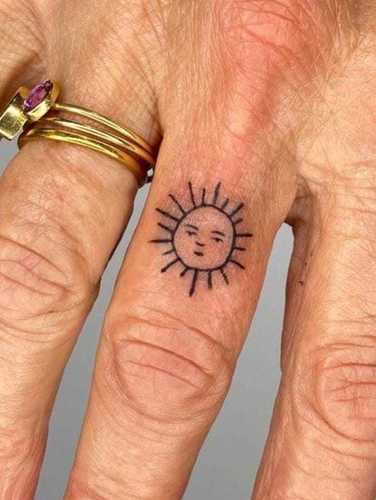 34. Sun Tattoo
Finger tattoos will never disappoint you. It just adds more elegance to your collection of body art. Sun tattoos on your fingers will always motivate you to keep going in the darkest of times as it signifies the light of the day which has to go through the dark times of night.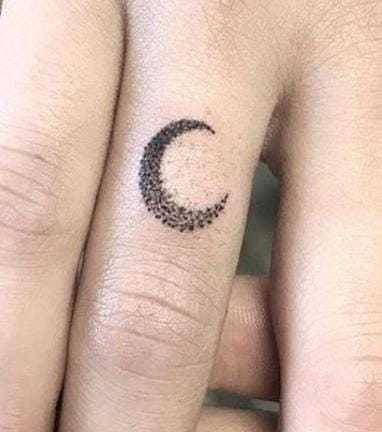 35. Moon Tattoo
If you do not want to get a sun tattoo then you can go for a moon tattoo. Many of us admire the beauty of the moon. Moon tattoo signifies the different phases of growth and stands strong and beautiful even when dark.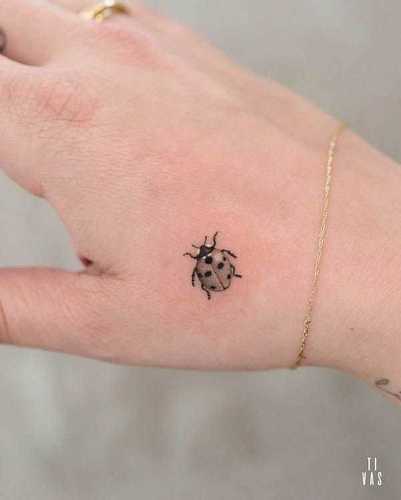 36. Bee tattoo
This tattoo symbolizes loyalty and family. This amazingly looks cute and adorable. It is unisex and it looks amusing on hands as if it is real.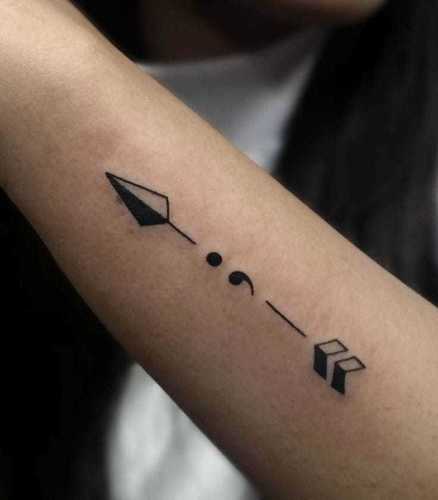 37. Arrow Design
This tattoo design looks great on the arm as well as on the neckline. This suits both men and women as well as it goes with every skin tone. Arrow tattoos are considered a sign of protection and sustainability of life.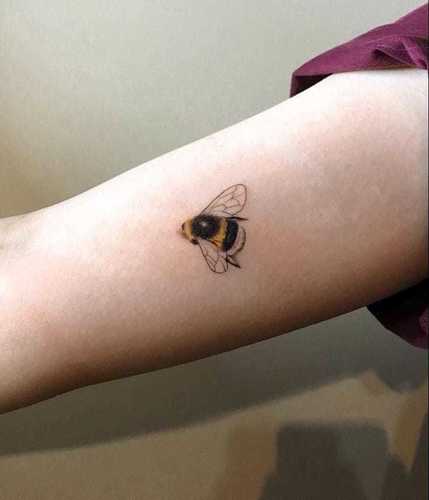 38. Bumblebee Bee
If not a red bee tattoo then maybe a bumble bee tattoo is waiting for you. This tattoo represents selflessness and teamwork. This tattoo will always motivate you to work hard in a team.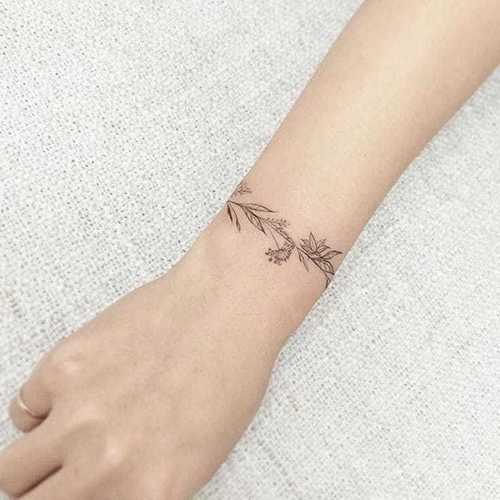 39. Wrist band
Body art in the form of a wristband or bracelet can be a great idea. This will always complement your outfit. Having a flowery design like the one shown above can give you a feminine look as well.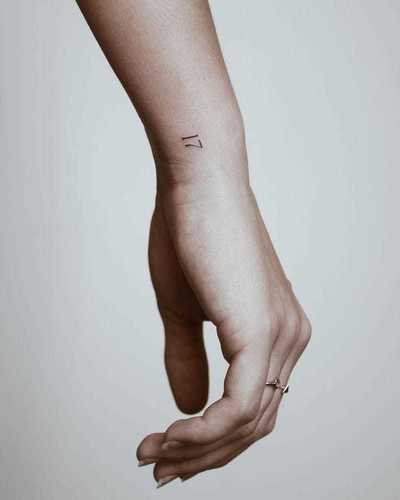 40. Number
For many of us, many dates are special. Many days have given us memories that we would want to keep forever. If not a name then get a tattoo of the special date.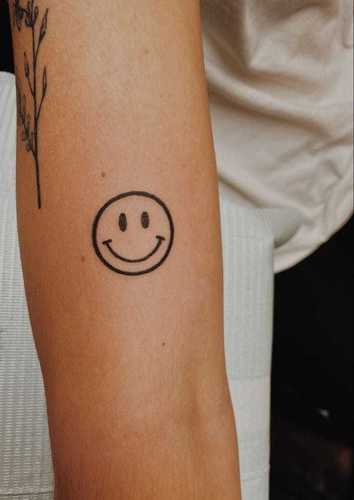 41. Smiley 
A simple yet adorable smiley tattoo is waiting for you. It may look simple but it represents the most important emotions of our life that is joy and happiness. This tattoo might keep you happy in the saddest times. If not, at least this tattoo can always bring a smile to your face.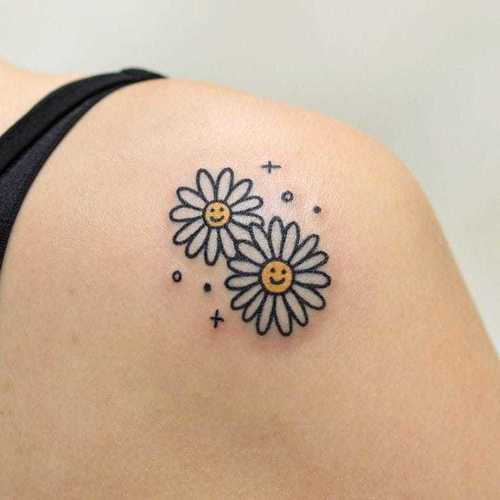 42. Smiley Sunflower
If the above-mentioned tattoo was too simple for you then getting a sunflower smiley tattoo can be your calling. The sunflower surrounding the smiley face makes the tattoo more beautiful as well as feminine. Sunflower tattoos for women always look nice.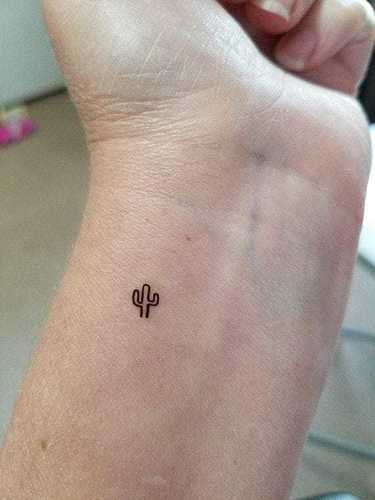 43. A Cactus Tattoo
This is a minimalist hand tattoo for women. This tattoo represents the ability to adapt and change. Getting a small tattoo that is meaningful can get you stories to tell.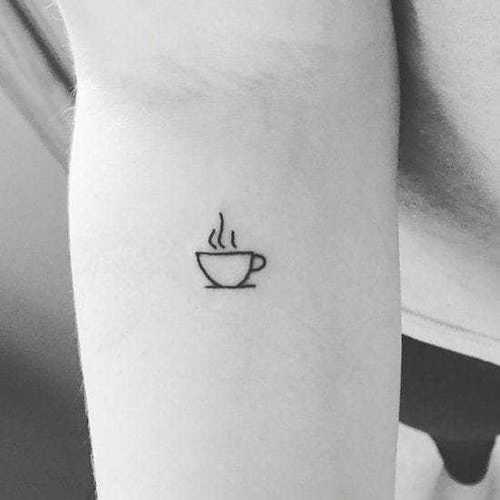 44. A Cup Of Tea
This tattoo is your cup of tea. Small and simple, this is a pretty hand tattoo for anyone who cannot start their day without tea or coffee.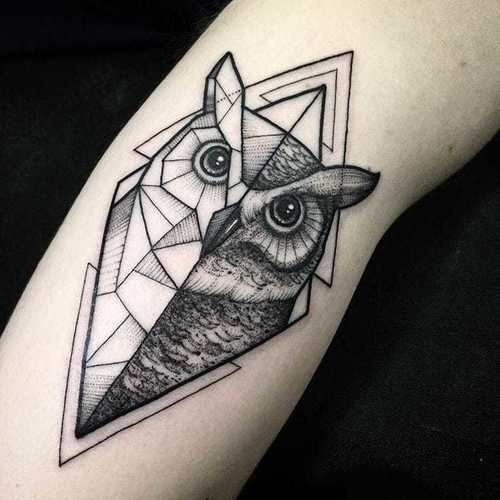 45. Owl Tattoo
Owl tattoos are generally tough to make but using geometry will ease the design for you. It's mostly liked by people who have faith in the magical world. Owls are generally associated with astral projection.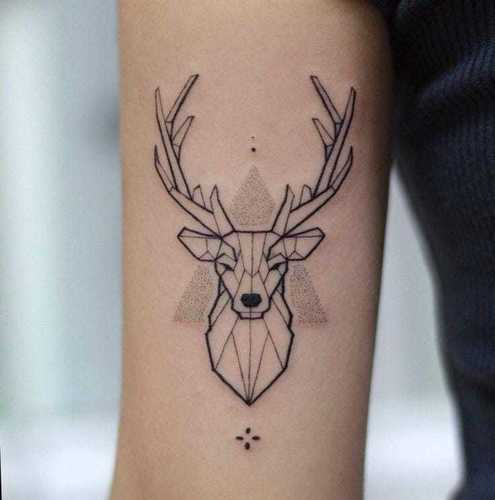 46. Deer Tattoo Design
This design suits both men and women. Deer represent grace and beauty. Getting an animal-linked geometrical design is always a good idea. These kinds of designs suit the neckline as well.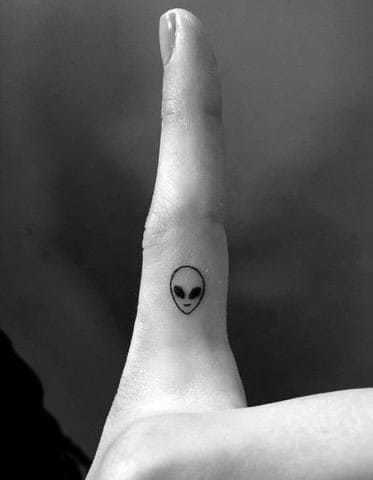 47. Alien Tattoo 
If you want something which is unique, pretty, simple, and minimalist and you are obsessed with the utopian world then this tattoo is for you.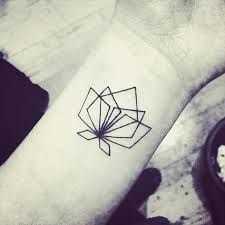 48. Lotus  Design
Lotus represents knowledge and longevity. This is an unisex design, suitable for all genders. The geomagnetic pattern gives angular meaning and depth to the significance of opting for it. The flowering symbolizes the calm and collective nature of the individual.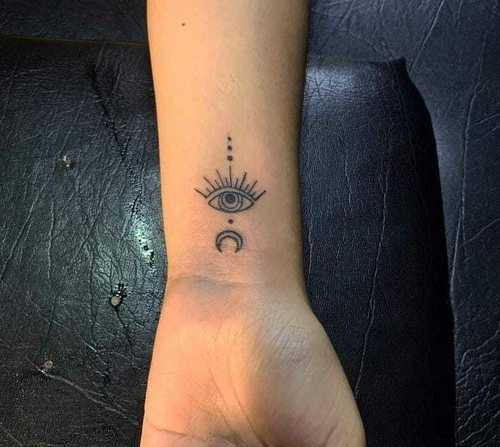 49. Eye Tattoo
The design depicts the different perspectives of the individual. The dotted tangents signify the connecting paths of life. This design is suitable for people who like the philosophical aspects of life.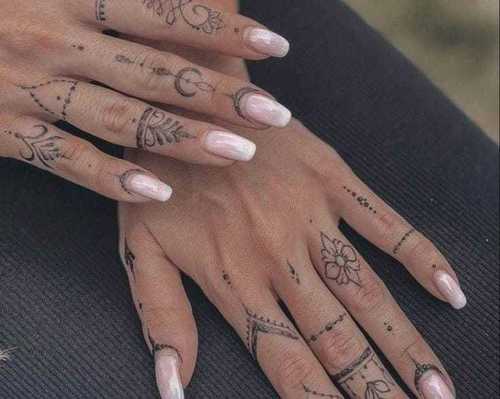 50. Tribal Tattoos
Ancient signs and folkloric portrayals have spiritual and mystical symbolism. Doubtlessly, These designs look amazingly fashionable.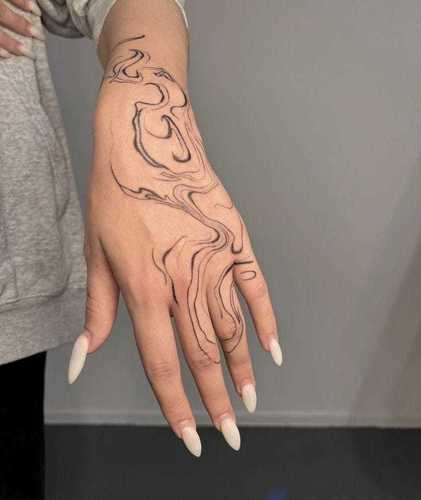 51. Abstract Tattoos.
Abstract tattoos generally do not have concrete meanings but these kinds of designs are a perfect blend of trendy and eloquence. The design represents the nocturnal cycle, Apt for the selenophile people.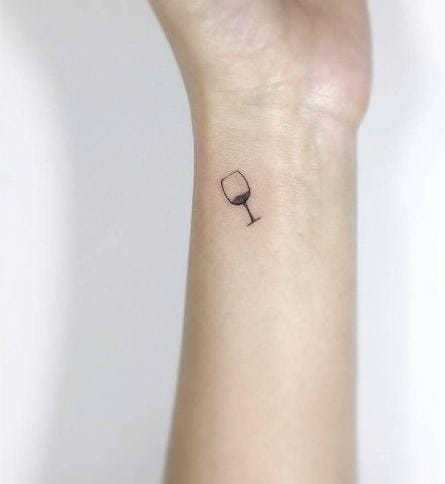 52. Glass Of Wine
A miniature glass of wine tattoo for you. This tattoo represents material well-being.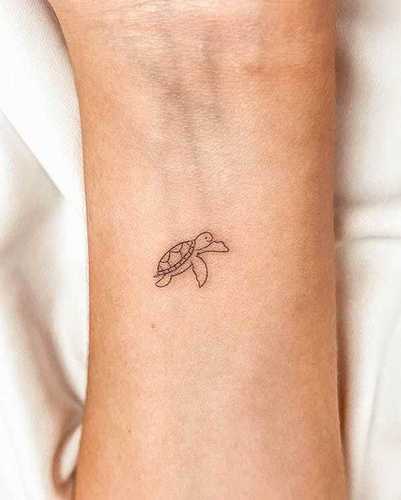 53. Tortoise Tattoo
Many people believe that a tortoise tattoo brings good luck. It is a symbol of longevity and patience. If your personality goes in well with these features then this tattoo is for you.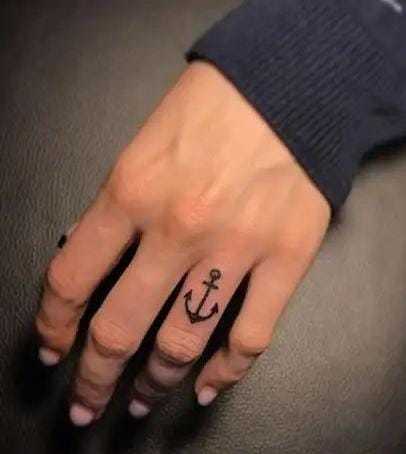 54. Anchor Tattoo
An anchor tattoo is a representation of the sea. If you are a sea person then this is the design for you.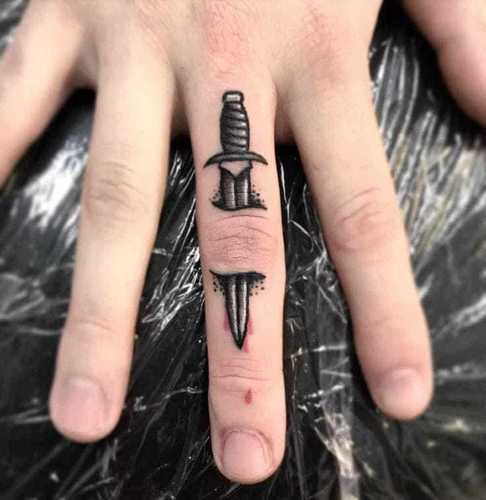 55. Knife In Finger 
If you are looking for something unique and groovy, we have this special design for you.