33 Stunning Celebrity Makeup Looks - 2023
Olivia
Updated At 16 Nov 23
Like any other trend that takes momentum, trendy makeup looks are mostly always stirred by celebrities! Some celebrity makeup looks deserve a minute of your admiration before you go back to scrolling your feed. Then there are those looks that make you want to pick up your makeup palettes and give the look a try, even if it's 2 in the afternoon. It is these celebrity makeup looks that serve as an inspiration to makeup enthusiasts!
A lot of celebrities are known to pull off a complex, dramatic makeup looks, making them almost a trend. From simple, beginner-friendly makeup looks to winged eyeliners, we have got you covered. Here are some of the must-try celebrity makeup looks to try on this year.
33 Top Celebrity Makeup Looks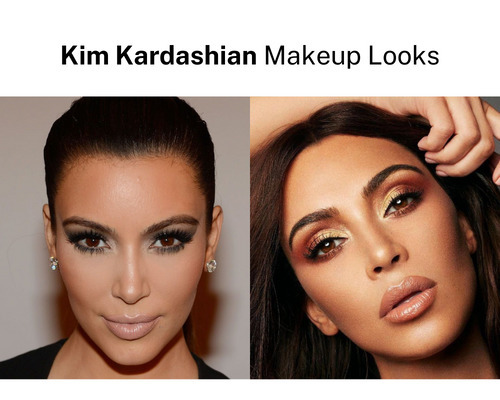 1. Kim Kardashian Makeup Looks
The Kardashian and Jenner clan has become the flag bearers of makeup looks. Kim Kardashian's makeup looks are one of the most popular celebrities' makeup looks. Her patent is classic bronze skin, sculpted with contour, nude lips and smokey eyes. Kim K's makeup looks included the application of red lipsticks often, but she still maintained her aesthetic matte skin, contoured to perfection!
Check out our guide to find 25 best Kim Kardashian makeup looks which include her looks with perfect contouring, met gala looks, smokey eyes and many more.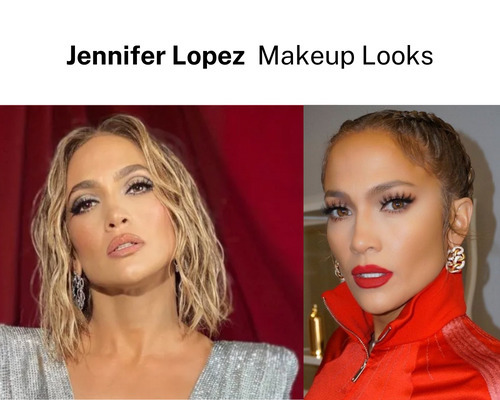 2. JLo Makeup Looks
Jennifer Lopez's makeup and style always make headlines. Her 90's sultry look had a shimmering silver shadow on her eyelids to compliment her outfit, and a delicate pink lip and glowing bronze made it one of the popular celebrity makeup looks.  JLo's makeup look has lots of dramatic, smoked-out eyes.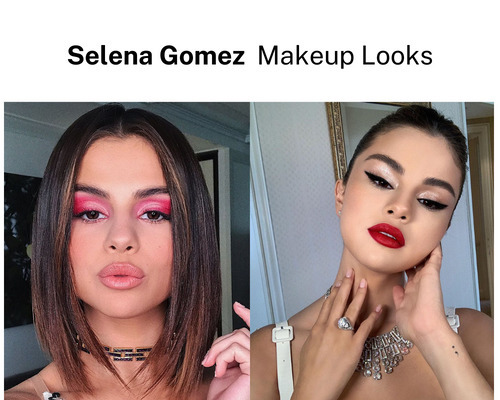 3. Selena Gomez's Makeup Looks
Singer and actor Selena Gomez use makeup as her mode of expression. Selena Gomez's makeup look peaked in 2017 when she opted for a hot pink eye shadow at the Met Gala! It can be counted in iconic celebrity makeup looks. Her cat-eye eyeliner and her red hot lipstick are stunning.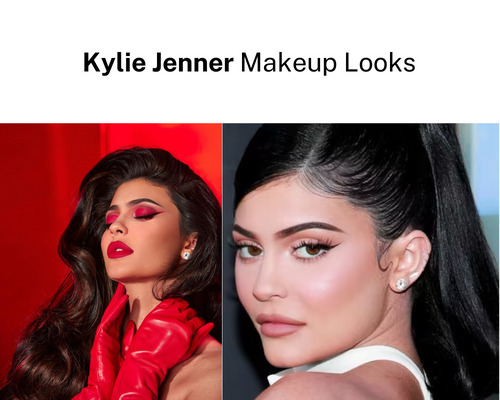 4. Kylie Jenner's Makeup Looks
Kylie Jenner the most influential youth, with her makeup looks always on point. Kylie is known for iconic celebrity makeup looks. She often opts for colourful eyes to break the monotony of a simple look. Kylie Jenner's makeup look also comprises kohl to add boldness to the eyes. She is a fan of nude lips.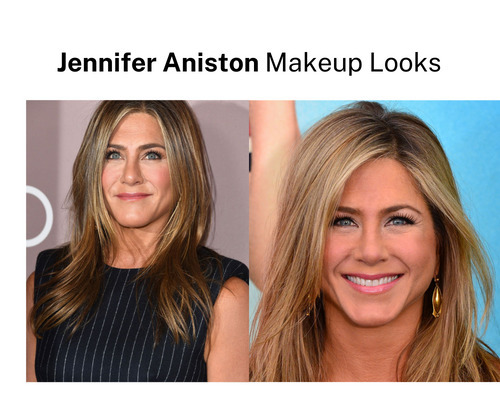 5. Jennifer Aniston's Makeup Looks
Jennifer Aniston has been in the industry for decades, and looking at her one can seldom guess her age correctly. She keeps her makeup minimal, often emphasizing her eyes with light eye shadow, mascara and little kohl. Jennifer Aniston's makeup is simple yet elegant!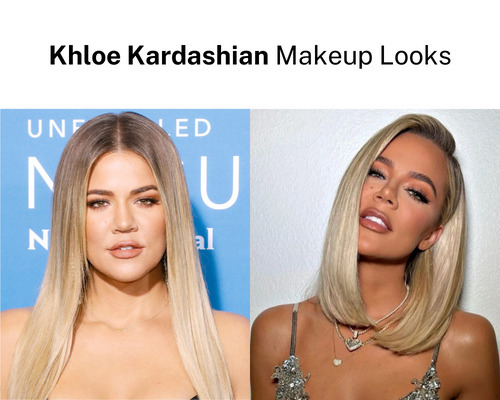 6. Khloe Kardashian's Makeup Looks
Out of the celebrity makeup looks, Khloe's is simple and glowy. She opts for glowing skin, emphasizing her eyes mostly, which gives her a subtle natural look of makeup. But Khloe Kardashian's makeup sometimes consists of dramatic eyes or bold lips, and fans cannot keep calm on those occasions!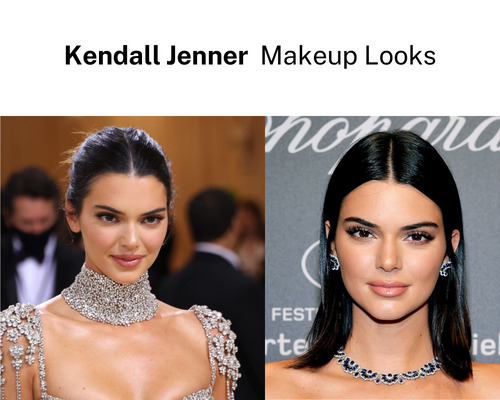 7. Kendall Jenner Makeup Looks
The supermodel is known for her varied popular celebrity makeup looks. She does not stick to one! On one occasion she is seen opting for smoked-out eyes with nude lips, while on the other she is seen rocking a simple look with bold red lips! Kendall Jenner's makeup is varied and gorgeous!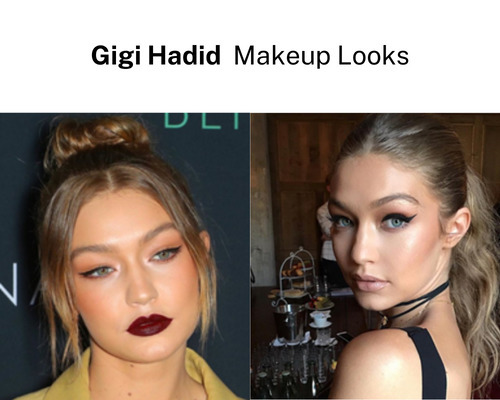 8. Gigi Hadid Makeup 
Gigi Hadid is considered to be one of the most beautiful celebrities. She is very flexible with makeup and all her makeup looks are super convenient, yet quite stylish! Gigi Hadid's makeup look has cat-eye eyeliner which is a hit. She is also seen rocking bold lips and colours sometimes, looking divine!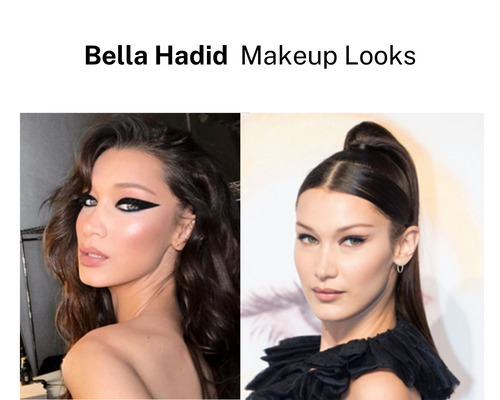 9. Bella Hadid Makeup Looks
The supermodel Bella Hadid is known for her perfectly contoured cheeks and sleek ponytail. She tends to be very neat with her makeup. Occasionally Bella Hadid's makeup look has dramatic eye makeup, and it suits her very well! In all, Bella, like her sister Gigi, is a makeup diva.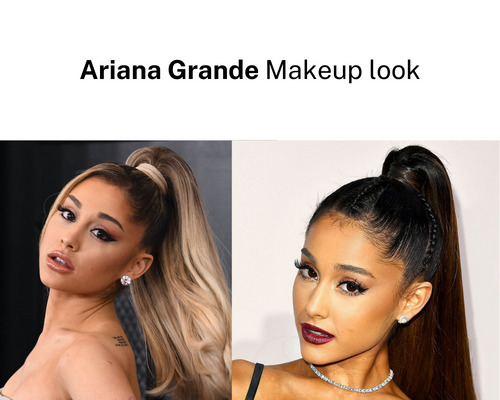 10. Ariana Grande's Makeup Looks
Ariana Grande is as famous for her celebrity makeup looks, as she is for her songs. Her 2016 oxblood lip with defined cats-eye is the most loved celebrity makeup look.  Ariana Grande's makeup look of smoked eyes is a hit among her fans, as it accentuates her small eyes!
11. Beyonce Makeup Looks
Beyonce is a makeup pro and has some of the most liked celebrity makeup looks. She isn't afraid of trying out-of-the-box looks and her 'The Lion King' premier look shows! Beyonce's makeup look includes hairstyles that go well with her makeup, making her stand out from the crowd every time.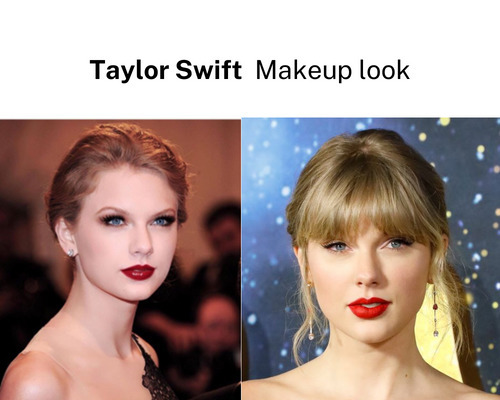 12. Taylor Swift's Makeup Looks
Taylor Swift loves rocking a bold red lip now and then, unlike most other celebs, and it suits her complexion like no other! Taylor Swift's makeup looks also has a lot of dramatic eye makeovers, including smoked-out eyes, cat eye, etc.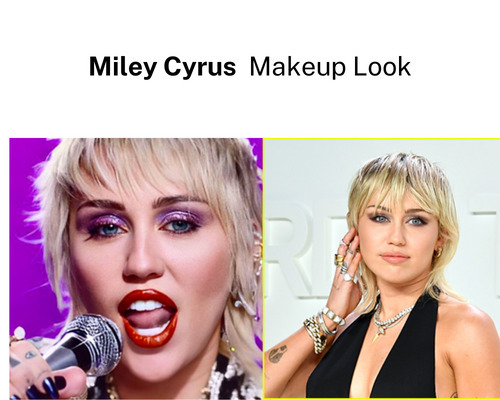 13. Miley Cyrus Makeup Looks
Miley either goes on to apply dramatic makeup or minimal, there is no in-between! Miley Cyrus' Makeup look has the most eye-catching contrasting colours that make her look prominent while performing among a million of her fans!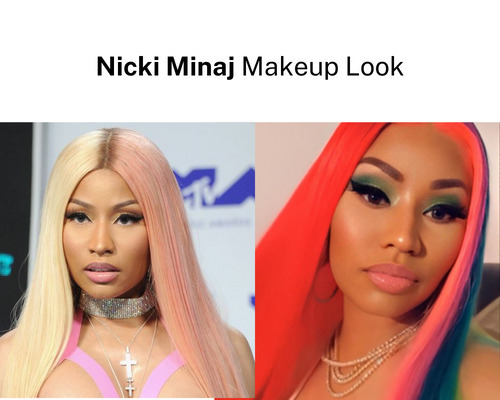 14. Nicki Minaj Makeup Looks
Nicki Minaj is known for her unconventional makeup looks! She is a fan of hair colours and is seen pulling off different shades. With that, Nicki Minaj's Makeup Look has bold eye shadows, a perfectly contoured face and highlights. Hers is a very different set of popular celebrity makeup looks.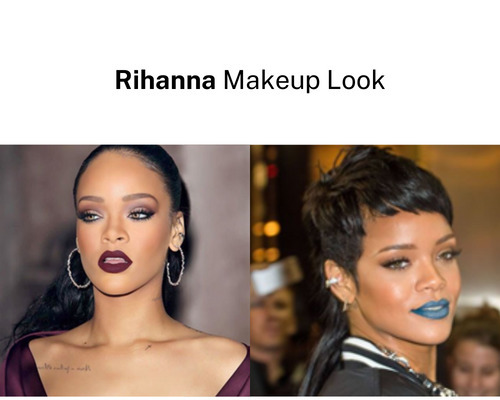 15. Rihanna Makeup Looks
Rihanna is called a goddess by her fans for the way she carries herself! She is bold and beautiful, and is not scared of carrying some controversial makeup looks! Her blue lipstick was the headline, while her gothic looks leave people in awe of her beauty! Rihanna's makeup look game couldn't be any better!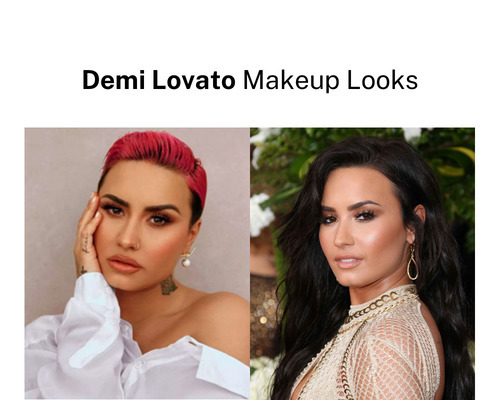 16. Demi Lovato Makeup
There are very few celebrity makeup looks that have transitioned like Demi's. From being a cute Disney artist with simple makeup to identifying her as gender-fluid, Demi Lovato's makeup game has changed drastically over the years!
17. Kourtney Kardashian Makeup Looks
Kourtney Kardashian, like all her sisters, is a fashion and beauty icon. She is a fan of basic makeup, for she is often seen using nude lipsticks and a well-contoured face. Kourtney Kardashian's makeup is simple, and one of the most elegant celebrity makeup looks!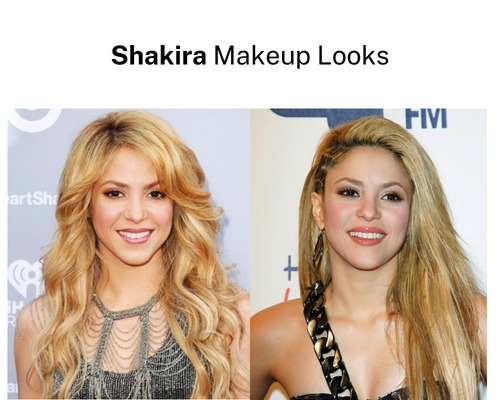 18. Shakira's Makeup
A naturally beautiful person hardly has to put much effort into makeup! Shakira's makeup looks are most elegant, and simple, but she seldom bouts of dramatic makeup when she is on stage performing.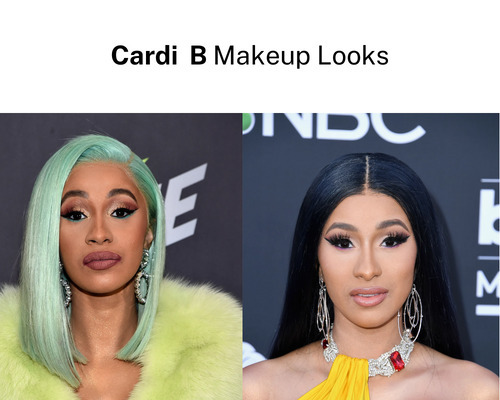 19. Cardi B Makeup 
Cardi B has an extraordinary personality and she expresses it well with makeup. Cardi B's makeup looks are bold and dramatic, yet she carries it very naturally! She goes wild with colours, accessories and sometimes makeup too, making them some eye-catching celebrity makeup looks.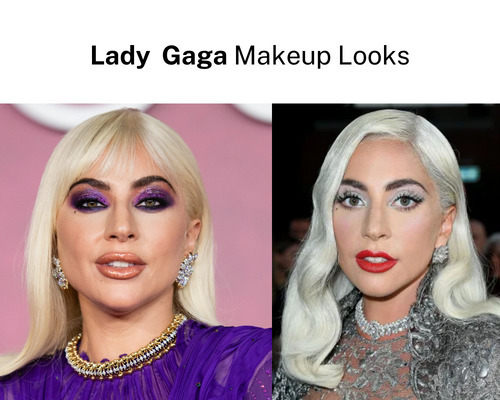 20. Lady Gaga's Makeup 
Lady Gaga is a very popular singer, and more so for her celebrity makeup looks! She is very extra with her looks. She goes the extra mile with her eye makeup, experimenting with colours and styles. Lady Gaga's makeup look is quite a celebrity itself.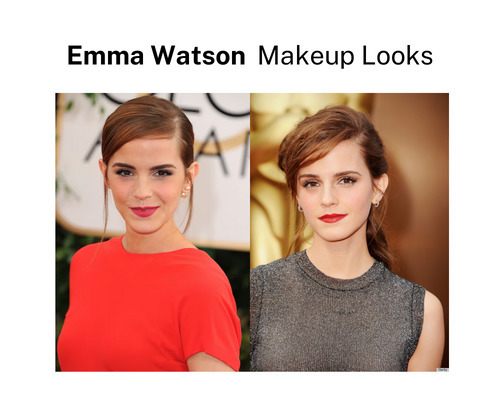 21. Emma Watson's Makeup Looks
As loved as she is, her makeup looks make people fall for her even more. She is the epitome of beauty and brains, and her looks show just that. Emma Watson's makeup look is extremely elegant and simple, sometimes with red lips, sometimes with enough eye makeup!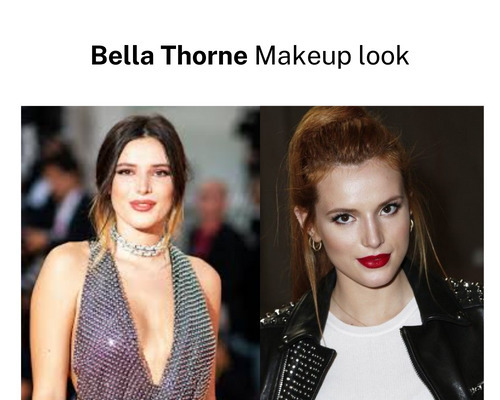 22. Bella Thorne Makeup
Bella Thorne likes to keep changing her looks and makeup is just one way of the process. Bella Thorne's makeup looks have a lot of variety. From gothic bold makeup, to open hair and subtle elegant celebrity makeup looks, she has got it all covered.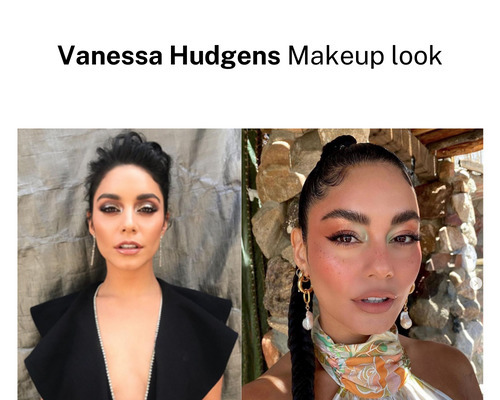 23. Vanessa Hudgens Makeup
Vanessa Hudgens is a much-loved celebrity and she does a lot with her looks to keep the love intact! Vanessa's acting skills are appreciated, and so is her celebrity makeup looks. Shimmery eyes and glossed lips are one of the most loved Vanessa Hudgens's makeup looks.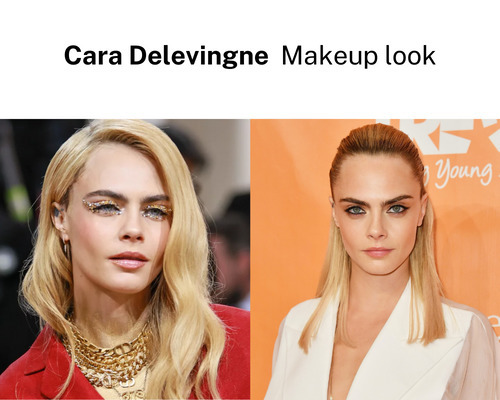 24. Cara Delevingne Makeup Looks
Some of Cara Delevingne's make looks are amongst the celebrity makeup looks, including her Met gala 2022 makeup where she wore a red silk suit and opted for pink glossy lips and golden shimmered rhinestone makeup that was a showstopper!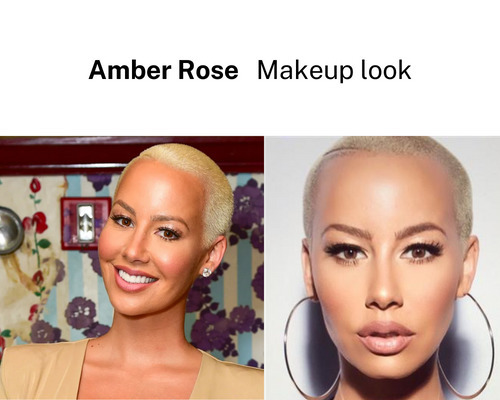 25. Amber Rose Makeup Looks
Amber Rose's makeup look consists of bold choices, for she is one of the rare celebrities who aren't scared of keeping her hair trimmed. She experiments with big hoops goes wild with lip colours and loves subtle eye makeup, and fans are only in awe.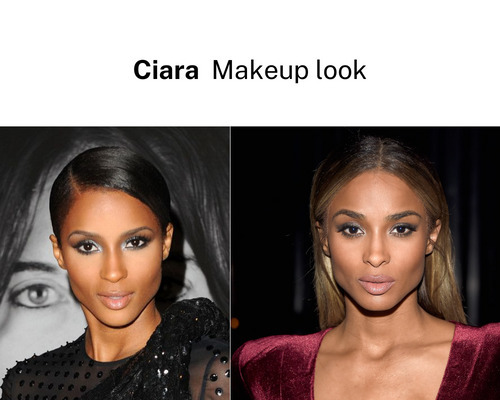 26. Ciara Makeup Game
Ciara's makeup has a lot of variation, but mostly she loves pulling a no-makeup makeup look. She reportedly also went makeup-free at a lot of events, inspiring others to embrace their natural skin. Their makeup is kept quite subtle by her.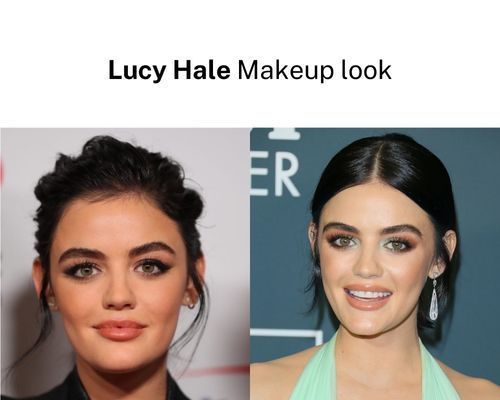 27. Lucy Hale's Makeup
Lucy Hale is one of the prettiest faces in the industry! Her makeup looks are always on point. She loves glamorous eye makeup and dark lipstick or sometimes sticks to a nude lips and enhanced eye makeup. Lucy Hale's makeup looks are quite uncomplicated.
28. Anne Hathway Makeup Looks
Anne Hathway is one of the celebrities who are ageing like fine wine. Her makeup is on point, and she looks as if she is 20 still. Her makeup game is quite subtle and chic and she looks quite confident in whatever she decides to wear.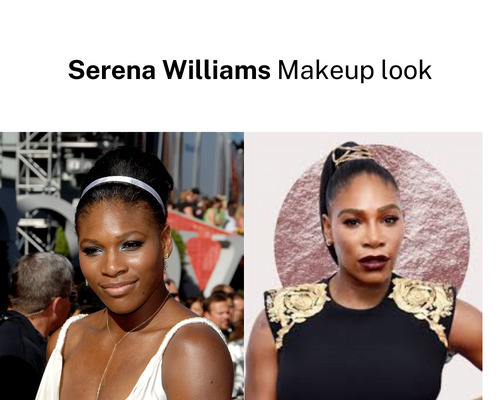 29. Serena Williams's Makeup
With her athletic body, Serena is already an inspiration for a lot of women. But with her looks, she shows that is not left behind in vanity too. She likes solid dresses with a little shimmer, and Serena Williams's makeup is simple yet elegant.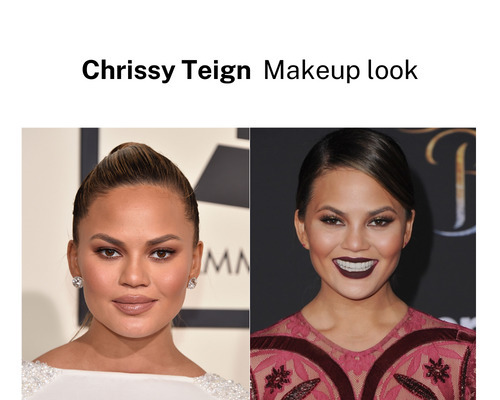 30. Chrissy Teign Makeup
Chrissy Teign has a pattern of makeup styles, nonetheless, it suits her thoroughly. She is often seen with winged eyes and dark-coloured lips, with her hair open. This look is her patent, but she also likes experimenting with her hairstyles to break the monotony.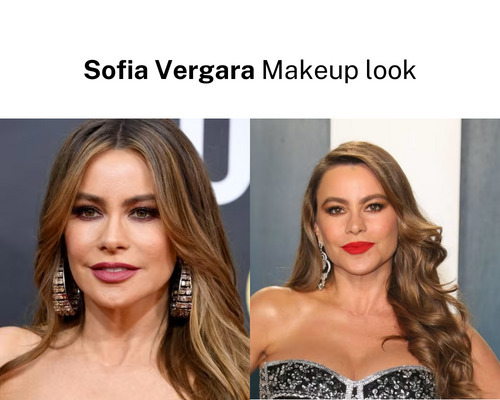 31. Sofia Vergara Makeup Looks
Sofia Vergara's Makeup Look consists of styles that help in accentuating her best facial features. She loves using concealer and a good blush to enhance her cheeks. Sofia seems to know when to go for casual makeup, and when to glam it up!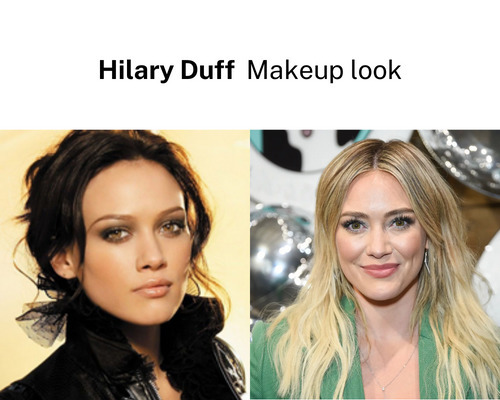 32. Hilary Duff Makeup Looks
Hilary's best possible feature is the wide smile she poses while posing for pictures. Makeup, or no makeup, the smile wins the show every time! Hilary Duff's Makeup Look consists of mostly nude lips and stylish eye makeup to balance it out.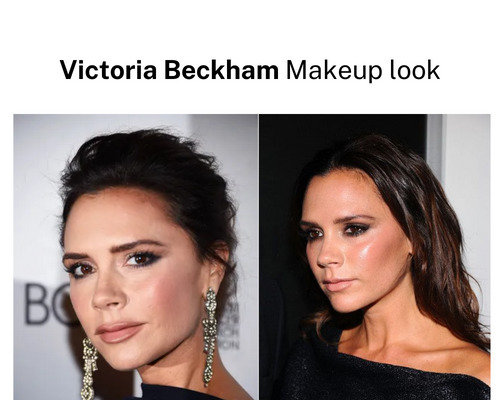 33. Victoria Beckham Makeup Looks
Victoria Beckham is one of the celebrities who are deeply associated with the fashion world. She never fails to impress her audience, and keeps herself well maintained too. Her go-to makeup look is smoked-out eyes and lip gloss, with a perfectly contoured face!