25 Best Designer Mehndi Designs - 2023
Olivia
Updated At 02 Feb 23
Mehndi is a type of art that is applied to the skin to beautify it for any informal or formal occasion. The hands and legs receive special mehndi applications. In India and the subcontinent, mehndi plays a significant role in ceremonies. The design of mehndis is particularly well-liked throughout the Gulf nations as well. There are many different kinds of mehndi designs, and each person can choose the one that best suits her preferences and needs.

The internet is awash with designer mehndi's designs, and these designs have swiftly gained popularity. These patterns are typically elegant and current. Long and short designer mehndi patterns are both possible. Let's look at the best 25 designer mehndi designs so you may save them for your upcoming mehndi.
25 Best Designer Mehndi Designs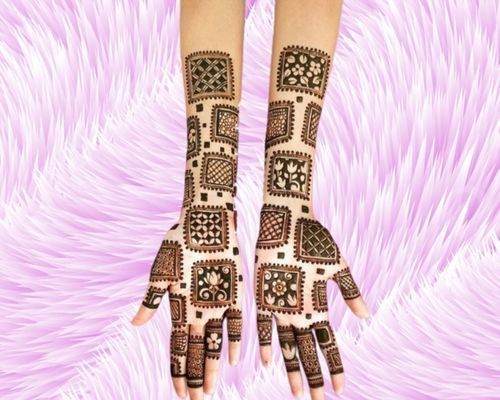 1. Block Designer Mehndi Design
One of the season's designer mehndi's designs is this one created with a unique style. The mehndi design resembles a block mehndi pattern in that it consists of square boxes of varying sizes with various features placed inside each one, making it one of the most beautiful mehndi patterns. This full hand designer mehndi pattern is a new designer mehndi design appropriate for both informal and formal occasions.
One of the top bridal mehndi designs, this designer design is unique and can be a gamechanger.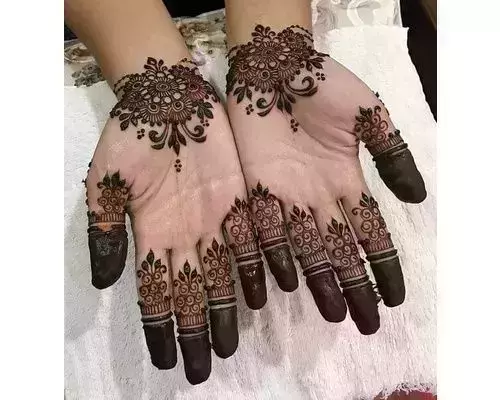 2. Simple Designer Mehndi
This mehndi pattern seems simple, but it's gorgeous! This designer mehndi pattern's palm area and the flower designs crafted around the wrist and fingers are its main draws. You might attempt to imitate this mehndi design on both sides of your hand.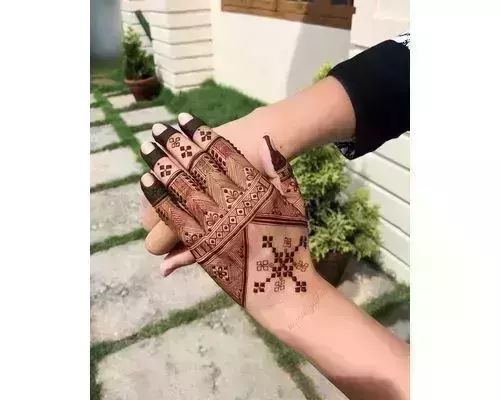 3. Designer Mehndi For BackHand
This designer mehndi design was chosen for your bacbackhandhe geometric boxes are the major feature that draws attention to this mehndi design. The remaining elements of the design are delicate and detailed and is new designer mehndi design. This mehndi pattern will undoubtedly look stunning when worn with traditional clothing.
Also check out the top arabic mehndi designs for both front and back hand which have been trending this year.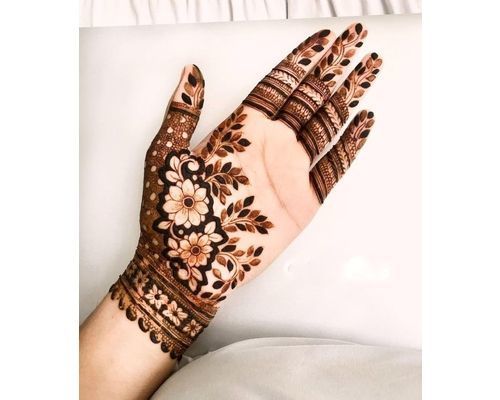 4. Floral Design Mehndi
This exquisitely detailed mehndi pattern has a very designer appearance and feel. Stunning, rich, and heavily crafted elaborate floral and leaf motifs applied to the hands are lovely. A combination of leafy and detailed circular patterns is used to create the patterns. This one is suitable for celebrations of many kinds, including weddings. With flowery mehndi patterns created with such patience and complexity, one can never go wrong.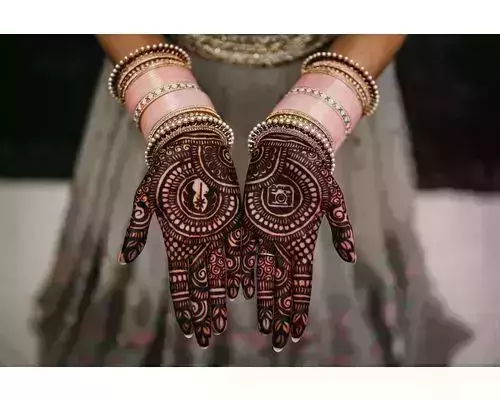 5. Bold And Beautiful Mehndi Design
This designer mehndi design would be the ideal option for a modern bride's wedding. The fantastic fusion of circular patterns and bold craftsmanship draws our attention and looks amazing. The addition of a camera between the palms to this artistic mehndi adds the ideal finishing and personalised touch. You should give this designer mehndi a try.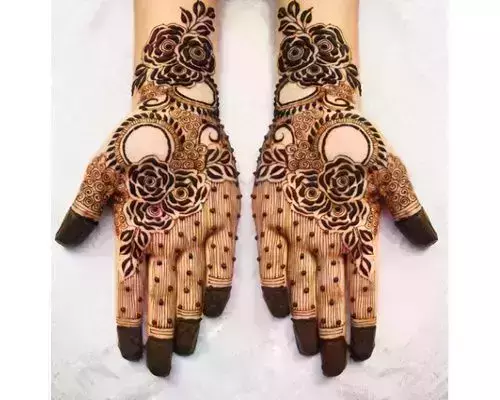 6. Designer Rose Mehndi
The bright and bold coloured roses and minute straight lines with dots that create a star-like look are this mehndi design's main draws. On the wrist and palms, the complete designer mehndi design is stunning and covered with roses. This mehndi pattern is perfect for any festivity or traditional occasion.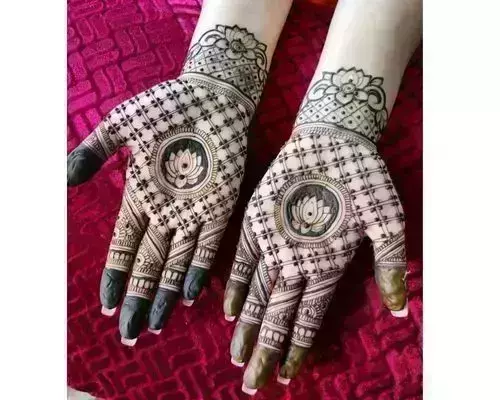 7. Lotus And Mesh Designer Mehndi
The meshwork and lotus in this creative mehndi pattern go along perfectly. The palms' centre is constructed with a lotus between the shaded halves, and the entire hand is covered in mesh and pattern work. The wrist's mehndi design is finished with a lotus and a dotted pattern.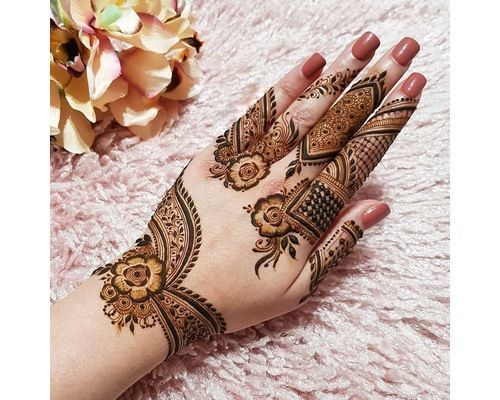 8. Elegant Mehndi Design
This elegant designer mehndi is specially made with love. The mehndi elements such as floral and leafy motifs are stunning. The design created on the index finger is creative. This elegant mehndi design is unique and stylish making it a choice for the millennials.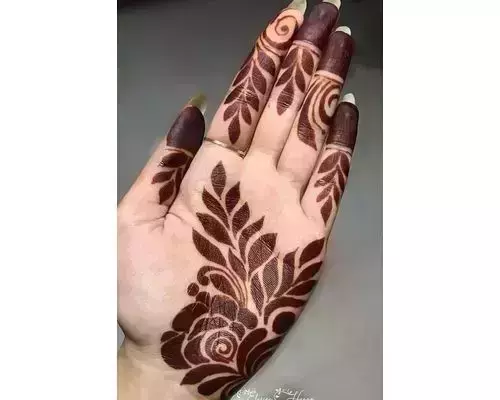 9. Easy Designer Mehndi
A quick and easy mehndi design that also looks elegant and fashionable. This mehndi pattern has a palm with foliage shading. The shading is the main focus of this mehndi pattern. This mehndi pattern has a captivating result.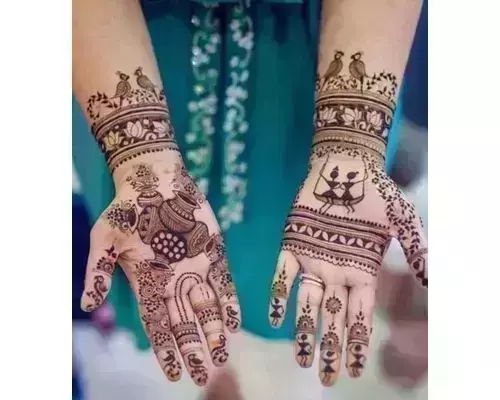 10. Personalised Mehndi Design
We can be certain that this mehndi design was made for a traditional or significant celebratory occasion because of the Kalash in it, which has a positive vibe. Designer motifs, such as swinging girls, are used in the mehndi design of the opposite hand. Similarly to that, one can add their ideas to this mehndi design.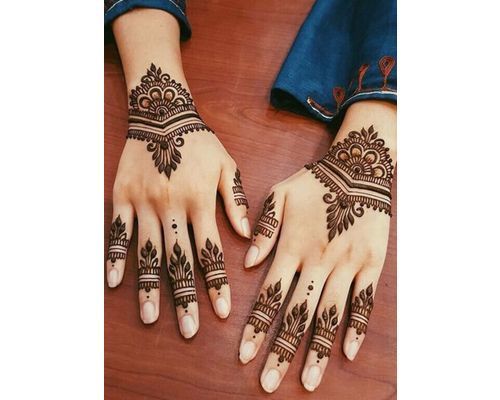 11. Designer Mehndi's pattern for
We can only swoon over the mehndi patterns and attempt to imitate this gracious designer mehndi on our hands. The jewellery is being replaced by this simple-to-use mehndi pattern. This jewellery and chain mehndi design looks stunning and unique.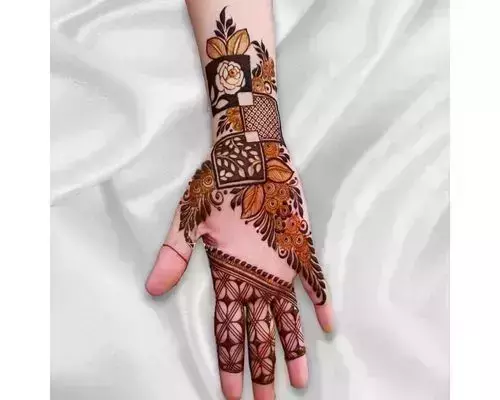 12. New Designer Mehndi
It's the most recent designer mehndi on the list. A well-executed mehndi pattern that combines the basic style with variations, works its magic. All of the various permutations of the square boxes and the floral veil with meshwork on the fingers are grouped in one frame. It is undoubtedly a beautiful mehndi combination.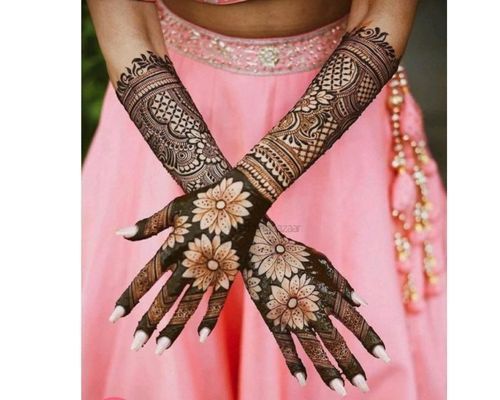 13. Designer Mehndi For Bride
It is the perfect full-hand mehndi design for the bride at her wedding. Beautiful flowers made with shaded parts can be seen in this creative mehndi. Although the mehndi design has a timeless feel to it, the designer flowers are what caught our attention and have us swooning over this bridal mehndi design.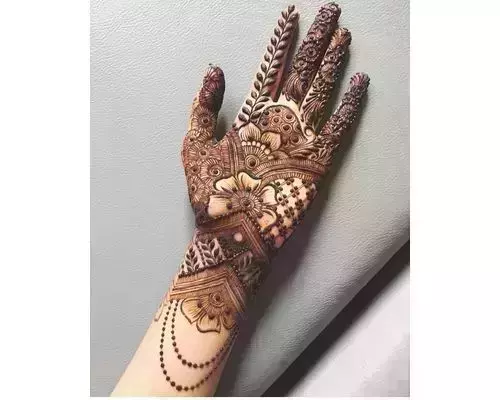 14. Intricate Designer Mehndi
This intricately crafted designer mehendi covers the hand having a lot of designer aspects. The design was created with the slightest of detailing, and the work and design speak for themselves. The mehndi design can include lovely extensions to floral themes in the design. Due to the elaborate, comprehensive designs of the Mehandi, this is ideal for any bride or bridesmaid.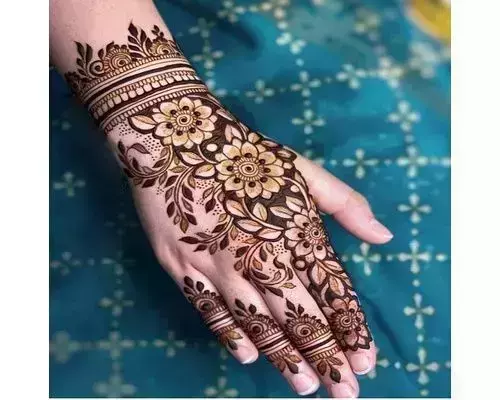 15. Latest Designer Mehndi
Whether you want to look at it as a classic or traditional pattern, this is the latest designer mehndi created while keeping the traditional approach in mind. One can use this pattern for joyous occasions because of the floral effects and leafy design on the backhand.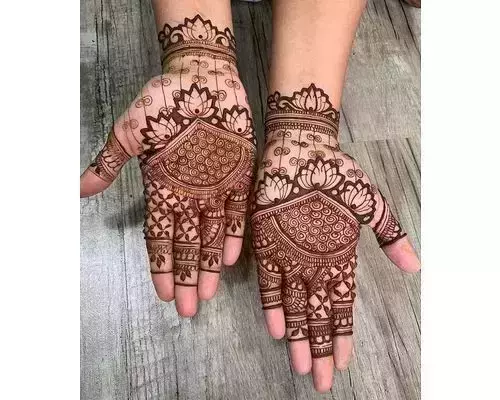 16. Designer Mehndi Design For Front Hand
The front hand is intended for this creative designer mehndi pattern. This mehndi design incorporates the elements of infinity, intricate swirling, and lotus work well. With this mehndi design, the palm appears full and broad.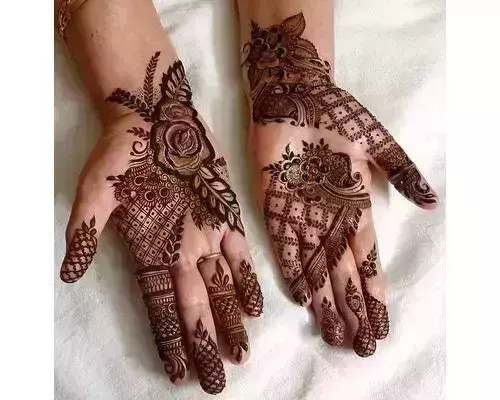 17. Similar Pattern Mehndi
Despite having separate designer mehndi designs on each hand, they are remarkably similar due to the design pattern used. It's a space game, and the mehndi is nicely made with the right components and detailing. This mehndi design is lovely, and we do not doubt that the finishing shade would give it much more charm.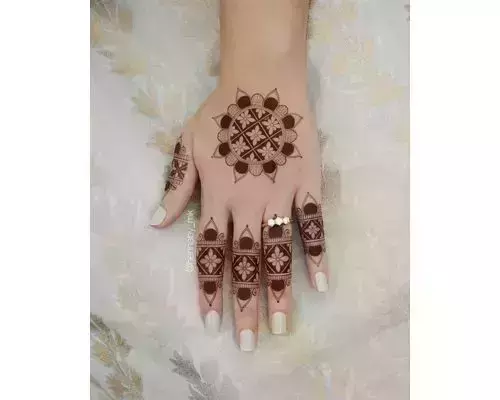 18. Quick Designer Mehndi
If you're looking for a quick henna design that combines style and pattern, this designer mehndi will be the answer. This mehndi design, applied to the back of the hand, is exquisite, regardless of whether the occasion is casual or traditional. The intricate floral designs and circular forms are beautiful.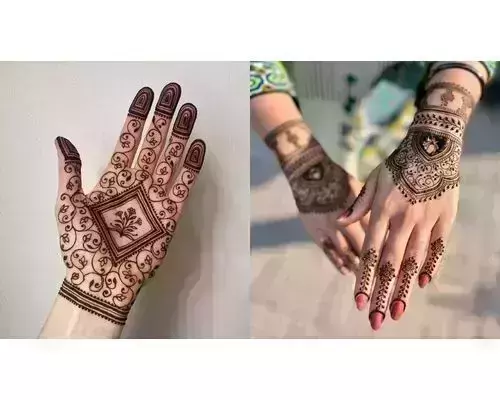 19. Exquisite Designer Mehndi
Such an exquisite and simple designer mehndi it is! We adore the leafy veils created on the palms of the front hand with the square filled with a beautiful flower design. The backhand design of the geometric pattern also looks good.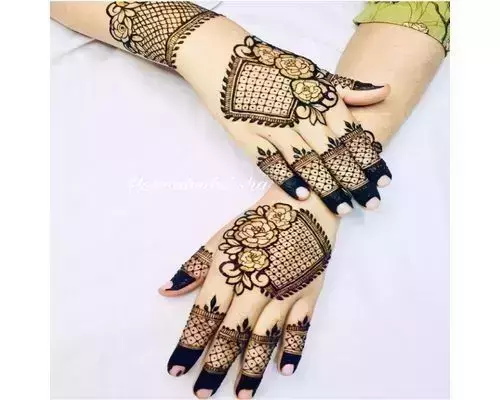 20. Check Box Designer Mehndi
A pretty mehndi pattern that works beautifully with the florals and the checkboxes with dots. One can adore this creative mehndi pattern because of the strategically arranged elements of leaves, flowers, and patterns.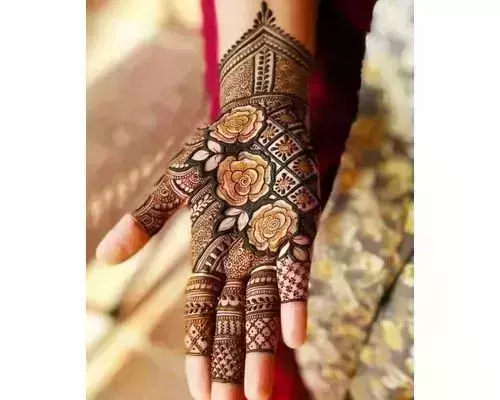 21. Plam Filled Mehndi Pattern
This intricate designer mehndi design, which includes many variations of mehndi components, covers the full palm. This mehndi pattern is specifically merged into four sections and combined with delicate work, roses, and foliage.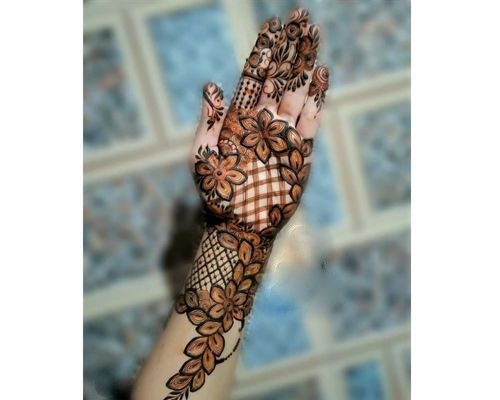 22. Full Hand Designer Mehndi
In this full hand mehndi, the cross work and the shaded flower path merge flawlessly. The design is a floral flow from one side of the wrist to the palms, completing the pattern around the fingers. The leafy effects on the fingertips make them beautifully designed.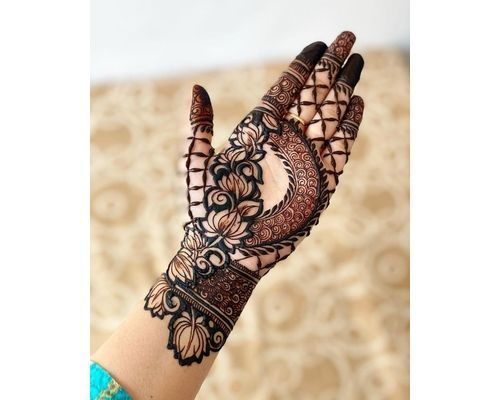 23. Lotus Motifs Mehndi Design
The elaborate circular pattern and lotus motif was used to create this artistic mehndi. This designer mehndi incorporates both lotus motifs and circular patterns in a very detailed way. The lotus shade is perfectly crafted.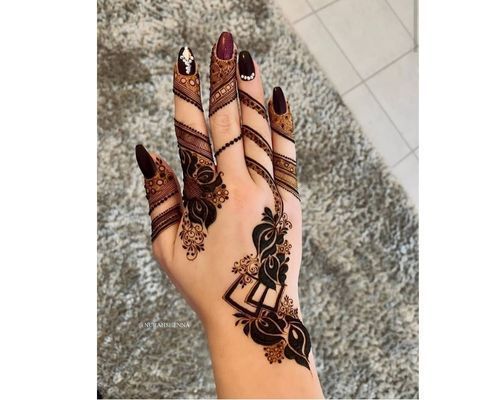 24. Designer Mehndi For Ring Ceremony
For the bride's ring ceremony, a flawless designer mehndi design can be created especially for her. When applied to the back of the hand, this mehndi design will look amazing. A modern appearance is provided by the well-chosen pattern's curved leaves and wide lines.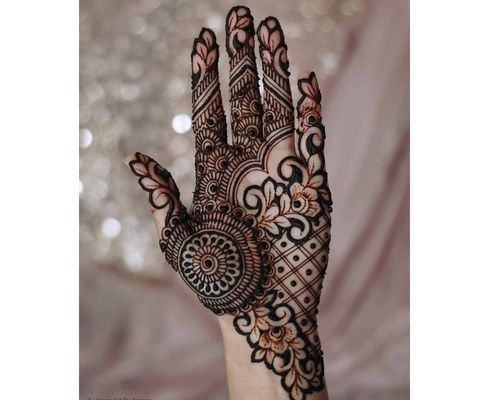 25. Distinct Mehndi Pattern
It features flower work and a different mehndi-shaded pattern. This design is distinctive and daring because of the leafy motifs and dark colouring of the pieces. The thumb's adjacent circular pattern unites the entire design into a single frame.