101 Stunning Easy Henna Designs With Images - 2023
Pooja Angurasu
Updated At 15 Jul 23
Looking for easy henna designs?
For centuries, henna has been known to bring love, prosperity, fortune, and protection against evil. Apart from these beliefs, henna also has scientifically proven benefits. Mehndi has a very soothing effect. It cools down and calms the minds of brides & grooms of all the wedding stress and anxiety. Its healing powers also protect them against any viral infections or minor ailments like stress & headaches. Impressive, isn't it?
101 Stunning Easy Henna Designs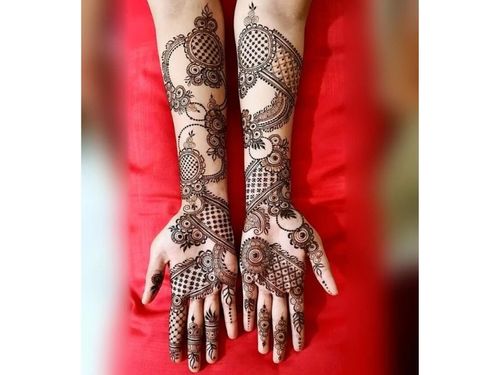 1. Full Hand Easy Henna Design
This spacious and attractive henna design is love at first sight for anyone looking to paint their half hands with henna!
It has easy elements and motifs anyone with slight experience in mehndi design can nail down.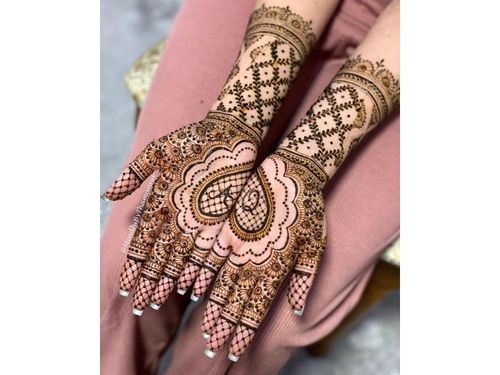 2. Heart Shaped Henna Design
An easy henna design is perfect for our newly married ladies. Flaunt your young love while keeping it appealing with this mehndi design.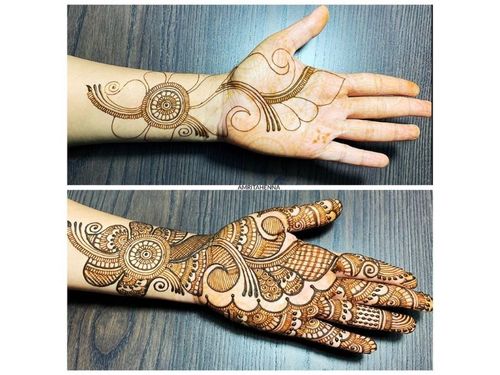 3. Henna With Open Spaces

A clear outline image does make even the most daunting mehndi design look easy! Of course, one can choose one's filling after the outline is done.
Check out our guide to find the best Arabic mehndi design as we cover 60+ trending and most stylish mehndi designs.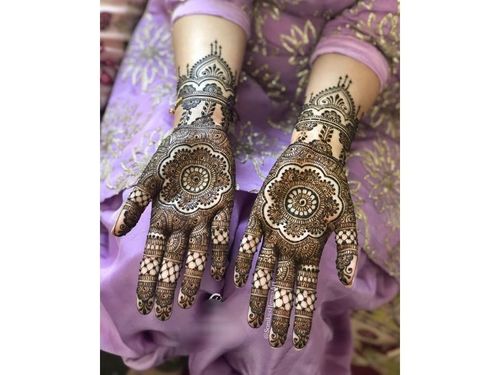 4. Traditional Henna Design

With an exquisite mandala design in the middle surrounded by easy filling, this sure is an easy henna design to rock on traditional festivals just after your marriage.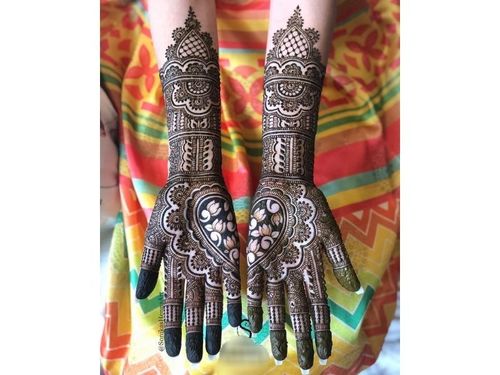 5. Bold & Beautiful Easy Henna Design
An intricate easy mehndi design with a half-heart drawn on the palm of hands with easy classic designs done all over is surely bewitching!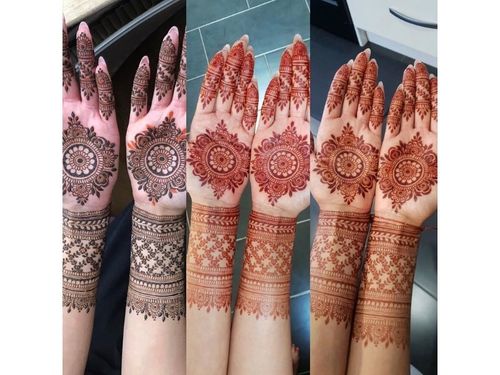 6. Effortless Henna Design

Have your beautiful hands been adorned with this appealing mandala dominated bharwa design? Look how adorable it looks after the henna is stained.
Also Read: 51 Best Full Hand Mehndi Designs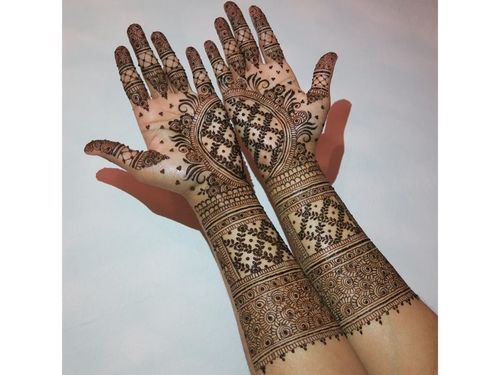 7. Easy Henna With Strokes

A good style henna design with prominent leaf and swirl patterns with an intriguing design in the middle is so eye catching! Look at those little hearts though.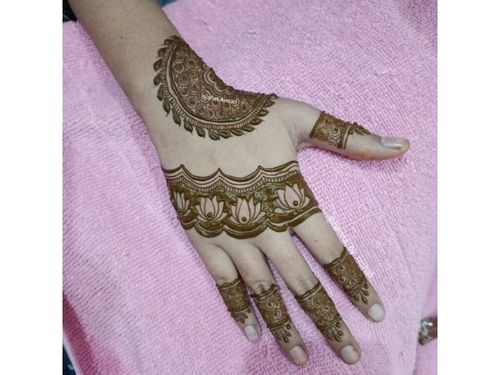 8. Lotus Henna Design
If there's one element that has taken over the henna designs in the past few years, it has been lotuses. Tucked with the 3-D pattern is the best way to enhance their allure and that's what the maximum of henna artists do when they include lotuses in their henna. For anyone well-equipped to draw lotuses in henna, this pattern will be so much easy to create. This henna design will look amazing after staining as well.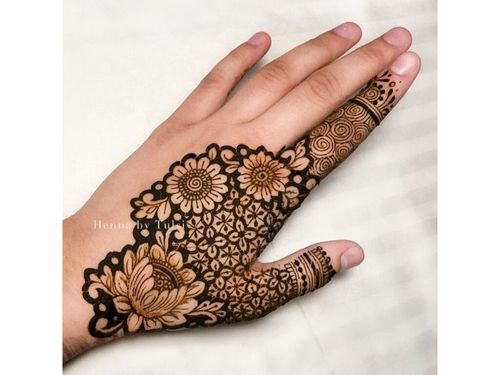 9. Intricate Henna
This easy henna design might look complicated but it isn't. You can replace the lotus motif with a simple flower one if you want. It will still look great. Although this design will require patience and tidiness but once its completed, it will look amazing.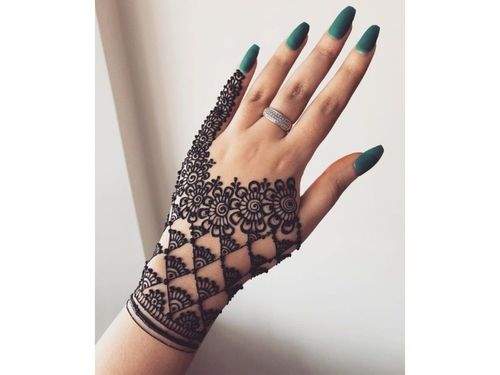 10. Contemporary Henna

We are extremely impressed by this chic and contemporary design. This henna design with flower netted patterns will steal everyone's attention.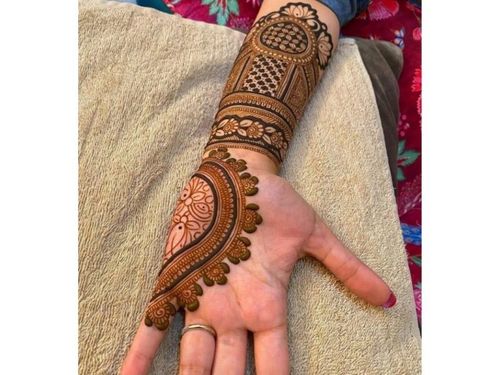 11. One Hand Henna
This henna is so intricate. It smartly fils the lower part of the hand and keeps the palm minimal to give the aura of a simple Mehendi pattern. If you find it a bit incomplete, you can add a small design on the finger right next to the thumb. It will give an illusion of a complete simple Mehendi design without compromising the minimal attribute of the design.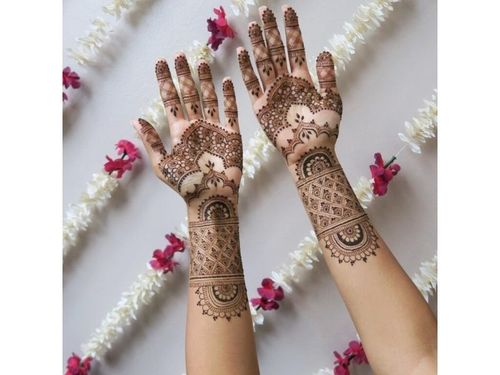 12. Minimal Henna

Minimalist henna design lovers – here's something for one to fall in love with! When one calls out for an easy henna design for weddings, there are judgemental eyes on us. But these spacious & half-hand designs will be ideal for your & those critical aunties too!
Also Read: 51 Stunning Jewellery Mehndi Designs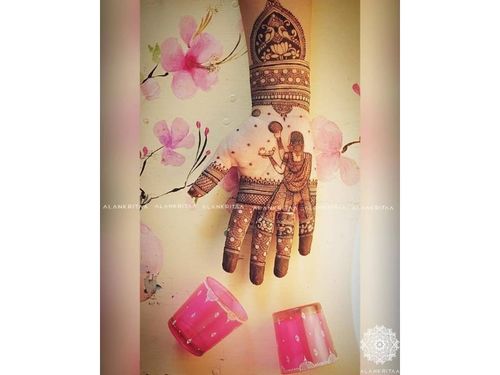 13. Karvachauth Special Henna Design
Well, the personalised lady motif in the middle takes work but those who possess mediocre levels of drawing skills can easily sketch it. Once that's done, the design becomes pretty simple to replicate.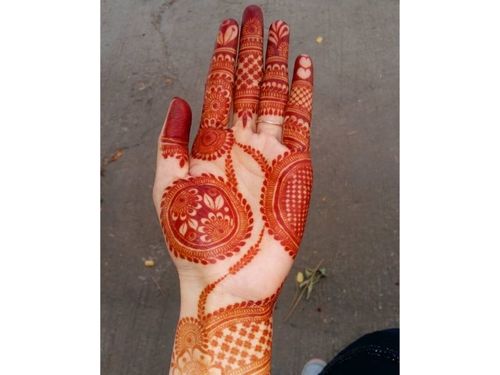 14. Uniquely Patterned
Shift your circular mandala to a little left & create an exclusive design that's modish and elegant. The creative filling in this henna design is also what's making it so captivating.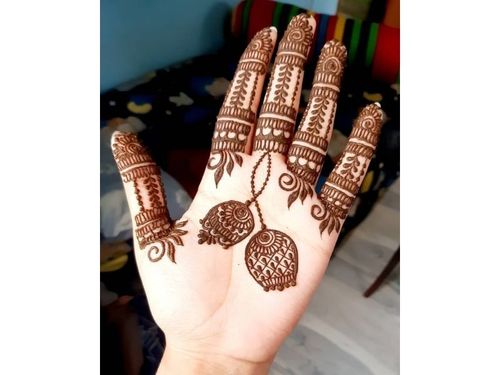 15. Jhumka Henna Design
Jhumka motifs in mehndi are the latest rage in henna designs. And they are so easy to map out. Look at this extraordinary henna design spreading charm only using these new-age motifs.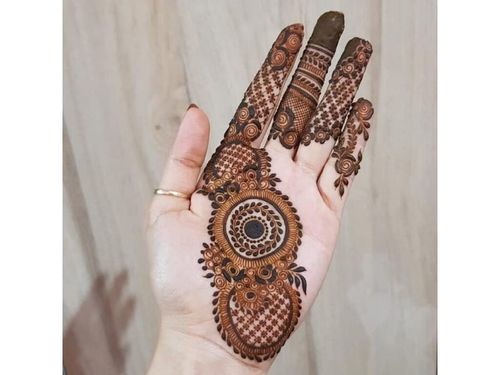 16. Arresting One

With bold outlines and catchy fillings, we adore this easy henna design decorated on just the palm!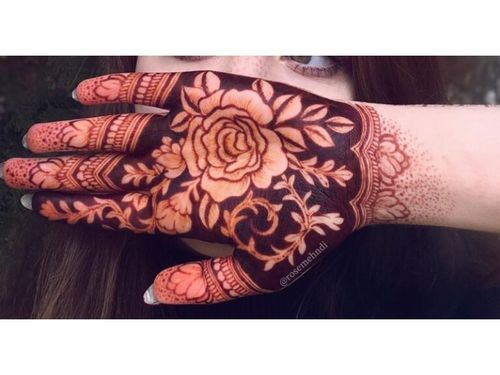 17. Floral Henna

This one might just be our favourite. Perfect for brides, wedding guests and kids alike. One needs to have the knack of drawing outlines though before trying this one. Once that's pinned down, just fill in the gaps and it is done!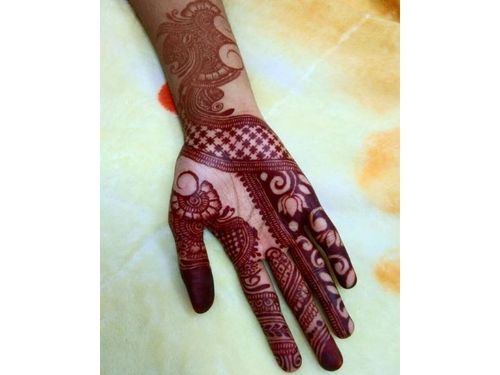 18. Riveting Mehndi Design
Keeping the charm of bharwa and minimalism alive, this gorgeous and Easy Henna Design adorned with lotus flowers, symmetry, and evident bare space is worth drooling over!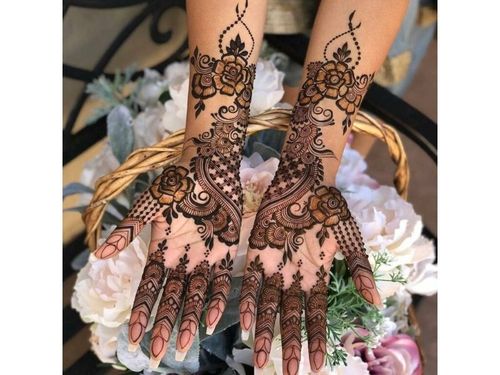 19. Pretty Design

This might look like the exact opposite of an easy henna design, but look closely! The patterns drawn on both hands & fingers are similar and spacious. Such facile designs are worth crushing over!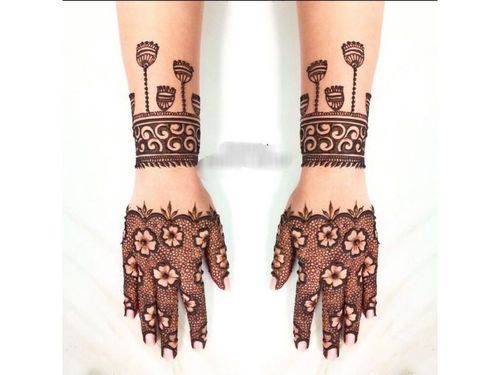 20. Statement Design
With jhumka motifs & new age floral art – this is such a refreshing and easy henna design! It will be a tedious job to draw those small half-circles in the fillings but just wait for the result.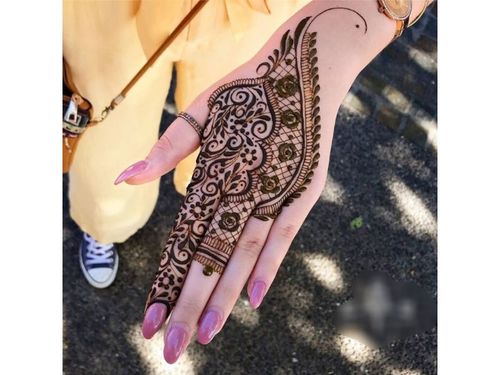 21. A Treat To The Eyes
This easy henna design requires intricacy & tidiness. We suggest someone who is above the beginner level to try this one.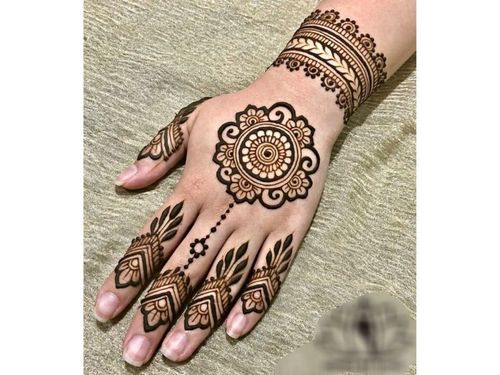 22. Effortless Mehndi Design
This backhand mehndi design is so simple, that it shouldn't take more than 15 minutes to draw. It's spacious and the filling is minimal as well. This should be your pick if the festival is tomorrow & you have got no time!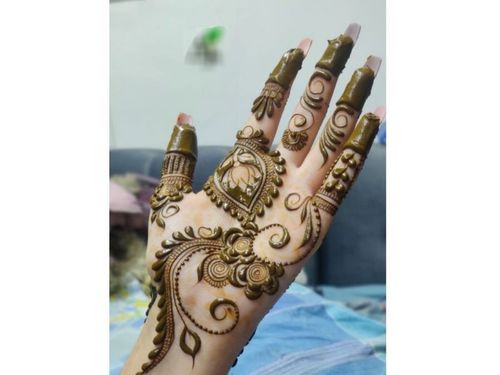 23. Stylish Easy Henna Design

This henna will look even prettier when it will dry. For a trained mehendi artist, this will take no longer than 10 to 15 minutes to complete. If the person is a beginner though, ensure their hands are infused with the creative skills to draw before you try this pattern. Even though it looks easy, there's certainly a lot of subtle creativity in this henna design.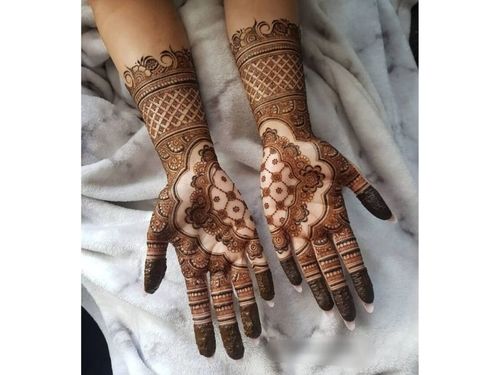 24. Multi Patterned Henna
The repetitive filling in this mehndi design along with an easy outline is one of the best easy henna designs. The complementary nature makes it extra appealing to the eyes.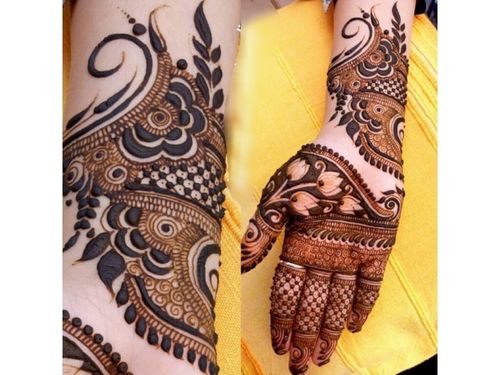 25. Simply Amazing Design
The strokes in this easy henna design are an amazing combination of thick and thin. That's what makes it so appealing though.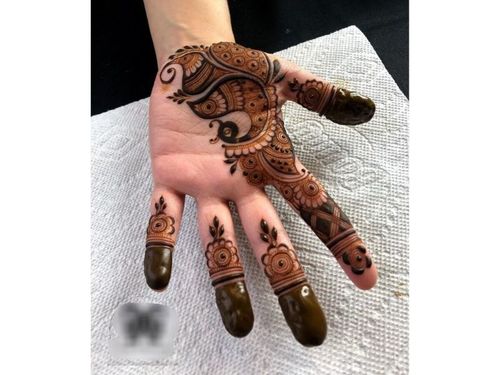 26. Henna Design With Peacock
Paisley in the form of peacock has been used as an element in mehndi design forever. All the beginners in mehndi start by drawing these traditional elements at first – which is all that comprises this gorgeous yet simple henna design.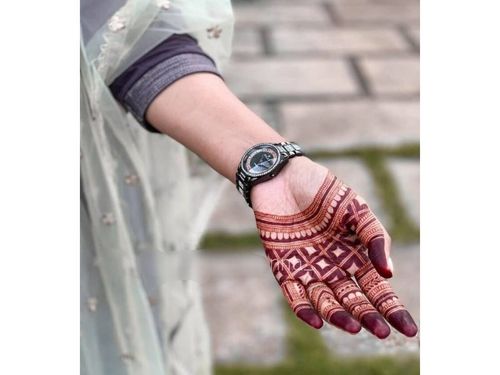 27. Sophisticated & Modern!
This ultra voguish easy peasy mehndi design is already keeping the person staring at their screens, isn't it? Well, they are not the only ones. We did it too, so had to include it in the list!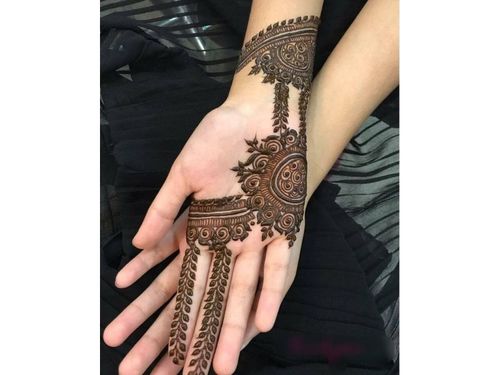 28. Edgy, Chic And Minimal Henna Design

Concentric swirls, leafy pattern and ideal positioning – this easy henna design looks trendy and attractive.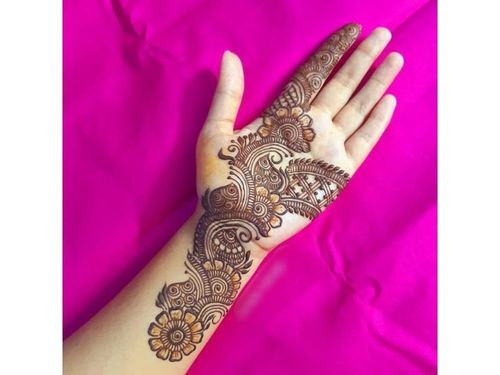 29. Traditional Henna Design

Nothing new here! Just a very traditional Arabic design that most of our mothers already are well aware of. Anyone trying to go basic, this simple henna design is one of the best options!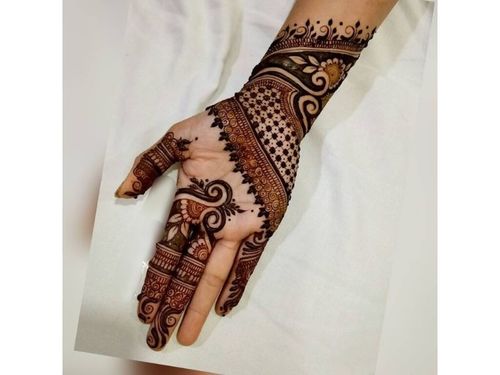 30. Classic Henna
This easy henna design comprising of chequered boxes adjoined elements and innovative patterns left us stunned! We think it's an easy design that anyone with basic skills in the henna application can nail down.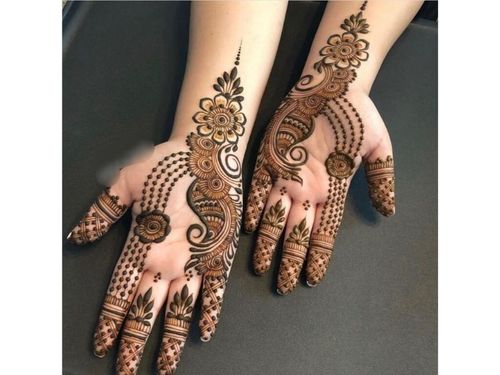 31. Take It Up A Notch!
Sometimes all it takes to create a chic pattern is to go the unusual way. Instead of drawing the bel-art diagonal style, keep it horizontal and sass it up with a quirky pattern like this. Don't forget to take it up a notch with those chequered fingertips!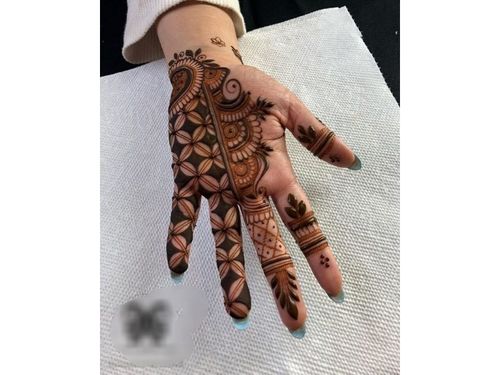 32. Another Mesmerizing Henna Design

Drawing an easy henna design step by step is sometimes all about creatively putting the traditional elements. This is such a beautiful design that even beginners can nail down!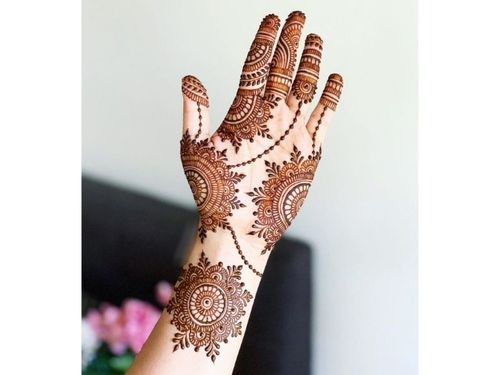 33. Elegant Mehndi
Want to paint your half-hands with henna while keeping it easy? These effortless circular strokes placed perfectly are a great option to try out!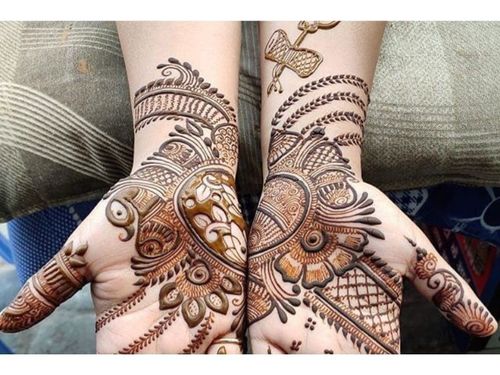 34. An Incredible Pattern
A coordinated mehndi design always soothes the eyes. This henna mehndi art is a perfect balance for any bride who doesn't want a minimalistic design but wouldn't want a full-blown design either.
35. Playing With The New Age Elements
A modern age easy henna design decorated with new-age mehendi elements like dropping pinjaras, designed fingertips etc. The notable spaces in the middle further add to how modish this design is.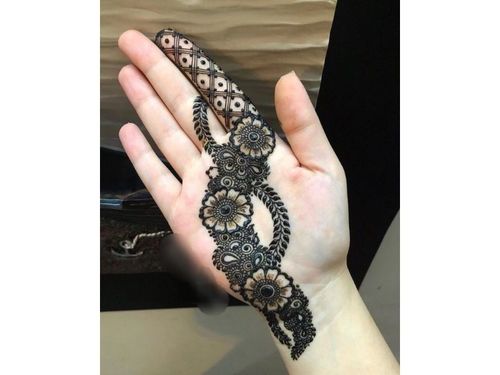 36. Conventional Floral Arabic Trail
A gorgeous Arabic bel-art mehndi design just never goes out of style. We love how neatly it's drawn with petite strokes for the boundary and filling. Incorporating traditional elements, this indeed is an easy henna design!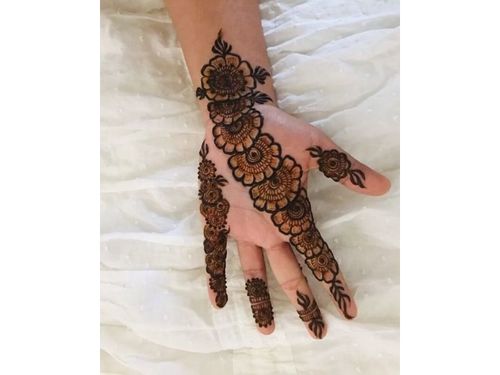 37. Cascading Flower Power

Starting on the base with a full floral pattern and carrying it to the top with mid-sized florals is giving this Mehendi design a jaw-dropping look! Look at that simple floral bel art drawn at the side, giving the already stunning design perfection it needs!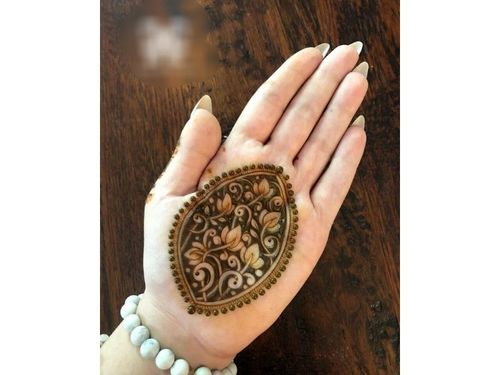 38. One-Of-A-Kind Mandala Henna Design
Mandalas always look traditional and elegant. And when it is a unique one drawn in the middle like this one, it surely catches attention.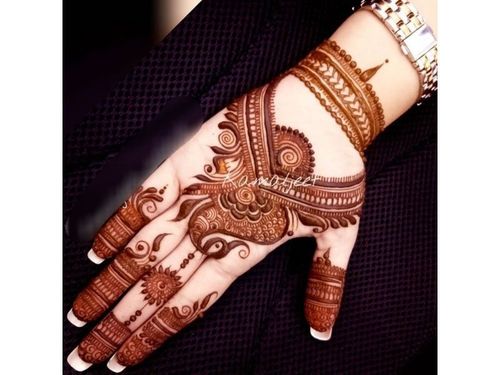 39. Intricacy At Its Best
Move on from the traditional mehndi trails because we have got something impressive for you to try instead. Just as easy as a bel-art, this easy henna design is for anyone who wants to try something new for their henna application.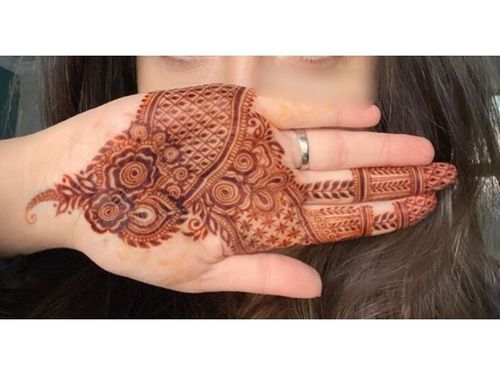 40. Effortless Yet Enchanting!
An easy henna design with florals, chequered patterns and leaves is love at first sight! Bridesmaids, take note. This design is screaming for you. And while you are at it, don't forget to take a stunning selfie like this one.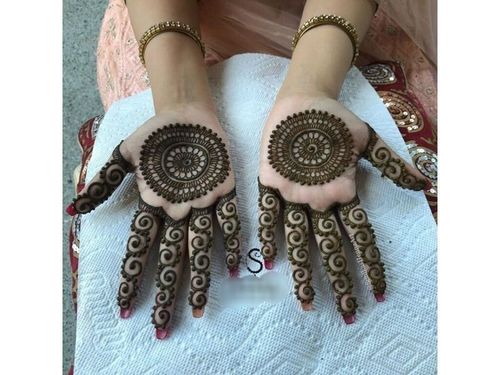 41. Neatly Done
This concentric circle design neatly done with alluring fingers is probably one of the simplest henna designs of all time!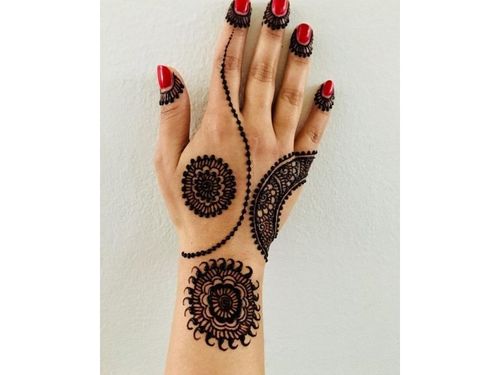 42. Mandala Love!
Why stop at just one mandala when they look super pretty on an easy henna design? Take inspiration from this henna & take the magic of mandalas up a notch.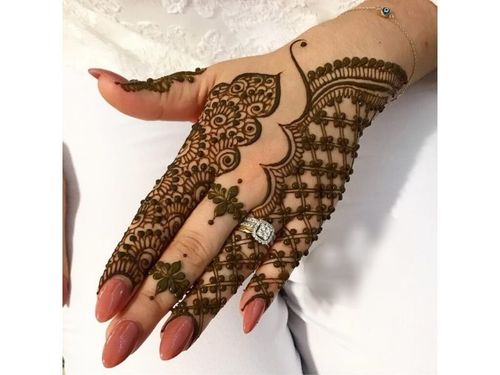 43. Simple Henna Design

It's alluring and it's simple. Look closely and one will realize that this design is probably the easiest back henna designs to draw on this list.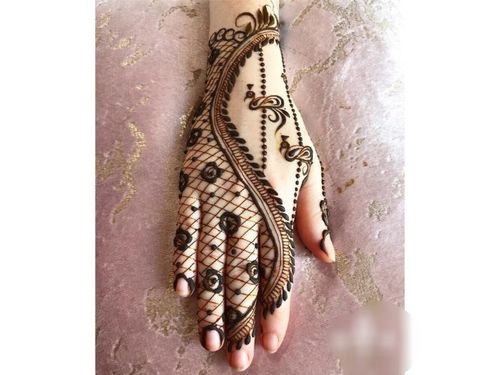 44. Jaal Pattern With A Twist!

A half hand jaal pattern enhanced with flowers in the middle and swan motifs outside is easy to make and looks super cute at the same time. If the motif seems a little complex to draw, leave it. The design will still look as good.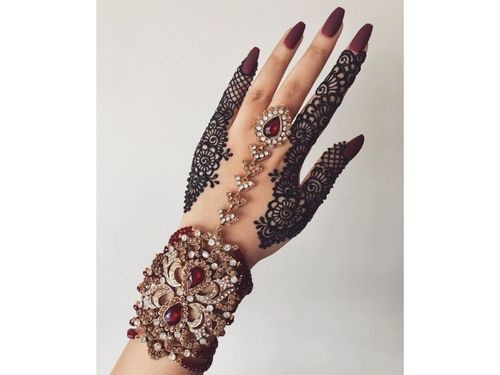 45. Easy Henna Design With An Accessory
We love how basic this henna design is – with just two short floral trails drawn on the sides and glamming it all up with a statement hand accessory.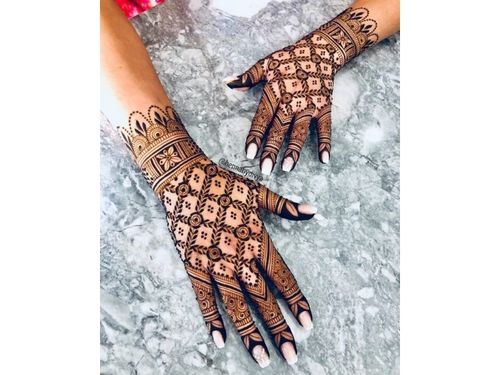 46. A Beautiful Jaal Pattern
This jaal pattern with leafy outlines and checkered designs on the border makes for a stunning full-coverage easy henna design.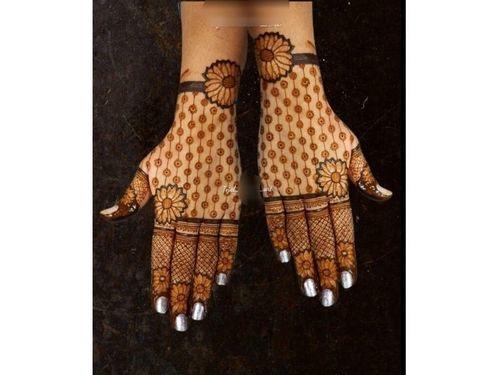 47. Florals & Jaals

A stunning culmination of florals and jaals mixed in with so much intricacy to give you a charming henna design. The bold lines and outlines make the motifs stand out better and make the entire pattern eye catching.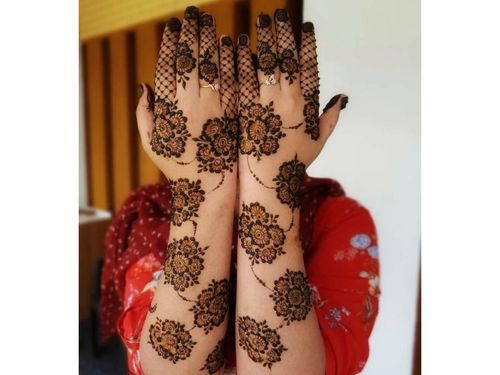 48. Easiest Henna Design Ever

We are not kidding. Aptly placed floral circles accentuated with a bold outline make this one of our absolute favourite easy henna designs.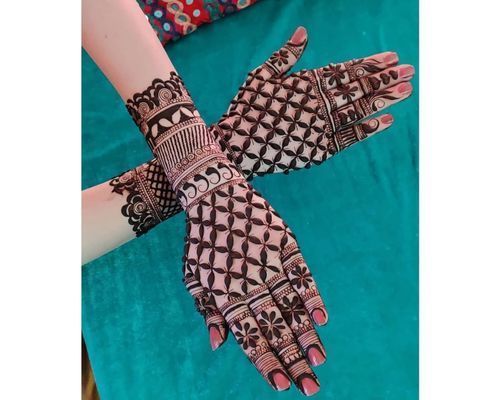 49. Jaal Mehendi Design For The Win!
Jaal patterns haven't been around for long. But their popularity has never dimmed down since they made an appearance. Considering how fabulous they look, no wonder they have become such a rage whenever one is looking for an easy henna design.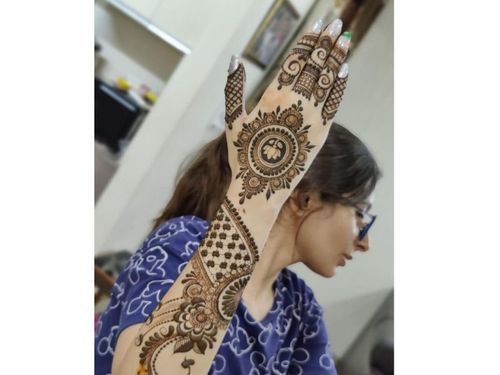 50. Spacious & Easy

We love how the mehendi artist here has left ample negative spaces in the design without really compromising on the allure of the design. Infused with modernistic elements, this pattern is ideal for the brides/ bridesmaids who want a contemporary approach to their henna.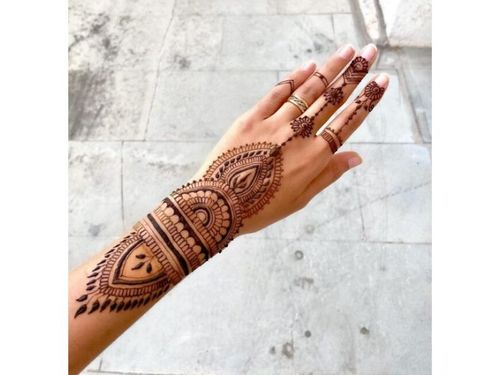 51. Step-By-Step Easy Henna Design

Now, if one is good with just simple lines and easy florals, this spacious easy backhand henna pattern is just what one needs to save! This is the easy henna design which gives a treat to the eyes.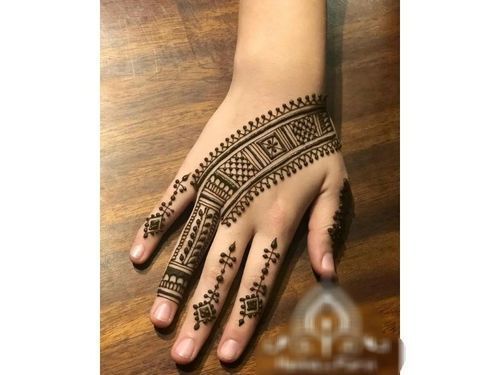 52. Square Easy Henna Design
We love this tribal easy henna design, which is made of only dots and lines. This square henna design is very unique and simple to make at the same time. We reckon both the artist and the client will be crushing hard on this design, for different reasons!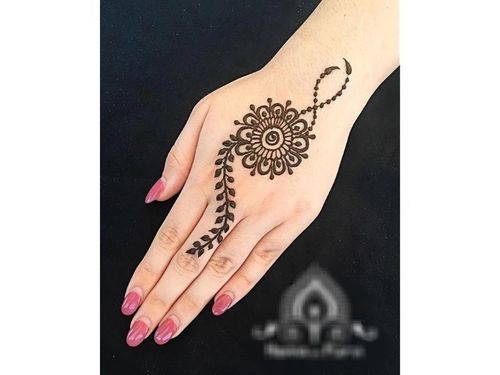 53. Flower Henna Design
This easy henna design is just a tattoo that one can make on the backside of little girls' hands or use in a bigger design to fill space. If one wants to sustain their career in the business, one needs to know these tricks to save time.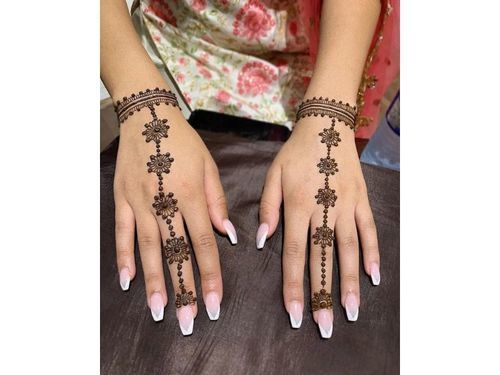 54. Floral Chain Design
Keeping it simple and easy yet dainty as ever, this floral chain henna design for the backhand is a millennial bride's favourite. Not only for the brides, but this easy henna design is also a much-loved one even for the bridesmaids.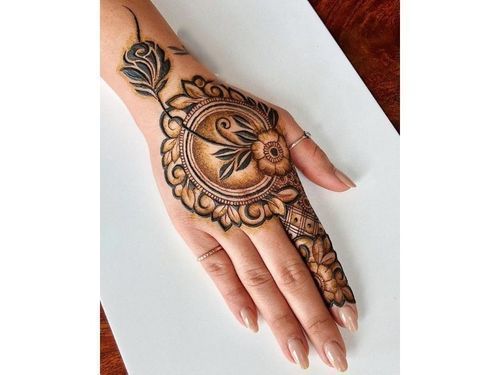 55. Floral Henna Design
While intricate designs are mostly preferred by the brides to make their hands look fuller, mehndi artists can opt for elaborate easy floral henna designs for the backhand or half-hand henna designs that the other females in the family or the bridesmaids and friends can flaunt.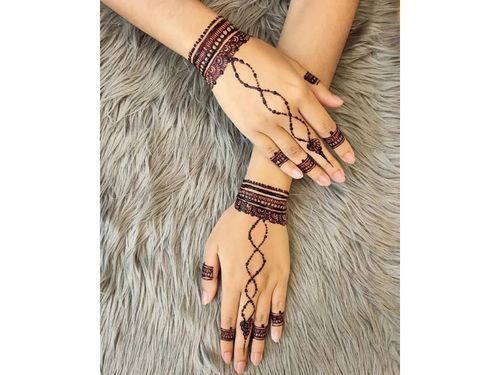 56. Abstract Henna Design
One just has to be good at making a straight line, which is necessary for every mehndi artist. For brides or guests looking for easy henna designs that are stylish and modern, abstract henna designs are perfect. From an artist's perspective, abstract designs are the best easy henna designs for beginners.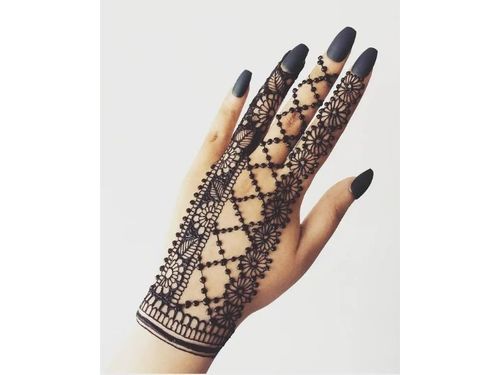 57. Netted Pattern Design
Another easy henna design for beginners is this backhand design that includes, flowers, lattices and a bracelet pattern around the wrist. The elaborate lattice pattern which is also known as the jaali pattern and the parallel line of flowers that run to the tip of the fingers make this design a hoot.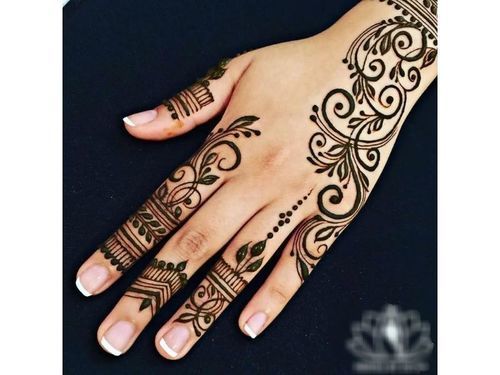 58. Leafy Design
There was a time when women had gone mad over bale mehndi designs as they did not have to sit for hours at an end to get beautiful henna-clad hands. That is why bales are a part of this easy henna design for beginners list!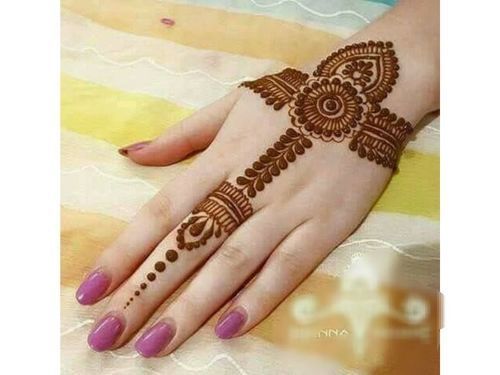 59. Leafy Bracelet Design
This easy henna design can decorate the bride's and bridesmaids' hands. One such easy henna design for beginners is this backhand mehndi with leaves. This easy henna design does not need you to be an absolute pro, but it sure looks perfect.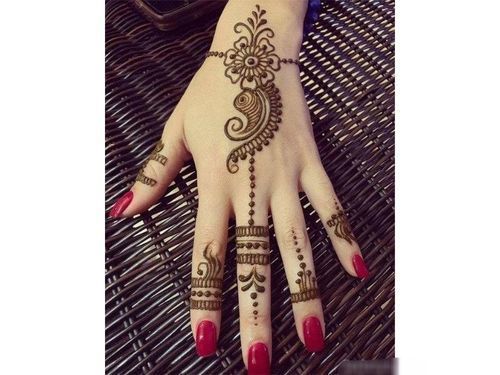 60. Easy Front Hand Design
This easy henna design consists of connecting dots with flowers, leaves and stripes. This is one of the easiest and chic henna designs for beginners. Just rock the wedding with this easy henna design and forget to decorate the nail with nail polish.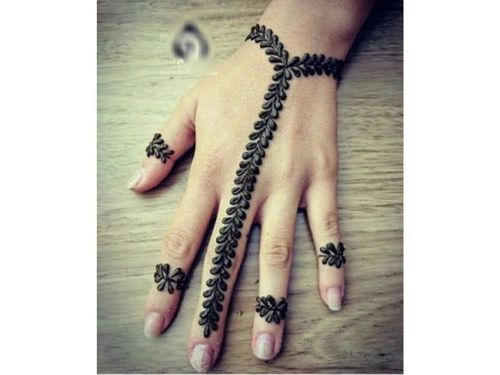 61. Just Leaves
Just decorate the hands with leaves, sounds weird! But here is proof that even leaves are enough to show attractiveness. This easy henna design saves precious time and at the same time, it makes our hands attractive. Work smart, not hard!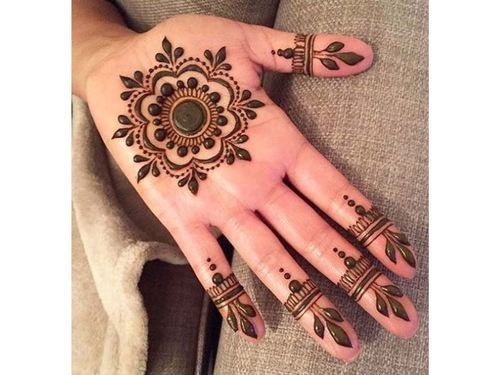 62. Flowers With Dots
This easy henna design has different sizes of dots with flowers and leaves. This is one of the easiest and most time-saving henna designs. Just sculpt the design on the hands to get a marvellous look. Beginners can begin with this design.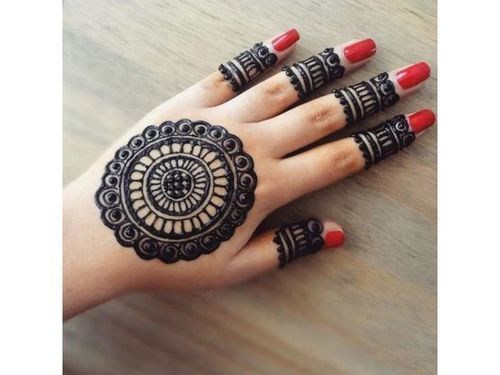 63. Mandala Henna Design
The mandala design never gets outdated. Just go with this easy mandala design. Don't worry about the results mandala will do magic on our hands. This easy henna design can be done from the age of 6 to 60. The love for mandala never ends.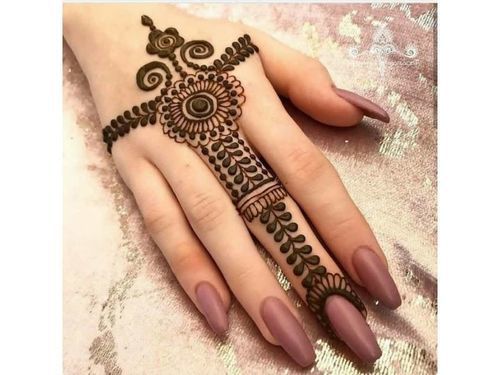 64. Subtle Henna Design
These gorgeous and subtle henna designs for the front hand are the best to start. These easy henna designs are so unique and suitable for all kinds of occasions. This easy henna design with perfect nail art will give a stunning look to the hands.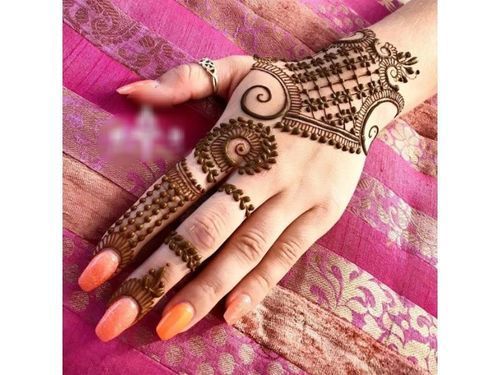 65. Cute And Easy Henna Design
This cute and easy henna design with leafy patterns is so simple yet beautiful. One can go for this as a bridesmaid to show off that gorgeous manicure. The swirls in this easy henna design make it look more attractive. This easy henna design can be decorated with different shapes of dots.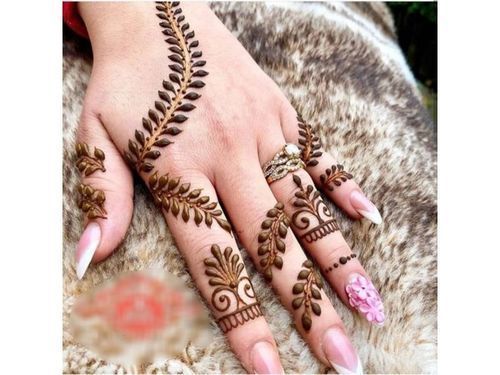 66. Leafy Chain Design
These beautiful and easy henna designs with leaves and dots are our favourites because of how simple they are to make. A beginner can easily make such designs and these will look beautiful no matter what. Leaves and flowers make their presence in all henna designs.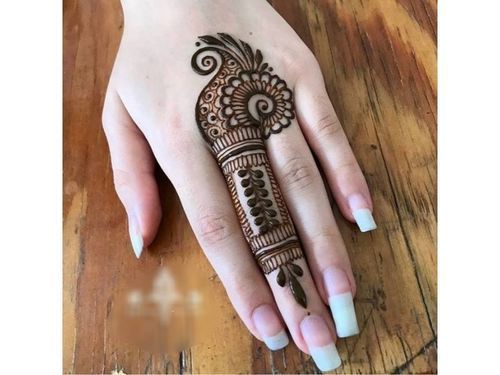 67. Finger Henna Design
Finger henna designs are trending nowadays. Such easy henna designs are interesting to make and versatile that they are loved by all age groups. No need to decorate your whole hand, just one finger henna design is enough to make your hand look stunning.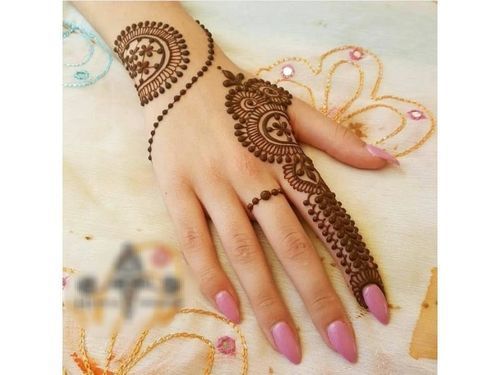 68. Spotted Henna Design
This easy henna design is filled with dots around the rounds and swirls. The dotted chain adds beauty to this super easy henna design. This finger henna design fills the entire finger flawlessly. This henna design is a treat for our eyes.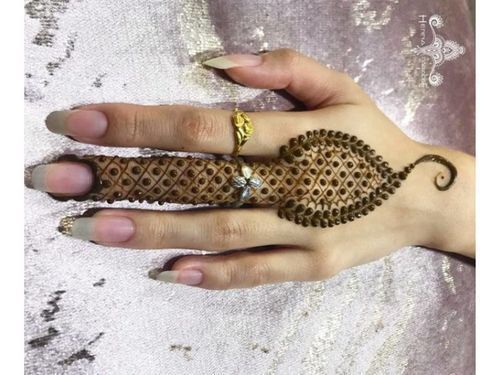 69. Cute Little Dots
This easy henna design with cute little dots is so simple and easy to make for beginners. In this easy henna design, the dots play a vital role to make the design look stunning and starring. Is it possible to make a henna design with dots? The answer is here.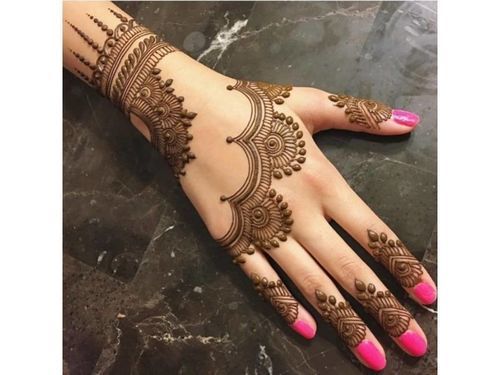 70. Curved Henna Design
This easy henna design has curves with lines and dots. The wrist is covered with a striped bracelet and the wrist bone is covered with a floral design. The fingers have a combination of lines and dots. This henna design might look messy yet it is a gorgeous design.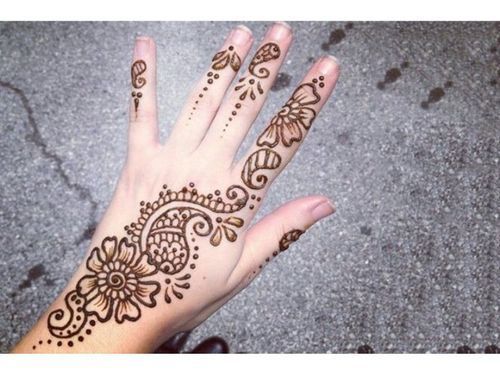 71. Arabic Henna Design
Today people want their life, as well as hands, clutter-free. Arabic henna designs are easy henna designs to carry as well as easy designed to draw. Deep and dark floral patterns and creepers define the Arabic henna designs.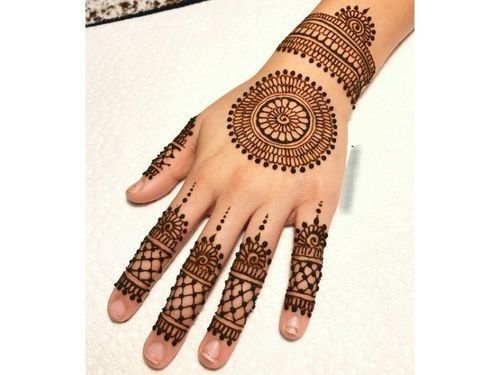 72. Mandala Madness
If a person is a mehndi lover, sure they will love mandala design. This is one of the easiest mandala designs where beginners can start. This easy henna design has a mesmerising style, one of the most adorable henna designs.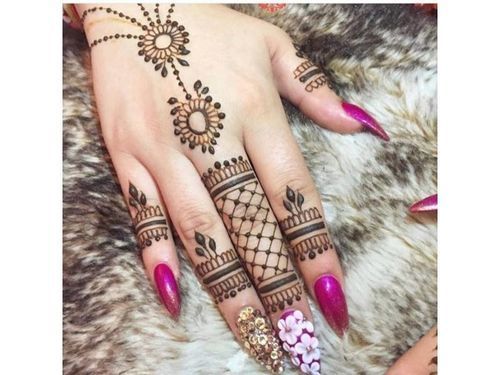 73. Haathpool Henna Design
This beautiful and easy henna designs look like we are wearing a haathphool. This is a must-try design for beginners as it is fresh and unique with a modernistic touch to it. This design will be suitable for weddings and parties.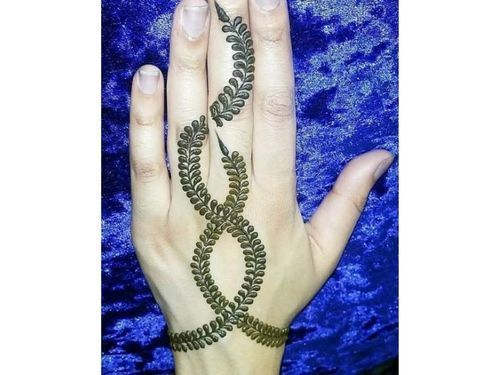 74. Minimal Henna Design
This minimal design is loved by people who do not like a lot of fuss and mess. This easy henna design begins at the wrist and ends at the fingertips. Just having a spiral leaf can save one's time and makes the look incredible.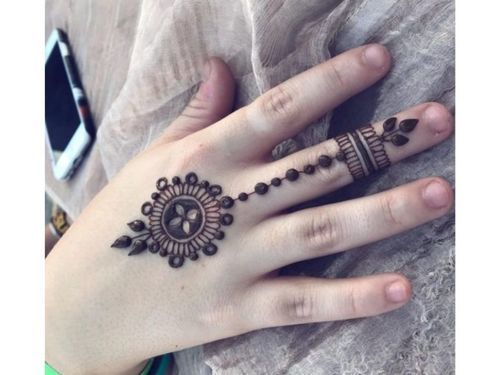 75. Jewellery Henna Design
This minimal and easy henna design is a great choice for anyone from teens to adults. This easy henna design will be suitable for any occasion. This design goes well with kids and bridesmaids. One can extend this design based on their creativity level.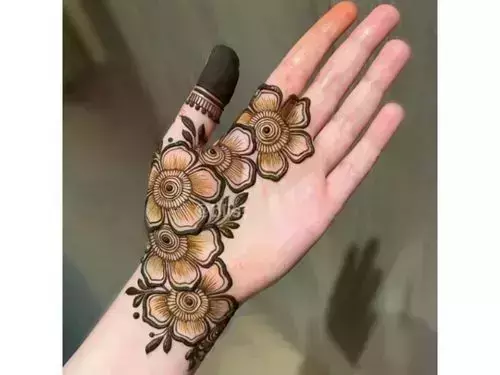 76. Floral Motifs
Floral motifs are always divine when it comes to easy henna designs. This exquisite and easy henna design will enhance the beauty of your hand. Such a laudable and heavenly look for women on special occasions.
77. Peacock Feather Henna Design
Want a modernistic look? Just engrave this pleasing and easy henna design on your hands. Don't wait for any special occasion to try this easy henna design. This easy henna design can go well with routine western costumes.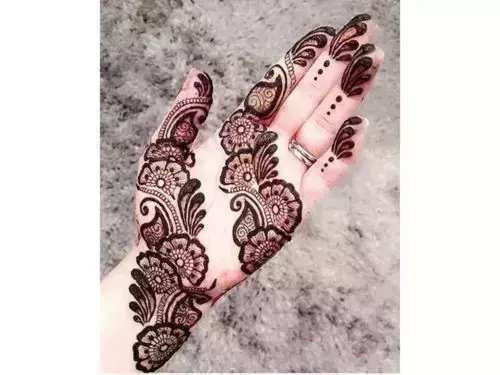 78. Arabic Easy Henna Design
Arabic Designs may be monotonous but this double-sided Arabic design will be alluring and it will comely suit anyone's hands. This easy henna design will give a laudable look to your hands during the auspicious occasion.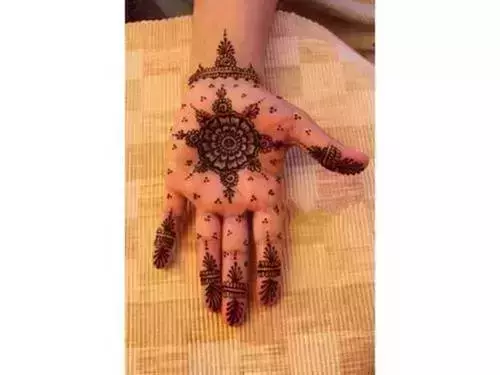 79. Dots And Floral Round
The round may be ordinary but the floral round will be exotic. This easy henna design will give a prepossessing effect to your hands. Just get magical and glittering focus on your hands with this easy henna design.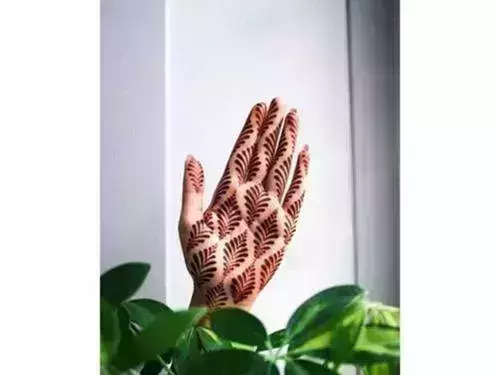 80. Lavishing Leafs
Lavishly spending money from your hands is not advisable but engraving these lavishing leafs in your hands will be enthralling. This easy henna design will give a trending setup gaze to hands on your distinctive occasions.\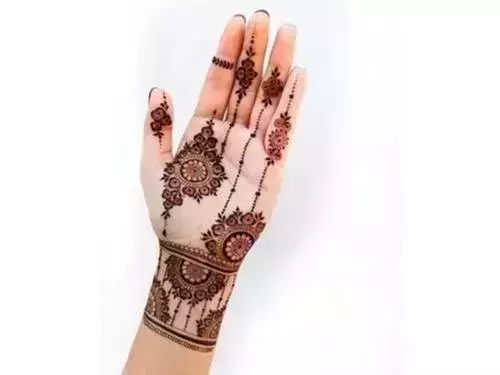 81. Hanging Floral Mandalas
Mandalas are mandatory among henna designs and floral mandala designs are peculiar. One can try this easy henna design beyond any doubt. This easy henna design will give a bewitching look.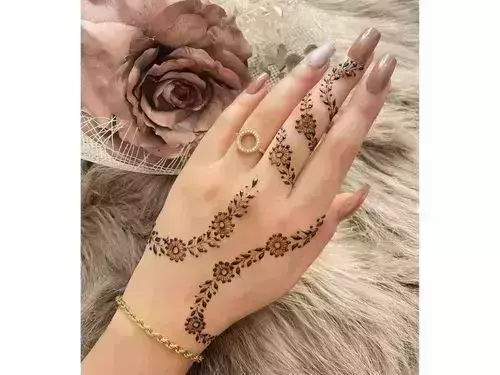 82. Floral Creepers
Grasp a fanciable look for your hands with this easy henna design. This easy henna design encapsulates an ornament for your hands. To intensify this henna design one can paint their nails with their favorite color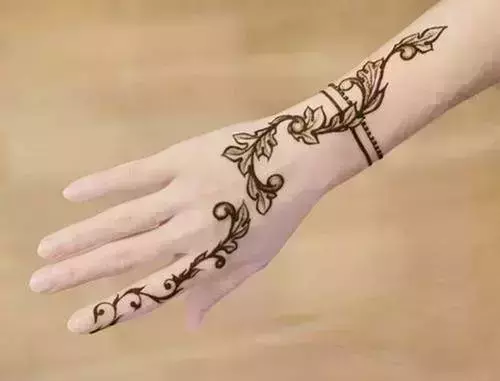 83. Tender Tendrils Henna Design
Acquire this tender tendril design for your tender hands. This easy henna design will be convenient for both conventional and modern outfits. Decorate your hands with this tranquil easy henna design.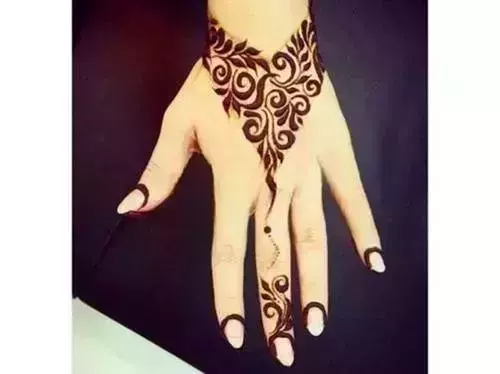 84. Necklace Henna Design
Wearing your necklace on your neck is normal but when it reaches your hands it becomes more pulchritudinous. This is one of the most efficient easy henna designs to try for any occasion.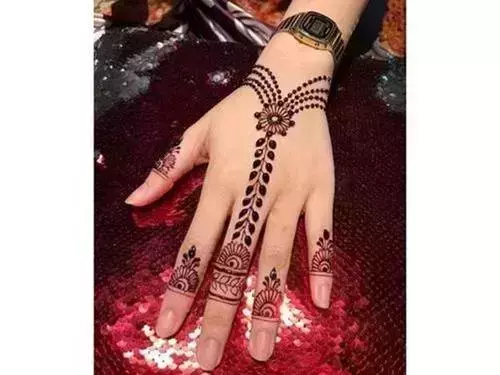 85. Dotted Chain Henna Design
Women may become inexorable when they see the dotted chain design. It is a trouble-free and easy henna design to procure. The flower and leafs in this easy henna design make it more divine.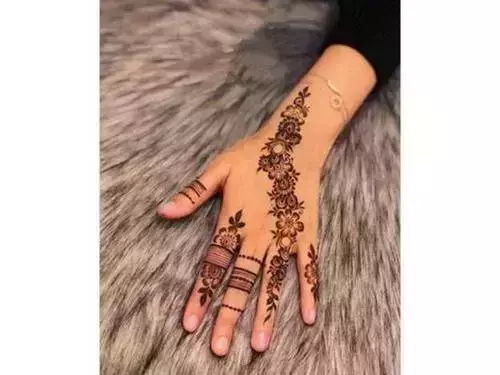 86. Rings And Florals
Make the floral design more ravishing by adding rings in between the florals. Those angelic rings in the floral add some intense beauty to this easy henna design. This minimal easy henna design can satisfy your western outfits.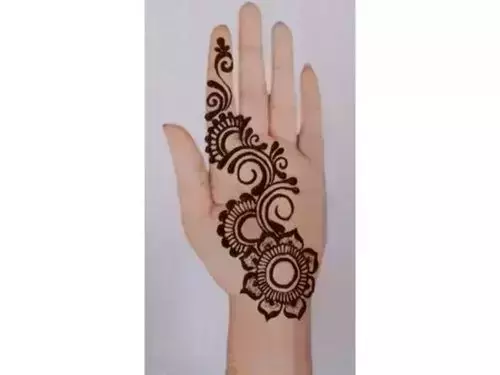 87. Decorated Swirls
Just make the swirls and design them in your creative way to get a winsome gaze. It is similar to the Arabic design and this easy henna design implicit many designs like flowers, dots, leaves tendrils, and many more.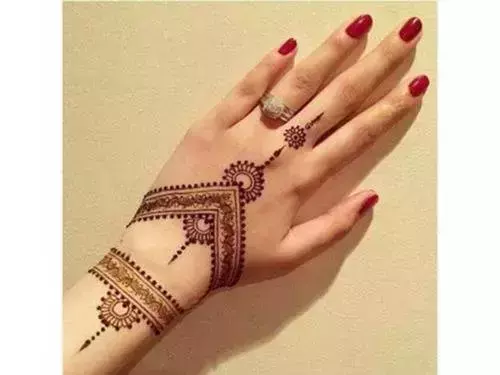 88. Triangular Bracelet
Adorn your hands with this drop-dead gorgeous and easy henna design. The dots add some fervent beauty to the triangular bracelet. It is an easy henna design that beginners can give a try.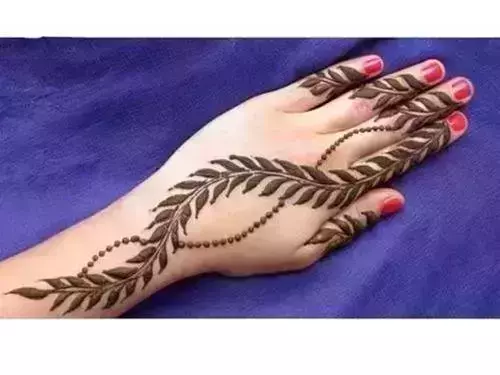 89. Twisted Strands Henna
The leaf strand and the dotted strand were twisted comely. Unfalteringly, this is the easy henna design that makes your hand look gorgeous and elegant. Such a laudable henna design for beginners.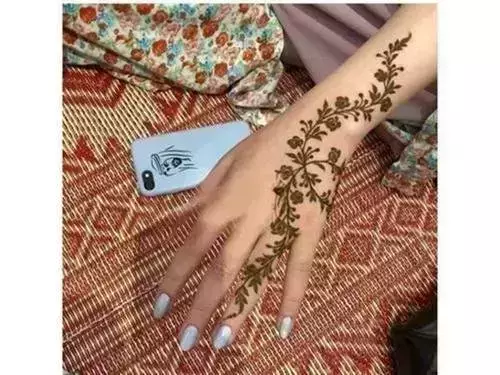 90. Garlands On Hands
Garlands are beautiful when it reaches your hand they will be beguiling. It might look minimal but the spaces fill the beauty. Such a realistic and ravishing easy henna design for your hands!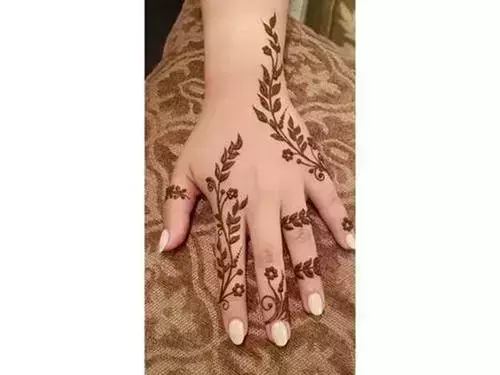 91. Lateral Leafs
Just draw the leafs at the lateral side of your hands to get a levitating look. This is one of the adorable and easy henna designs to get excess beauty. Never pause just play with this easy henna design.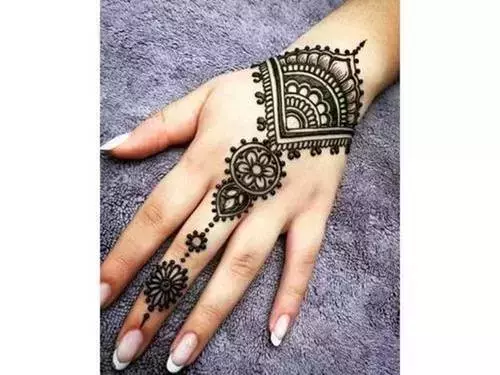 92. Triangular Stripes
This easy henna design is permeated with triangular and semi-circular stripes. This easy henna design has a dual nature that works adequately for both official and unofficial events.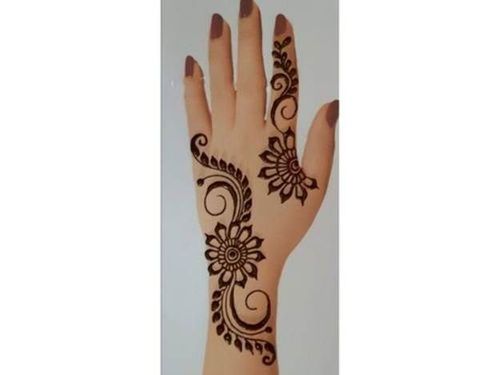 93. Flowers With Wings
Those branches which have been encountered on the flowers give a majestic look. This easy henna design gives a dazzling effect on the hands. Get a glistening view with this magical design!
94. Scattered Leafs
The scattered leafs above the leaf bracelet add a bit of glam to this easy henna design. The dotted chain encompassing the leaves append enormous beauty to this charming and easy henna design.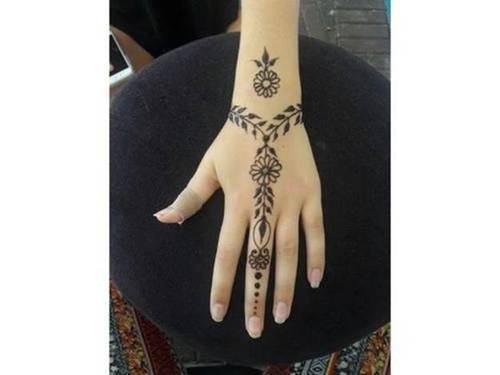 95. Modern Henna Tattoo
Go ahead with this snazzy modern henna tattoo. This easy henna design will be sniffy for your western outfits. Get a tony look with this easy henna design. Beginners can try this design.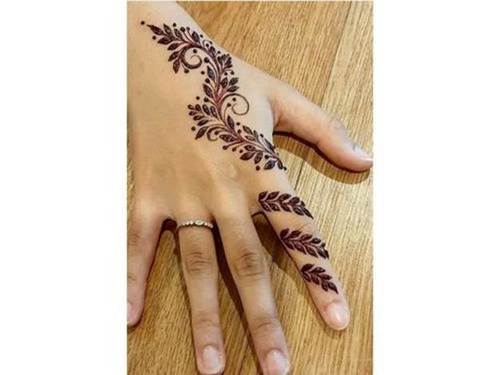 96. Wrapped Leafs
This is one of the easy henna designs with astounding features, just draw some leaves and embellish them with some dots and swirls to get a kicky look. Minimal but majestic!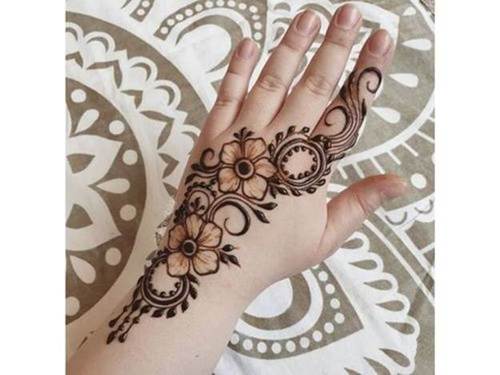 97. Fascinating Flowers
Just draw two flowers and make your creative design and extend it as much as possible. Add some startling dots and swirl designs to get an awe-inspiring easy henna design.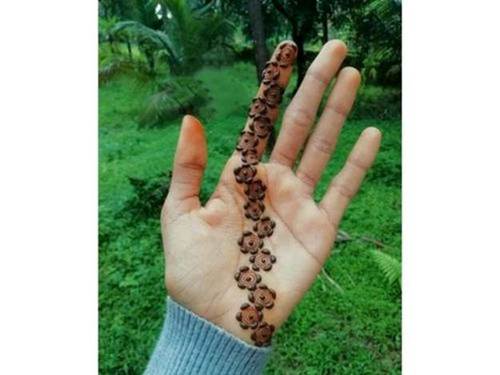 98. Rose Chain
Intrigued by roses? Build up this easy henna design on your hands. This rose chain henna design will create a bewildering impact on your outfits. Minimal but marvelous henna design!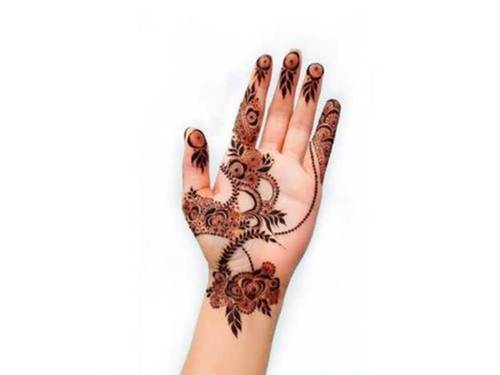 99. Trendy Henna Design
This is one of the flabbergasting and trendy henna designs because it has roses, leaves, chains with dots, decorative semi-circles, and many more. One can try this easy henna design for weddings.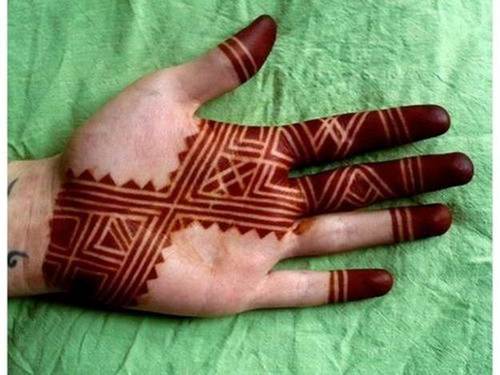 100. Gorgeous Geometry Henna
No occasions are needed to enrich your hands with this gorgeous and easy henna design. Just take a deep gaze at this design various triangles were placed symmetrically.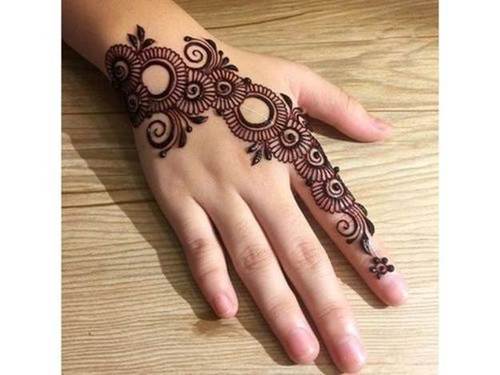 101. Festoon Wheels Henna
These festoon wheels will spin your beauty without any brakes. Just drive your easy henna designs with these wheels. Those two empty wheels fill too much glam to this easy henna design.