How To Get Glitter Nails : 4 Step By Step Tutorials
Sweta Mookerjee
Updated At 09 Dec 22
Who doesn't love glitter, be it as an eye shadow or on your nails. Make you manicure more fun and add some glitter. They might look hard to deal with, but follow our hacks and get easy glitter manicure in no time. You will soon know how to get glitter nails with 4 step by step tutorials. Lets begin!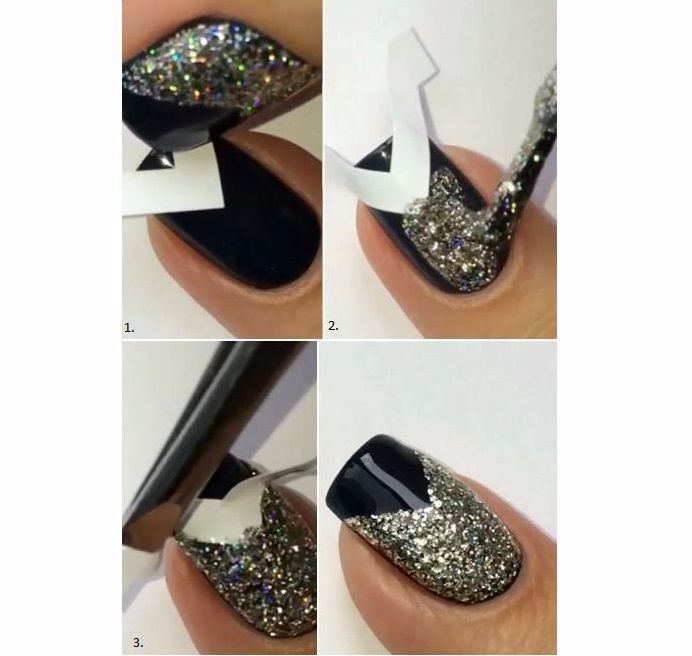 1. Geometric style
The first one up is extremely easy.
1) Start off by applying your base colour, this can be matte or glossy.
2) Now cut up some low adhesive tape or peel off paper in the shape of your choice. Check if your base has dried and place the tape as desired.
3) Now paint the uncovered part of your nail with a glitter paint and let it dry well before you remove the tape.
4) Even it out with a top coat and you have your geometric manicure.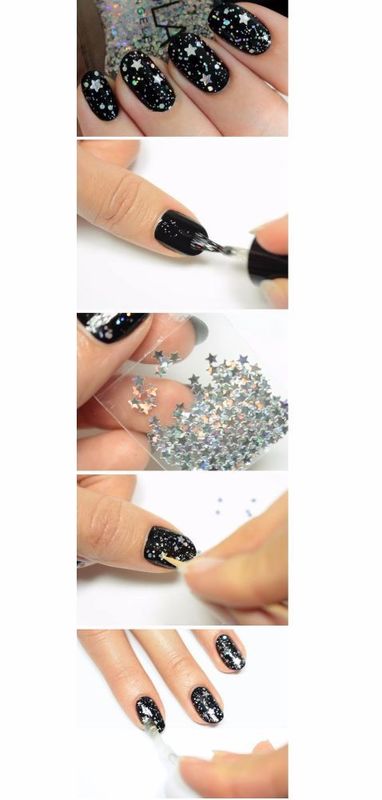 2. Starry night
This is a great look, especially for a night out. All you need is a dark base in blue or black, some loose star glitter, a top coat, and a glitter paint is optional.
1) Apply your base coat and wait for it to dry. If you want to apply the glitter paint, do it now but apply a very light coat as we don't want to overdo it.
2) Using a tweezer, place the glitter stars on your nails in random order. You can use as many or as few as you like, there is no hard and fast rule, but make sure you apply it while the paint is still a little wet so it sticks.
3) Finish it off with a top coat.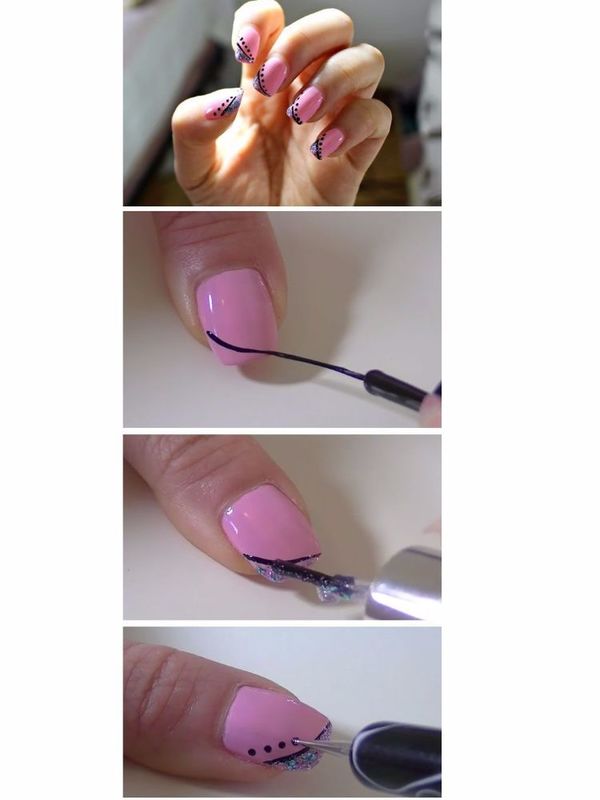 3. Pro level nails
Now before you think this is beyond you, wait a minute. It may look complicated and seem like it needs some master level artistry but it really doesn't. What you need is a base colour, a glitter paint, another color paint, a top coat, a nail art brush. If you don't have them, any thin brush will do.
1) Start by applying your base and let it dry.
2) Dip the brush in the other paint and make a thin wave or straight line near the tip, Fill it up carefully with the glitter paint. If you want, you can use a nail part pen or bobby pin to make dots along the line.
3) Top coat it, and voila! You're good to go, now show these off.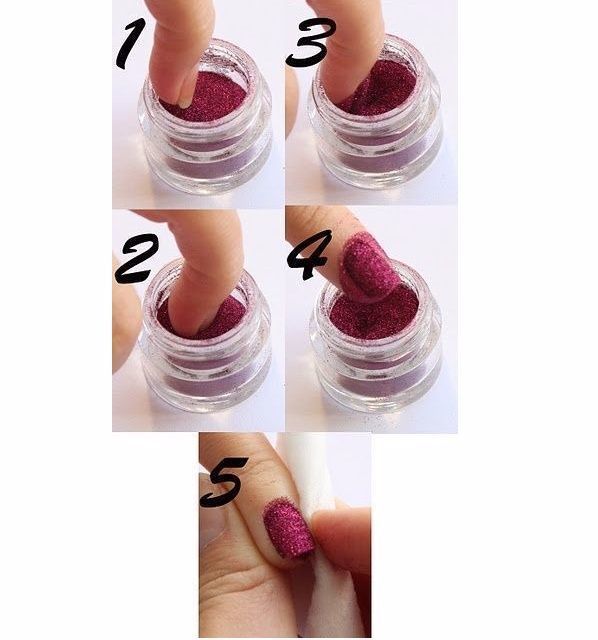 SONIYA THULASIDHARAN / PINTEREST
4. Glittery Nails
This can be done using loose glitter or any glitter eye shadow pigments.
1) Apply a layer of base coat or transparent paint on your nail.
2) Dip the nail in the pot of glitter. For best results do it one nail at a time so the paint doesn't dry by the name you dip it in glitter and one coat will suffice.
Now that you know how to get glitter nails with the 4 step by step tutorials, its time for you to show off your nail art.
Try these out and let us know which one you liked the most!
Related Articles: