Kylie Jenner's All 10 Tattoos With Their Meanings
trisha sinha roy
Updated At 07 Nov 23
Lets talk about Kylie Jenner. Kylie is the youngest sister of the Kardashian-Jenner clan and the youngest self-made billionaire with her current net worth being over $900 million. Kylie is a socialite and businesswoman by profession with her make-up line Kylie Cosmetics. The 24-year-old rose to fame on the reality TV show Keeping Up With The Kardashians which documented the Kardashians in their daily life. Kylie is currently the mother of two beautiful young children Stormi Webster and Wolf Webster who she had with partner Travis Scott. 
Kylie also recently announced that she and Travis will no longer be calling their son Wolf Webster but the duo has not yet announced a new name for their new baby. Needless to say, Kylie is famous in the fashion and beauty industry. Among the many things that people are intrigued about, Kylie Jenner's tattoos would be somewhere at the top of the list. Kylie Jenner tattoos are heavily discussed and the young woman has 10 tattoos that surprisingly, alot of people didn't even know about. 
In this article, we will cover all of Kylie Jenner's 10 tattoos and their meanings. 
10 Kylie Jenner's Tattoos With Meanings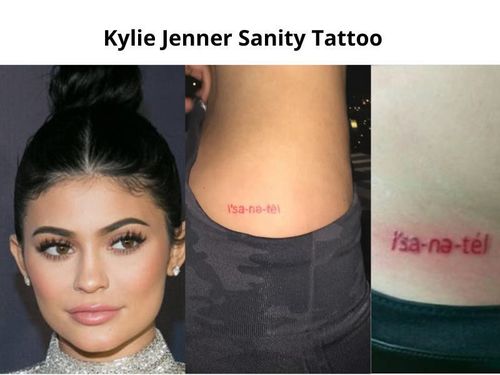 1. Kylie Jenner Sanity Tattoo
This tattoo is by far one of the most talked-about Kylie Jenner tattoos. Kylie has the word 'Sanity' in its phonetic spelling tattooed on her hip in red ink. Kylie got this tattoo back in 2016 but did not reveal to fans why she got it. It was only three years later in 2019 that Kylie explained what the tattoo meant to her. 
During an exotic vacation to Turks and Caicos, Kylie Jenner talked about the meaning of the tattoo on her Instagram.
I'm proud of myself, my heart, and my strength. growing up in the light with a million eyes on you just isn't normal. I've los friends along the way and I've lost myself too sometimes. my first tattoo was "sanity" to remind myself every day to keep it. I've struggled with anxiety my whole young adult life and after my baby, I dealt with all the internal ups and downs. I felt like I had to find myself completely again. I keep a whole lot to myself but just wanted to share and let you know I'm human.
Kylie also mentioned,
My life is not perfect and what you see here on social media is just the surface. be gentle with yourself, move on, and let go. we are all capable of great things, worthy of love, and allowed to express ourselves. do more of what makes you happy and be unapologetic. now is your season ✨ we all have a magnificent destiny.  
The sanity tattoo was done by celebrity artist Bang Bang. 
Kylie Jenner was born into fame and has been in the public eye and talk since she practically grew up before a camera all her life. Kylie's older sisters have also talked about how it became specifically difficult sometimes to live life while always being watched, critiqued, and talked about. In all the glamour and chaos, the need for a calmer space is reasonable. Fans have praised Kylie for expressing herself in her own way through the tattoo. 
Do check out Selena Gomez tattoos as similar to Kylie, all her 17 tattoos are special and hav a deep meaning.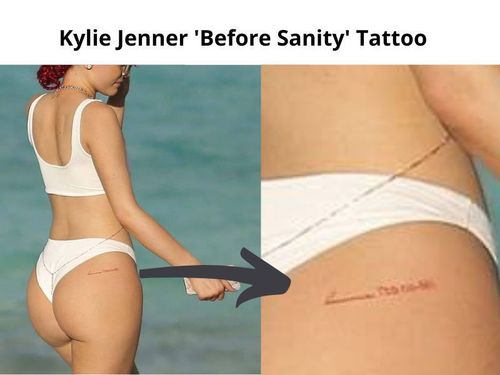 2. Kylie Jenner Tattoo Before Sanity
The second in the list of Kylie Jenner tattoos, this one is not particularly a new tattoo. Sometime after getting her 'sanity' tattoo, Kylie decided to rework it up a little bit. The young billionaire got the word 'before' written before her sanity tattoo, so the tattoo now reads 'before sanity'. The word 'before' is written in normal font compared to 'sanity' which is written in its phonetic spelling. 
Kylie had earlier explained the meaning behind the Sanity tattoo that she initially got. She described how the on-screen life would get difficult to deal with at times and her tattoo was a reminder for her to keep going forward.
During a conversation with Interview Magazine, Kylie stated,
Ever since I was 9, since the show started, there's been so much bullying towards me.  Like, every single day I see something negative about me.  And it's just completely torn me apart. I feel like I've lost so many amazing traits because I've listened to stupid people, ignorant people who are bullies. I always just try to stay sane and not read comments.  It's hard though. You get interested.
Kylie did not specifically mention why she got her tattoo reworked, but fans think that the young mom and billionaire has grown and evolved from the confusion and hardships she faced during her childhood, all of which were spent before cameras and the eye of the public. Fans wish her well as she settles in into her newfound life and family with her two young beautiful kids and lots of success which she has established for herself.  Kylie does provide amazing tattoos ideas for inspiration and all her tattoos have a deep meaning indeed!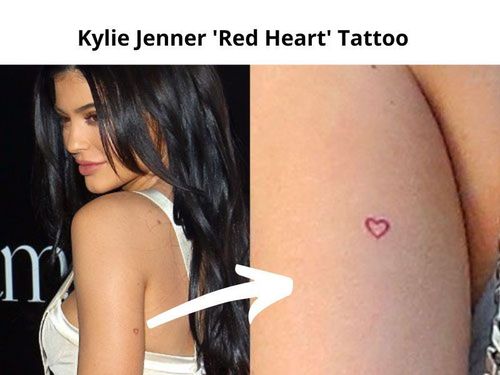 3. Kylie Jenner Red Heart Tattoo
The first Kylie Jenner tattoo to ever happen was a tiny red heart small tattoo on the back of her upper left arm. Kris Jenner wouldn't let youngest-of-the-tribe Kylie Jenner tattoo herself before she turned 18 so the diva had to wait before she got it. Kylie revealed the tattoo on her 18th birthday in August 2015 and she is profoundly fond of her first tattoo even today. 
The story behind the tattoo is that Kylie is not the only one who got a tattoo. She did it along with all her closest girlfriends. All the girls of the group chose a different body part to get tattooed on. Jordyn Woods got a little heart done behind her ear while Anastasia Karanikolaou got a heart done on her forearm. She also got her sister's birthdate tattooed along with it. Justine Skye made her own modification as well and got a little heart accompanied by three dots on her knuckle. Kylie was the only one who chose red ink for her tattoo. 
Different fans have different theories for her tattoo with some speculating that it could have been meant for her old boyfriend Tyga. From what we understand, Kylie Jenner's read heart tattoo is only meant to signify friendship and the promise of a lasting bond between her and her friends.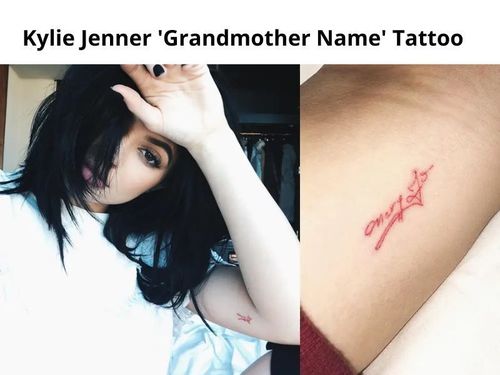 4. Grandma's Name Tattoo
Kylie Jenner seems to be really fond of red tattoos when it comes to it. The third Kylie Jenner tattoo, also red, is Kylie's maternal grandmother's name, Mary Jo. Kylie was very close with her grandmother and got her name inked as a gesture of love and respect toward her. Kylie got the tattoo in 2016 and revealed it in February 2016 by posting a selfie of herself showing off her new tattoo. 
A little while later, Kylie posted a closer look inot her tattoo and revealed that the name had been inked on her in her grandfather's handwriting. Kylie also revealed that it was her way of paying tribute to her grandmother who she dearly loved and had a very close and loving relationship with. Kylie later told in interviews that the tattoo meant a lot to her and was something she had wanted to get done since a long time. 
If you are looking for more inspiration from celebs, do check out Ariana Grande Tattoos as we cover all her 50+ tattoos with meanings.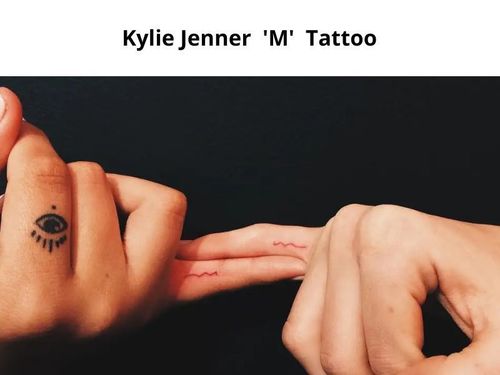 5. Matching M Tattoo With Jordyn Woods 
Yet another Kylie Jenner tattoo in red, Kylie got the letter 'm' inked on her pinky finger along with Jordyn Woods in 2016. The then BFFs had a lasting and strong friendship and wanted to leave a mark of it on themselves. Neither of the two ever revealed the significance of the letter 'm' but the two friends who used to be thick as thieves got the exact same tattoo in the exact same place to match each other. 
However, things between Jordyn and Kylie fell back big time in 2019 after Jordyn Woods hooked up with Tristan Thompson, who is father to Khloe Kardashian's daughter true. Needless to say, the scandal ruined Jordyn's relationship with Kylie and the Kardashian-Jenner family altogether. Khloe and Tristan split up soon after. It is not known if either of the two got their matching tattoos removed after this incident. 
Looking for cute tattoo ideas, then do check out our guide as we list 50+ new tattoo designs for women which have been trending this year.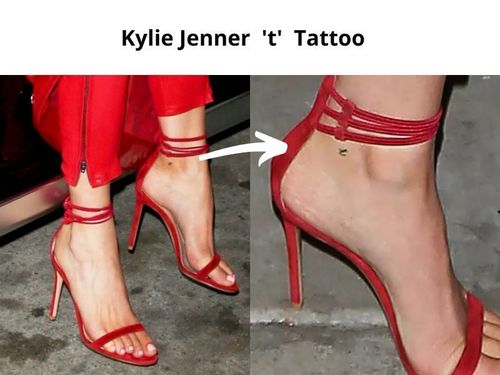 6. Kylie Jenner Tiny T Tattoo
The first non-red Kylie Jenner tattoo in the list, Kylie Jenner's 't' tattoo. The 24-year-old millionaire got a tiny little 't' tattoo on her leg for her then-boyfriend Tyga. Rapper Tyga dated Kylie Jenner for three years until they parted ways in 2017. Kylie's 't' tattoo, done in black ink, was dedicated to her teenage lover. Kylie got the tattoo reworked later but the 't' tattoo can still be spotted in a lot of her old Instagram pictures.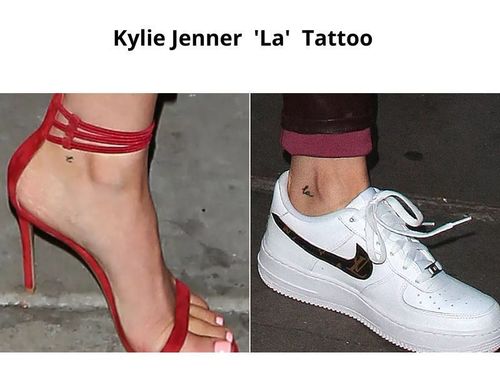 7. Kylie Jenner La Tattoo
Soon after her breakup with Tyga, Kylie decided to cover up the tattoo she got for her rapper and must we say she did it very strategically. Kylie went for a subtle rework and converted the 't' to 'la'. The redone 'la' tattoo appears to be a tribute to Los Angeles, where Kylie was born and raised. Kylie Jenner has not specifically spoken about this tattoo or its significance a lot but fans have praised the way she decided to get it reworked. 
Kylie doesnt seem to be very fond of big tattoos on herself. In case of her 't' tattoo, Kylie covered it up really well without getting any ink bigger than her other tattoos.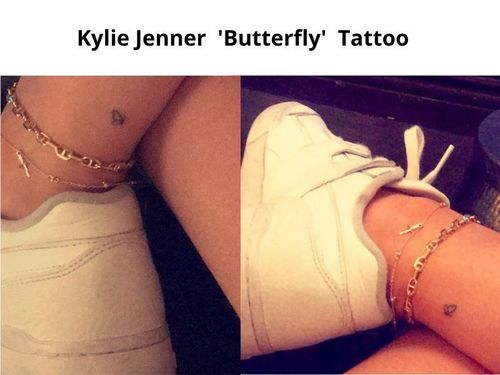 8. Matching Butterfly Tattoos With Travis Scott
Another pair tattoo in the list of Kylie Jenner tattoos, the makeup mogul revealed that she got matching butterfly tattoos on her ankle with boyfriend Travis Scott. The butterfly is a miniature, elegant and beautiful design done with black ink. 
In a YouTube video posted by Kylie, she talked about how she and baby Stormi had dressed up as butterflies for Halloween and there is a whole story behind why they chose a butterfly. It was because Kylie and Travis had gotten the matching butterfly tattoos when they had started dating.
Kylie explained in the video,
When Travis and I first got together we got matching little butterfly tattoos. So a butterfly is just a symbol of our relationship and Stormi, so it was really special to do the butterfly costume.
Since getting the tattoo in 2017, rapper and songwriter Travis Scott has often used butterfly imagery in var ious instances and so has Kylie. Fans think that the couple is really fond of their butterflies now.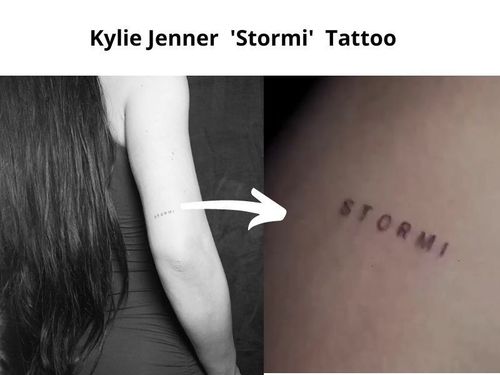 9. Matching Stormi Tattoo 
Kylie Jenner tattoos include another pair of matching tattoos that she got with boyfriend Travis Scott. Kylie and Travis got the matching tattoos on Stormi's second birthday which they celebrated at StormiWorld, a theme park created specially for Stormi Webster. Kylie posted about the unique and luxurious birthday bash on her Instagram where she also revealed that she and Travis had gotten matching tattoos of Stormi's name done. 
Even though Kylie and Travis went through a breakup, the tattoo has still stayed on both of them and the duo continues to effectively co-parent Stormi together.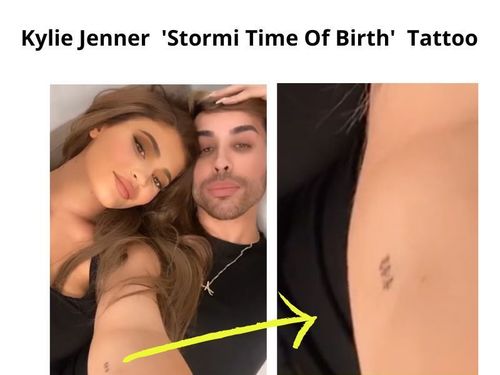 10. Stormi's Time of Birth Tattoo
Kylie Jenner loves her kids and it is evident from the number of tattoos that she has gotten for them. Concluding this list of Kylie Jenner tattoos is yet another tattoo that the Kylie Cosmetics Founder dedicated to her daughter Stormi. The tattoo that reads 4:43, signifies Stormi's time of birth. 
Kylie explained that becoming a mom was the biggest turning point of her life and Stormi had completely changed her life for the better. The tattoo holds a lot of importance to her since she always will hold the moment of her birth close to her heart. Fans think that Kylie won't stop at these tattoos and will also get more tattoos for her new baby Wolf, whose change of name has not yet been announced to the public.