51 Stunning Sunflower Tattoo Design Ideas - 2023
Rajlakshmi
Updated At 04 Nov 23
Sunflower tattoos are undoubtedly beautiful and are universally loved. Bright yellow flowers encircling a brown eye can lure your mind any day. Sunflower tattoos are not just beautiful but they represent the essence of life. Sunflowers are known for optimism and purity.
So if you are getting a sunflower tattoo as well then here is a list of unique and alluring tattoo designs you can choose from.
51 Best Sunflower Tattoo Designs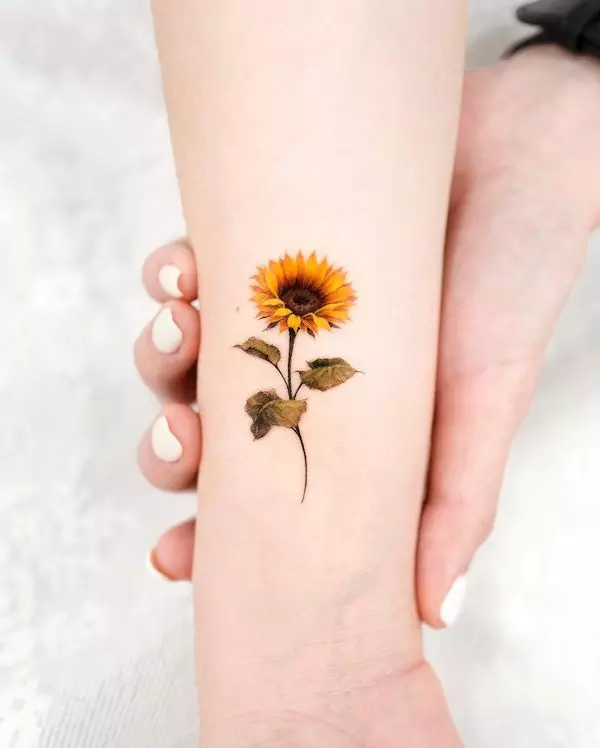 1) Sunflower Wrist Tattoo
This sunflower tattoo can represent hope, optimism, loyalty and a happy state of mind. Getting it on the wrist also allows it to be highlighted. Depending upon personal preferences, one can go for a small or big sunflower tattoo.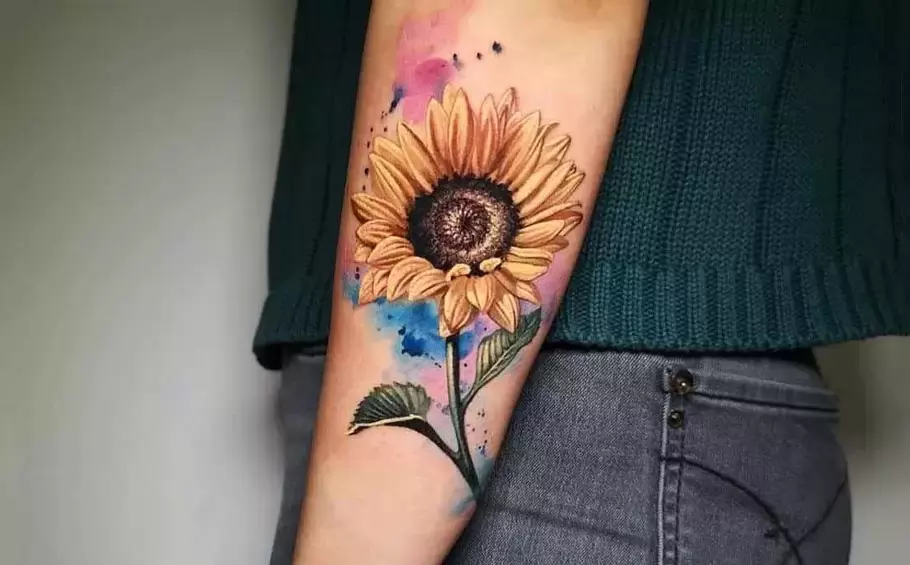 2. Big Sunflower Tattoo
A big Sunflower tattoo on the back is unquestionably one of the prettiest ideas for sunflower tattoos. This design has to be your inspiration as you can appreciate the beauty of nature with this tattoo.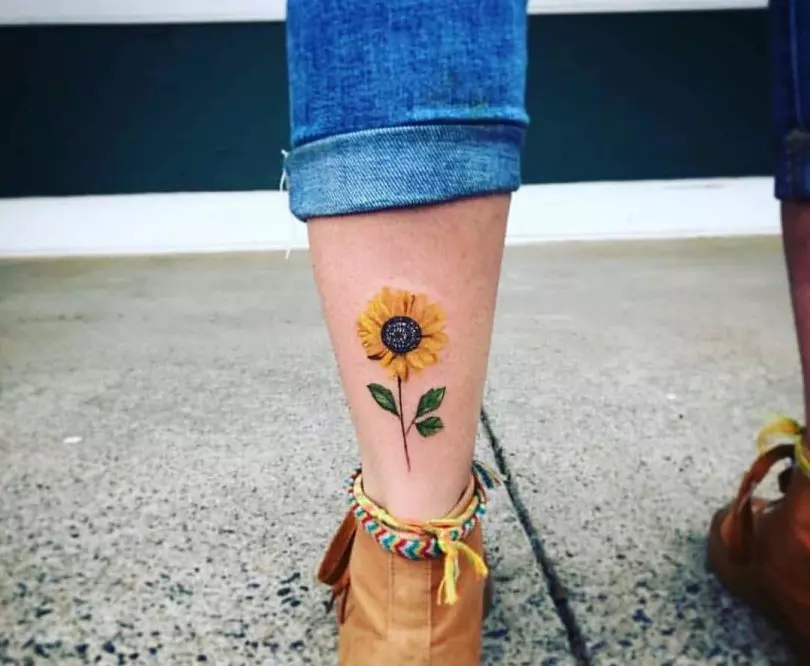 3. Leg Tattoo
Leg tattoos are one of the most sensual tattoos one can ever have. Having a sunflower tattoo on your leg can be your hidden secret tattoo.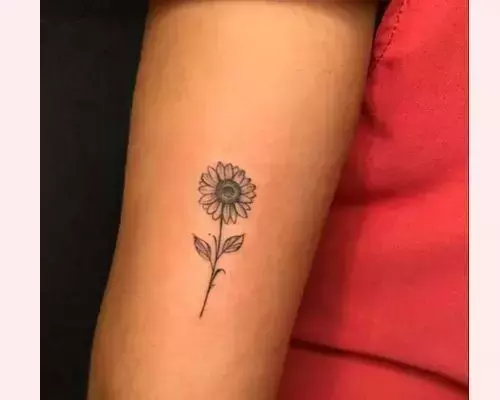 4. The Classic Sunflower Tattoo
The classic sunflower tattoo design is a minimalistic yet beautiful tattoo design. You can get this small tattoo anywhere on your body. This is sweet and simple hence it can complement any kind of look irrespective of your personality.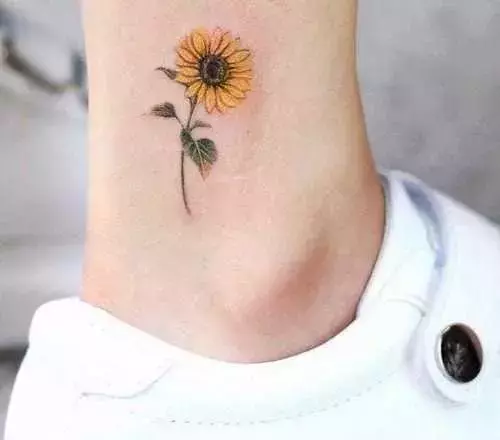 5. Simple Sunflower Tattoo
Adding colors to your tattoo is never a bad idea. This simple sunflower tattoo design can be your favorite summertime tattoo as it aptly represents summer. You can get this design anywhere in the body.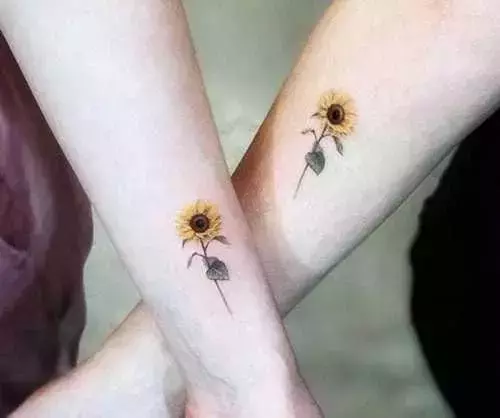 6. Couple Sunflower Tattoo
Matching tattoo designs with your loved ones has been in trend for years now. But some matching tattoo designs do look cheesy at times. Getting a sunflower-matching tattoo doesn't look cheesy but will surely signify a blooming relationship. This sunflower tattoo will also look good if you are looking for a mother daughter tattoo design.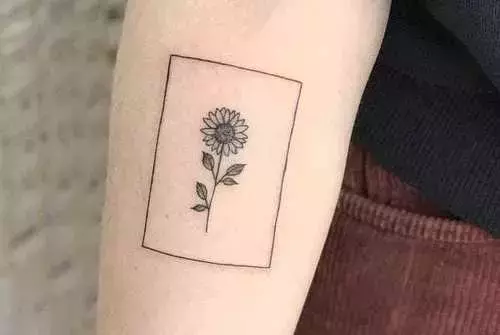 7. Sunflower In The Frame
Many of us are obsessed with Polaroids and portraits. This tattoo is for all of them. A simple sunflower tattoo made in a box signifies how one has to bloom in every given situation. This frame makes the tattoo look aesthetic at the same time.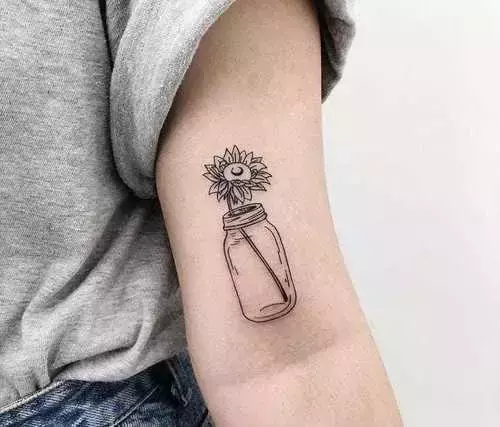 8. Sunflower In The Jar
Sunflower in the Jar is one of the classic sunflower tattoos. The jar here represents new expectancy and hope which goes well with the representation of sunflowers. This tattoo can be your sign of hope.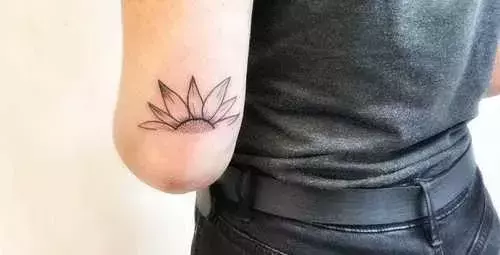 9. Half Sunflower
Half tattoos designs have always tried to point out the significance of transformation and change. As it is said that change is the only constant in life, this tattoo idea basically represents that life can be blooming at times and can be nothing at all at times.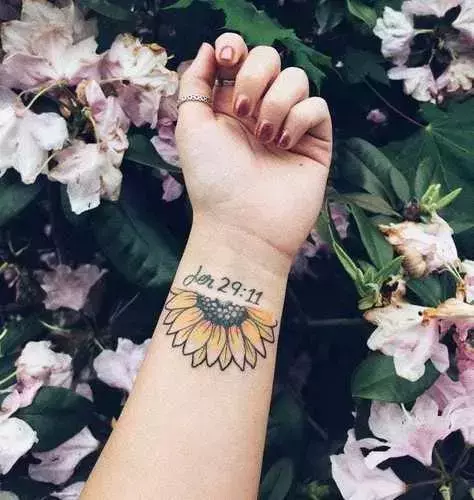 10. Half Wrist Tattoo
The best thing about getting a half-wrist tattoo is that it looks like a bracelet and hence it complements your fashion. Getting a sunflower wrist tattoo can be a unique yet beautiful idea. Adding names, dates, or times to it can help you to remember the precious moments of your life. One of the top tattoos for women, this looks beautiful and can be paired up with various things as well.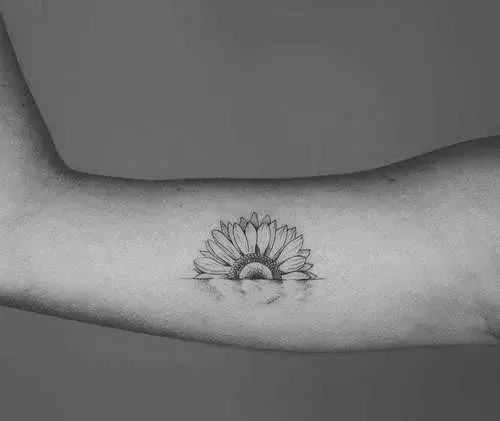 11. Sunflower setting
Sunflowers are known for blooming towards the direction of the sun. This tattoo is a unique design that represents the amalgamation of sunflower as well as sun. This design looks as if a sunflower is setting down in the waves of the sea like a sun.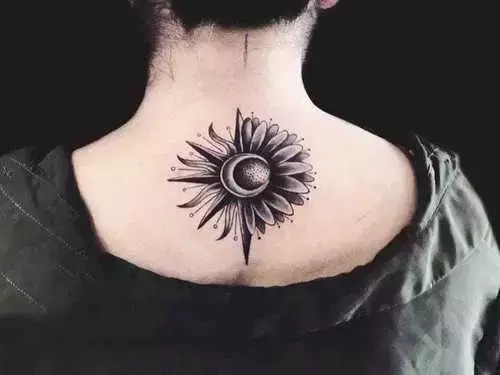 12. Sunflower Sun And Moon
This is one of the most unique sunflower tattoo ideas. This design is a combination of sunflower, sun and moon. This kind of design can undoubtedly look pretty on your back. This also extends a mandala look.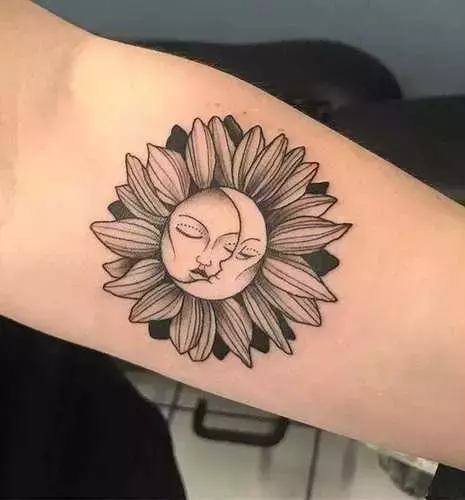 13. Sun And Moon Inside
This black and white tattoo design is similar to the previous one but this one looks more delicate and soft compared to the previous one. You can choose between one of them according to your personality.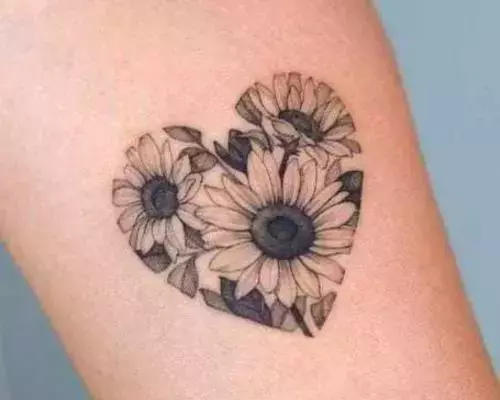 14. Sunflowers In A Heart
A Sunflower tattoo made in the shape of a heart can be one of the best emotionally driven tattoos one can have. Not only is it pretty, but it extends an elegant look as well. If you are someone who is into romantic novels then this design is for you.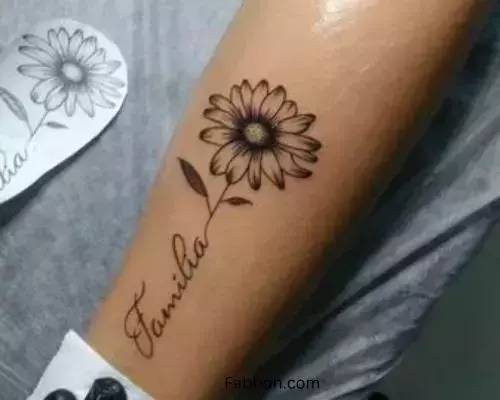 15. Sunflower Tattoo With Names
Tattoos with names have been there for years now. The simple reason behind this is that tattoos should help you keep your memories safe and warm. Sunflower tattoos with names can be beautiful tattoos that can take you back to your favorite memory lane.
Looking for more inspiration for name tattoos, do check oour guide as we list 30+ stunning options.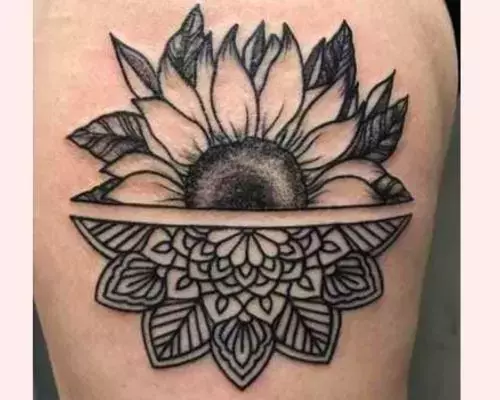 16. Half Mandala Half Sunflower 
Mandala represents balance of body and balance of soul while sunflower represents beauty and positivity. An amalgamation of these two designs can create a whole new understanding of life. Hence, this can be your next favorite design.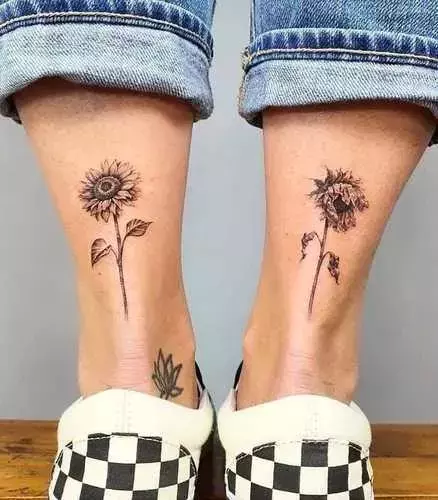 17. Blossoms And Fades
Our life is filled with beautiful moments as well as tragic moments and there is no escape from both of them. This tattoo aptly represents this rule of life. A sunflower can bloom when the sun is out and will fade soon as well.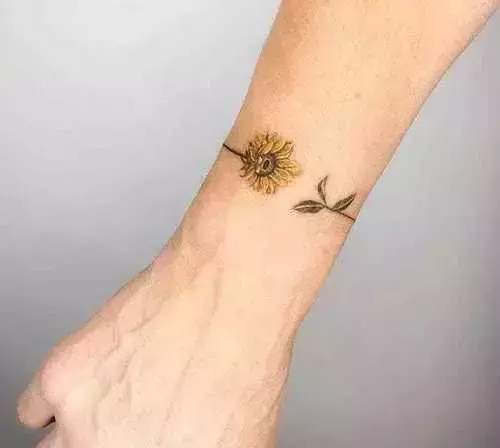 18. Sunflower Bracelet
A Sunflower bracelet tattoo is one of the most unique sunflower tattoo ideas. This design is minimalist and at the same time, this tattoo can be used as an accessory.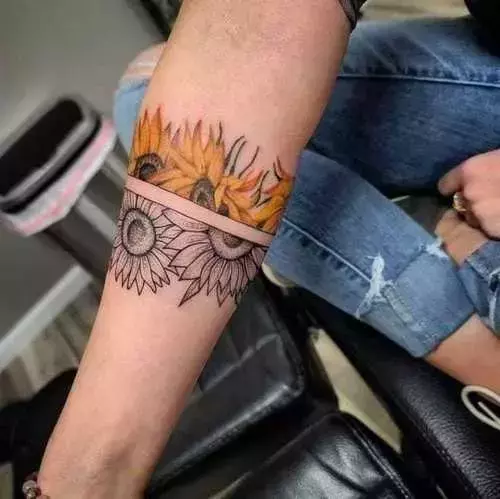 19. Bright And Black
Armband tattoos have been popular because these kinds of tattoo ideas complete your outfit look. But this ain't a simple armband tattoo, this represents the colors of life and the time when life turns out black and white.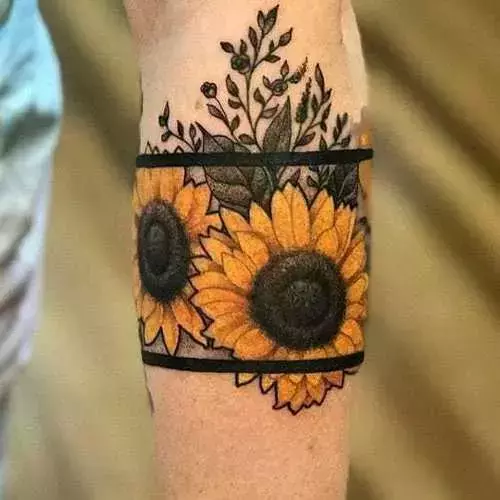 20. Arm Band Sunflower
This is another armband sunflower tattoo just like the previous one. The only difference here is that this armband is comparatively simple and yet it looks amazingly beautiful.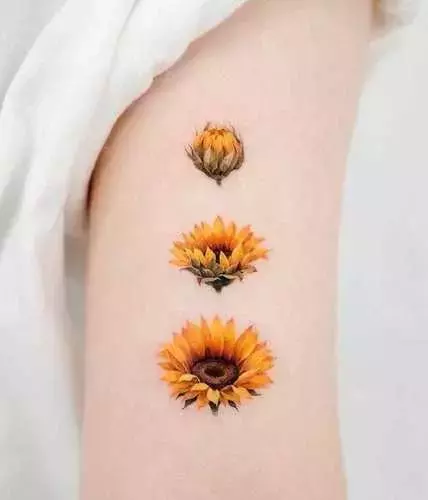 21. Phases Of Sunflower 
This is one of the most beautiful tattoos which signifies the process of growth and beauty which is the essence of life. This tattoo can be your potion of motivation.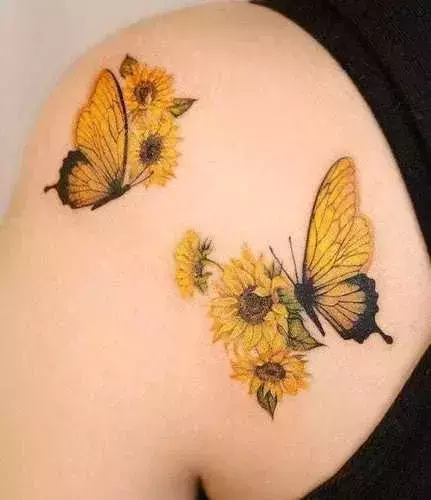 22. Butterflies And Sunflower 
Butterflies with Sunflower tattoo ideas can take you to the summertime field memories which is the prettiest part about this tattoo. But this tattoo also holds significant meaning. Both elements signify beauty, growth, and interdependence on one another.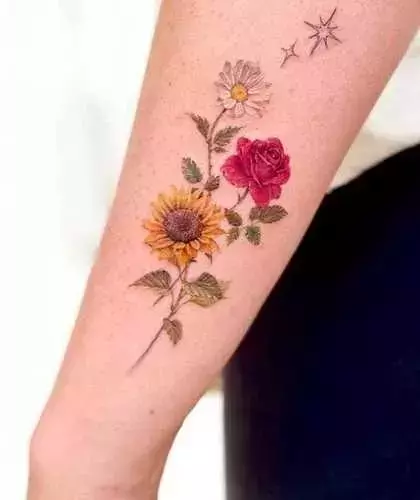 23. Rose, Daisy, And Sunflower
You are back to the prettiest lawns with the prettiest flowers. If your personality lies in the beauty of nature then you cannot say no to this beautiful and adorable design.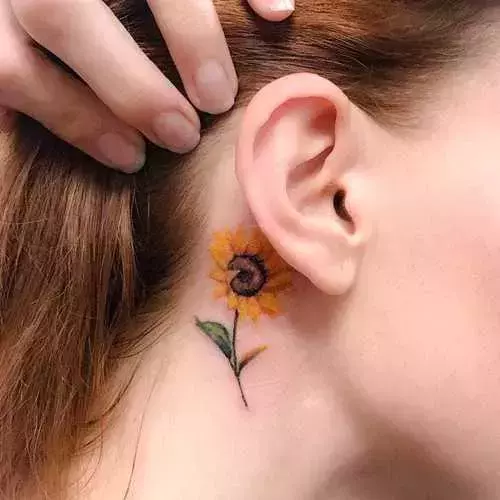 24. Sunflower Under The Ear
Behind the ear tattoos are the hidden gems of tattoo ideas. These kinds of tattoos are generally hidden and intimate. Having a hidden sunflower tattoo under the ear is nothing but hiding your beauty and surprises.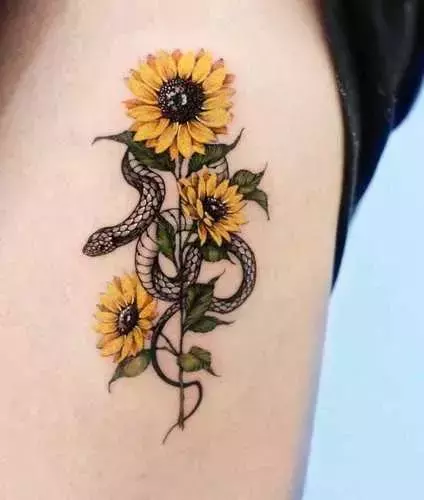 25. Snake And Sunflower
Snake tattoos are generally seen as a symbol of strength and power while sunflower tattoo is a symbol of beauty and optimism. A combination of these two elements can symbolize a powerful tattoo for your strong and beautiful personality.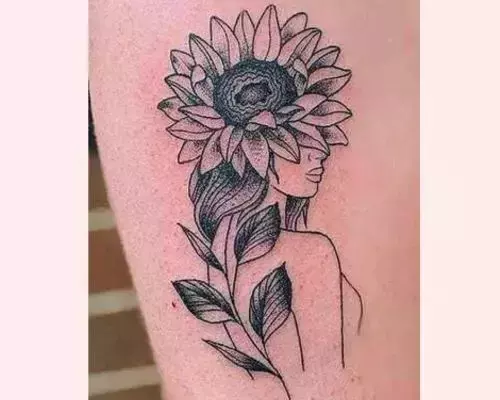 26. Sunflower Hair
This is an abstract sunflower tattoo idea. This tattoo symbolizes self-love. If you want to appreciate your body through body art then this tattoo is your calling.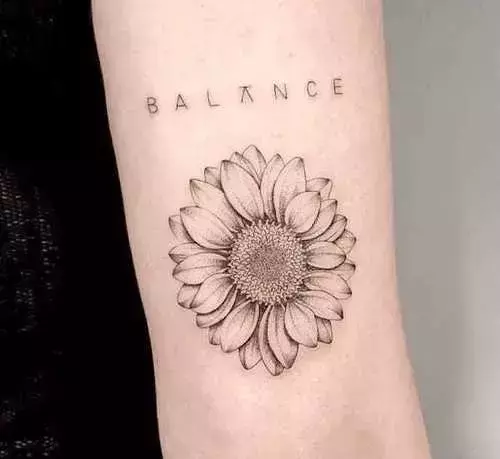 27. Balance
Balance is the spirit and soul of life then why not get a tattoo symbolizing that? The relation of the sunflower with the sun symbolizes the balance between inward and outward expression.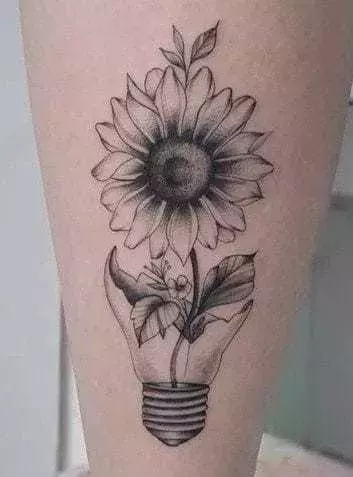 28. Sunflower Out Of A Bulb
A Sunflower out of a broken bulb is a classic example of a tattoo representing growth. A broken bulb signifies the art of letting go while the blooming sunflower here shows that letting go can do miracles at times.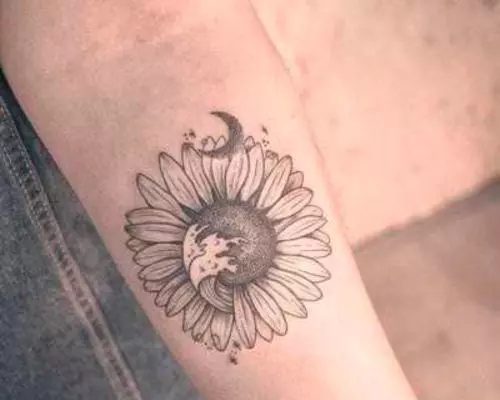 29. Sunflower with waves
This tattoo represents a unique combination of nighttime oceanic sky and daytime sunflower. It explains the beauty of summer. The uniqueness of the tattoo makes it look aesthetic.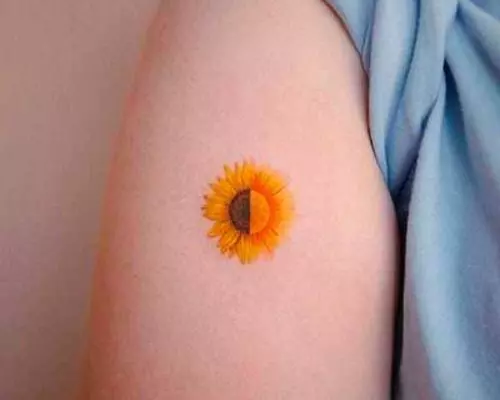 30. Sun Or Flower
This tattoo represents the relationship between the sun and the sunflower. This is minimalist and simple yet so meaningful. It shows how the sunflower blooms only when the sun is there in the sky.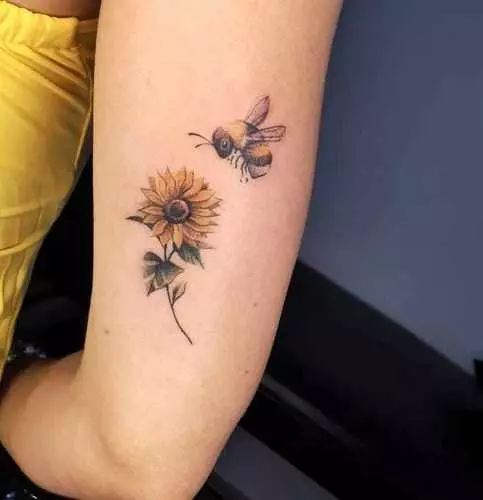 31. Bee And Sunflower
Bee and sunflower tattoos are an adorable design to choose from. You can get this one anywhere. This is a symbolic tattoo as well. The sunflower attracts bees as it produces nectar and pollen while bees are potential pollinators. Hence this tattoo represents the relation and interdependence between bees and sunflowers which symbolizes harmony and hard work.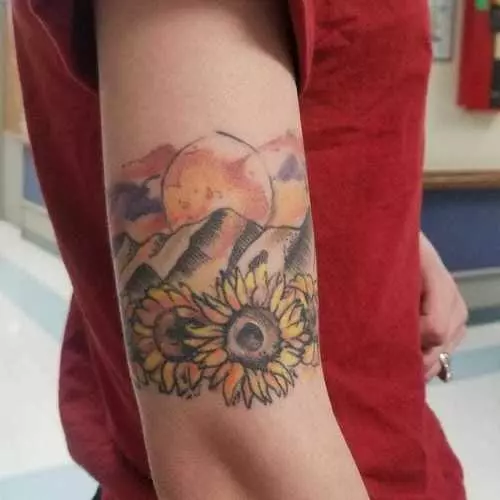 32. Mountains And Sunflower
Mountains and sunflowers are a representation of summer vacation spots. This tattoo design can be your photographic memory of your favorite childhood vacation memory and tattoos are made to keep our memories warm and safe.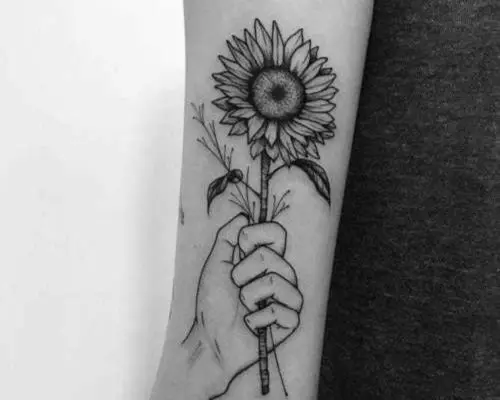 33. Offerings 
Someone offering you a sunflower can be a cute and romantic way of expressing love and affection. Why not have a tattoo representing the same?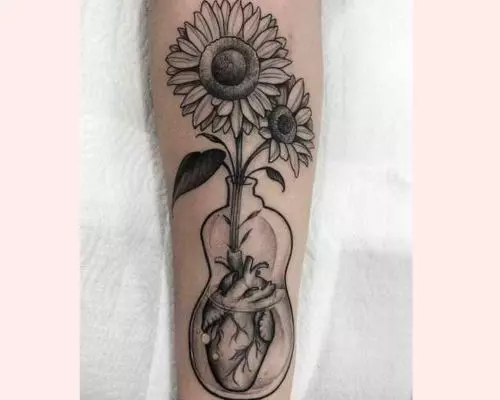 34. From The Heart 
This is one of the best abstract sunflower tattoo ideas. It is a symbolic tattoo representing many emotions. It shows how a heart that has been caged can bloom like a sunflower as well.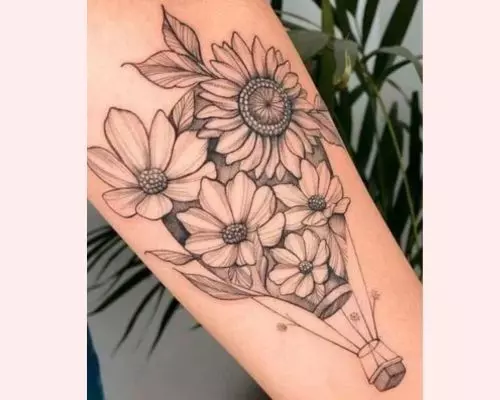 35. Hot Air Balloon
This one is again an abstract tattoo. Sunflowers carrying us like a hot air balloon can be a mystical representation of our thoughts.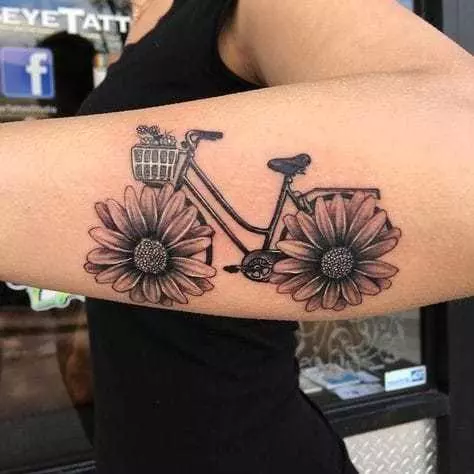 36. Cycle
This tattoo design represents a cycle with wheels made up of sunflowers. Cycle tattoos generally represent the essence of life that is moving on no matter what. Sunflower at its wheels just makes the tattoo look more creative and unique.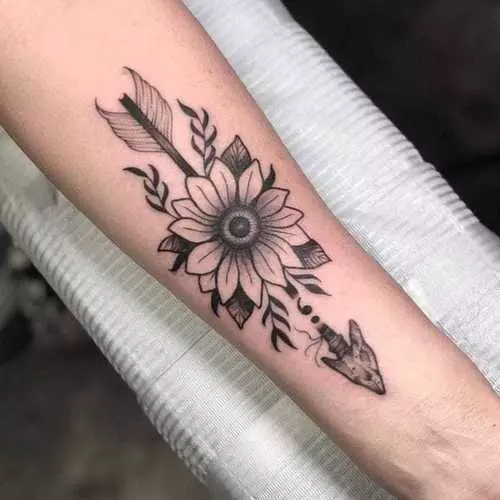 37. Arrow 
Arrow tattoos are classic tattoo ideas. The Arrow tattoo symbolizes ambition and commitment to the goal while the sunflower symbolizes optimism in the process.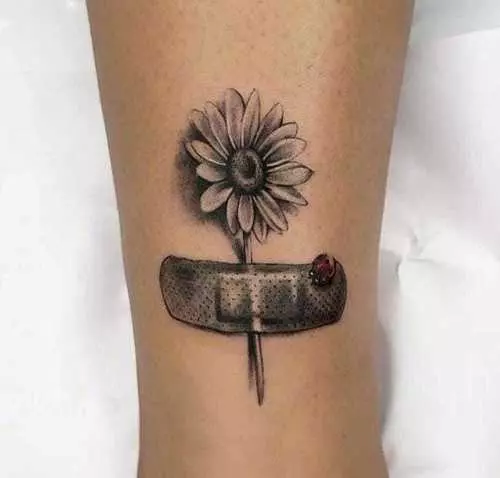 38. Band-aid 
This is one of the most unique sunflower tattoo designs. It signifies the meaning that no matter what we need to keep ourselves upright and move forward and take care of ourselves. If you are someone who finds it tough to get away from the pain of the past then this tattoo is for you.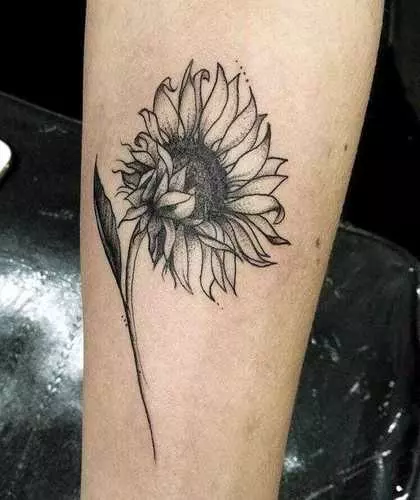 39. Black And White Sunflower Tattoo
If you are someone who is into conventionalism and hence, wants a simple sunflower tattoo but still wants to make it look eye-catching then this tattoo is the right fit for you. When you cannot decide then the best idea would be just going for a black and white sunflower tattoo.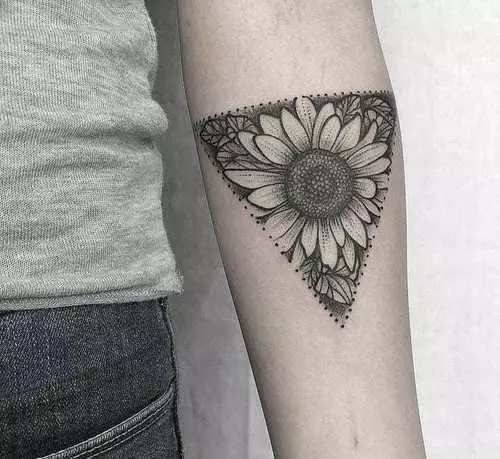 40. Inverted Triangle 
Sunflowers inside an inverted triangle can be a unique and beautiful way of expressing your love for sunflowers with body art.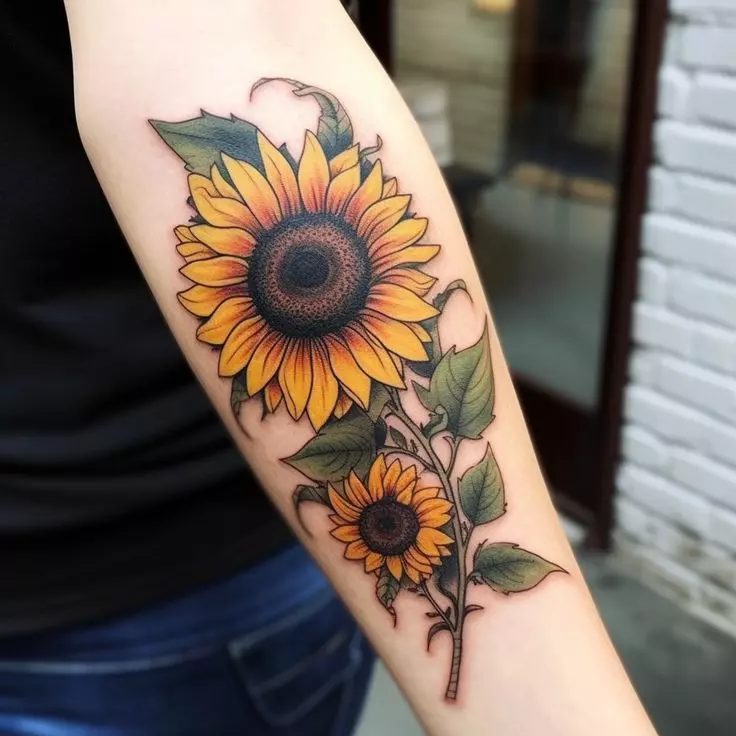 41. Big Sunflower Tattoo
A big Sunflower tattoo is trending as one of the best arm sunflower tattoos. It is simple yet alluring.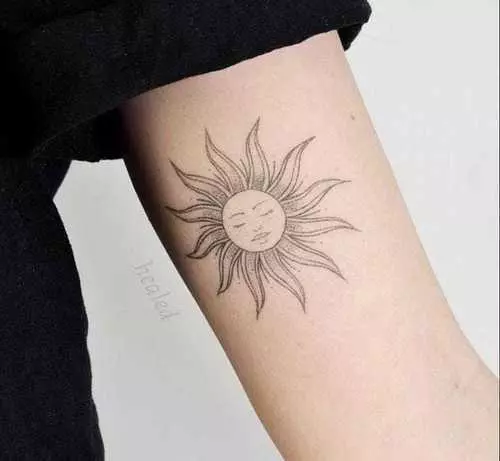 42. Faces Of The Moon And Sun
This tattoo design is an epic amalgamation of the sun and moon's personified faces inside a sunflower. It is one of the most unique tattoo designs one must try.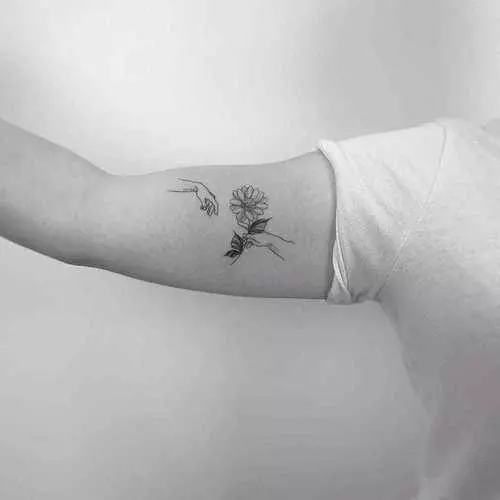 43. Aesthetic 
Thinking about getting an aesthetic tattoo design? Then this design is here just for you. This tattoo represents the art of letting go.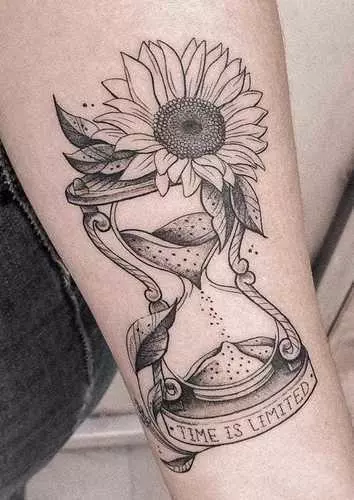 44. Time Is Everything
We all understand the importance of time and we still waste it. Getting a tattoo to always remind us of the importance of time can be a great idea. To stand out from the crowd you can add a sunflower to it.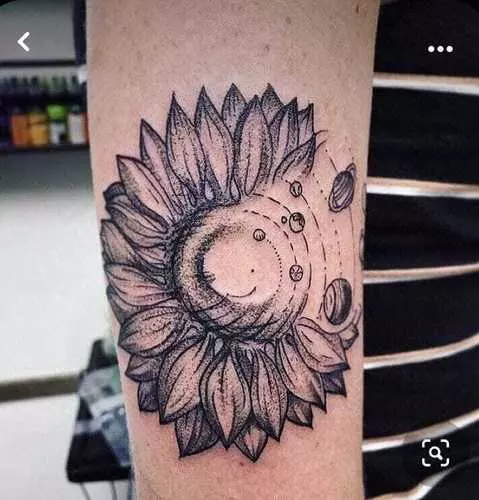 45. Solar System
Many of us are obsessed with the secrets of planetary knowledge and astrophysics. If you are one of them then this tattoo is for you. The sunflower around it will cut out your geeky personality and add beauty to your tattoo and your imagination.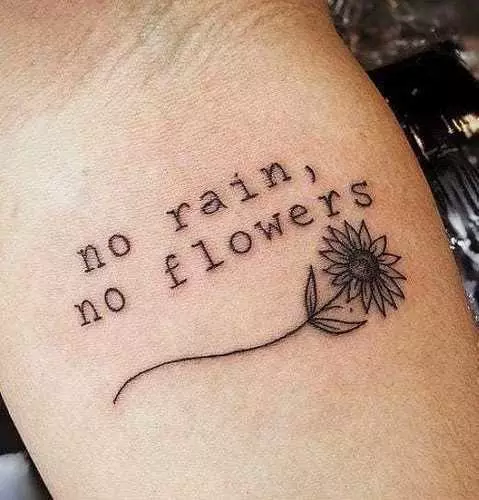 46. No Rain, No Flower 
This tattoo is synonymous with the famous phrase that is no pain, no gain. This is a beautiful representation of the same and can be your fit of tattoo which can keep reminding you of the phrase.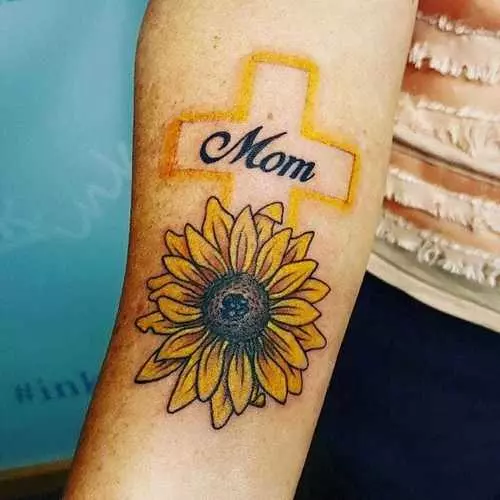 47. Remembrance 
You cannot always put flowers on the graves of your loved ones but your body art can.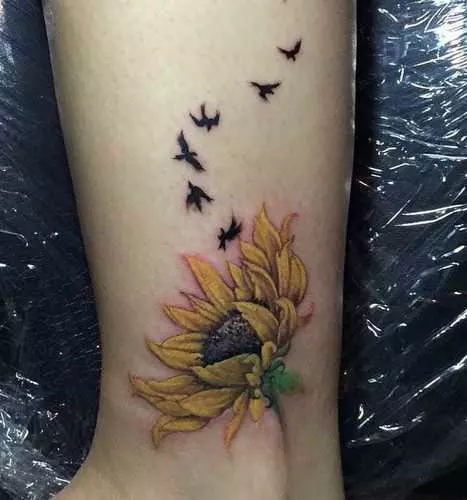 48. Fly Away
This tattoo represents freedom. At one point in time, we must give up on things that were even pretty to us. This tattoo is an artsy representation of the same.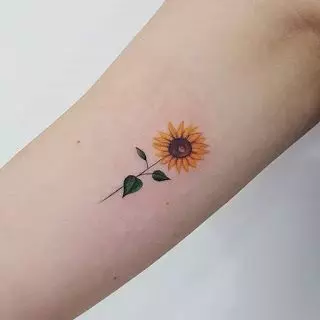 49. Add Colors
Why not a colorful big sunflower tattoo? Sunflowers are bright yellow flowers that tend to bring sunshine to every garden. This tattoo represents the beauty of sunflowers with different colors.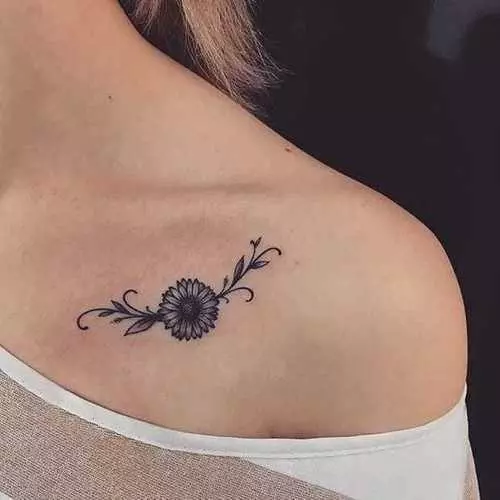 50. Simple Sunflower Tattoo
Sometimes all you need is a simple sunflower tattoo to flaunt your body art.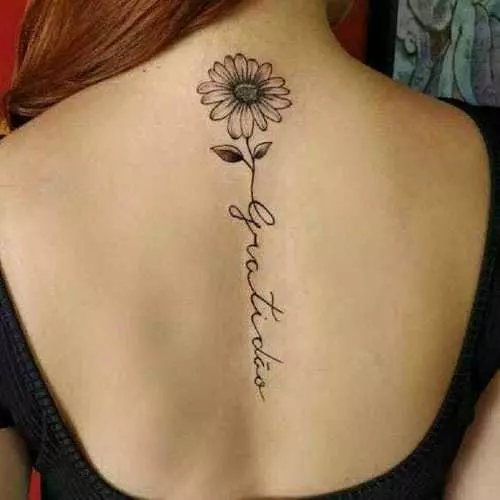 51. Sunflower tattoo with Name
Tattoos with names have been serving as the primary reason why tattoos were created. Tattoos and body art are made so that you can take your memoir with you forever. Having a name with your sunflower tattoo fills your memory with optimism.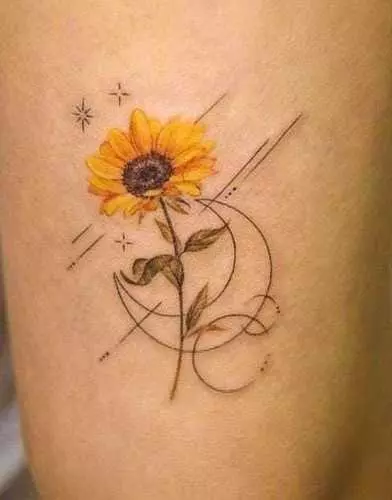 52. Moon
Sunflower moon tattoos never go out of style.