31 Spectacular Name Tattoo Designs For Men And Women
Hanisha Sharma
Updated At 17 Aug 23
Name tattoos are a special way to express emotions, pay tribute to loved ones, and keep treasured memories alive. They have gained popularity among both men and women because they provide a personal touch and a deep connection.
Do you want to get a new tattoo but are out of ideas? Well, worry not, because we have curated a list of 31 stunning name tattoo designs that are guaranteed to captivate and inspire those who want to honour their special relationships through the art of tattooing.
31 Best Name Tattoo Designs For Men And Women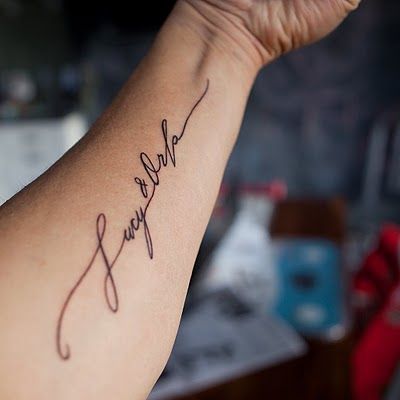 1. Classic Spirit
Classic Spirit is an elegant name tattoo design that decorates your skin with the name of a loved one in a timeless style. This tattoo has cursive lettering that never goes out of style. This is a perfect tattoo design for both men and ladies.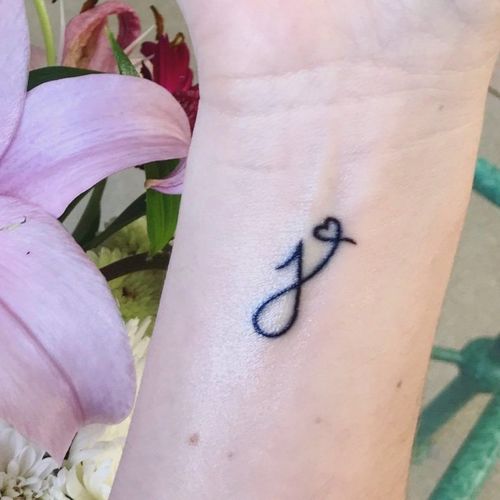 2. Initial Tattoo Name
If you are looking for something minimalistic yet beautiful, then consider getting a small initial tattoo on your wrist or collarbone. Sometimes, simplicity speaks volumes.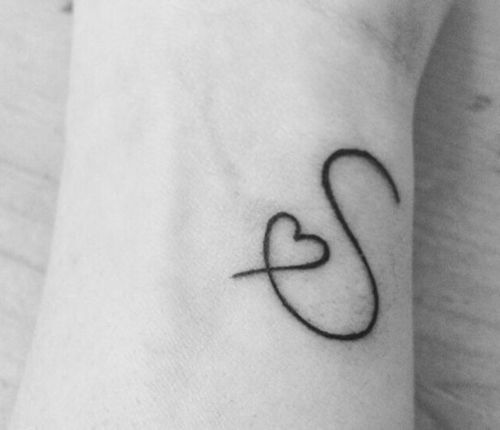 3. Heartfelt Dedication
Pairing a heart with the name of someone special will always remind you of the love and special connection that you share, and it is a beautiful way to cherish a memory. The letter 'S' name tattoos are very trendy these days and the above design is a perfect one.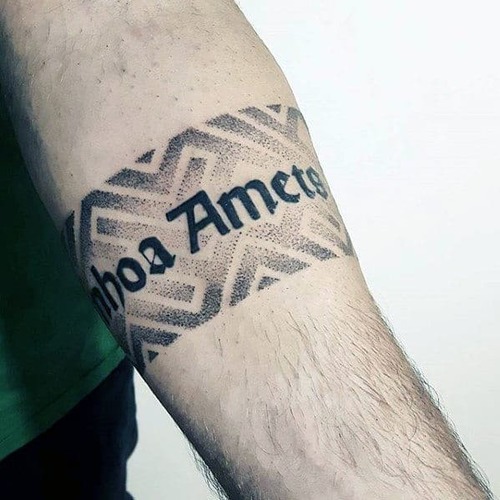 4. Geometric Elements In Tattoo
Geometric shapes can enhance the visual appeal of your design and also add a contemporary twist to your tattoo. They also add balance and harmony to your memory. One of the best tattoos for men, this looks stylish and provides an edgy look.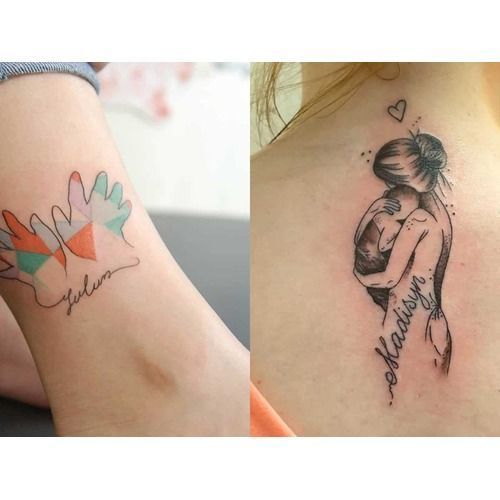 Your tattoo artist can turn names into artistic masterpieces using different fonts and calligraphy. This unique design lets you extraordinarily showcase your tattoo, making it stand out. This is a perfect name tattoo design for ladies.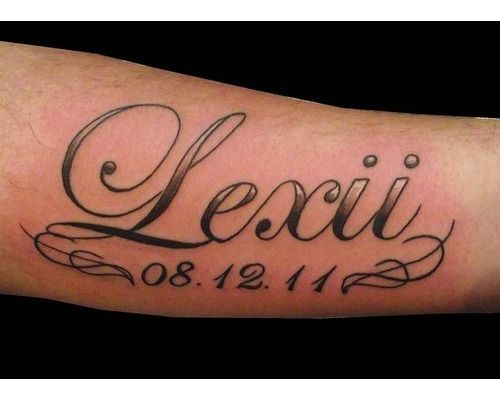 6. Name Tattoos With Birth Dates
Celebrate the birth of a child, a partner, or a parent by adding their birth date alongside their name. This addition infuses the tattoo with deeper meaning, representing the existence of your loved one and their significant role in your life journey.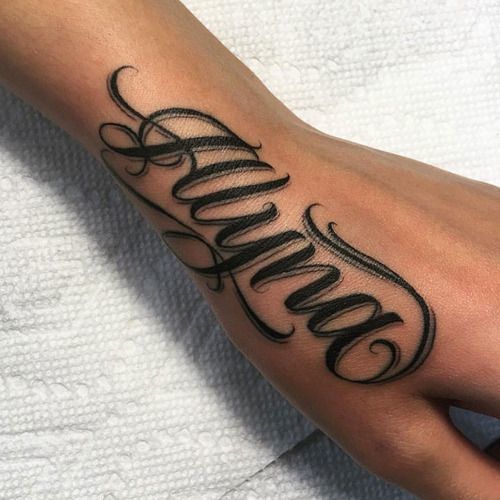 7. Name Tattoos on the Hand
Tattooing the name of a loved one on your hand is a bold and visible way to show your deep connection and bond with them. Name tattoos on hand are a great way to cherish an unbreakable bond.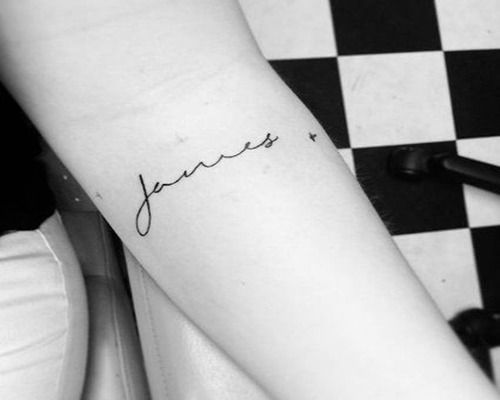 8. Minimalist Name Tattoo
Minimalist name tattoos are always the best idea when it comes to expressing profound emotions and feelings. Go for a minimalist name tattoo design that is simple and elegant yet speaks volumes when it comes to emotions.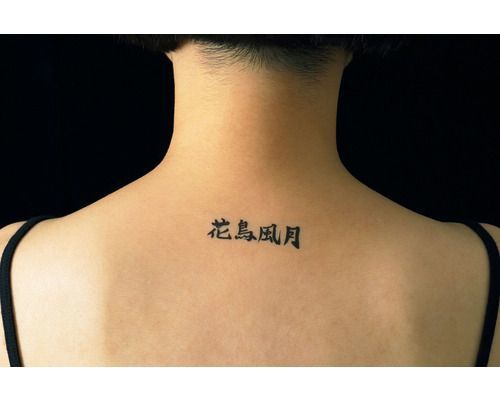 9. Name In A Different Language
Honour the place where you come from and your loved ones by opting for a name tattoo design in your mother tongue. One of the top back tattoos for women, this provides you an option to cherish your heritage and your loved ones.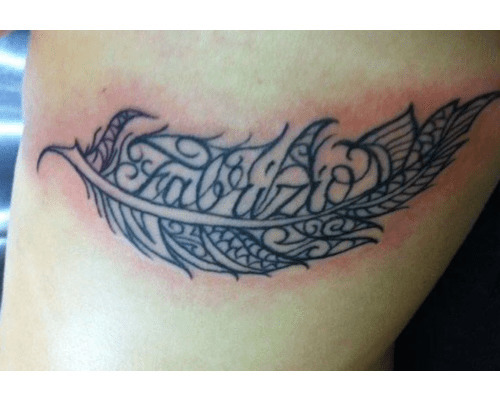 10. Tattoos with Hidden Names
To have a unique tattoo design, you can hide the name of your loved one in an intricate design. This adds an element of mystery and uniqueness to your tattoo design.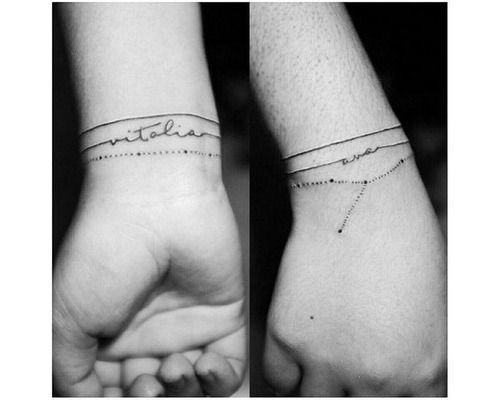 11. Name Tattoo Bracelet
You can tattoo the name of your loved one on a bracelet around your wrist. It is an incredible way to honour those you hold dear by encircling them around your wrist like an accessory.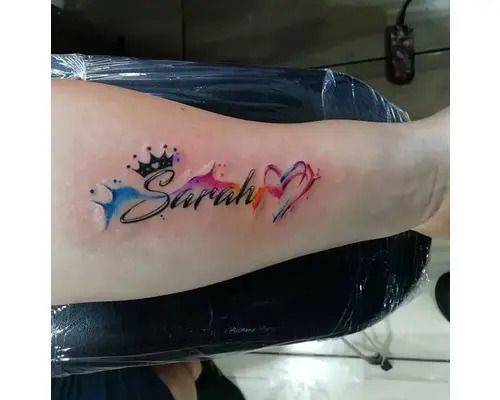 12. Watercolour Names
Incorporating watercolour designs into your name tattoo is an excellent way to express your emotions artistically and colourfully. It also makes the tattoo eye-catching and different from the rest.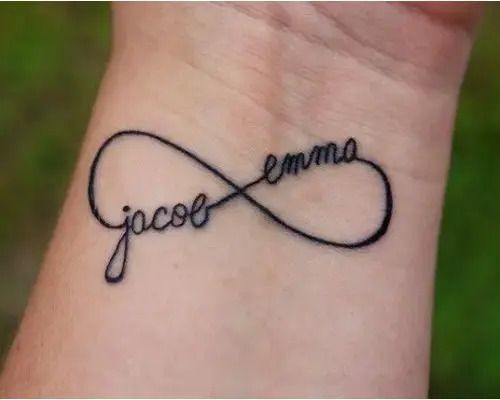 13. Name Tattoo With Symbols
Adding symbols like a heart, the infinity sign, doves, or anything that holds a special meaning to you can enhance the emotions and feelings of your name tattoo design.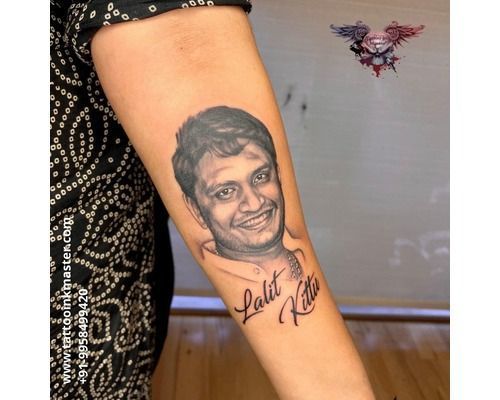 14. Portrait And Name
Along with a name tattoo, making a detailed portrait of the one dear to you is an extraordinary way to honour and cherish their memory till the end of time.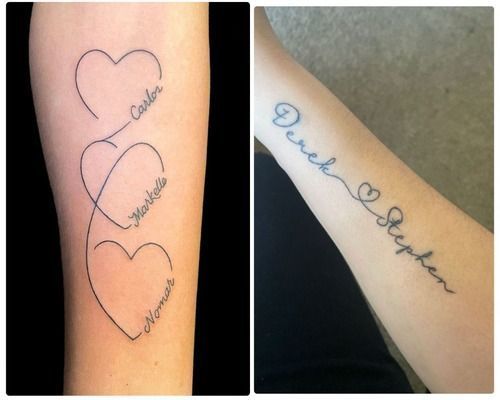 15. Collage of Names
If you want to incorporate more than one name, then this is the design for you. Make a collage of all the names into an interconnected design. Each name leads to a special design that leads to another name.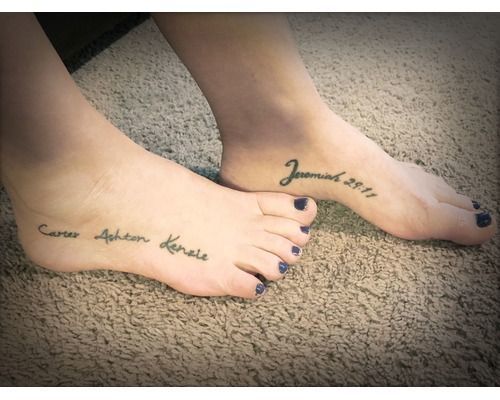 16. Name Tattoos on the Foot
Making a name tattoo on your foot is a remarkable and beautiful way to symbolise the steps you take together in the journey of life. It is a great way to add symbolism to your design.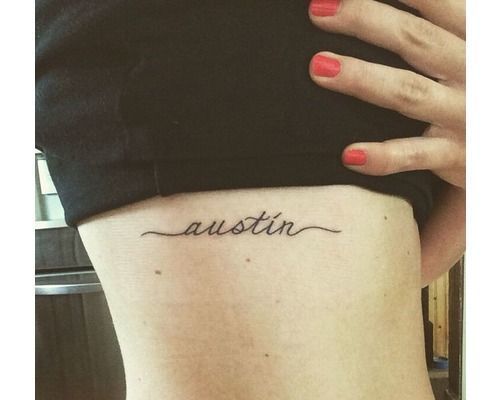 17. Name Tattoo On The Ribcage
If you are someone who wants to go for a discreet option, then getting a name tattoo on your ribcage is the best option for you. This intimate placement lets you keep the name cherished within you.
Looking for more inspiration for breast tattoos? Do check out our guide as we list 100+ stunning options.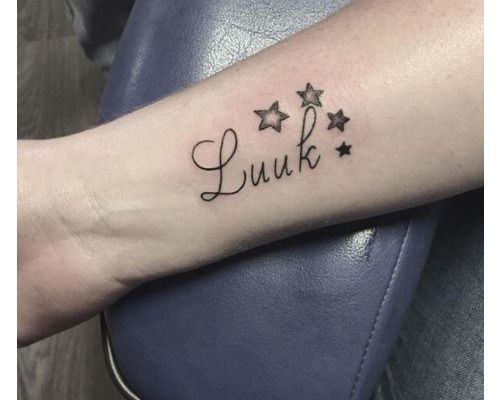 18. Name With Cosmic Elements
Combining names with cosmic elements like stars or galaxies is a great way to symbolise an eternal bond. It adds a sense of infinite connection to your name tattoo design.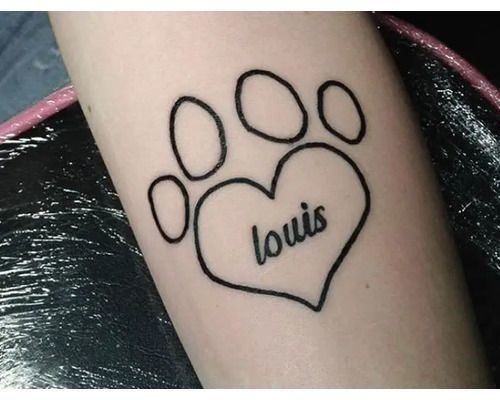 19. Name Tattoos With Animals
Incorporate an animal silhouette into your name tattoo design that holds significant meaning to you and your loved one. This can add a bit of nature to your design.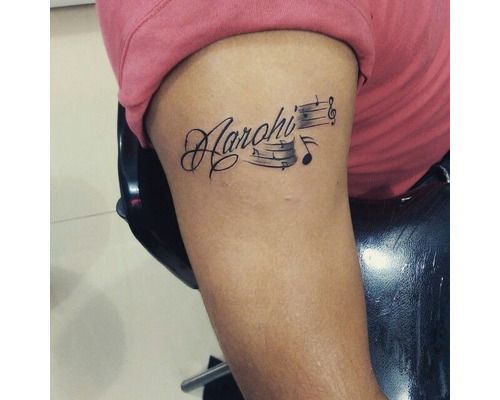 20. Musical Tribute
If music holds a significant meaning in your life, then express your affection by adding musical notes or instruments along with your name tattoo designs.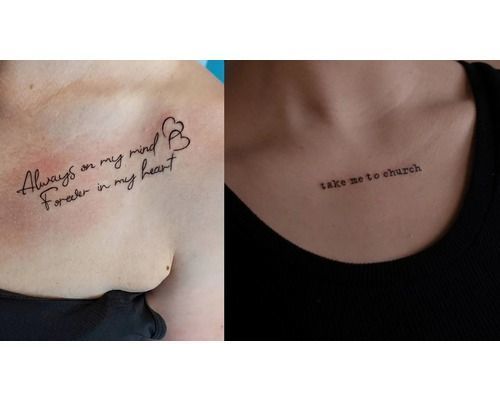 21. Name Tattoos With Quotes
Combine meaningful quotes or phrases with the names, encapsulating the essence of your relationship powerfully and poetically. This fusion of words and names creates a profound message.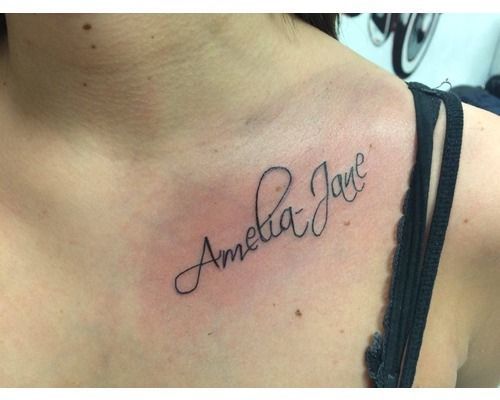 22. Name Tattoos On The Collarbone
Adorn your collarbone with a name tattoo that beautifully decorates this part of your body. It allows your tattoo to look more graceful and elegant.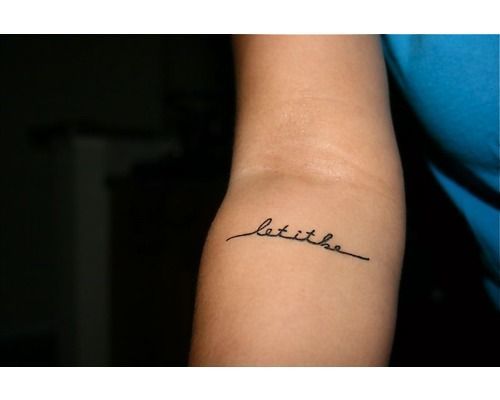 23. Name Tattoos On The Forearm
The easily visible placement showcases your name tattoo proudly. Name tattoos on the forearm are also a great way to show your affection and love for your loved one.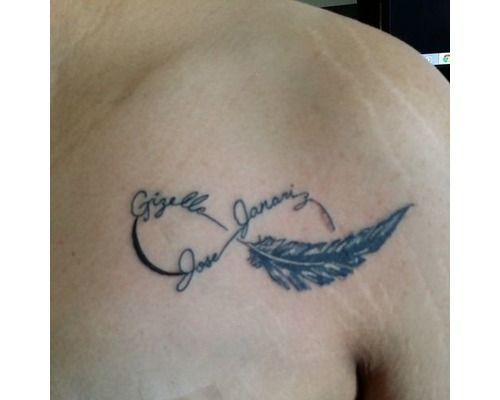 24. Name Tattoo With Feathers
If you want to add a touch of delicacy and grace to your tattoo design, then feathers are the best option. It symbolises protection, spirituality, and your deep care for your loved one.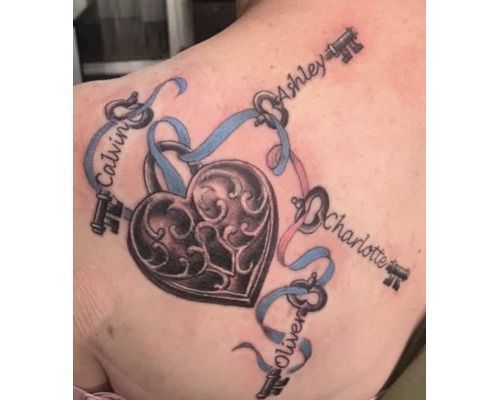 25. Lock And Key Tattoos
Honour a special connection with someone by combining their name with a lock and key. It symbolises that they hold a key to your heart and express profound emotions.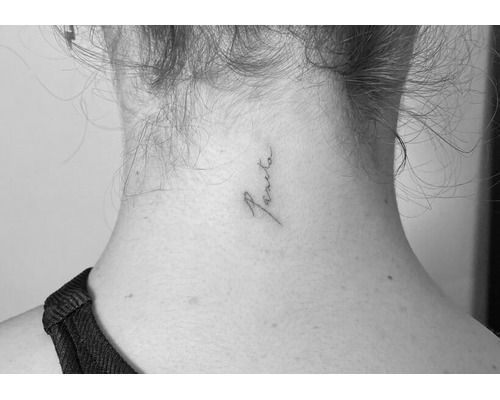 26. Name Tattoo On The Neck
Opt for a subtle name tattoo on the back of your neck, symbolising an intimate connection. This discreet placement adds a hint of mystery and allure.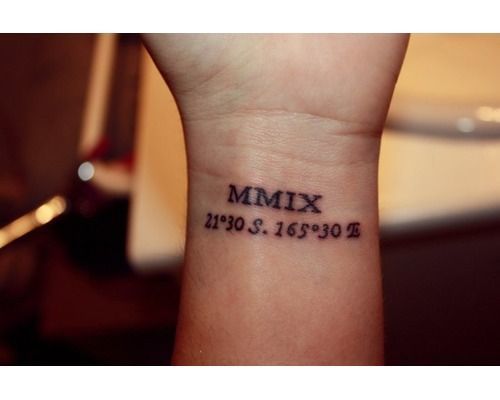 27. Name Tattoos With Coordinates
Honour a place along with your loved one by combining their name with the coordinates of a place that has meaning to them. This immortalises the place forever.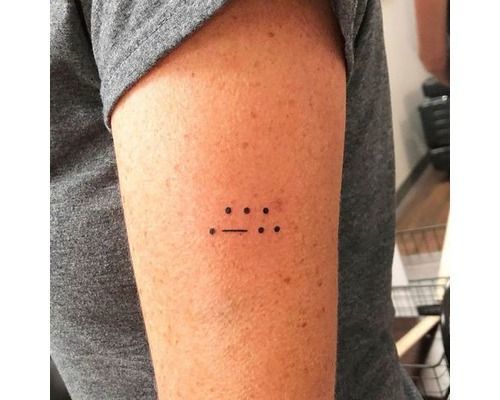 28. Morse Code Design
Conceal the name by writing it in Morse code; it is a personal and unique way to express your love. Only those who know the code will be able to decipher the tattoo.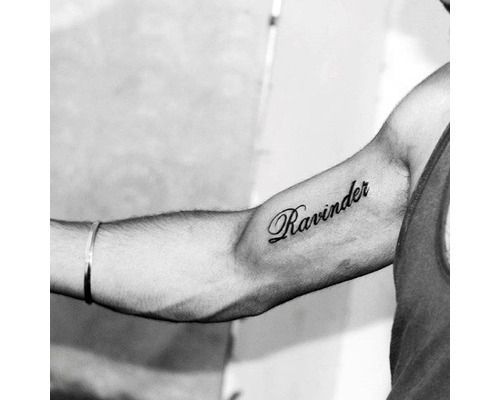 29. Bicep Name Tattoos
Showcase your strength and love by getting a name tattoo on your bicep. It is an excellent way to powerfully express your dedication and love. One of the best small tattoos for men, this can be a gamechanger.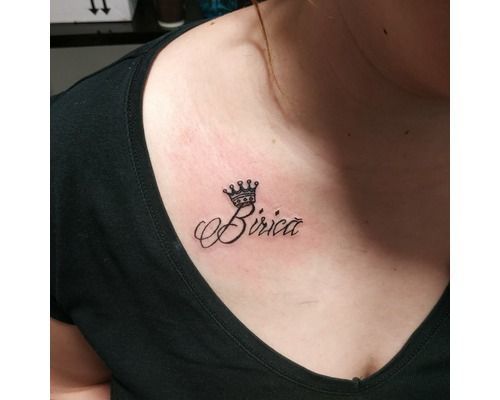 30. Name Tattoos With Crown
Show the importance of someone in your life by adding a crown above their name tattoo. This symbolises royalty and the respect that you have for them in your heart.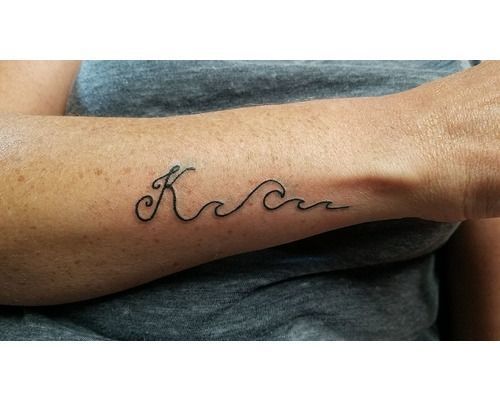 31. Water Element
Add a touch of fluidity and depth to your name tattoo by integrating water elements, such as waves or droplets. It symbolises the depth and transformative nature of your relationship.
Name tattoos are something that will never go out of style because they hold a special meaning for anyone who gets them. They hold a significant place in the world of body art as a unique way to express emotions.