25 Stunning Alyssa Milano Hairstyles - 2023 (Updated)
Pooja Angurasu
Updated At 16 Aug 23
Looking out for the most popular Alyssa Milano hairstyles? You have come to the right place as we cover all her popular haircuts in detail!
Alyssa Jayne Milano is a 50-year-old American actress, producer, activist, and former singer. She began her career at the early age of seven years. She has starred in lead roles in the Hugo pool and acted in many movies. Alyssa Milano has lots of fans all over the world. They love her for her work and her looks too. To many people, Alyssa Milano is a fashion icon. They follow her makeup and hairstyles. She is one of the actresses who has changed her hairstyles many times. She is never afraid to experiment with her hair. We cover her 25 celebrity hairstyles which have been extremely popular. Do check out hairstyle No. 8 from the list as it has been a trendsetter.
25 Alyssa Milano Hairstyles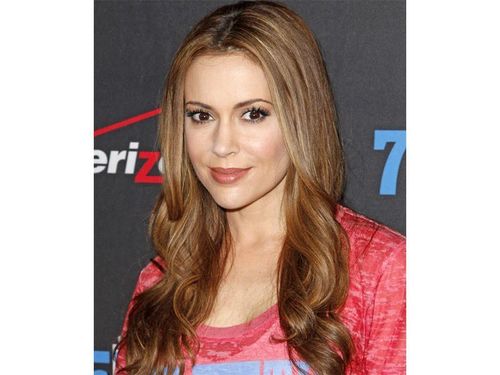 1. Smooth Waves
This splendid Alyssa Milano hairstyle falls over the shoulder to show off the gorgeous length and long layers which creates soft movement through the mid-lengths to ends. This amazing blonde hairstyle goes well with her pink dress.
Check out our guide to find the best jlo hairstyles which include long straight hair, curls, side parted hair and many more.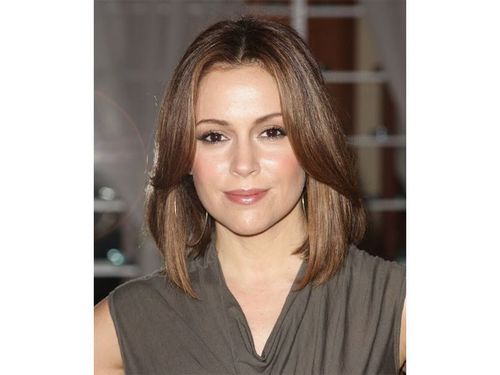 2. Blunt Hairstyle
This classic look sits perfectly on the shoulders showing the blunt cut length hair. Long subtle layers cut through the front to provide a brilliant finish. This Alyssa Milano's hairstyle has curtain bangs which frame her face perfectly. Ideal for any big occasion, this stunning haircut is the perfect hair inspiration one can look for.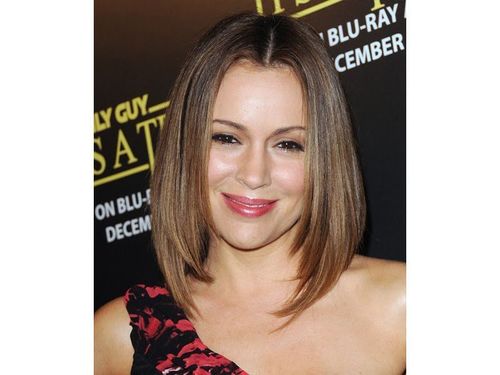 3. Medium Length Bob
This medium length bob from Alyssa Milano is cut to sit under the jawline. The wispy layers cut through the front to frame her face nicely. This Alyssa Milano hairstyle has a perfect finish which makes her look cute.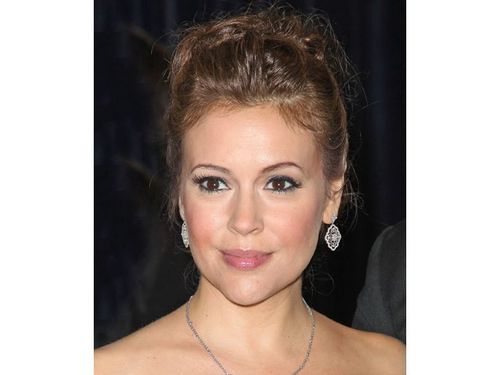 4. Updo Hairstyle
This fantastic upstyle is curled and pinned to the back of the head to form this spectacular look which is great for any special occasion. One of the best Alyssa Milano hairstyles, this can be paired easily with the right accessories and makeup to make the look glamorous. Check out our guide to find the best Angelina Jolie hairstyles as we cover all her popular haircuts which include layered hair, soft curls, straight hair and many more!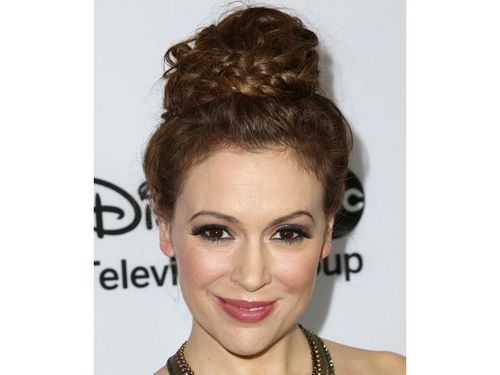 5. Braided Bun Hairstyle
This Ancient Greek inspired hairstyle is braided, then pulled up and twisted into a bun and pinned to the crown making it a great style to compliment. One of the top Alyssa Milano hairstyles, this never goes out of fashion.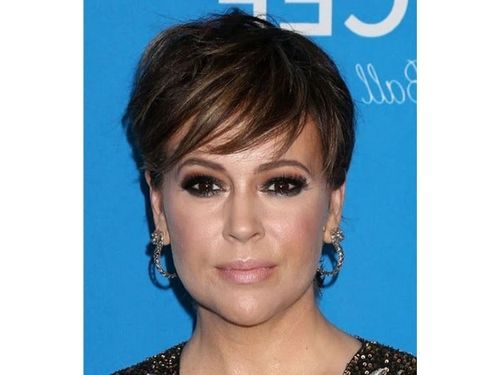 6. Side Swept Bob Hairstyle
The back and sides of this short sassy 'do is tapered into the head blending into the top layers that are swept to the side for shape and style. This Alyssa Milano short hairstyle makes her look cool and classy.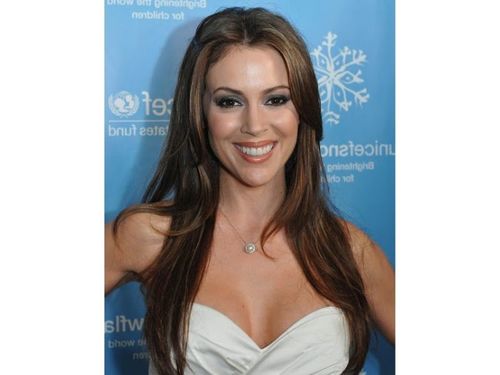 7. Brunette Highlights
The hairstyle is keenly divided at the centre and raised to drop on both sides. She looks gorgeous, and Alyssa Milano's hairstyle can brighten a sad day. The prettiest hairstyle ever!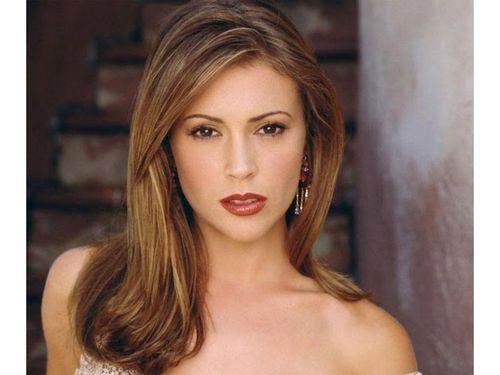 8. Sun Kissed Blonde Hairstyle
This hairstyle is long but with short strands in the front, the ends are curly and soft. This Alyssa Milano hairstyle can be rocked at casual events and official events. if you are looking for a new hairstyle which would work for all occasions, then you have got one.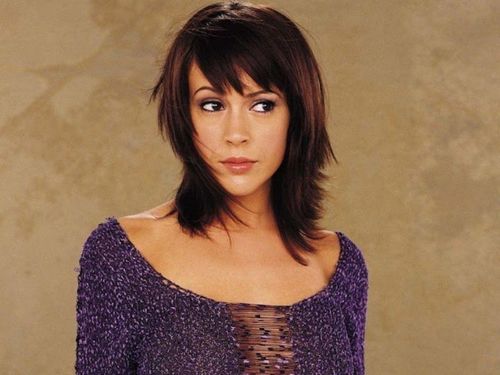 9. Razor Bob Cut With Bangs
The bob looks sharp and messy. The bangs are full but have paved for the eyebrows to be seen. The waves on this Alyssa Milano hairstyle are unique because they are not on one level.
10. Medium Black Wavy Hairstyle
This hairstyle fits Alyssa Milano perfectly, and the medium size is cool with her age and very easy to style and maintain. The hair is soft and shiny with a fringe on one side just at the end of the eyebrows.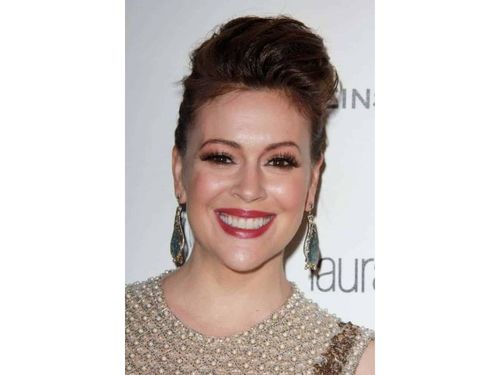 11. Pompadour Hairstyle
This classic Alyssa Milano's pompadour updo hairstyle looked perfect at the Golden Globes function. She rocked the event with this wonderful hairstyle. Her lips and earrings made a statament along with her hairstyle.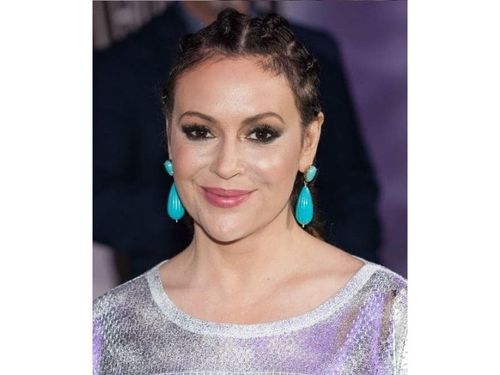 12. Braided Upstyle
Actress Alyssa Milano attended the 26th annual Taste of the NFL Party with a Purpose at the University of Houston. She wore a braided upstyle incorporated with blue dangling earrings.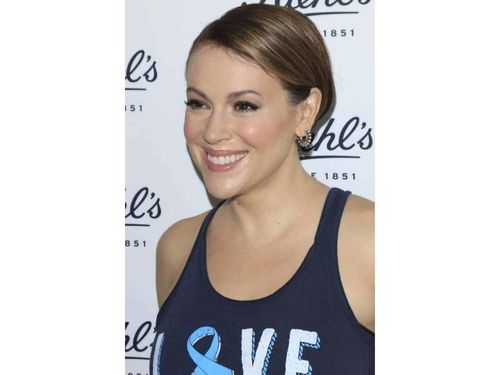 13. Alyssa Milano Pixie Hairstyle
The proud mom of two went super short in a pixie cut with a deep side part at Kiehl's LifeRide for Ovarian Cancer Research. One of the easiest Alyssa Milano hairstyles and can be recreated easily.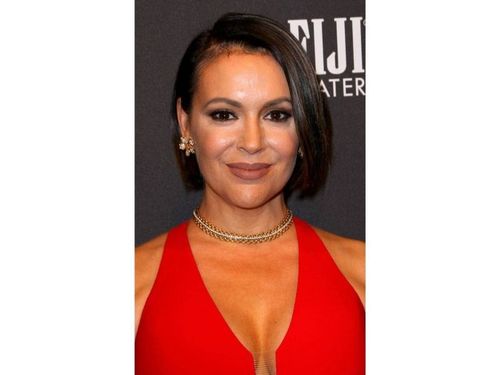 14. Side Parted Bob
This short side-parted bob never gets outdated and looks nice to her as she attends the Weinstein Company and Netflix Golden Globes After Party. This Alyssa Milano hairstyle never goes out of trend.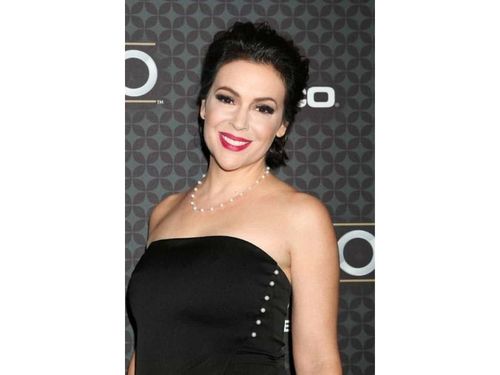 15. Loose Upstyle
Alyssa Milano wowed the crowd with her sophisticatedly styled loose upstyle locks at the NHL 100 Gala. This Alyssa Milano hairstyle adds movement to her look. This hairstyle will be suitable for official events.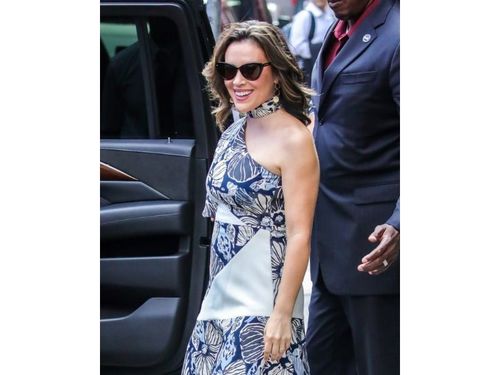 16. Tousled And Highlighted Waves
Alyssa Milano was spotted in New York City wearing a floral print dress and black shades along with her tousled highlighted waves. This Alyssa Milano hairstyle goes well with her sunglasses.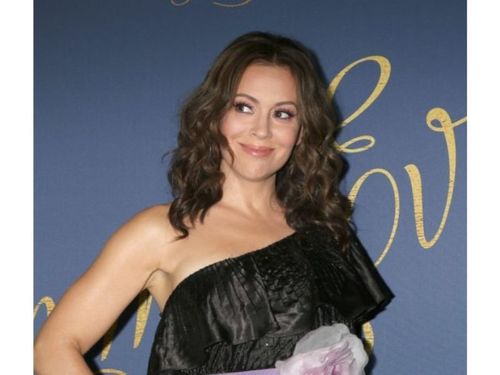 17. Curly Hairstyle
The actress arrived at the Showtime Emmy Eve Nominee Party with soft, defined curls complemented with natural-looking makeup and a ruffle dress. This Alyssa Milano hairstyle gives a magnetic look.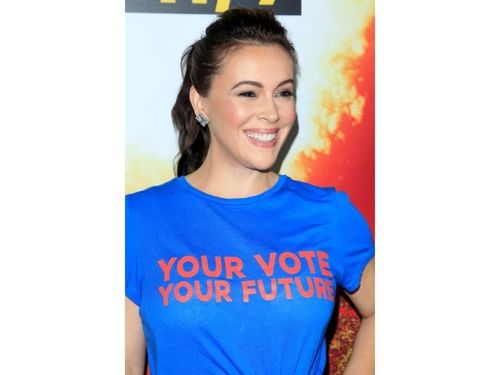 18. High Ponytail
The actress looks casual in a blue shirt along with a high ponytail that's incorporated with a soft puff at the front. This was taken during the "Fahrenheit 11/9" Los Angeles Premiere at the Samuel Goldwyn Theater.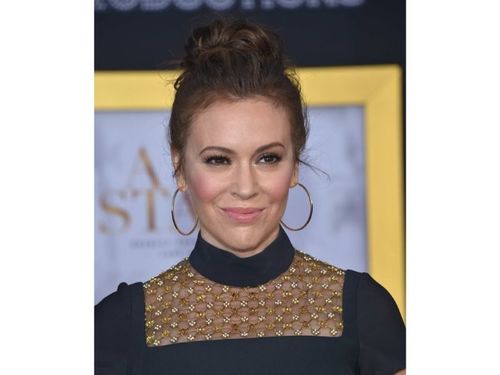 19. Messy Updo
Alyssa Milano wore a messy upstyle hairstyle emphasizing her hoop earrings and turtleneck dress at the "A Star Is Born" Los Angeles Premiere. This Alyssa Milano hairstyle gives a charming look.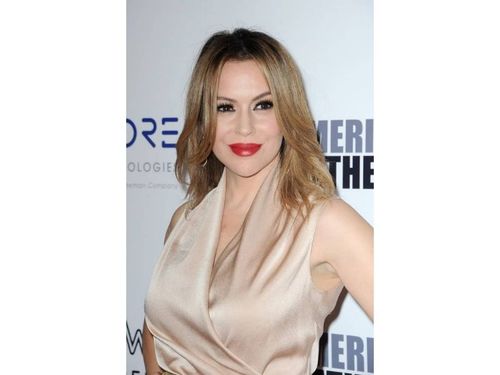 20. Blonde Waves
The actress had her centre-parted waves in blonde during the 32nd American Cinematheque Award Presentation Honoring Bradley Cooper. It perfectly matches her nude silk dress while contrasting her bold red lipstick.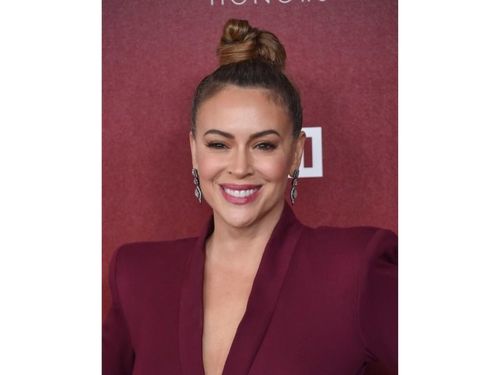 21. Top Knot
Alyssa Milano arranged her thick tresses into a stylish top knot during the VH1's TrailBlazer. This Alyssa Milano hairstyle was complemented by gorgeous earrings and a burgundy suit.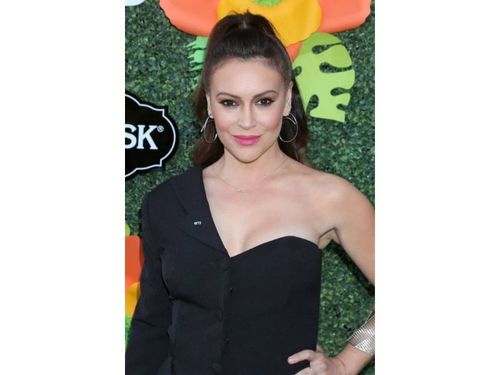 22. Half Updo
Alyssa Milano wore a black one-shoulder dress paired with hoop earrings at the Lifetime TV Summer Luau last May 20, 2019. She finished the look with a sleek half updo along with pink lipstick.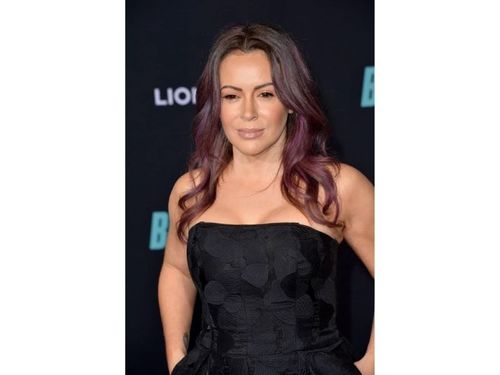 23. Wavy Hairstyle
Alyssa Milano showcased a centre-parted wavy hairstyle that's accentuated with purple hues during the premiere of "Bombshell" at the Regency Village Theatre. This Alyssa Milano hairstyle gives a stylish look.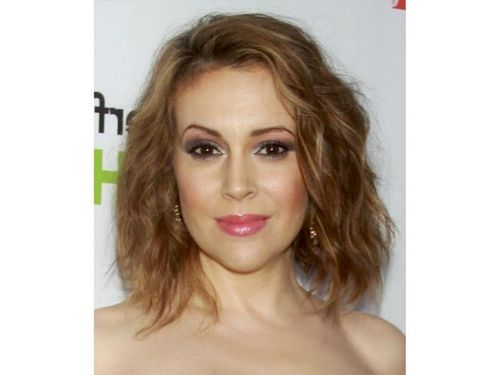 24. Shiny Blonde
This Alyssa Milano hairstyle is sassy with soft waves. The hairstyle looks light and smooth. This is a must-try hairstyle. It has a youthful vibe. It is parted on the side to bring balance to this gorgeous look.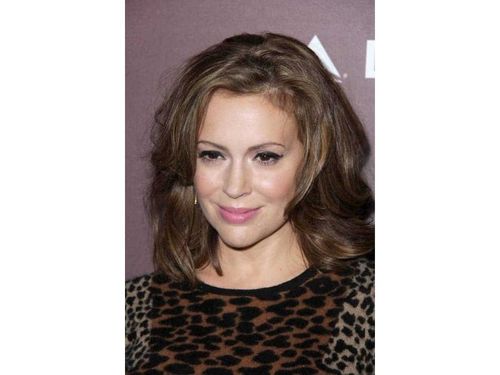 25. Voluminous Layers
Replicate this messy Alyssa Milano hairstyle but the voluminous medium-length layers this pretty actress appeared with this hairstyle at the Hollywood Reporter's Next Gen 20th Anniversary Gala.