25 Stunning Angelina Jolie Hairstyles And Haircuts
Pooja Angurasu
Updated At 16 Aug 23
Angelina Jolie is known to be one of the most beautiful actresses in Hollywood. She is the amongst the most captivating stars in Hollywood. If you are looking for top celebrity hairstyles, then she has got to be in your list. We have listed the top Angelina jolie hairstyles which include her short hair, bangs, bun, bob haircut, straight hair and many more. Do check out hairstyle 8 in the list as it is amogst the most popular angelina jolie haircuts.
Lets begin!
25 Best Angelina Jolie Hairstyles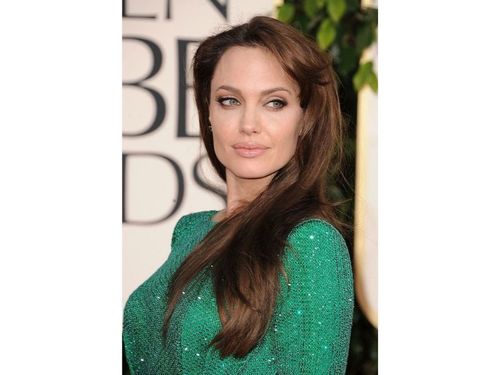 1. Side Swept Bangs
This hairstyle gives Angelina Jolie an iconic look. Her beautiful locks and bangs complete her looks with sophistication and grace. Her layers and highlights always add that extra look to her hair. If you are looking for Angelina Jolie with bangs, then this is one of the best hairstyles.
Check out the stunning jlo hairstyles as we list all her popular hairstyle like the straight hair, curls, side parted hair, long hairstyles and many more.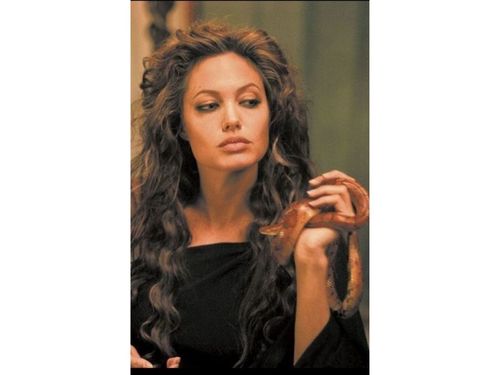 2. Messy And Bouncy Curls
The Angelina Jolie hairstyle gives a majestic look even though it is messy. Her bouncy hair at the top and the curls give a stylish look. Angelina Jolie is always adorable!
Also, check out the stunning Heidi Klum hairstyles as we cover the most popular 25 hairstyles of this German American supermodel.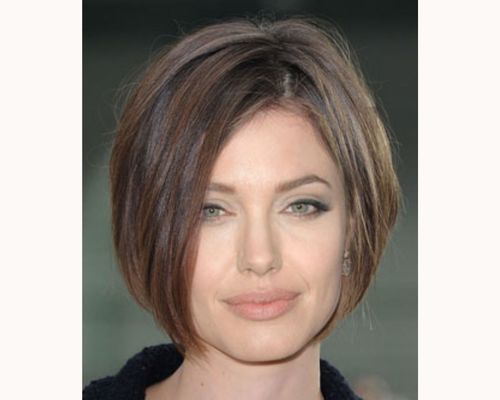 3. Angelina Jolie Short Hairstyle
This Angelina Jolie short haircut is a perfect inspiration for anyone looking for a trendy and new haircut. This works for all hair colors and face shapes. One of the low maintenance hairstyles, this Angelina Jolie bot haircut would work well if you are pressed for time.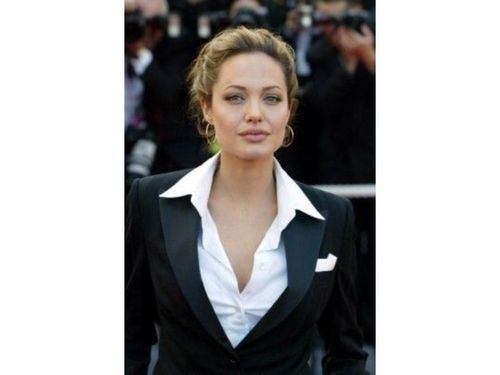 4. Simple Updo
Angelina Jolie never compromises her fashion even in a simple updo. The round earrings add beauty to her hairstyle. She amazes and fascinates every people around her.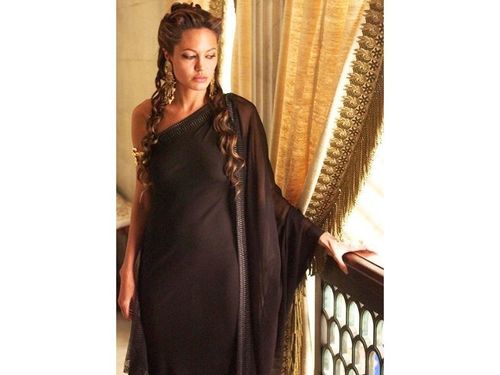 5. Pinned Back Wavy Hairstyle
Angelina Jolie steps out with her wavy and curly brown hairstyle. Angelina Jolie's hairstyle has loads of curly locks which add more movement to the look and completes her look perfectly.
Also, check out the stunning Jennifer Garner hairstyles as our guide covers 50+ stunning all time best hairstyles of this famous American actress. From long wavy hair to straight hairstyle, we have covered all of them in detail.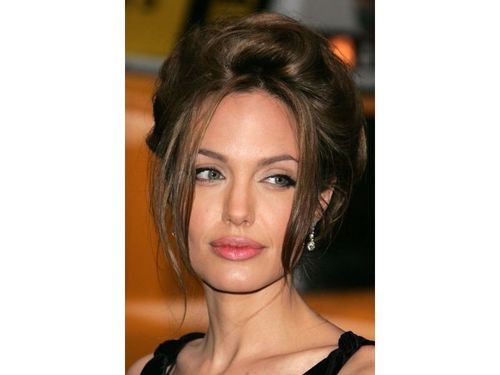 6. Bouncy Bun
Angelina Jolie puts her long hair into a bouncy bun. The left-out strands frame her face perfectly in an elegant way. The strands frame her face as bangs which adds beauty to her eyes.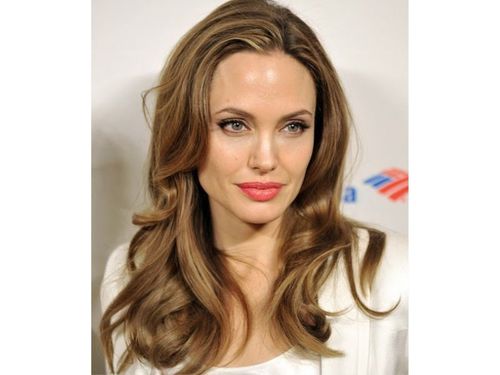 7. Angelina Jjolie Long Hairstyle
These highlighted waves are dressed in soft waves through the mid-lengths to ends adding shape and movement to the sides and back. This is a great hairstyle for Angelina Jolie.
If you are looking for hair inspiration, you must check Taylor Swift hairstyles. From bangs, curls, waves to straight hair, we have listed them all.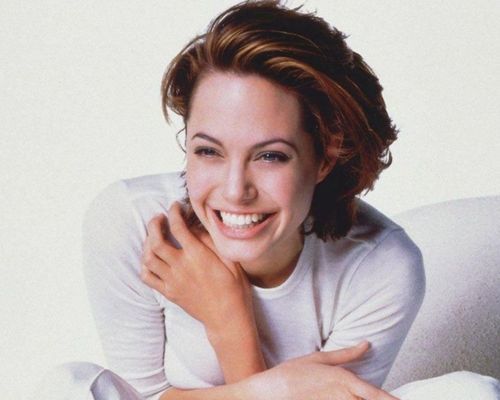 8. Angelina Jolie Short Hairstyle
If you have a high hair volume and are looking for trendy short hairstyle, then this Angelina Jolie hairstyle would be the perfect match for you. Her smiling face adds charm to the hairstyle and makes it elegant.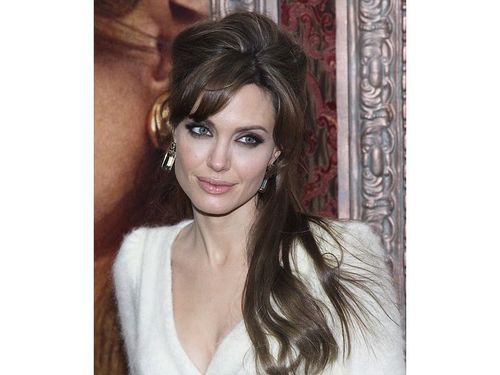 9. Crown With Side Bangs
The top half of this stunning length is teased and pinned to the back of the head creating height at the crow and the hair falls naturally on her shoulder. She just looks like a queen of angels in this crown hairstyle.
10. Feathered Layers
The length and layers of this style are dressed in soft waves and left to fall over the shoulders showing off the layers cut around the front which enhances her beauty. This Angelina Jolie hairstyle portrays her as a barbie doll.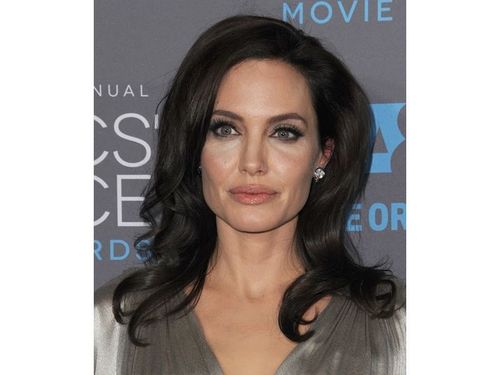 11. Layered Hairstyle
This layered hairstyle of Angelina Jolie is blow-waved beautifully adding movement and shape to the mid-lengths to ends and body at the roots making this a great look to complement a long face.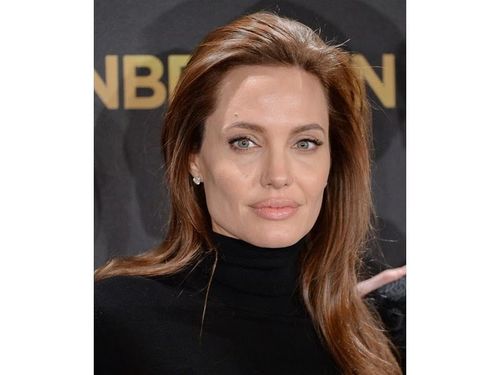 12. Waved And Smooth
This is a simple style which is blown out and looks wavy and smooth and left out allowing one side to fall over the shoulder for a low fuss look and feel. This is a great look for Angelina Jolie.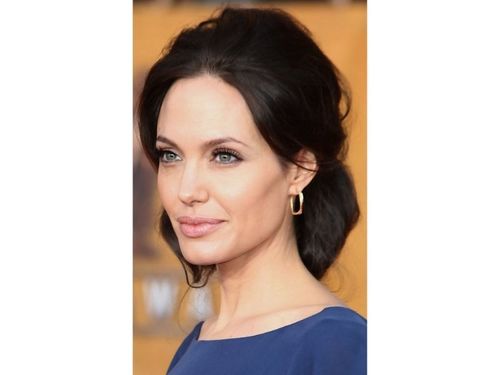 13. Loose Bun
Angelina Jolie wears her long black hair in a loose bun. The bun works well with her complexion and blue dress. Her grey eyes and her loose bun speak everything about her beauty.
Similar to Angelina Jolie, if you are looking for inspieartion for new haircut, you should check the new Lisa Rinna haircut which has transformed her look completely.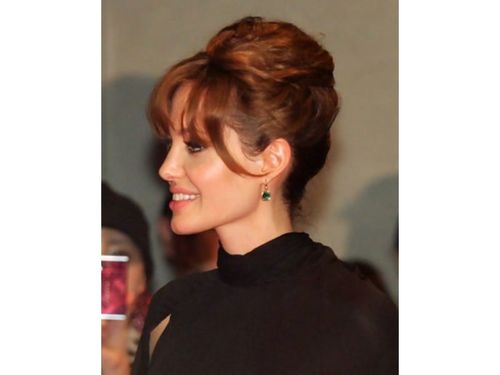 14. French Twist
Angelina Jolie wears a French twist with swept bangs for her look. Angelina Jolie looks gorgeous and bright in the French twist hairstyle. Those swept bangs elegantly frame her face.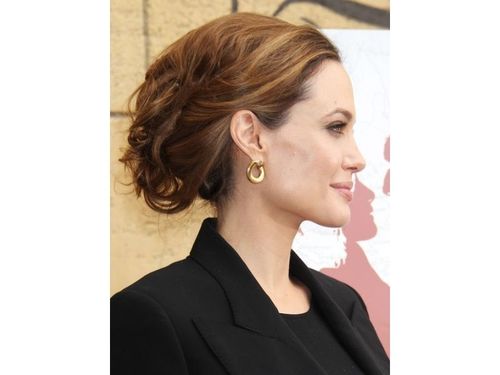 15. Tousled Updo
Angelina Jolie shows off her tousled updo in a ceremony. This Angelina Jolie hairstyle is inspired by the wedding bun. This amazing hairstyle gives her a vital look which has lots of curls.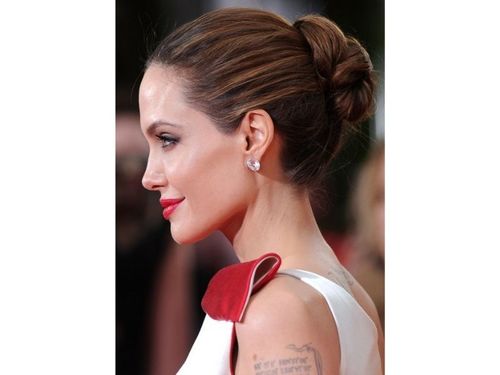 16. Bob Updo Without Bangs
Angelina Jolie designs her sleek hair into an updo hairstyle. The tresses are pulled back and twisted in an updo which gives an elegant and vintage look.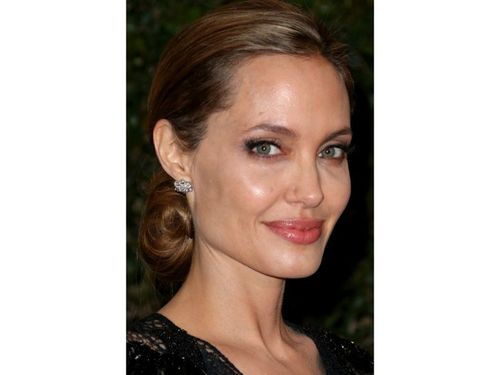 17. Chic Chignon
Angelina Jolie wears her long hair in a chic chignon. She pulls all the locks back and styles a chin-length Chignon. She looks classic. This chic hairstyle makes her look vibrant.
Check out our guide to find out the best Kristin Cavallari hairstyles as we list her most popular 30+ trending hairstyles which includes her signature bob cut, straight hair and many more.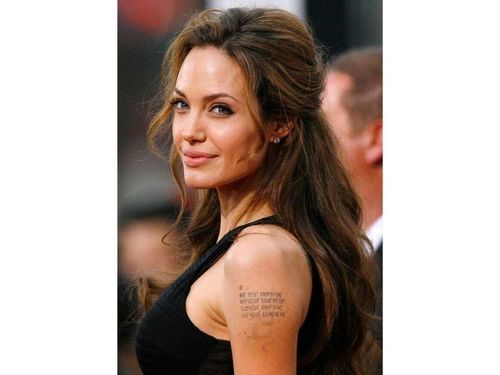 18. Fluffy Pinned Back Hairstyle
Angelina Jolie has a fluffy and tousled pinned-back hairstyle. The locks are styled in curly ends down on her back. Also, the curly side parts complete her look. Angelina Jolie's hairstyle might be messy but beautiful.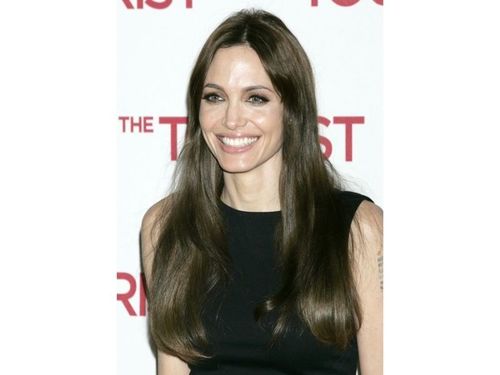 19. Straight Hair With Center Part
Grey green hair is not common, but it wore by Angelina Jolie elegantly. The long straight hair is a tame style with a centre parting. The long centre parted bangs are left flowing freely over the shoulders.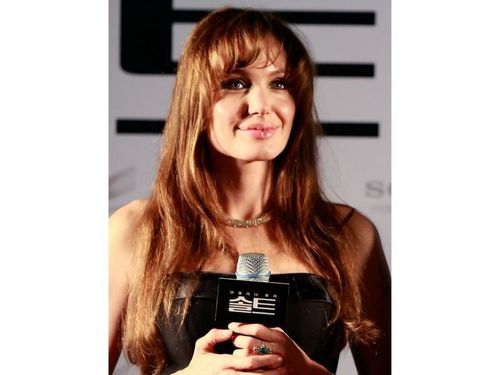 20. Side Swept Bangs
Angelina Jolie wears her over-shoulder lengthy hair in a slightly curly style. Those curls are completed by a side swept bangs which conceal her forehead. This Angelina Jolie hairstyle can suit any face.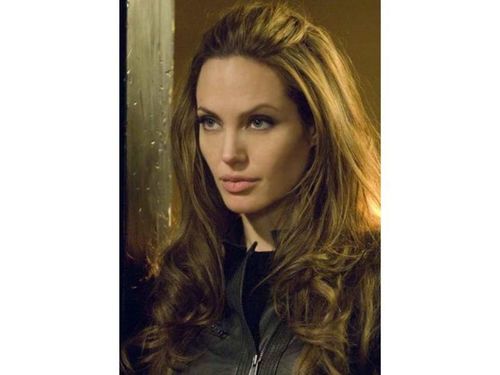 21. Curls Without Bangs
Angelina Jolie's hairstyle of curls without bangs goes well with her light make-up look. She pulls all her bangs back so that her eyes and forehead shine brightly. The curls soothingly cascaded her shoulders.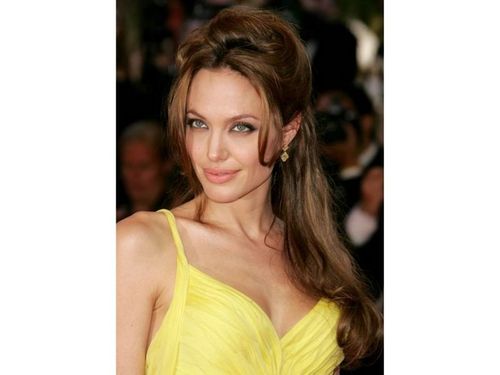 22. Bouncy Pinned Back Hairstyle
Angelina Jolie wears her long and beautiful hair in a bouncy pinned back hairstyle. That side strands frame her face well and give a mesmerising look. This hairstyle flatters her yellow dress well.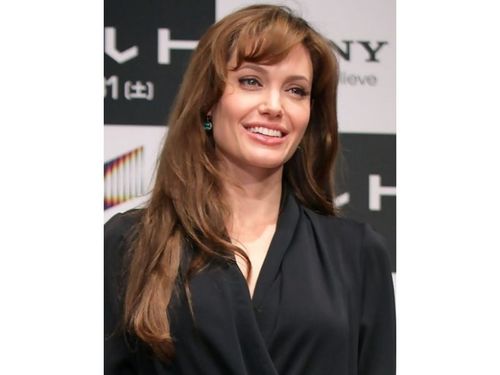 23. Curly Bangs With Side Partition
Angelina Jolie styles her long and neat hair casually. She complements her tousled locks with featured bangs which are swept to one side and shorten her face. This Angelina Jolie hairstyle suits her black dress well.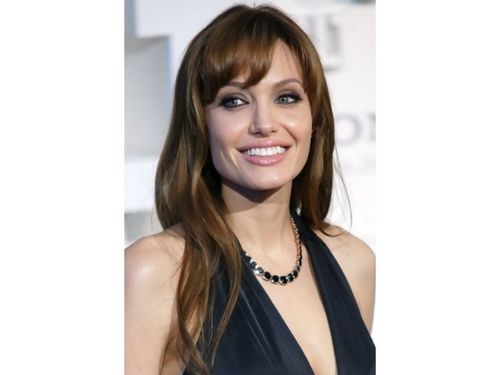 24. Light Waves With Soft Bangs
Angelina Jolie opts for light waves with soft bangs for her look in a premiere. She parts some of the locks into one side and sweeps her uneven bangs on the same side. She looks gorgeous with brown hair.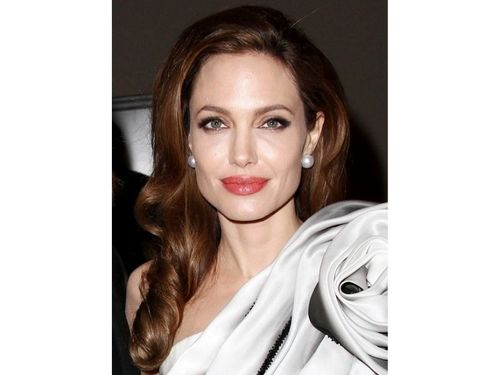 25. Side Parted Hair
Angelina Jolie sweeps her glossy locks into a side and styles a deep side parting when she attends a premiere. The bouncy hair is cascading on her shoulder. This hairstyle gives her a vital look at the white dress.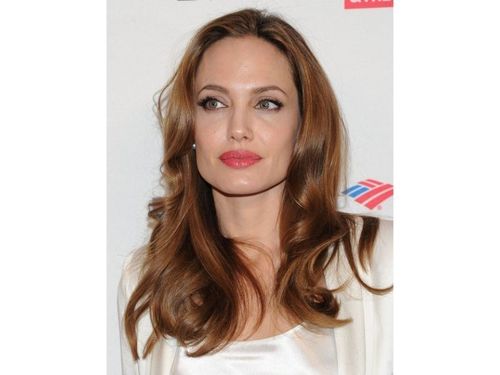 26. Curls Paired With Red Lipstick
Any woman can have red hair like Angelina Jolie. Angelina Jolie wears an ultra-sleek red curly hairstyle with a long side part when she attends a summit. The glossy hair needs careful maintenance to keep in shape.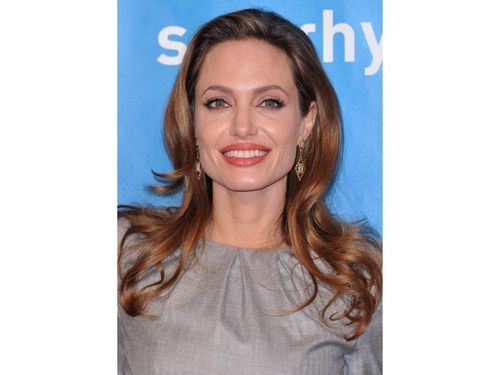 27. Stunning Curls
Angelina pulls all her hair back and makes a light coif as a bang. She also leaves the curly locks falling naturally on her shoulder. The bouncy look makes her shine at the ceremony.