25 Best Hairstyles For Evening Gowns - 2023
Shalu Bhati
Updated At 09 Jan 23
Want to know about the best hairstyles for evening gowns? Want to know which is the perfect hairstyle for western gown that you ordered? Then, keep reading!
Evening gowns have a glory of their own which is why you spend so much of your time, energy and thoughts in finding the perfect style. But when it comes to hairstyles that can be paired with an evening gown, things get tricky. You will need something that complements your beautiful gown and ensures that the focus stays on it. This is why we have brought for you some of the best hairstyles for evening gowns.
Get inspired by our list and rock the next event you will be attending. We have covered hairstyles that will suit every kind of evening gown.
Let's begin!
25 Best Hairstyles For Evening Gowns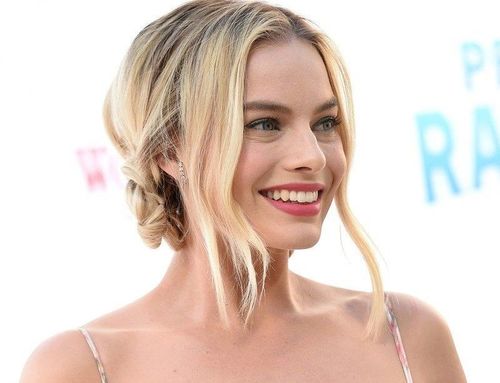 1. Long Wispy Front
Low buns are considered to be one of the best hairstyles for evening gowns. They are extremely flattering, versatile and stylish. Look at this romantic low bun for instance. The braided backside looks elegant whereas the long wispy hair strands in the front frame the face beautifully. This hairstyle is very structured and classy. One of the best mother of the bride hairstyles, this one looks good irrespective of your age and can be used on all important occasions!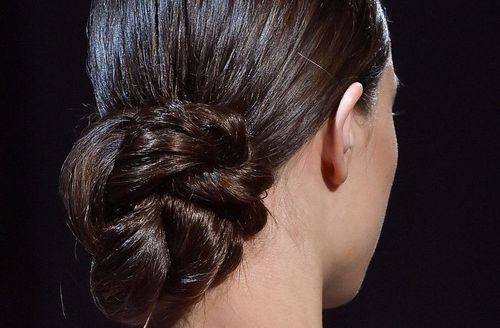 2. Knotty Twist
This is an easy hairstyle for western gown. If you have long hair, then this double knotted bun is the perfect style for you. You can flaunt this hairstyle to almost every event including weddings. It is an elegant and classic hairstyle that also happens to be comfortable.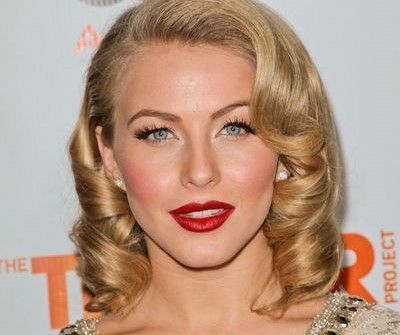 3. Vintage Blonde Curls
Curls never go out of style. The curls pictured here come with the old Hollywood charm. We cannot get over these vintage glam feels! This is a good party wear hairstyle with gown. It will ensure that you are the talk of that party. One of the best bride hairstyles, the curls put the right focus on your hair and give your face all the space to make sure your glam makeup gets showcased.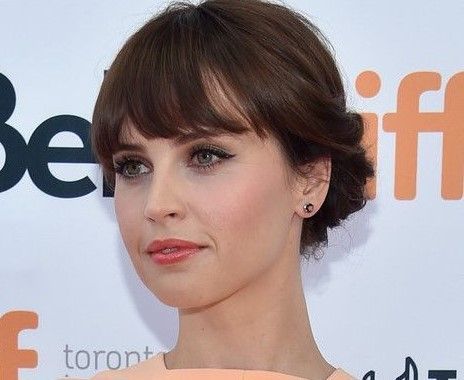 4. Chignon With 'Tiffany' Bangs
Remember Audrey Hepburn's classic bangs from Breakfast at Tiffany's? These eyebrow grazing light bangs are inspired by that very hairstyle. This combination of the classic Hepburn bangs and a chignon is a timeless hairdo. It is an easy hairstyle for gowns that brings the focus on your eyes and neck.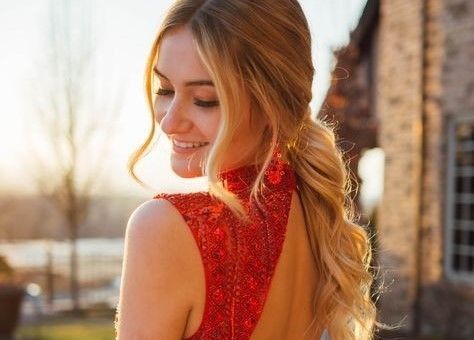 5. Simple Low Ponytail
Low ponytails are not just for spending in your lazy days. When styled properly, a low ponytail can anytime transform into a gorgeous hairstyle for western gown. Keep things simple, chic and elegant with a low wavy ponytail with face-framing strands in the front. With its relaxed and sultry vibes, this hairstyle perfectly complements the red hot evening gown.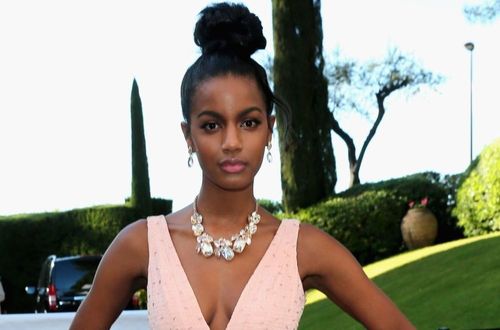 6. The Curly Top Knot
Here is another one of the best hairstyles for evening gowns. If you want to keep things simple yet stylish, then this is the one for you. A top knot is easy to do, looks chic and lets you flaunt your gown's neckline. Take inspiration from this curly top knot pictured here and the next time you want to wear a gown with a plunging neckline, complement it with this hairstyle.
Check out our guide to find the best perms for short hair which include bubble perm, curly perm hair and many more trending hairstyles.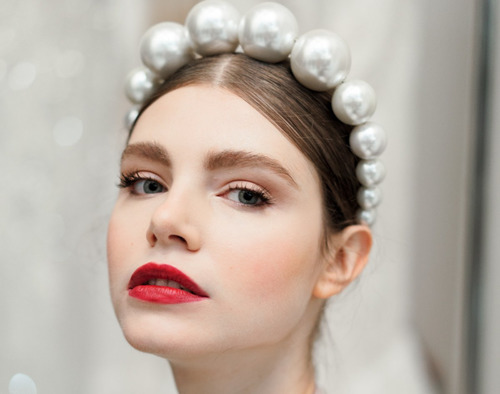 7. The One With A Pearl Hairband
Huge statement accessories are in this season. From barrettes to hairbands, everything has to be huge and shiny. The bigger the hair accessory, the better. But make sure that your hairstyle is simple to balance out the drama brought in by the accessory you choose. Take a look at the hairstyle pictures here. A simple ballerina bun with a middle parting is paired with a dramatic pearl hairband. The simplicity of the hairstyle and the extraness of the band are balanced so well.
Check out our guide on bridesmaid hairstyles for short hair as we cover 55 amazing options for bridesmaid which are trending this year. From side parted hairstyles, classic waves, layered hairstyles, braided hair to hairstyles with pearls, we cover all of them.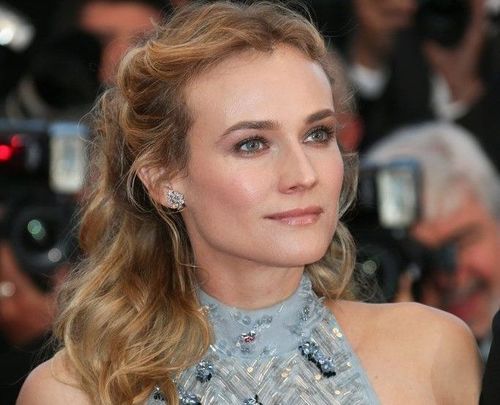 8. Twisted Front With Waves
You can always look up to Diane Kruger for hair inspiration and you will not be disappointed. Ever. Here the actress can be seen sporting one of the best hairstyles for evening gowns with a halter neck. Part your textured hair in the middle, twist and tuck. The texturized loose waves add volume as well as an oomph factor.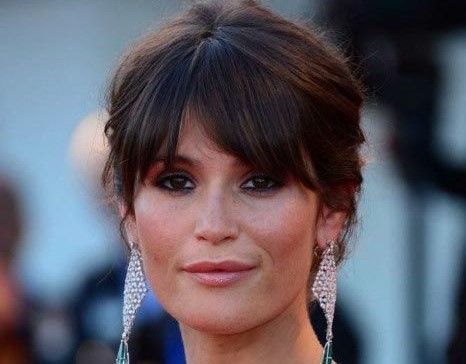 9. Elegant Bun With Curtain Bangs
The growing out bangs phase can be a troublesome period. But that doesn't mean you have to miss out on all the party fun. Overgrown bangs can be left slightly parted and paired with a classic bun at the back. And voila, you have a party wear hairstyle with gown. Let the gorgeous Gemma Arterton lead you into looking your stylish best. This hairstyle is best suited for balconette or similar wide and deep necklines.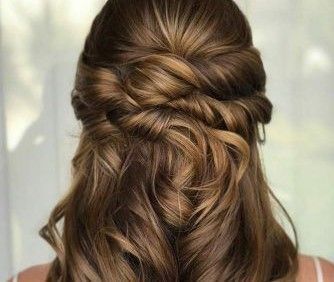 10. Half-Up Half-Down With Curls
Here is yet another one of the easy hairstyles for gowns. Just because this hairstyle is easy to do doesn't mean that compromises were made in the style department. The half-up half-down hairstyle continues to be trendy and has given rise to a lot of variations. It presents a smart, sophisticated as well as fun-filled look.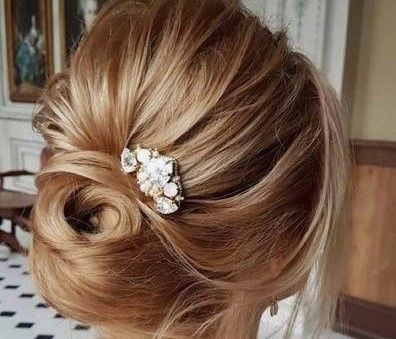 11. Bejeweled Elegant Updo
This hairstyle is inspired by the vintage victory rolls. This style is anything but basic. The loose strands at the top and the tightly fitted roll at the nape complement each other pretty well and present a glam picture. This hairstyle is one of the best hairstyles for evening gowns and looks elegant and sophisticated. Match the glam vibes of your evening gown with this hairstyle. Finish with a jeweled barrette or hair clip.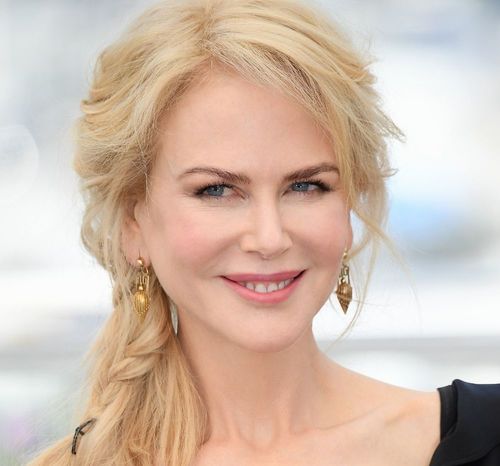 12. Unkempt Fishtail Braid
Want something different? Then, this is the one for you. This hairstyle for western gown is edgy, stylish and chic. Nicole here is wearing an unkempt fishtail braid with texturized hair. Get inspired by this hairdo and take your hair game up a notch. With this hairstyle, you can add some drama to your look without looking over the top.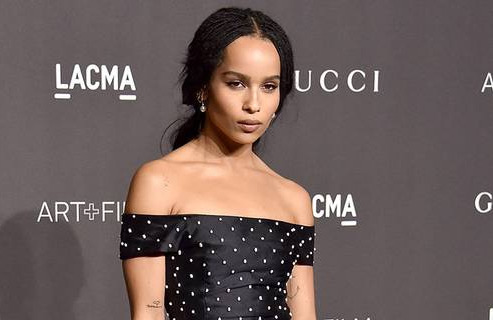 13. Loose Low Ponytail
For another edgy and stylish hairstyle for western gown for natural hair, you can take inspiration from the gorgeous Zoe Kravitz. Her hairstyles are always interesting, trendy and chic. She wears her heritage proudly through her hair. Take this one for instance. The middle-parted twists in the front are tucked into a low ponytail for an edgy, comfortable and effortless glam look.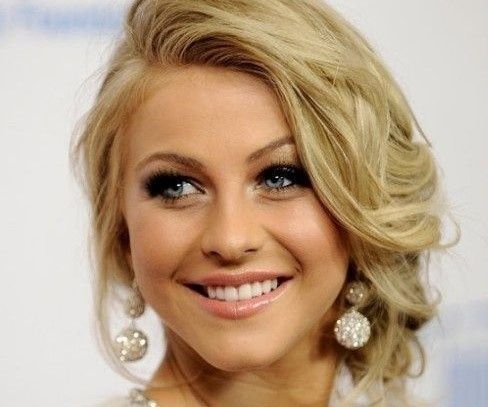 14. Romantic Updo To The Side
Go for this flirty, feminine and romantic side updo for the next event you attend. This hairstyle is universally flattering and versatile. The side-swept waves in the front look pretty and the messy tucked-up bun towards the side looks so much glam.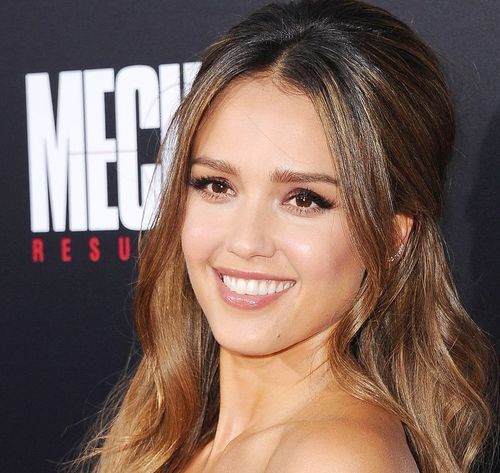 15. Fresh Feminine Open Hair Style
Here is another one of the best hairstyles for gowns as seen on the beautiful Jessica Alba. She looks gorgeous in her 60s inspired style that looks fresh and feminine. The hairstyle for gown step by step instructions are: Blow dry your hair in an upward motion to create volume. Take the middle section of your hair and add some loose waves. Take a thick section of your hair in the front and part it in the middle. Tease the hair at the crown and tuck them with bobby pins.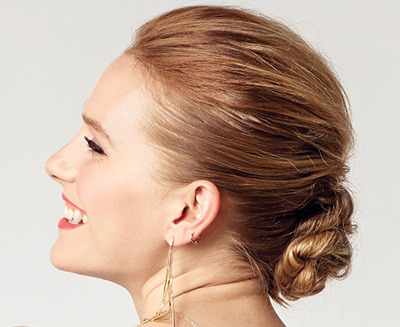 16. The Twisty Bun
Buns are a classic style to wear and these days you can find tons of variations of this old classic style. Take this twisted bun for instance. Hair is teased in the front to create volume on top of the head while the sides are sleek. The hair is then twisted to form a bun and set in place with bobby pins towards the nape. This stylish and simple hairstyle for gown will bring the focus towards your face.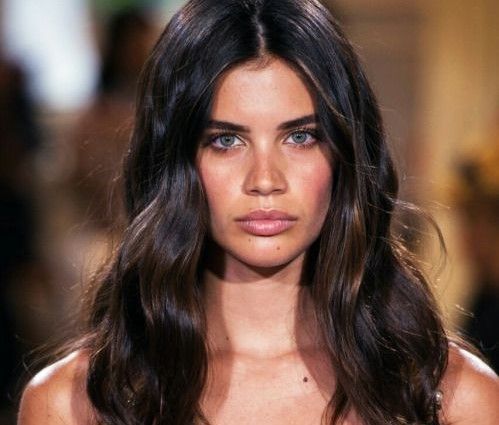 17. Waves To The Rescue
Can't figure out a hairstyle for western gown? Are buns and braids not the route you want to take? Don't worry. We have something for you too. Part your hair in the middle, add loose waves and let them do the talking. This hairstyle has a curtain effect and frames the face perfectly. It works well with deep and plunging necklines.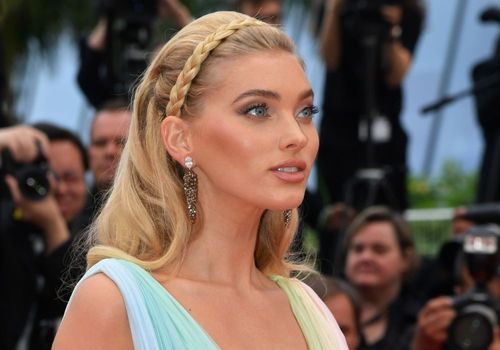 18. The Braided Headband
Hairbands add a fun twist to a simple hairstyle and they are in trend again. And so are the braided headbands. You can never go wrong with this hairstyle. It is extremely popular, beautiful, comfortable and adds a freshness to your whole look. Take a look at this one featured here. The slicked-back hair with a clean braided headband looks so sophisticated and elegant. Best suited for long hair, this hairstyle is surely one of our favorites.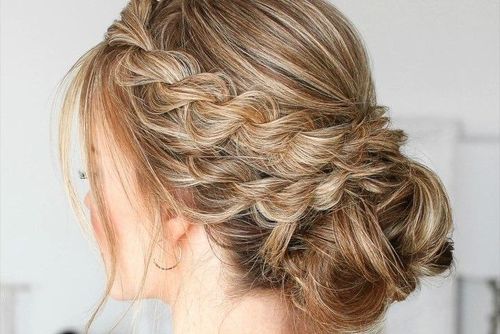 19. Crown Braids With A Bun
This is another one of the best hairstyles for evening gowns. Who doesn't love a classic crown braid? It is beautiful, stylish and elegant. Pair it with a classic twisted bun and you have got yourself a gorgeous party wear hairstyle with gown.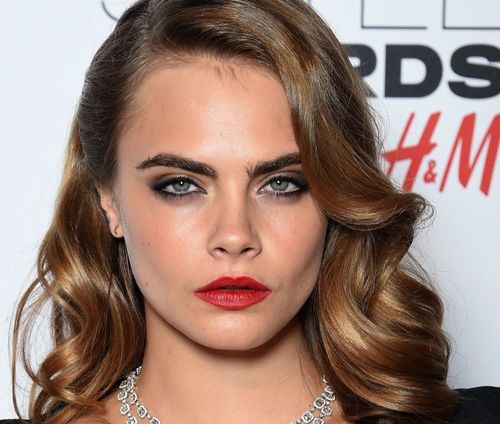 20. The Old Hollywood Curls
Are you a fan of the vintage charm? Then, you will love this hairstyle. Here Cara Delevingne can be seen with a deep side-parted modern take on retro curls. These defined curls add a certain bounce and volume to the hair. Pair this gorgeous hairstyle for western gown with red lipstick to fully bask in the retro vibes.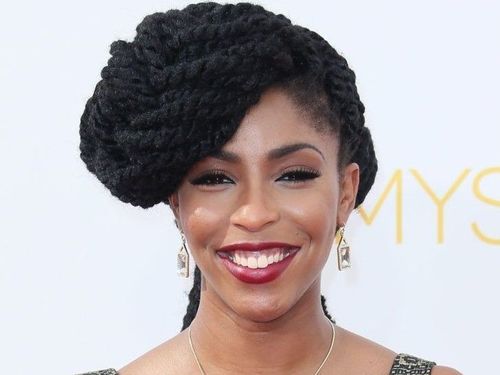 21. Braided Pompadour
Braids will always come to your rescue if you are ever in a hair dilemma. Take this hairstyle for instance. Featured here are rope Twists or Senegalese twists. These side-parted twists are arranged to make a dramatic pompadour imitating a huge side bang. This hairstyle is so much more than a protective style for natural hair. It is versatile, stylish and looks stunning.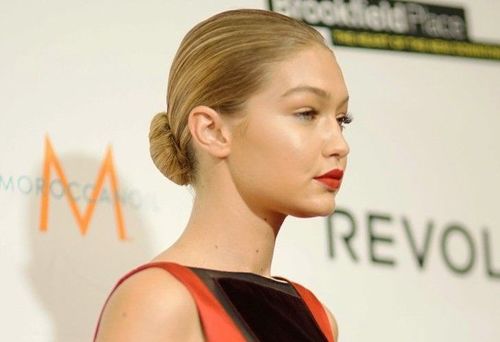 22. The Classic Bun
The classic bun will never disappoint you. It is easy to do, looks chic, wouldn't steal the focus away from your beautiful evening gown, and you can dance the night off without worrying about ruining your hairstyle. This is indeed one of the best hairstyles for evening gowns.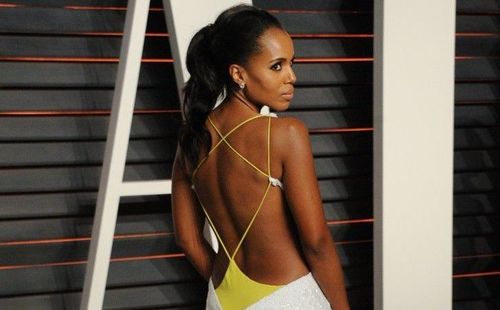 23. Wavy Ponytail
Ponytails are more versatile than you think. You can wear a ponytail to almost any kind of event while wearing almost any kind of attire. It depends on the way you are styling it. Here Kerry Washington can be seen pulling off her beautiful strappy back gown with a wavy ponytail. This is a simple hairstyle for gown that looks classy without being too flashy.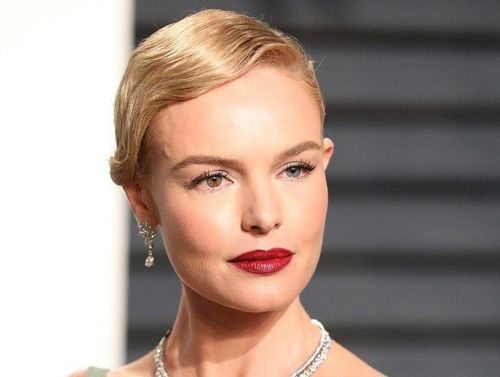 24. The Sleek Finger Waves
Here is another one of those easy hairstyles for gowns that come with the vintage vibes. Pictured here is a sleek hairdo with big finger waves. The huge S-wave lies flat above the forehead while the rest of the hair is tied behind in a sleek bun. This is a great hairstyle for those who wish to dip their toes in the finger-waves hair trend without overwhelming themselves.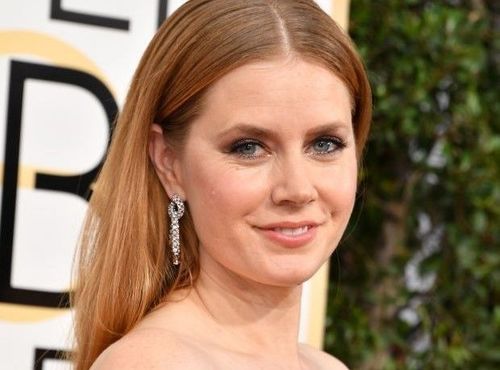 25. Tucked-In
Looking for a simple fuss-free yet impactful hairstyle for western gown? Then, your search must end here. Get inspired by the beautiful Amy Adams and jump in the latest fashion bandwagon with this tucked behind the ears style. Here are the hairstyle for gown step by step instructions. Straighten your hair especially the ones in front. Part in the middle. Tuck your hair behind your ears on both sides. And you are done.