55 Stunning Wedding Hairstyles For 2023
Shalu Bhati
Updated At 09 Jan 23
Weddings are special days and you would want everything to look picture perfect from the venue to your dress. What also becomes a rather stressful task on its own is deciding upon the wedding hairstyle. A hairstyle can make or break your look. And with the availability of so many options, it gets overwhelming and confusing. But don't you worry. We are here for you. We decided to do this homework for you and have compiled a list of 55 stunning wedding hairstyles.
From the basic chignons and messy buns to wispy ponytails and romantic updos we have covered it all. So, go ahead, get inspired and choose the hairstyle that speaks to you the most.
Let's begin!
55 Best Wedding Hairstyles - 2022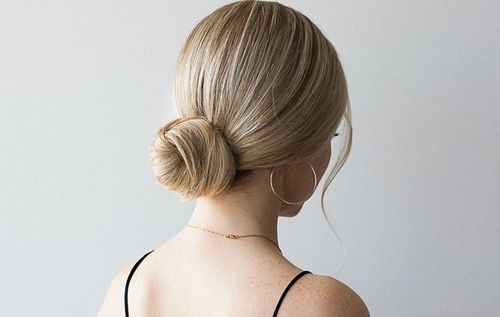 1. The Classic Bun
Any list of wedding hairstyles is incomplete without the mention of the classic bun. This chic and effortless hairstyle can be styled in a million different ways and is universally flattering. This is one of those DIY wedding updos that you can easily transform from minimal to messy.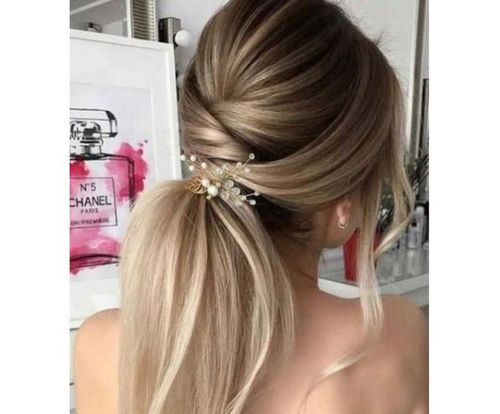 2. Ponytail With A Twist
Sleek ponytails are going to rule the wedding scenes this year. Call it the Ariana Grande effect, but ponytails are here to stay. Like a bun, ponytails can also be styled in a lot of different ways. Pictured here is one such variation which looks polished and sophisticated. You can always take your simple and chic hairstyle up a notch by adding a pretty hair accessory. One of the top mother of the groom hairstyles, this can work for everyone irrespective of the age.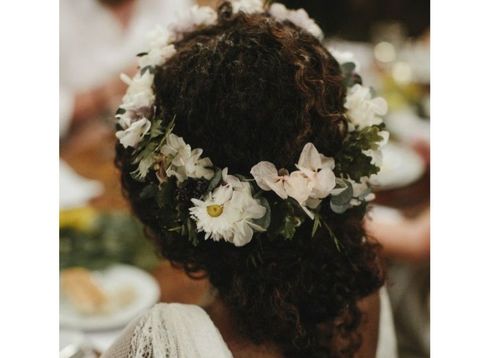 3. The Curly Updo With Flowers
Looking for natural hair wedding styles? Then, here is the perfect inspiration for you. It was Meghan Markle's choice for a low messy bun at her wedding with Prince Harry that has since then inspired brides all across the world to opt for a messy updo for their big day. Here is one such beautiful example of Curly wedding updos. The bouncy curls tied in a bun with controlled messiness look oh so pretty. But adding a flower crown on top? That's just pure and effortless glam.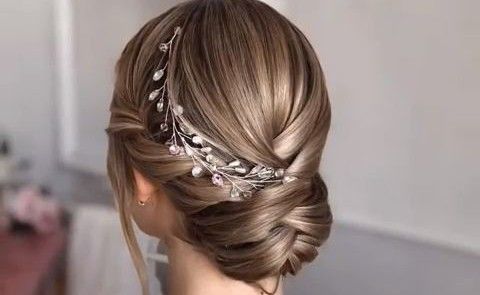 4. Accessorized Chignon
Chignon belongs to that category of updo hairstyles for weddings which can never go out of style. And when paired with a pretty shiny hair accessory, it will just get even more amazing and stylish. This trendy bridal hairstyle is elegant, modern and up-to-date with some regal vibes. One of the top mother of the bride hairstyles, the accessories paired with the chignon makes the look more glamorous.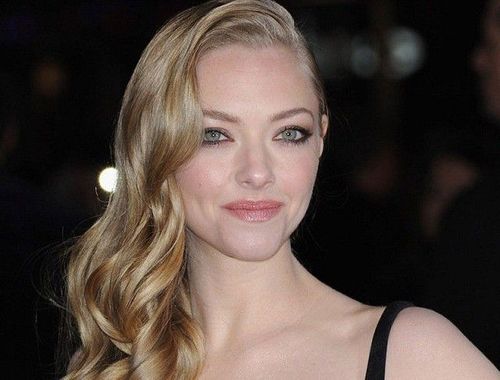 5. Side-Swept Waves
Have long hair? Then choose this iconic hairstyle without any hesitation. Side-swept waves are perfect wedding hairstyles for long hair. They look classy, elegant and romantic. It is a relaxed and effortless look that we completely adore.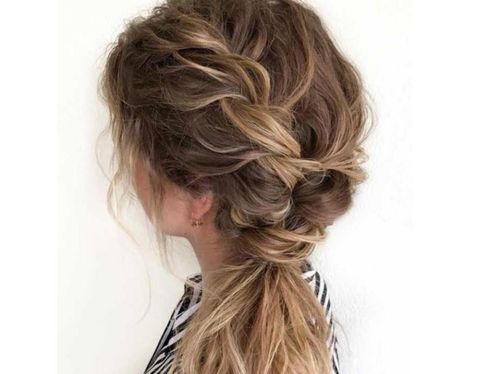 6. Texturized Braided Ponytail
Did we mention how cool ponytails are? If not, then here it is. Ponytails are cool! Here is a texturized and messy edition of ponytail mixed with some braids. This hairstyle was love at first sight for us. Look at it. Part your texturized hair to the side and start braiding. After braiding both sides, tie the braids just below your ear. Don't braid the remaining hair and let them loose. You can leave some messy tendrils on your forehead to complete this look.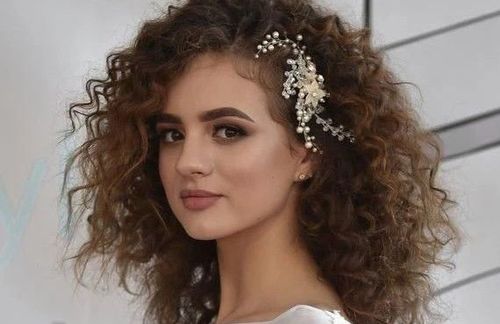 7. Naturally Curly
We also have wedding hairstyles for curly hair. Take the simple and minimalistic route and let your gorgeous bouncy curls do the talking. Choose a different parting from what you usually do to bring in some change. Add a floral bridal accessory to hold some hair on one side and you are all set. One of the best hairstyles for evening gowns, the natural curls paired with the accessories makes this look glamorous.
8. Loose Curls Updo
Here is one of the trendiest medium length wedding hairstyles out there. This messy curly updo is just so perfect and stunning. It is loose, messy, voluminous and pretty. And of course, we love it. We hope you will too.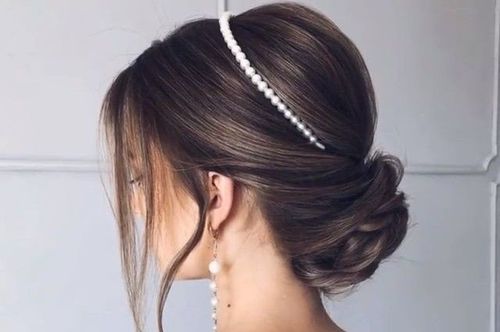 9. Chignon With A Hairband
This is the year of simple yet stunning wedding updos. Take this elaborate chignon for instance. No doubt it looks remarkable and is exuding elegance. The hairband is just another chic way of elevating the style quotient of your whole look. The loose tendrils up front add a romantic vibe to this hairstyle.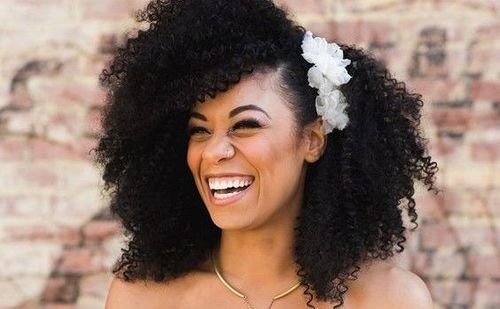 10. Afro With Barrette
This is the year where you should free yourself from unnecessary tradition and expectations. Wear your hair in a fashion that defines you as a person. You don't have to wear an updo if it does not feel like you. If you don't want to tie down your afro then don't. Let your curls stay free. Add a floral barrette to give your hair a bridal upgrade just like the hairstyle pictured here.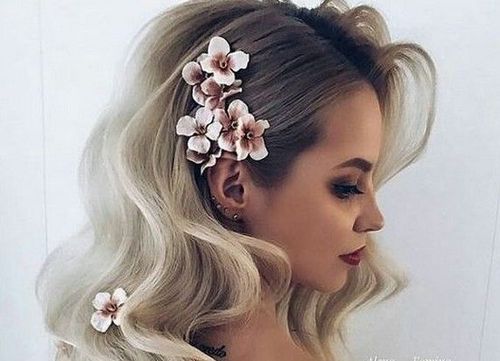 11. Loose S-Shaped Waves With Flowers
Bride wedding hairstyles are getting more and more flowery this year. Flowers become the perfect hair accessory for your wedding day hairstyle. A case in point is this hairstyle featured here. The well-defined retro waves are paired with some pretty flowers that match the tone of the bride's hair color. Isn't it looking so remarkably pretty?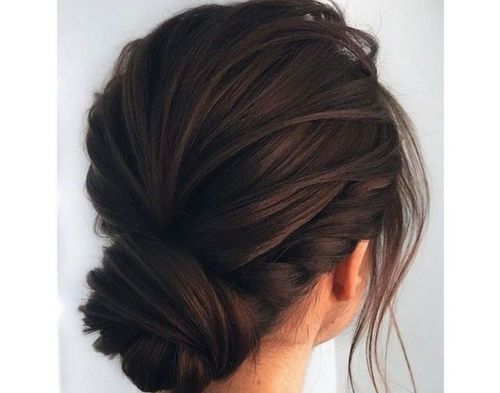 12. Twisted Chignon
Here is one of the chicest wedding updos for medium length hair. Chignons are versatile as they can be styled in different manners. Here is one such different take. The usual chignon here is paired with a twisted braid. The addition of a braid is elevating the look. Meanwhile, the loose tendrils in the front add romantic vibes.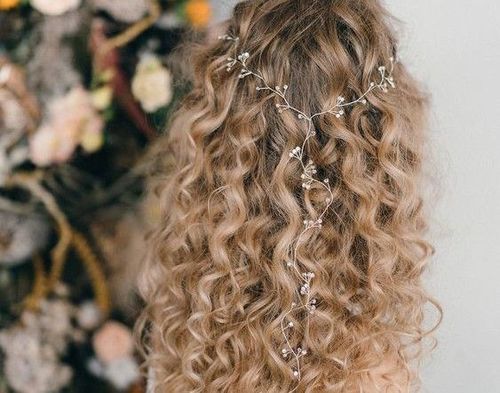 13. Blonde Curls
Here is another one of the wedding hairstyles for curly hair where the curls are just left about in their glory. If you have beautiful bouncy curls then why tie them up? Let you glorious curly mane shine on your big day. The delicate floral chain hair accessory that is mapping the entire length of hair is the perfect addition.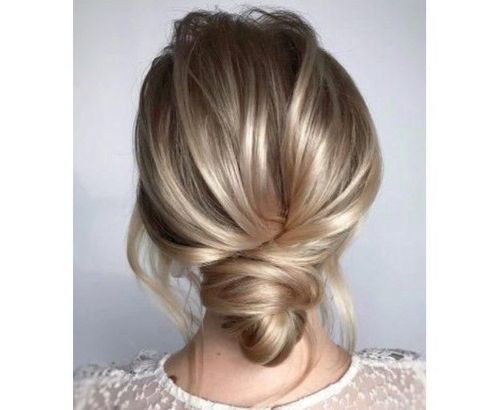 14. Low Knot Updo
This is the year where wedding hairstyles are becoming effortless but continue to look glam. This one here is a low knotted updo that you can make even in your sleep. We know it won't be as perfect as this one but the point is that it is one of those DIY wedding updos that are just so easy to do. The hair is gently pulled out to create some volume at the crown. Some loose tendrils are also there to give out a more relaxed vibe.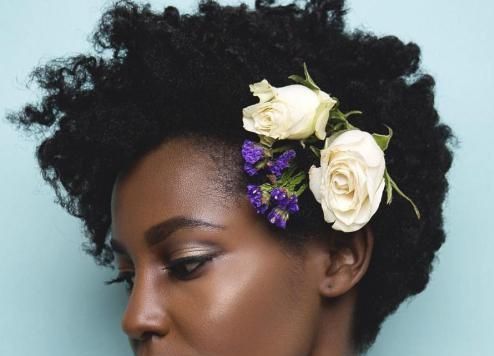 15. Floral Power
Flowers make for a beautiful hair accessory, especially for wedding hairstyles. Here is one such bridal hairstyle for natural hair. Adorn your short curly mane with two roses and a few violets to get a super stylish and gorgeous hairstyle. If you wish you can opt for any other flower of your choice. This is a simple, minimalistic look that will always leave an impression.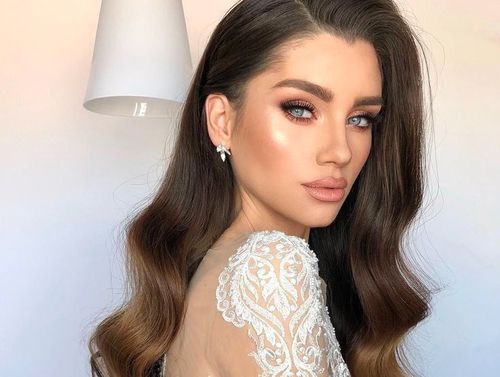 16. Pretty Vintage Waves
Here is one of our absolute favorite Diy wedding hairstyles for long hair. Pictured here is a glorious set of vintage waves. Trust us. You can never go wrong with this hairstyle. It is vintage, of course, plus fun, cool and glamorous.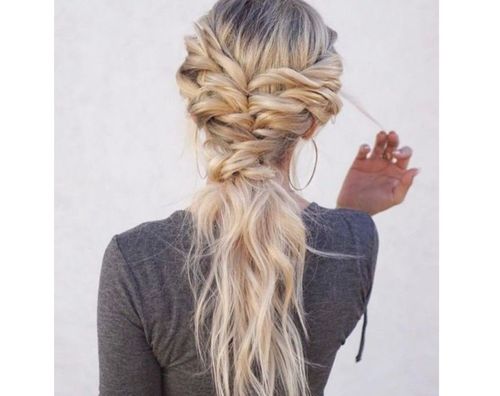 17. Multiple Magical Twists
Channel your inner Rapunzel with one of the prettiest bridal hairstyles for long hair. Use a texturizing spray on your hair roots to get that texture. Divide your hair into multiple sections and start twisting one by one. When the sections on either side are twisted, join them using a rubber band and start again for the section below. Keep doing it until you reach the nape of your neck where you can tie the rest of your hair. Don't forget to gently pull apart the twists to create a fun and relaxed hairstyle.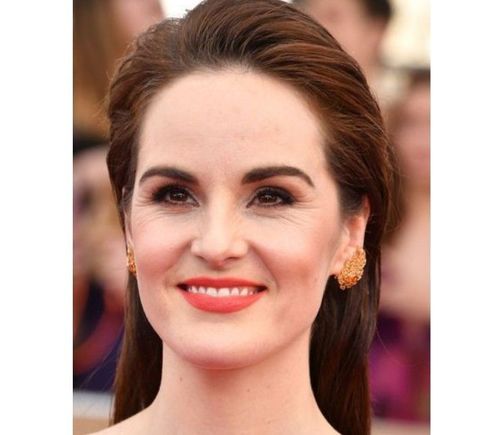 18. Straight And Slicked Back
Messy is the new sexy. But that does not mean that polished hairstyles are out of trend. They are still relevant to the fashion scene. Here is one of the sexiest wedding hairstyles that exude royal elegance. This sleek, straight and slicked back hairstyle is extremely stylish and upper glamorous. We love it. So should you!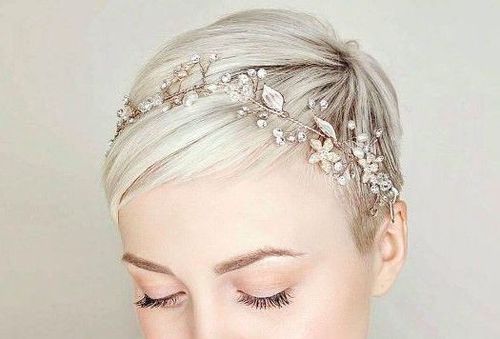 19. The Pixie
It is beauty, it is grace. It is a pretty hairstyle that suits every face. Yes, we are talking about the pixie. Accessorized pixies are the go-to wedding hairstyles for short hair this season. Simply style it the way you want or usually do and add a floral hairband. You can also choose a crown made of real flowers to up your hair game on your big day.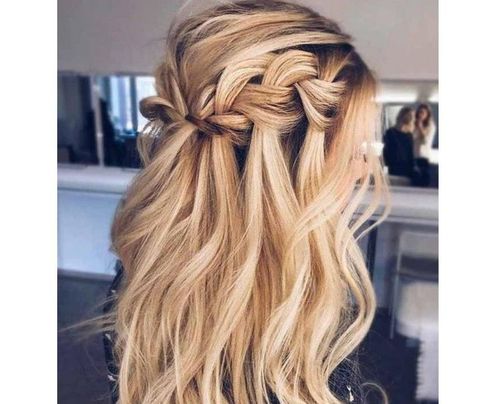 20. Waterfall Braid
Here is some inspiration for getting your wedding braids in sync with the latest trends of wedding hairstyles. Waterfall braids form a romantic hairstyle especially when they come with wavy and texturized long hair.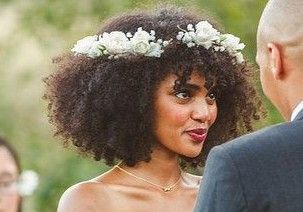 21. Curly Hair With Floral Headband
This is one of the most beautiful natural hair wedding styles. See how beautiful the bride looks with her natural hair on full display. The floral crown on her head makes her look like a true Disney princess and we cannot help but adore this look.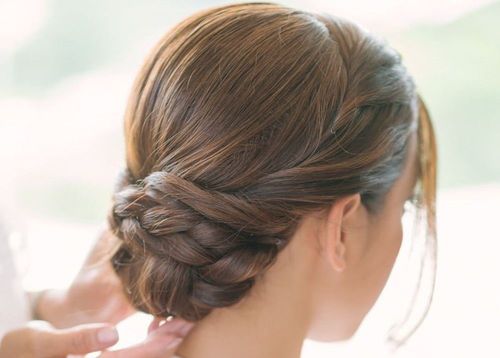 22. Chic Braided Chignon
This is another one of our favorite wedding updos for medium length hair. This is a braided chignon that is polished yet romantic. It looks elegant and sophisticated too. It is a wonderful way of keeping your hair away from your face if that's what you want. This elaborate braided updo is something special for your special day.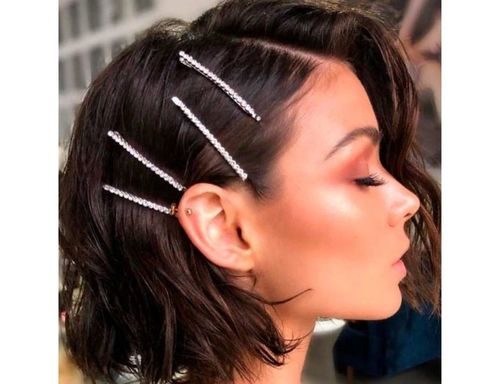 23. Stunning Bob With Jeweled Bobby Pins
So what if you have short hair? We have a bridal hairstyle for you as well. Take this stunning short and wavy bob for instance. A simple tuck on one side can change the way your hair looks. Addition of big, bold and jeweled hairpins makes the simple tuck-job even more stylish and glamorous.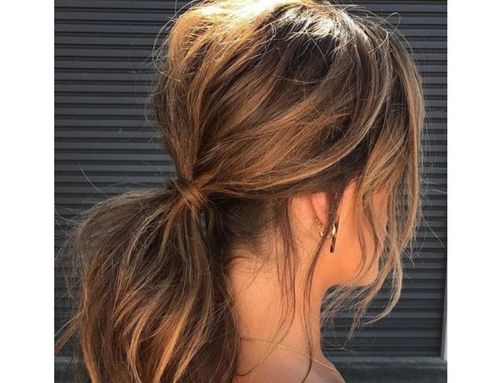 24. Texturized Low Pony
Ponytails are big this season for bride wedding hairstyles and otherwise. Take this one for instance. Here is a perfectly-imperfect messy ponytail idea for long wedding hair. This texturized low pony with volume at the top and loose tendrils in the front look extremely chic and effortlessly glam.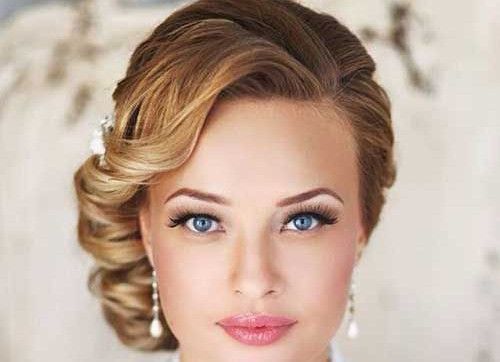 25. Elegant Side Updo
Here is another one of those updo hairstyles for weddings which exude regal elegance. This side updo is seriously stunning and looks elegant. It is perfect for medium-length hair and brings the focus towards your face. You can flaunt your prettiest pair of earrings with this hairstyle.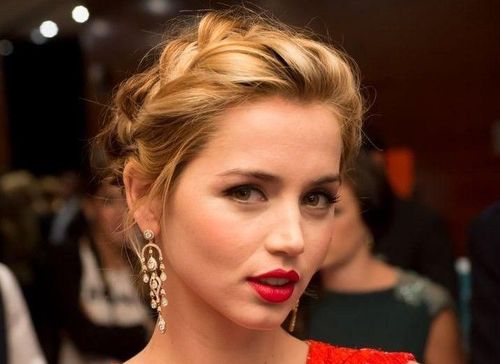 26. Halo Braid
Halo braids are beautiful and stylish. From casual chic to instant glam, this hairstyle is very versatile. This elegant halo braid has been gently pulled out to create some structure and volume. It looks fresh, feminine and romantic. It is perfect for weddings when you want to put your best glam face forward.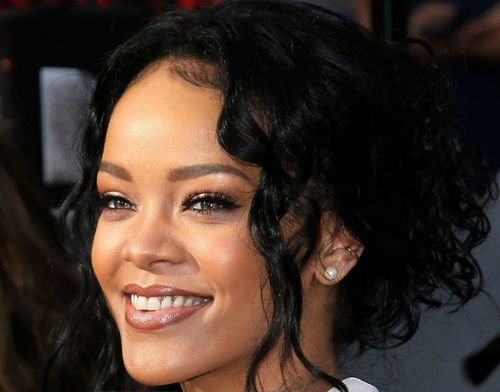 27. Romantic Curly Updo
Romantic updo hairstyles for weddings have been in trend for as long as we can remember and they are going to stay here forever, maybe. Take inspiration from Rihanna and opt for this beautiful romantic wedding updo for your big day. The messy and unkempt bun at the back with face-framing tendrils in the front make for a super stylish and glam look.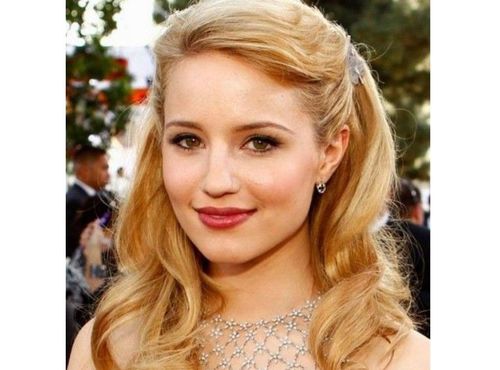 28. The Vintage Charm
This is one of the prettiest wedding hairstyles for medium length hair. This bridal hairstyle is inspired by the retro hair comb style. Yes, hair combs are making a comeback this year. Improve your style instantly with this glam wedding updo that is a blast from the past. Simply sweep it to bring hair back and pin it. Let your wavy hair stay open.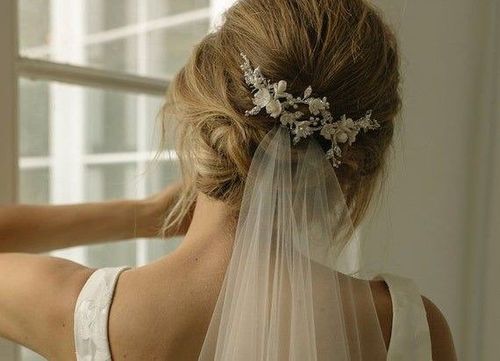 29. Wedding Updo With Veil
A chignon is usually the most preferred bridal hairstyle. And why not? It is stylish, comfortable and versatile. Here a simple chignon is paired with not one but two accessories that are significant to weddings—flowers and veils. The floral accents accompanied by the veil have taken up the glam quotient of this hairstyle and transformed it from simple to gorgeous and chic within a matter of few seconds.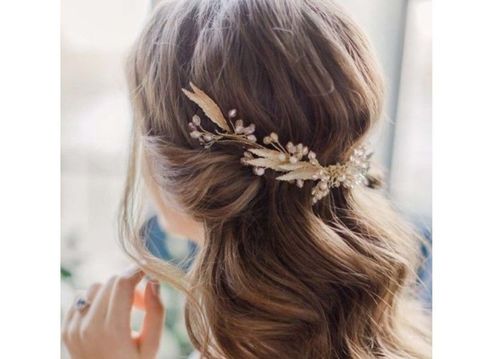 30. A Twist-Up With Vintage Waves
There are tons of DIY wedding hairstyles for long hair if that's what you are looking for. Here is one of the prettiest half up bridal hairstyles that we laid our eyes on. This combination of waves and floral hair accessories looks really pretty. The hair on either side is twisted and weaved together through the floral accents. It is simple yet classy and exudes a messy elegance.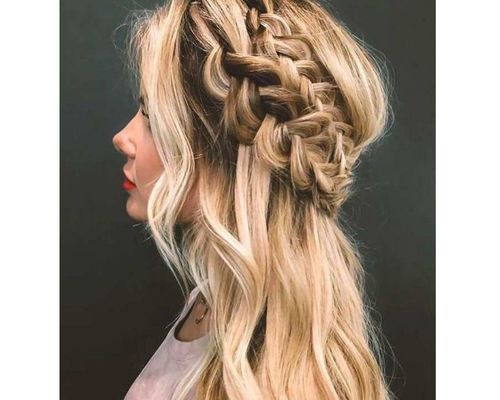 31. Stylish Crown Braids With Waves
We cannot seem to get enough of wedding braids. Here is another one of the braided half up bridal hairstyles. The dual crown braids accompanied with long cascading wavy hair paint an extremely pretty picture. It looks sexy, stunning, and glamorous.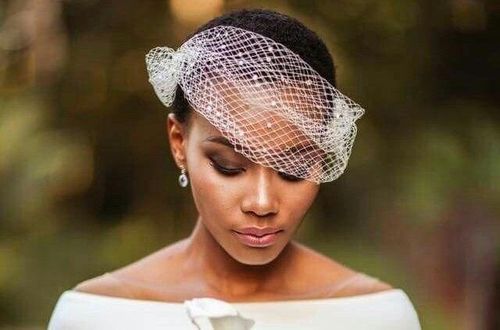 32. The Buzz Cut
Here is yet another of the natural wedding styles. We found this one and fell in love with it. You can rock your buzz cut even on your wedding day. See how beautiful it looks. The veil adds a feminine touch and adds glam to the whole look.
33. Wavy Half Hairstyle
You can never go wrong with half-up half-down bridal hairstyles for long hair. These beautiful, bouncy cascading waves caught our attention instantly. Strands in the front are twisted on either side and tied together in the center at the back. Decorated with baby breaths, this hairstyle looks just so gorgeous.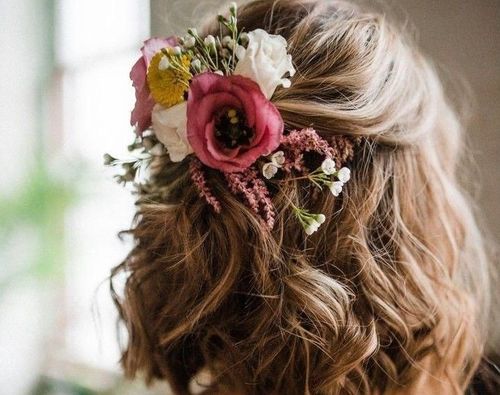 34. A Floral Mess
Here is one of the most beautiful examples of wedding hairstyles for short hair. Curl the midsections of your hair and add texturizing spray. Grab a thick strand from the front and pin it on the same side. Grab another strand from the other side and bring it towards the opposite ear and pin it up where you pinned the first time. Go wild and add some different kinds of flowers to finish the look.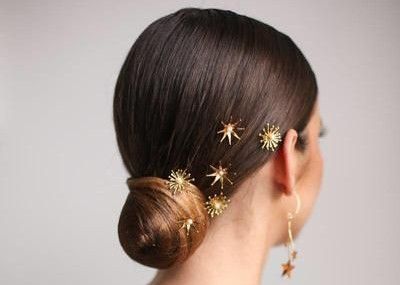 35. Simple Updo With Fun Accessories
If you want to go the route of minimalistic chic, then this is the hairstyle for you. A sleek and simple wrapped up bun can look elegant and sophisticated. The shiny golden star accessories add a fun twist.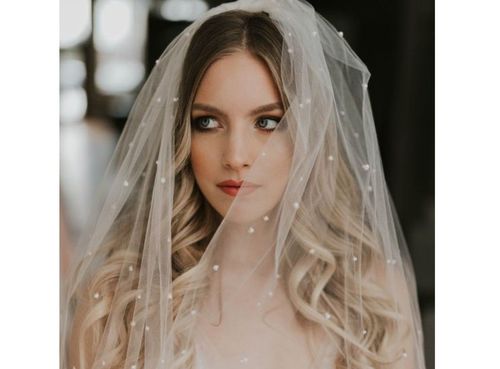 36. Beautiful Blonde Waves
We fell head over heels in love with this gorgeous hairstyle. Look at those beautiful waves in their full glory. All you need is to give a middle parting and let the waves do their magic. The addition of a full-length veil has just added to the beauty of this look.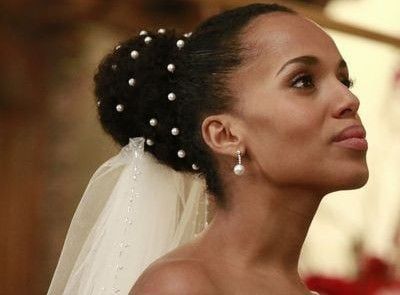 37. The Beaded Bun
You can take style inspiration from Olivia Pope aka Kerry Washington any time and any day. We always saw Olivia strutting in her fabulous coats with polished straight or wavy hair. But when it came to her wedding day, she let the natural texture of her hair take center stage and we love it. She decorated her curly bun with pearly beads to elevate the style.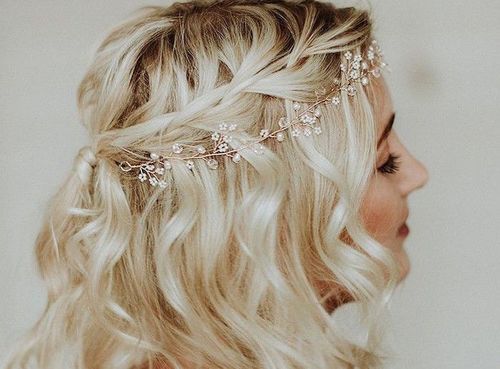 38. Waterfall Braid For Thin Hair
This is a wedding hairstyle for those with thin hair. The little waterfall inspired braid with wavy hair is rather stylish. There is some unkemptness about the braid that makes it beautiful. The delicate floral hair accessory adds certain glamour and there it is—a stylish and glamorous hairdo for your wedding.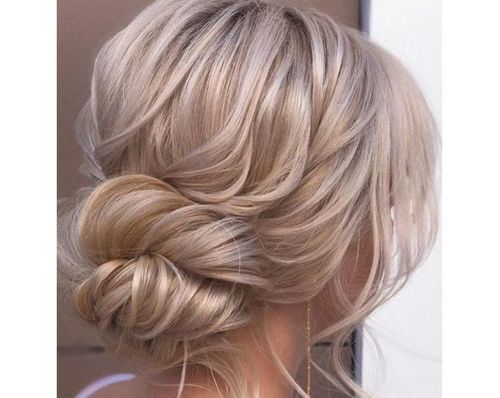 39. Romantic Knotted Updo
This is another one of the romantic wedding hairstyles. It is a knotted updo with slight messiness about it. It is fun, feminine and looks oh so gorgeous. The tendrils left out in the front frame the face and bring the focus there.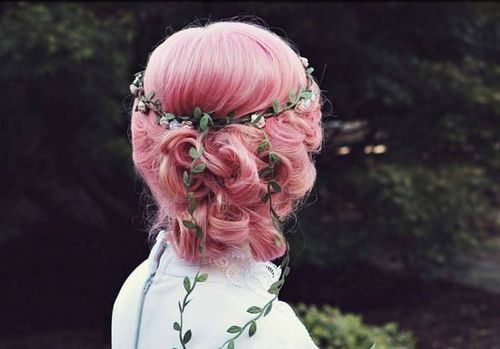 40. Colored Wedding Updos
This hairstyle is a combination of modern and retro styles. The blush pink color is up to the trend and times. The rolled updo is an inspiration from the vintage victory tolls that first became famous in the 40s. The use of foliage makes this look even more interesting and stylish.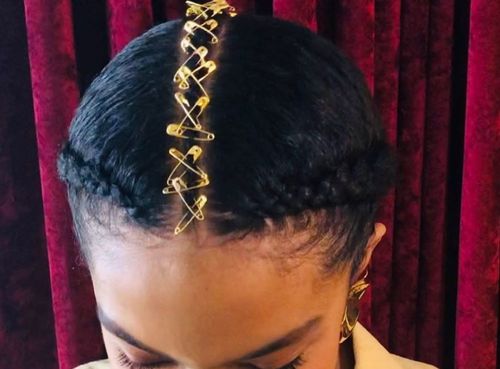 41. Pinned Up Braids
Looking for stylish black hair updos for weddings? Then you won't be disappointed with this one. The trio of braids combined with a low bun was not enough. Maybe that is why this hairstyle was accessorized with golden safety pins. Yes, you read it right. And it is the addition of the safety pins that actually make this look very interesting and edgy. If you are anything but conventional, then this hairstyle should be your go-to.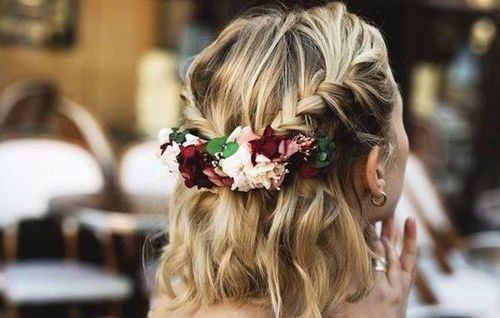 42. Half Open Hairstyles For Short Hair With Flowers
This is one of the prettiest wedding hairstyles for short hair. Every aspect of this hairstyle aligns with the latest trend. Blunt bob? Check. Wavy hair? Check. Braid? Check. Fresh flowers to mark the occasion? Double-check. We love how the flowers are woven with the crown braid. This is a romantic and feminine style.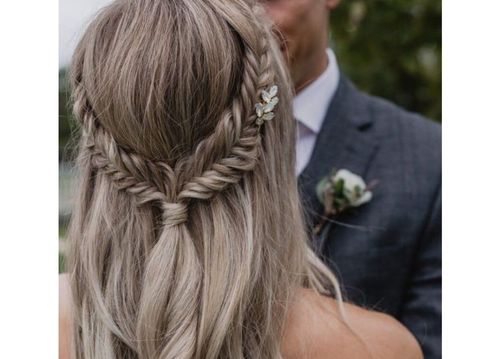 43. Pretty Fishtail Braid With Little Waves
We are clearly obsessed with wedding braids. But you should not blame us. Look at this stunning half-up half-down hairstyle for yourself. How can we not get obsessed? This is a refreshing take on half up bridal hairstyles. The fishtail braid combined with slightly wavy hair forms to be an apt wedding style. Add minimal accessories to let your braid do the talking.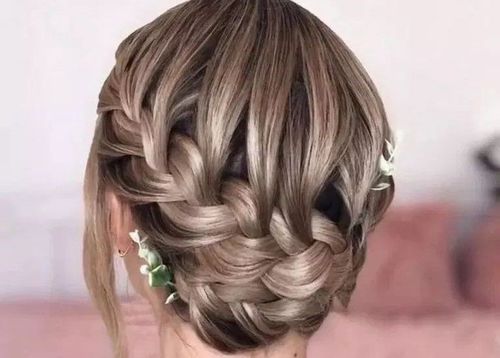 44. Halo Braid Updo
This is yet another one of the wedding hairstyles that will ensure that your hair game is strong on your big day. Halo braids look stylish and very cool. Here the halo braids are done in a smooth and polished way. Strands of white flower buds are added to enhance the beauty of this already beautiful hairstyle.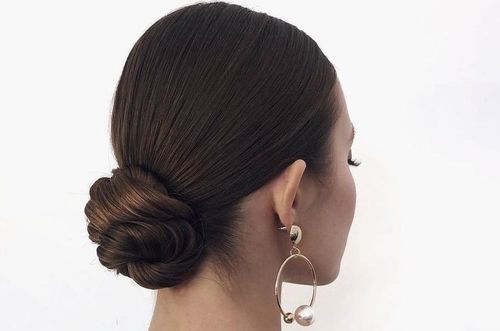 45. The Classic Twisted Bun
Here is another one of the classic DIY wedding updos. This hairstyle is a simple twisted bun that looks like a million bucks and is most often the go-to wedding hairstyle. It is easy to do, comfortable, stylish and suits everybody.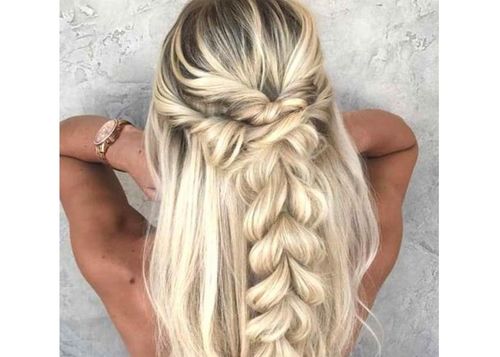 46. Beautiful Half Braided Hairstyle
Half up wedding styles will always be relevant to wedding scenes. It is because of their style factor and versatility. Take a look at this one. This is a perfect hairstyle for thick and long hair. The twists are then tied into a braid which is pulled apart a little to make a heart shape.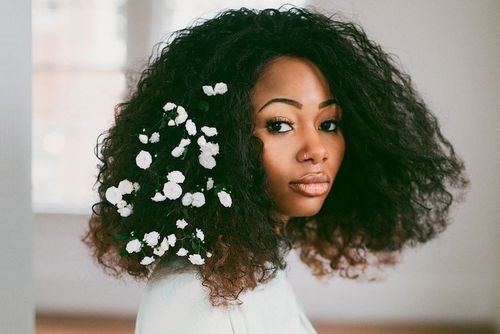 47. Floral Curls
We have featured quite some natural hair wedding styles by now. But this one is different from all the rest. It was the use of flowers that caught our eye. Look how the tiny white flowers are weaved into the natural curls. This has made a simple everyday look into a different and glam style.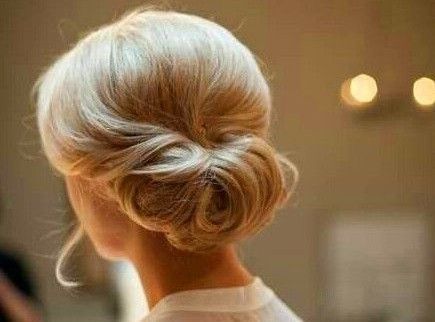 48. Rolled Up Elegance
If messy styles are not for you then you can go for elegant wedding updos for medium length hair such as this one. This rolled-up bun bears a very polished look and looks elegant as well as sophisticated. With its regal vibes, we hope it becomes your favorite too just as it became ours.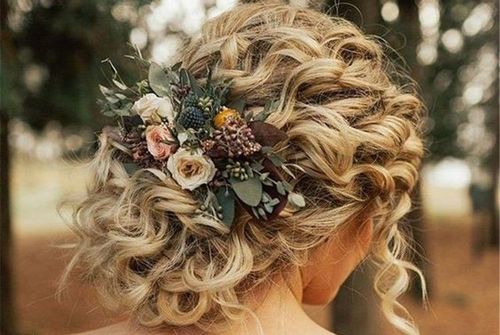 49. A Floral Updo For Curly Hair
This is yet another one of the stunning wedding hairstyles for curly hair. This messy updo for curly hair looks gorgeous and has romantic vibes to it. The leaf and floral foliage tucked over the bun add a beautiful touch to the whole look.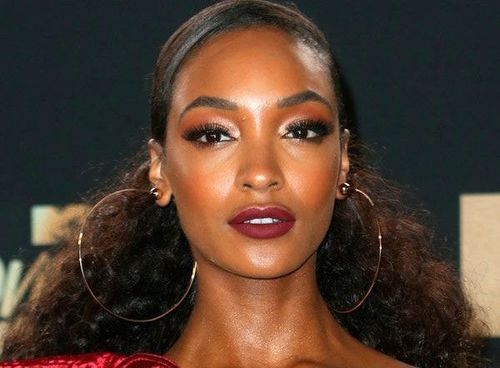 50. Stylish Curly Mane
Here is a super stylish bridal hairstyle for natural hair. This hairstyle is one of the best wedding hairstyles and we absolutely love it. See how it gives business in the front and party at the back vibes. The sleek front and cascading bouncy curls on the back have our hearts. This style looks gorgeous and keeps the focus on your face and collar bones.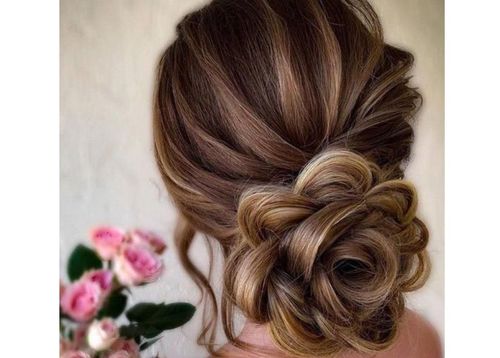 51. Elaborate Floral Bun
You have seen bridal hair with floral accessories and real flowers too. But let us introduce you to the bride wedding hairstyles that look like a flower. Take this one here for instance. Look how stunning the elaborate rose-shaped bun looks. It will make you stand out from the crowd. It is soft, polished, elegant and feminine. It is a perfectly stylish hairstyle for your special day.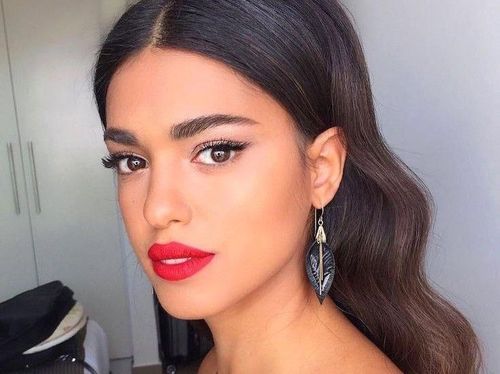 52. Tucked In Wavy Hair
This is one of the most stunning bridal hairstyles for long hair. Part your hair in the middle. Make uniform and polished S-shaped waves. Tuck the hair behind your ears on both sides and you are good to go. This is quite a stunning and elegant hairstyle that you can never go wrong with.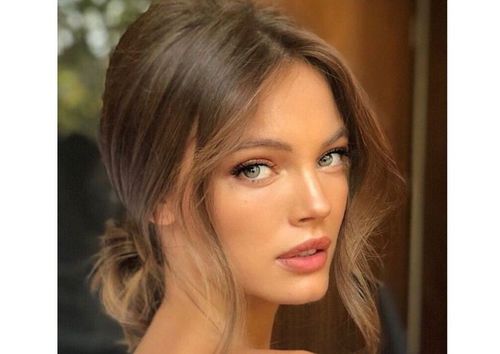 53. Chic Romantic Updo With Wispy Front
Here is another one of the romantic wedding updos. A simple low and messy bun but with controlled messiness has been inspired by none other than the beautiful Meghan Markle. The face-framing tendrils in the front are keeping up the fun, flirty and romantic vibes of this look.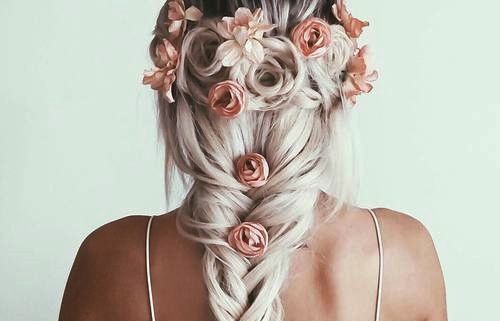 54. The Rosy Braid
Floral wedding braids are the latest addition to this season's wedding hairstyles. Long wedding hair like this one pictured here is pretty and comes packed with the floral magic. This is a perfect hairstyle if you have mermaidesque hair. The loose braid with the elaborate floral design is impressive, stunning and gorgeous. The addition of roses just adds to the beauty of the whole look and complements it well.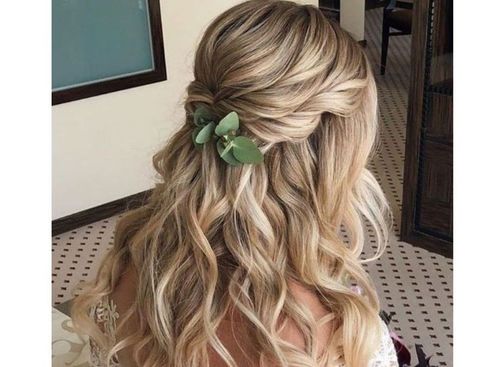 55. Beautiful Wedding Hairstyle For Long Hair
Here is yet another one of the DIY wedding hairstyles for long hair. This is a half up bridal style that comes with multiple loose and relaxed twists. The waves are just expected as they make a hairstyle look 100 times better. What caught our eye was the use of foliage instead of flowers to accessorize the hairstyle.