55 Gorgeous Bridesmaid Hairstyles For Short Hair - 2023
Ankita Ghoshal
Updated At 16 Aug 23
Looking for the best bridesmaid hairstyles for short hair which are trending this year?
While weddings are all about love and coupling, bridesmaids are the ones who get the most attention, after the bride and groom of course! So, if you are soon to be a bridesmaid, you need to gear up for unleashing your ravishing side on the big day. Here are 55 stunning bridesmaid hairstyles for short hair which will make you look extremely pretty even if your hair is short.
55 Best Braidesmaid Hairstyles For Short Hair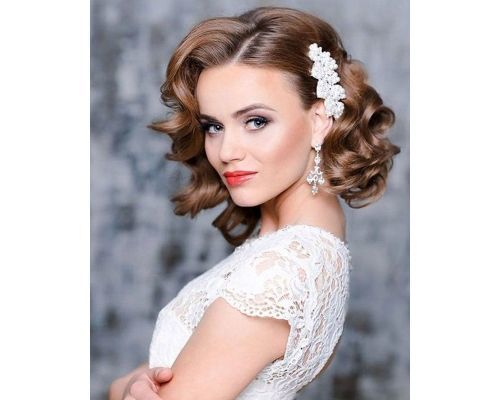 1. Old Hollywood Waves
If you have a pixie cut and are looking for classic bridesmaid hairstyles, style your hair with a deep side parting and face-framing soft curls. This would be a gorgeous hairdo and a trip down the old-Hollywood nostalgia.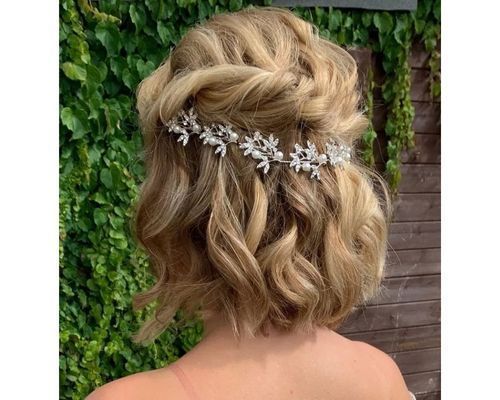 2. Wavy Bridesmaid Updo
Twist your wavy hairdo and hold it neatly in place using hairpins. This simple and popular hairstyle goes really well with gowns and other fancy dresses.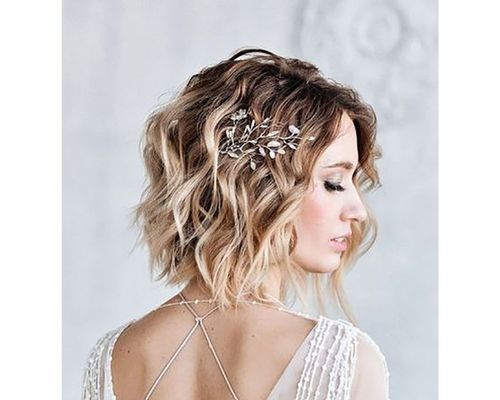 3. Romantic and Simple Hairdo
If you want an easy and simple short-lengthed bridesmaid hairstyle, go for this delicate upstyle which will add extra feminine and romantic vibes to your overall look.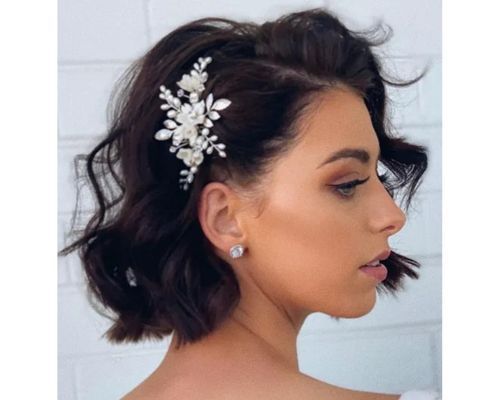 4. Half-Pinned, Strand Out
Take a thick strand of your hair from a side in a way that it covers your half forehead in a very neat manner. Use the remaining hair for making a pretty half-pinned hairdo.
Check out our guide on the best mother of the bride hairstyles as we cover 55+ stunning options for birdes mother. From bun, ponytail to wedding hairstyles for thin hair, we cover all of them.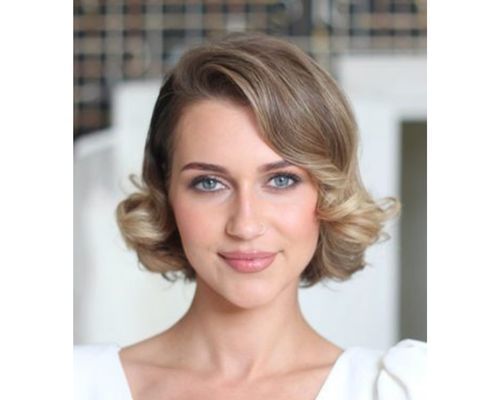 5. Curled-Up Bob
If your bob cuts are growing out neatly, curl up the ends to give a beautiful and delicate appearance. Focus on keeping the upper hair a bit wavy and straight while the curls fall towards the lower half.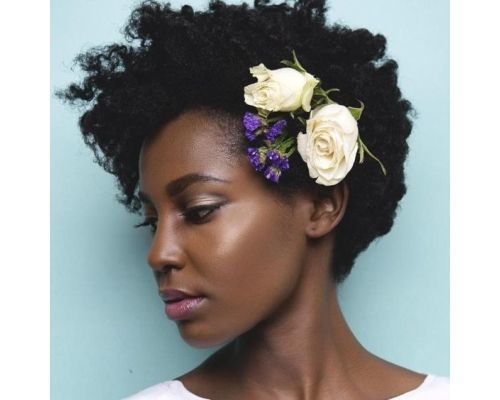 6. A Short Afro
T he best way of making a short haircut look gorgeous, feminine and soft is by going for a simple afro look. Such low-maintenance bridesmaid hairstyles for short hair look very polished and sophisticated.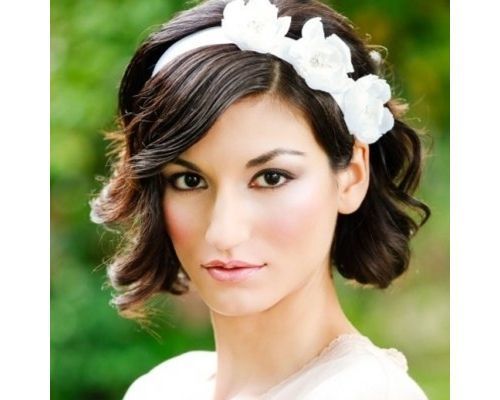 7. An Embellished Pixie
Just like a blingy hair clip, you can use an embellished hair-band to pair with your adorable pixie cut. That is all you need to get one of the best bridesmaid hairstyles for short hair.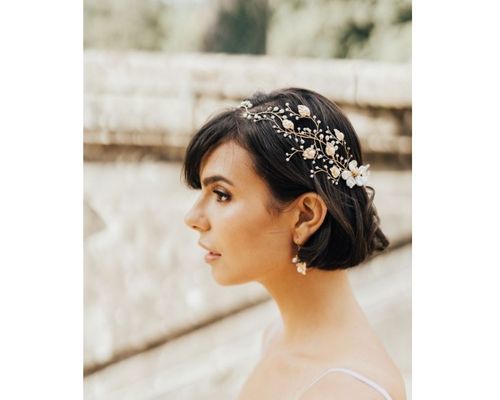 8. Hair Stickers
In case you didn't know hair stickers are a thing, well, it's time to check them out now! You can jazz up any simple hairstyle with a huge or a tiny sticker to make it the perfect wedding hairstyle.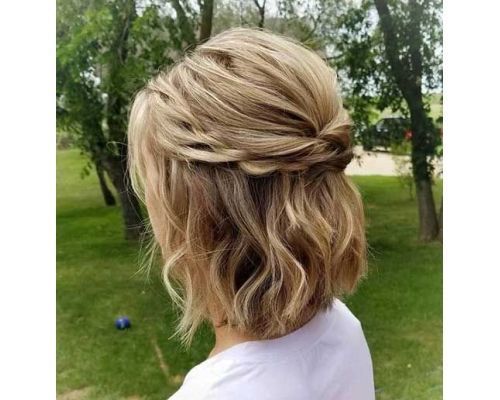 9. Half-Up Bob
If you are looking for bridesmaid updo hairstyles, half-up bobs will be right up your alley. Pull up the top part of your chic bob and twist it into a bun or a braid. Use shiny hair pins for dressing up the hairstyle in seconds.
Check out our guide on the best mother of the groom hairstyles as we cover 25+ stunning options for groom's mother. These include twisted hairstyle, bangs, bun, updo for short hair and many more.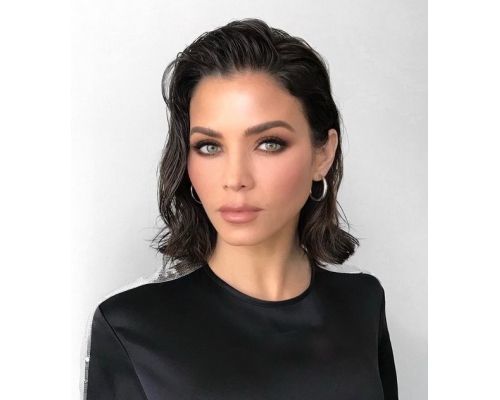 10. The Wet Look
Style your sultry collarbone-grazing haircut in a shiny wet look to get all the compliments. To get a polished appeal, go for the deep side part and a flip towards the end. This versatile hairstyle will go with all types of bridesmaid dresses.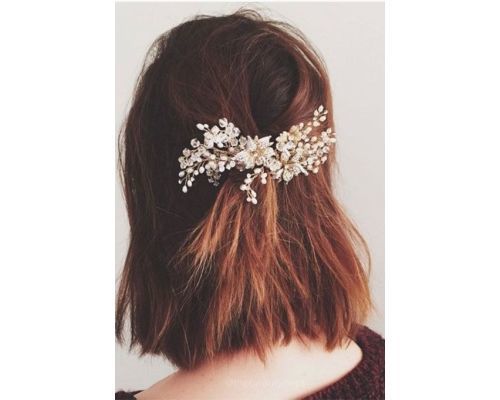 11. A Gorgeous Lob
Use a curler to add voluminous waves to your cropped hair and to make things even more gorgeous, use a blingy hair accessory or fresh flowers such as a glittery hair clip or a golden bow. It will not only take your hairstyle up a notch but also keep hair away from your face.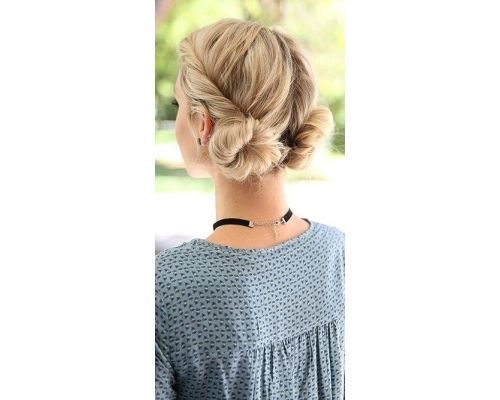 12. Dressy Space Buns
Space buns are not just trendy but also look very sophisticated on short hair. Make two tight buns, use gel to settle the flyaways, and throw in some satin bows to make your hairstyle perfect for the wedding.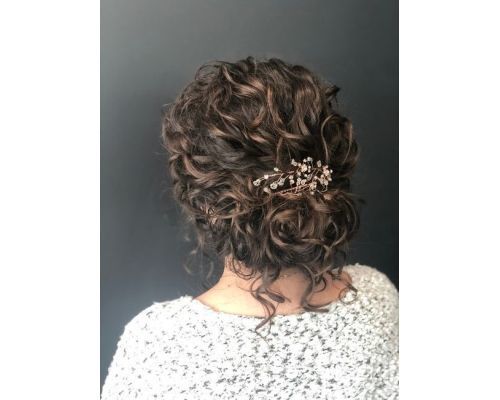 13. Curly Bun
One of the best and easiest bridesmaid hairstyles for short hair, try a cute bun. If you are blessed with natural curly hair, things will get done instantly. Hold your hair in a high ponytail while your natural curls flow over for creating a very nicely te xtured bun.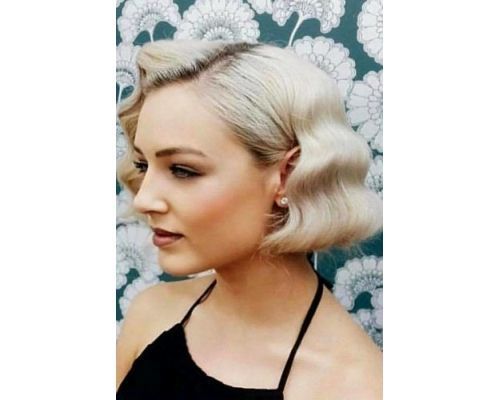 14. Vintage Finger Waves
If you can't make up your mind about which type of bridesmaid hairstyles for short hair you should go for, just take out your hair gel and let it do its job. Go for Zendaya's style of vintage finger waves to be the most elegant bridesmaid out there.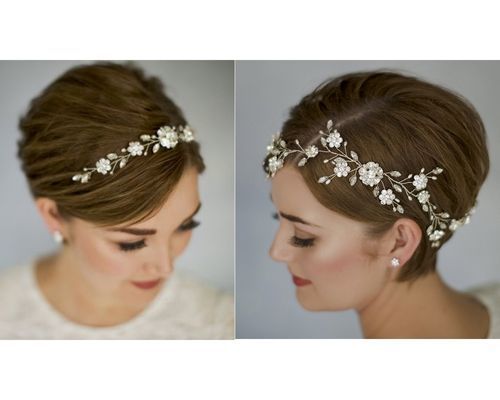 15. A Coif
If you want to keep your hair all natural and flaunt its texture, just go for a side coif paired with a tapered cut. It is one of the simplest and polished wedding hairstyles for bridesmaids.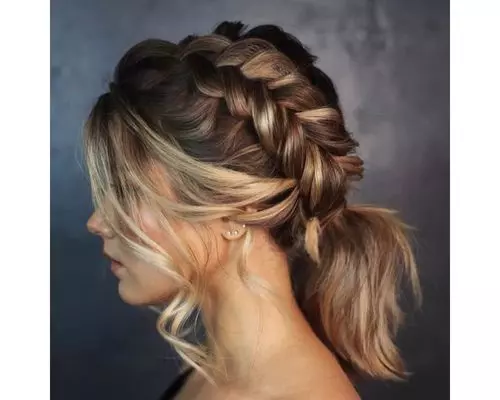 16. Braided Back Ponytail
To go for one of the no-nonsense, hassle-free bridesmaid updo hairstyles, make a center parting and make a sleek ponytail. Take a chunk of hair from the middle and make a cute braid for an added surprise. It is a super cool and edgy hairstyle.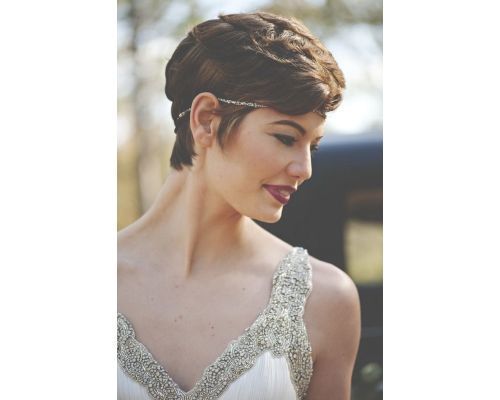 17. A Choppy Pixie
An understated and casual bridesmaid hairstyle is an undone, choppy pixie cut to steal the show. This is best hairstyle if you are attending a backyard or beach wedding.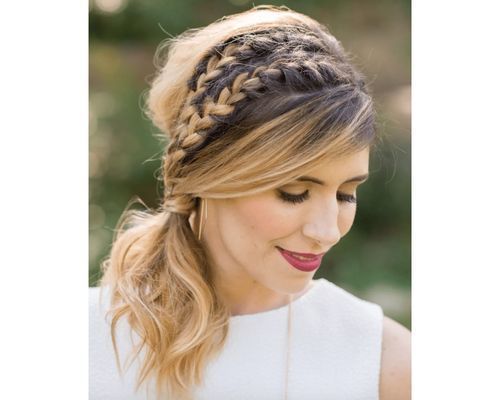 18. Double Braid
Two braids are always better than one braid, especially when it comes to wedding hairstyles for bridesmaids. Hold your short hair in two cute and tiny French braids resting on your head and you are good to go.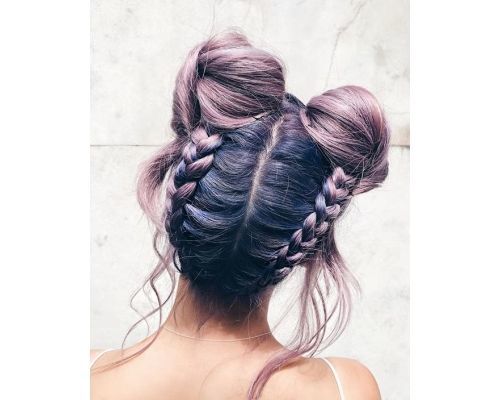 19. Bun Duo
Bun duos are stellar bridesmaid updo hairstyles that are all the rage this year. They are very easy to make and the results are amazing. You just need to create two donut buns. You can even make little braids at the bottom of your scalp for an intriguing hairstyle.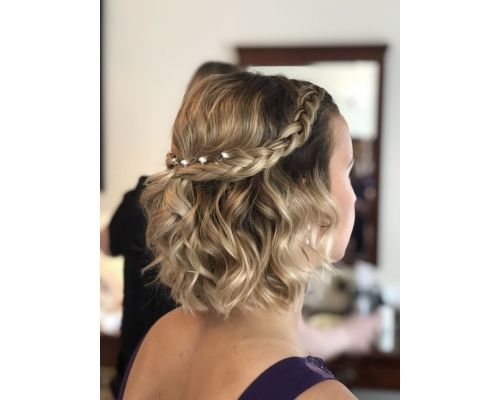 20. Textured Bob
Make your short hair stand out in the crowd by adding subtle waves to your bob. You can even play around with your hair texture to get a more tousled look. Such classy bridesmaid hairstyles for short hair are just awesome.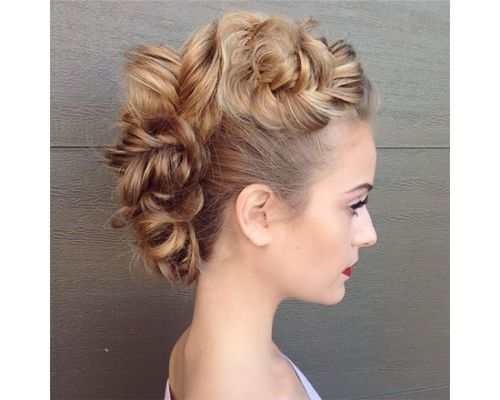 21. A Curl Mohawk
A soft, curly mohawk is all that you need for making your bridesmaid outfit look even better. This unexpected and gorgeous hairdo is ideal for women ready to experiment with their hair.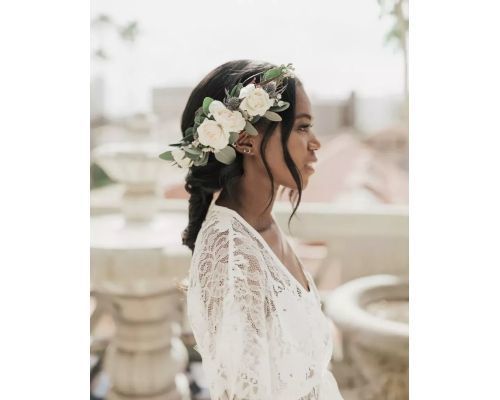 22. A Flower Crown
If you don't want complicated bridesmaid hair styles, just buy some beautiful artificial flowers and style them over your head to make a pretty crown. You can keep it all whites or pinks or can even go all multi-colored.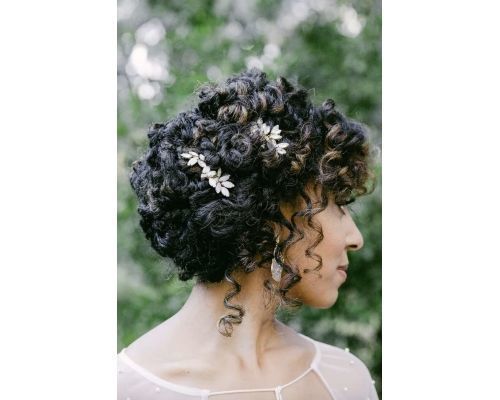 23. Small Bouncy Curls
Short and bouncy curls that frame your face beautifully are great for pairing with your bridesmaid gown. Do your makeup in a way that it makes the overall look very vintage and fancy.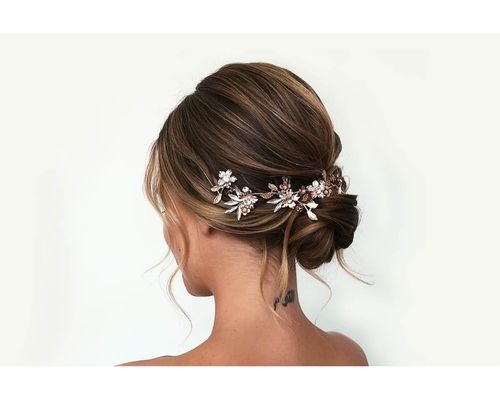 24. A Snatched Bun
If you are a bridesmaid, you'll obviously want to show off your pretty face and the gorgeous makeup too. To make everything shine out loud, a very snatched bun or ponytail will do the trick for you.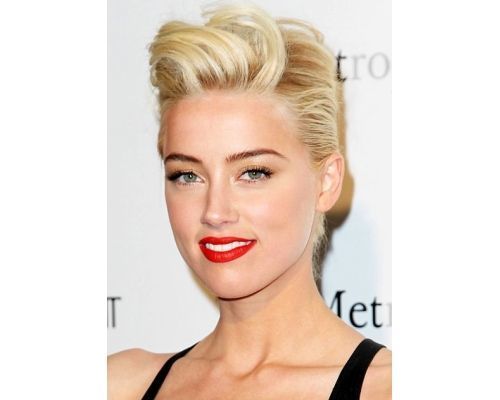 25. A Pretty Pompadour
Make your short haircut all edgy and dressed-up by going for a gorgeous pompadour that will make heads turn for sure. It will also make your hair look more voluminous.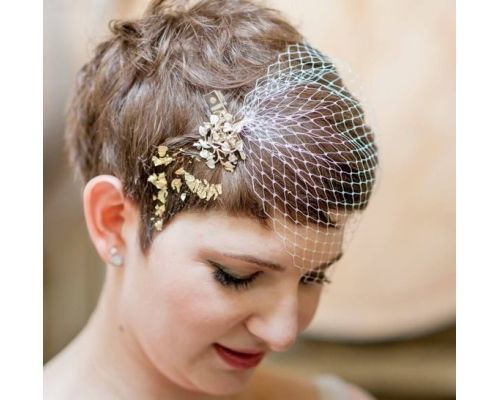 236. A Textured Pixie
It is time to break out your pomade and let your cute pixie cut shake out, making you steal all the limelight as the bridesmaid. Be assured that you are going to look very attractive on the bridal party.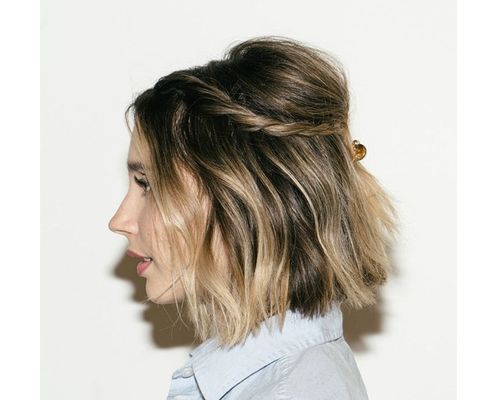 27. The Bardot Bump
This is one of the most stylish bridesmaid hairstyles of 2022. After you are done with making the half-up hairdo, tease in lots of volume towards the crown to give it a Bardot-esque bump. A sexy velvet bow will finish off your look with grace.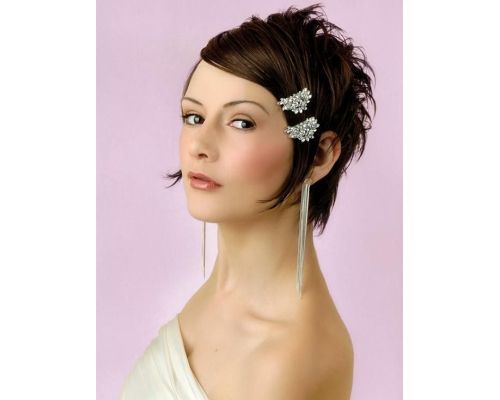 28. An Assymetrical Hairdo
If you want to look like the perfect bridesmaid but are getting late for the wedding, just swipe back one side of your hair and place a beautiful barrette or clip on it. That's all you need to complete your look.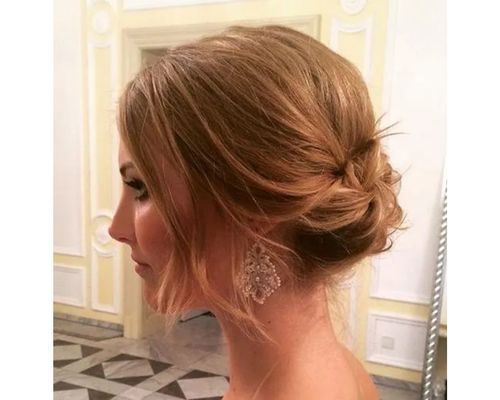 29. An Elegant Bun
Most bridesmaids with short hair go for sleek buns on the wedding day or bridal party. They are a classic hairstyle option and very comfortable too. You can jazz up your bun with cool hair accessories.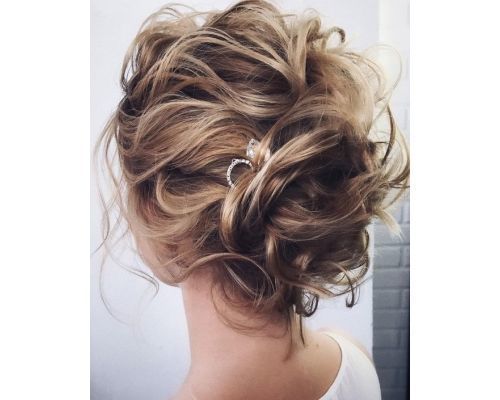 30. A Textured Updo
Play with your hair texture and volume for adding patterns, depth and visual excitement to your hair do. It can be a bun or a ponytail, the textures and volume with make all the difference.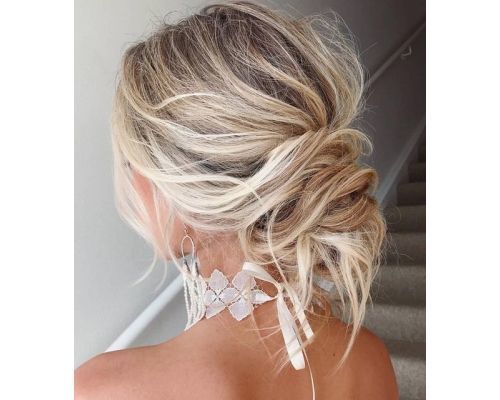 31. Short Messy Updo
Messy wedding hairstyles for bridesmaids are very much in trend these days. They look very natural and organic especially on short hair and the messy element just takes things up a notch.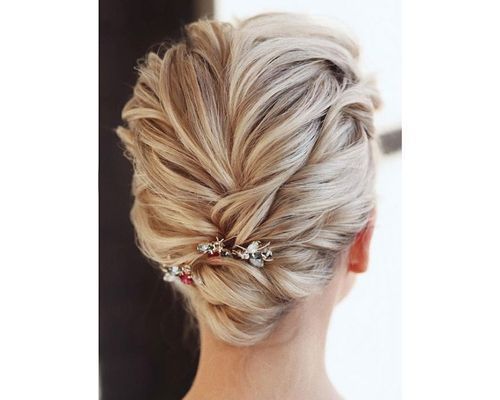 32. A Simple Twisted Updo
Get this unique hairstyle by starting with combing your hair on the sides. Follow this by sweeping the neatly-combed hair into a cute twisted updo. This bold hairstyle is easy to achieve and keeps your hair secure all day.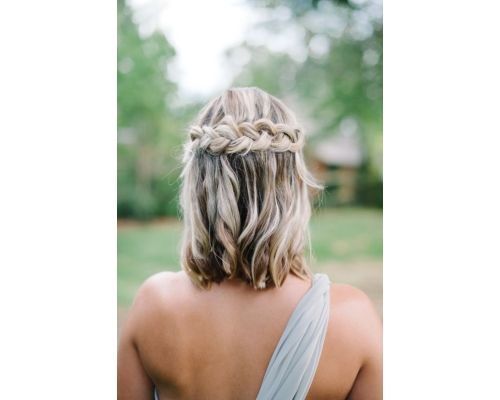 33. Boho Braids
If you are all up for a rustic and boho bridesmaid look, just go for a simple braid and decorate it with sequins, fake flowers, and threads. If your short hair is very dense, you can even make a halo with a half-down do.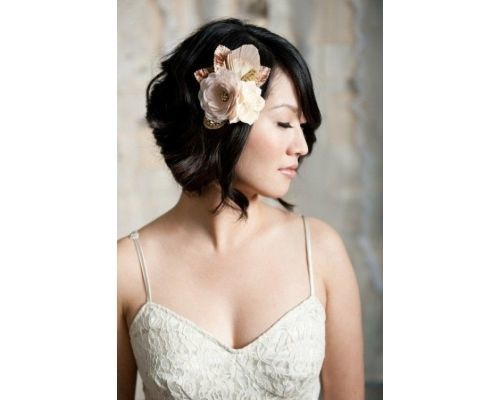 34. An Accented Bob
One of the most minimalistic bridesmaid hair styles is just experimenting with accessories on your short bob. Jeweled headbands, layered curls, waves; whatever your heart desires!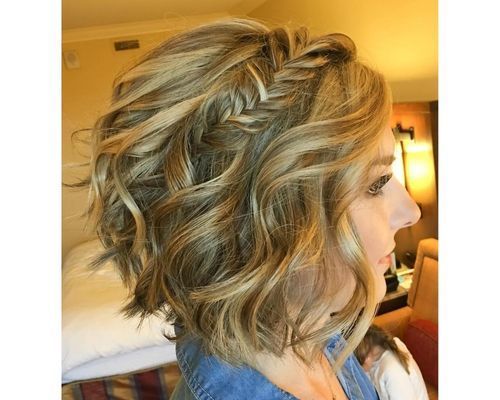 35. Layered Loose Waves
Beach wedding hairstyles are all about curls and waves. For a beautiful appearance, style your short hair in loose and layered waves. They look even better if you have an edgy side shave.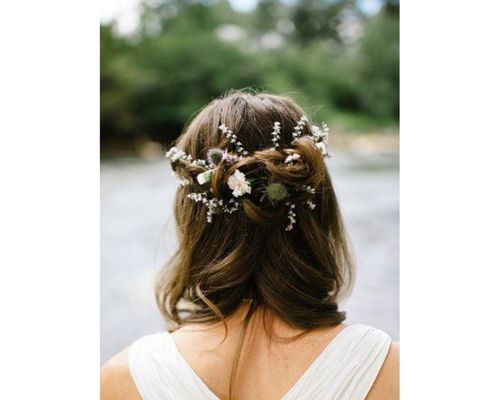 33. A Rustic Hairdo
Rustic hairstyles on short hair evoke a lot of aspects of your natural beauty and characteristics. Be it a fishtail, messy bun or just hair held down and accessorized- figure out what works the best for you and you are sorted.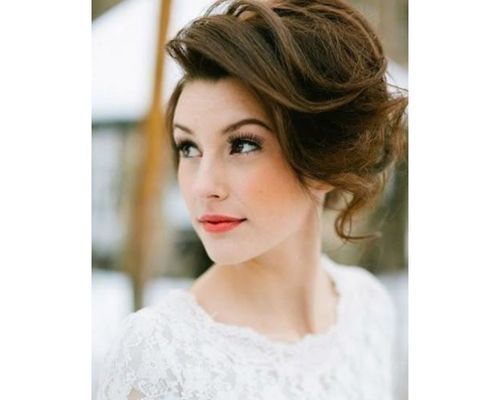 34. Bohemian Side-Swept Hairdo
Side-swept bohemian bridesmaid hair styles heavily incorporate eclectic style and vintage values. This is a boon for people with short hair as they can experiment a lot here.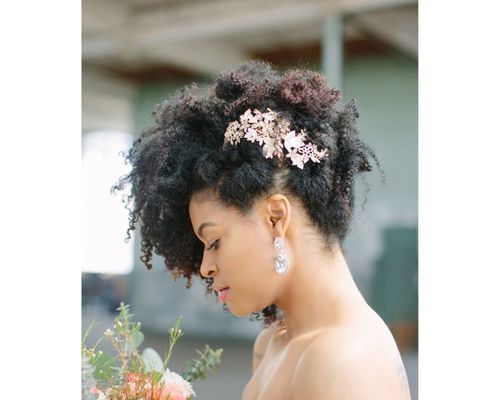 35. Floral Side Parting
If your short hair is a little longer than the conventional pixie cut, this haircut is for you. Style your tresses in waves and pin one side with fake flowers. This dainty and non-demanding hairstyle is just incredible.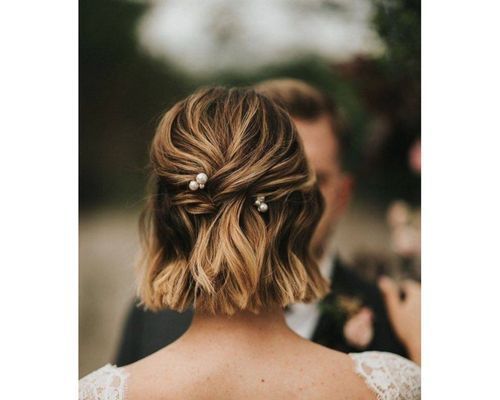 36. Pinned Pearls
Short hair gives you the freedom to play around with accessories. However, don't go overboard. Just pick two hair strands from the front, pin those back and fasten them with two pearl hair clips. Chic, isn't it?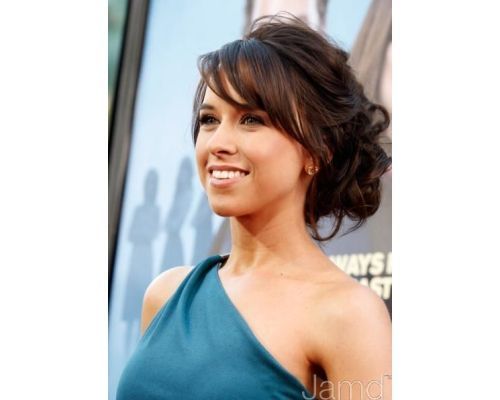 37. Side Bangs
Wrap up your side short hair into a sophisticated hairdo, accentuate with neat side bangs, and use an elegant headband to complete the look. This will be a very pretty hairstyle for sure.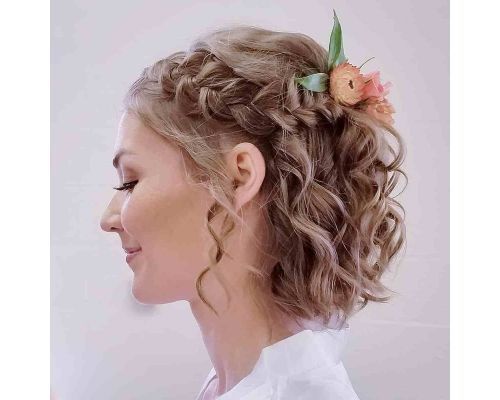 38. Beachy Vibes
If you love elaborate styles on your short hair, beachy waves will be perfect for you. Elegant waves on open hair are simple and oh-so-breathtaking! This doesn't involve much styling but is just too good to miss.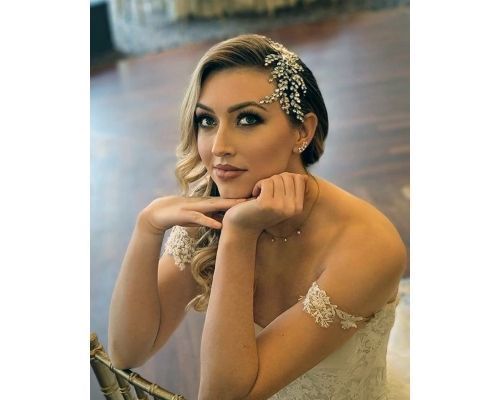 39. A Formal Pin-Up
This simplistic hairstyle will add a formal touch to every kind of bridesmaid outfit. Make sure you pick the right hair clip which goes well with your overall appearance and use it to pin up however you want to.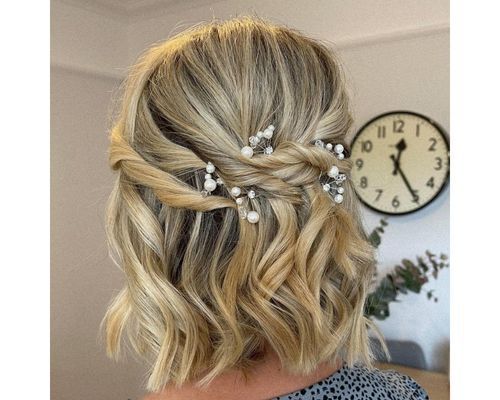 40. Half-Up Half-Down
This sweet and simple wedding hairstyle is created with beach waves and sweeping half of the hair and then pinned. You can add a jewel or flower for that added effect.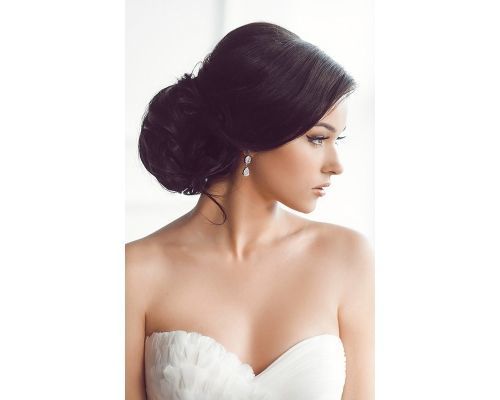 41. A Faux Bun
If you are crazy about buns but your short hair doesn't give you enough length, you can just fake it! Sweep back all your hair and fasten it up with pins. Use a huge flower bun to cover it up and top it all off with white pearls.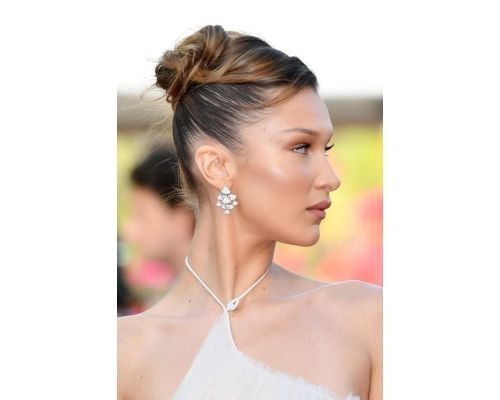 42. Short Bun
If using flowers to make a fake bun is not your thing, just backcomb your mane for creating volume. Make a little high bun and accessorize it with rose to make it look prettier.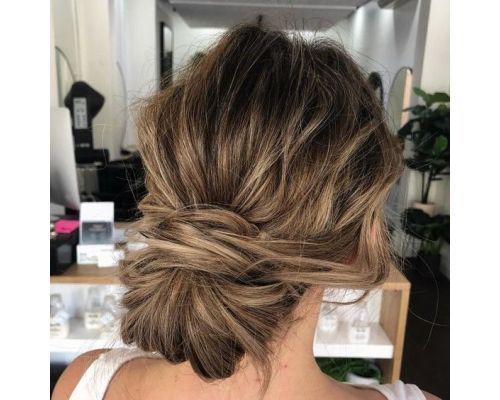 43. Low Twirling Bun
Low twirling buns are those bridesmaid updo hairstyles that work wonders on short to medium hair. Let few strands look for framing your face in a delicate way.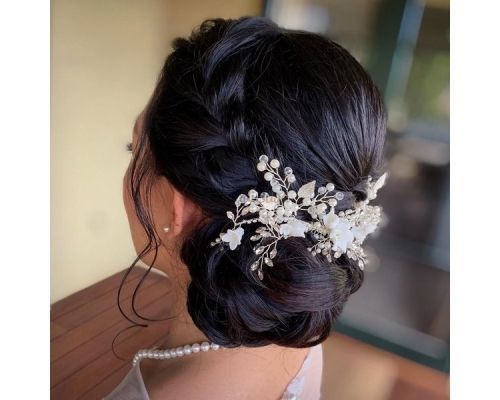 44. One Strand Buns
This is an easy hairstyle that you can do in a minute or two. Leave a hair strand from the side loose and make a thick bun from the remaining hair. Decorate it with flowers and crystals to make it look ravishing.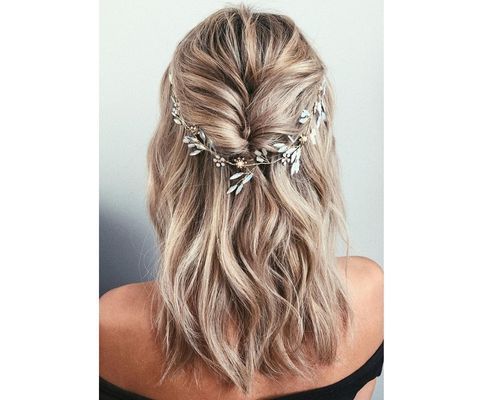 45. Hair Extensions
If you don't feel comfortable flaunting your cropped haircut, just use hair extensions on the wedding day. Go for extensions that match your hair shade. Now that you have long hair, get creative!
46. Small Pixie Curls
Your short, cool and edgy curls can look all the more stylish if you put them into delicate and curly waves. This will give you the perfect makeover and you are bound to make for a brilliant bridesmaid.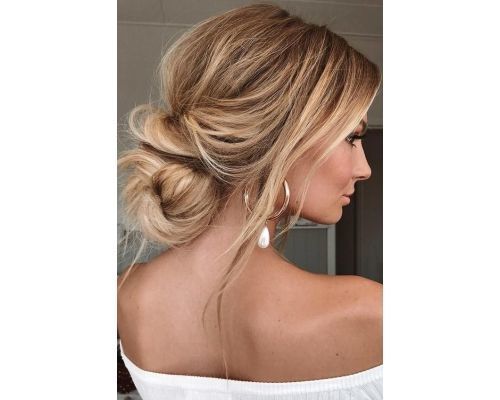 47. A Messy Bun
Start off by getting your mane styled with plenty of volume. Now, use your messy strands for forming a low bun. Although the appearance needs to be messy, your bun should be fixed very securely to hold it in place for hours.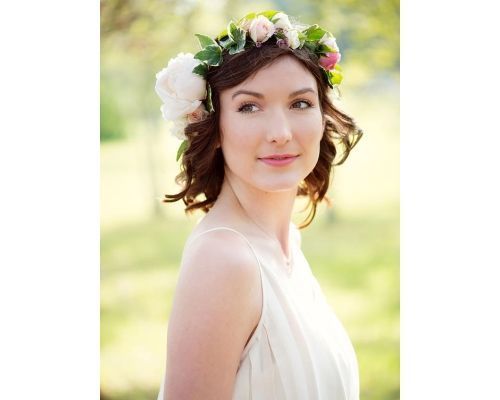 50. Airy Short Curls
This is a very unique and new kind of hairstyle that is perfect not only for weddings but also any fashionable event. This is probably one of the cutest bridesmaid hairstyles for short hair that you will find.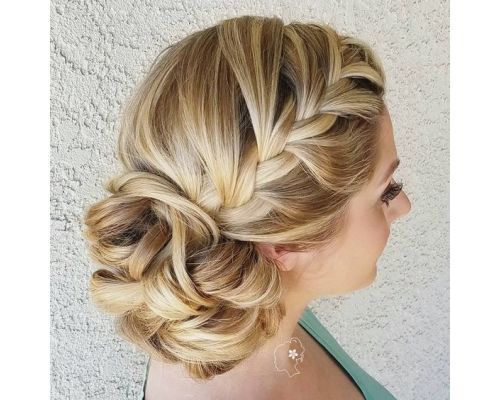 51. Bun with Braid
This bohemian hairstyle that brings together a braid and a bun is perfect for a bohemian appeal. You can use fancy hair pins and sequins to jazz it up in an instant.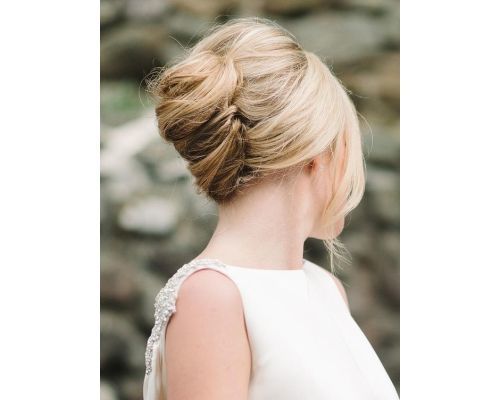 53. French Rolls
You don't need to strongly spray or tightly tie your short hair for cute bridesmaid hair styles. A messy French roll will be a very interesting hairdo which will break the monotony for sure.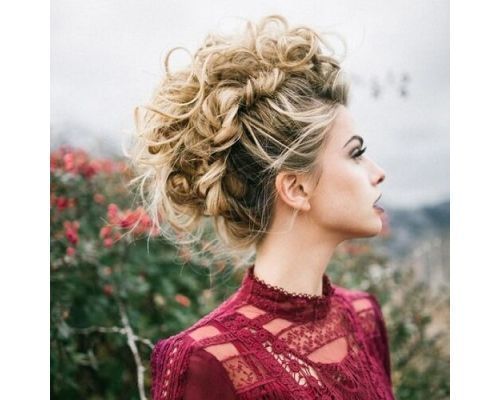 54. Braided Fauxhawk
A stunning braided fauxhawk is all you need to make an edgy statement in the wedding. This is among those bridesmaid hair styles that are super-easy to recreate. The added texture and volume are the highlight of this style.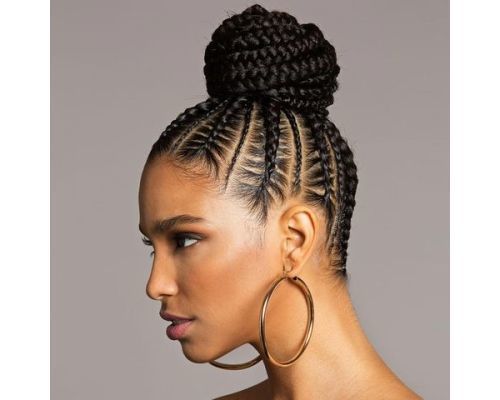 55. A Cornrowed Bun
Micro cornrows beautifully held up in a bun will be an amazing way of keeping your hair secured, neat and away from your face. It looks great on all face shapes and will make your hair look denser.
These 55 stunning bridesmaid hairstyles for short hair are bound to make you look your best self as a bridesmaids and people will remember you for your gorgeous appearance for sure.