55 Most Popular Hairstyles For Older Men
Sristi Shaw
Updated At 20 Nov 23
Hey there, silver foxes and distinguished gentlemen! 

Welcome to a style journey that defies the hands of time. In a world where trends change, timeless style—primarily the crowning glory—is appealing.

When it comes to your hair, embracing a new decade need not require a complete style overhaul. Men over 50 can choose from a wide range of modern men's hairstyles that not only look classy but also show off their age and knowledge. From messy short back and sides long on top to a classic cut, we've curated a list of 55 haircuts for men over 50 to inspire your next salon visit.

Join us on a sartorial adventure as we explore stylish haircuts for men over 50 with men's haircut pictures. Because age is just a number, but style? Well, that's eternal.
55 Best Hairstyles For Older Men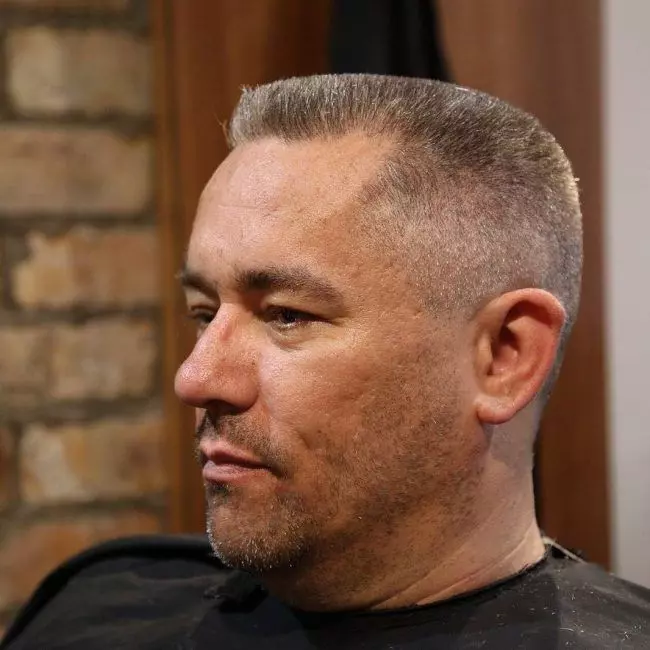 1. The Classic Crew Cut
A timeless and easy-to-maintain look, the classic crew cut remains a popular choice among short haircuts for men over 50. Short on the sides and slightly longer on top, it's a versatile option that suits various face shapes. One can also opt for a low fade haircut as it looks stunning.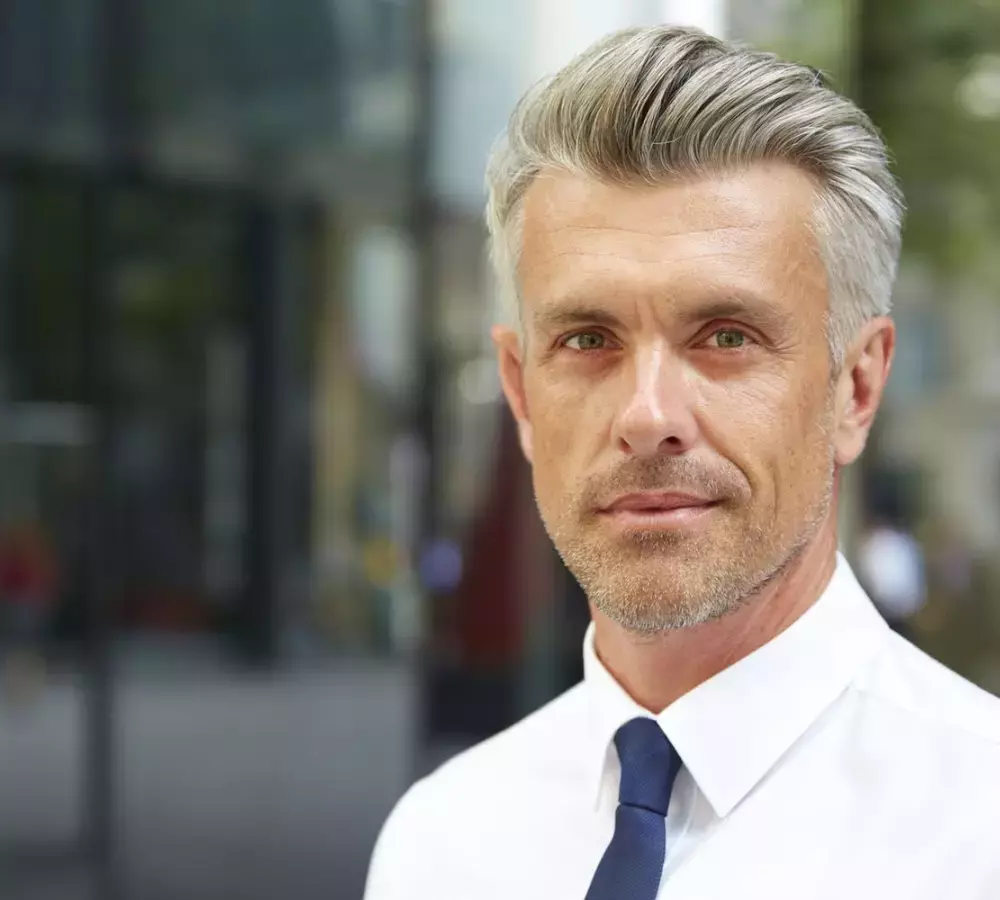 2. Pompadour
Add a modern twist to a classic favourite by incorporating texture into your pompadour. The pompadour is a timeless hairstyle that can look great on older men. It's characterized by short sides and back with longer hair on top that is swept upward and back. This style works well with straight and wavy hair, providing a sophisticated yet laid-back vibe.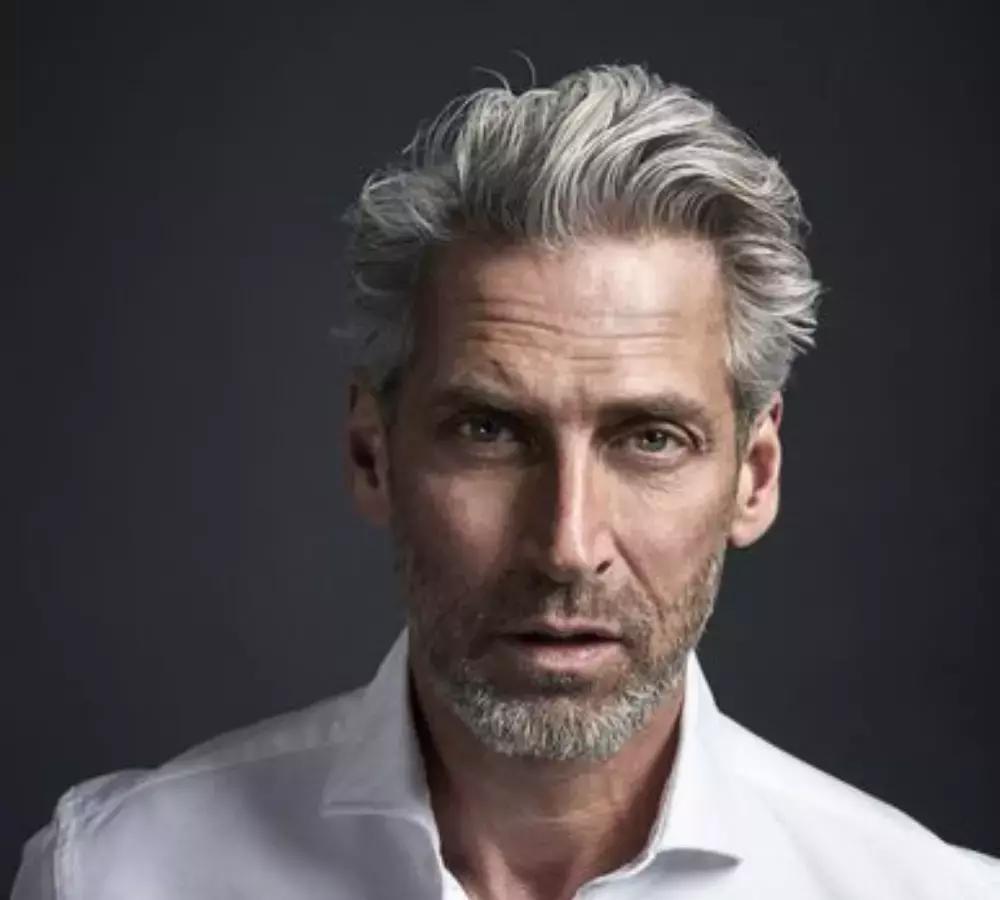 3. Grey Waves
Grey waves can be a distinguished and stylish choice for older men. Embracing the natural grey in your hair is one of the best hairstyles for men for a sophisticated and mature look. The "grey waves" hairstyle typically involves keeping some length on top and allowing the natural grey colour to shine. This style works well with wavy or slightly curly hair, adding texture and dimension to the grey waves.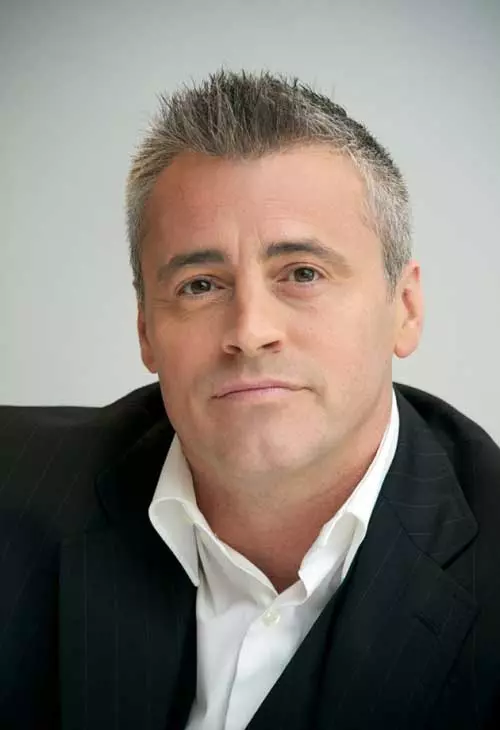 4. Short and Spiky
Keep it low-maintenance with a short and spiky cut. Short and spiky hairstyles for older men are one of the cool hairstyles for men who want a modern and energetic choice. This style involves keeping the hair short on the sides and back while creating a spiked texture. It adds a youthful and dynamic flair to the look, perfect for busy individuals. Pair it with a taper fade and it will look even more stylish.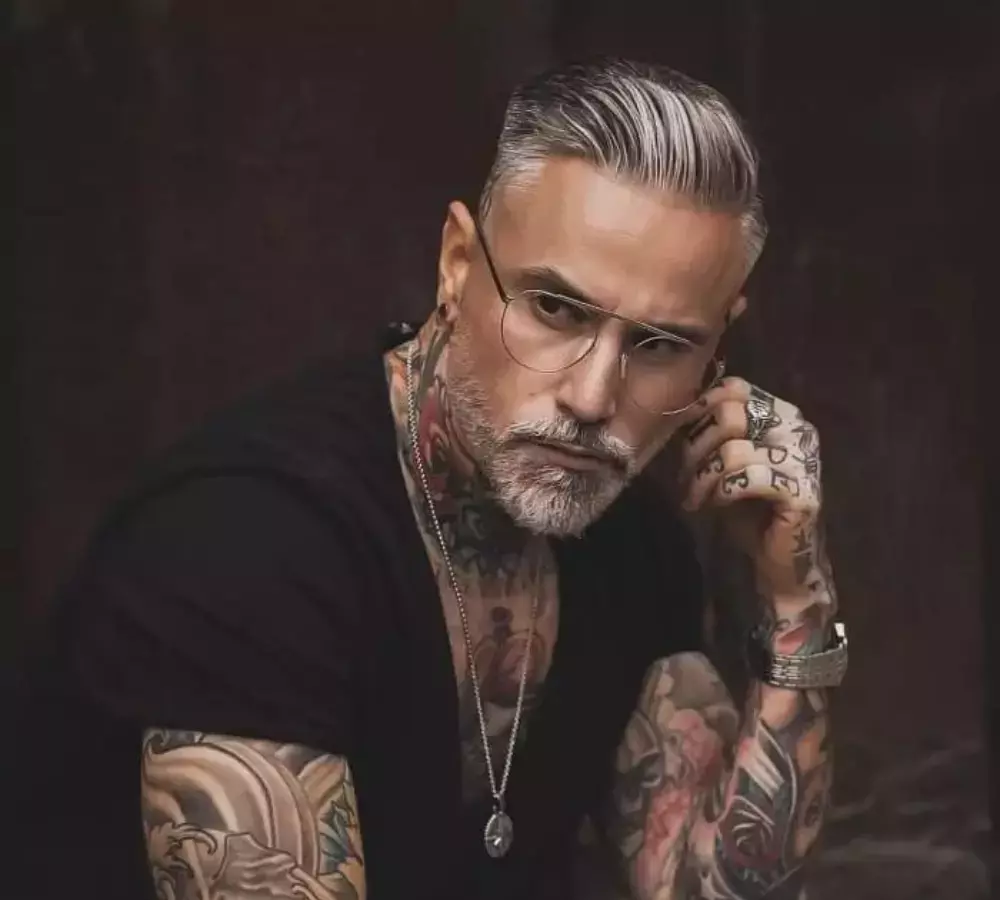 5. Side Parted Slick Back
Opt for a side-parted slick back for a polished appearance. The side-parted slick back is a classic and refined hairstyle for older men. This timeless look exudes sophistication and can be achieved using styling products like pomade or gel. It's a versatile option suitable for various occasions, adding a touch of elegance to the overall aesthetic. It's a refined choice that complements formal occasions and professional settings.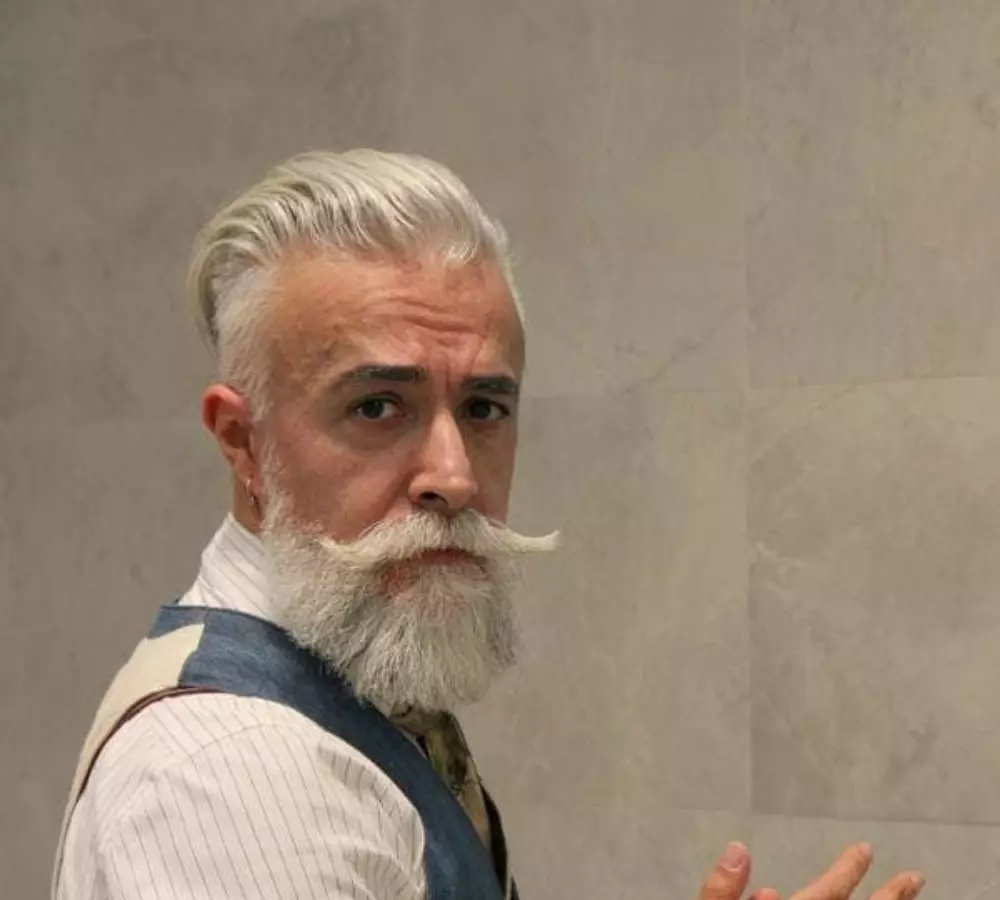 6. Silver Fox Undercut
Combine a classic undercut with your distinguished silver hair for a bold and stylish statement. This edgy look is sure to turn heads. It's a bold contemporary choice, featuring shorter sides and back with elongated, silver hair on top. This hairstyle embraces the natural ageing process with a touch of edge, creating a distinctive and confident appearance.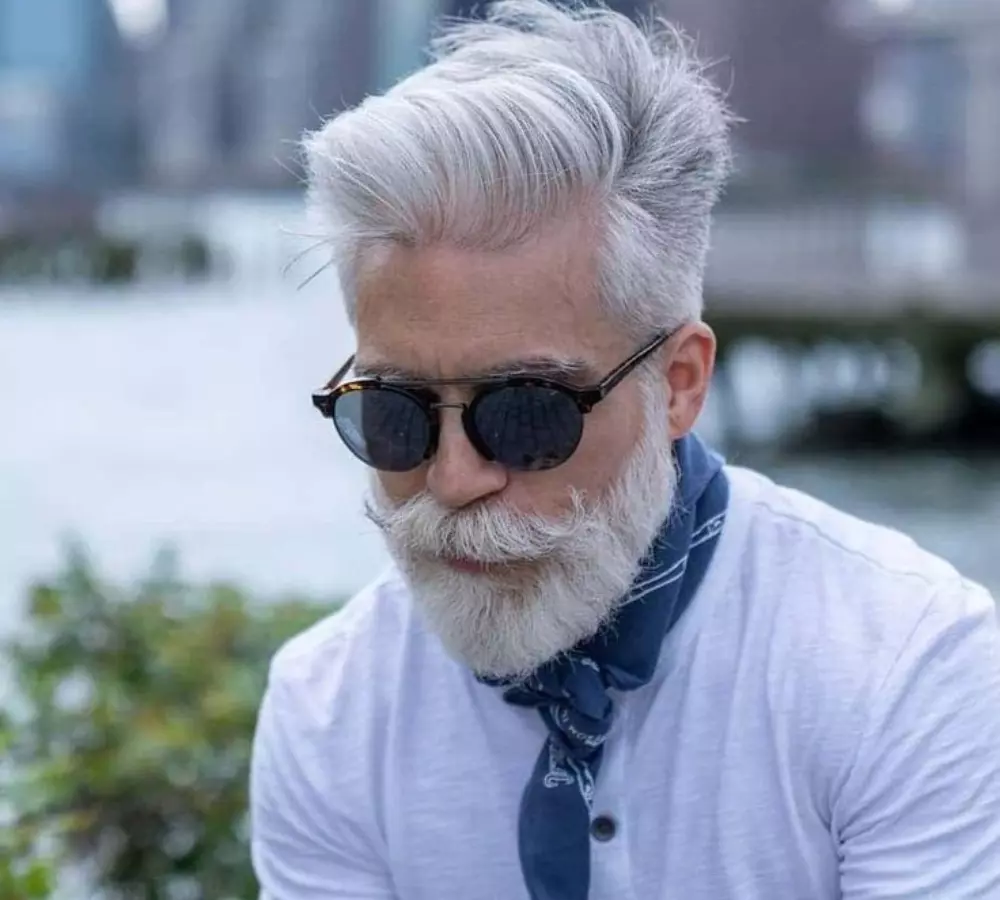 7. The Gentleman's Quiff
Elevate your style with a gentleman's quiff. The Gentleman's Quiff is a sophisticated hairstyle for older men with a voluminous, swept-up front. It exudes class and style, featuring a neatly combed or brushed quiff with shorter sides.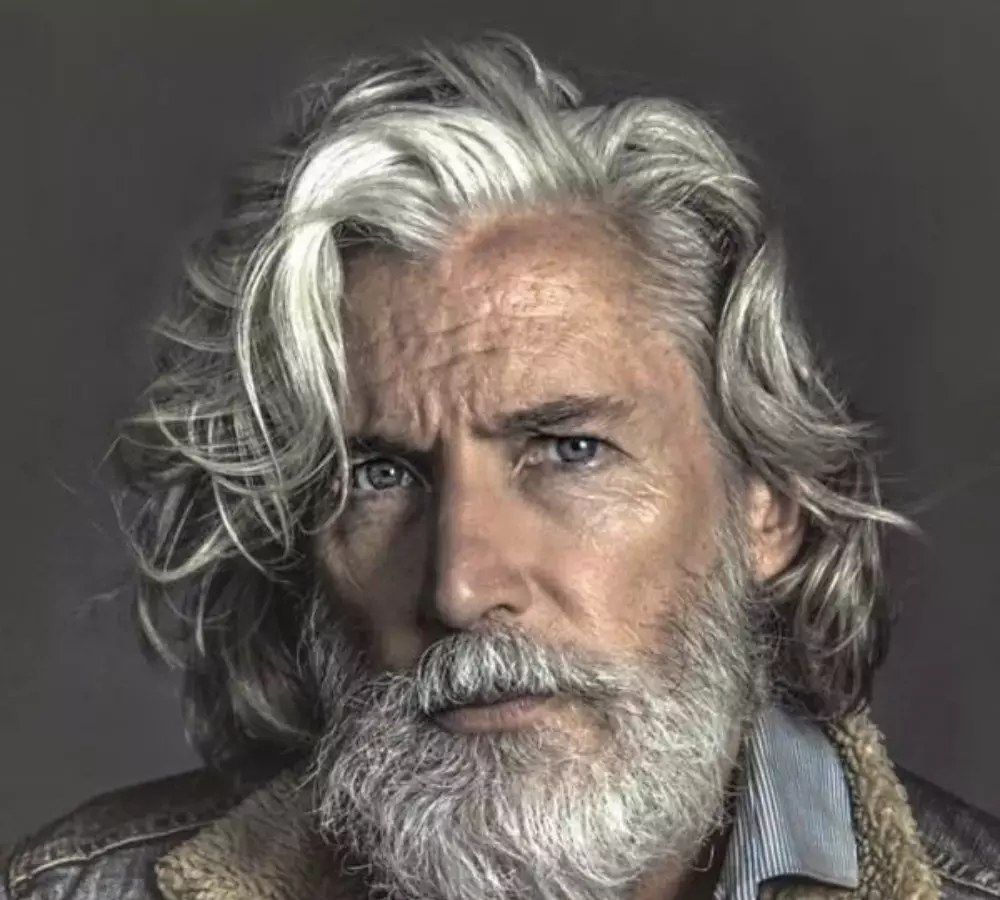 8. Messy Layers
Embrace a relaxed and carefree vibe with messy layers. This look involves keeping the hair layered with a slightly tousled and textured finish. It is one of the low-maintenance older men's hairstyles that adds a touch of modernity yet provides a laid-back and effortlessly relaxed vibe. 
9. The Ivy League
A refined and tailored option, the Ivy League haircut is a polished choice for men over 50. It's clean, classic, and exudes a timeless elegance. It features short sides and back with slightly longer hair on top, creating a clean and well-groomed look, this short haircut will surely transform your look.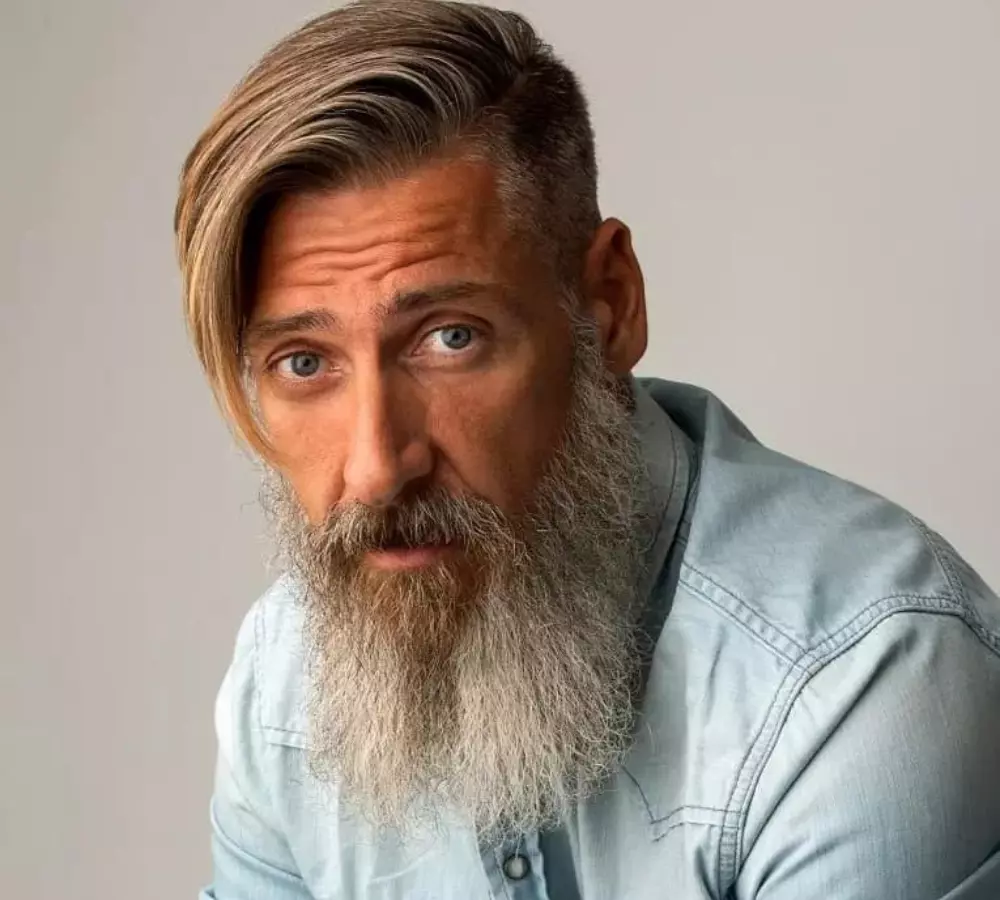 10. Classic Side Sweep
Opt for a classic side sweep to achieve a tidy and well-groomed look. It involves combing the hair to one side for a put-together look. You can also keep a beard with this look for a chic look. This versatile style works well for various hair types and face shapes.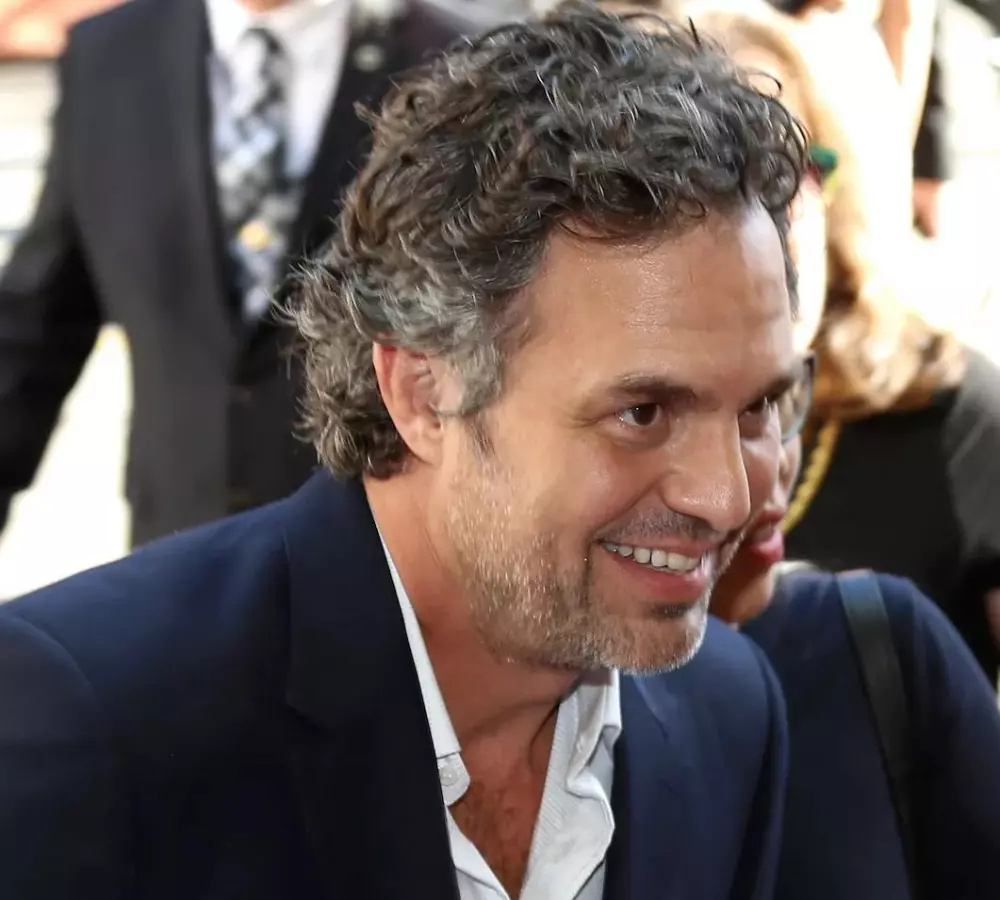 11. Tousled Curls
If you're blessed with curls, let them shine freely! Embrace your natural texture with those tousled curls for a laid-back and effortlessly cool appearance. Don't forget to add that smile!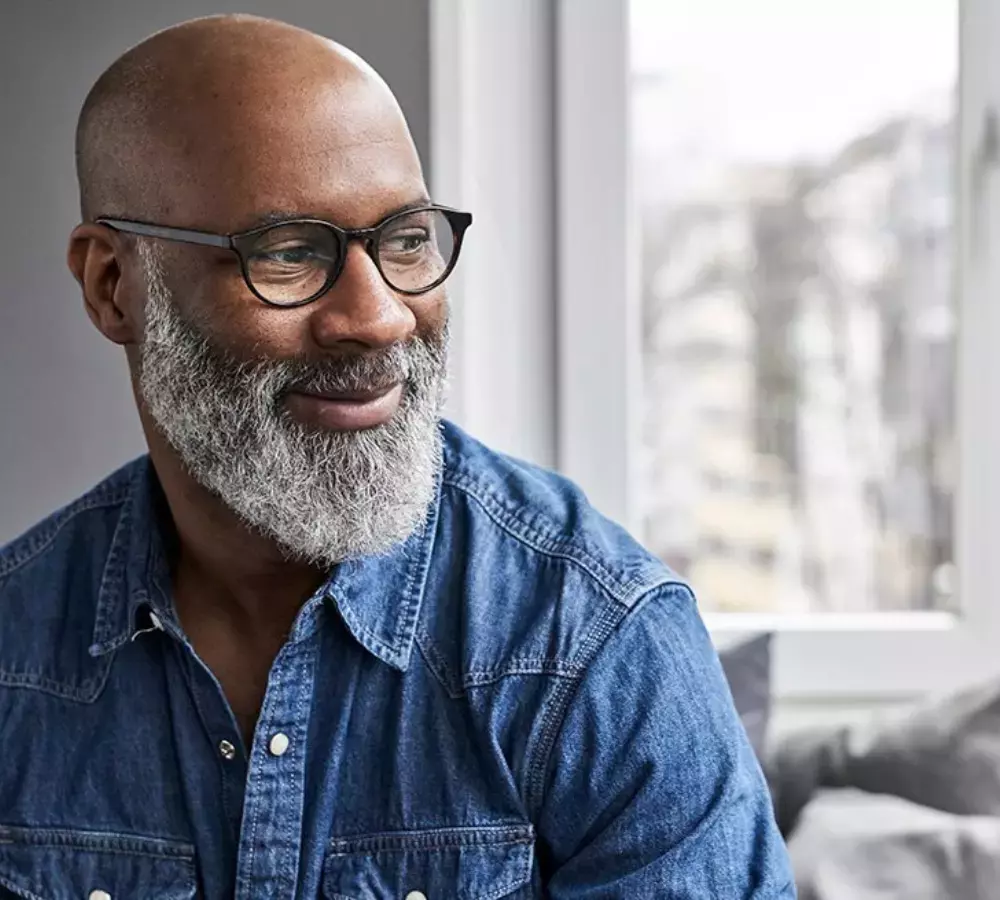 12. Bald and Bearded
For a bold and confident look, embrace the bald and bearded style. Keep your beard well-groomed for a harmonious balance. Embracing a shaved head and maintaining facial hair adds a rugged yet powerful look. If you are looking for a bald haircut, then this is an amazing option.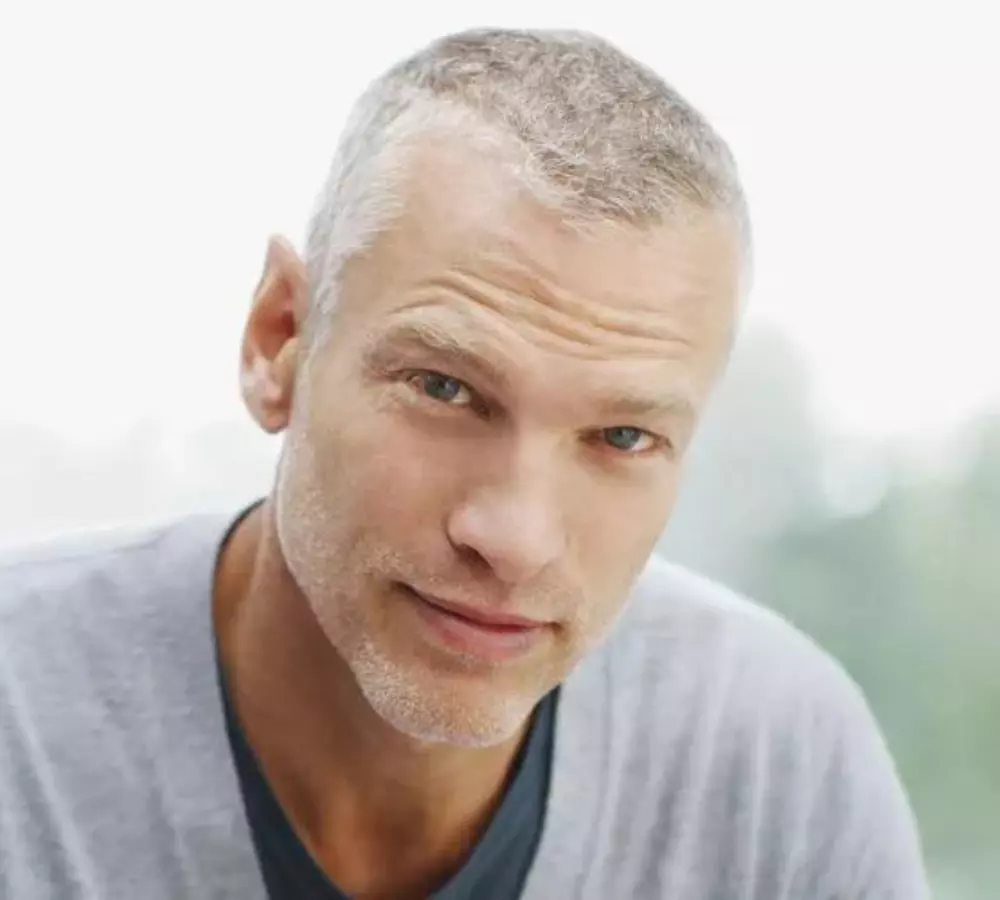 13. Buzz Cut
Go for a no-fuss approach with a classic buzz cut. This low-maintenance style is not only practical but also showcases your facial features. A cherry on the cake move would be to keep a well-trimmed beard.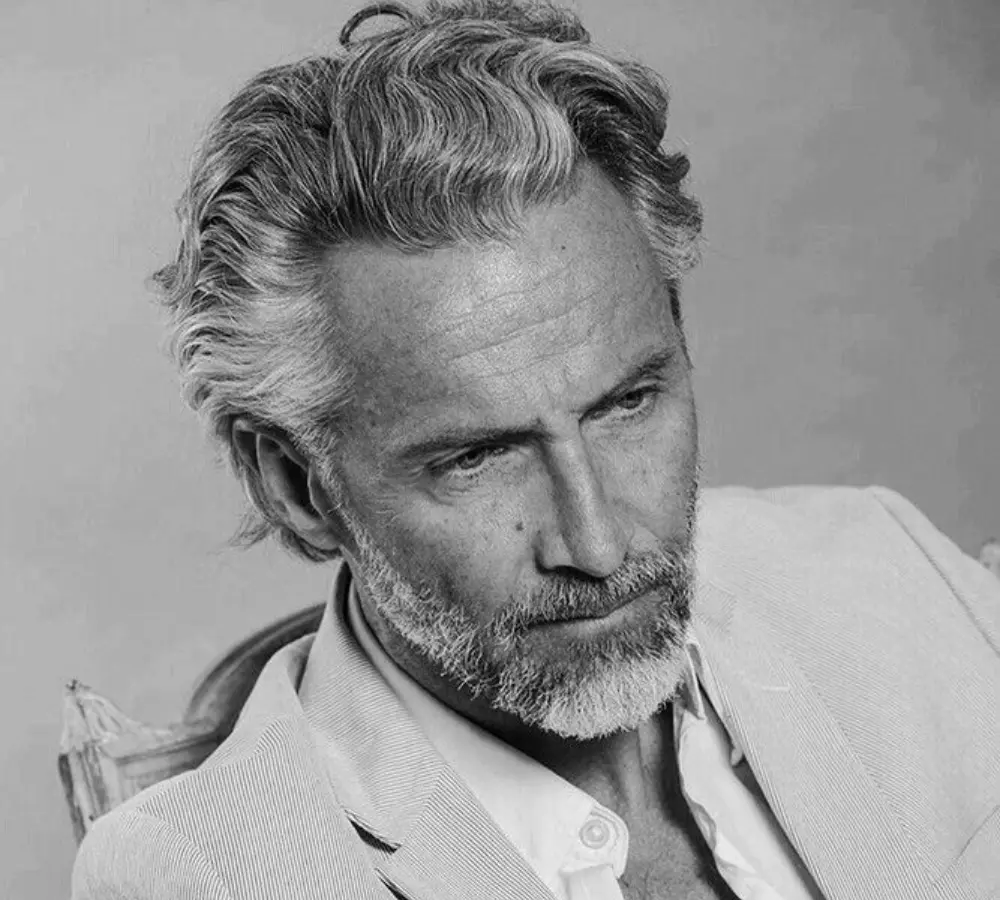 14. Wavy Comb Over
Enhance your naturey wavey look with just a stylish comb-over. This suave and sophisticated choice is perfect for formal occasions, bringing out your phenomenal persona.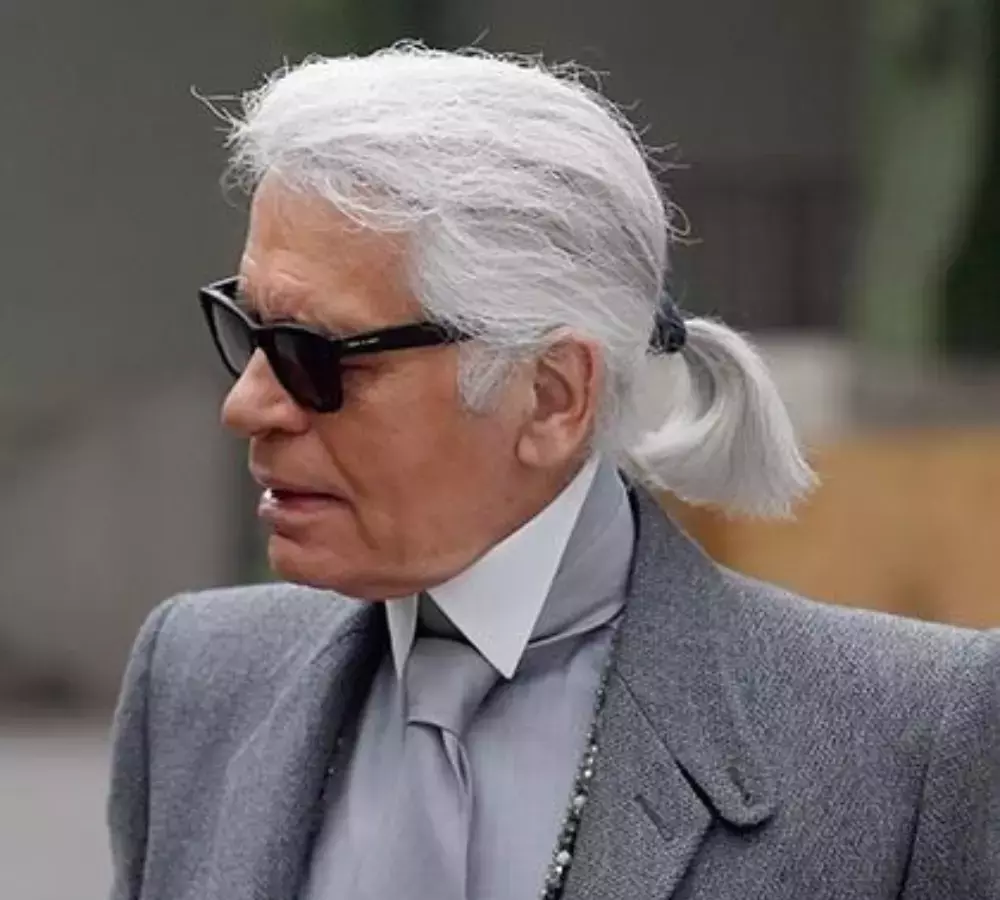 15. The Gentleman's Ponytail
If you have long enough hair, consider a gentleman's ponytail for a laid-back and casual appearance. Among the long hairstyles for guys over 50, this hairstyle gives a well-groomed, lustrous look.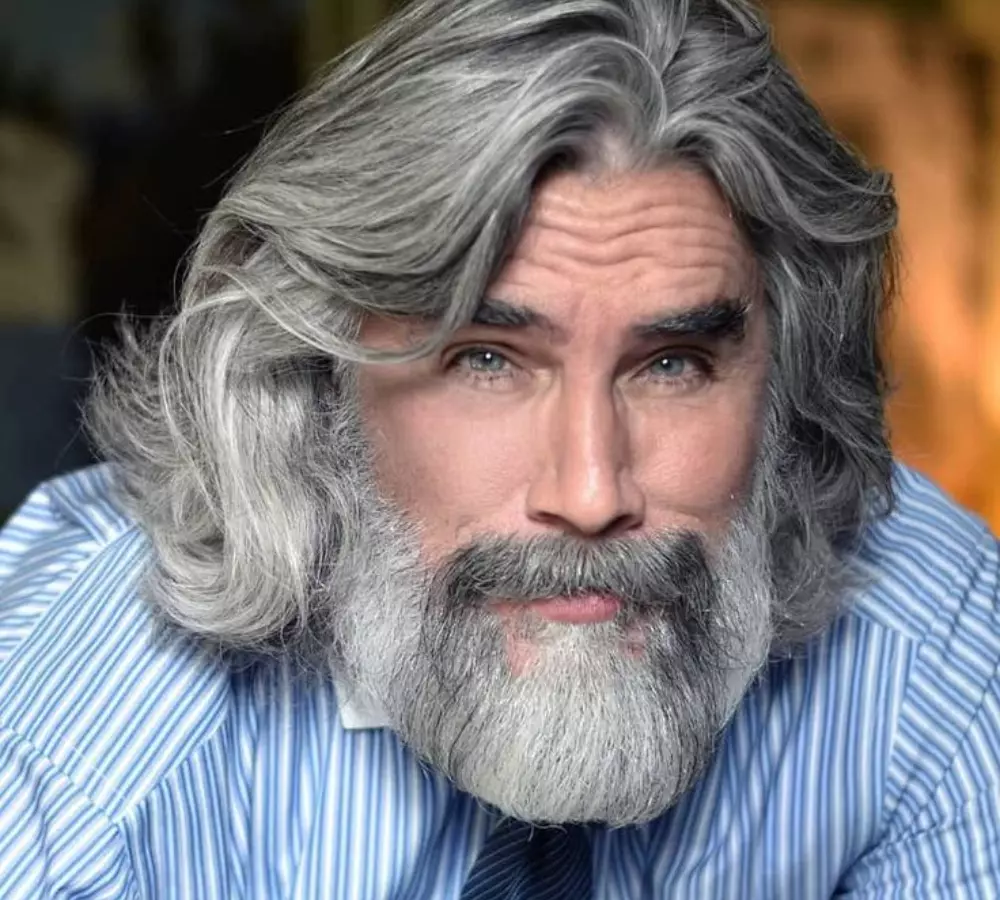 16. Vintage Waves
Capture a classic Hollywood vibe with vintage waves. A perfect hairstyle for those who want medium to long haircuts, this timeless hairstyle involves creating smooth, well-defined waves that add a touch of old-school glamour to your look.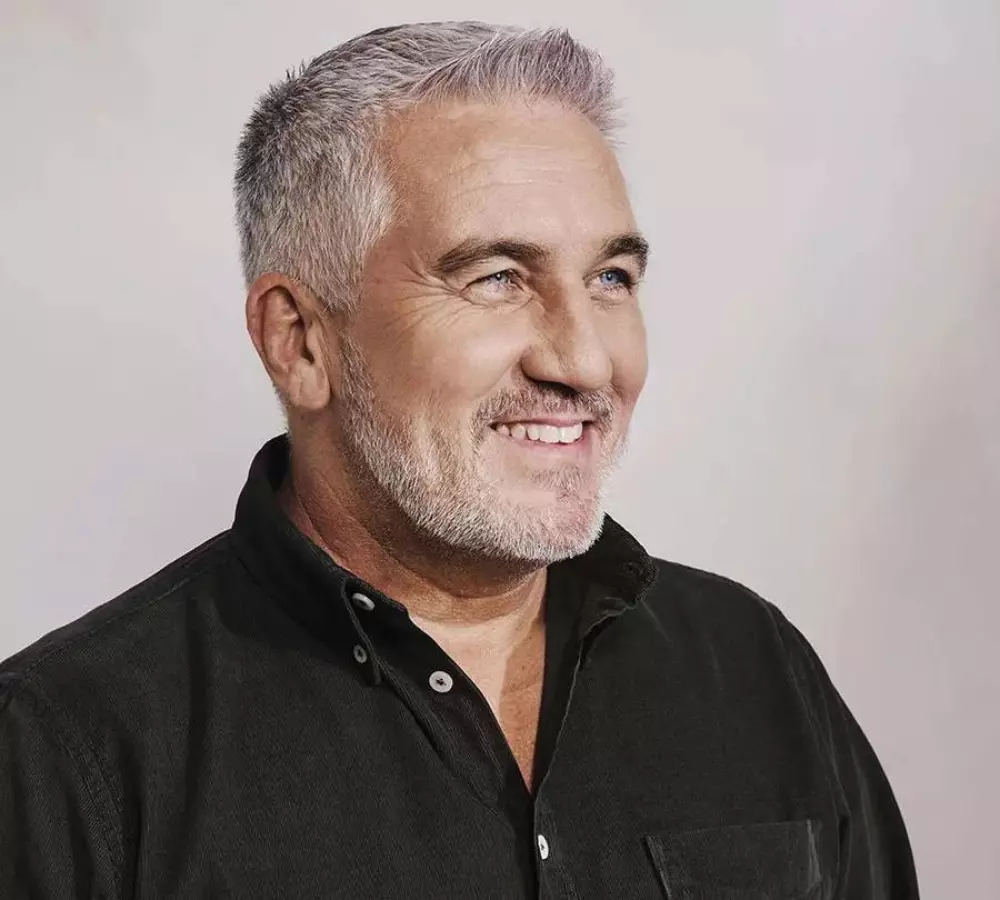 17. Classic Tapered Cut
A classic taper is a versatile choice that suits various face shapes. It involves shorter sides and back, gradually tapering to slightly longer hair on top. It provides a clean and polished appearance while offering some styling flexibility. One can also go for a mid fade haircut as it looks equally stunning.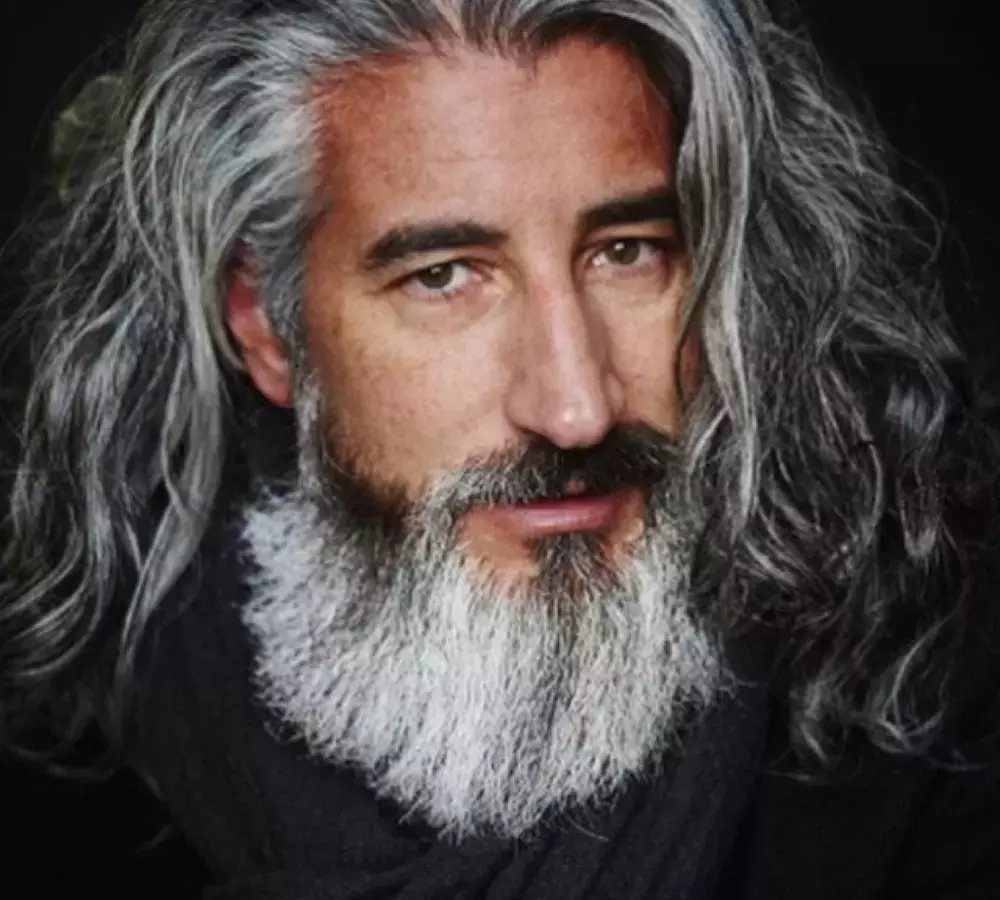 18. Shaggy Long and Layered
This laid-back look adds a touch of bohemian charm to your overall aesthetic. Shaggy, long, and layered for older men is a free-spirited hairstyle for those with longer locks. Featuring longer strands and layered cuts, it creates a relaxed and easygoing look.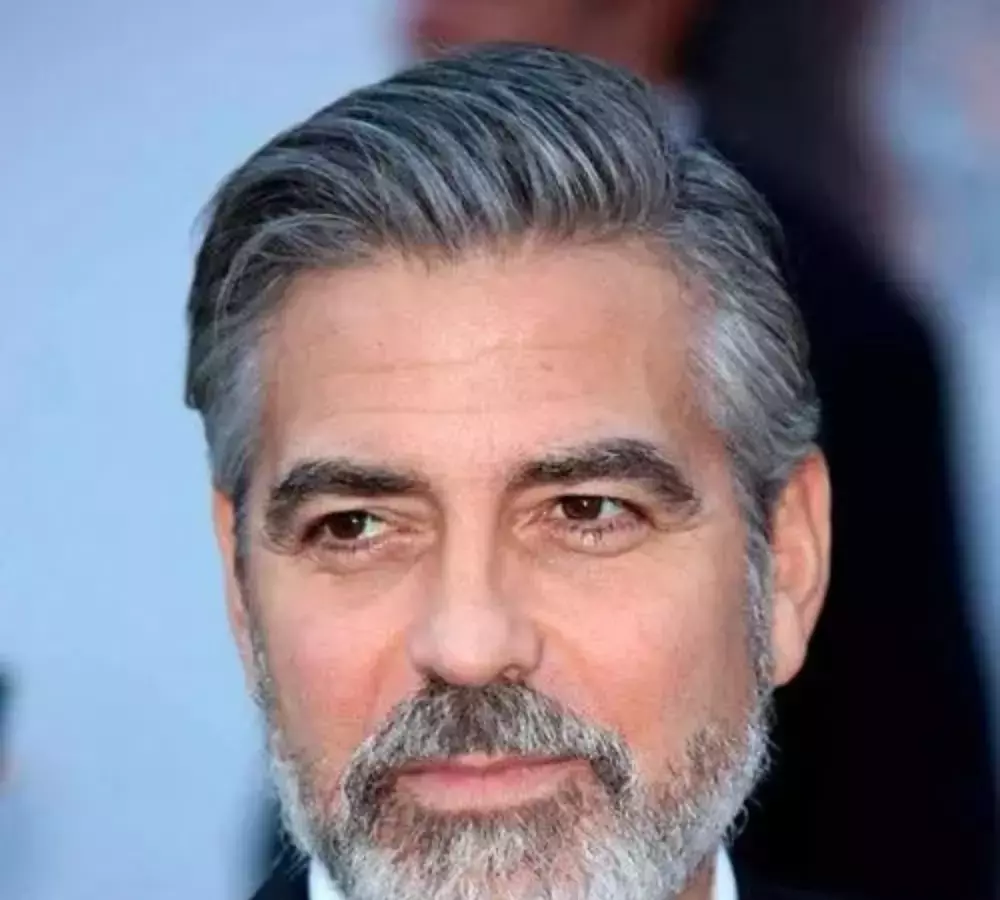 19. Classic Comb-Over 
The classic comb-over remains a sophisticated choice for men over 50. Keep it sleek and polished for a timeless appearance.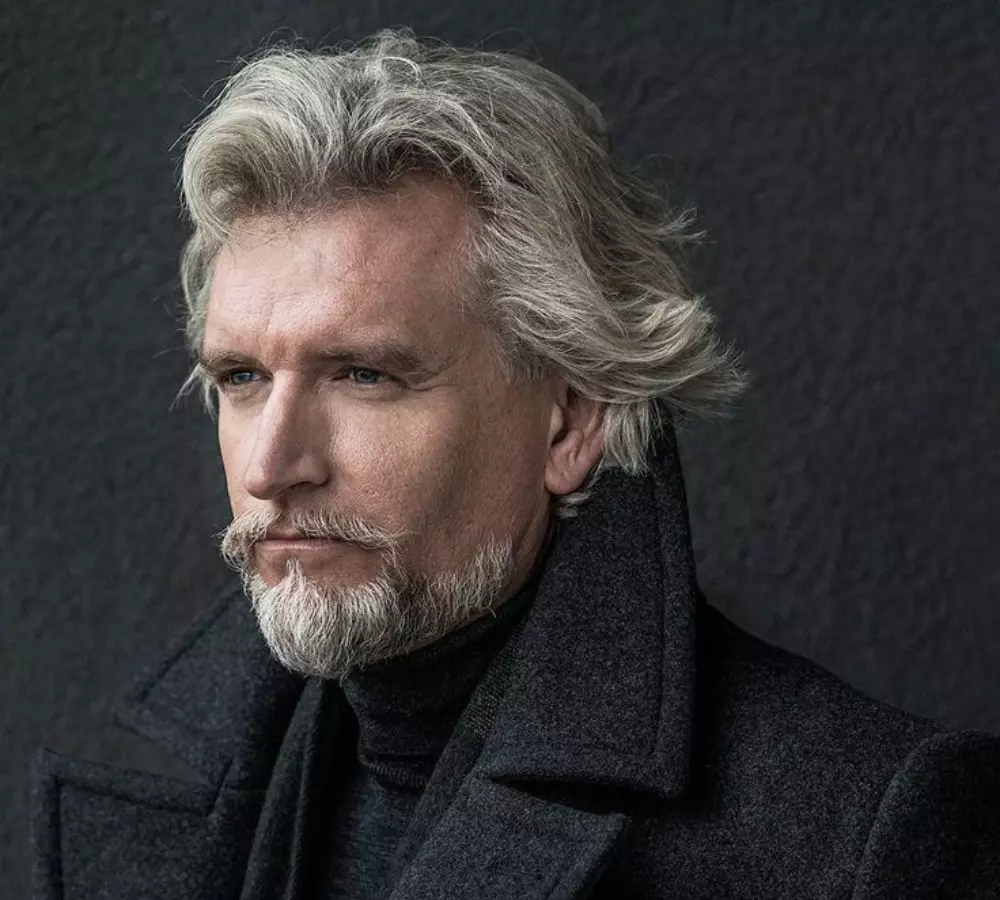 20. Textured Fringe
Add flair to your hairstyle with a textured fringe. This contemporary choice works well for those looking to experiment and keep a short-medium hair length. A classy cut, you can pull off this style with flair.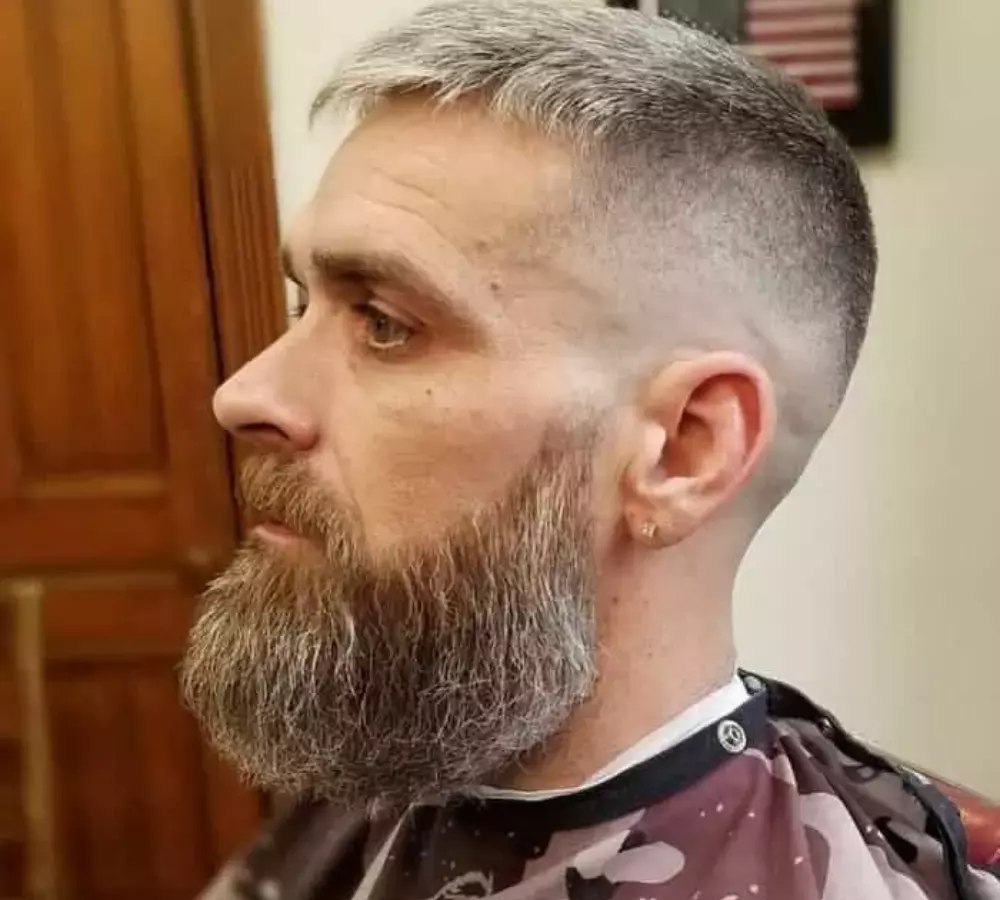 21. Razor Fade 
A razor fade is a modern and stylish option that adds a bold edge to your appearance. It features a gradual fade on the sides for a sleek finish.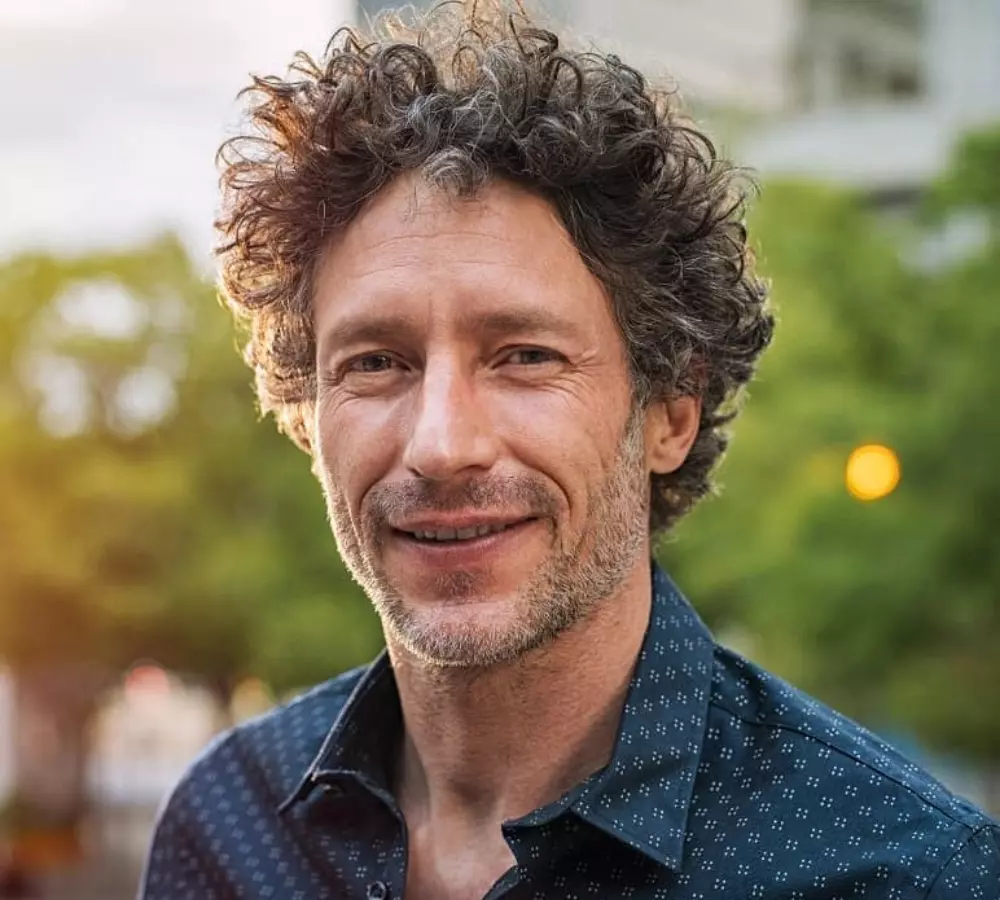 22. Messy Bedhead
Embrace a casual and relaxed vibe with a messy bedhead look. This style exudes an effortlessly cool style with an added youthful charm.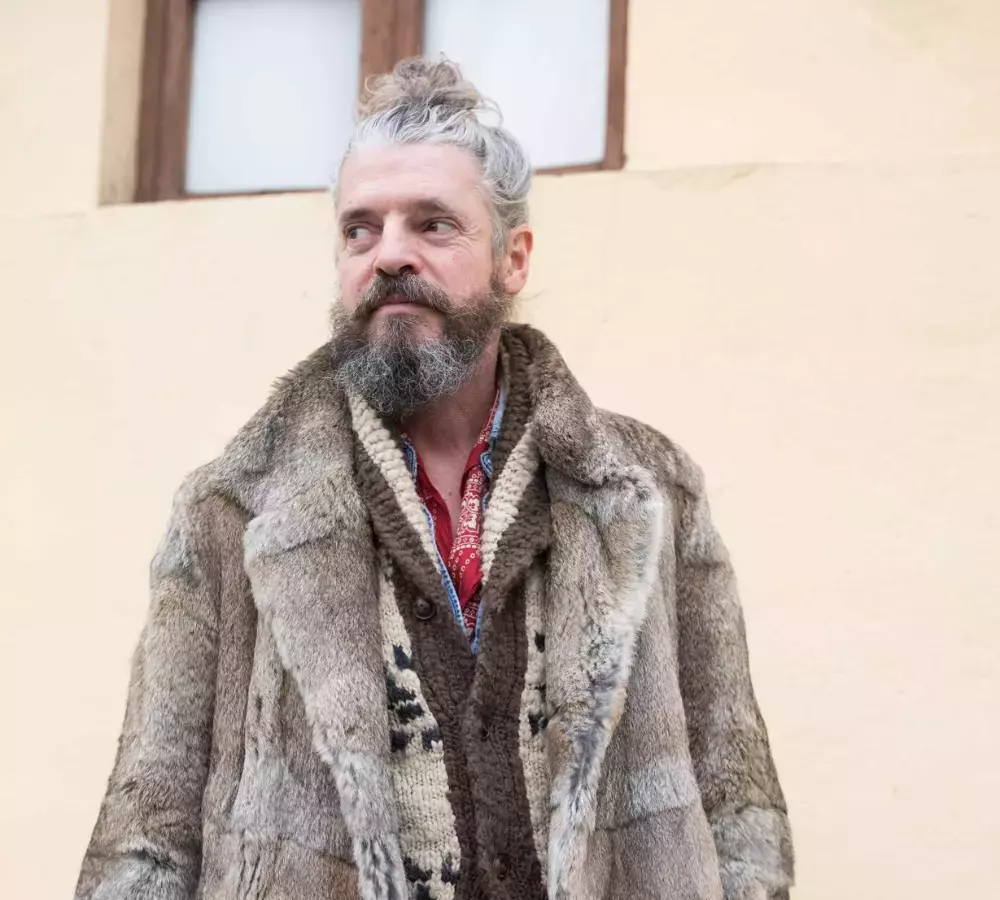 23. The Man Bun 
For longer hair, the man bun offers a stylish and practical option, giving a trendy and versatile hairstyle. It involves pulling the hair back into a bun at the back of the head. This laid-back yet stylish look adds a contemporary and relaxed vibe, making it a fashionable choice for those who want a touch of modernity.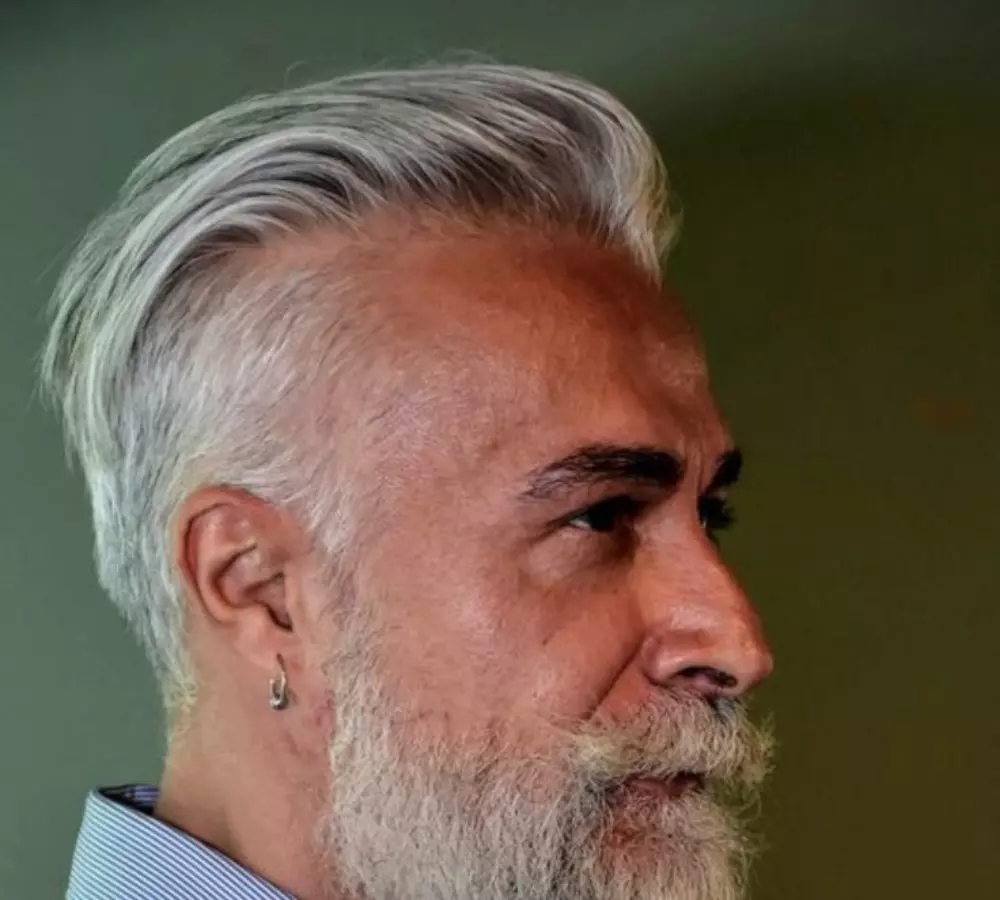 24. Classic Slicked Back 
Channel your inner gentleman with a classic slicked-back hairstyle. This timeless choice is perfect for formal occasions and exudes sophistication.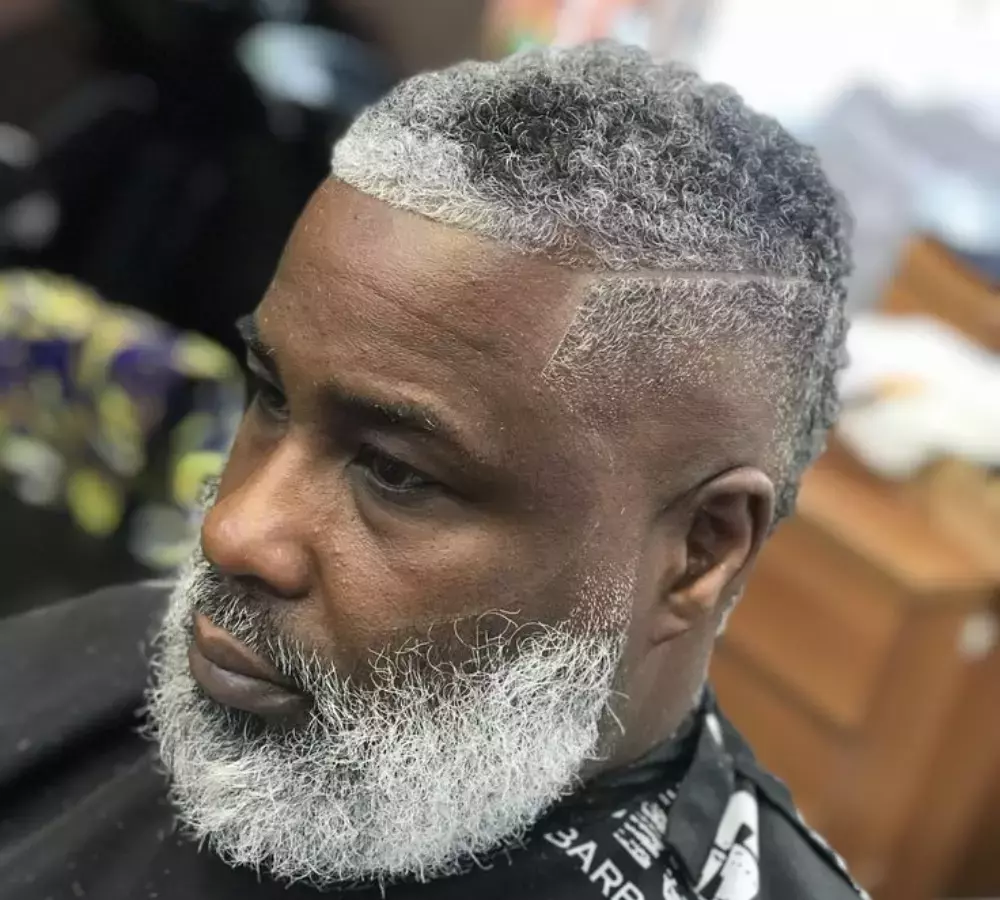 25. Tapered Afro 
Celebrate your natural curls with a tapered afro. This style adds volume and texture, creating a bold and confident look.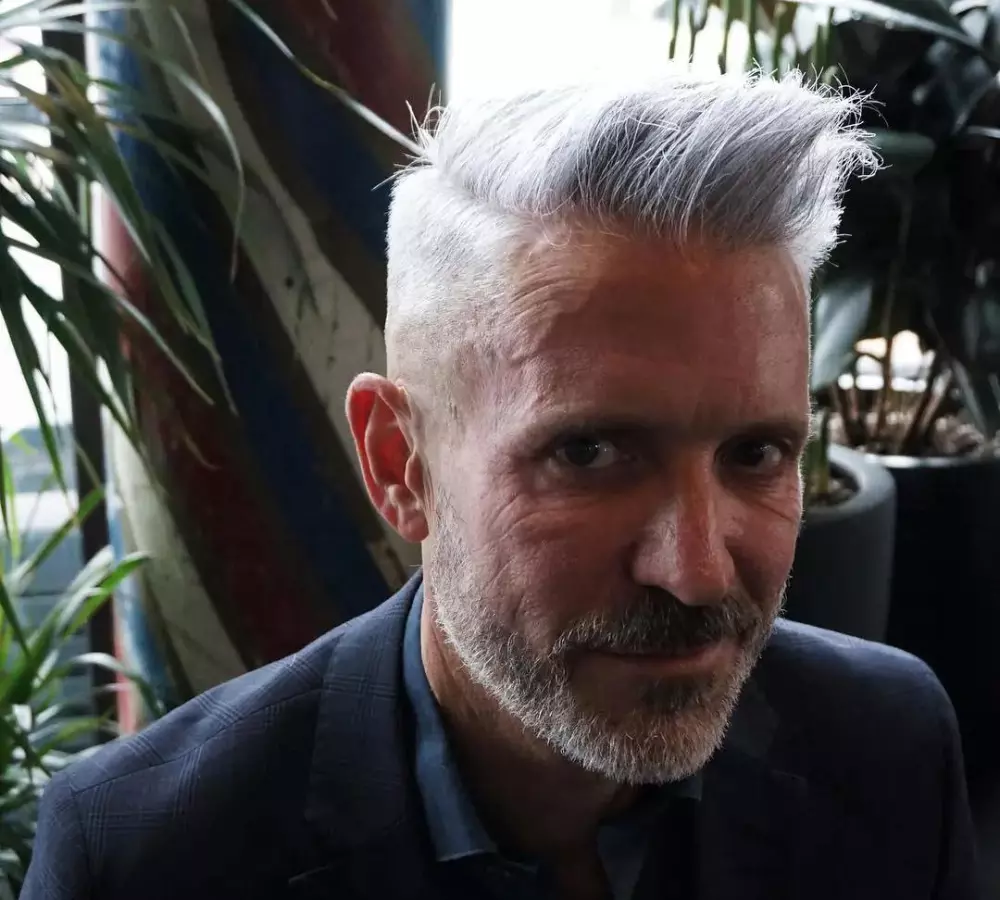 26. Side Parted Quiff
Combine a side part's elegance with a quiff's modern twist. This stylish choice adds flair and personality to your overall appearance.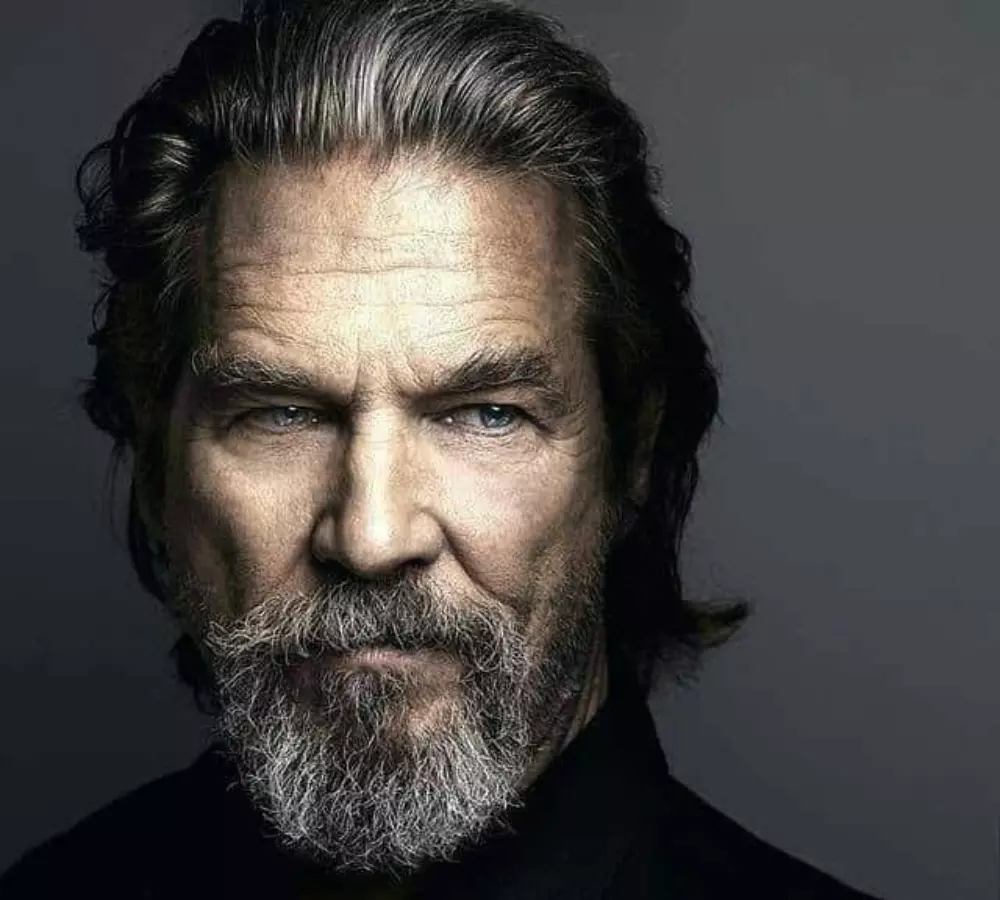 27. Curly Comb Over 
The Curly Comb Over for older men is stylish and textured. It involves keeping the sides short while allowing the top to showcase natural curls. Styled with a comb-over technique, it combines sophistication with a touch of effortless charm, creating a distinguished and modern look.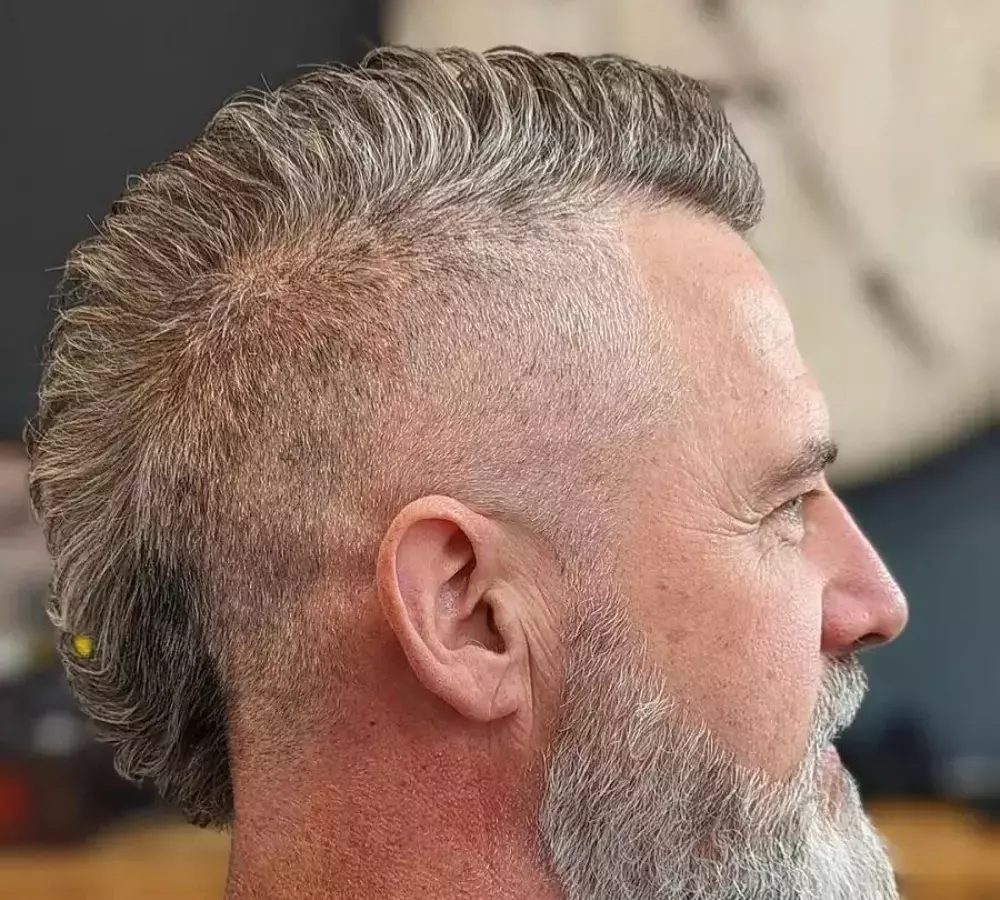 28. Modern Mohawk
Update the traditional mohawk with a modern twist with shorter sides and a unique strip of longer hair down the centre. This contemporary style adds an edgy and bold element to your overall look.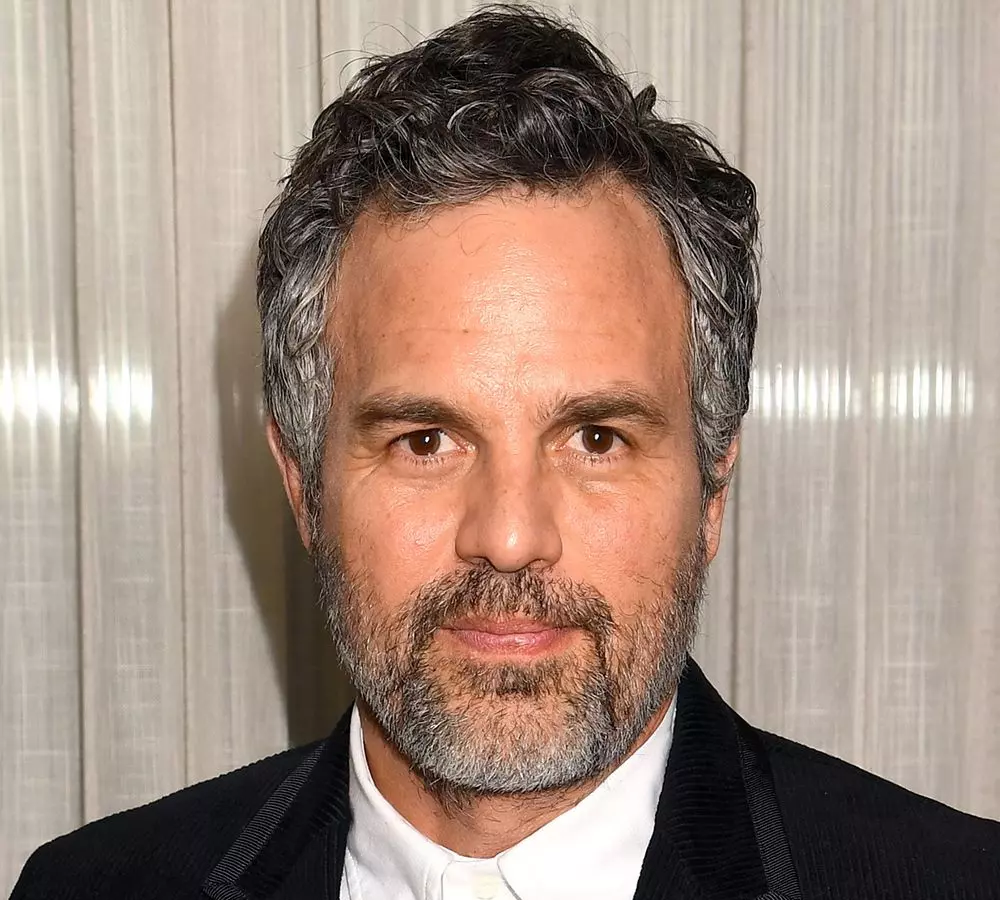 29. Short and Curly
Short and curly for older men is a relaxed and easygoing hairstyle. With shorter sides and a naturally curly top, it offers a casual, low-maintenance look that adds a touch of charm and character.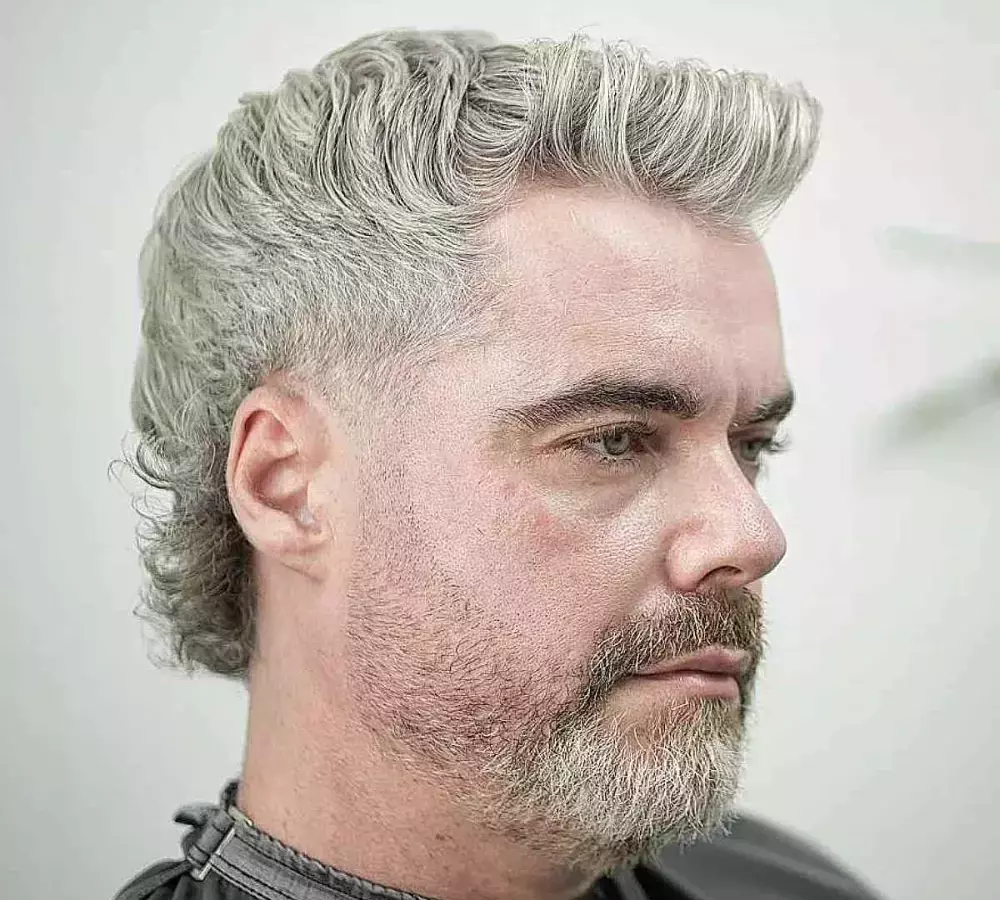 30. Wavy Mohawk
If you have wavy hair, consider a wavy mohawk for a unique and eye-catching look. This style adds a rebellious charm, featuring wavy hair styled into a Mohawk shape, with the sides cut short and the centre hair left longer. This edgy look adds a youthful and adventurous vibe, making a statement with style and confidence.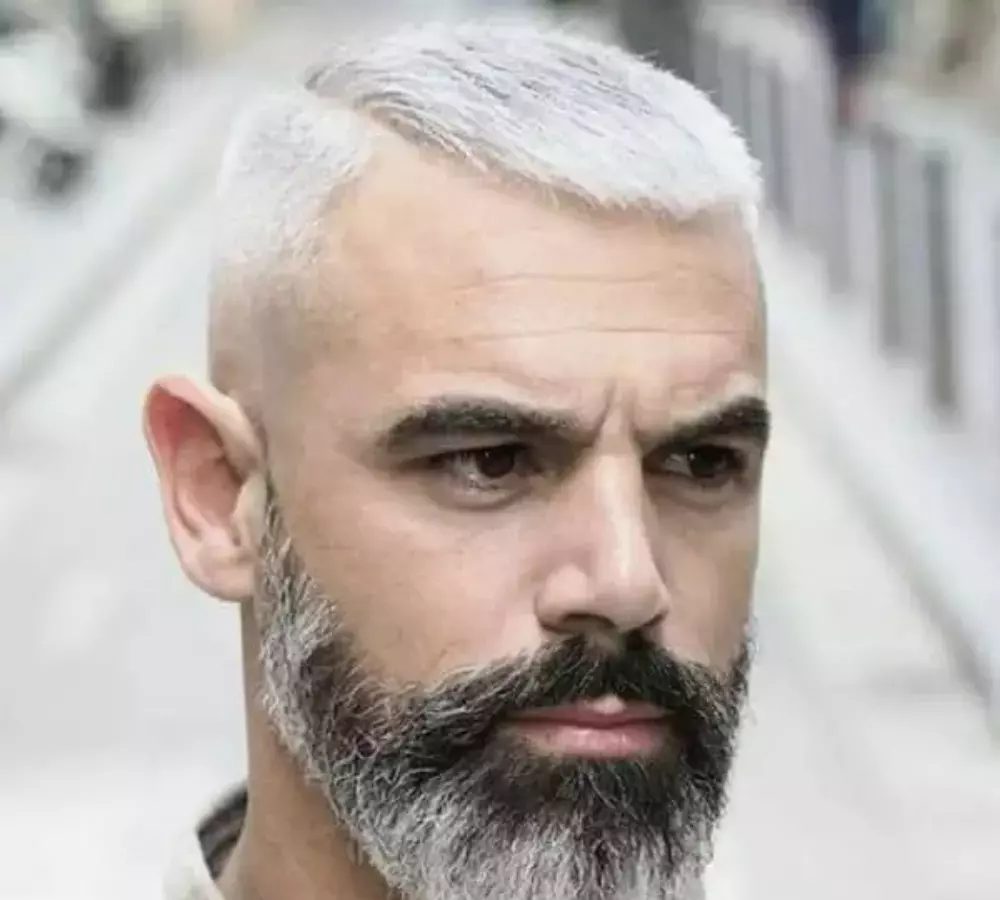 31. Classic French Crop
The classic French crop is a versatile choice that suits various hair types. It provides an immaculate and pragmatic appearance with minimal styling effort.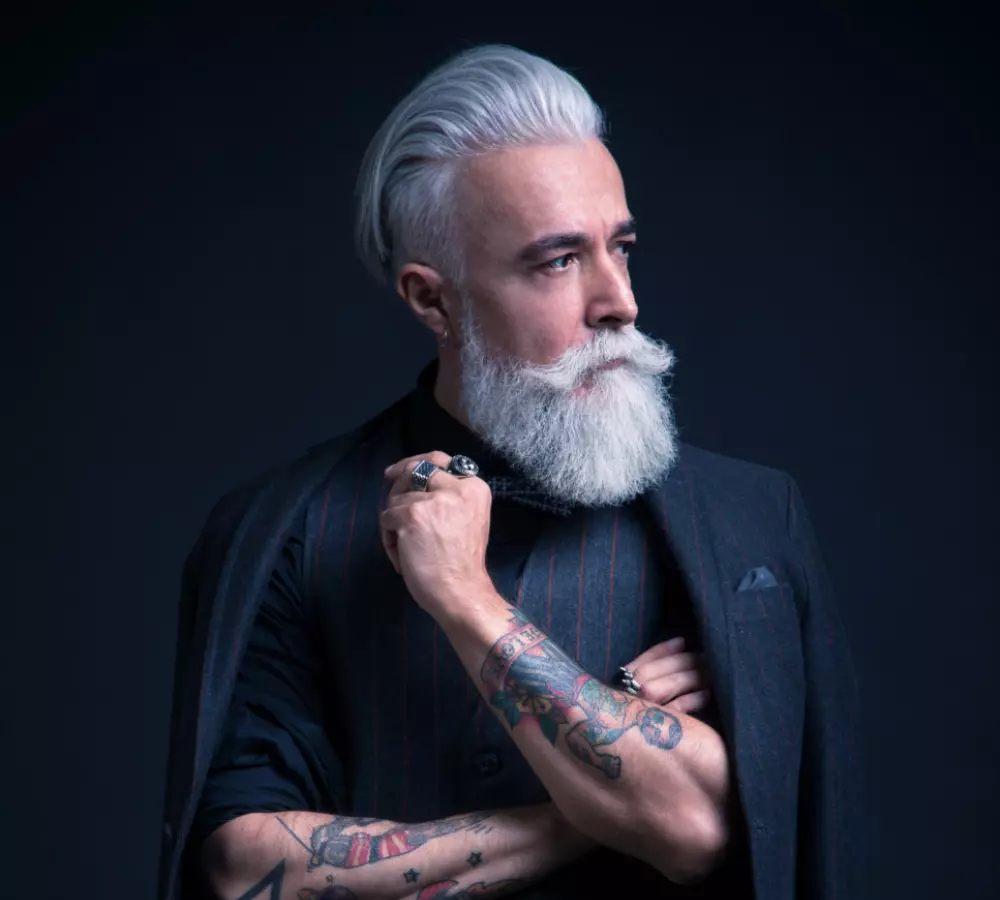 32. Slicked Back Undercut
Combine the sophistication of a slicked-back style with the boldness of an undercut. This edgy choice is perfect for those who want a modern and stylish look.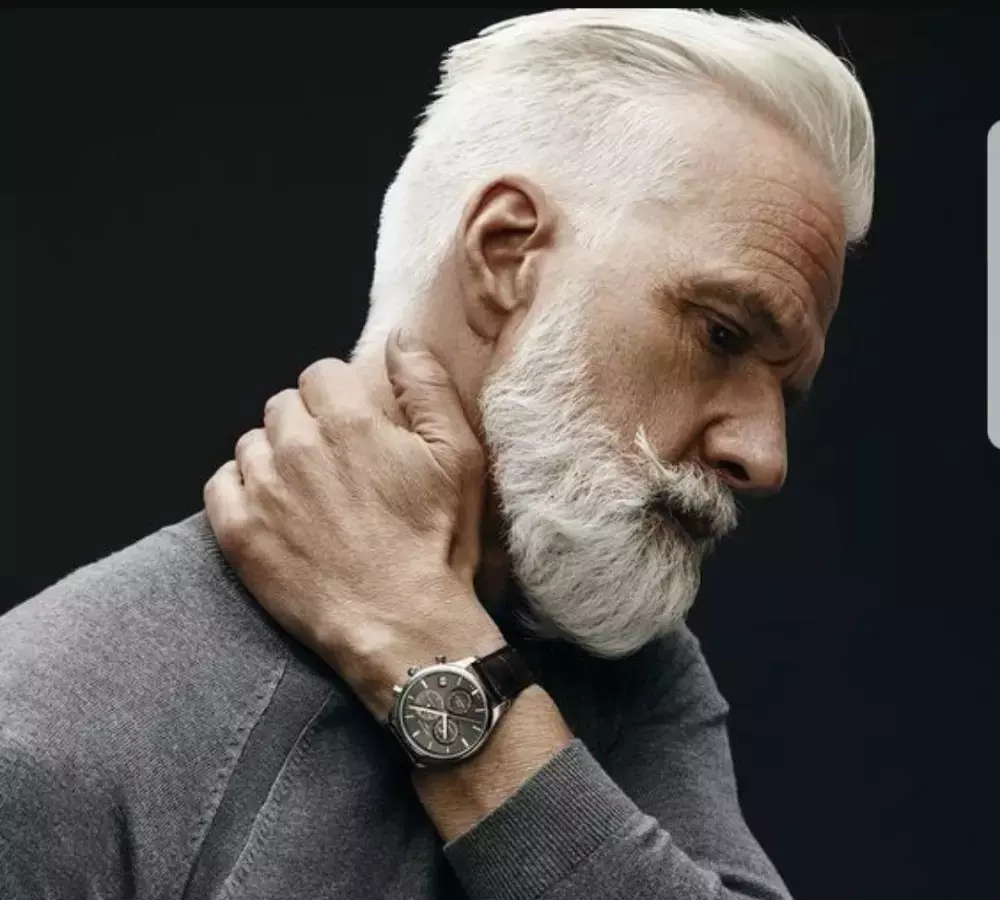 33. Sleek Undercut
For a smart look, choose a sleek undercut. Suitable for hairstyles for guys over 50 with thin hair, this bold style features shorter sides and a longer top for a modern and edgy finish.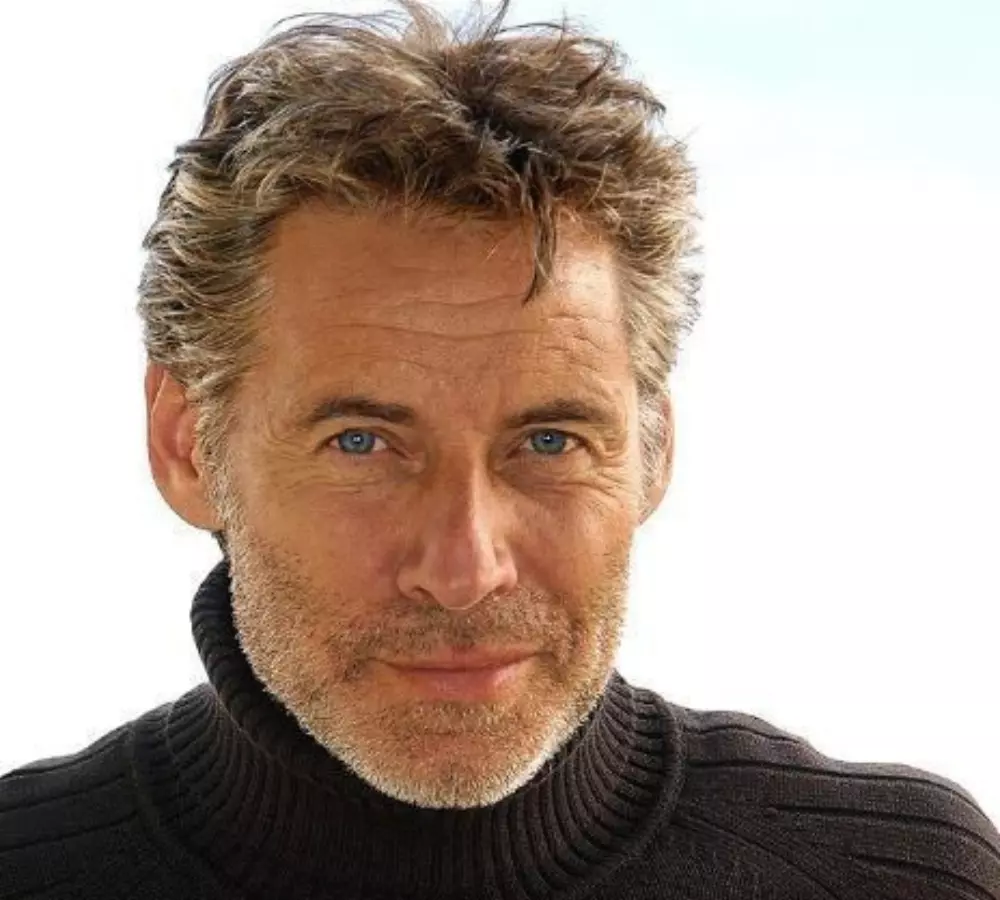 34. Short and Textured
Keep it simple yet stylish with a short and textured cut. This easy-to-maintain style adds a touch of modernity to your overall appearance.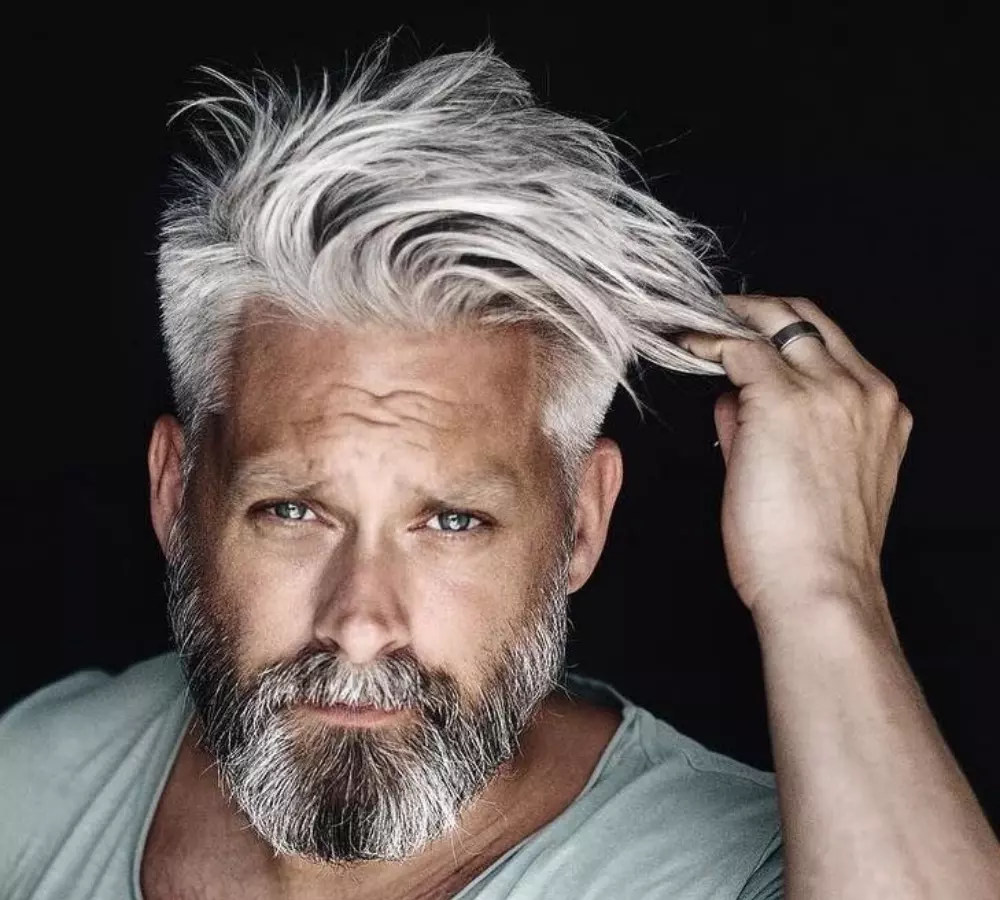 35. Messy Side Part
Embrace a casual and relaxed vibe with a messy side part. This effortlessly cool style is perfect for those who prefer a laid-back appearance.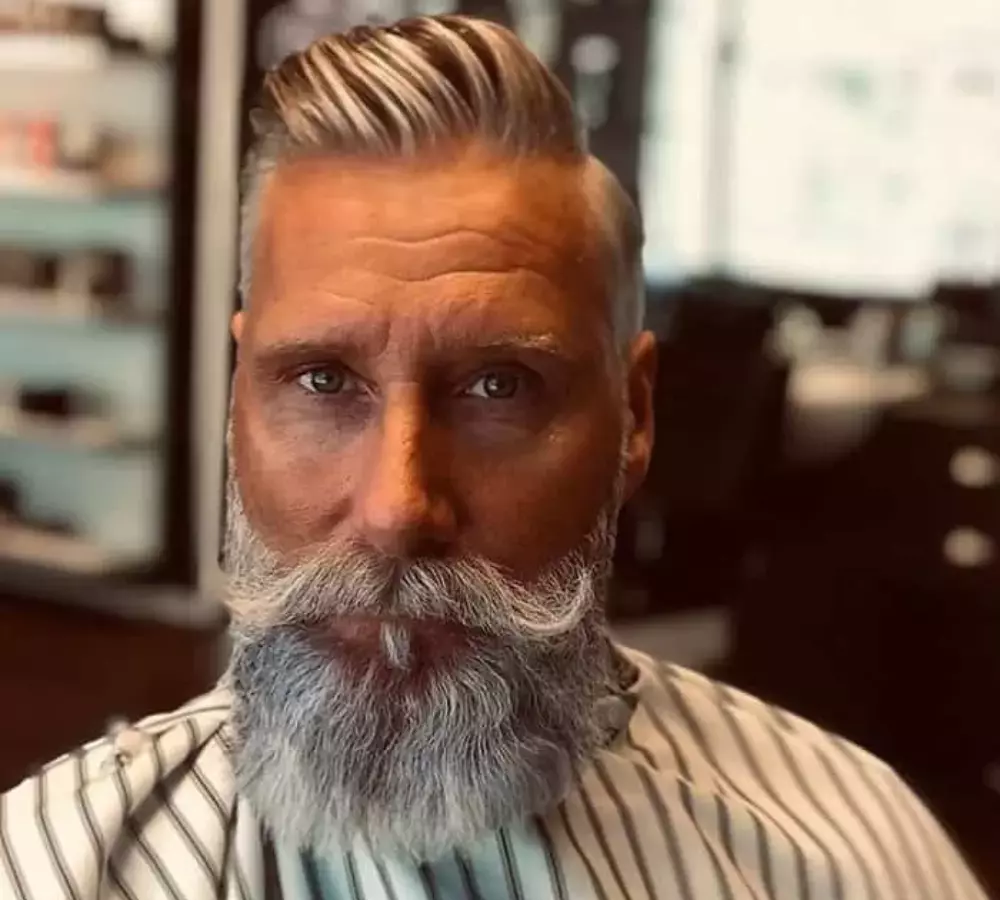 36. Slicked Back with Beard
Combine a slicked-back hairstyle with a well-groomed beard for a harmonious and polished look. This combination exudes confidence and sophistication.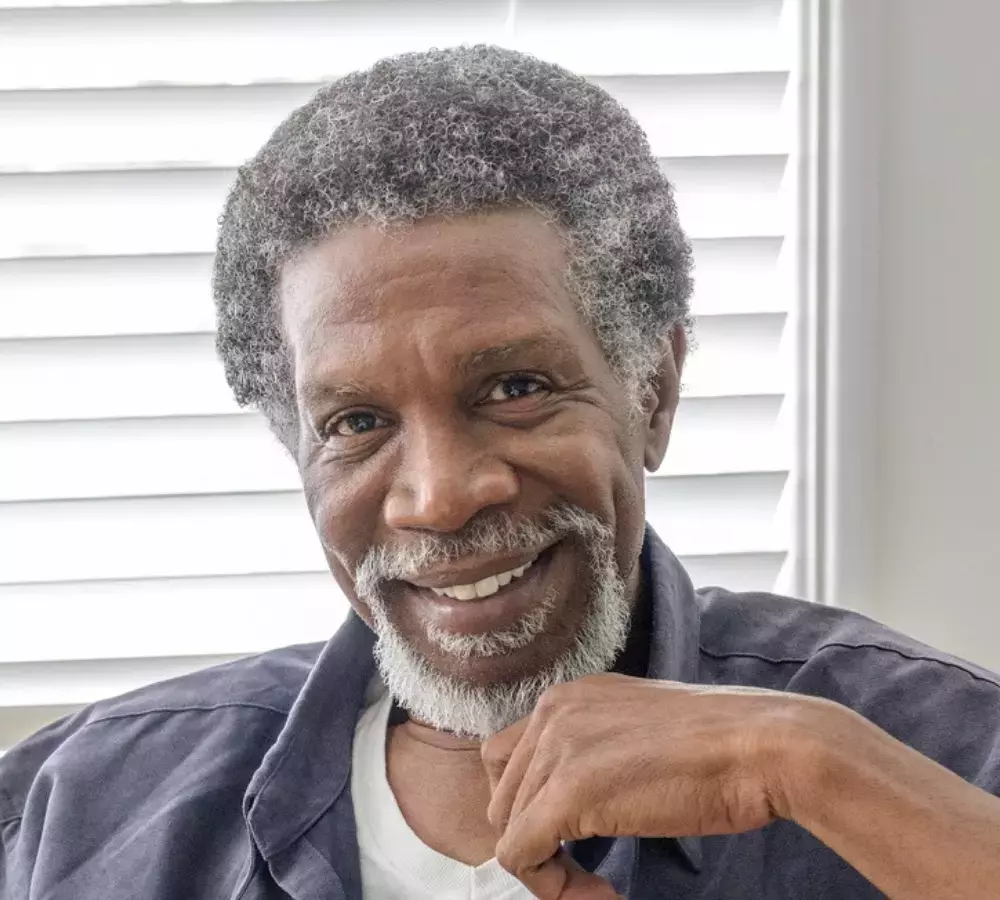 37. Classic Afro
Celebrate your natural texture with a classic afro. This bold and confident style adds volume and flair to your overall appearance.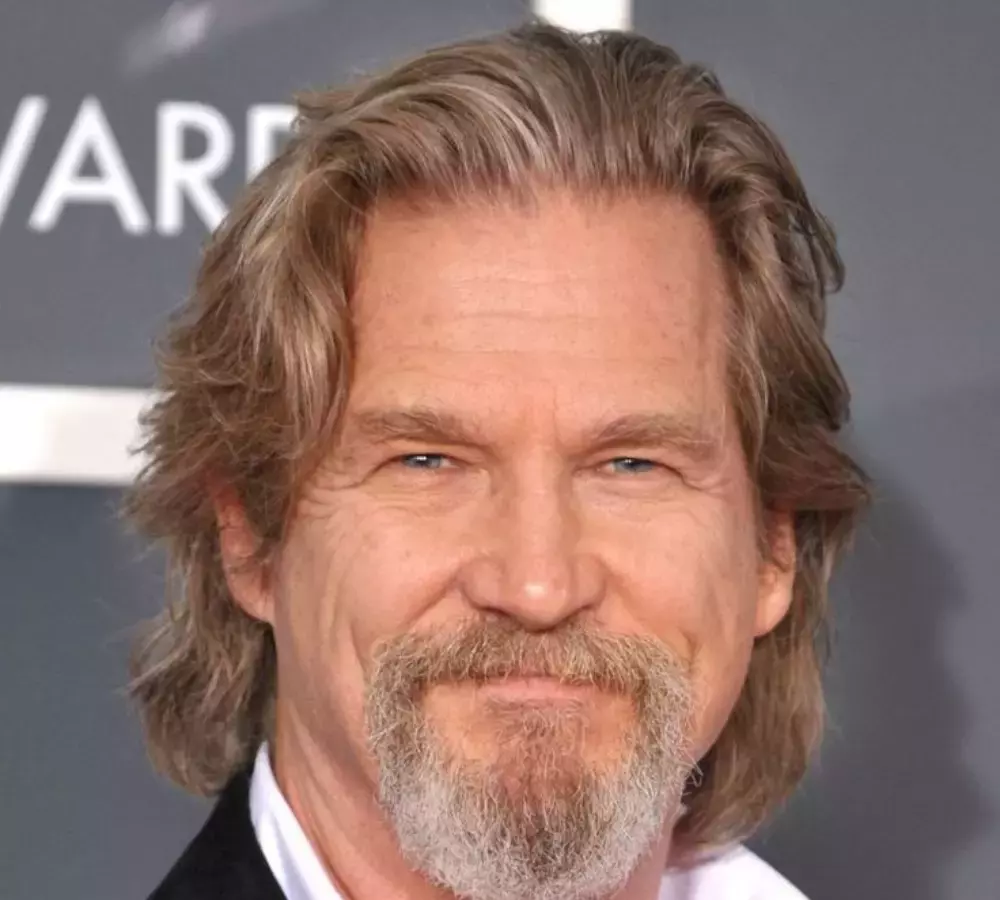 38. Classic Tousled
Embrace a carefree and laid-back vibe with a classic tousled hairstyle. This easygoing choice is perfect for those who prefer a relaxed appearance.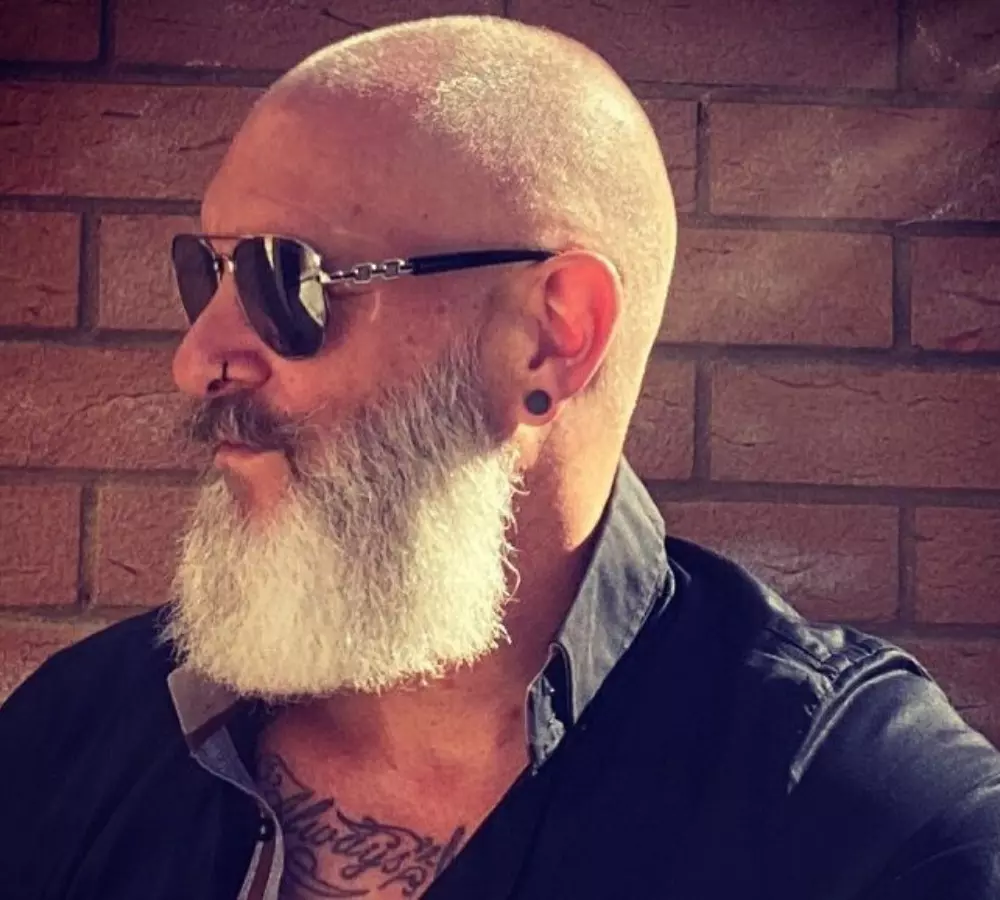 39. Bald with Stubble
If you've embraced the bald look, maintain a stubble for a rugged and masculine appearance. This combination exudes confidence and adds a touch of edge.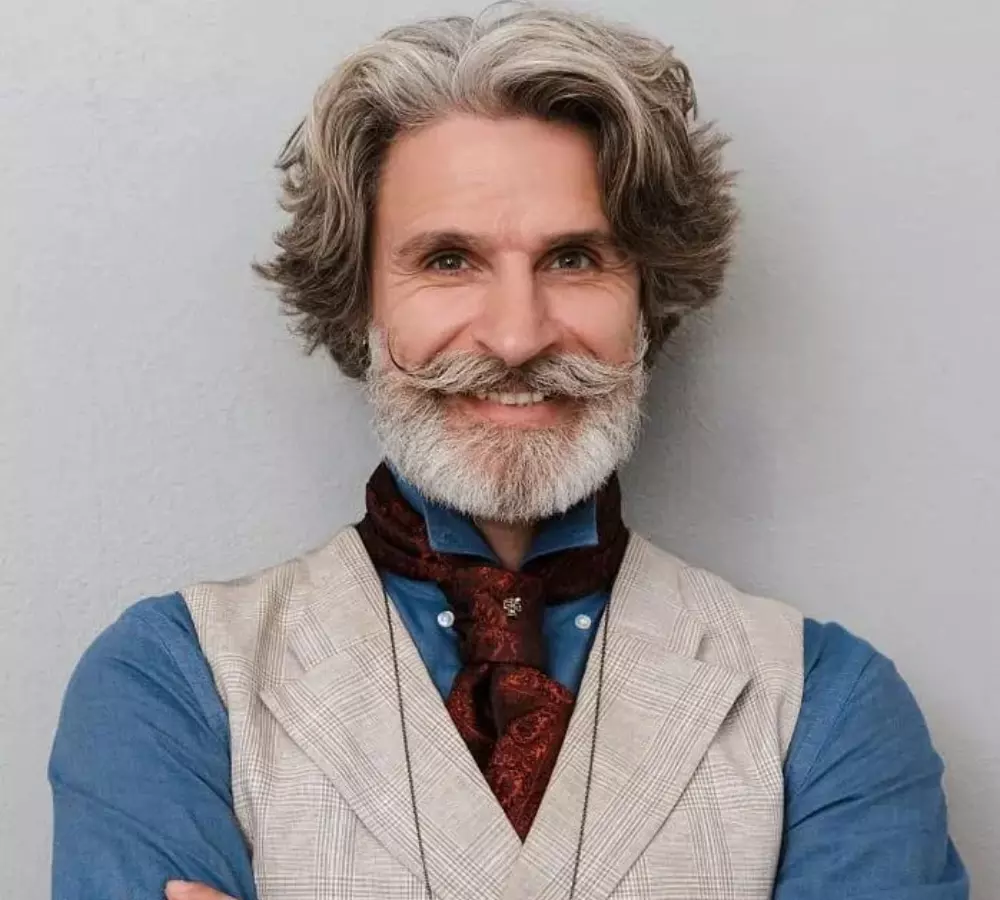 40. Side Parted Waves
Combine the elegance of a side part with the natural charm of waves. This sophisticated choice is perfect for those who want a polished yet relaxed appearance.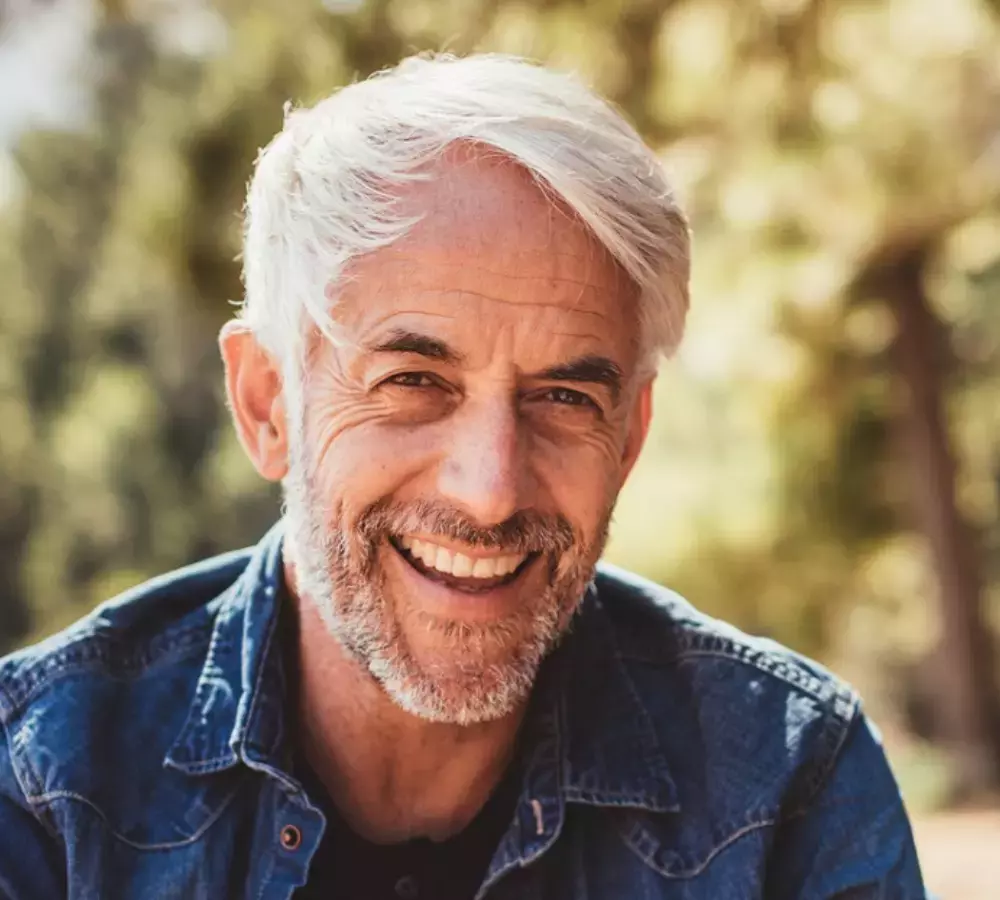 41. Angular Fringe
Add a contemporary twist to your hairstyle with an angular fringe. This bold and stylish choice features a unique angle for a modern and eye-catching finish.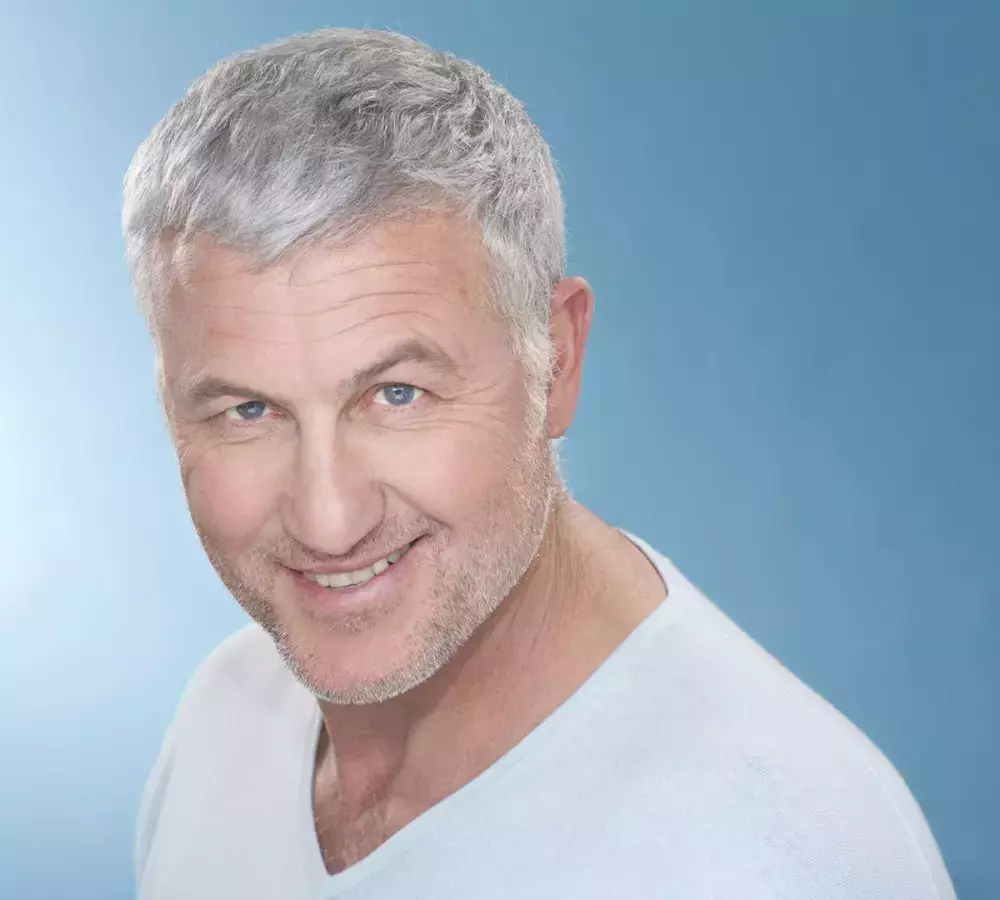 42. Short Caesar Cut
Opt for a short Caesar cut for a no-fuss and practical choice. This classic style is a timeless and low-maintenance hairstyle. It involves a short length all around, with a horizontally straight cut fringe, making it a practical and stylish choice for various occasions.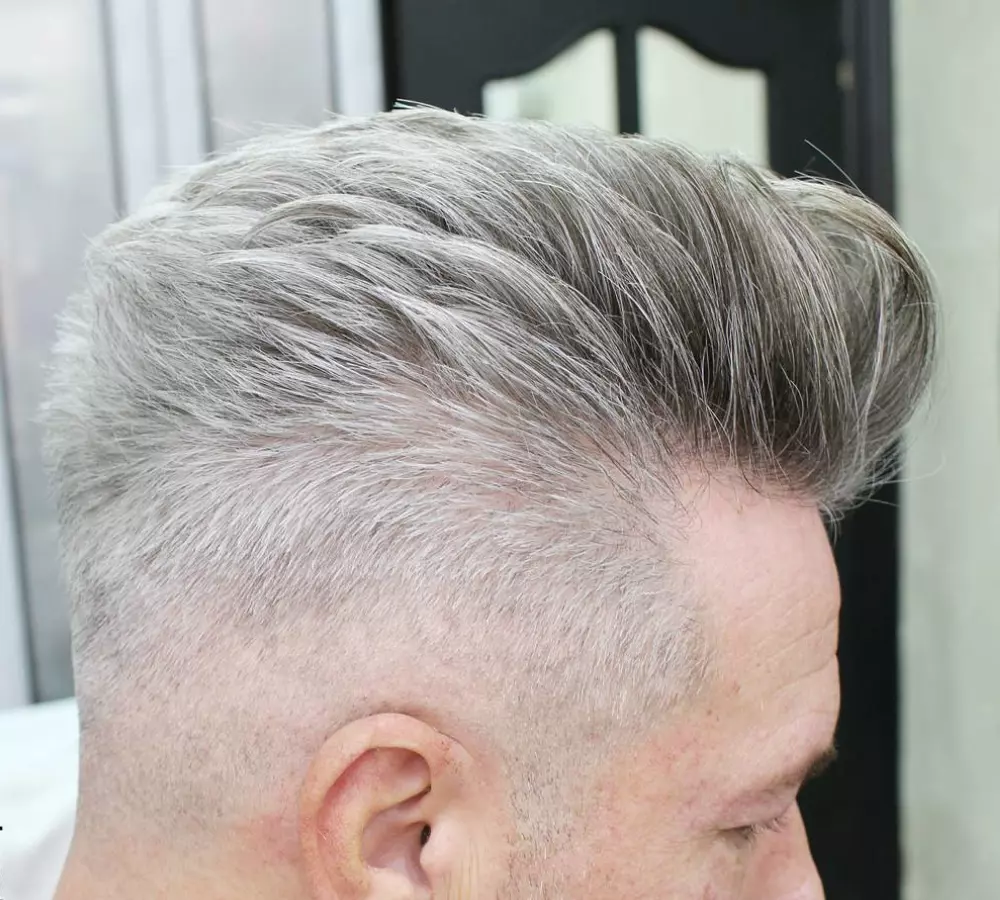 43. Faded Pompadour
Combine the boldness of a fade with the classic pompadour for a modern and stylish appearance. This contemporary choice adds flair and personality to your overall look.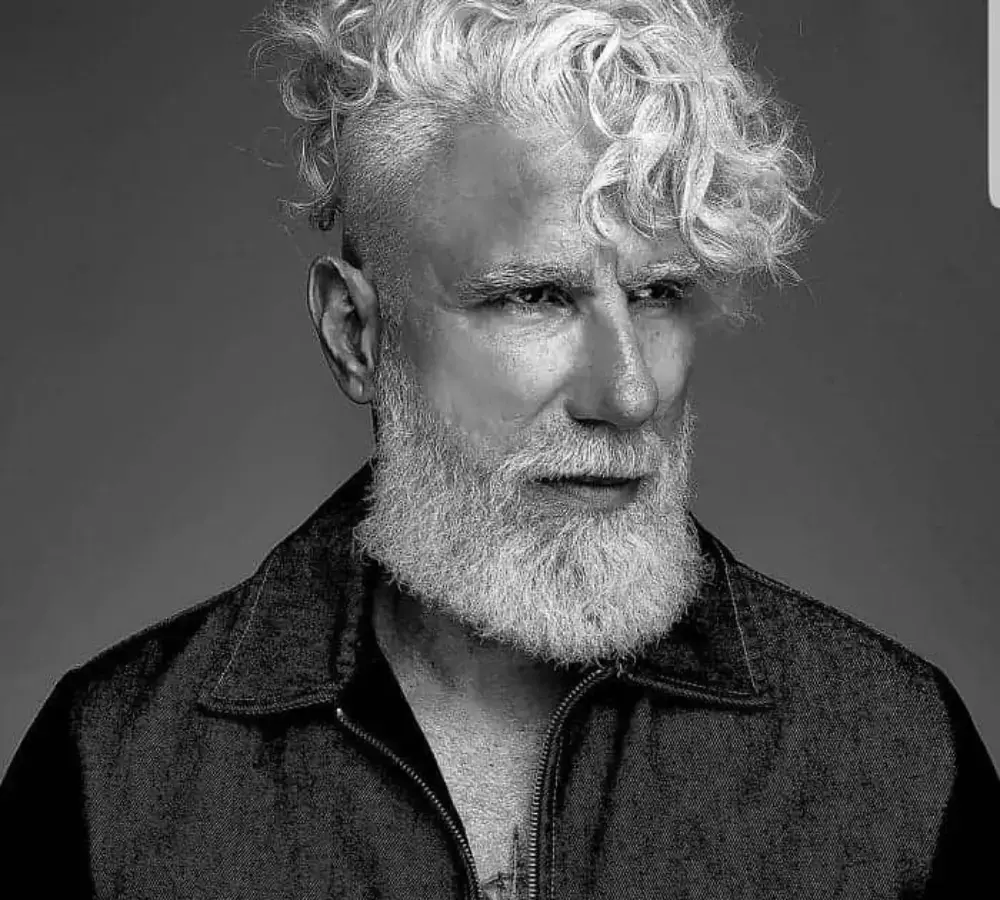 44. Wavy Undercut
Celebrate your natural waves with an undercut. This bold and stylish choice adds an edgy element to your all-around personality.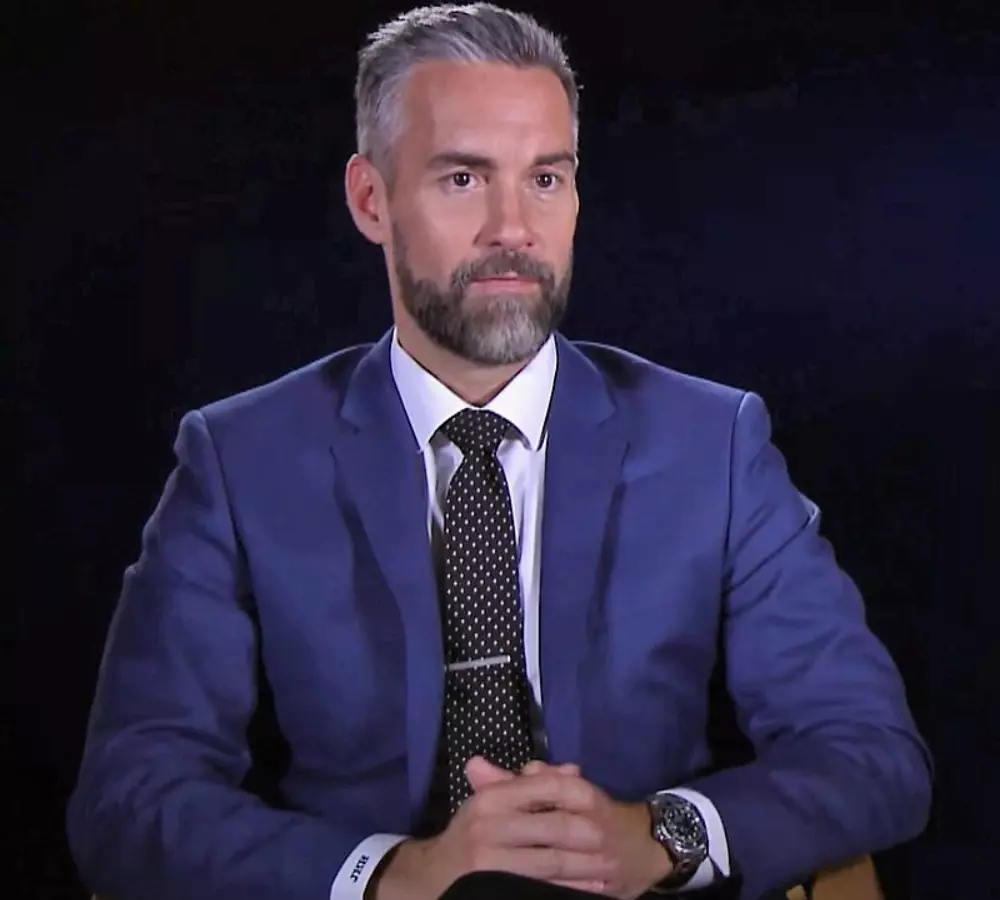 45. Short and Slicked
Keep it sleek and polished with a short and slicked-back hairstyle. This refined choice is perfect for those who want a classic and sophisticated look.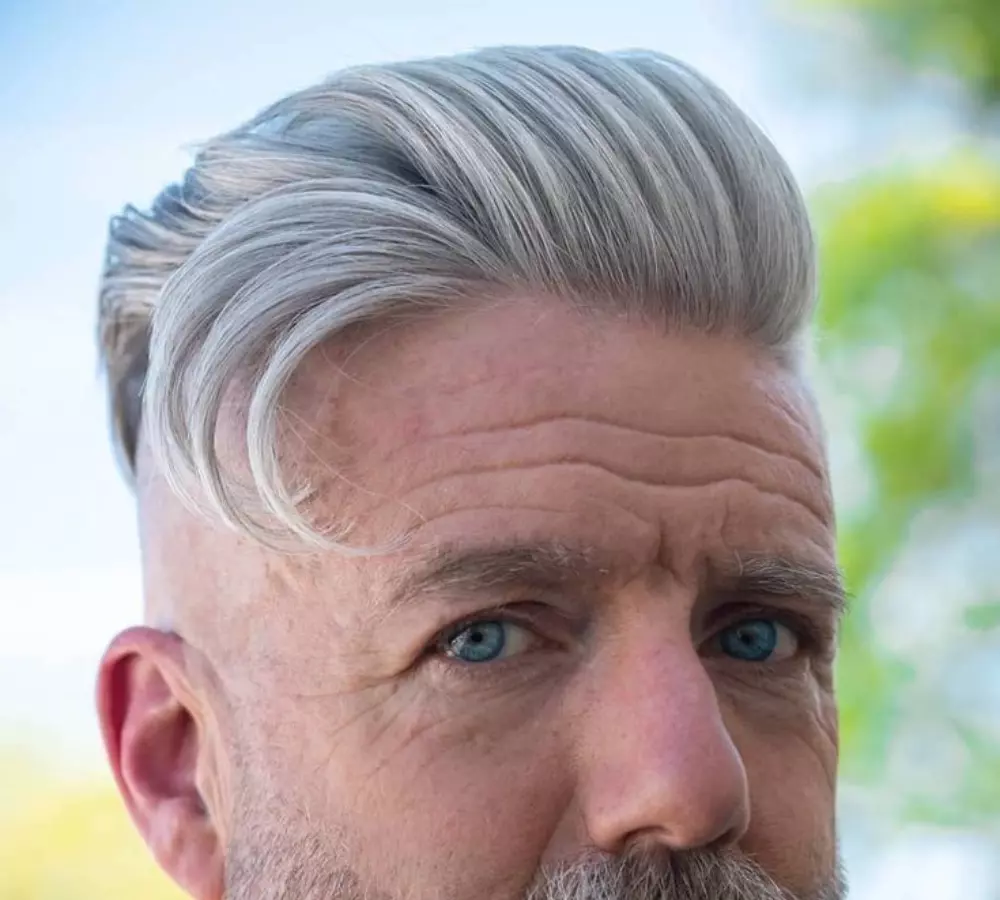 46. The Silver Fox Comb Over
Embrace your silver locks with a stylish comb-over. This sophisticated choice showcases your distinguished charm and complements your naturally grey hair.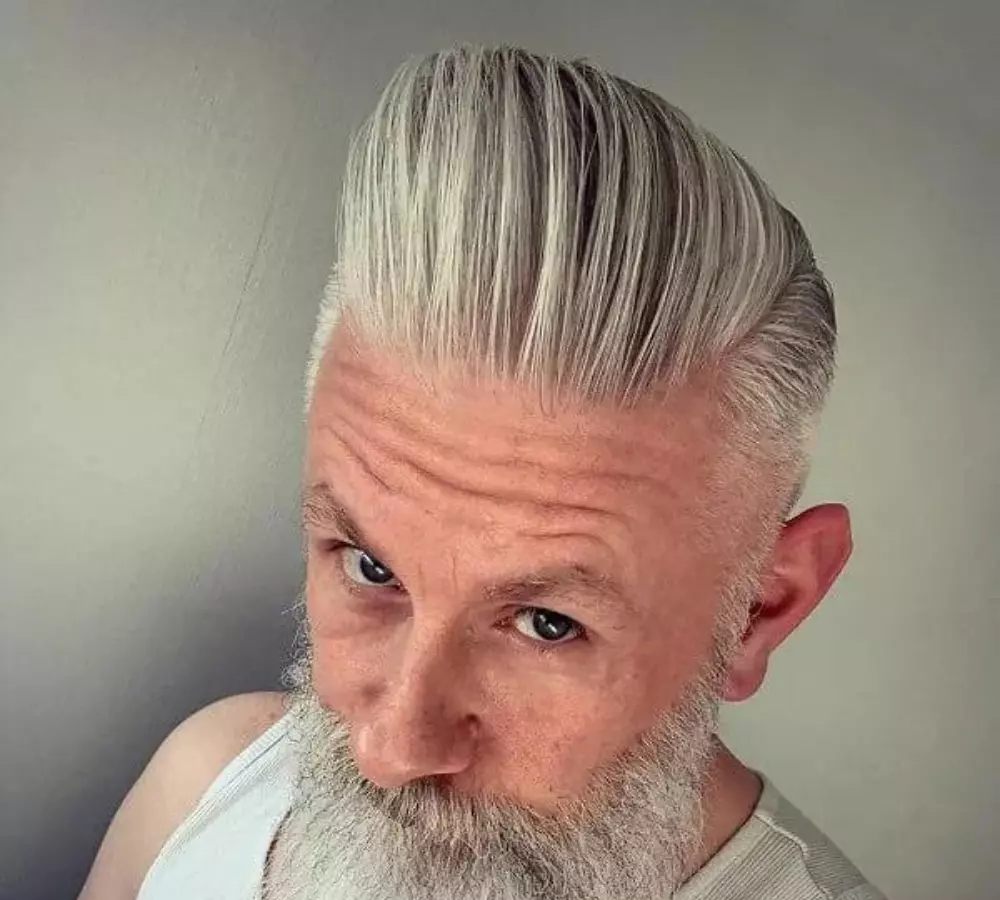 47. Sleek, High and Tight
Keep it savvy with a high and tight haircut for a sharp and clean look. Sleek, high and tight for older men gives a clean and sophisticated look with short sides and a neatly styled top. This modern variation of the high and tight cut adds a touch of refinement, making it suitable for a competent and confident appearance.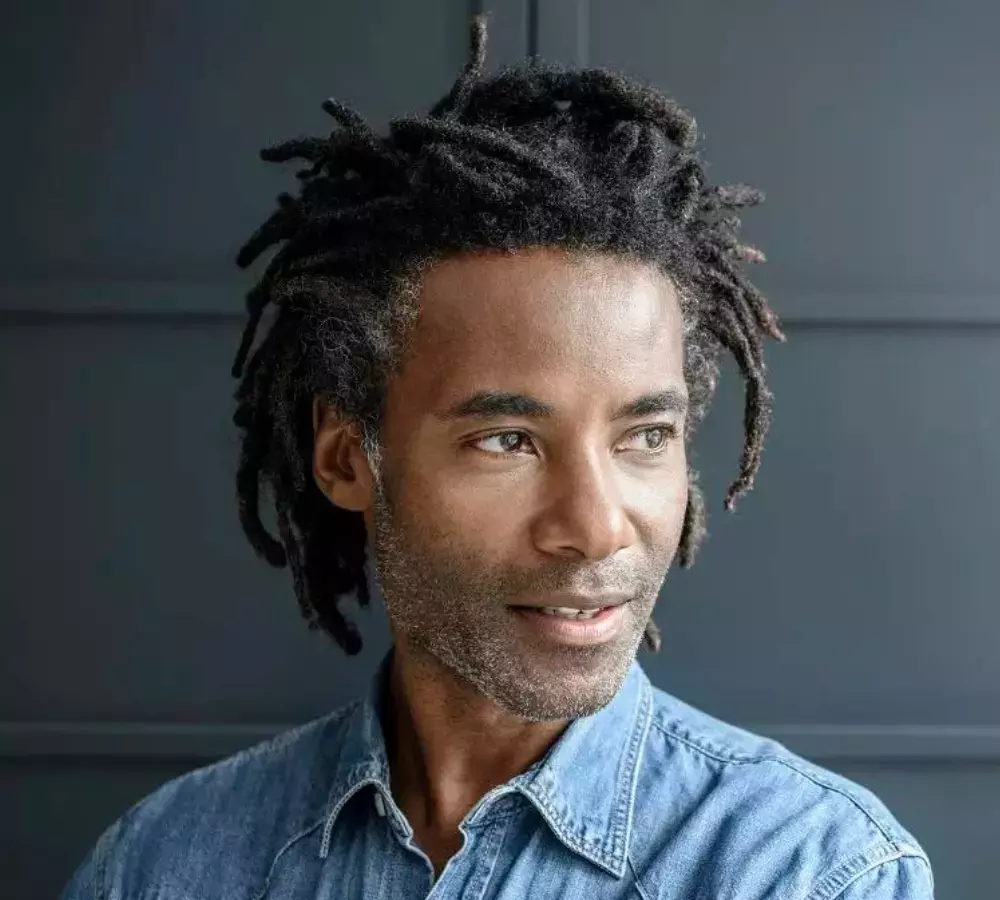 48. Wavy Short Dreadlocks
Consider short dreadlocks for a unique and expressive look. This style combines the dreadlocks with the ease of managing shorter lengths. It's a distinctive choice that embraces natural waves, adding character and style to one's overall appearance.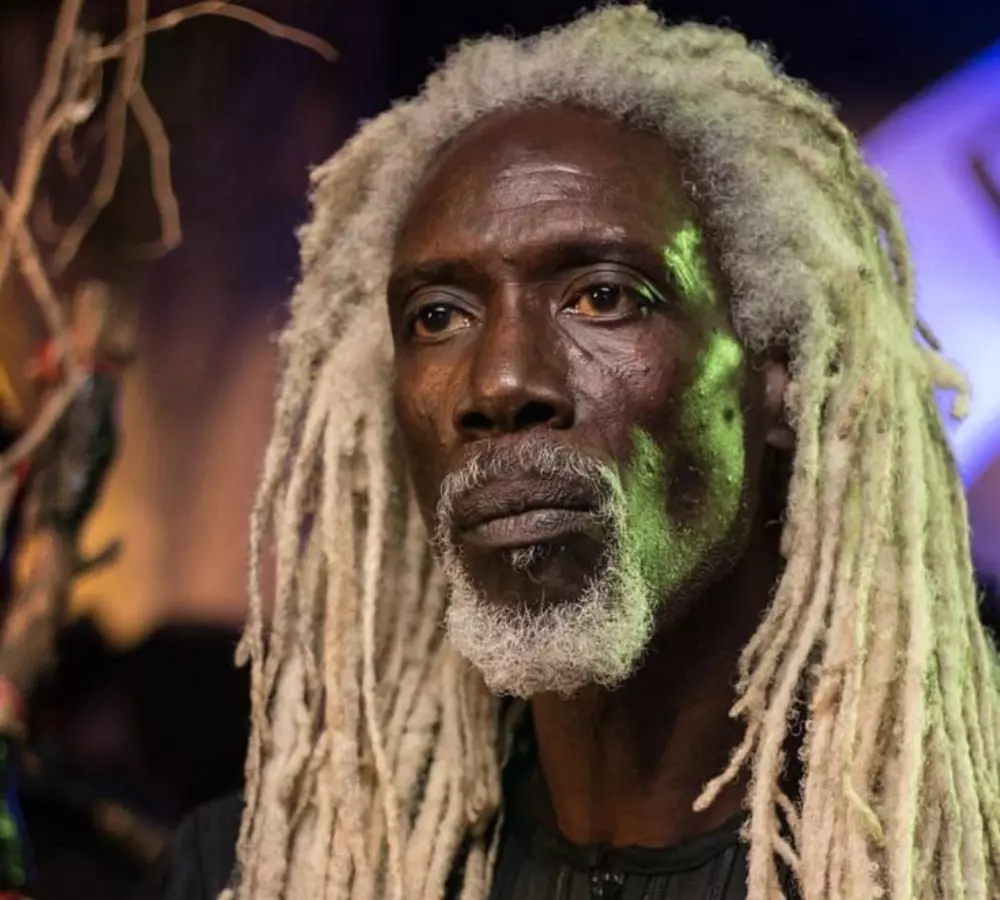 49. Long Dreadlocks
Long dreadlocks for older men make a bold and distinctive statement. This style exudes a free-spirited and individualistic vibe, embracing natural texture and length. It's a unique choice that showcases both personal style and a willingness to embrace diverse looks at any age.
50. Medium Dreadlocks
Medium dreadlocks for older men offer a stylish and manageable option. This hairstyle involves growing medium-length dreadlocks, striking a balance between length and practicality. It's a bold and cultural look that adds character and individuality to one's appearance.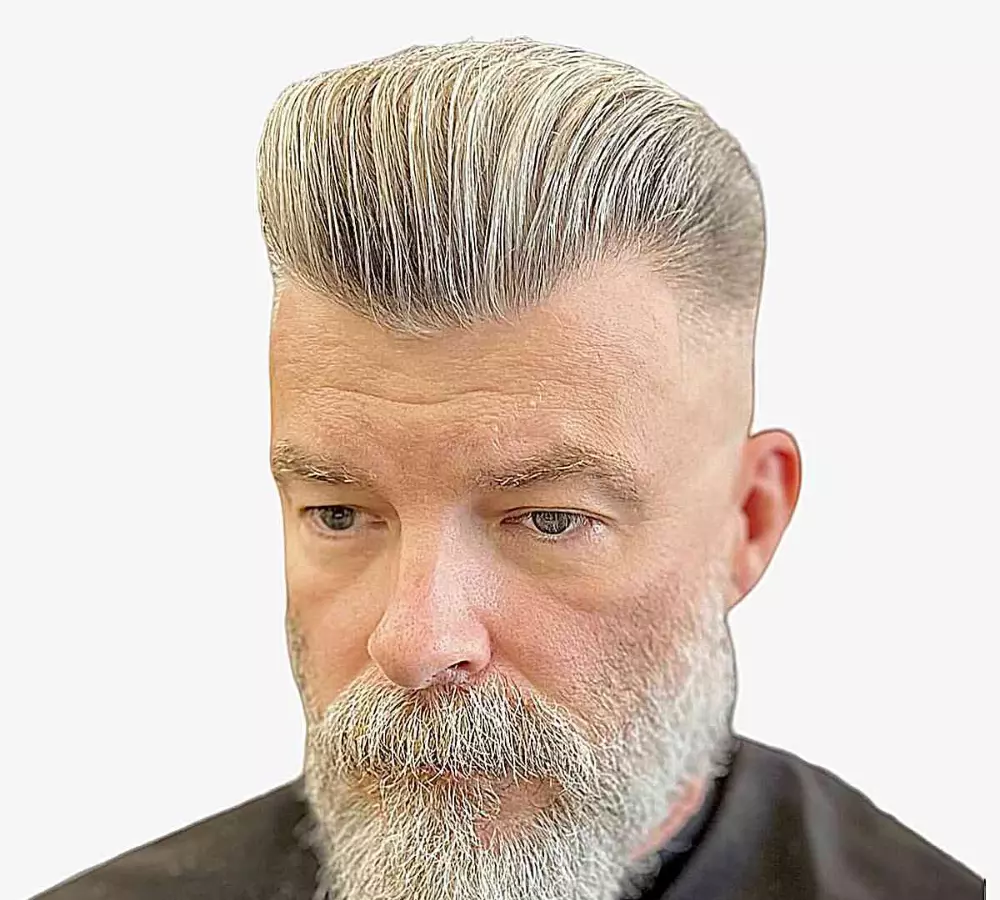 51. Disconnected Pompadour
The Disconnected Pompadour for older men is a contemporary and stylish choice. It has short sides and a voluminous, separate top, creating a bold and fashion-forward look. This hairstyle blends a classic pompadour with a modern twist, making it suitable for those who appreciate a refined yet edgy aesthetic.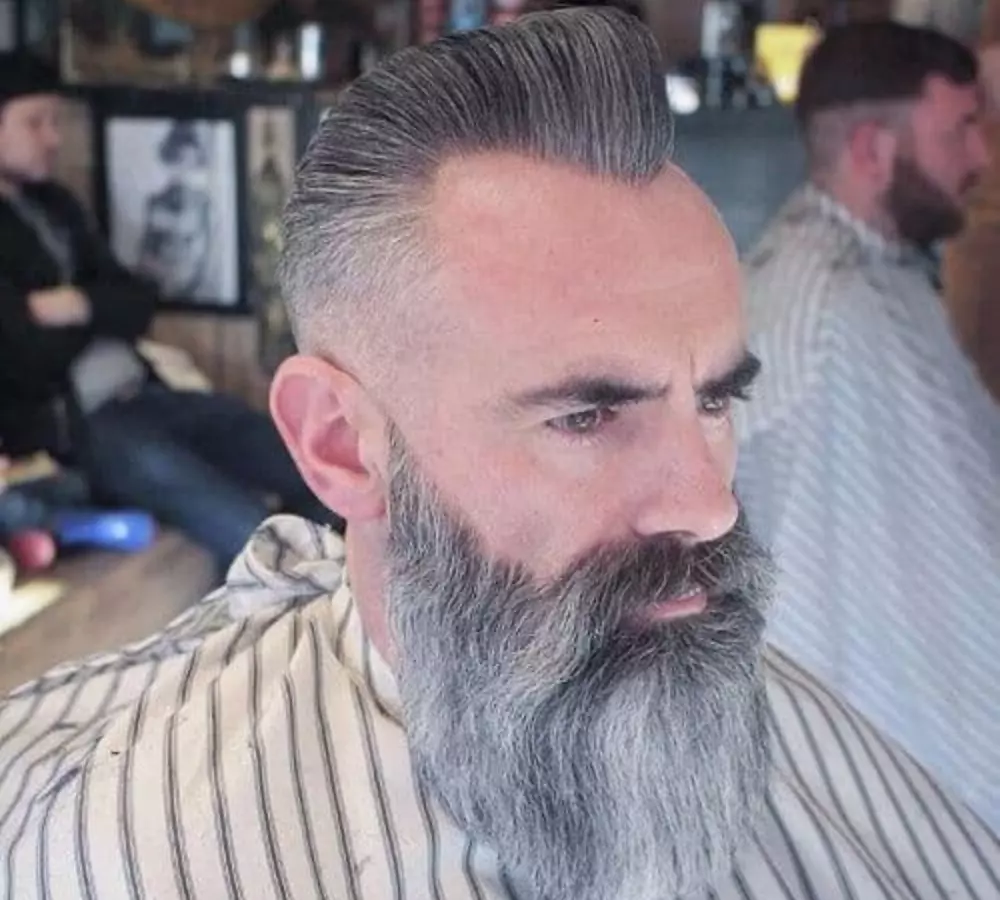 52. High and Tight Fade
The High and Tight Fade for older men is a clean and modern hairstyle. It involves short sides and back, gradually fading into a slightly longer length on top. This low-maintenance and versatile look exudes a sharp and timeless appeal, making it a popular choice for a polished and confident appearance.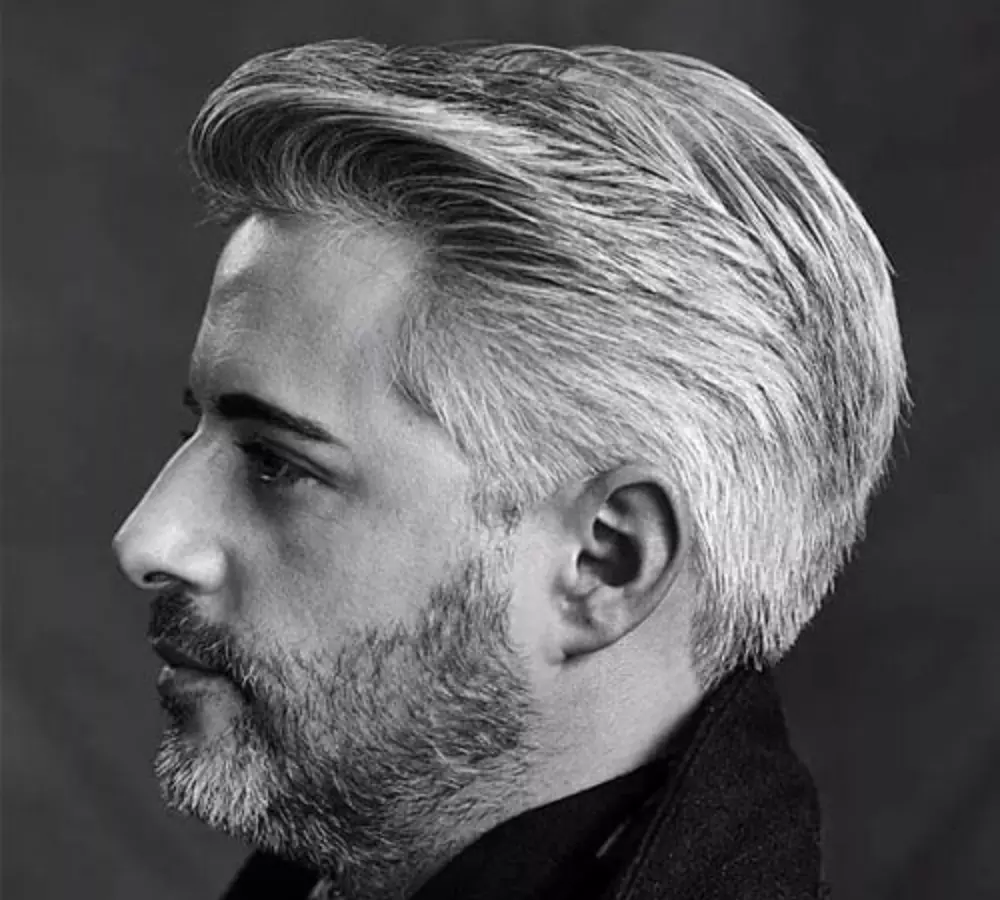 53. Long Comb Over with Brushed-Up Fringe
A long comb over with a brushed-up fringe is a great everyday look for older men with thick hair. To match a neat and well-groomed beard, give your hair some substantial volume and lift at the roots by brushing it upward.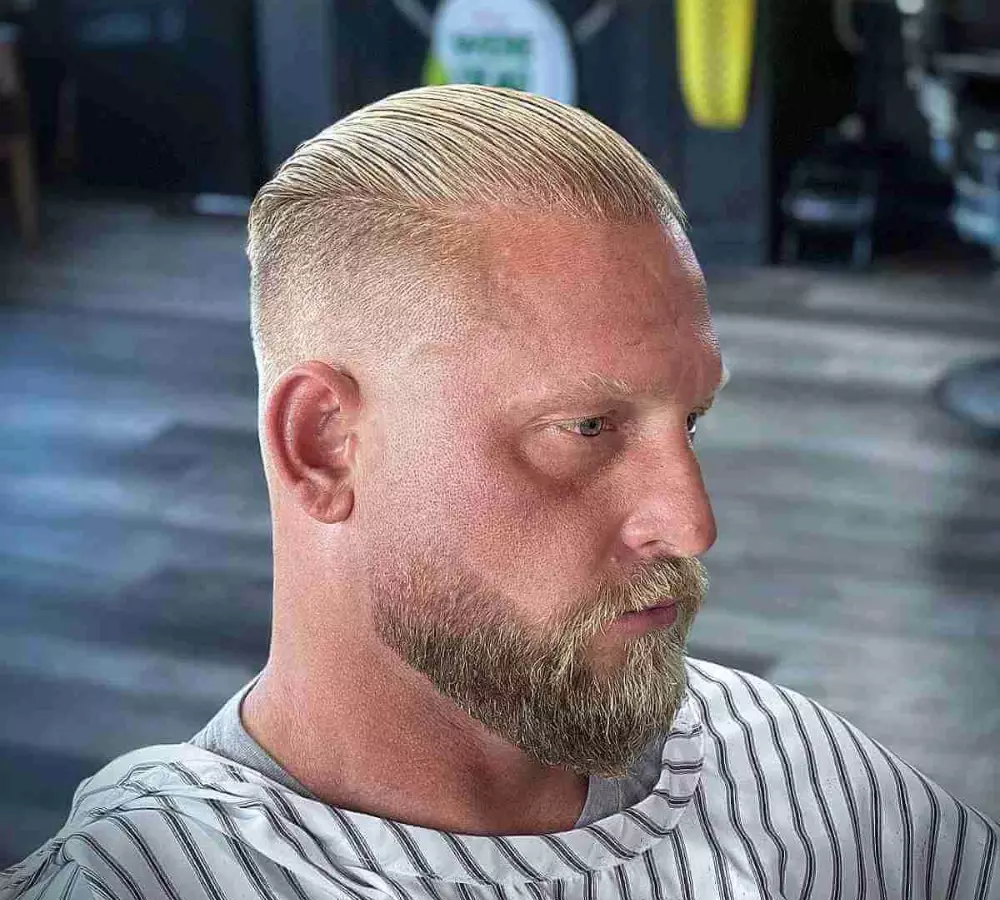 54. Longer Brushed Back Style with Shaved Sides
Rocking a longer brushed back style with shaved sides allows you to create dimension and movement with volume. This hairstyle is suitable for medium haircuts for guys over 50, where you can use a strong-hold product and brush your hair upwards, then maintain the sides shaved for a striking, sleek, and fashionable contrast.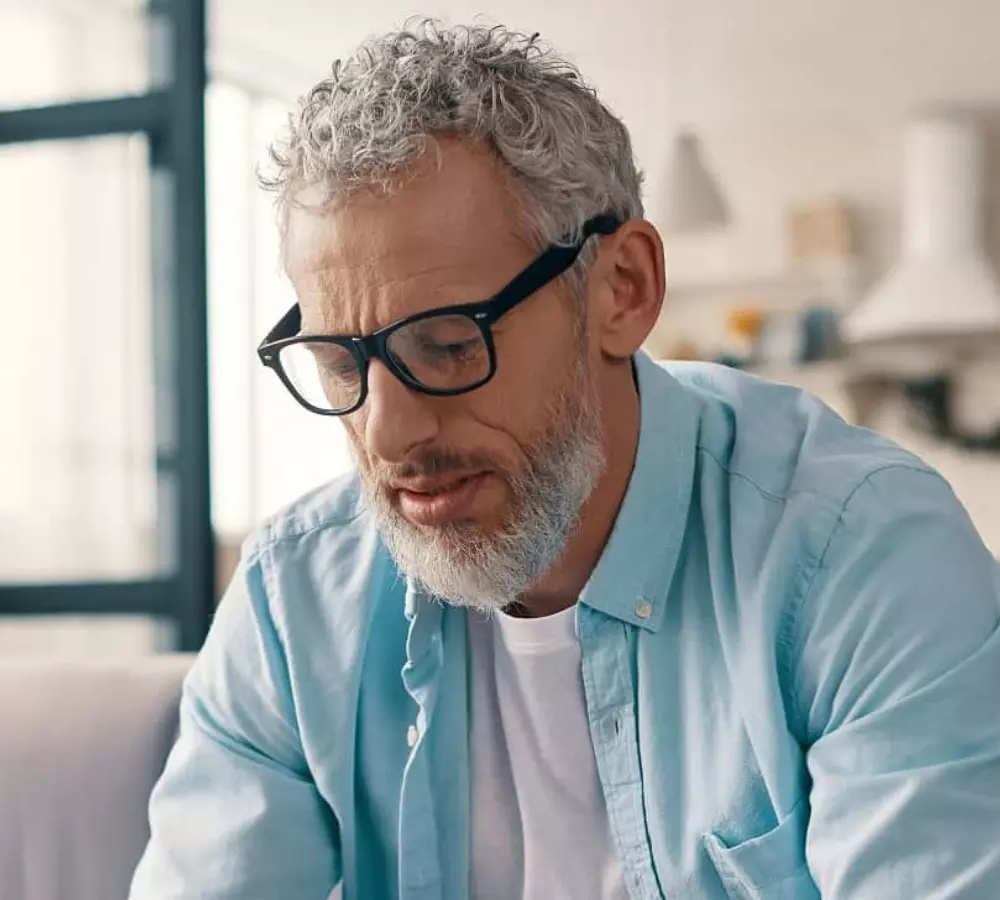 55. Tight Curls
Tight curls fall among men's medium-length hairstyles over 50, giving an outstanding look. This hairstyle embraces the natural curl pattern that adds personality to the whole look.
Conclusion 
As we wrap up this follicular odyssey, one thing is abundantly clear—age is no barrier to looking and feeling fabulous. The 55 trending hairstyles for men we've explored are not just about changing your look; they're about embracing the evolution of your style. So whether you're opting for a classic crew cut, channelling your inner rebel with a tousled mane, or gracefully embracing the silver strands, remember: style is a reflection of your spirit and a journey with no expiration date. 

Here's to the timeless allure of a well-coiffed man, proving that the best natural men's hairstyles only get better with age. Cheers to looking good, feeling great, and rocking your brand of timeless style!