55 Stunning Short Haircuts For Men - 2023
Olivia
Updated At 16 Jul 23
You need less of everything but time spent at the barbershop when it comes to maintenance. Compared to medium-length hairstyles like the quiff, you may get away with shampooing less regularly (once every three to four days would do). Aim to schedule another appointment every few weeks because the style will obviously grow out faster. In the meantime, look through the list of the top short haircuts for guys to bring along. We cover popular ones like low fade haircut and many more.
55 Trending Short Haircuts For Men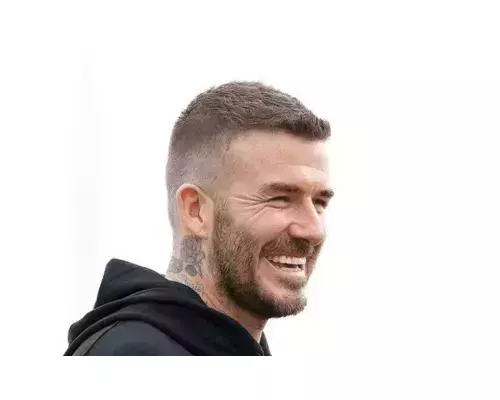 1. High And Tight Short Haircut For Men
The high and tight, which is one of the most generally attractive short haircuts for men, is presentable and refined. For guys with thinner hair, this traditional cut, which is a popular military hairstyle, combines skin-shaved sides with length on top. Look no further than everyone's man crush, David Beckham, for celebrity inspiration.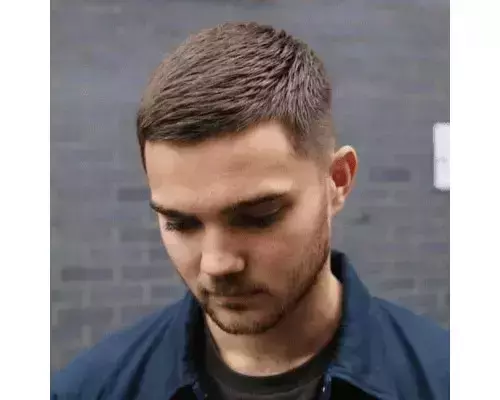 2. Ivy League Short Haircut For Men
The Ivy League is the epitome of the current "old money" look. This is one of the greatest short haircuts for guys seeking a preppy appearance thanks to the short sides and the minimal volume on top. Play around adjusting the length to suit your preferences, but be sure to maintain the original proportions. One of the best round face hairstyles for men this looks stunning and goes well with all the looks.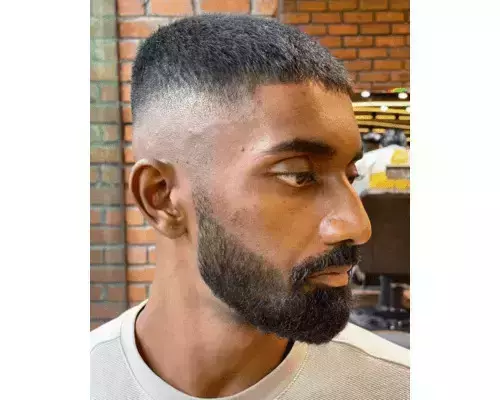 3. Crew Cut
Are you a low-maintenance guy who dislikes spending a lot of time maintaining yourself? The crew cut haircut can then be a perfect option. This classic, short hairstyle for guys is simple yet stylish. To get the appearance, maintain more hair on top and precisely trim the hair at the back and sides while leaving longer strands at the front of the head for a graded finish. One of then best short haircuts for men withlow maintenance, this looks stylish and elegant as well.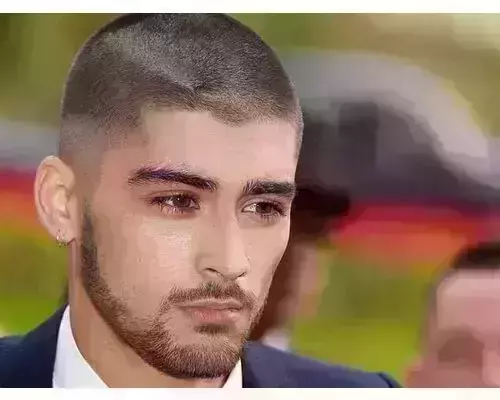 4. Buzz Short Haircuts
Unquestionably, a buzz cut is among the best hairstyles for men with oval or oblong faces who want to balance proportions. A buzz cut is also one of the few hairstyles that can be done at home. So, grab a pair of high-quality clippers, adjust them to a No. 1 or 2, and shave your head evenly. This Zayn Malik short haircut has been a trendsetter!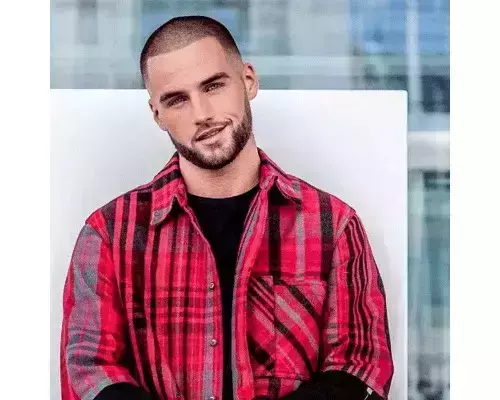 5. Buzz Cut With Line Up
Unquestionably, a buzz cut is among the best hairstyles for men with oval or oblong faces who want to balance proportions. A buzz cut is also one of the few hairstyles that can be done at home. So, grab a pair of high-quality clippers, adjust them to a No. 1 or 2, and shave your head evenly.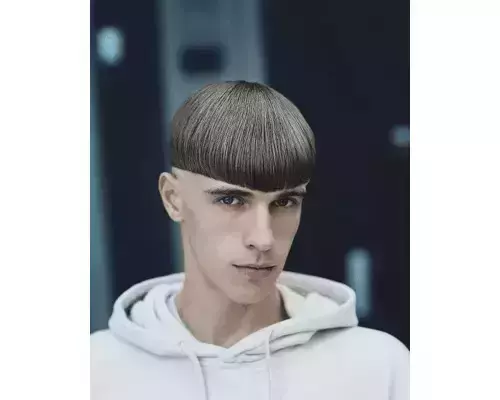 6. Bowl Cut Short
The bowl cut was one of the most avant-garde men's hairstyles in the 1960s and 1980s. But the contemporary version is much cooler. With an even-cut fringe sitting mid-forehead and a textured top with buzz cut sides, it is edgy, messy, and manly. It is one of the best short haircuts for guys and is an emerging style.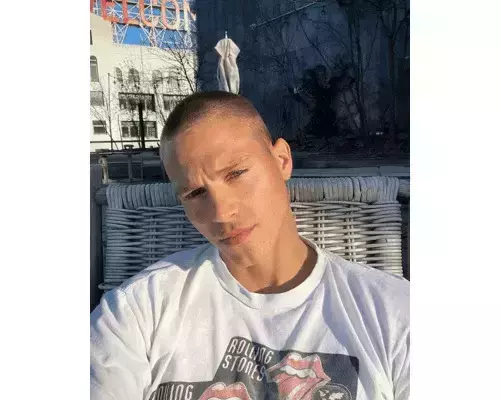 7. Butch Cut Short Haircuts For Men
The greatest short haircuts for men whose goal is to minimise time spent on hair maintenance include the butch cut. The hair is styled in a military-inspired very short cut that looks well with an undercut or fade on the back and sides. Furthermore, utilising clippers at home makes it simple to obtain the look.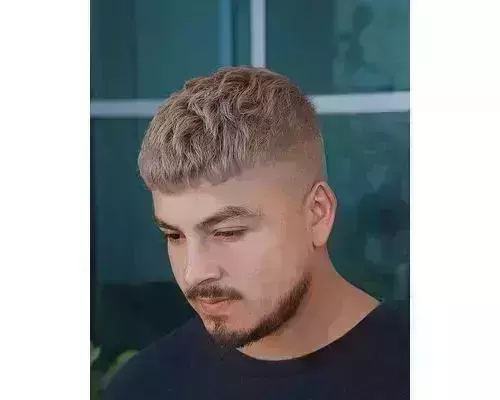 8. Short Haircut For Men With Beard
The Caesar cut has been around forever, from Rome of old to the red carpet. Short hair is present on the back, sides, and top, with the top pushed forward to emphasise the fringe. It's one of the greatest short hairstyles for men with an oval, diamond, or square face shape and is excellent for anyone with top hair loss.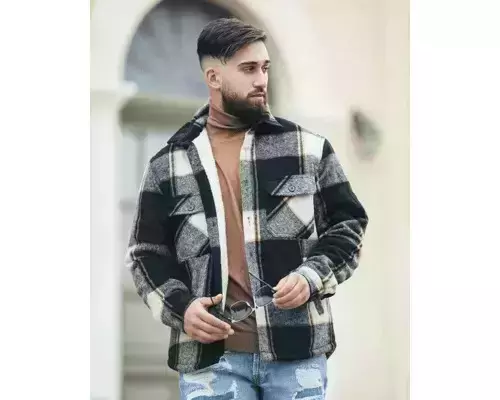 9. Undercut Short Haircuts
An undercut is one of those short haircuts for men wishing to stand out from the crowd since it is sleek, trendy, and in-vogue. Strong features are highlighted, and while the back and sides of the head are buzzed or closely cropped, the top is left with some length to accentuate volume.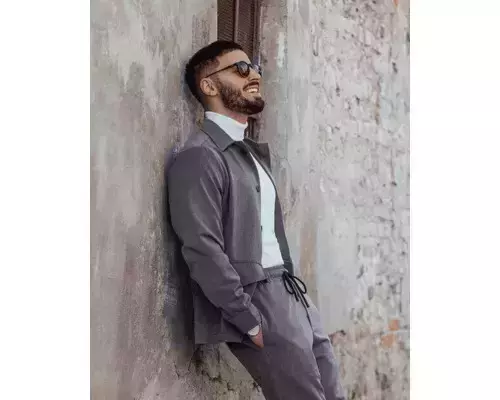 10. Edgar Haircut
The Edgar is a variation on the Caesar cut that combines a short Caesar cut with a high skin fade. You'll either love or detest a few short hairstyles for males. No matter whose side of the argument you are on, it is a bold style. Oblong, oval, and pointy facial types benefit from being short, controllable hairstyles.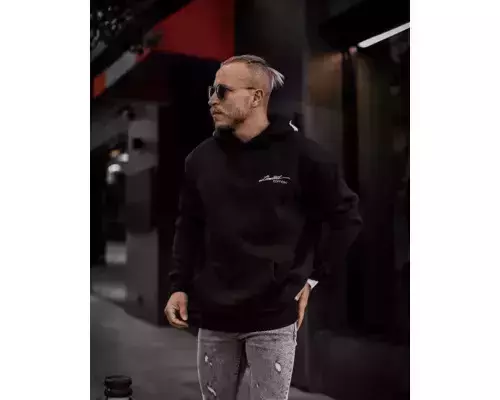 11. Disconnected Undercut
Are you curious as to what distinguishes an undercut from an unconnected undercut? In summary, a disconnected undercut produces a stark contrast between the top length and shaved sides without fading, whereas a typical undercut merges gradually. Because of this, men's short haircuts frequently have impact and draw attention.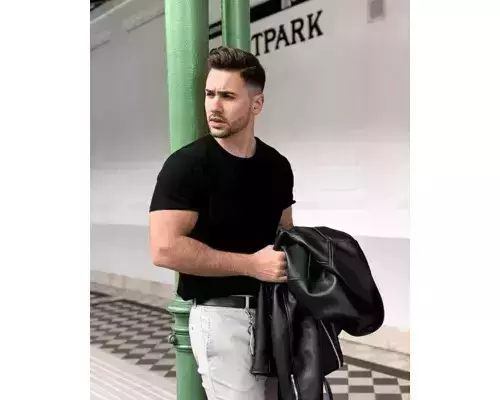 12. Short Hair With Hard Part
Consider adding a hard part to your short haircut if you're looking for an easy way to update it. Two areas of the head with various hair lengths are frequently separated by shaving a precise, thin line down the side parting, a difficult part. Consider a comb-over, undercut, quiff, or fade. Go hard or go home: short haircuts for males are awesome!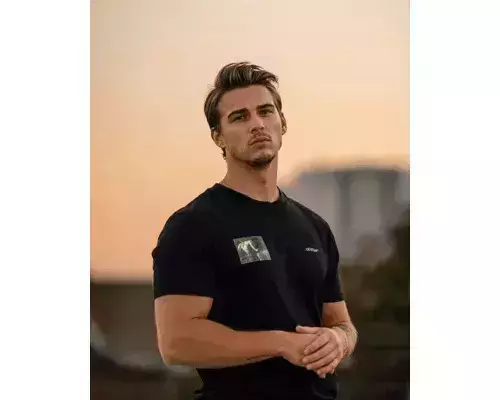 13. Soft Part Short Haircuts For Men
It has to be among the best short haircuts for men if George Clooney thinks it's good enough to wear. A soft part can be made in two different methods. Use a comb to create the parting for a polished appearance. Alternatively, you can use your fingers to separate the hair if you prefer a more relaxed look. This is a red carpet style for aspirational males in either case.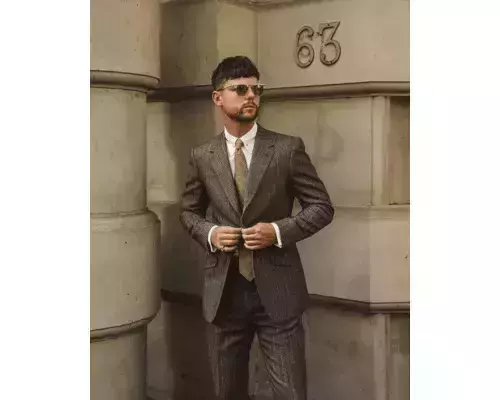 14. French Crop Short Haircut For Men
The French generation continues the tradition of Europeans who are known for their effortless, sophisticated elegance. Ask your barber to add a fringe portion to go with the short hair around your head. One of the short hairstyles for men that adds stunning shape and texture to both straight and curly hair is the French crop.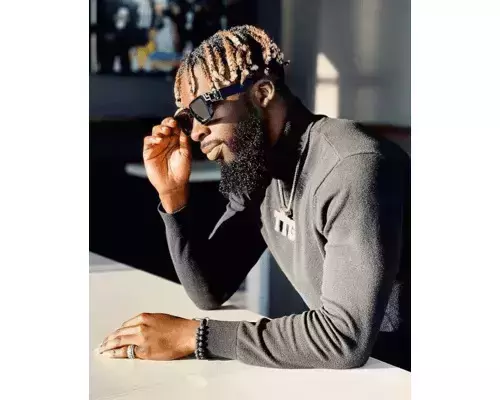 15. Low Dreadlocks
Did you know that in the 1950s, Rastafarians first used the phrase "dreadlocks"? The phrase meant "living in fear of God." However, you are not required to be religious to pick this fashion. Dreadlocks might represent a natural, liberated spirit these days. These important short haircuts for guys can be styled in a variety of ways, including coiling, braiding, and twisting. This is one of the short haircuts for black men.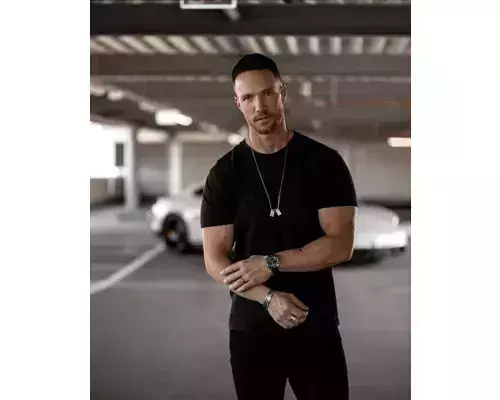 16. Military Cut Short Haircut For Men
There isn't a single haircut that works for everyone when it comes to emulating a hassle-free military vibe, including the butch cut, crew cut, buzz cut, regulation cut, and more. Therefore, discuss all of the short haircuts for guys in this category with your barber before deciding which one you want to go with.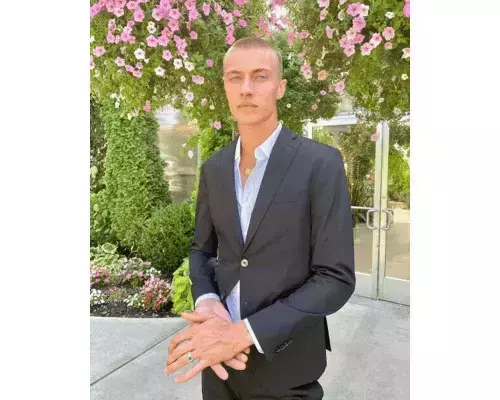 17. Regulation Cut
As one of the best short haircuts for men on the go, this military-inspired style frequently has a side part. The haircut has sides that are faded or shaved, with longer hair on top. Pair this with a clean-shaven face to look like an officer and a gentleman. Both straight and curly hair can use it.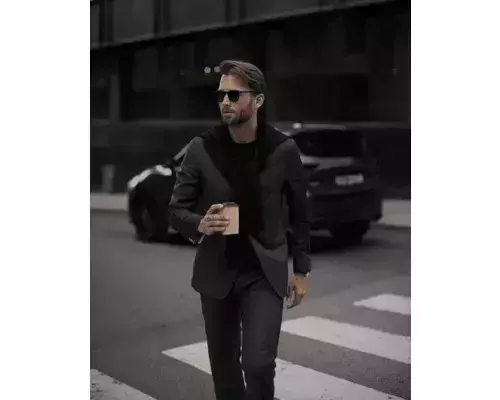 18. Comb Over Short Haircut For Men
Comb-overs are now among the most popular short haircuts for males, thanks in large part to George Clooney. Part your hair to the side, then comb it across your head to achieve this Hollywood style. It is ideal for anyone who is experiencing early-onset hair thinning or balding because the sides are short and the top is longer in comparison.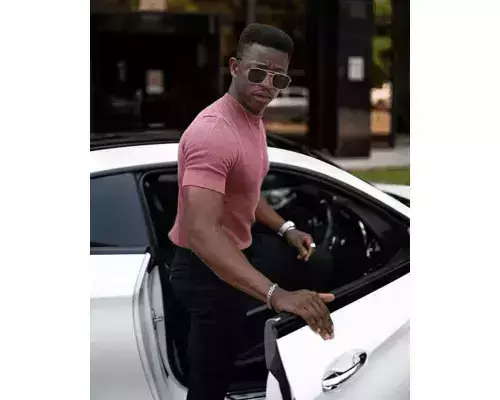 19. Flat Top Short Haircut For Men
In order to create a box-like top, this style has upright hair on top and tapered short or shaved sides. This classic cut, made popular in the 1980s by stars like MC Rakim, currently tops the list of short haircuts for guys. Regular cuts at your barbershop are required if you want to show off your flat top.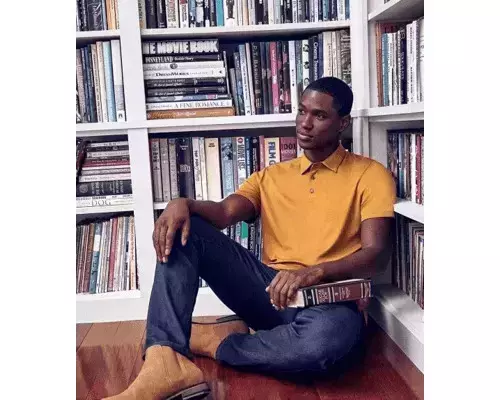 20. Line Up Short Haircut For Men
Your barber will use clippers to line up and shave straight lines and sharp, exact angles into the hairline, parting, or temples to achieve this style. The eye will be drawn to the remarkable shapes created by this clean-cut. Let your personality speak for itself by choosing one of the many short haircuts for guys that are available.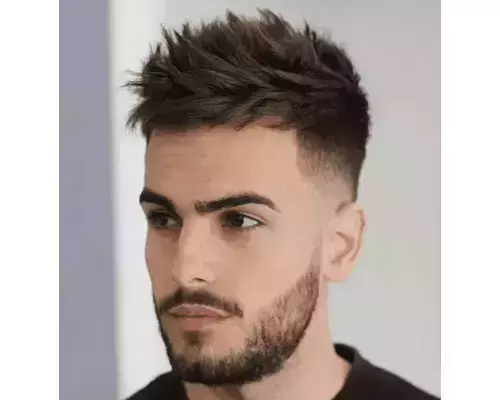 21. Short Spiky Hair
The most common short hairstyle for guys in the 1990s was short, spikey hair. Ask Adam Levine to confirm that this style isn't outdated. You must style your hair using matte-effect products after washing it to get the full look. Using a clay or styling paste, split the strands to create textured spikes.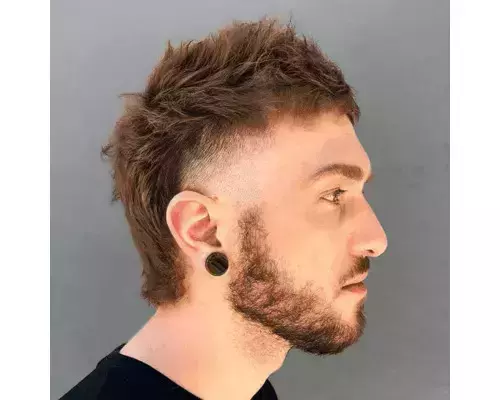 22. Short Mullet Haircut For Men
As much a part of the 1980s as leg warmers, neon, and spandex are mullets. They are a style that demonstrates how fun and eye-catching retro short haircuts for men can be for the guy who doesn't take himself too seriously. The short in the front, long in the back cut with taper fade sides gets a modern update with the mullet.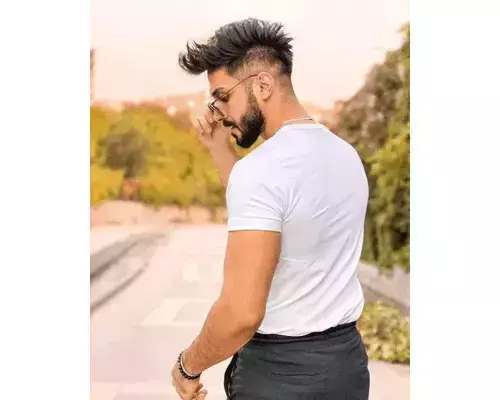 23. Mohawk Fade Short Haircuts For Men
During the punk era, the Mohawk hairstyle was a large, brash symbol of anarchism. These days, they are one of the more popular and less radical short haircuts for males. Ask your barber to fade the sides and leave a lengthy section of hair in the middle of your head if you have a rebellious side.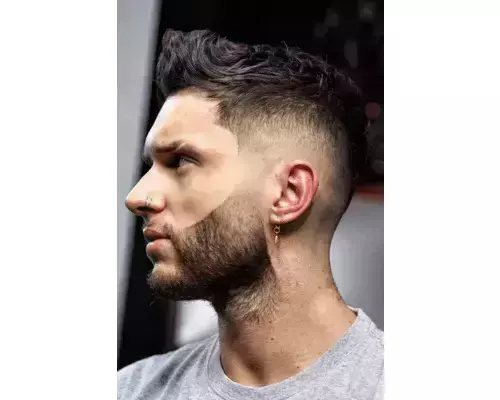 24. Short Faux Hawk
The finest short haircut for men who adore the classic Mohawk look but aren't ready to commit fully is the faux hawk. Instead of shaving the sides, they are cut close to the head. The top length, in comparison, is noticeably less than on a standard Mohawk. Additionally, this kind requires less style and upkeep.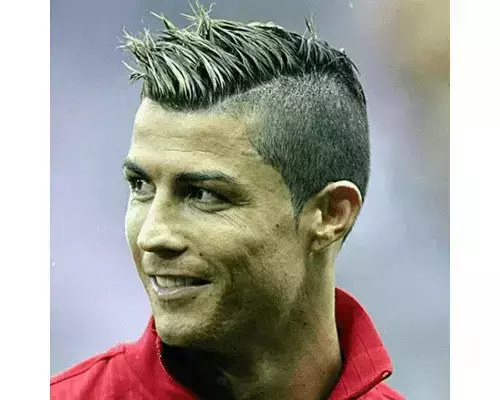 25. Faux Hawk With Fringe Cut And Fade
Ask your barber to add a fringe and fade to take the faux hawk one step further. With a longer top part and fringe, there is enough of hair to play with, allowing you to alter the appearance to fit your personal style. You can go wild and moody like Zayn Malik or cool and sleek like Cristiano Ronaldo since the greatest short hairstyles for men are adaptable.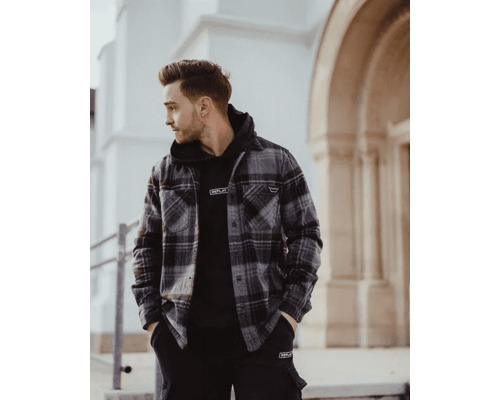 26. Low Fade With Faux Hawk
Being less radical than a Mohawk, a fake hawk is more appropriate for the workplace. You don't need to buzz or shave your head's sides. Your barber will instead cut longer hair on top with a taper fade on the sides. Celebrities frequently sport short haircuts for guys, and Zac Efron is a fan of this style.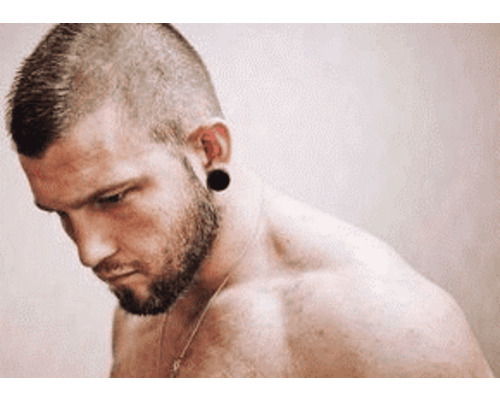 27. Bald With Short Mohawk
This fashion is sexy and sophisticated. To add contrast, keep the hair short and taper it into the skin. A short Mohawk and a bald fade are more appropriate for the office than a high or mid fade. However, any variation of the Mohawk is among the most distinctive short haircuts for males.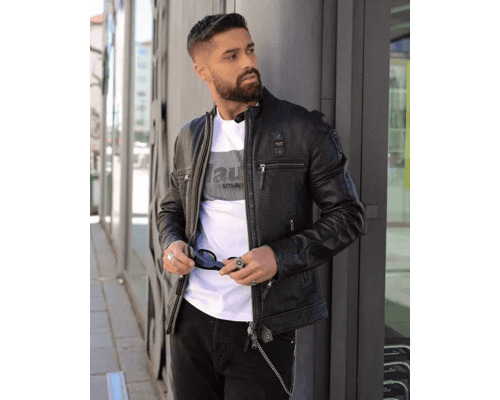 28. High Fade
A high fade tops the list of short haircuts for men and will ensure that you receive adoring glances if you're looking for comments. It's a top trending style, modern and sleek with longer hair on top transitioning downhill to extremely short hair on the sides and back.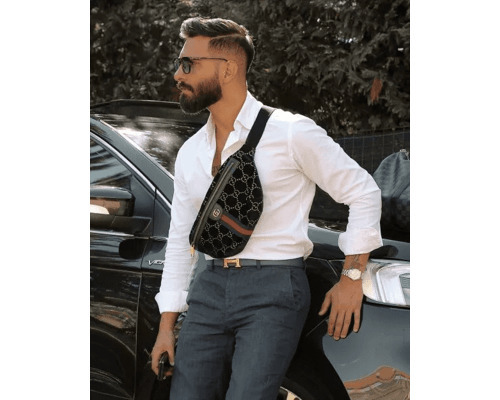 29. Burst Fade Short Hairstyles For Men
The burst fade, as opposed to a drop fade, emphasises the hairline's edge and the area behind the ear. This new look is fantastic because it flatters both wavy and straight hair. It also complements a variety of hairstyles effectively. Additionally, it is among the men's short haircuts that flatter all ethnicities.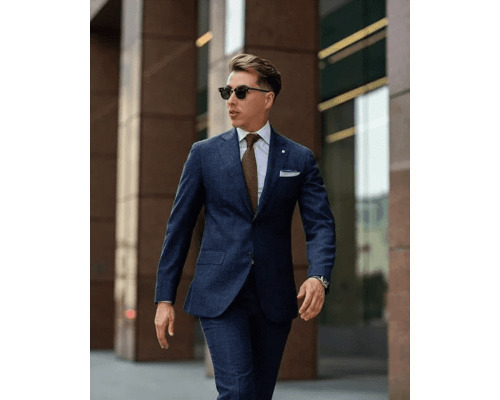 30. Drop Fade With Slicked Bag
The slick back is a vintage style that is reminiscent of 1950s rocker fashions. It becomes a very different game, though, when combined with a drop fade that tapers down the back of the head to the neckline. It's one of the best short hairstyles for men to wear outside of the 9 to 5 hours.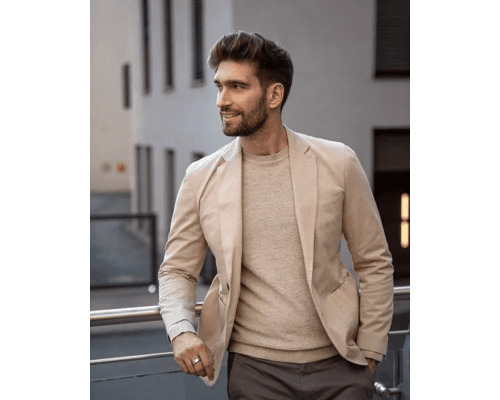 31. Mid Fade With Pompadour
It's time to compete with the mid-fade pompadour since short haircuts for males are in style. The pompadour, made famous by Elvis, is still in vogue today because of its classic, elegant appeal. For optimal results, you should have a top length of about 4 inches so that the strands may be brushed back and sit flat.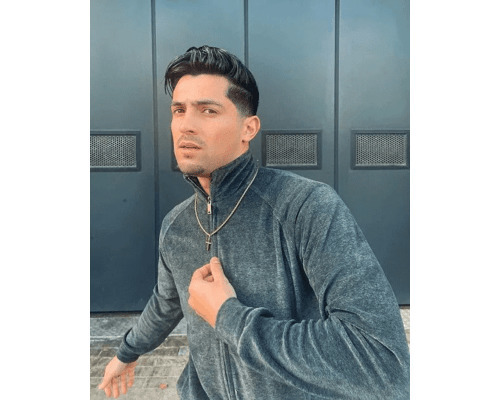 32. Low Fade Short Hairstyle For Men
Are you new to the fades scene? Start with a low fade if you're feeling reluctant because it's a more understated way to wear one of these popular short haircuts for men. To soften the contrast between the skin-shaved parts and the length on top, your barber will begin the fading procedure at ear level.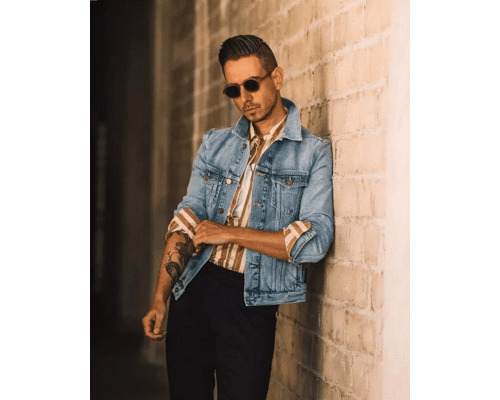 33. Mid Fade With Brushed Back Hair
Need ideas for men's short haircuts that are appropriate for the office? Maintaining a professional appearance need not be monotonous. A mid fade and brushed-back hair can be combined to create a style that looks expensive and upscale. Brushing the hair back and using pomade while it's still moist are the keys to keeping the style in place.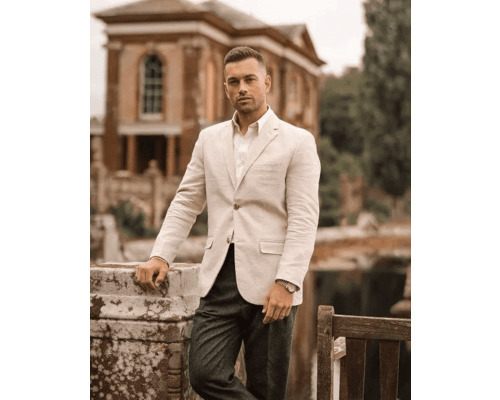 34. Bald Fade Short Haircut For Men
Men's short haircuts are incredibly adaptable, and many different styles look great when paired with a bald fade. A bald fade will give quiffs, slick backs, pompadours, and other hairstyles a little extra spice. While a bald fade blends to skin level, a conventional fade may reduce the hair to a No. 2.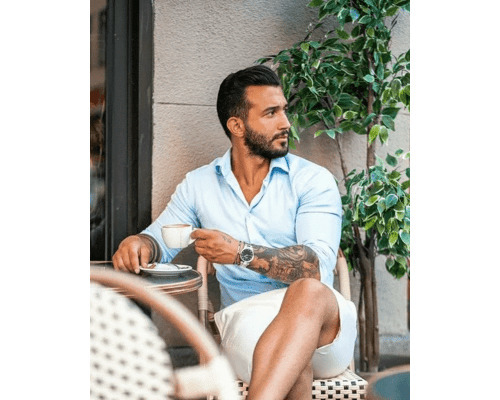 35. Taper Fade With Slick Back
In contrast to a skin or bald fade, a taper fade refers to blending hair from one length to another more gradually and subtly. If you're a businessman, wear your taper fade with a sharp back. Your professional image will be maintained by this flawless hairdo. Men with short hair take business seriously!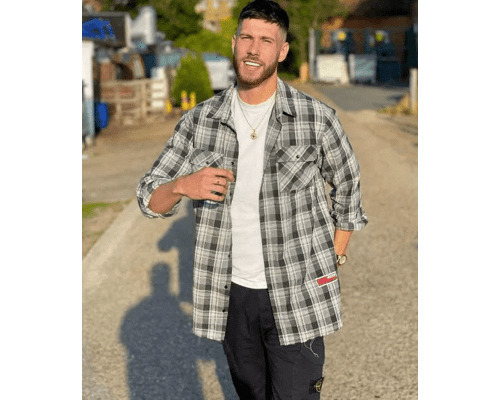 36. Short Fringe Haircut For Men
A short fringe is hassle-free, and not all short haircuts for guys require a lot of maintenance. Sweep it to the side, spike it up for an edgy look, or brush it forward to style it. There are a variety of possibilities for banging, including messy, angular, blunt, and more. Even better, a short fringe will never go out of style.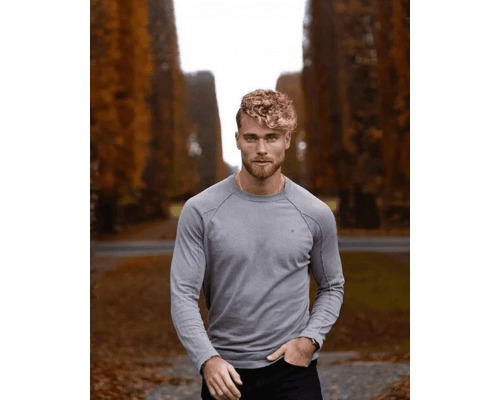 37. Short Curly Fringe With Fade
One of the most striking short haircuts for men is created by a fade, which draws attention to a short, curly fringe and makes a strong first impression. However, curly hair is frequently rebellious, so to control the look and highlight the different textures, apply matte hair clay to keep the sides smooth.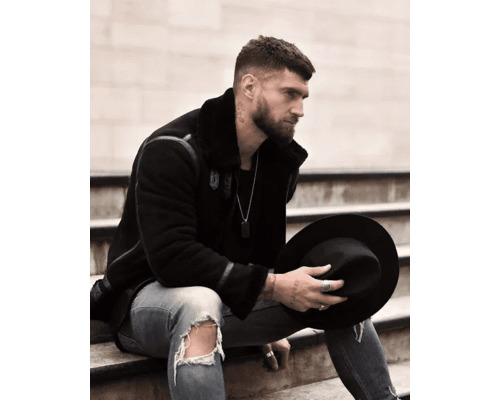 38. Fringe With Taper Fade
A fringe and taper fade are two short cuts for guys that increase the standard and give the wearer more self-assurance. A taper fade, when done by a skilled barber, is fuss-free while a fringe has an artistic flair. Even better, there are several methods to style a fringe to draw attention to particular features and flatter various facial shapes.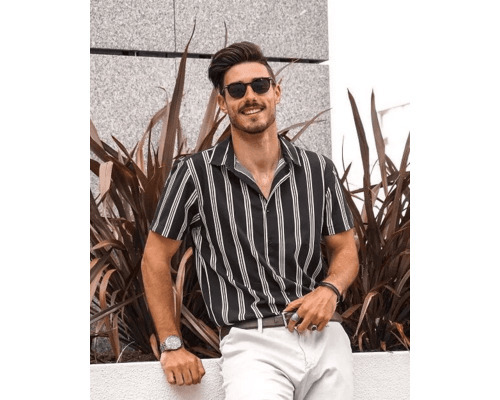 39. Disconnected Pompadour
A disconnected pompadour is a terrific option if your hair is short but thick. Two winning hairstyles that come together to produce a unified yet dramatic look are a blunt split between the longer hair on top and the shorter hair on the sides. It's the main focus of contemporary short hairstyles for males. Use a strong-hold wet finish hair product to elevate the look.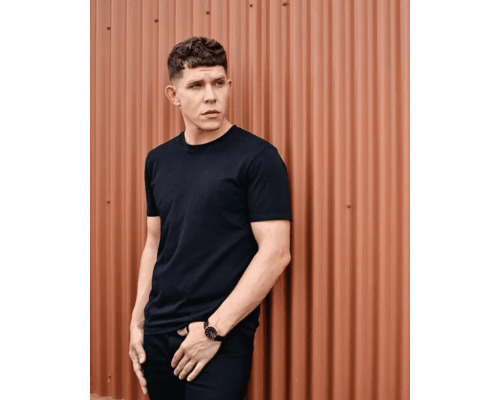 40. Messy French Crop
Men's best short hairstyles have stood the test of time. The unkempt French crop is all-around desirable and sexy. The top hair in this instance is layered. The hair is then cut shorter than the top and merged with the back and sides to highlight the contrasting cut. It's a fresh appearance that works for both business and play.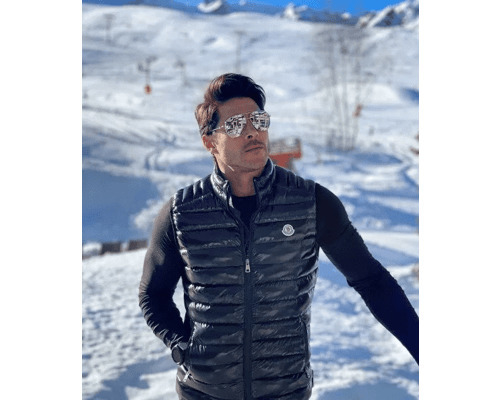 41. Side Part With Quiff
The key to a traditional side-parted quiff is proportion, so leave some length on the back and sides. Men's short hairstyles don't usually aim to contrast sharply. Use a high shine product to hold the quiff in place and produce the desired glossy 1950s finish if you want to imitate Don Draper from Mad Men.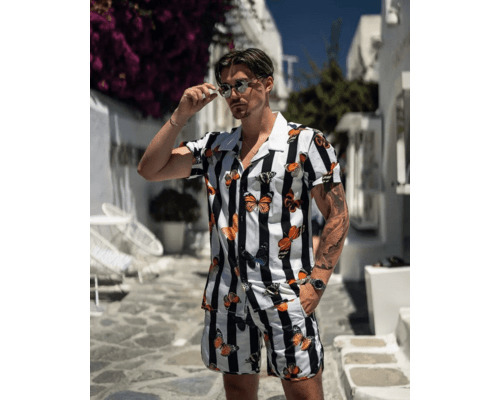 42. Short Curtain Bangs Haircut For Men
1990s poster boy Curtains reached heartthrob status thanks to Leonardo DiCaprio. This classic short haircut for guys may be your next style if you have about 5-6 inches of length to work with. Hang fire on using any hair products and keep your center-parted long curtain fringe at eye level to get the signature droopy look.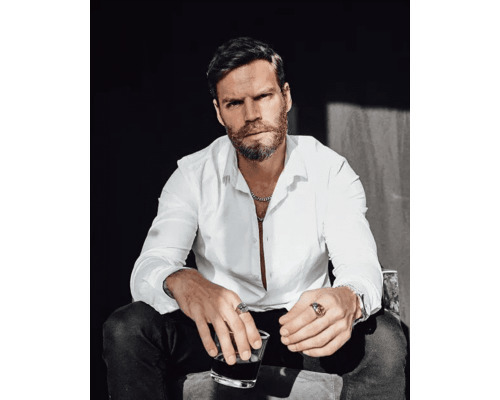 43. Short Textured Hair
One of the best haircuts for men who want to look seductive and untidy like they just rolled out of bed is a textured crop. Wearers of this look come across as artistic, laid-back, and effortlessly stylish. Ask your barber for 2-3-in long textured layers with some weight removed if this is the meaning you want to express.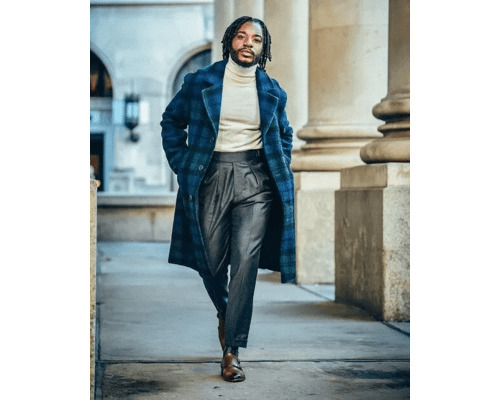 44. Braids For Short Hair
There are so many short haircuts for men to pick from that you're sure to discover one that fits your vibe and style. However, there is one thing to remember about braids: you'll need to remove them after 6 to 8 weeks. This will provide some alleviation for the roots and assist in lowering the possibility of unintended hair loss.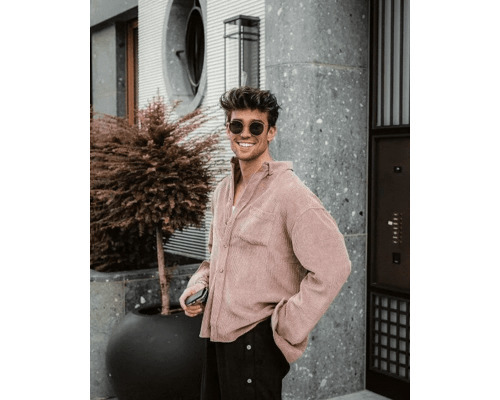 45. Short And Messy Haircut For Men
Do you recall the time of the Twilight and One Direction movies, when Harry Styles and Robert Pattinson's hair seemed to be more well-known than the men themselves? Even with their unkempt appearance, short haircuts for men nevertheless seem good. By combining a short, unkempt top with an undercut or fade, you can update this look to be in line with current fashion.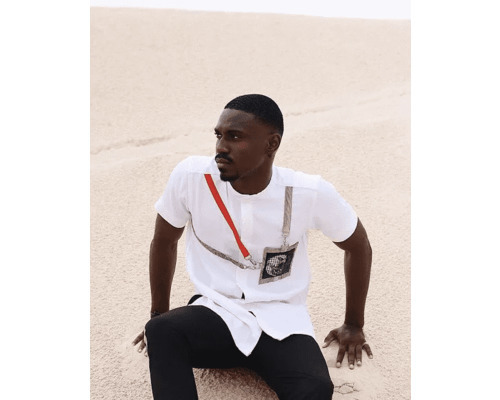 46. Short Waves
One of the most well-known short hairstyles for guys can make a statement. For black males, waves are a modern, classic approach to appreciate and celebrate their natural hair structure. Even better, getting this look only takes a short time. For the finest results, it is best to contact a specialised barber because there are numerous alternatives, ranging from 360s to 180s.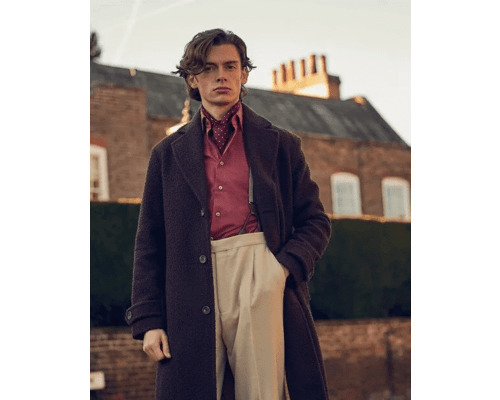 47. Short Layered Haircut
Regardless of hair texture, layers are a terrific style for men with short hair. For males, adding volume to various short haircuts is rather simple. To do this, maintain a contrast between each region by keeping the top cut the shortest, the hairline longer, and the centre length cut.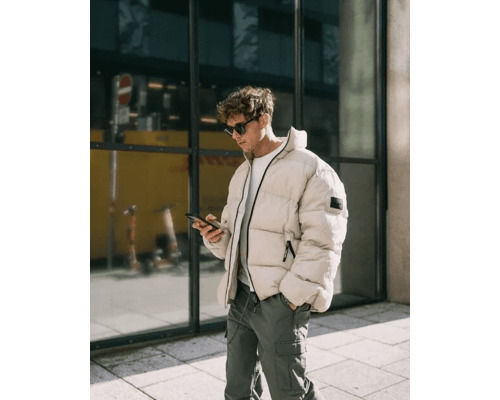 48. Textured Crop Haircut For Men
It is undeniable that textured hair is in. The textured crop, one of the most popular short haircuts for guys, epitomises this more than any other. For men of all ages with straight, curly, or wavy hair, waves look good. The hair is styled with layered and textured top with trimmed sides.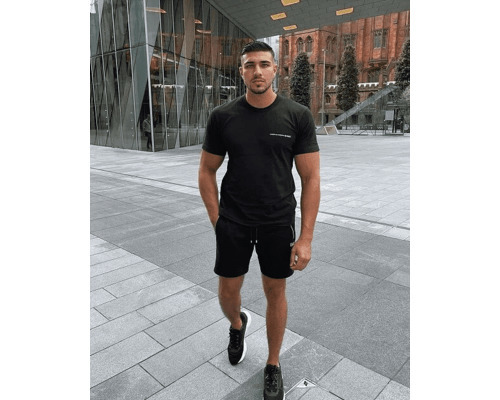 49. Peaky Blinders Haircut
Do you have a killer set of cheekbones and an oval face? Then request a No. 3 with a cropped, textured cut on the back and sides, leaving some length in the front. One of the edgiest Peaky Blinder hairstyles for males may be achieved by brushing and blow-drying the hair forward and sweeping the fringe across the forehead. This is an amazing short haircut for men which has been trending this year.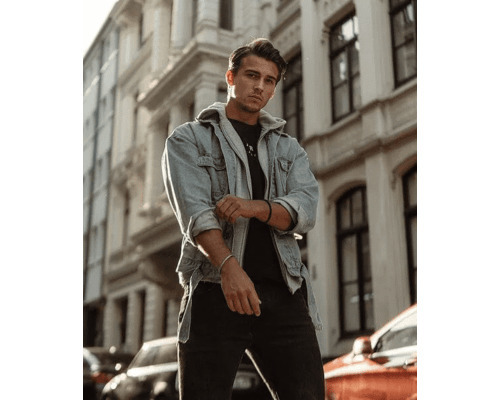 50. Side Part Short Haircut For Men
What do these three handsome guys—Colin Farrell, Ryan Reynolds, and 007—have in common? They all sport short hairstyles for men with a side part. This classic style involves trimming the top and sides traditionally to produce a chic appearance. Although thick hair is preferred, fine hair can still be styled in a smart manner.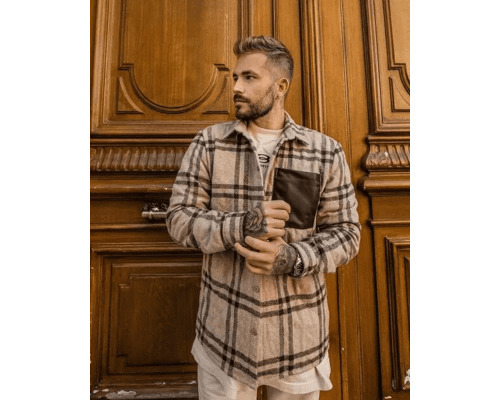 51. Short Haircuts For Men With Beard
Men's best short hairstyles frequently go with beard styles. There are a few factors to take into account when pairing your cut with facial hair, including hair type and the innate capacity to develop a beard. Ask your barber for advice on the appropriate style for your face shape, from a thick, bushy beard to a thin goatee.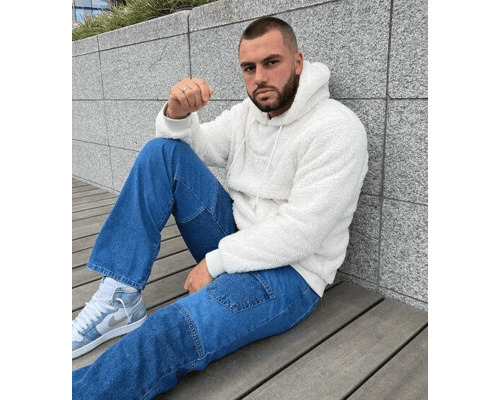 52. Short Haircuts For Men With Thin Hair
Men with thin hair will seem their hair appears thicker with the greatest short haircuts. These consist of the buzz cut, crew cut, French crop with texture, and side part. Choose hair wax rather than hair products that could clog the hair. Keep in mind that if you have fine hair, a barber is your best friend.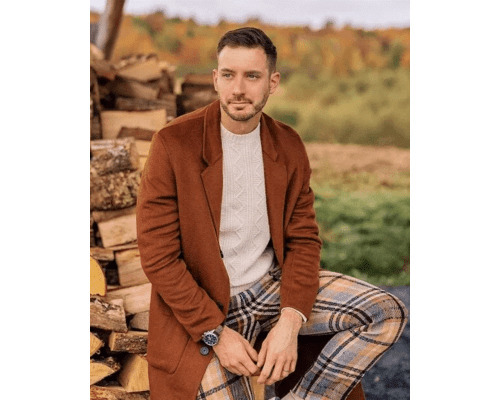 53. Short Haircut For Men With Receding Hairline
Just ask Henry Cavil and Matthew McConaughey—they both have receding hairlines. Similar to how there are short haircuts for guys that will help beautify your hair, there's no need to cover your hairline or shave it altogether. Choose hairstyles with a longer top and shorter sides, such a faux hawk or modern comb-over.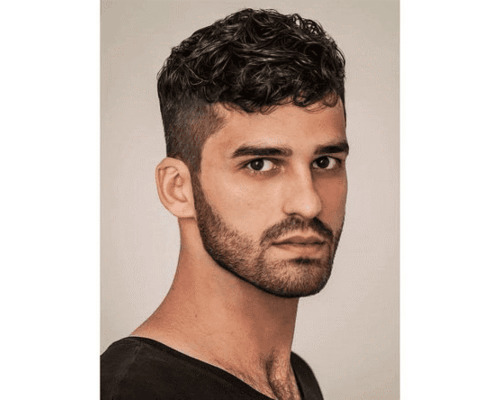 54. Short Haircut For Curly Hair
You're lucky if you have short, curly hair. Curls can be difficult to manage, but on the positive side, they provide texture and volume, giving men a wide range of alternatives for short hairstyles. A fade to reduce volume, a slick back, a comb-over, or even a buzz cut are all acceptable hairstyle options.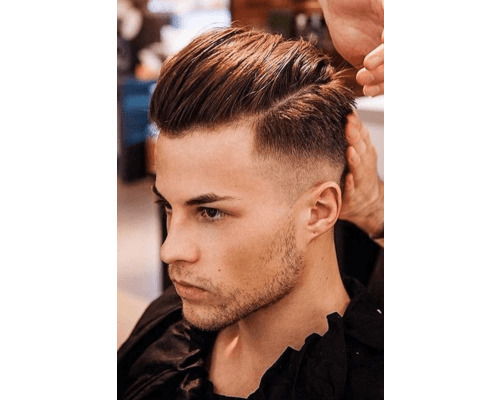 55. Comb Over With Short Back And Sides Haircut For Men
Usually, a comb-over entails sweeping the top of the head's hair to one side. You may pair it with a short back and sides haircut to highlight your appearance and create one of the best short haircuts for men that is stylish, easy to maintain, and presentable.