51 Stunning Mid Fade Haircuts For Men
Shrimanti Das
Updated At 12 Nov 23
A popular and fashionable option for guys, mid fade haircuts offer a well-balanced combination of long and short hair that tapers from the sides to the top. This adaptable haircut, which is renowned for its crisp and tidy appearance, has become incredibly popular in recent years. For individuals who desire a contemporary and fashionable look without going too far, it's a great choice.  Mid fade haircuts are different from high fade or low fade haircuts. Scroll down to know more and find your favourite mid fade haircuts.
51 Stylish Mid Fade Haircuts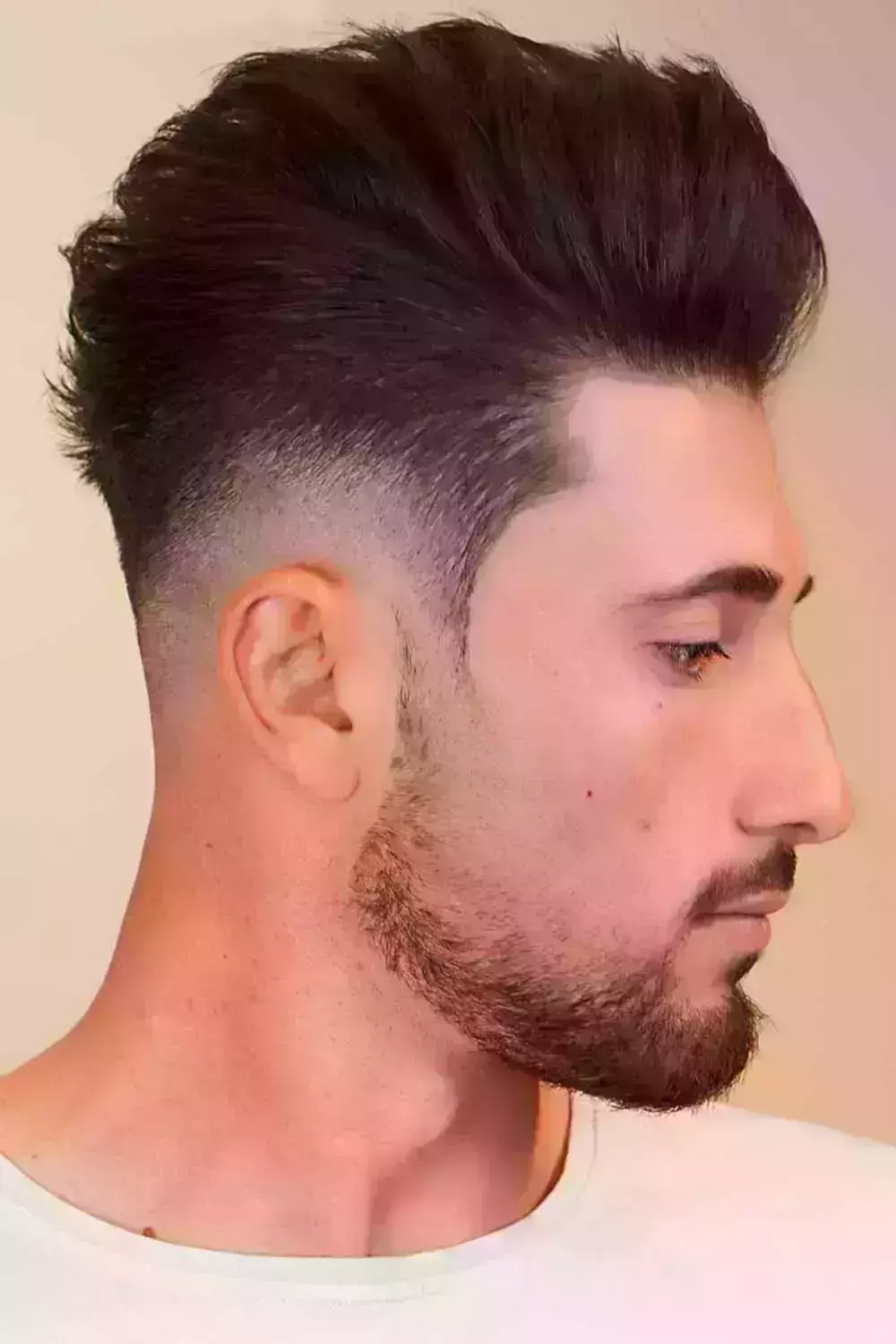 1. Voluminous Mid Fade
Men might try this style if they want mid fade long hair. Hairstyles with voluminous mid-fade styles are fashionable and adaptable. To achieve this look, trim the sides of your beard and brush up your long hair. One can also go for a low fade cut as it looks equally stunning as well.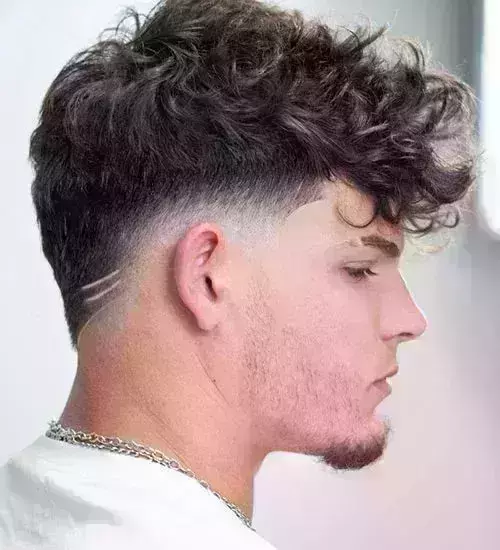 2. Mid Fade Messy Hair
Mid fade messy hair cut combines a tidy, tapered mid-fade with a rough, unruly top. Its sharp blade lines give it a striking, modern edge that makes it distinctive. This design expertly blends traditional barbering with contemporary flair to produce a sleek and effortlessly sophisticated image.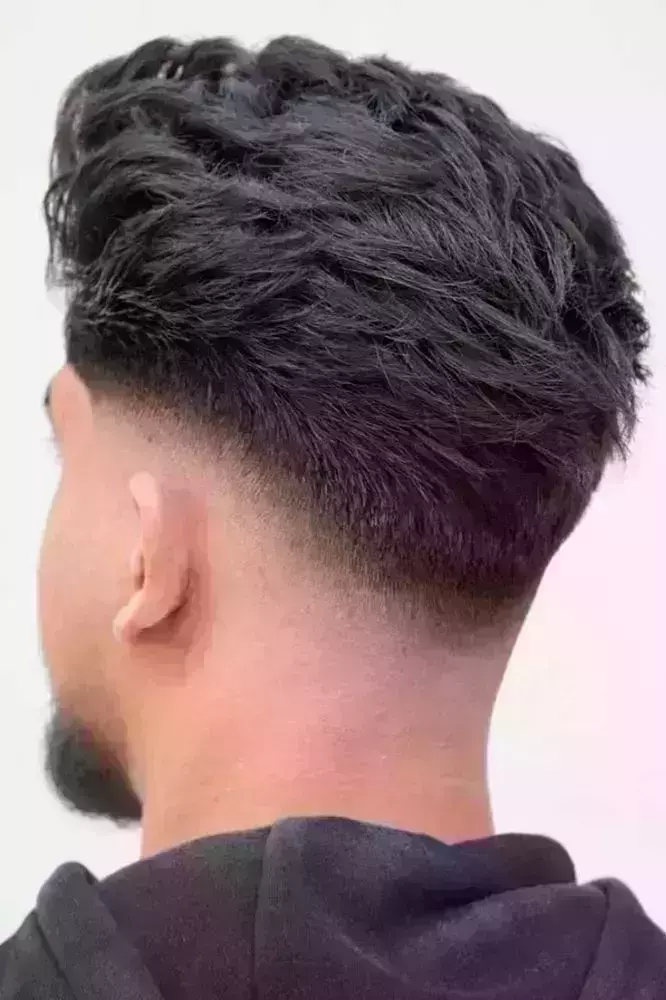 3. Clean Mid Fade
A fashionable mid fade short hair cut with a crisp transition from short sides to longer hair on top is the clean mid fade for guys. This elegant and timeless style draws attention to face features and gives off a polished vibe. Because of its adaptability to a variety of hair types, the mid fade is a classic option for a clean, sophisticated look. One can also go for a high fade haircut as it looks stylish too.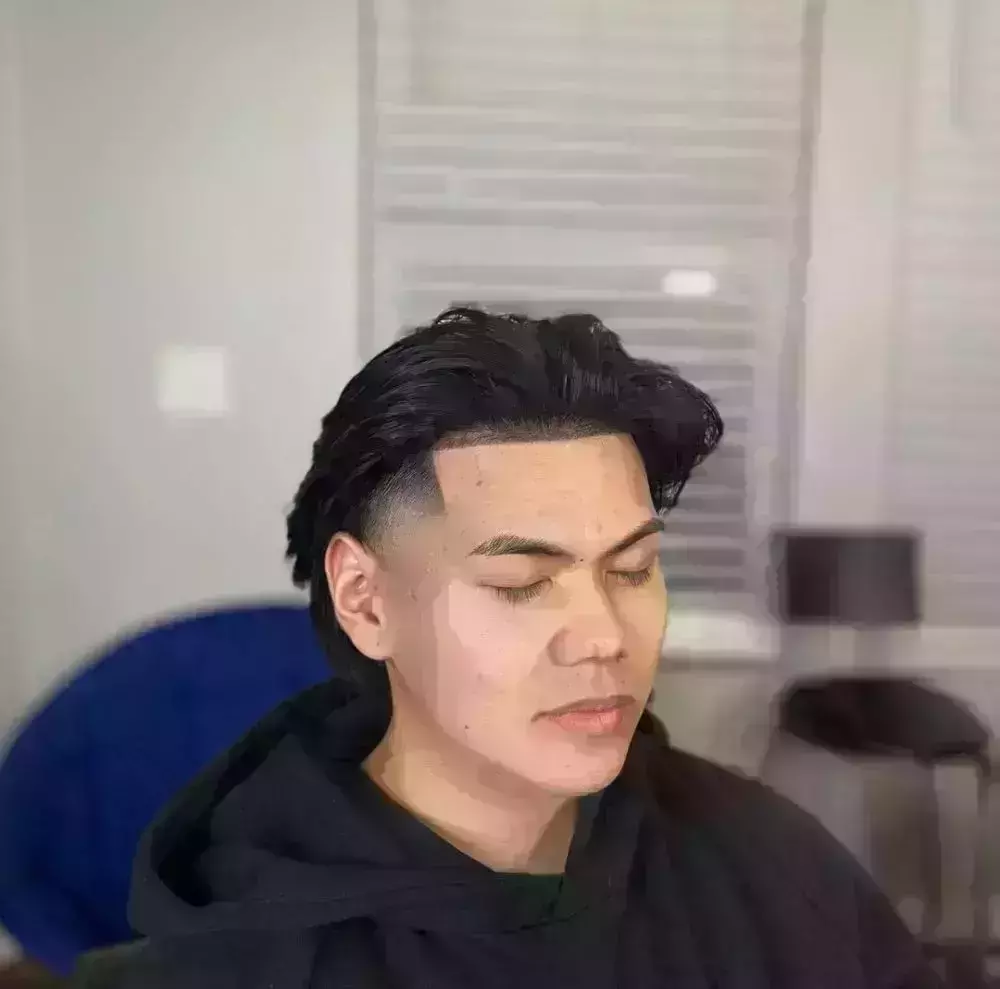 4. Mid Fade Long Hair
The boldness of longer locks on top combined with the grace of a mid fade is known as the "mid fade long hairstyle" for men. This adaptable haircut, which strikes a balance between length and neatness, puts a contemporary spin on conventional barbering and offers a chic and stylish alternative for anyone looking for a dynamic hairdo.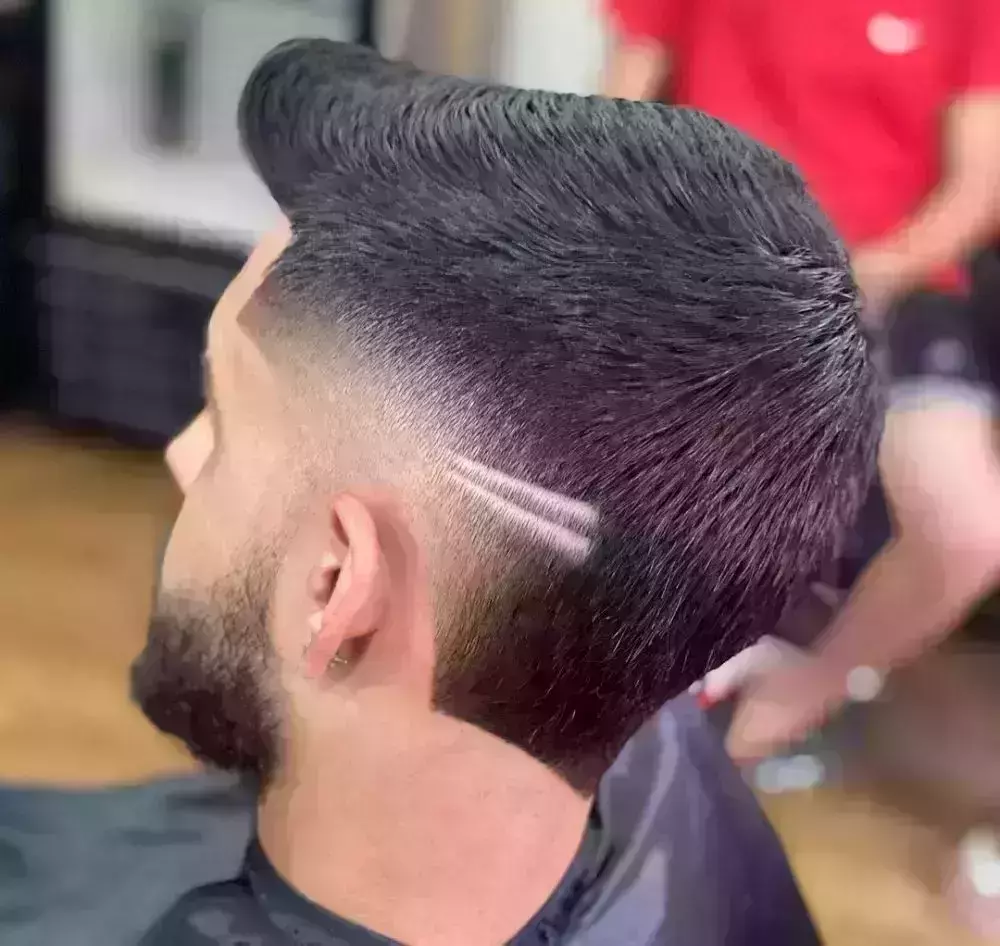 5. Mid Fade with lines
The mid fade with lines is a contemporary hairstyle that gives guys a smooth transition from short to longer hair. Creative lines or patterns carved into the fade offer a dramatic and edgy aspect that gives the entire design a modern and distinctive touch.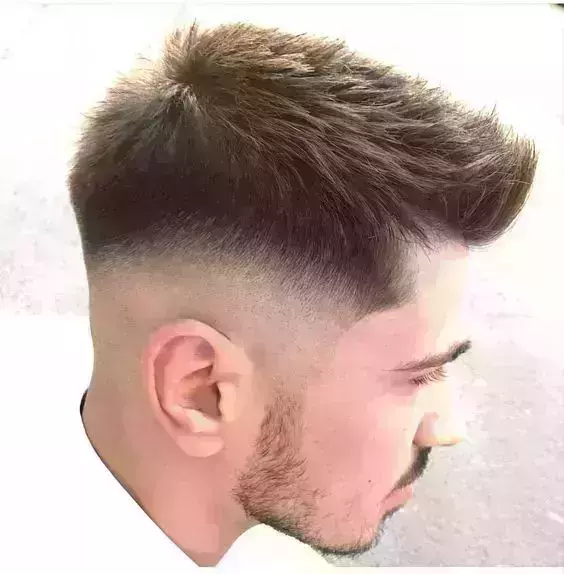 6. Little Spike Mid Fade
Ask for this mid fade with spiked hair if you're in need of a haircut for the warmer months. The sides of this haircut are cleanly shaven, while the top is short and textured. Ask about a styling product, like matte clay, to maintain the functionality and position of the top section. Enjoy creating this ensemble! Along with mid fade, a fohawk fade is another excellent option.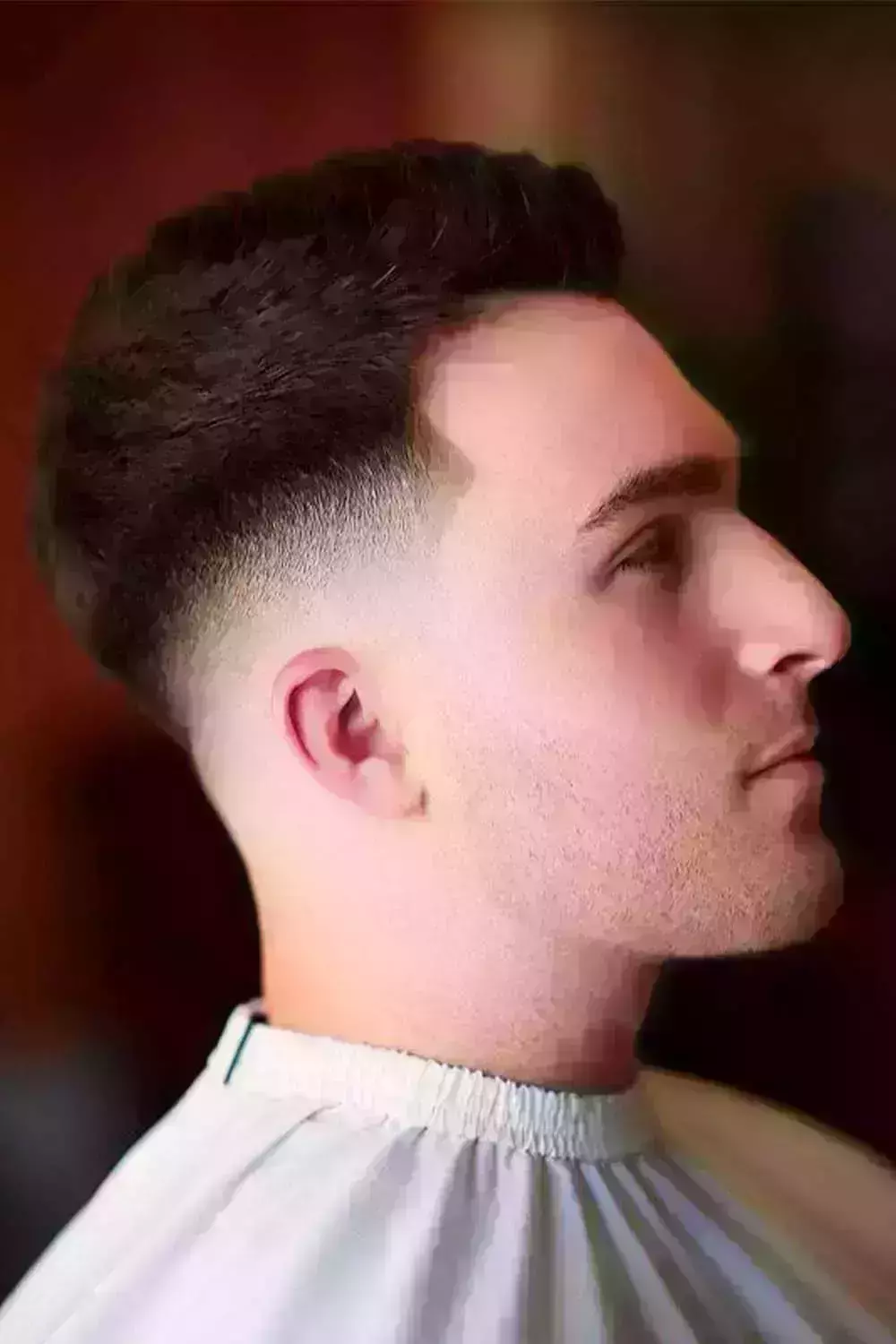 7. Medium Hair Mid Fade
Go for medium hair mid fade haircuts  if you don't want too long or too short a hairstyle. Get a good trim on the top sides with the clean mid fade shaped cut.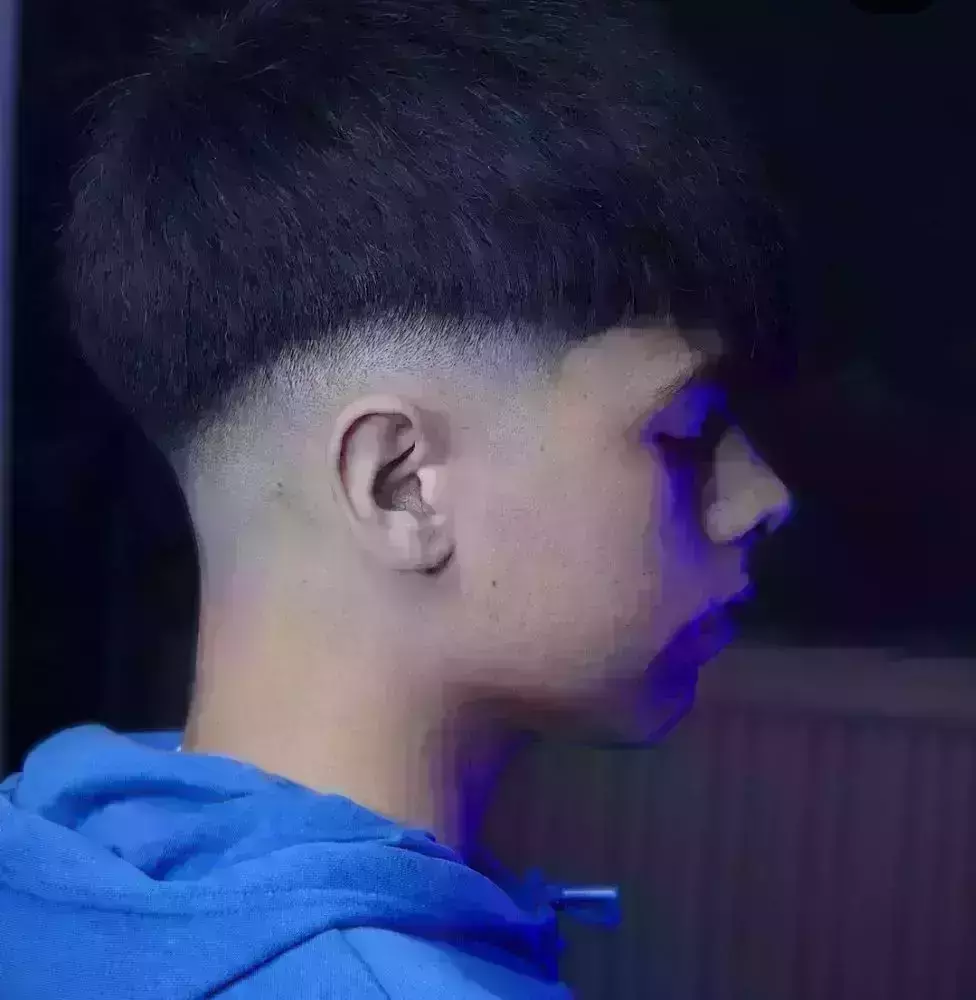 8. Mid Drop Fade
A fashionable haircut that creates a smooth transition from the temples to the back is called a mid drop fade for guys. This stylish mid drop fade take on the traditional fade gives a subdued pop of contemporary style and a polished, sleek appearance that goes well with a variety of hair types and textures. Also, mid drop fade hairstyle will make you look much younger.
Make sure to find out taper Vs fade differences before you finalize your hairstyle. Once you know these details, you can pick the haircut which matches your personal preferences in a better manner.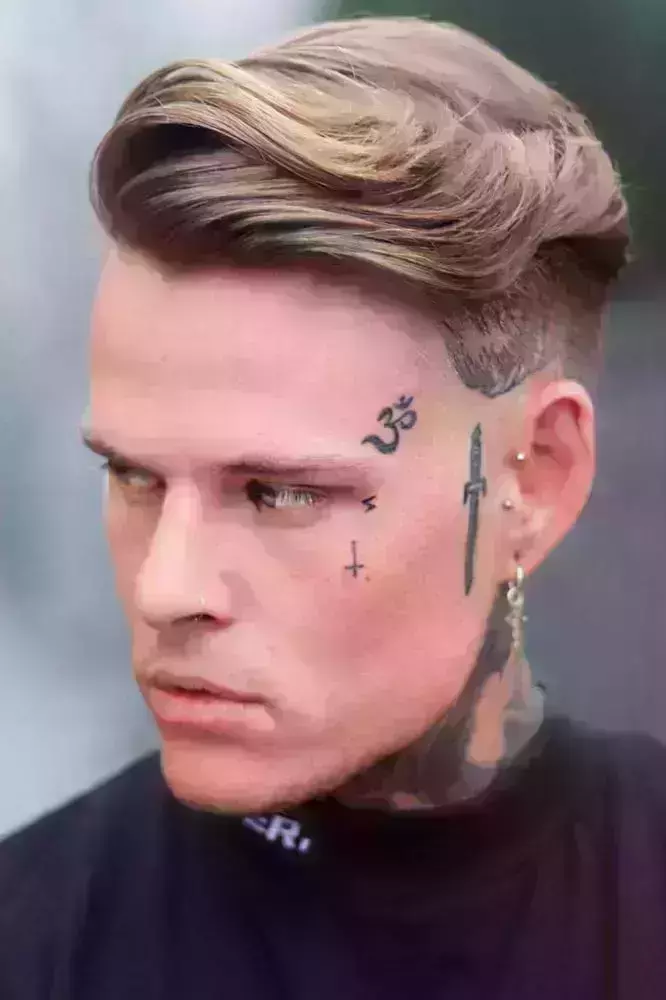 9. Front Long Mid Fade
Mid fade seems to be making a resurgence these days, despite its popularity in the past. The only difference is that nowadays, it's paired with a fade to seem incredibly stylish. If this looks like something you're into, then by all means do it!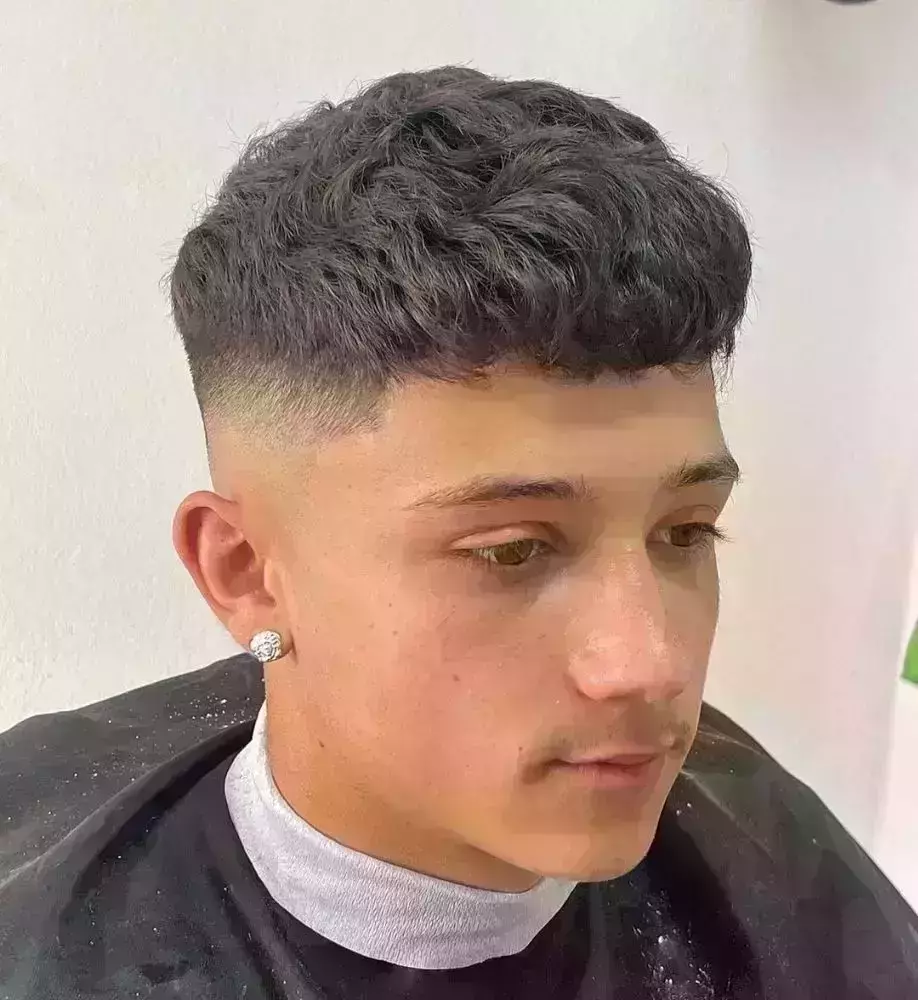 10. Wavy Edgar Cut
This is a very stylish cut and it looks like you are wearing a wavy hair cap! Tell your barber the trim the sides and guess what? You are done.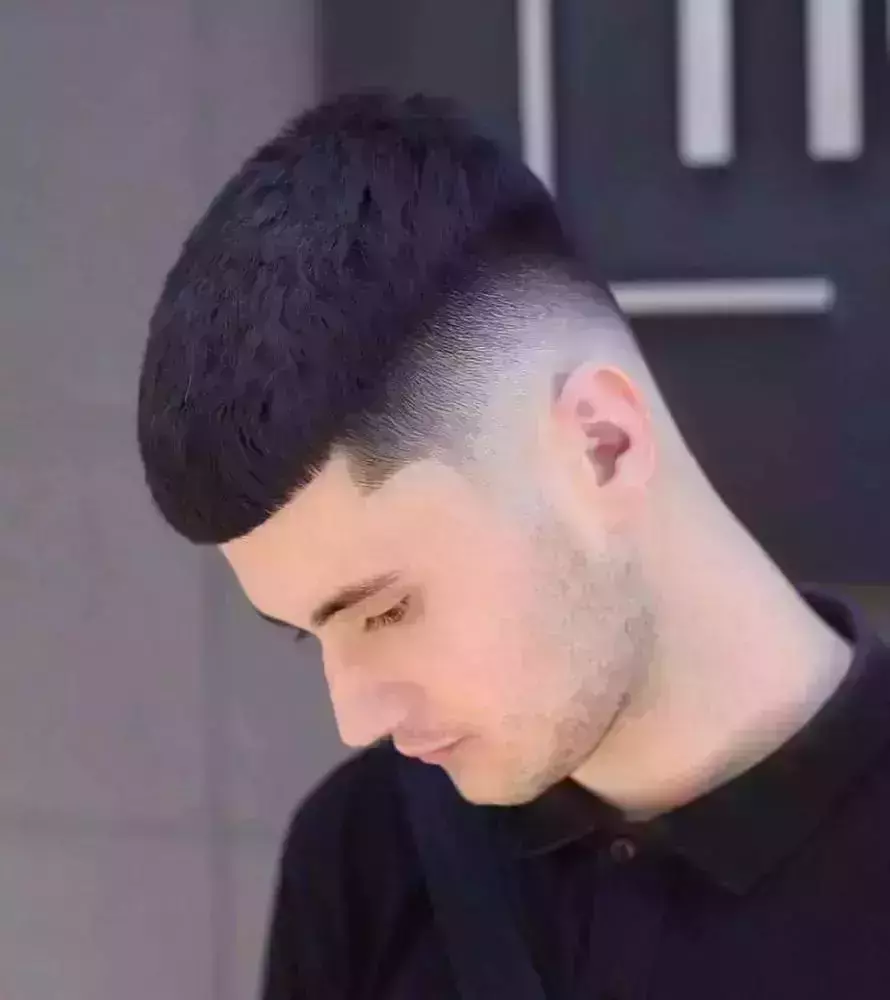 11. Edgar cut  Mid Fade
When getting a fade, you can go with any length of hair at the crown. Even extremely short men's haircuts like buzz cuts can look great with a fade like mid fade short hair . A line drawn up along your forehead, temple, and cheeks further defines your appearance. Men's favourite haircut is the high fade buzz cut.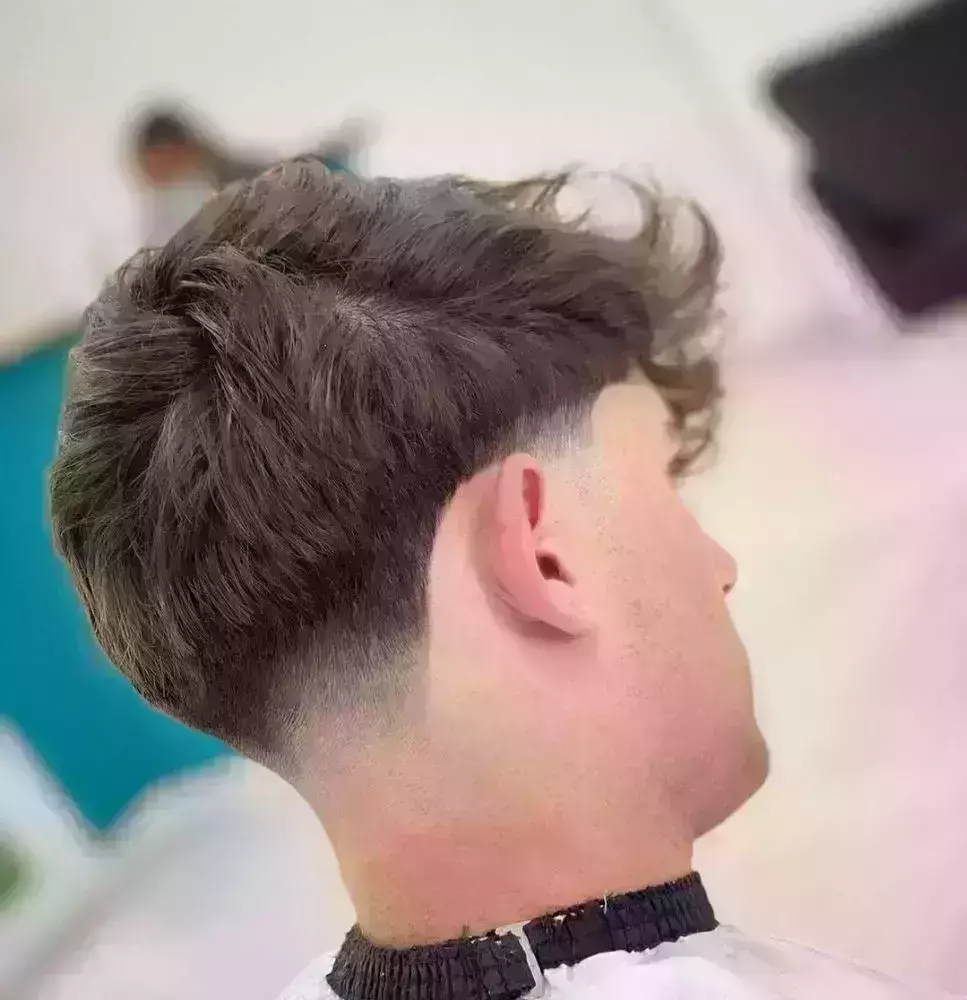 12. Little Mid Fade
Any form of fade works great for wavy or curly hair structures since it keeps unruly locks under control while enabling emphasis to be focused on your top hair. For an even bolder and more striking effect, you can dye your hair a colour that contrasts with your skin tone.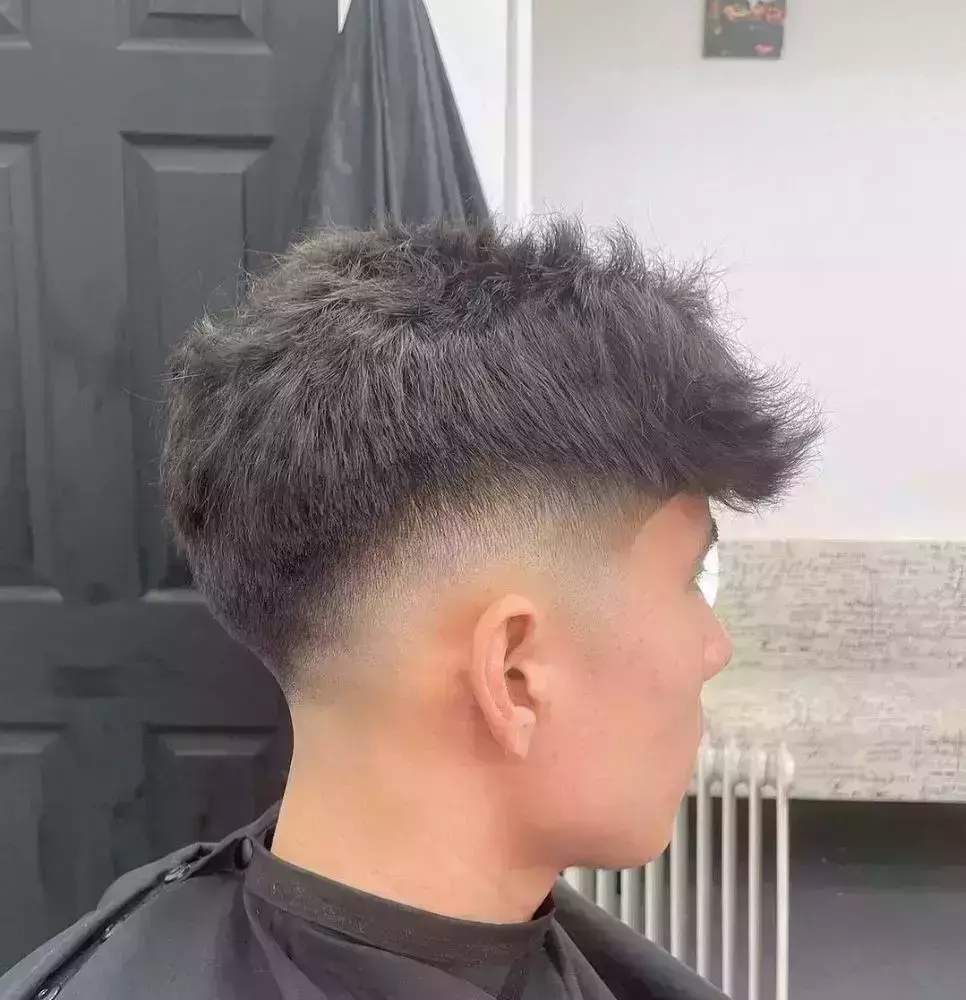 13. Spiked Up Mid Fade
The men's spiked-up mid fade blends an edgy top with upright, spiked hair with a clean mid fade. This modern haircut gives off a vibrant, stylish look by fusing refinement with a daring, exuberant spirit. A touch of contemporary flair is added by the contrast between the spiky texture and the structured fading.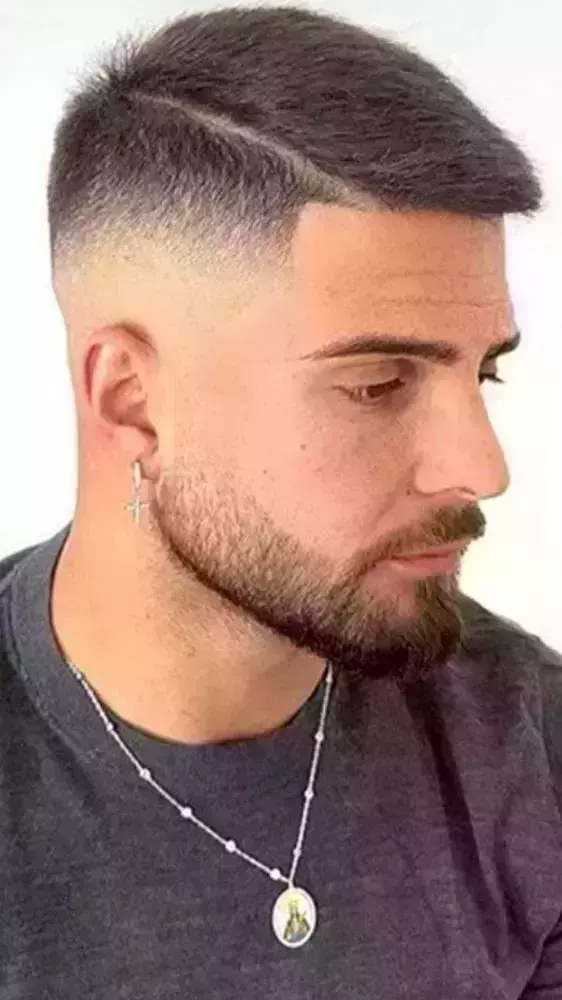 14. Mid Taper Fade
Want a sober, formal look yet stylish for office party? Go for this taper fade with short hair style.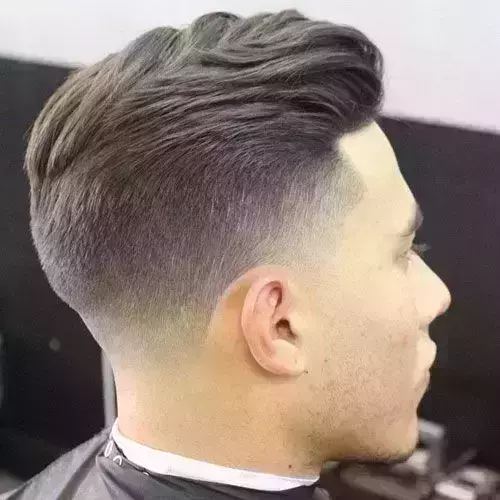 15. Wavy Hair Mid Fade
The wavy hair mid fade for guys combines a sleek mid cut with the allure of organic waves. The sides of this chic haircut flow naturally into larger, sculpted waves on top. A balanced and effortlessly stylish appearance that embraces both accuracy and informal flair is produced by the combination of structured fading and loose waves.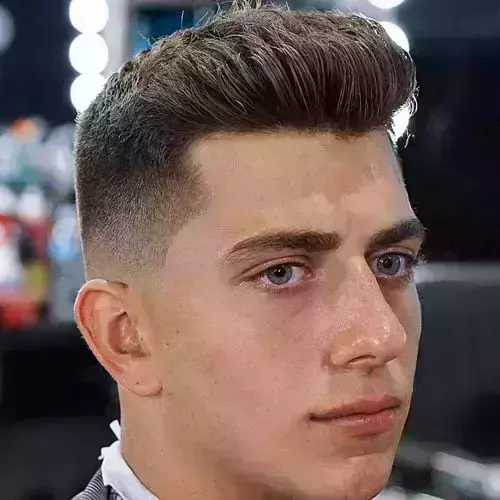 16. Upward Combed Mid Fade
This is the most common mid fade hair style. Men with thinning hair can try this hair style. It adds volume to your hair and the mid fade cut will give you a fashionable appearance.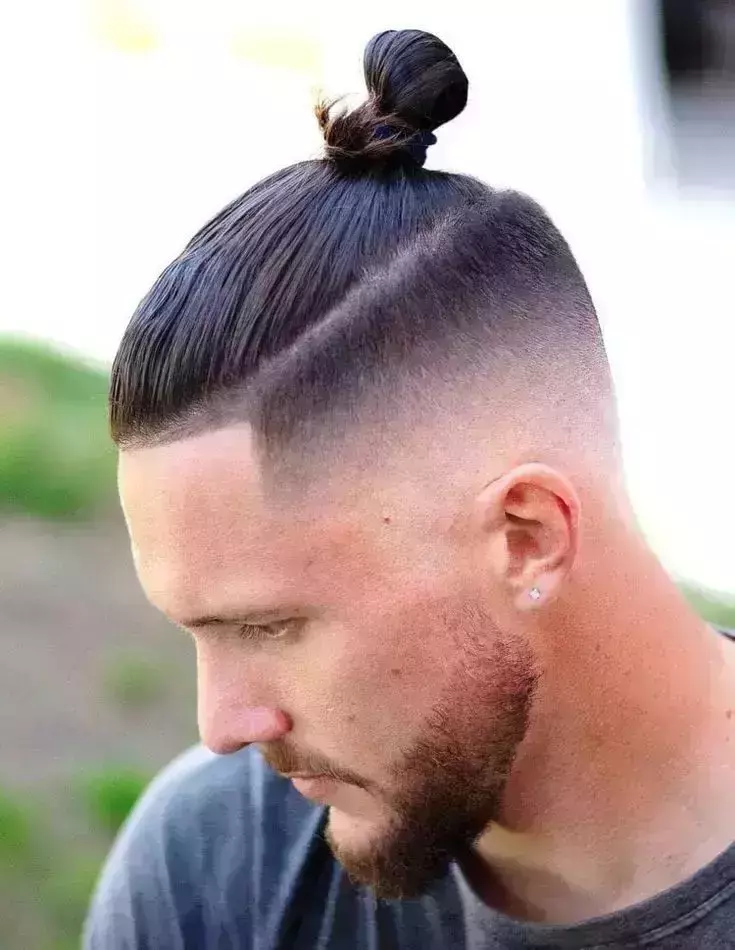 17. Mid Fade with Man Bun
The mid fade with a bun is a cool hairstyle. Keeping the sides clean give a neat and fresh look. Anyone can style this and if you don't like bun you can also style this by keeping the hair open.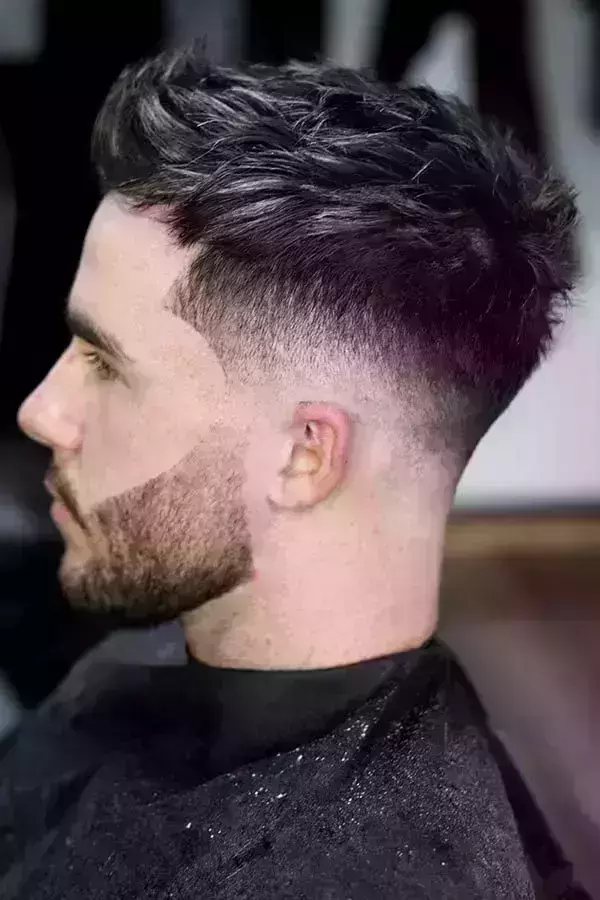 18. Mid Fade with Faded Beard
Want a matching hair and beard style? Try this one. The high fade beard cut is continuous with mid fade hairstyle with spikes. Put some gel on your hair and style it as you like. If you check Zayn Malik hairstyles, he gives a lot of inspiration to style faded haircuts with beard.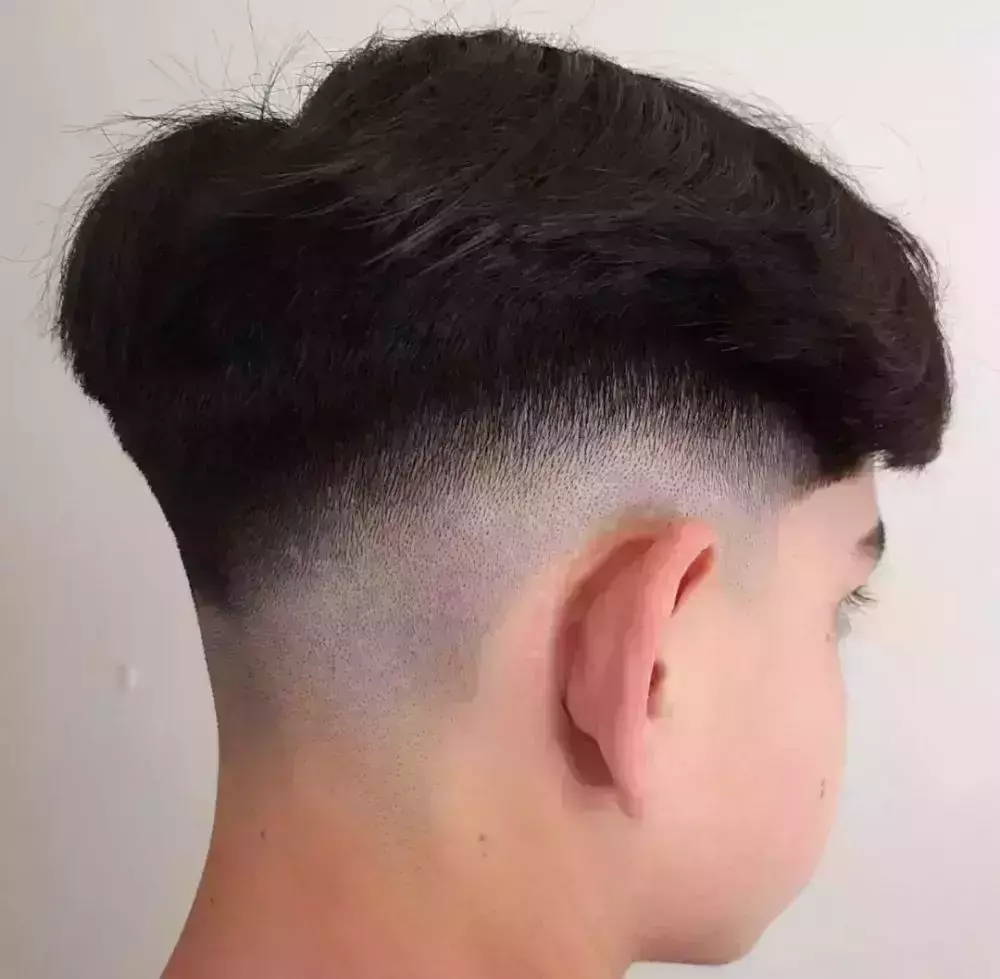 19. Mushroom Mid Fade
The hairstyle is a combination of mid fade with a voluminous top looking like a mushroom cap. Try this stylish option for a contemporary look.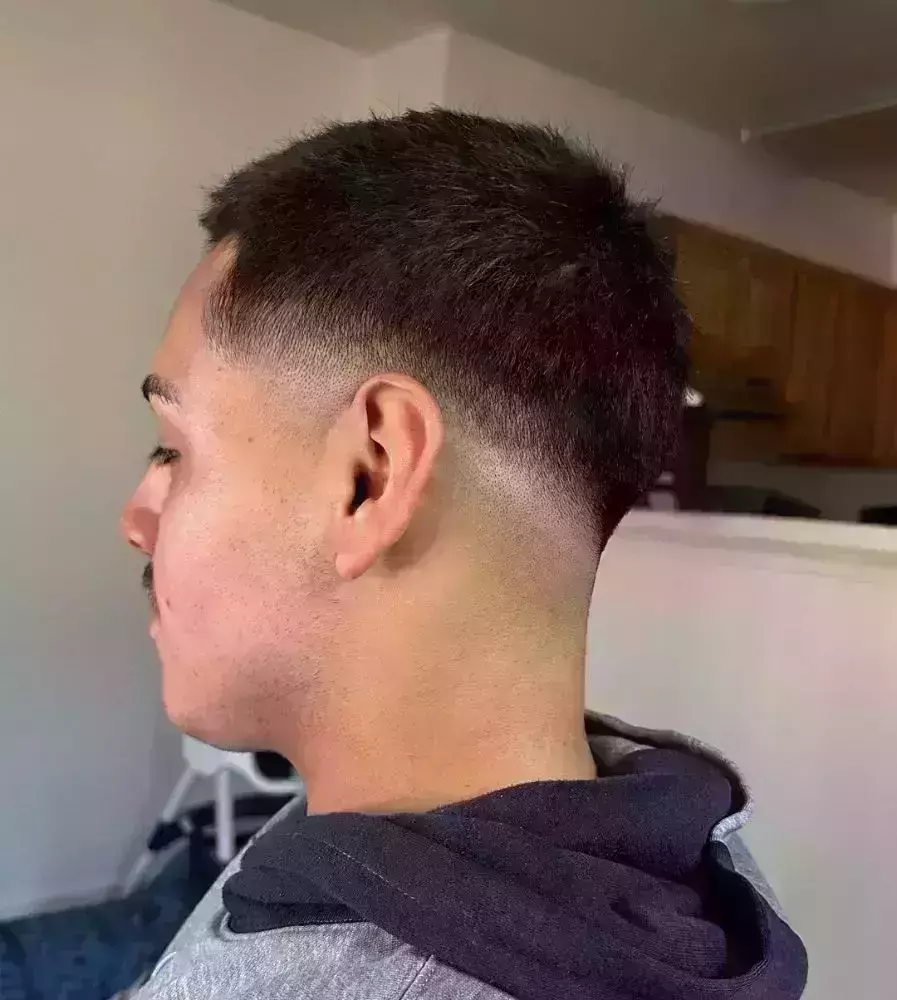 20. Fade Cut
This is a classic mid fade cut to give you a stylish look for every age and for every occasion.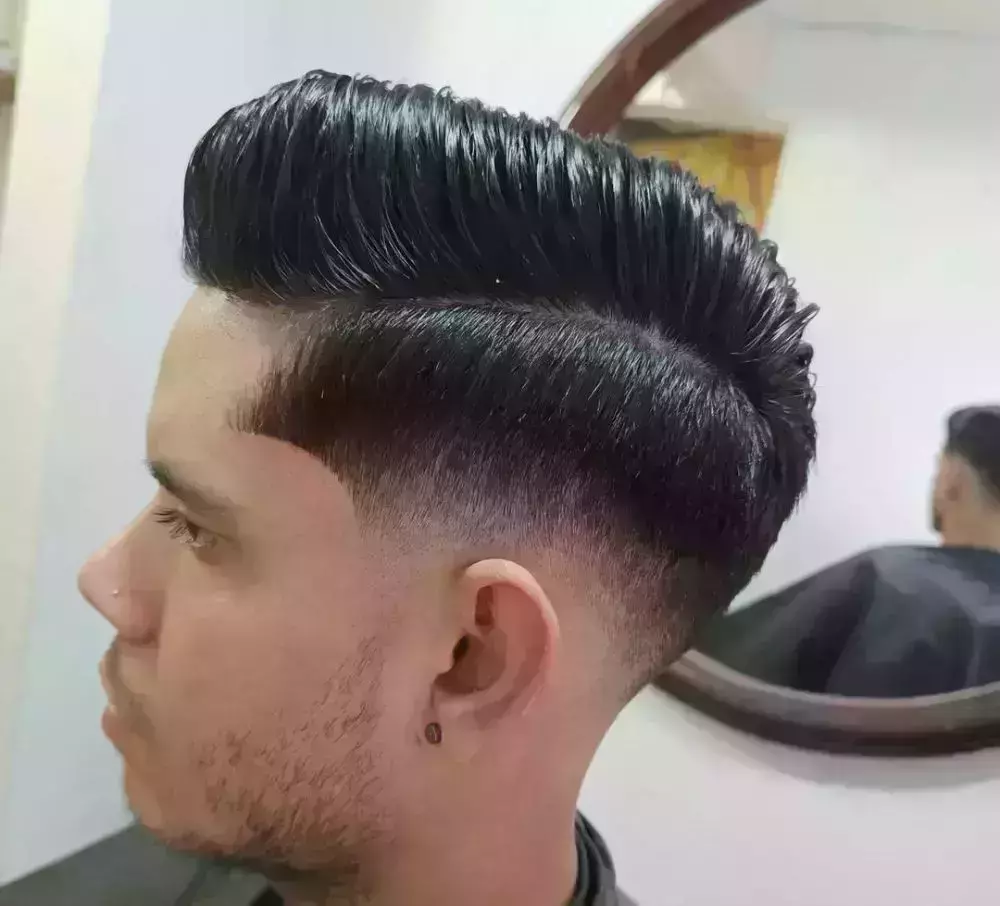 21. Glossy Mid Fade
Style your mid fade hairstyle with your favourite hair gel and look at the results!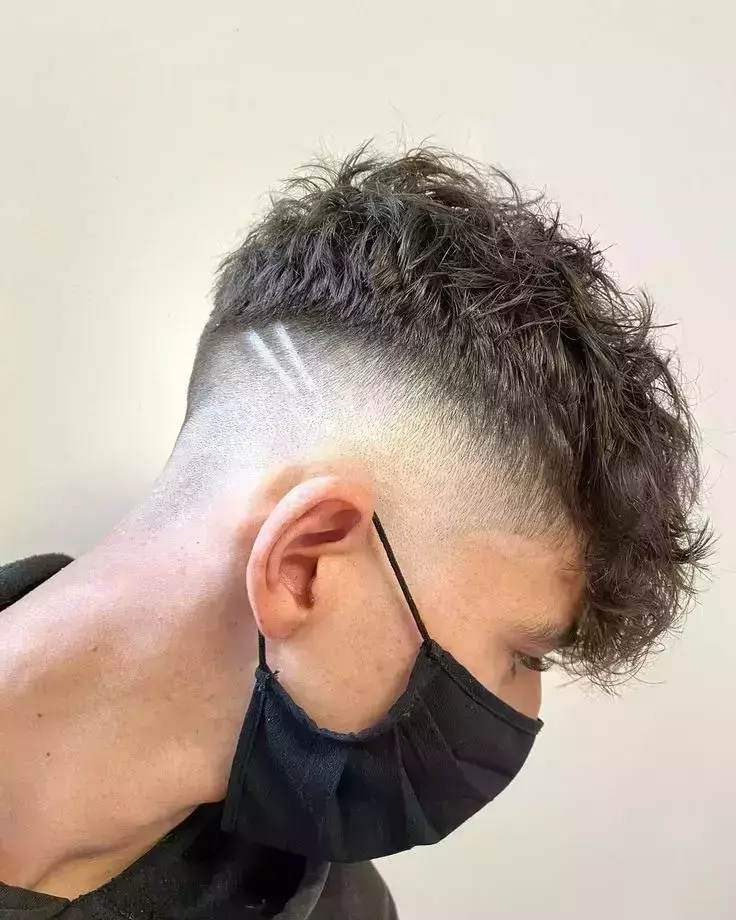 22. Dapper sharp Mid Fade
A nongreasy finish and sleek sides are becoming more popular among men, as this crisp, mid fade haircuts. Drying some volume spray from the root up is one of the easiest methods to increase volume. You can also get this look if you want to dye your hair.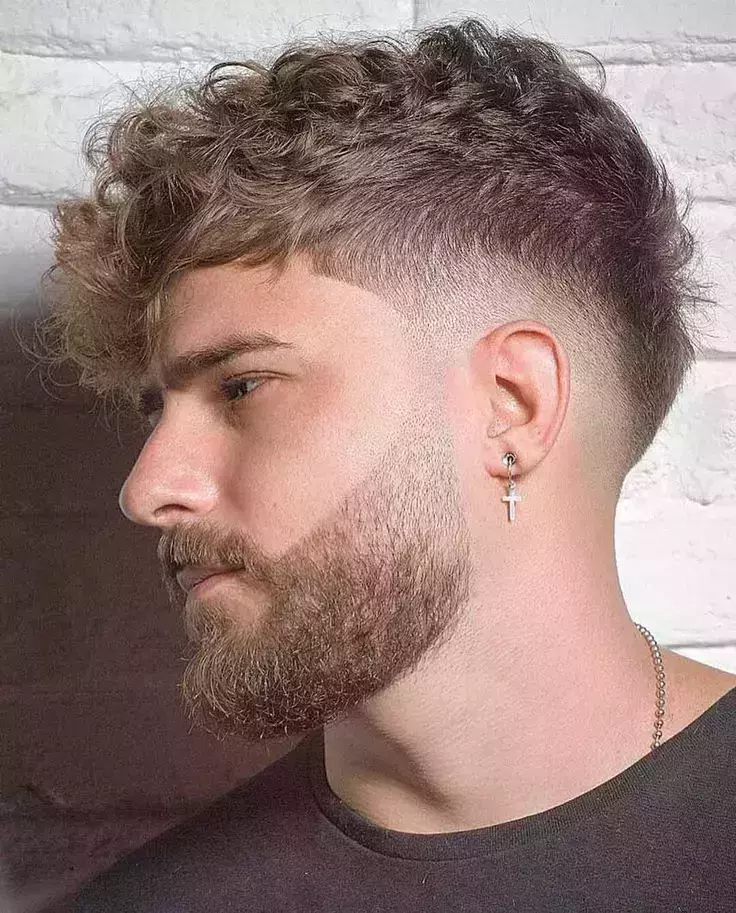 23. Blonde Mid Fade
The blonde mid fade for men creates a dramatic contrast by combining a sleek blonde tone with a crisp mid fade. This cut creates a striking and contemporary style that radiates confidence and modern flare by skillfully fusing a polished fade with the liveliness of blonde hair on top.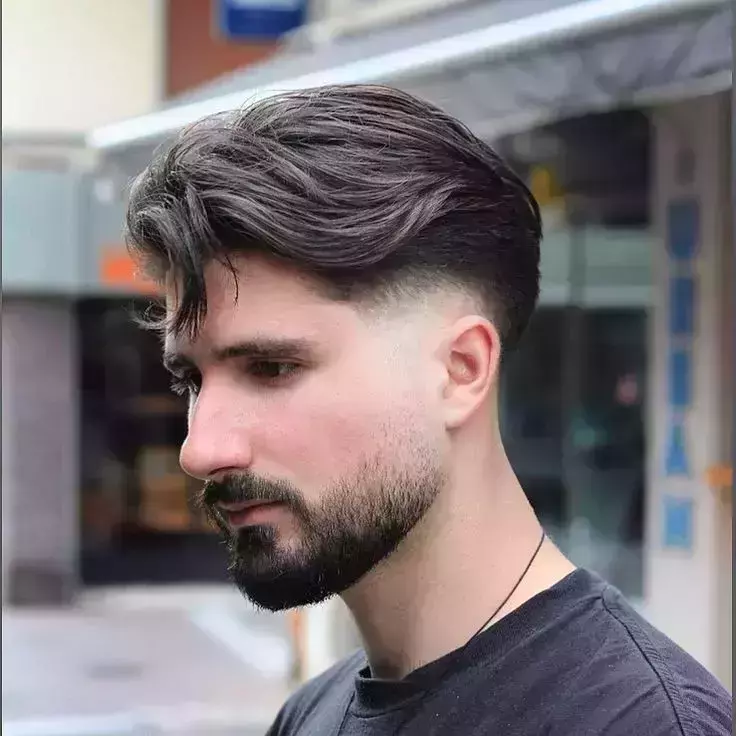 24. Front Wavy Mid Fade
A unique hairstyle that combines a clean mid fade with textured waves at the front is the men's front wavy mid fade. For individuals looking for a versatile and fashionable look, this style pairs a polished fade with the naturally flowing wavy hair to create a dynamic and modern look that is both refined and casually elegant. If you check David Beckham hairstyles, he gives a lot of inspiration to style faded haircuts with wavy hair.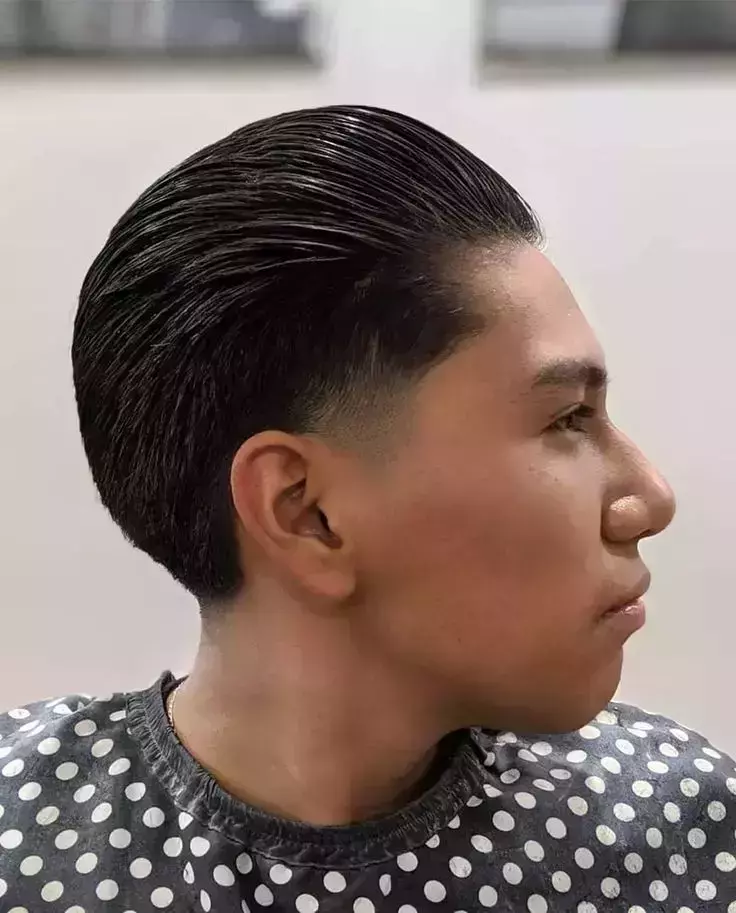 25.  Back Brushed Mid Fade
A clean fade and a fashionable back-brushed top are combined in the men's back-brushed mid fade haircuts . This modern cut has a smooth transition from short sides to a longer, brushed-back crown with texture. The overall effect is a refined yet carefree appearance that appeals to the discriminating guy by combining current sophistication with accuracy.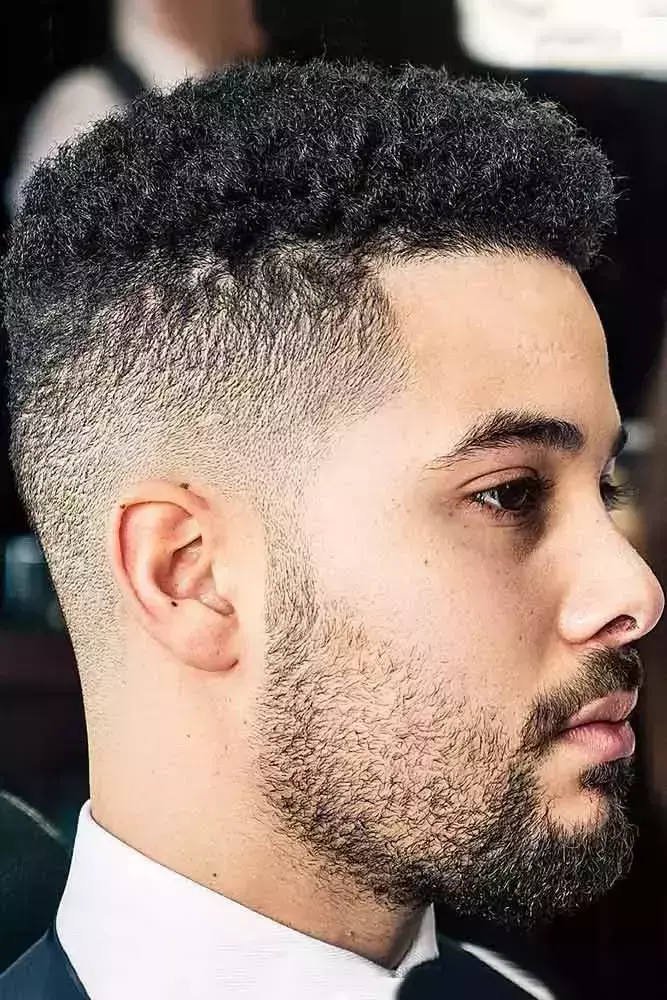 26. Curly Hair Mid Fade
The curly hair mid fade haircuts for guys combines the allure of natural curls on top with a neat, tapered fade. This chic mid fade short hair embraces the vibrant, dynamic quality of curly hair while striking a balance between structure and texture to give off a professional image. It's a fusion of easy coolness and refinement.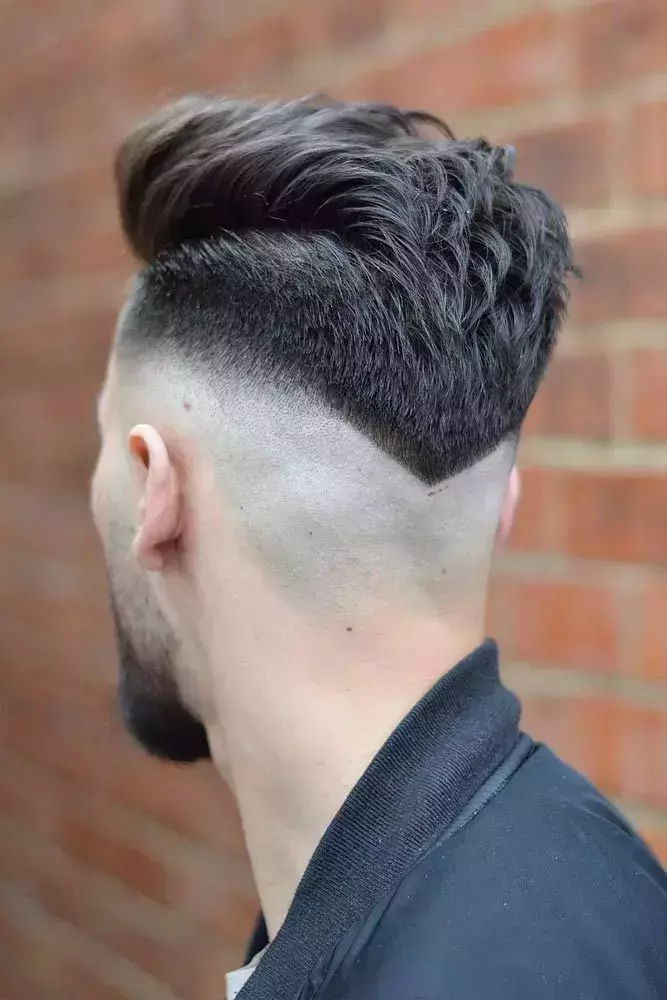 27. Cone Mid Fade
The cone mid taper fade is a unique men's haircut that tapers gradually from the temples to the back, giving the appearance of a cone. This strong, modern appearance highlights uniqueness and modern flare with a distinctive, eye-catching silhouette that blends clean, rigid lines with a dynamic silhouette.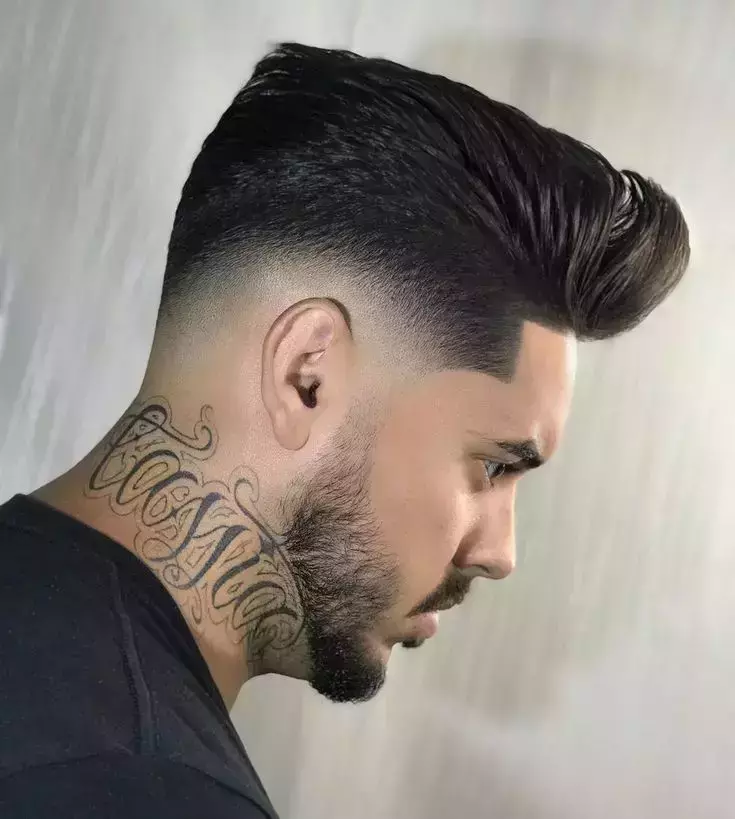 28. Gradient Mid Fade
With a subtle gradient look,  men's gradient mid fade haircuts blend short sides into longer hair on top in a sleek and contemporary style. This chic take on the traditional fade adds a touch of refinement, resulting in a polished and modern smooth transition that elevates overall sophistication.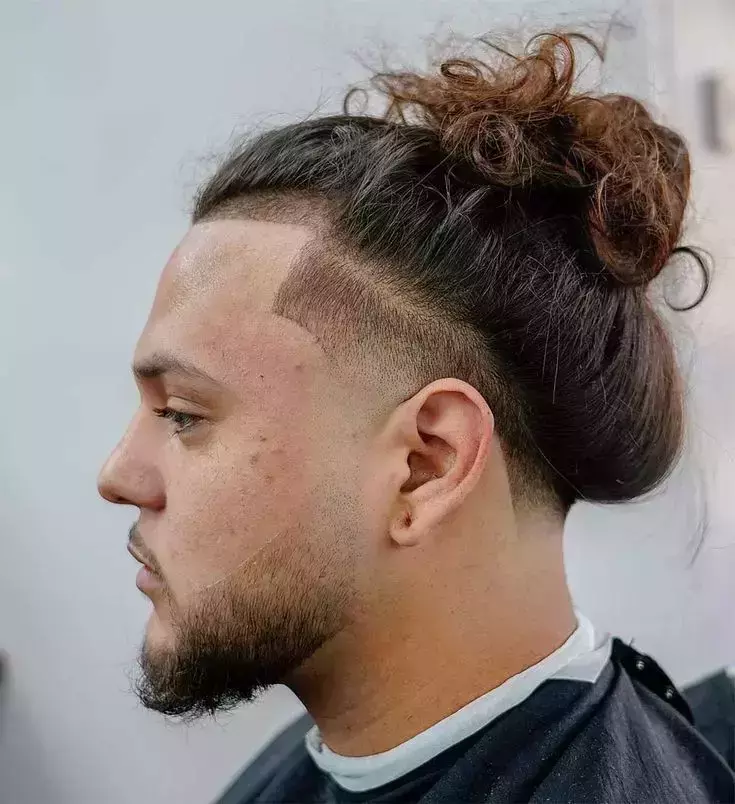 29. Messy Bun Mid Fade
Men's messy bun mid-fade blends a neat fade with an effortlessly managed messy bun. This modern, carefree haircut easily combines a relaxed, textured bun on top of polished sides. The ultimate effect is a tasteful blend of sophistication and easygoing flair, perfect for anyone looking for a current yet adaptable style.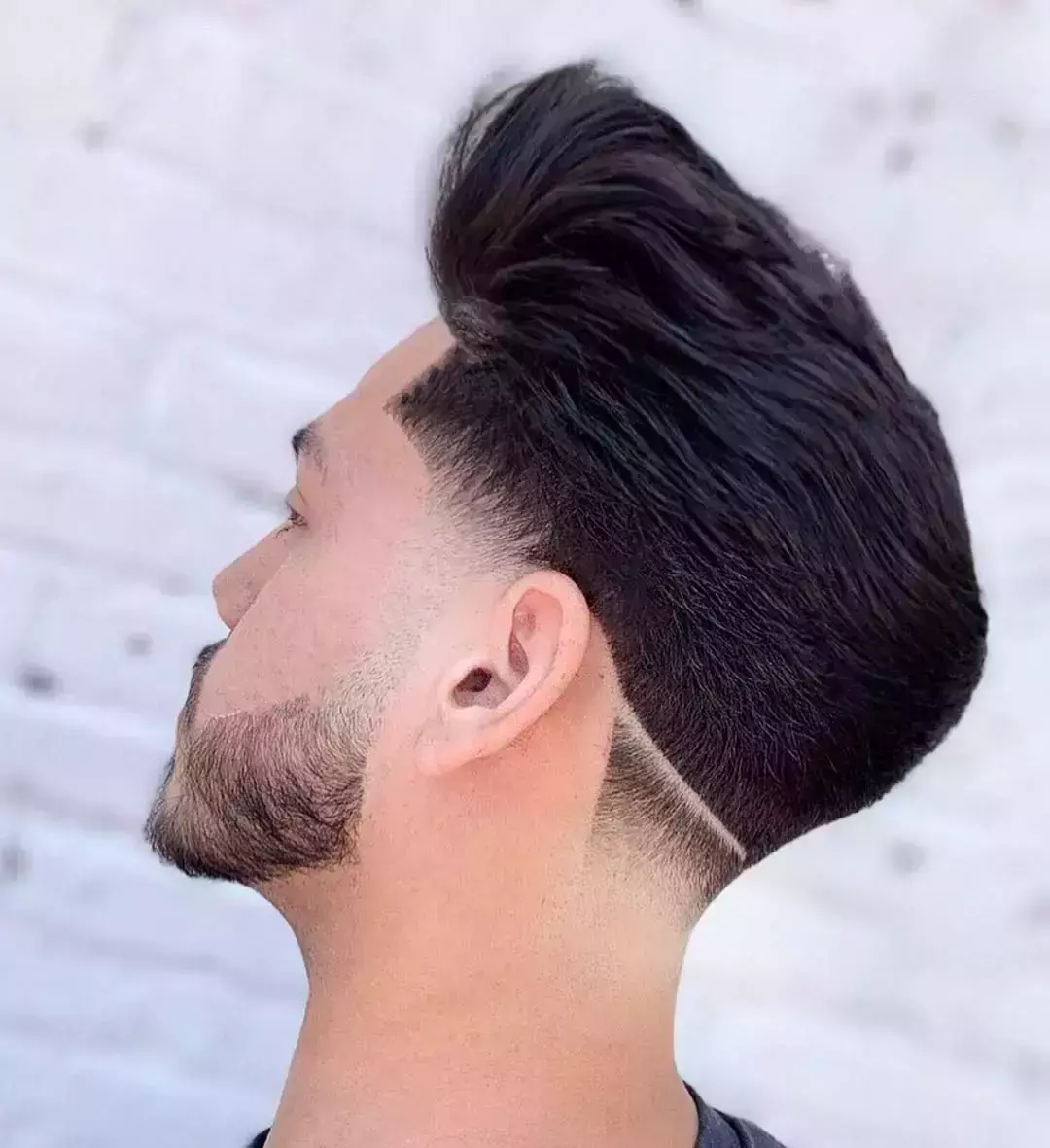 30. One Clean Line
A neat and understated haircut, the one clean line mid fade for men has a single, clear line carved into the fade for a precise mid-fade. This elegant design makes a statement for discriminating people by adding a bold and contemporary touch and enhancing the entire look with simplicity and class.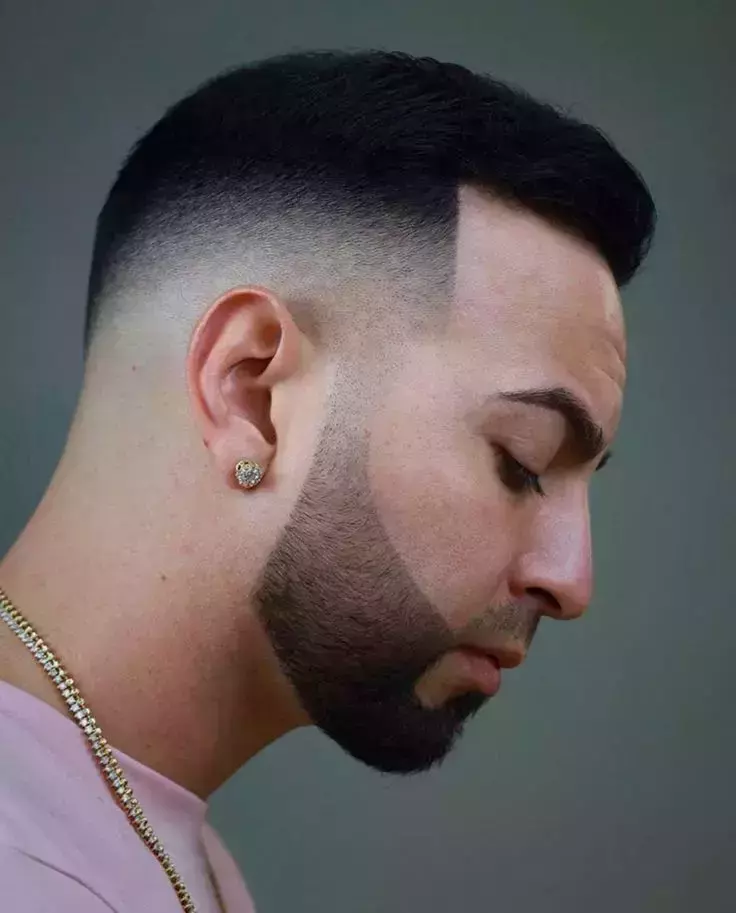 31. Shadow Mid Fade
Men's shadow mid fades combine a clean mid fade with a delicate, gradient-like shadow effect to create a subtle, modern haircut. The smooth transition between the longer top and shorter sides of this form adds depth and a dash of contemporary refinement. It's a subtle and adaptable option for a put together look.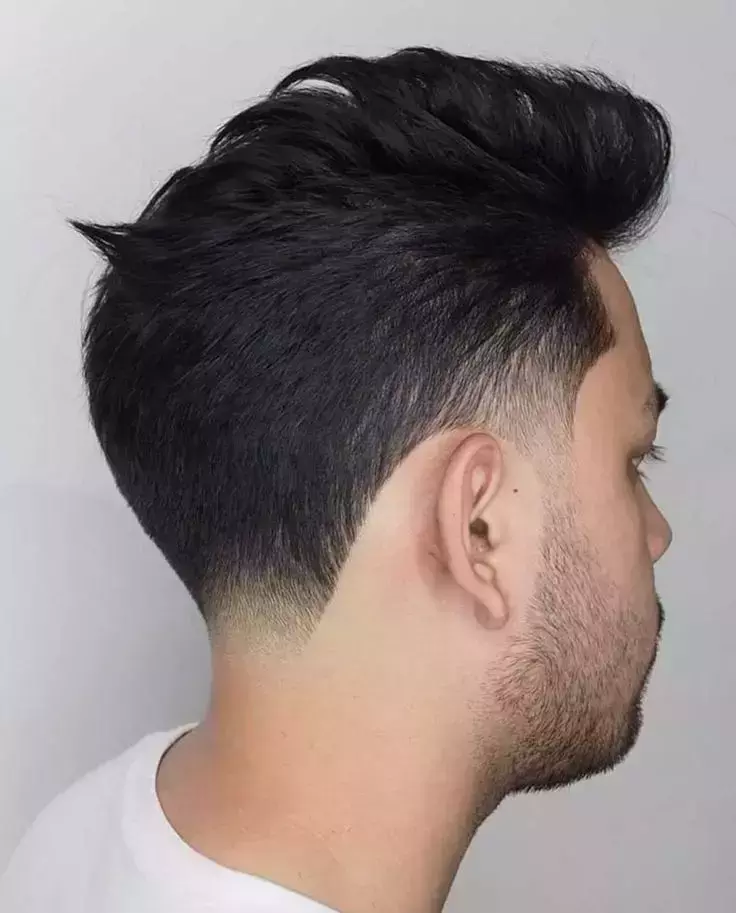 32. Light Mid Fade
A sleek mid-fade haircut that subtly and gradually lightens hair is known as the "light mid fade" for guys. With its chic pairing, you can seem chic and current while effortlessly transitioning from shorter sides to a lighter, eye-catching top for a unique and fashionable look.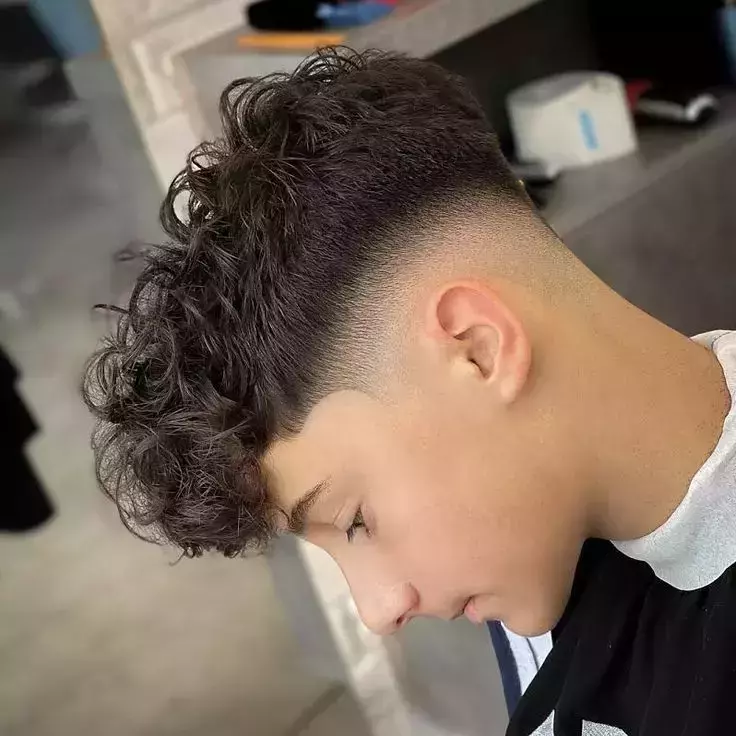 33.  Top Curly Mid Fade
The top curly mid fade is a chic hairstyle for guys that features naturally textured curls on top of a clean, tapered fade. This modern haircut offers a dynamic and fashionable look that is both sophisticated and effortlessly cool by striking a balance between the vivacious appeal of curls and structural precision.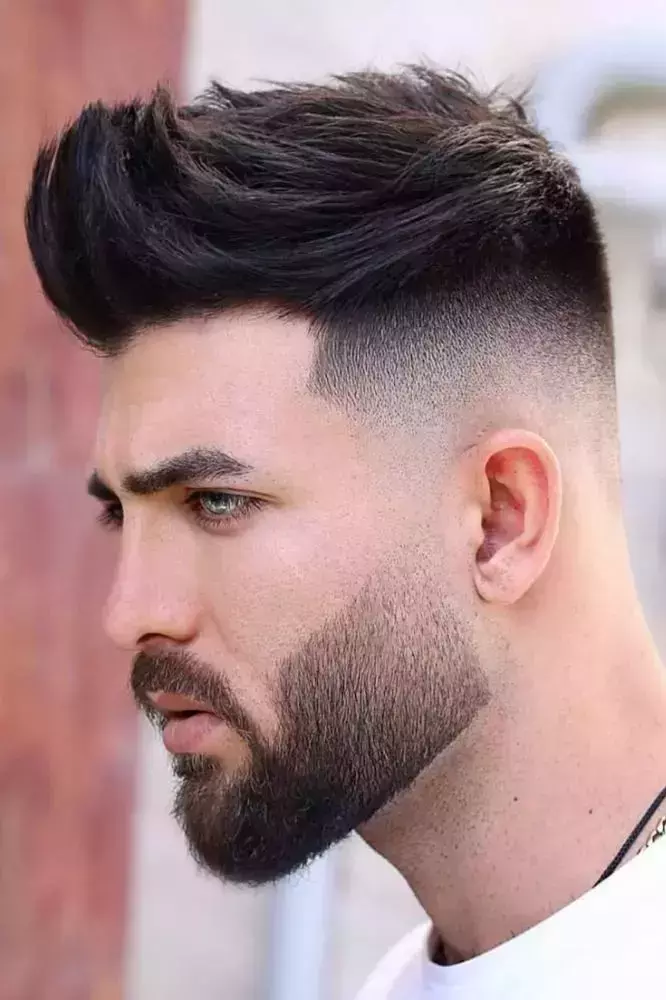 34. Brushed up Mid Fade
The brushed-up mid fade for men is a sleek haircut that seamlessly integrates a clean mid fade with a stylishly brushed-up top. This contemporary style strikes a balance between polished elegance and a confident, modern flair. The gradual transition from short sides to a lifted crown creates a dynamic and sophisticated appearance.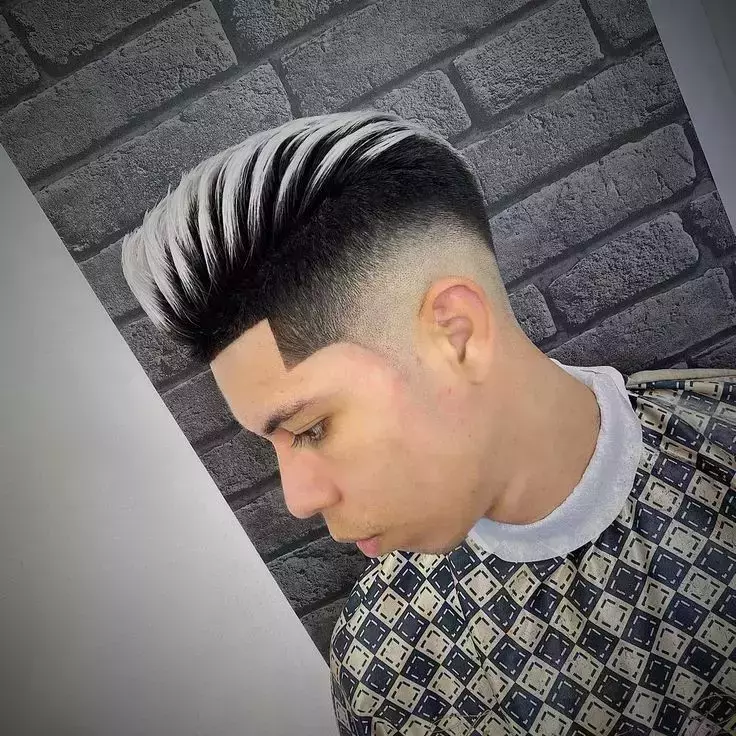 35. Grey Mid Fade
Grey mid fade haircuts looks elegant with a fashionable look that goes with any age and style.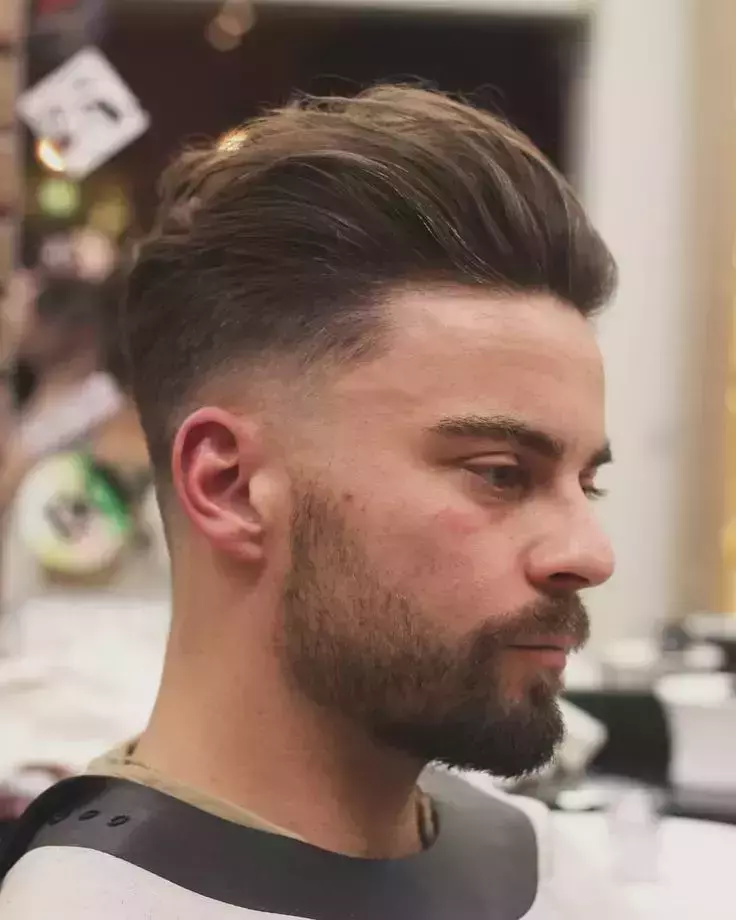 36. Blonde Mid Fade Long Hair
Men with longer, textured locks atop a clean mid-fade with the brightness of blonde colouring can sport the blonde mid-fade long haircut. A dramatic contrast is created by the smooth pairing of the long, blond hair and the structural fade. It's a stylish, head-turning haircut that exudes confidence and style.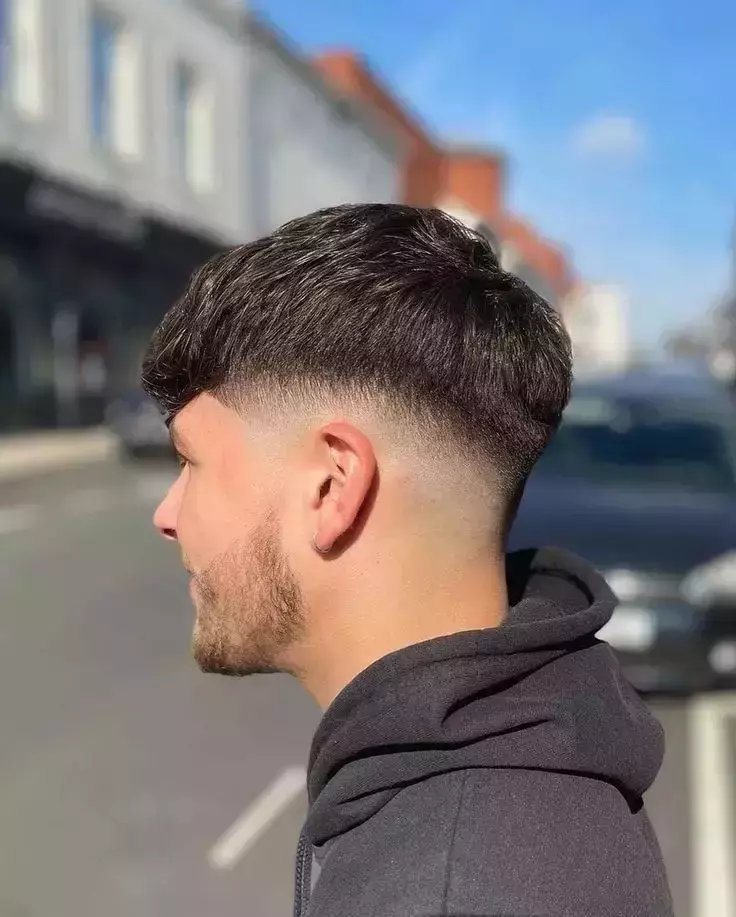 37. Textured Mid Fade
The men's blonde textured mid fade haircuts combines a vibrant, textured top in a stunning shade of blonde with a sleek mid fade. This cutting-edge hairstyle combines the dynamic appeal of textured hair with the structured precision of a modern cut, creating a polished yet fashion-forward appearance.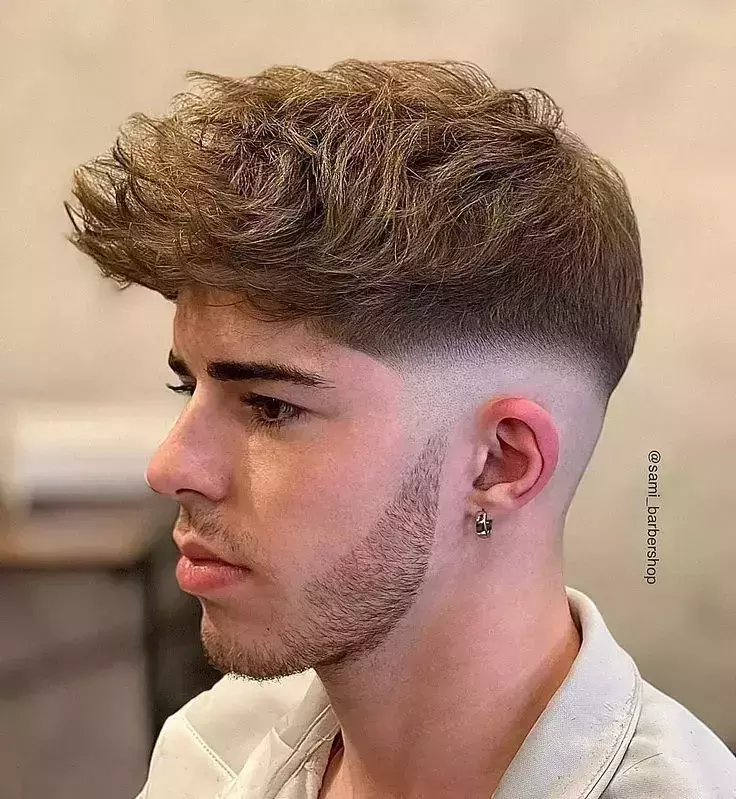 38. Messy Blonde Mid Fade
A mid fade messy hair combined with a blonde top creates a stylish look.  By balancing polished precision and carefree flare, this effortless yet trendy appearance provides a smart and confidently fashionable casual appeal.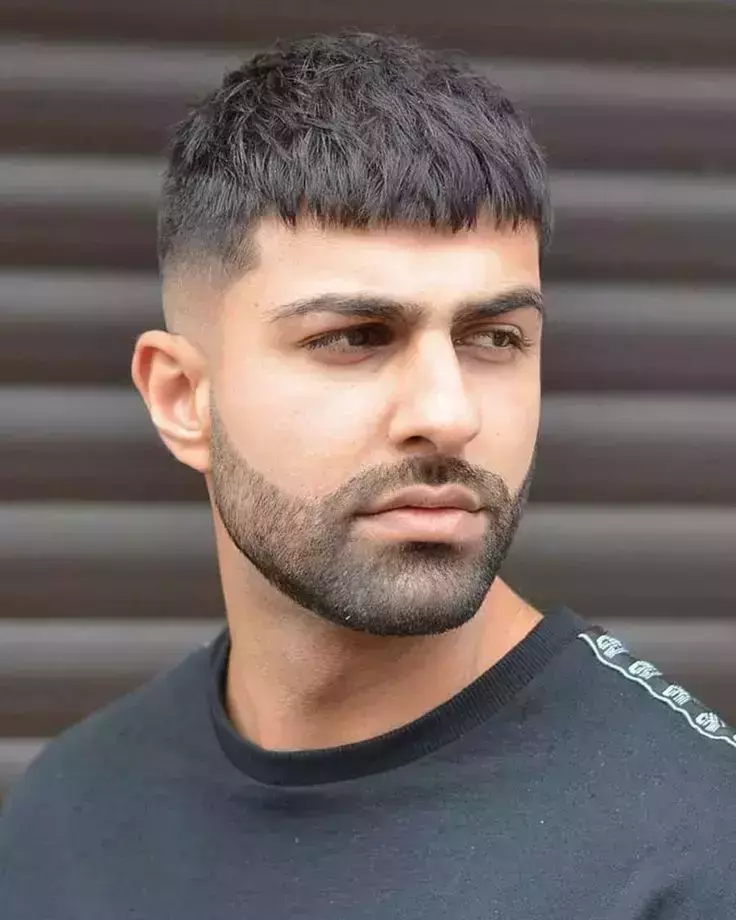 39. Soft Mid Fade
The soft mid fade and delicate transition are expertly combined in the trendy men's soft mid fade haircuts . By gradually tapering from short sides to a somewhat longer top, this fashionable version maintains a sophisticated appearance while producing an adaptable, modern design with a hint of subtle grace.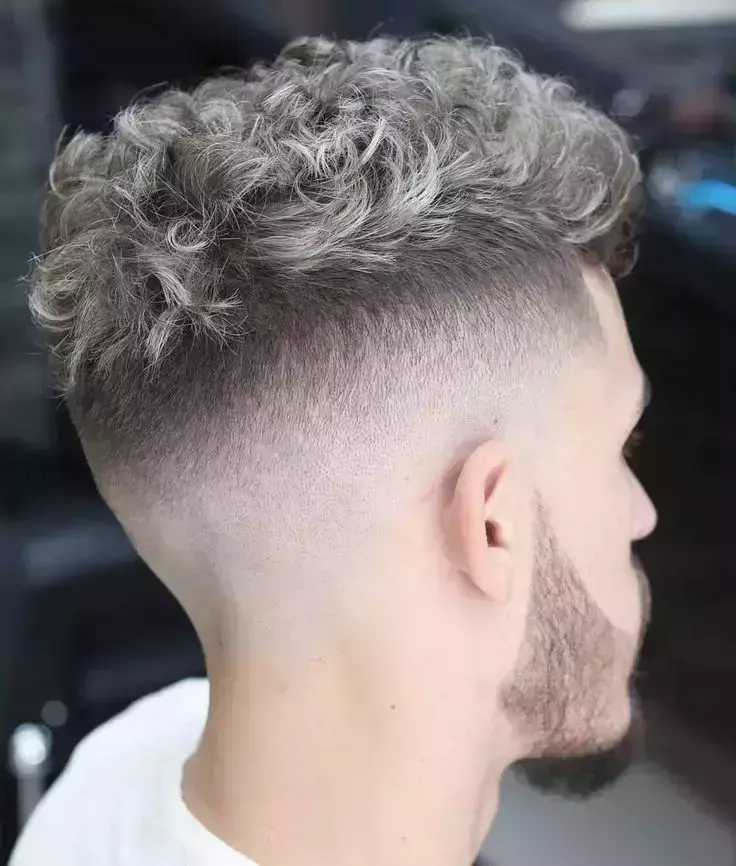 40. White Mid Fade
The white mid fade is a unique men's haircut that combines a dazzling white hair colour with a crisp mid fade. This daring look smoothly transitions from shorter sides to a striking white top, creating a visually striking contrast. The end effect is a striking, contemporary appearance that radiates self-assurance and uniqueness.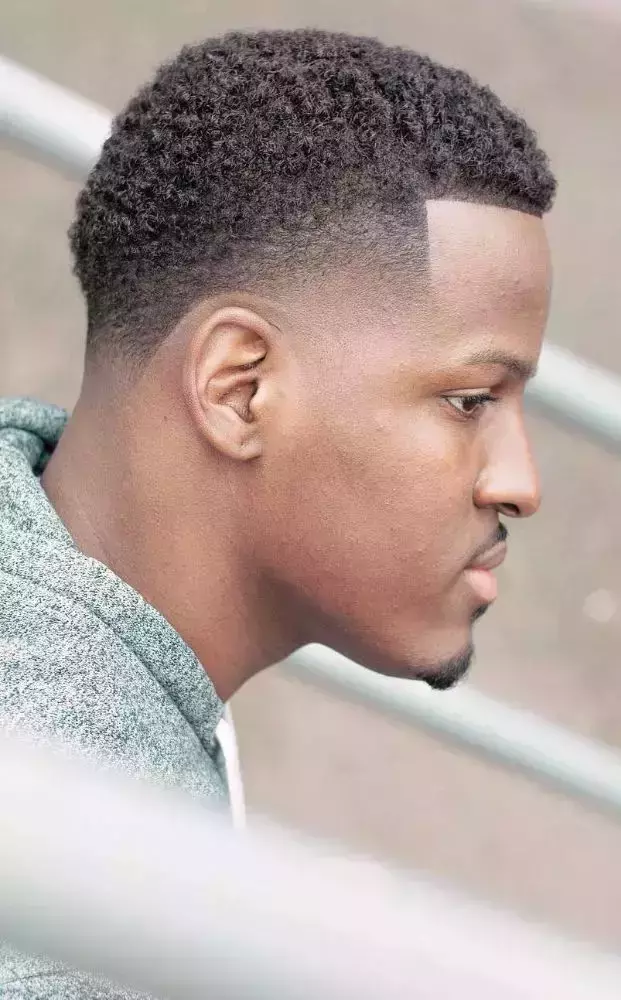 41. Curly Buzz Mid Fade
Mid fade haircuts with curly hair combines the effortless elegance of curls with the precision of a fade to create a textured, striking look that is both professional and laid-back. If you are looking for black men hairstyles, then the mid fade is an amazing option.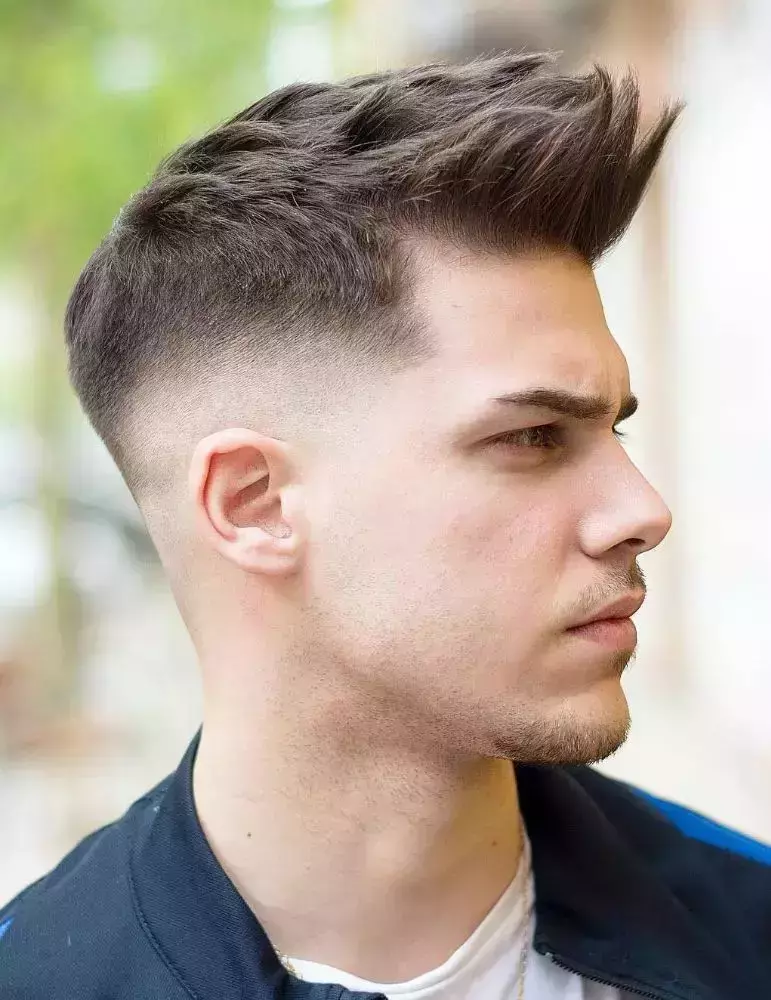 42. Mid Fade with Spike Hair
Mid fade haircut with  spike hair is a chic style that combines a bold, spiked top with a tidy mid fade. This modern look strikes the ideal balance with its rigid sides giving way to a dynamic, spiky texture. The end effect is an easily stylish, edgy, confident, and modern style.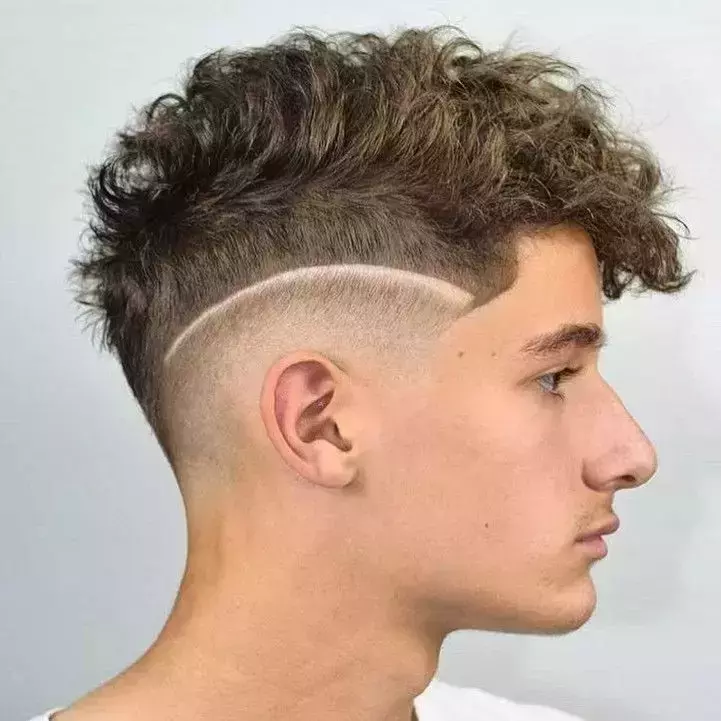 43. Mid Fade Textured Fringe
The men's mid fade textured fringe is an elegant hairstyle that combines a chic, textured fringe with a sleek mid fade. This modern mid fade textured fringe  finds harmony between a textured, relaxed surface and precise, polished execution. The subtle change and fringe give off a dynamic, contemporary appearance that exudes sophistication and adaptability.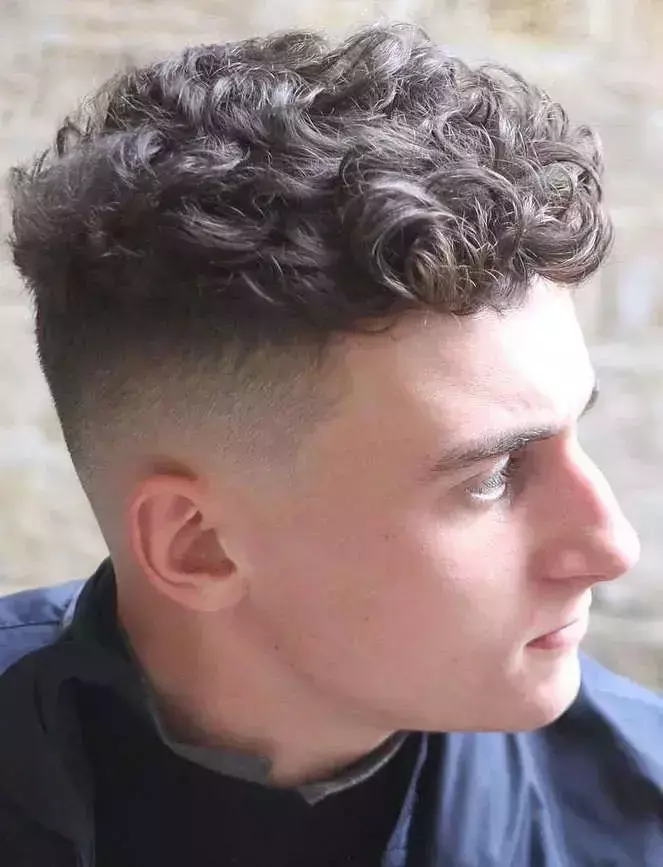 44. Mid Fade Twists
A neat mid fade with twisted locks on top is the distinctive and fashionable men's mid fade twists hairstyle. This cutting-edge design effortlessly combines the detailed texture of twists with the rigid accuracy of structure to create a sleek, striking appearance that exudes confidence in one's individuality.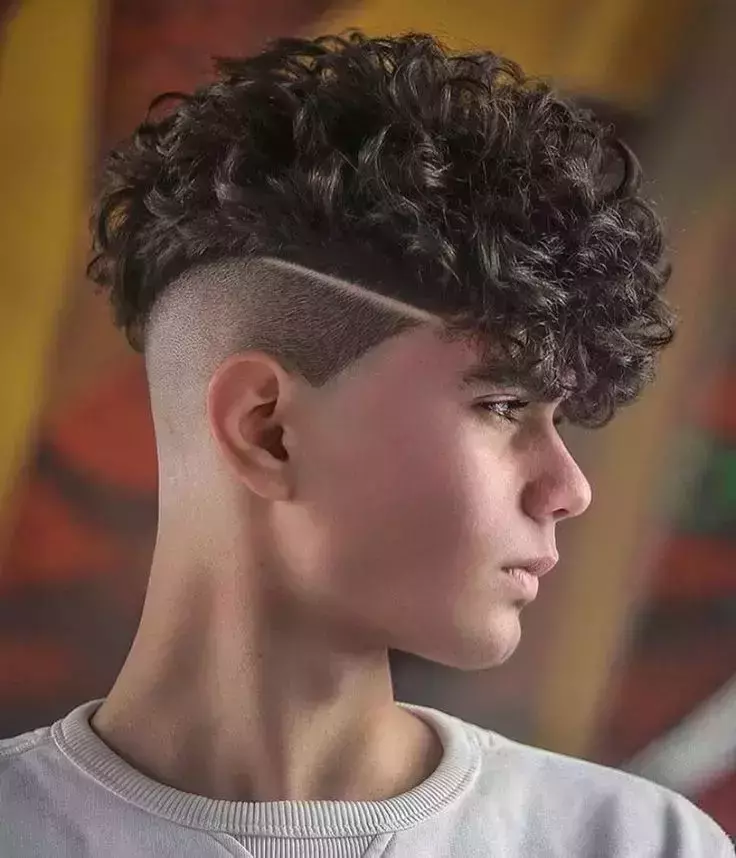 45. Long Curly Mid Fade
A stylish hairstyle that combines  mid fade messy hair with cascading, textured curls on top is the long curly mid fade for guys. This modern cut creates a polished yet expressive look by striking a harmonious balance between the structured precision of the fade and the vibrant, dynamic attraction of long curls.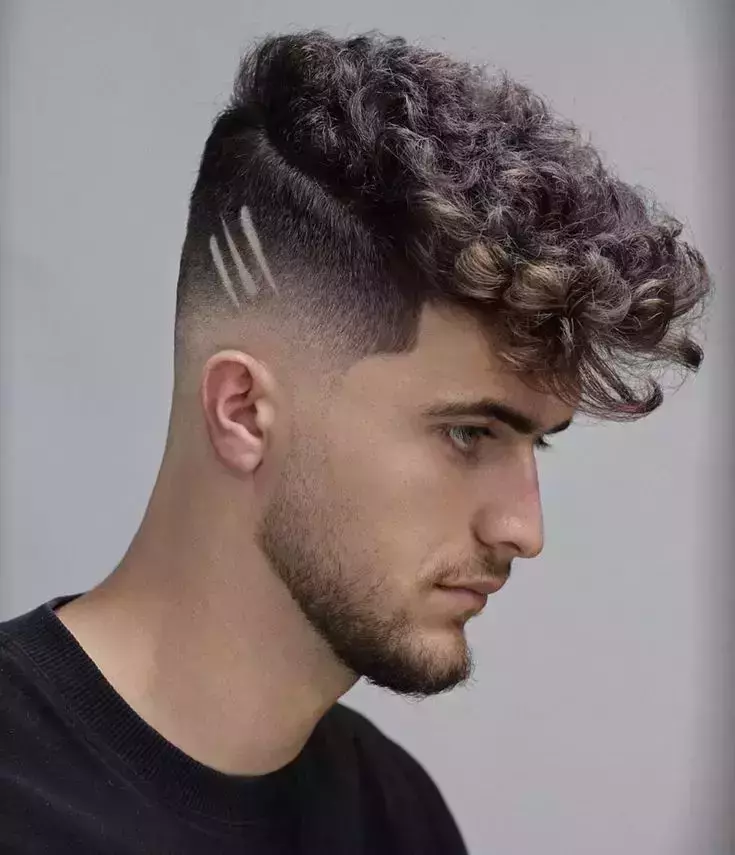 46. Mid Fade with Curls
Men's mid fade short hair with curls is a chic hairstyle that combines naturally textured curls on top of a clean mid fade in an effortless manner. This modern cut strikes the ideal mix between structured sides and a lively, curly crown, creating a dynamic, stylish look that radiates confidence and flair.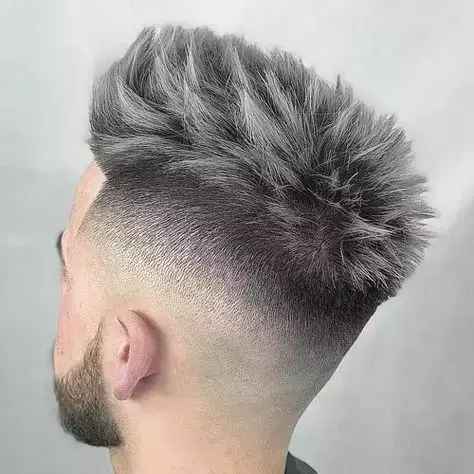 47. Grey Gradient Mid Fade Haircuts
A sophisticated haircut that blends a neat mid-fade with a gentle transition to a beautiful grey shade is the grey gradient mid-fade for men. Exhibiting both refinement and stylish individuality, this modern style effortlessly combines accuracy with a gradient effect, resulting in a polished look with a hint of contemporary elegance.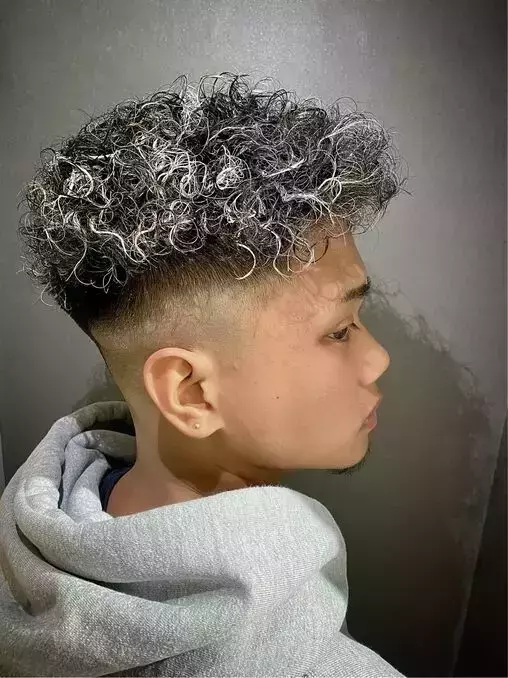 48. Curly Grey Mid Fade
Blondes and greys are the most common hair colours for men, but other colours are also growing in popularity. The curly grey mid fade, which contrast magnificently with the dark roots and high fade, is the consequence of a small growth in colour.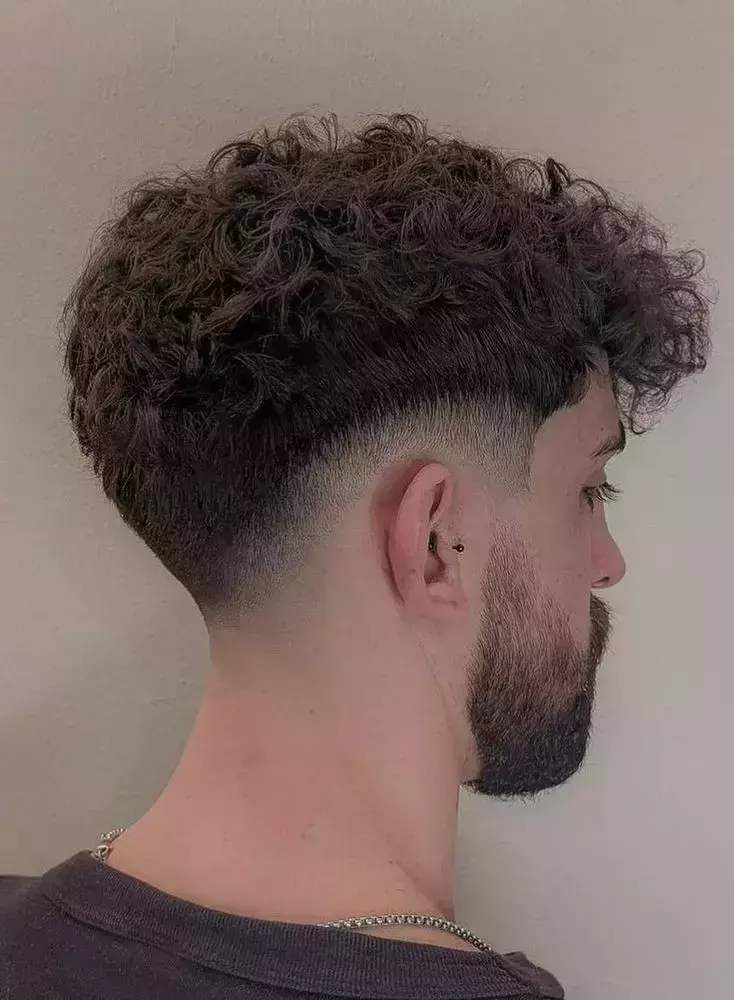 49. V shaped Mid Fade
This is the most easy yet cool hair style. Mid fade haircuts with curly top hair is making the look more handsome!
50. Mid Fade with clean line
If you want something quite uncommon, then go for this style. Straighten your lower part of the hair and give a clean v-shaped double line cut. Proper maintenance and regular trim is required for this.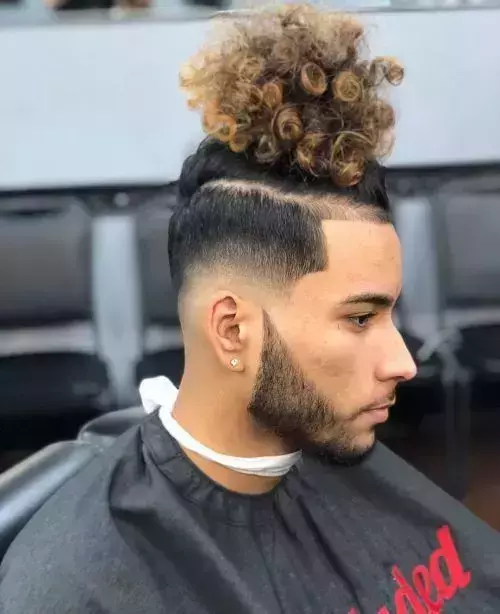 51. Top Bun Mid Fade
The ideal cool men's hairstyle is the mid taper fade paired with a man bun. You can wear your long locks up or down, giving you the best of both worlds, by keeping the sides neat and short. You can also straighten your curls and make it mid fade textured fringe.