55 Stunning Box Braids With Beads - 2023 (With Images)
Ankita Ghoshal
Updated At 16 Aug 23
Looking for the best box braids with beads?
If you want to level up your hairstyle or are in the mood to experiment- box braids with beads, we are here for you! Braids hairstyles are all over Instagram because of how cool and trendy they look. Everyone seems to go gaga over them and it's time for you to jazz up your braids with aesthetically-pleasing braids.
55 Best Box Braids With Beads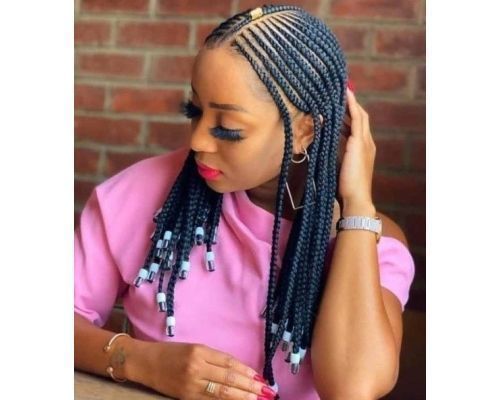 1. Beaded Cornrows
If you want a dope hairstyle, weave seashells or beads towards the ends of your cornrows. Do this all over your hair and you will be surprised with the results. You'll fall in love with this style for sure.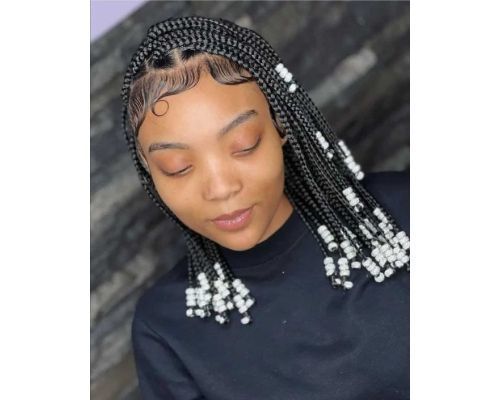 2. Bantu Box Braids with Beads
One of the best hairstyles for black women, Bantu braiding is a very protective hairstyle where the locks remain safe and undisturbed for a long time. To make them look nicer and more fashionable, upgrade the box knots with beads towards the ends. One of the top hairstyles for 2023, bantu box braids have been trending this year.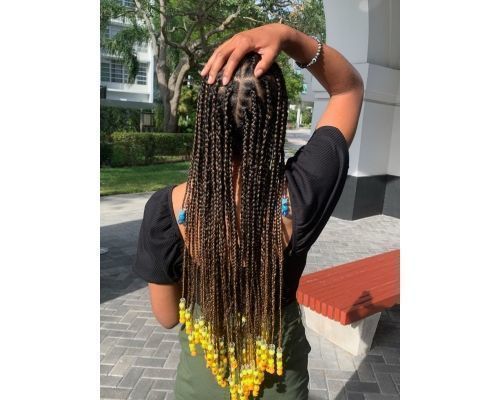 3. Yellow Beads on Braids
If you want to welcome spring or summer without wearing too bright colours, bright yellow beads will do the trick for you. Just style them in your braids and coordinate your makeup with them and you are all ready for the season.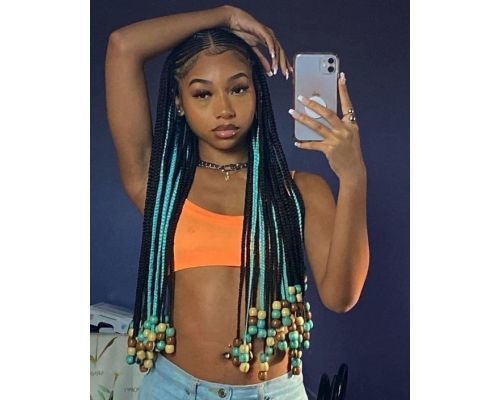 4. Fulani Beaded Braids
Drawing inspirations from the original looks is always a good idea. Every braiding technique will go well with the tribal style. However, opt for the beaded Fulani beads to get a more authentic look. If you are looking for new and trending hairstyle options then knotless braids with beads can also work really well.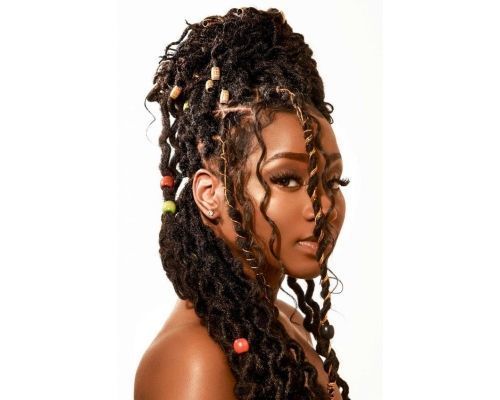 A simple braided updo can turn into a masterpiece with the right kind of accents. Don't just stop at beads and make it a mix of beads, decals, cuffs, threads, and a lot more to take your braiding game to the next level.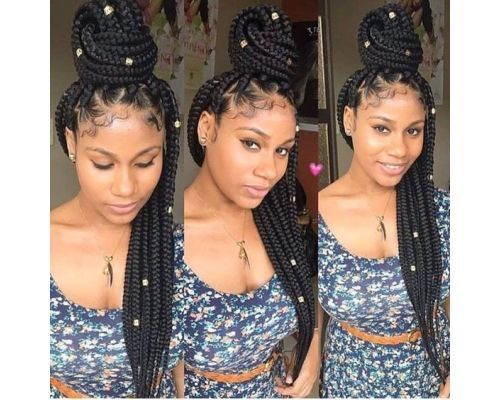 6. Cuffs on Jumbo Braids
Wrap silver and gold cuffs and beads at the length of each jumbo box braid for a timeless look. You can go for huge to tiny cuffs and beads to play around and see what works best for you.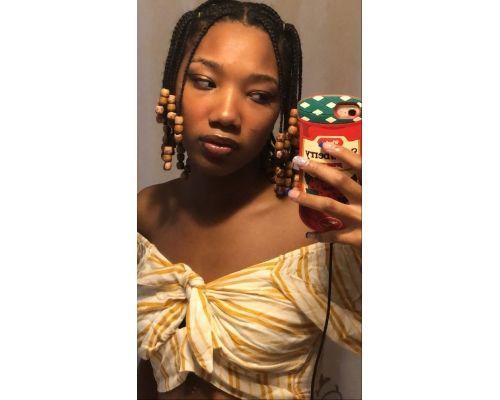 7. Beaded Ends on Braids
Clear or brown beads can make for a very cute style for people looking for a subtle and soft vibe. Just put them up at the ends of your braids or attach them a little higher to get a varied approach.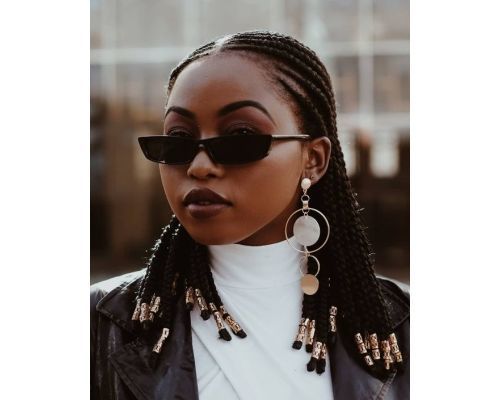 8. Beads on Shoulder Length Braids
Colourful beads go very well with the aesthetics of short braids on shoulder-length hair. However, different shades of white are also doing the rounds when it comes to braids hairstyles with beads. So, the next time you braid your hair, style them up with white beads for that chic look.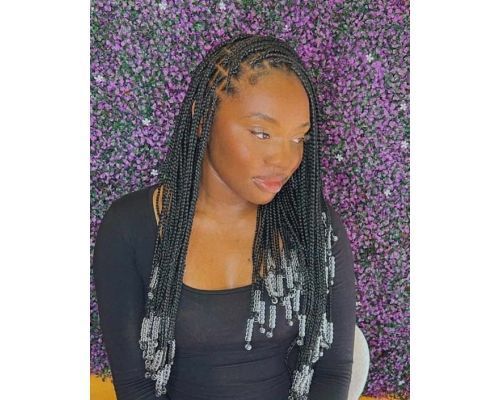 9. Braids with Transparent Beads
What makes clear beads a fascinating hair accessory is how well they pair with any hair texture and braiding style. With a sleek middle partition and golden hoop earrings, transparent beads will make you look no less than a goddess.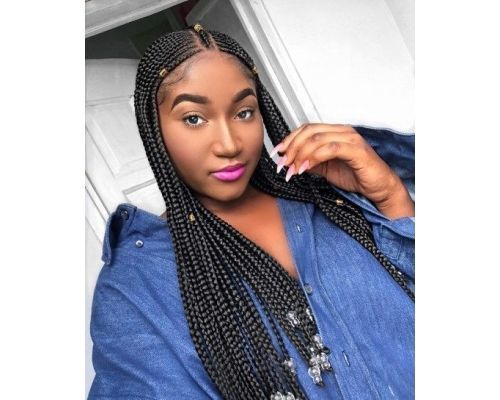 10. Beads on Centre Parted Braids
A sleek part at the centre coupled with beaded braids is the perfect recipe for a stylish hairdo. Go for rainbow beads and put them up on the ends of your tresses and you are good to go.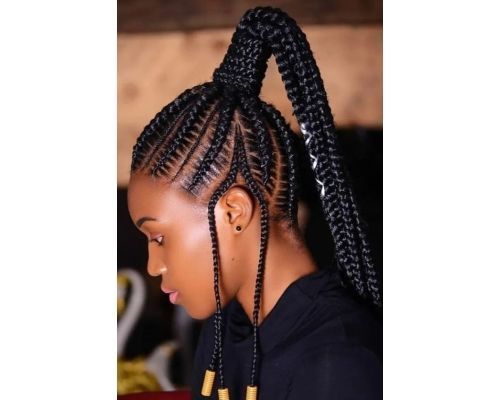 11. Beads on Braided Ponytail
Beads are probably the trendiest addition to braided ponytails. This stellar combo of beads in different textures, colours and sizes rests perfectly on the ponytail above your head.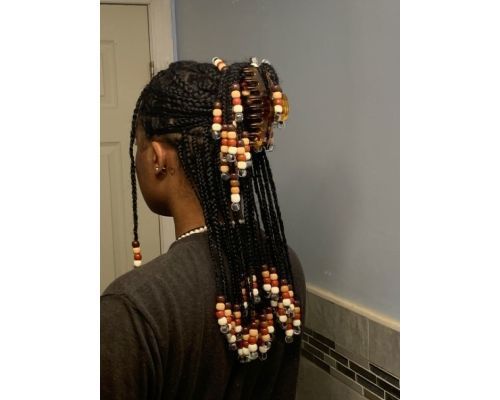 12. Beads on Half Up Braids
Braids in half-up buns become even cuter when you spruce them up with stunning beads. You can put up wooden beads towards the ends of the braids and give your buns an adorable look.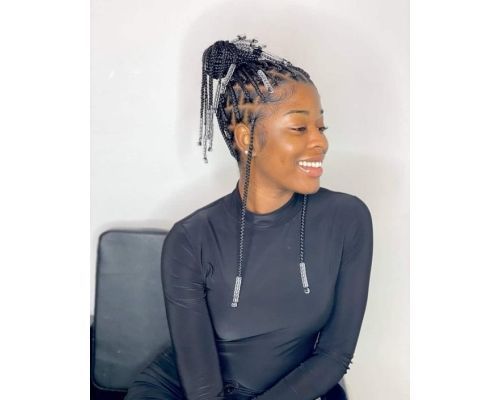 13. Beads on Braided Buns
Subtle beads on sleek buns make for the perfect beach look. If you want to make a bolder appeal, go for some more beads for better measure.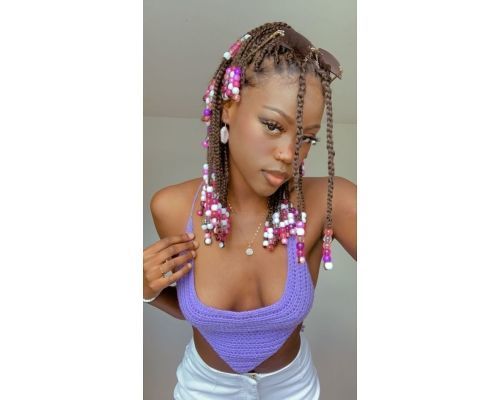 14. Layered Beads on Braids
To add an extra dimension to your hairstyle, ditch the bead placement at the ends of the braids. Instead, go for beads of varying colours and sizes and layer them up to create a novel look. You will also get a great scope of playing around so make the most of it.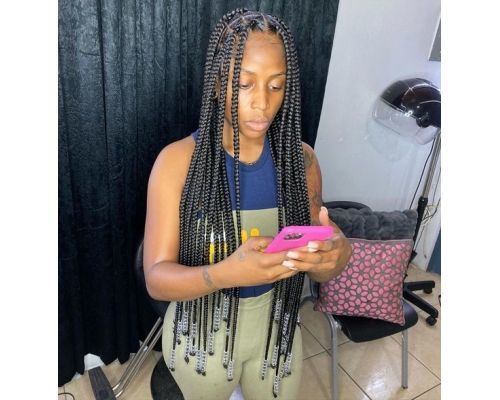 15. Beads on Knotless Braids
Knotless braids look extra special when you attach beads on each of the ends. Put them up in thick rows to make your face look even prettier than before.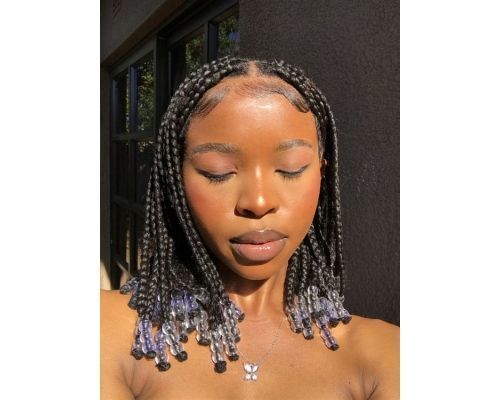 16. Beads on Braided Bob
It's not just the long braids with beads that attract glances. Tiny braids also look really cute on a well-trimmed bob. Do you know what's cuter? Clear beads on the braids! That would make you look no less than an all-decked-up doll for sure.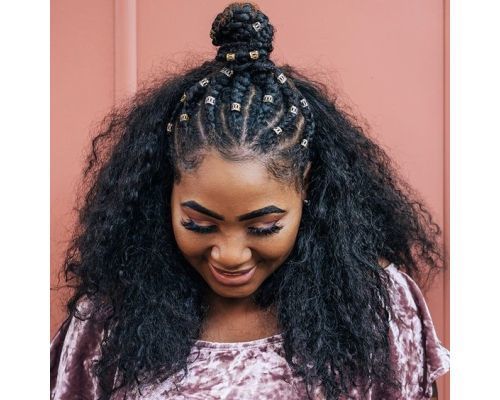 17. Cuffs On Sleek Braids
If your braids reach your waist, use a serum or gel for a sleek look. Follow it up with a wonderful assortment of cuffs and beads at varying lengths of your braids. If you want, you can even leave a chunk of hair free.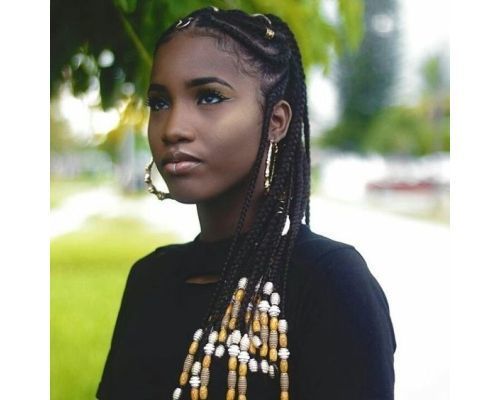 18. Fulani Braid With Beads
2023 is all about gorgeous Fulani braids and to take things to the next level- just throw in some wooden beads at the braids' ends and voila! You just brought out the diva in you by such braids hairstyles with beads!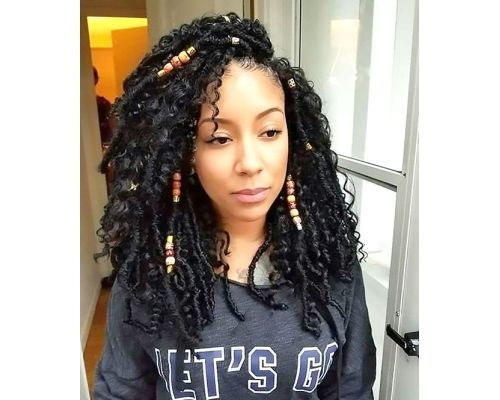 19. Braids With Beads And Curly Ends
Once you have placed the beads on your braids, curl up the ends for a quick hairstyle makeover. You can even group a few beads together on both sides of your hair parting for completing the look. Your long braids with beads will steal the show.
Do check out our guide as we list 25+ stunning hairstyle options for black curly hair. From the popular curls to new hairstyle options like unicorn and bouncy curls, we have listed all of them.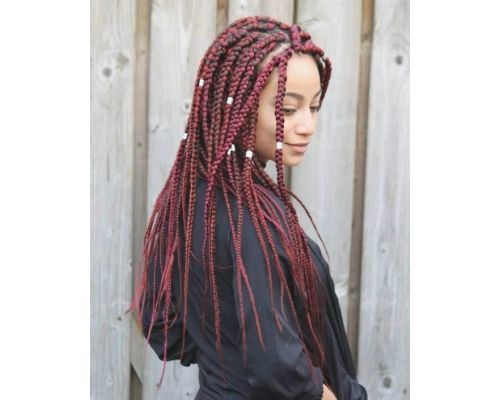 20. Cuffs On Red Braids
If you are up for a fun and massive experiment, colour your hair in a bright shade of red and then braid it up real good. Then comes the best part- attack dainty cuffs on your braids to create a beautiful contrast.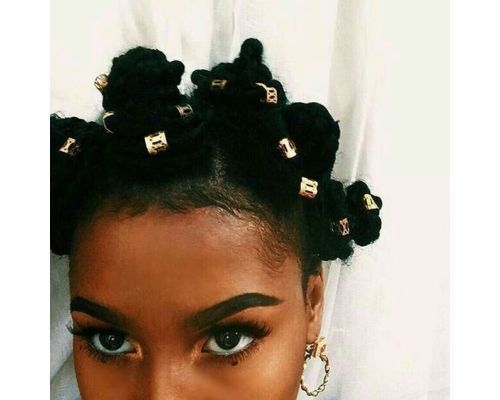 21. Cuffs On Mini Braided Buns
Secure your tiny braids with a handful of golden cuffs and beads. Then, wrap your mane in two little buns towards the crown of your scalp. Leave a few strands that will frame your face and you are sorted.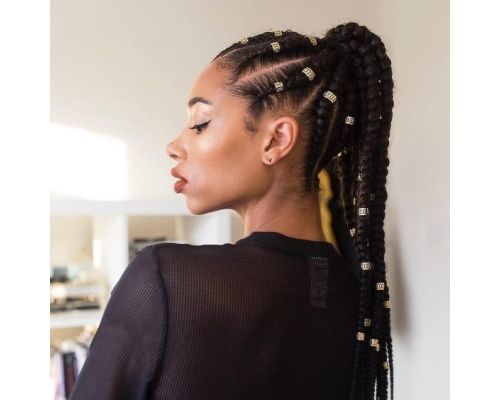 22. Cuffs on High Ponytail with Braids
A braided ponytail stacked with gorgeous cuffs makes for the perfect romantic vibe. You don't need to have a very tight or sleek ponytail- just a wispy, loose one would do the job!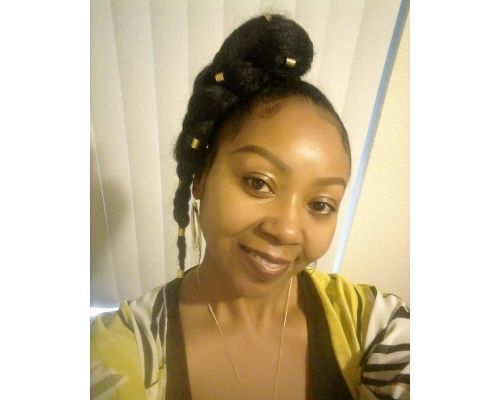 23. Bead Accents On Genie Braids
If you have long and voluminous box braids, you can accentuate them with beads and then make a nice high genie pony tail. It is suitable for all kinds of occasions and is bound to make you stand out in the crowd.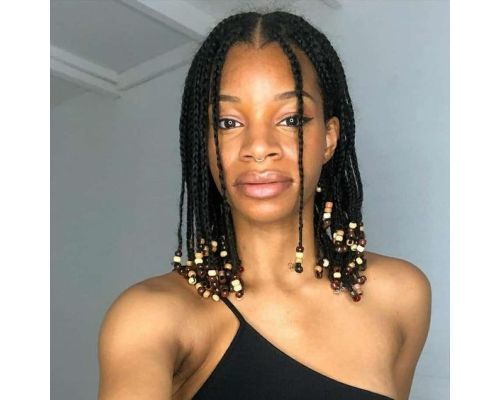 24. Short Beads On Braids

Braids hairstyles with beads is very experimental. You don't have to put them just towards the ends of your braids. Group your wooden beads and attach them to your braids right below your shoulders.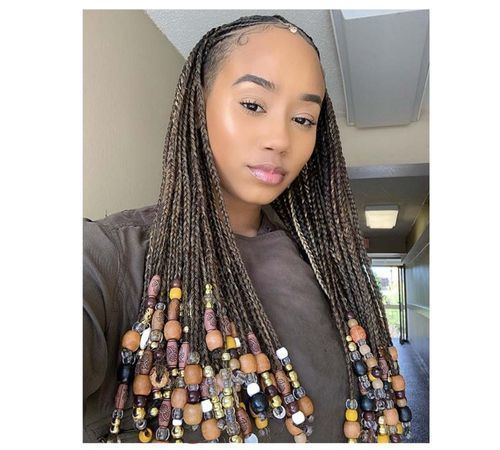 25. Chunky Beads On Braids
Thick chunky beads look fabulous on thin and sleek hair. Grab your wooden beads again and put them at mid-lengths and the ends of your braids. That is all you need to amp up your braids with beads.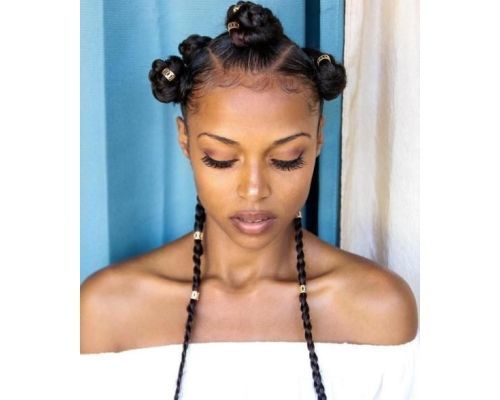 26. Bantu Knots and Beaded Braids
While lemonade braids with beads look undoubtedly phenomenal, you can take them to a whole new level by tying them into Bantu knots across your head. Leave a couple of braids in front of your face and garnish them with beads for a perfect face-framing effect.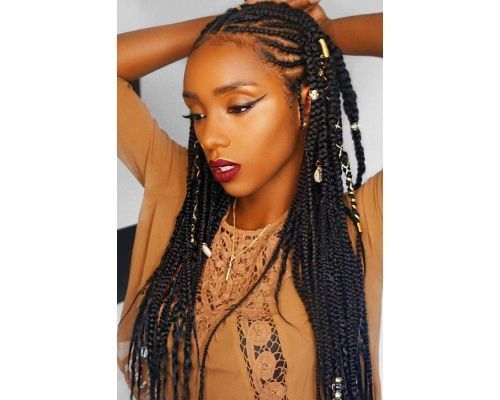 27. Minimalistic Beading on Braids
If you are in love with the idea of beads on your hair but want to keep things lowkey, just wear a single cuff or a chunky bead on your long braids. It will give you a very elegant and pretty look instantly.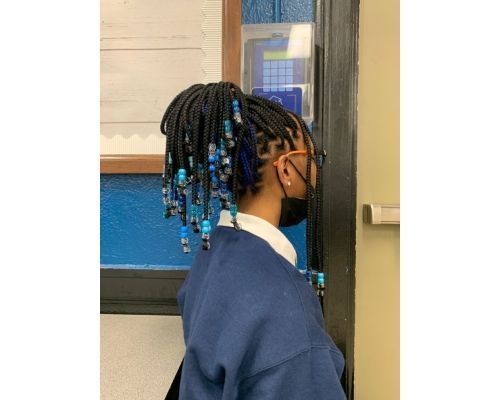 28. Cuffs on Knotless Box Braid
If you are bored of your beads on hair, just ditch them for a while and go for cuffs. Gold cuffs on a knotless box braid will look absolutely dainty and enhance your hairstyle in a minute.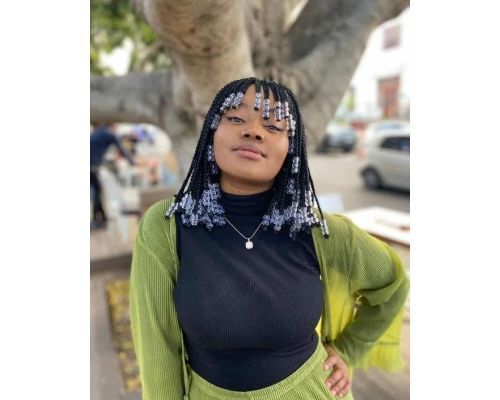 29. Bangs and Beaded Box Braids
If box braids with beads were not enough, people are now pairing them up with cutesy bangs which are a treat to the eyes. Try for yourself and you are surely going to love it.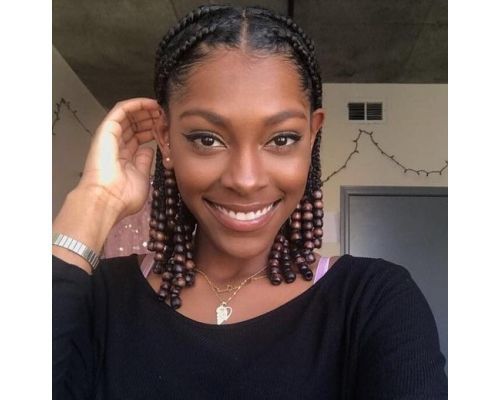 30. Beaded Braids on Short Hair
You don't need to have Rapunzel-like tresses to style them with beads. Even short hair looks equally wonderful when they are dolled up with pretty accents. If you have short pop-smoke braids, medium-sized colourful beads will look very good on you.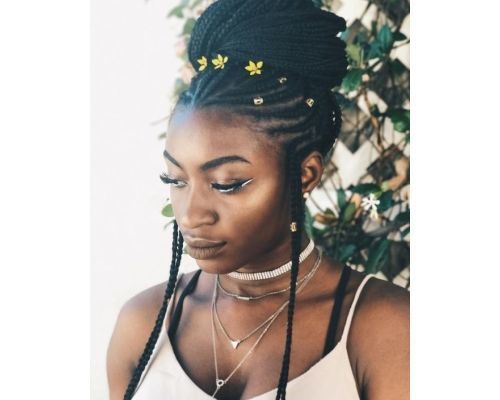 31. Top Knot with Micro Braids
Half-up buns and top knots paired with loosely-done micro braids are a stylish combination to keep hair away from the face. To add a feminine vibe to this awesome avatar, just incorporate single-coloured beads on the braids.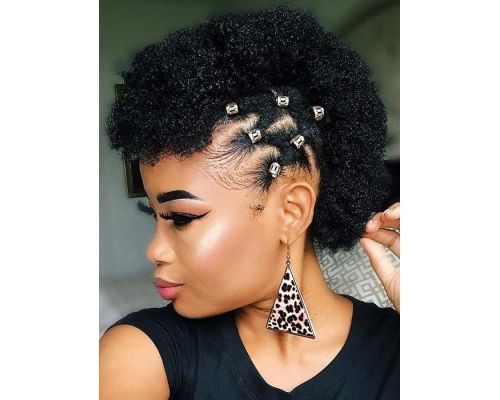 32. Faux Hawk with Beaded Braids
Faux hawks make for a stellar hairstyle for people with voluminous hair. For an extra ethnic flair, add large beads to your knotless braids and your desired look will look ten times better.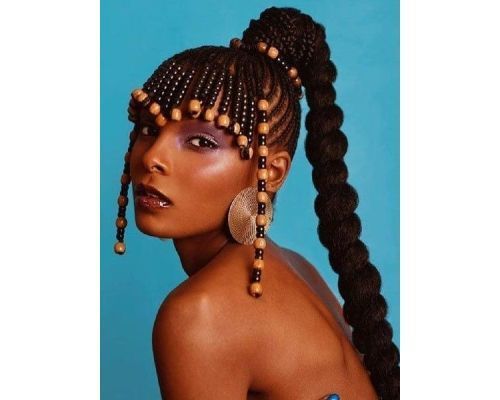 33. Beads on Braided Bangs
If you want to try a unique hairstyle, braid your bangs and then decorate them with beads. This cute and girly style will be a delight for sure. Also, you have the rest of your hair to experiment with even more!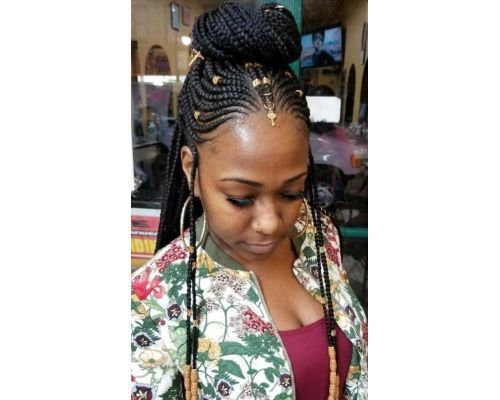 34. Cornrows and Beaded Up Dos
For a chic and elegant touch to your cornrows, put the rest of the hair in an updo followed by beading your beautiful hairstyle. You can either put the beads on your cornrows or beautify your updo with them.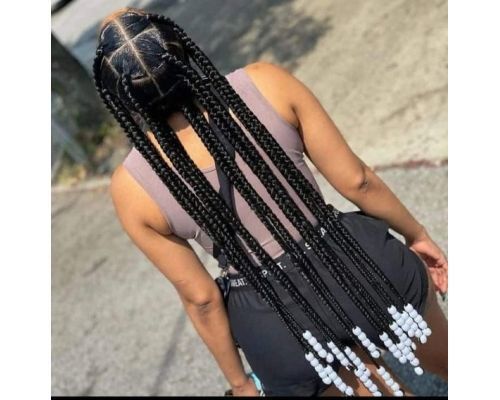 35. Beads on Straight-Back Braids
For creating a trendy straight-back hairstyle, add some beads on your accent braids and see them do their magic on your overall getup!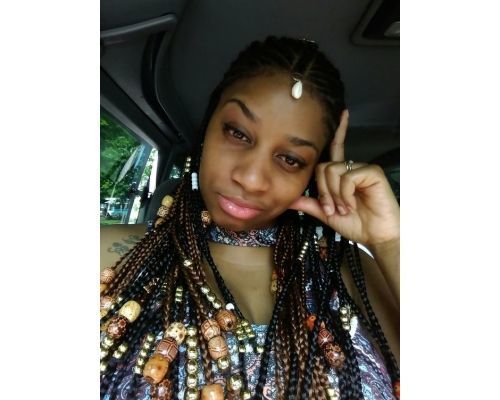 36. Beads on Irregular-Sized Braids
Who says beads look good only on intricate box braids? You can edge up your style simply by knotting your hair in different sizes of braids and then beading them. You can even bead just a particular part of the braid, for example, just the small front braids or the thin side braids.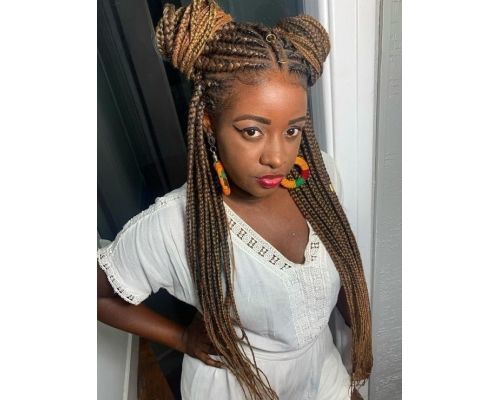 37. Half Up, Half Down Hairdo with Beads
Freestyle your hair in whichever way you like for this classy hairstyle idea. With sassy updos on the crown followed by long braids in the front, you get a lot of areas to bead up. You can leave the remaining hair free so that the focus lies on the beads and the braids.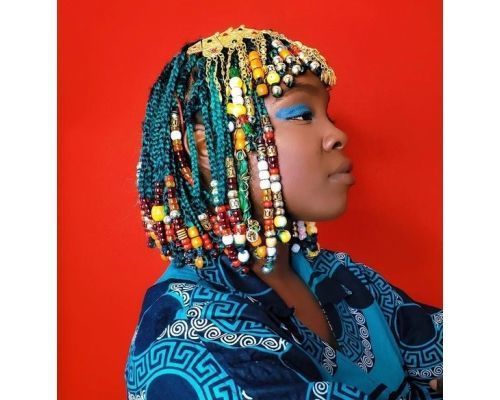 38. Beads on Jumbo Box Braids
To make your fascinating jumbo box braids all the more dramatic, attach wooden beads at the ends of your braids and you are all set to make a statement wherever you go.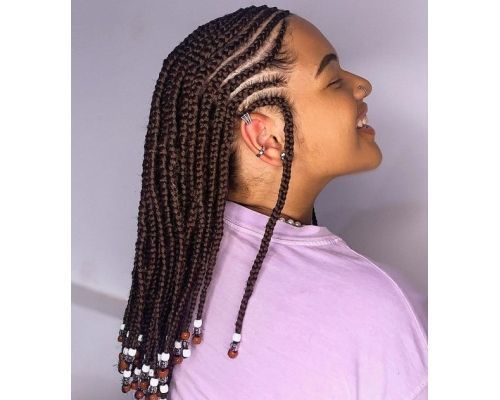 39. Beads on Scalp Braids
This brilliant African hairstyle is for people who don't shy away from trying bold trends. These heavily-beaded braids on the scalp compliment the beaded bangs so well that they will be a traffic stopper for sure.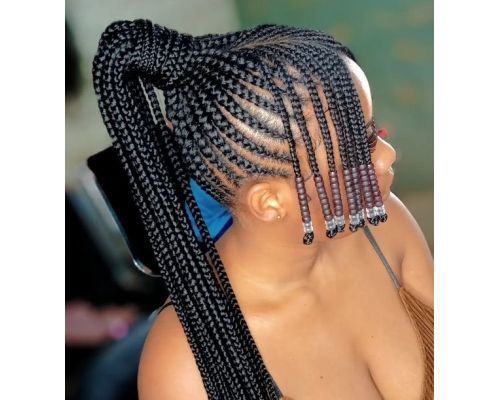 40. Beaded Braids on Side Bangs
Give your side bangs an interesting makeover by braiding them nicely and then accentuating them with beads. You can even style your rest of the hair into a big braided ponytail and that will look super cool.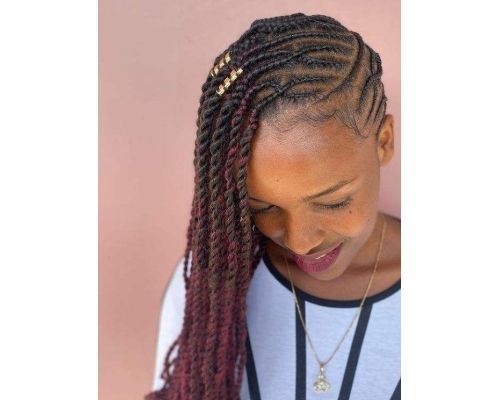 41. Beads on Twist Braids
You can make your stunning kinky twists all the more amazing by adorning them with colourful beads. Complete the look with twisted side bangs and a ponytail to make all the heads turn towards you in a second!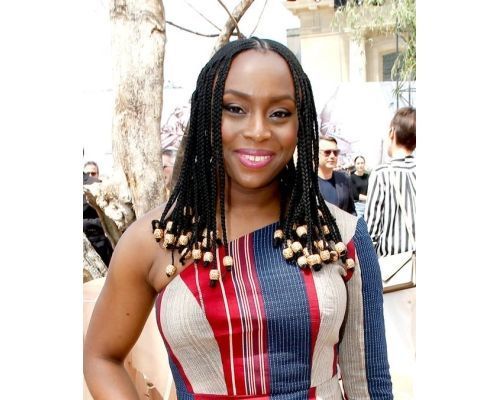 42. Cornrows into Beaded Braids
This is a new hairstyle that people are going crazy for these days. Start by simply twisting your hair into cornrows and as they reach below your crown, begin braiding them. To make this all the more fabulous, use thick wooden beads for decorating your tresses.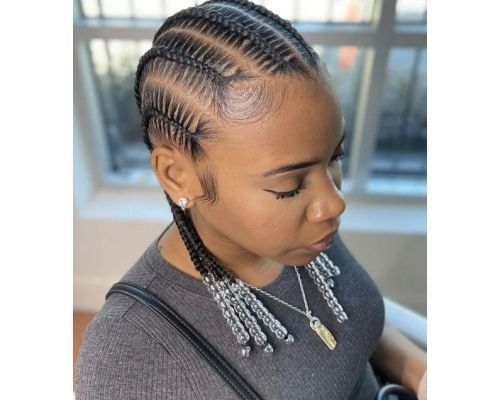 43. Beads on Stitch Braids
To keep things minimal, just incorporate a few beads on your neatly done stitch braids. They will make for a very graceful appearance while managing your hair all the while.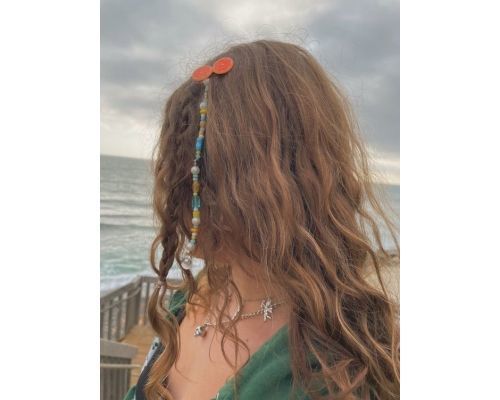 44. Freestyle Hair with Beads
Acquiring that sassy carefree look is way easier than you can think of. Just let your hair loose and deck it up with decals, multi-coloured beads, wires and threads, shells, and so on. It is an excellent way of adding an extra oomph to your gorgeous hair.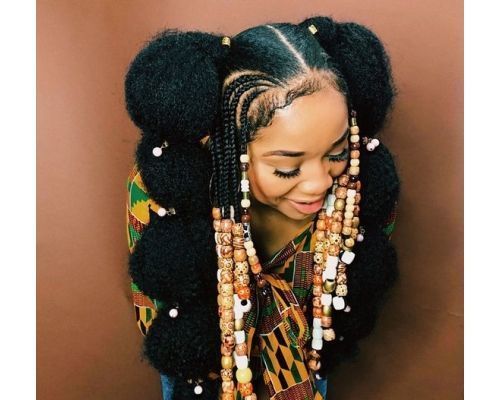 45. Beads on Puffed Ponytails
A puffed bubble ponytail is the talk of the town for its bold and glam look. If you are courageous to carry the hairstyle, start by braiding a chunk of your hair on the crown into thin braids. Decorate them with small beads and then, tie your hair in two cute puffed bubble ponytails.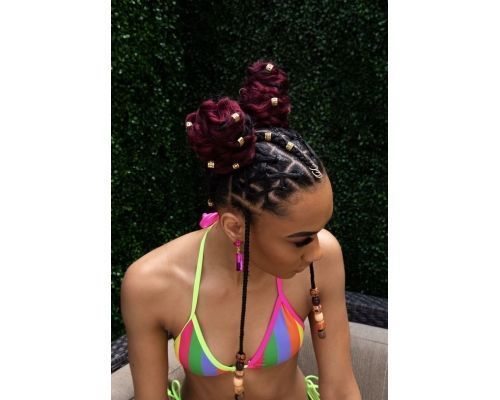 46. Beaded and Braided Space Buns
What makes space buns even more appealing are braids and beads. After parting the braids towards the back of your head, make two big buns right above your ears. Use transparent beads to jazz up the sexy look even more.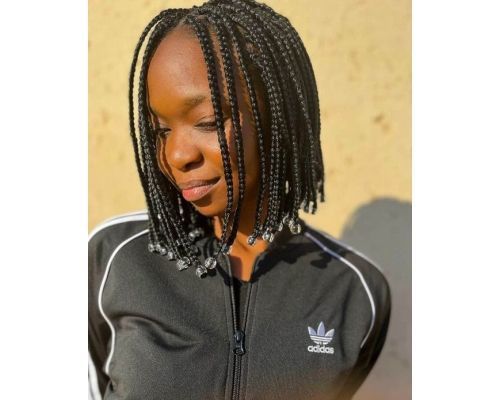 47. Clear Beads on Single Braids
For a subtle and soft look, use beads on every braid of your hair. Make sure to go for clear beads as they will add to the overall sophisticated vibe that you are going for. It is a simple, no-fuss hairstyle that you are going to love.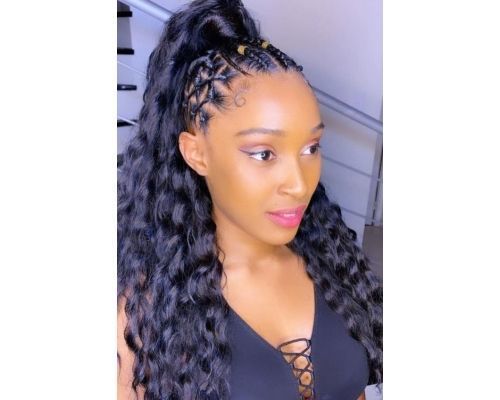 48. Beaded Half Up Ponytail
If you are looking for a sporty and cute hairstyle idea, hold your braids in a half-up ponytail and play around with beads. Place them wherever you want on your hair and see them unravel into a fun and fabulous look.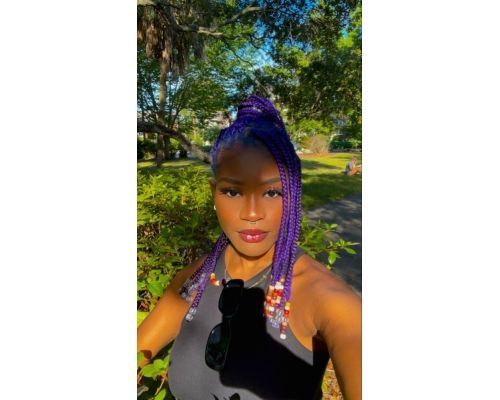 49. Beads on Multi-Coloured Braids
If you love colouring your hair, try three colours at once! Divide your hair into three sections and colour them in golden, brown, blonde or whatever colour scheme you want. Next, put on beads that match the colours and you are all set to grab attention.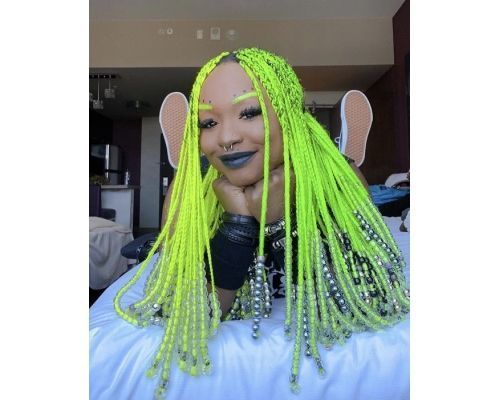 50. Neon Braids with Beads
To make a memorable fashion statement, paint your hair in bright neon colour and knot them into tight braids. Now, attach beads at the ends or on the lengths of your braids to be a cut above the rest.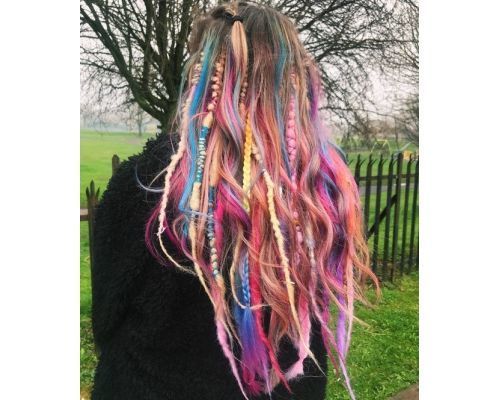 51. Colourful Threads and Beads
With the help of various colourful threads, you can braid your hair into a bright beauty. Use beads that suit those colours and put them up to take things to the next level.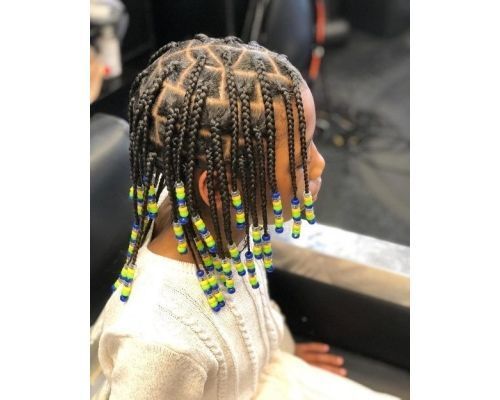 52. Beads on Tiny Box Braids
If you like the aesthetics of micro box braids, you will love this hairdo. Style up your small box braids with bright-coloured beads for giving them an adorable and unique touch.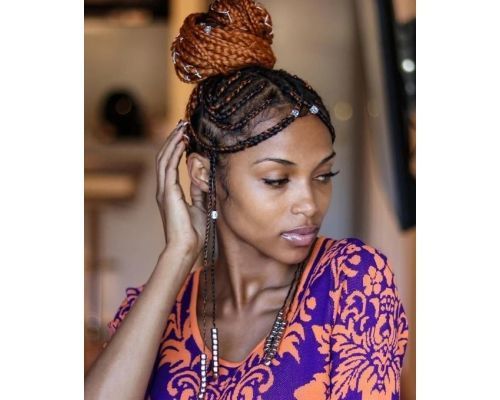 53. Beads and Braids on Top Buns
You don't have to care about symmetry while stacking beads and cuffs on your hair. Spread the accents across various parts of your hair or just layer them up; sky is the limit! They are going to look very captivating especially if you have top buns and loose braids.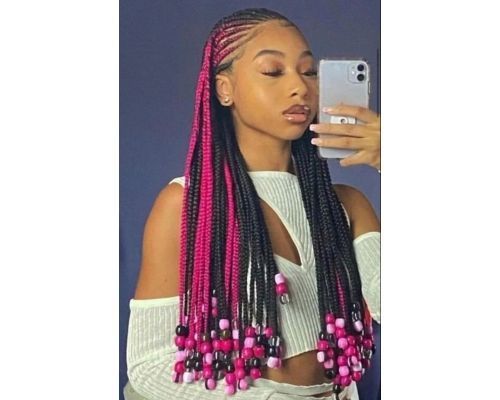 54. Beads on Peekaboo Braids
Give your braids a subtle and classy touch by beading the braids underneath. Let them drop casually on your shoulders to flatter all the style gurus out there. You can even get these underneath braids coloured to glam up your hairdo.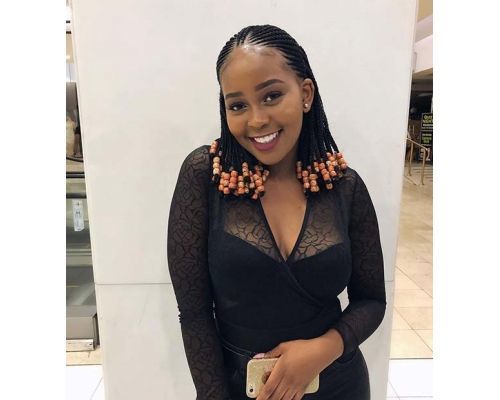 55. A Line Braids with Beads
You can never fail to look chic and at the top of your style game with an a-line haircut. To take things up a notch, braid your hair nicely and add beads to maintain the classy factor. This style will look good on every hair type and texture.
There are countless ways in which you can use beads for styling up your braids. Remember, experimenting is the key and confidence is your power to slay the world in whatever hairstyle you go for.