25 Best Bridesmaid Hairstyles - 2023
Shalu Bhati
Updated At 09 Jan 23
Is your friend getting married and you are in line to be one of the bridesmaids? Are you looking for the best bridesmaid hairstyles for her big day?
Make sure to check out the hairstyle with serial number 8 and 9 as these have been extremely popular.
25 Best Bridesmaid Hairstyles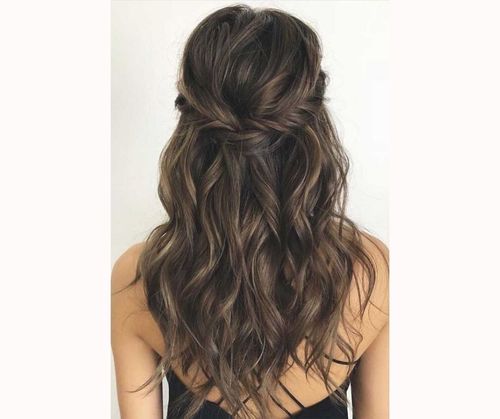 1. Twisted Half Up Half Down
Half up half down is the most versatile and the most common of the bridesmaid hairstyles. It has many versions with each looking equally stunning and chic. This is one of those chic bridesmaid hairstyles for long hair. Now this one is not your regular half up half down hairstyle. It comes with slightly textured halo twists followed by elongated and soft S-waves. It is the best way to flaunt your beautiful long tresses.
Do checkout our article on Mother Of The Bride Hairstyles if you want the perfect hair makeover on the special day. And if your son is getting married, do check out our article on Mother Of The Groom Hairstyles.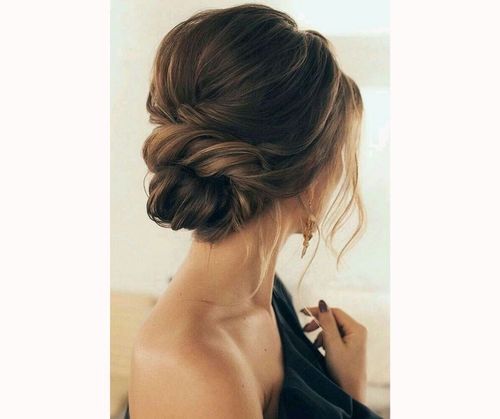 2. Chignon With A Twist
A chignon is another one of the most opted for bridesmaid hairstyles. This is one of the elegant bridesmaid updos that look amazing while being fuss-free and completely manageable. This hairstyle is comfortable and has a high style quotient. The wispy strands in the front add soft romantic vibes. One of the best wedding hairstyles, chignon has been an extremely popular option for all big occasions.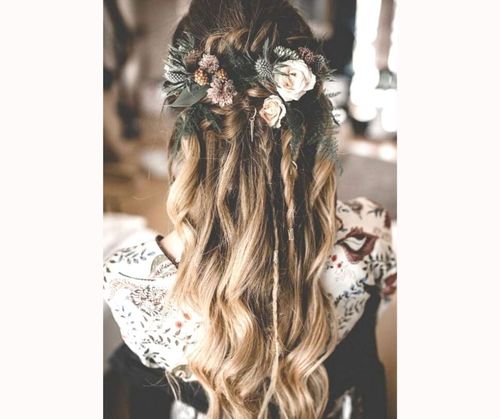 3. Power To Flowers
Any of the wedding hairstyles for bridesmaids are incomplete without some flower packed action. This hairstyle is a beautiful mix of braids and waves. When adorned with flowers the beauty of this look skyrockets. The color combination used is reminiscent of fall and is an apt fit for a floral theme or a winter wedding.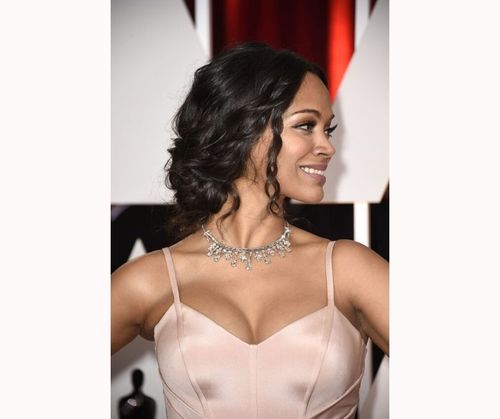 4. Low Bun With Soft Waves
This is one of the best black wedding hairstyles for bridesmaids. Relaxed waves are put together and tied into a loose bun which sits nicely on the nape. This is a bridesmaid hair style that comes with slightly messy and unkempt feels. The intertwined strands of curls in the front add a dash of romantic to the whole look.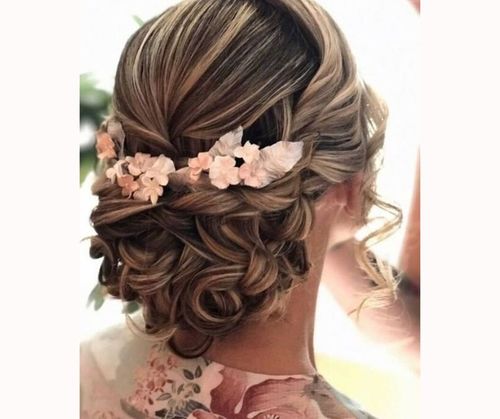 5. Bridesmaid Updos
Here is another one of the bridesmaid hairstyles adorned with flowers. Only this time, the flowers are not real but floral accessories in a pastel hue. This is one of the braided bridesmaid updos. The braid starts from the center on the front and goes to the other end at the back. The remaining hair is twisted in more braids which are then fixed into an updo.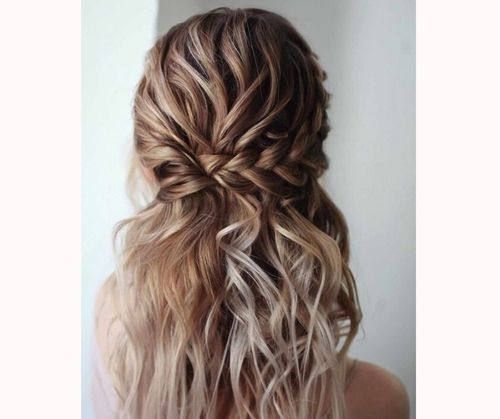 6. Braided With Waves
This is one of the best bridesmaid hairstyles for medium hair. it is the perfect amalgamation of the polished and messy look. the waves add texture and drama while the dutch braid that starts from the front gives a clean polished look to the hairstyle. This half up half down hairstyle is also an efficient way to show off your bridesmaid dress.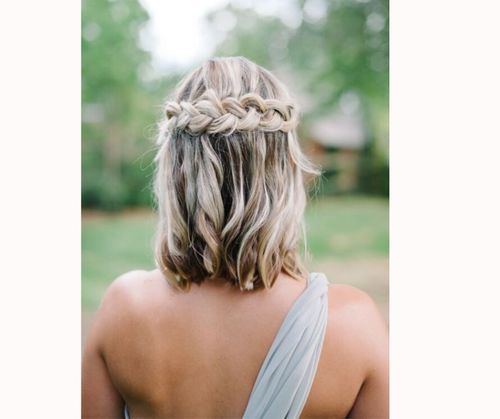 7. Bridesmaid Hairstyles For Short Hair
Why should long-haired beauties have all the fun? There are many fun, romantic, elegant and stunning bridesmaid hairstyles for short hair too. Case in point is this beautifully braided wavy lob. This a proper three-strand braid that goes from one end to the other and follows the technique of a waterfall braid.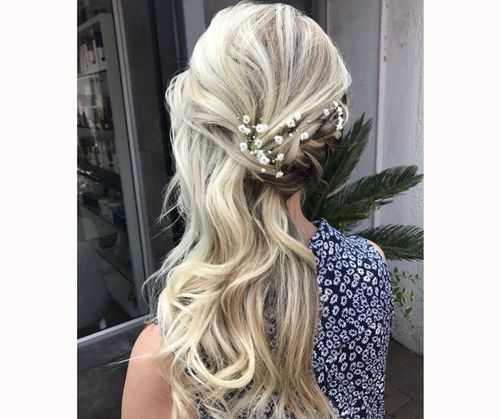 8. Sideswept Bridesmaid Hair
If you have long or medium-length hair, you can also opt for side-swept waves. This hairstyle is stylish, stunning and elegant. Moreover, this is universally flattering and suits all face shapes. No wonder that it has managed to stay in vogue all these years. This particular hairstyle takes the help of a braid to ensure that the hair will stay in its place. The addition of Baby's breath brings the necessary wedding glam.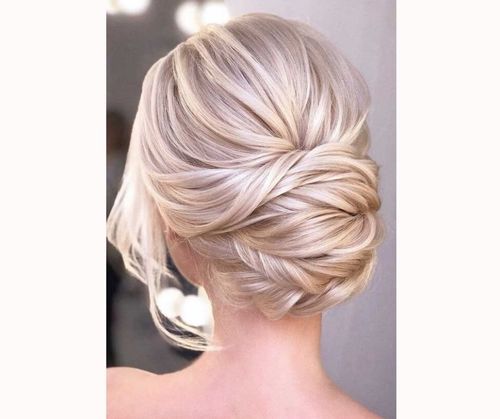 9. Elegant Bridesmaid Bun
Here is another one of the bridesmaid hairstyles which is stunning and elegant. This sweet bun hairstyle is perfect for formal settings and works for weddings too. The wispy strands at the front add beauty and definition to the whole look.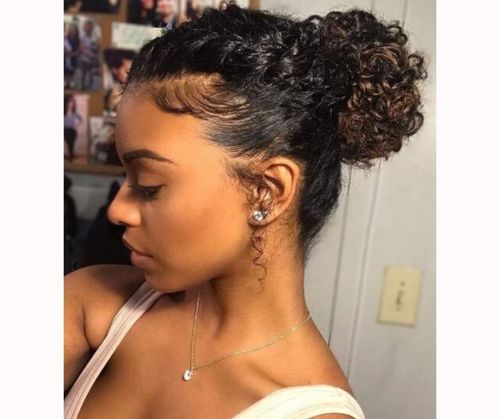 10. Black Wedding Hairstyles For Bridesmaids
If you are a bridesmaid with natural hair, then this one is for you. there are tons of bridesmaid hairstyles that you can try with your naturally curly hair. Let them loose, add a hairband, braid them or make them into a bun. The options are endless. This beautiful hairstyle starts with a braid in the front which ends with a bun at the crown. This hairstyle is complimented with styled baby hair and a few tendrils in the front.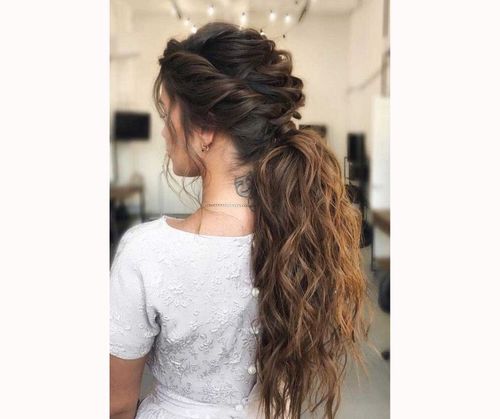 11. Ponytail Action
Are you tired of buns nd waves as the only ideas for bridesmaid hairstyles? Then go for the ponytail. It will be a refreshing change and will make you stand out from the crowd even more with your not so common choice. Hair is twisted from both ends and then tied at the nape to form a ponytail. This hairstyle is best suited for voluminous and long hair. those with medium hair length can opt for this one too.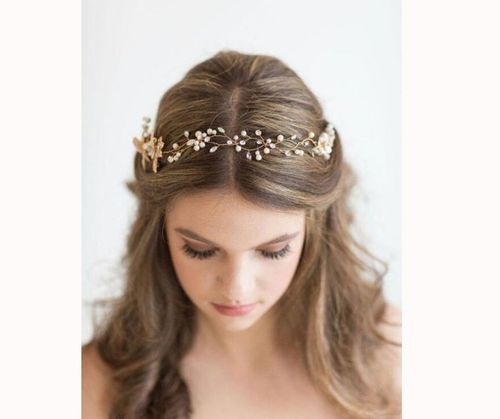 12. Bridesmaid Hair With Floral Accents
Go simple and sophisticated with this particular hairstyle. This hairdo has a center part with hair on both sides twisted slightly. A floral hairband is added to add definition and glamour to an otherwise simple bridesmaid hair style.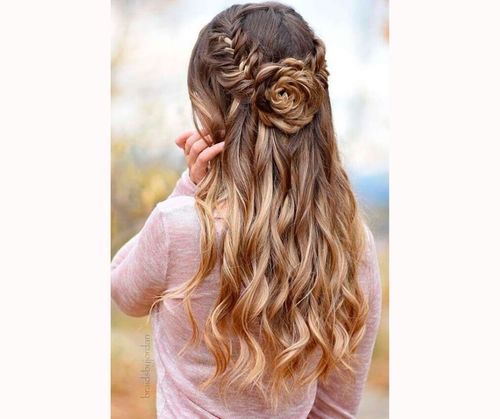 13. Chic Braided Half Up Half Down
This wedding season, ask your hairstylist to give you something new and different like this particular hairstyle. This is a half up half down hairstyle with a rosy twist. It is one of the most stunning bridesmaid hairstyles. Fishtail braids from both sides meet at the center to form the shape of a beautiful rose.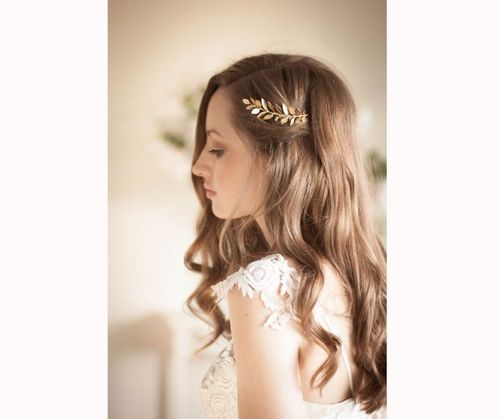 14. Simple Bridesmaid Hairstyles With Accessories
If you like to keep it simple the here is another one of those minimalistic chic bridesmaid hairstyles for you. Let your beautiful wavy tresses stay like in this particular hairstyle. A strand on one side is tucked under and adorned with a golden leaf hair accessory to create a simple yet elegant look.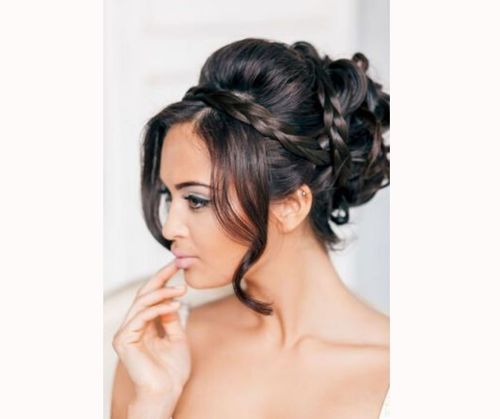 15. Elegant Updo With Wispy Front
This is yet another one of the bridesmaid updos. This is one of the most stunning bridesmaid hairstyles. It is like a formal bun with some wispy strands left in the front to fall over the forehead. This creates a sophisticated and elegant look. You can also dance without worry about ruining your hairstyle.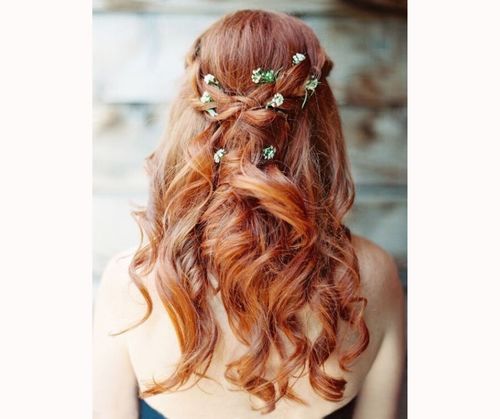 16. Floral Twists And Turns
If you still can't figure out the best bridesmaid hairstyle for yourself, then perhaps this one would help you out. This is one of the bridesmaid hairstyles which is known to be versatile and universally flattering. This is a braided version of the half up half down style. There is a braid just below the crown and a texturized two-strand brand at the center. The rest of the wavy hair has texture too which adds definition and drama to the whole look. The small bunches of baby's breath are placed into the braids to soften the look.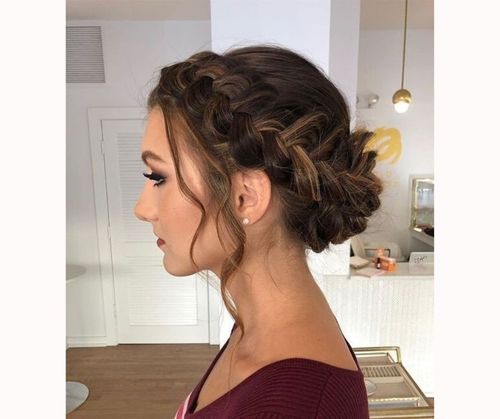 17. Beautiful Bridesmaid Hair With Dutch Braids
Bridesmaid hairstyles are incomplete without braids or buns and here is a hairstyle that comes with both. The big bold and beautiful crown braid ends with a bun as it reaches the nape. It is an elegant hairstyle and looks pretty as a picture. It is also perfect for those of you who want to keep their hair away from the face as much as they can.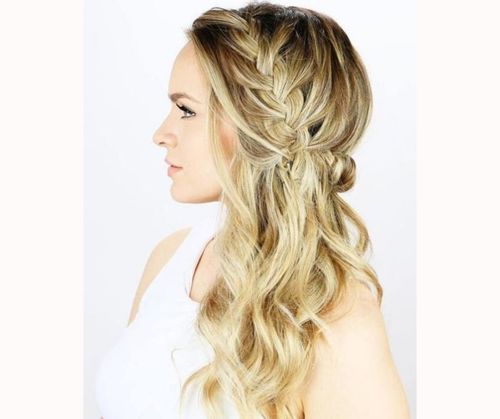 18. Crown Braid With Loose Waves
This is yet another one of the wedding hairstyles for bridesmaids with a crown braid. It is a side-swept style that is complemented with a Dutch crown braid in the front and a bulky twist in the back. The twist ensures that the side-swept style is maintained and fixed in its place. The romantic waves add to the beauty of this hairstyle.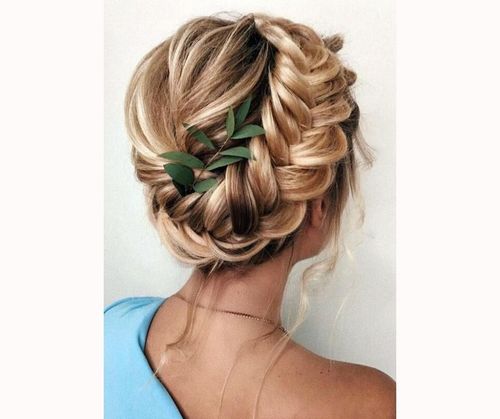 19. Crown Braids With Leaves
Are you bored of bridesmaid hairstyles for long hair with flowers in them? Then this one is for you. Get inspired from the greek weddings and add some leaves to your braided hairdo to take it up a notch.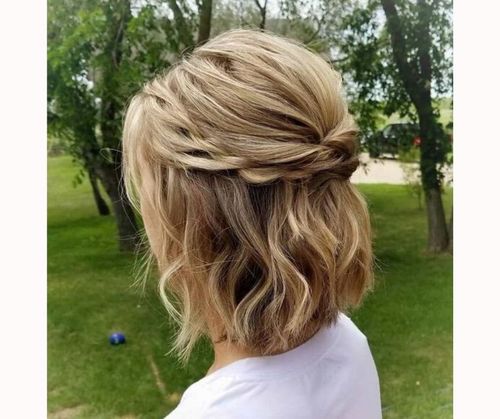 20. Braided Twist For Short Hair
Who said you can go the half and half route only with longer hair. Here is one of the perfect examples of a half up and half down bridesmaid hairstyles for short hair. The hair at the center is tied with a simple knot which is then accentuated through the loose crown braid coming from the front. This is one chic style for bridesmaids to follow.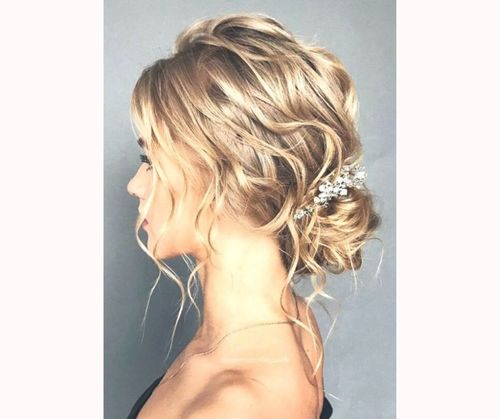 21. Textured Low Bun
Move on from polished and sophisticated updos. And add some drama to your bridesmaid hair with this messy low bun. Soft texturized waves are tied into a low bun which sits perfectly at the nape. A few loose strands here and there add the messy and romantic touch to this bridesmaid hair style.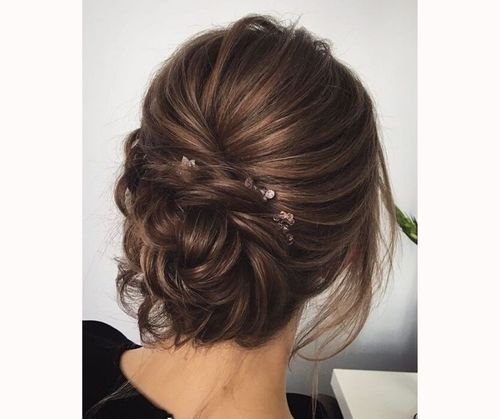 22. Pretty Braided Bun
There are many long hair bridal styles and we especially loved this one. This is a simple and easy to do bridesmaid hair idea which also looks super chic and elegant. A simple twisted knot near the crown which then extends to a loosely formed braid. This loose braid is then twisted to form a bun. Finished off with some fancy pins, this hairstyle is super manageable and stylish at the same time.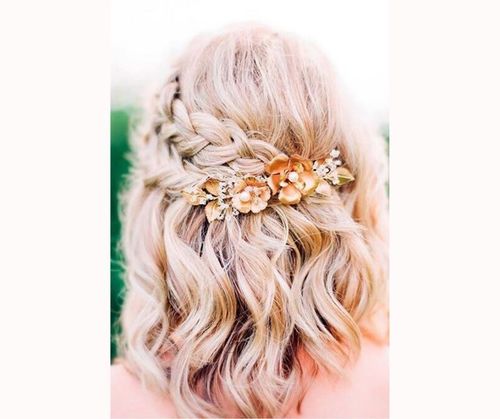 23. Braids And Waves
This is yet another one of the short hair bridesmaid styles. However, what makes this one different and unique is the feature of dual Dutch braids on one side. The look is finished with a bejeweled floral accessory, which not only brings the focus to the braids but also the waves below.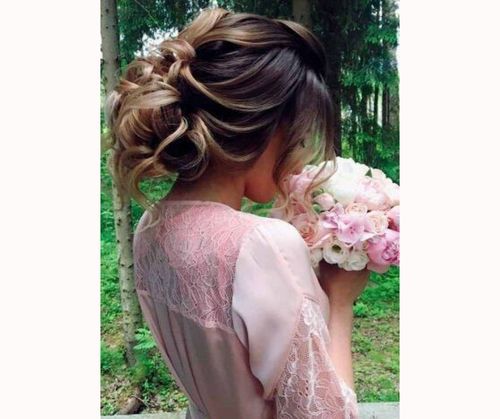 24. Relaxed Updo With Flowers
Do you have a soft corner for romantic bridesmaid updos? Here is one for you. This beautiful updo gives us a relaxed and romantic vibe. Different sections of hair are loosely twisted, turned and fixed to form big and small buns one over the other. Some pretty flowers are added to the bun to add more beauty.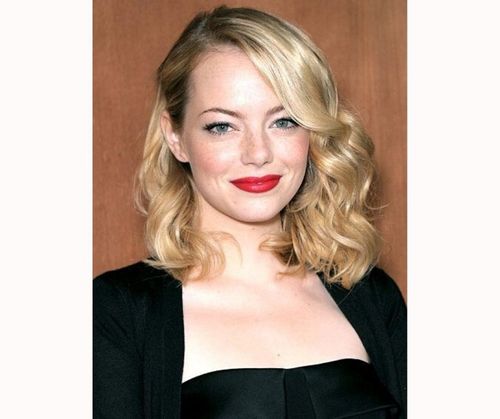 25. One-Sided Attempt
If you are looking for bridesmaid hairstyles for shoulder length hair, then this is a perfectly good choice. Get inspired by the beautiful Emma Stone and her wavy hair. The defined tight waves with a softer bend on the forehead forms to be an amazing bridesmaid hairstyle. The tucking of hair on one side with help from bobby pins adds a bit of old Hollywood charm and makes this hairdo lovelier.