28 Stunning Bridesmaid Updo Hairstyles And Haircuts
Ankita Ghoshal
Updated At 25 Aug 23
Gone are the days of dull bridesmaid hairstyles. Just because it is not your wedding doesn't mean you can't look your best as a bridesmaid. No matter what you decide to wear on the special occasion, it is your hair that will break or make your entire look. Keeping this in mind, we bring for you 28 stunning bridesmaid updo hairstyles that you can rock during the wedding season.
28 Best Bridesmaid Updo Hairstyles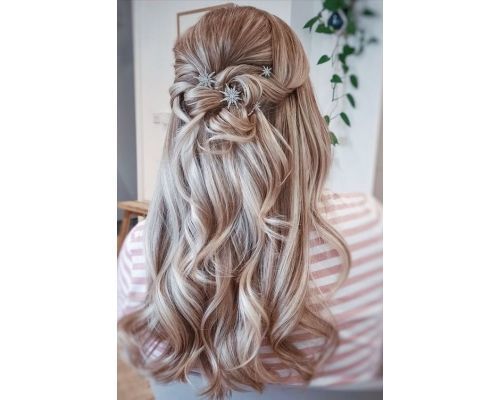 1. Half Up With Soft Curls
This gorgeous hairstyle coupled with cascading curls will make you the show stopper at the wedding. One of the top wedding hairstyles for bridesmaid, it is dressy and elegant yet carefree at the same time.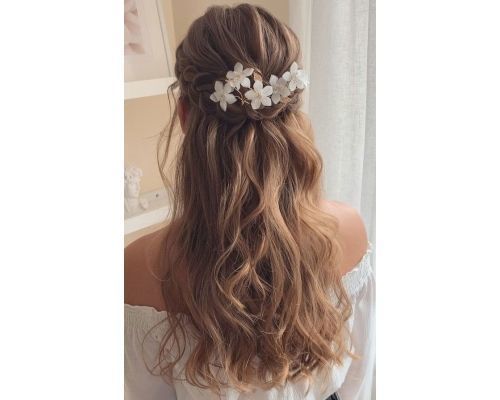 2. Boho Waves With Flowers
The slightly tousled boho half-up hairdo becomes all the more stunning with the soft waves. To take things to the next level, use some faux flowers to make your hairstyle stand out.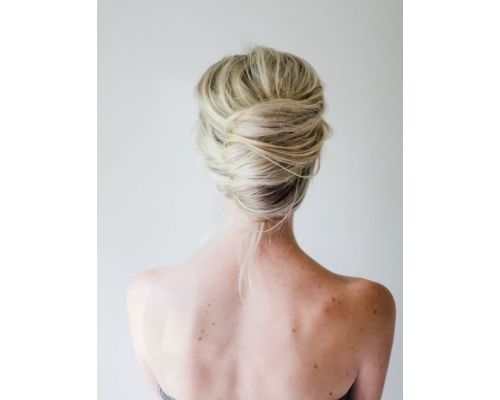 3. Twisted Layered Hairdo
Both glamorous and elegant, the twisted layered updo is one of the best bridesmaid updo hairstyles for medium hair. It is a perfect red carpet look that you are going to slay at every wedding event.
Check out our guide to find the best mother of the groom hairstyles as we cover 25+ stunning hairstyles which are trending this year.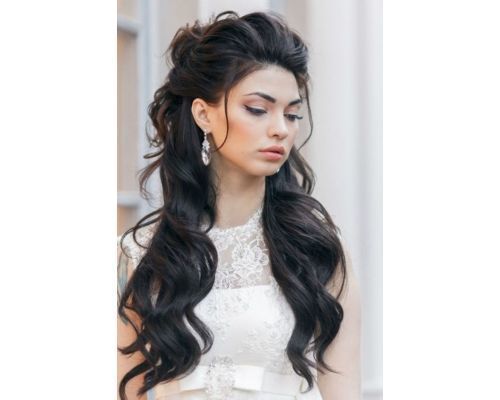 4. Tousled Half Updo And Curls
If you are looking for bridesmaid updo hairstyles for medium hair, this fabulous updo is perfect for you. You will look pretty as ever in this tousled half-updo teamed up with soft curls.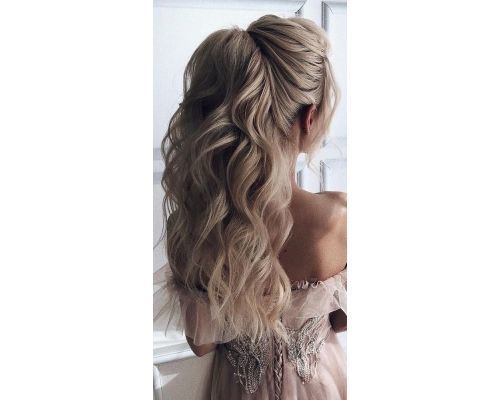 5. Half Updo And Soft Waves
The almost-beachy waves with half-updo is a simple yet amazing hairstyle for women who do not want to spend too much time on getting their hair done on the big day.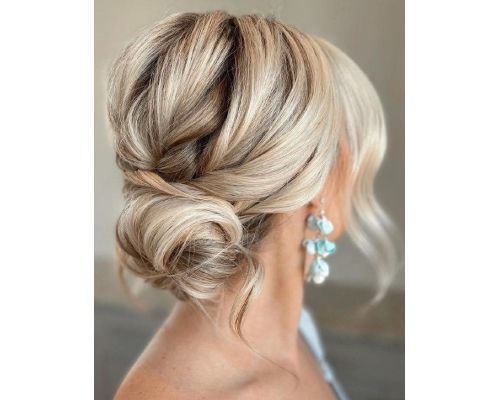 6. Boho Updo With A Modern Twist
Neither too fancy nor too fussy, this is one of those bridesmaid updo hairstyles for long hair that is the ideal combination of stunning and classy with a hint of boho vibe.
Check out our guide to find the best mother of the bride hairstyles as we cover 55 stunning hairstyles which are trending this year. From popular short hair to chignon, we cover all the stylish hairstyles.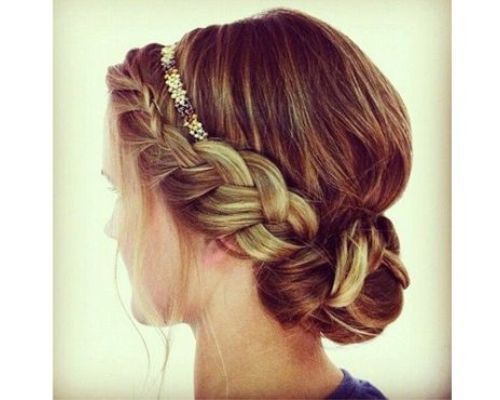 7. Braids With Wisps
Bridesmaid updo hairstyles like this one are great if you want to flaunt the back of your stunning gown. This updo will make you look no less than a princess straight out of a fairytale book.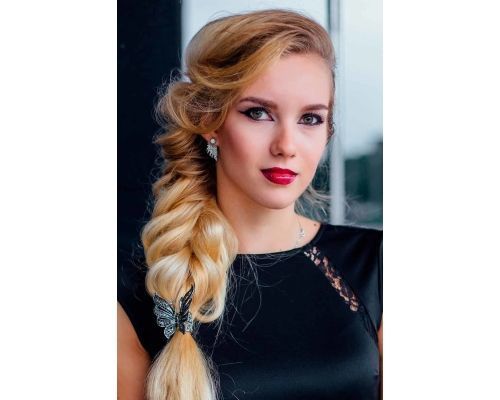 8. One Sided Braid And Soft Curls
If you want to show off your stunning earrings, bridesmaid updo hairstyles like this one would be perfect for you. It looks wonderful on long hair but is also one of the best bridesmaid updo hairstyles for medium length hair. If you have short hair and are looking for bridesmaid hairstyles, do check out our guide on bridesmaid hairstyles for short hair as we cover 55+ trending options for the perfect hairstyle.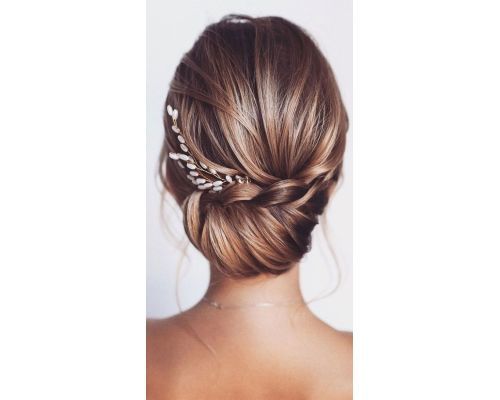 9. Beautiful Updo With Floral Minimalistic Braid
This breathtaking hair updo takes things up a notch with the soft and flowy curls. The addition of flowers just steal the show in at the blink of an eye. This is also among the most popular wedding updo hairstyles African-American.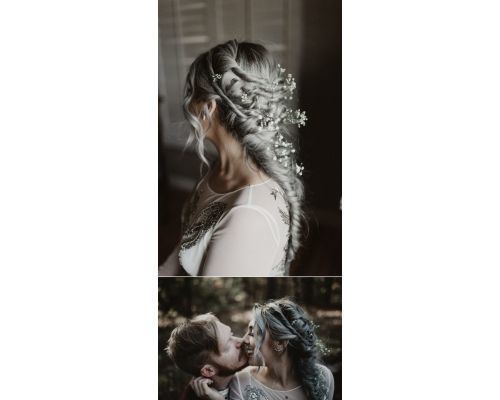 10. Soft Twist And Loose Fishtail Braid
This casual no-fuss chic hairstyle comprises of a softly twists hairdo with a cute fishtail braid. If you are looking for adorable bridesmaid updo hairstyles for long hair, this is the one for you.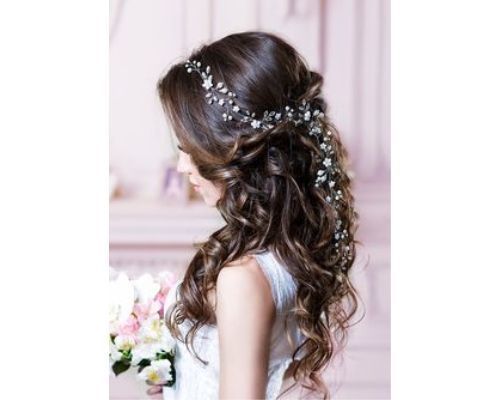 11. Loose Upsweep With Embellishments
This simple and stylish upweep hairdo of soft curls and beautiful embellishment make the entire hairstyle elegant and dainty. This will look amazing with your bridesmaid gown for sure.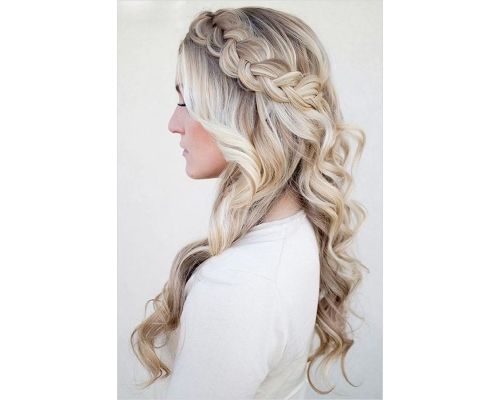 12. Single Braid And Soft Waves
If you are in search of bridesmaid updo hairstyles for medium hair, this carefree and adorable single braid would be up your alley. The beachy waves add a sweet touch of boho to the entire look.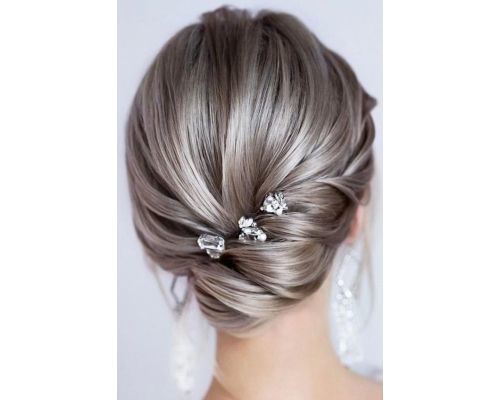 13. Sexy Glam With Casual Flair
What makes this sexy half-up hairdo stand apart are the crystals and flowing waves. No matter what the colour of your dress is, this hairstyle is bound to make you look stunning.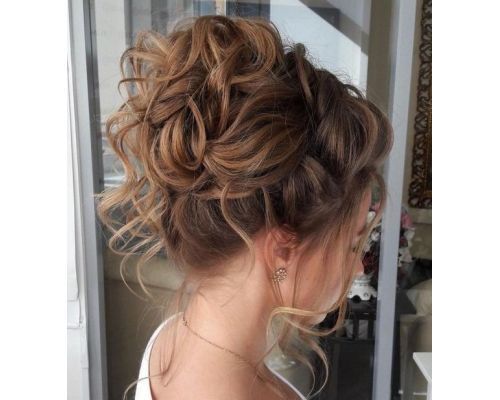 14. Loose Bun With Curly Strands
A perfect hairstyle for springtime weddings, a loose bun with curly strands is a cute mix of elegance and being dressy at the same time.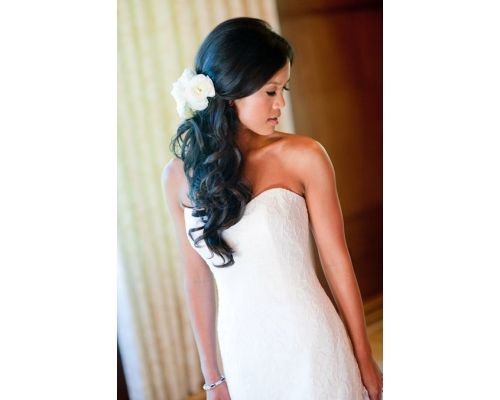 15. Beautiful Side Sweep And Flowing Curls
This hairstyle will be a perfect choice for you if you are wearing a one shoulder dress. You just need to sweep your hair to one side and then, embellish with flowers or crystal clips to get a beautiful look. Check out the best hairstyles for evening gowns as we cover 25+ best options which include long wispy front, blonde curls, bangs, low ponytail and many more.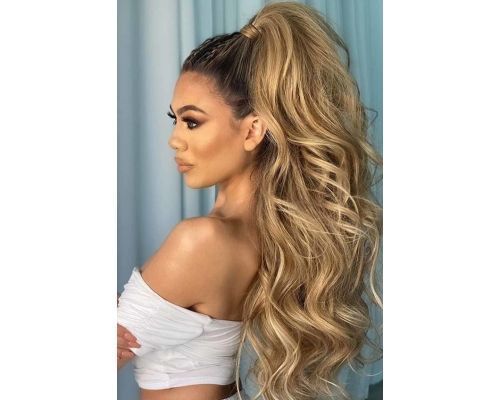 16. High Wavy Ponytail
Black bridesmaid hairstyles are always fun and cool. This no-fuss and sassy hairstyle will look awesome with a pretty dress and grogeous earrings to dress you up perfectly for the event.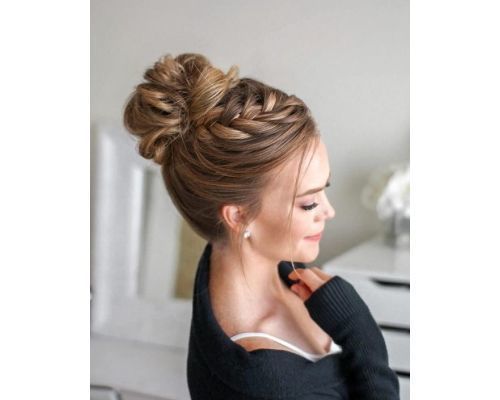 17. Fishtail in a Tight Bun
This is one of those bridemaid updo hairstyles that blend elegance with a hint of whimsical to create a perfect, fairytale-like look for you.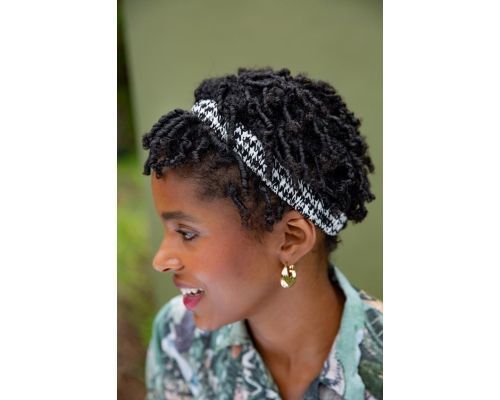 18. Smooth Updo with a Twist
Let your beautiful face and dress shine through in this minimalistic smooth hairstyle with a unique twist to make you the most gorgeous bridesmaid out there.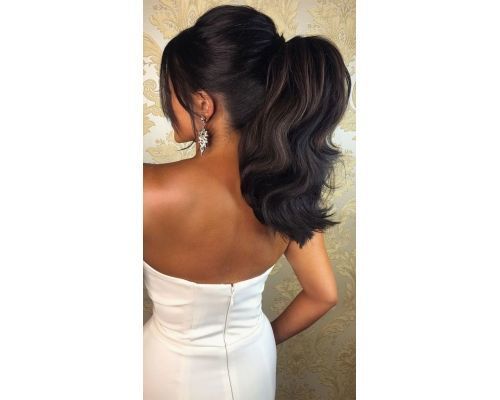 19. Evergreen Wavy Ponytail
Ponytails can be very elegant if you do them right. This face-framing sleek ponytail will be a never-seen-before bridesmaid hairstyle on the D-Day. Try it out for yourself and see how amazing it looks.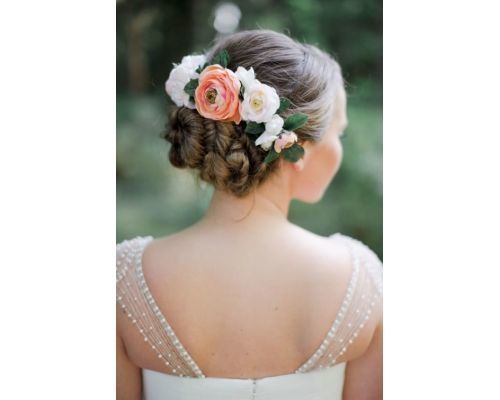 20. Twisted Fishtail Bun with Flowers
You will be the life of every wedding event with this elegantly twisted fishtail coupled with flowers. Do not forget to pick flowers which go well with your dress. To keep things in place, you can use bobby pins to tuck the flowers neatly.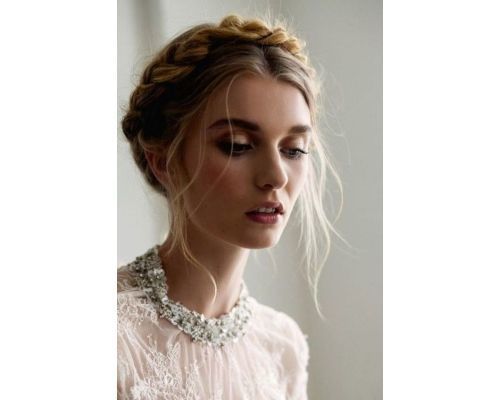 21. Glamorous Crown Braid
If you want to flaunt your braids through your bridesmaid updo hairstyles for short hair, this style will do the trick. The crown braid will give the illusion of your hair being very dense and voluminous. It will also give a beautiful frame to your face, enhancing your features like never before.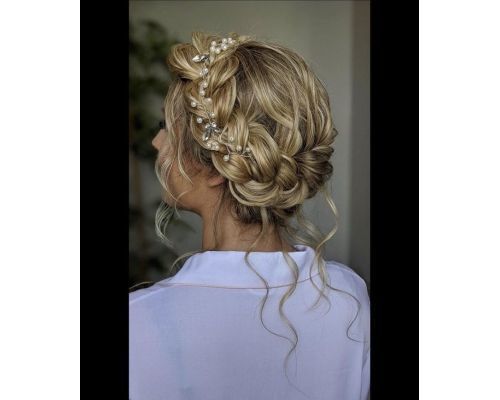 22. Crown Braid And Loose Curls
A minimalistic crown braid paired with loose curls will make you grab all the attention at the wedding and parties. You need to give it a shot to let it transform you into a diva instantly.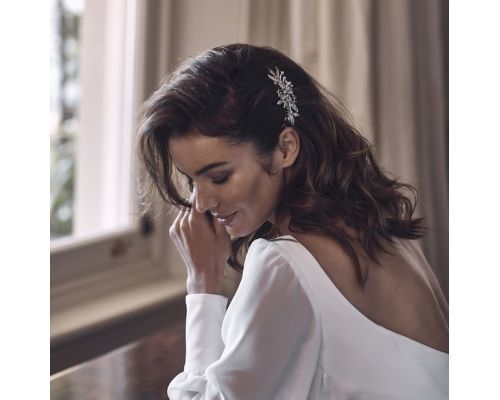 23. Loose Side Sweep And Sparkle
You will dazzle all your events and wedding parties while flaunting the back of your gown with this incredibly stunning loose side-sweep enhanced with a pretty crystal clip.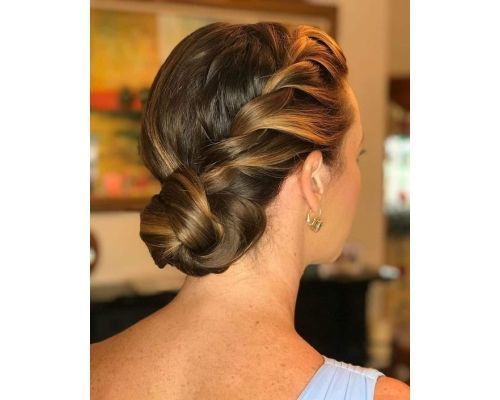 24. Angled Braid And Side Messy Bun
If you want a different and unique bridesmaid hairstyle, go for an angled braid teamed up with an off-center messy bun. This different, fun and carefree updo will bring you in the limelight for sure.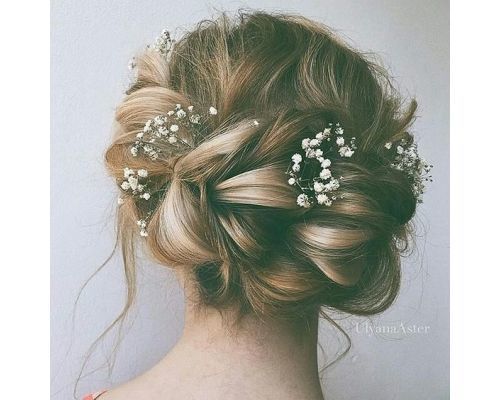 25. Baby's Breath on Loosely Pinned Updo
All you need are some bobby pins placed nicely on your updo and a string of baby's breath to complete the cottagecore Bridesmaid look for you. It will make you grab attention in no time.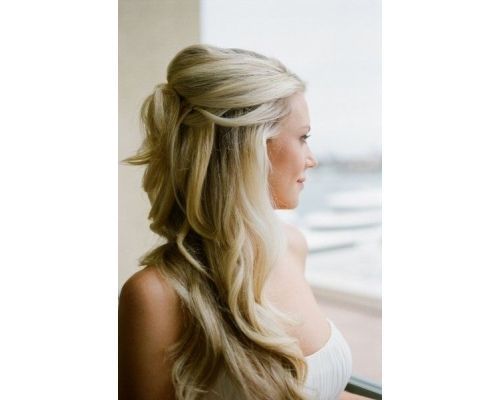 26. Carefree Voluminous Waves
If your hair is very voluminous, try one of the Black bridesmaid updo hairstyles on yourself. This hairstyle will give you all sorts of beachy yet festive vibes at the same time.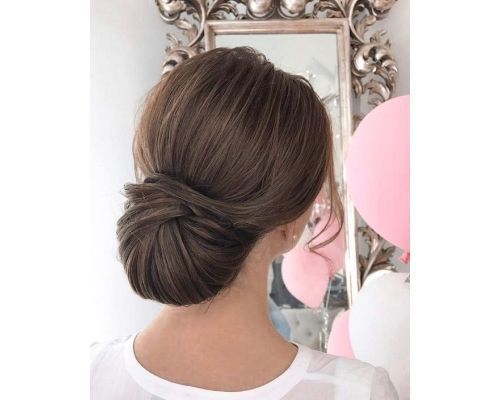 27. Smooth and Sophisticated Chignon
You can never go wrong with a sophisticated, classic and classy chignon. This smooth, hassle-free hair updo is not just a great bridesmaid hairstyle for wedding but for all other parties and formal events too.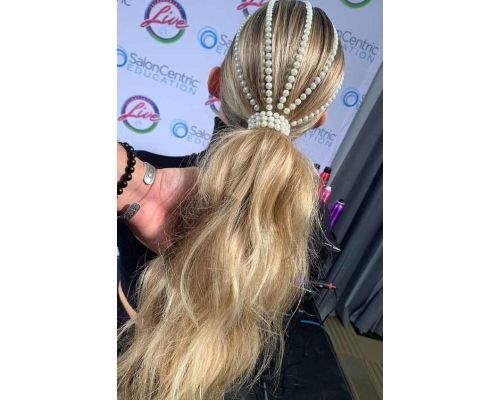 28. Unique Ponytail With A Touch of Sparkle
This unique ponytail screams elegance at the top of its voice. This hairstyle is created with a beautifully twisted ponytail embellished with a touch of sparkle to take things to another level. It will make you feel all dressy and nice in a second.
These are top 28 stunning bridesmaid updo hairstyles that can give even the most renowned hairdressers a run for their money. They are easy to do and look incredible on all face types and dresses. Do give them a try to garner all the compliments as a bridesmaid for the next wedding.