27 Flattering Hairstyles For Square Face Over 60 (With Pictures)
Riya Lisa Ghosh
Updated At 19 Aug 23
Embracing your age with style is a wonderful way to radiate confidence, and choosing the right hairstyle is a pivotal aspect of that journey. If you have a square face shape, characterized by a strong jawline and a square forehead, you're in luck! There are plenty of hairstyles that can beautifully complement your facial features and highlight your natural beauty.
27 Best Hairstyles For Square Face Over 60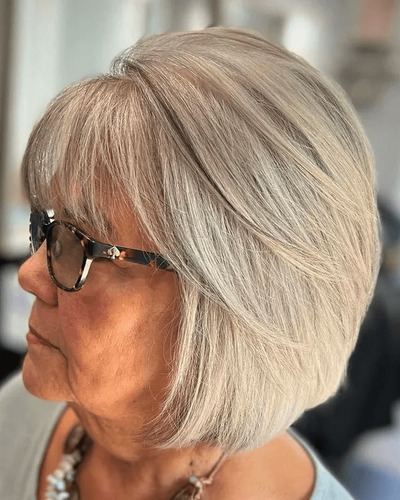 1. Soft Layered Bob
A soft layered bob works wonders for a square face, adding softness and dimension to the jawline. The layers frame the face delicately, creating balance and enhancing your facial features. Its simple, low maintenance and is one of the best hairstyles for square face over 60.
If you have short hair, then do check out the best shag haircuts for women over 60 which includes bangs, bob, pixie cuts, feathered ends and many more.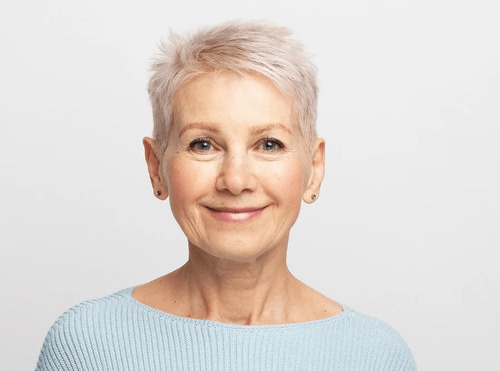 2. Wispy Pixie Cut
A wispy pixie cut with textured layers can soften the angles of a square face. This style adds movement and a touch of playfulness to your look while highlighting your eyes and cheekbones.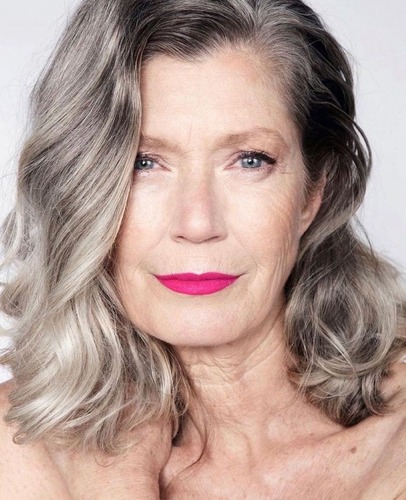 3. Shoulder Length Waves
Shoulder-length waves create a harmonious frame around a square face. The gentle waves add a sense of femininity, complementing your facial structure with grace. One of the best hairstyles for women over 60 this tousled piece of beauty will not only look elegant but will also have a younger carefree feel to it.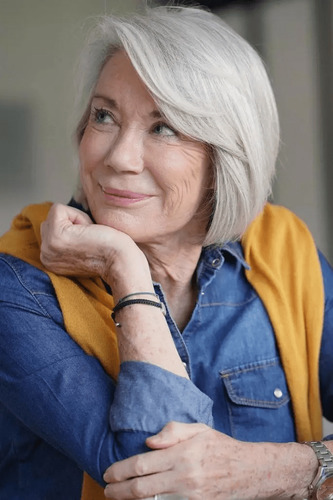 4. Side Swept Bangs For Square Faces Over 60
Side swept bangs are a great way to break up the strong angles of a square face. They draw attention to your eyes and forehead, creating a flattering focal point. One of the best hairstyles for grey hair for women over 60, this looks elegant and stylish.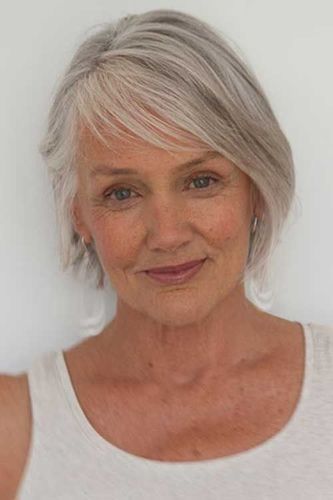 5. Asymmetrical Bob
An asymmetrical bob adds an element of chic sophistication to your look. The longer side of the bob softens the jawline, while the shorter side adds a touch of edginess.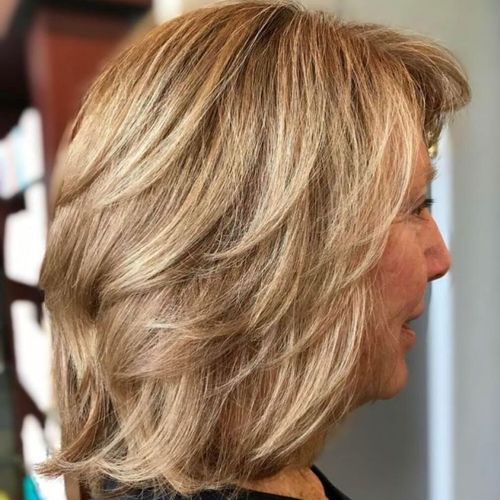 6. Layered Shoulder Length Cut
A layered shoulder-length cut adds volume and movement to your hair, creating a beautiful contrast to your facial features. This style is versatile and suits various occasions.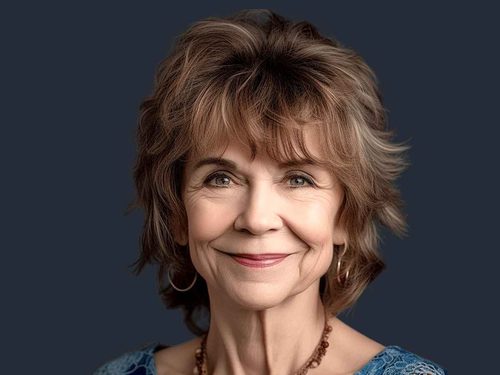 7. Textured Shag
A textured shag haircut offers a carefree and youthful appearance. The layers and choppy ends add dimension, making it a perfect choice for women over 60 with square faces.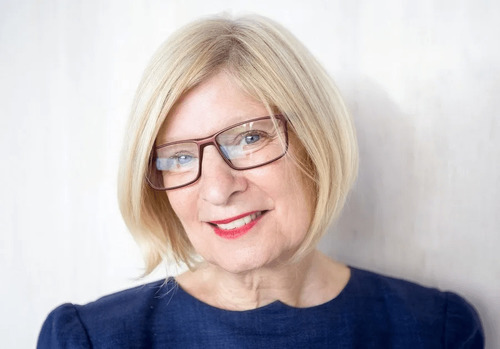 8. Bob Hairstyle For Square Face Over 60
A classic short bob can elegantly frame a square face, emphasizing your facial structure. This timeless look is both sophisticated and age-defying.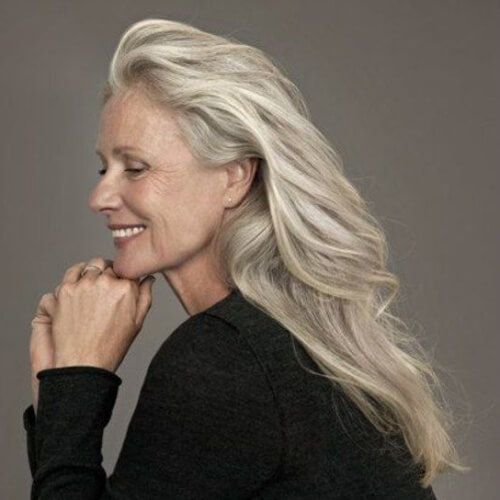 9. Long Layered Hair With Face Framing Highlights
Opt for longer layers with face-framing highlights to soften the edges of your square face. The highlights draw attention to your best features while adding dimension to your hair. One of the best hairstyles for over 60 with round face, this one looks stylish and elegant.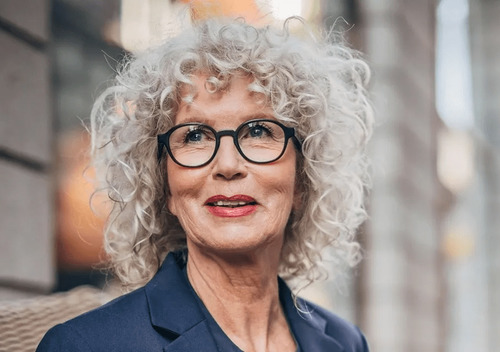 10. Curled Lob
A curled lob adds an air of glamour to your appearance. The loose curls soften the jawline, creating an elegant and refined look.
If you are looking for hairstyles for women over 60 with glasses then do check our detailed guide as we list all the popular hairstyles like pixie, buzz cut, bob cut, wavy, layered hairstyles and many more.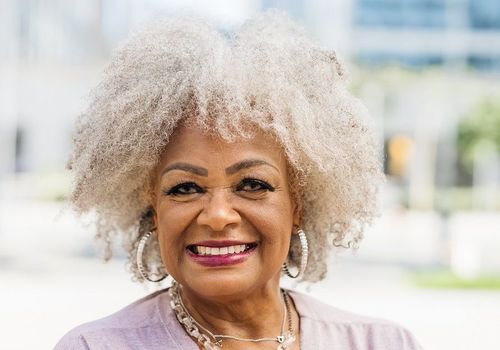 11. Afro Hair
How can we forget about this stunning hairstyle? Get a layerered pattern with shorter curls in front. This helps soften the facial angles.
Read More: Short Hairstyles For Women Over 60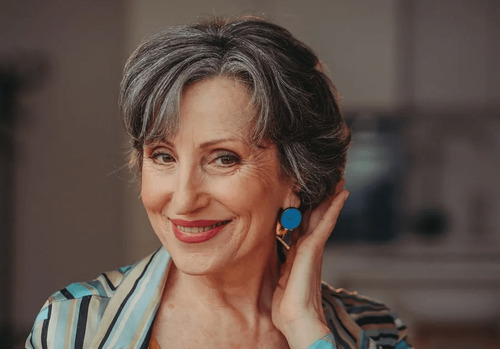 12. Textured Bob With Side Part
A textured bob with a side part adds depth and interest to your hairstyle. The side part breaks up the symmetry of a square face, creating a flattering effect.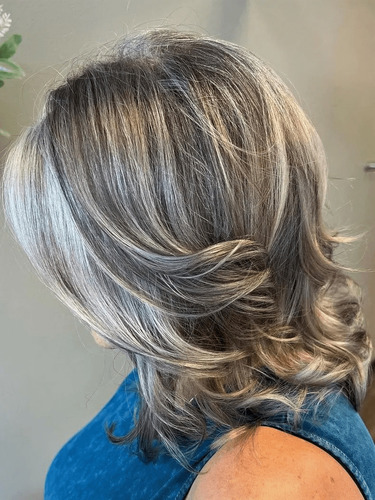 13. Medium Length Layers With Highlights
Medium-length layers with highlights create a dynamic and eye-catching style. The highlights add brightness, drawing attention to your facial features.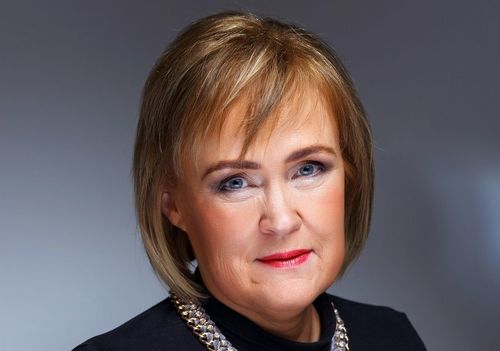 14. Feathered Bangs With Highlights
This hairstyle works wonders in softening sharp angles such as your prominent chin and jawline. Work with layered and wispy bangs that you style to the side. Get more volume in the apex area and instead of keeping your hair flat, give it a wave.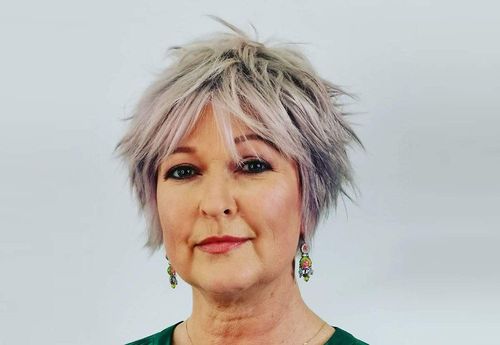 15. Short Haircut For Square Face Over 60
Tousled short hair gives off a carefree and effortless vibe. The textured layers add movement, and the tousled look complements the angles of a square face.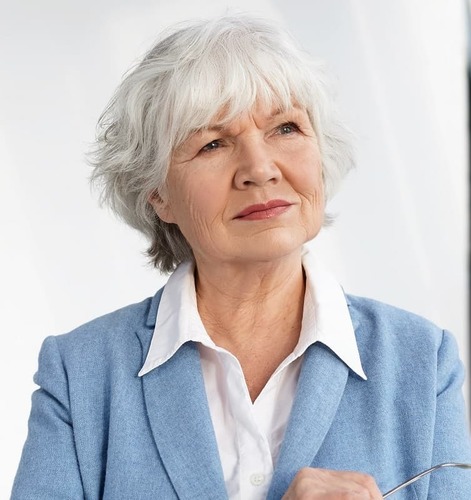 16. Textured Fringe
A textured fringe can soften the forehead and add dimension to your hairstyle. This style draws attention upwards, balancing out the facial proportions. This hairstyles suits a smaller square face as well.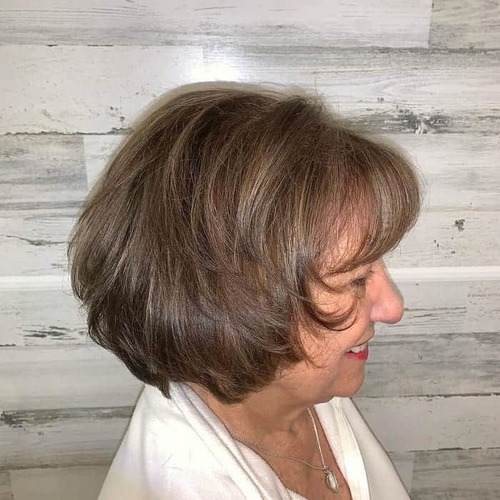 17. Layered Bob With Highlights
You can never go wrong with layers. A layered bob with highlights offers a dynamic and youthful appearance. The layers create movement, while the highlights add a touch of vibrancy.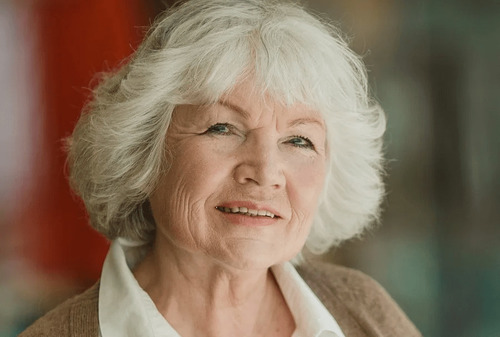 18. Outward Edges
Thinking of highlighting your jaws and cheek bones? This hairstyle is the way to go. Get a layered bob haircut with bangs at the front. Use a rounded brush and a blow dryer and style the tips outwards, creating more volume. This requires a bit of maintenance but the results are flattering. Yf you are looking for a hairstyle for square face over 60 which can highlight your features, then this is an amazing option.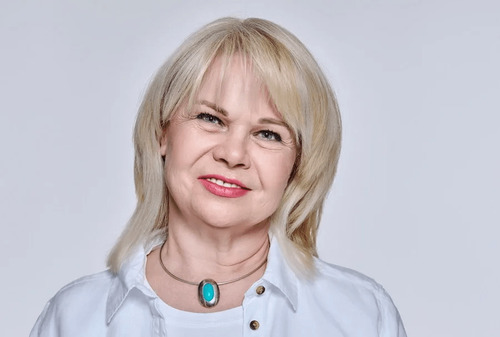 19. Side Swept Long Layers
Long layers swept to the side can create a captivating and graceful effect. The layers add movement, and the side-swept look softens the angles of a square face. It gives an asymmetrical look to your face and makes your hair look volumnous.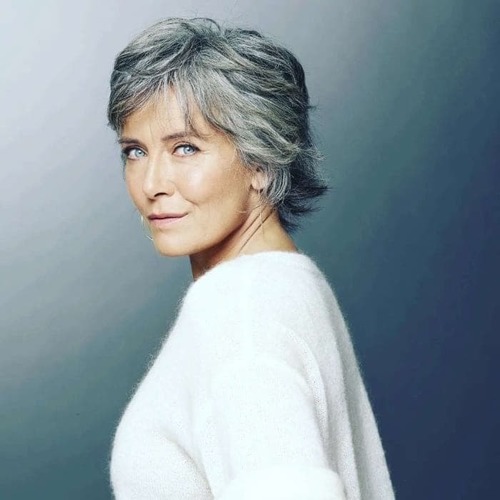 20. Textured Short Pixie
A textured short pixie cut is a bold and fashionable choice. The textured layers add volume and create a playful appeal. If you want to go for a quirky look while embracing your face angles, this look is ideal for you.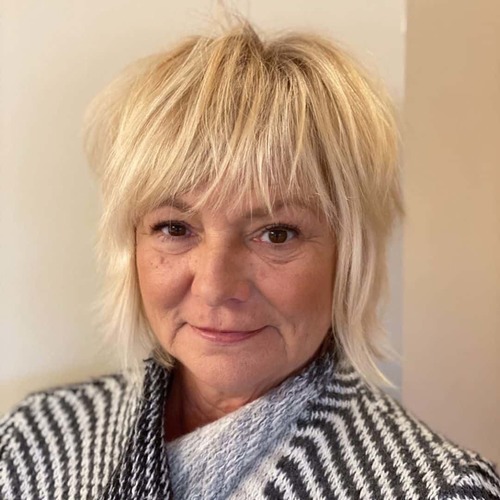 21. Layered Shaggy Bob
A layered shaggy bob brings a touch of modernity to your style. The layers and shaggy ends soften the square jawline, adding a sense of fluidity.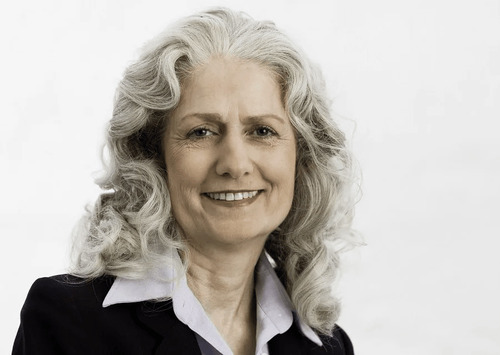 22. Long White Curls
Its not always necessary to dye your hair and keep it perfect. Embrace your greys and softened face angles. Long hair suits square face shapes, letting your natural hair shape your face. If you are looking for curly hairstyles for women over 60, do check out our guide as we list 25+ most popular hairstyles.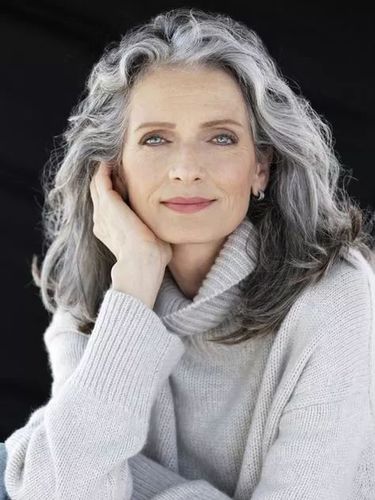 23. Center Parted Long Waves
Center-parted long waves create an elongated appearance for a square face. The waves add softness, and the center part draws attention towards the middle of your face.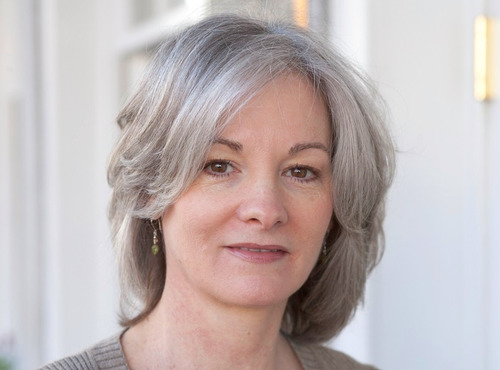 24. Layered Crop With Side Bangs
A layered crop with side bangs can be a playful and charming choice. The side bangs add asymmetry and balance to a square face. This may not necessarily be the best choice, but it definitely is set to soften your face cut.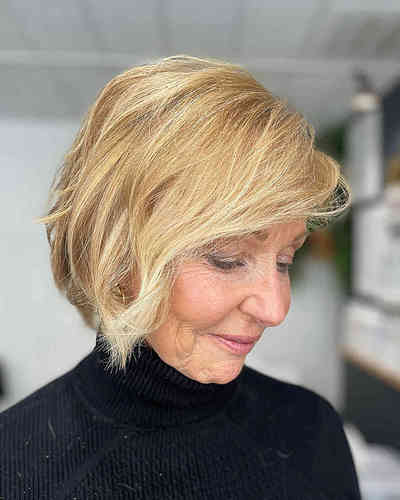 25. Messy Bob with Textured Ends
A messy bob with textured ends exudes a carefree and youthful spirit. The textured ends add movement, and the messy look adds a touch of edge. This is a versatile hairstyle and would frame your face around the jawline.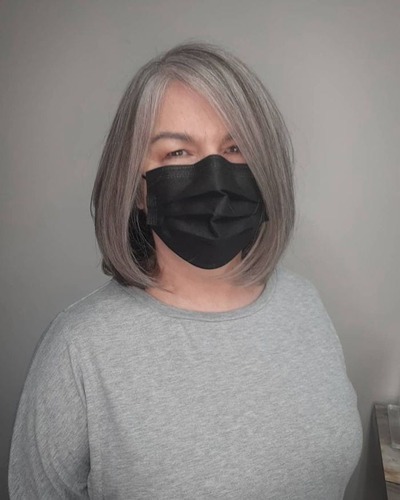 26. Face Framing layers
This hairstyle for women over 60 with a square face is a must-have, especially when you have thick hair that already has volume. Get two layers, one level that uses inside twisted tips and the longer ones, that are styled outwards.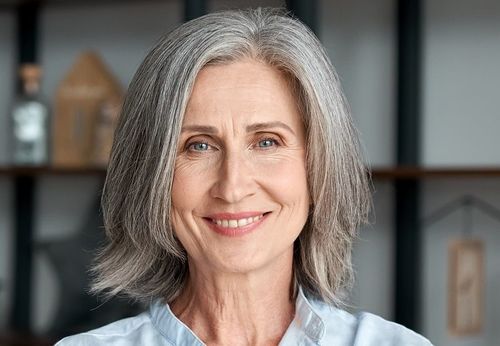 27. Layered Lob with Side Part
A layered lob with a side part offers a modern yet timeless look. The side part breaks up the symmetry of a square face, creating a flattering balance. You can shuffle with this hairstyle and style it the way you want to.
Your square face shape is a canvas that can be enhanced by a variety of hairstyles that highlight your best features. These 27 hairstyles for women over 60 with a square face offer a range of options, from soft and elegant to bold and daring. Embrace your unique facial structure and express your individuality through the hairstyle that resonates with your personality and style. Remember, age is just a number, and your confidence shines through when you choose a hairstyle that makes you feel beautiful and empowered.