31 Best Curly Hairstyles For Women Over 60 – 2023
Shalu Bhati
Updated At 02 Jan 23
Trends may come and trends may go but curly hairstyles stay forever. Yes, managing a naturally curly mane requires a lot of effort, work, and patience. But, the results are all worth it. And that's why everyone loves 'em curls. Curly hairstyles are some of the most versatile and gorgeous styles that can easily carry a romantic, elegant, as well as edgy vibe. So, when it comes to curly hairstyles for women over 60, we say a strong yes.
You can flaunt your curls without worrying about your age. There are a lot of styles that you can choose from and be at your curly best. Choose from our incredibly inspiring roundup of curly hairstyles for women over 60 and embrace the curls.
31 Stunning Curly Hairstyles For Women Over 60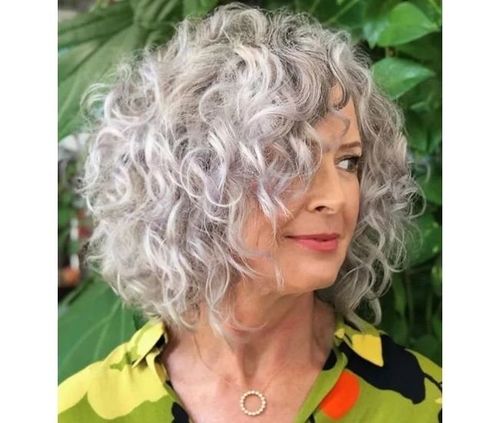 1. Curly Shag
Shag hairstyles have made a comeback this year albeit with a modern twist. But why should straight-haired women be the only ones to have all the fun. A modern shag hairstyle is also possible with curly hair and we have just the right kind of inspiration for you. The extra layered and tousled style will do wonders in enhancing your style quotient.
If you are looking for hairstyles for women over 60 with glasses then do check our detailed guide as we list all the popular haircuts like Bob, pixie, layered hairstyles, buzz cut and many more which will go with glasses.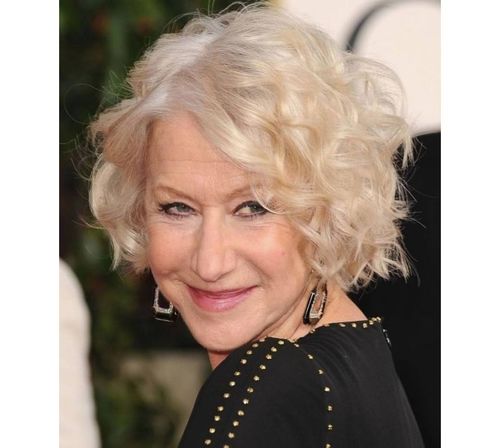 2. Side-Parted Chin-Length Hairstyle
Curly hairstyles for women over 60 are anything but boring. Take lessons from Helen Mirren who has been rocking some of the most beautiful curly hairstyles. Here she is seen with a chin-length curly hairstyle with a side parting. The asymmetrical layers add more volume and bounce while the side bangs frame the face perfectly. One of the best haircuts for women over 60 one can prefer the side parted parted hairstyle to put focus on your look.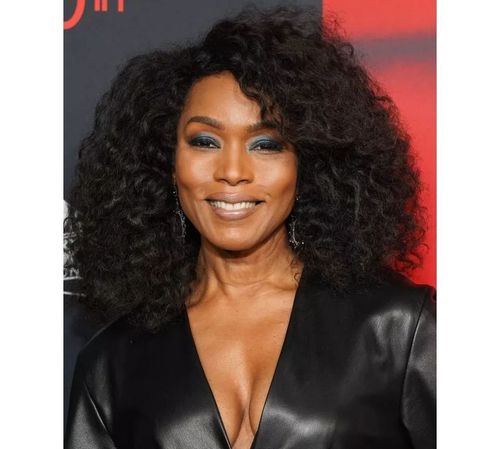 3. Mane Of Curly Glory
If you don't like your hair too short or too long, then you must go for middle-length hairstyles like this one modeled by Angela Bassett. This hairstyle will allow you to wear your curls in all their glory. Embrace them and flaunt them!
If you are looking for pixie haircuts for women over 60 then do check our guide. From haircuts for short fine hair to the ones for long and medium hair, we list all the popular pixie cuts for all the hair types and lengths.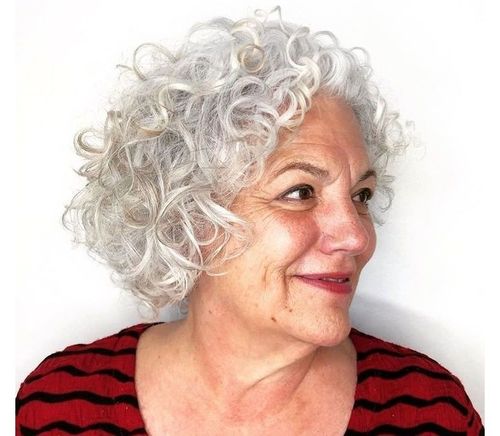 4. Short White Curly Hairstyle
At the age of sixty, there comes the usual sign of white or grey hair. Gone are the days when a single strand would have made you run to the salon. We are living in a time where white hair is actually trendy and even youngsters are getting their hair colored in the shades of white, grey, and silver. Moreover, this is also a time when women are fighting against age-old beauty standards. So, embrace your white strands and let them shine with a short curly hairstyle like this one.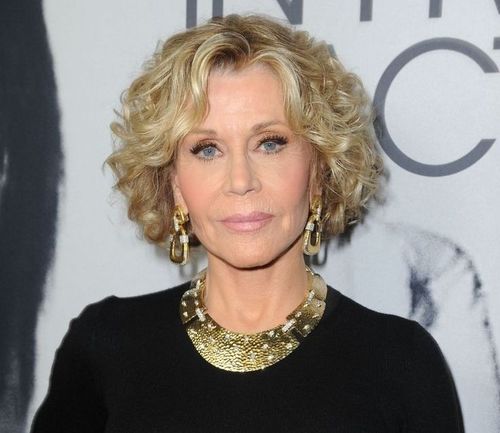 5. Chin-Length With Side Bangs
Chin-length curly hairstyles for women over 60 can give you an elegant and refined look. A good example would be this hairstyle as modeled by Jane Fonda. This chin-length curly hairstyle with side bangs can be your go-to style for all sorts of occasions. Use a volumizing spray or switch your parting to give your side bangs a lift and bounce.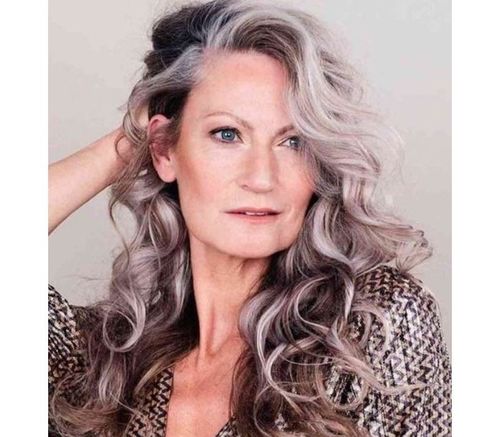 6. Curly Glam
Give voice to your inner queen and got the glam route when it comes to choosing curly hairstyles for women over 60. We love this one pictured here for its effortless glamour. The deep side parting creates a romantic hairstyle that will look especially good with loose curls or wavy hair.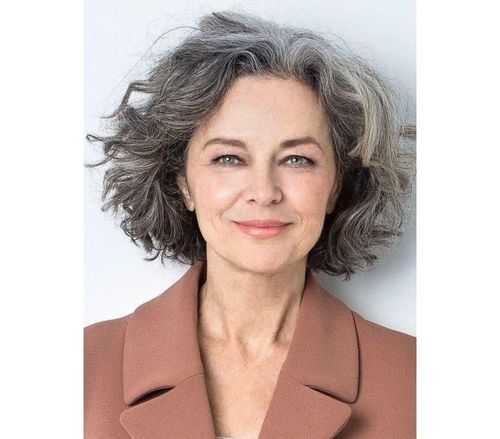 7. Silver Fox
Once your hair starts greying, you can hide them or color them white to be with the current trend Or you can just let them do their magic and embrace your new salt and pepper look. You will not only be embracing the natural aging process but also adding a dimension to your curly hairstyle.
One of the best short hairstyles for women over 60 Silver fox can be trendy and stylish at the same time. You can showcase your natural beauty and pair it with attractive accessories to accentuate your look.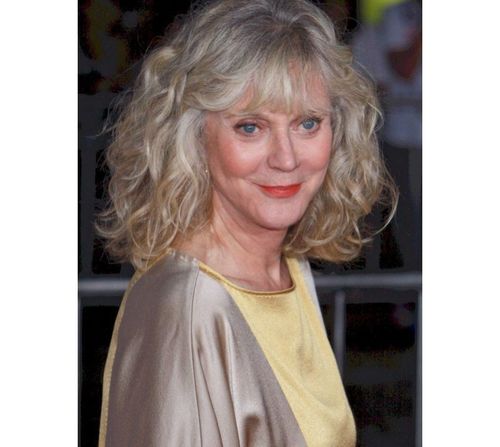 8. Shiny, Fluffy, And Curly
This curly hairstyle comes with soft, bouncy, and blonde curls that will boost your confidence and leave a lasting impression on the onlookers. This can be counted as one of the best curly hairstyles for women over 60 owing to its effortless beauty. The front bangs give a new character to the whole look while the tousled texture gives this hairstyle that extra fluffy volume.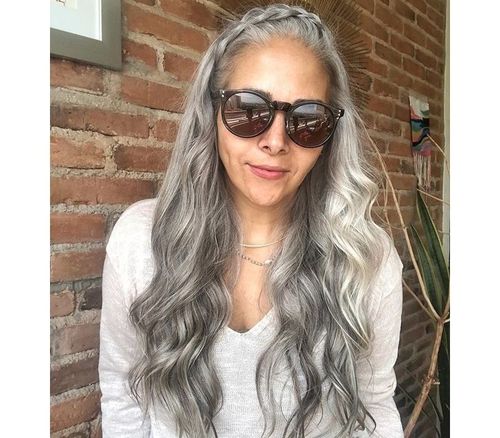 9. Braided Headband With Long Wavy Hair
A braided headband can be a stylish way to keep bangs away from your face and even otherwise it is a chic way to wear your hair. It pairs rather well with wavy and curly hair. This is one of those curly hairstyles for women over 60 that you can flaunt on almost all occasions from your office to a vacation at the beachside or even to a lunch date.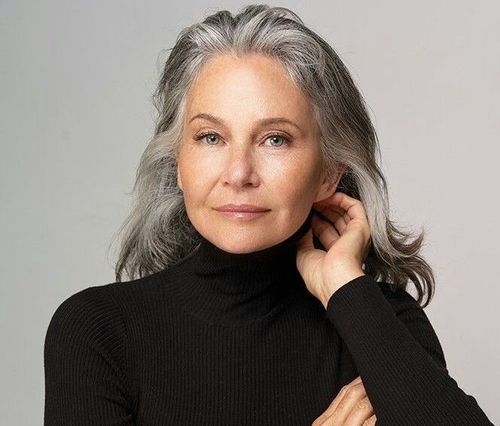 10. Basic Back-Combed Hairstyle
Nothing beats the classic curly hairstyles for women over 60. And here we have one such hairstyle. This medium-length wavy back-combed hairstyle will make you look like you mean business. It is trendy, elegant, and all sorts of beautiful. Moreover, it is easy to style and maintain.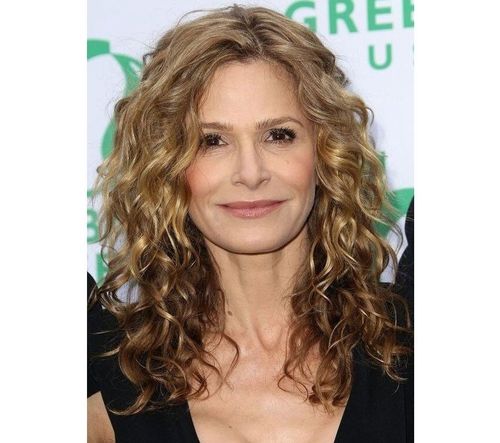 11. Layered And Curly
Here is another one of the medium-length curly hairstyles for women over 60. This is again a great option for those who don't like their hair too long or too short. you can easily opt for a length like this one that falls somewhere in the middle. Layers and curls are a romantic affair that not only looks good but it also comes with easy upkeep.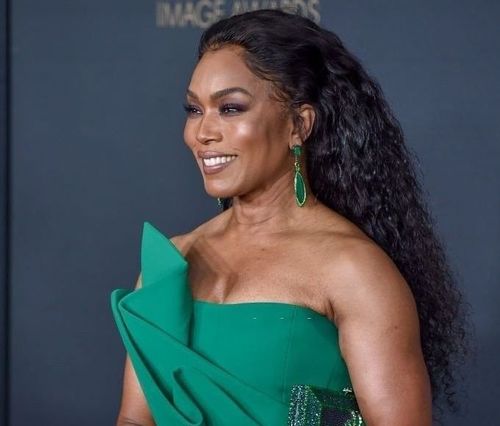 12. Long And Back-Combed
Here is yet another back-combed style but for long curly hair. use your trusty styling gel and mousse to set the hair in front while the remaining curls are let loose. You can also have some fun with your baby hair and style those edges to add more beautiful drama to your look.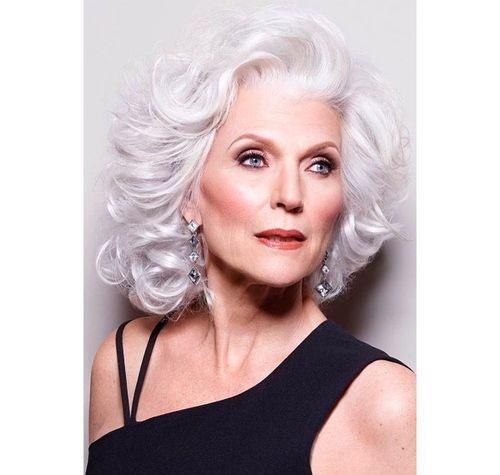 13. Bouncy Silver Curls
This is a shoulder-length layered curly hairstyle with some serious vintage glam. The round and rolled-up bouncy curls are a classic timeless style that works even today. The white hair makes this style look even more impressive. It is one of the best curly hairstyles for women over 60 that never go out of style.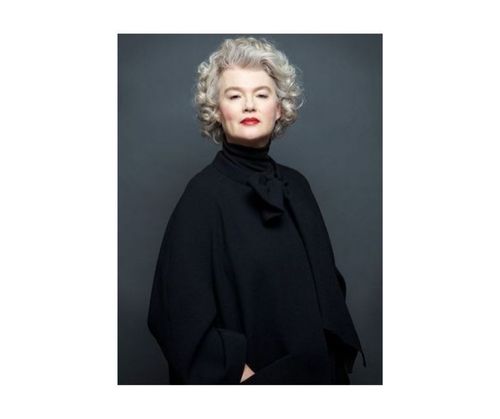 14. Old Hollywood
Remember Marilyn Monroe's iconic blonde curls? Well, this is something along those same lines. Channel that old Hollywood charm with your short hair with ease. This style will not only keep the hair out of your face but also give you a look full of some vintage grace and glamour.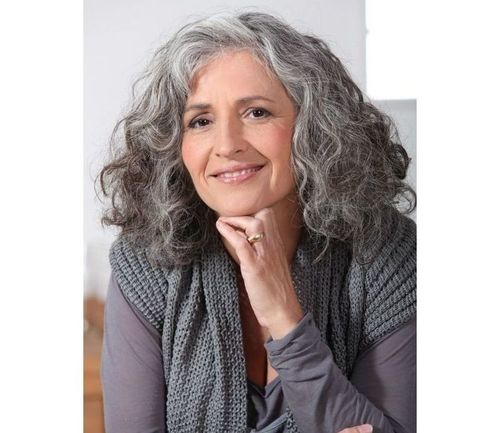 15. Textured Curly Hairstyles For Women over 60
This is yet another gorgeous and fuss-free hairstyle that will win your heart. It has a laidback yet fun charm to it. You can use a salt spray and use your figures to style this out. The texture will give it the required flair and drama.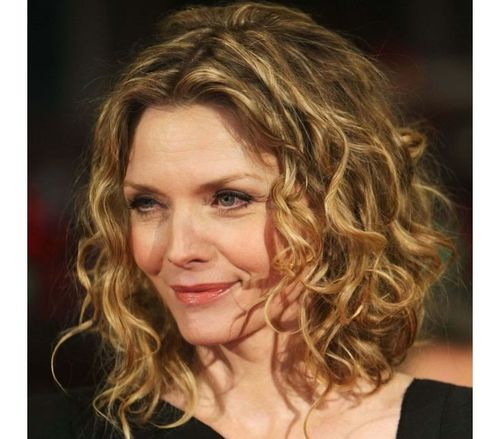 16. Shoulder-Length And Middle Parted
Can we just stop for a minute and admire the gorgeous curls of Michelle Pfeiffer? We have seen the Scarface actress rock straight hair. But when she rocks 'em curls, it becomes enough to stop us in our tracks. It is one of the best face-framing curly hairstyles for women over 60. Take thinner sections to curl and create this look.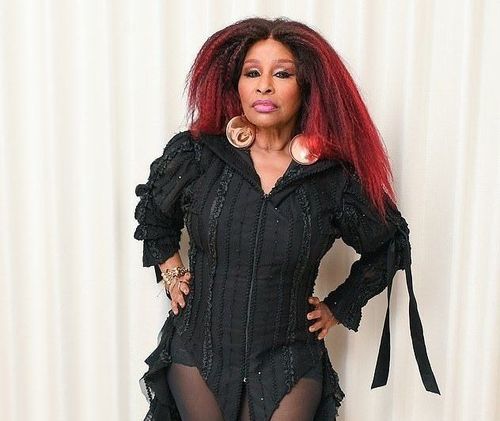 17. Crimped, Curly, And Voluminous
Here is a trendy way to flaunt your thick and voluminous curls. Let that volume take the center stage. This hairstyle is clearly a showstopper with its magnificent volume and crimped style. The striking red colour makes the look more dramatic and pushes it to the center stage.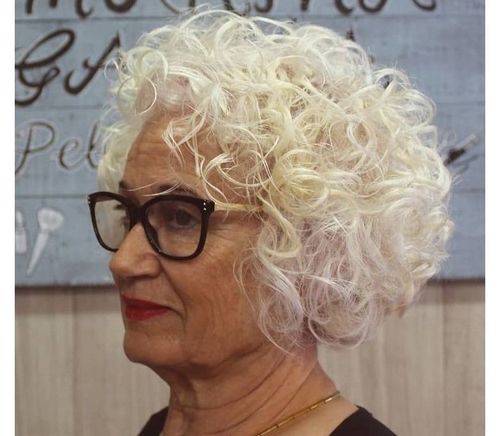 18. Short Curly Hair
The curls in this hairstyle create a soft look. It is a tapered cut that blends seamlessly without making it obvious. The shorter pieces in the front fall freely on the forehead and bring attention to the eyes. This is a great hairstyle for those who wear glasses. If you choose to flaunt your white hair as are pictured here, then opt for dark coloured frames for your glasses.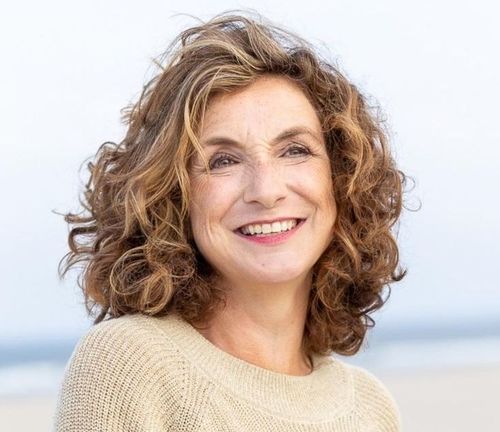 19. Loose Curls
This is one of the most beautiful curly hairstyles for women over 60 with thick hair. The loose curls give a mermaid-like vibe while you can ask your stylist to sneak in some layers to take out the bulkiness. A lighter hair color will make this hairstyle look even more breezy. Get a balayage for that perfect sun-kissed look.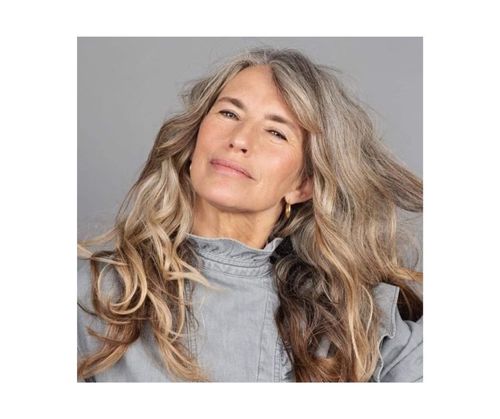 20. Side-Parted Long Curly Hair
Just because you are woman over sixty, it doesn't mean you have to chop off your beautiful tresses to something short. If long hair is everything that you can think of, then flaunt them, ladies. Your age doesn't decide your hairstyle. This side-parted curly hairstyle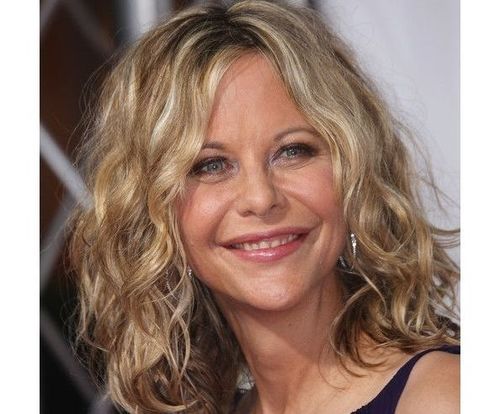 21. Thick, Curly, And Gorgeous
Thick and curly hairstyles for women over 60 have a charm of their own. Taking inspiration from Meg Ryan you can get long layers. This hairstyle looks good with a middle or a slightly off-centre part. Throw in some highlights to make your curls come alive.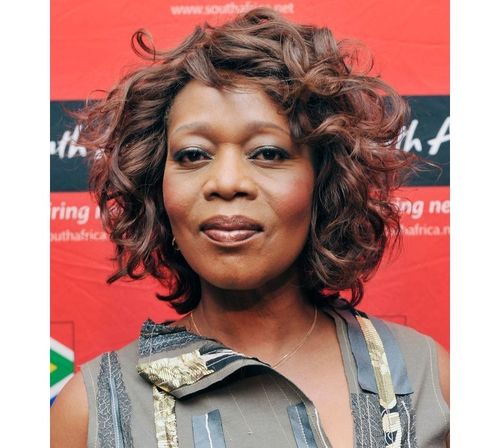 22. Curly Bob
This is a curly bob with choppy layers. It will give you the much needed drama in your look. You can simply use your fingers to get a tousled look that will work the best with this type of haircut.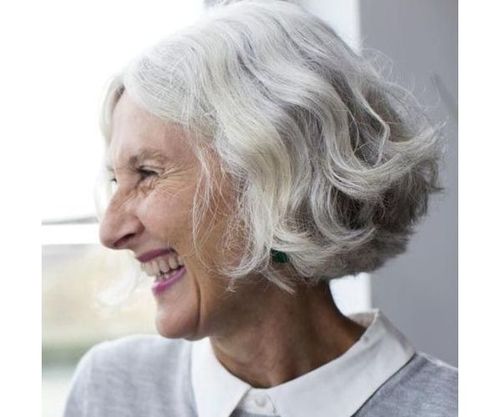 23. French Bob With Curls
French bob is a classic hairstyle that has been topping the trend charts once again this year. It is comfortable, chic, and timeless which makes it a great choice if you are looking for curly hairstyles for women over 60. It will look great on most curl patterns but especially good with wavy hair and loose curls.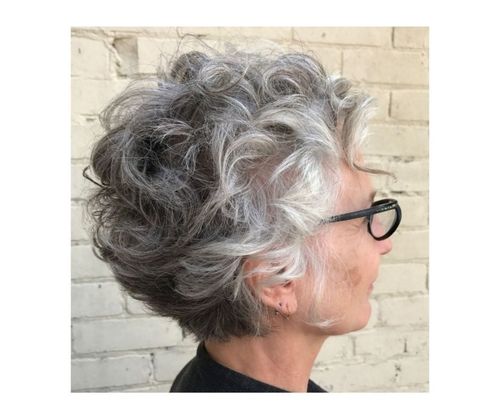 24. Round And Voluminous
Embrace your white hair and create a beautiful salt and pepper look like this one pictured here. the layers and the round shape add more volume and bounce to the hairstyle making it a perfect fit for those with thin hair.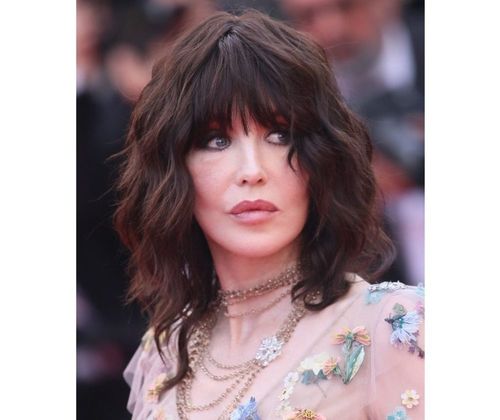 25. Light Curls With Front Bangs
Nothing says glamorous more than a hairstyle with bangs. Curly hairstyles are well known for creating a fresh and romantic look. Add bangs for instant glamour. This textured hairstyle is one of the most gorgeous curly hairstyles for women over 60. The front bangs are not too thick or too wispy. The front pieces do a great job at framing the face making it a great hairstyle in every aspect.
26. Wavy Chin-Length Bob
Here is another one of the curly hairstyles for women over 60 which is fuss-free. It is effortlessly chic. The length as well as the cut is easy to manage. You can change your parts depending on your mood. Run your fingers through your hair to style this one and get a more tousled look.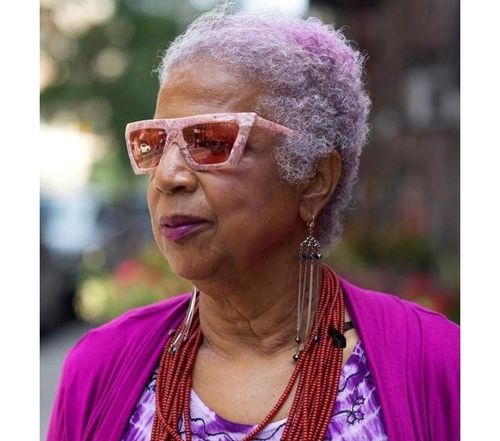 27. Naturally Curly Pixie
A pixie is a universally flattering hairstyle that suits people with all ages. It has been a part of some of the best curly hairstyles for women over 60. It is a staple and timeless style. It is also low maintenance and fuss free. You can use your fingers to style it and that's it, you are done. Opt for a pixie style that best suits your routine and hair texture. You can also add a dash of a preppy colour.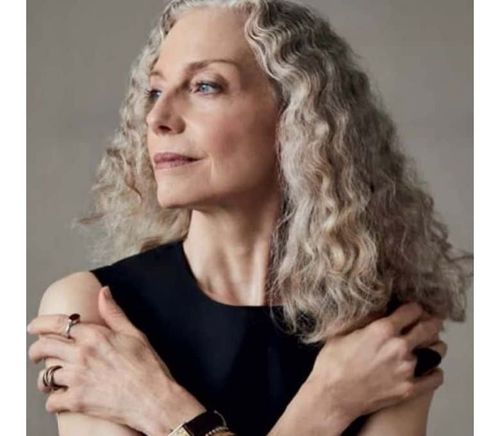 28. Loose Crimped Curls
Crimped hairstyles are back but with a modern twist. And we have just the right one for you to take inspiration from. Section and conquer, ladies. Go down as you create an S-wave. A middle part will make the hairstyle look even more stylish.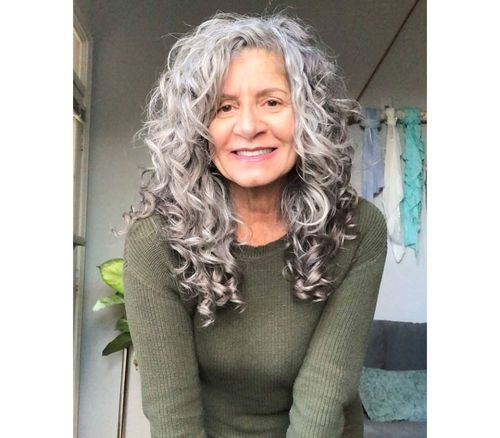 29. Layered And Defined
Nothing says beautiful curly hairstyles for women over 60 more than well-defined and bouncy curls. If you have naturally curly hair, then this style can be easily adaptable as all you need is a layered cut with a healthy curl maintaining routine. And if you are not naturally curly, you can seek help from your curling wand to get those bouncy well-defined curls.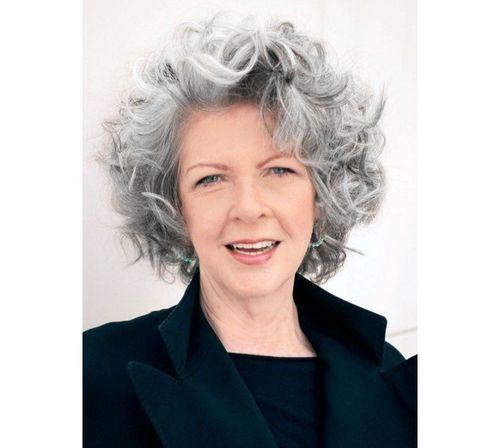 30. Short, Round, And Layered
If you like to wear your curly hair short, then try it with some layers that create a tapered look. This hairstyle is round-ish. The layers can take off the bulk if you have thick hair while maintaining the volume. The shorter pieces in the front can fall freely to frame the face and give a refined look.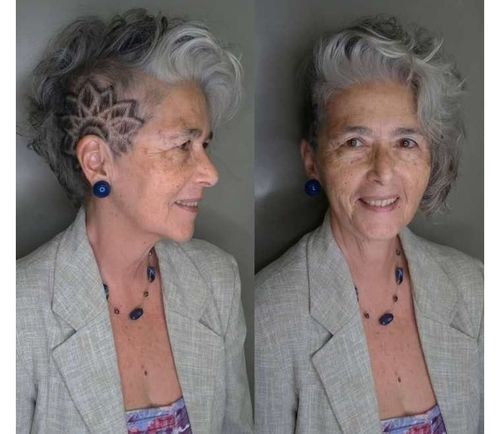 31. Quirky Pixie
There is no age limit to having fun with your hair. If you like edgy hairstyles, then don't hold yourself back. Because there are women out there who are not letting their age and the expected beauty standards stop them from doing things that they want to do. It is your personality. Go express it through your hair without thinking twice. You can take inspiration from this edgy pixie pictured here. while it has long hair on one side, the other side has been completely shaved to reveal a floral design above the ear. It is edgy, quirky, and stylish. It definitely stands out as one of the best curly hairstyles for women over 60.