55 Trending Hairstyles For Women Over 60 – 2023
Shalu Bhati
Updated At 19 Aug 23
Getting older is inevitable and age is just another number. Being 60 and beyond means, you already have a set style but it won't be surprising if one day you start craving for a change. That's when we come into the picture. We will help you find the perfect hairstyle that will suit your needs. You can choose from our round-up of some of the most gorgeous haircuts for women over 60.
While choosing the right haircut you must keep in mind several factors including your face shape, personal aesthetics, hair volume, and the amount of effort that will go into maintaining that particular cut. Once you have decided on these factors, the decision for your new haircut will become much easier to take.
55 Stunning Haircuts For Women Over 60
Let's dive in some #hairinspo together!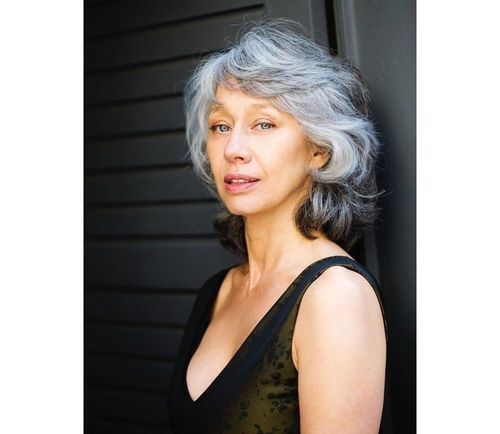 1. Modern Shag
With many hair trends of the yesteryears making a comeback, fluffy and voluminous haircuts for women over 60 have taken up the lead. This is why you will see several variations of the traditional shag hairstyle all around. This is a haircut that combines just the right amount of edge and glam while creating a bouncy and youthful look. Face-framing layers and an optimal body are forever flattering.
If you are looking for curly hair inspiration, do check out our guide on curly hairstyles for women over 60 as we cover all the popular hairstyles like side parted Hairstyles, classic curls, short curls and many more in detail.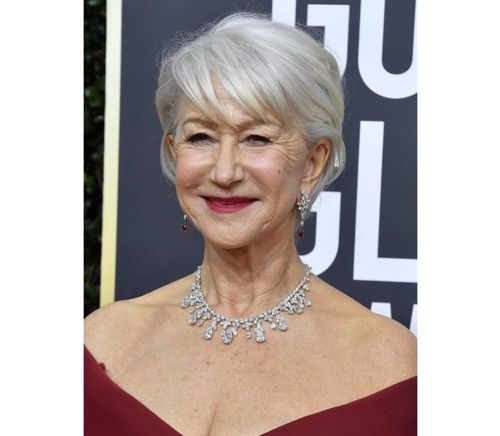 2. Elegant Short Haircut With Bangs
When it comes to haircuts for women over 60, nobody does it better than Helen Mirren. Her haircuts scream an ethereal grace and elegance. If you are seeking a drastic change, then take the plunge and chop all your hair off for this very short haircut with soft and layered side bangs that fall on the forehead.
One of the best short hairstyles for women over 60 the elegant short haircut never goes out of style. Classic short haircuts, bob cut, pixie cut are very popular and can work well with any look.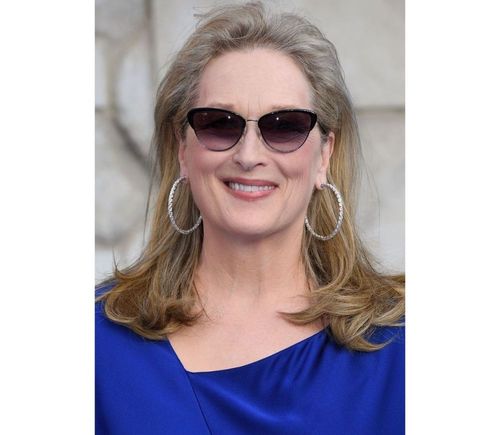 3. Brushed Back Style For Thin Hair
It is rather easy to style shoulder-length hair. But, if you have thin hair and are not so big on fluffy haircuts, then take some inspiration from Meryl Streep. Opt for a simple brushed back style. It is simple but works. You can go for a darker base when it comes to your hair color to add more dimension.
Check out our hair guide to find 50+ stunning hairstyles for women over 60 with glasses for inspiration. From subtle pixie, faux hawk to layered bob, we cover all popular hairstyles in detail which go really well with glasses.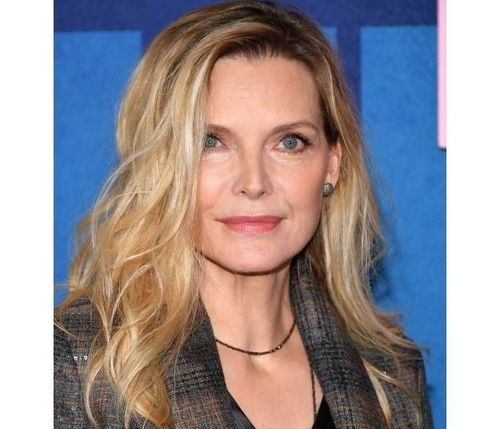 4. Mid-Length With Texture
This side-parted haircut is a great way to show off your facial bone structure and is one of the most popular haircuts for women over 60. The waves are textured beginning from eye level and draw attention to the cheekbones. A balayage will add more dimension and drama to this haircut.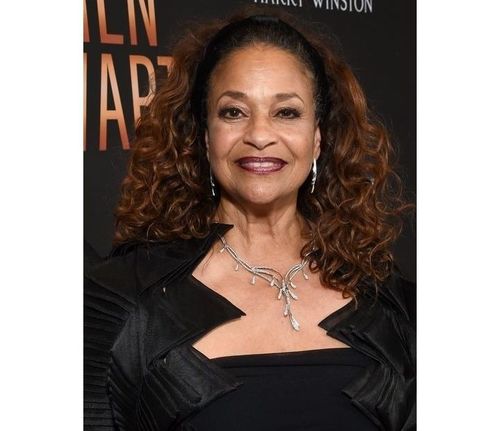 5. Half Up Curly Pony
Here is Debbie Allen giving us a lesson on how to do half-up and half-down hairstyles with curly hair. you too can let your curls work their magic by brushing them away from your face and tying them up at the crown while letting the rest of your curls cascade. It creates a picturesque beauty, especially with that auburn color.
Check out our guide to find the best bob haircuts for women over 60 as we include all the trending hairstyles like classic bob haircut, choppy bob, french bob hairstyle and many more.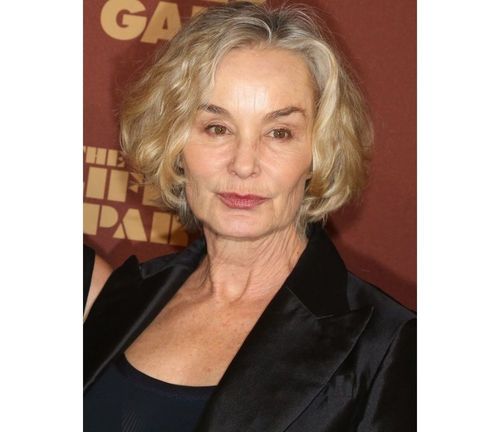 6. Textured Bob
Bob haircuts for women over 60 have a separate fan base. They have been faithful and trendy companions to older women for many years. They come in many shapes and forms which gives you a lot of options to choose from. Here is a fuss-free short bob that you will love. Add some mousse and let your hair air-dry to give them a textured look. That's all it will take to look your stylish best.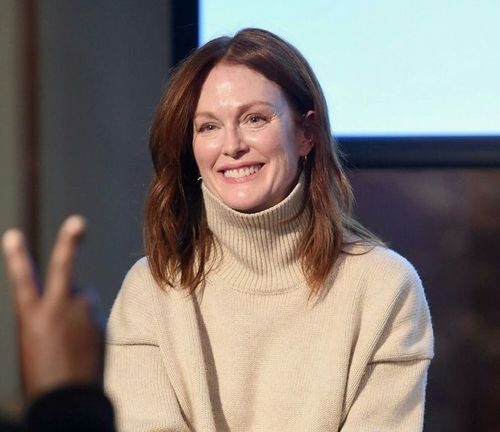 7. Lob With Soft Waves
Long bob aka the lob is still one of the top trendy haircuts for women over 60. And here we have Julianne Moore to show you the best way to do a lob. Shorter layers at the back and longer pieces in the front create a soft face-framing and elegant look.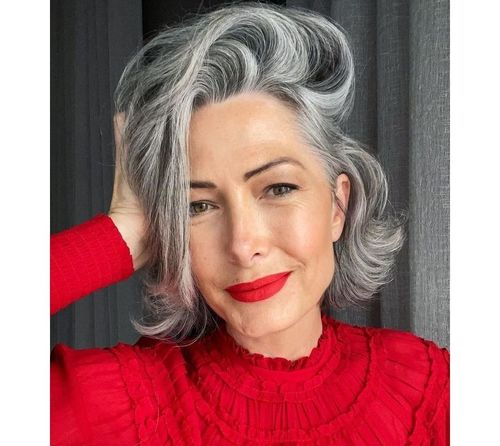 8. Glam Bob With Flipped Ends
Go for something glam with this gorgeous bob haircut. The flipped ends have made a comeback too and look more natural with chin-length or shoulder-grazing haircuts. With cleverly placed layers, you won't even have to worry about putting too much effort into styling them.
Check out the top hairstyles for square face over 60 as we list 25+ stunning haircuts which have been trending this year.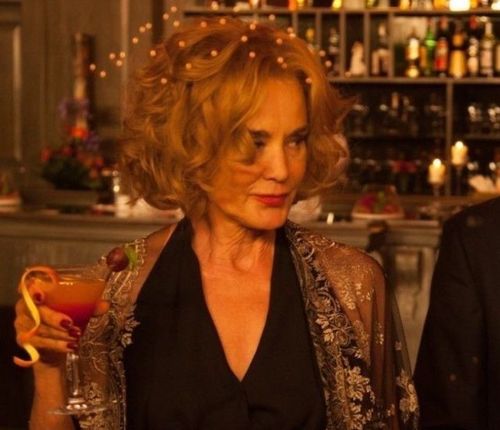 9. Center Part And Curly
When you cannot choose from the sea of haircuts for women over 60 that you see, maybe go for some vintage curls? You can never go wrong with 'em curls. They flatter all hair lengths and look quite stylish. They have a soft youthful glam to them that you cannot ignore. You can add some extra volume with hairspray to add some drama.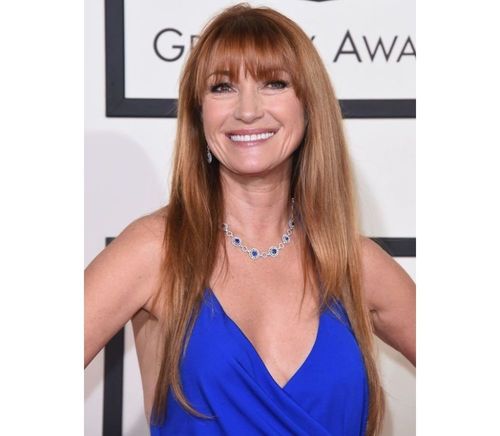 10. Straight And Sleek With Bangs
If you thought older women cannot rock long hair, then you were wrong. Because look at this! Here is a perfectly gorgeous long and lovely haircut with layers. Shorter layers frame the face while melting seamlessly into the longer layers. The eyebrow-grazing bangs add a hint of glam. This haircut will work great for women with thin hair.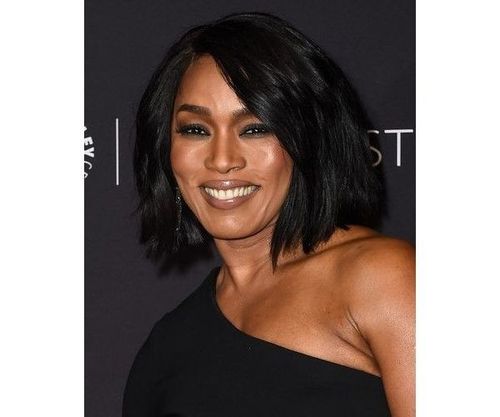 11. Classic Bob
Nothing can beat the charm of a classic bob when it comes to haircuts for women over 60. It is easy to style, elegant, and frames the face perfectly. You should go for this haircut if you are looking for a major change from your long hair. Or if you are someone who likes their haircuts simple, clean, and effortless, we have a winner right here.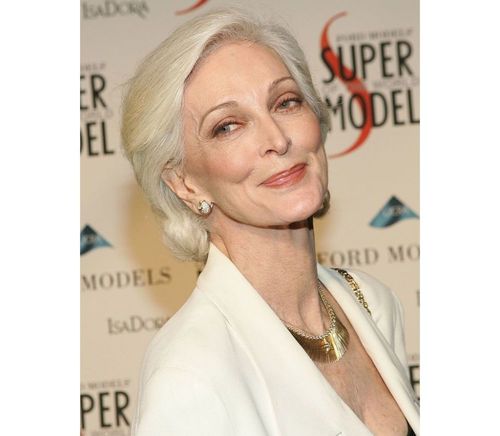 12. Bixie
This haircut is too short to be called bob and long enough to be not called a pixie. It is a Bixie, a combination of the two and it has taken the hair trends by a storm. So, what are you waiting for? You can get a style variation that suits your preferences while staying in touch with the latest trends.
Check out our detailed guide to find the best pixie haircuts for women over 60 as we cover all the popular haircuts trending this season.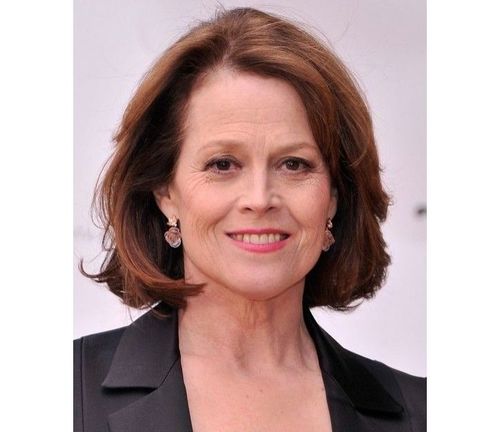 13. Tousled Bob
This tousled bob is one of the most flattering haircuts for women over 60. The deep side part with a tousled yet coiffed look is all the inspiration that you need to start your short hair journey.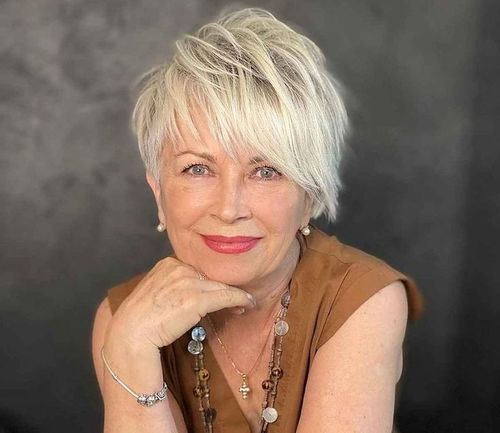 14. Pixie With Texture
What is better than a sleek and smooth pixie? It has to be a tousled and voluminous one. Get lots of layers as it gives an optimal body to hair. You can amp up the volume with a texturizing spray. This is one of those haircuts for women over 60 that would be favorable for both thin as well as thick hair.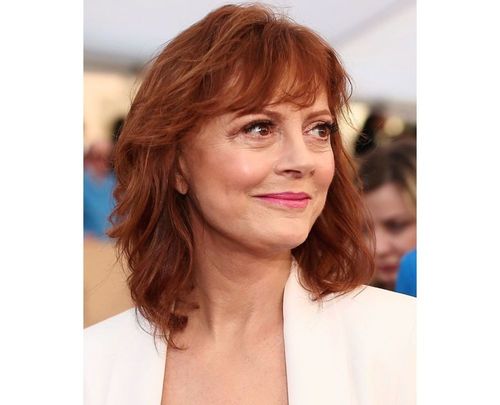 15. Wavy And Red
Experiment some in the hair color department. Shades of red have been trending this year. Here we have brought you hair inspiration from Susan Sarandon who has flaunted some of the most iconic red hair looks. Her layered lob with a messy texture was love at first sight for us. Don't you love it too?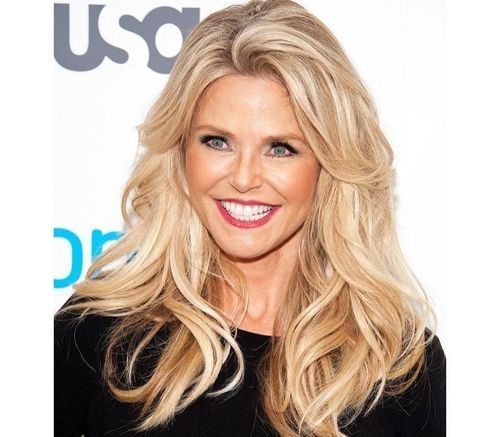 16. Layered And Voluminous
Christie Brinkley shines with an ageless glow and so do her hairstyles. One of the things that you can learn from her is to focus on volume when it comes to ageless haircuts for women over 60. The tons of layers add a natural lift and bounce to the hair to create a youthful style. Flaunt it with a smile!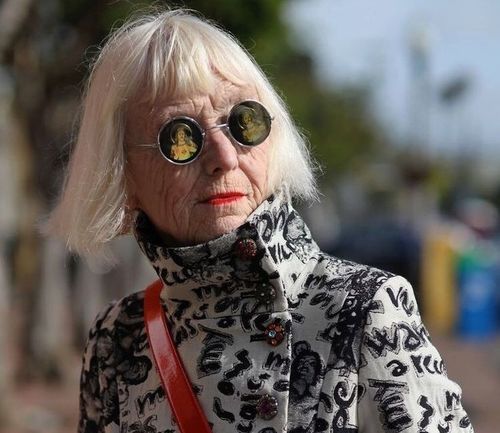 17. Blunt Bob With Bangs
This blunt bob is the definition of short hair, don't care. Coupled with soft wispy bangs, it is a perfectly edgy style that lets you explore your individuality even at 60 with hair that has turned white. Embrace aging and do not let it stop you from being who you are.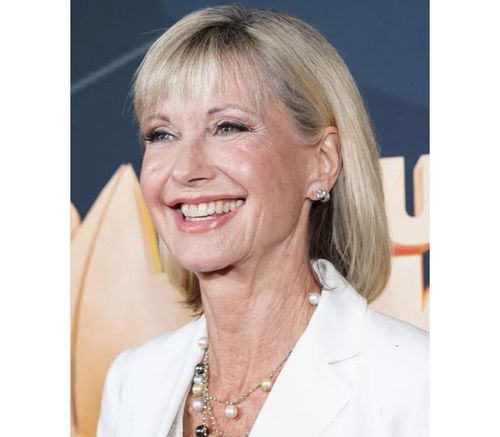 18. Tucked-In Bob
When we talk about haircuts for women over 60 with fine hair, this Olivia Newton bob is one of the first styles that we would recommend. This is a timeless tucked-in bob that gives the appearance of thicker and fuller hair. The wispy bangs make it all the more interesting.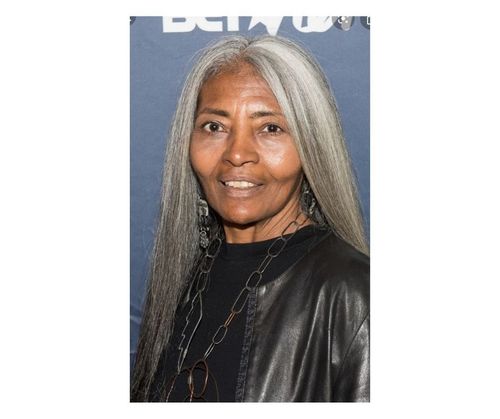 19. Straight And Grey
Here is another long hairstyle to break the stereotype and the myth that long hairstyles don't suit older women. You can either grow out your hair in all its natural glory or you can opt for a wig if growing out your hair seems too daunting.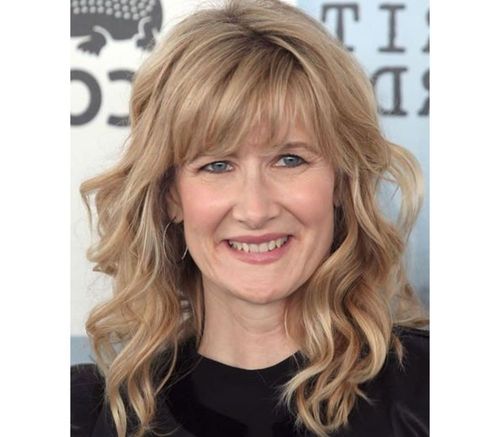 20. Wavy With Bangs
Wavy haircuts for women over 60 take the cake when it comes to providing an effortlessly chic look. The symmetrical waves not only add more body to the hair but also bring attention to the facial bone structure. The forehead-covering bangs seamlessly blend into the waves and add a hint of glam.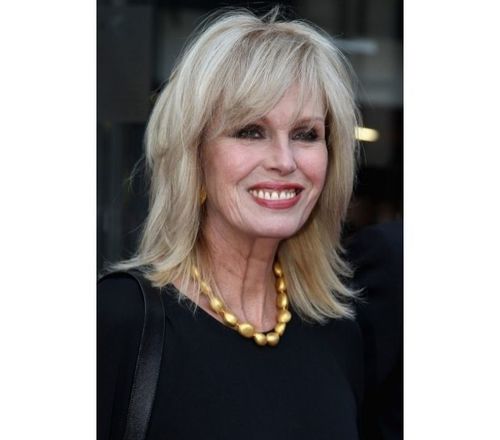 21. Layered And Textured
This razor cut is a perfect blend of edgy and elegant. The layers are not too choppy and do their job of adding volume. The overall soft tousled texture creates a beautiful look that doesn't require too much work.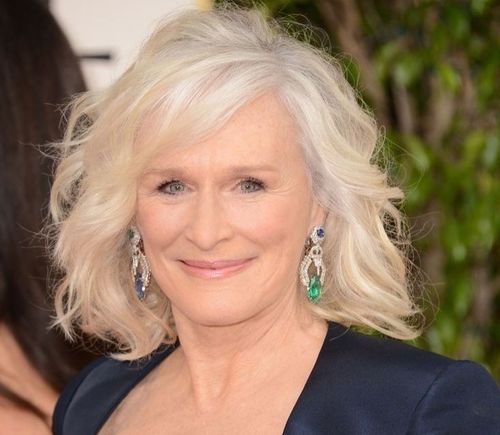 22. Textured Bob With Bangs
If you have fine or thin hair, layers and a tousled texture are your best friends. Layers give optimal body while the tousled texture creates an appearance of volume. The haircut pictured here is a good option that will work especially well on third-day hair. You can then rock the messy and undone look easily.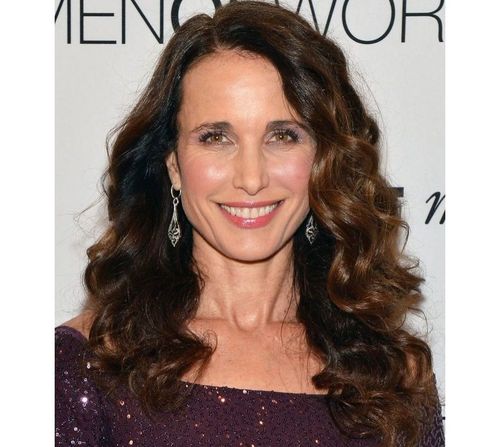 23. Bouncy Curls With Ombre
Voluminous and bouncy curls are one of the classic looks that you could go for if you are looking for haircuts for women over 60. But, here we have something much better. While curls are essentially present, this hairstyle has enhanced its look with an ombre. It looks just so much better with this newly added dimension that it is not easy to take our eyes off it.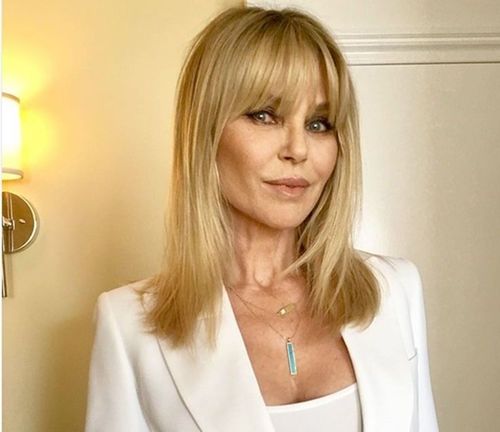 24. Sleek Mid Length With Bangs
Sleek and straight haircuts for women over 60 will never go out of style. That is why we have brought this sleek and layered haircut with bangs for you. It comes with some "I-mean-business" vibes and we are here for them. It is effortless glam.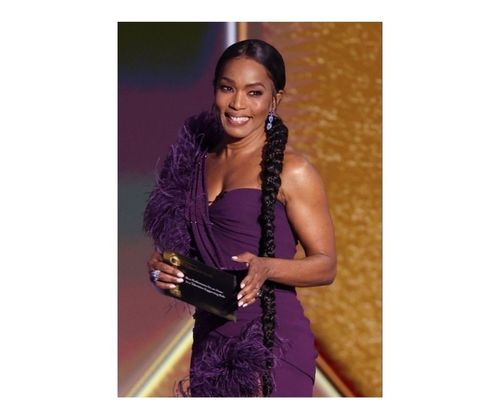 25. Super Long Braid
Angela Bassett has flaunted some of the best hairstyles over the years. And we just couldn't stop admitting this super long braided do. If Rapunzel-esque hair is something that you have always wanted, then this is your chance. You can get a wig or a weave. Try out extensions even and rock that dream length.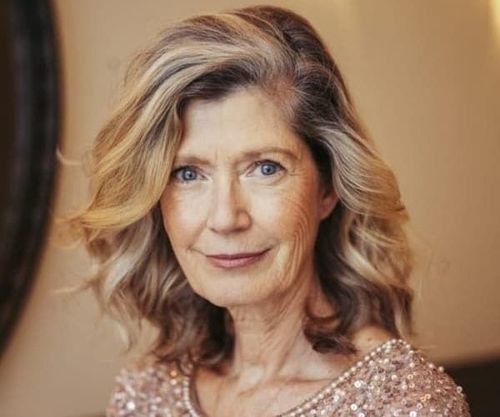 26. Shoulder Length Volume
Flat hairstyles are not always flattering which is why you will hear from a lot of hairstylists as well as celebs that volume is key especially when it comes to haircuts for women over 60. So, here is the right kind of inspiration for you—a blown-out wavy bob. A deep side part gives it more edge.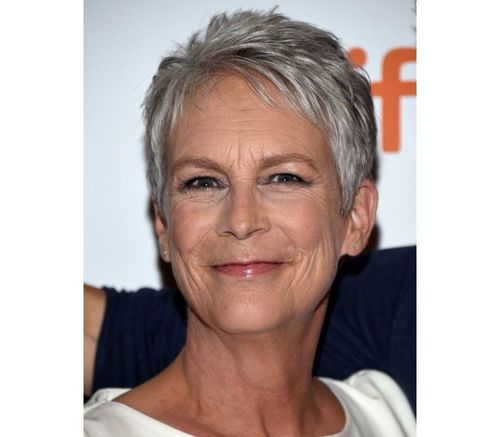 27. Spiky Pixie
It is impossible to make a list about haircuts for women over 60 and not include the signature spiky pixie of Jamie Lee Curtis. She is yet another celebrity showing us how to embrace greying hair. she made them the show stopper of her look.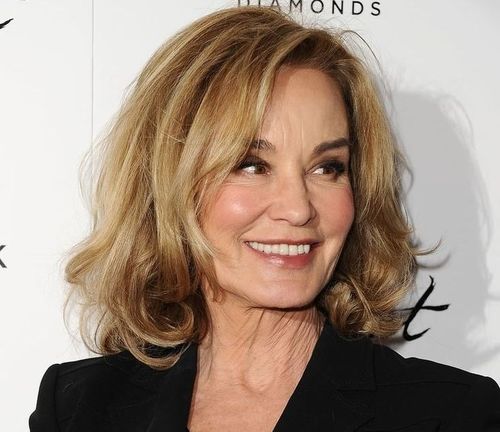 28. Tousled Shoulder Length Hairstyle
This shoulder-length haircut is a fluffy take on the classic style. Short layers frame the face beautifully while the longer layers in the back have been styled to give an overall wavy look. The undone tousled look gives this hairstyle a relaxed and carefree look which we loved.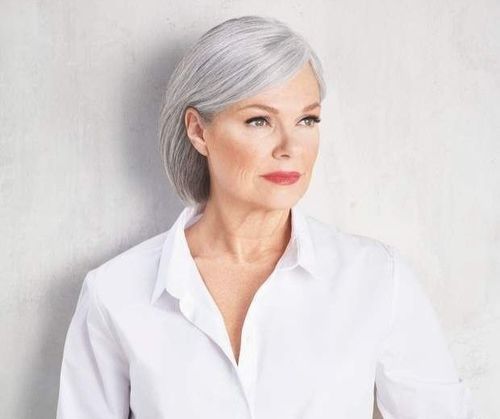 29. Tucked Side Bangs
Here we have yet another one of those haircuts for women over 60 that exude sophisticated elegance. This chic bob is paired with side bangs that are long enough so that they can be easily tucked behind the ears. This creates a very clean and polished look while being super stylish.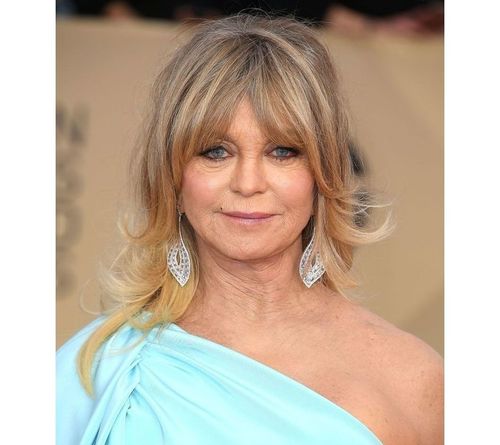 30. Feathered Hairstyle With Bangs
Feathered haircuts for women over 60 have made a comeback this year albeit with a modern twist. Here is one such style that you can take inspiration from. Long layers in the back are complemented with face-framing feathered pieces which look like an extension of the centrally parted bangs.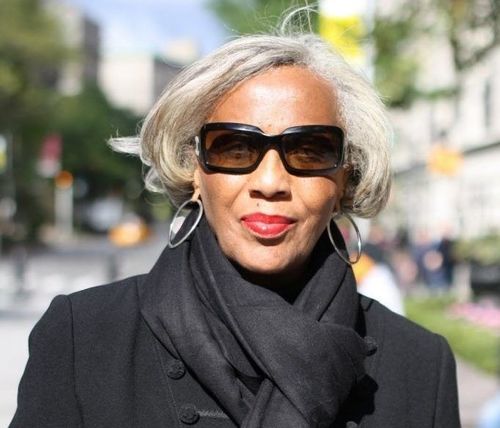 31. Grey French Bob
French bob aka the classic haircut of Parisian women is back as one of the top trendy haircuts for women over 60. It is chic and daringly short. If this is what speaks to you, then go for it. Here, we have a variation of the French bob in case you don't like the straight brow-grazing bangs.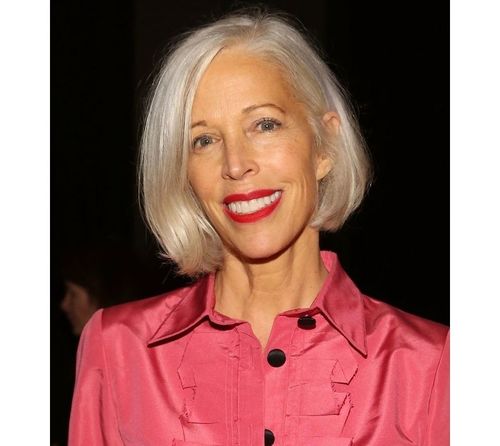 32. Asymmetrical Silver Bob
A short asymmetrical bob is one of the best short haircuts for women over 60. The angled cut gives the appearance of longer and fuller hair. It is perfect for thinning hair. It does not require a lot of styling and gives a youthful look.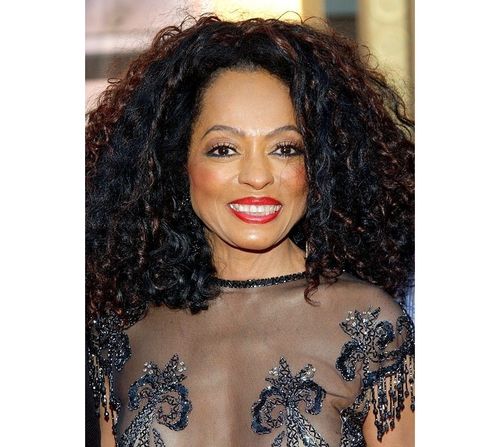 33. Voluminous Curls
Let your natural curls work their magic. The more defined the ringlets, the better. you can get some chunky highlights or even a warm-toned balayage to add more depth and dimension to your hairstyle.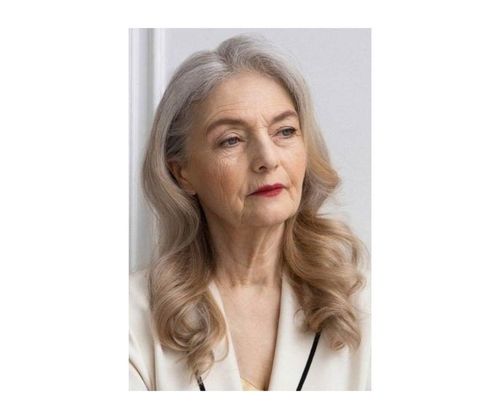 34. Old Hollywood Glam
Haircuts for women over 60 that come with an old-world charm will never go out of style. They hold a special place in our hearts and you will see why. This mid-length hairstyle with layers and vintage curls exudes the old Hollywood glam and elegance that is still very much loved today.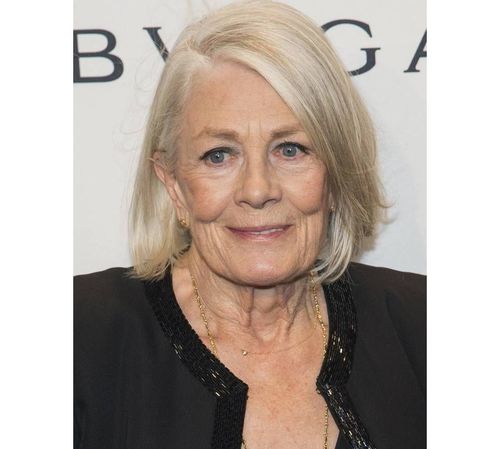 35. Short And Side Parted
This is yet another variation of the classic bob. It comes with layers that frame the face perfectly. It is one of the most desired haircuts for women over 60 because of its chic and modern look.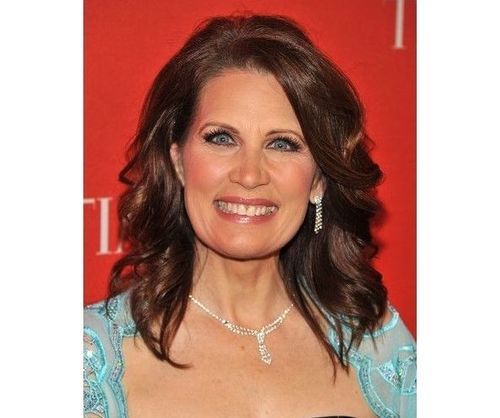 36. Side Parted Waves
Add some subtle drama to your usual wavy and layered hairstyle. Part your hair slightly off the center and with the help of a blow dryer create a side swoop. This can work for hair of all lengths. Use a setting spray to keep the pieces in place and you are ready to go.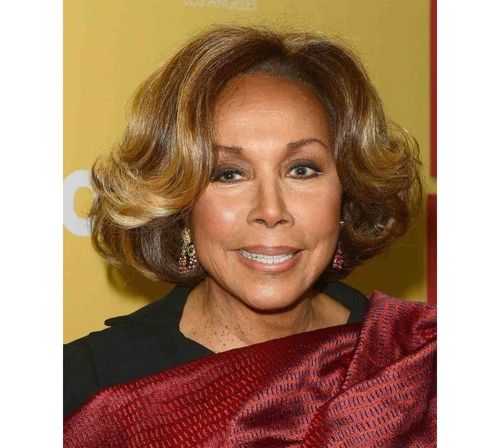 37. Short And Layered
For short haircuts for women over 60, we trust Diahann Carrol. She is the queen of the flipped bob. It is a classic look with an updated feature of layers that are flipped at the end. This is a hairstyle that will look especially good when paired with glasses.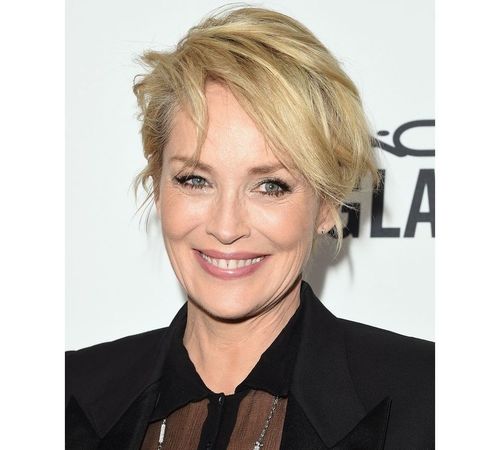 38. Sexy And Short
If the classic bob is not your cup of tea, then maybe you can take things up a notch with this edgier and shorter style of bob. It comes with lots of wispy layers which give this haircut its unique and very fun edge.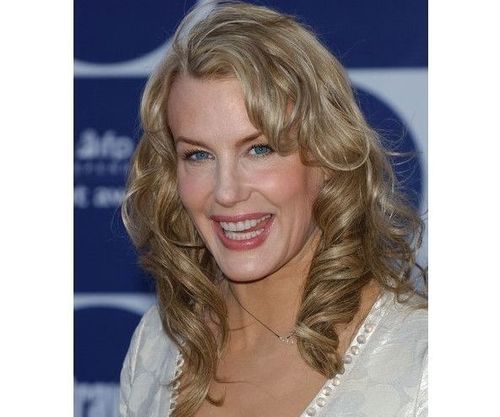 39. Mid Length Curls
Rock some side-parted curls as you can never go wrong with this haircut for women over 60. Blonde and bouncy curls are surely something. You can switch things by changing the part. Also, make sure that you take care of your hair because nothing can beat the radiance of healthy hair.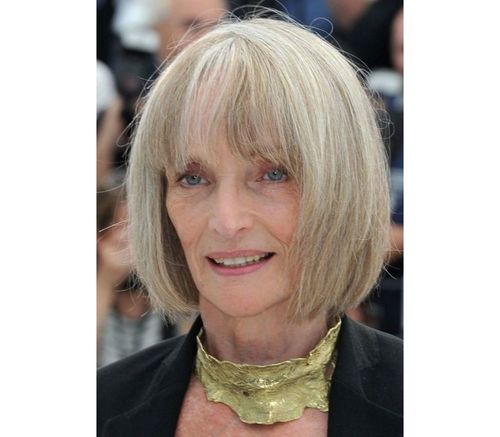 40. Chin Length Bob With Bangs
A blunt bob with bangs is a timeless haircut that comes with a sharp structure. It is a tricky style to wear as it is prone to falling flat. In such a case, you can use a blow dryer to add more volume or simply use a texturizing spray.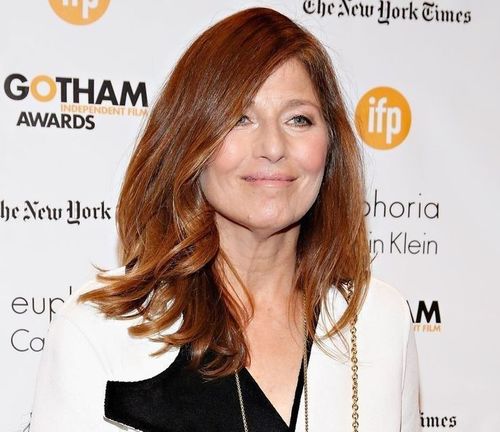 41. Layered And Brown
It is a classic layered hairstyle with a deep side part. Here the show stopper of the look is the glossy honey brown hair color. With this versatile cut, you can style your hair in different ways. You can opt for a center part or you can go for a side-swept look.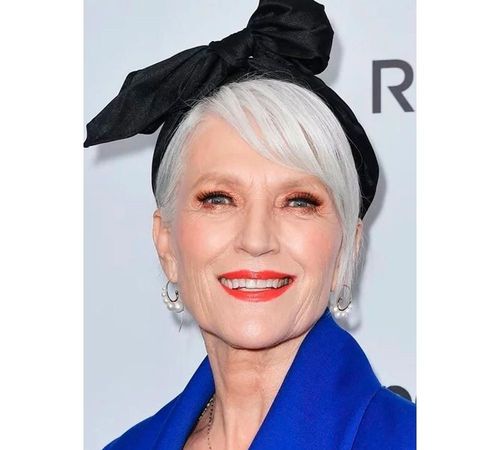 42. With Headband
A very short and layered bob is a good look when it comes to haircuts for women over 60. But, add a hairband to the mix and you can take an already chic haircut to something that is elegant and oozes high sophistication.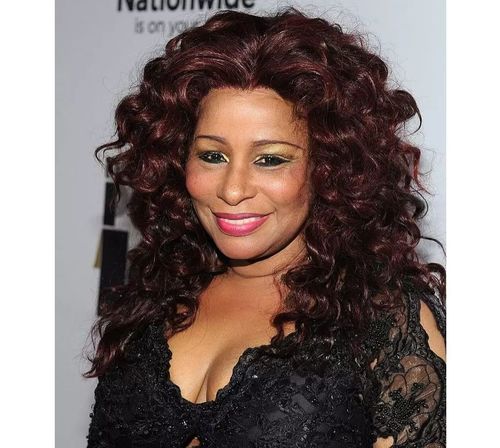 43. High Volume
Voluminous ringlet curls are not only for the young. These medium-length bouncy red curls look great on women over 60. This hairstyle works wonders for women with thin hair as it creates an illusion of more volume. Plus, it has pizazz!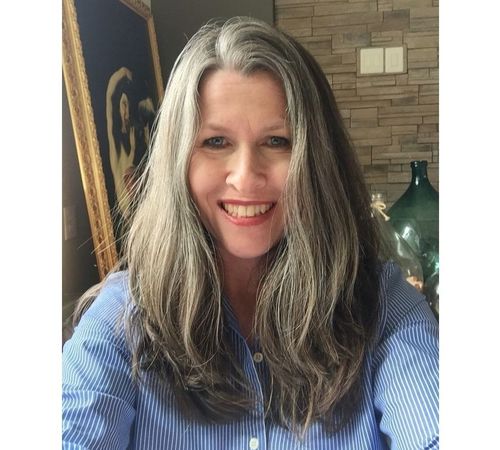 44. For Thick Hair
This stunning medium-length hairstyle looks good for everyone. Embrace your natural hair color and texture. Get some soft layers that are longer in the front and slightly shorter in the back to create a shape that requires no extra effort to style.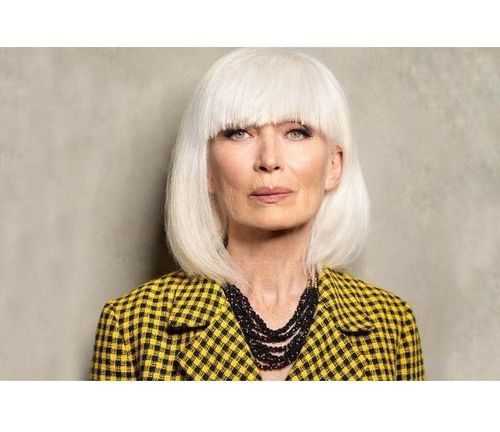 45. Strong Bangs
Straight shoulder-length haircuts for women over 60 will never go out of style. The blunt bangs create a very strong picture and it is not something for the faint-hearted. It is a big commitment. However, if you are not ready for such a big change, you can also opt for side-swept or curtain bangs, both of which are trending.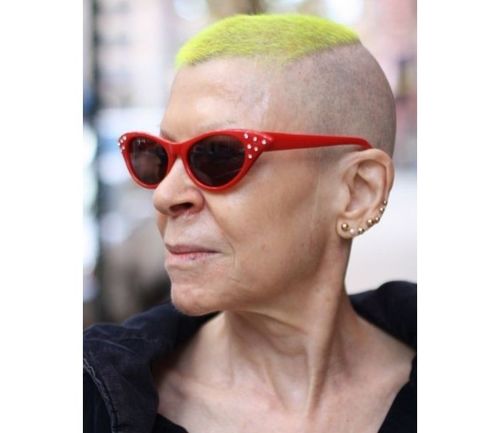 46. Buzz Cut
You are never too old to have fun with your hair. If you crave something edgy that will turn heads as you strut by, then opt for this buzzcut mohawk. The neon green adds a fun twist to this already dramatic haircut.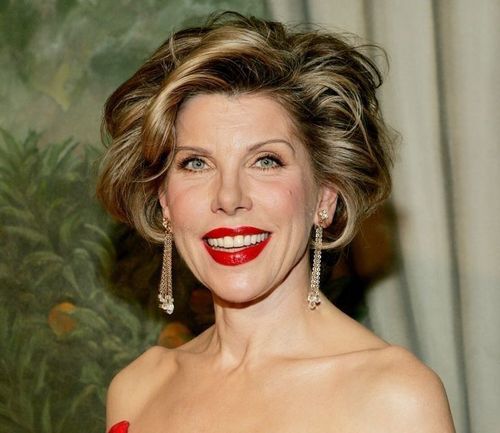 47. Short Curls
Haircuts for women over 60 with curls create a revitalizing and youthful look. So, go short and sexy without any worries. Add some warm highlights to add more dimension. This will also add a more radiant glow to your skin.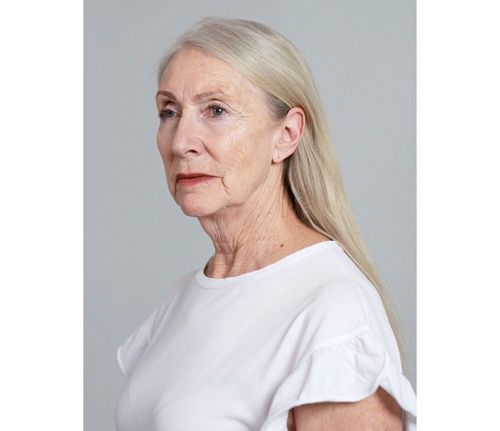 48. Tucked In Hairstyle
Long hairstyles are perfect as haircuts for women over 60. It is a myth that they make you look older. Many celebs including Naomi Campbell and Angela Bassett like to wear their hair long and proud. Here is a simple yet elegant style that will keep hair away from your face while you look your gorgeous best.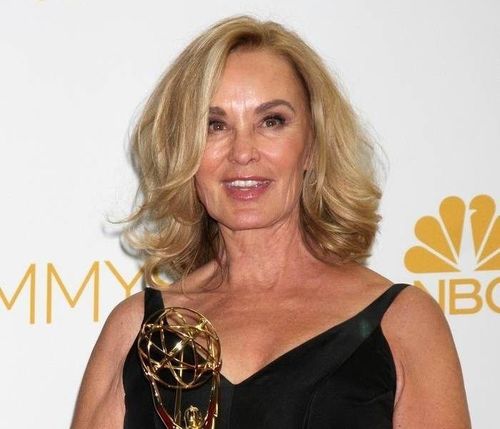 49. Wavy Shoulder Length Hairstyle
The best haircuts for women over 60 with thin hair are those that come with choppy layers that create an appearance of fuller hair. This shoulder-length hairstyle is one such option that comes with playfully choppy layers that are curled outwards to add more body to otherwise thin hair.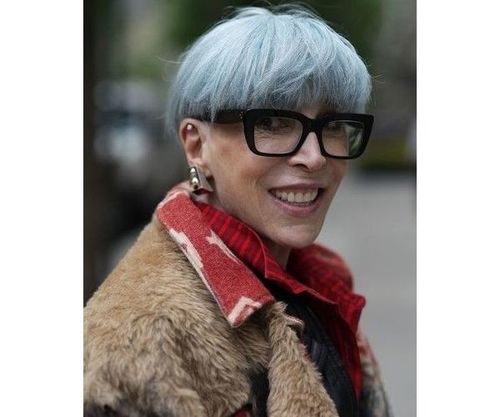 50. Bowl Cut
Another one of the edgier haircuts for women over 60 includes a bowl cut. This haircut has made a comeback and has found favors with celebrities as well as common folks. Celine Dion was one of the first to make a strong case for this hairdo and it is still working hard to maintain its position in the top hair trends of this year.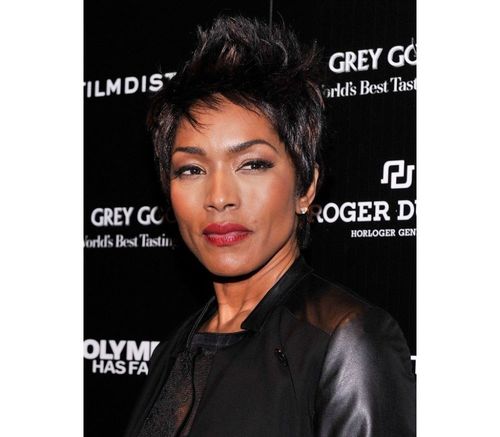 51. Spiky Beauty
This is the power of a pixie. It is universally flattering and can be styled in several different ways. It might be a very short haircut but it can surely make a big statement. Take this spiky pixie for instance as modeled by Angela Bassett. You can add highlights to give it more dimension or add in choppier layers to create a fuller look.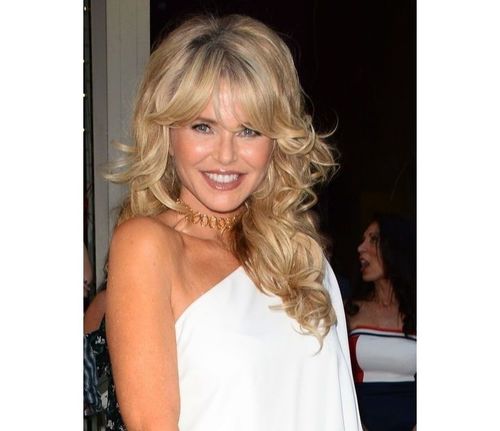 52. Feathered With Curtain Bangs
Haircuts for women over 60 mostly focus on layers and volume. And here we have Christie Brinkley making a case for both of them. Her ultra-voluminous haircut comes with tons of layers. The curtain bangs add an extra dose of glam and seamlessly blend with the face-framing layers.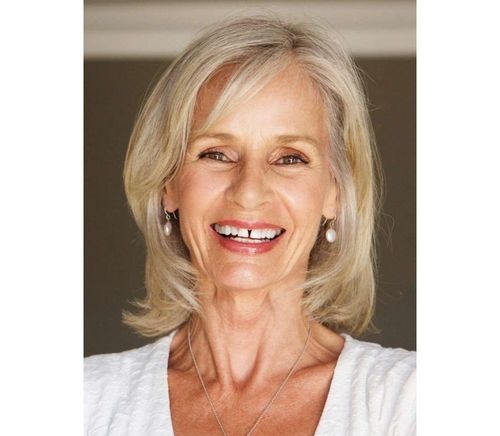 53. Feathered For Thin Hair
If you have thin hair, then a feathered bob haircut can do wonders. The subtle layers will be enhanced by the feathered look creating a soft face-framing look.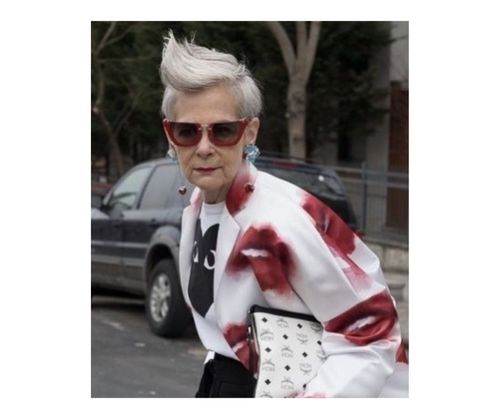 54. Quiff For The Ladies
Why should young ones have all the fun? If you want to turn some heads with an edgy and dramatic haircut, then this bold quiff haircut should be your choice. It is short on the sides but holds volume at the top. The naturally silvery shade adds more beauty to this look.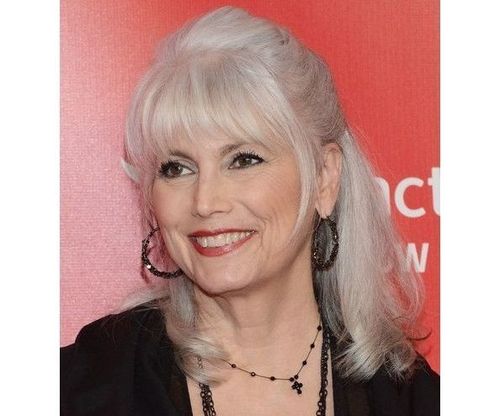 55. Half Up And Half Down With Bangs
Haircuts for women over 60 with bangs have a separate fan base. While maintaining bangs will require effort, this hairstyle will make it look effortless. The half-up half-down hairstyle is elegant and does a great job of keeping extra hair off the face. The bangs do the job of framing the face and bringing focus to the beautiful facial features.
Related Articles