31 Best Hairstyles For Women Over 60 With Glasses – 2023
Ashwini F
Updated At 28 Jan 23
If you think women over fifty years with glasses cannot flaunt awesome hairstyles, then you are highly mistaken. In fact, if these ladies pick the right kind of hairstyle that complements their face shapes and eyeglasses, they will look absolutely mesmerizing.
Dear elderly women, don't let anyone make you believe that you cannot have beautiful hairstyles if you are old and wear glasses. Here are 31 best hairstyles for over 60 with glasses that is totally in 2023.
31 Best Hairstyles For Women Over 60 With Glasses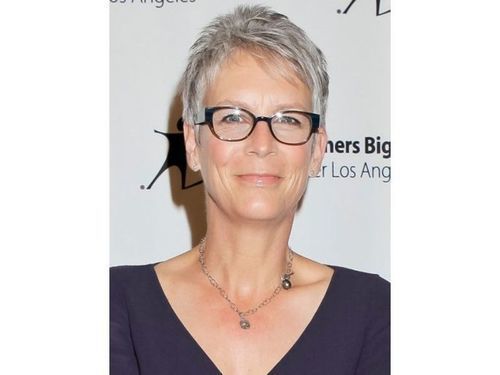 1. Subtle Pixie Cut
Subtle pixie cut is one of the most loved hairstyles for over 60 with glasses. It looks wonderful with regular-shaped eyeglasses. If you have grey hair, this will look even better as many women go for pixie cuts with light-strawberry blonde or ashy blonde.
Do check out our guide on pixie haircuts for women over 60 as we list all the popular ones like curls, bangs, wavy, buzz cut and many more!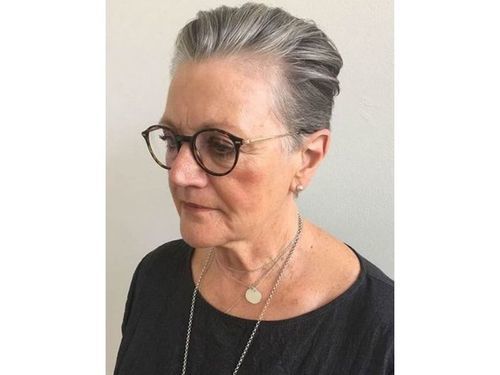 2. Faux Hawk
One of the best hairstyles for over 60 with glasses is faux hawk. This hairstyle can take your plain and simple look to classy and sophisticated one. Faux haux really look fabulous with round glasses and if you wear simplistic eyewear, this will suit you too.
If you are looking for curly hairstyles for women over 60 then do not miss out to check our guide. From shoulder length hairstyles to wavy and pixie cut, we have listed all the popular ones.
Also Read: 55 Iconic Hairstyles For Women Over 60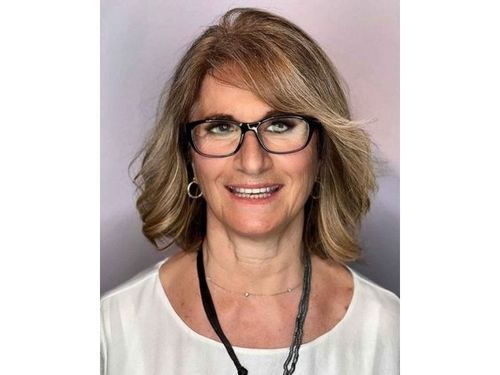 3. Layered Bob
If you are looking for hairstyles for short grey hair over 60 with glasses, you will love the layered bob. It is very popular in 2023 and goes well with dainty cat-eye shaped spectacles. This overall look will give you a very sophisticated appearance and you will feel very comfortable in it as well. If you want to get your layered bob coloured, try walnut brown or blonde.
Layered bob is one of the best haircuts for women over 60 as it helps you stand out and goes well with majority of your looks.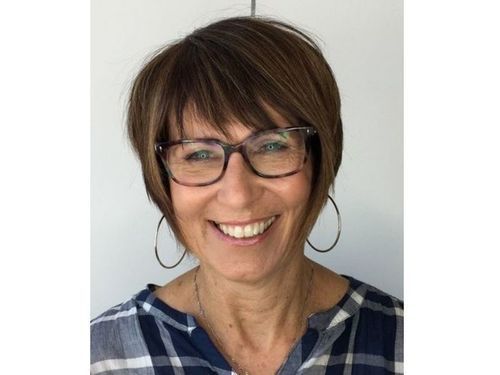 4. Pixie Cut with Highlights
If you are over sixty and have a small face, you must pick smaller glasses. Also, you should focus more on the lengths of your tresses. You can consider going for highlights and layers to make your hair look more voluminous. Pixie cuts with highlights look wonderful on women with smaller face shapes.
If you are looking for short hairstyles for women over 60 with glasses then this can be the perfect match as its casual and stylish at the same time. It works on almost all occasions and can be accentuated even further by using the right accessories.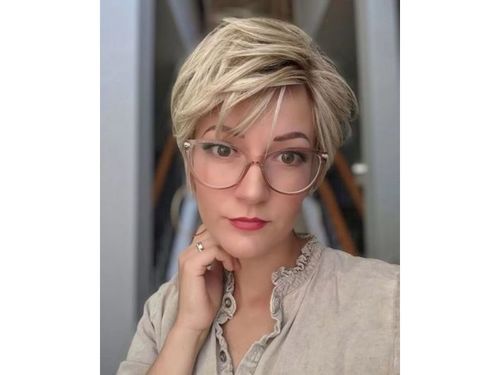 5. Pixie Cut with Fringes
If you wear round glasses, you are going to rock a pixie cut with fringes. You are going to make a statement and take your look to the next level. One of the popular hairstyles for women over 60 with glasses this one has become very trendy in the recent years and you are bound to look very classy and unique.
If you are looking for short hairstyles for women over 60 then refer our guide as we list the popular ones like pixie, bob cut, wavy hairstyles, layered hairstyles and many more. From stylish, comfortables ones to edgy haircuts, we list all of them.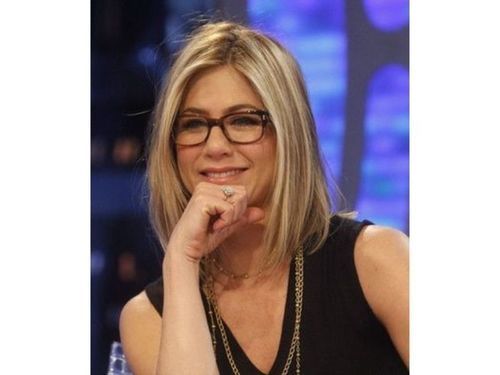 6. Long Bob
If you wear rectangular glasses, simple hairstyles would look really nice on you. With natural grey hair, long bobs would make for a great hairstyle. You can even get your hair coloured if you want to experiment more. If you are looking for medium length hairstyles for over 60 with glasses then the long bob can work really well.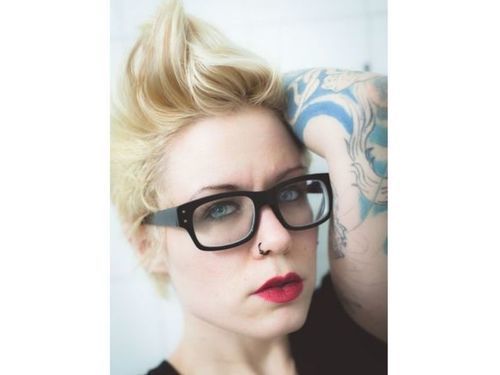 7. Wavy Faux Hawk
Women with short grey hair over 60 with glasses should go for cat eye glasses paired with wavy faux hawk hairstyle. You do not have to stick to the basic hairstyles. Curl those locks well and flaunt a faux hawk.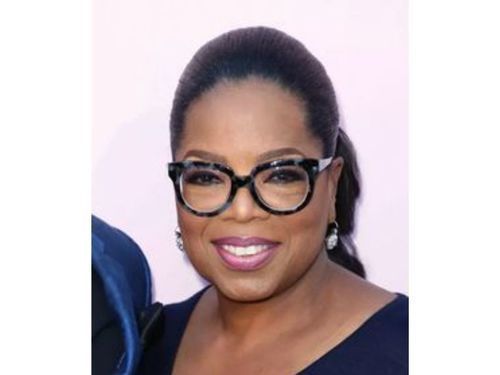 8. Sleek Ponytail
For women who wear eyeglasses that have a special element like elongated edges, or some embossments, ponytails would look really flattering. Keeping it simple with the hairdo and letting your glasses do the talking could be a great style statement for sure. One of the popular hairstyles for women over 60 with glasses this sleek ponytail works best for almost all the occasions.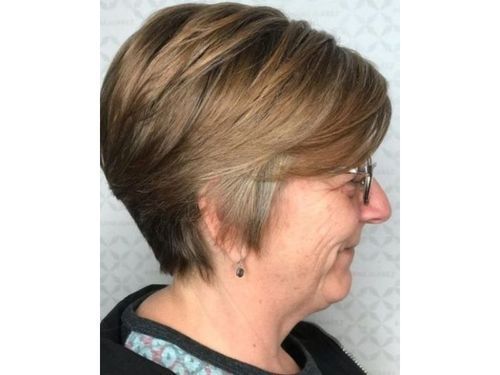 9. Short Bob
Symmetrical and cropped bob hairstyles look great on elderly women who always want to be in style. Short bobs are a great way of amplifying your overall appearance especially if you wear cat-eyed glasses and want to look attractive.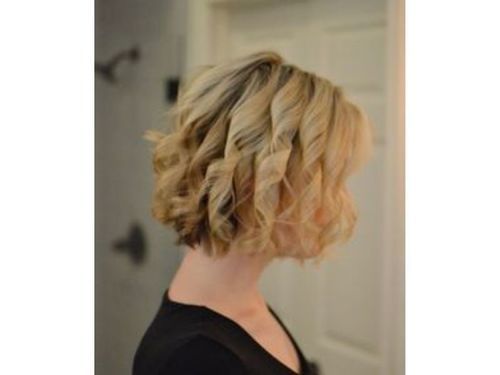 10. Curled Short Bob
A lot of women in their late forties and fifties wish to look more put together and professional. That no-nonsense look can be easily achieved if you style your hair in a curled short bob. Pair it up with edgeless rounded eyeglasses and you are all ready to flaunt that sophisticated look. Make sure the bob is curled towards you face and not away from it.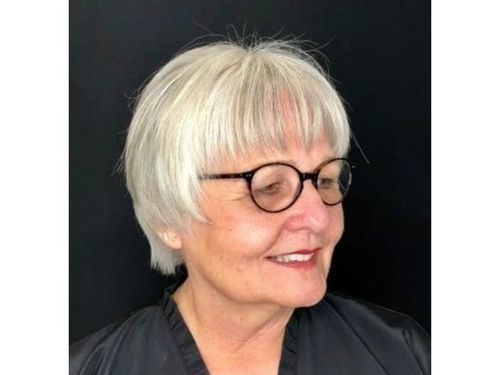 11. Short Bob with Fringes
If you wear eyeglasses that have sequins on it, you have to be very careful with your look. You need to come up with innovative hairstyles that would complement your unique glasses. Good hairstyles for over 60 with glasses that have sequins would be short bob cuts with fringe.
12. Sharp Pixie Cut
Women who have strong facial features must go for glasses that frame your face perfectly. A well-maintained pixie cut would look wonderful with your facial features as well as the glasses. Embrace your beauty in style and make your short grey hair over 60 with glasses look ravishing.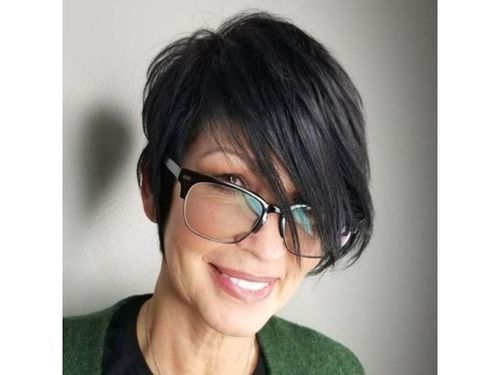 13. Bob Haircut with Long Fringe
If you are on the fence about which hairstyle to go for, try a bob hair cut with long fringe. It would not only make you look younger but would also go well with the natural colour of your hair. This will help you embrace your beauty even more.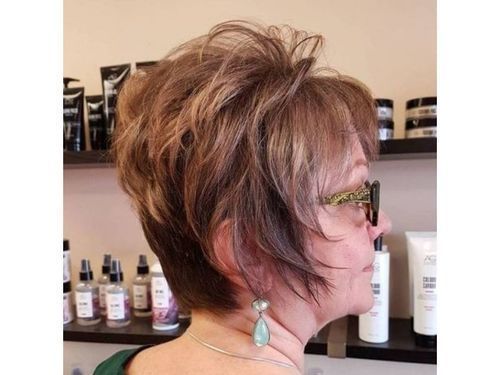 14. Layered Pixie Cut
If your face shape is tiny, you should try out small glasses that are unique. If you wear round glasses, you must definitely go for a layered pixie cut as that would make your hair look more voluminous and frame your face well.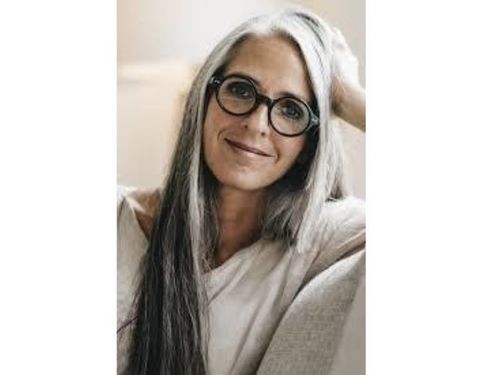 15. Slicked Back and Long
One very easy way of looking sophisticated and serious is by combing the hair back. You can even set it up with a gel to avoid baby hair from sticking out. Slicked back hairstyles look even better with edgeless cat-shaped eyeglasses.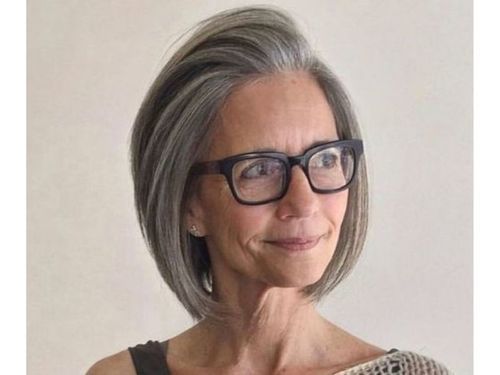 16. Short Bob For Women Over 60 With Glasses
If you are feeling rebellious and are in a mood to experiment, go for a very short bob. It would look very classy with circular and rectangular glasses. The combination will not only accentuate your facial features but also make you look very well put together.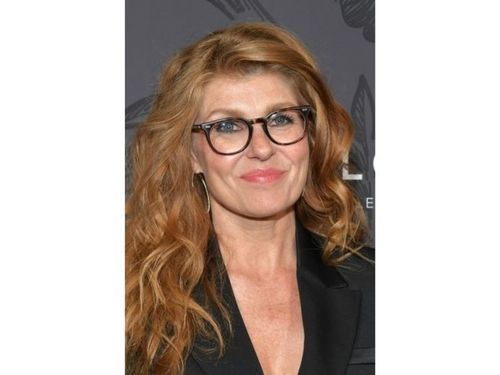 17. Long Waves For Women Over 60 With Glasses
Women with long hair must embrace their natural wavy tresses and sport them with glasses that have frames in light shades. Keep your hair loose and your wavy tresses will fall naturally on the sides of your face. Make sure you don't comb them too much as that may straighten up your waves a little.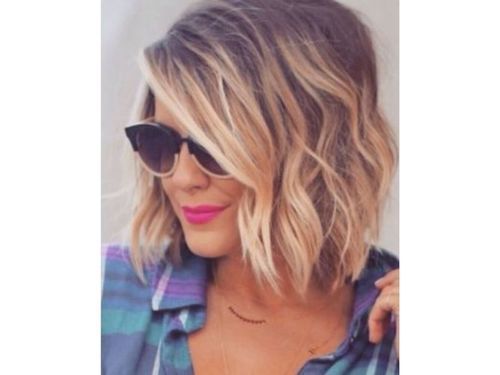 18. Warm Tone Bob
If you are among those who think age is just a number and want to look vibrant, get your hair trimmed to a bob and get it coloured in warm toned shades. You should also go for glasses that have warm-toned frames.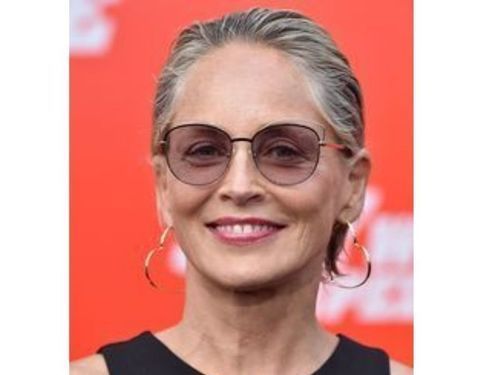 19. Short Hairstyle For Women Over 60 With Glasses
If you have a short hairstyle and want to comb it back, make sure you go for serious and simpler-looking glasses. Edgeless glasses would be the best or you could even pick brown-edged frames. This would make you look classy and also add a fun element to your overall appearance.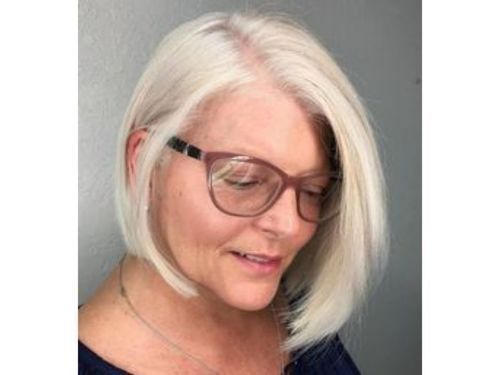 20. Hair Behind Your Ears
If you like to stick to the basics and keep things minimal, a simple hairstyle will be right for you. Just comb your hair and push them behind your ears. It would make for a very carefree, effortless yet stylish look. This is one of those hairstyle for over 60 with glasses which will suit all types of face shapes and eyeglasses.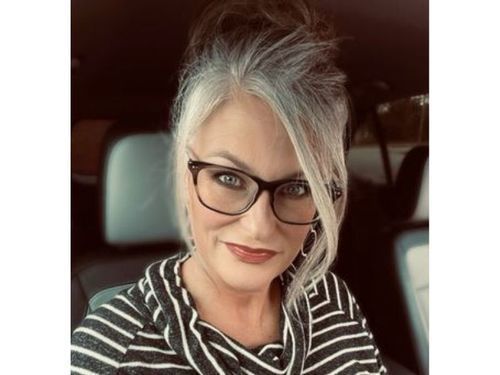 21. Messy Bun
We all know that trends will come and go but messy buns are timeless. Just gather your hair and knot it behind your head. It is one of the easy-peasy ways of looking pretty and embrace your age rebelliously.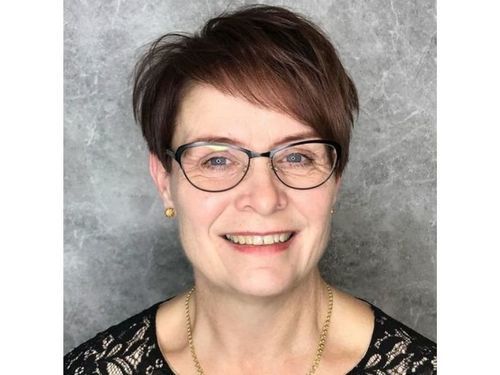 22. Natural and Short
Women who have a cool-toned complexion usually prefer wearing warm-toned eyeglasses. This adds a hint of colour on their face. If you are wearing blue or orange glasses, your hairstyle should be a little simple. Let your grey hair stay natural and short so that your fancy eyeglasses can do the talking.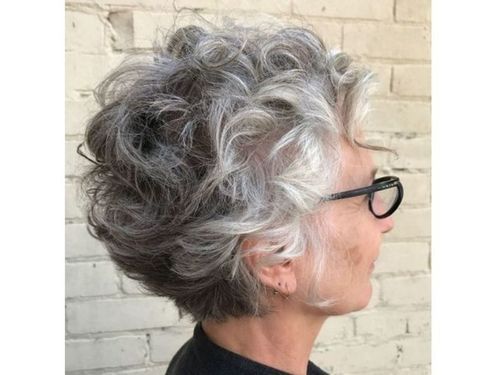 23. Curly and Round
If you want to look few years younger, try hairstyles that would add curves to the structure of your face. Get your hair curled and wear round glasses with it.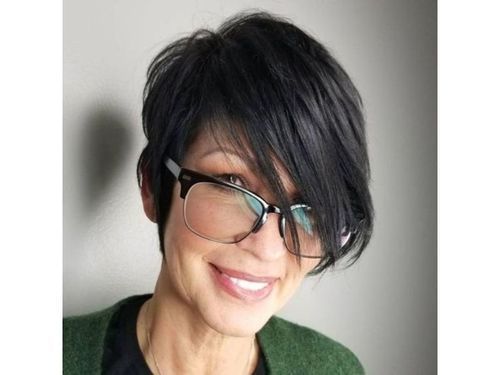 24. Long Pixie Cut
For creating a playful and seductive look with your cat eye-glasses, get your hair styled in a long pixie cut. It will amp up your look beautifully. You can even take a step further and get your hair coloured.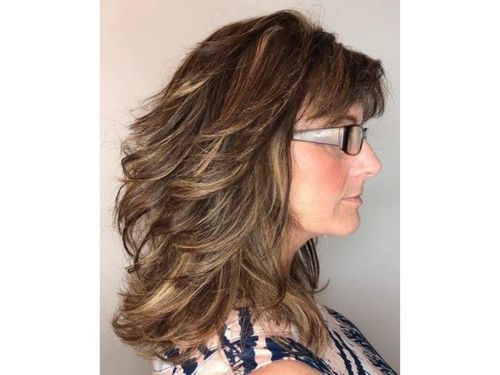 25. Layered and Medium Length
If you wear white eye-glasses you already are making a statement. To jazz up your look even more, you can give your hair a trim and maintain a medium length. Add a few layers too and you are all set to receive loads of compliments.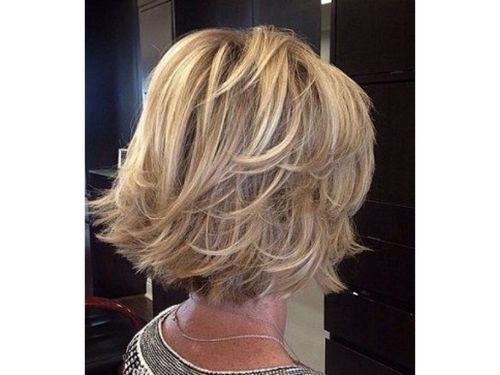 26. Short Liberated Shag
If you have long hair and are confused what to do with it, consider going for a shag. It will not only free up te ends of the hair but will also give a tousled appearance. The choppy layers of your fine hair will add more glamour to the overall look. This looks great especially on women who have triangular faces and are looking for carefree hairstyles.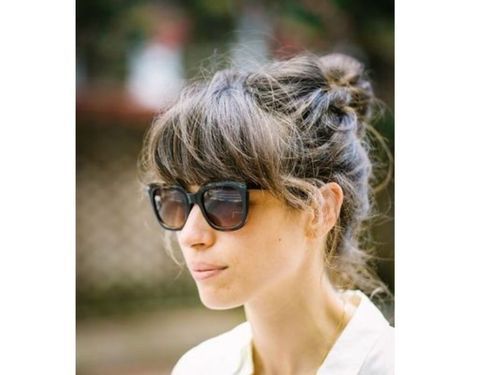 27. Messy Buns with Bangs
Updos are known for always looking sexy. You can be of any age and yet look wonderful with a messy bun and few bangs sticking out. The unstructured hairstyle is great for women with long hair as it will make you look very youthful. The bangs will further add to your relaxed and playful appearance.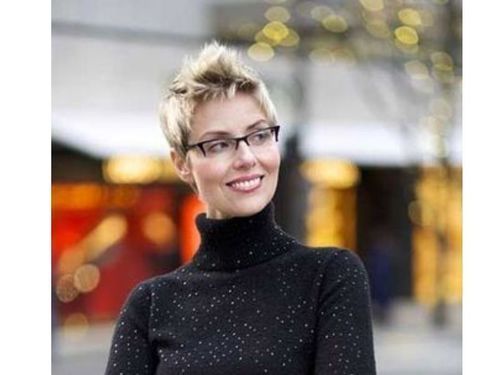 28. Spiky Edgy Pixie
A very sexy and bold hairstyle for women over fifty is spiky edgy pixie cut. While the back and sides of the hair are shortened, the top hair gets cut in a way that it looks longer. Your eyeglasses will make the hairstyle look more pronounced.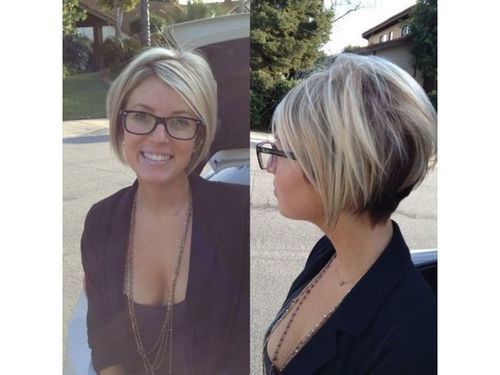 29. A-Line Bob
A-line bob is something that even celebrities are going for these days. This red carpet style is defined by a graduated haircut from your back to the front. If you have fine hair, this hairstyle will look fantastic on you.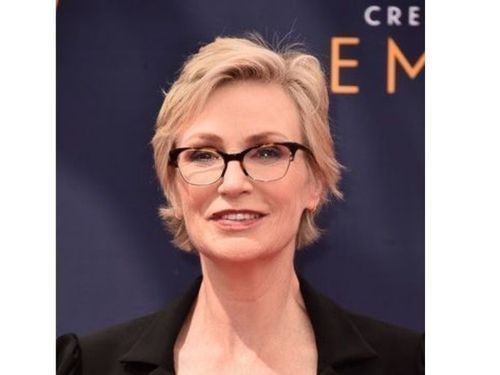 30. Side Parted Bobs
Side parted bobs are all the rage these days and women with glasses absolutely rock this hairstyle. For this, your hair is divided in two sections. One section is a shorted curve cut which lets the style focus on the sharp features of your face. This would make you look very graceful and chic. You can even add layers to it.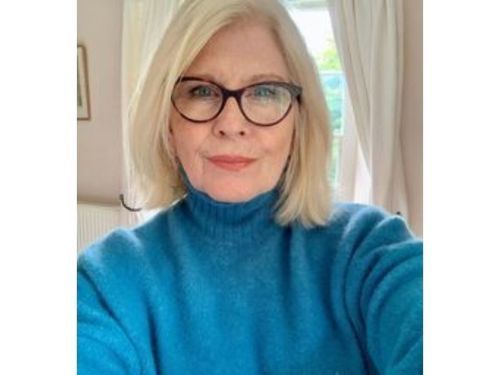 31. Modern Layered Cut
Modern layered cut looks good on women with curly or straight hair. Firstly, the hair is layered in several occasions so it needs your patience. Once you are done with it, your hair will be very easy to manage. These short layers will let your hair move freely and also add more bounce.
These were some of the best hairstyles for women over 60 with glasses. They are fit for your natural hair and will add more to your beauty, face, and overall appearance.