55 Stunning Hairstyles And Haircuts For Thin Hair - 2023
Olivia
Updated At 27 Apr 23
Finding hairstyles that can make your thin hair appear thicker and fuller might be challenging. There are, however, many gorgeous hairstyles that may be worn with thin hair. Thin hair is simply defined as having fewer growing hair strands, not as long. Here are some suggestions as well as 55 stunning hairstyles for thin hair.
55 Best Hairstyles For Thin Hair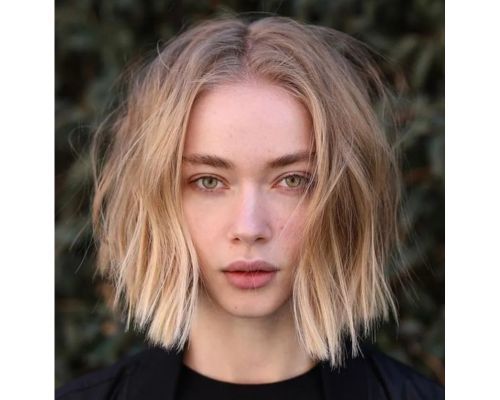 1. Asymmetric Bob
An asymmetrical bob hairstyle is one in which one side of the bob cut is shorter than the other. Usually, the hair is trimmed at an angle to give it an uneven appearance. This hairstyle, which has been in vogue for a while, may be altered to fit various face shapes and hair types. The thin hair seems volumized thanks to this wavy haircut.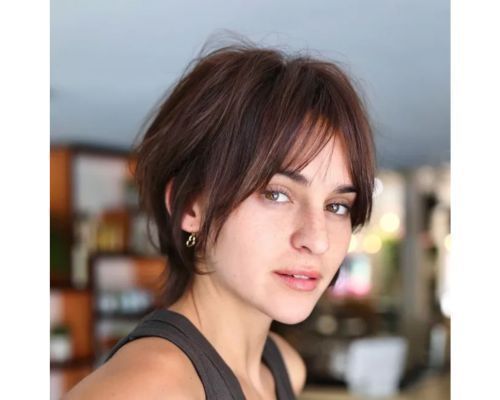 2. Short Choppy Style
Try this short choppy hairstyle, which can make your thin hair look more voluminous and lovely if you have short, thin hair. Short, choppy hairstyles with curtain fringe give it a more elegant appearance. This is a popular haircut for people with thin hair.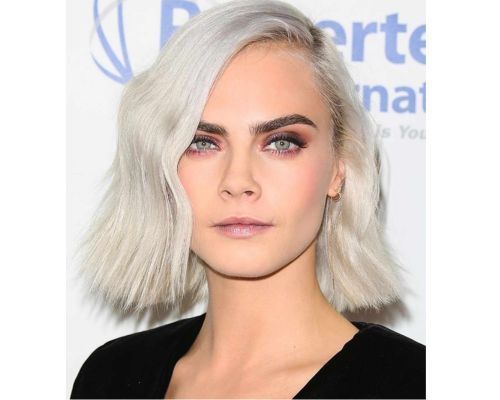 3. Flippy Turnouts
A perfect blonde flippy turnout hairstyle for thin hair is just amazing. Try getting your hair cut in a bob style and flip-turning it with a styling tool if it is just above shoulder length. This wonderful hairstyle turns the hair into something stunning when it is turned to one side and flipped.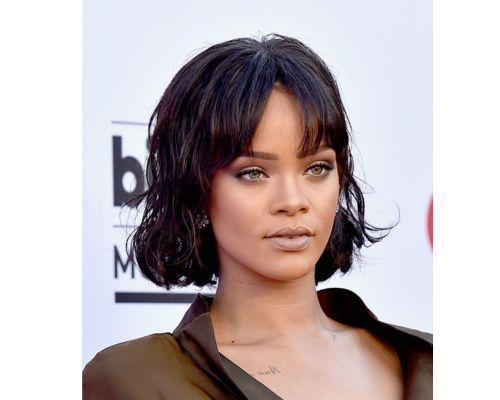 4. Curtain Bangs With Bob
You can attempt this curtain fringe, which has the effect of framing the face and making it appear voluminous if you have thin hair and are looking for hairstyles for thin hair. The softly curled short bob at the bottom gives the hair a thicker texture. This hairstyle is excellent for thin hair since it makes it appear thick. The extremely talented singer Rihanna makes an appearance with her stunning hairdo.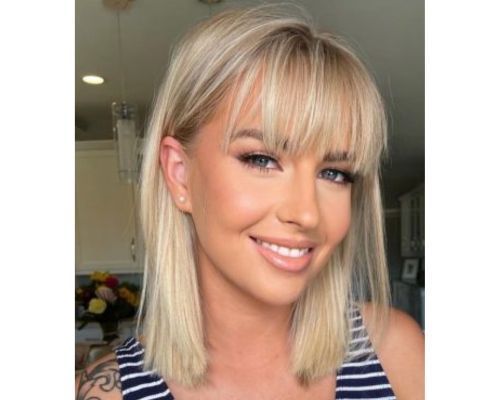 5. Wispy Bangs For Thin Hair
If you have thin, short hair, consider wispy bangs. With delicate bangs that are rounded just above your eyelids, your blonde hair will appear stunning. The shoulder-length, silky, straight hair is also outstanding. This hairstyle for thin hair is recommended, as it provides a thicker appearance.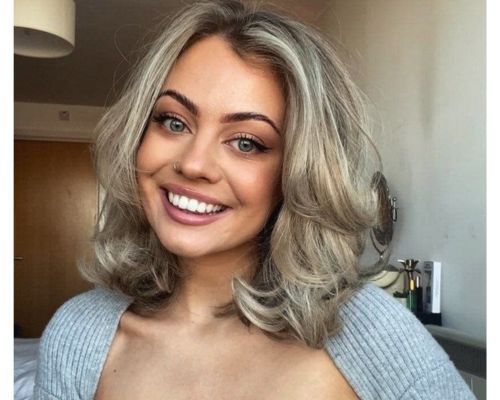 6. Layered Hairstyle
Your thin hair strands will instantly be lifted by this layered hairstyle, which also adds a lot of volume. This is a fantastic hairstyle for thin hair because it is shoulder length, has layers, and is well-textured.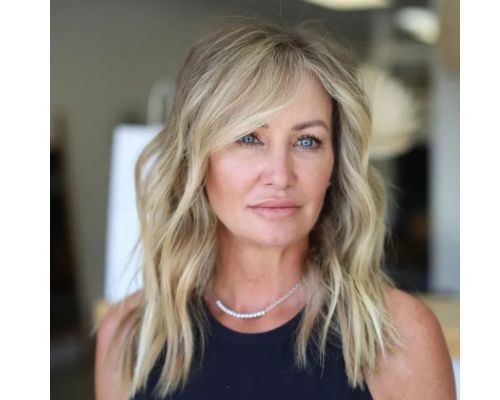 7. Beach Waves
Beach waves look gorgeous on short hair. Beach waves and simple fringes are good options for women with thin hair that is shoulder-length or longer. This hairdo frames the face and is gorgeous. This thin hairstyle can be created with a styling tool and is appropriate for any occasion.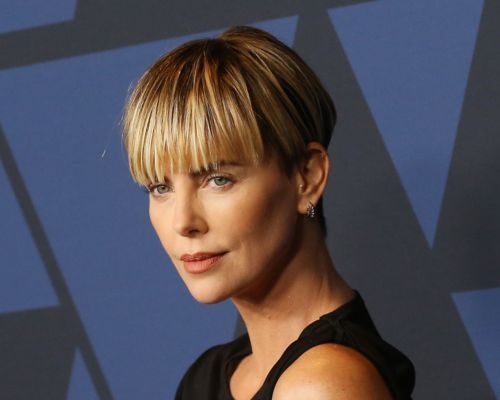 8. Mushroom Hairstyle
A wonderful hairstyle for thin hair that makes the hair look thick even is the mushroom or bowl hairstyle, which features bangs that extend to the forehead. This haircut is a terrific choice for looking vivacious and expressing your style.
Do check out our guide on short inverted bobs as we cover the top 25 hairstyles which have been trending this year!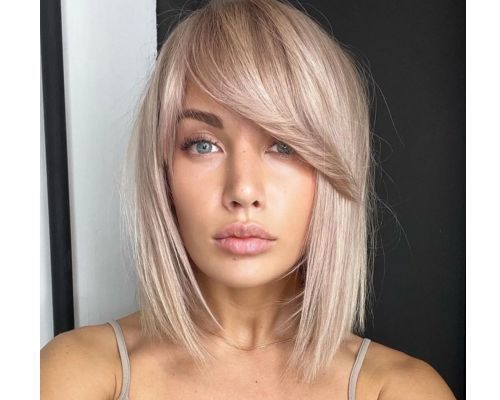 9. Swooped Fringes
Swooped fringes are created when the hair is cut diagonally across the forehead, typically at an angle, which is a fantastic hairstyle for thin hair. This type of fringe can be styled to either side of the face and can be cut to various lengths and thicknesses. This versatile hairdo has a gorgeous appearance.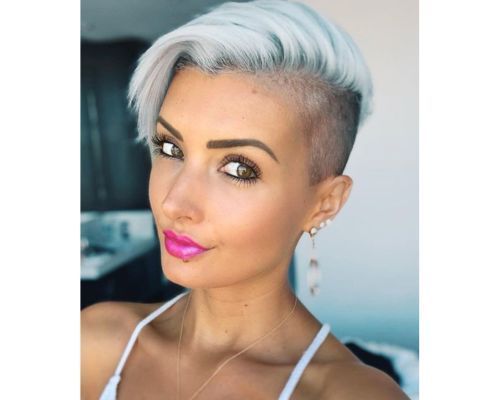 10. Side Swept Edgy Haircut
The side-swept, edgy hairstyle is fantastic for thin, short hair that has to look volumized. To create the appearance of volume, the full head of hair from one side is swept to the other. To complete the image, the other side has hair that is cut extremely short.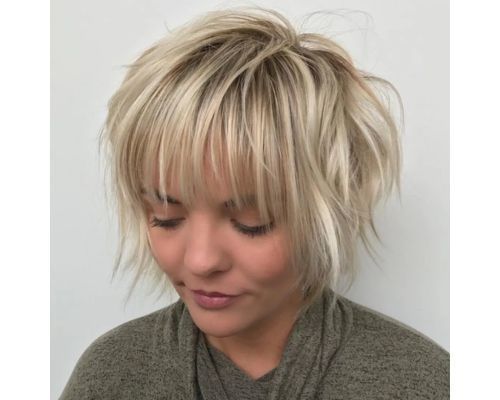 11. Short Shag Cut
This shag hairstyle is for thin hair, making it look thick and nice. The 1970s saw a rise in the popularity of this hairdo. To achieve a textured, messy hair look, short or medium-length hair is trimmed into choppy layers. Although the hair strands are thin, they are cut in an uneven way that is usually styled to give the hair more volume and movement.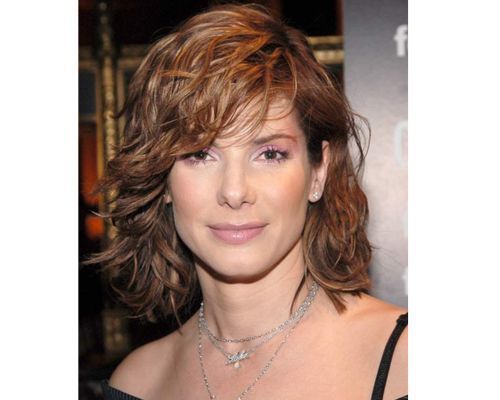 12. Messy Waves
Hairstyles with loose, dishevelled waves that appear casual and natural are known as "messy waves." When you consider the volume, this low-maintenance hairstyle works wonders. This recommended hairstyle for thin hair looks fantastic and is suitable for a party. If not organic, a relaxed sloppy look can be produced by employing styling tools to achieve this hairstyle.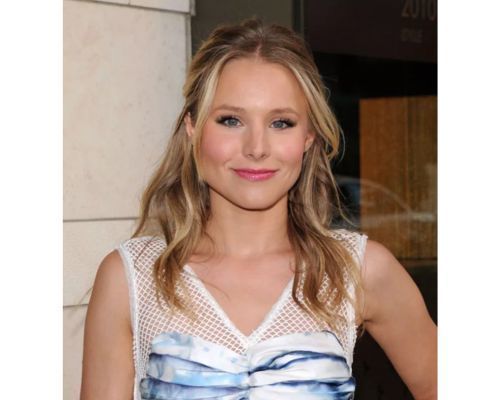 13. Half Up Half Down Hairstyle
This hairstyle for thin hair, is created with half hair tucked up and the remaining hair left open. For a casual day, you can tuck up this half-up and half-down hairstyle, with long fringes on the sides, framing the face.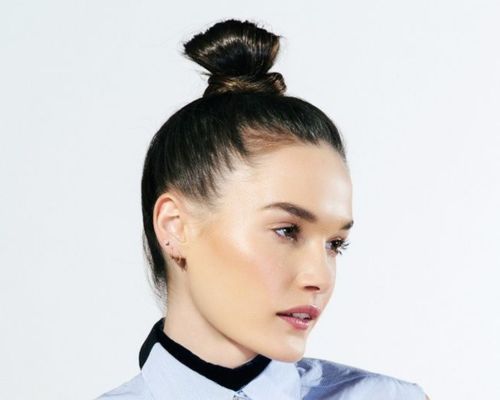 14. Sleek TopKnot
This sleek topknot bun, which features a knot made naturally by your hair and makes the face look clear with the hair smoothed and pushed back tightly, can be made if you have thin and medium-length hair. This hairstyle for thin hair is an easy and uncomplicated style and is suited for all-age women.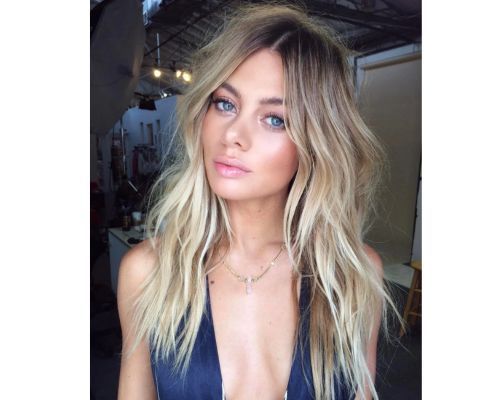 15. Razor Waves
By getting the haircut fashioned in razor waves, your thin medium-length hair can get this effect. These waves can be made by middle parting your hair to add a bending feature and using a style or ironing tool. Additionally, it gives your hair a full, thick appearance.
Do check out our guide on shoulder length hairstyles for fine hair as we cover the top 25 haircuts for fine hair which have been trending this year.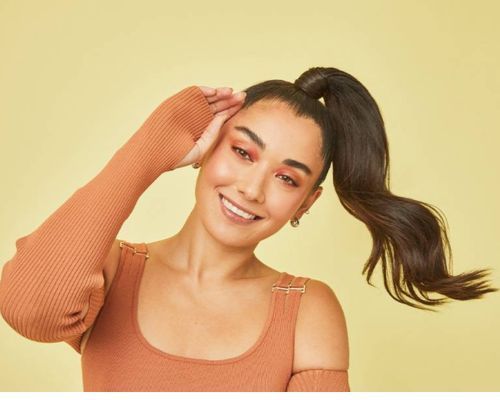 16. High Ponytail
A wonderful hairstyle that involves gathering all of your hair at the crown of your head and fixing it there results in a ponytail that sits high on the head and is piled with your hair. To create this ponytail and a bow with your natural hair, you don't need any other hair accessories or bows. This hairstyle for thin hair looks fantastic and can be worn in a variety of ways for a casual or formal appearance.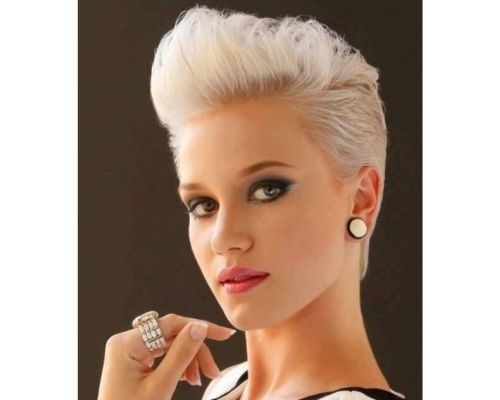 17. Pompadour
A pompadour hairstyle has the hair brushed from the forehead upward and backwards. The sides and back of the hair are often shortened, and the styling results in a high mound of hair on top of the head.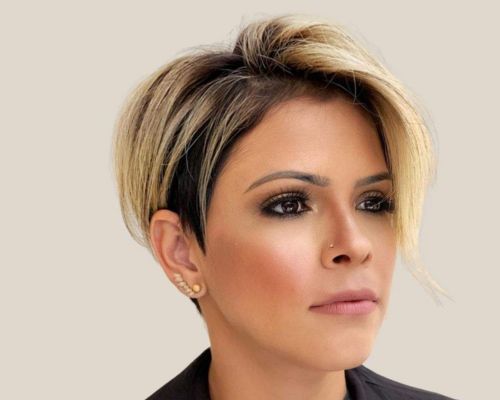 18. Asymmetrical
This asymmetrical haircut, which is short and cut in unequal lengths to create a buzz statement, looks nice on women with thin hair. This hairstyle has one side that is longer than the other, giving it an asymmetrical appearance. This aesthetic can easily be customized with a layered appearance.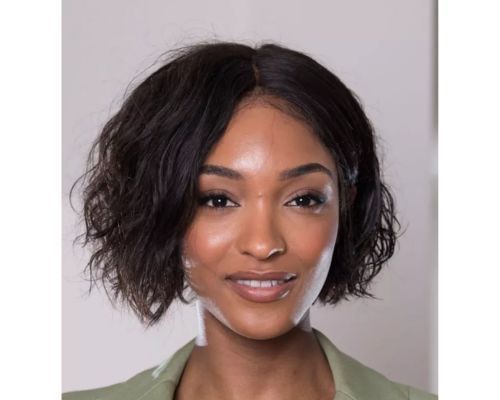 19. Stacked Hairstyle
This layered, stacked hairstyle is ideal for people with thin hair who want to add volume. A stacked hairstyle is a layered cut that aims to give the back of the head a graded, stacked appearance. The top layers of the hair are made shorter than the bottom layers to create this look by cutting the hair at an angle.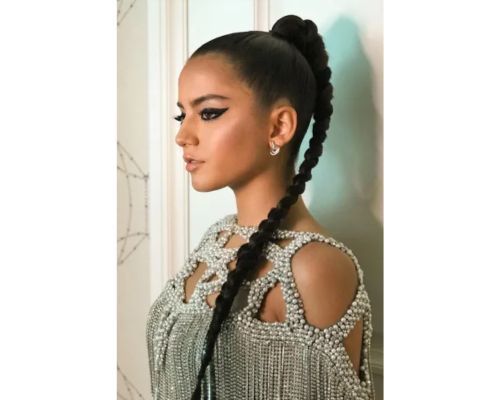 20. Updo Braids
A nice alternative for women's hairstyles with thin hair is an updo braid. Try this updo braid look, in which the long braid is made from an upside-down bun, if you have thin long hair and want to create a delicate and classy look for any occasion.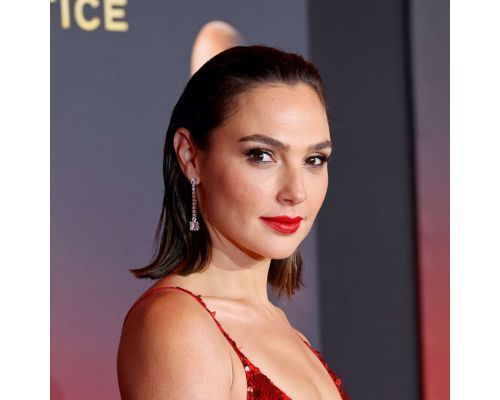 21. Slicked Back Hairstyle
This conventional hairstyle, which has slicked-back hair, may be worn with any length of hair. This is a recommended hairstyle for thin hair. The front hair is combined back while a gel or wax is used to hold the hair in place. It produces a wet-looking hairdo. The overall appearance is elegant.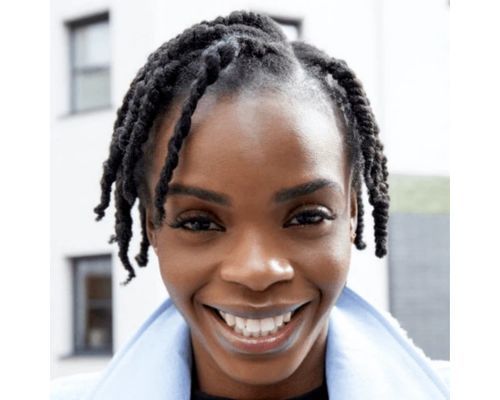 22. Box Braids
The hair is divided into small portions for the box braids hairstyle, and each segment is braided from the roots to the tips. The box braids give the hair more volume. The braids can range in length from short to extremely long and in size from very little to huge and thick.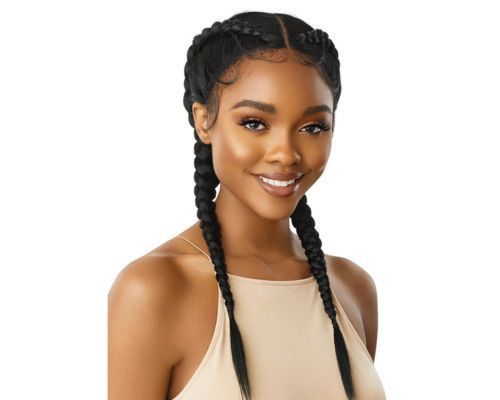 23. Dutch Braids
French braids are another name for Dutch braids. Due to the voluminous appearance that Dutch Braids produce, this is a fantastic alternative for hairstyles for thin hair. Three hair strands are intertwined in this hairstyle in an underhanded design. A centre partition is used to generate the dual braids. Instead of being attractive, the braids seem elevated and sit on top of the head.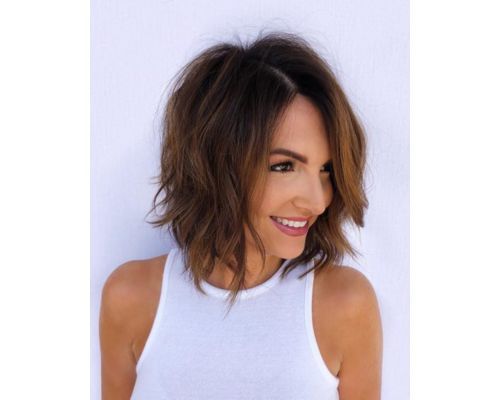 24. Tousled Hair
A tousled Hairstyle is an amazing style for soft messy and unkempt hair, which looks stylish. This hairstyle is created using a styling tool and products. This is a great alternative hairstyle for thin hair which creates volume and texture in the hair.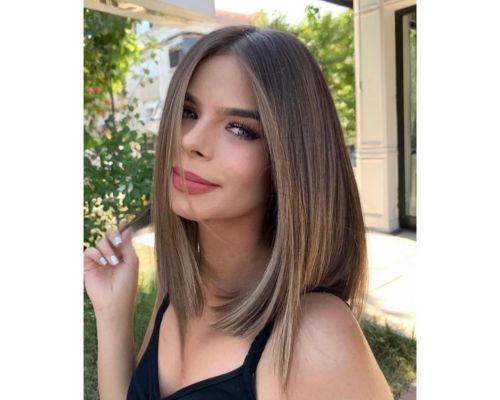 25. Long Blunt Bob
The long blunt cut bob is a terrific choice for looking sophisticated and incredibly stylish. The construction of a hairstyle for thin hair requires little effort and appears effortless and perfect. It looks quite natural and beautiful because of the painted hair lob and middle partition. The inside of the long blunt, known as a Lob, is fantastic.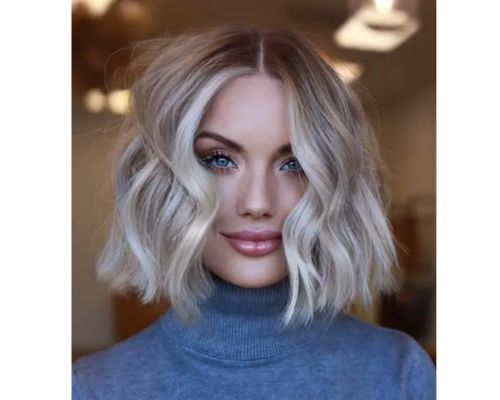 26. Twirled Short Bob
A good way to style thin hair is with a twisted short bob with a central division. The hair is evenly cut, and then a hair roller or style tool is used to give it a twirling appearance. Additionally, the hair is painted with a process called Balayage, which includes hand-painting highlights onto the hair to give it a sun-kissed, natural appearance.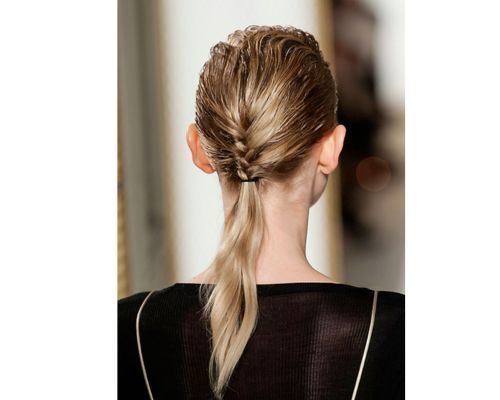 27. Prom Hairstyle
If your looking for a Prom hairstyle for thin hair, this sleek glued-back braid is a perfect choice. You can accessorize your outfit with a short braid in a ponytail and this plastered elegant look.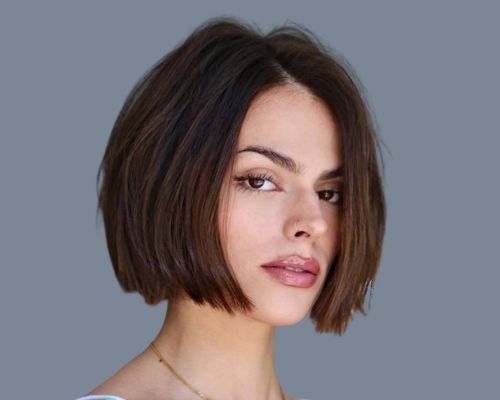 28. Chin Lenght Bob
The chin-length bob is excellent for framing the face. This is another suggested short haircut that features a faultless appearance and is simple and has low upkeep. The bottom hair is curled toward the face and cut to chin length, which elongates and frames the chin.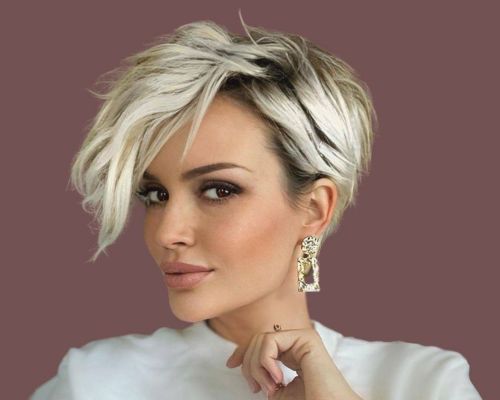 29. Edgy Textured Pixie
This hairstyle is pleasant and extremely fashionable and sporty. With the salt and pepper hair colour, a hairstyle that adds volume to your hair thanks to its long side layered fringes is stunning. This hairstyle for thin hair is one-of-a-kind and on-trend for stunning looks.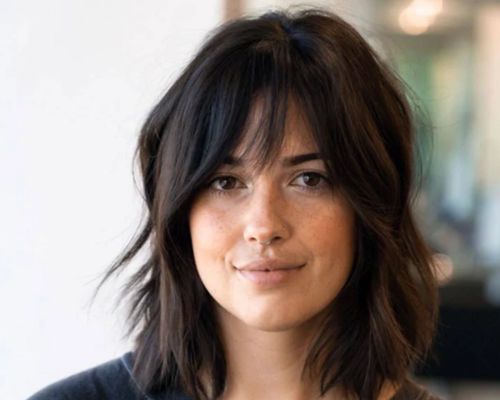 30. Pretty Shag
The shoulder-length shag is a layered hairstyle with jagged and textured ends that is featured. This lovely shag is the result of a ton of layers and razor ends. Low-maintenance hairstyles for thin hair can work wonders since hair shags provide the appearance of more volume.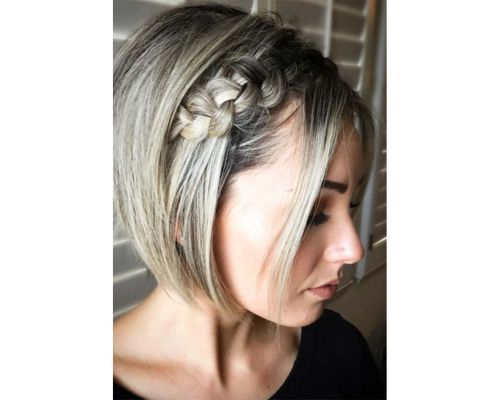 31. French Side Braids
On long hair, French braids look stunning, but what about a French side braid on short hair? You heard it right, this gorgeous French braid formed on one side of the hair in front can make this incredibly modern haircut, on a short blunt bob, look even more unique.This hairstyle for thin hair is quite fashionable and chic.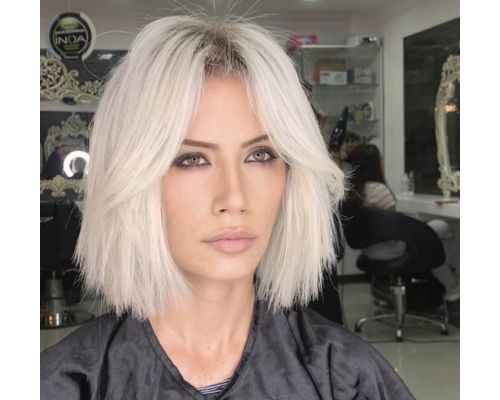 32. Curtain Bangs
Short straight hair can be done in a variety of ways to suit individual tastes. The bob cut looks fantastic with curtain bangs. By cutting these curtain bangs, which are distinguished by their partition and layered appearance and perfectly framing the face on both sides, sleek thin hair can be given volume.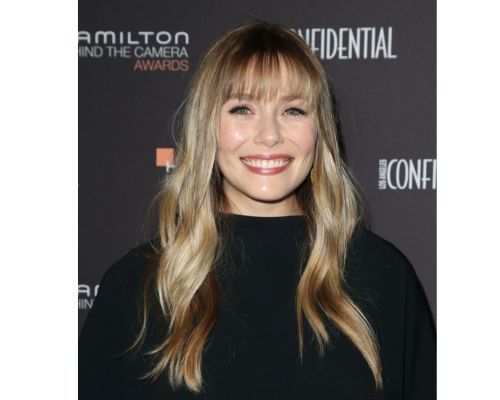 33. Feathery Hairstyle
On long hair with medium-cut layers that are long and flowing, the feathery hairstyle can look great. These feathery hairstyles have a delicate, beautiful, and wispy appearance. The hairdo as a whole is charming thanks to the wispy fringes. For thin hair, this is a gorgeous hairdo.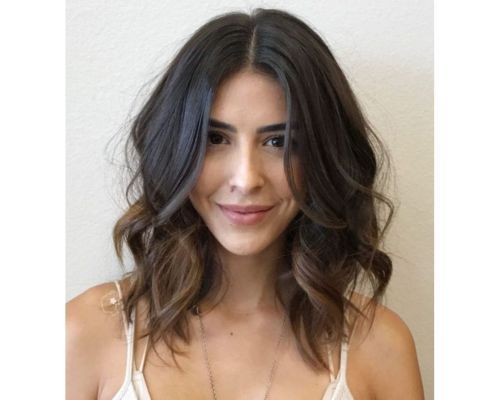 34. Wavy Long Bob
An appealing hairdo for any occasion or season. Any hair type, hair texture, or personal preference can wear this hairstyle. The long bob has been done with waves that can last until your next hair wash and was made with styling tools. You can style thin hair into waves for a heavier texture if you have thin hair.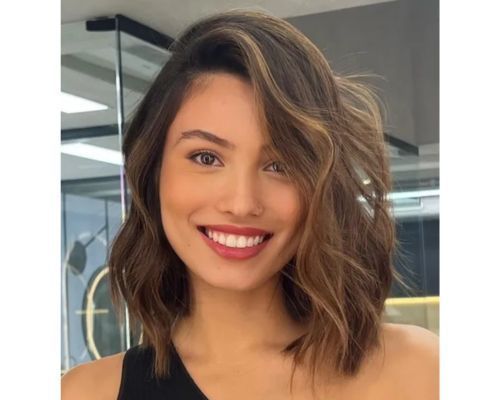 35. Side Part Bob
Moving your front layered hair to one side is another method to style a shoulder-length wave bob. The hair is separated on one side, which gives the appearance of volume. The side part bob is another hairstyle for a chic style.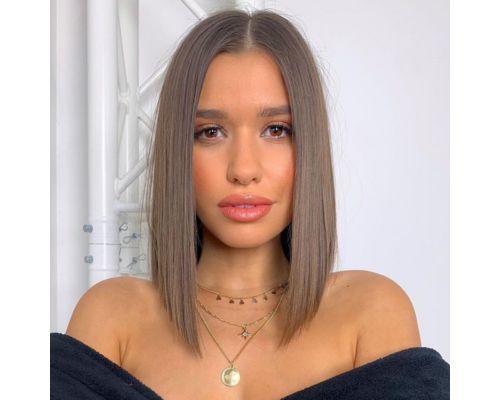 36. Middle Part Lob
A graceful hairstyle is subtle, elegant, properly middle parted, and asymmetrical toward the front ends of the hair. Due to the hair being flattered on both sides and creating a face-framing effect, this hairstyle gives the appearance of a slimmer face. This gorgeous, low-maintenance hairstyle for thin hair has a wonderful fashion sense.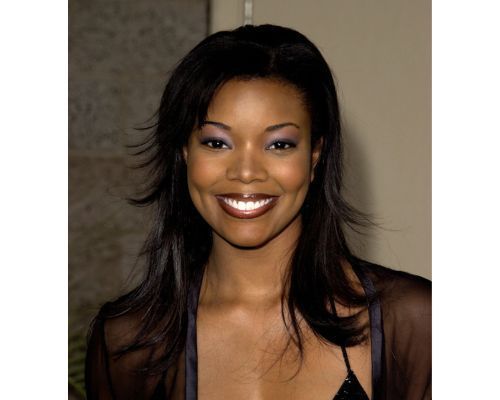 37. Flipped Out
Straight, sleek hair that is longer than the shoulder can be worn in a variety of ways. Such a haircut for thin hair may be this flipped-out look. The layers and flip-out of the sparse hair are done excellently. Any hair length can be used to create this thin haircut.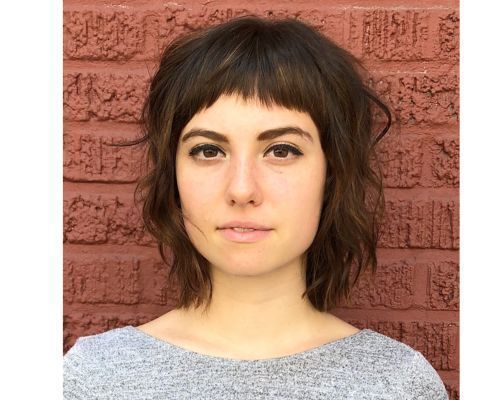 38. Baby Bangs
Baby bangs are the answer to making your hair look thicker and fuller. The thin hair goes well with these baby bangs, which are very short and look density full. These baby bangs which are also called micro bangs can be dressed subtly with this thin bob hairstyle.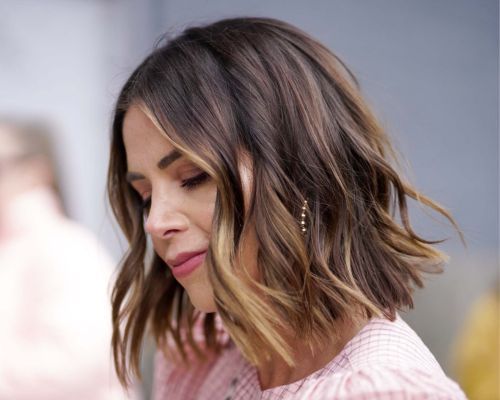 39. Streaks Bob Hairstyle
Hair colour streaks can be used to create a shoulder-length bob with a line of curves in the middle and straight ends. This glamorous streak bob hairstyle is a terrific approach to maintaining your fashion statement for any occasion.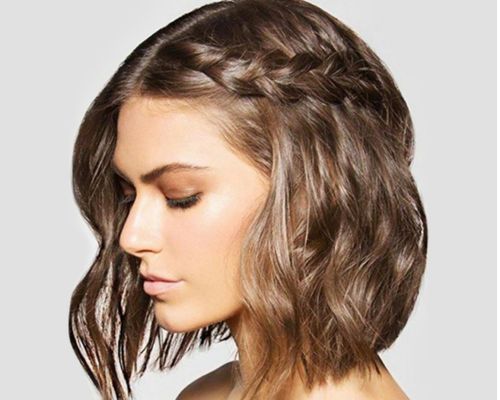 40. Sided Blunt Plait
A basic plait with a side-swept blunt cut is a good approach to displaying your hairstyle. Try this hairstyle for thin hair that makes the hair look volumized to make your hair look much more lively and beautiful.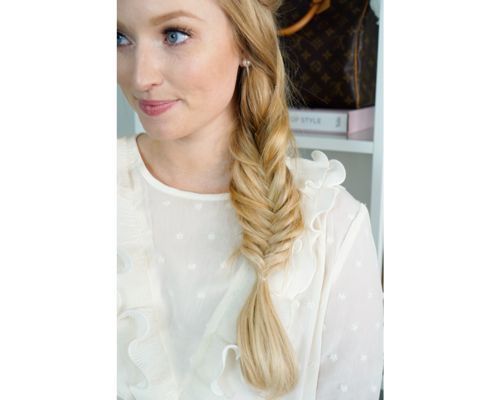 41. Fishtail
For any occasion or a casual day, a generous lower fishtail is an excellent choice to check out. This hairstyle can be made for medium-length hair and styled in a relaxed manner with a nice flowing fishtail that is loosely tied up.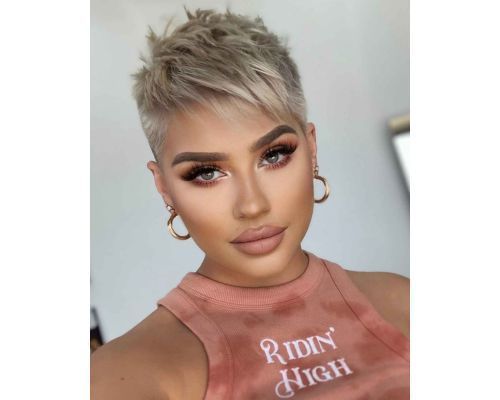 42. Choppy Pixie
Your hair appears thicker and fuller when worn in this choppy pixie hairdo. A short, edgy haircut with layers and structure all over the hair, the choppy pixie. It often has longer, jagged layers on top and shorter hair on the sides and back of the head, which can be done in a variety of ways.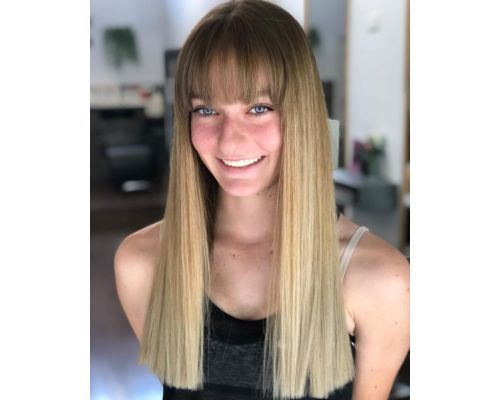 43. Long Sleek And Straight
Straight hair that has been cut with thin, even ends appears beautiful and graceful. The wispy bangs look great with this hairstyle and give the entire head of hair a full, volume-filled appearance.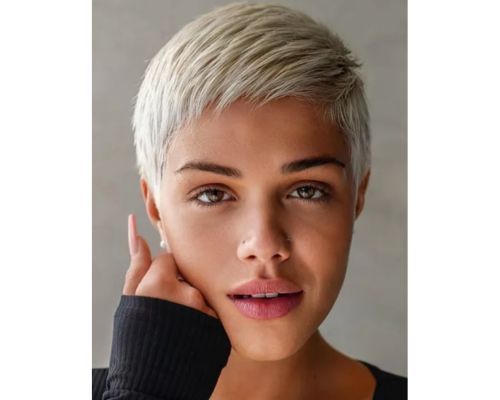 44. Stylish Pixie
Making the hair look thicker is easy with a fashionable and sporty pixie cut that is very short, heavily styled at the crown, and trimmed at the sides. Small, side-moved layers are used to style the pixie. For someone with thin, short hair who desires a stunning appearance, this style of haircut is advised.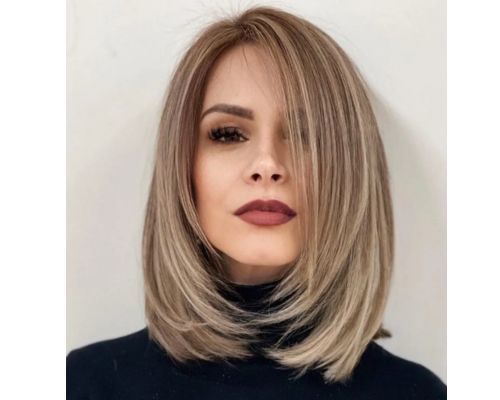 45. Straight Layered Hairstyle
Straight hairstyles look great and are simple to keep up with. The bottom of this straight, layered haircut is flared, and it looks fantastic. In addition to adding a little volume to straight hair, this hairdo also plays a face-framing role.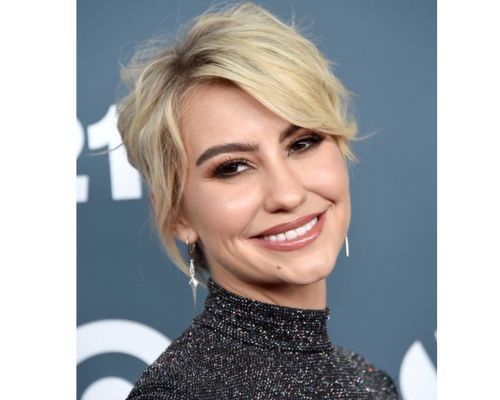 46. Waved Pixie
Short and layered from both sides, the waved pixie is a popular hairstyle. The result is a wavy appearance and voluminous-looking hair. This hairstyle is both fashionable and easy to upkeep, the hairdo.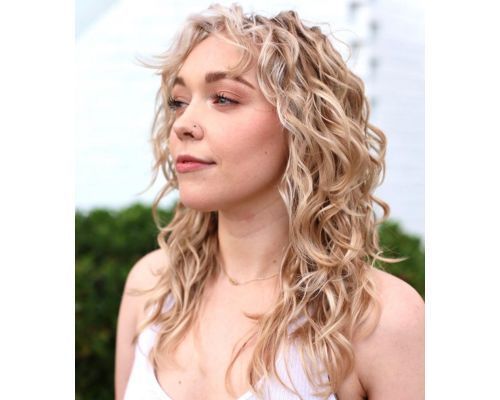 47. Curls For Thin Hair
Natural curls and simple bangs look great. If the curls are not natural, they may be created with a curling rod and a gel hair product. This haircut gives thin hair the appearance of volume. Hair care products can be used to control curls.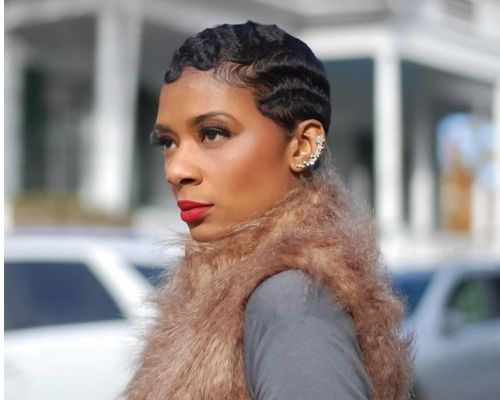 48. Finger Waves
By adding finger waves, excessively short hair or a pixie haircut may seem captivating. Using the fingers and a styling gel, create S-shaped sticky waves in the hair to create the desired look. These waves may be worn on both short and long hair, and they are worn very near to the scalp. For those with thin hair, this is a fantastic hairstyle choice.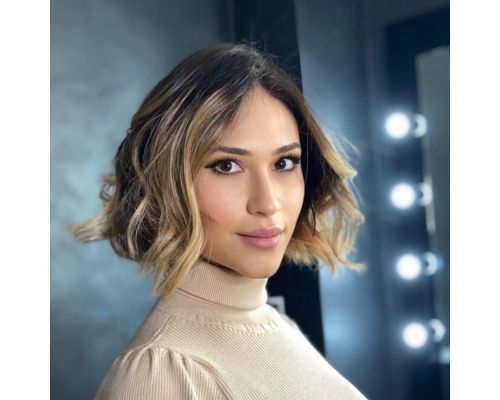 49. Textured Bob
Short haircuts look great with this textured bob with bottleneck bangs because it gives the whole hairstyle a broader, more appealing aspect. The hair has a ton of dimension thanks to Bob's subtle texture and brilliant highlights. The hair becomes vivid due to the bangs.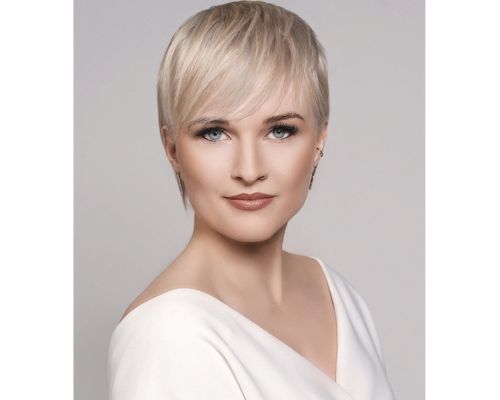 50. Sleek Pixie
You may attempt this sleek pixie hairstyle, which is carried from the back to the front if you have short, straight hair. The hair is straight and glossy and seems spotless. Wispy fringes are created on the forehead by swiping hair from the rear to the front.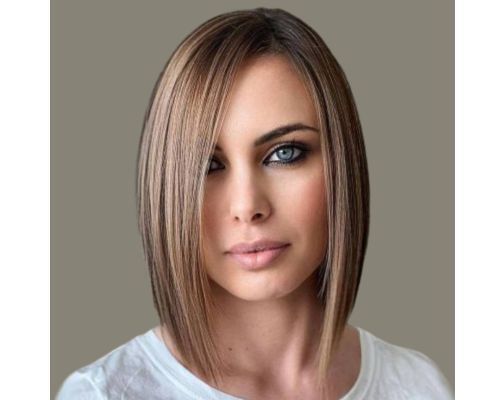 51. Round Sleek Bob
According to the manner of your face, a mesmerizing hairstyle that manages a round or oval shape is created by pairing sleek and short hair. The hair is separated with an additional edge from one side that resembles a lengthy layer and is trimmed equally on both sides. For a distinctive texture, thin-haired women might attempt this haircut.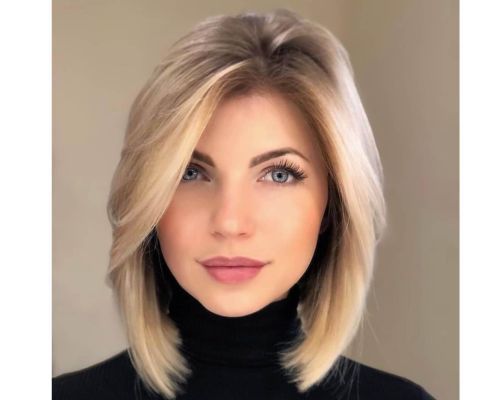 52. Bouncy Bob
The best way to manage your thin hair is with a haircut that is additionally done in a bouncy and round shape. The interior of the hair is curved and shoulder cut. The lengthy fringes on one side were quite flattering.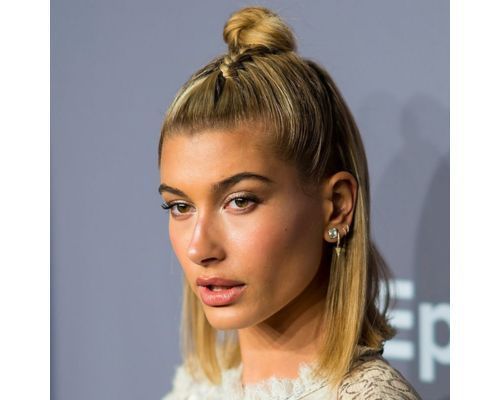 53. Braided Hun
It is wonderful to try a Hun braid on your shoulder-length straight hair to add volume. The Braided Hun is a hairstyle that involves braiding hair into a single, thick braid and coiling it around the back or top of the head to resemble a bun. You may use this hairstyle to add volume to thin hair and get a fuller look.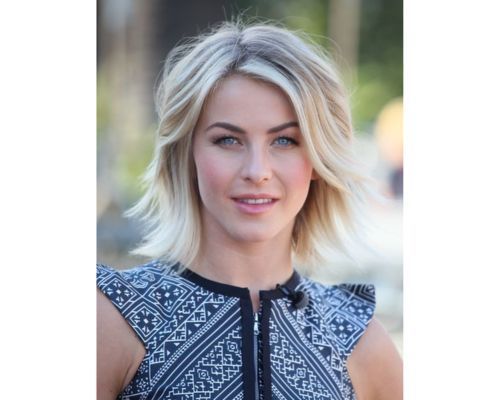 54. Layered Razor Style
A fantastic approach to make thin hair appear thicker and more beautiful is with the layered Razor haircut. The razor-cut layers and lengthy fringes on both sides make the hairdo simple to maintain.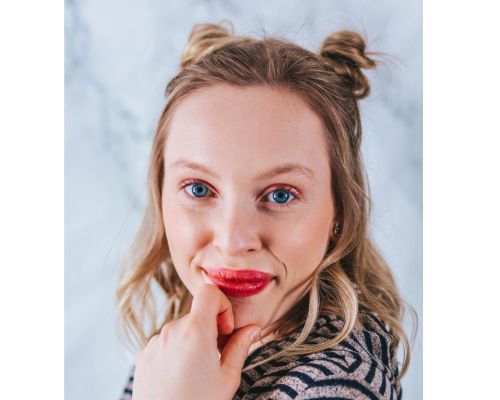 55. Space Buns
A popular hairstyle is the "space bun," which consists of two small-looking buns, one on each side of the head. They can be worn with or without bangs and are commonly worn at the top of the head. Different braiding methods, twists, or just wrapping the hair around itself and fixing it with hair ties or pins can all be used to make space buns.