25 Stunning Short Inverted Bob Haircuts For Women - 2023
Ankita Ghoshal
Updated At 22 Sep 23
Short inverted bobs are all the rage these days and they are among the most sought-after haircuts. These versatile, practical and super fashionable short inverted bobs are a must-try if you want to give you're a fresh makeover. Here are 25 stunning short inverted bob haircuts for women that you must check out this year.
25 Best Short Inverted Bob Haircuts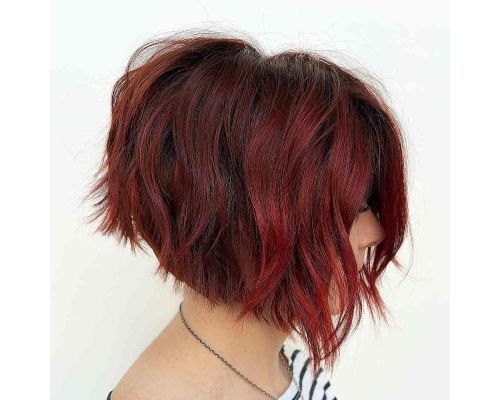 1. Vibrant Red Tousled Bob
An angled inverted bob is a very slimming crop that looks good on almost everyone. If you are looking for a short haircut, you must try this out. The red hue will make you look even more outstanding.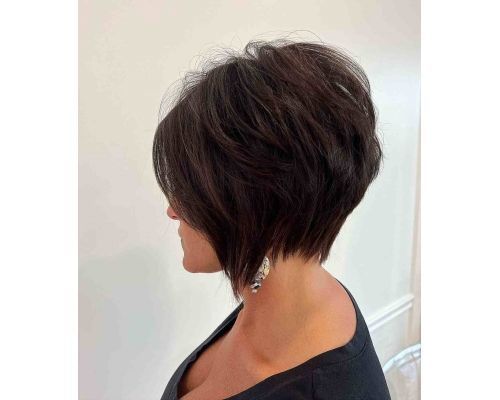 2. Dark Brown Inverted Bob
A short angled inverted bob with shades of dark brown will give a refreshing transformation to your hair and you will love the final results. This will suit all face types, especially if you have a round or oval face shape. Also check out our guide to find the best blunt cut bob hairstyles as we list 55+ most stylish hairstyles which are trending this year.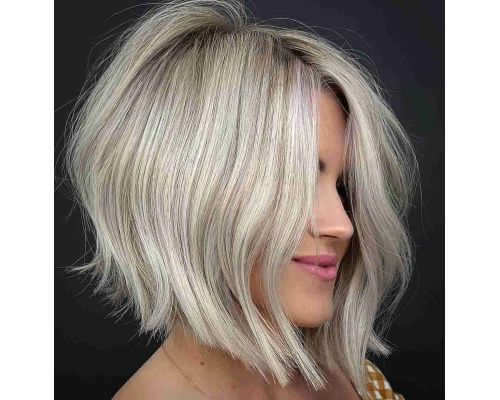 3. Slightly Wavy Bob
A slight waved bob haircut will bring back a classic hairstyle into the contemporary world. To give it a soft bend, you can use a flat iron or a curling iron with a big barrel.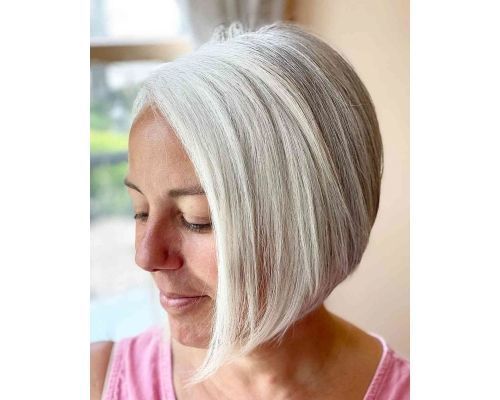 4. Beautifully Stacked Angled Bob
If you want a fun, new haircut, a stacked inverted bob will be the right choice for you. It looks flattering on almost all hair textures and will make you look very edgy in no time.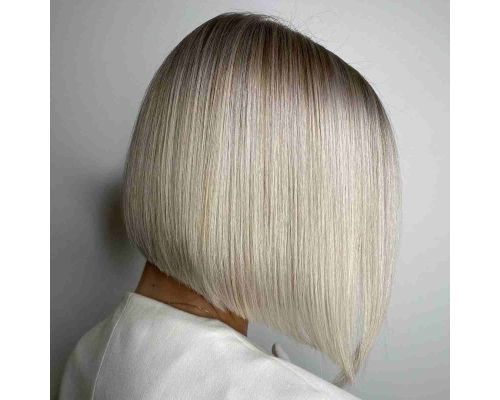 5. Glossy Angled Short Inverted Bob
If you are looking for elegant short inverted bob hairstyles, go for the classic angled short inverted bob. The slight angle and the bluntness of the haircut will give off a very sophisticated vibe. Spray a hair gloss for that added shine.
Check out our guide to find the best long inverted bob hairstyles as we list 25+ haircuts trending this year.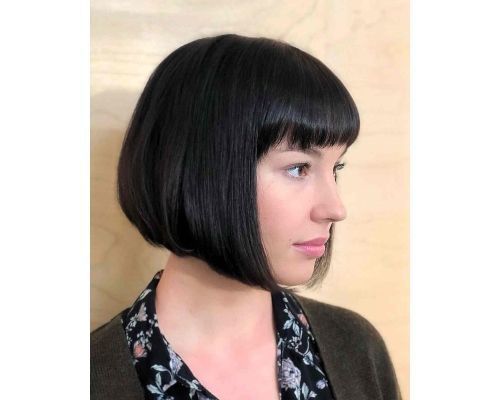 6. Short Inverted Bob With Bangs
A cute short inverted bob will look even more adorable with the right kind of bangs. If you have straight and sleek tresses, this haircut will look very nice on you for sure.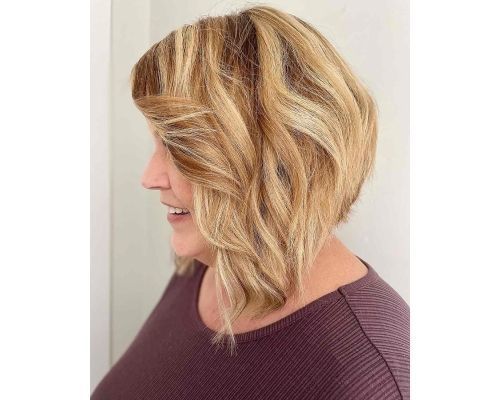 7. Short Inverted Bob with Side Swept Fringes
Side swept fringes will add a lot of volume and texture to your sassy and funky short inverted bob. To intensify things, use a rich, blonde balayage and you will be mesmerized by the outcome.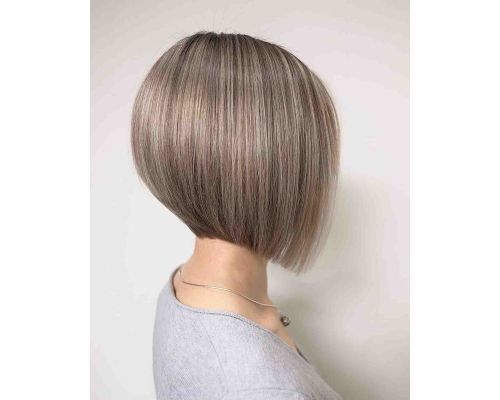 8. Short Inverted Bob For Fine Hair
Style your short inverted bob with thin and loose waves for adding more volume to your fine hair. This cute hairstyle is a blessing for ladies with fine hair and it suits almost all face shapes.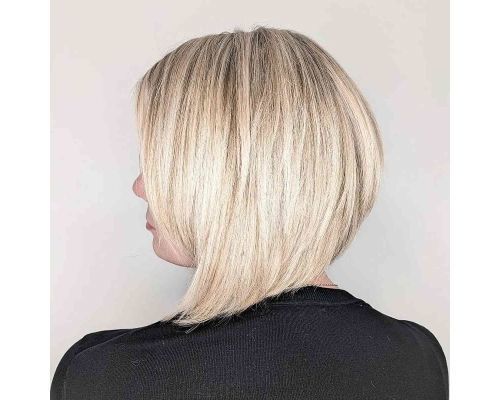 9. Nice Back View
The perfect short layered inverted bob not only looks good from the front but has a polished back view as well. Make sure to go to a good hairstylist so that you can get the beautiful back as well as front view of your bob.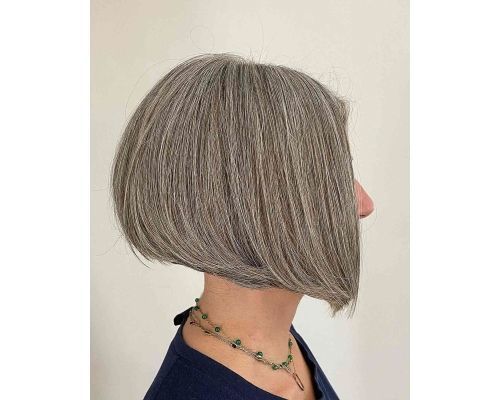 10. Short Inverted Bob For Thick Hair
The chin-length textured angled bob cut will be the ultimate haircuts for women with thick hair. You can go for a soft grey balayage for making your hair sleeker and look more graceful.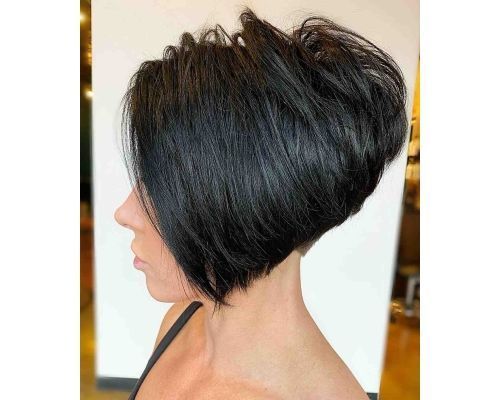 11. Short Back Long Front
If you have dark brunette hair that falls straight on your shoulders, try a short back, long front angled bob cut this time. The subtle undercut will complement your face beautifully while making an elegant statement.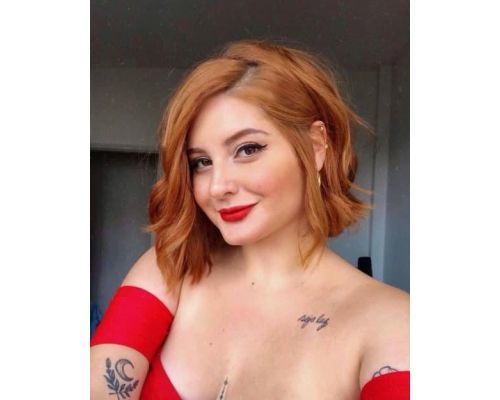 12. Short Inverted Bob for Round Faces
A side-parted short layered inverted bob with beachy waves is a perfect haircut for people with round faces. You can style it in multiple ways to suit every occasion and event as per your convenience.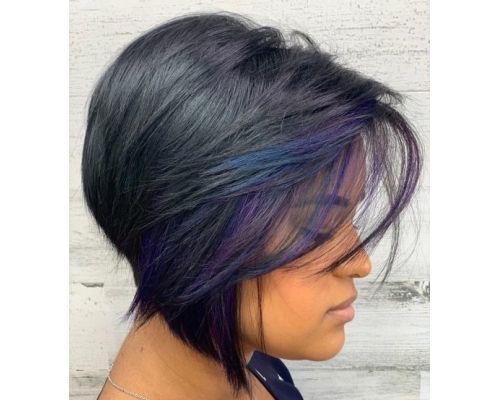 13. Very Short Inverted Bob
A very short inverted bob with texture is an extremely sassy haircut. It will instantly make you the centre of attention and you will be fetching compliments in no time.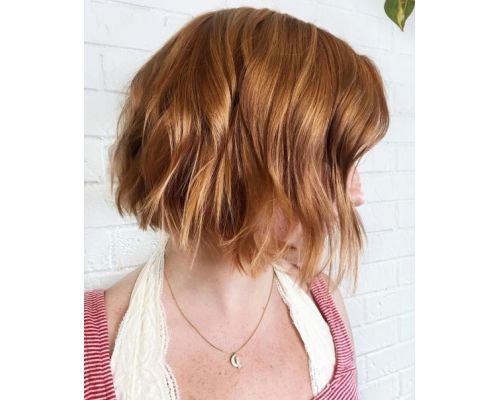 14. Textured and Bouncy Bob
Give your conventional short inverted blunt bob a unique twist by giving it shattered ends. This will not only make you look unique but also add a lot of bounce to your haircut. Do check out our guide to find the best long curly hairstyles trending this year.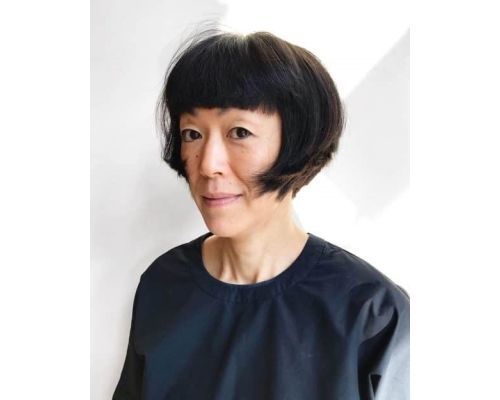 15. Very Short Inverted Bob With Bangs
If you want to stick to the basics, try the chic, times, and very easy to style short inverted bob with thick bangs. This will look very stylish and youthful, being perfect for all events and occasions.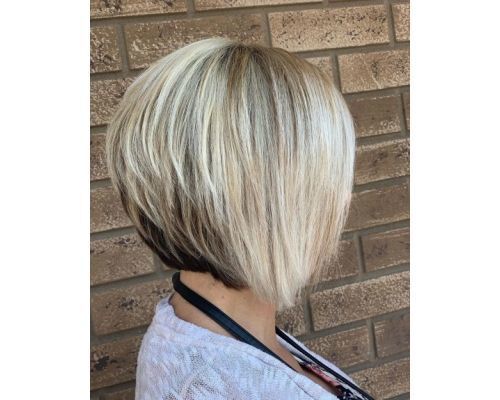 16. Short Layered Inverted Bob
An angled and layered bob looks very versatile and sleek. The smoothness of it makes it edgy while the soft beachy waves add a hint of fun to the overall look of this haircut.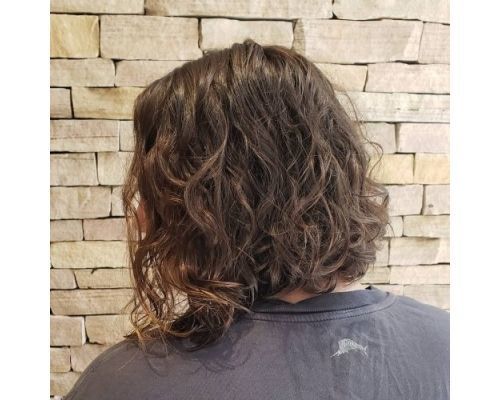 17. Curly Short Inverted Bob
A short inverted bob for medium hair will show off the natural curls while keeping your hair in place at all times. This stylish yet easy haircut is perfect for your workspace as well as parties.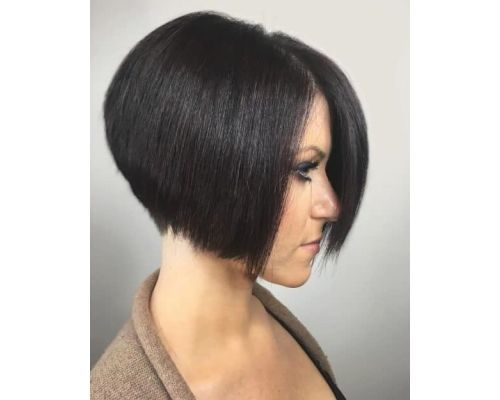 18. Stacked Short Inverted Bob
If you are looking for a posh and hi-end haircut, go for the stacked short inverted bob which looks very classy. This high-elevated bob will also keep your frizz in control while making you appear like a true fashionista.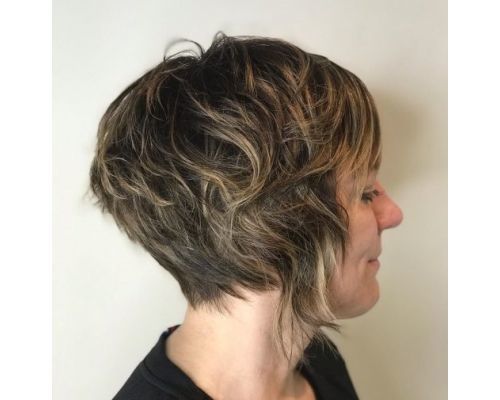 19. Inverted Bob with Layers
A short layered inverted bob is flirty and fun at the same time. The cut accentuates the natural texture of your hair while the tousled look make you look all trendy and chic in just a few minutes. This haircut suits women across ages and hence, is one of the favourite short inverted bob hairstyles across the globe.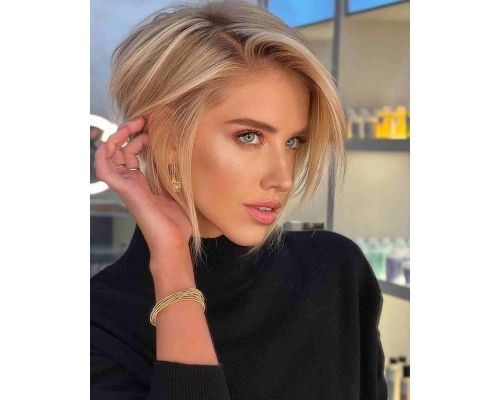 20. Short Inverted Bob For Thin Hair
If you have thin hair, you need a short inverted bob that will strike the right balance between chic and sexy. This haircut is very sleek and versatile, making it look even better with soft waves.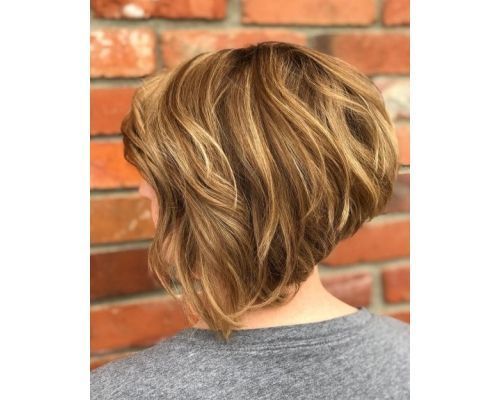 21. Blonde Balayage
A crisp inverted bob with blonde balayage and a soft tousled movement is the right recipe for a stylish haircut. It is very visually appealing and maintains the length of your face while making it look more soft and feminine.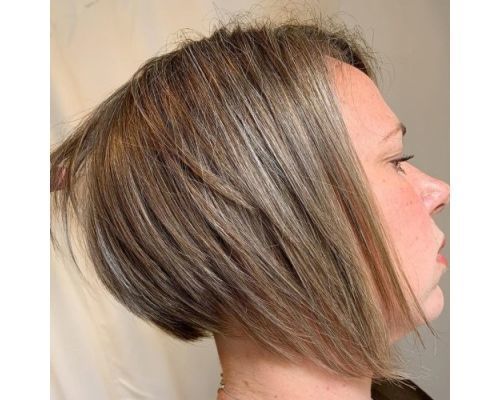 22. Short Inverted Bob With Undercut
A choppy inverted bob with a undercut is a blend of modernity, elegance and edginess. Your natural hair texture will be enough for you to rock this uber cool haircut and make a statement every time you step out of the house.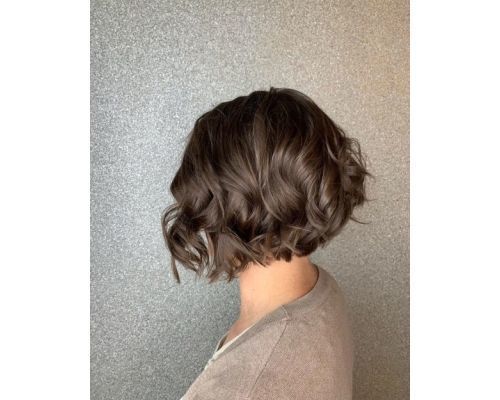 23. Wavy Short Inverted Bob
This sassy and fun haircut provides a great shape to the face and the curls are just the cherry on the cake. You can style it in any way as it is very versatile and easy to attain as well.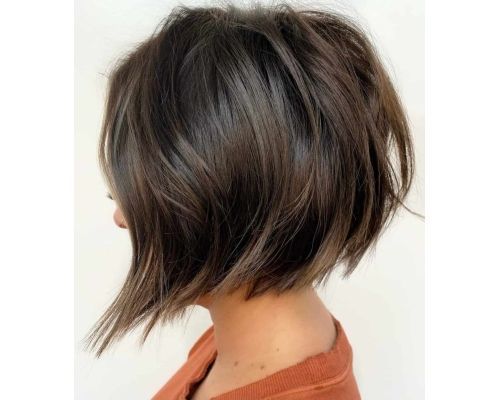 24. Jaw Length Inverted Bob
This classic haircut will never go out of style for sure. This is for those women who want fullness and length around the face but don't want to go for a very short haircut. This style will blow your mind in an instant.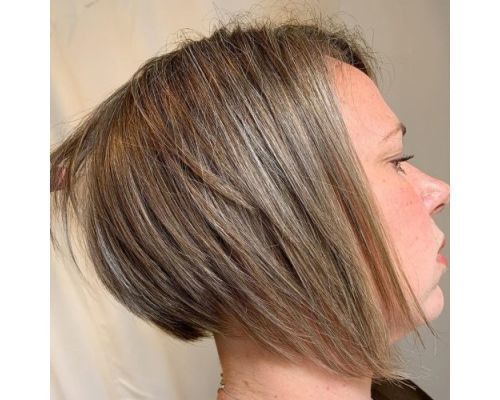 25. Choppy Bob And Undercut
This low maintenance and timeless cut will make you look super cute for sure. The effortless and carefree aura goes well with all types of skin, hair and face shapes. The best part is how easy and simple it is to style this kind of bob without a lot of efforts.
These are 25 stunning short inverted bob haircuts for women that are ruling in 2023. If you want to get a haircut, try one of these super cool ideas as they are bound to make you the style icon of the town without you even working hard for it!