27 Best Prom Hairstyles For Long Hair - 2023
Olivia
Updated At 11 Jul 23
The hairstyles worn by young ladies on their prom nights are referred to as prom hairstyles. Girls dress up for a special celebration night called a prom, and they spend a lot of time and effort finding the ideal hairstyle for long hair to go with their prom dresses. Simple, elegant, and complicated hairstyles for prom can all be found for your long hair. Updos, braids, curls, and half-up, half-down styles are a few common prom haircuts. The person's unique style, the length and texture of their hair, and the type of clothing they are wearing all influence the hairstyle they choose. Today, let's check some amazing Prom Hairstyles trending for long hair.
27 Best Prom Hairstyles For Long Hair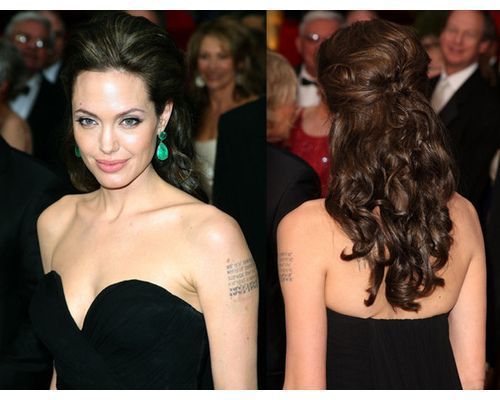 1. Pinned Back Loose Curls
One of the common and simple prom hairstyles is the Pinned back loose curls, which feature loosely curved hair that is pinned back from the face. This hairdo is sophisticated and understated, and it was stunning on Angelina Jolie that evening. As all hair is pulled back and pinned, the front side of this hairstyle makes the face appear much clearer and more noticeable. For your prom night, you should without a doubt attempt this hairstyle.
One of the most exciting haircuts for women, this looks stylish and elegant at the same time.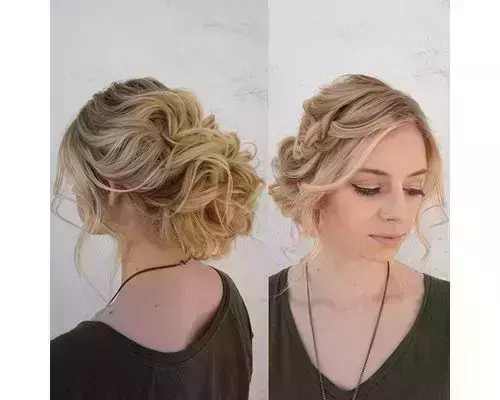 2. Messy Bun
This waterfall braid with a messy bun is another gorgeous prom hairstyle for long hair. This hairdo combines a messy bun with a one-sided waterfall braid. For those who prefer a romantic and bohemian appearance, this hairdo is ideal. The face is beautifully concealed and looks incredible thanks to the long curl fringe on both sides.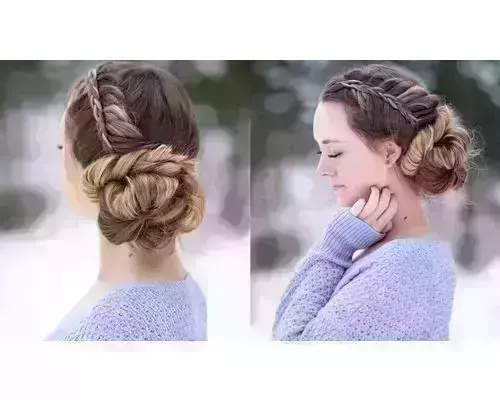 3. Stacked Fishtail Updo
An additional mix of prom-long hairstyles is the stacked fishtail updo. If you have curly hair, this hairstyle will appear fantastic on it. A fishtail updo was added to one side. You must first section off your hair to make numerous fishtail braids. Once you are finished, you can add the ends of the braids to create a simple updo or a bun in the shape of a flower.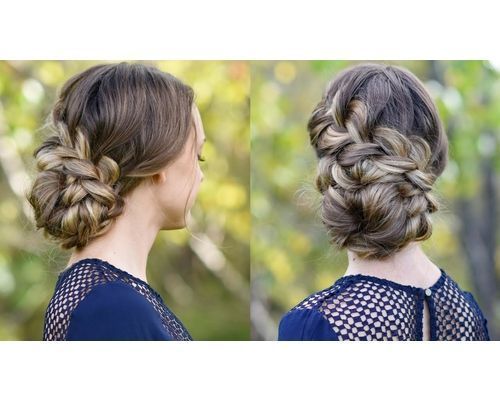 4. French Braid Hair Updo For Prom
With your prom dress, this French braid hair updo will undoubtedly look stunning. The complete head of hair is tastefully styled and appears timeless and refined. This long-hair hairstyle will add charm to your complete outfit, making it appropriate for prom night.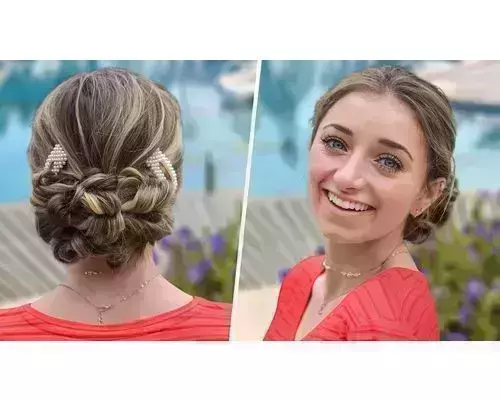 5. Flipped Ponytail Updo Prom Hairstyle
A flipped ponytail updo is a modern and chic hairdo that is ideal for a prom night or any other special occasion. Make a low ponytail for this hairdo, then flip it up and through the opening of the knot to create a twisted effect. The hairstyle is quite well camouflaged, and a light pull on the twisted ponytail adds texture and volume. The hairstyle is made more appealing for the prom by adding a hair accessory in the form of tiny pearl pins on either side making your long hair look beautiful.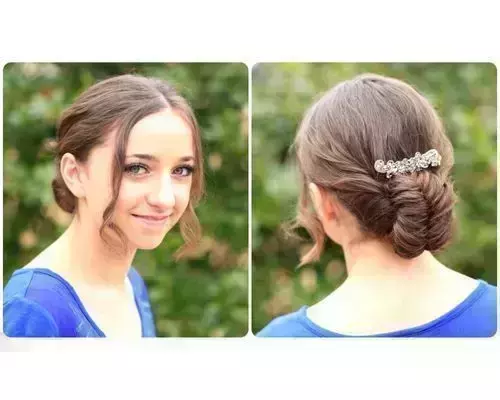 6. Flipped Fishtail Hair Updo
An amazing hairdo for the ideal prom night combines an easy fishtail hairstyle with a flipped hair updo. Any outfit will appear gorgeous with this hairstyle. This updo is emphasised by the addition of a silver hair accessory to the hairdo. This hairstyle is ideal for a party because it can be easily created as a basic fishtail and flipped to become an updo from the back.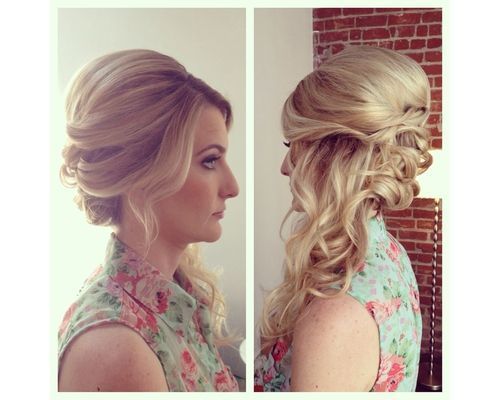 7. Side Swept Tucked Hairstyle
This side-swept hairstyle for long hair has excellent volume and texture and is beautifully pumped up. The back hair is gorgeously kept open with some flowing curls in this tucked hairstyle, making it ideal for prom night. The hair is down and perfectly sided on one side, with the bun neatly nestled above.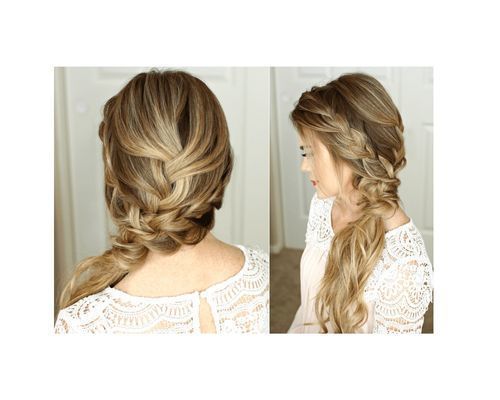 8. Braided Side Swept
On the sides, a straightforward, simple braid is made, and one side is joined with a ponytail. This prom-night staple hairdo is quick to make and easy to maintain. One side ponytail flows in front and this side-swept braided hairdo is breathtaking.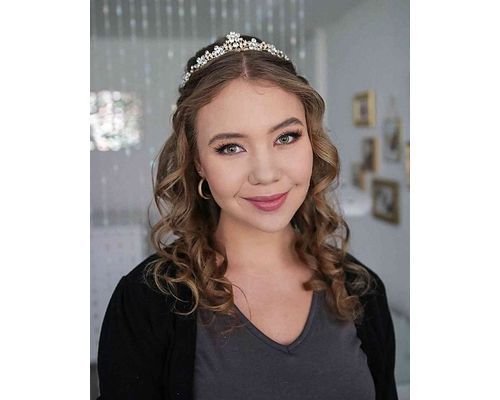 9. Curled Parted Open Hair
On prom night, wearing your hair down and choosing a concise but striking hairstyle can always be a smart move. The hair is parted from the centre, keeping it open, and is easily curled with a curling iron. The silver tiara hair accessory gives off a gorgeous royal vibe.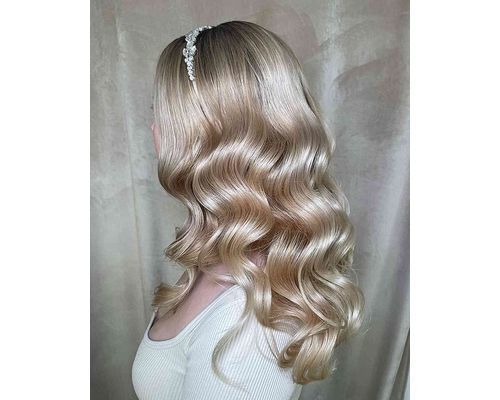 10. Soft Waves Rooted Blonde Waves
How about using gentle waves to style your gorgeous blonde hair? Soft waves are a simple and adaptable hairdo for long hair that can be created using a variety of methods, including braiding, hot rollers, and curling irons. This prom hairdo is simple and appears voluminous. The headband with crystals will complement the hairdo.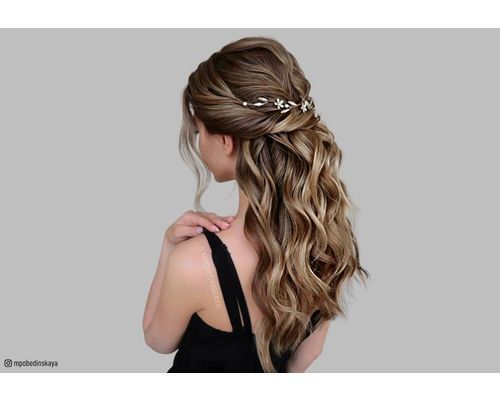 11. Twisted Curly Prom Hairstyle
This is one of the best open hairstyles for a prom night. Styling open hair has been wonderful. The soft curls and twisted tucked hair at the back will make the entire look even more ravishing. This is a modern hairstyle to go for a prom hairstyle.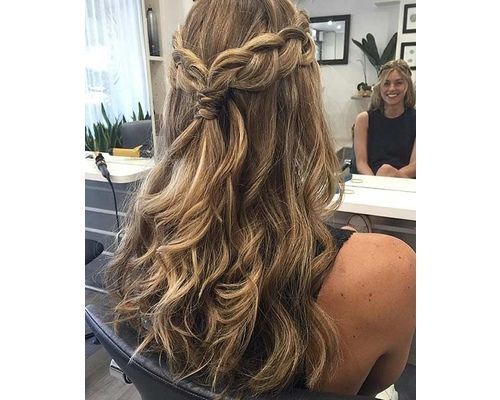 12. Waterfall Open Hairstyle
For prom attire, this lengthy waterfall-open hairstyle is an excellent option. In recent years, this elegant and lovely hairdo has become popular. On a prom night, this hairdo is a wonderful way to style curly hair. You can create this stunning prom hairdo with either long hair or a weave.
13. Twisted Halo Braid
If you have long hair, this stunning halo braid hairstyle with half of it down is the ideal one to wear for a prom night. A stunning hairstyle that appears intricate but is quite simple to make is the twisted halo braid. The hair accessory included in the braids is finishing the entire hair look.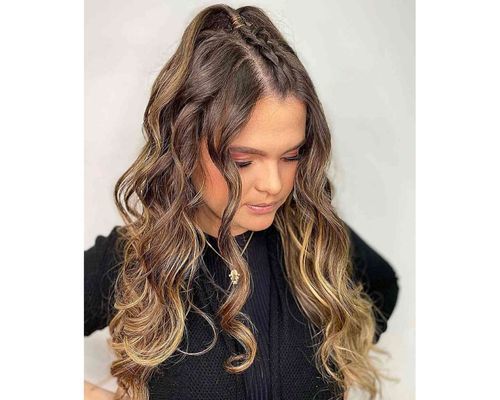 14. Mini Braids With Ponytail
To create this stunning prom hairstyle for your long hair, try this mini braided hairstyle at the top with the centre partition and tie the braid ends with a ponytail. This prom hairdo is easy, contemporary, and stylish.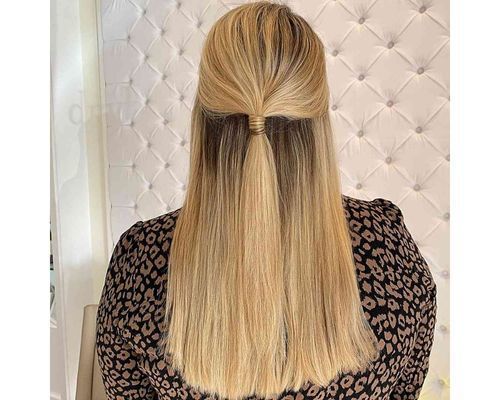 15. Sleek Half Ponytail
This elegant formal hairstyle for long hair is incredibly simple to do. This half-hair open, sleek ponytail will work marvels for your hair. When the hair is loosely tied up with the hair itself, this hairstyle appears fantastic on straight hair. This hairstyle is concise and attainable.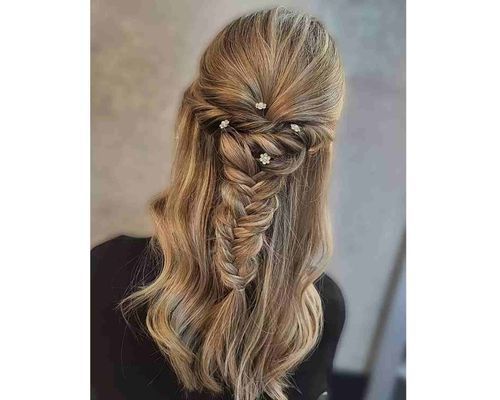 16. Fishtail Hairstyle With Half Hair Up
If you want your long hair to appear as stunning as your dress on prom night, this fishtail hairstyle is a good choice. This back fishtail hairdo is neat. The front hair is curled and pulled back into a fishtail. This complete look is a pleasant twist on a fancy and glamorous hairstyle because the half hair is left open.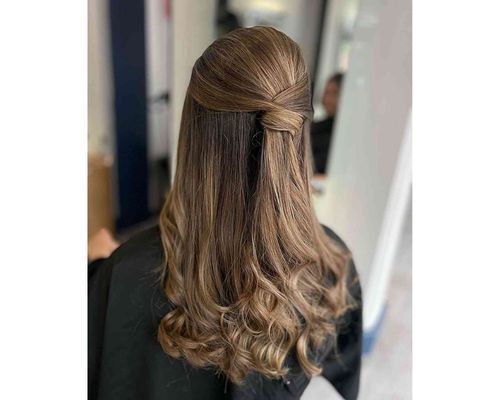 17. French Twist With Curly Ends
This hairdo is stunning and features a back French twist that is both sharp and sleek. The hair is beautifully tucked away in the front and looks more voluminous and striking because of the French twist. Sleek and curly hairstyles are currently popular because of the beautifully curled hair at the bottom.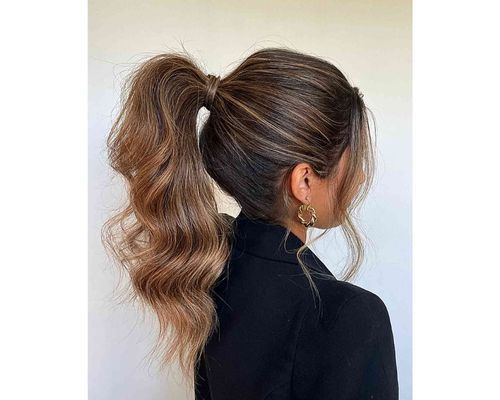 18. High Ponytail Prom Hairstyle
For the prom, one can also choose an easy but fashionable hairdo. The layered, curly hair is neatly pulled into a high ponytail with a bump. Taking advantage of face-framing, the hair is left loose and free in the front. This long-hair prom hairstyle will make your complete outfit stand out.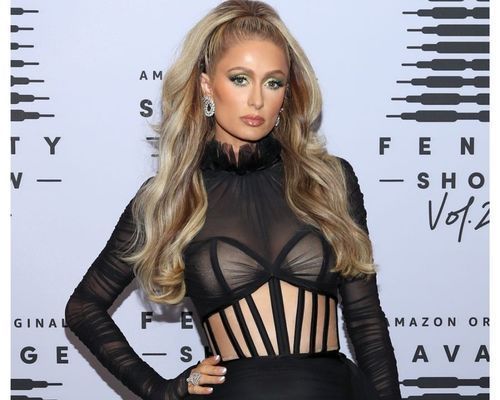 19. Half Up Down Bouncy Hairstyle
This hairstyle is drop-dead beautiful. The complete hairdo has a bouncy appearance. Take inspiration from Paris Hilton, who unquestionably rocks this trendiest hairdo. The half-up, half-down, and bouncy hairdo will always look great. This hairstyle's length and thickness can be adjusted.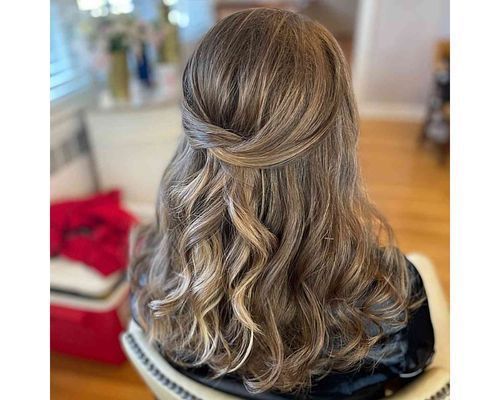 20. Easy Half-Down Overlap Style
An uncomplicated prom hairstyle for long or medium hair that features loose curls looped up and tied in a basic knot. This hairstyle is straightforward to make. This half-down, overlapping design will look great with any dress you have on for the occasion.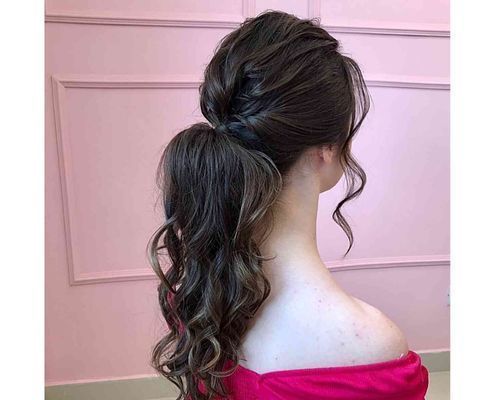 21. Wavy Ponytail
It's adorable to try a wavy texture ponytail for the prom. This is a fresh spin on a vintage hairstyle. A styling iron can produce the texture needed for this hairdo. A uniform layer is created by twisting and tucking the ponytail.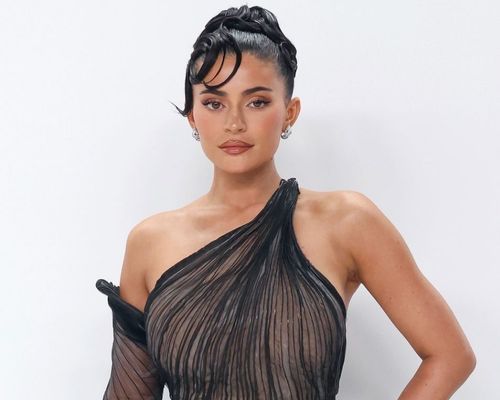 22. Wave Updo Hairstyle
Consider wearing a sporty hairdo to the prom and attracting attention. Try the layered, tucked-wave Kylie Jenner hairstyle for something different. Put all of your hair in one frame and add some pasted bangs made from the ends that were curled. To make this hairstyle appear tidy and lovely, it will unquestionably need the ideal hair gel.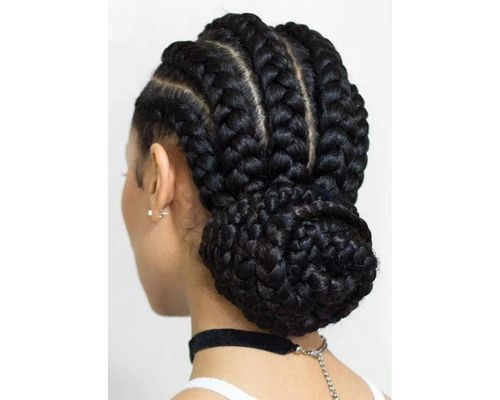 23. Cornrows Braid And Bun
Nothing more fashionable than a braid would be present. At your prom, this cornrows hairstyle will give you that extremely glamorous look. Before twisting your cornrows into this seductive and chic updo, you can braid them back straight. The cornrows braids appear amazing, just like any other bun hairstyle.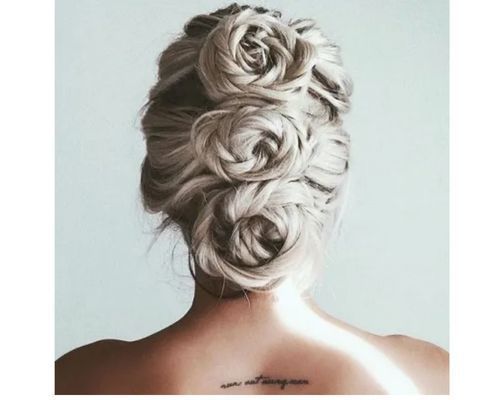 24. Three Rose Buns
You'll want to attempt this multiple-bun hairstyle for the special prom night. Perfectly twisted hair buns are created with the form of turning layers that resemble roses, making them appear timeless and ideal for wearing with a low neck or bare-shouldered dress.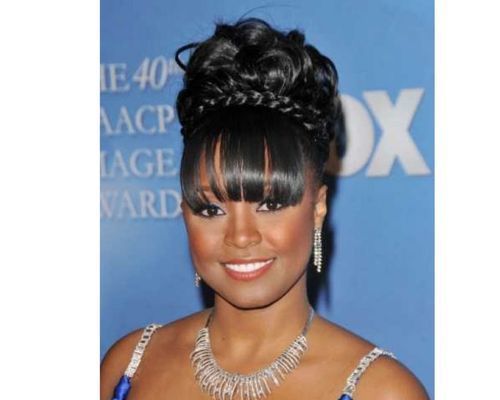 25. Bangs With Braided Headband
Keshia Pulliam certainly appears stunning with this bangs updo and braided headband. You can wear this hairstyle on important occasions. It will look stunning to wear this hairdo to a prom with some lovely jewellery. The hairstyle is beautifully done with a curly updo, and the traditional bangs are complemented by a single braided strand that is decorated as a headband.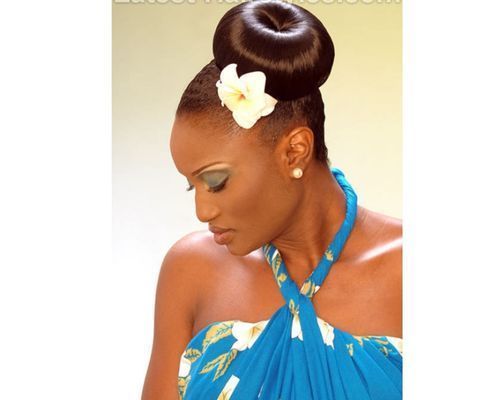 26. Classic Bun Hairstyle
This prom hairstyle is basically a theme-based hairstyle. A side classic round bun is voluminous. You can try making this updo hair bun and decorate it woth some flowers.This hairstyles allows your face look clear and visible.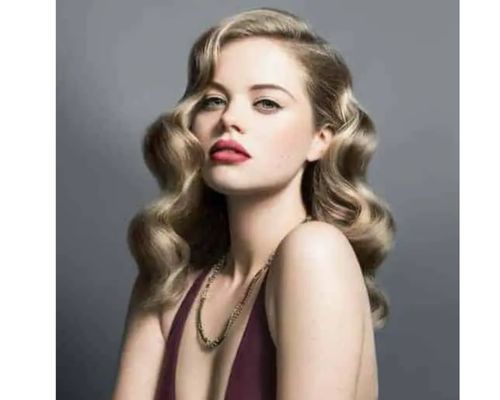 27. Retro Prom Hairstyle
This style, is a retro hair-down curled hairstyle, and is unquestionably influenced by 70s styling. Recently, this time-honoured hairdo has become more popular. This hairstyle has brilliant wavy curls that are beautifully textured on one side. A must try prom hairstyle!