55 Stunning Prom Hairstyles For Women - 2023
Ankita Ghoshal
Updated At 26 Aug 23
Prom is a magical event where women can showcase their style, elegance, and individuality. The perfect prom hairstyles not only complement your outfit but also reflect your personality and makes a statement. In 2023, an array of stunning prom hairstyles are trending and will make you shine on the red carpet. From intricate updos to flowing curls, we have curated a list of 55 breath taking prom hairstyles that will inspire you to create an unforgettable look for your special night.
55 Best Prom Hairstyles For Women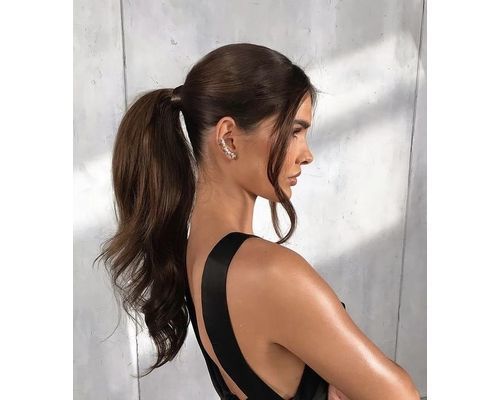 1. Sleek High Ponytail
This is one of the best prom hairstyles that we are in love with this year. Embrace sophistication with a sleek and high ponytail that elongates the neck and exudes a powerful and confident aura.
If you are looking for more inspiration for medium to long hair, do check out our guide on prom hairstyles for long hair as we capture 25 most popular haircuts which have been trending this year.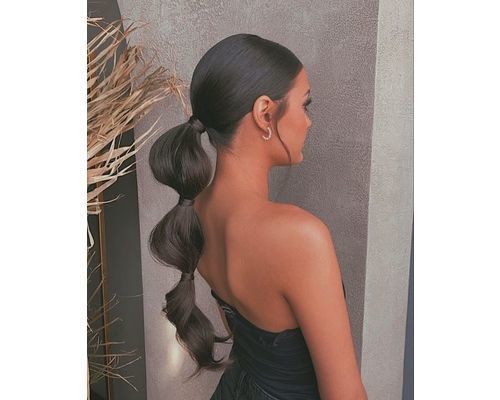 2. Bubble Ponytail
Add a playful and whimsical twist to a traditional ponytail by creating bubble segments with small elastics for a fun and unique hairstyle. This is a very quirky and stylish hairstyle that will surely make heads turn and fetch you lots of compliments.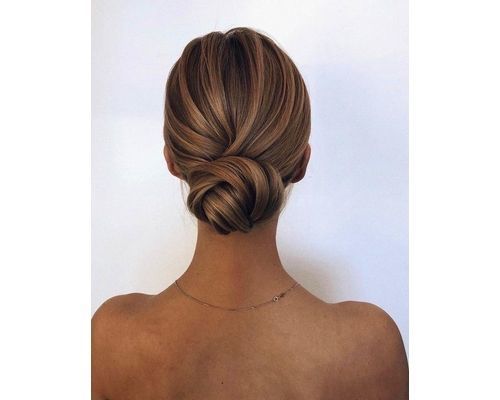 3. Classic Chignon
From prom hairstyles for short hair to long hair, chignons look good on every hair length. A sleek and polished low bun at the nape of the neck that exudes timeless elegance.
Do check out our guide to find the best shoulder length hairstyles as we cover 50+ stunning haircuts which have been trending this year.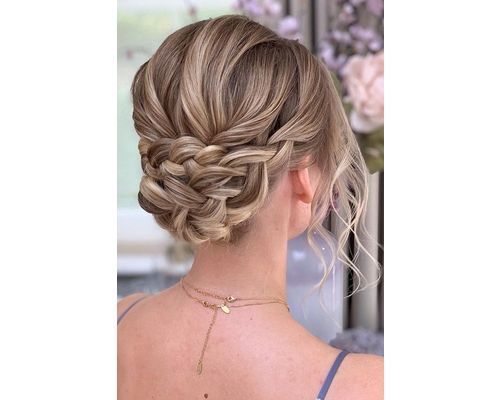 4. Romantic Braided Updo
A cute braided updo hairstyle will be lovely if you are looking for prom hairstyles for black hair. Just get it by incorporating braids into an updo for a soft and ethereal look that adds a touch of romance. One of the unique prom hairstyles for women, this braided haircut works well for all occasions.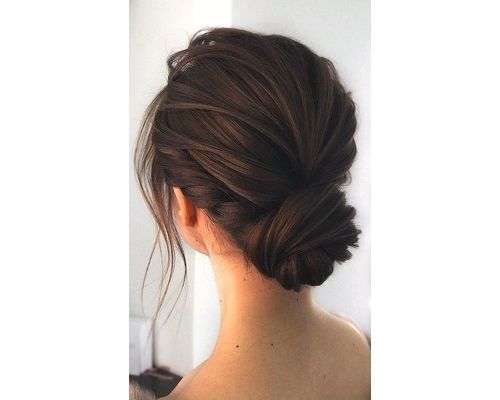 5. Twisted Low Bun
Twist and tuck your hair into a low bun for a sophisticated and chic hairstyle that complements any dress. Low buns are always among the glamorous prom hairstyles for both long and short hair.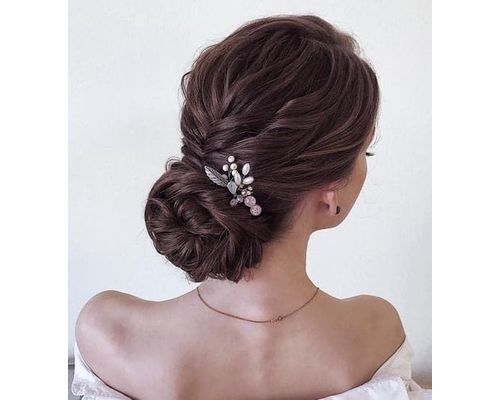 6. Side Swept French Twist
Regarding creative prom hairstyles for curly hair, a side swept French twist comes off as an interesting idea. Create a side-parted French twist for a glamorous, vintage-inspired updo showcasing your neck and shoulders. One of the top half-up half-down prom hairstyles, this side swept hairstyle continues to remain popular.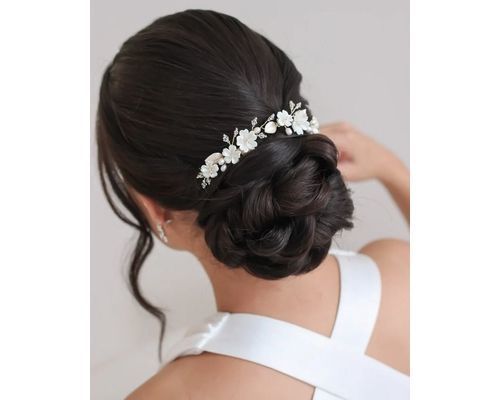 7. Intricate Floral Updo
Adorn your updo with delicate flowers or floral accessories for a whimsical and nature-inspired look. Such prom hairstyles for medium hair or short hair look wonderful and with different flowers. If you are looking for trendy prom hairstyles for women, then this can be an amazing option.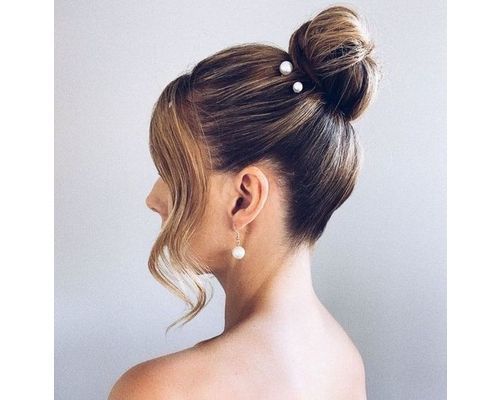 8. Knotted Updo
Create a series of knots with your hair to form an intricate and unique updo that stands out from the crowd. This is a very classy and simple hairstyle that will go well with all kinds of prom outfits.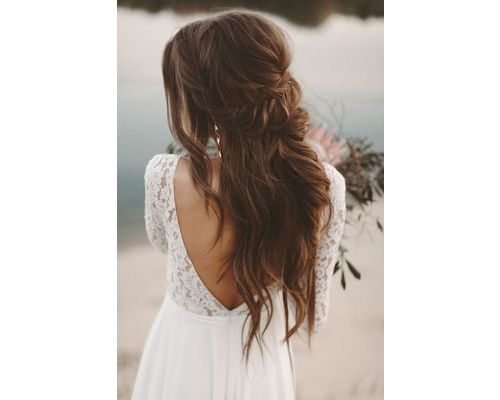 9. Flowing Locks
Channel your inner Hollywood starlet with luscious waves cascading down your shoulders for a glamorous red carpet-worthy look. Amongst the top romantic prom hairstyles for women, these work really well for medium and long hair.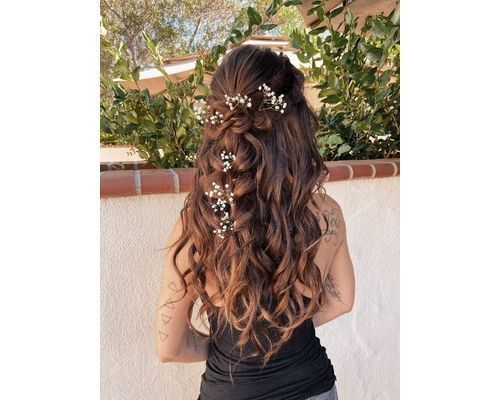 10. Boho Inspired Loose Waves
Embrace your inner bohemian spirit with loose and carefree waves that exude effortless beauty and boho chic.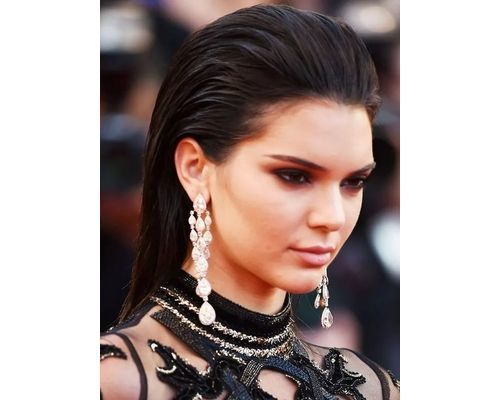 11. Slicked Back Straight Hair
Opt for a sleek and polished look by straightening your hair and slicking it back for a modern and sophisticated appearance.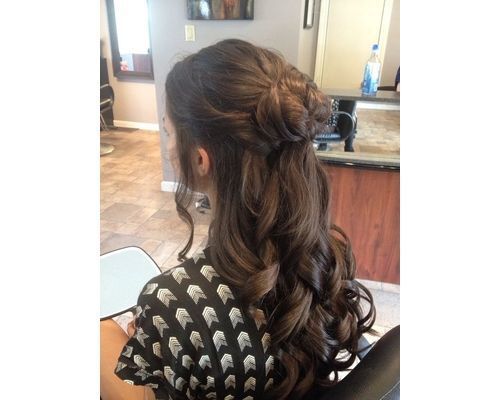 12. Half Up Half Down Curls
Combine the best of both worlds with a half-up half-down hairstyle, where cascading curls flow down while the top section is styled into an elegant updo or braid. One can also go for perm hairstyles as these look stylish and elegant.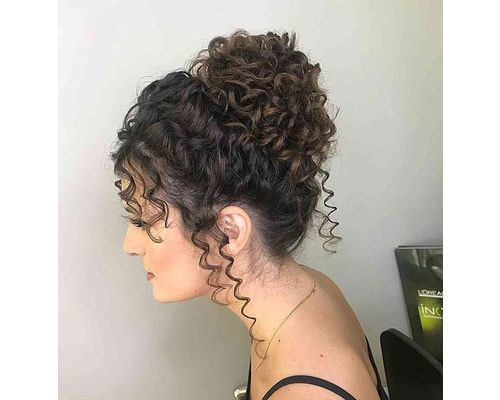 13. Flowing Curly Updo
Curly updos are all the rage these days and rightfully so. They look amazing and frame the face beautifully. Style your natural curls into an elegant updo that showcases their beauty while adding a touch of sophistication. If you are looking for inspiration for messy prom hairstyles for women, then this can be an amazing option.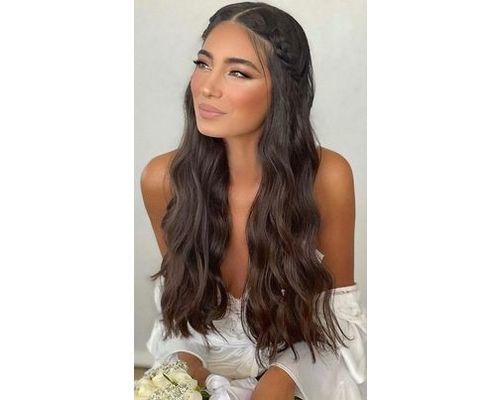 14. Flowing Hairstyles
If you want to keep things simple and less complicated, it is time to ditch all the fancy curls and embellishments and just flaunt your hair in all its naturality and beauty.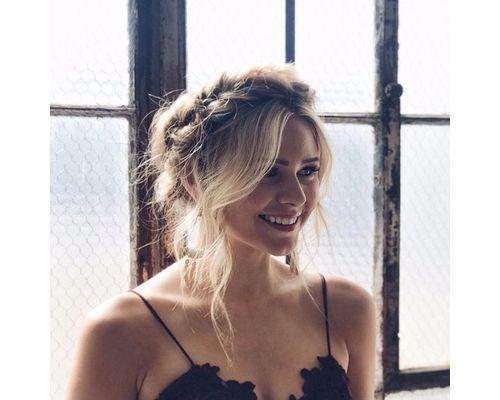 15. Crown Braid
Crown braids will give you all sorts of cottage core and forest fairy vibes for good. Adorn your head with a crown braid that adds an ethereal and regal touch to your prom look. One can also opt for french braids as these look stunning and can work wonderfully well for many important occasions.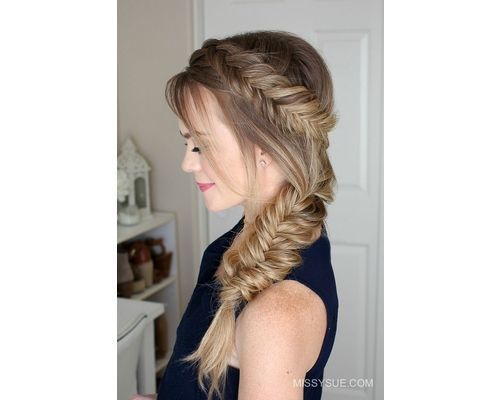 16. Dutch Fishtail Braid
Dutch fishtail braids will make you look like a woman straight out of a vintage novel. Combine the intricate details of a fishtail braid with the uniqueness of a Dutch braid for a stunning and eye-catching hairstyle.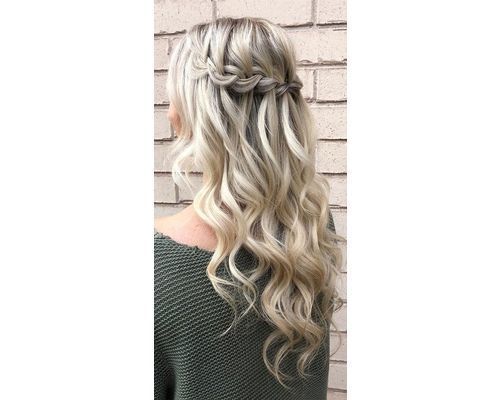 17. Waterfall Braid
Waterfall braids are beautiful and are very trending these days. Create a cascading waterfall braid that flows down the back or side of your head, adding a touch of whimsy and femininity to your prom ensemble. If you are looking for a new hairstyle which can work for many occasions, then opt for waterfall braids, and you wont be disappointed.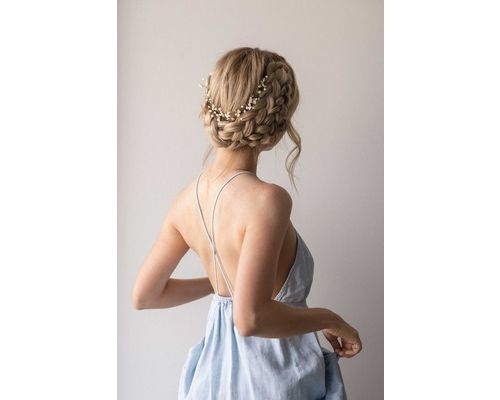 18. Halo Braid
How can we talk about prom hairstyles and not mention halo braids? They are beautiful and will make you look stellar in every way. Fashion a halo-like braid that wraps around your head, creating an elegant and angelic halo effect.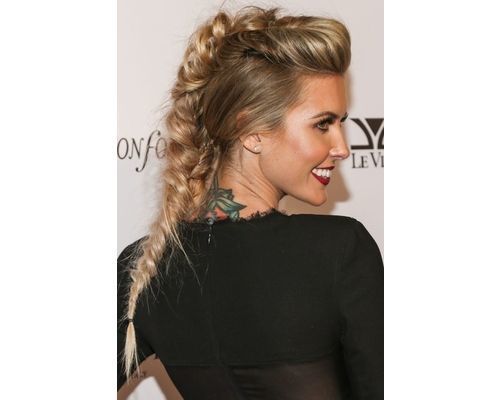 19. Mohawk Braid
Mohawk braids are a big yes for women who are looking for different and bold hairstyles for this year's prom. Channel your inner rebel with a braided mohawk hairstyle that showcases your edgy and fierce personality. Similar to Mohawk, box braids look stylish and gorgeous especially for long hair.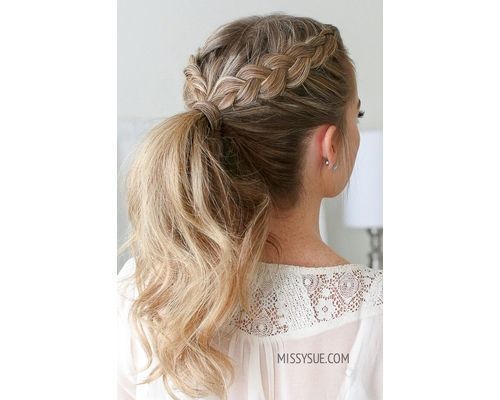 20. Braided Ponytail
Braided ponytails look very chic and if you style them the right way, you are going to slay the look instantly. Elevate a simple ponytail by incorporating braids for a trendy and chic look that is perfect for prom.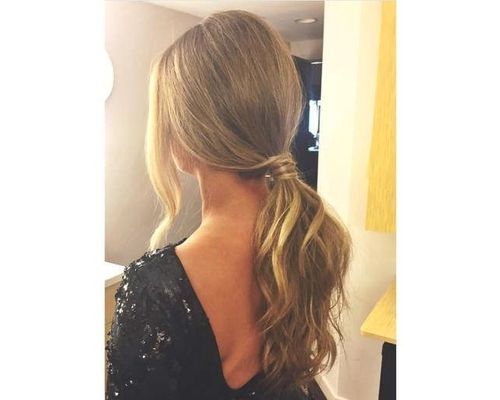 21. Wrapped Ponytail
Wrapped ponytails look very stylish and smart on every women. Wrap a section of hair around the base of your ponytail to conceal the hair tie and add a touch of elegance and refinement.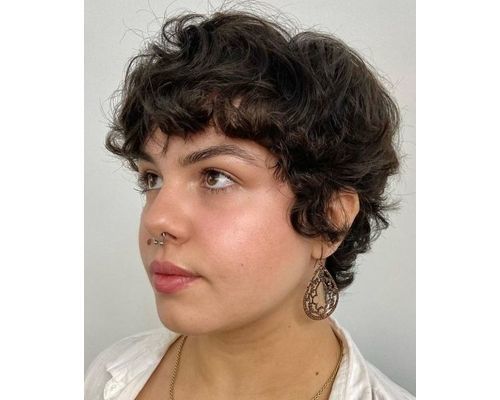 22. Textured Pixie Cut
This is a very creative and gorgeous hairstyle that you must definitely try for your prom night in 2023. Embrace the charm of a textured pixie cut by adding volume and movement for a bold and stylish prom look.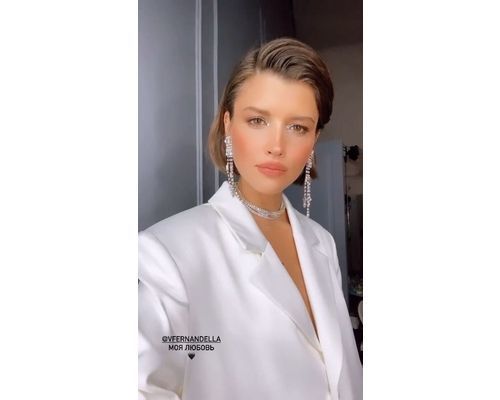 23. Slicked Back Bob
Slicked-back bobs are back in trend this year and you should make the best of it. Style your bob haircut by slicking back the hair with gel or styling products, offering a sleek and modern appearance.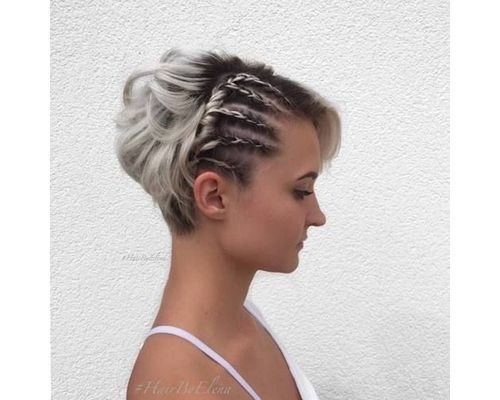 24. Side Swept Pixie
If you have short hair and are wondering how you can get a cute hairstyle, a side sept pixie would do the job for you. Sweep your pixie cut to one side for a sophisticated, feminine look that accentuates your facial features.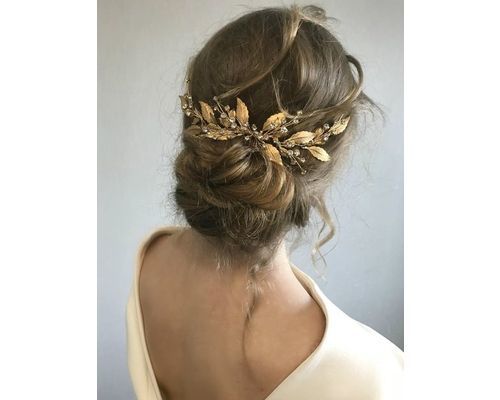 25. Statement Hairpiece
Instead of focusing on your hiarstyles, you can even go for awesome accessories to style things up in a jiffy. Make a bold statement by adding a statement hairpiece, such as a bejeweled headband or sparkling hairpin, to enhance your prom hairstyle.
26. Mermaid Inspired Beach Waves
Create loose and tousled waves for a mermaid-inspired look that is effortlessly cool and exudes beachy vibes. Your hair will look a lot more voluminous and well managed if you go for this beautiful hairstyle.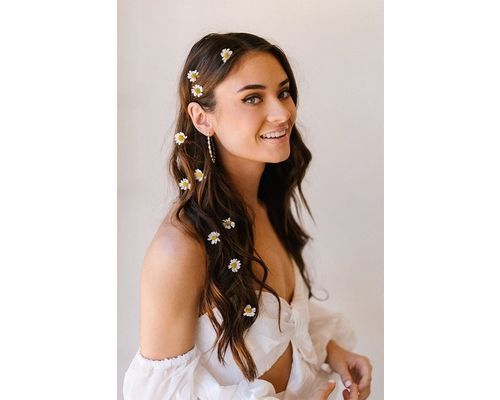 27. Fresh Flowers
Who can say no to fresh flowers, right? Just pick some that fall off from the plant and get ready to give your hair the perfect spring makeover. Adorn your hair with fresh flowers that complement your dress, adding a touch of natural beauty and romance.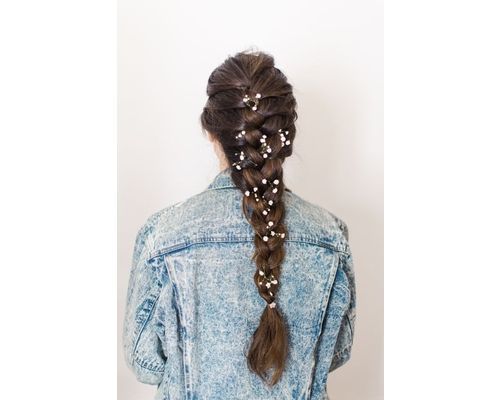 28. Embellished Braids
Embellished braids have taken the hairstyling trends by a storm this year and women are going gaga over them. Incorporate small jewels or beads into your braided hairstyle for a dazzling and unique look that catches the light. if you are looking for vintage prom hairstyles which are trendy, then this can be an amazing option.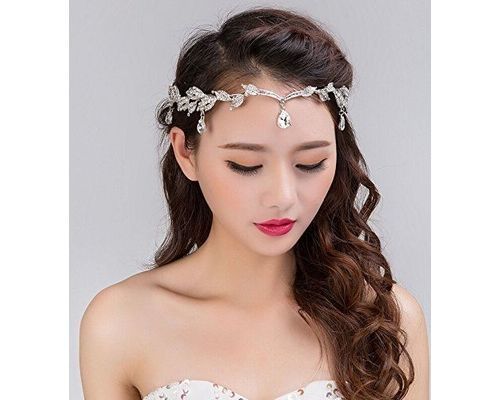 29. Sparkling Tiara
Embrace your inner princess by wearing a sparkling tiara that adds an air of royalty and elegance to your prom ensemble. This will amp up even the simplest of outfits and hairdos without even you having to put in a lot of efforts.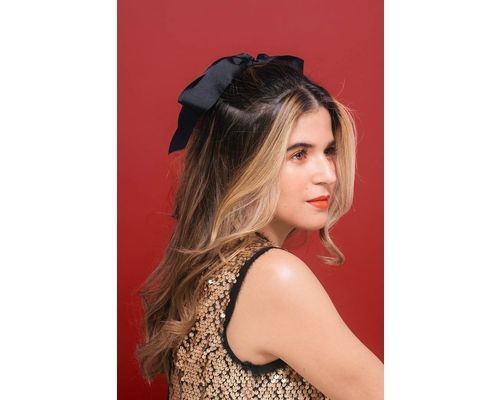 30. Ribbon Accent
Ribbon accents are a cute addition to any look and outfit and are perfect for prom nights too. Tie a ribbon around your hairstyle as an accent or to secure braids, adding a feminine and whimsical touch to your overall look.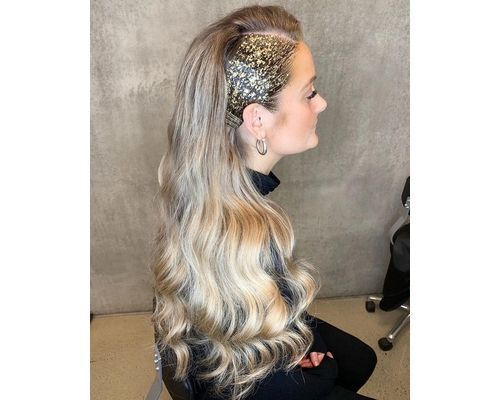 31. Glitter Roots
Add a touch of sparkle to your hairstyle by applying glitter to the roots or throughout the hair, creating a dazzling and eye-catching effect. This is great for prom nights if you want to give you aura that blingy and gorgeous touch without much hard work.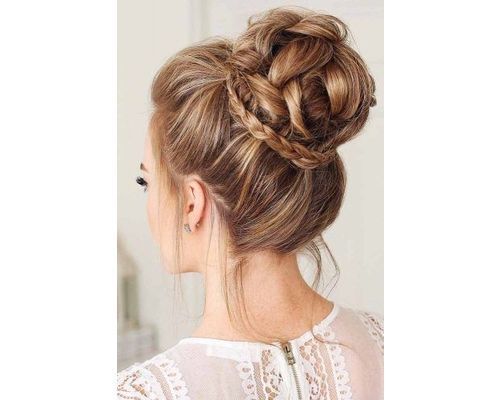 32. Geometric Updo
Create a structured, geometric updo with strategically placed twists and knots for a modern and artistic prom hairstyle. This classic and beautiful hairstyle will never fall off the trends and we are grateful for that, aren't we?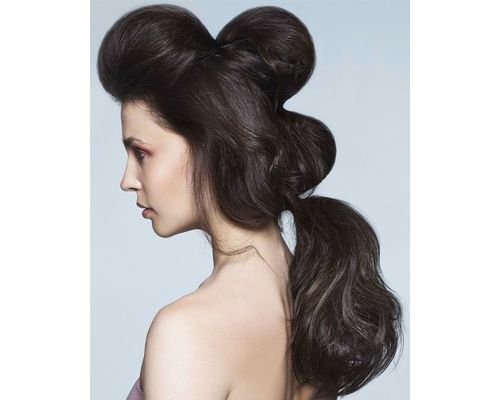 33. Sculptural Ponytail
Sculptural ponytails will give you all the Ladt Gaga and Nicki Minaj vibes for good. Elevate a traditional ponytail by adding intricate twists and loops, creating a sculptural and artistic hairstyle. One of the top bohemian prom hairstyles for women, this showcases creativity and yet looks elegant.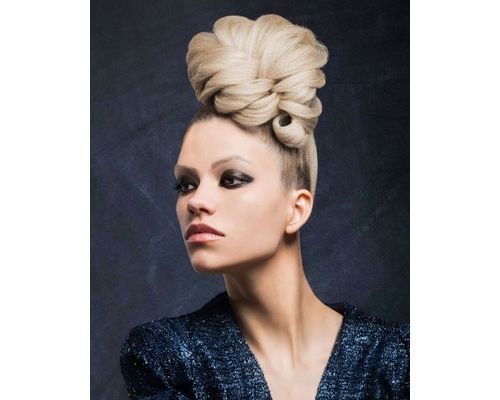 34. Avant Garde Braids
Experiment with avant-garde braiding techniques, such as asymmetrical braids or multi-strand braids, for a truly unique and artistic prom look. You are going to steal all the limelight of the event and you better be ready for it!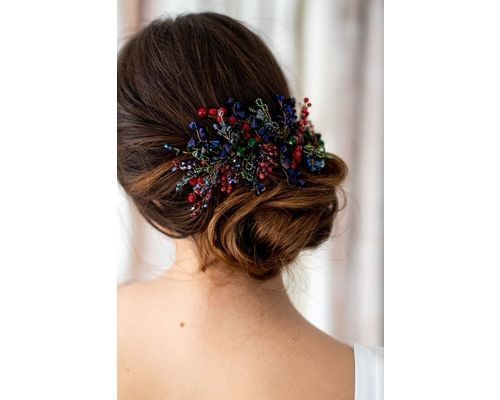 35. Colourful Accents
Add temporary colour accents to your hair, such as vibrant streaks or ombré effects, for a bold and creative prom hairstyle. Keep your makeup nude and minimal so that the focus stays on your creative hairstyle.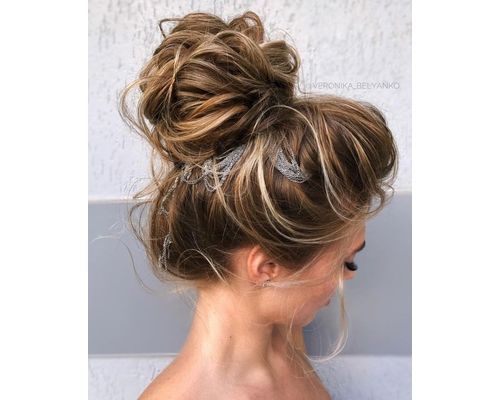 36. Bold Topknot
Bold topknots look great on every face shape and will do wonders to even the dullest outfits. Create a bold and oversized topknot hairstyle that stands out and adds a touch of drama to your overall look.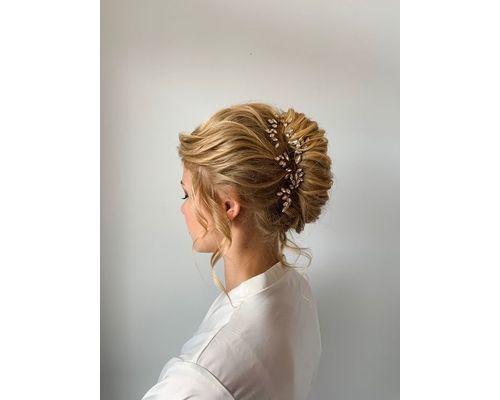 37. French Twist
You can never go wrong with this hairstyle. Opt for a classic French twist, a sophisticated and timeless updo that never goes out of style, for an elegant and refined prom hairstyle.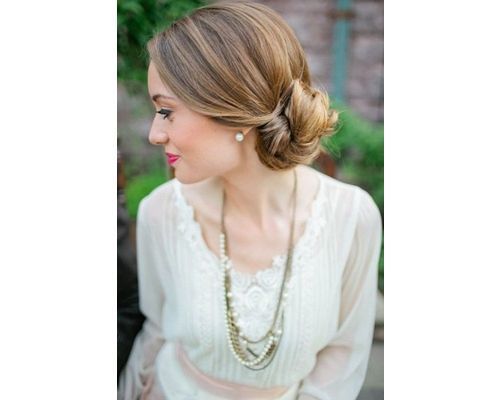 38. Side Swept Updo
Sweep your hair to one side and create a chic and polished updo for a glamorous and red carpet-worthy appearance. You will look out of this world and people won't stop appreciating your hairstyle all evening.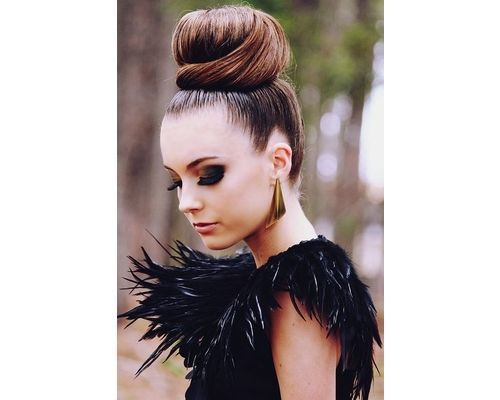 39. Elegant Ballerina Bun
Style your hair into a sleek and neat ballerina bun at the crown of your head, offering a timeless and elegant prom hairstyle. Your face will look a lot prettier as this bun would accentuate your features really well.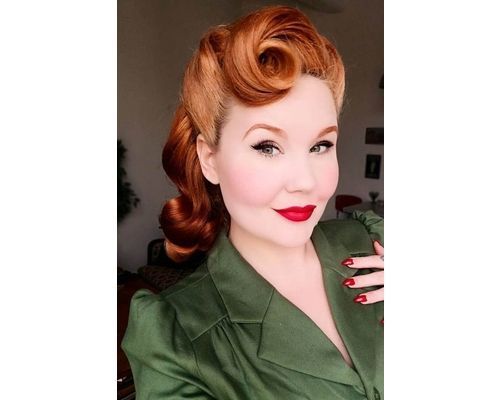 40. Retro Victory Rolls
Embrace a vintage-inspired look with retro victory rolls, creating voluminous and stylish rolls that harken back to the glamour of the past. This would be your own little tribute to all the gorgeous beauties of the yesteryear.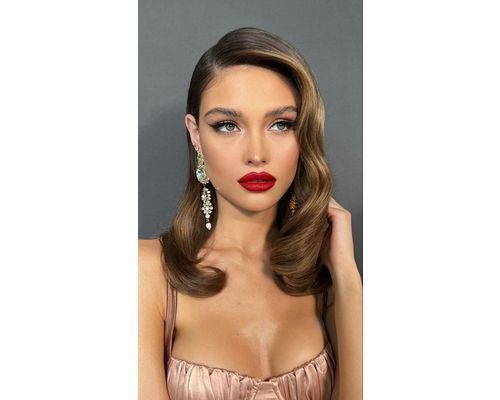 41. Old Hollywood Glamour
Now that we have mentioned victory rolls, we should definitely talk about old Hollywood glamour now. Channel the elegance of old Hollywood with smooth and sculpted waves, paired with a deep side part, for a sophisticated and timeless prom hairstyle.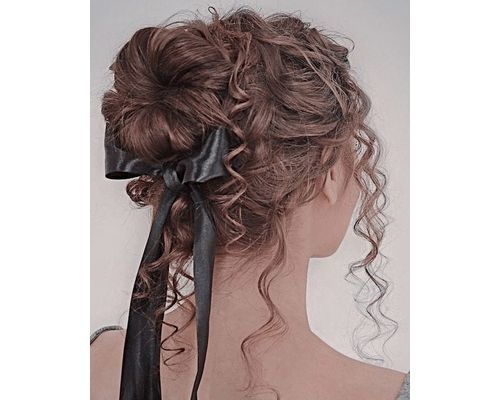 42. Fairy Inspired Updo
Create a dreamy and whimsical updo that resembles a fairy's nest, incorporating twists, braids, and delicate flowers for a magical prom look. Don't get overwhelmed if everyone starts showering you with compliments for your hairdo this evening.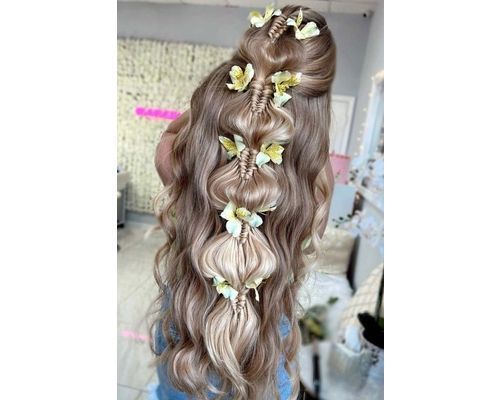 43. Unicorn Braid
Braid your hair into a unicorn-inspired style, incorporating pastel or rainbow-colored extensions or ribbons for a playful, fantasy-inspired hairstyle. That is all you need to slay the stunning prom queen look.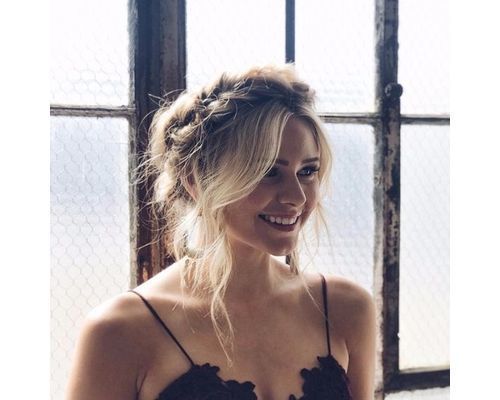 44. Goddess Inspired Crown
Goddess-inspired hair crown will make you look, as the name suggests, like a goddess! Weave your hair into a goddess-inspired crown that sits on top of your head, adding an ethereal and mystical touch to your prom ensemble.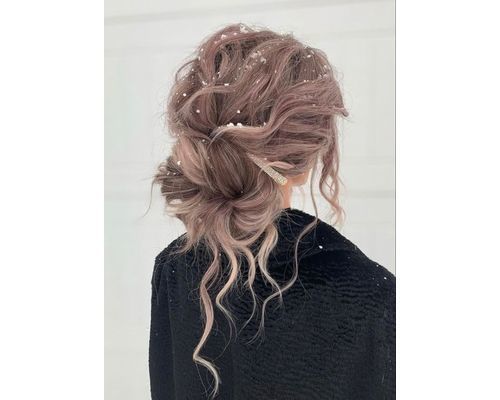 45. Fantasy Updo with Hair Extensions
Use hair extensions and accents to create a voluminous and extravagant updo that transports you to a world of fantasy and enchantment. You will surely steal the show and the prom crown if you sport this hairstyle in 2023.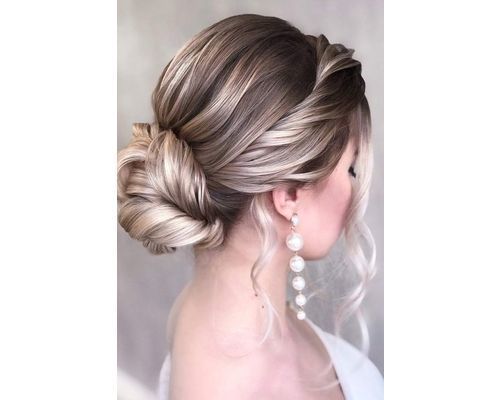 46. Whimsical Twisted Bun
Twist and wrap your hair into a whimsical bun, allowing loose tendrils to fall freely for a soft and romantic prom hairstyle. This hairstyle will garner a lot of compliments and attention for sure.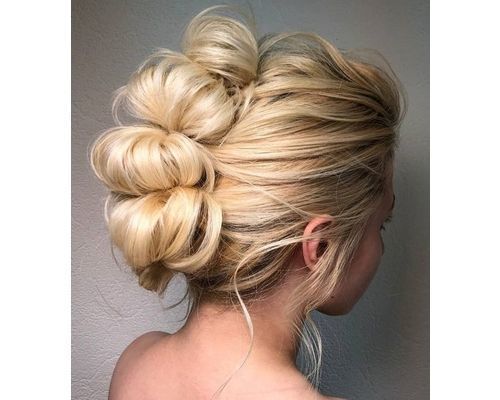 47. Mohawk Updo
Combine a mohawk's edginess with an updo's elegance, creating a daring and unconventional prom hairstyle. This one is definitely not for the weak-hearted and is perfect for people who never shy away from experimenting with their hair.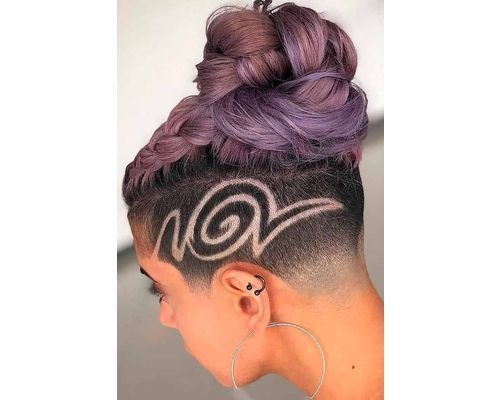 48. Bold Undercut
Here comes another daring hairstyle for the bravehearts! All you have to do is just shave or clip a bold undercut design into your hair, allowing you to showcase your unique style and individuality.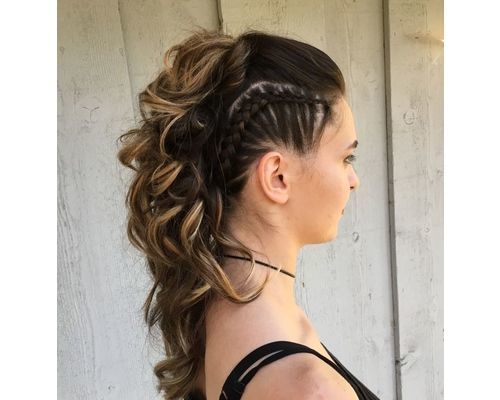 49. Punk Inspired Spiked Updo
Spike up your hair into an edgy and rebellious updo, using gel or styling products to create texture and height. You will love this hairstyle and keep returning to it for special events and occasions.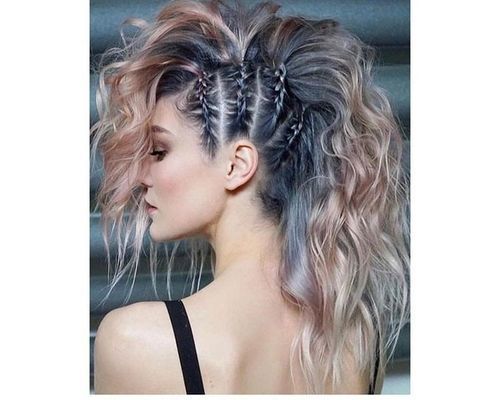 50. Faux Hawk Braid
This is one of the most loved hairstyles for prom this year. It is the best combination of unique and stylish hairstyles. Braid the center section of your hair into a faux hawk style, offering an alternative and bold prom hairstyle.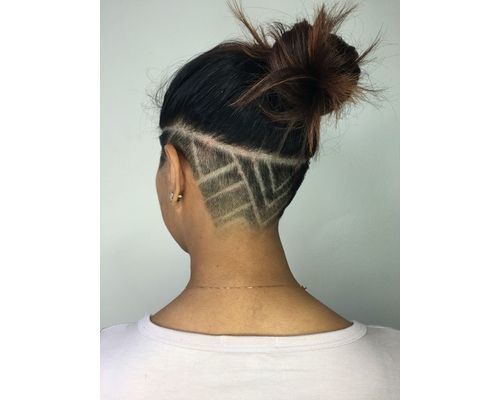 51. Geometric Shaved Patterns
Add geometric patterns to a shaved section of your hair, incorporating triangles, lines, or other shapes for a striking and artistic effect. This may look too loud to flaunt on a prom but once you get the courage to go for it, you are not going to regret it for sure.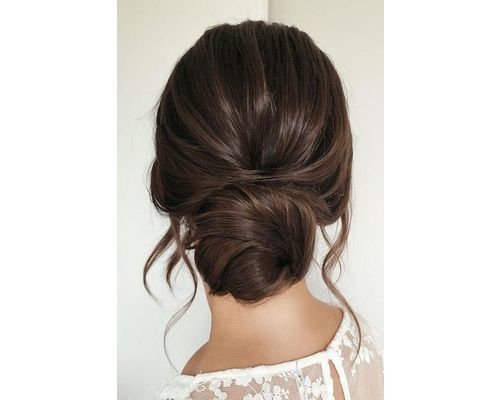 52. Romantic Updo with Loose Curls
Start by curling your hair with a curling iron or hot rollers. Then, gather your hair into a low bun or chignon at the nape of your neck. Leave a few face-framing tendrils loose for a romantic touch.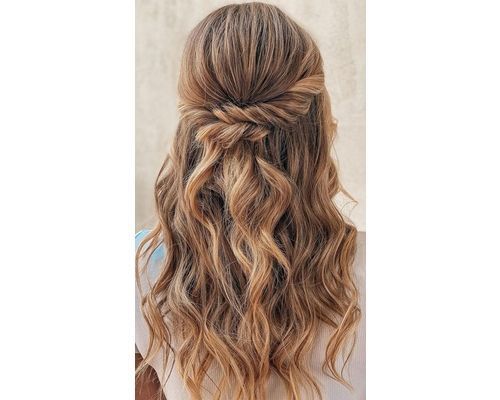 53. Half Up Half Down with Twisted Detail
Part your hair in the middle and take a small section from each side near your temples. Twist each section, bringing them together at the back of your head and securing them with a decorative hairpin or clip. Leave the rest of your hair flowing in loose waves or curls.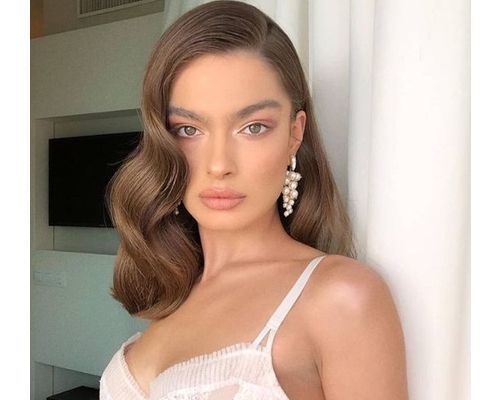 54. Classic Side Swept Waves
For a timeless and glamorous look, opt for side-swept waves. Create a deep side part and use a curling iron to curl your hair away from your face. Gently brush through the curls to create soft, cascading waves.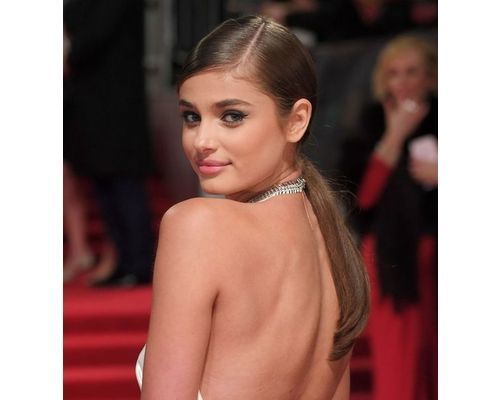 55. Sleek Low Ponytail with Embellishments
If you prefer a sleek and sophisticated look, a low ponytail with embellishments is an excellent choice. Straighten your hair using a flat iron and gather it into a low ponytail at the nape of your neck. Wrap a small section of hair around the elastic band to conceal it.
Whether you prefer an elegant updo, flowing locks, braided beauties, or unique and artistic hairstyles, these 55 stunning prom hairstyles for women will inspire you to create a show-stopping look for your special night. Let your personality shine through your chosen hairstyle and embrace the trends of 2023 while adding your personal touch. Make a statement on the red carpet and create lasting memories with a hairstyle that reflects your beauty, confidence, and individuality.