25 Stunning French Braid Hairstyles For 2023
Shalu Bhati
Updated At 01 Jan 23
Want to try your hands at the French braid styles? Then, keep reading!
The French braid hairstyle is not your average new kid on the block. It has been here for so long that we cannot even point when. Do you know there are cave paintings showing women in a French plait? Yes, this hairstyle is that old!
French braid hairstyles are classic and timeless. They are extremely versatile, universally flattering, comfortable and stylish. And this is why they just refuse to go out of style. Once again, this year, the popularity of the French braid is seeing a new high. From models to celebrities and the average people, women all over the world are once again seen favoring the French braid. From two french braids to french braid ponytail, we have covered all the popular ones. Let's begin!
25 Most Popular French Braid Hairstyles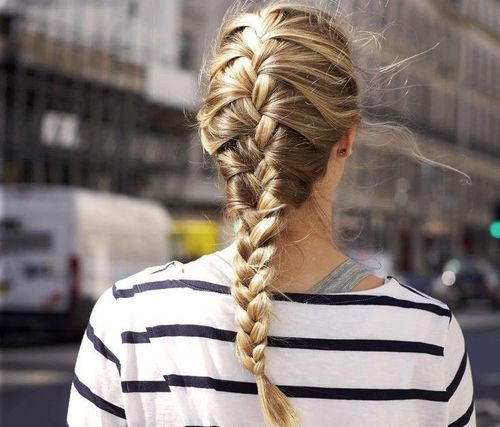 1. The Basic French Plait
Let's start our list with one of the most basic French braid styles. This is the simplest one of them all. It is easy to do, looks chic and acts as a protective hairstyle. If you are doing it by yourself for the first time, then it might feel like having an arm day workout session. But, don't worry. With time, it will become easier.
Take a small section of hair from where you want to start the braid. Divide into three smaller sections that are equal. Now, take the right one over the middle followed by left over the middle which was originally right. Continue by adding more strands from the sides until you reach the end. French plait hairstyles give a very different look and will add dimension to your hair. If you have short curly hair, then a curly bob cut can be an excellent option for getting a hair makeover.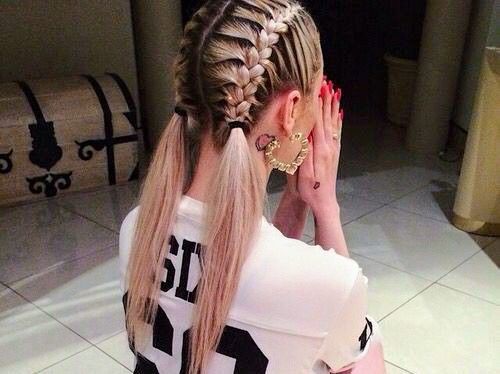 2. Sporty French Braid Hair Style
This is how French braid pigtails look. Now, you might think that pigtails are for little girls going to school. But not anymore. This hairstyle is rather popular amongst women. Why? Because it sits pretty on the head and is completely fuss-free. This is the best hairstyle when you have to go play a sport or when you just want to look sporty chic.
Do check out our guide to find the best feather cut as we list more than 75+ hairstyles which are apt for all face types and can be used on all occasions!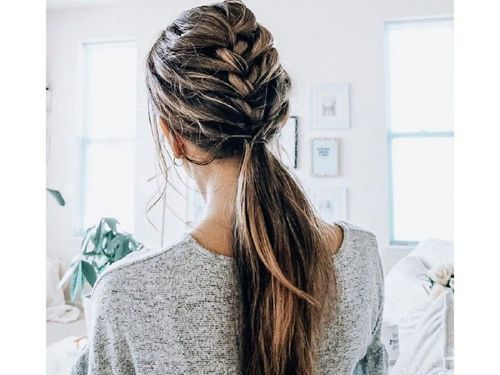 3. Slightly Pulled Apart French Braid Ponytail
If you don't want to put all of your hair in a braid, then go for this French braid style. It starts from the top of the head and ends at the nape. You can tie the hair from your nape into a french braid ponytail. What makes this hairstyle different is how it has been slightly pulled apart, the braid gently tugged out, to create some volume. This pulling apart of braids is a new way of adding a new dimension to simple braiding styles. This is one of the popular wedding hairstyles.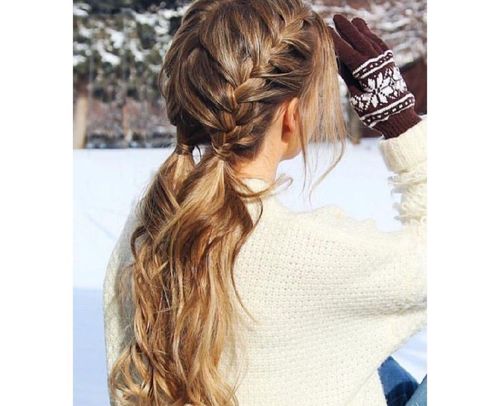 4. Cute Hairstyle With Two French Braids
French braid hairstyles can be styled in several ways which makes them the best hairstyle out there. Add a romantic flavor to your French braid pigtails with wavy hair and some loose tendrils here and there. The waves add a bit of softness to the whole look and the face-framing tendrils make you look effortlessly glam.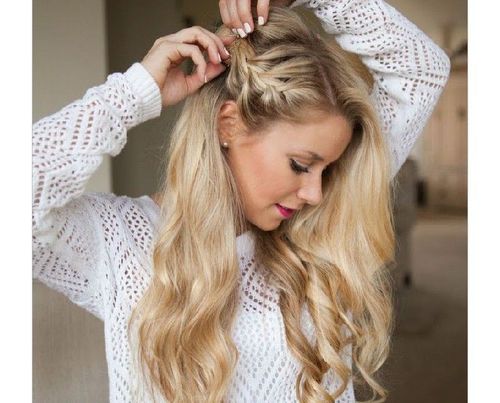 5. French Braid For Parties
Going to a party and want to wear your hair differently? Then why wait? Go for a French braid. Our attempt at rhyming might not be so successful but you will be a success at the next party you go to with this hairstyle. Make a side part. Curl the ends of your hair and add some loose waves in the middle section. On the smaller side, grab a section of hair up front and start braiding. Stop at a little distance behind your ear and secure with bobby pins. You can also keep on braiding till the end to get an edgy twist.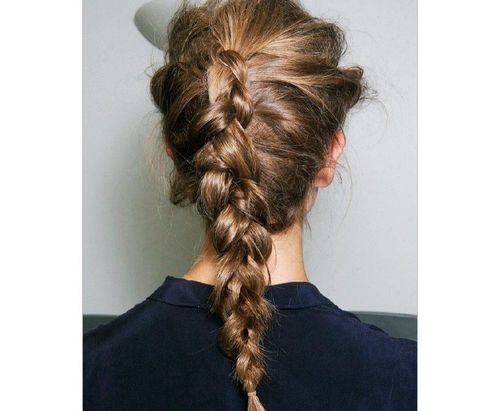 6. Texturized French Braid
We cannot stress it enough that French braids can be styled in a million different ways. They are so versatile and work for every occasion. Take this one for instance. This is a basic French plait and yet it does not look anything like the basic example we gave you before. Why? Because it has been braided a bit differently. The sections included in the braid are not clear or polished and pulled apart. It gives the hairstyle dimension and volume.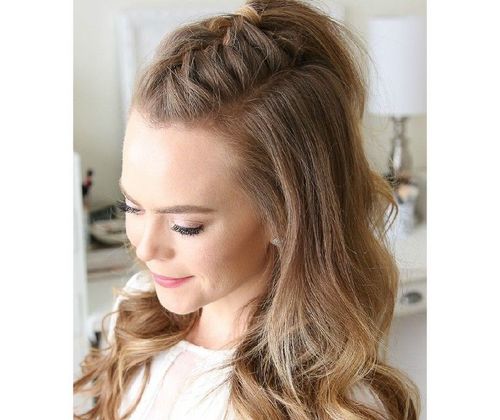 7. French Braid Mohawk
A mohawk is a pretty unique and funky way to do your hair. Do you know that a mohawk can also be braided? Take this one for example. A French Braid mohawk is a smart and stylish hairstyle that begins from the front and ends at the crown into a ponytail. This hairstyle then also becomes a kind of the half up half down styles.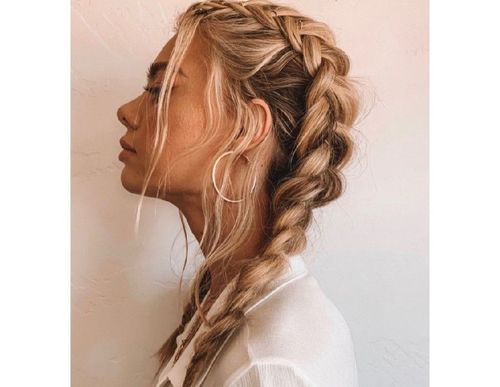 8. Two French Braids With Loose Tendrils
Double French braid styles have a charm of their own. Look the kind of effortless glam this hairstyle looks. Part your hair in the middle and start braiding both sides as you normally would for making two French braids. Make sure you are not going too tightly. When you are done and have tied the braid at the ends, gently pull it out. This adds volume and dimension to the hairstyle. The tendrils, on the other hand, create a messy look.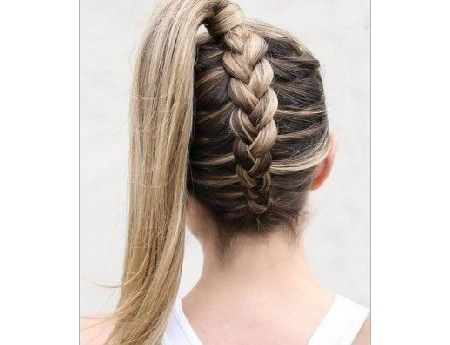 9. Upside Down French Braid Styles
French braids need not start at the top. You can begin braiding from any point of your choice—top, front, or side—and it will always look stylish. This French braid ponytail is proof enough. It is one of the upside-down French braid styles. Invert your head down and start braiding from the nape of your neck. Continue making a French braid till you reach the crown. Gather all the hair to make a high ponytail.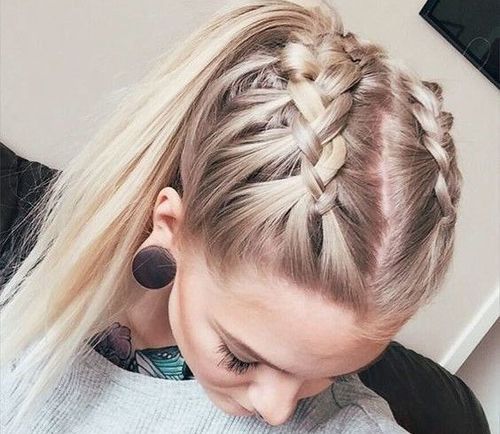 10. Two French Braids Into Pigtails
This is yet another one of the stunning French braid hairstyles. It starts as two fine and polished French braids from the top but then these two French braids are joined in to form a ponytail at the crown. This is a great way for keeping hair off your face while also looking stylish and chic. This classic hairstyle will never fail to impress.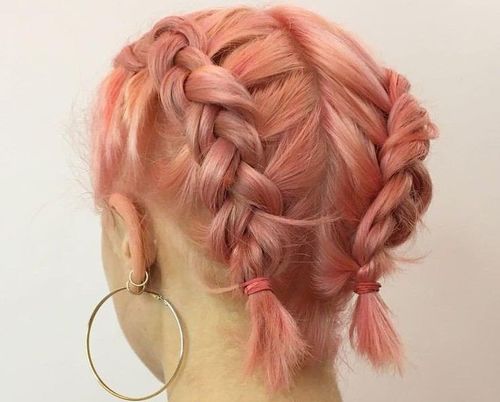 11. Peachy Pink French Braid Hairstyles For Short Hair
Who said braids are only for long hair? French braids are magical like that. They can be done on any length of hair and they will still look charming. This one pictured here, for instance, looks so cute especially with the peachy pink choice of color.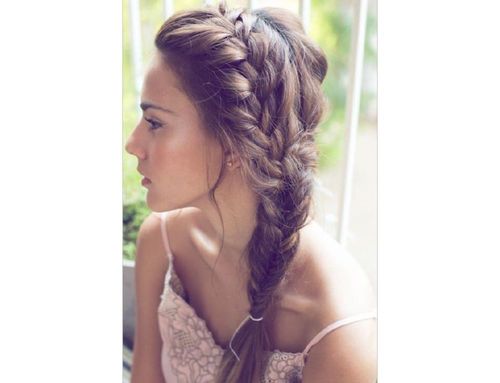 12. French Braid Styles To The Side
Side French braids have a separate fan base. From proms to weddings, this hairstyle can support you in tons of formal events. It looks romantic chic and extremely pretty without going overboard. The best thing? It is also very easy to do and comfortable to wear. We liked this hairstyle as it makes the best of both worlds. It starts as a side French braid and forms into a fishtail braid.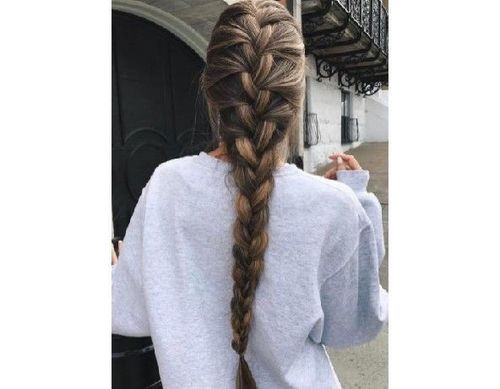 13. French Braids With Extensions
This is a French braid with weave-in extensions. The extensions have taken the length and thickness of a simple French plait to the next level. It will make your Rapunzel-like dreams come true. Instead of extensions in your natural hair color, you can also opt for the colorful ones to add a little drama.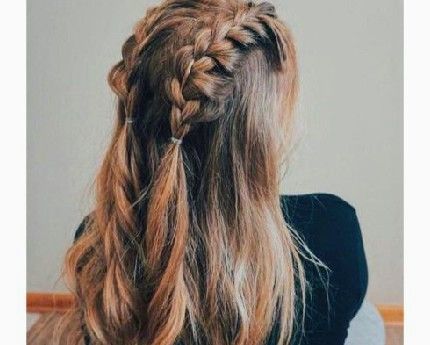 14. Wedding Hairstyles With French Braid
Here is another one of the French braid hairstyles that are apt for weddings. This is a pretty and stylish way to do your wedding party hair. The double French braids with long wavy hair paint a pretty picture indeed. This is a clean, polished and romantic hairstyle that will make you stand out from the crowd.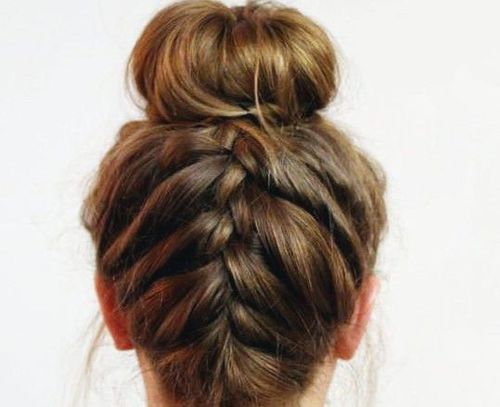 15. Upside Down French Braid Ballerina Bun
We have shown you the upside-down French braid ponytail. Now, look at this upside-down French braid ballerina bun. Add a stylish twist to your regular bun styles with a French braid. This will take your whole look up a notch.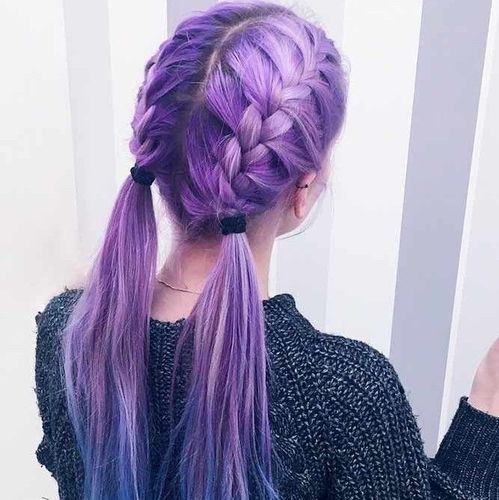 16. Colored Style Of French Braids
Flaunt your colored tresses all the more with French braid styles. Look at this one here, for instance. The shades of blue and purple are complimenting each other and stole our hearts. If this was not enough, the French braid pigtails made us stay and look at it with heart eyes. See, how beautiful the braids come out to be with colored hair.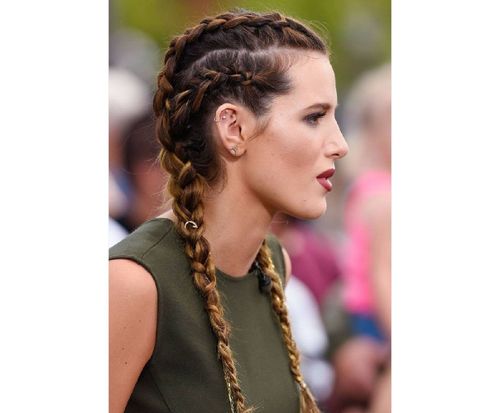 17. Edgy French Braid Hairstyles
Get inspired by Bella Thorne and go for an edgy French braid style. The edginess is brought out by the multiple French braids varying in size. Divide your hair into four sections. Make sure the sections you take on top of your head are bigger than those at the sides. The braids at the sides will merge into the bigger braids of the center. This is one of those French braid hairstyles that can be worn to the gym as well as to music festivals.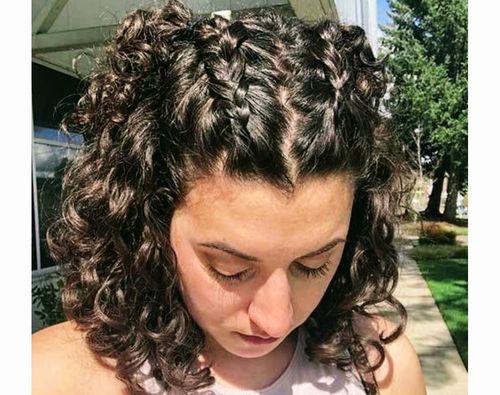 18. French Braid For Curly Hair
French braid hairstyles are not just for straight or wavy hair. You can flaunt a French braid with your natural curls too. Did we not tell you about the versatility of this hairstyle? From pigtails to double braids, you curly hair beauties have a lot of options to choose from.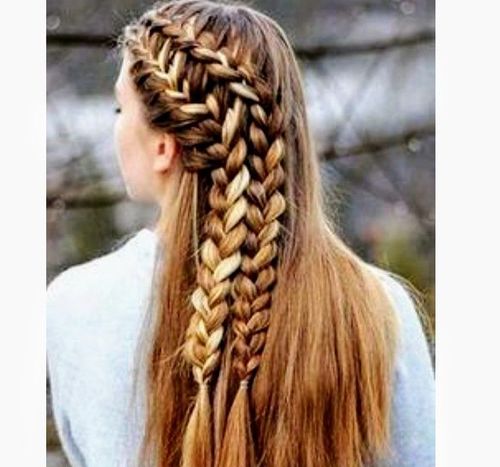 19. Dual Toned French Braid Styles
French braid styles are great for showing off the color in your hair. This might not be an astonishing loud or bright color. But, the combo of light brown and blonde comes out real good when braided. This one is a different and pretty style which can go well for weddings and other such formal occasions.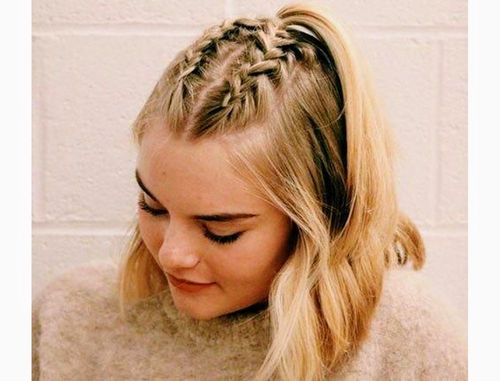 20. Parted French Braids
This hairstyle takes up the concept of the French braid mohawk to the next level. Part your hair in the middle. Take a small section of the hair on the right side of the parting and start braiding from up top to the crown. Do the same on the left side of the middle parting. Join these two braids at the crown and form a small ponytail. This is a classy effortless look that keeps the hair off your face.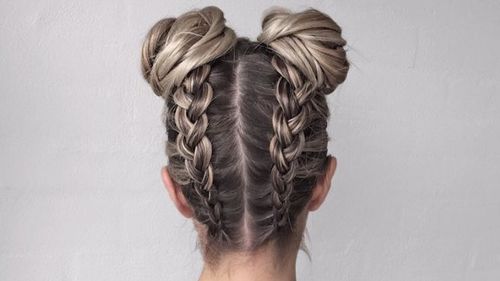 21. Upside Down French Braid Space Buns
Space buns have been popular for quite some time. But not more than French braids. Combine these two styles to get this beautiful and funky French braid space bun. The upside-down French braids with space buns are the perfect hairstyle to give voice to your inner geek.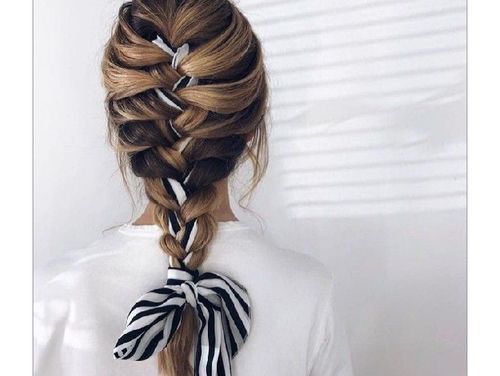 22. French Braid With Scarf
Go real French chic with French braid hairstyles with colorful scarves. Take a colorful scarf and start braiding it in your hair like you would normally braid your hair. And voila! You get an uber-chic hairstyle that is unique, comfortable and gorgeous looking.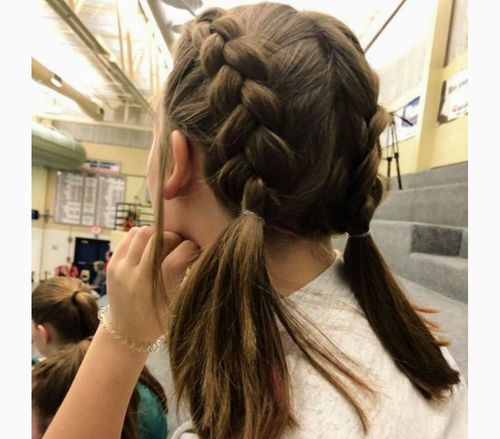 23. French Braid Hairstyles For Medium Hair
The beauty of French braid styles is that they can be worn for almost every hair length. Here is an example of French braided pigtails for medium hair. From a casual day out to a simple day at home, or from college to party, this hairstyle will transform its vibes will your mood and attire.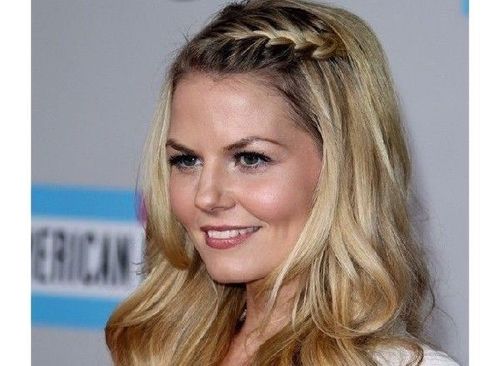 24. French Braided Bangs
Growing out bangs can be a pain. But, it can all get better with a French braid. Make sure that your grown out bangs don't fall into your eyes and blind you by braiding them up. Start from one side and keep braiding to the other till you have included all the hair of your bangs in this little French braid. Take inspiration from the gorgeous Jennifer Morrison and let the rest of your locks open.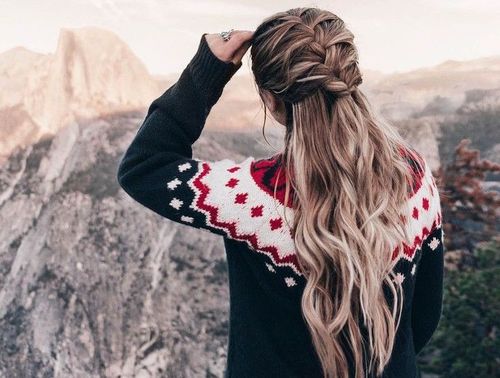 25. Half Up Half Down—The French Style
Half up half down hairstyles look amazing. Mix them up with a French braid and you get something even more awesome. This hairstyle works for every hair length. The size of the braid will differ but they will look equally beautiful. If you have long hair, pair your French braid with waves to take it up a notch.
Related Articles