61 Stunning Red Balayage Hair Colors - 2023 (Updated)
Shalu B
Updated At 10 Jul 23
The balayage is a hair coloring technique where the coloring of the hair is done with minimal damage but just by just painting it directly without using the foil method. Be it streaks, highlights, ombres; all of it is created by the Balayage techniques. Through this method, one can create subtle, soft, bright, dark; any type of a shade that they want too. But looking out for a hair stylist who knows his/her work is essential.
In this article we will take a look at all the types and methods through which you can try by life painting on your hair in the tones of reds. Red is considered to be the color of Rebellion. Red is a classic, vibrant but an extremely beautiful color which resonates with all types of hair especially the brunette hair.
61 Spectacular Red Balayage Hair Colors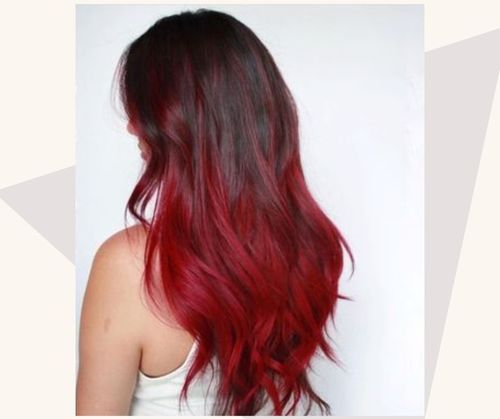 1. The Classic Red Balayage
The Classic red balayage is one of the most common and popular red-colored hairstyles, has been and will be through times. It looks perfect on brunette hair especially black root hair. Do not wait before you get yourself a classic red color and turn into a feisty red head.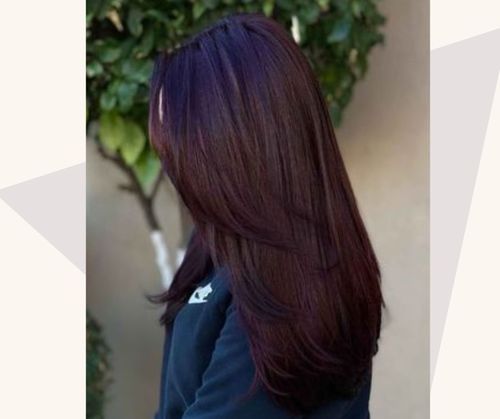 2. Chocolate Cherry Balayage
The chocolate cherry balayage is the one where there is a brown color with an undertone of light red to it. This color comes with the hint of cherry in it and looks surreal and amazing. It is not too bright and is a perfect option for someone who wants to go more of the natural way.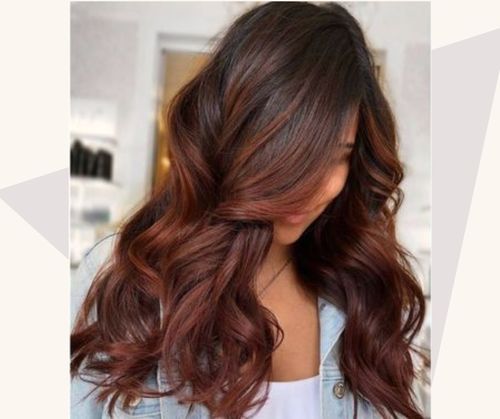 3. Chestnut Red Balayage
The chestnut red color is a beautiful blind of three colors being golden, brown and red. The brown color sits as the base of the hair and hints of red are seen, especially in the sunlight. The color is similar to the hair color of naturally red head people. Another amazing option to go for if you want to go for a natural red and brown color.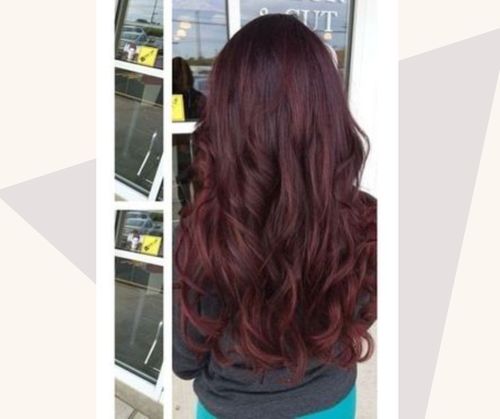 4. Burgundy Red Balayage
The burgundy color show cases a dark undertone of red to it. It has light hints of brown but primarily the major color is red, it is close to magenta. The color is best suited on dark hair and for the winter season.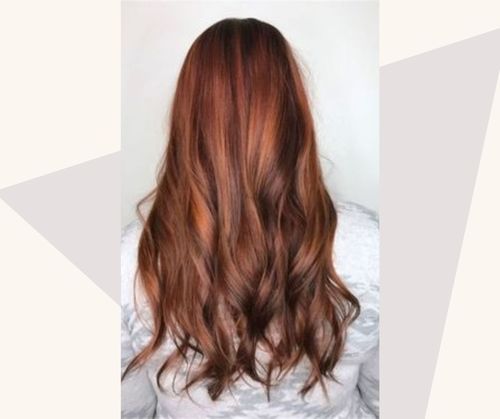 5. Cinnamon Red Balayage
A cinnamon red balayage which melts into the hair looks so stunning. The color is another darker shade of chestnut red. This hair color gives a very natural look to the hair and looks gorgeous on any type of a haircut.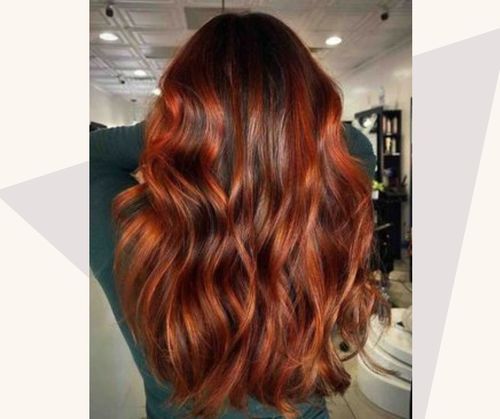 6. Balayage In Copper
Copper is a very strong and pronouncing color in the red shades. A balayage in the copper color is a very daring and solid move, but it looks extravagantly beautiful. The copper hair colored balayage when styled in waves, make for a perfect look.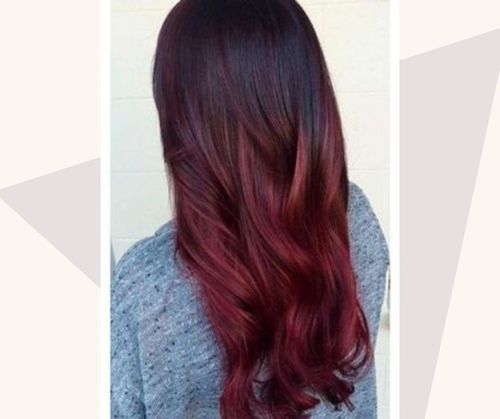 7. Red Ombre Balayage
Red on day color is created on the head, where a dark color is at the top and slowly another color starts to appear into the hair as you descend towards the lower part. It doesn't give a half and half look but it looks as if the color has slowly cascaded down into the hair in a natural effect.
8. Fire Tips Balayage
The fire tips color range is where the tips of the hair or just the lower ends of the hair are colored in a deep red color which showcases as if the bottom of the hair is on fire. This looks the best on medium size hair.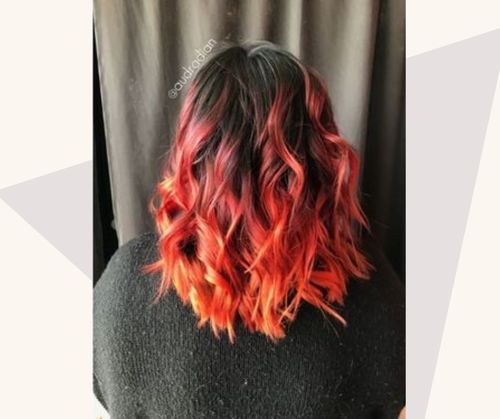 9. Lava Red Balayage
The Lava red balayage as another hair color where the hair is treated to a bright and strong red color which kind of represents the Lava from the volcanoes. It is a very strong type of a color to opt for and needs a strong personality to carry it off.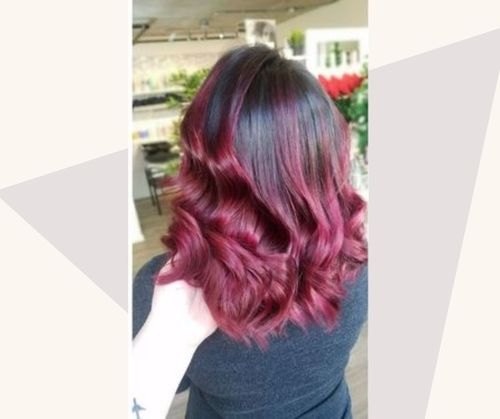 10. Raspberry Red Balayage
Raspberry red balayage is another dark, deep yet a very soft color with has little hints of pink to it. The color is prominently into the red side but the little pink hits elevate it.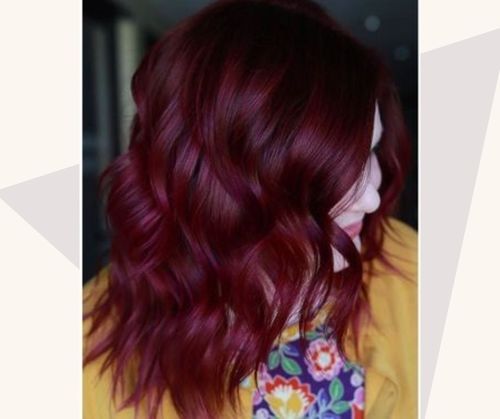 11. Red Velvet Balayage
The red velvet is a soft and cheery red color. It takes color from the similar colored red velvet cake. It looks great on teenage girls and young girls who want to go for a cute overall look.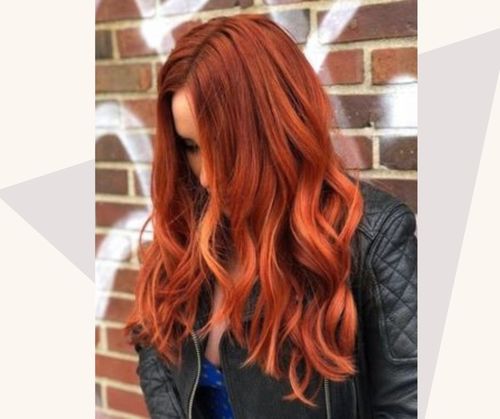 12. Auburn Balayage
The auburn balayage is a very strong and intense brown red color. Typically considered to be the original color of the "red headed" people, the color stands strong in the natural hair color group. It has a resonating and beautiful impact to it, great choice of hair color to go for.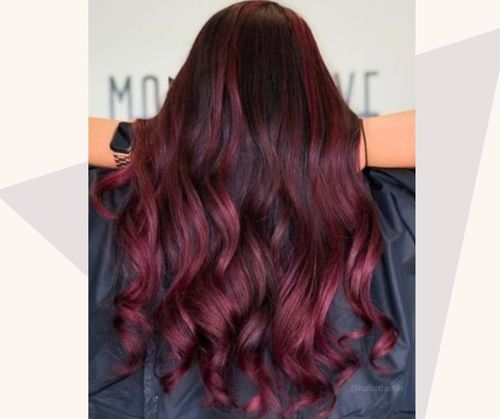 13. Wine Red Balayage
The wine-red color is a rich deep color in the hair coloring department. The results of this hair color look as if the wine color has literally melted and washed down into the hair, best suited for naturally brunette hair.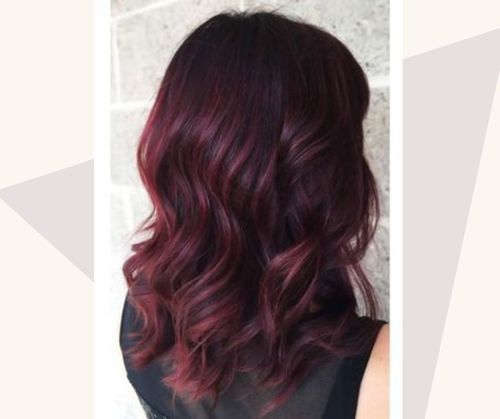 14. Mahogany Red Balayage
The mahogany color sets on the hair like a brown color which has red undertones to it. It is the Woody color with red tones which are supposed to be alike the mahogany wood. The balayage looks classic.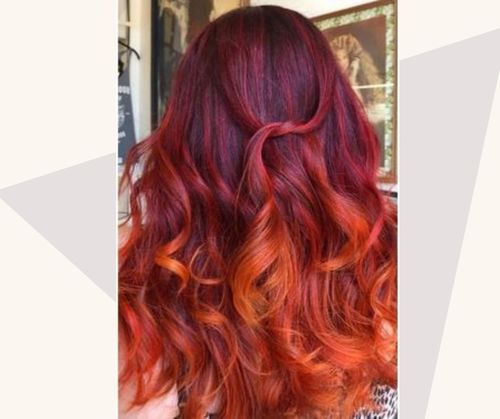 15. Sunset Red Balayage
The sunset red balayage literally showcases the entire colors of the sunset, high lighting the red, orange and timid yellows. The color looks magnificent and has an accentuated bright look it, creating an ombre effect.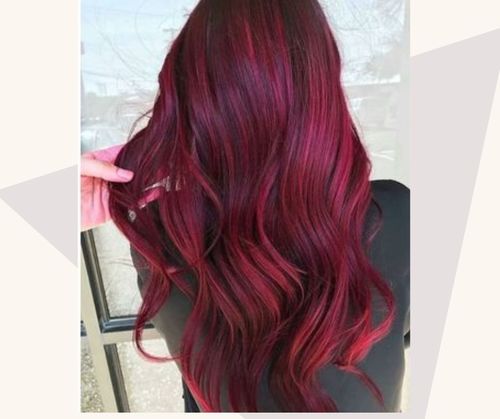 16. Ruby Red Balayage
The Ruby red color on the hair is another classic and beautiful red color with sits with generosity on the hair. The color is exquisite and takes its name from the stunning precious stone ruby.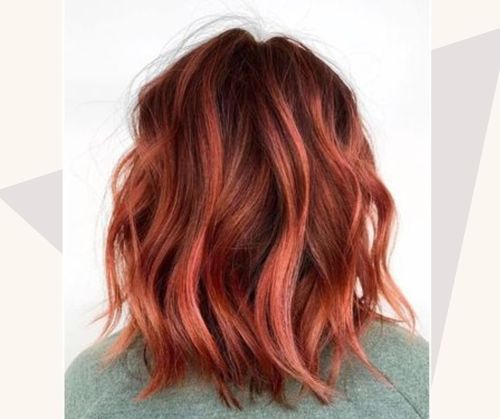 17. Rosewood Red Balayage
The Rosewood red is another woody color, but it is stunning yet simple look at.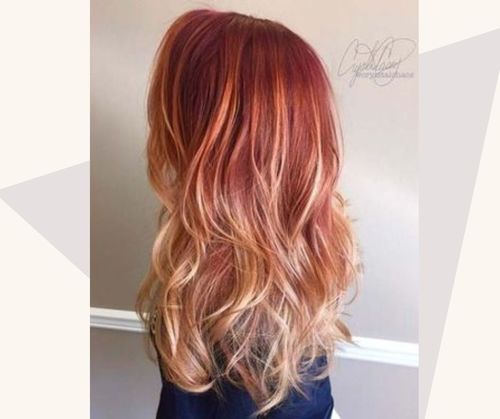 18. Cherry Strawberry Blonde Balayage
Strawberry blonde color is created by having a natural red head color alongside a blonde color. The blend of these two creates this amazing combination of strawberry blonde.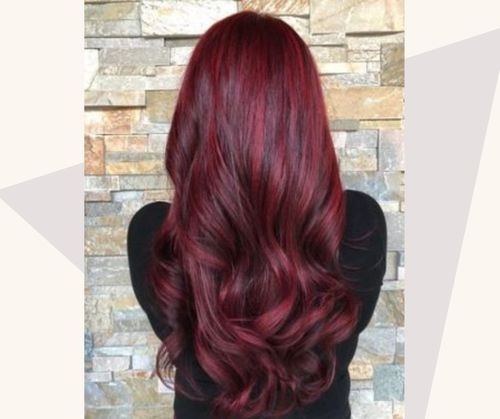 19. Racy Red Balayage
The racy red balayage is another bright and feisty color. It looks gorgeous through its strong, resonating red streaks.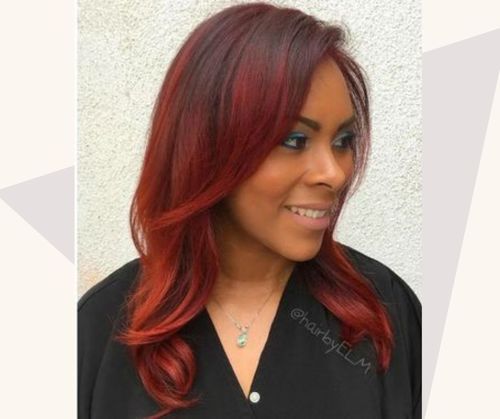 20. Dark Ginger Balayage
The dark ginger color is another brownish red which is dark, deep toned. It goes on brunettes as well as blonde natural hair.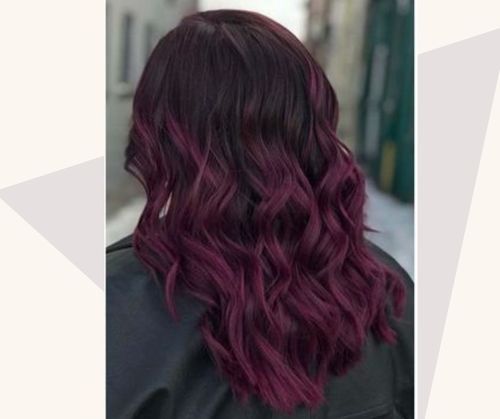 21. Plum Red Balayage
The plum red color has purple or lavender undertones to it. This balayage is fresh and has a happening outlook to it.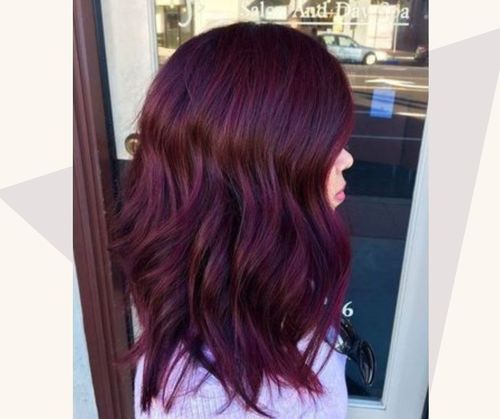 22. Merlot Balayage
Merlot is another deep sinking red color and looks absolutely natural and a melt-in-the-hair type of a color if induced in the right manner.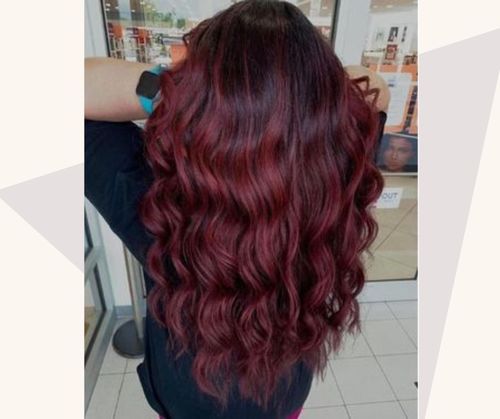 23. Intense Red Balayage
The intense red comma as its name suggest is a wild red color which has a deep and impactful look to it.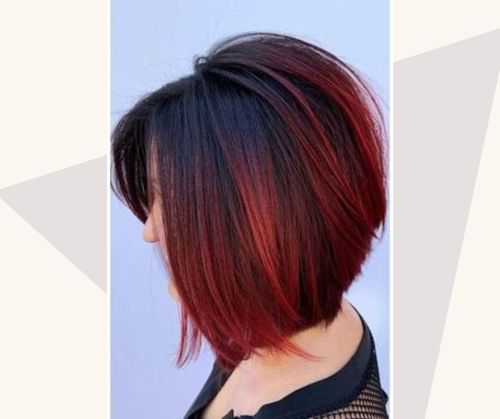 24. Red Balayage On A Bob
A red colored balayage on a bob is another funky and distinct hair color. Flaunt it if you think you can pull it off.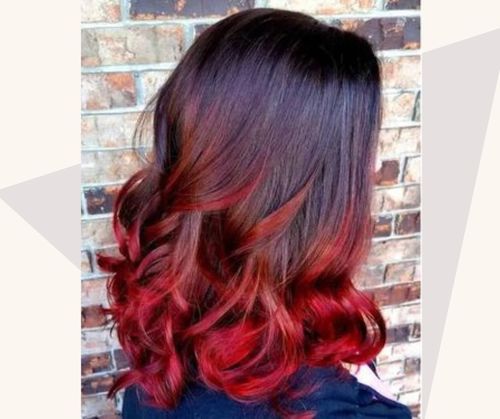 25. Scarlet Ombre Balayage
Scarlet red balayage is a shiny and bright red hair color. The type of red you want to get on your hair depends upon numerous factors, like your skin tone, the color of your hair, the texture of your hair, and so much more. Hope this guide helps you to find your perfect fit of RED.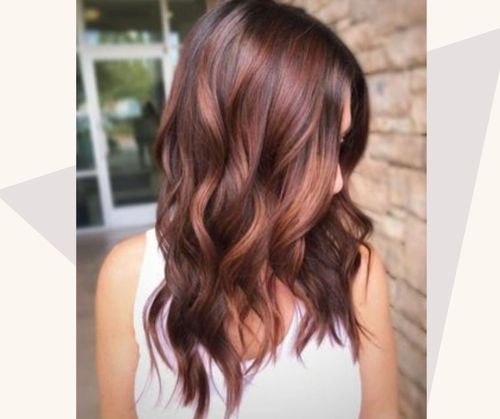 26. Auburn Red Balayage
An auburn or a copper red balayage is something that will find fans in those who like more of a natural look. Here is a multi-toned auburn and copper red balayage with the different tones melting into each other to create a seamless and sun-kissed perfection. The long layers with the beachy curl give just the right amount of movement to the hairstyle. A further lift is given by the contrast of different shades.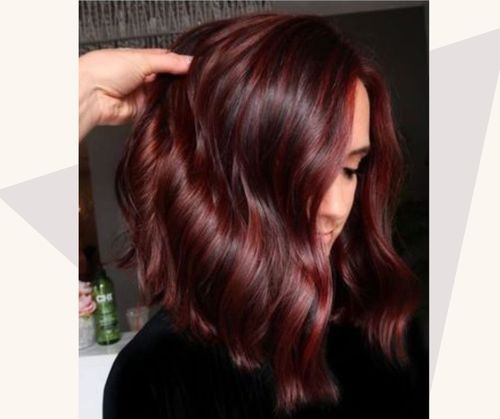 27. Dark Red Balayage
Brunette hair dyed with dark red tones like this ruby red balayage are a true work of art. This look is every bit magical and mystical. The pop of color on a dark base with the contrast between the highlights and the lowlights takes this wavy lob hairstyle to a whole new level of glam.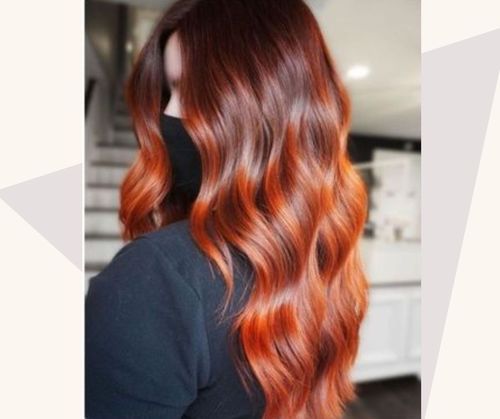 28. Copper Red Balayage For Brunettes
Did anyone ask for something flaming hot? Because we heard it and we have it. Dark hair colors pair well with red tones and have the potential to give birth to a spectacular fiery look. That is exactly what is happening here. The deep coppery tone meets the dark brown/black of the hair to create depth while the lighter-toned highlights complete the fiery aesthetic.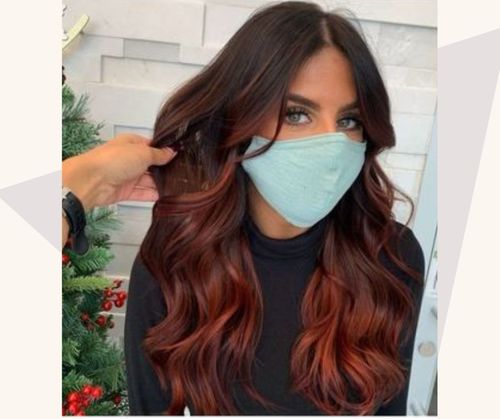 29. Red For The Holidays
Take things up a notch with this pretty dimensional balayage. It is a very natural red balayage with a pop of color, thanks to all that dimension. The waves of a lighter tone of red are mixed with some darker shades to create more depth and dimension. This soft and natural look seems like the perfect thing for the holiday season.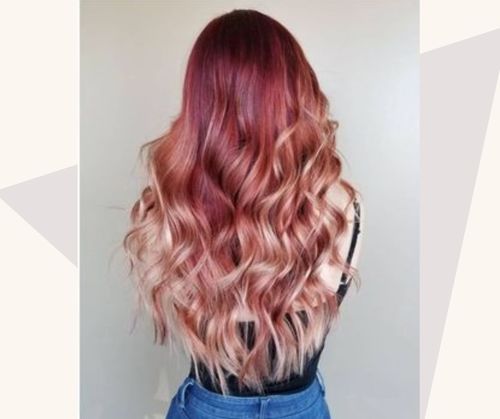 30. Red Balayage For Blonde Hair
Okay, let's move over the dark red balayage with this red balayage on blonde hair. While red and black create a phenomenal look, don't underestimate the magic that red and blonde hair colours can create. Here we have a beautiful red balayage with four different shades of red that cascade down from the darkest to the lightest and end with blonde tips. Its beauty is unparalleled but remember that this one is going to need a bit more maintenance than the darker shades.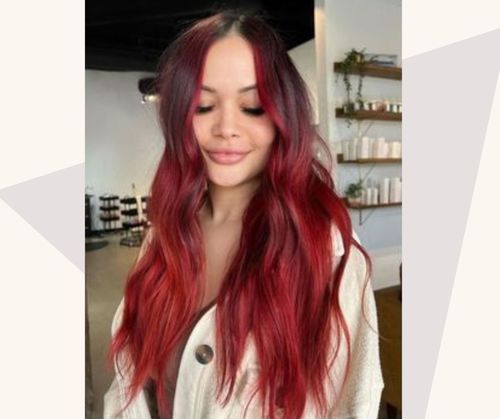 31. Bright Red Balayage For Long Layers
Long layers are a great canvas for all of 'em bold and beautiful red shades. This is a dimensional red balayage with a bright and vivid tone. The deep base and lighter highlights bring the red to life and go perfectly well with the long layers. The black and the red melt at the roots to create a seamless blend of color. And oh that bright red money piece! It has all of our hearts.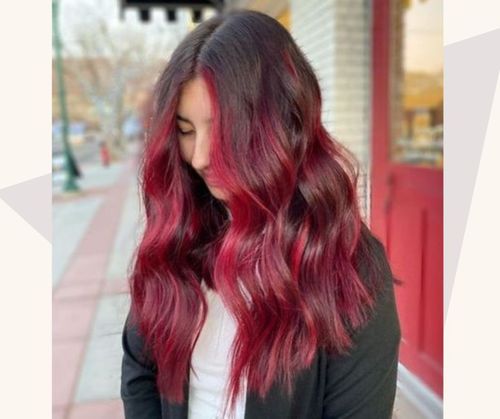 32. Red Balayage With Money Piece
We have said this before and we will say it again. Red balayage looks phenomenal on black hair. This red hair look just proves our point. The bright and vibrant hue of red is undoubtedly the attention grabber but for us, the real star of this look is the money piece that frames the face oh so nicely.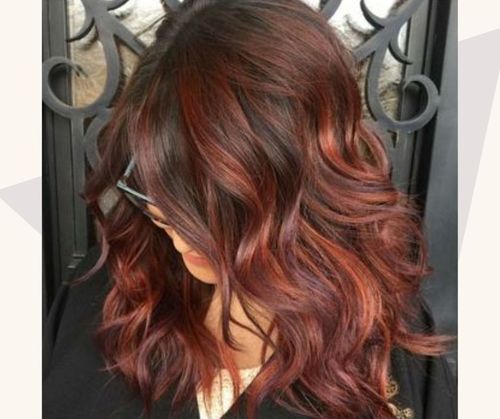 33. Red Balayage On Light Brown Hair
Are you eyeing a hair transformation? Consider this a sign then. Posh up your light brown/brunette hair with some scarlet streaks that scream of a color similar to that of Bordeaux Rouge. Just like the wine, this red balayage is giving a dark yet vibrant look with a refreshing frame.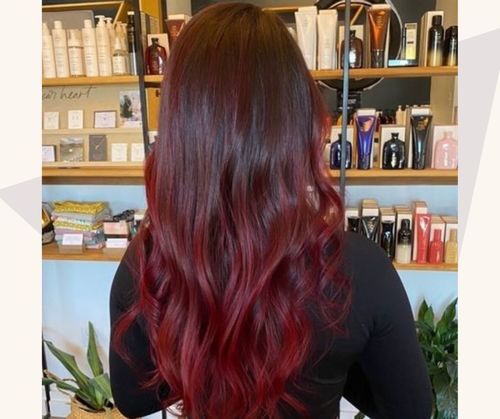 34. Spicy Reds
If you are still wondering if you should go for a red balayage, then let this gorgeous hair look convince you. A red balayage has a straightforward aim—to make your hair look sensational. Consider it as adding spices to a bland hair look to make it more interesting.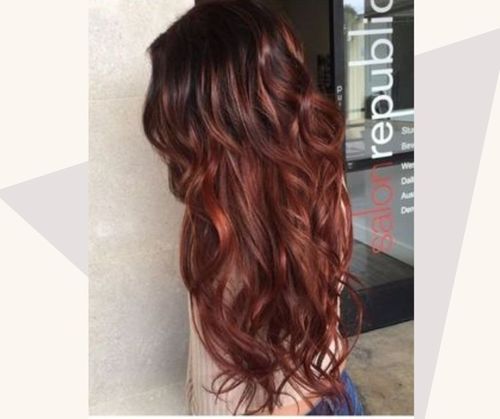 35. Lush Auburn Red
Adding the richness of a red balayage to dark hair can brighten your hair look. You can of course choose how much of a dose of bright and vibrant you are comfortable with. This auburn look is a spectacular natural red balayage that allows you to experiment safely.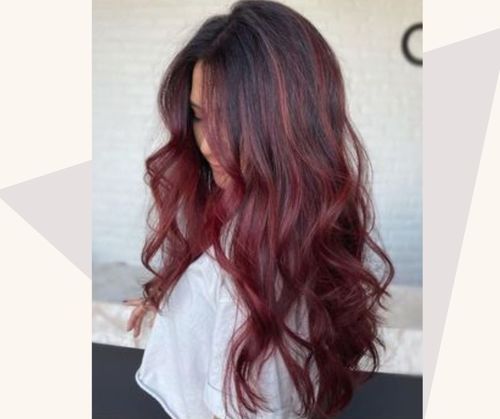 36. Deep Berry Red
A raspberry red shade comes from a family of dark and deep reds. And like its sister colors, the raspberry red shade has a beauty of its own. It is prominent and vivid but also soft. This dark red balayage is paired with some violet undertones to create an even softer and deeper look.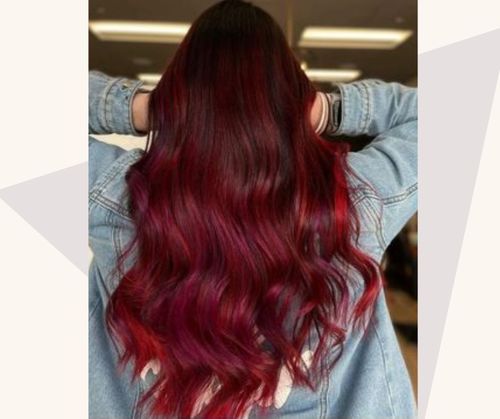 37. Bright And Fiery
Are we obsessing over this beautiful and bright red balayage? Yes, absolutely. We are obsessed and so should you. A root melt was used to create this gorgeous multiple-toned bright red balayage. The cool undertones are the secret of its vibrancy.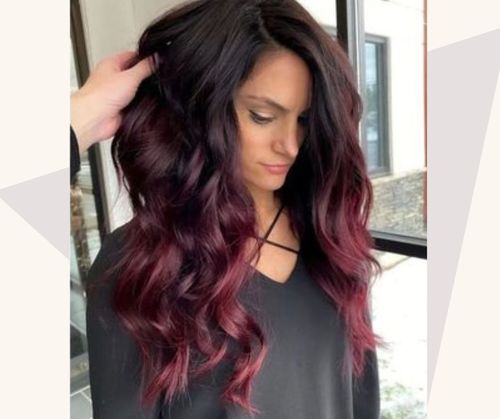 38. Wine Red Balayage
Pair your wine Wednesdays with a beautiful wine red balayage like the one pictured here. Wine red with dark roots are like best friends. They always go together. No questions asked. The rich wine shade of red on the sweeping long layers brings out the true beauty of this whole look.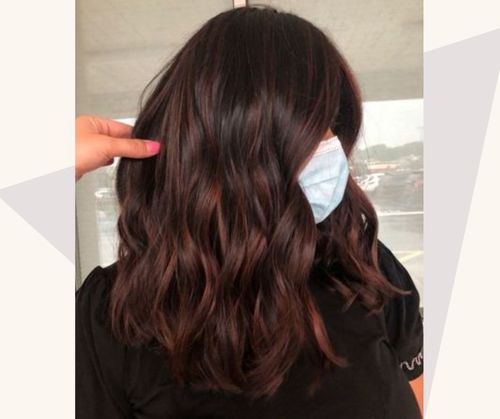 39. Black And Red
A red balayage is not all about the bright, vibrant, and eye-catchy hues. It can also be natural, subtle, and laidback. Something that you can call an everyday look that doesn't look very imposing. So, here is just the right amount of red for that natural red balayage look.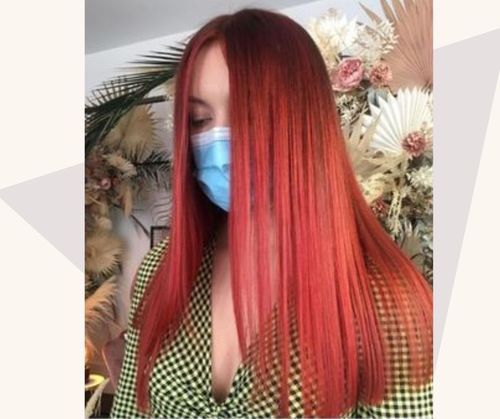 40. Red Balayage For Straight Hair
Layers and a dimensional red balayage go together but if you thought that's it, then you have been sleeping on the brilliance that is poker straight hair mixed with the reds. This is a strawberry red balayage with hints of auburn. It creates a vibrant face-framing look. Even though the hair is super straight, the blend of colours is seamless. There is more lift and movement thanks to the stunning blend of different shades of red.
41. Cherry Red Balayage
Chocolate brown hair with a cherry red balayage is like a match made in heaven. If it doesn't look very natural, it also doesn't look too bright. Let's say it falls somewhere in the middle. It is a gorgeous laid-back look with some pink undertones. Even the fadeout color will look gorgeous.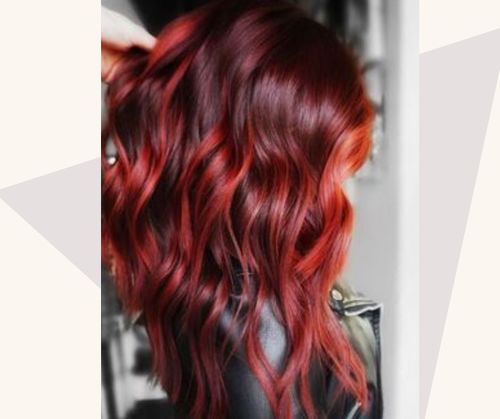 42. Multi Dimensional Copper Reds
The money piece is the new "it trend" when it comes to hair looks. Pair it with a beautiful copper red balayage and you will have yourself a super hot look. Literally. A deep copper base with a lighter shade of the same tone is used to create this fiery look.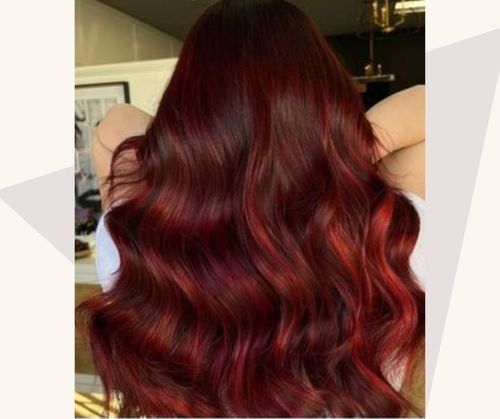 43. For The Lady In Red
This rich auburn red balayage showcases why color blending is an art form. Because look at that beautiful blend! This red balayage has been painted on dark hair. From black to the darker shades of brown, they will all work well this auburn goodness. While some parts are painted light and some are dark, some parts are vibrant. And together, they create the most stunning red balayage look ever!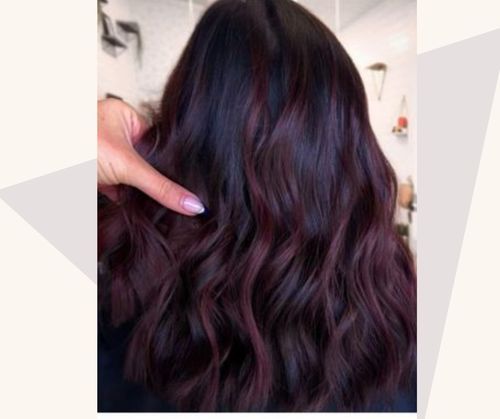 44. Plum Red Balayage
Muted tones like plum red are a good choice if you want to change your look but not drastically. This way you get the best of both worlds. You get to change your look but in a subtle and savory manner. You still get to make a statement without doing too much. So, a plum red balayage for the win.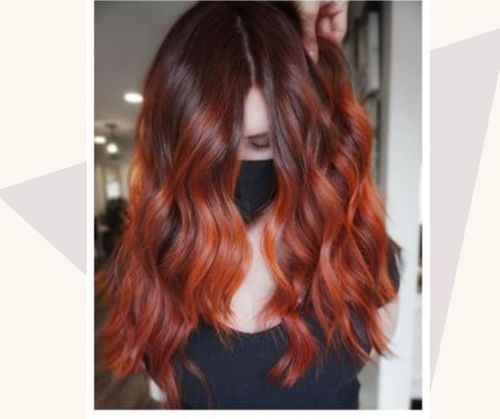 45. Sun Kissed Copper Red Balayage
Balayage hair colors are known for creating that perfect summery and sun-kissed beachy look. It gets even better with hues of copper. A copper-red balayage will give you the fiery red look of your dreams. It is one of the best color look to transition from summer to fall with all its warmth and vibrant tones.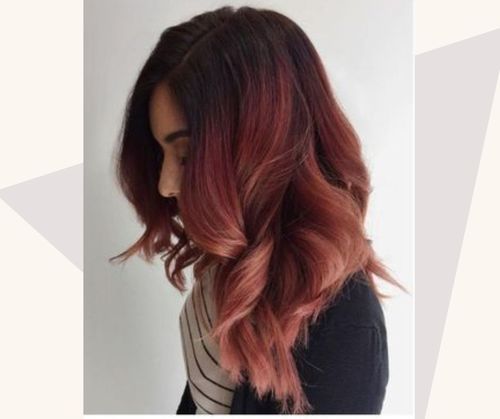 46. Hues Of Pink
A red balayage with pink undertones will look great with blonde hair. you can go for a reverse balayage or take inspiration from the hair color pictured here and go with dark roots and blonde ends with a red-pink balayage working its magic in between. It can be punk or it can be romantic. Style away, ladies!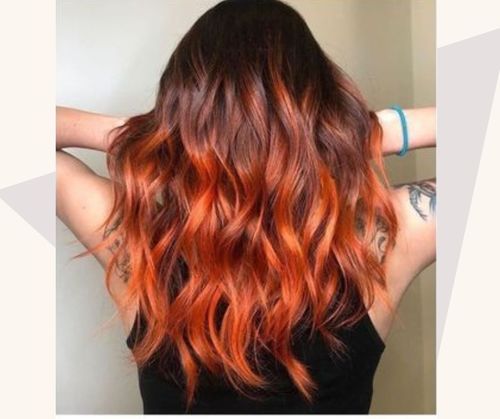 47. Orange Red Balayage
The Orange-red hair has been creating a buzz in the world of beauty. If bold and bright is your type, then this is the right shade of red balayage for you. All you have to do is to choose the right orange depending upon your skin tone.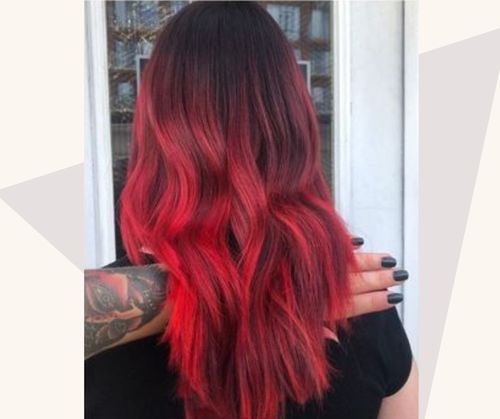 48. Fire Engine Red Balayage
Have you seen a fire engine? Well, that's the kind of red we are talking about here. So, as the name suggests, a fire-engine red balayage is as red as a fire engine. That means, very-very-very red. It is definitely not everyone's cup of tea. But, if you are ready to carry the fire on top of your head or if you welcome it, then be our guest. It looks stunning on dark hair.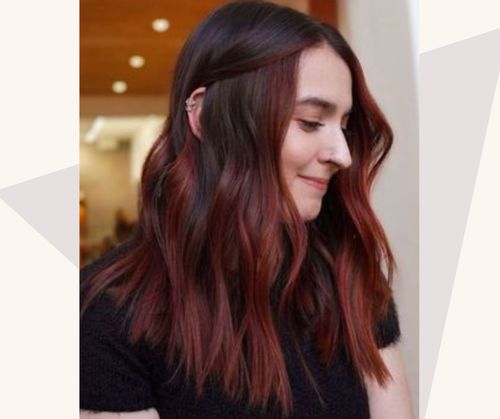 49. Enchanting Dark Red Balayage
Dark red balayage goes well with rich dark hair colors. This means if you have black or dark brown hair, this one could be a good option for you. The contrast looks amazing and imparts a unique richness to your hair.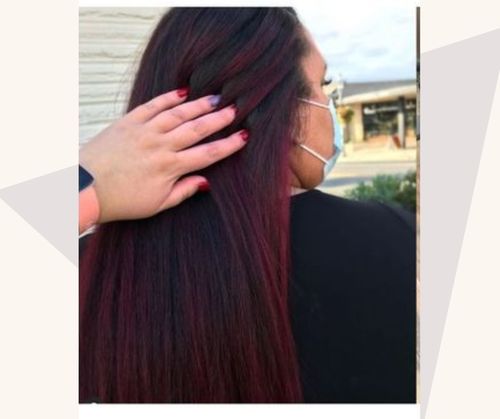 50. Deep Red In Mahogany
A vibrant red balayage mixed with some of that deep mahogany magic is the perfect fall hair color. The vibrancy of the red and the depth of mahogany create this beautifully-hued red balayage. You can wear your hair straight or style them in waves. This red balayage will look stunning anyway.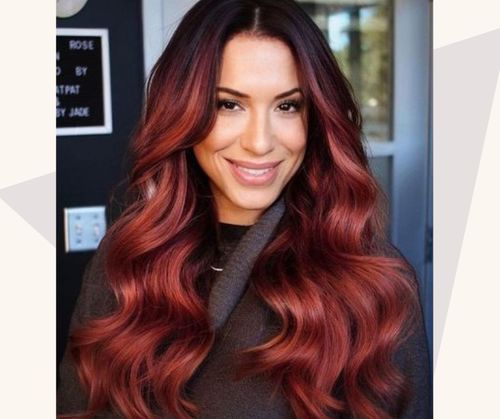 51. Crimson Red Balayage
Another hair color that is winning the internet is the crimson red color. So, why not go for a crimson red balayage? You can test the waters and see how it looks on you with subtle highlights and go all in if it is up to your liking.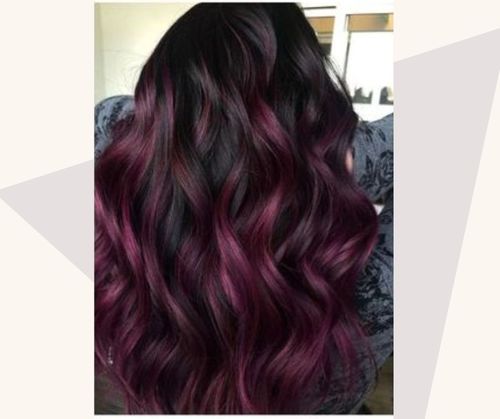 52. Violet Red Balayage
A violet-red balayage can be counted amongst the bold and daring shades of red. It is impressively vivid. You can play around with warm and cool undertones to create a balayage look that suits you the best. This dark red balayage will not disappoint you. Ever!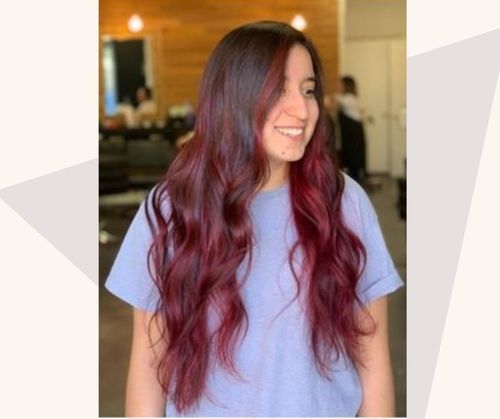 53. Beautiful Burgundy
A dark wine or burgundy balayage will give you a stunning hair color look. Whether you tie your hair or leave them open, this color surely leaves a stunning effect. Pictured here is a muted burgundy balayage for long layered hair. It imparts a softness to the hair. Love how the money piece blends seamlessly with the rest of the hair.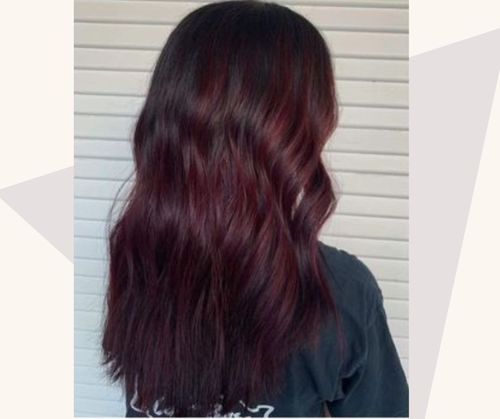 54. Black Hair With Red Balayage
Here is some more of that black and red magic. This red balayage is as natural as it can get. The dark red blends seamlessly with the natural black hair. It is a good look that adds more depth and richness to dark hair.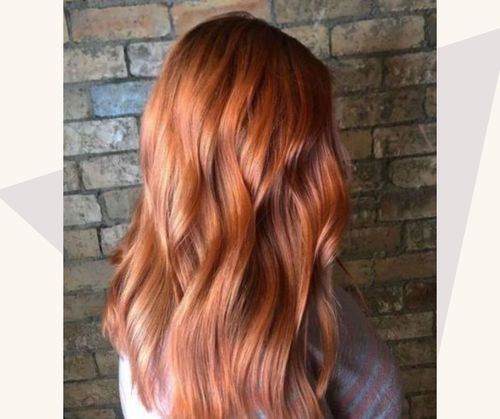 55. Titian Balayage
Titian is a mix of red, brown, and orange. It is often confused with Venetian and auburn. But trust us. It is indeed different. This color has been used in many artworks by an Italian painter of the same name. And it is one of the most beautiful shades of red. A titian balayage looks so soft and warm that you can't help but fall in love with it.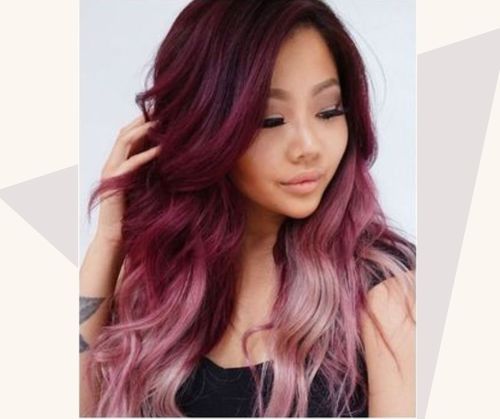 56. Raspberry Red Balayage
A reverse balayage sounds good. But, a raspberry red reverse balayage? Well, that sounds like the most amazing thing ever. With dark roots followed by a vibrant pink-red with hints of purple aka the raspberry balayage and the blonde-ish ends, this hair color look turns many heads.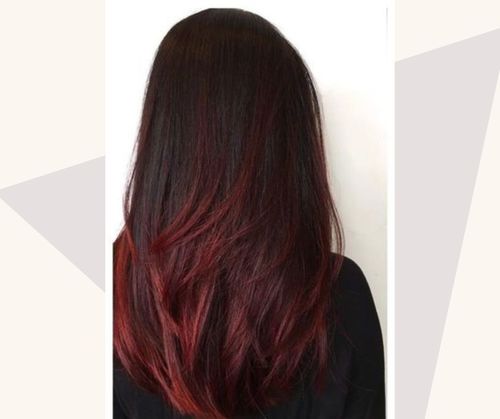 44. Tipping Red
In favor of a natural red balayage, we have this beautifully subtle look for you. If the idea of coloring your hair scares you, then maybe you can try a red balayage like this one to test the waters. Long hair will put you at an advantage as you can choose to get a balayage that is painted not from the roots but the mid-length. A deeper red on top and a lighter shade towards the ends will create a gorgeous look.
45. Wine Balayage Red Hair
Copper red balayage is popular due to its ability to give a natural as well as fiery look. But, don't you dare think that wine red balayage is behind in popularity. Because the idea of having a hair color that looks like a bottle of wine was melted into the hair to get that look is surely very appealing. Here, the color moves beautifully with the long layers adding more depth and dimension to the whole haircut. The deep hues make this red balayage a proper choice for the fall and winter months.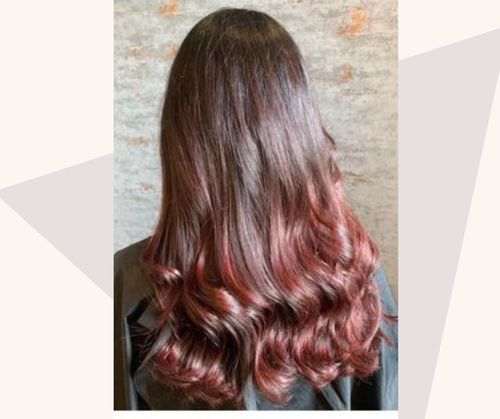 46. Strawberry Red On The Ends
You don't always have to bleach your hair to get a red balayage. Red happens to be a color that can show nicely on black or brown hair without any help from bleach. Here is a perfectly gorgeous example. This strawberry red balayage has been done on unbleached black hair and look how nicely the color has come through.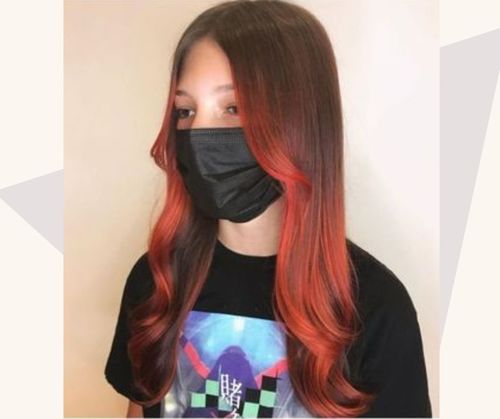 47. Head-Turning Reds
Mostly, the whole point of a red balayage is to add some cheer and vibrancy to your hair. It has the power to lift even the dullest and drabbest hair. The right kind of red will lift your mood and spirits as well as your simple hair color. And what can be spicier and more vibrant than this red balayage right here? It has everything from depth and richness to brightness and vibrancy. If cheerful can be converted into a hair color, it would be this one.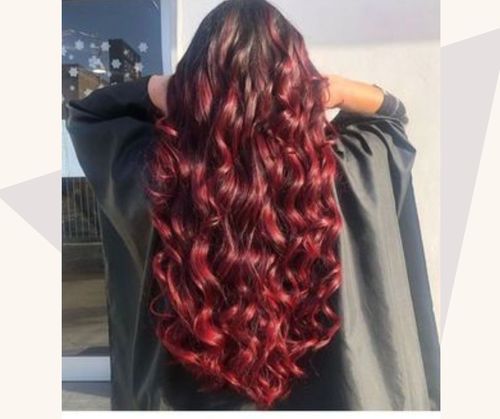 48. Fiery Red Curls
We will never get tired of saying how gorgeous a red balayage looks on curly hair. So, when we laid eyes on this gorgeous red balayage for long curly hair, we fell in love with it. And hope so will you. Because look at it! The vibrancy and the brightness on 'em long curls give a very mystical and magical vibe.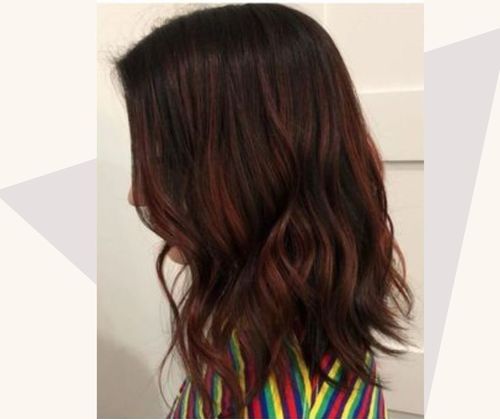 49. Chestnut Red Balayage
In our efforts to bring something to everyone, we have this subtle chestnut red balayage hair color that comes with lowlights that are nothing but a tease of color. This combination gives hair a very soft look. Not only does this look natural but it allows you to dive deeper into your hair color journey. You can gradually go bolder with the red depending on your comfort level while keeping this look as the base.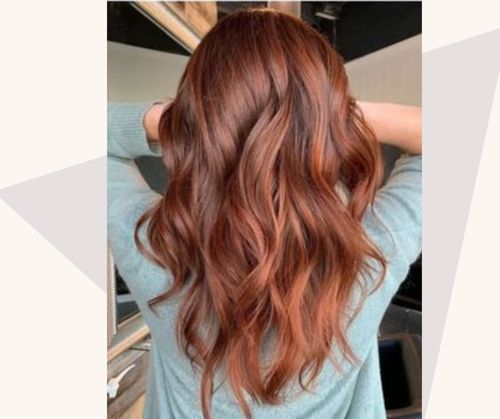 50. Cinnamon Red Balayage
Till now, you have seen natural red balayage, dark red balayage, cherry red balayage, copper red balayage, and even titian balayage. Allow us to introduce you to yet another uncommon hair color that will surely become your favorite: cinnamon red. It is a warm reddish-brown that comes with the promise of looking good on everyone. A cinnamon red balayage will look gorgeous and won't even ask for much maintenance.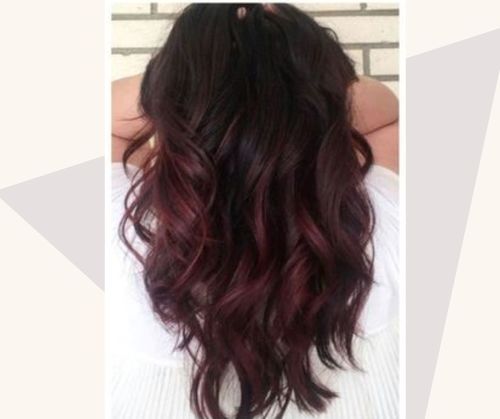 52. Chocolate Cherry Balayage
Chocolate cherry is a beautiful mix of dark brown and red. It is a rich and sultry shade that flatters dark hair the most. Get yourself a chocolate cherry balayage for that natural red balayage look and add that tasty and glossy bit of dimension to your dark hair.
54. Raspberry Red Balayage On Light Brown Hair
Raspberry red balayage with its col undertones works for most hair colors. It will look good on dark hair and it will look good on light hair as well. Here we have a pretty picture of a raspberry red balayage on light brown hair. It adds a glossy dimension to the hair and we are here for it.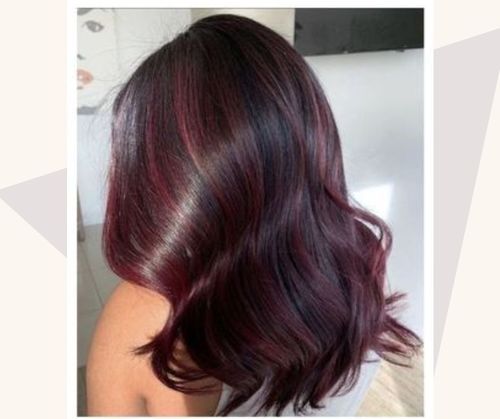 56. Burgundy Beauty
Burgundy is a hair color that looks quite beautiful with darker hair shades. This is why it is one of the most popular go-to color choices for women with dark hair who want a balayage. The stunning burgundy red balayage pictured here creates a subtle and laidback look that will fit well in your everyday life.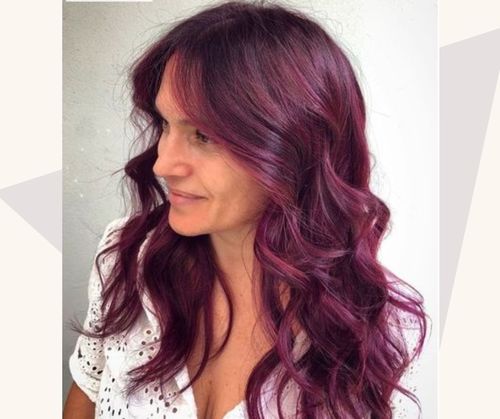 57. Plum Red Balayage
If you are someone with medium skin tone and warm undertones but don't want the usual burgundy and copper red balayage, then maybe you should give a chance to the plum red balayage. It is a mix of red and purple just like the color of a plum. It creates a mesmerizing look with its popping hue. It is bright and vibrant but soft at the same time.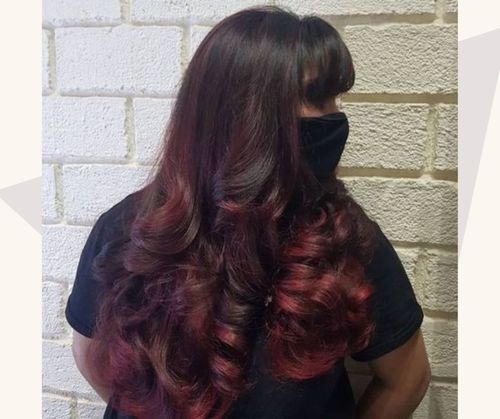 59. Red Ends
What do we love about this red balayage? Everything! From its subtle gorgeous beauty to the beautifully curled red ends, everything is lovable about this hair look. It adds depth and dimension. A subtle pop of red here and there adds more definition to the layered curls.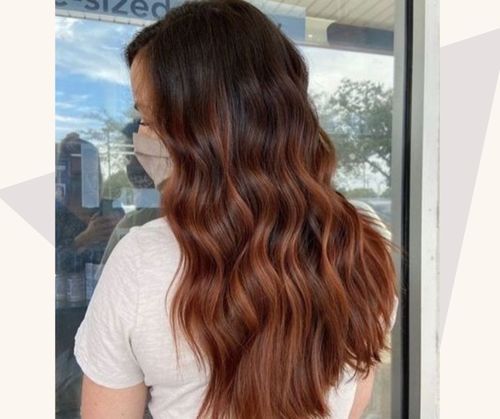 60. Cinnamon Chestnut Balayage
The cinnamon chestnut balayage will bring to you the best of all which is a natural red balayage. It is the most Fall color that a color can be. The warmth and the softness of this balayage will make you right in tune with the seasonal change. It is not too red and not too orange. It is just a beautiful blend of red and brown that takes inspiration from chestnut brown and cinnamon red.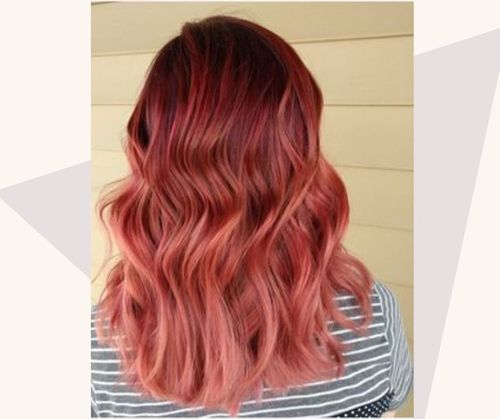 61. Multi Toned Red Balayage
When in doubt, a multi-toned red balayage would come to your rescue. This one is for the blondes. Starting with darker roots and following up with the reverse balayage. You can customize your look with the shades of red that work best for your skin tone.