25 Stunning Military Hairstyles For Men - 2023
Olivia
Updated At 15 May 23
Men who serve in various branches of the military have short, functional hairstyles known as military haircuts. These hairstyles have short hair that may be swiftly and easily groomed or shaved, making them simple to maintain. Military rules frequently call for certain haircuts because they preserve a uniform image and encourage professionalism and discipline. However, anyone may try out these military haircuts, and they are now quite fashionable. There are several varieties of military haircuts, and now we'll look at 25 Stunning Military Hairstyles For Men.
25 Best Military Hairstyles For Men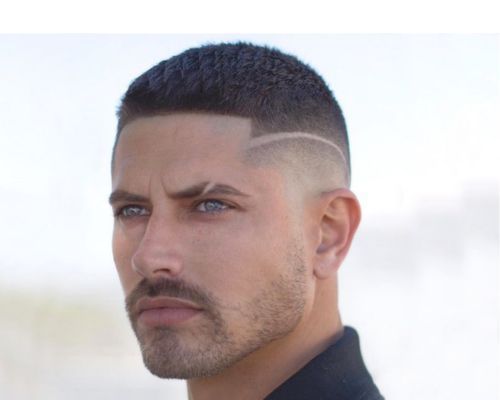 1. Buzz Cut
Buzz cuts are one of the most versatile military haircuts for men and are popular among men of all ages. There are several ways to decorate this Buzz cut choice. The short length makes them a popular choice for athletes since it keeps hair out of the way when they are working out. Buzz cuts can be performed with unusual cuts, but it is advised to have a professional barber perform them to ensure a precise and equal cut.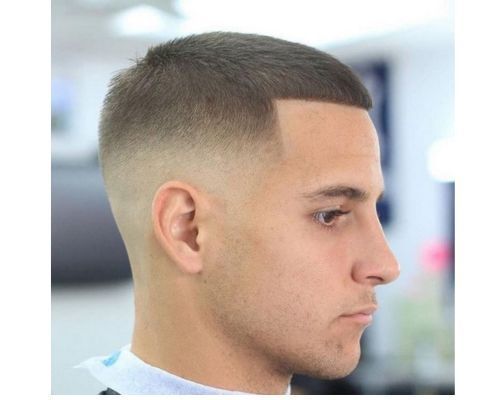 2. Military Crew Cut
This fascinating military crew cut features tapered sides and the back and short, trim hair on top that is between half an inch and two inches long. The crew cut is intended to seem polished and needs little care. Men who desire a timeless, clean-cut appearance that is simple to style and maintain are also fans of the cut.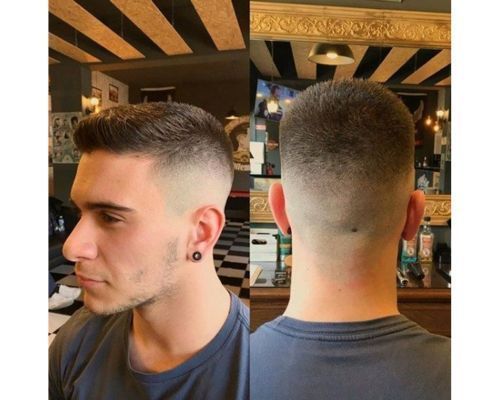 3. Ivy League
The Ivy League is a stylish haircut and is considered one of the coolest military haircuts for men. The Ivy League is a classic men's hairstyle that is also known as the Harvard or Princeton cut. It is a type of crew cut that is longer on top and shorter on the sides, with the hair usually tapered and blended.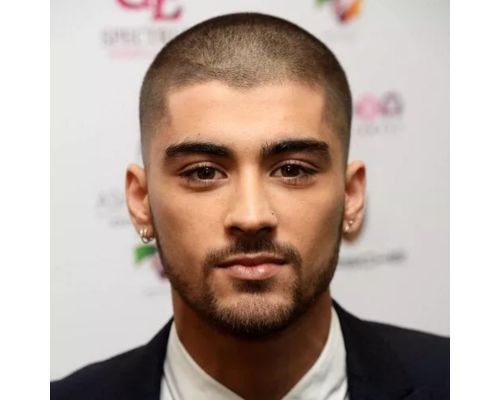 4. Butch Cut
In addition to his songs, Zayn Malik has a stylish sense that we like. Zayn has frequently been photographed sporting military hairstyles, which later become popular. This Butch cut, which is normally quite short and has an equal length over your head, is one of the military cuts that we love about Zayn. It is seen as a strong, manly hairstyle that is simple to maintain. if you have curls, you can also check out our guide to find out the top short curly haircuts for men which have been trending this year.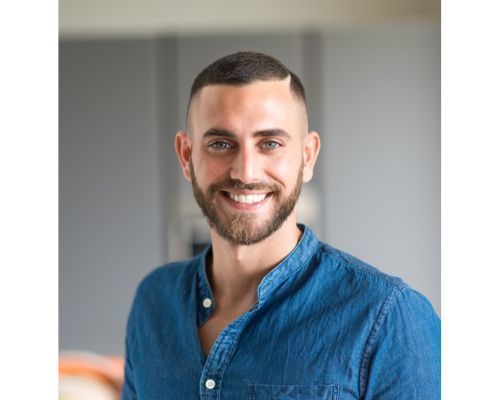 5. Edgy Cut
You can experiment with this edgy military cut and style according to your preferences. The hair at the top and sides is clipped short, styled, and has a side edge cut. A razor may be used to create this cut with ease.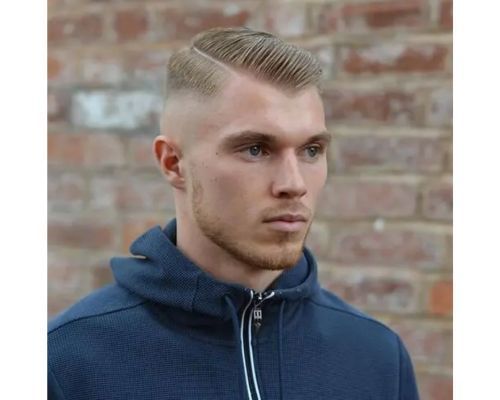 6. Regulation Cut
The soldier's haircut is called the Regulation cut. The sides down should be clipped, and the long hair on the head should be tidy and manicured per military haircut requirements. The skin is made apparent by the side and back hair's meticulous trimming. If you are looking for a haircut for receding hairline, then this works quites well.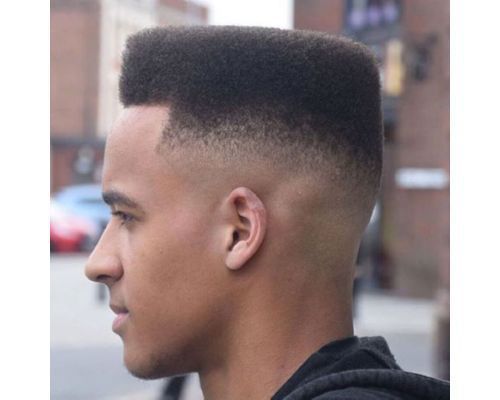 7. The Flat Top
The Flat top haircut is also considered a military haircut where the top of the head has the shortest hair, standing up from the scalp and appearing flat from the crown to the forehead. All sides of the hair below down are trimmed.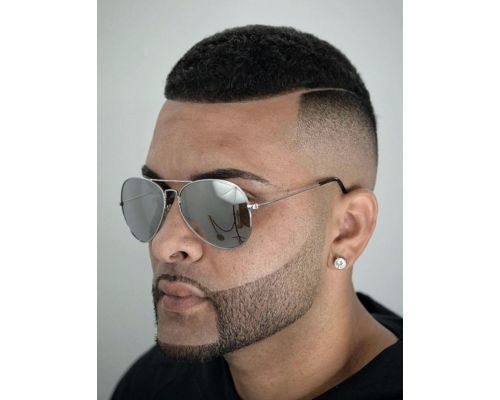 8. Beard Faded Taper
The beard faded taper is a trimmed hairstyle for men in which the hair is kept clean and short and the beard is trimmed such that the length and thickness meet at the jawline, giving the wearer a neat appearance. The side hair is shorter than the beard and crown hair. This taper cut looks stylish and can be a gamechanger.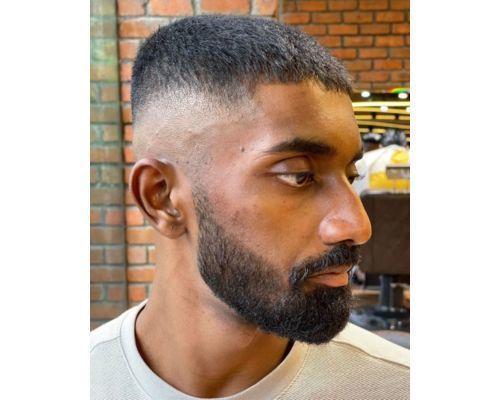 9. Crew Cut With Beard
This haircut is combined with the styling of hair and the beard. There are several ways to preserve this crew cut with a beard. The sides of the hair can be cut short, while the crown and beard can be kept quite long. This offers the illusion of balancing the overall appearance with extremely short-cut sides.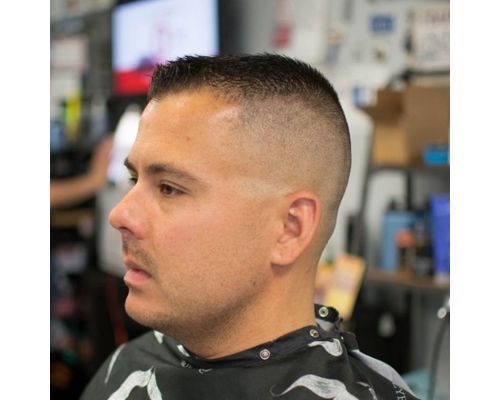 10. High And Tight
This high and tight haircut is a military version of the classic crew cut in which the hair is cut very short with clean skin shaved back and the sides. The crown hair at the top can be blended and can fade towards the downside. This low fade cut looks amazing and can transform your look completely.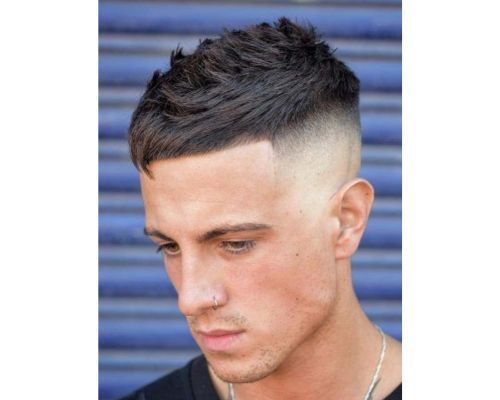 11. Fade Haircut
The fade haircut is a faded military haircut in which the top can be maintained with wave medium hair then the sides be shaved and faded down to give a filled crown look on the top. This military haircut is a trending haircut and much popular among men.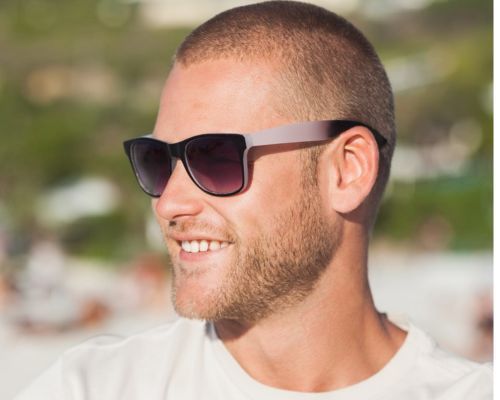 12. Burr Cut
A multi-directional haircut known as a "burr cut" is both professional and traditional. The top of the head is designed for this style of haircut to be short on both sides. Even the bear is carved in a way that complements the overall Burr cut. One of the top short hairstyles for men, the burr cut looks stylish and go well with beard as well.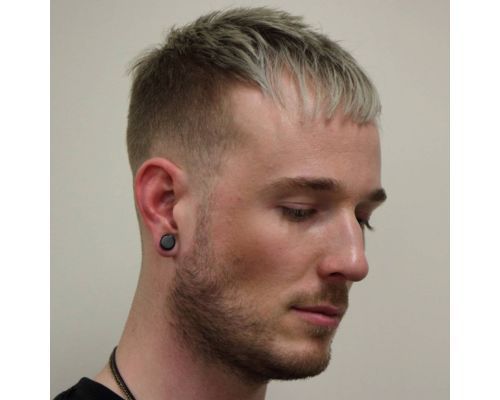 13. Low Military Cut
This low-style military cut shows off the hair at the scalp being minutely cropped short and the crown hair being slightly floated forward to create waves. With the sides and back being quite tidy, this hairstyle is modern and fashionable for guys.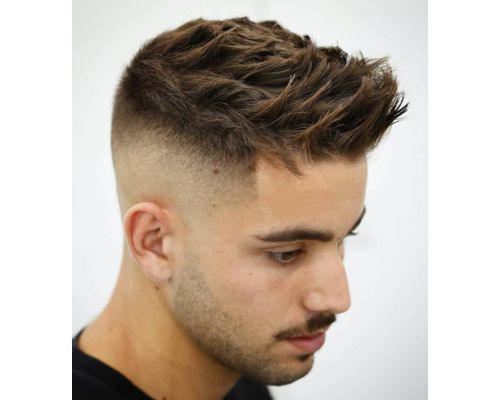 14. The Brush Style
This Brush Style cut looks voluminous, and trending. This haircut gives a thicker look at the top and fades down with trimmed hair on all sides. The top hair can be styled in different variations and wavy looks using a styling tool.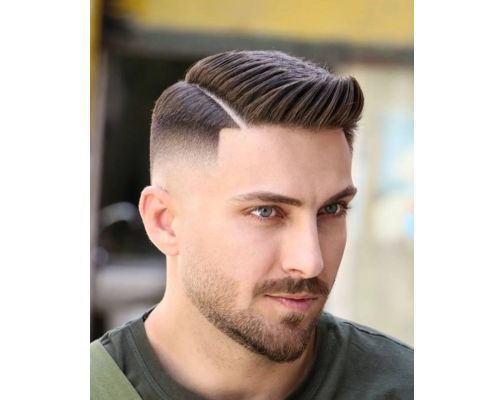 15. Hard Part Cut
The hard part haircut, which creates a shaved line on one side of your head to divide two different hair lengths, is regarded as a military haircut for women. This style has been expertly designed and styled. Men often sport stylish haircuts like this.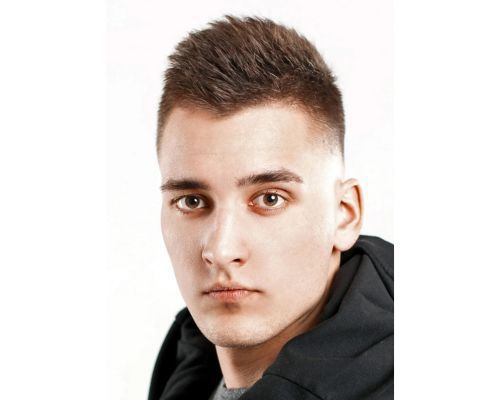 16. Spiky And High Cut
A spiky and high cut has thick, voluminous top hair and is intended for younger people. The sides of the head are drastically clipped, exposing flesh, and the hair spikes are produced and fashioned far above.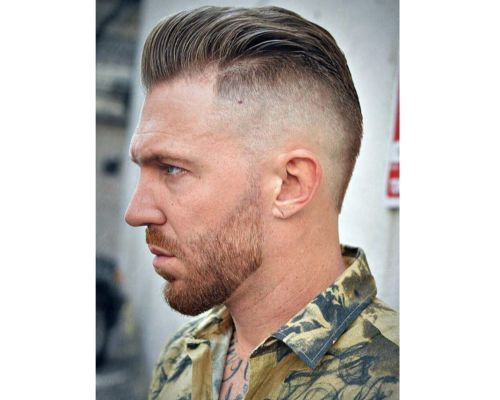 17. Spectacular Undercut
In this undercut haircut, the top hair is cut a little longer than a short military cut. With a trim on the sides and fading downwards, this haircut is masculine. We recommend this voluminous haircut as it's trending and stylish.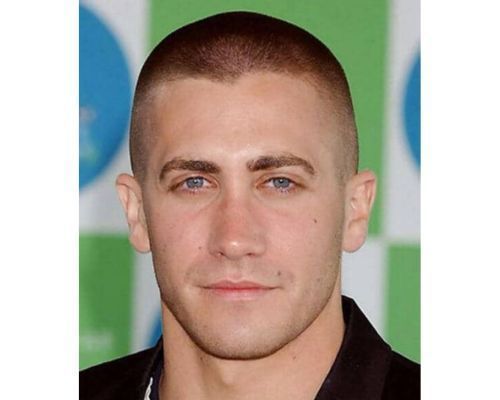 18. Shaped Fade Cut
A shaped fade cut is a military haircut for men, in which a trimmed haircut is styled all around the head and the front ahir look above the forehead is given a particular shape. The hair at the side fades downside. Classic variations can be created from this haircut.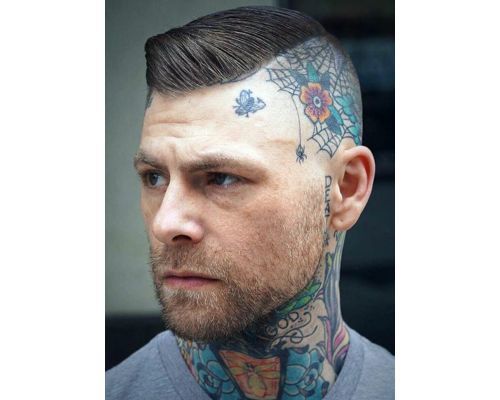 19. Side Swept Cut
A very bold and unique haircut is this side-swept cut which is worth experimenting with. This military haircut for men is unique in its style. The hair above is side swept and trimmed short from one side of the head and the other side of the head is clean shaved, showcasing the skin.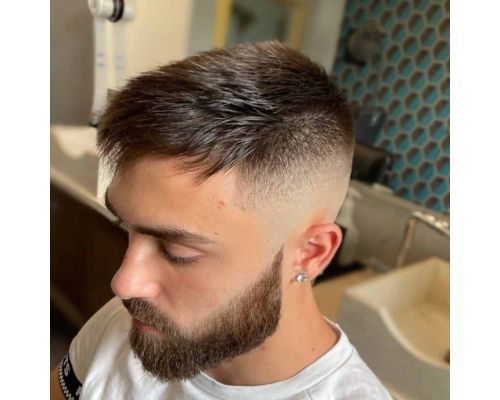 20. Faux Hawk Cut
Men's haircuts with short sides and a longer hair strip running from the front to the rear of the head are known as faux hawks. It's a fohawk without the sides being shaved, which looks cool and super stylish.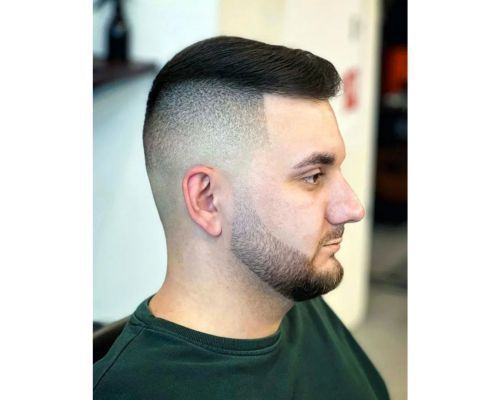 21. Sharp Bowl
A sharp bowl cut is considered a military haircut for men in which the top of the head is nicely cut keeping the volume and has a normal fringe rope in front of the bowl cut. The hair can be nicely brushed forward keeping the entire look neat and classy. The sides are extremely trimmed moving towards the beard below.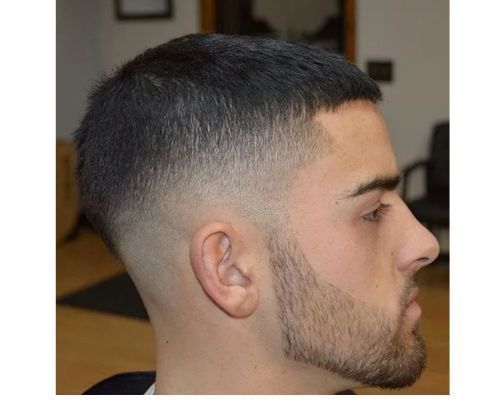 22. Faded Ceaser Cut
A fading ceaser hairstyle is a short military style for men that has the top, sides, and back hair all chopped short. The top hair is brushed forward to create a little front fringe.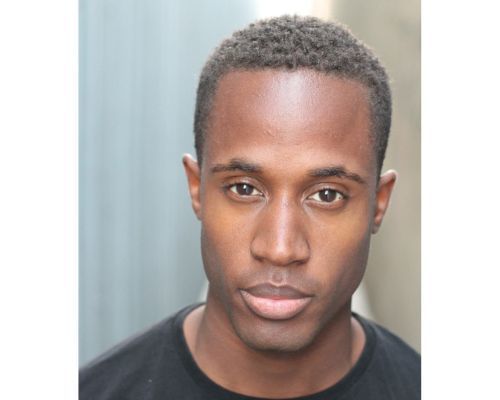 23. Military Cut For Curly Hair
Military cuts for men can be tried in a variety of styles if you have curly hair. Cutting the top hair short, it might have a short, tight appearance, but it will appear voluminous. Amazingly, the front is square-shaped, and the sides and rear have clipped hair.
If you are looking for inspiration for long hair, do check out our long curly haircuts as we cover 33 top haircuts which have been trending this year.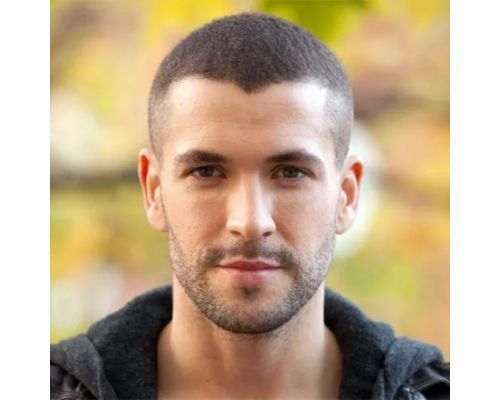 24. Cropped Fade Cut
With a short length on top and increasingly shorter hair on the sides and back of the head, the cropped fade cut is a popular men's haircut. A "fade" is a progressive tapering of the hair that creates a smooth transition from long hair at the top to shorter hair at the sides and back.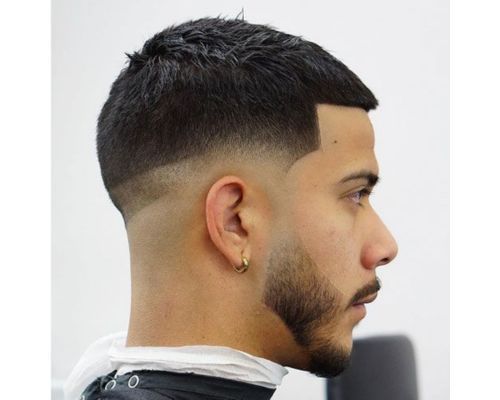 25. Low Bald Fade
A low bald fade is a specific kind of fade that begins at the skin level and lengthens gradually above the ear as it rises to the top. Men's bald fade hairstyles have shorter sides and more hair on top. For men, bald fades are a very adaptable haircut.