25 Gorgeous Short Hairstyles For Black Women - 2023
Ana Campbell
Updated At 30 Jan 23
Black hair is not always the easiest to manage for though it might be voluminous and beautiful, it can also sometimes be a pain to style! Short hair, on the other hand, is a blessing to help you rock every look you choose for yourself. It is just a matter of hairstyles to make you stand out in a crowd! Short hairstyles for black women are chic, elegant, and a perfect fix to untamed, unmanageable long hair.
If you are planning to cut your hair short, or looking for some hairstyle inspiration, these gorgeous short black hairstyles might help you make a decision!
Let us look at 25 short black hairstyles to rock the next time you step out!
25 Best Short Black Hairstyles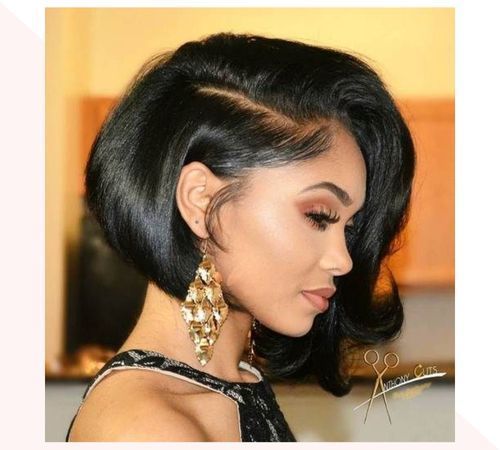 1. Short Bob For Black Women
Bobs are one of the most adapted short black hairstyles for it is very classy! Bobs are a whole segment of hairstyles for it has a lot of variations, ranging from short bob to inverted ones. One can see the long-side bangs here along with a bob, which makes the hairstyle even better!
If you are looking for inspiration for new hairstyles, do check out our guide on cornrows hairstyles with natural hair as we list all the popular options for small and long hair. From side parted hair to puffs, we have listed 25 stunning trending hairstyles for natural hair.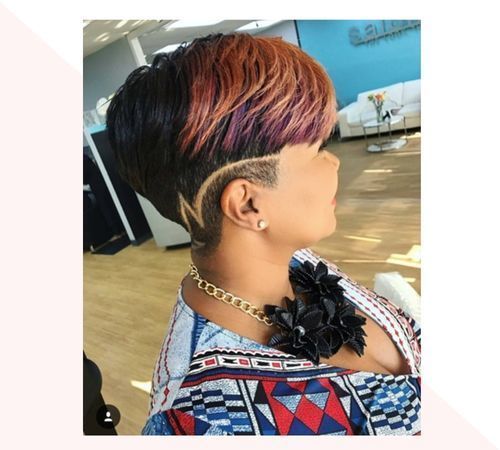 2. Shaved Pixie On Short Black Hair
Pixie might be one of the most manageable short black hairstyles, adding a cool element to your hair. It demands zero drama for maintenance, but makes you look out of the box! It is a win-win hairstyle, isn't it? You can also add cool designs with pixie to make it even cooler! One of the most popular hairstyles for black women this has the potential to transform your look completely.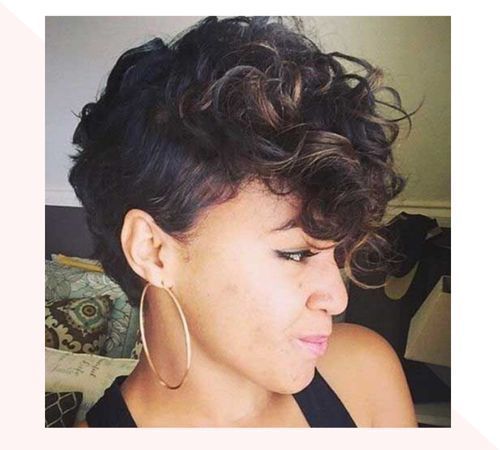 3. Curly Pixie
Curly pixie might best suit those with naturally curly black hair. This does wonders to your natural curls by making them visible even with a short hairstyle! Make sure to keep the bangs longer so that they curl to the side!
Looking for more inspiration for pixie cuts? Check out our detailed guide on pixie cuts for black women as we list 30+ trending hairstyles for this year. From edgy pixie cut, mushroom pixie cut to side parted short pixie, we cover all the stylish pixie hairstyles.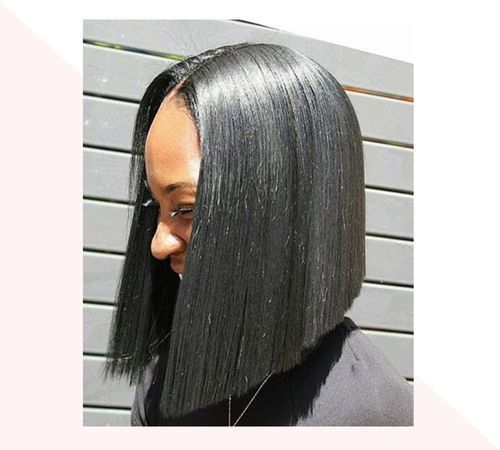 4. Sleek Lob Short Black Hairstyle
Sleek lob is often seen being opted by black women and women of other ethnicities alike because of how stylish it is! It is perfect for any occasion, be it an office party or a premiere to a movie. It is a bit longer than a bob and one of the favourites among short black hairstyles!
Check out our guide on braids hairstyles as we list 55 trending box braids which are stylish and new.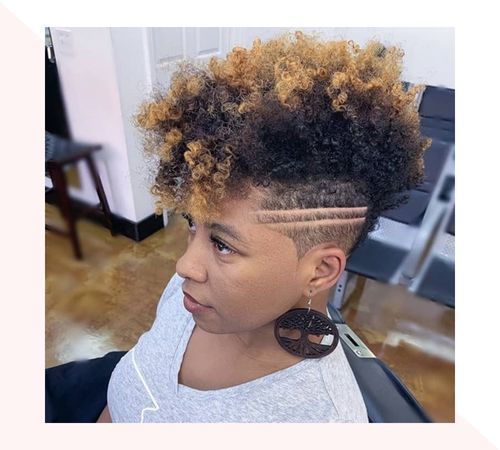 5. Curl And Tapered Short Black Hairstyle
Short black hair with curls on top is enough to make anybody jealous of the volume! It is perfect for a hot day in summer, and for a casual outing. It teamed with tapered cut is chic and dramatic. Feature shaved-sides accentuate natural curls, giving you a celebrity hairstyle!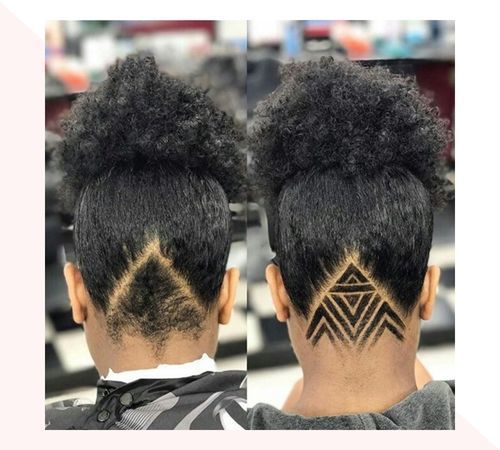 6. Undercut On Short Black Hair
An undercut haircut enables you to show off your love for designs and cuts while still letting you have the majority of your hair length! With an undercut, hairstyles like top buns, pixie, etc. is great for it lets your designer undercut take the centre stage.
Check out our guide on cornrow hairstyles as we cover 51+ stunning new hairstyles which have been trending this year.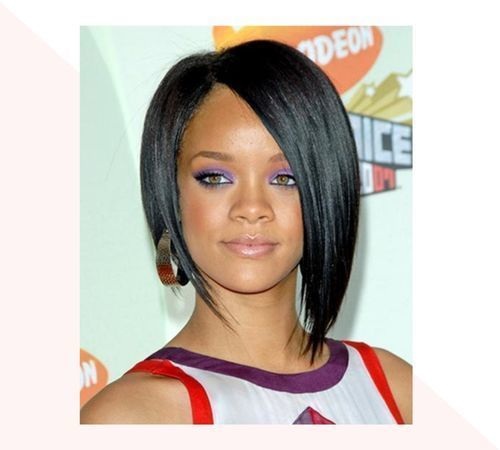 7. Angled Bob Short Black Hairstyle
This hairstyle is extremely good-looking if you have straight hair naturally. If not, you might want to straighten it to maintain the long front bangs to keep the entire look intact. Angled bob is quite famous, making it one of the favourite short black hairstyles.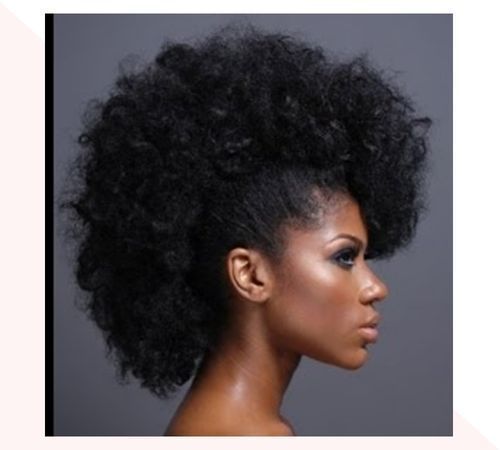 8. Mohawk hairstyle
Mohawk is a traditional hairstyle which is very versatile! It can be done on all types of black hair textures. If you want to take a break from the monotonous Mohawk, you might as well add colours for the fun element. It is a stylish short black hairstyle.
If you have long hair and are looking for inspiration for new long hairstyles for black women, then do check out our guide as we list 25+ stunning trending and stylish haircuts. These include cornrows, braids hairstyles, bouncy curls, updo and many more.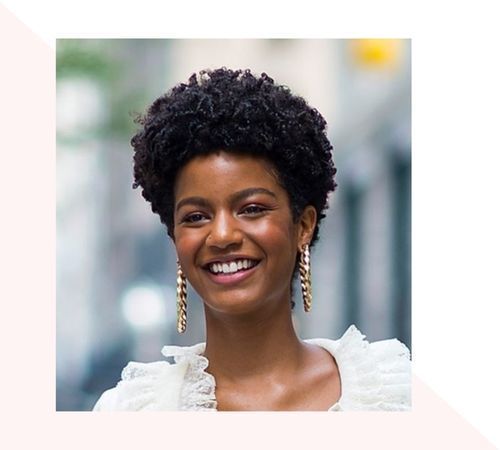 9. Small Afro Hairstyle
A very small afro hairstyle on short black hair might be a delight to a black woman! It looks even better if you have natural curls. When kept well moisturized, it glows and brings out the best features of your face. A tiny afro hairdo might be just the thing you are looking for!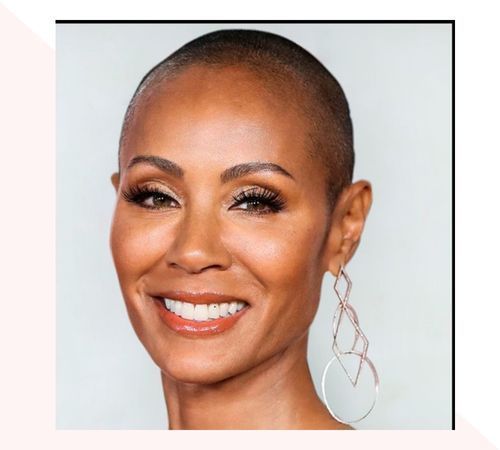 10. Shaved Look
Many who want to chop it all off, opt for an almost shaved head of black hair. This shifts focus to the hairline if the outline is executed beautifully. It might as well focus on your jaw line, making it look chiselled. Not to mention the less maintenance it would demand.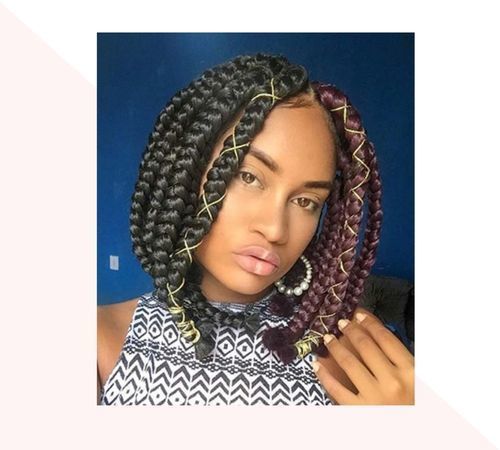 11. Bob With Box Braids
The box braids give the braids distinct characteristic and is one of the out of the box afro hairstyles you should try. Braids are anyway excellent for hair growth! For easy maintenance, keep the hair not more than shoulder length and you are good to go!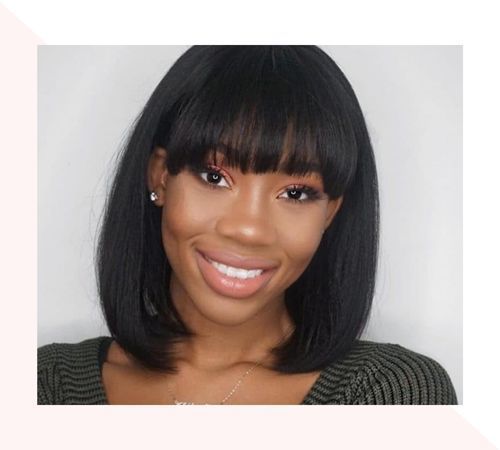 12. Short Black Hair With Bangs
Bangs have a lot more purpose than they appear to have. They have a strong role to play in your hair game, and when cut properly it can manage the proportions of any face. Short black hair with bangs is a favourite of your face!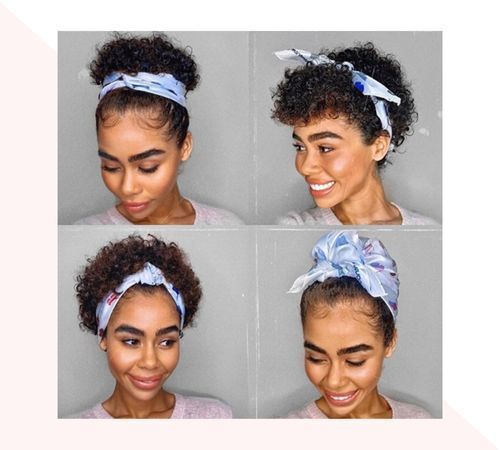 13. Bandana On Short Black Hairstyle
Bandana is a must have hair accessory when you want to play around with hairstyles. It adds an urban edge to any short hair updo, especially if you have natural curls to flaunt!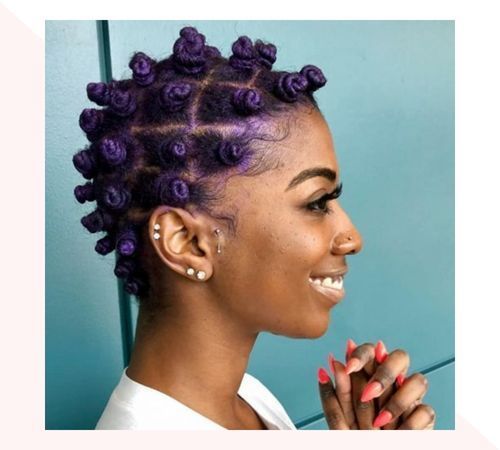 14. Bantu Knots For Short Black Hair
This one also belongs to the traditional black hairstyles and is one of the most versatile hairstyles! It can level up your hairstyle game, add drama to your short hair and make you look stunning! A bit of proper care and it transforms your whole look.
Check out our guide on Lemonade braids to find out the top 55 trending hairstyles which include long, toned, colored braids and many more.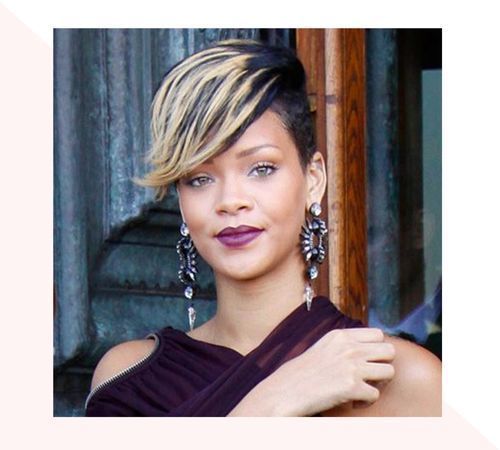 15. Short Black Hair With Highlights
Black hair is a good neutral base and adding the right highlights to it might illuminate your face, adding glow to your complexion. This blonde highlight is perfect for those wanting lighter shades. The highlight adds fun to short black hair and would never go out of style!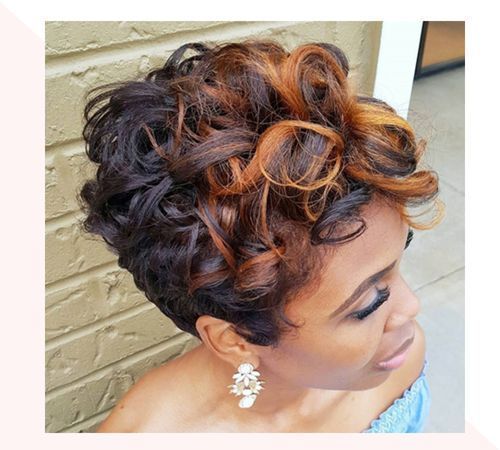 16. Short Hair With Copper Highlights
Copper highlights on short black hair are the twist to classic highlights. It is a stunner for those who prefer subtlety and drama at the same time! You may even opt for a few golden strands to emphasize on your eyes.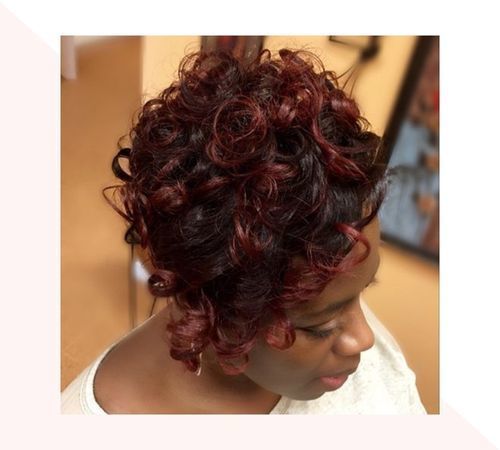 17. Short Black Hairstyle With Red Highlights
Short black hairstyle with red highlights is a fiery look, made for someone as fiery and feisty to carry it! Red is a dense colour and its brightness can make short hair look ten times more attractive.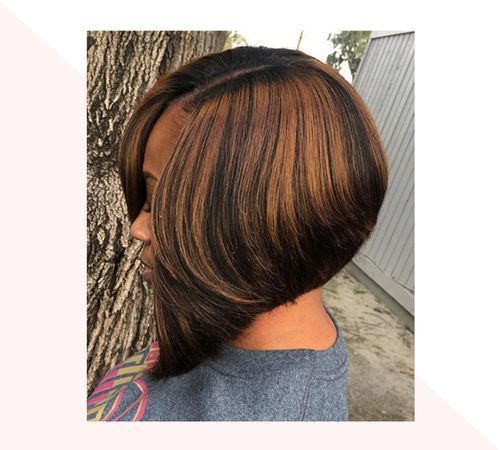 18. Short Black Hair With Brown Highlights
To accentuate your natural hair colour, you can opt for a little lighter shade as highlights and these brown highlights does justice! Short black hairstyles with brown highlights add definition to your face, making it look more structured.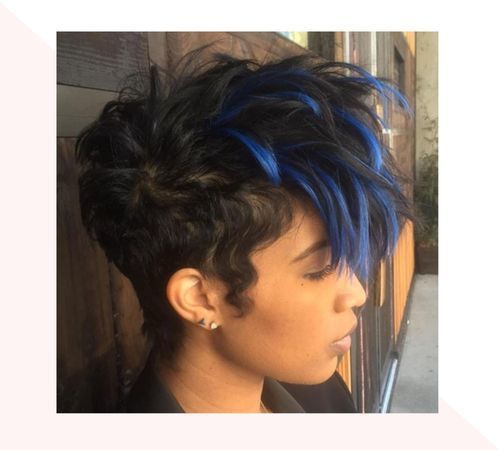 19. Short Black Hair With Blue Highlights
Blue and black is a classic combo and when it comes to naturally dark hair like black women; it looks fierce, bold and gives you a stunner outlook! You can rock an event or a date and leave people in awe of your bold colour choices with your short black hair with blue highlights.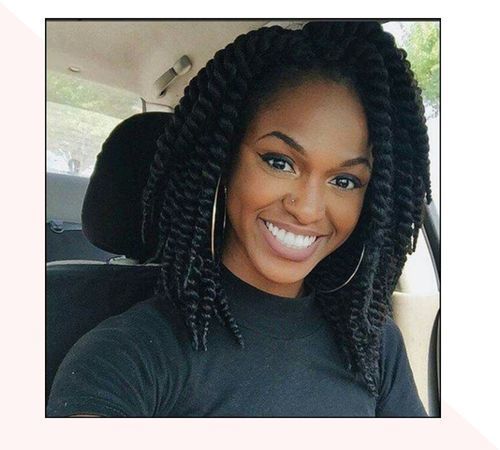 20. Havana Twists For Short Black Hair
Havana twists are protective hairstyles, made out of just two strands. They are fuller and thicker than normal braids, adding volume to your style.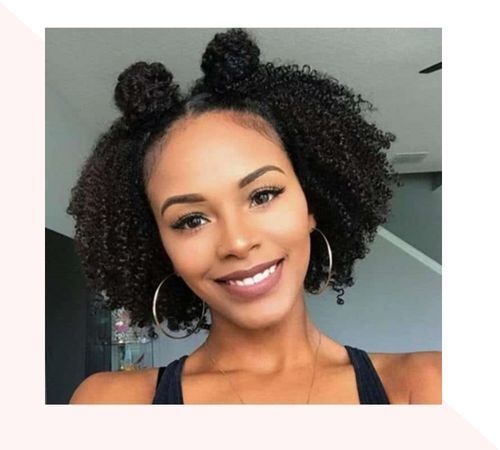 21. Space Bun With Short Black Hair
Space buns are adorable and are the perfect hairstyle for day to day activities. These buns are funky and add a touch of youth to your look! It looks equally amazing on adults and children and demands less time than most other styles.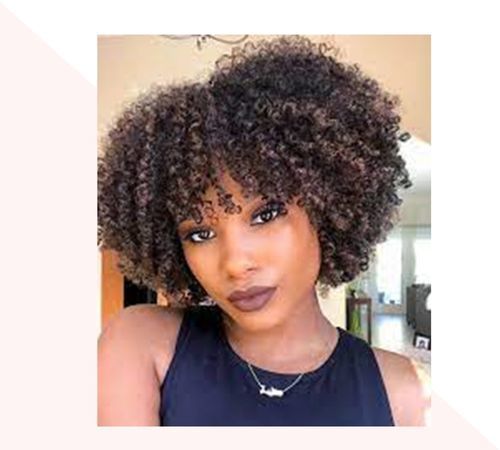 22. Short Naturally Curly Hair
Natural curls on black women are the reason of envy for many as they have voluminous hair! To add to your natural curls, you might colour it and bring fun to your looks!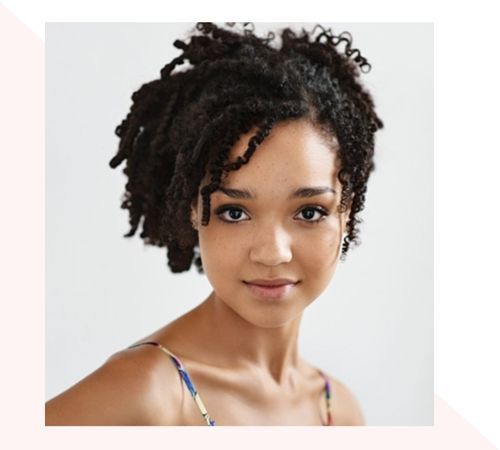 23. Short Black Hair Dreadlocks
Dreadlocks are generally seen on women with long hair. But that doesn't mean it isn't meant for short hair! Add side-swept bands to it and you have a gorgeous hairstyle to pull off!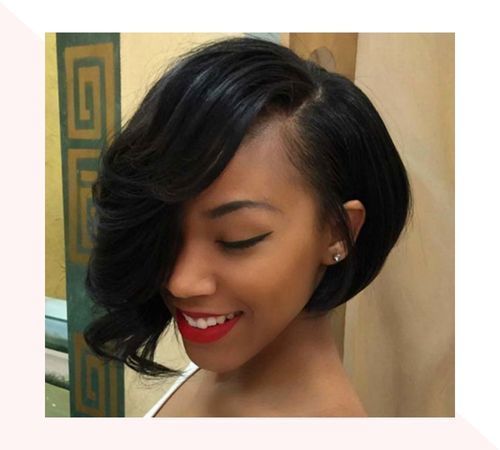 24. Asymmetrical Short Hairstyle
Asymmetrical bobs seem to be chosen by many celebrities these days! The reason is that these hairstyles are elegant as well as breaks the monotony of simple bobs. You might want to give this one a try!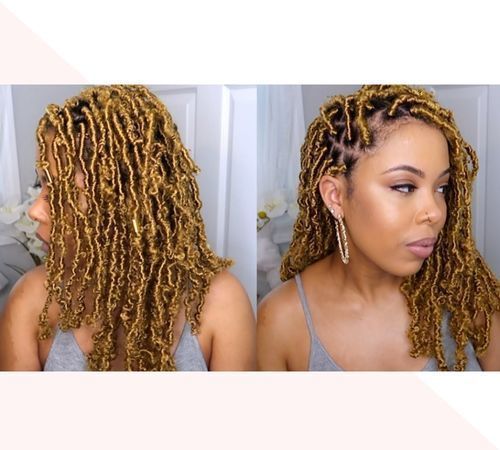 25. Blonde Butterfly Lock Hairstyle
These butterfly locks are meant for your 20's. These are chic, cool, and easy to carry and brilliantly showcase your youthfulness! These short black hairstyles deserves a shot.
Related Articles